Archive for the 'strip club' tag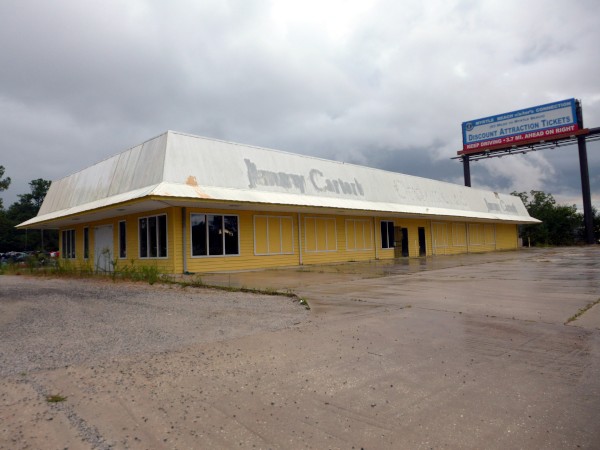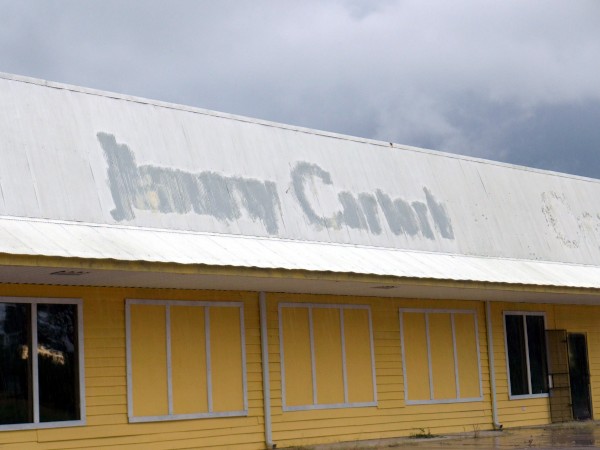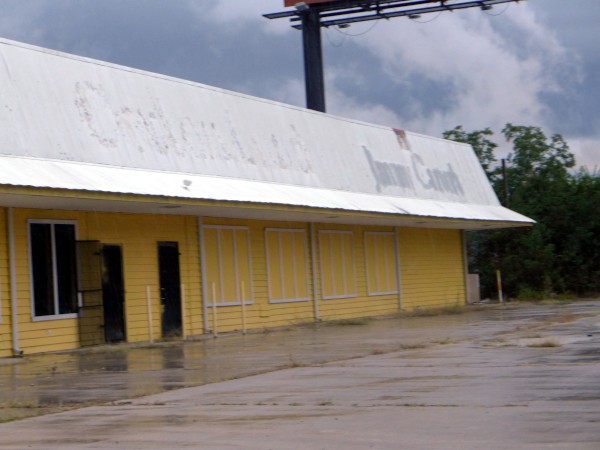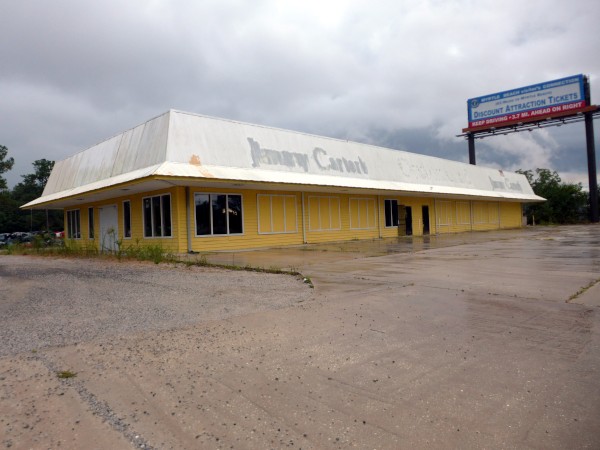 Commenter Andy Farmer asks about Jimmy Carter's in Marion. Here's what I remember, and have been able to find out.
First of all, we never went this way to the beach while I was growing up as access to the South Strand was easier through Georgetown. I guess the first time I ever came this way was sometime in the early 1980s when I was in college and going to the beach after visiting relatives in Hartsville. My memory is that the store had a big mural on one wall, probably the Southern wall, as that is the one you would see best going towards Myrtle Beach, depicting a toothy and widely grinning man, or possibly a toothy and widely grinning anthropomorphic peanut. This was of course a caricature of our then President, James Earl Carter who was often depicted in that way. I don't really remember anything but that image and the big signage for Jimmy Carter's. I could not have told you what kind of business it was. It was, however very distinctive, even apart from that, because it sits in the median of US-76/US-301, and this is the only area from Florence to the Beach where that is done.
This Reddit thread establishes Jimmy Carter's as mainly a fireworks store, though incorporating a greasy-spoon diner and various tourist trap merchandise. It also establishes that the owner really was named Jimmy Carter (I suppose hundereds of people must share that), that this was the second building in that location, and that Mr. Carter has passed away.
Once I moved to Fayetteville, I would come to the beach this way more often (if I were not going cross country from South Of THe Border), and at some point I noticed that Jimmy Carter's was gone, and the building now housed a strip club. I can't recall the name, and google is no help, but I think it might have been Paradise City. Then at some point later, the strip club apparently moved to the East side of the building, and the West side became an adult video store. This news story establishes that both of those businesses were gone by October 2015, and based on the facade peel back to the painted over Jimmy Carter signage, I'm thinking they actually closed several years before that.
This real estate flyer gives an address for the building (though somewhat ambiguously, and without a zip code) and has much better pictures than mine (which were taken under an umbrella) to include some interior shots. It also establishes the city location as Marion, which I would not have guessed, as I would put the place much closer to Florence, and that the Jimmy Carter's era was more than 40 years. I will also note that the map button is set to street view and also has a much better picture of the place than any of mine.
As one final note, the Reddit thread mentions that the logical successor to this store is Sparky's Fireworks & Gifts several miles further east and on your left. I second the notion, and you should stop there at least once.
(Hat tip to commenter Andy Farmer)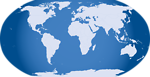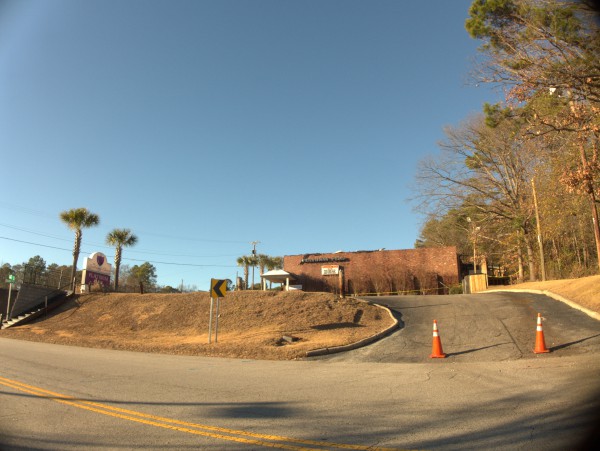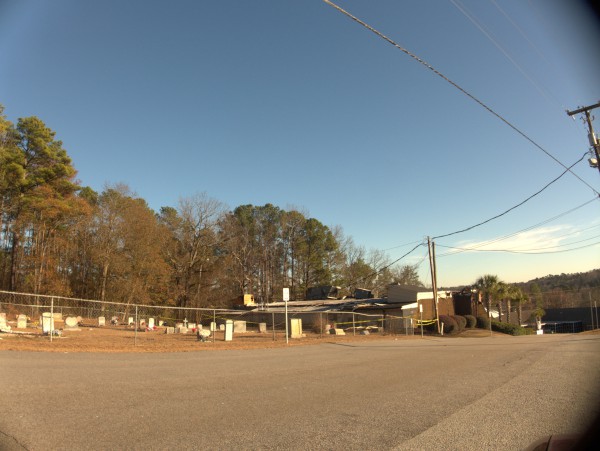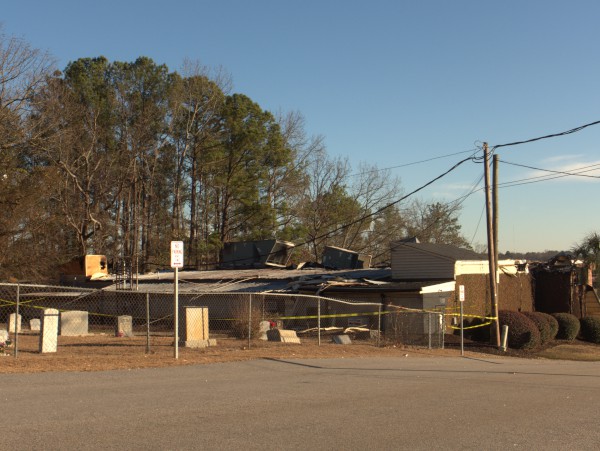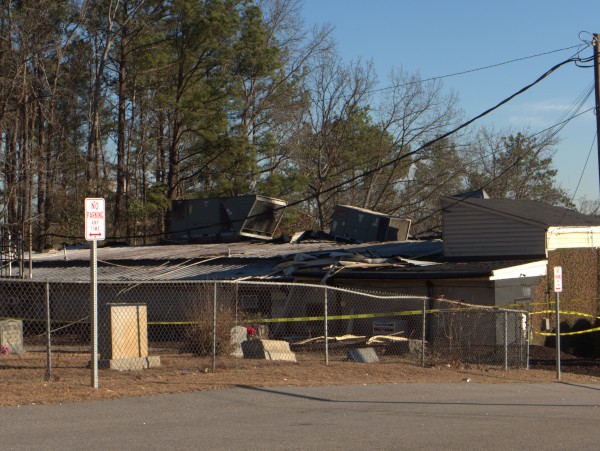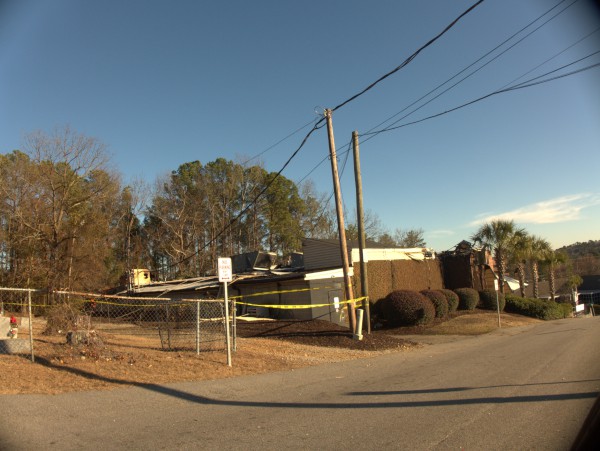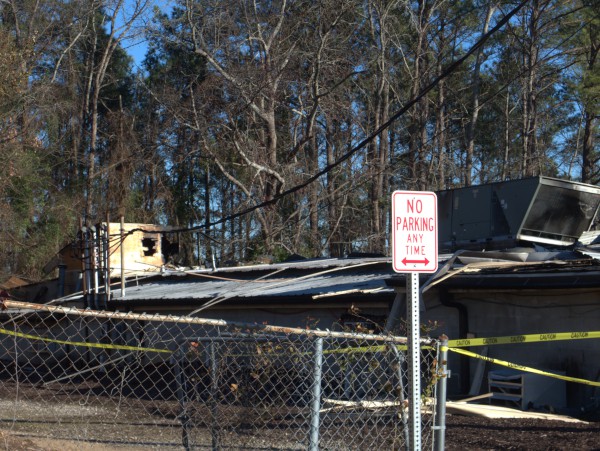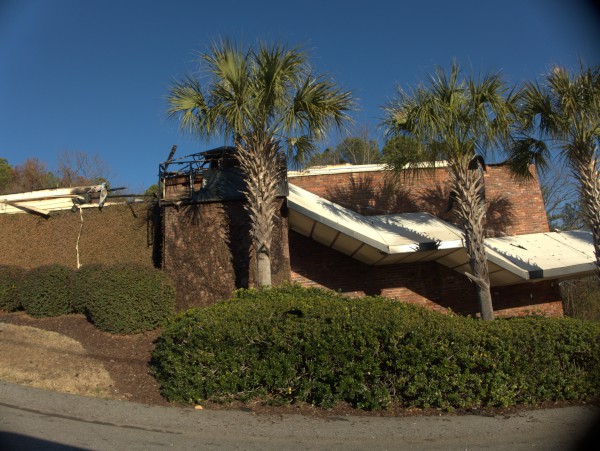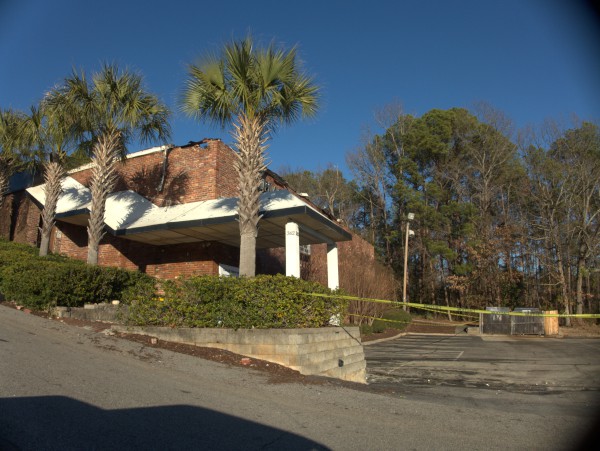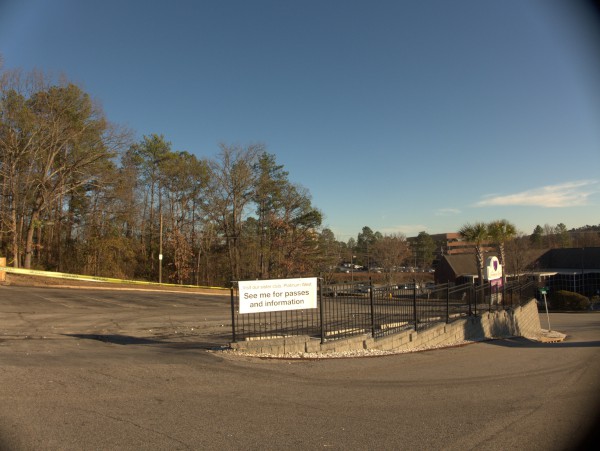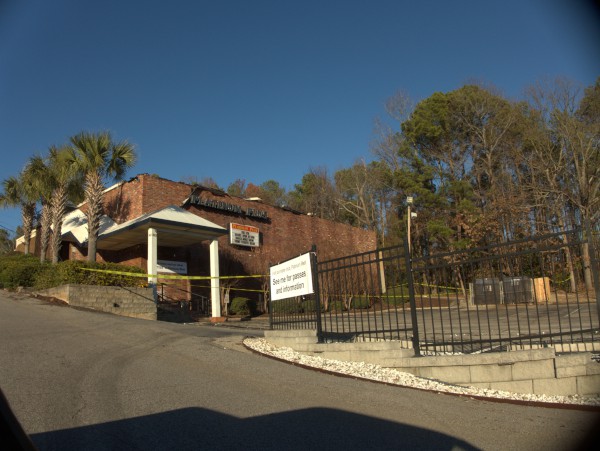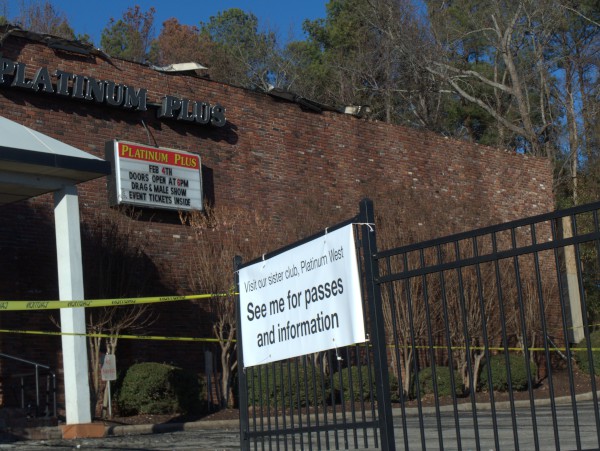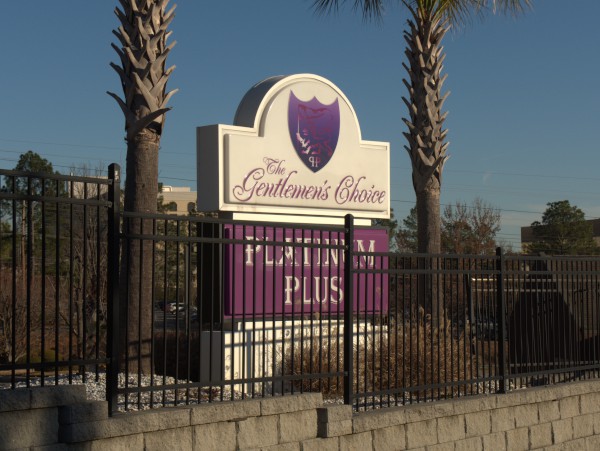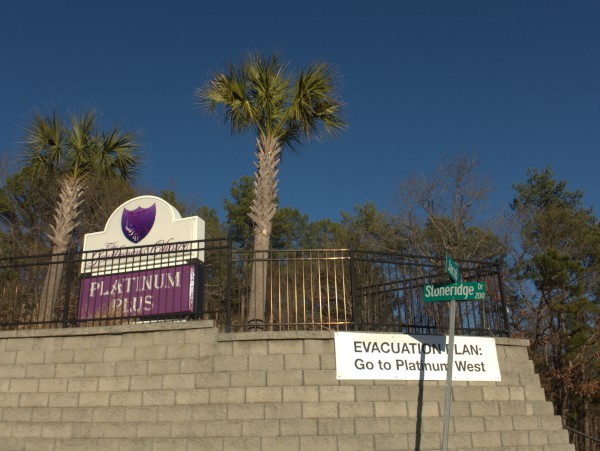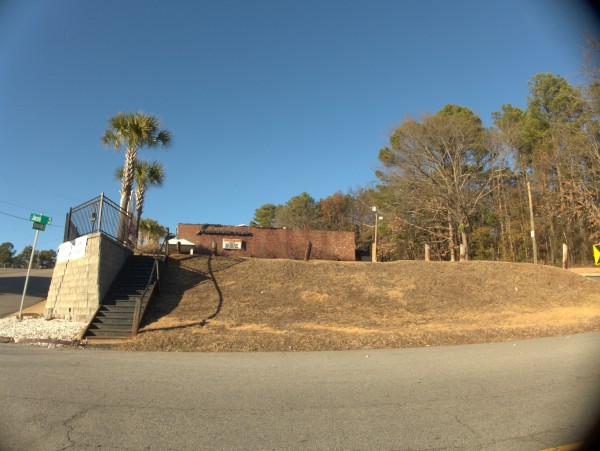 Well, I guess things were supposed to get hot, but not *that* hot.
Strip club Platinum Plus suffered a roof fire on the 17th. According to The State:
Around 5:30 a.m. the Columbia Fire Department responded to a fire at Platinum Plus, located in the 300 block of Jacob Road, which is not far from Greystone Boulevard and visible from I-126.

The club was not open at the time of the fire and no injuries were reported.

An off-duty training captain saw a glow coming from the club's roof as he was driving on I-126, according to CFD Capt. Ernest "Brick" Lewis. The training captain investigated and reported the fire.

It was a heavy fire on the roof and spreading rapidly, Lewis said.

The blaze at Platinum Plus was classified as a two-alarm fire because it required extra manpower to fight it, and also because of the unusual type of structure of the building, which was so split up inside, according to Lewis.
That's an interesting point about the building. Does anyone know what this was built for? I'm pretty sure before it was Platinum Plus it was another strip club, called something like Tom Kats, but it's a pretty big building, and I doubt it was bespoke built to be a strip club.
The "evacuation plan" referenced on the corner sign is the former Southern Gentlemens strip club location on Old Dunbar Road which was re-opened as Platinum West a few years ago (though I think it was a move and re-branding of Heartbreakers rather than a wholly new operation). Interestingly, that club also abuts a graveyard.
UPDATE 23 January 2018: Added previous names to the post title based on the comments.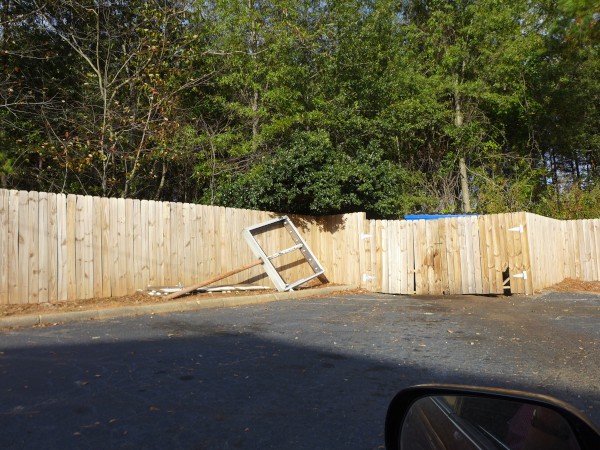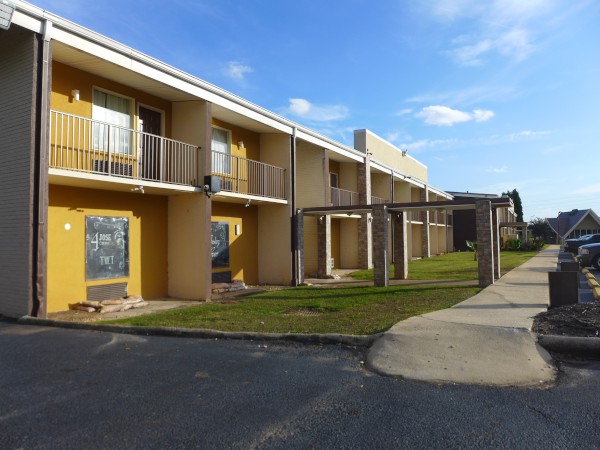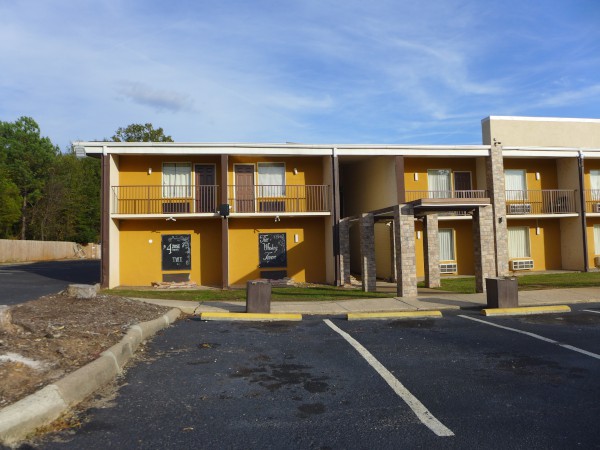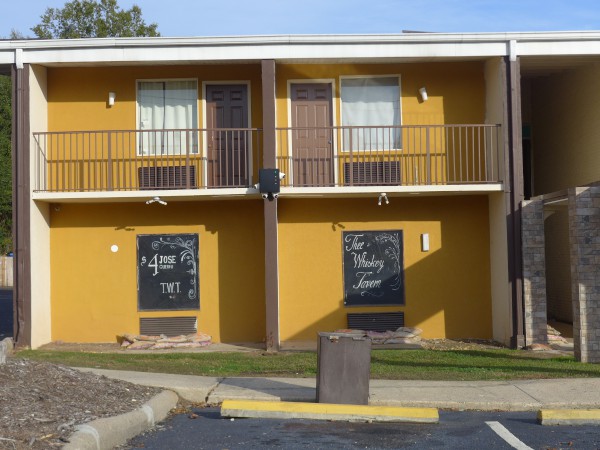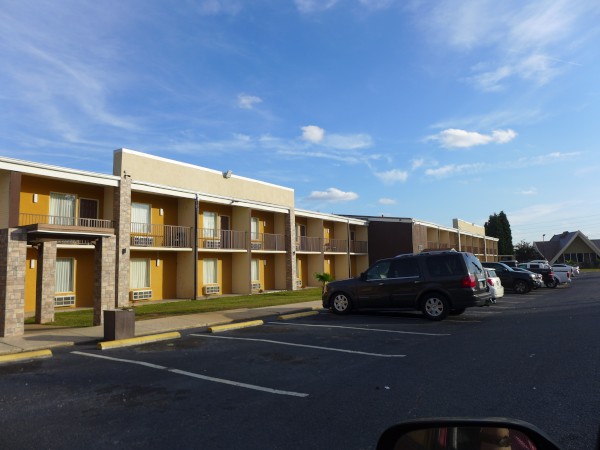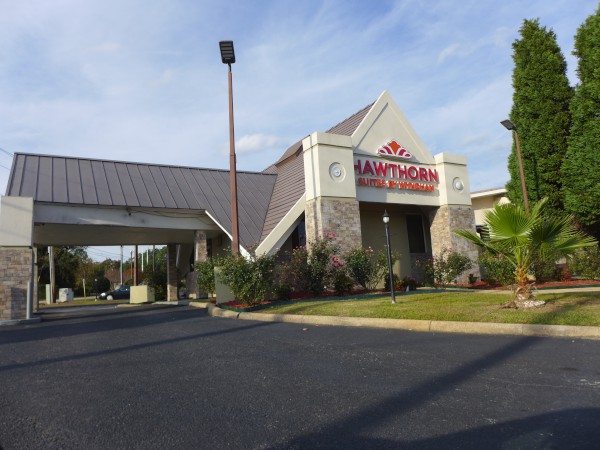 I don't think I've ever seen another setup like the one Thee Whiskey Tavern had: A strip club running inside a former hotel suite, in a hotel which was still a going concern. Of course it's not exactly unusual for hotels to have active and sometimes rowdy bars (see for instance The Wicked Witch Lounge or The Pirate's Cove), but those are generally in facilities designed as lounges and part of the hotel business proper (whatever it says on the business license).
However the situation came about Thee Whiskey Tavern survived the reflagging of the hotel from Budget Inn to Hawthorn, and an associated major remodel. It also survived an onsite stabbing in 2016. In fact, going by the closing story in The State, it's not crystal clear exactly what *did* close the place down. The article and linked RCSD twitter cite aren't very forthcoming other than operating illegally as a sexually oriented business. If anyone was arrested, or if there was a particicular incident that triggered things, it's not mentioned.
In these two shots, you can see the sign now crumpled behind the hotel, and the sign that used to sit by Bush River Road: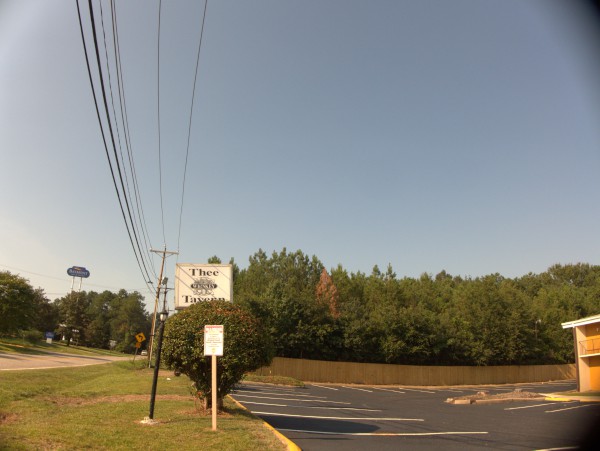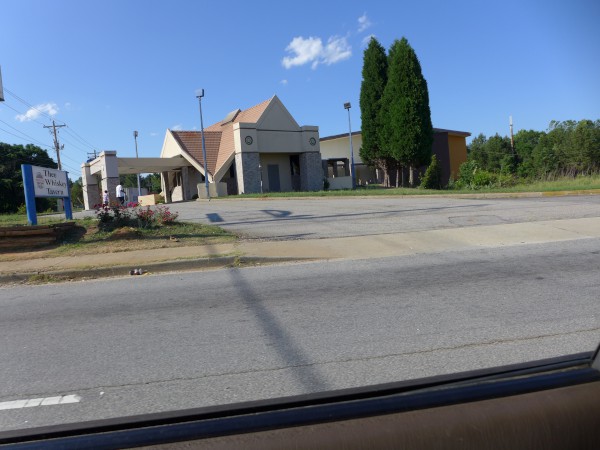 (Hat tip to commenter palmettoconnection)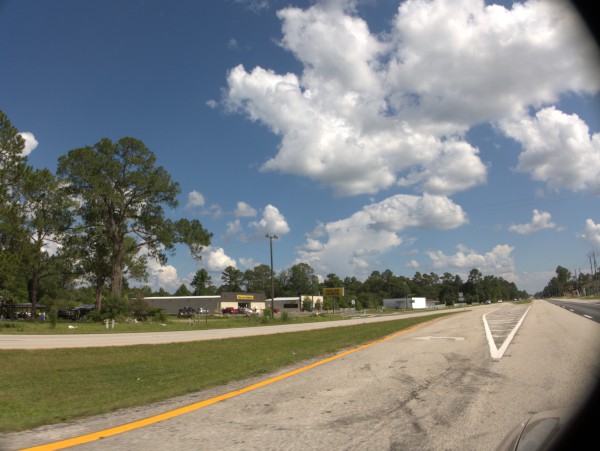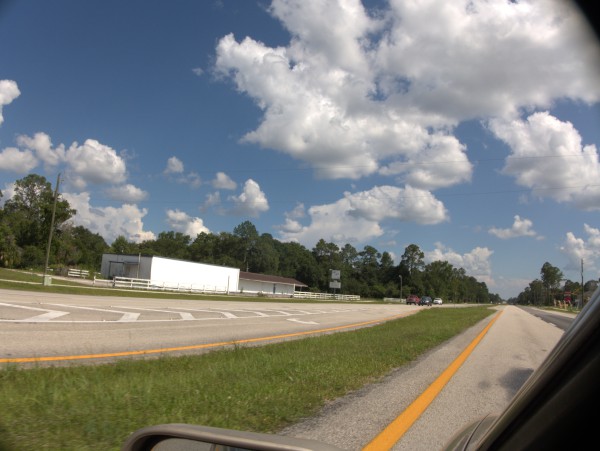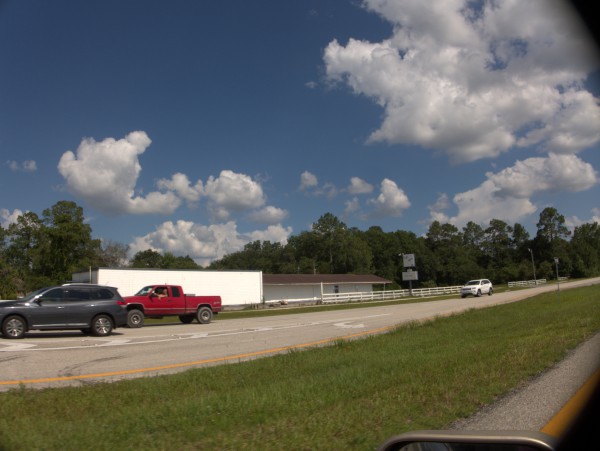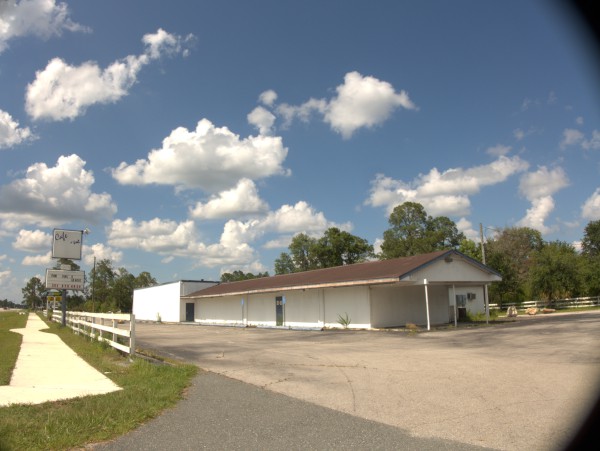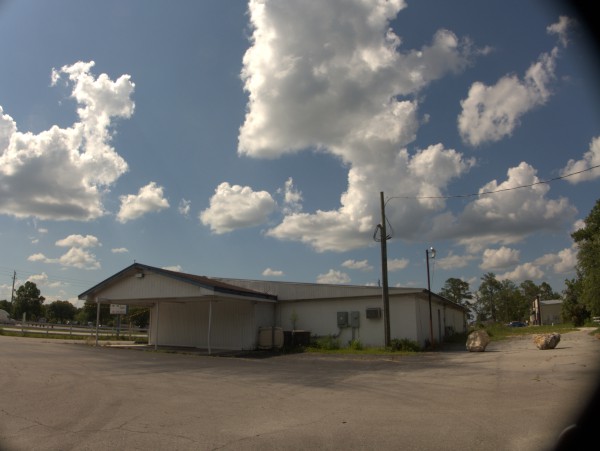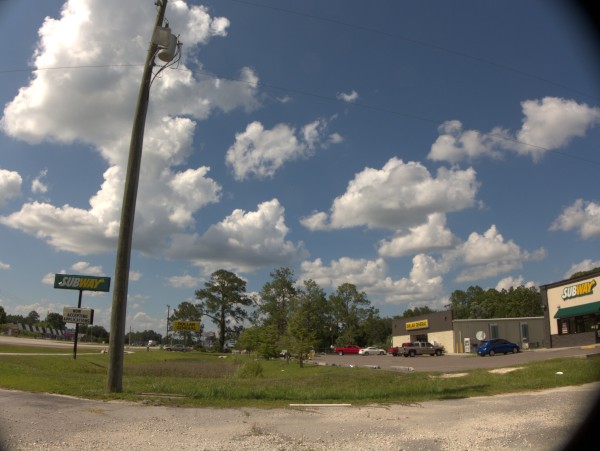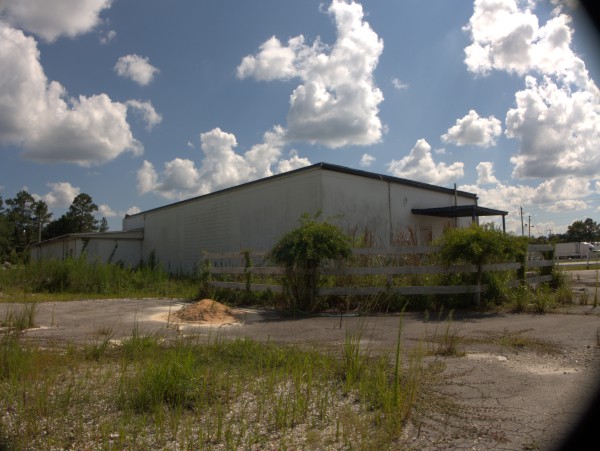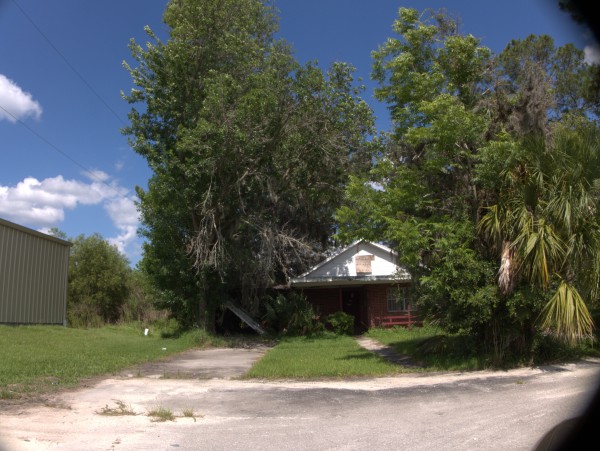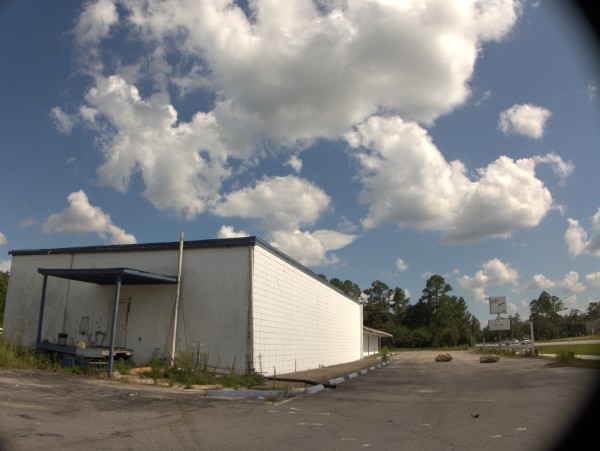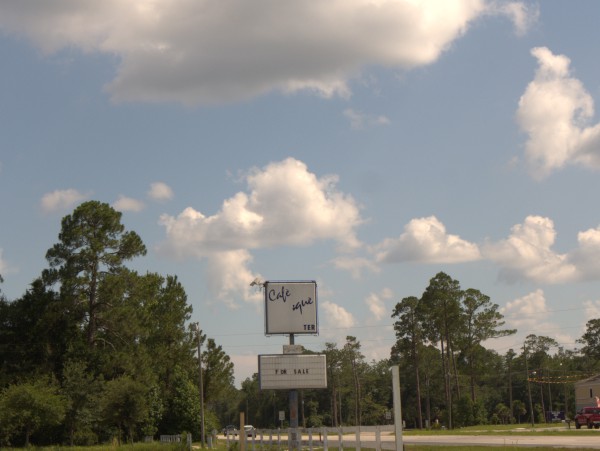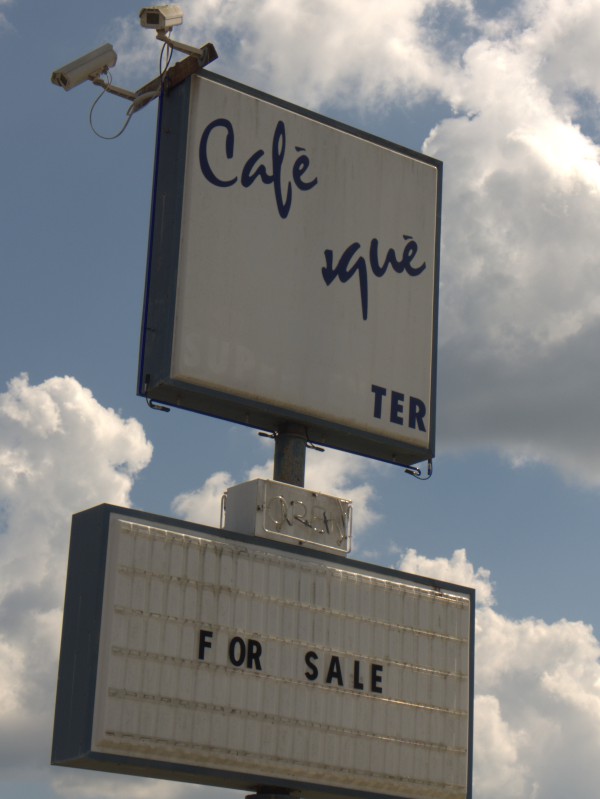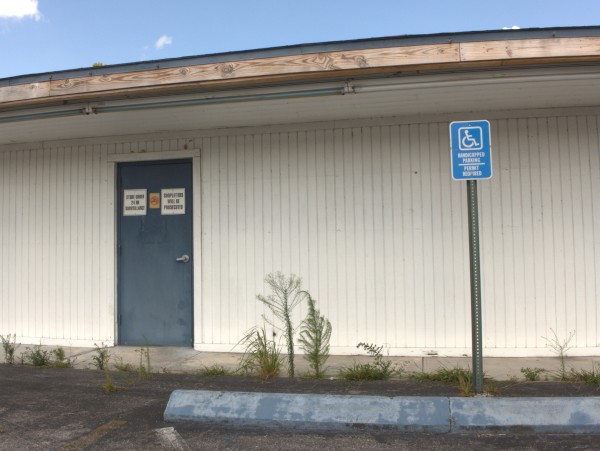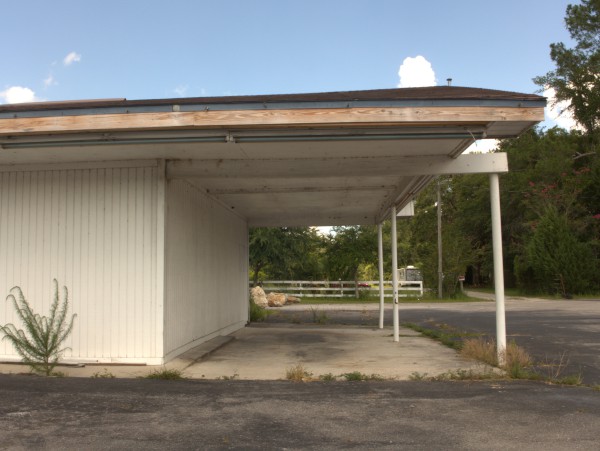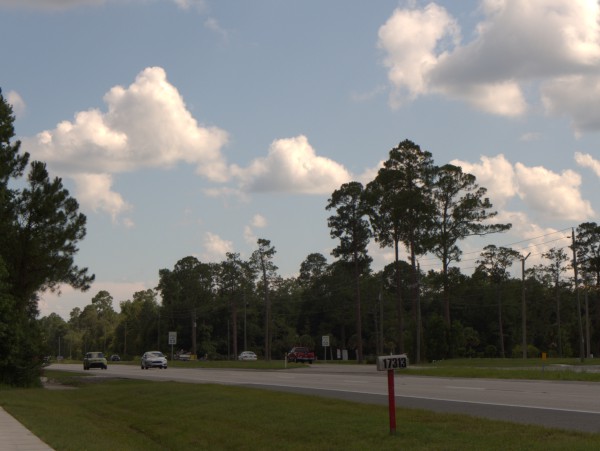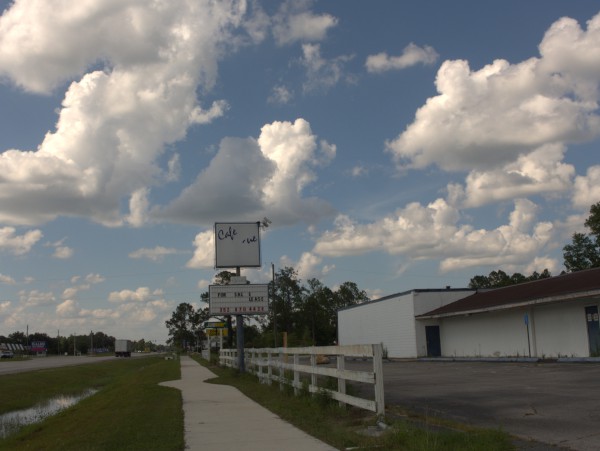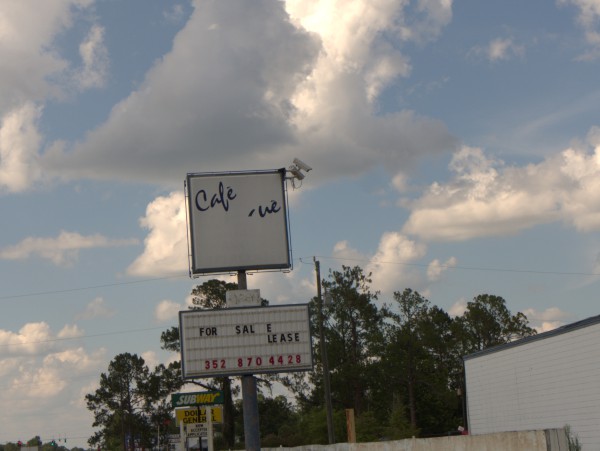 Where's Waldo?
As it turns out, the answer to this perennial question is "On US-301 just south of Starke". In fact, when I found this closed Cafe Risque this summer, I believed I was in Starke, and not this particular Alachua County metropolis of 1015 souls.
In the event, I had driven by the vacant building on the east side of the road, when the partial sign I had seen percolated to the front of my brain, and I turned around to get some pictures.
I had written about Cafe Risque before, when I noticed I was no longer seeing the I-95 billboards around Darien Georgia. Doing a little more googling this time, I see that the Cafe Risque story is a bit stranger than I might have thought: the whole chain grew out of a family restaurant empire called "Skeeter's Breakfast House". Apparently that legacy led to Cafe Risque's key insight: You could run strip clubs without alcohol if you put them in out of the way places and had decent food. Certainly, the regulatory hurdles are lower that way. Of course, it's questionable if that model still works as most of the places have closed in recent years (apparently one both opened and closed in Dunn after I left the Fayetteville area) though some of that may be due to the death of the man who was the chain's driving force as referenced at the first link above. As of this posting, it appears that the location on I-75 in Micanopy Florida is the only one left as described in this (somewhat NSFW) article in Gainesville Scene.
Posted at 1:00 am in Uncategorized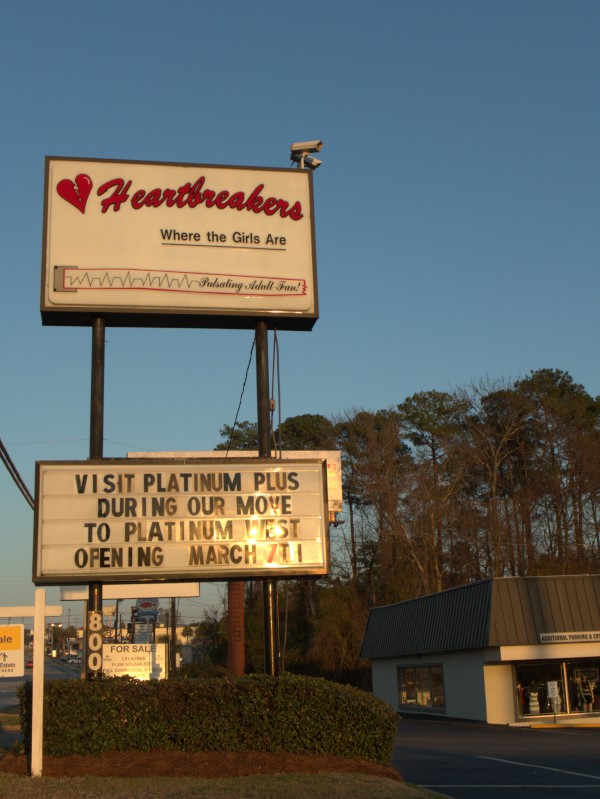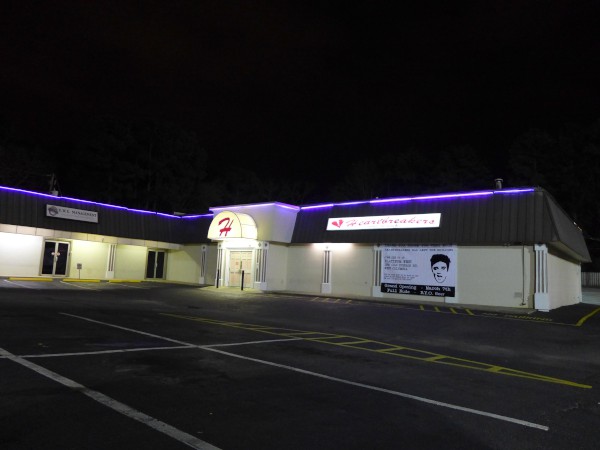 I'm sure someone will mention what this building was originally, bu the first specific memory I have of it is from when it was Club Cabaret. Like Heartbreakers, Club Cabaret was a strip club, but it had a much nicer roadside sign. It was a neon sign, and I wish I had taken a picture of it. As I recall, it was a very well executed portrait of an attractive woman's face underneath an elaborate and colorful hat. It was not, in fact, something that leapt out and said 'strip club', but on the other hand, in Columbia you probably couldn't put up a similar sign that did. I'm not sure when Club Cabaret closed. It was still listed in the February 1997 phonebook, so I'm guessing in the early 2000s.
After Club Cabaret, the place became Heartbreakers. I'm not sure if it was affiliated with the Platinum Plus chain from the beginning, or if it was bought out sometime later, but clearly by the time the owners made their deal with the City to close this club in order to be able to keep Platinum Plus in its current location, they were sister businesses.
The original plan announced was that Heartbreakers would move to the old Diamond Disco / Southern Gentlemans location on Old Dunbar Road. In fact, if you look at that post, you can see the new neighbors namechecking the club on their signs. At some point though, that plan went by the wayside, and the Dunbar location will be called Platinum West and will be a BYOB/full-nude club. I suppose that location is far enough from the other Platinum location so as not to cause confusion using a similar name. At any rate, I suspect the plans for the Heartbreakers staff and equpment aren't affected by not carrying the name over.
But as of now, this is Where the girls aren't.
Posted at 12:24 am in Uncategorized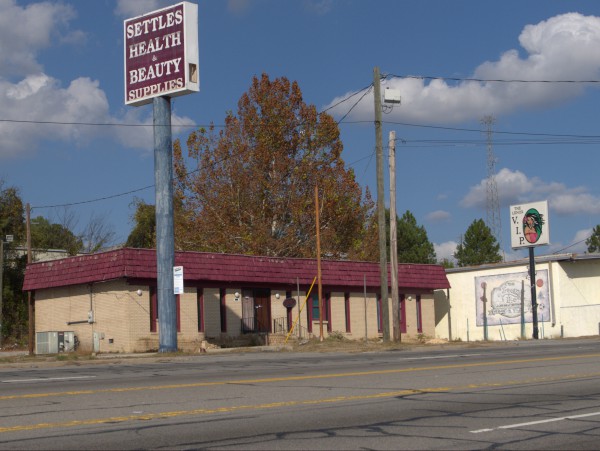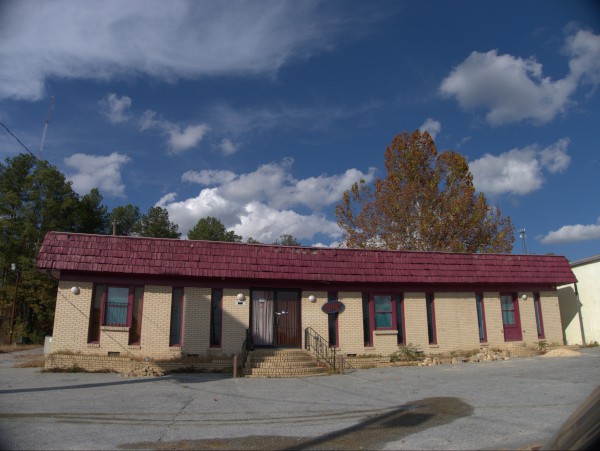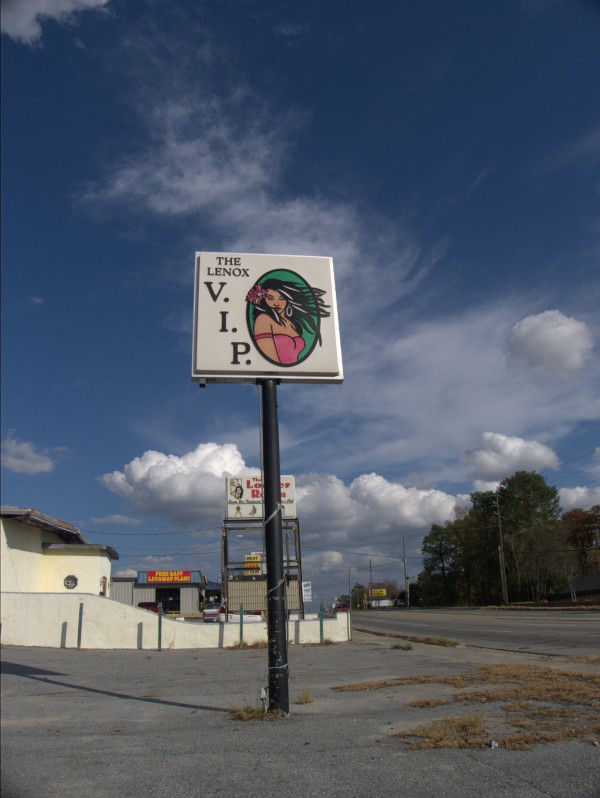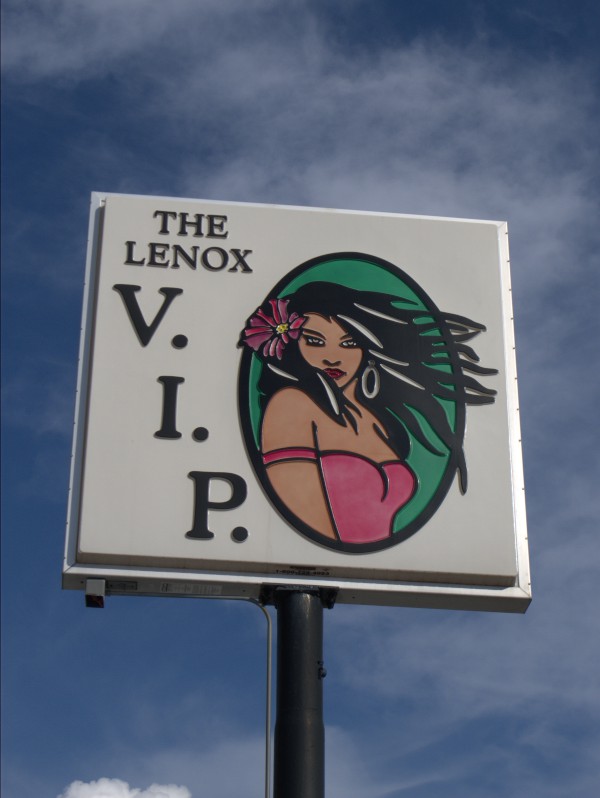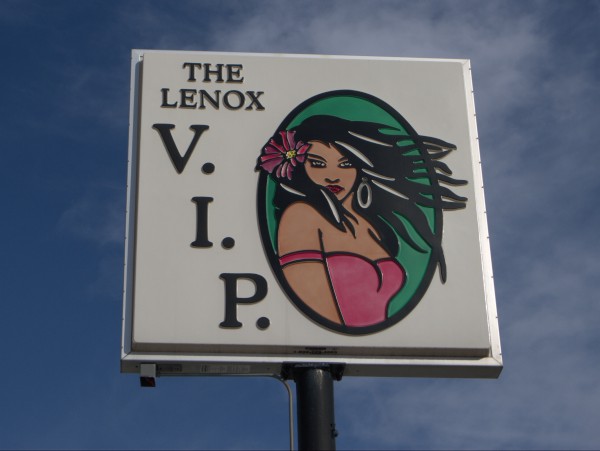 Here is another tiny strip club on Two Notch Road. The last phonebook entry was apparently in 2009, but online sources show it was actually open at least into September of 2011.
I have to say that I quite like the sign.
Posted at 12:39 am in Uncategorized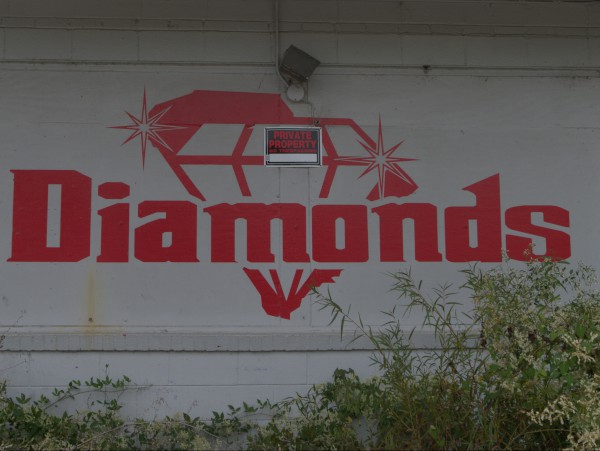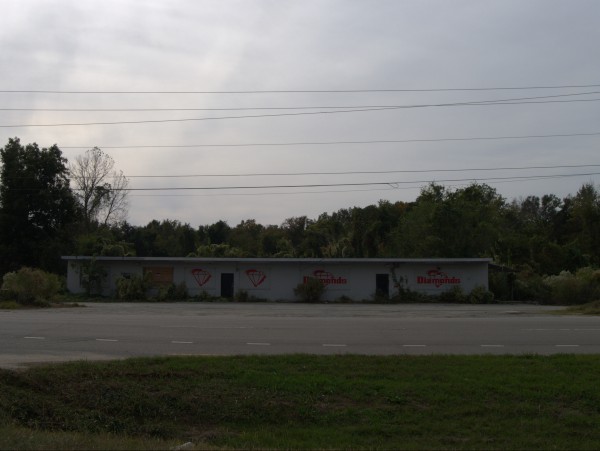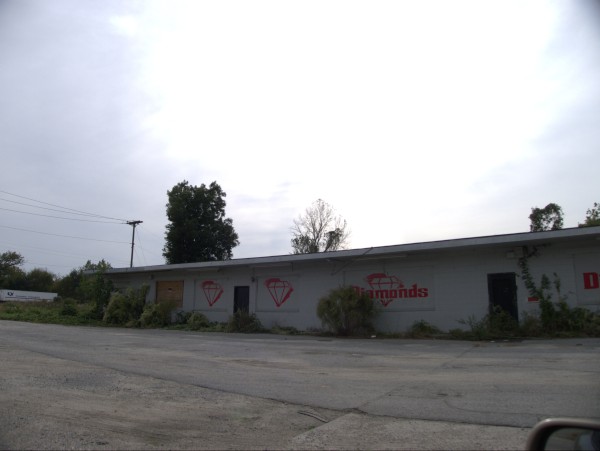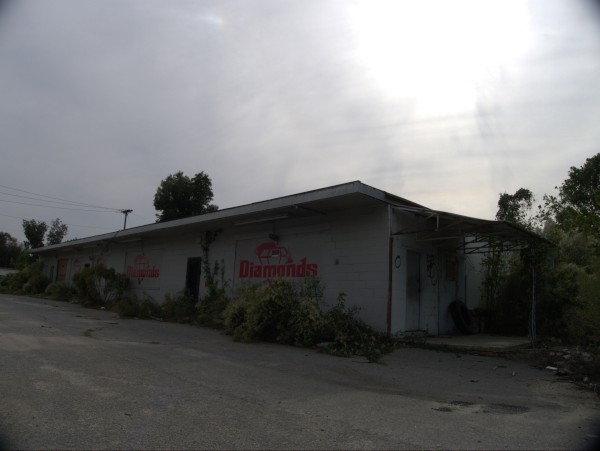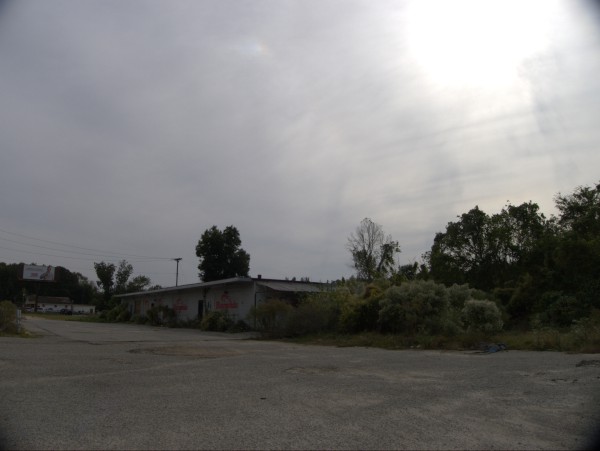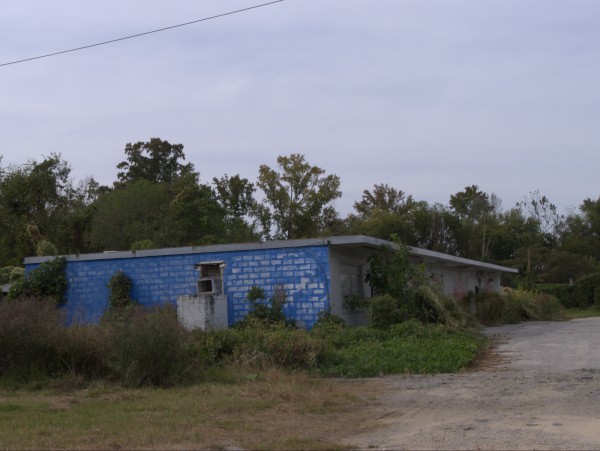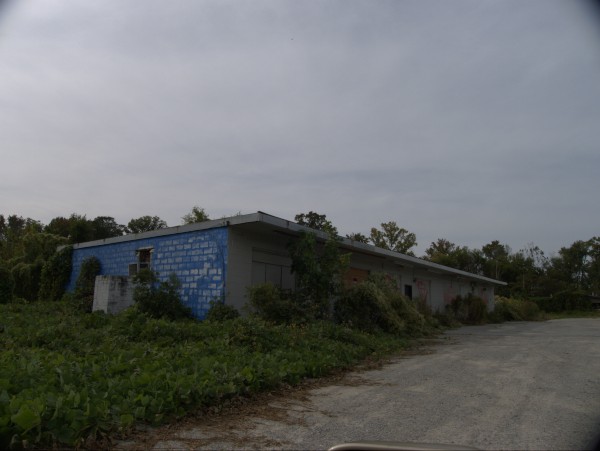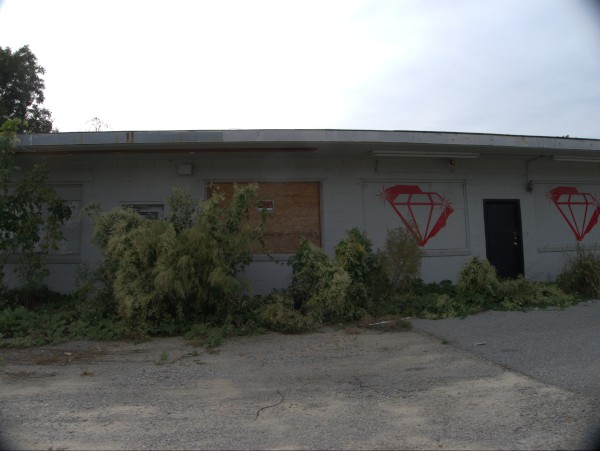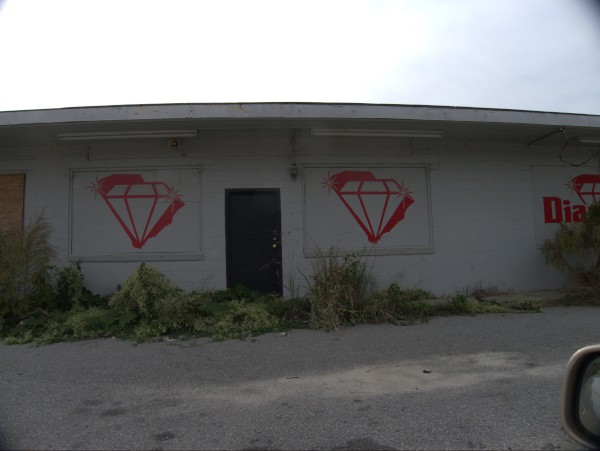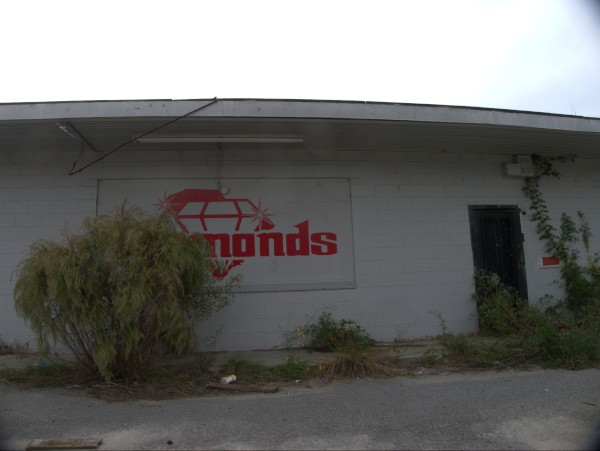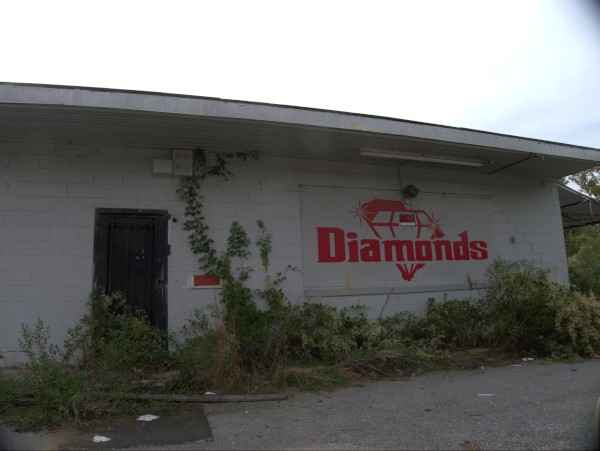 I noticed this defunct strip club on Bluff Road the other day, on the west side of the road just south of the I-77 exit.
According to what I can find, it has been several clubs, the last of which Diamonds was in business as recently as 2009, but from the state of the building, nobody has done any maintenance since then. (Though it is still in better shape than Liquids).
The names raise some interesting questions. For instance, there was a Diamonds on Berryhill Road. Is there a connection? And: If this was Pleasers 2, where was Pleasers 1?
It is next door to a building even more decrepit about which I will try to find something out so I can eventually do a closing for it as well.
UPDATE 29 October 2012: Commenter tonkatoy says that back in the 70s, this was The Cricket Club. Bit of a sticky wicket, that!
Update 5 November 2012: Well one of the questions above is answered. Commenter BMJae says that the club was named Pleasers and then was closed due to fire, taking the name Pleasers 2 upon reopening after repair and remodel. I have added the name Pleasers to the post title.
Update 20 August 2014 -- This building is not long for the world, in fact it apparently was scheduled to be demolished on 12 August, but said demolition has not yet happened. Interestingly the demolition order gives the address as 3009 Bluff Road, which is not what I found previously with google (ie: 3028 Bluff Road), but it seems authoritative so I am changing the post title to reflect that. Also interestingly, the door was open..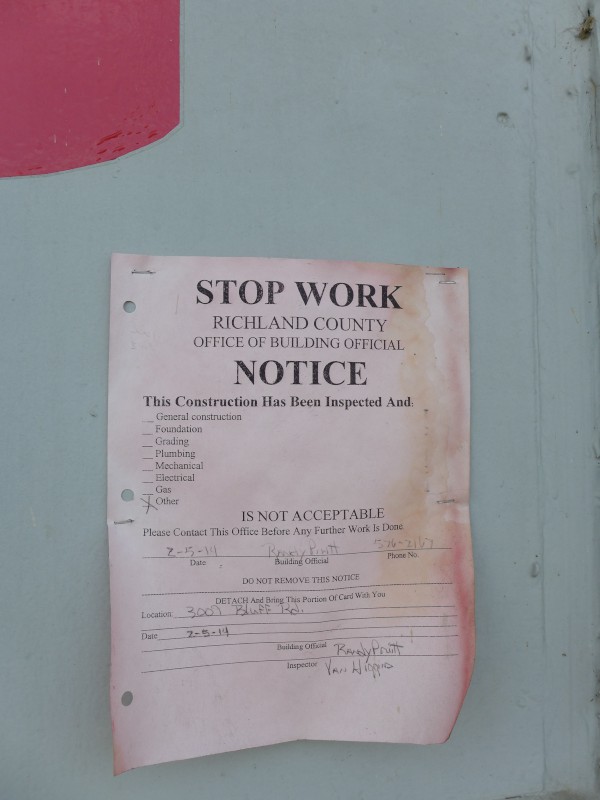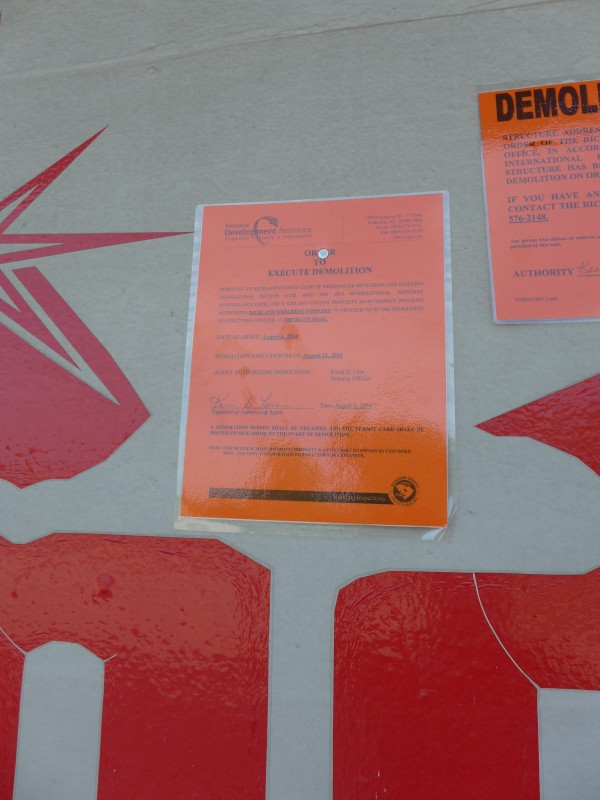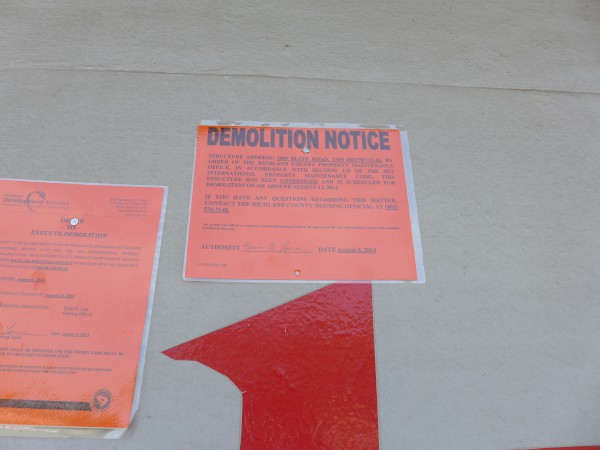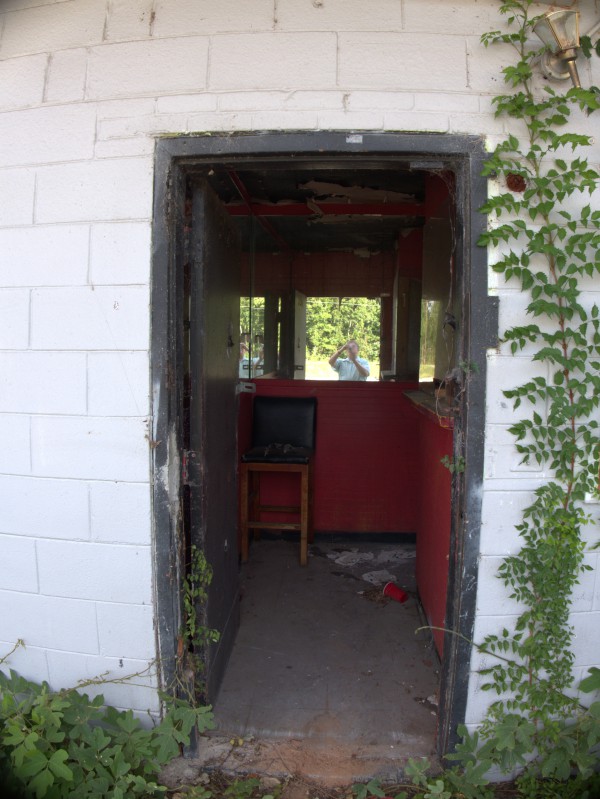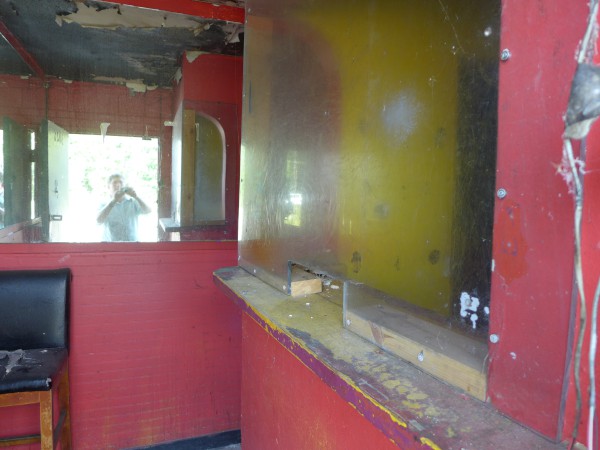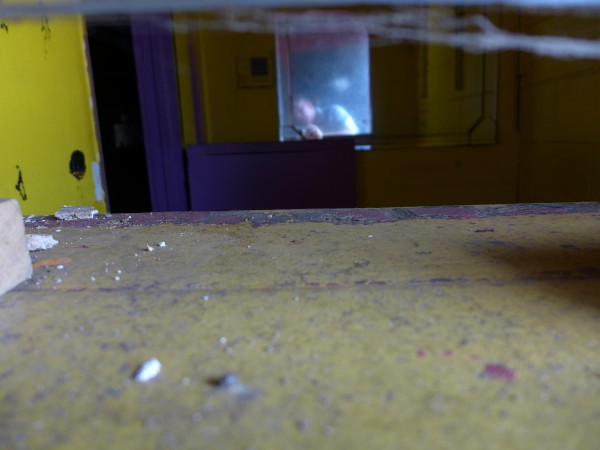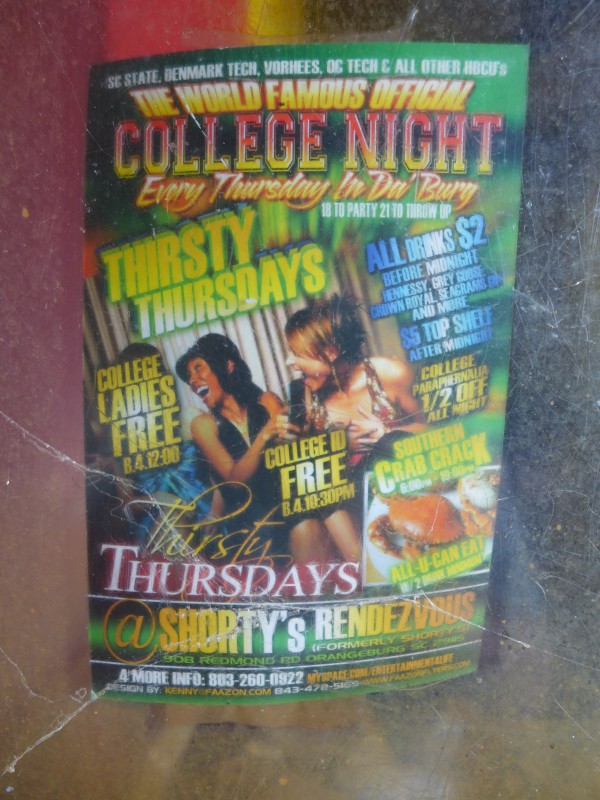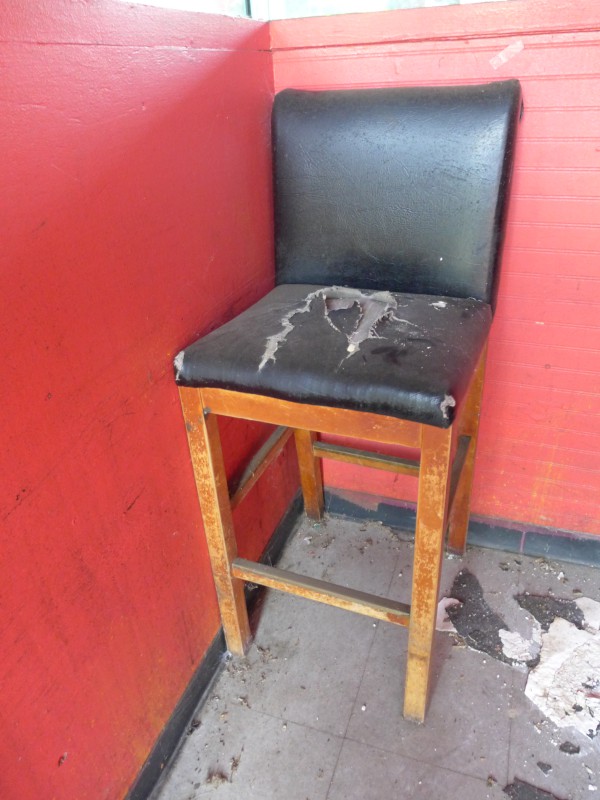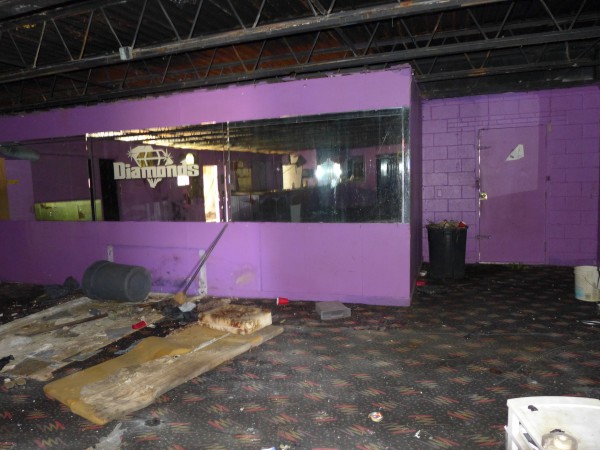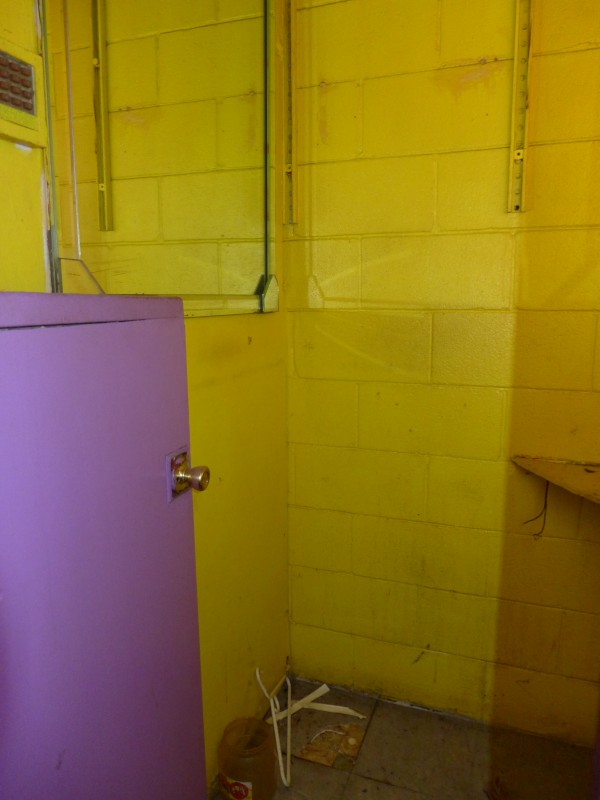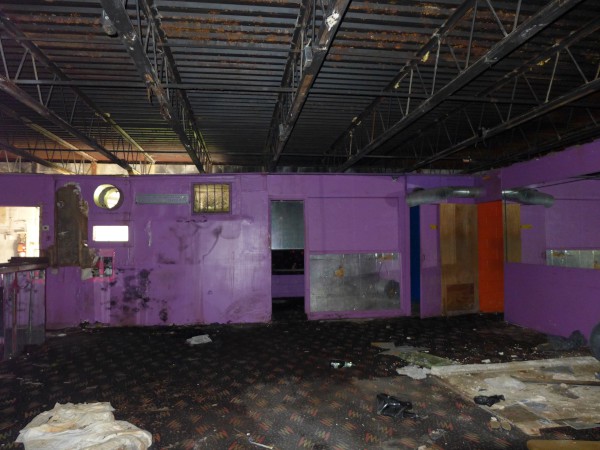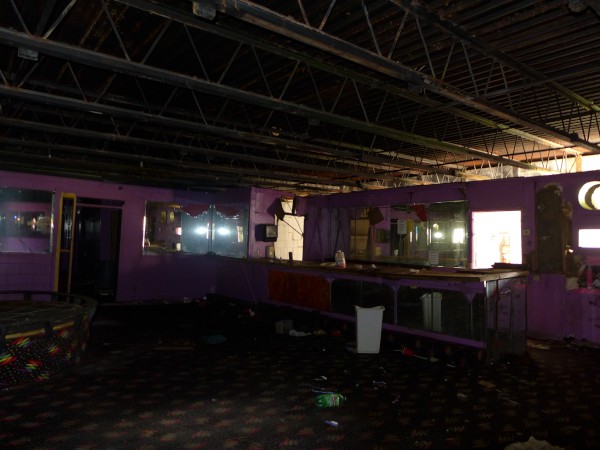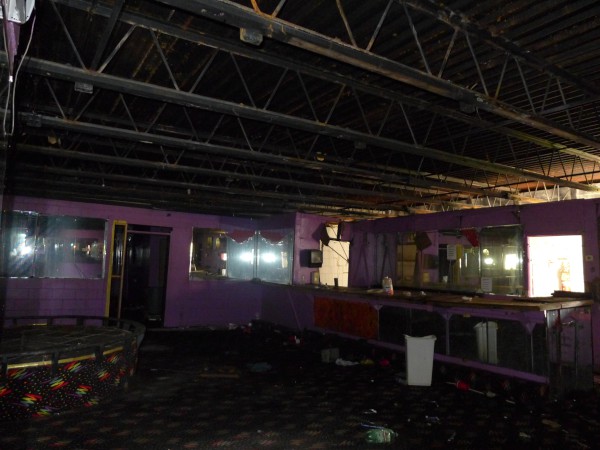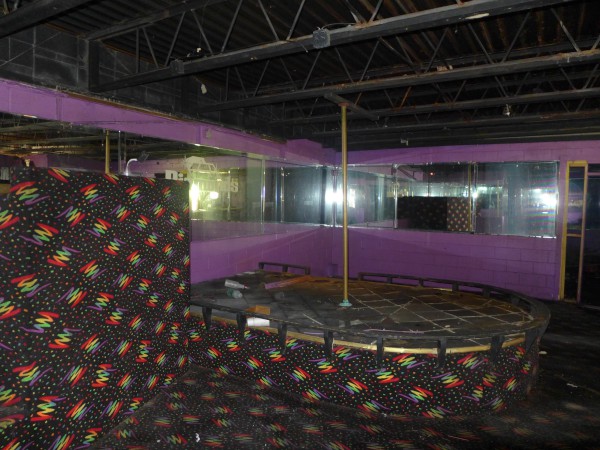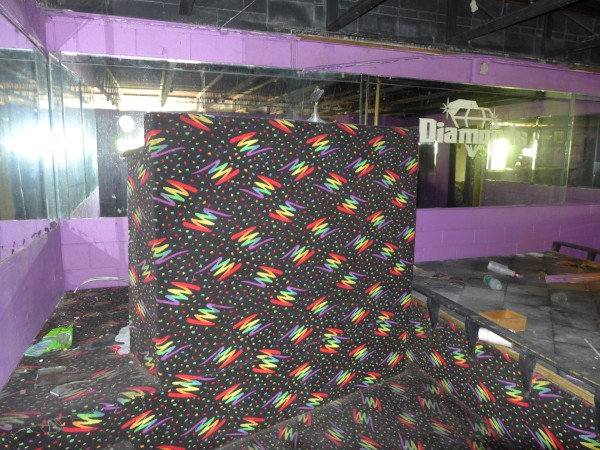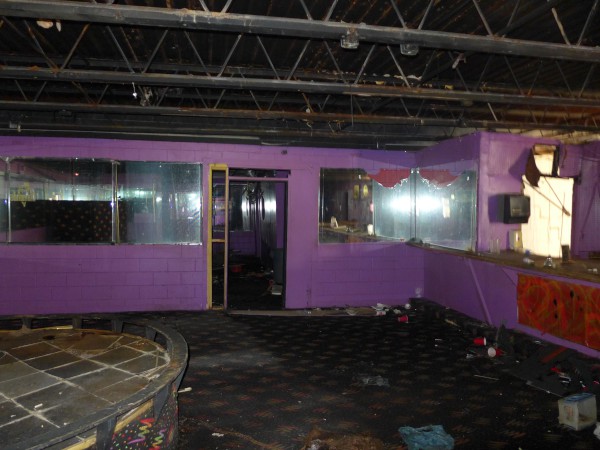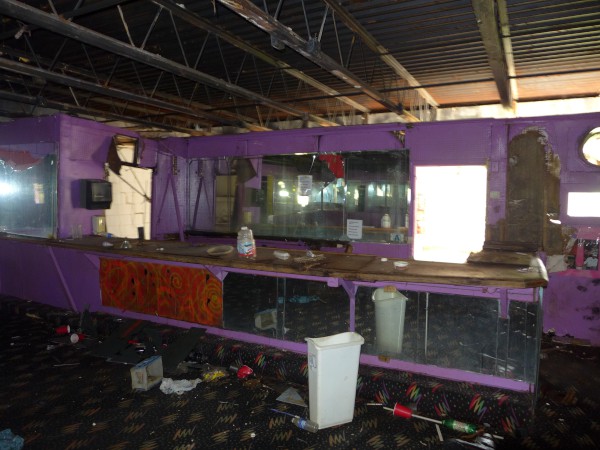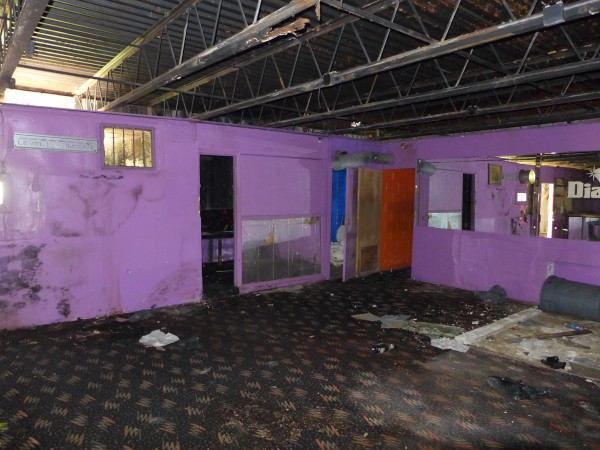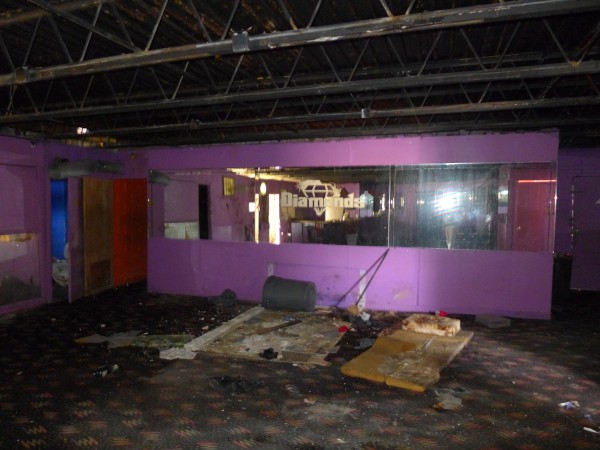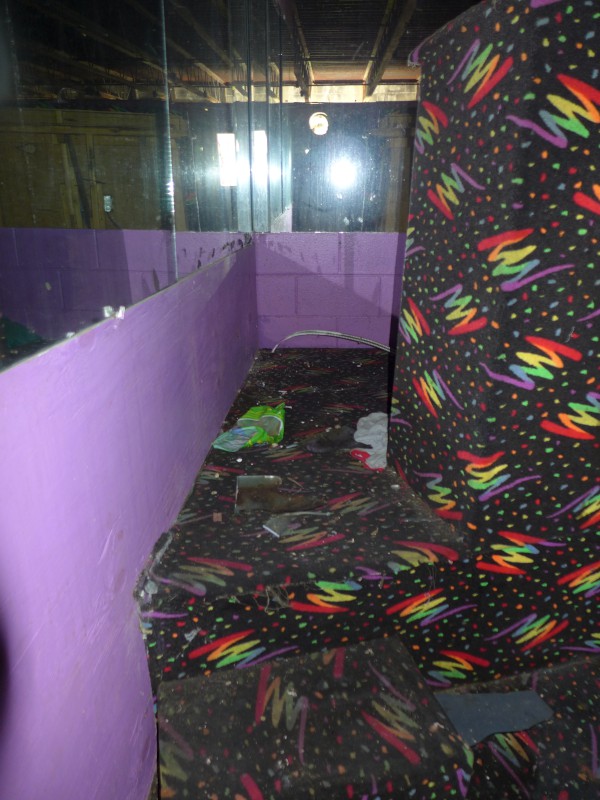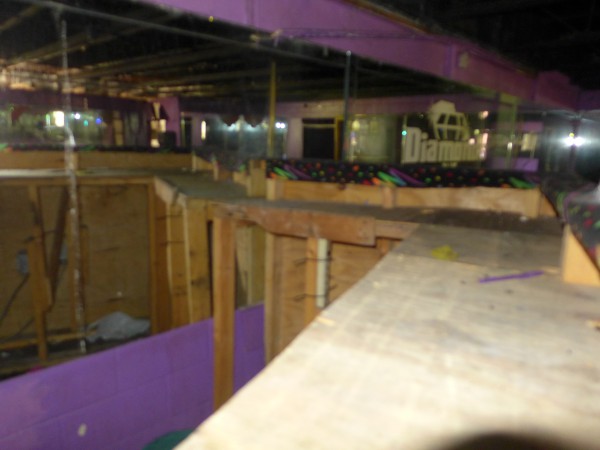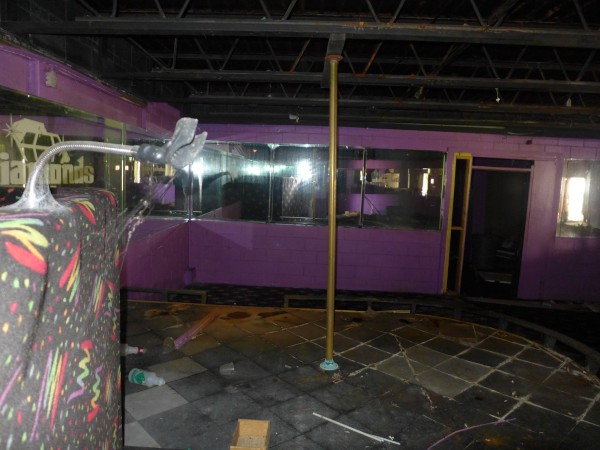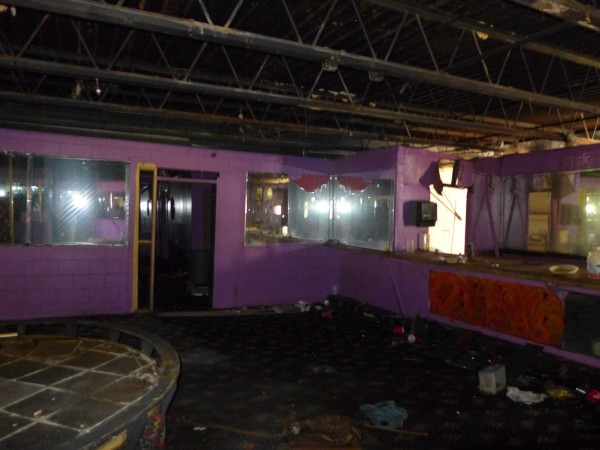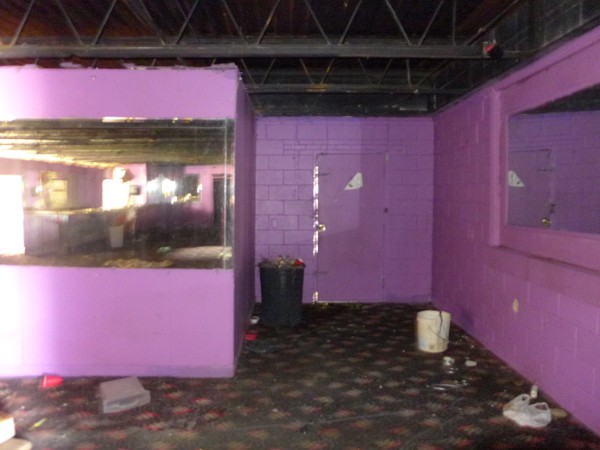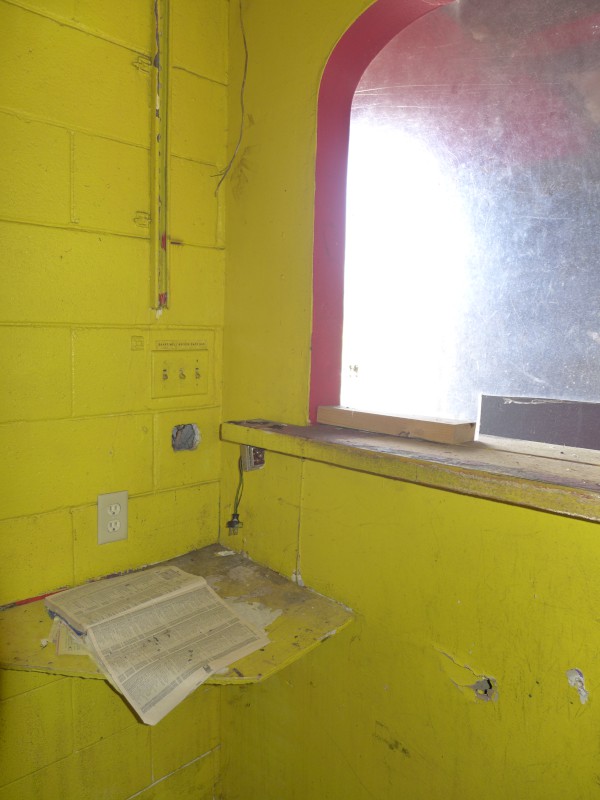 Posted at 12:01 am in Uncategorized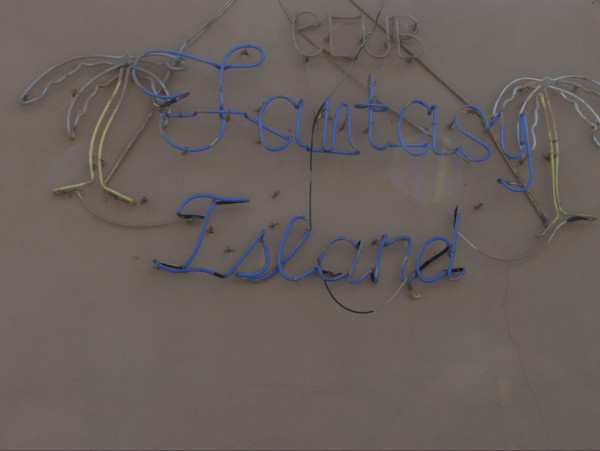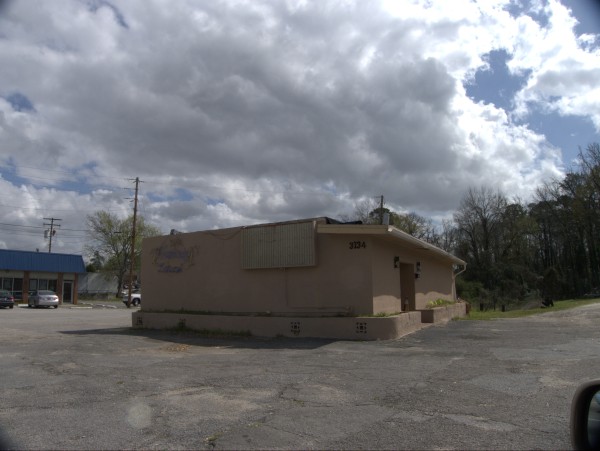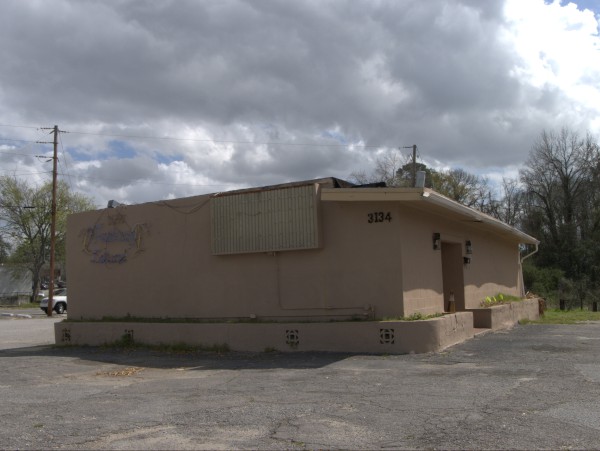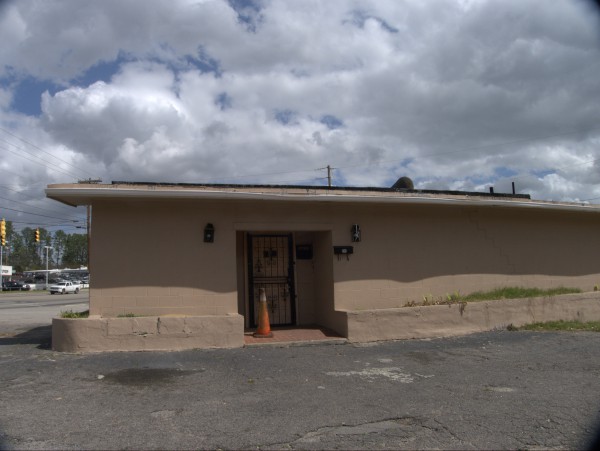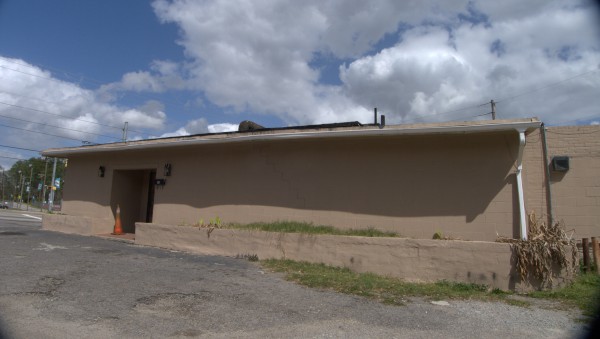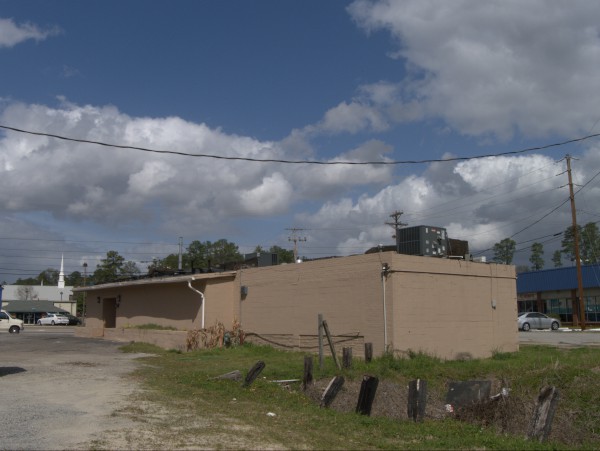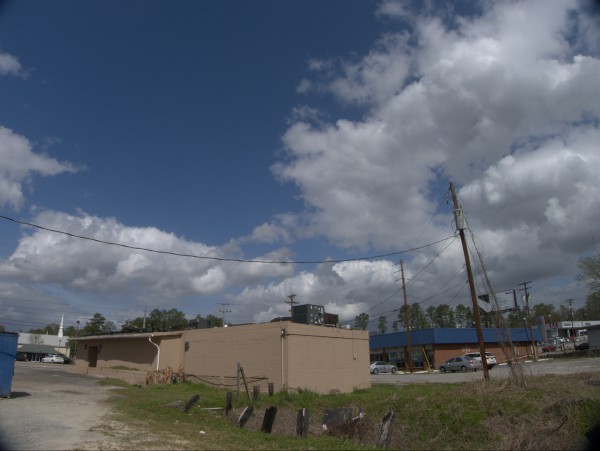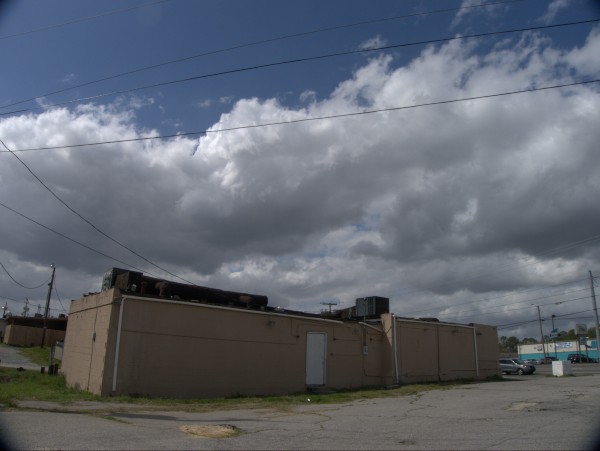 "Boss! The Plane! The Plane!" — Sorry, but that had to be said
I'm not quite sure what is going on with Club Fantasy Island, a tiny strip club on Two Notch Road which basically shares a parking lot with the old Shrimper restaurant and the old Atlantic Twin Theater. (As I recall, the club got a bit of notoriety some years ago when there was a shooting in the parking lot, but I'm not sure if the incident was actually related to the club itself, a neighboring club, or was random.)
Anyway, I took these pictures back in early March 2012 because I had noticed that when driving down Two Notch at times the club should normally be open, it wasn't. I almost went ahead and did a closing on it then, but one night somewhat later when I drove by, it was open once more, and I saw it open normally after that. Then, in June, I think, it was closed again, so I don't know exactly what the status is, but if they re-open again, I'll just update the post title.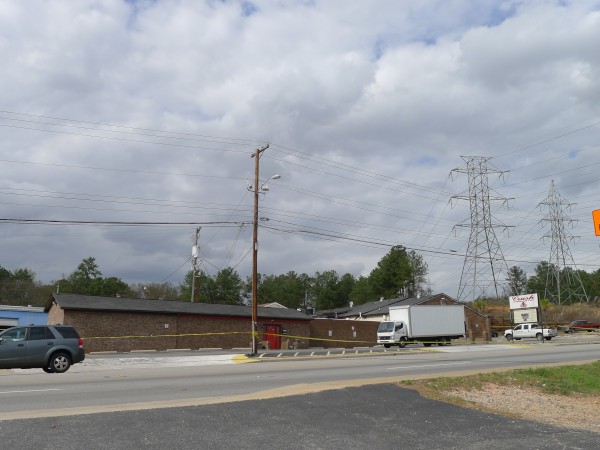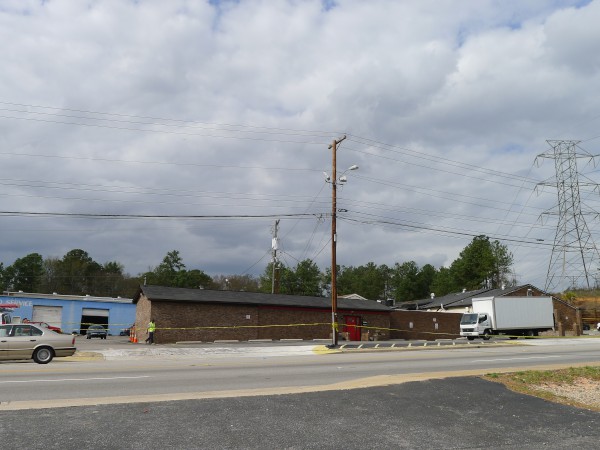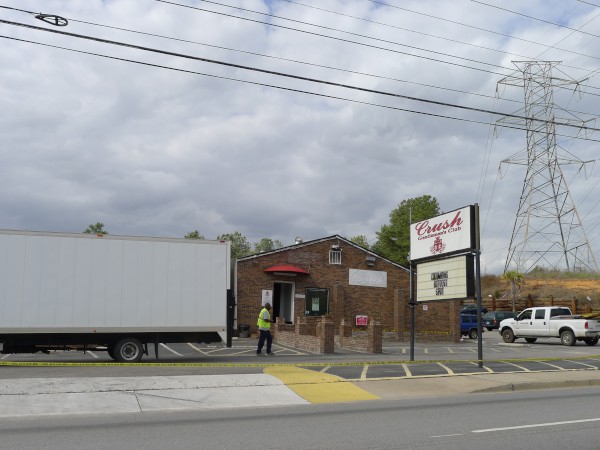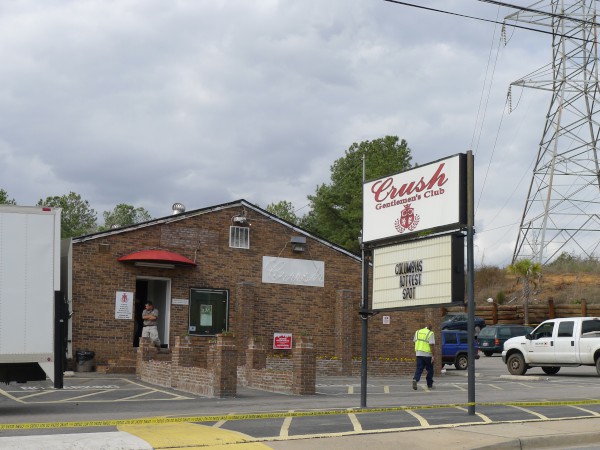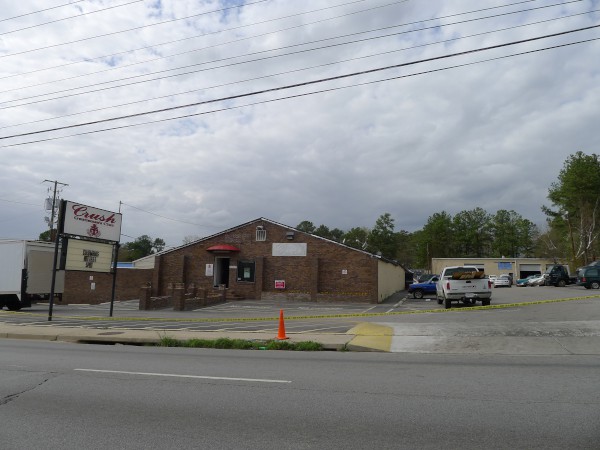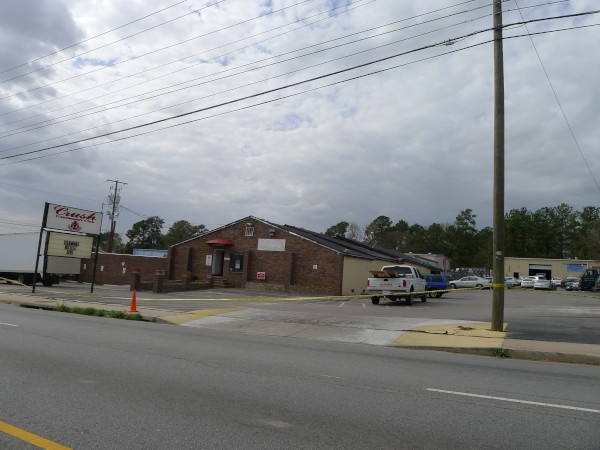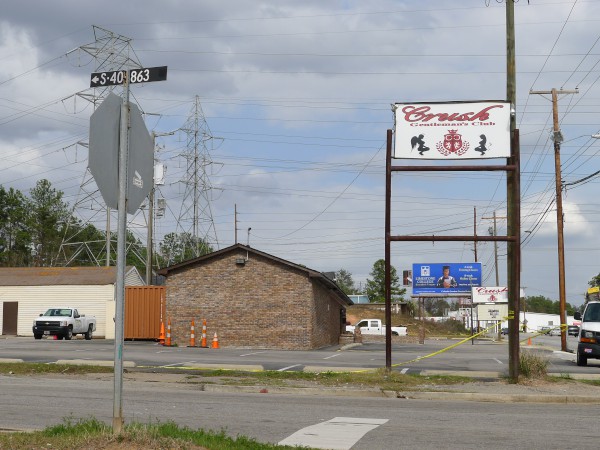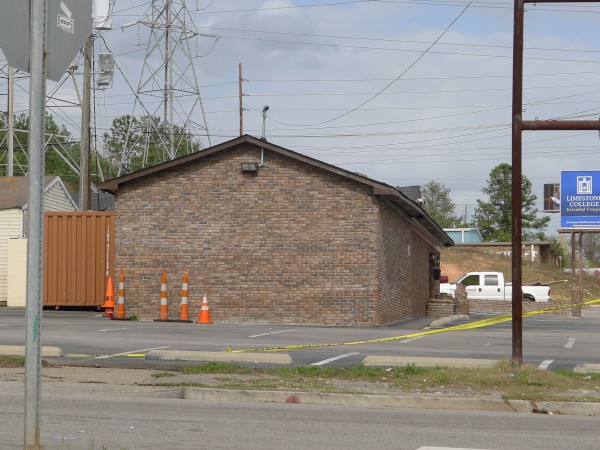 Well, this one is ripped from the headlines -- It seems that on the morning of Thursday 8 March 2012, somebody set fire to Club Crush (aka Crush Gentlemens Club) on River Drive just down from a defunct Cash / Title shop and the old A&P.
OK, I'm jumping the gun on the theory that it was arson, but given the recent history of the club (a woman was shot on 1 March and a tow truck driver was shot at on 7 March), I doubt that it just *happened to catch fire.
Actually I find the story of the woman being shot all the more remarkable in that it recapitulates the most famous incident to happen at this building. In both cases people inside the building were shot by bullets coming in from outside the club. Luckily, the woman is said to not be gravely injured -- in the first incident a man was killed. As I recall the story, the fatal incident happened while the building was occupied by Chastitys Gold Club. It seems that a man (a lawyer in fact!) was attempting to take liberties with a dancer that neither she nor club management would countenance, and the man was thrown out of the club, whereupon he went home, got a gun, came back and fired through the (closed) front door, killing a club employee.
I don't think that Chastitys ever really recovered from the bad publicity, and after limping on for a while, closed in 2009. The building shortly re-opened as another strip club, Savannahs Gentlemens Club (no apostrophies anywhere..) which didn't last too long and was replaced by Club Crush in late 2010 or 2011.
In fact, this building has always seemed to have sort of a revolving door problem. I was amused recently when both The State and The Free Times reported on Richland County mooting a change to zoning rules to close county stripclubs, and both papers seemed to believe that Chastitys was still open (unsurprisingly they noted they were unable to get a comment from the owners about the proposed regulations, given that the club was long gone..). Some other businesses I know of in this building were Coconuts Inc, The Club House and Crockmeyer's,which all sound like night clubs, and Swipe USA which doesn't. (In fact, I'm not sure what that sounds like..).
I'm not sure about Club Crush, but the building itself did not appear badly damaged, and based on history, I predict a club will be open there again soon, whatever the name.
UPDATE 13 December 2013: According to The State the building as been denied a permit to operate as a bar under new ownership, with, I think, the subtext being: this is for all time. To me this seems like visiting the sins of the past into the future..
UPDATE 19 January 2018 -- The place either is operating as or is about to open as Tryst: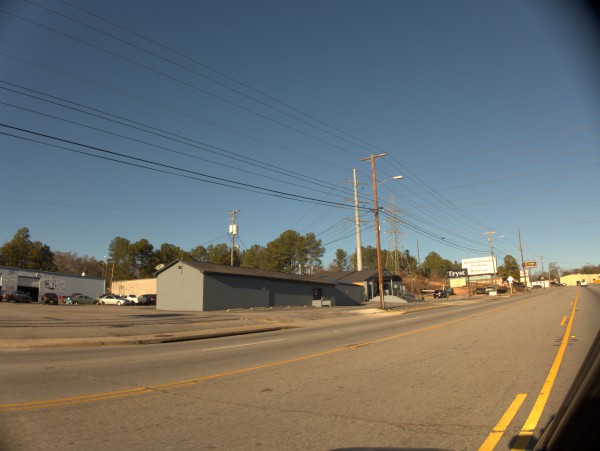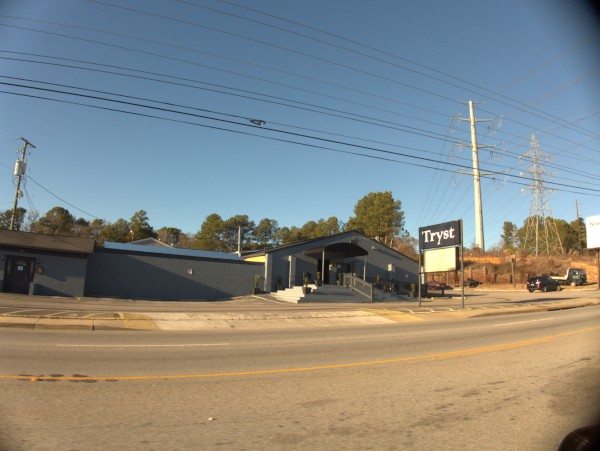 Posted at 11:15 pm in Uncategorized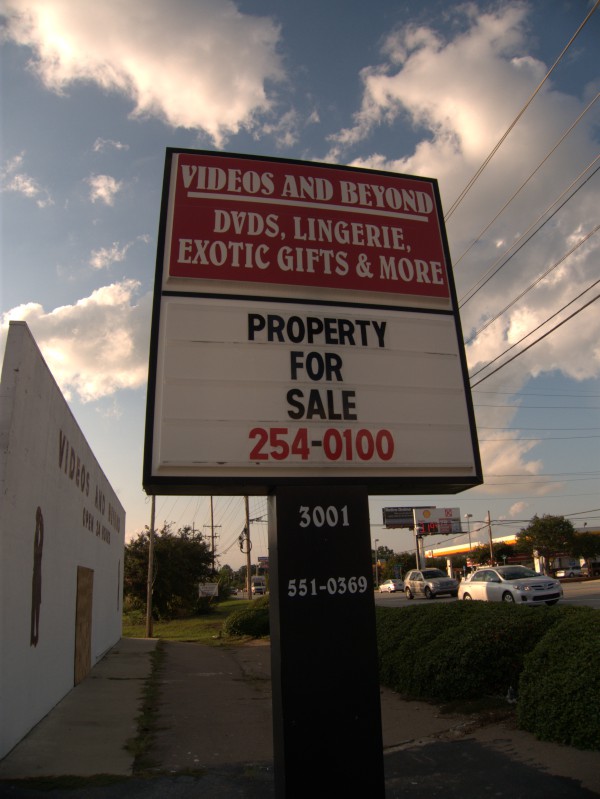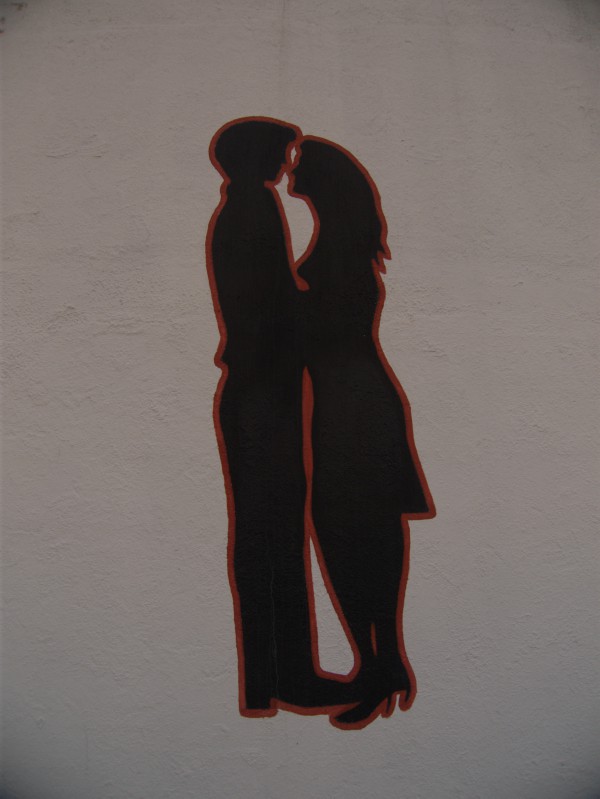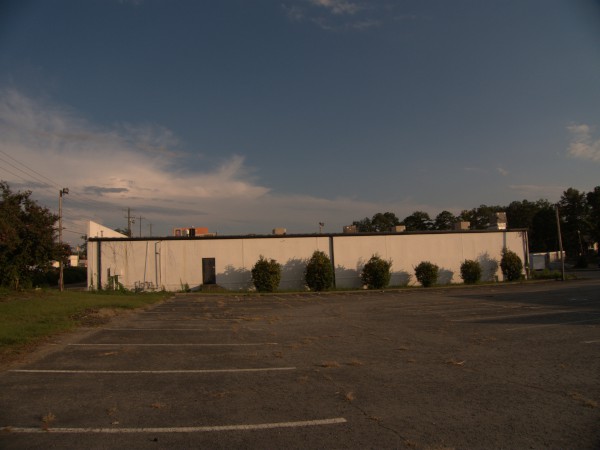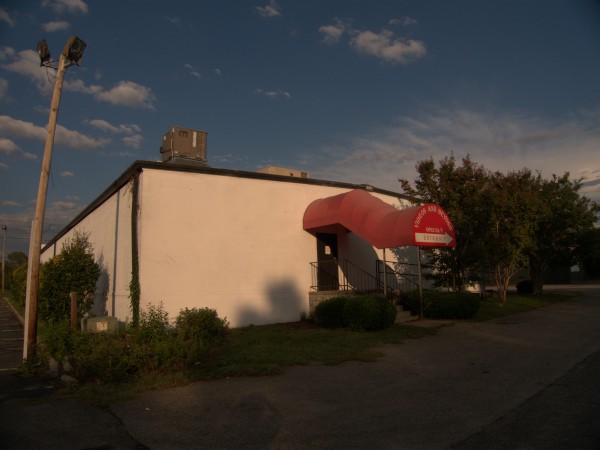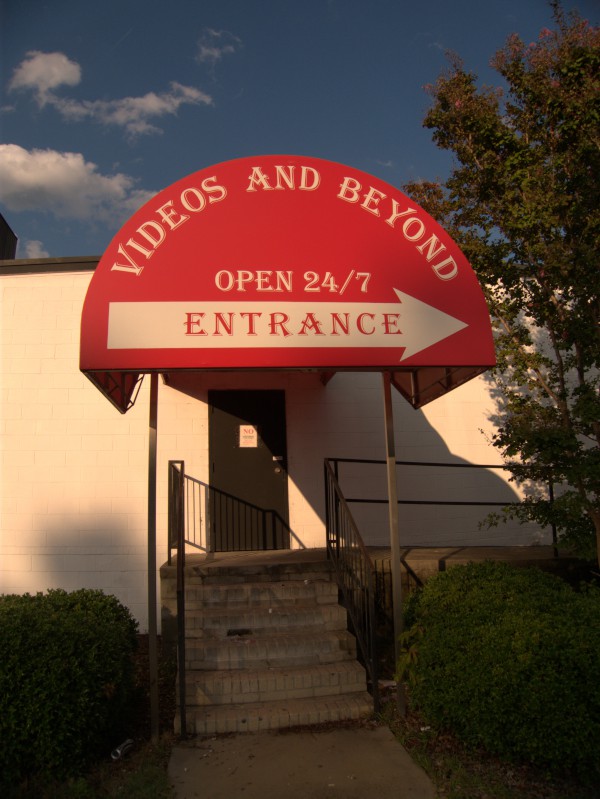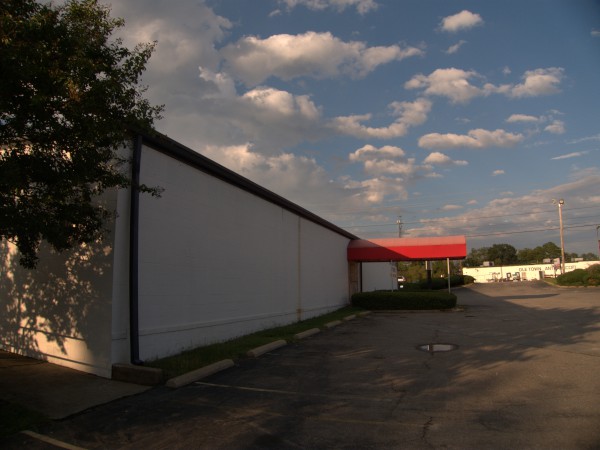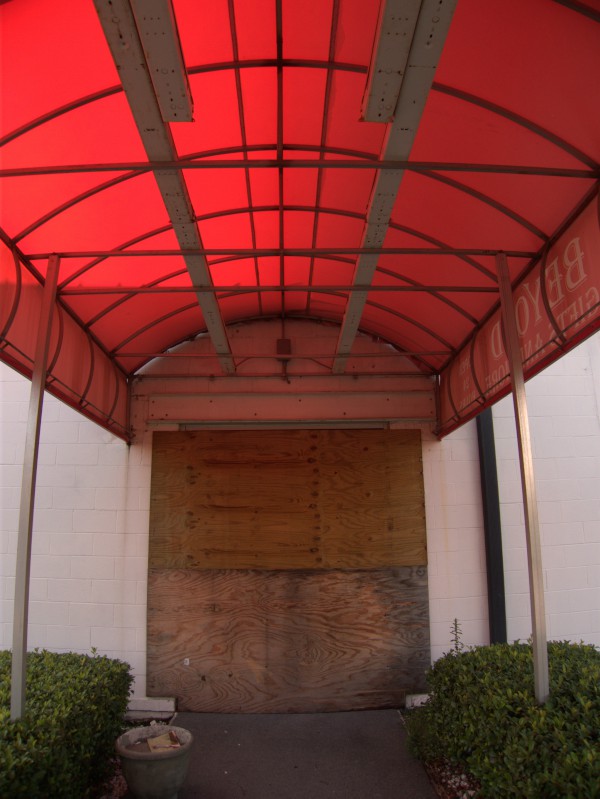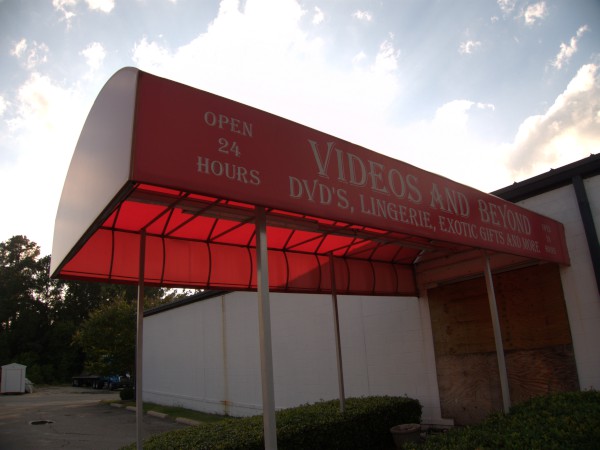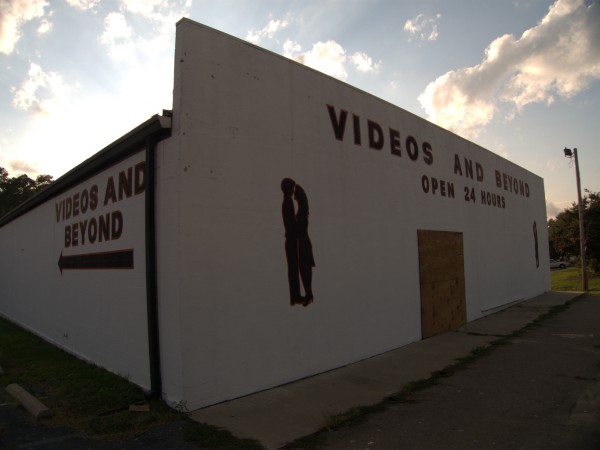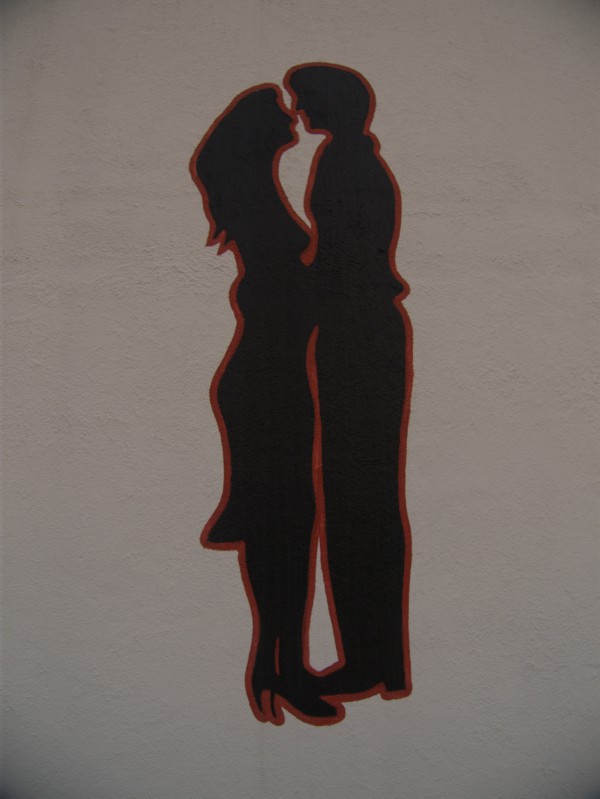 This porn emporium on Broad River Road next to the old Data Resources site and across the street from Ole Town Antiques recently gave up the ghost and is already boarded up. I like the odd fact that the advertising silhouettes are about as tame as anything involving a man and a woman together can be. There are racier beer billboards. Of course maybe that did them in!
More likely are two other factors. First, they were just down the street from This is It! at 2831 Broad River Road, and that seems to be a chain of sorts. And second, I heard somewhere that Al Gore invented something that lets you see people in their birthday suits for free...
(Hat tip to a commenter I can not locate now..)
UPDATE 8 October 2011: Added "TJ's" to the post title after finding it in google. It was a strip club.
UPDATE 11 November 2011: Added "The Ballistic Center to the post title. It was a shooting range. I've got a nice ad to scan in at some point.
UPDATE 23 November 2011 -- Here's the ad I mentiond above: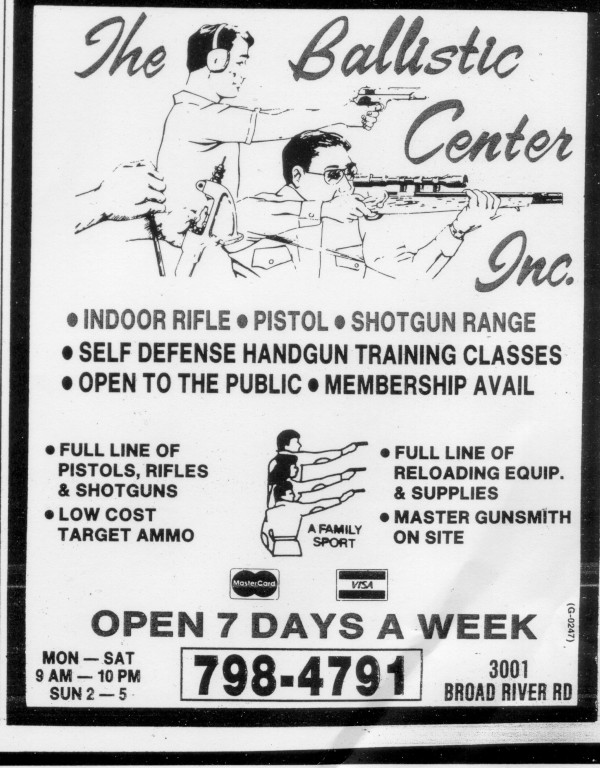 The Ballistic Center first listed in the January 1984 phonebook at "1022 Columbia College Drive". I forgot to make a note of when they first listed at this address, but the last listing was in the February 1991 phonebook.