Archive for July, 2010
Posted at 12:16 am in Uncategorized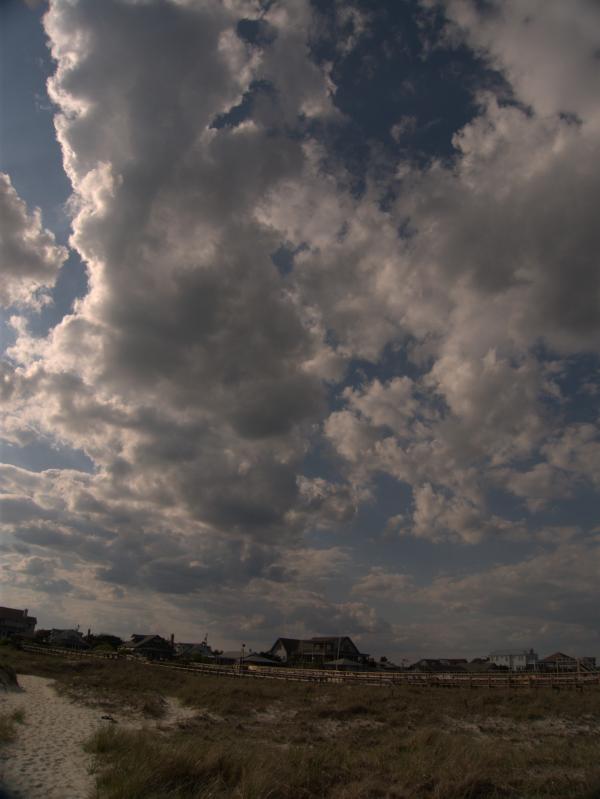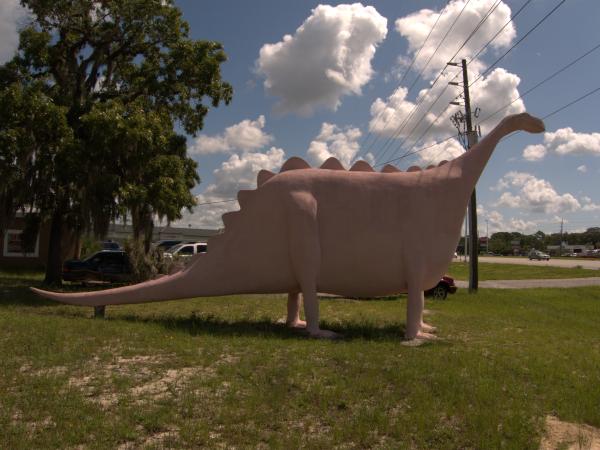 The climate of Columbia is such that its inhabitants have to live elsewhere
Time for Summer Vacation Phase-II, folks. I'll try to keep the spam in check and may respond to comments, but don't expect any new posts for the next three weeks or so.
Posted at 1:09 am in Uncategorized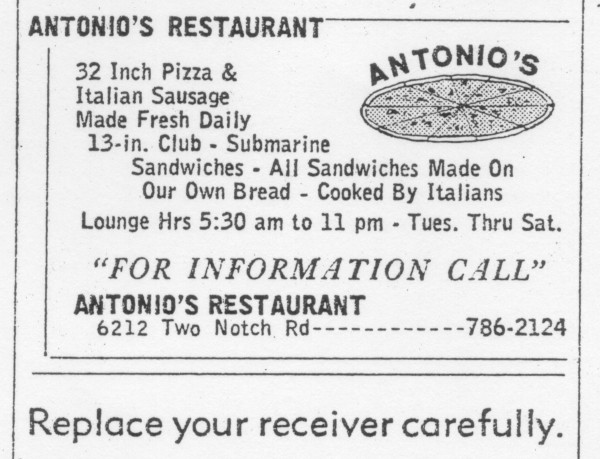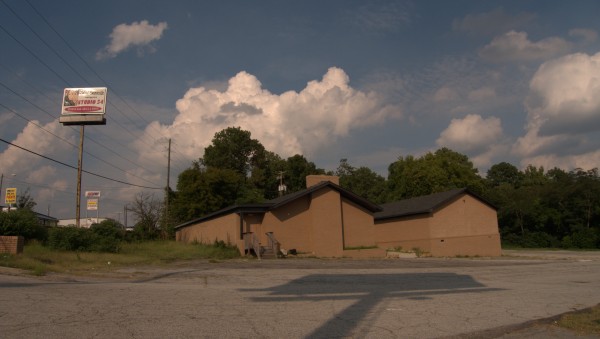 I don't actually remember this place as an Italian restaurant, but apparently in 1974 it was one. Pizza was still a pretty exotic food to me then, but was one I liked, and I would have expected to remember a pizza restaurant in the Dentsville area. I certainly knew about the Pizza Hut on Two Notch more or less where the O'Reily's Auto Parts near Best Buy now is, and about Shakey's on Parklane Road. A 32-inch pizza sounds rather overwhelming, but the sandwiches sound quite good.
After Antonio's, it was a number of night-clubs and strip-clubs. By 1997, it was operating as L B Dynasty and got in trouble with the Department of Revenue leading to a 45 day suspension of the club mini-bottle license. Whether because of that, or for some other reason, it later became Studio 54, and was that until quite recently, I think (at any rate, the sign is still there). Despite that, it has been at least one other club, Club Gemeni before it's current incarnation as Club Ego
UPDATE 4 September 2011: After being several other things, it's now Laguna Sports Bar
Posted at 1:05 am in Uncategorized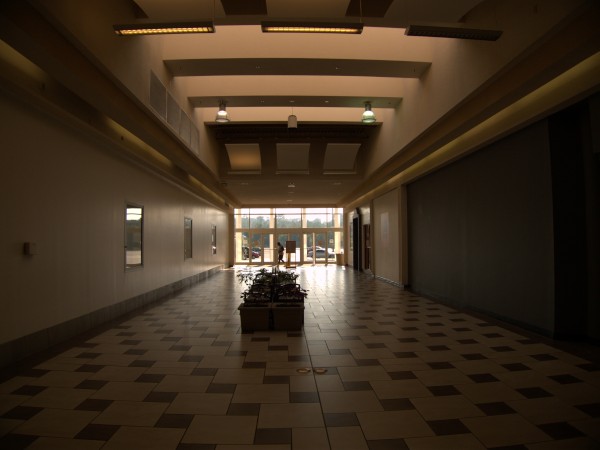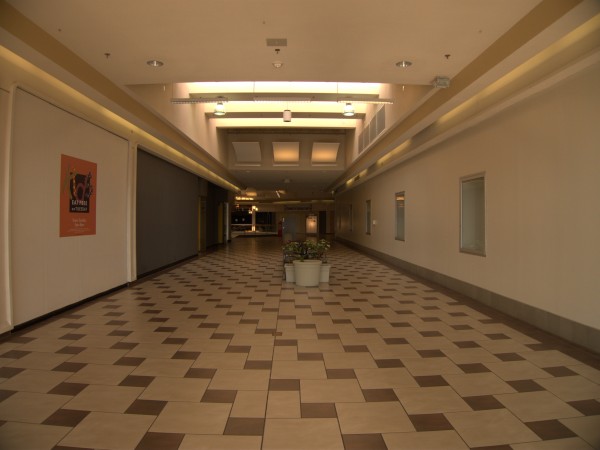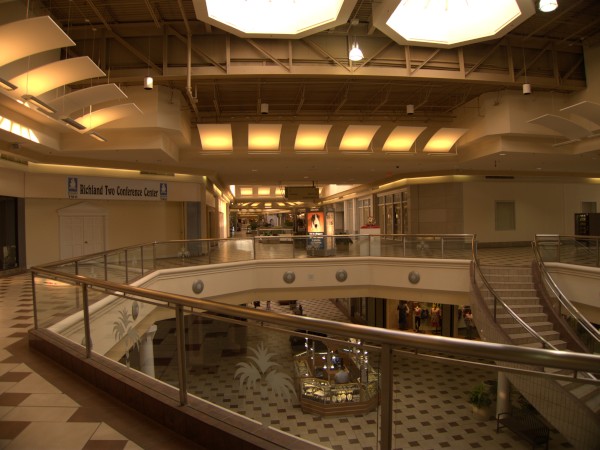 I went to Sears at Columbia Mall on Wednesday to look for something and decided to take the closing-cam and walk the mall afterwards. There are so many vacant storefronts that the place almost feels like Inlet Square Mall now. I thought about taking pictures, but then decided there was no point because I didn't even know what these places had been. In high school, I probably went several times a week, but now it's once every six months or so. Is the mall in trouble? Let me put it to you this way -- the Dollar Store is gone, and there are kiosks selling flea-market type merchandise...
I did take a few pictures, and I really like the first one. It is almost an Edward Hopper-esque scene of isolation.
Posted at 11:48 pm in Uncategorized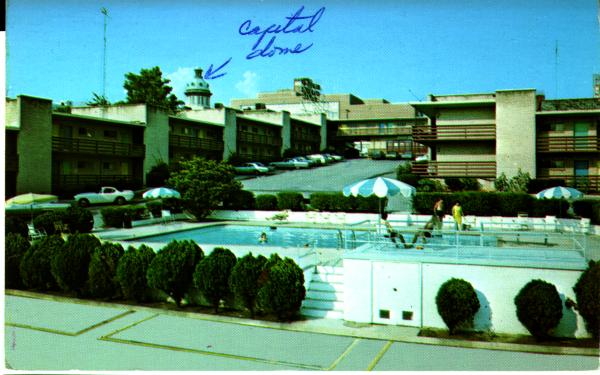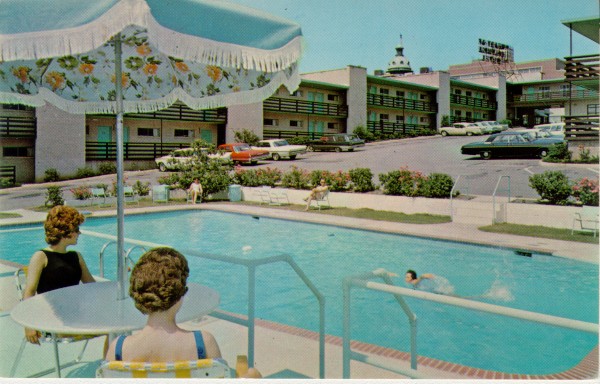 The Heart of Columbia Motel and Sportsman Restaurant

1011 Assembly AStreet Columbia S.C.

Conveniently located in downtown Columbia opposite the State Capital and near University S.C.

100 Spacious Air-Conditioned & Heated Rooms * Free T.V. * High-Fi Music * 24 Hour Phone * Swimming Pool * Ice * Baby Beds * American Express Honored.

Phone AL 2-3393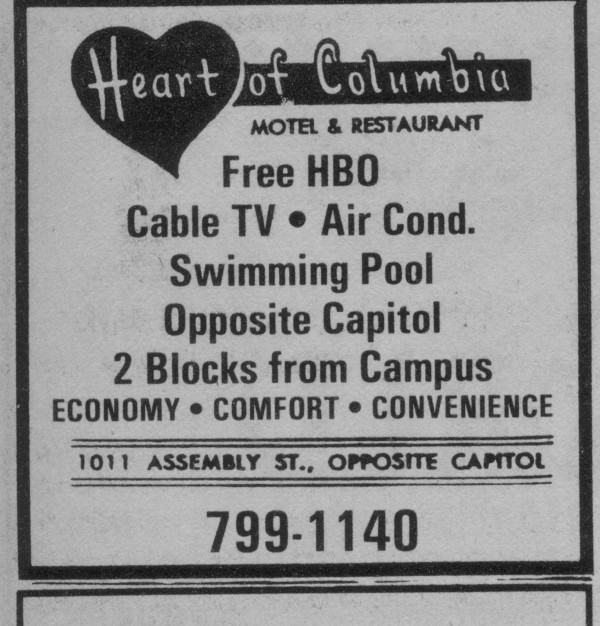 I'm not sure when the postcards were made. The second one is probably from the early 1960s given the "AL" exchange prefix on the phone number. I'm sure if I knew cars better, I could peg it closer by looking at them. Certainly it would seem that 24 Hour Phone was a motel novelty at the time..
Whatever the exact year, it would be hard to argue that Heart of Columbia did not then describe the location as well name the motel. It would be harder to say that by 1983 which is when the yellow-pages ad appeared in the USC phonebook, but ironically now that the motel is long gone, the area is once again prime, very much in the Vista neighboorhood.
The way I recall The Heart of Columbia when I was growing up, and by the time I left town in 1985, is as slightly seedy and down at the heels. I specifically remember than when a cousin of mine came to town for a teachers' conference at USC, and booked a room based on proximity, she was a little unsettled by what she found, and that my father told her he wished she had called ahead so he could have warned her that he didn't think a woman should stay there by herself.
According to The State archives, the place closed in 1994, but nonetheless had an interesting history thereafter.
FIrst of all the The Thailand Restaurant moved in, presumably to the old Sportsman location.
Then on 4 May 2004, the place caught fire:
FIRE PUTS FOCUS ON BUILDING'S FUTURE
RICK BRUNDRETT, Staff Writer
2004-05-05

The downtown site of a restaurant and abandoned motel heavily damaged by fire early Tuesday likely will get new life, Mayor Bob Coble said.

"It is probably the most strategic piece of property for redevelopment in Columbia,"Coble said Tuesday. "I can't imagine it will stay an abandoned hotel."

Coble said the former Heart of Columbia Motel's close proximity to the convention center and center hotel, as well...
After that fire, The Thailand Restaurant moved to 6024 Saint Andrews Road.
Then the building was slated for demolition:
MOTEL'S DAYS NUMBERED
JOHN C. DRAKE, Staff Writer
2005-01-25

Eight months after an errant cigarette set the building ablaze, the Heart of Columbia Motel's owners are positioning the building for demolition.

At the same time, they are facing pressure from the city to address long-standing property code violations at the condemned building.

The 40-year-old motel, which has been closed since 1994, is now a boarded-up eyesore just across Assembly Street from the State House. It was declared unsafe and condemned May 5, one day after...
Then the place caught on fire a second time:
ABANDONED DOWNTOWN MOTEL BURNS AGAIN
ADAM BEAM, Staff Writer
2005-10-06,

Assembly Street building was to be torn down Monday; fire inspector suspects arson

Fire officials say arsonists set fire Wednesday afternoon to an abandoned building on Assembly Street- the second time the building has burned and just five days before it was scheduled to be torn down.

A fire investigator said there was nothing in the building to burn, and something helped "accelerate"the fire, most likely some type of liquid fuel.

Deputy Fire Chief...
NO SUSPECTS IN MOTEL ARSON
2005-10-07

Fire officials had no suspects in the arson at the Heart of Columbia motel on Assembly Street, and investigators said they might never know what type of fuel was used to burn it.

Lowell Bernstein, a Columbia lawyer whose family owns the building, said his family had already paid for the demolition and had no insurance on the building except liability.

He said the lot will be a parking lot for at least a few months while his family decides what to do with the property.
Then the place burned a third time:
DOWNTOWN MOTEL BURNS FOR THIRD TIME
ALLYSON BIRD, Staff Writer
2005-10-31,

The condemned Heart of Columbia Motel, which caught fire earlier this month and in May 2004, burned again Sunday morning.

Deputy Fire Chief Aubrey Jenkins said 25 firefighters responded to the fire at 8:39 a.m. at Assembly and Pendleton streets after receiving a call from the Columbia Police Department.

"We're going to treat it as an arson because there was no apparent reason for it to catch on fire,"Jenkins said. The building no longer has...
Finally it was torn down, slowly:
ASBESTOS ISSUE SLOWS MOTEL DEMOLITION
RICK BRUNDRETT, Staff Writer
2005-11-01

Demolition of the old Heart of Columbia Motel- the site of three fires since last year - has taken longer than expected because of asbestos removal, a spokesman for the property owners said.

Crews began knocking down the building's front facade Monday, a day after the third fire.

Lowell Bernstein, a lawyer whose family owns the building at Assembly and Pendleton streets near the State House, said opening up the building could stop vagrants from taking shelter there -...
As the building was demolished, The State noted a bit of music history I was unaware of:
TEARING OUT OUR ROCK 'N'ROLL HEART
2005-11-10

The demolition of the Heart of Columbia Motel is taking away a piece of the city's rock 'n'roll history.

A photo of the motel's sign is on the CD jacket of Hootie &the Blowfish's breakthrough 1994 album, "Cracked Rear View,"which has sold more than 16 million copies. Other Columbia landmarks such as the State House also are pictured.

The motel stood 40 years on Assembly Street in...
(You can see the album picture here: Cracked Rear View
)
After all that, we are left with a parking lot as seen in these pictures: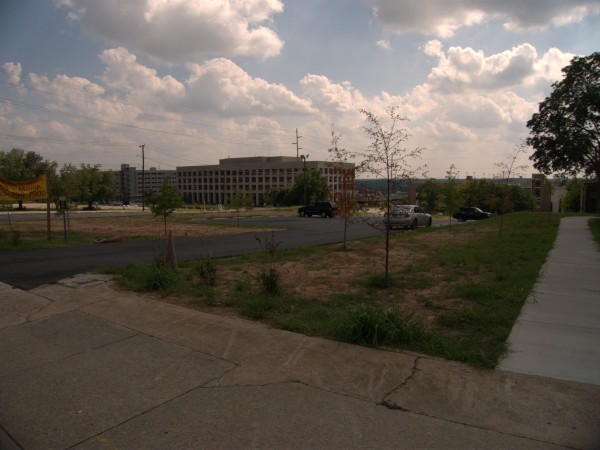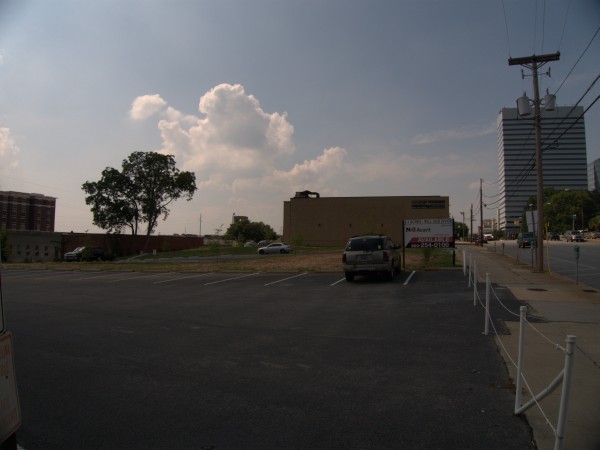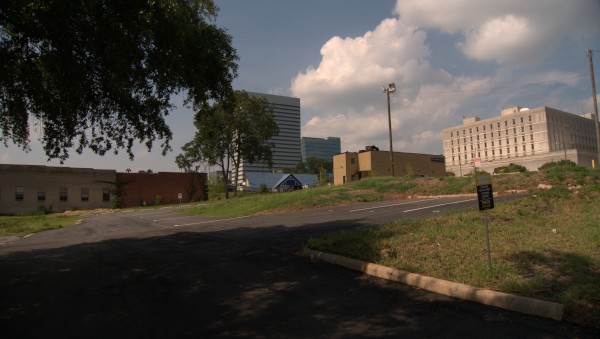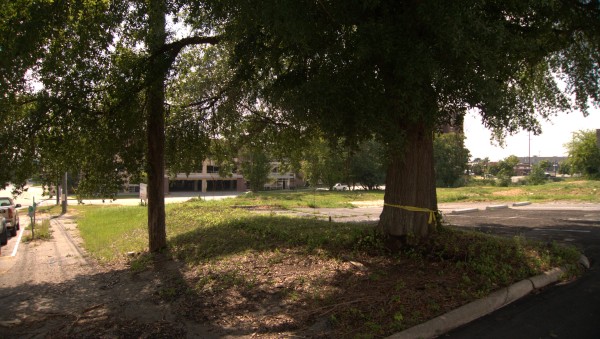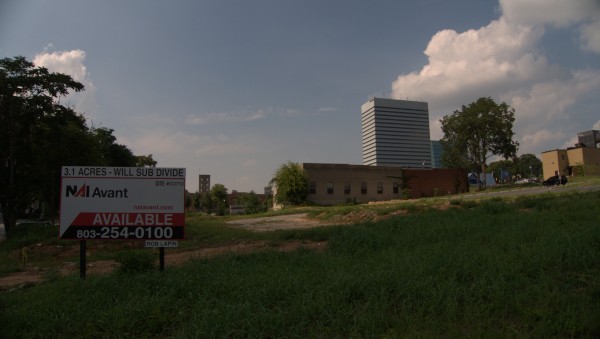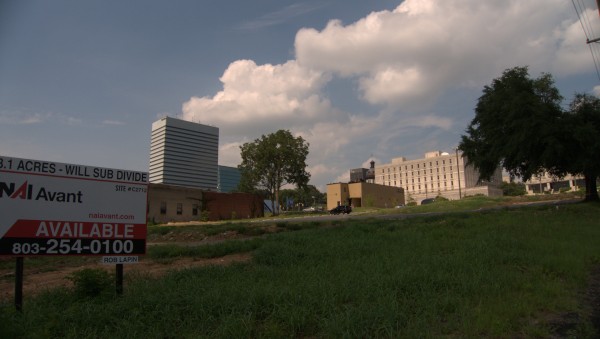 I'm pretty sure this was the swimming pool seen in the postcards above. I say that based on it being a hole in the ground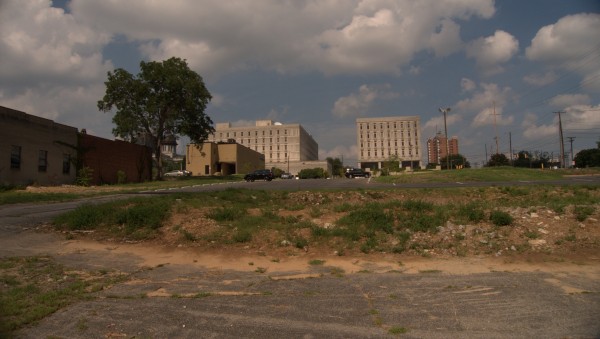 and having bits of blue tile mixed in with the debris: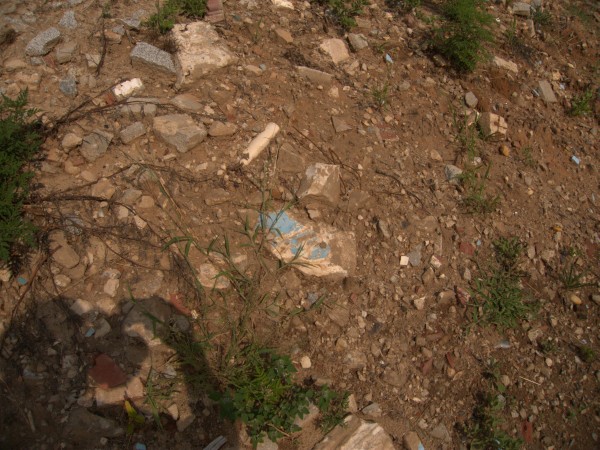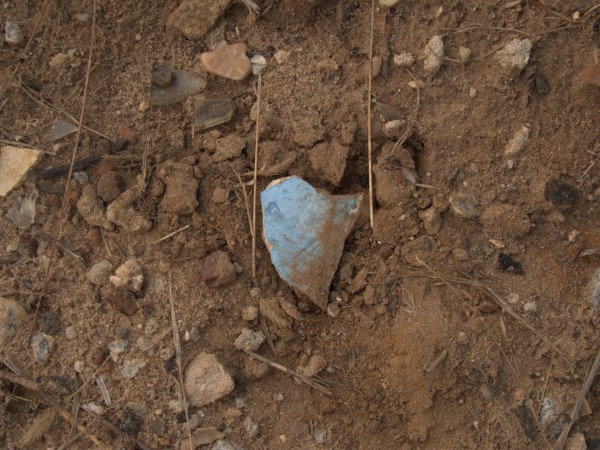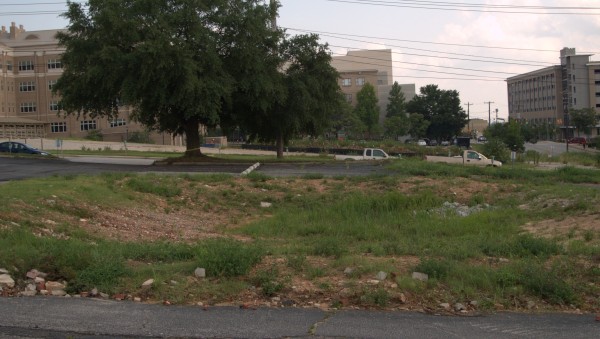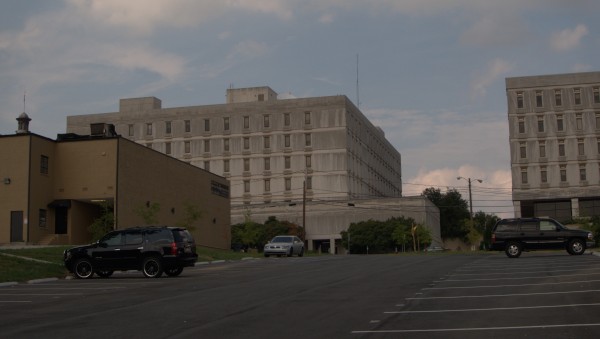 Here is the modern day view towards the Capitol as seen in the post cards: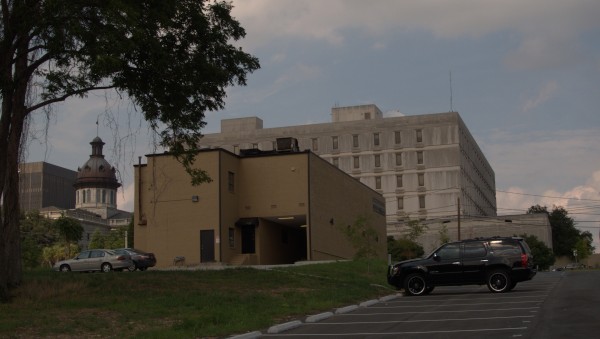 AND FINALLY, the Heart Of wasn't strictly a Columbia operation. I believe it was part of a loose chain. I know I have seen a number of Heart Ofs over the years, though I can no longer say where. However The Heart of Dillon is still in ongoing operation: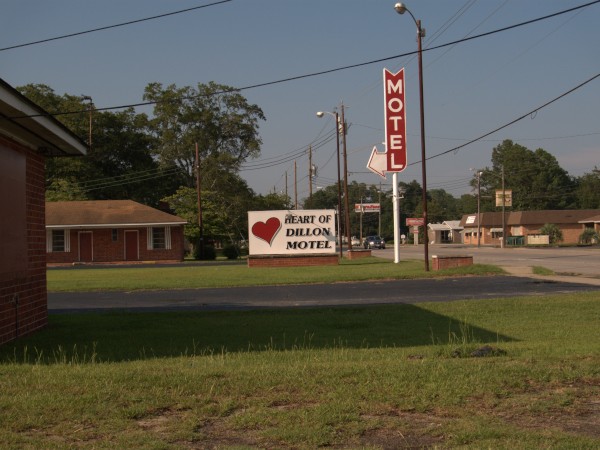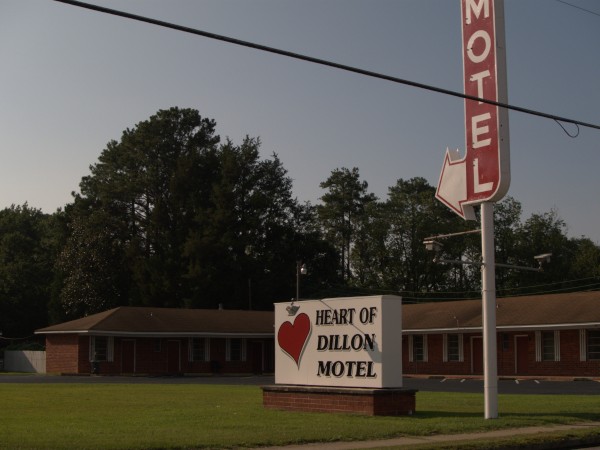 UPDATE 29 July 2010: Commenter Dennis sends the following document indicating that there was an annual General Assembly pool party at HOC into the late 1980s..
"The following was received.
May 26, 1987
The Honorable Samuel R. Foster, Chairman
House Invitations Committee
520 Blatt Office Building
Columbia, S.C. 29201

Dear Mr. Foster:

Gene and Joyce Stoddard cordially invite members of the House and
Senate, clerks and attached to the annual pool party at the Heart of
Columbia Motel, Wednesday, June 3, 6:30 P.M.

I appreciate you conveying this to the membership of the House.

Sincerely,
Eugene C. Stoddard

On motion of Rep. FOSTER, with unanimous consent, the invitation was
taken up for immediate consideration and accepted."

(Source: http://www.scstatehouse.gov/sess107_1987-1988/hj87/19870528.htm)
Posted at 12:47 am in Uncategorized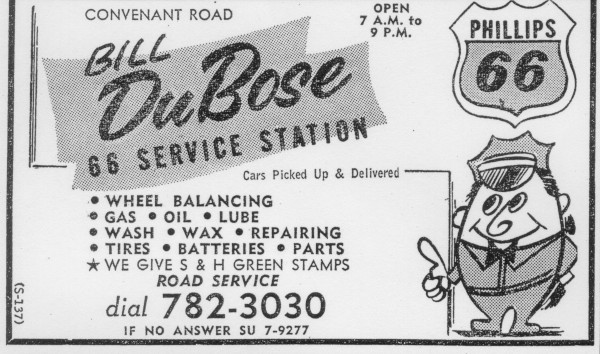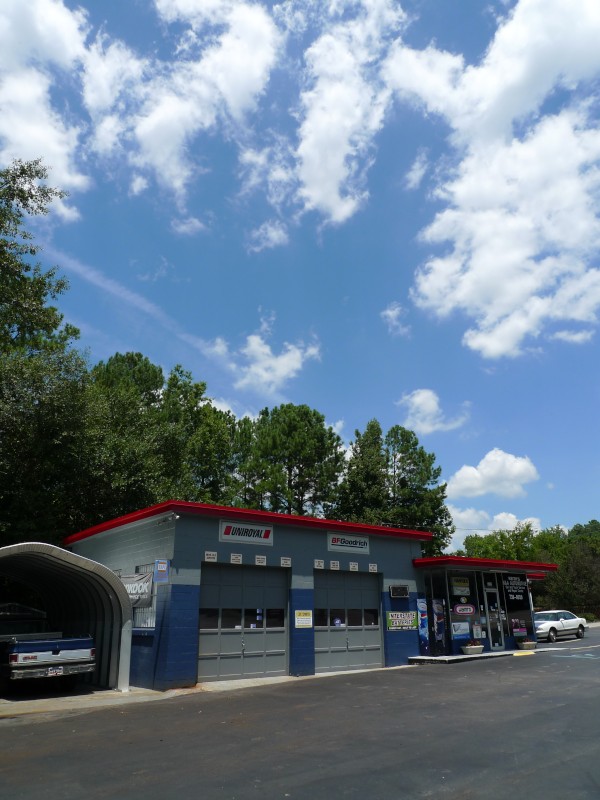 The ad is from the December 1961 Southern Bell phonebook, and looking at the Service Station section is rather interesting. It almost appears that most every station choosing to get a picture ad used the same studio, with each ad having a Zip-A-Tone gray-wash area and a (different) little cartoon service-man.
I'm not completely sure that this building was DuBose. The older phonebooks are less anal conscientious about giving full numbered street adresses than the current ones. I am sure it was a Phillips 66, and it is on Covenant Road, so I'm pretty sure it's it.
The station is in Ravenwood just at the intersection of Covenant & Bethel Church Roads, catty-cornered from the old Campbell's Convenience Store and the old Piggly WIggly, directly across from the second location of Forest Lake TV / Ravenwood Pharmacy and next door to the old Sunshine Cleaners. (Heavens, that sentence got more complicated and link-full than I expected -- there's been a lot of turnover in the area!)
I'm a little hazy on exactly when the 66 station closed and what followed it. I think it was the 70s, and I think the building got a bit run-down afterwards. The current tenant, Keith's K & A Automotive spruced it up a good bit and seems to do a very good business there -- I had to wait for a Sunday to get a picture of the place without lots of cars in front of it. I really like the bi-level construction and strong roof-line of the building.
Posted at 1:02 am in Uncategorized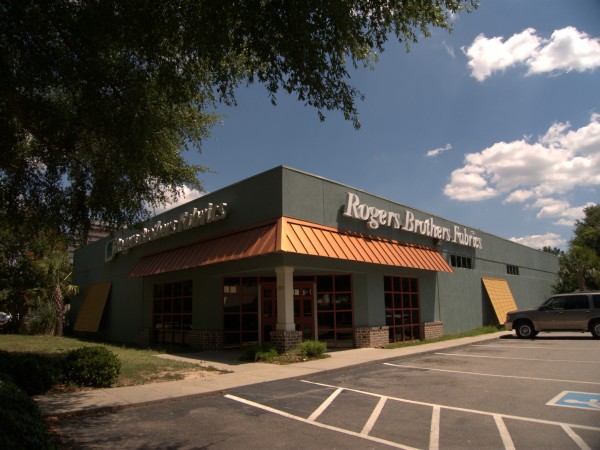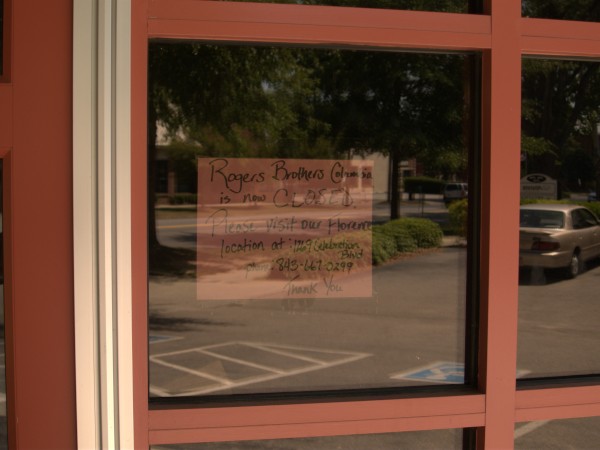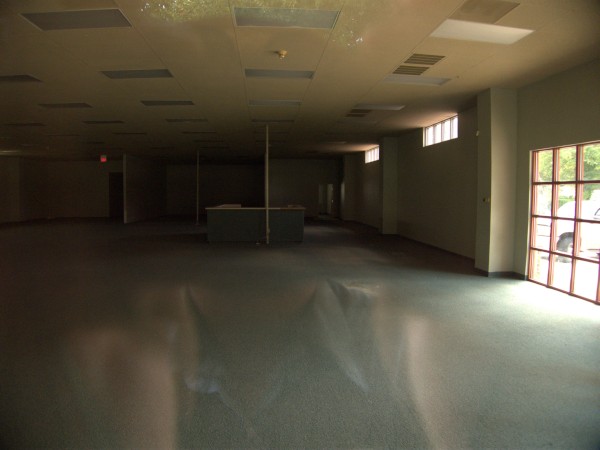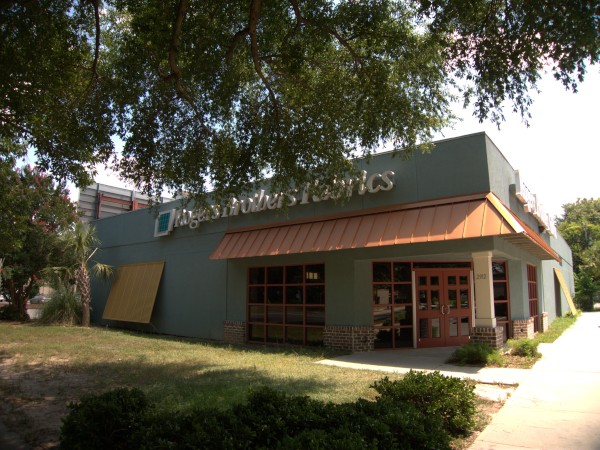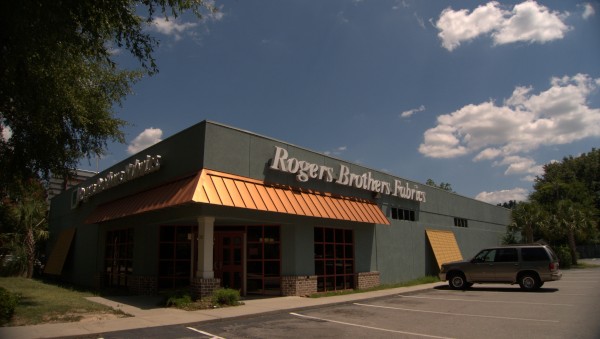 I first wrote about Rogers Brothers when they moved from Trenholm Plaza on 17 March 2008. I first wrote about the building at 2912 Devine Street in this closing for Columbia Photo Supply.
I see from the sign on the door that Rogers Brothers has another store in Florence, which I did not know. It seems this section of Devine Street has been volatile over the last few years, with Al Amir and Saffron closing next door and Birds On A Wire, Ben & Jerry's and Tiffany's closing across the street.
(Hat tip to commenter Matt.)
Posted at 12:33 am in Uncategorized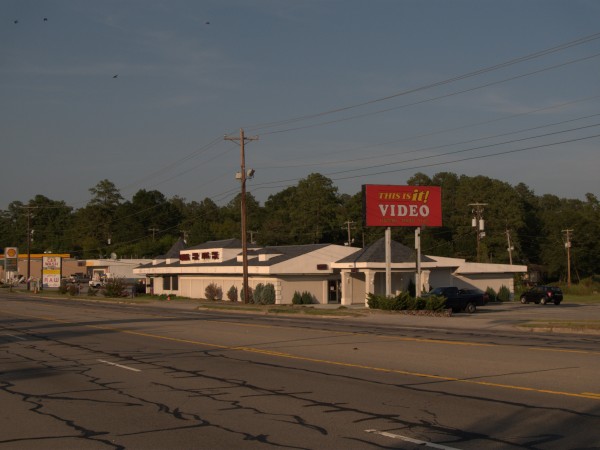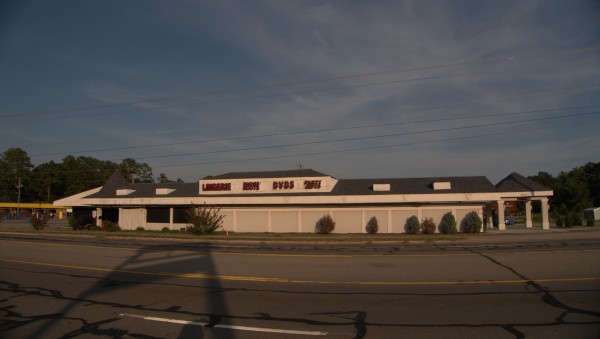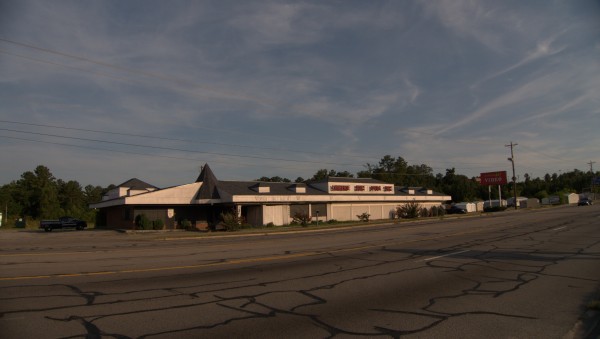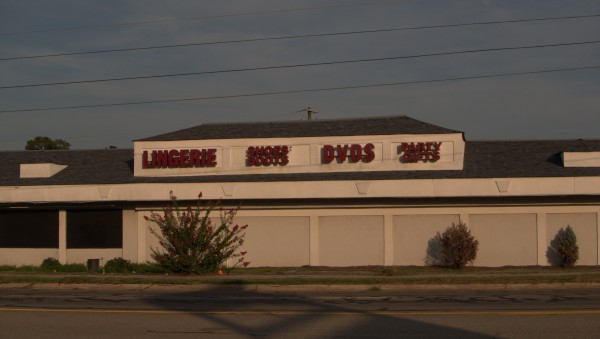 Can anyone identify the original business in this building, across from the former Hi Line Imports and in front of the old Impulse Club? Currently it's Club Raw on the east side and This Is It! on the west side. This Is It! is 5024-C, suggesting the building may have been divided into three storefronts at one point.
I thought it was a restaurant of some sort, but I don't see 5024 listed in the 1970 or 1974 restaurant Yellow Pages (though of course the listings are alphabetical, not geographical, so I may have missed it skimming through).
I'll update the post title if I get an identification..
UPDATE 26 July 2010: OK, I've got two votes for The Ranch, so I've updated the post title to that. Thanks to commenters Dennis & Bud!
Posted at 2:23 am in Uncategorized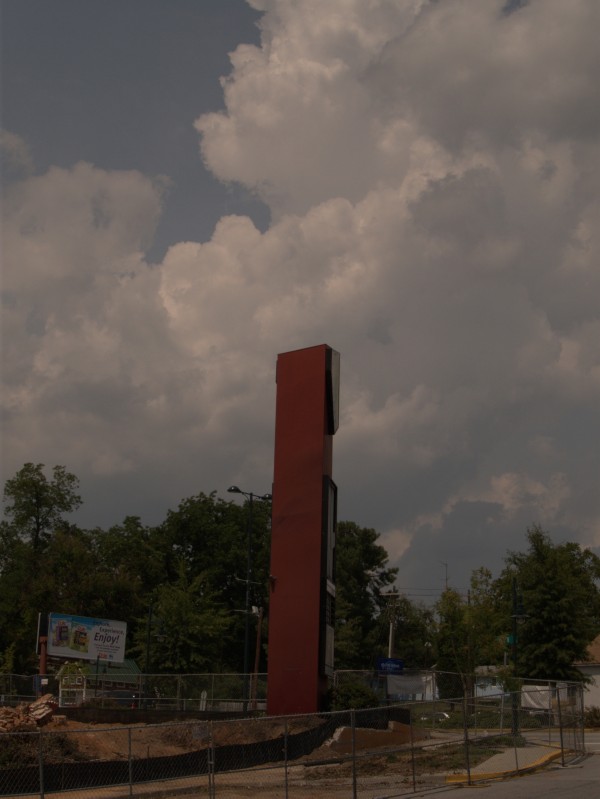 1101 Harden Street was the address for PT's Cabaret, The Punch Line and Greenstreets as well as a gaggle of other businesses over the years including tax preparers, nightclubs, eateries, and military recruiters.
The building sat on the corner of Harden and Senate Streets (a corner I believe many people would be surprised exists..) across from Time Warner Cable and next to Food Lion. The ongoing demolition is supposed to result in a Cook Out restaurant being built, and although it was a separate address, the old Bob Andrews Motors building was also knocked down as part of the project.
Lots of pictures from three different days follow..
Posted at 11:52 pm in Uncategorized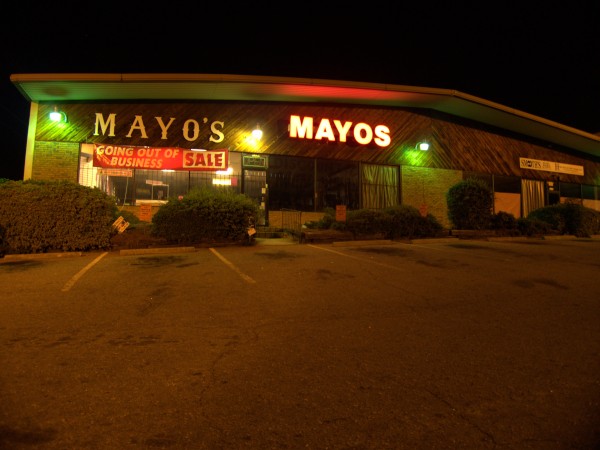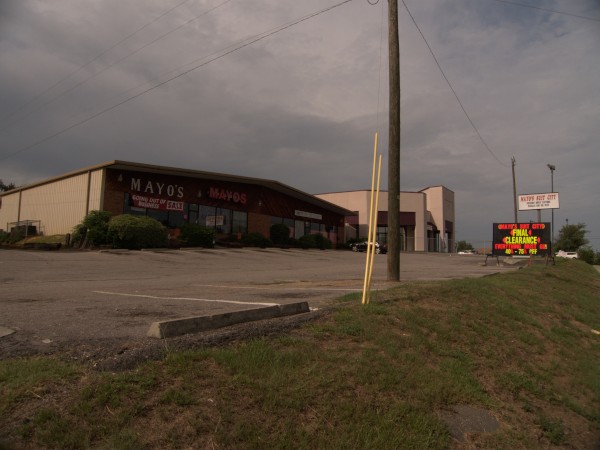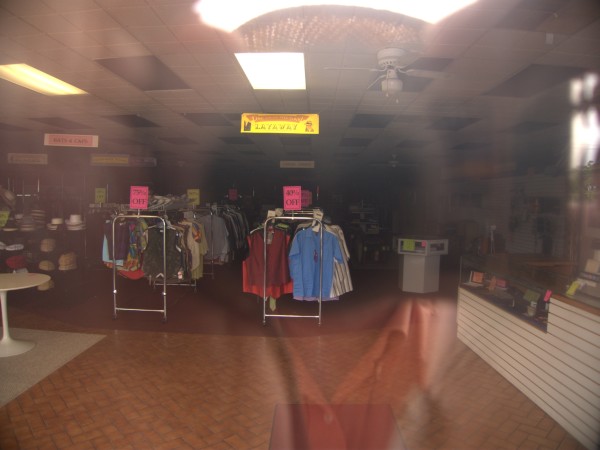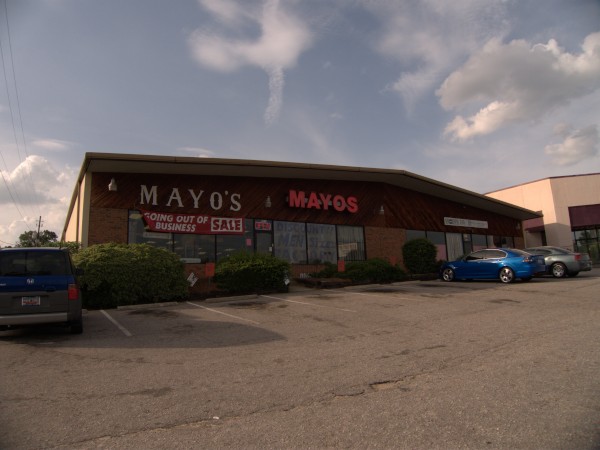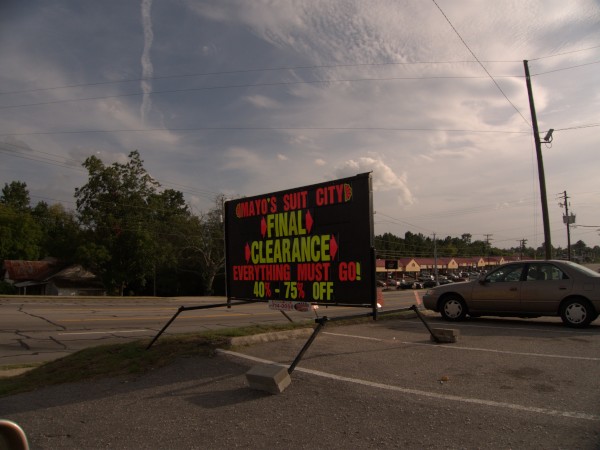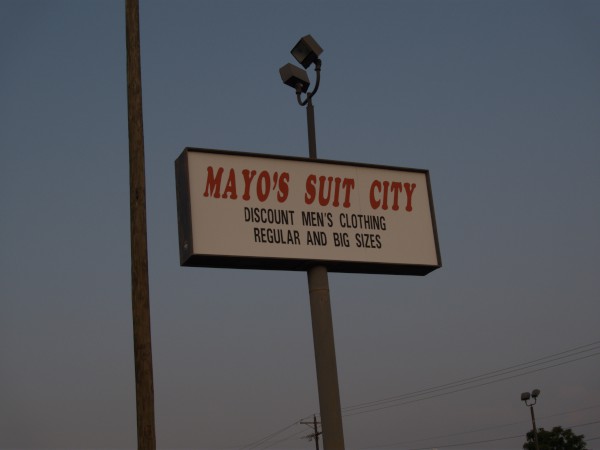 This was in The State last week. I had already seen the closing sign, but hadn't gotten around to getting any pictures. The story is kind of interesting as the owner says it's a dieing business, literally, as more and more of his customers pass on, and the new generation doesn't take up suits. I certainly never liked them and was lucky enough to get a job in an industry where they aren't mandatory. (So it was "Hold the mayo!" for me..)
According to the Mayo's web site, there's a store in Sumter as well. Since it didn't come up in the newspaper article, I would guess it's under different ownership.
UPDATE 27 August 2010 -- Well, it's gone: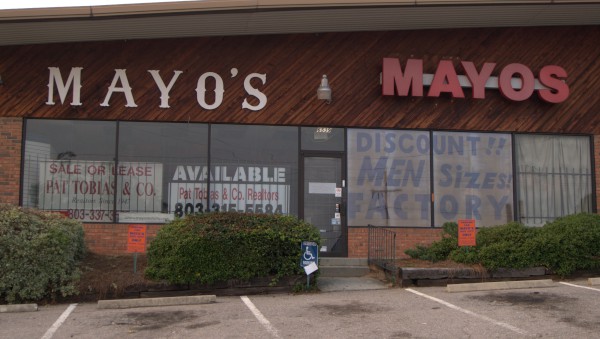 Posted at 12:20 am in Uncategorized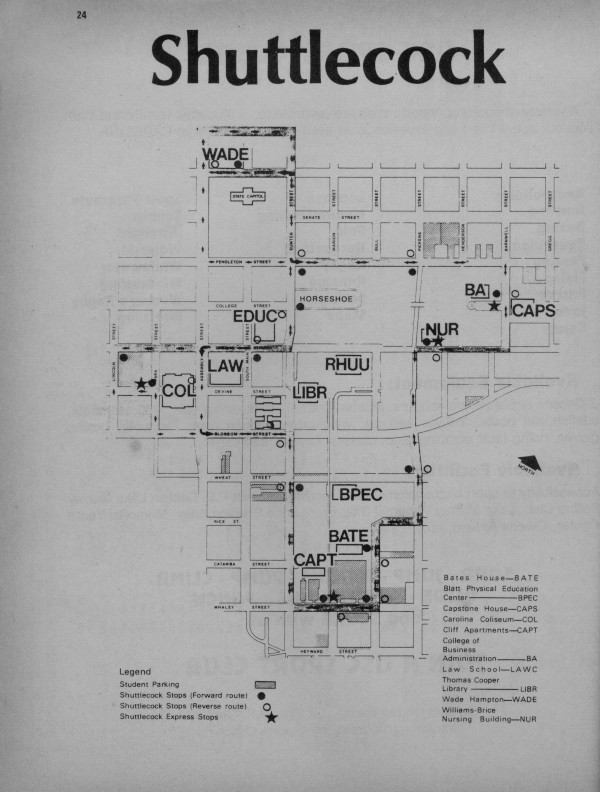 The Shuttlecocks were a fleet of small school-bus type vehicles which circuited the USC campus from the late 1970s until sometime in the 1980s offering foot-weary students a theoretically faster, or at least drier alternative to hoofing it between classes.
Firstly, I have to admire the name. How often do you see such a perfect pun, and executed all the way through? You have to imagine that there was meeting after meeting where some facilities person would say Shuttlecock? That's too frivolous! How about Mass Student Transport Units? and yet the 'Shuttlecock' proponents held firm.
Secondly, I have to say that at least from my point of view, they were mostly useless. I guess I can see that if were parking at the Colosseum, or living in The Wade Hampton or Bates, then they might have been timesavers, but realistically, if you missed one, walking would still be your best option. In any case, living in The Towers, and with my fartherest out classes no farther than Gambrell Hall, I never took one in earnest. I did ride the circuit a few times as something to do, and I think I may have taken one as far as Capstone for a Five Points expedition. They were about what you would expect. The exteriors were not school-bus yellow, but otherwise they were standard cut-down school-buses. I think they would probably hold about 20 people, but I never saw one full.
I'm not sure when the Shuttlecock fleet was retired though I'm pretty sure they did not last into the 90s. I also don't know the reason for their discontinuation. Certainly gas and maintainence had to be expensive so I suspect it was cost. Or maybe the new President didn't like puns.