Archive for the 'Assembly Street' tag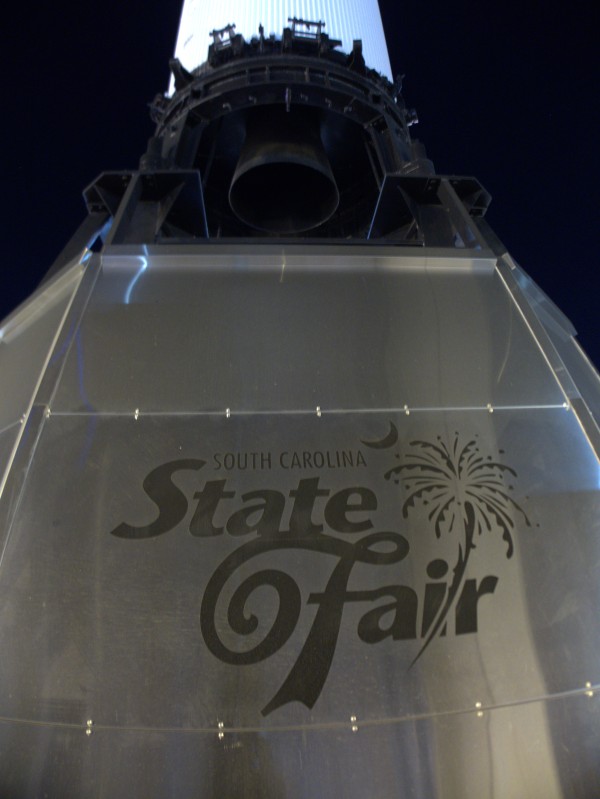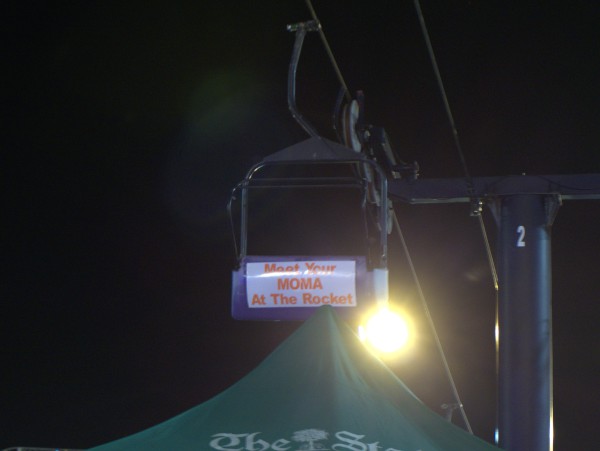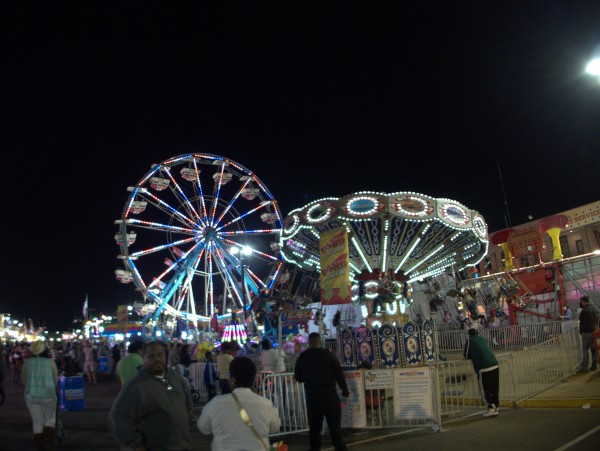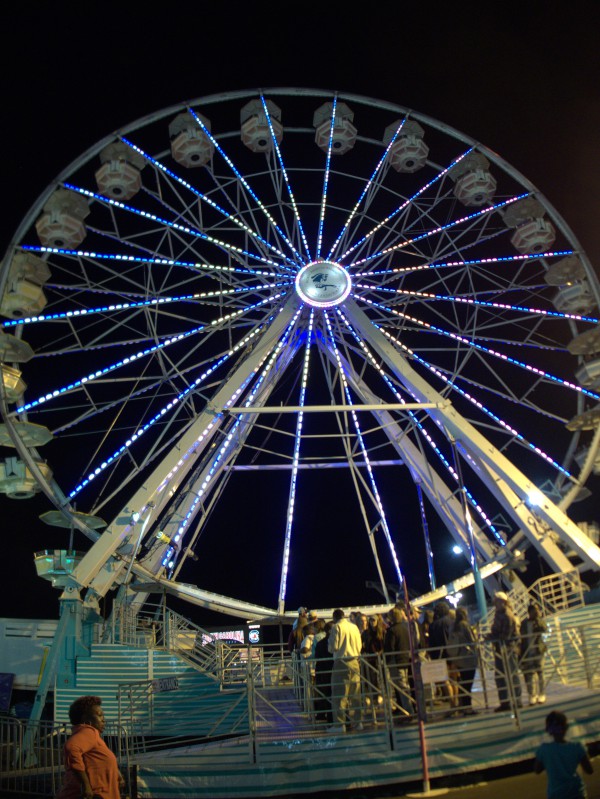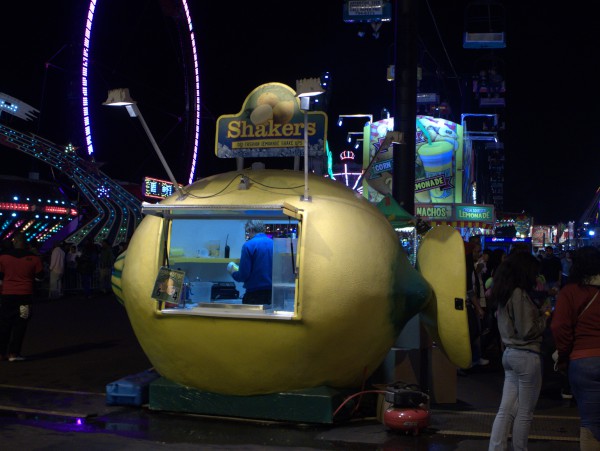 I got back to town a bit late this year, and missed out on some of my State Fair usuals because the buildings closed early the final day, so no art, flowers, sand sculpture or baby ducks this year. I was able to have my annual Italian sausage sandwich, Fiske fries and ride the skyway, swings and bumper cars. Most of the regular rides were there, along with a couple of new, or at least re-painted wacky-house type walk-throughs. Apparently the rocket is no longer the "Time-Warner Rocket" and is just back to "The Rocket", though it does have a few new sponsorship plaques at the base. I still miss the Steel Building: That corner just does not feel right without it.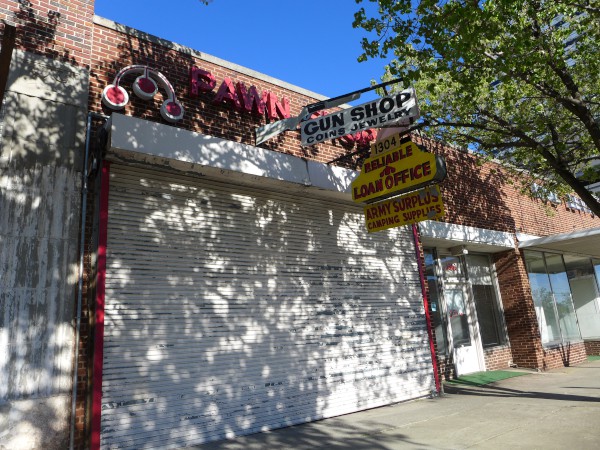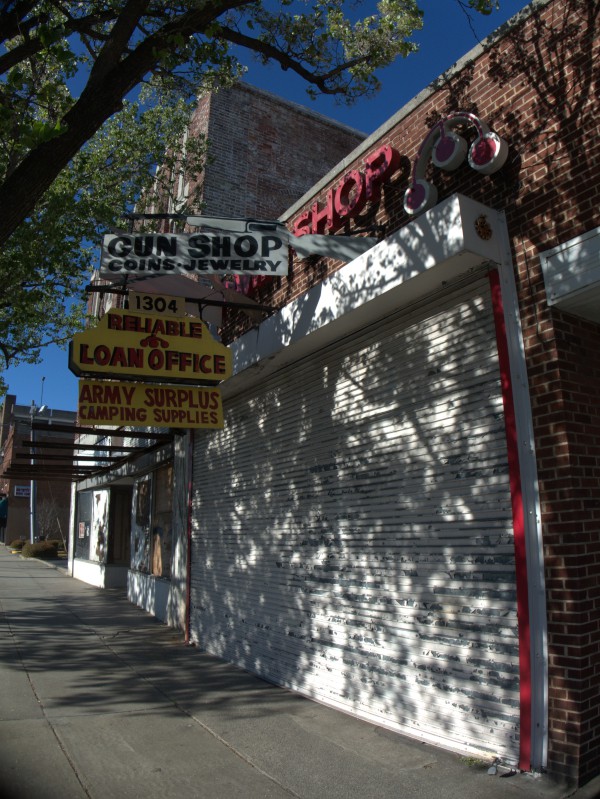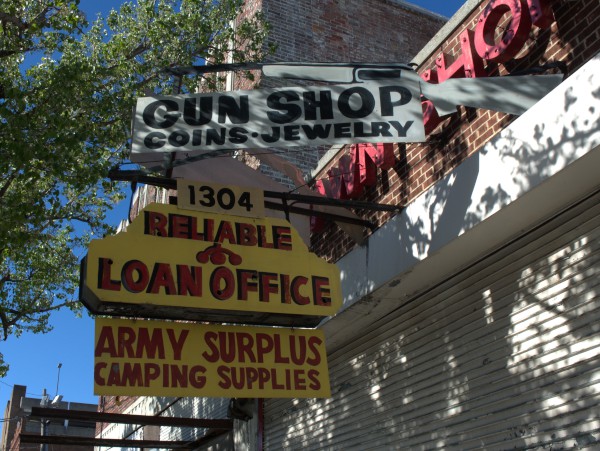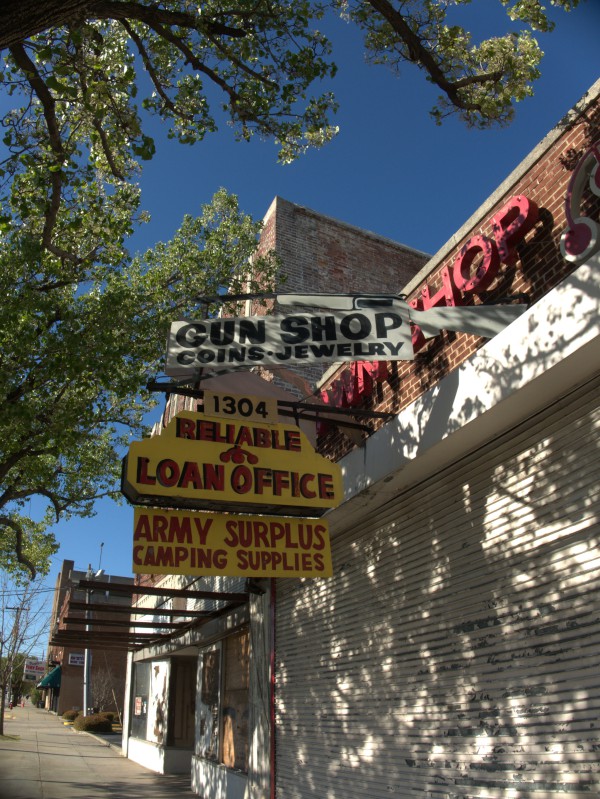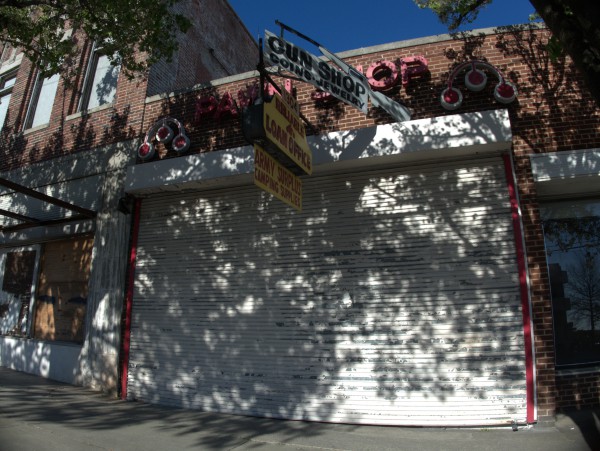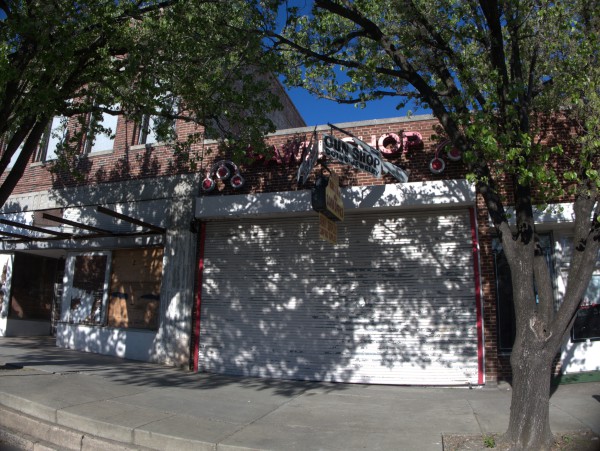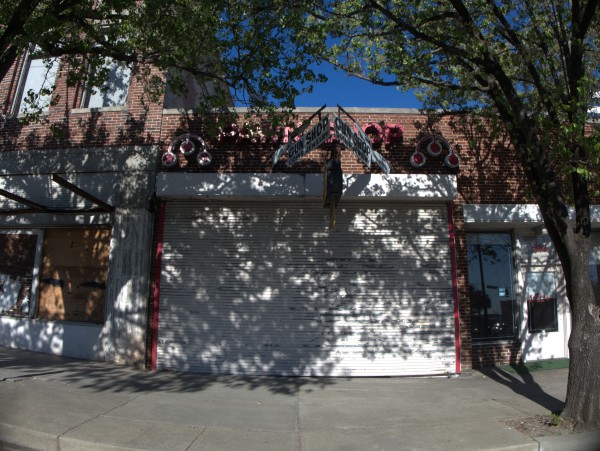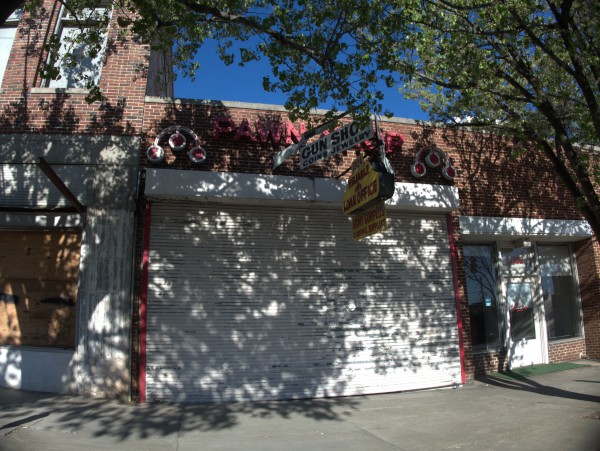 Moe Levy's Reliable Loan Office was sort of a portmanteau operation with the signs promising Gun Shop, Coins Jewelry, Army Surplus & Camping Supplies under the Pawn marquee. In this spot since 1950, they looked poised to close entirely after the main Moe Levy's closed.
In fact, they did close in February 2016 with no definite plans announced as this State story details.
In the event, they found a new space at 1727 Laurel Street, and decided to continue with changes as related here. They are no longer pawnbrokers and will concentrate on the Army surplus side of the business as Moe Levy's Army Store. This State video has pictures of the new location and remarks by the owner which are interesting on their own because people just don't talk like that anymore and I miss it.
Posted at 12:44 am in Uncategorized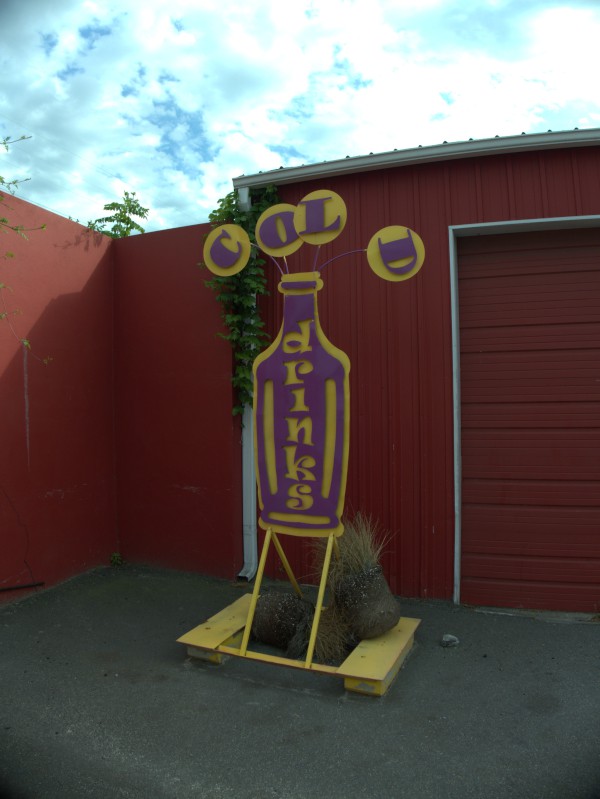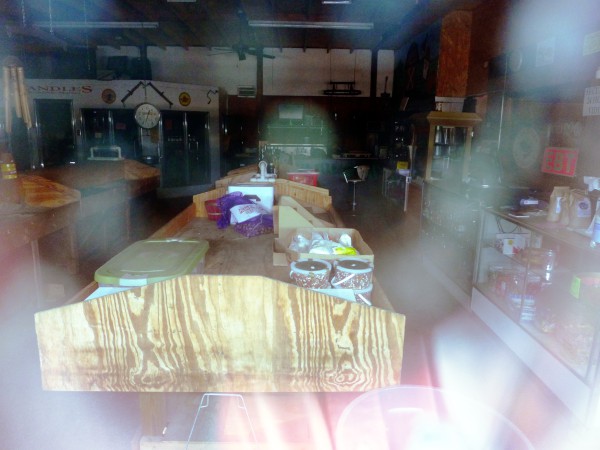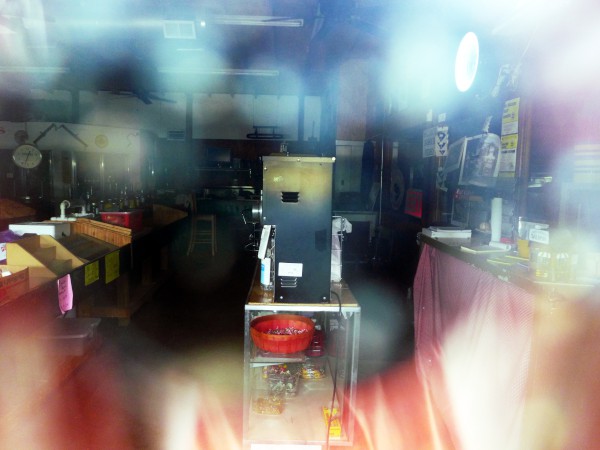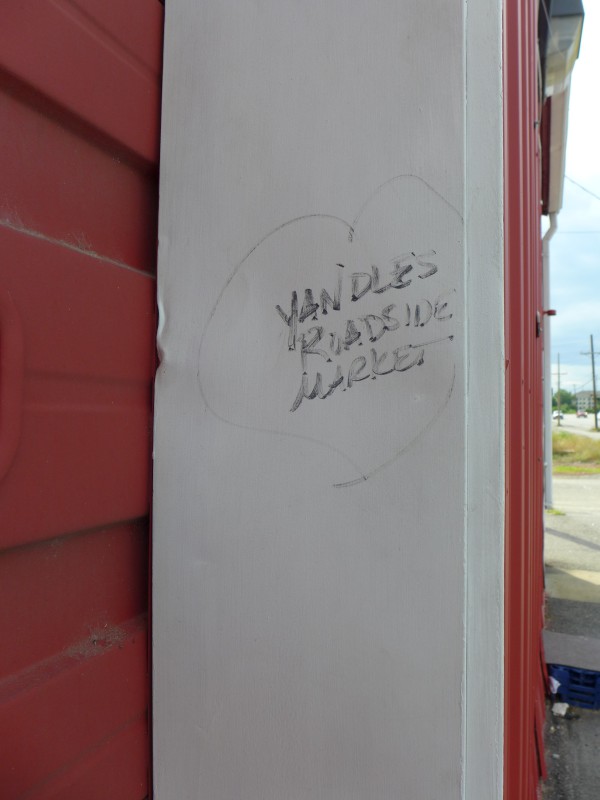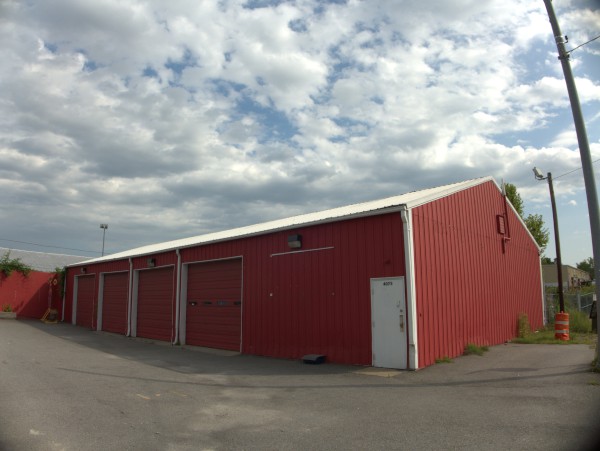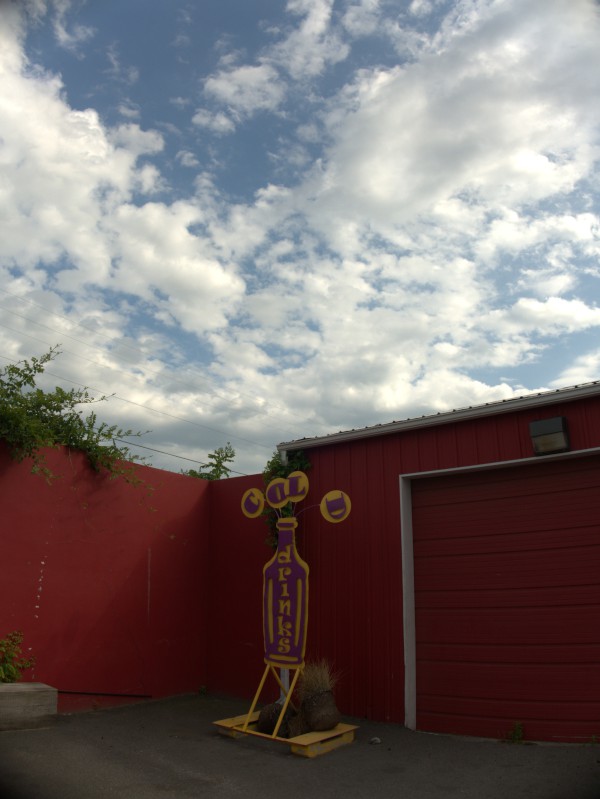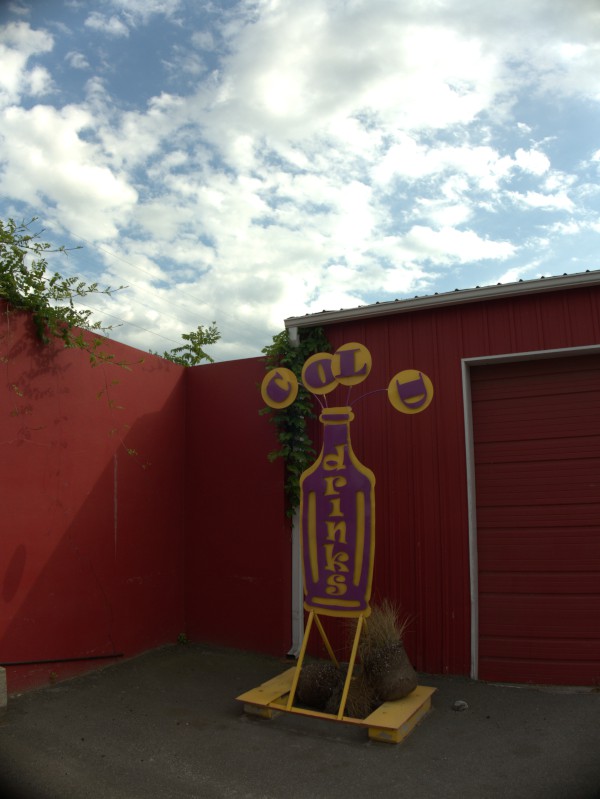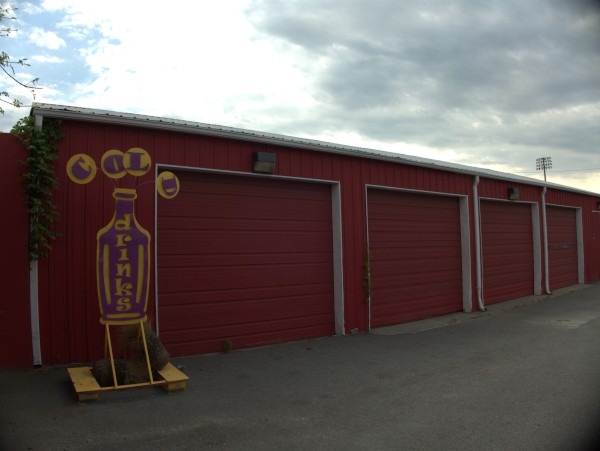 I was not aware of this little roadside market on Assembly at Ferguson until commenter Matt mentioned that it seemed to be closed. That does in fact seem to be the case as the signage has been taken down, and the inside looks fairly hollowed out. You can see a nice picture of the place in full operation here. Also, the webpage is still up, but seems not to have been updated since March 2013.
I enjoy stopping and poking around in this type of place and am sorry I missed it. Often I manage to convince myself that I actually will use some honey or salsa *this time* and end up buying a couple of jars, though in fact it always ends up in my cabinet for years. Given the move of the State Farmers Market from Bluff Road, I can't think of another such market in the nearby vicinity.
(Hat tip to commenter Matt)
Posted at 10:55 pm in Uncategorized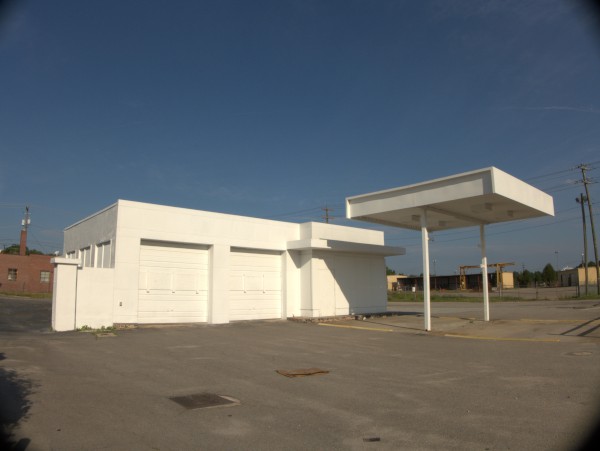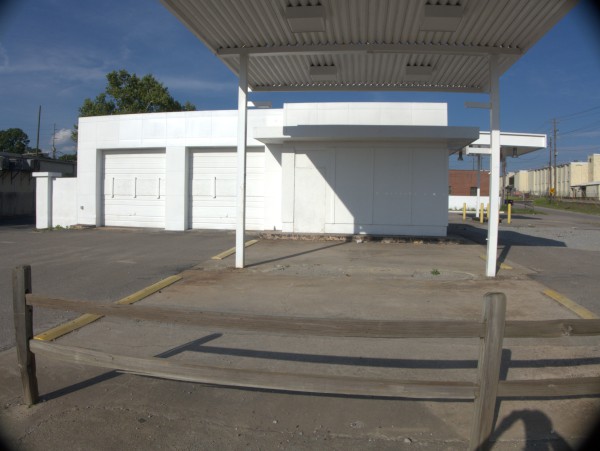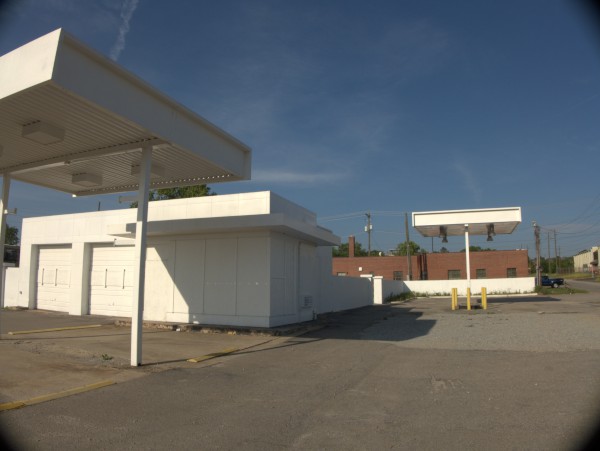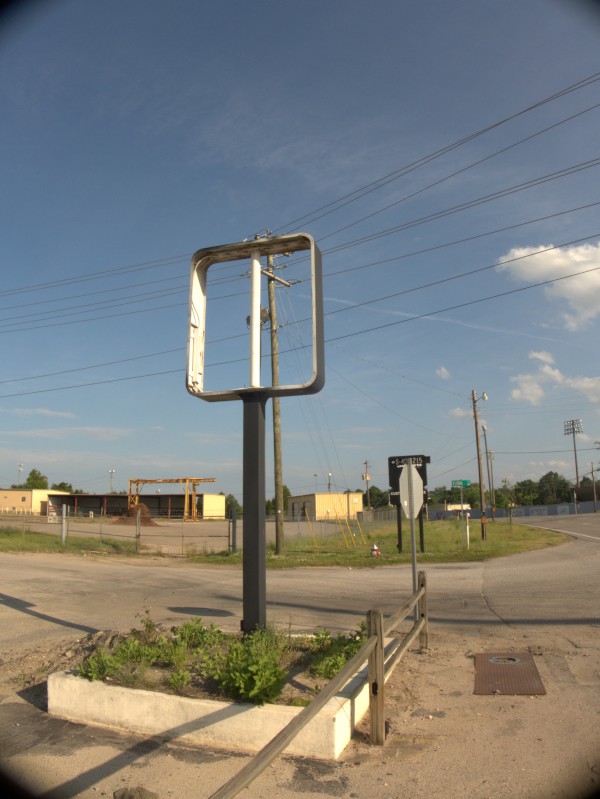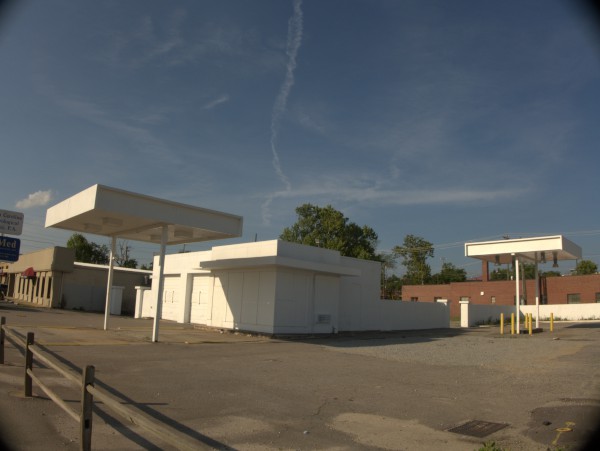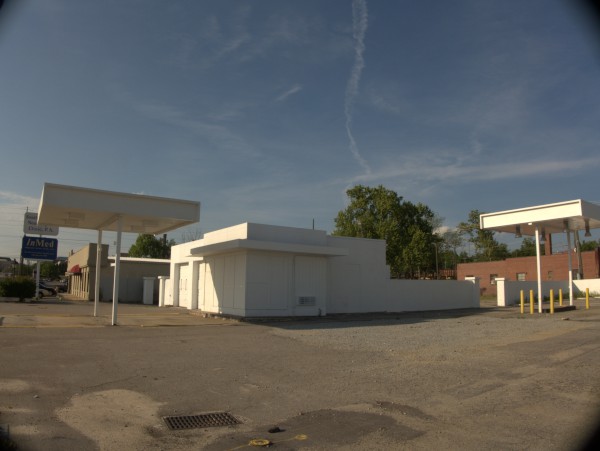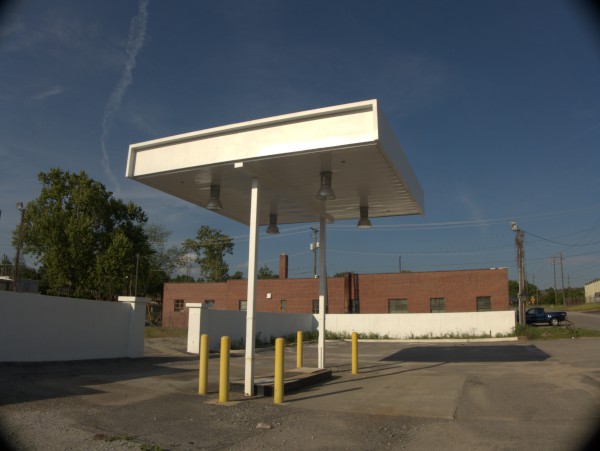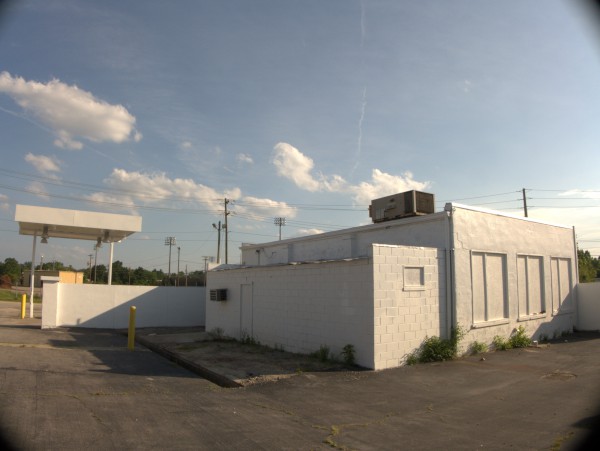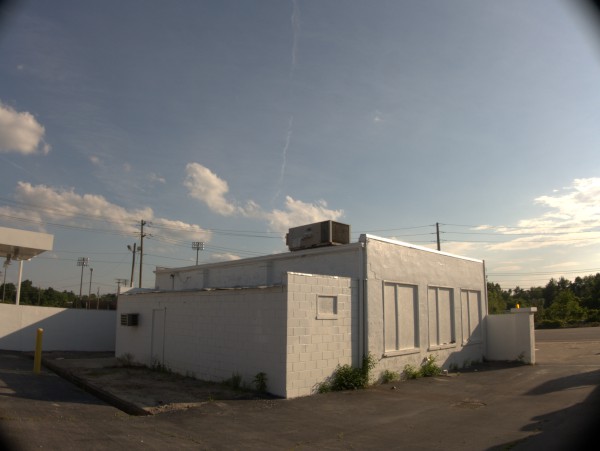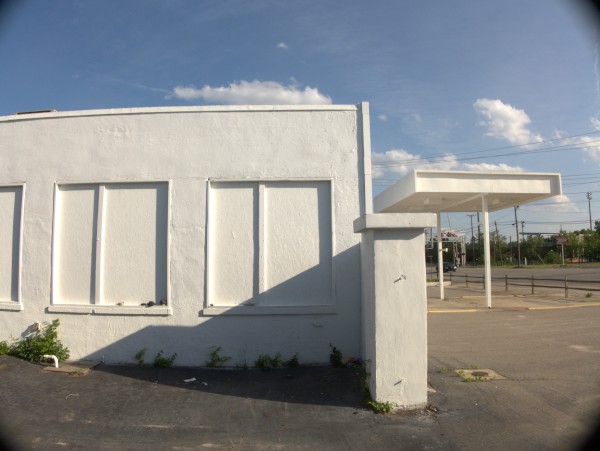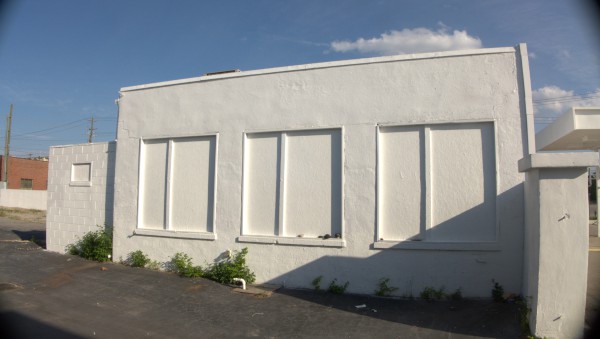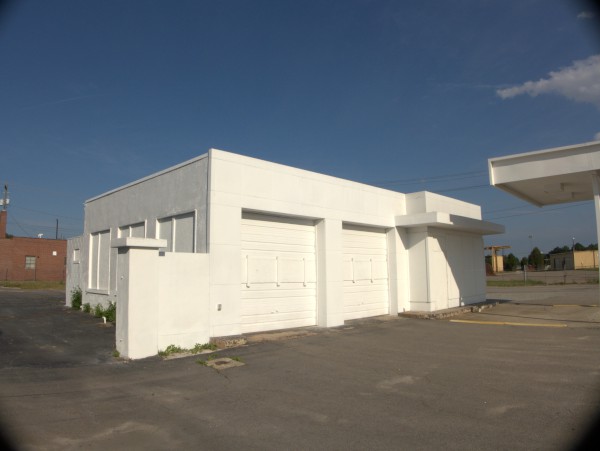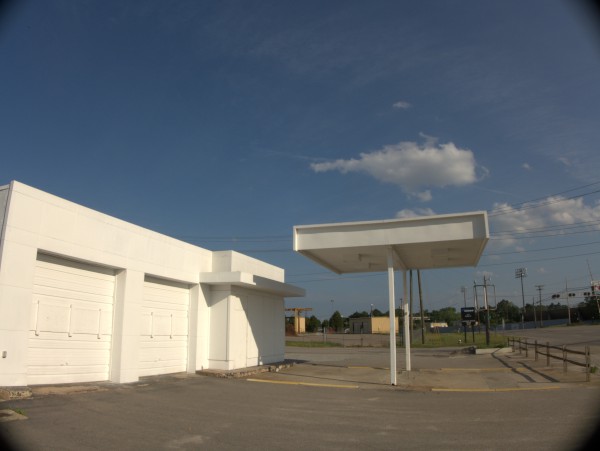 Actually, I am not 100% sure that the street address here is 122. 120 would also make sense. I'm also not 100% sure this was an ARCO station, but page 5 of this City annexation request makes me pretty sure that it was.
This Wikipedia article suggests that Southern ARCO stations were first rebranded as Atlantic Petroleum and then in 1988 as Sunoco, so this station may have been one of those before closing (though again, the PDF is indiciative).
UPDATE 2 May 2014 -- As pointed out by commenter badger, Google Streetview shows this place in operation as the SCE&G Flora Street Fleet Maintenance station, so I have added that to the post title.
Posted at 11:59 pm in Uncategorized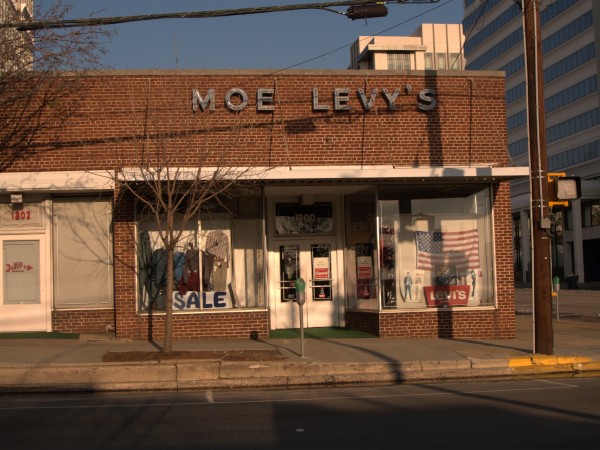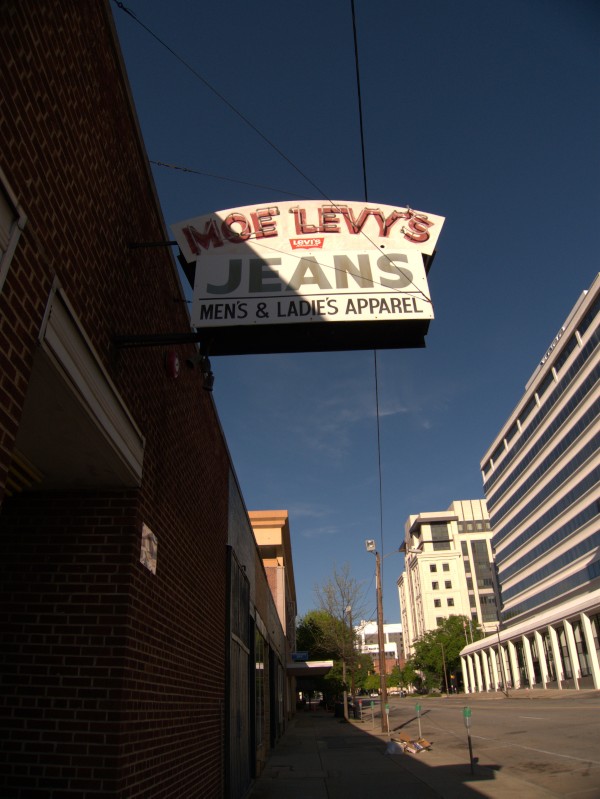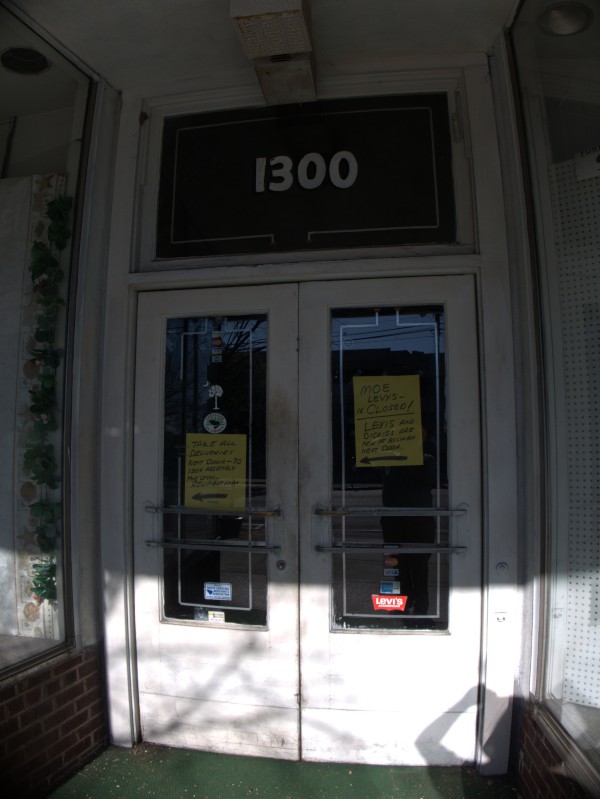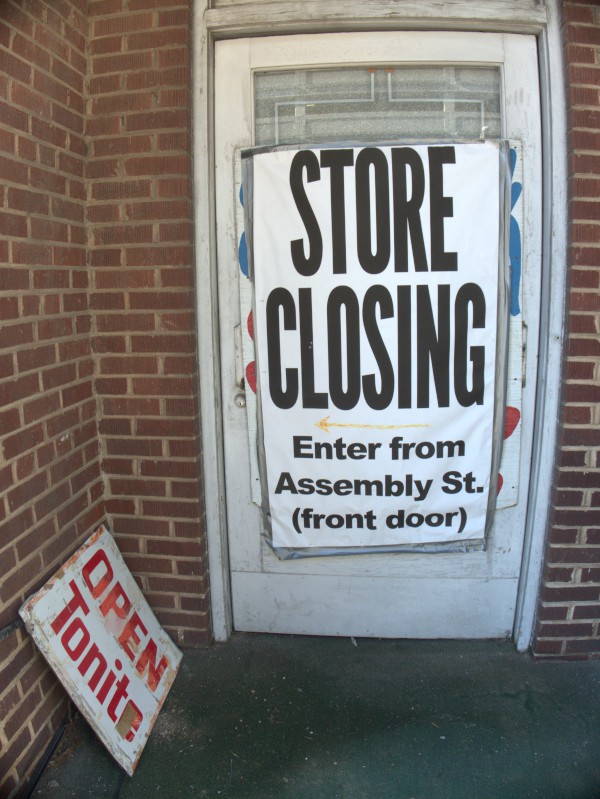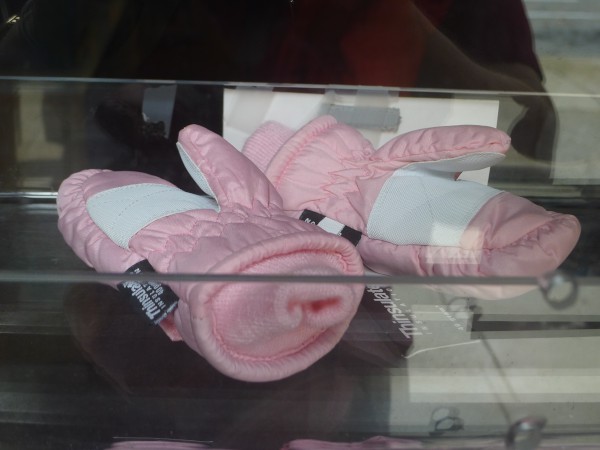 Well, a Columbia tradition since 1920 is gone. In fact I can only remember going into Moe Levy's once or twice back in the 1970s on shopping trips with cousins. At the time, I liked shopping for clothes even less than I do now so the place was not a magnet for me, but I was always aware of it as we drove past. I also remember in my earlier days conflating the constant signage for Levi's jeans there with the store name itself and wondering if Moe Levy invented blue jeans.
As I recall, the store had a closing scare a few years ago at which point I took some of these pictures. I forget exactly what happened, but obviously they did not close then. As for now, The State reports that most of the block has been bought by local developer Ben Arnold who hopes to bring a national retailer or restaurant to the Moe Levy's location.
Posted at 1:38 am in Uncategorized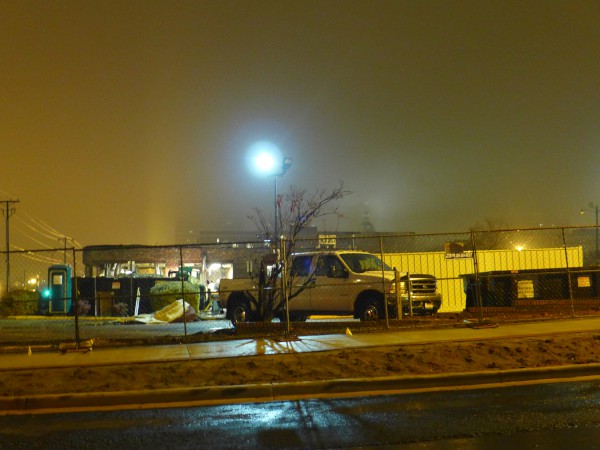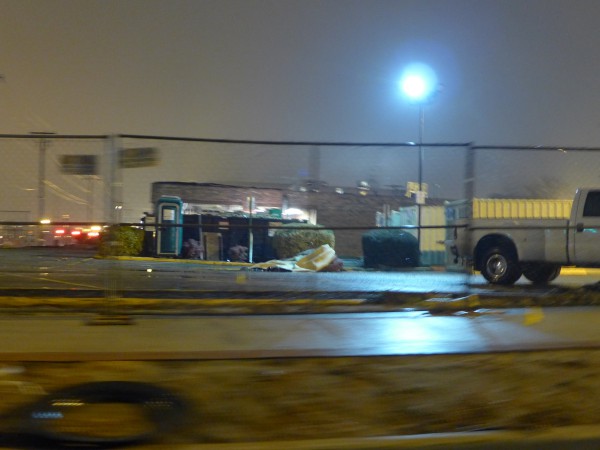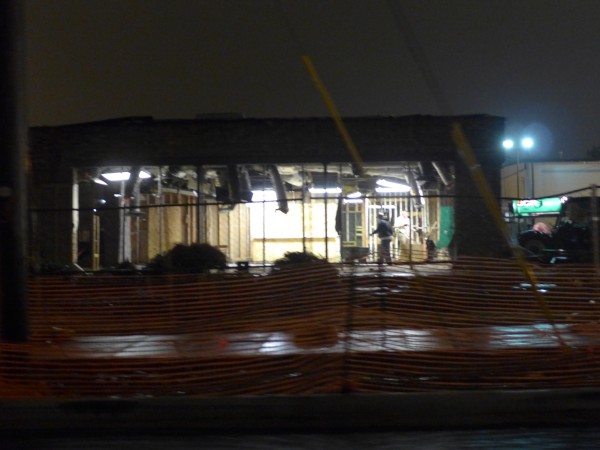 As if all the street work in the area weren't enough, the USC Wendy's on Assembly Street next to the CVS is being partially torn down for renovation.
In these pix from 3 December, you can see that they have totally opened the building to the air, though the walls are still standing. Apparently they have a rush order on the worlk as the crew was still on the job despite it being night, and raining.
Commenter Andrew spotted the work, and commenter Terry found this explanatory story from WIS.
(Hat tip to commenter Andrew)
Update 28 March 2014 -- Here is The State story on the re-opening of this store (and the closing of the Beltline store).
UPDATE 30 April 2014 -- Here's the remodelled restaurant open again for business: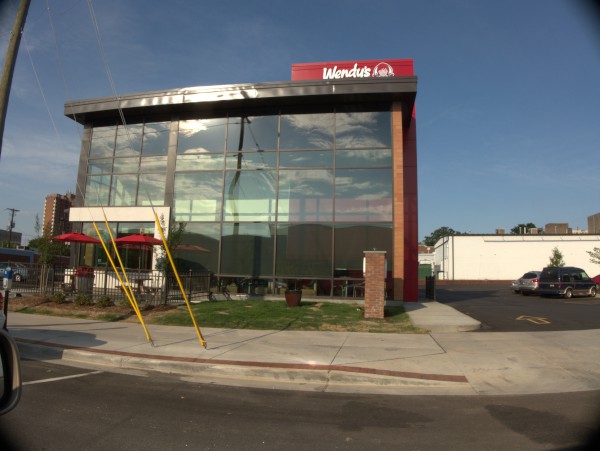 Posted at 10:48 pm in Uncategorized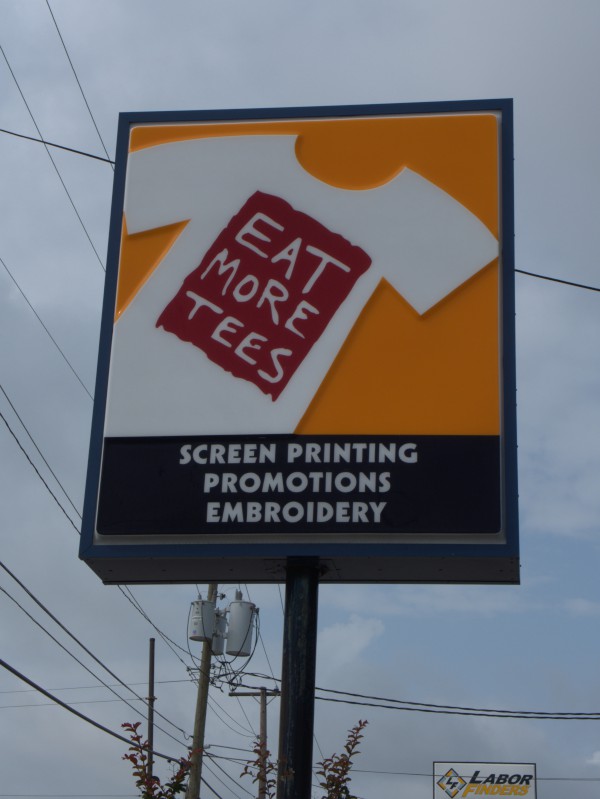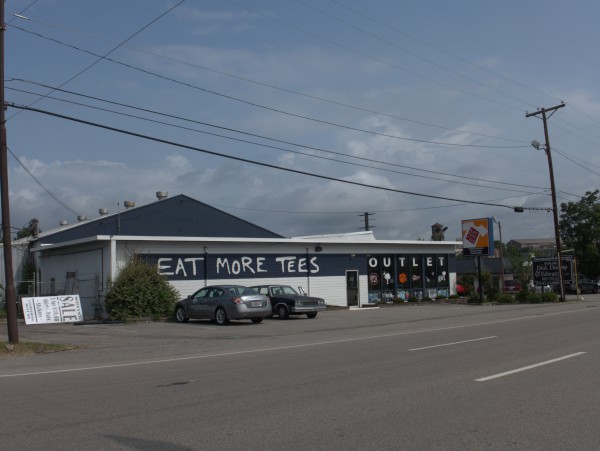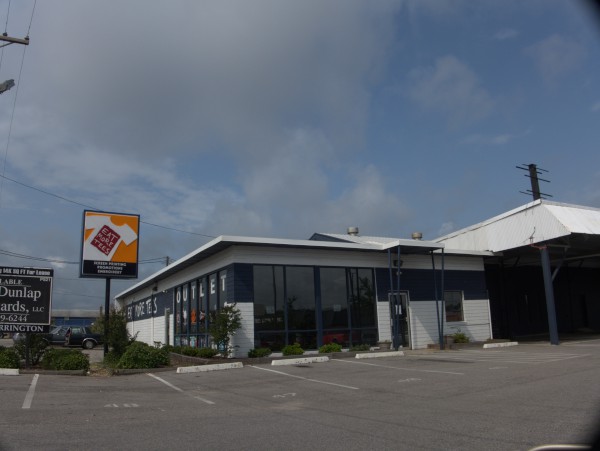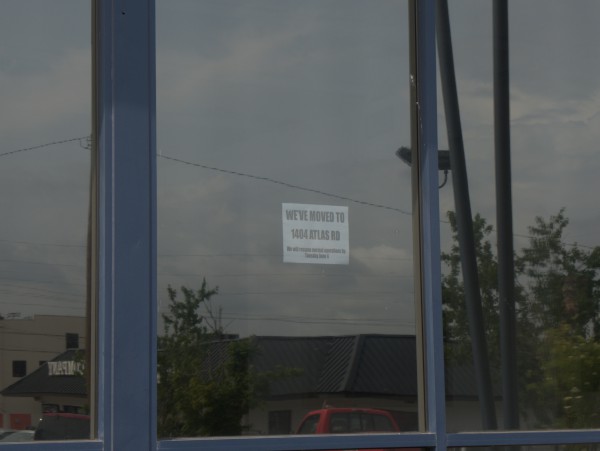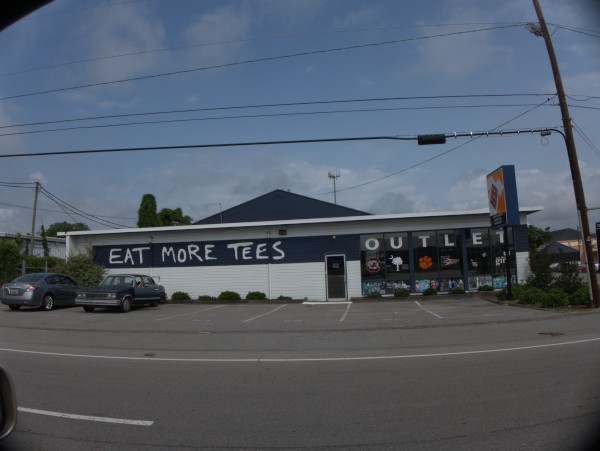 This location of Eat More Tees was right across from the fairgrounds at the corner of Rosewood & Assembly. According to their door sign, they have decamped for Atlas Road.
Posted at 11:48 pm in Uncategorized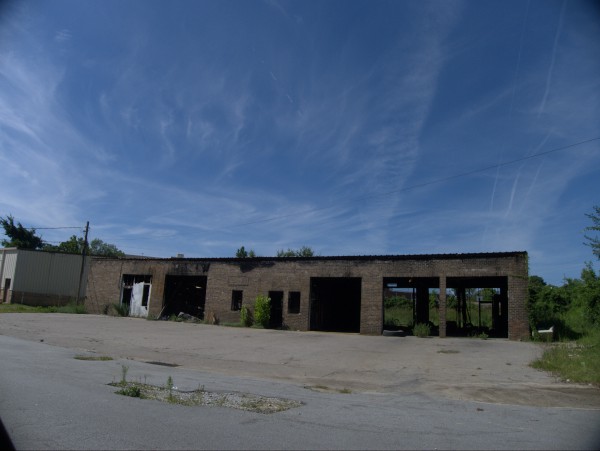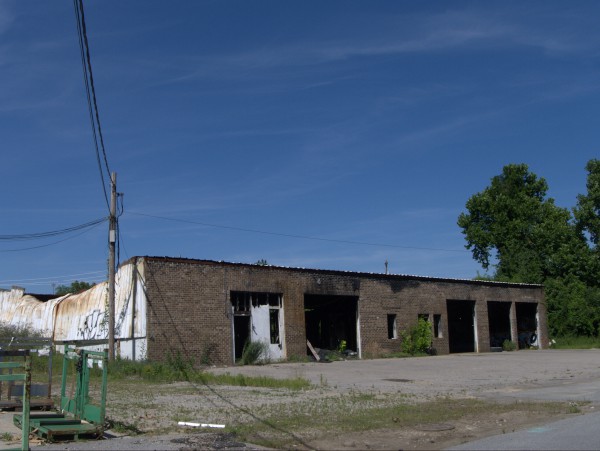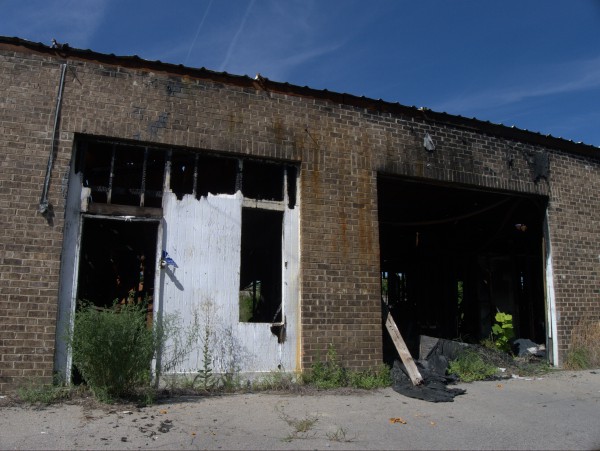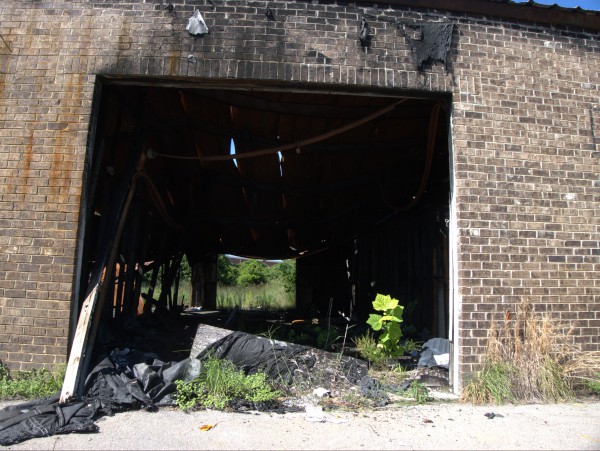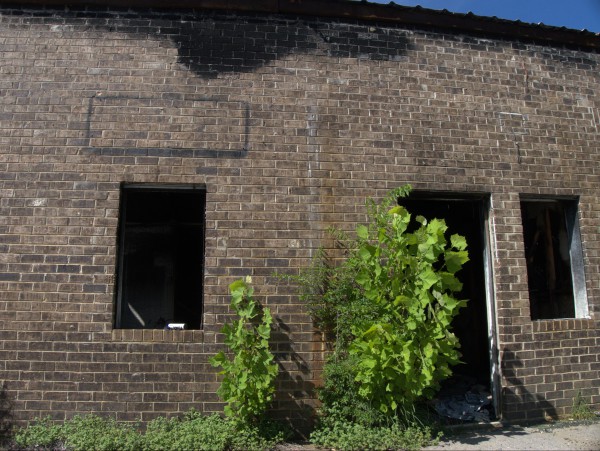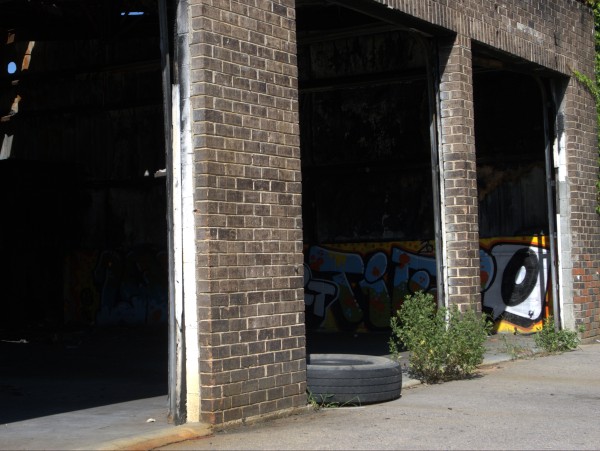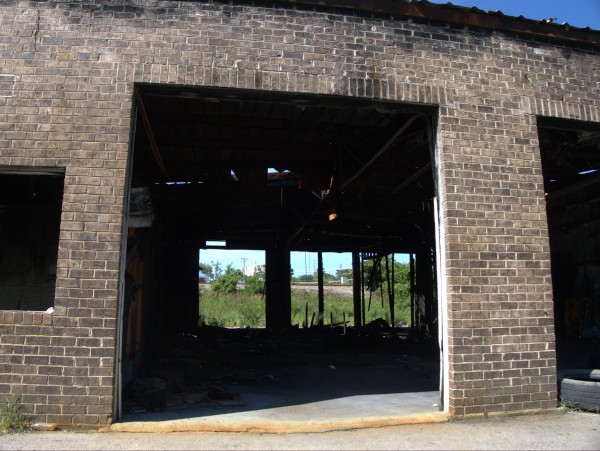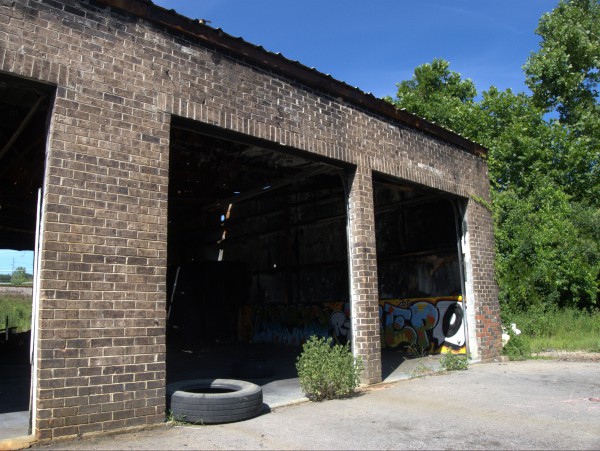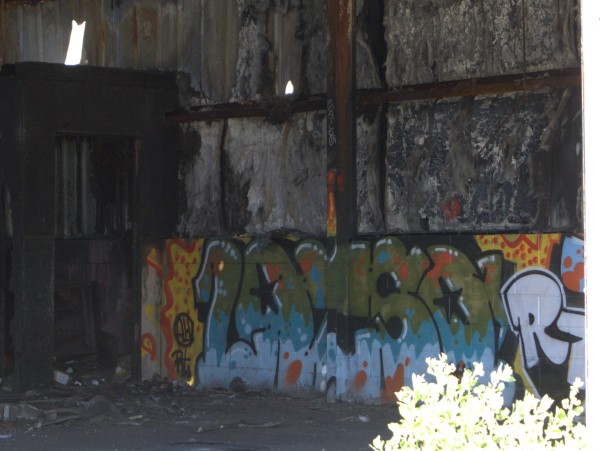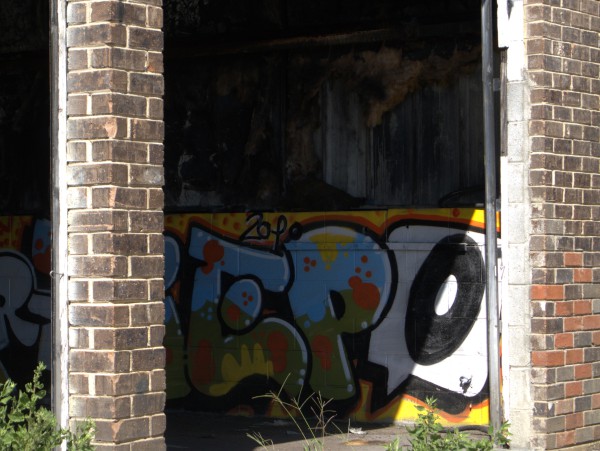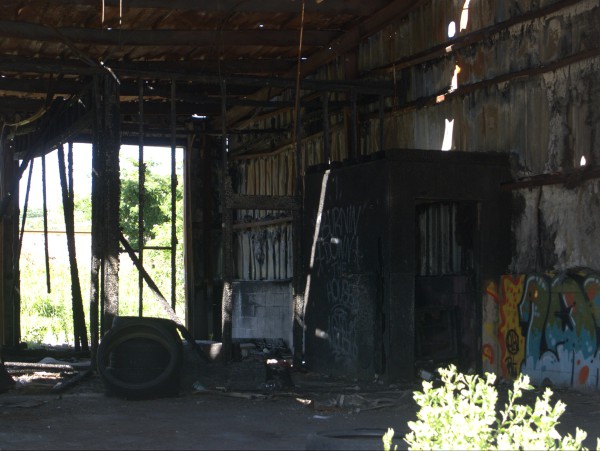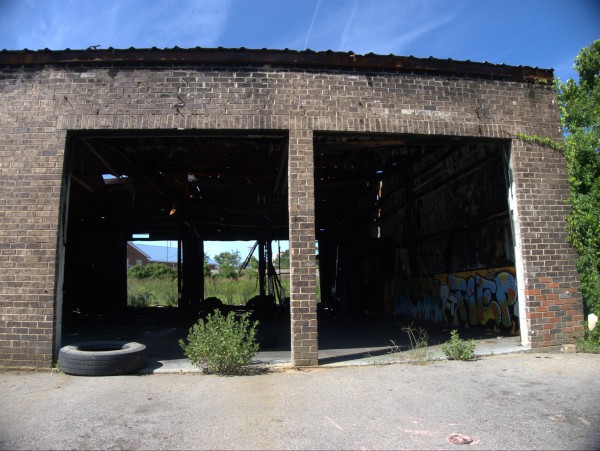 This garage, which apparently caught fire some years ago, is on Dreyfuss Road, just down from the intersection with Assembly Street, and to the north side of the stadium.
I didn't see an intact street number on it anywhere, so I can't google the address to see what it was. It was pretty clearly a commercial garage, but I don't see any evidence of lifts or pits, so prehaps it was more of a dispatch and storage garage than a service one. In any case, the visibility and location are poor for anything catering to the general public. I've put the closing date as the very indefinite "2000s", but even that's just a guess -- 1990s wouldn't surprise me. At any rate it's been derelict long enough to be fairly heavily tagged.
Anyone know what this was?
UPDATE 23 June 2012: Well, commenter badger provides and address "1011 Dreyfuss Road" and a link to this WLTX story about the Christmas Eve 2009 fire that gutted the place. With that address, I was able to find a number of former tenants of the place, and I have changed the post title from "Garage" to a list of names. I also note that I was wrong about the place not catering to the general public.
Posted at 12:18 am in Uncategorized
Posted at 11:56 pm in Uncategorized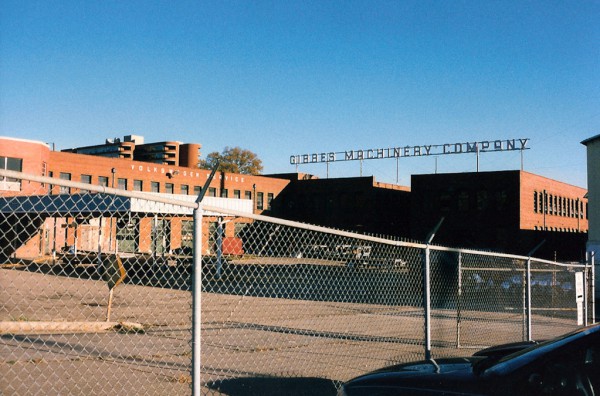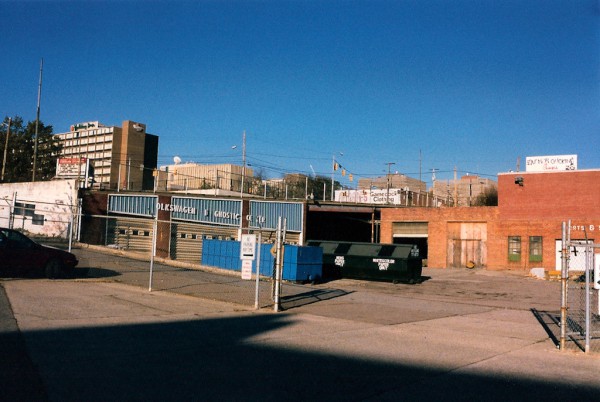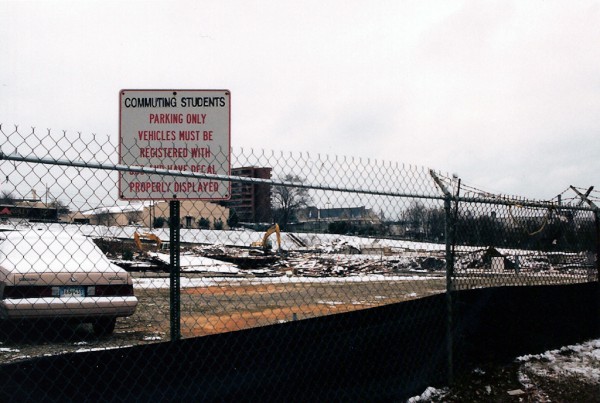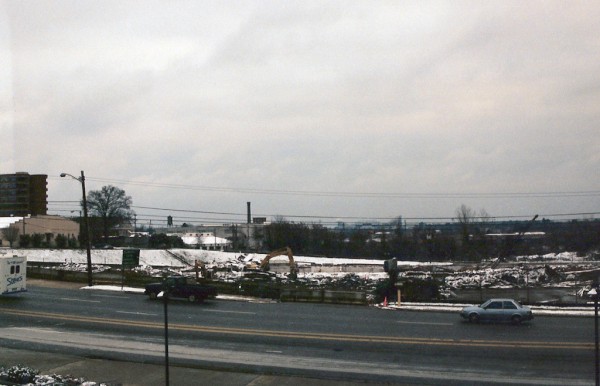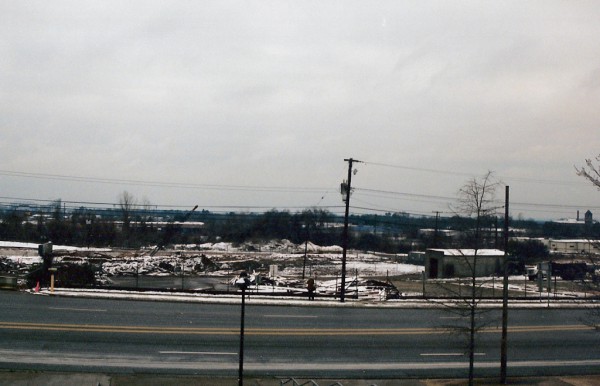 Commenter Alaska Jill sends in these pictures of Gibbes, saying:
Gibbes Machinery: The sunlit pictures were taken, I believe, in 1998. I used to park at the Gibbes lot as a USC student and knew those buildings were probably not going to be around much longer. Demolition started not long after those photos were taken. One morning in early 1999, we had snow in Columbia. I was a graduate assistant at the journalism school at the time, and had brought my camera with me to get some pictures of Columbia in the snow. From the steps of the Coliseum, I caught a couple pictures of the demolition in progress. An additional picture is taken from the former Gibbes lot.
The old Gibbes space is directly across Blossom Street from the Coliseum -- I'll have to consult some old directories to get the actual address. Right now it's the location of USC's new-ish "wellness center", which frankly sounds like a boondoggle with no educational function to me, but back in the day, Gibbes was there as a representative of the old "manufacturing" look of the Vista area. I never had a clear idea of what the machinery side of the business did, but the car lot was the only Volkswagen dealer in the Columbia area.
After USC got this property, the dealership moved to Broad River Road, just west of the river and either went under or sold out to the current tenant, Wray Mazda Volkswagen.
Take a good look at the second picture above. In the background, you can see The Towers and also the mini-mall building (muraled "Gamecock Clothing") which once held Robo's video arcade, Pappy's and a number of other small, student-oriented businesses. It has since been torn down to put in the Adesso condos.
UPDATE 17 December 2011: The building I tag as the "mini-mall" was actually Addams University Bookstore a separate building in the same general area. See the comments.
(Hat tip to Alaska Jill)