Archive for the 'loans' tag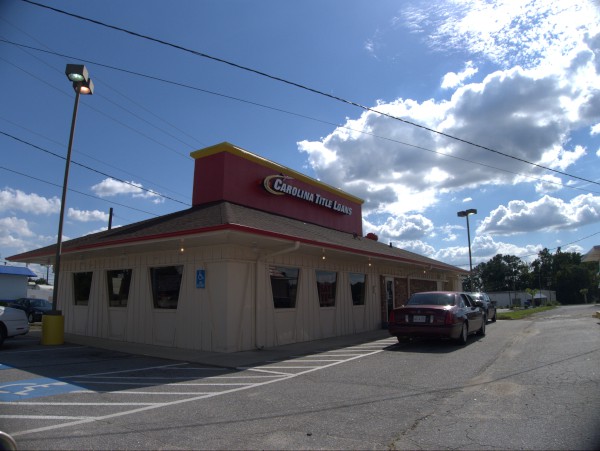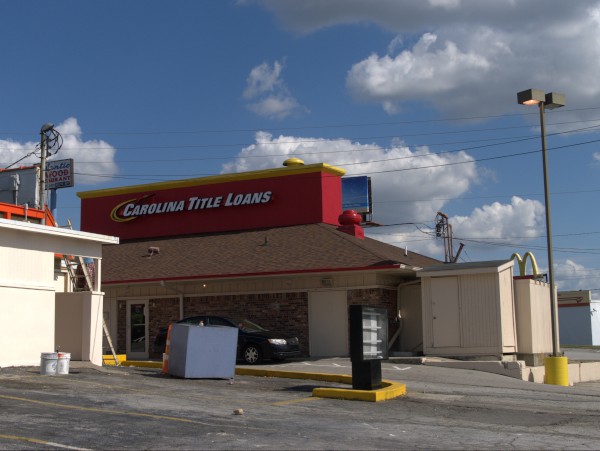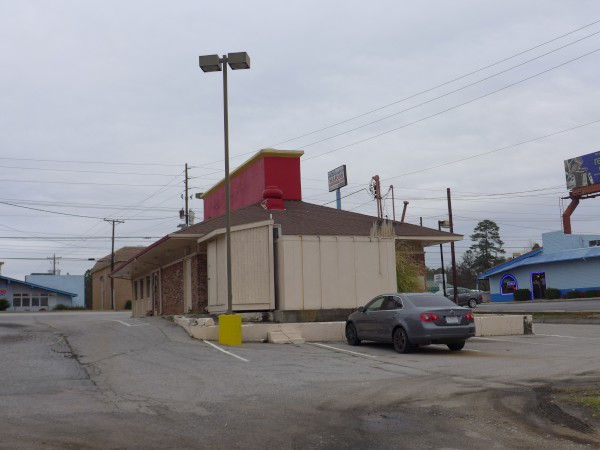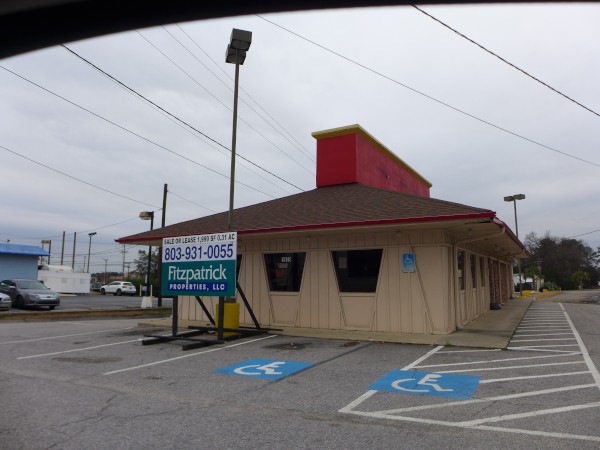 This former Pizza Hut in front of Intersection Center had been a title loan operation at least since 2012 and is now again vacant.
Since these old Pizza Hut buildings are so distinctive, I guess you have to decide whether people referring to you as "that place in the old Pizza Hut" as a plus or a minus..
(Hat tip to commenter Toby)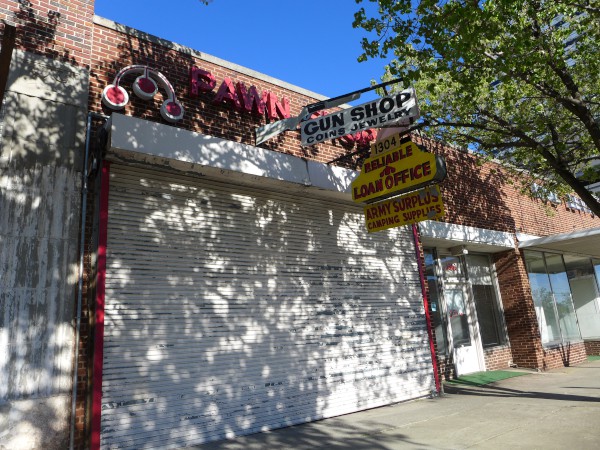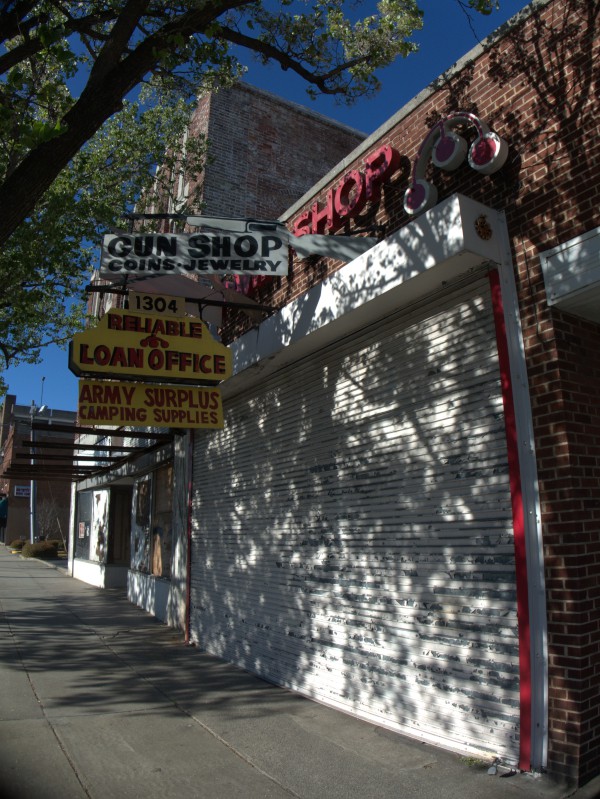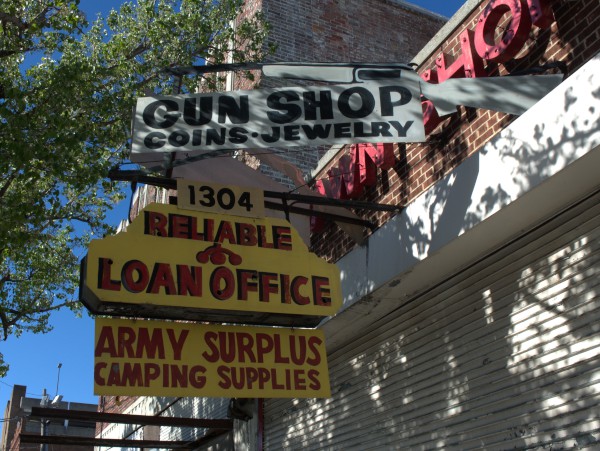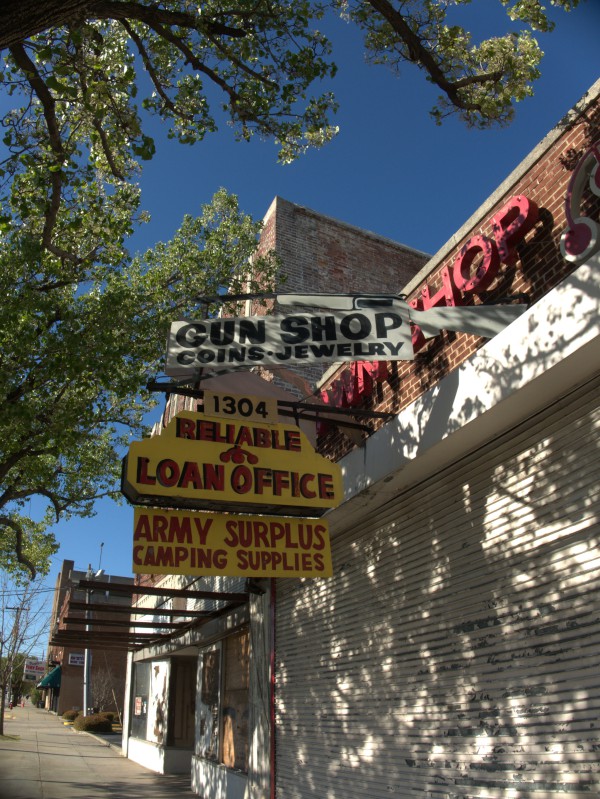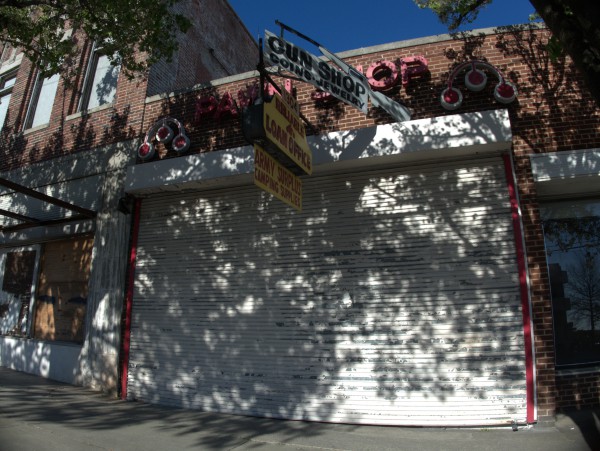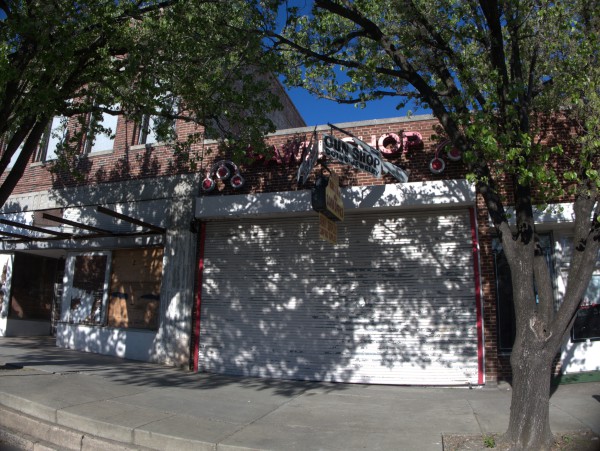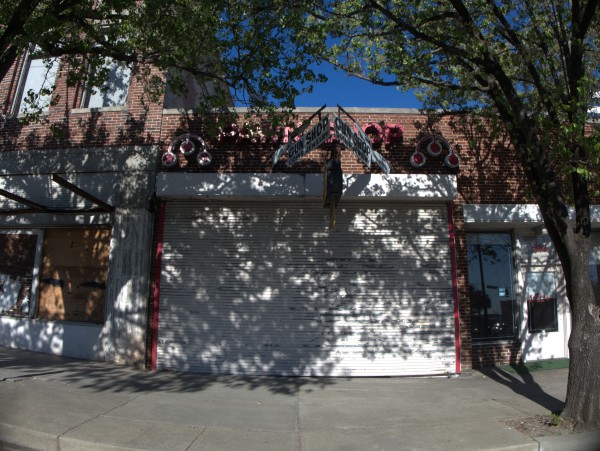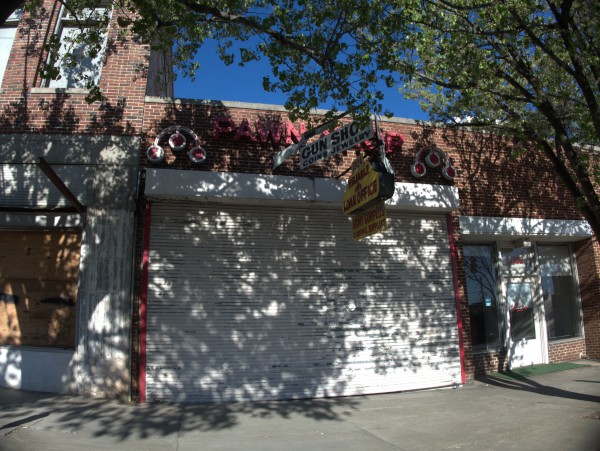 Moe Levy's Reliable Loan Office was sort of a portmanteau operation with the signs promising Gun Shop, Coins Jewelry, Army Surplus & Camping Supplies under the Pawn marquee. In this spot since 1950, they looked poised to close entirely after the main Moe Levy's closed.
In fact, they did close in February 2016 with no definite plans announced as this State story details.
In the event, they found a new space at 1727 Laurel Street, and decided to continue with changes as related here. They are no longer pawnbrokers and will concentrate on the Army surplus side of the business as Moe Levy's Army Store. This State video has pictures of the new location and remarks by the owner which are interesting on their own because people just don't talk like that anymore and I miss it.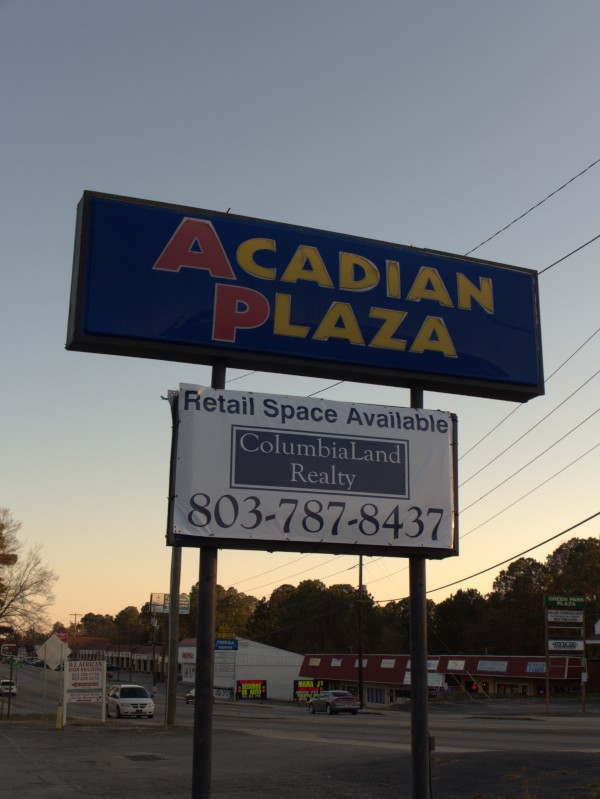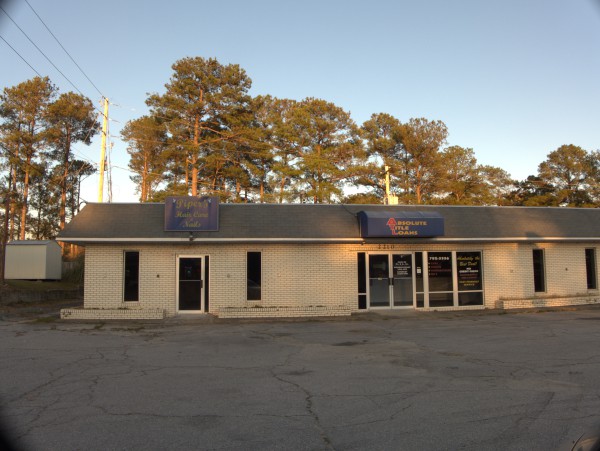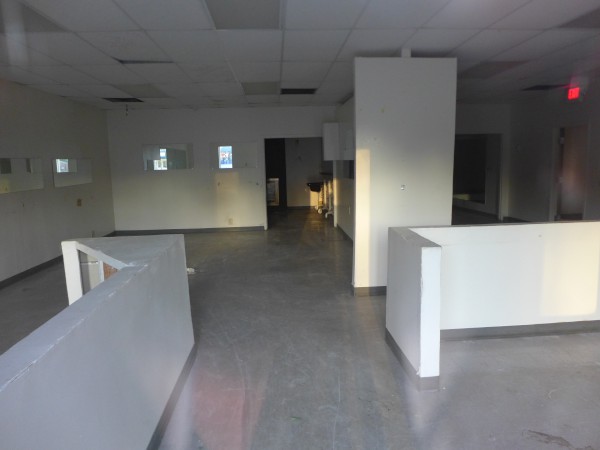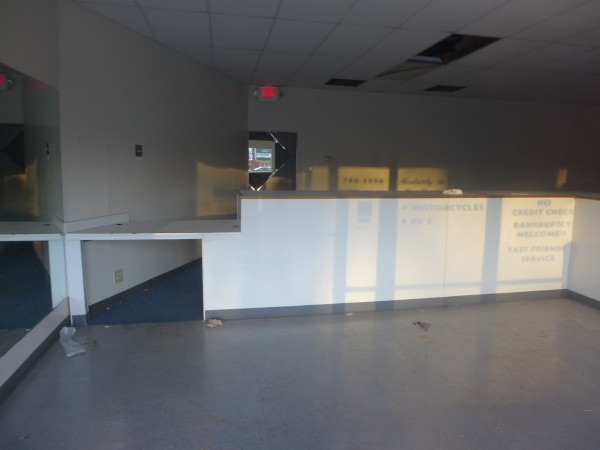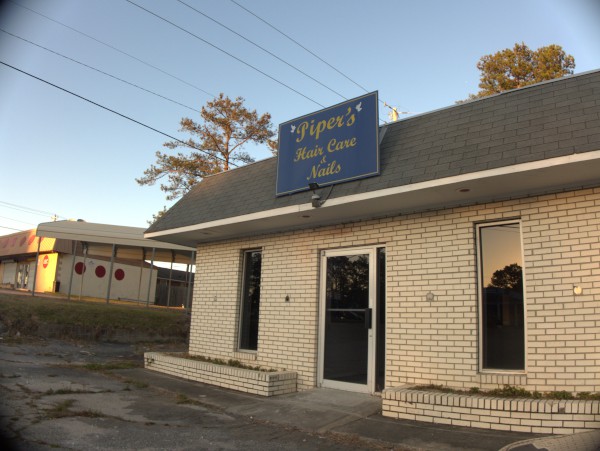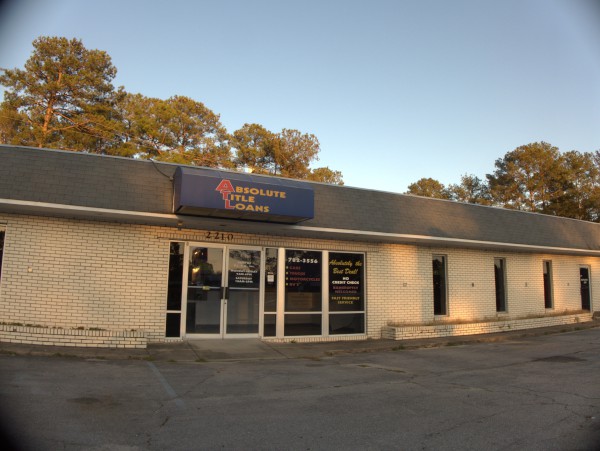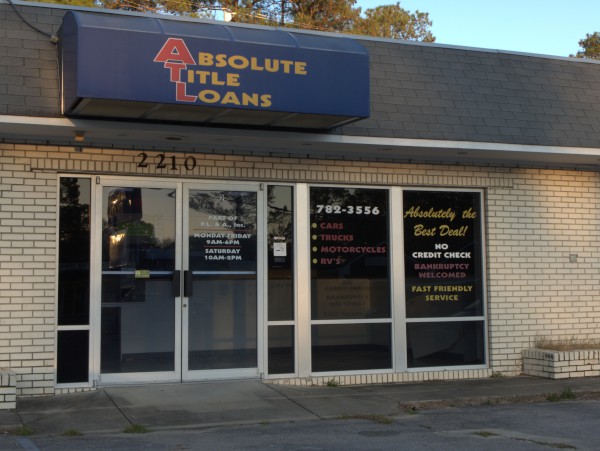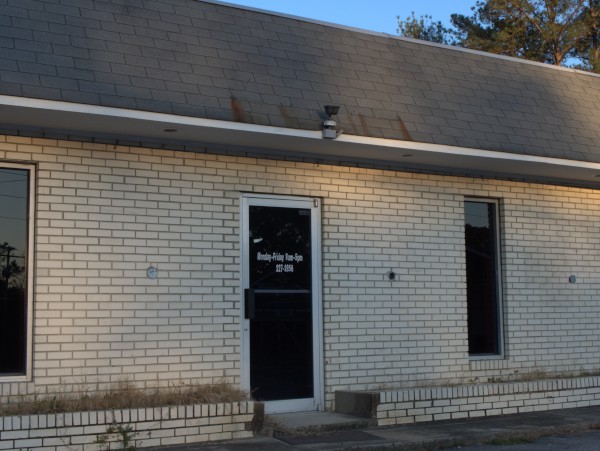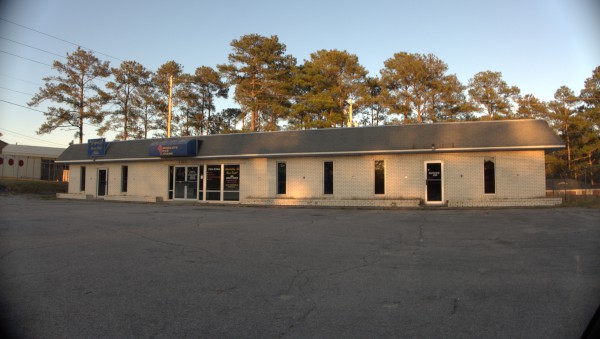 I have noticed this little strip on Decker driving by over the years, mostly because of Piper's Hair Care uwhich I never could quite figure out if it were closed or not. (It was). Now the whole place is empty and for let.
It's certainly not the worst looking real estate on the corridor.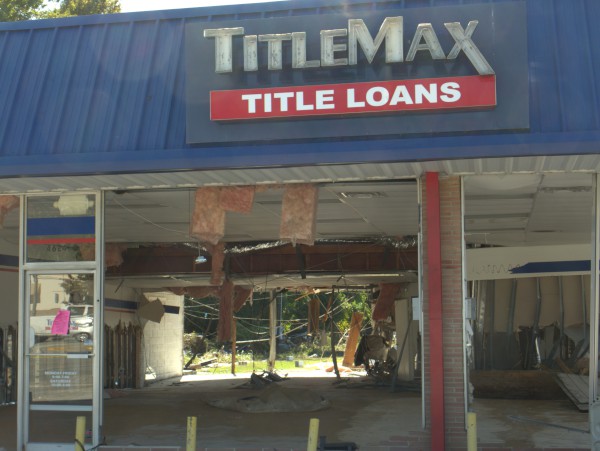 One of the most iconic images from the flood was the inundation of the TitleMax building on Devine Street. Some other pictures were actually just as incredible, but the bold color scheme of this storefront really made it stand out. One such image is here, and one shot from the other direction is here.
I finally got a chance to take a look at the damage last Saturday (17 October 2015), and it is even more severe than I expected in that while I thought the building would be a total loss, I was somewhat surprised to see the lot a total loss as well. I'm not sure it comes across well in these pictures (shot against the sun for the most part unfortunately), but the whole lot on the Liberty side of the building has dropped at least three feet.
The Free Times suggests that the site will not be rebuilt:
"That was built in the floodway; it would never be allowed to be built today," says Erich Miarka, program director of the Gills Creek Watershed Association. "Since that building was completely destroyed, I don't think they'll be allowed to build there again."
As an aside, I'm not sure how you get two street numbers offset by six in the same building, but that's what seems to have been the case.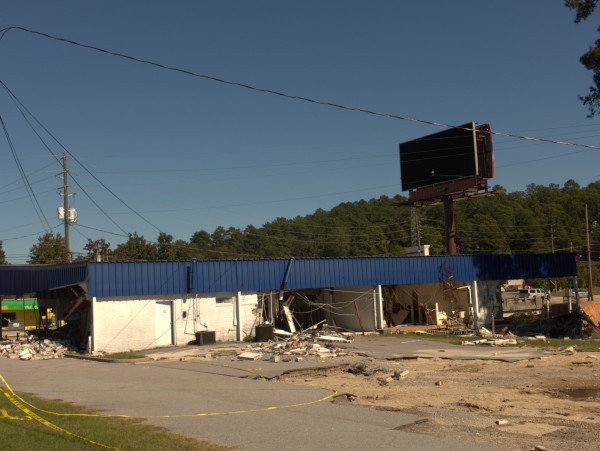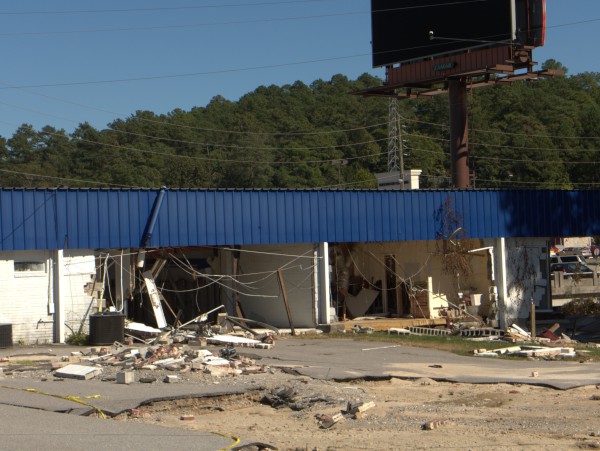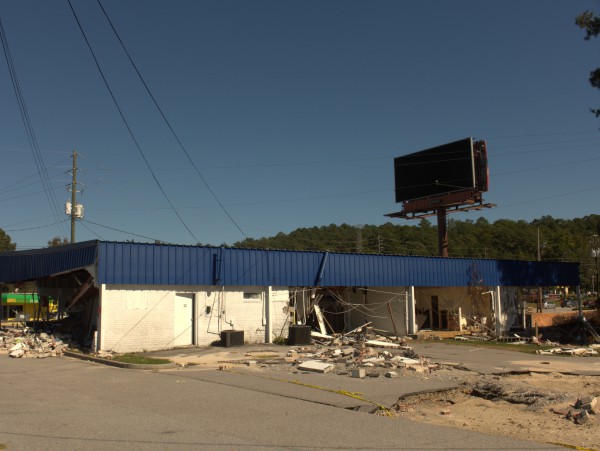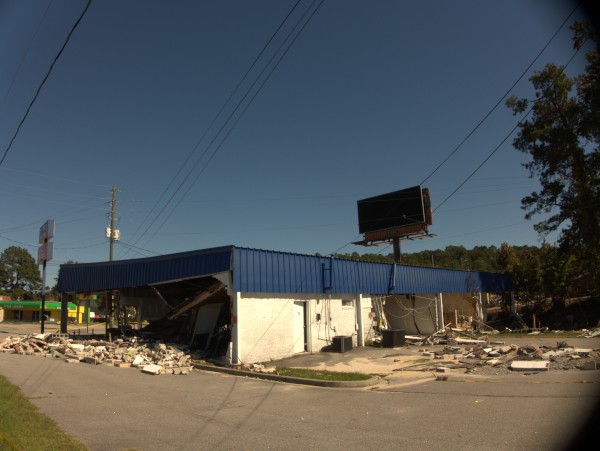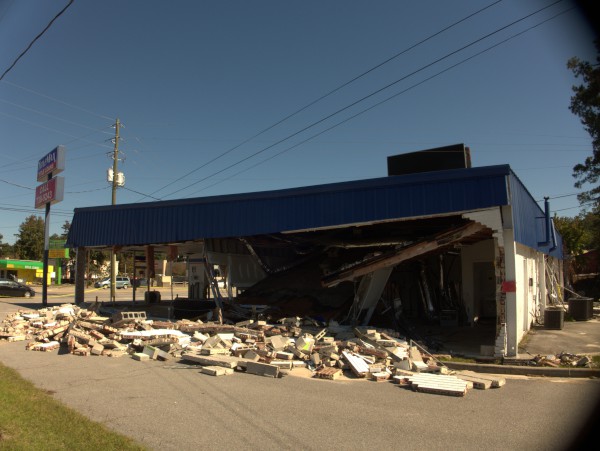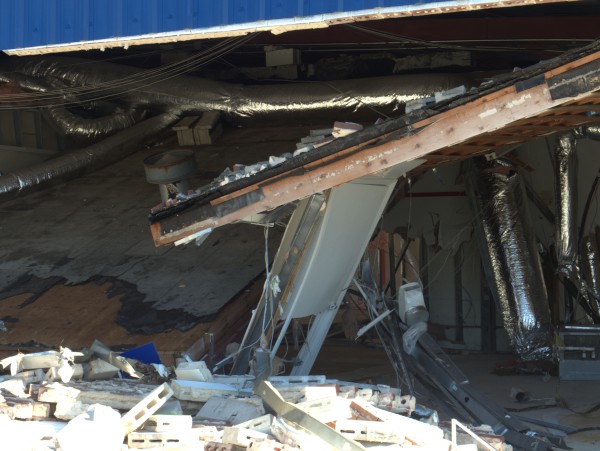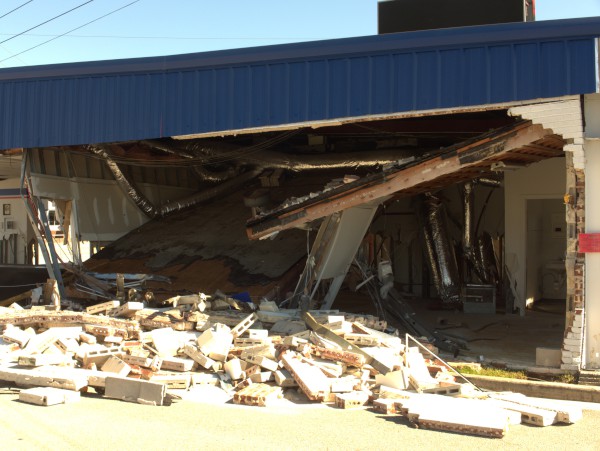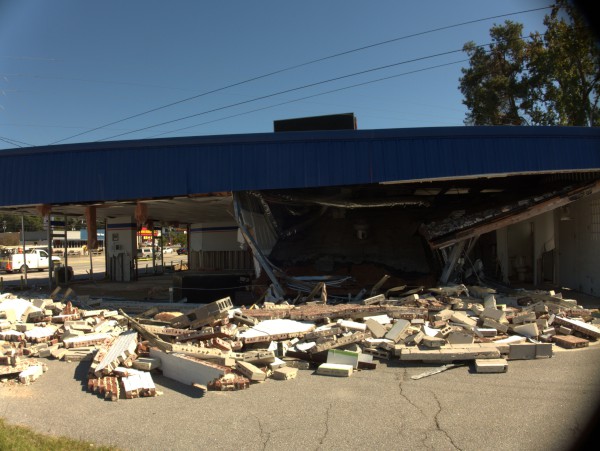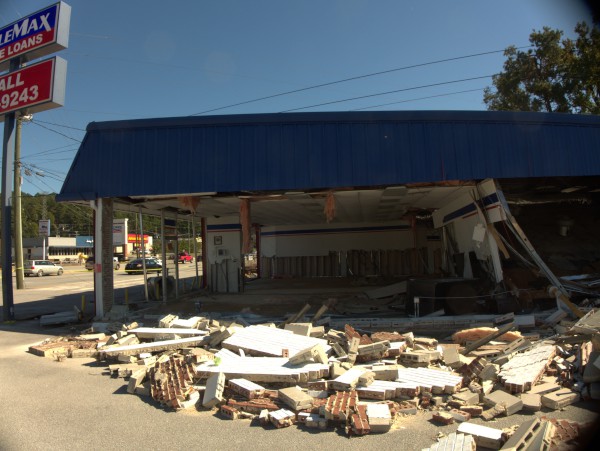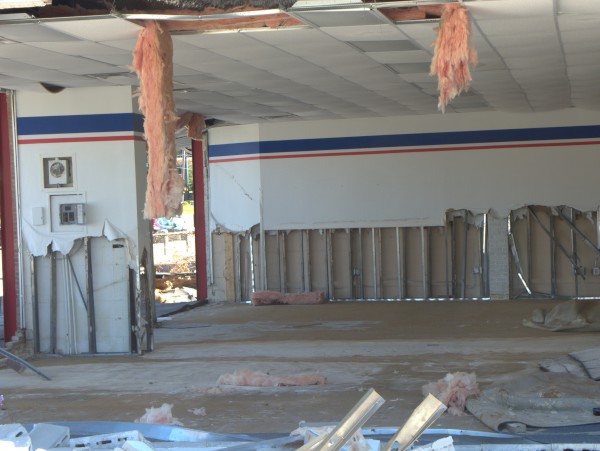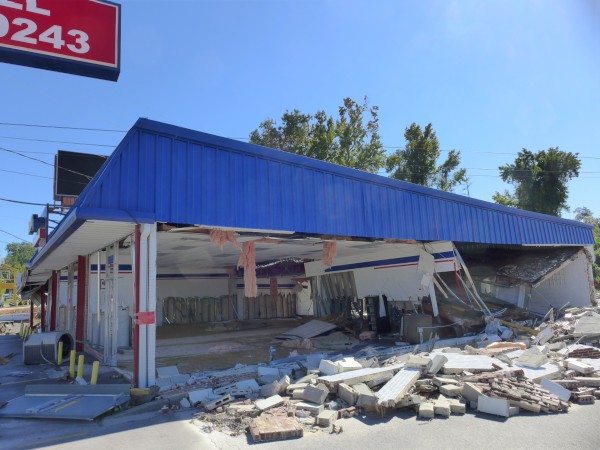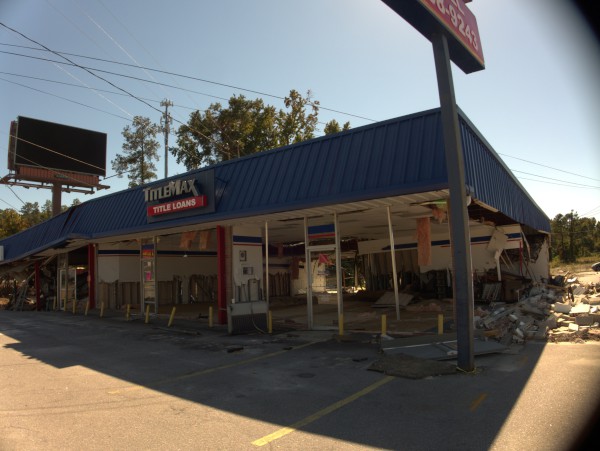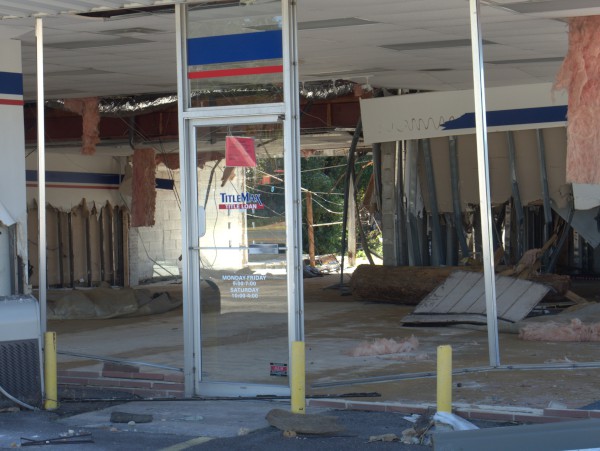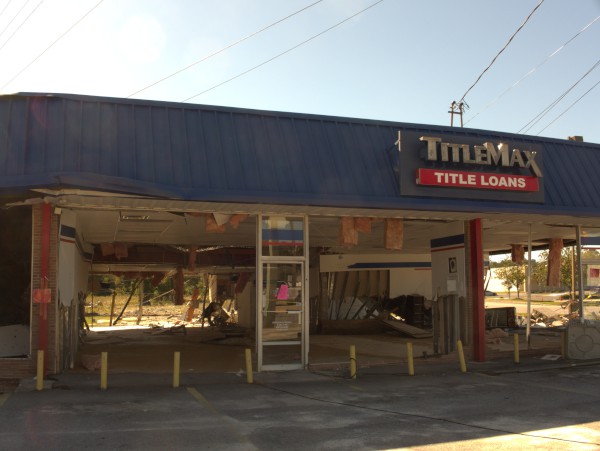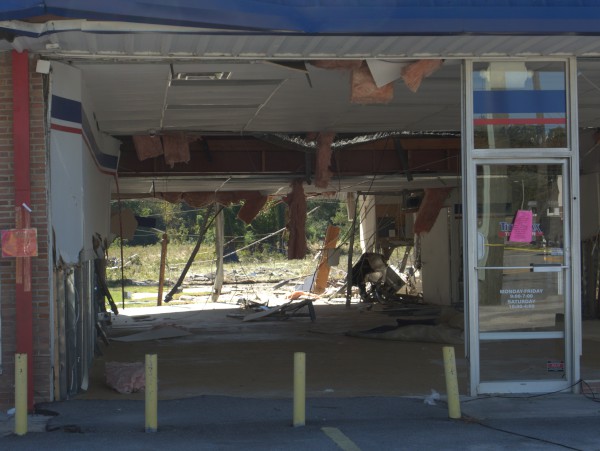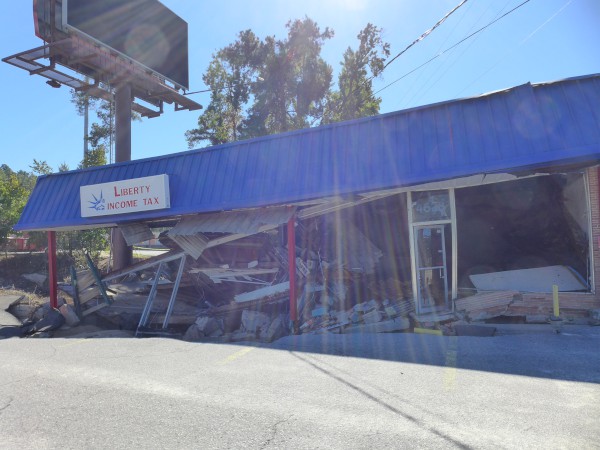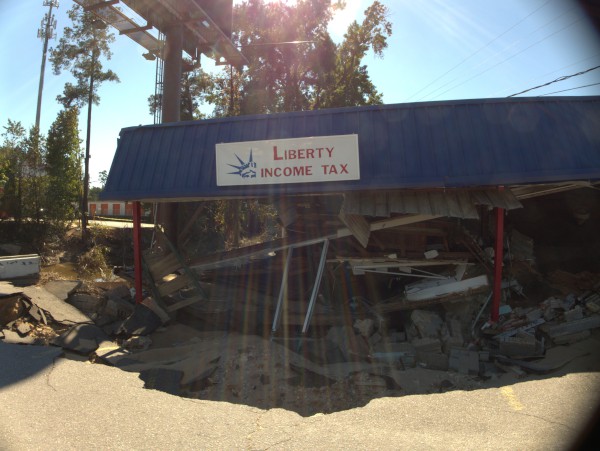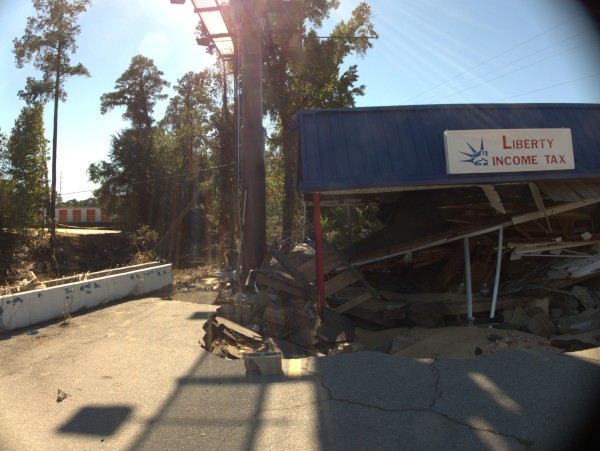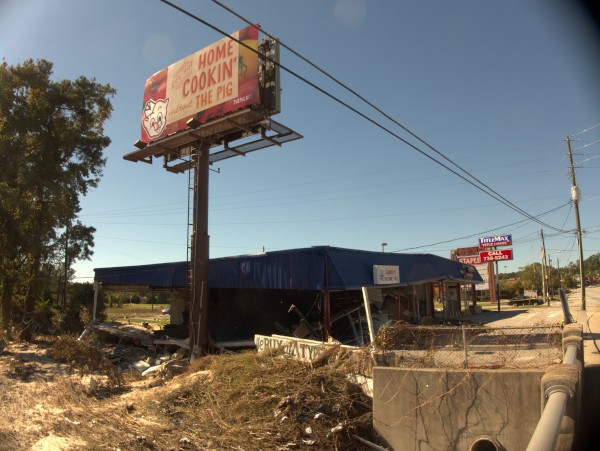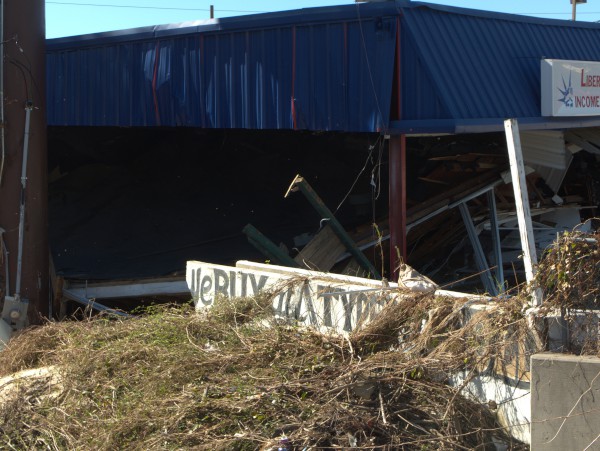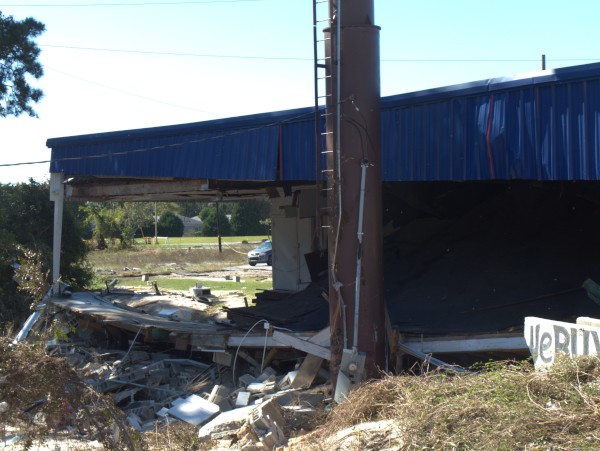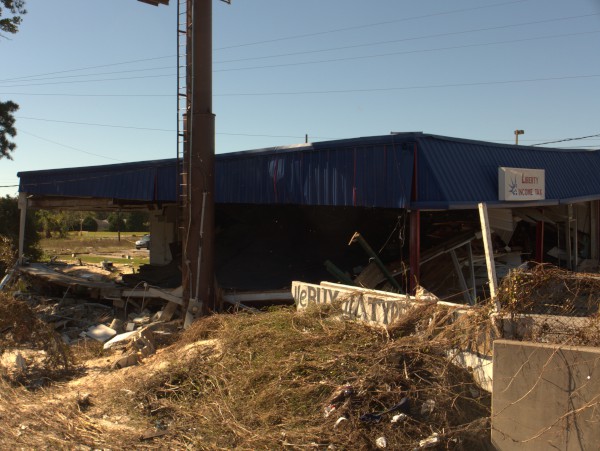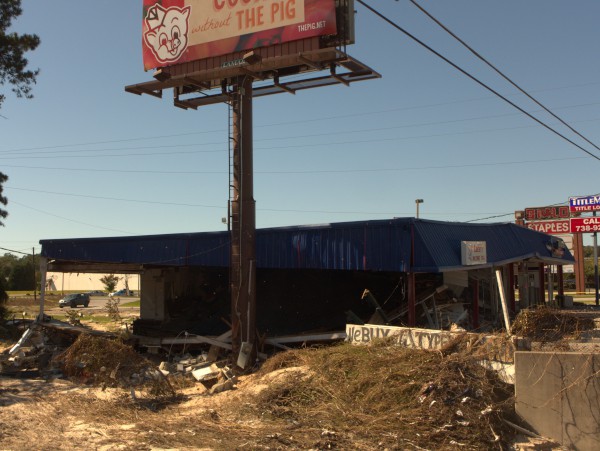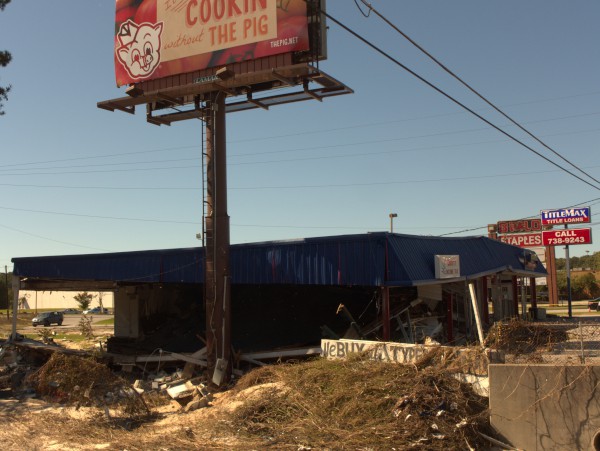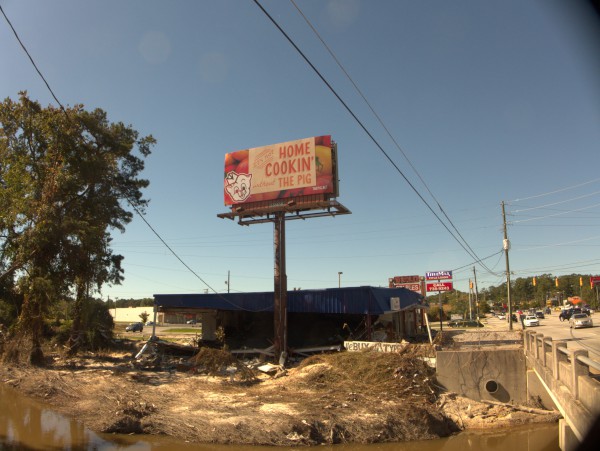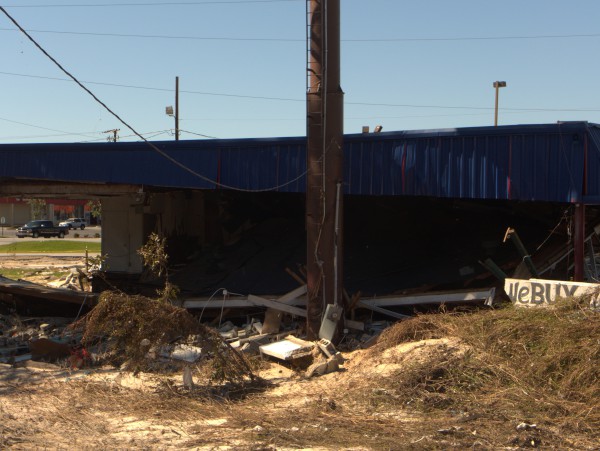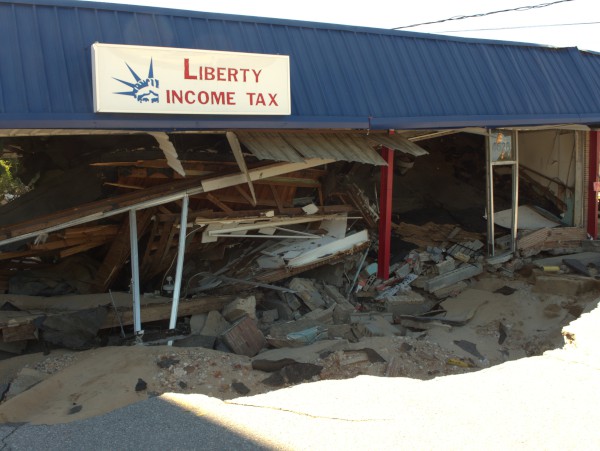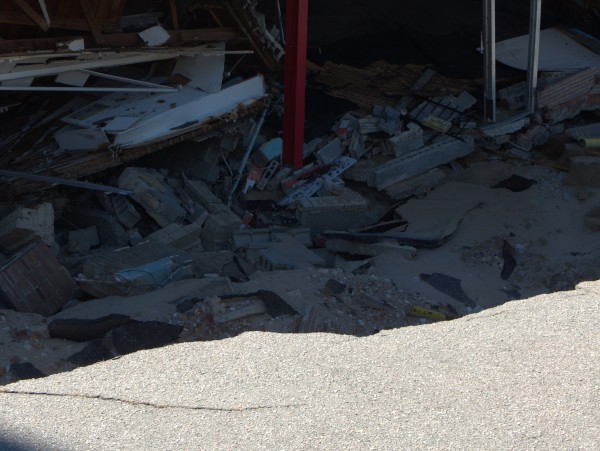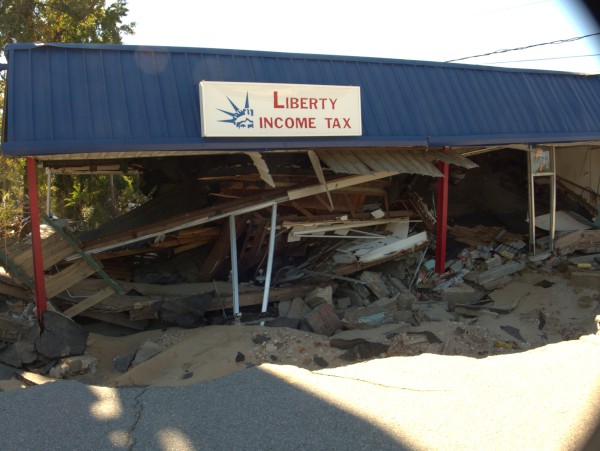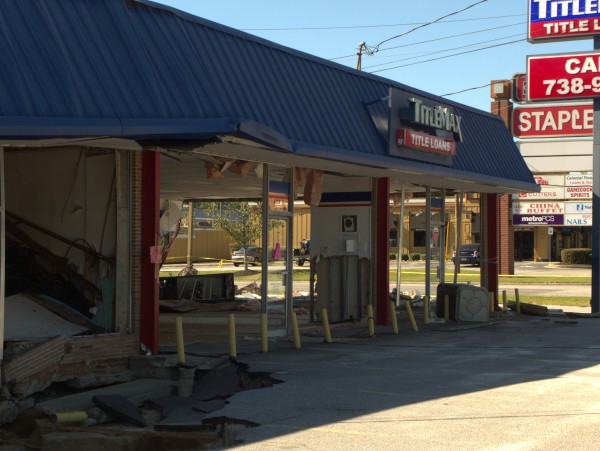 UPDATE 19 January 2016 -- TitleMax now has a sign up for their new location: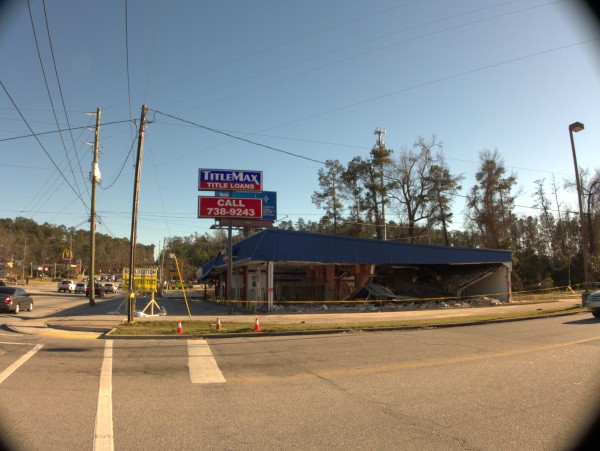 UPDATE 18 February 2016 -- It appears something is about to happen here, as the property is now fenced off. My guess would be a demolition: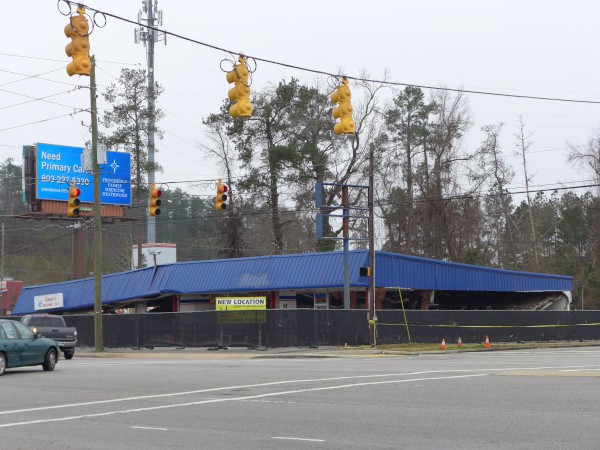 Posted at 11:51 pm in Uncategorized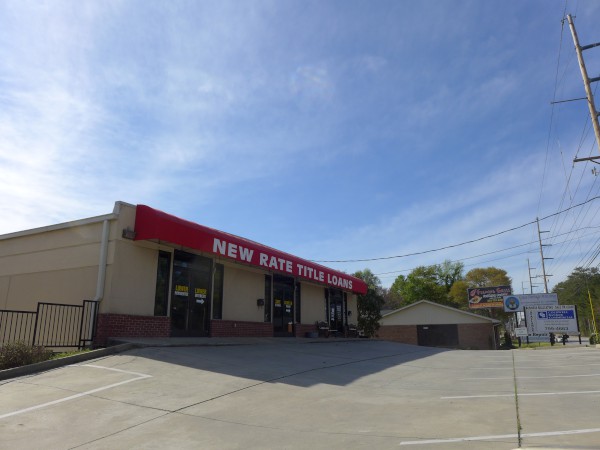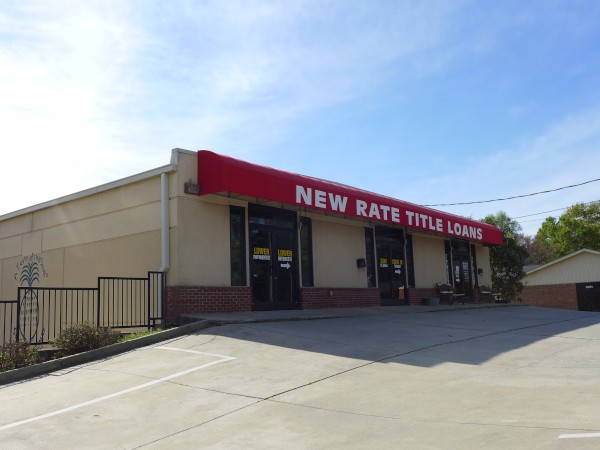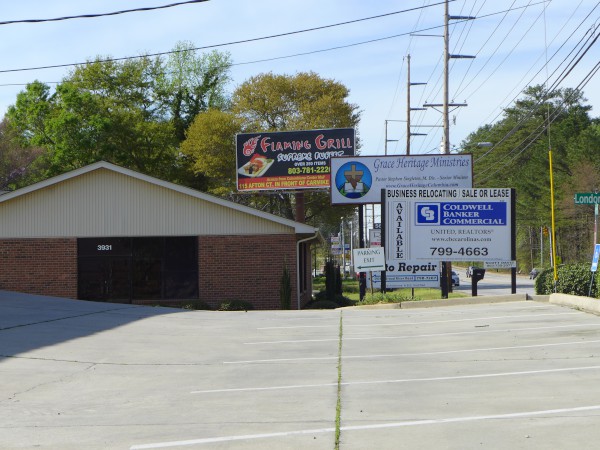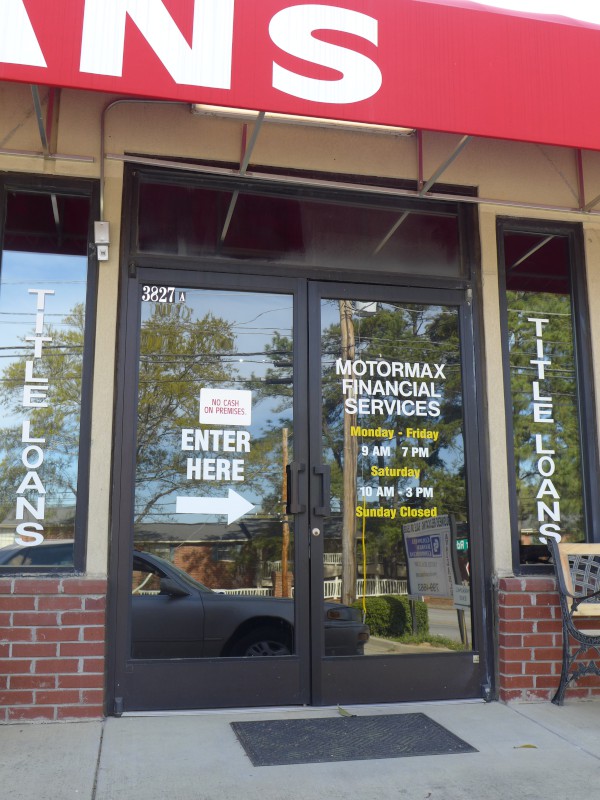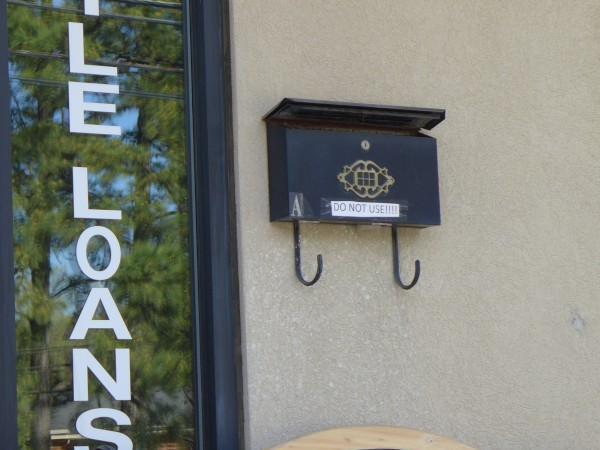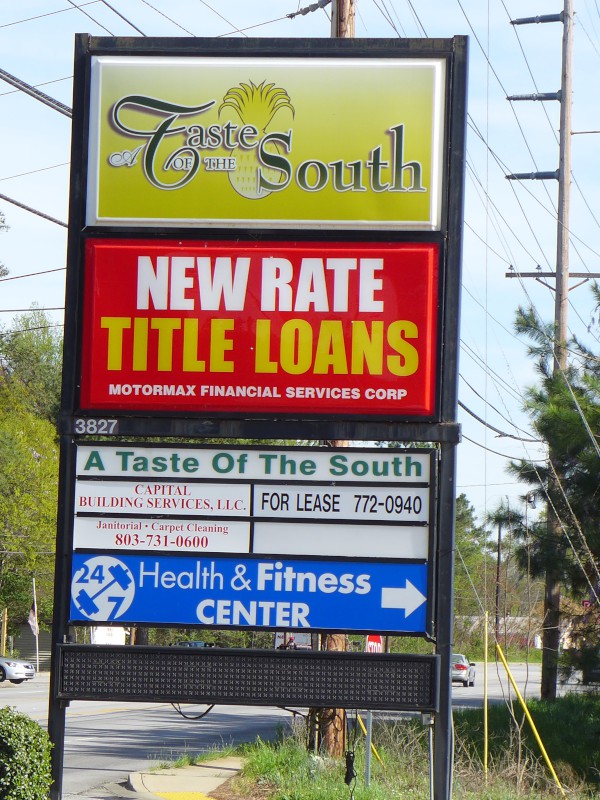 I think they have not quite moved yet, but New Rate Title Loans on Broad River Road near SLED is selling their building and getting ready to go.
Posted at 1:13 am in Uncategorized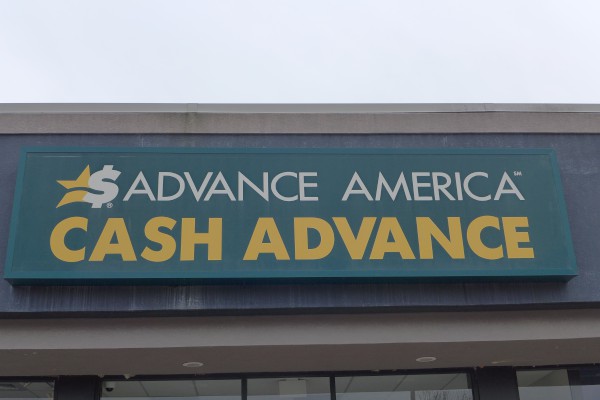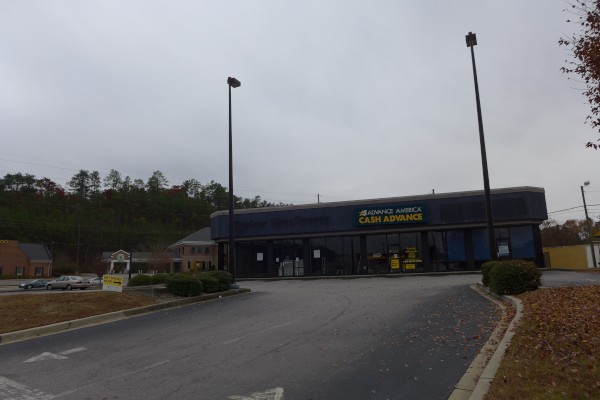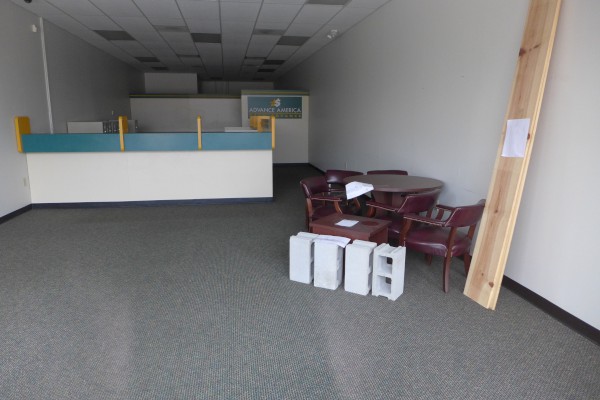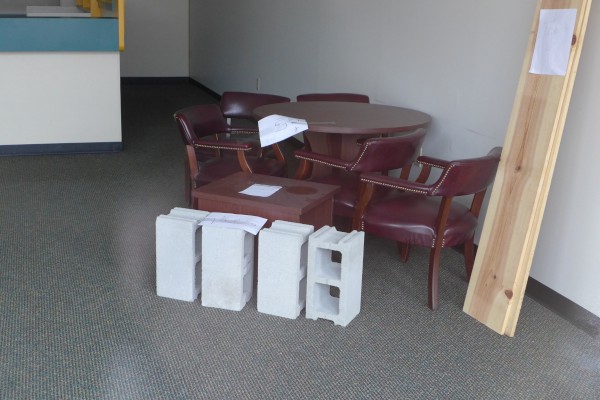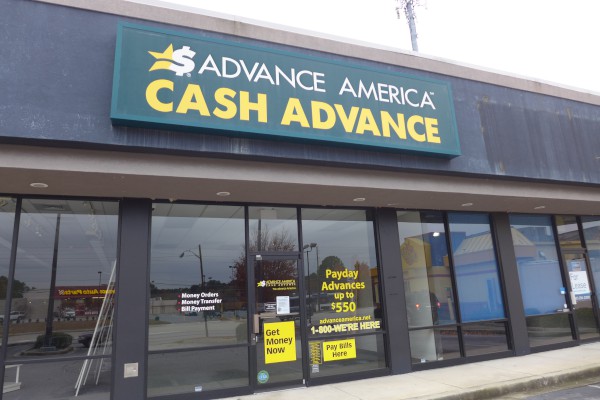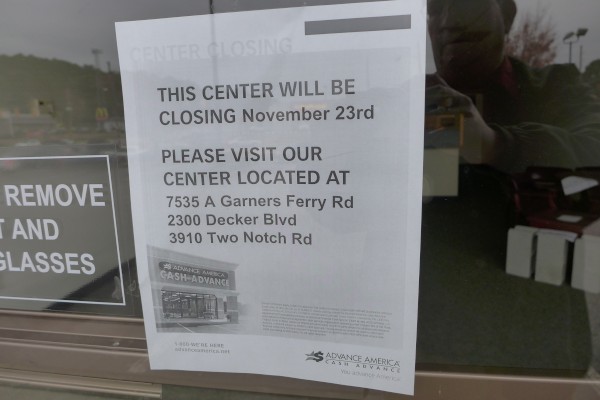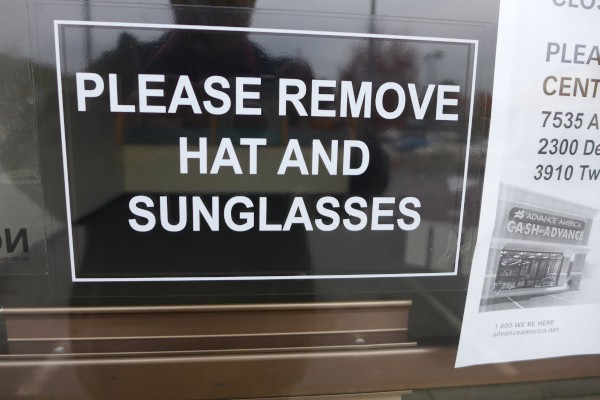 This is the third, and last, suite in the building at 4732 Devine to feature here. You have to wonder, given that every tenant has either closed or moved, if this building is to be torn down or if some new tenant wants the whole building.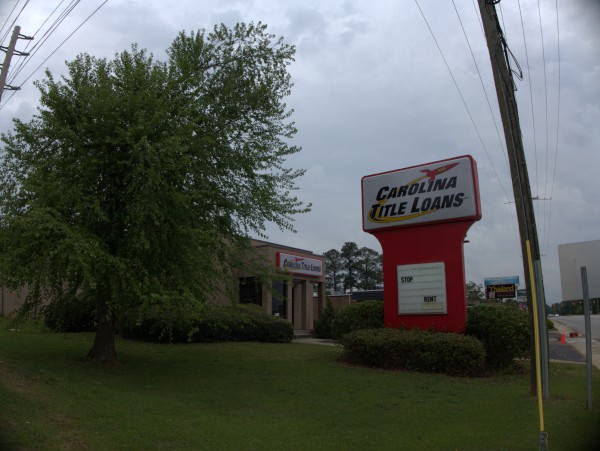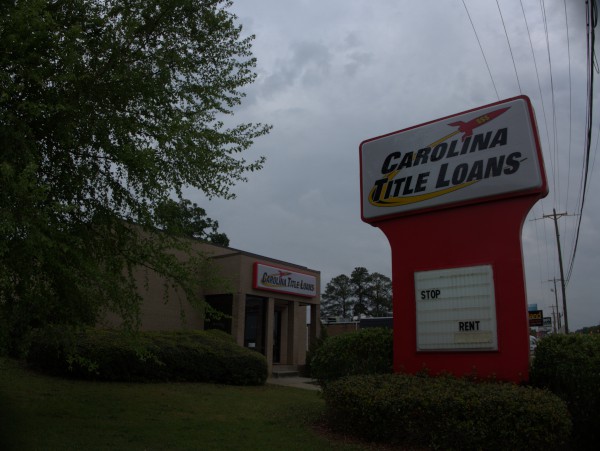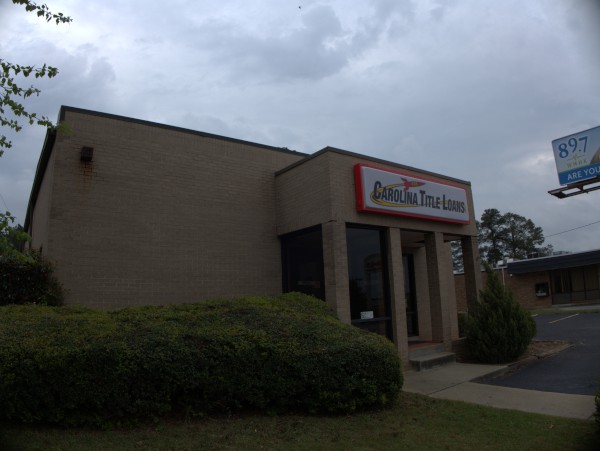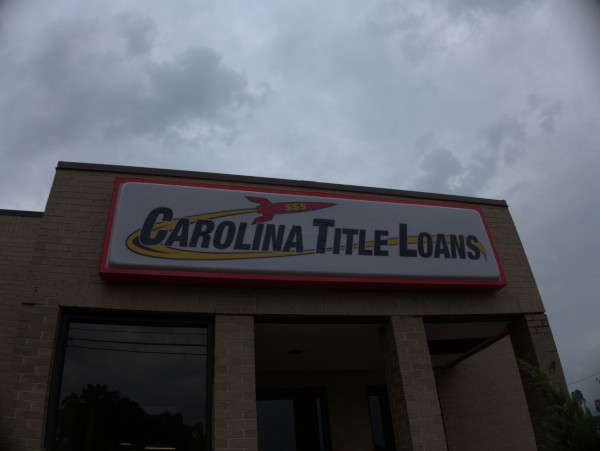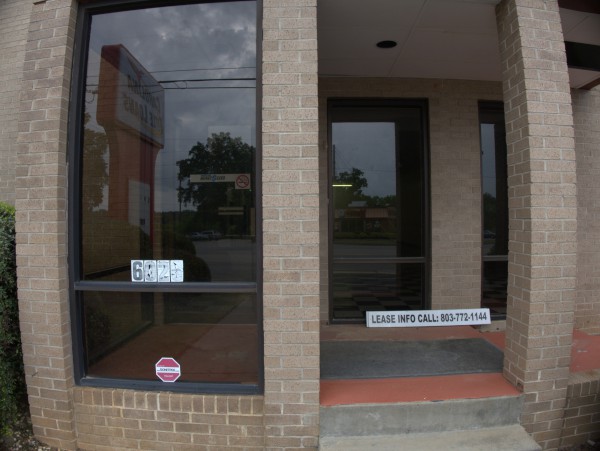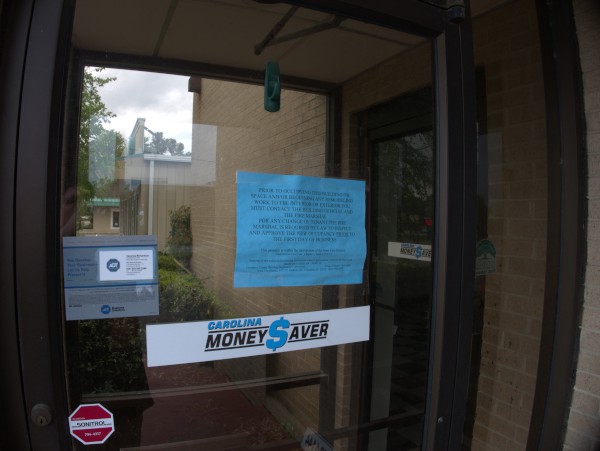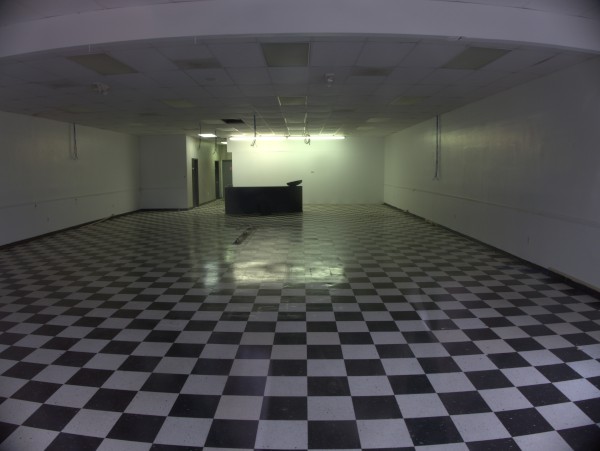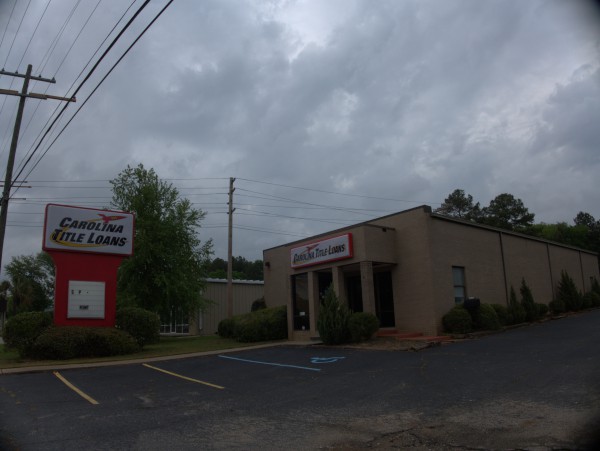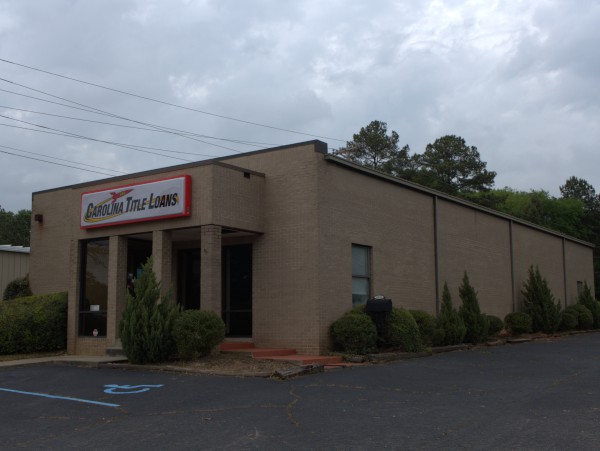 Well, that didn't last long. I posted a closing for Carolina MoneySaver at this site back on 6 January 2012, and since then the followup operation, Carolina Title Loans has already moved in and then either folded or moved on.
I still kind of like the checker-board floor, which is unchanged from the MoneySaver days.
The pix are all, unfortunately, from yet another of our recent oversupply of grey days.
UPDATE 30 August 2016 -- Actually I think I was wrong about this place. They hadn't closed when the pictures above were taken, they just were taking an incredibly long time to open. They finally *did* open, but closed after a short time, and now the building is for sale: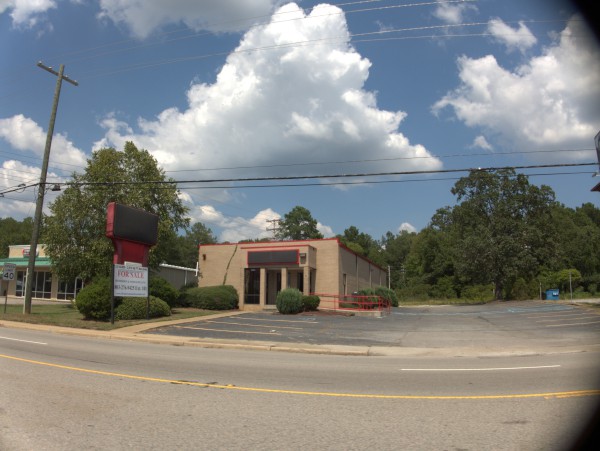 Posted at 3:30 am in Uncategorized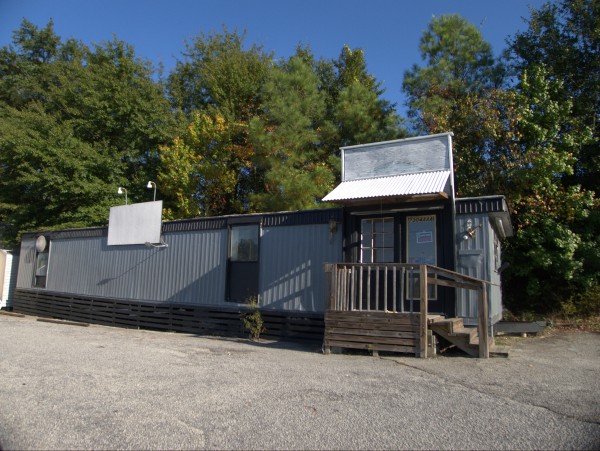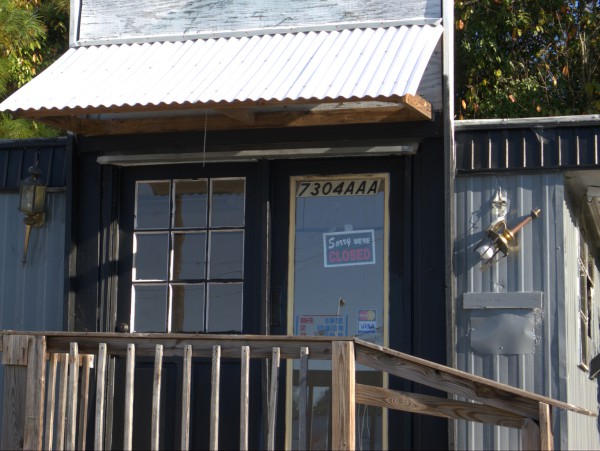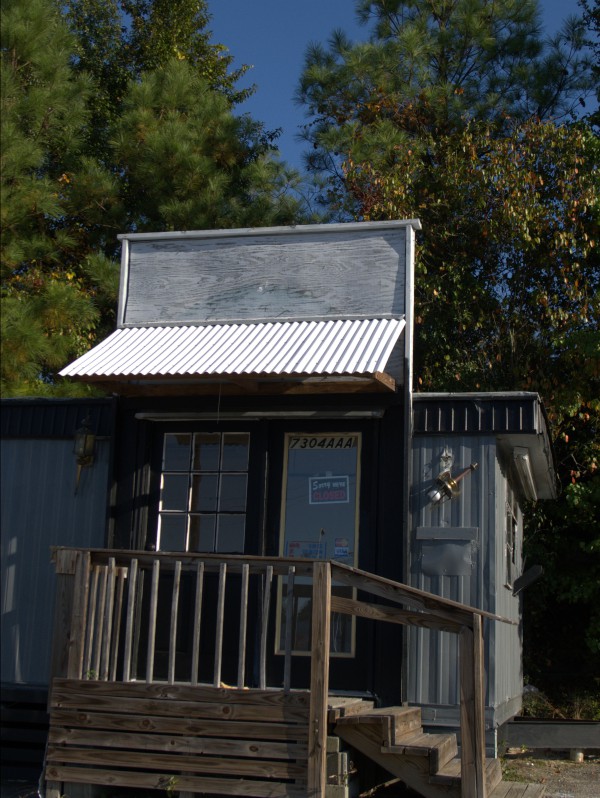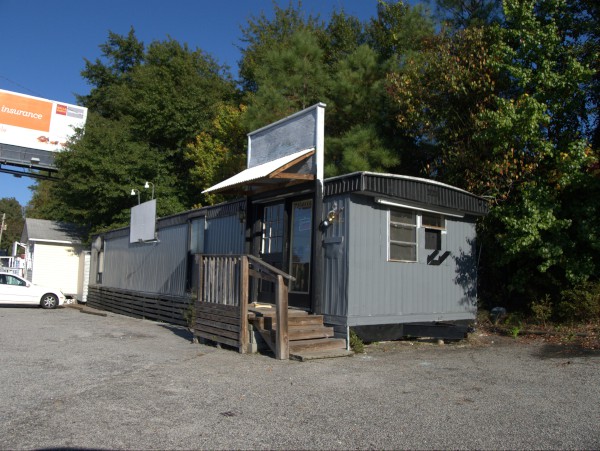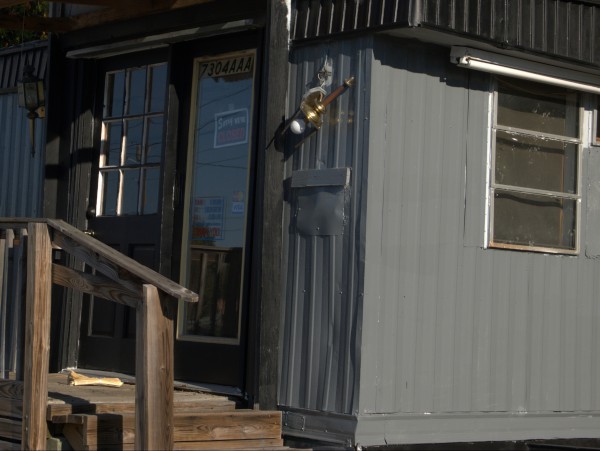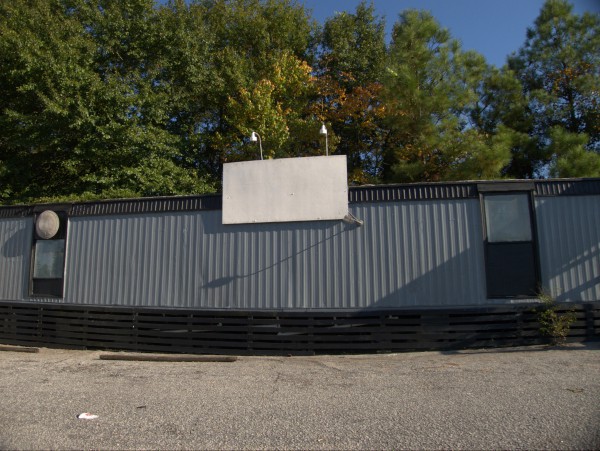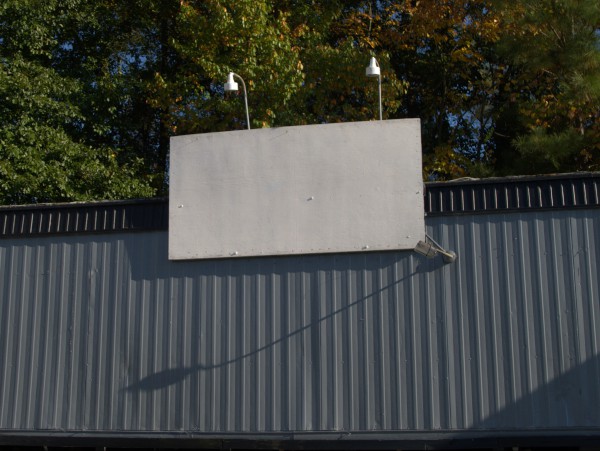 Well, it's back today to the trailer strip-mall on Two Notch across from the K-Mart.
I'm pretty sure this trailer was a number of things over the years, but the one sure hit I'm currently pulling up is for All American Title Loans, Inc..
According to these public notices from 2005 it was definitely still in business then, and I think it lasted a number of years after that, but I'm away from my old phonebooks right now, so I'll just put the closing date as "late 2000s".
Posted at 10:39 pm in Uncategorized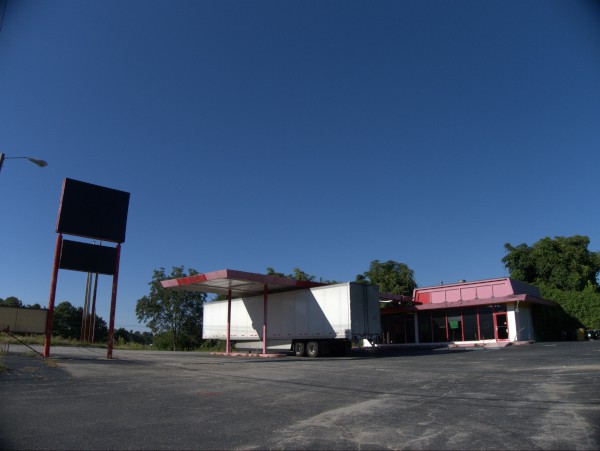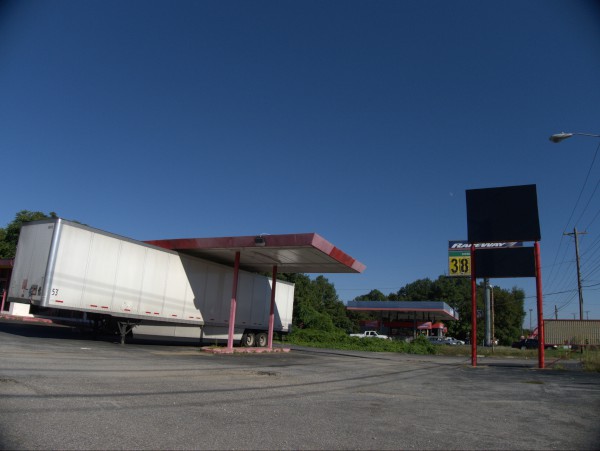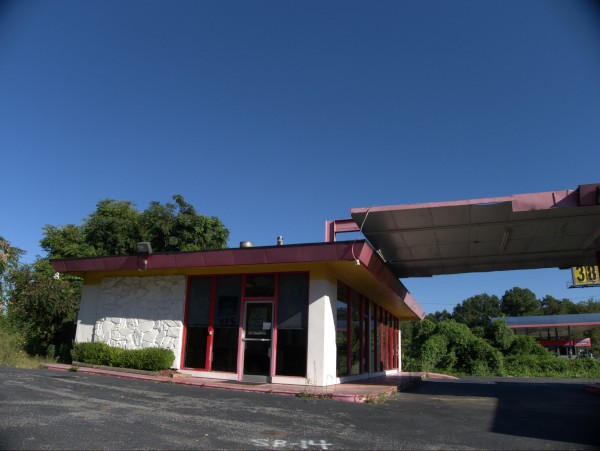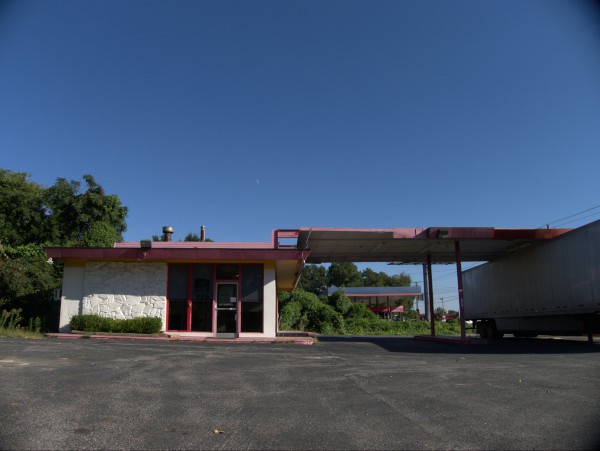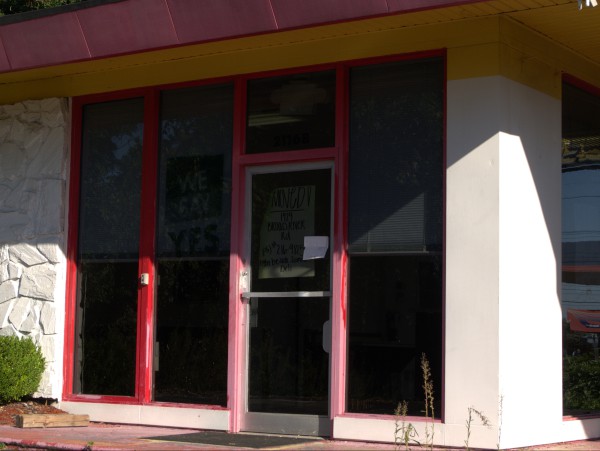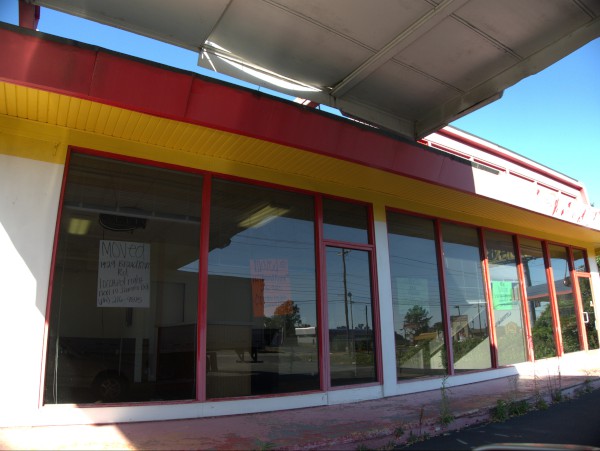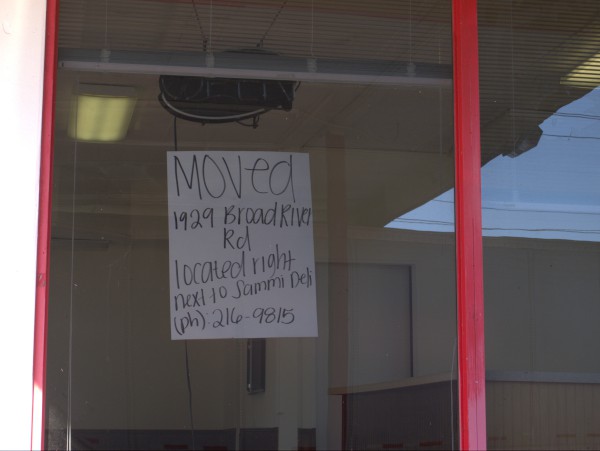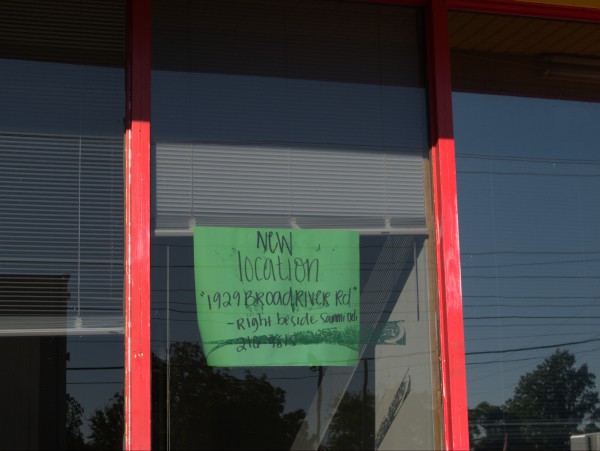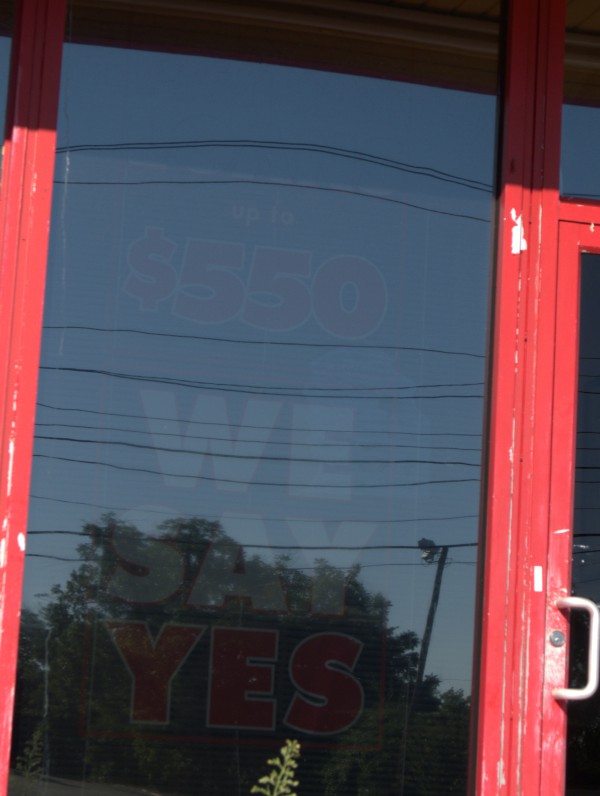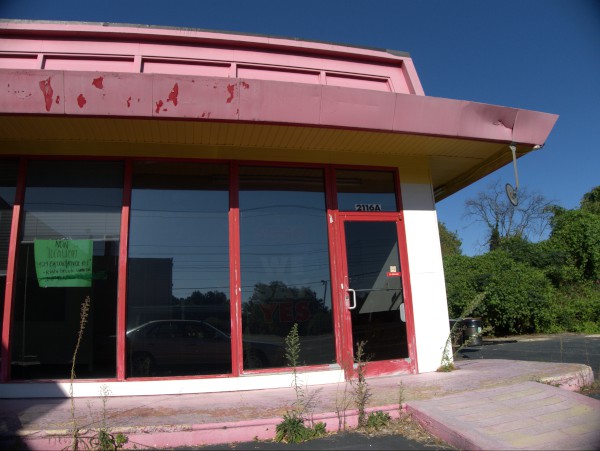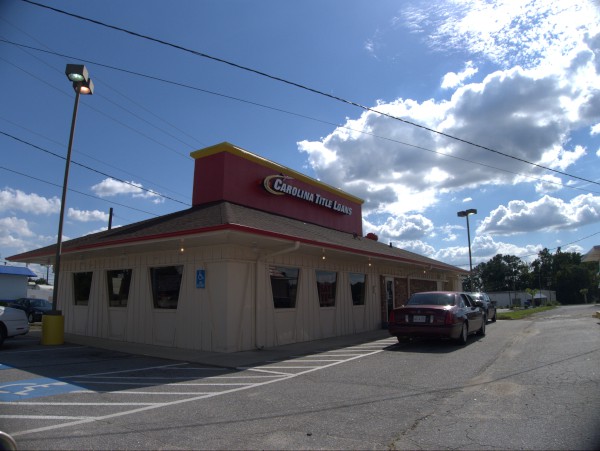 As I mentioned a week or so ago in an update to the Intersection Center Pizza Hut post, that building at 1929 Broad River Road has been taken over by Carolina Title Loans (last picture above). This is the building they moved from.
It was obviously a gas station at one time, though I don't remember of what brand, and sits at the corner of Broad River Road and Garner Lane (which is also the Eastbound on-ramp for I-20). I would say the Pizza Hut location definitely has easier access than this lot, which is difficult to get to if you are heading towards Dutch Square on Broad River Road.
Posted at 12:40 am in Uncategorized