Archive for the 'Harbison Boulevard' tag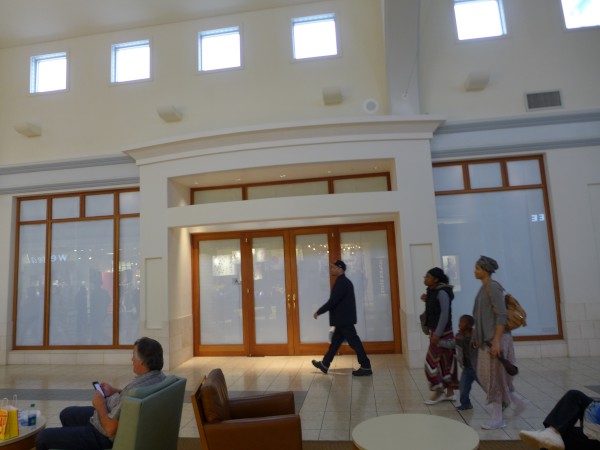 I think there was, or is, a Williams Sonoma on King Street in Charleston, and every now and then when I was in town and walking the shops district, I would drop in to see all the neat stuff that would never fit into my non-cooking lifestyle. I think I may have browsed this store too once, though my visits to Columbiana Mall are passing rare.
According to The State this was not a surprise closing, at least to mall management. They also mention that the Market Commons store in Myrtle Beach was closing as well. I'm unsure if that says more about Williams Sonoma or Market Commons which has struggled in recent years. Normally if a company is in trouble there will be some press about it, but all I see is a Motley Fool article citing a stock price fall.
According to the linked State article about the storefront
there's a plan in place for what we hope to be a huge surprise in 2018
On the one hand, that sounds upbeat, on the other hand, 1 year+ is a long time for a slot to stay empty.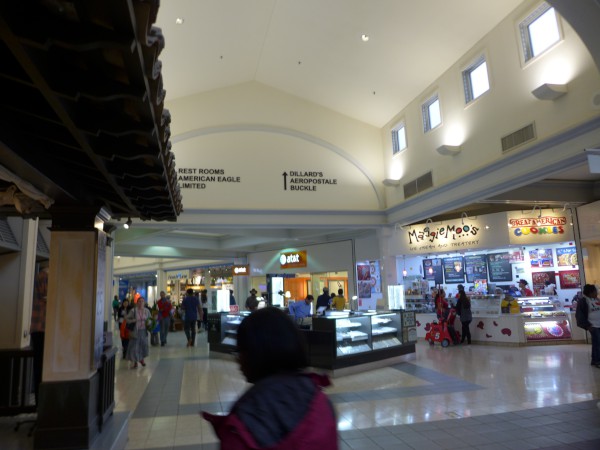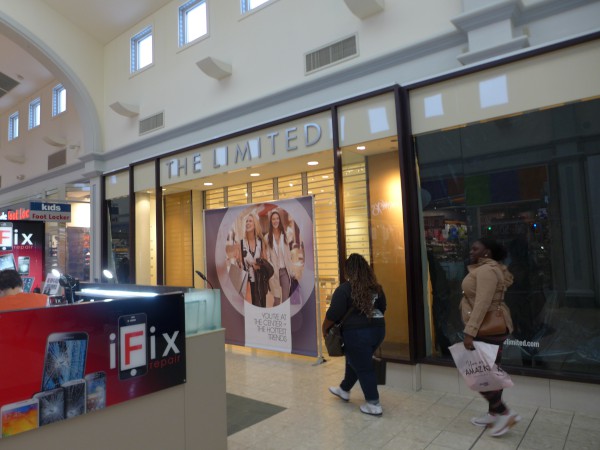 It was the 70s I guess when I first heard of The Limited, as they had a very catchy radio commercial whose refrain was
Look to The Limited!
That aside, I thought the name a little odd. I guess they were going for an "upscale" Limited as in "Limited Edition", but to me the name always brought up associations like "No, we don't have that, we're limited". Not that it really impinged on me either way as it was all women's clothes and I don't believe I ever set foot in any location.
This shop, at Columbiana closed in early January as part of the chain's axing of all its stores. Forbes has the story:
And another bites the dust.

Women's apparel chain The Limited on Sunday [8 January 2017] began closing all 250 of its stores across the United States and is slashing 4,000 jobs, the latest casualty of shopping's move online and the growth of fast fashion chains.
Interestingly, the article does not specifically say the chain is actually in bankruptcy of any chapter..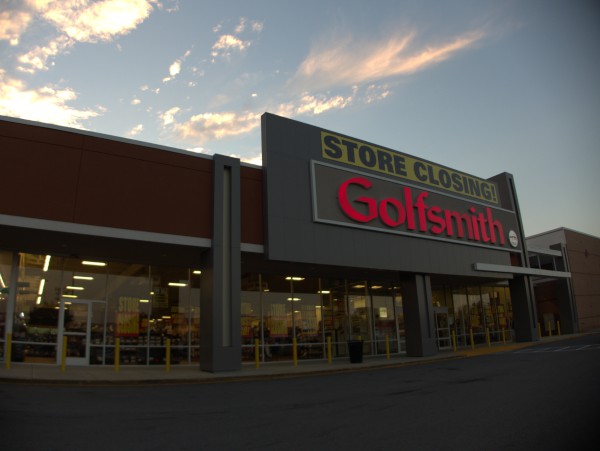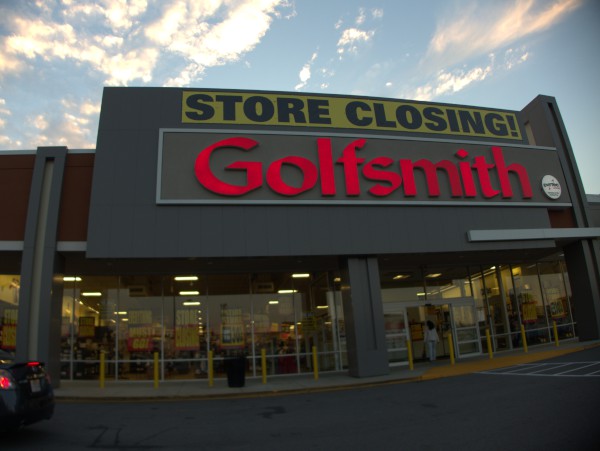 Golfsmith was the follow-on operation in this storefront to OfficeMax/Office Depot, moving in sometime in 2013.
As this article explains, the firm filed for Chapter 11 in mid September. What went wrong, well, from the same source
But really what went wrong, and what happens next?

To the first point, it's clear from a read of the Golfsmith bankruptcy filing and those familiar with the company both internally and externally that Golfsmith expanded to its current 109 stores in the U.S. too aggressively, in the wrong way (as far as store formats go) and most likely without proper capital to support such expansion.

....
....

All of which was exacerbated by the fact that--as part of the Chapter 11 filing reads--"the enthusiasm underpinning the 'Tiger Woods Phenomenon' significantly waned."
Apparently Dick's Sporting Goods has acquired at least some of the Golfsmith assets, but I'm not clear from this story whether that is nationally or just in Pennsylvania.
(Hat tip to commenter Andrew)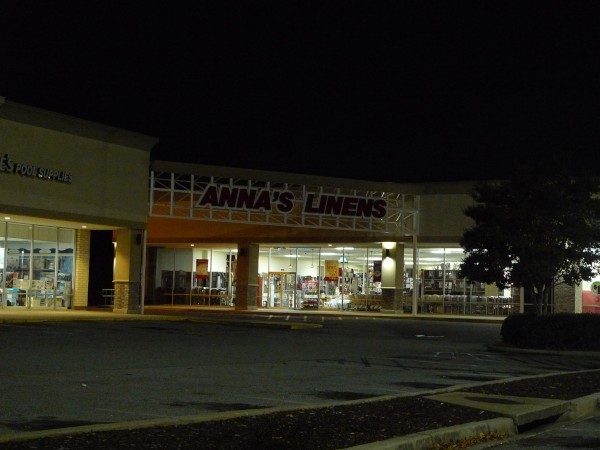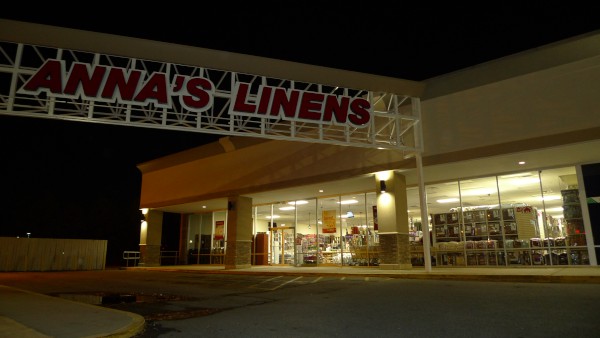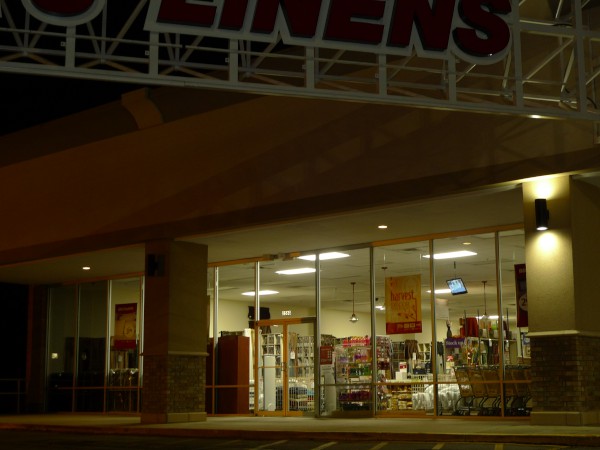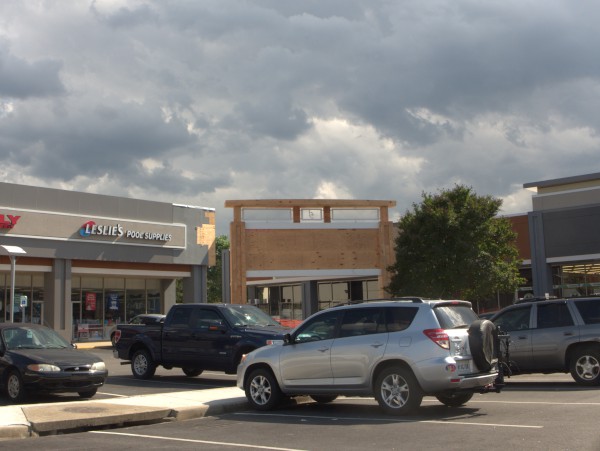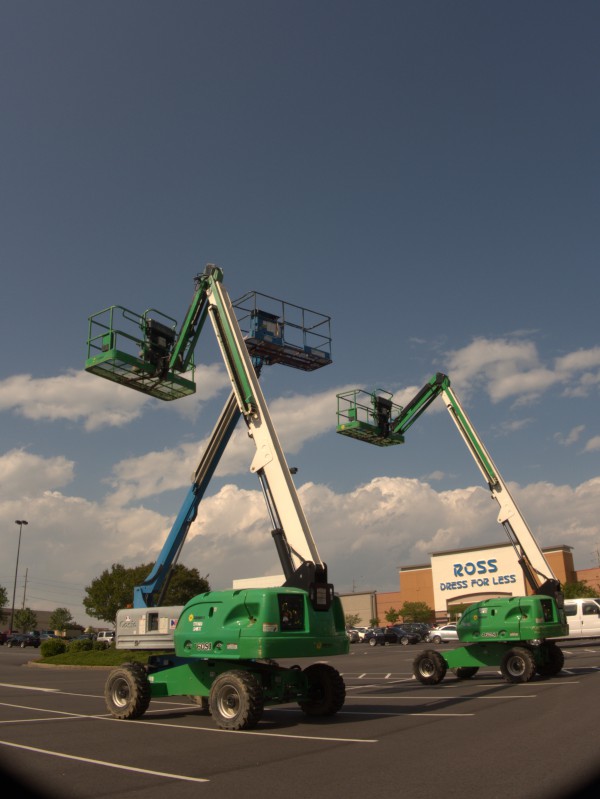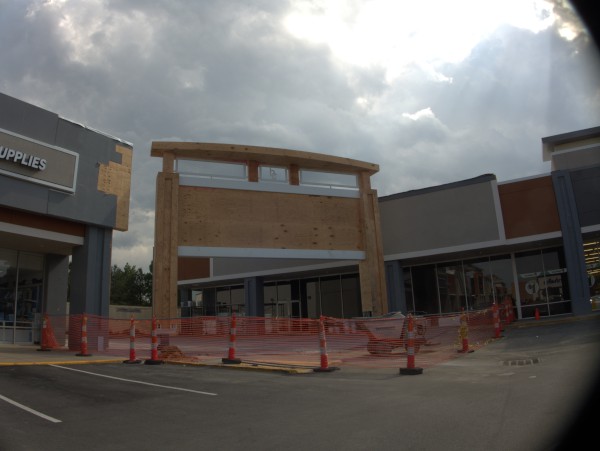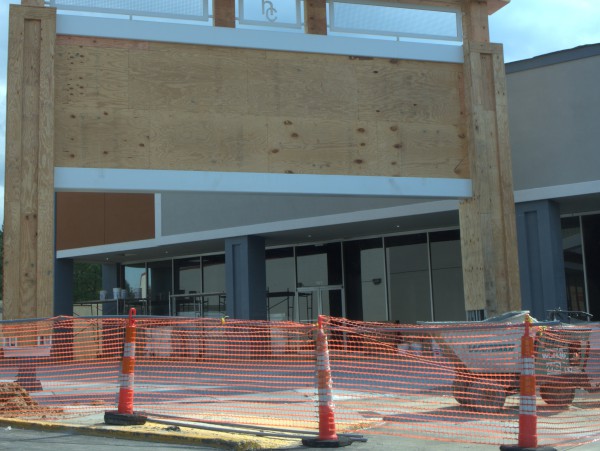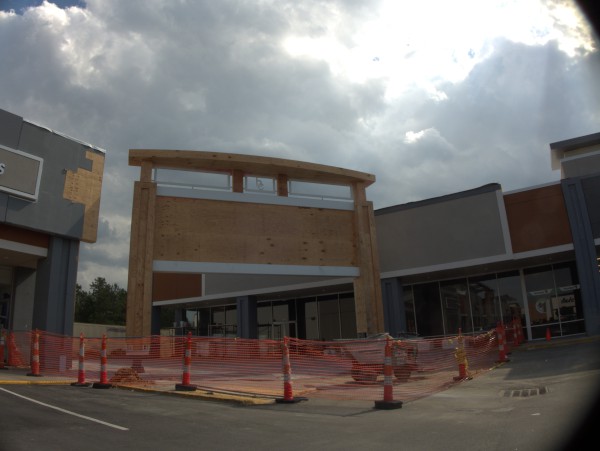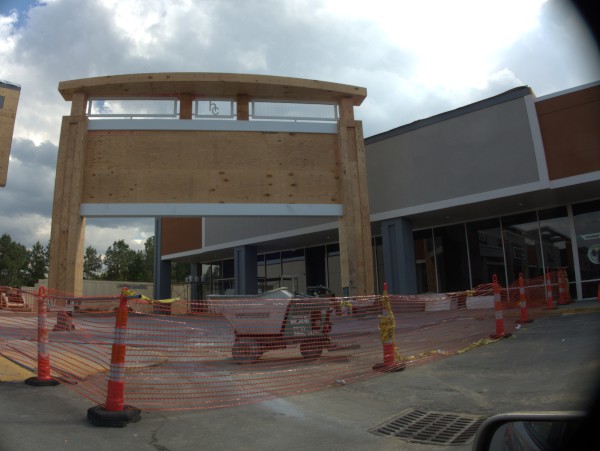 Anna's Linens replaced (after a hiatus) Lifeway Christian Stores in Harbison Court in late 2011. Now some three plus years later, they are gone as well, and Harbison Court is undergoing fairly extensive facade work and renovation. On the whole I am impressed with how they have kept the place up and made good such major losses as Barnes & Noble and Officemax.
In the meantime, Anna's still has two Columbia locations, one on Forest Drive and another on Two Notch.
(Hat tip to commenter Andrew)
UPDATE 14 June 2015 -- Five Below is coming along: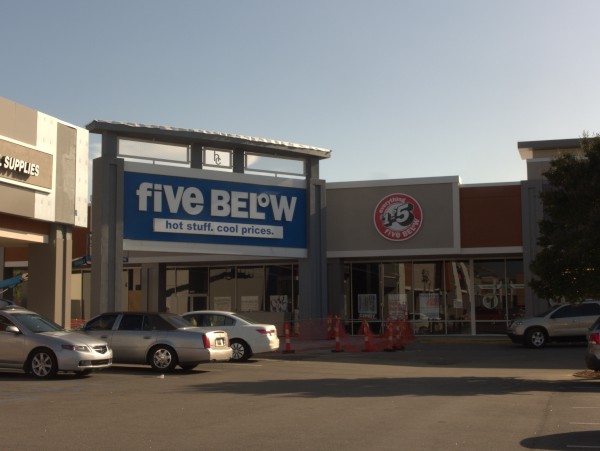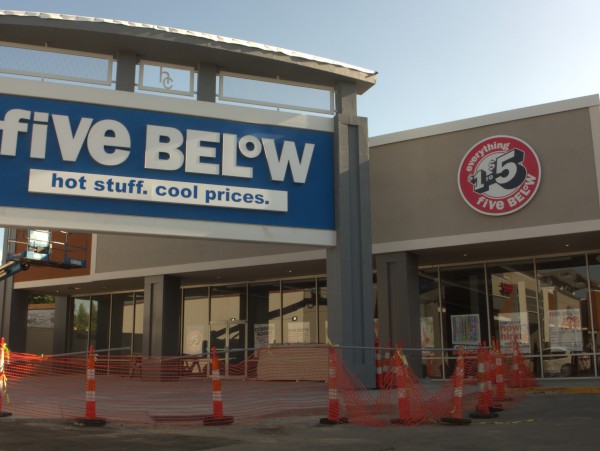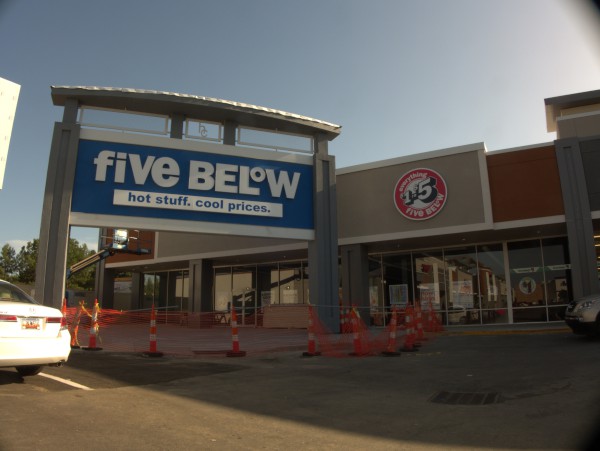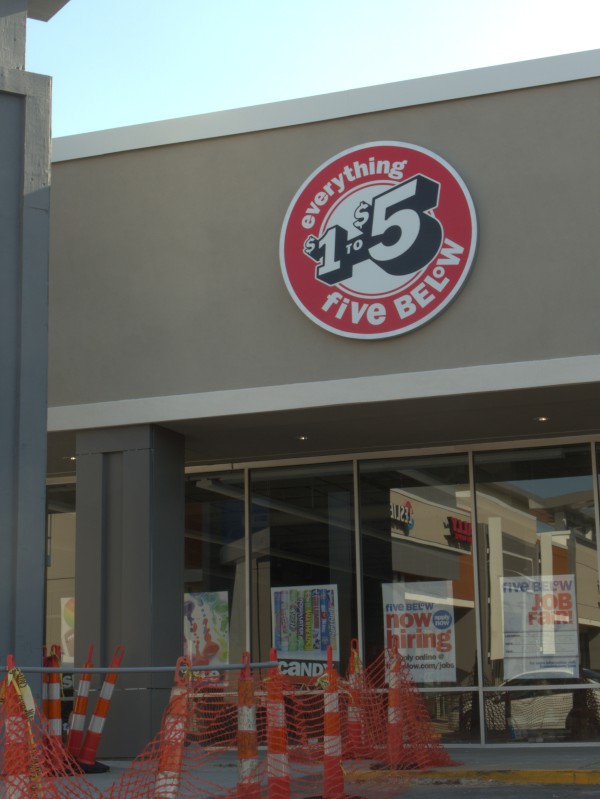 Posted at 1:24 am in Uncategorized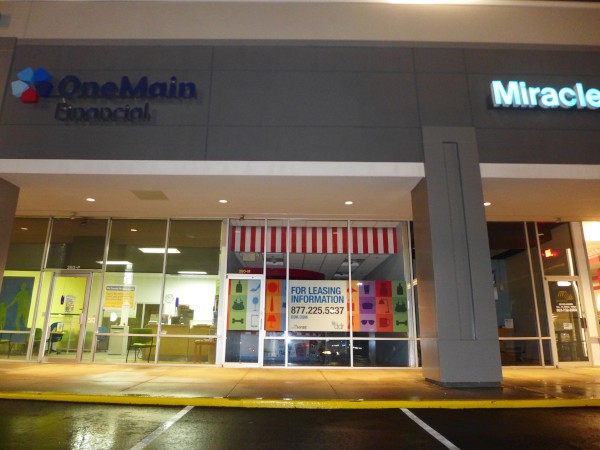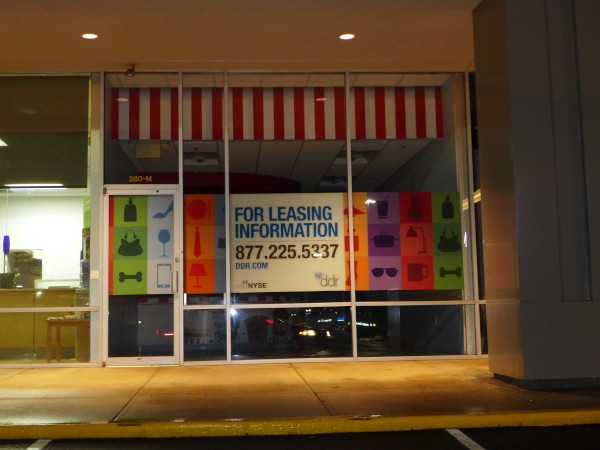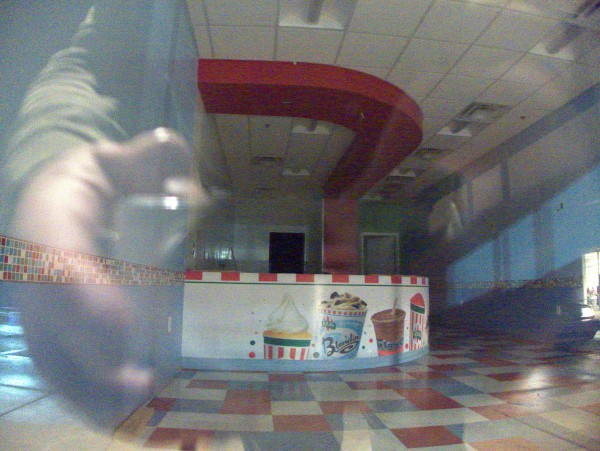 I got off kind of on the wrong foot with Rita's as I read their slogan Ice Custard Happiness before walking over from Barnes & Noble and was expecting some rich frozen custard treat. In the event, I ended up with something like an Icee. Looking at their menu, I now see that I should have explicitly mentioned the word "custard" in my order rather than just specifying a flavor. Oh well.
You can see a small portion of the shop in operation in the first picture in the Sesame Inn closing. In the meantime, you can still get your fix across town at the Sandhill location.
(Hat tip to commenter Bob)
Posted at 12:33 am in Uncategorized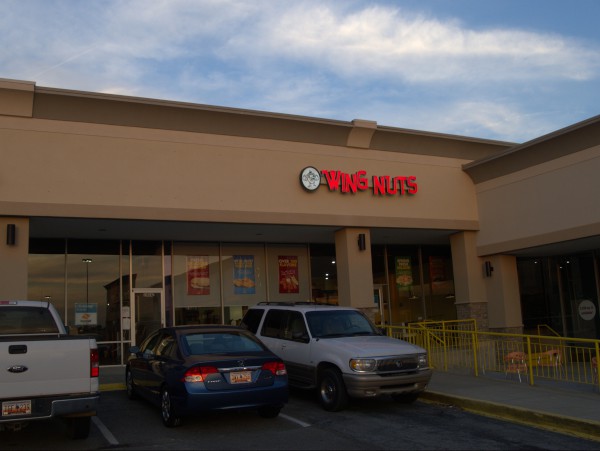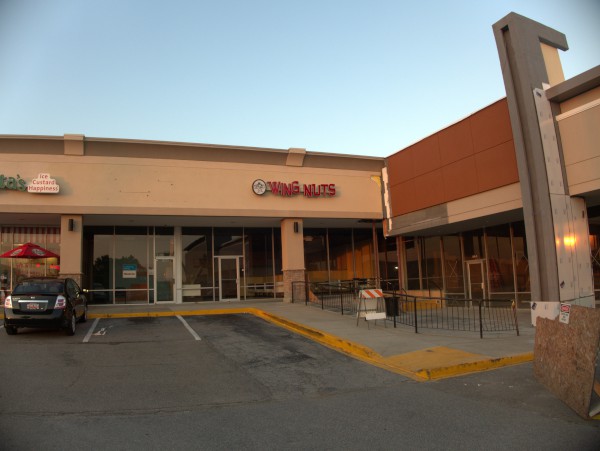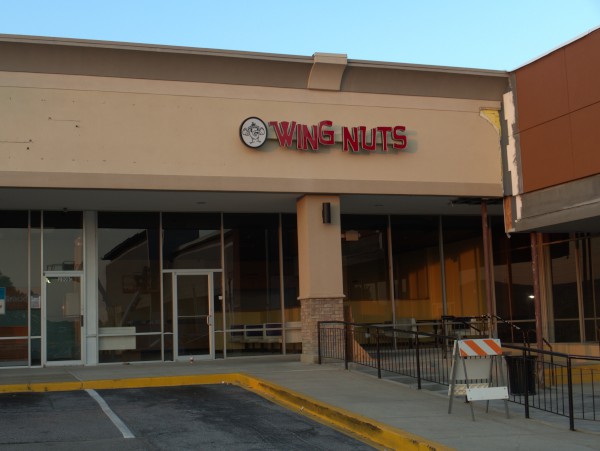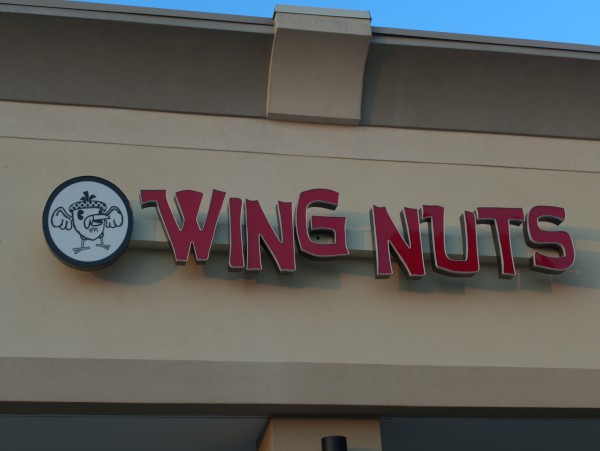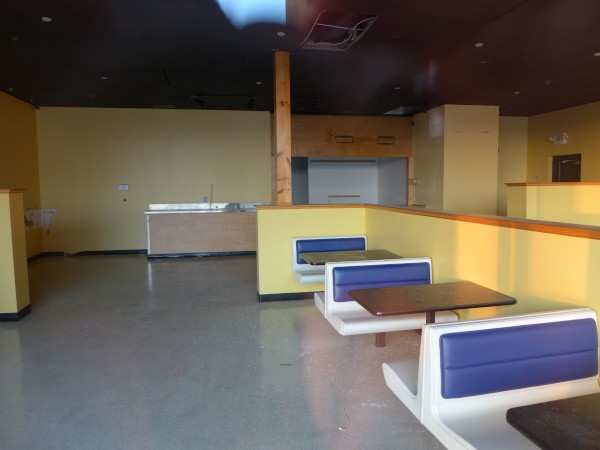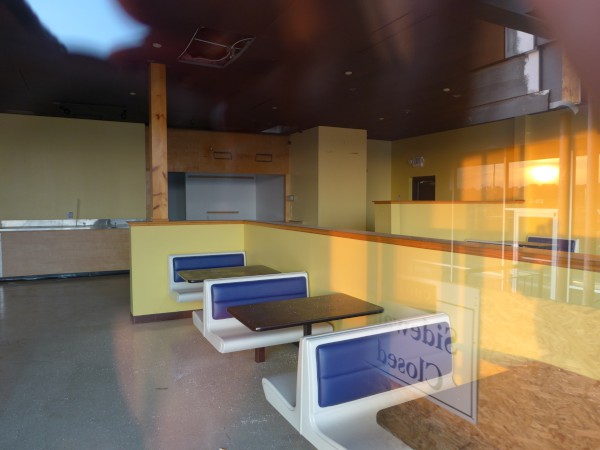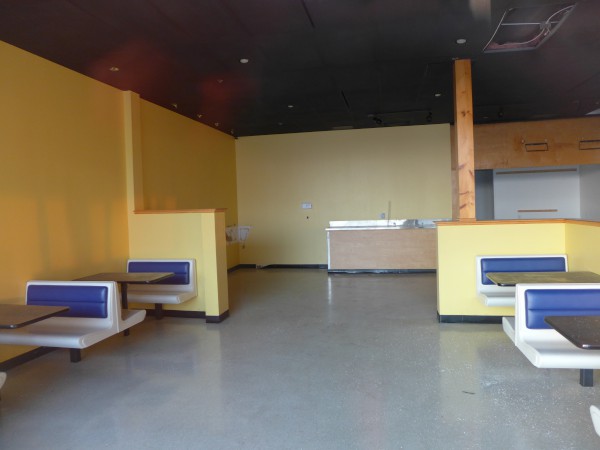 Wing Nuts was in the old Sesame Inn slot in the Outback plaza on Harbison. (I used to call it the Barnes & Noble plaza). Online reviews were not.. overly positive, but then nobody goes online to leave a good review.
Interestingly, the place has been on the market as a turn-key running business since last October (October 2013), as can be seen in these two LoopNet listings, here and here listings. That apparently did not work, as the place is now fairly gutted.
(Hat tip to commenter Ellen)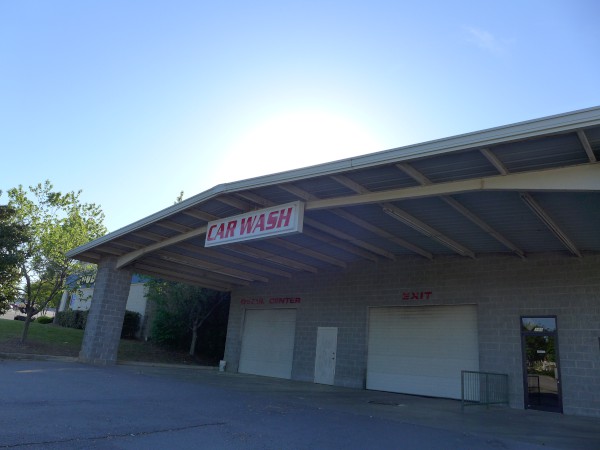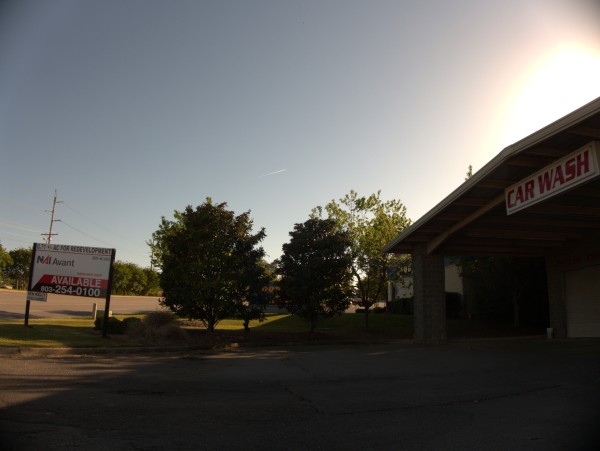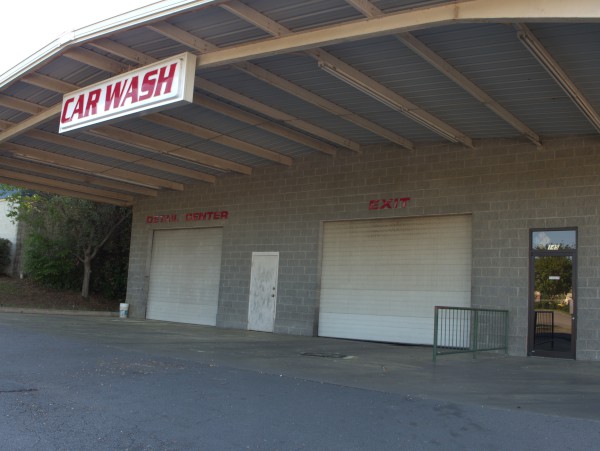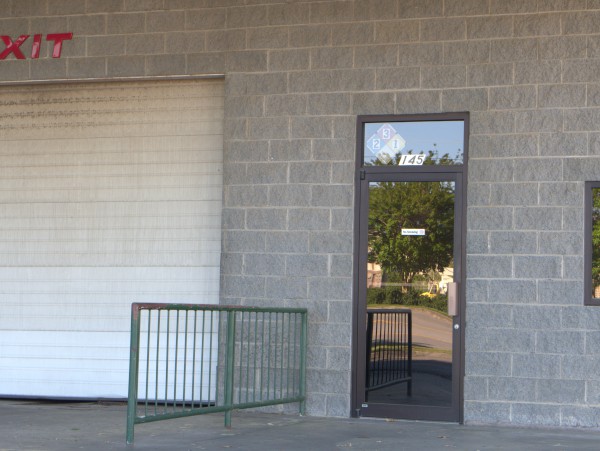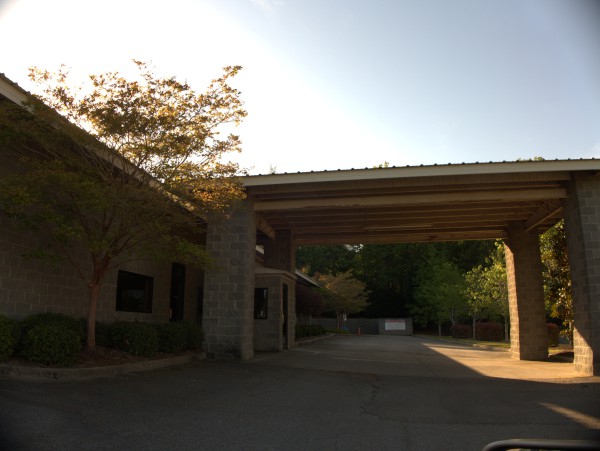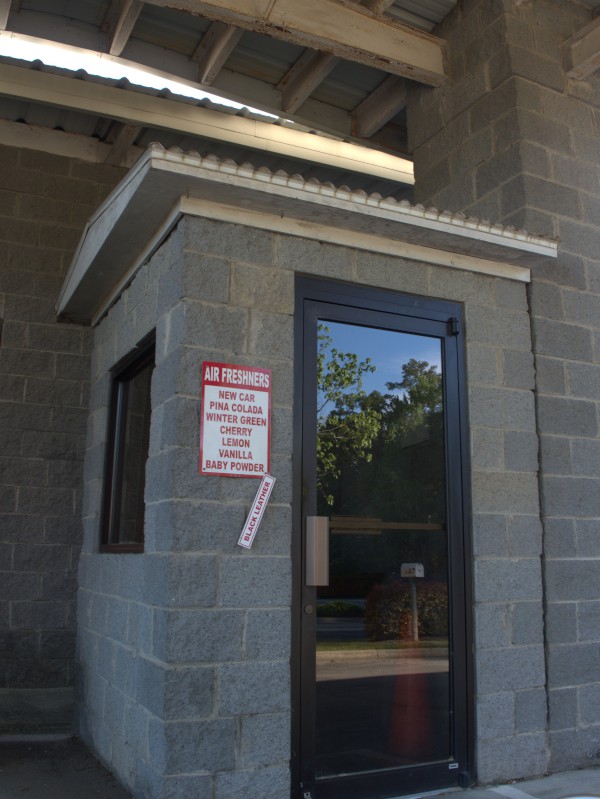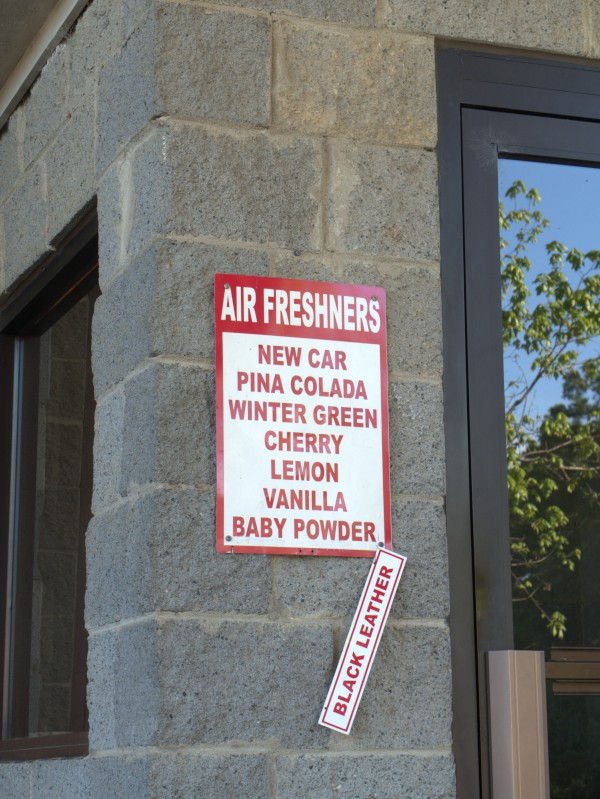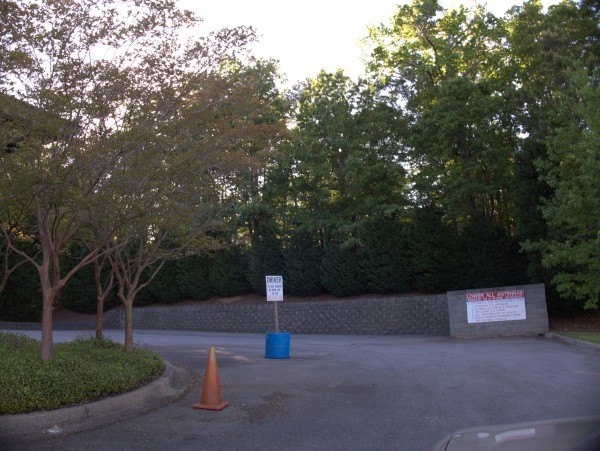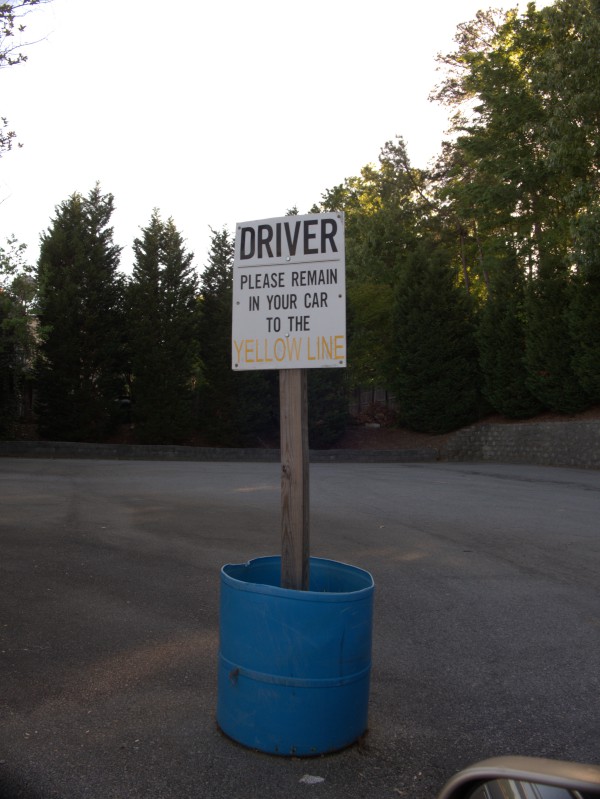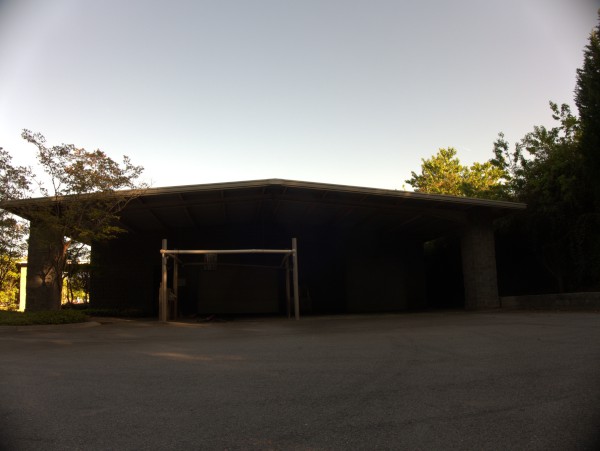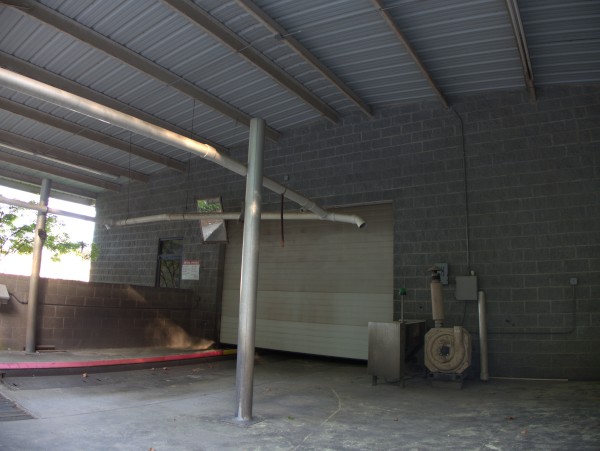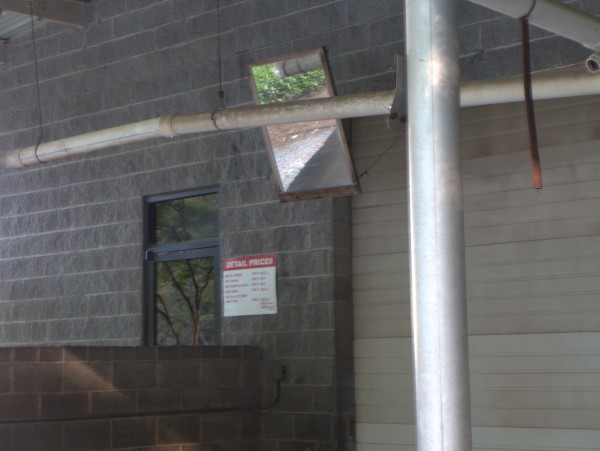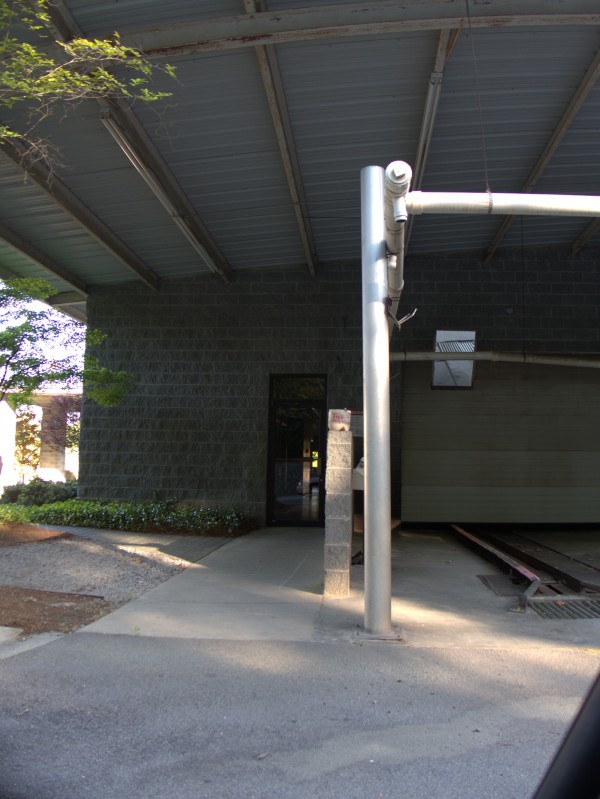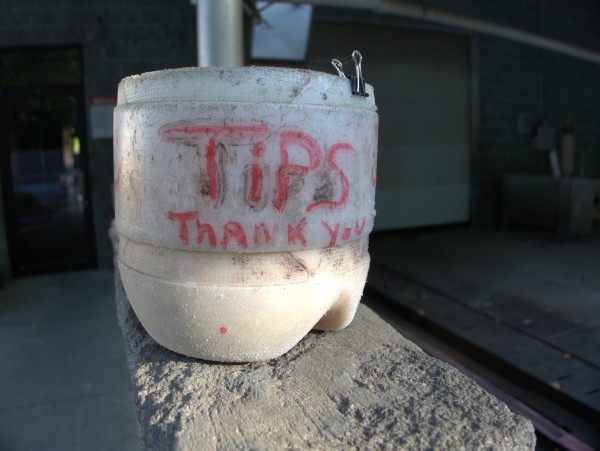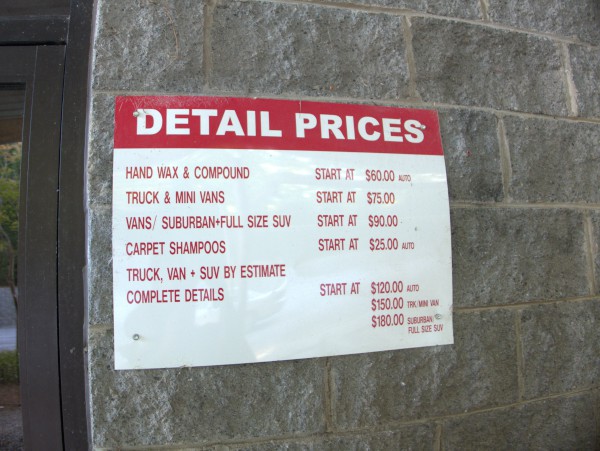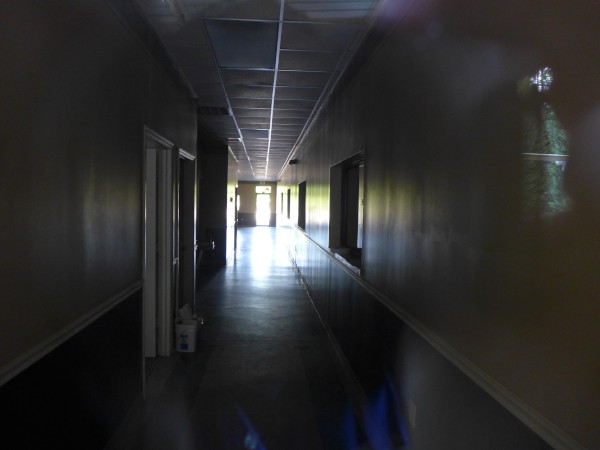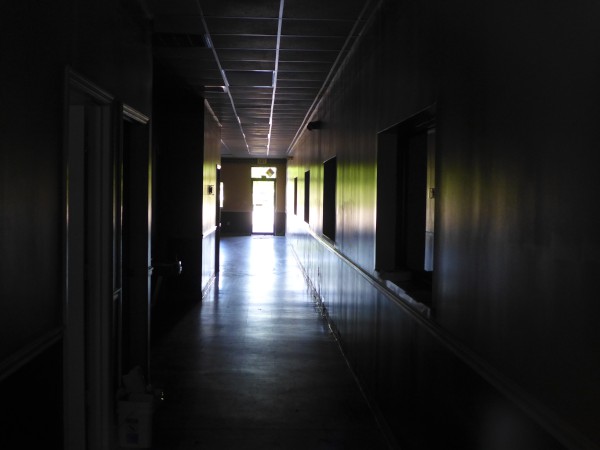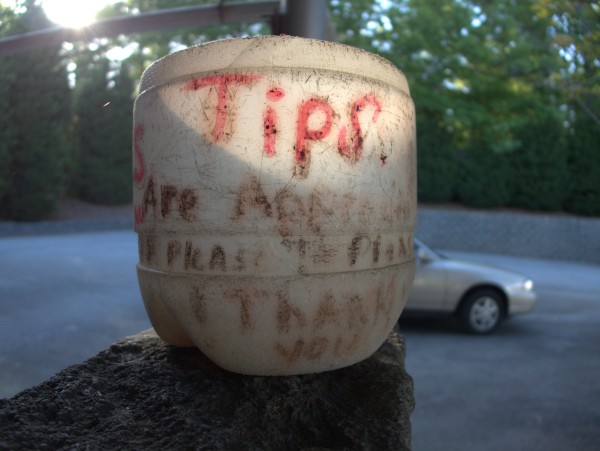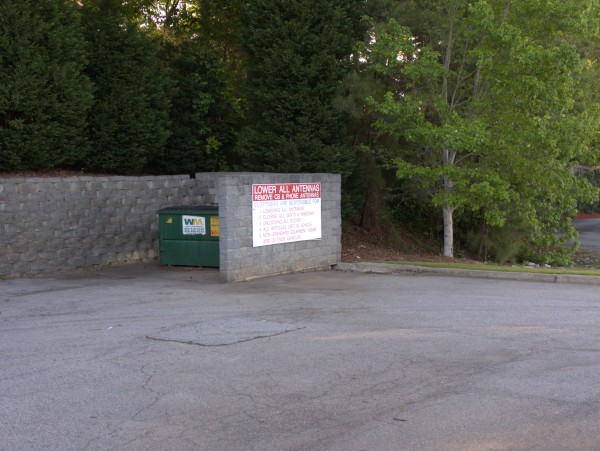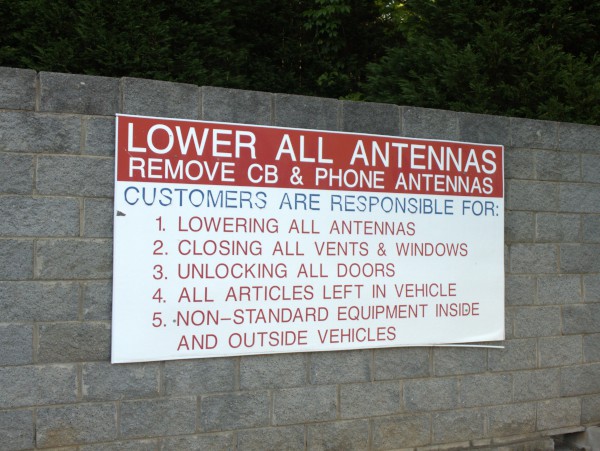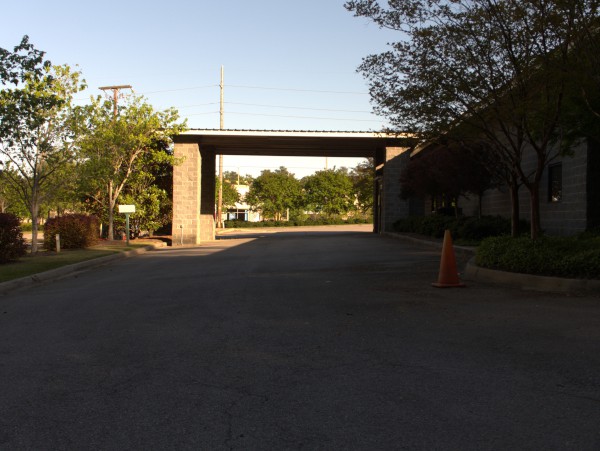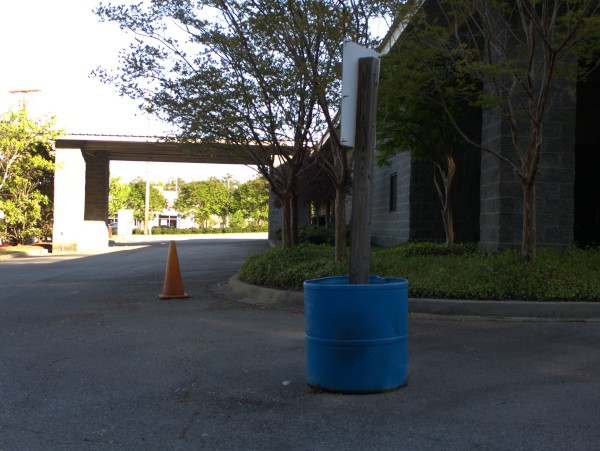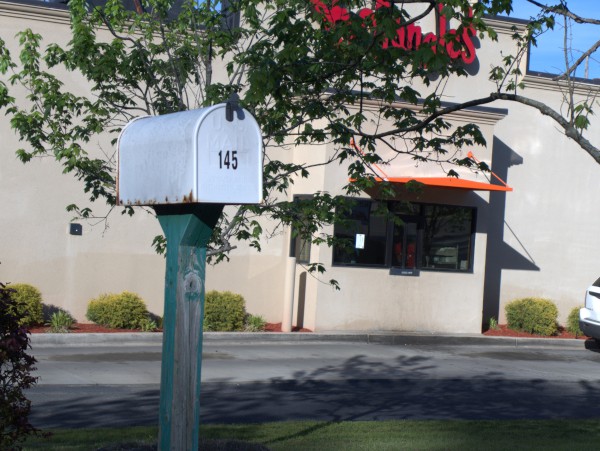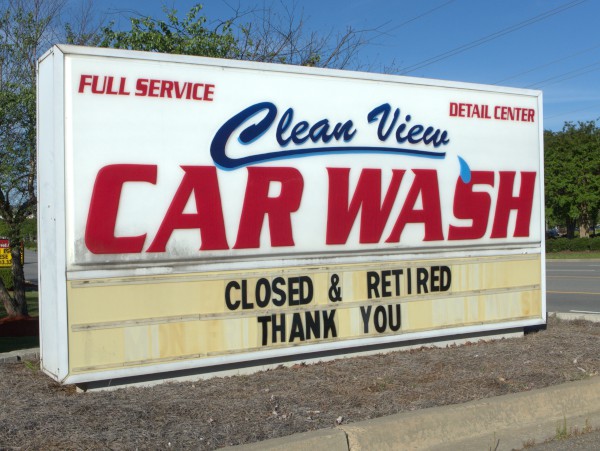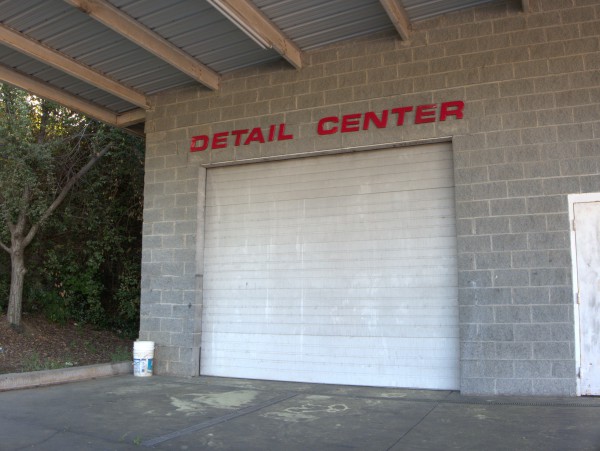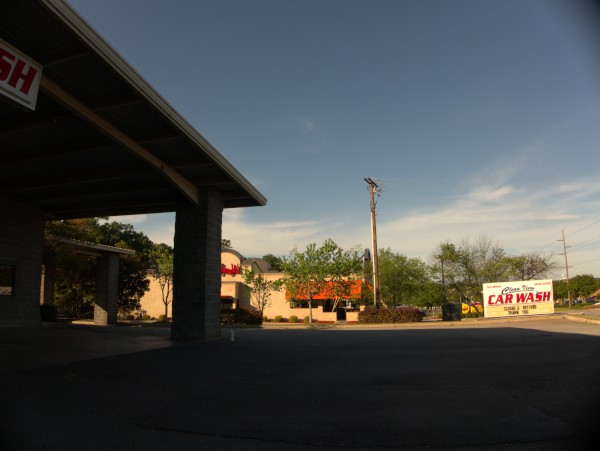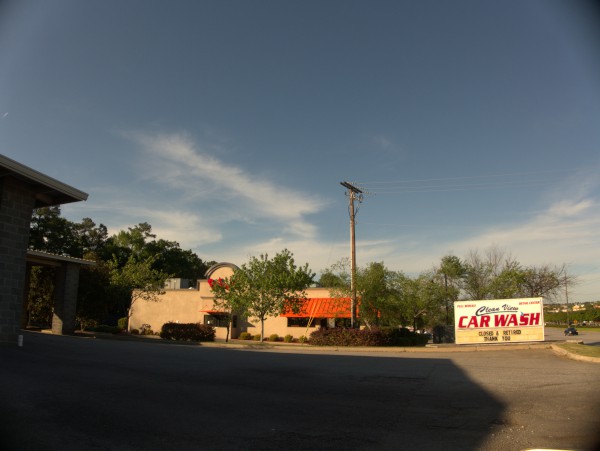 This old school car wash on Harbison actually does have a clear view as it is half way up the hill that descends to Bower Parkway.
I'll admit that I never really noticed it until commenter Homer (and others) mentioned that it was gone. It seems a bit out of place on the current Harbison, where you would expect land to now be too expensive for such uses. Given the owner's retirement message on the sign, I suspect it had been there quite a while.
Personally, I've never seen the attraction of car wash scents. Whenever I forget to say no scent, I end up with watering eyes until I can clear it out again...
(Hat tip to commenter Homer)
UPDATE 14 September 2015 -- As noted by commenter Homer, this place has now been mostly razed: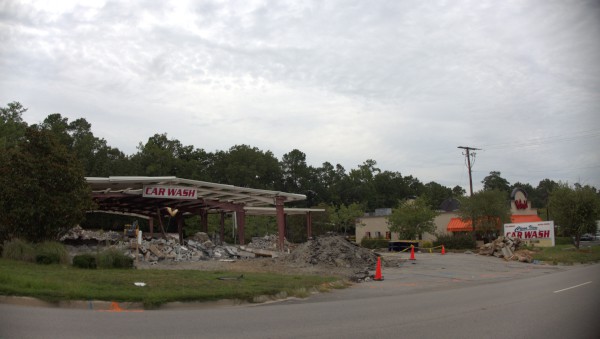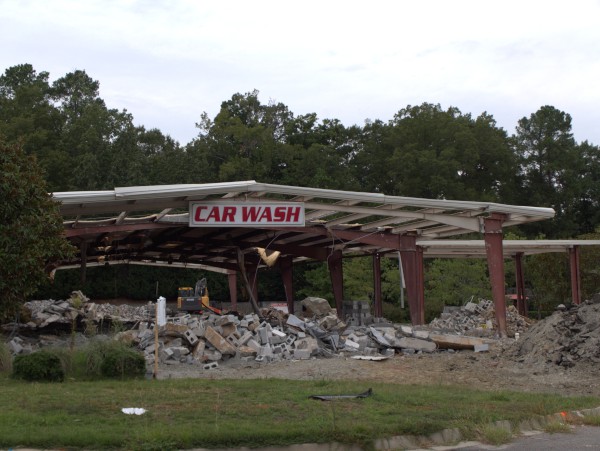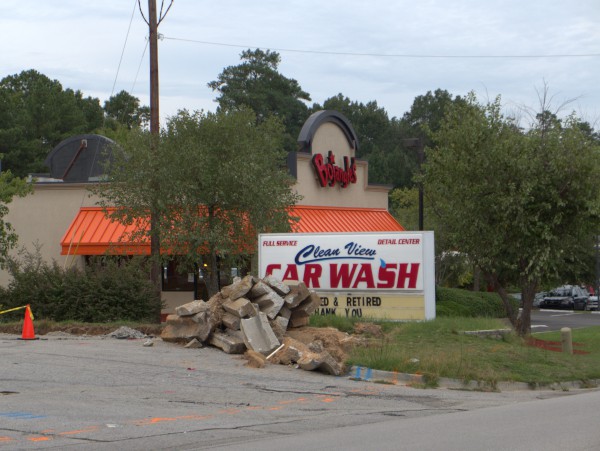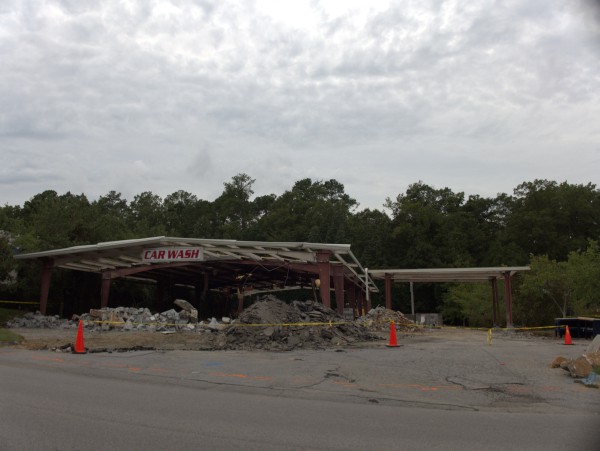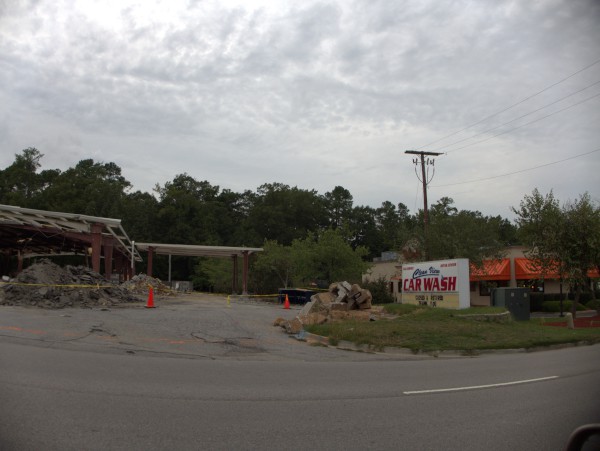 UPDATE 14 March 2016 -- As noted in the comments, now open as Del Taco: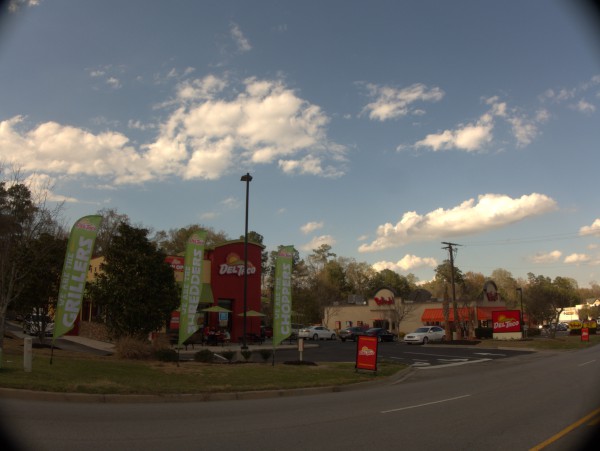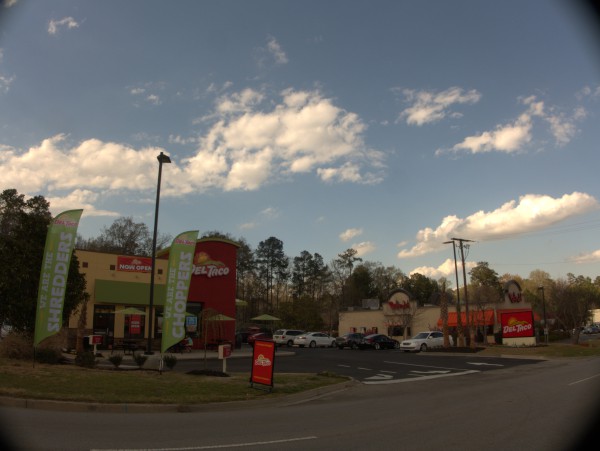 Posted at 1:23 am in Uncategorized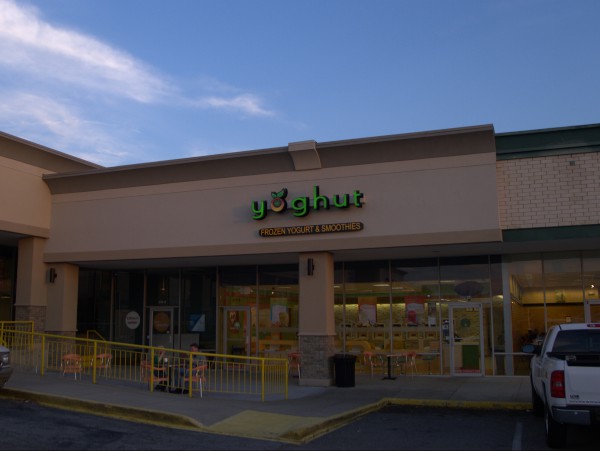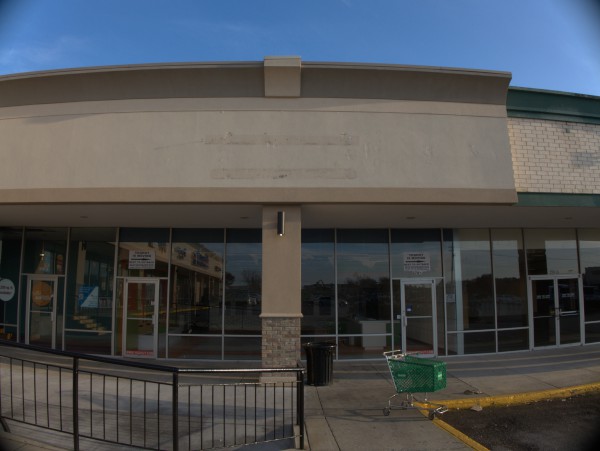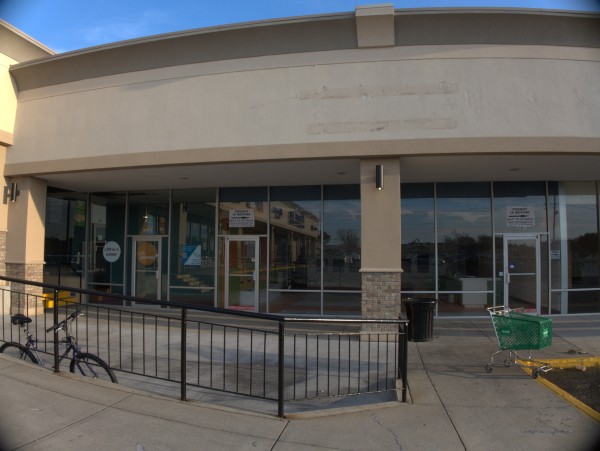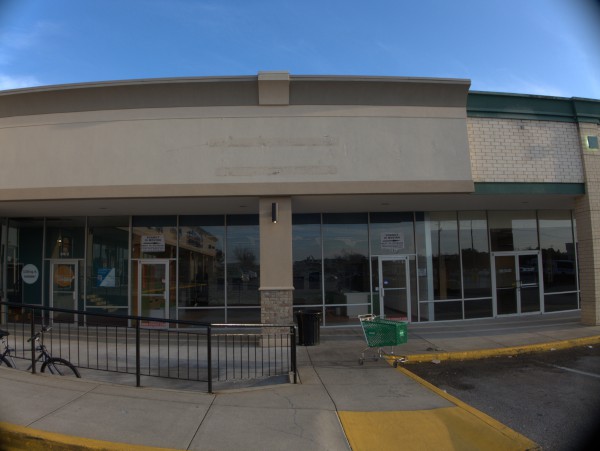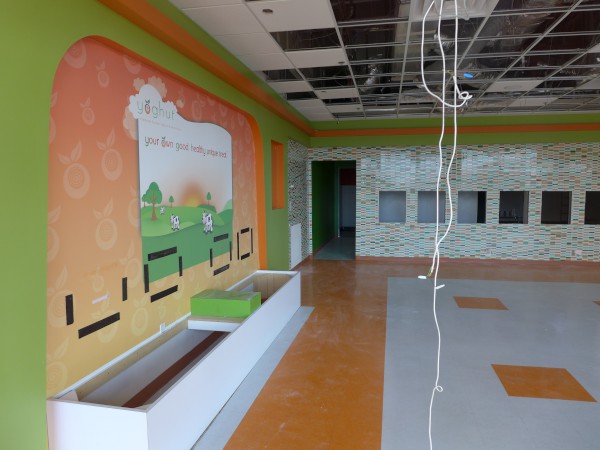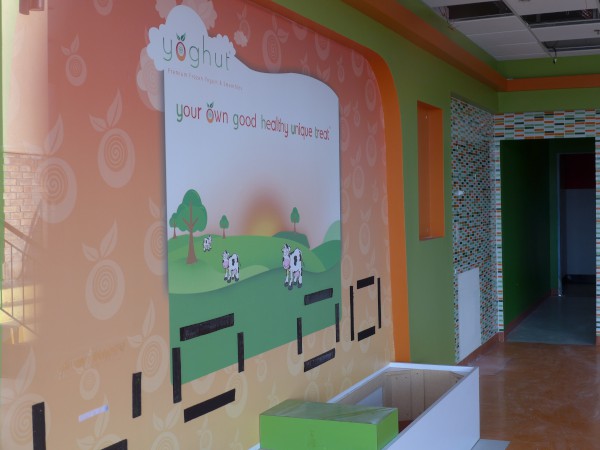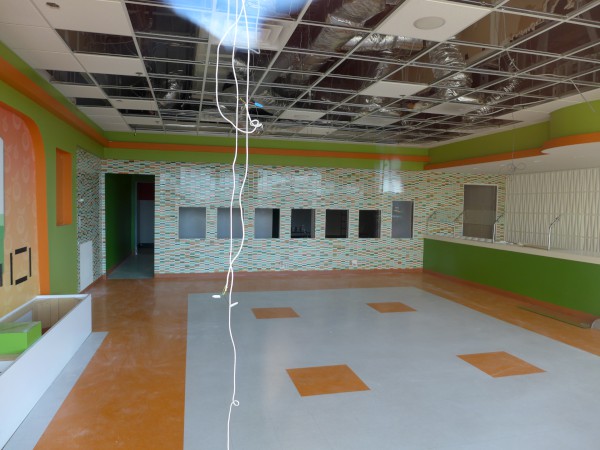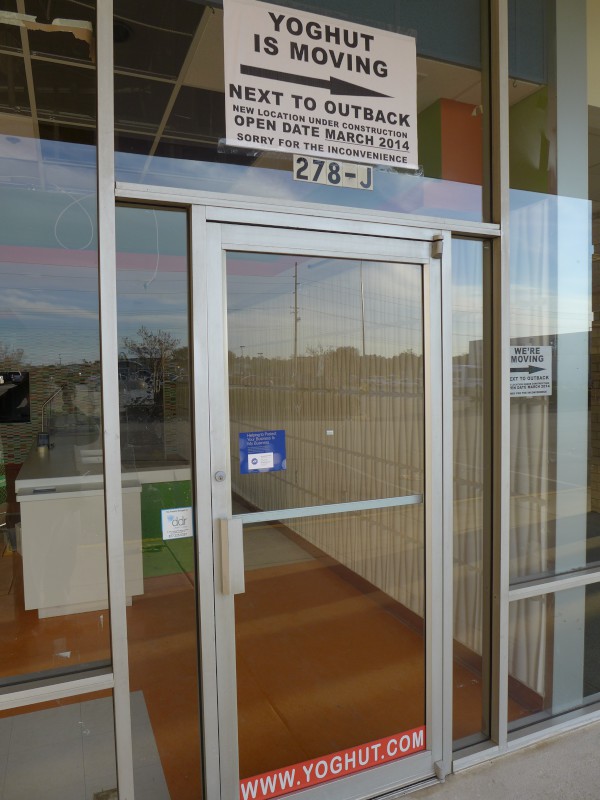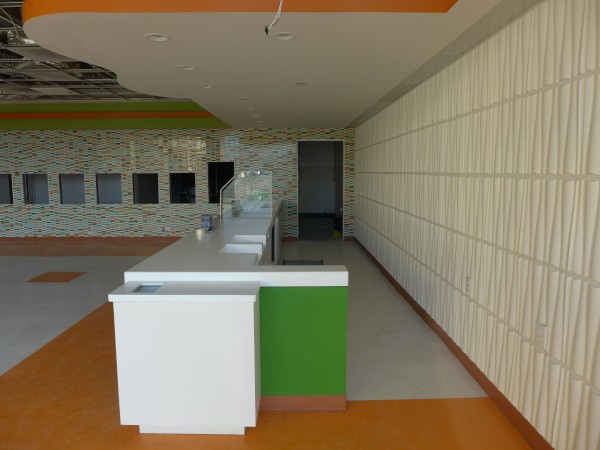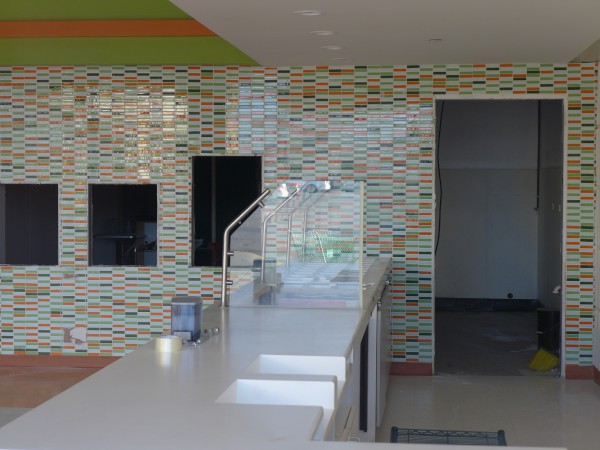 The new location: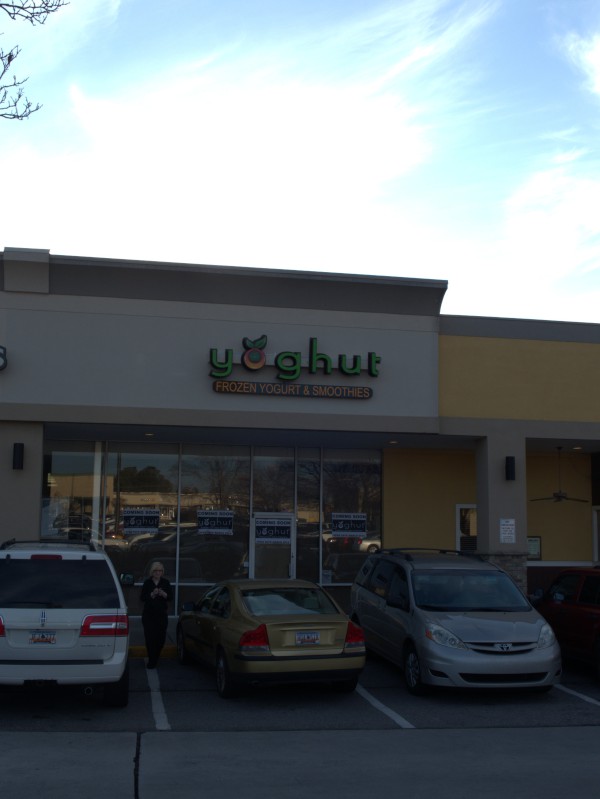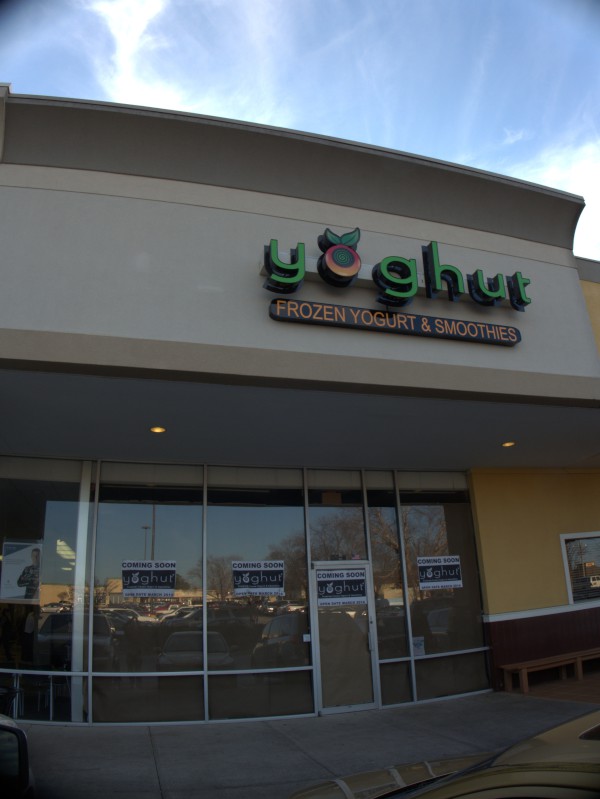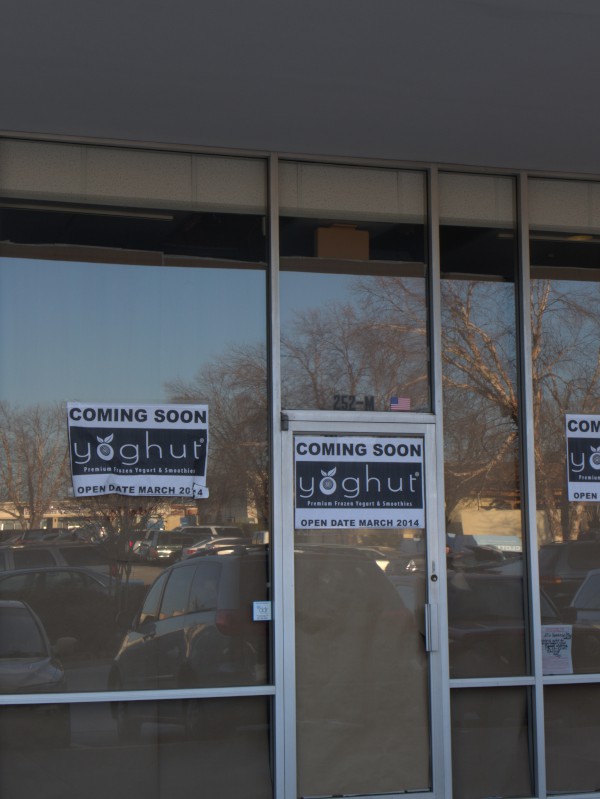 Yoghut moved into the old Quiznos location next to Barnes & Nobel in 2011 and stayed there until B&N closed.
Now they are in the process of moving across the plaza to a suite next to the Outback Steakhouse. I guess I can understand that their foot traffic in the old location would be greatly reduced with the closure of B&N, but it seems to me that the last thing people coming out of Outback are interested in is more food..
(Hat tip to commenter Andrew)
Posted at 1:33 am in Uncategorized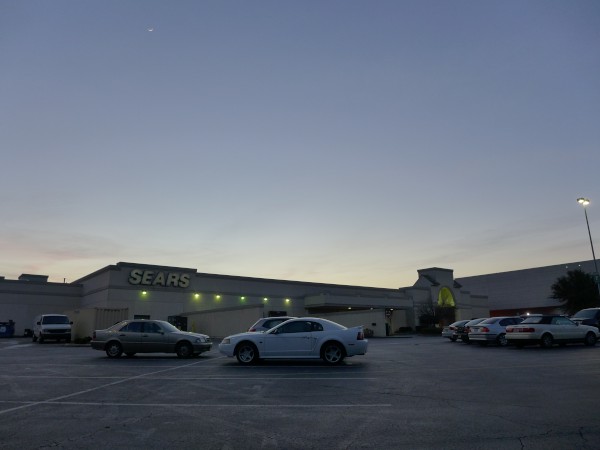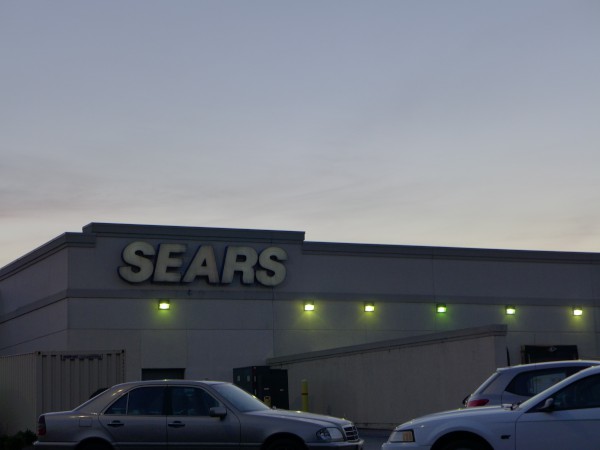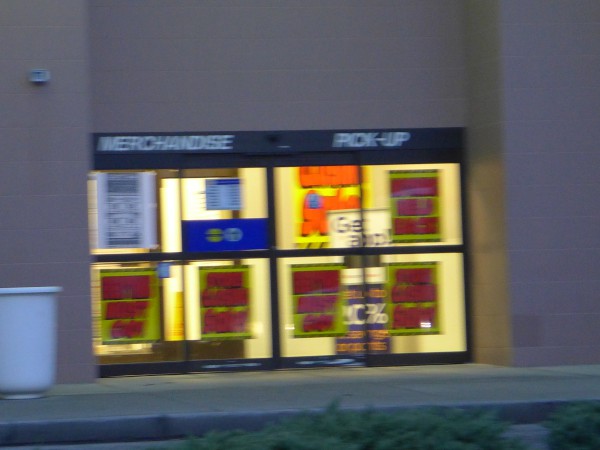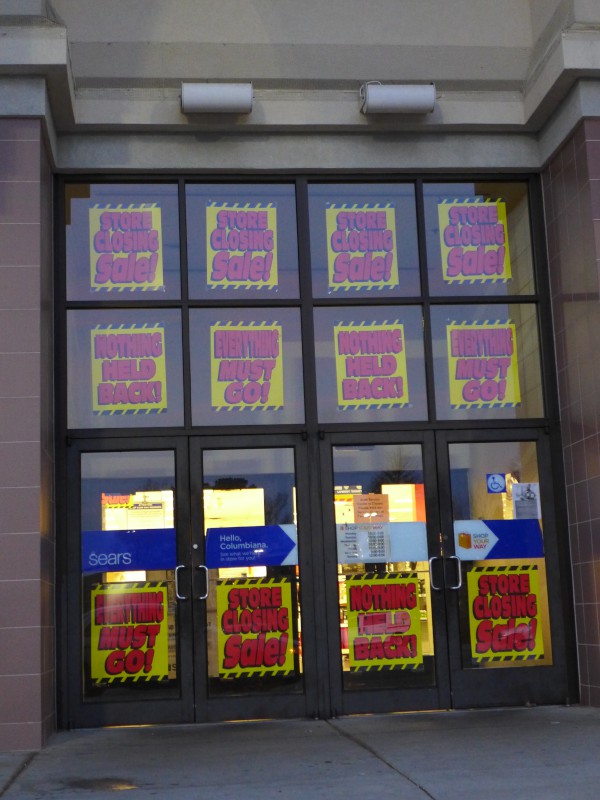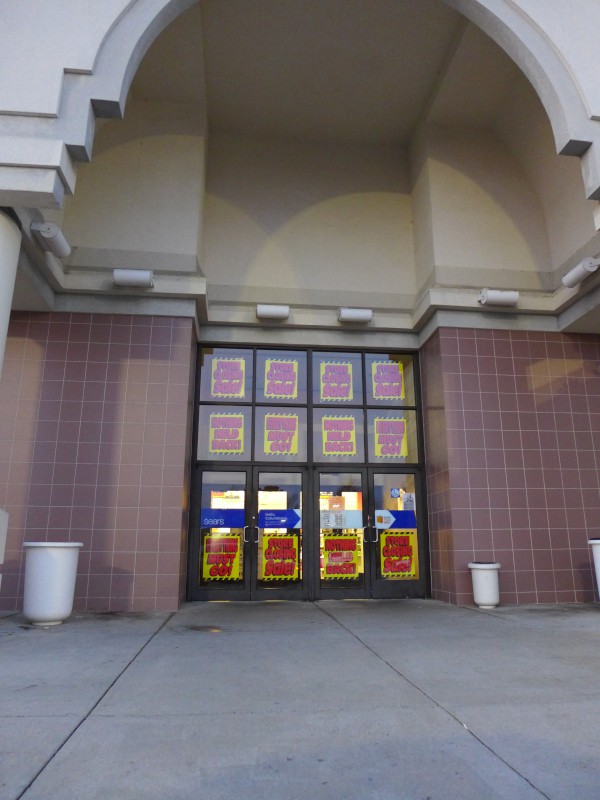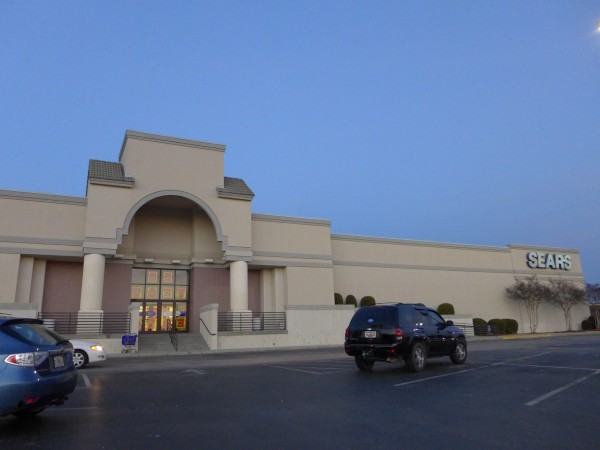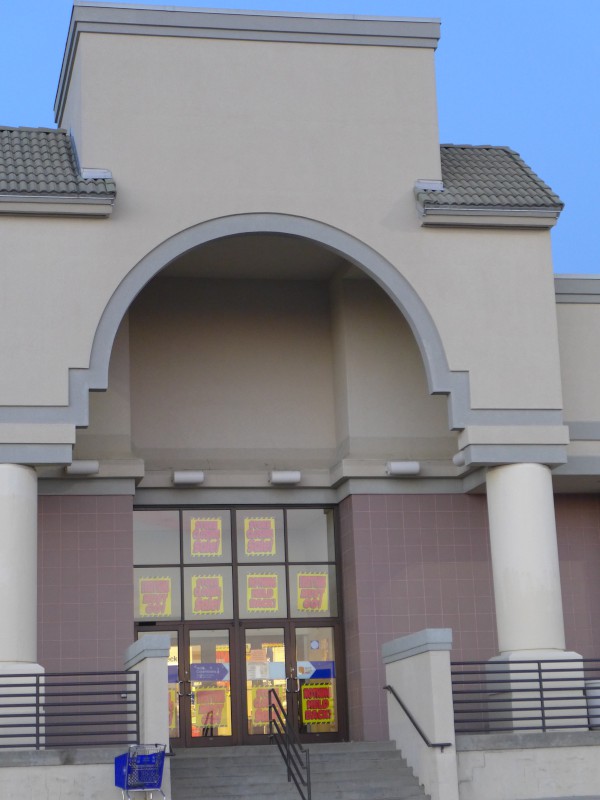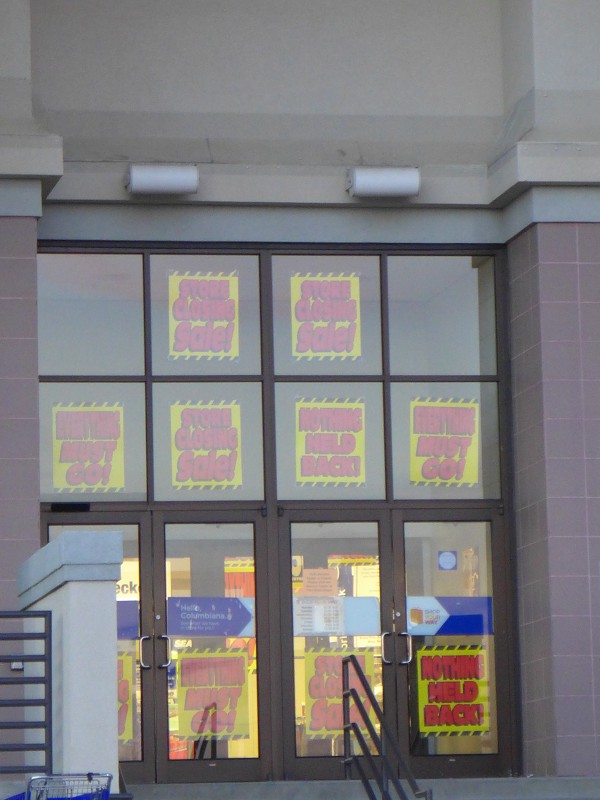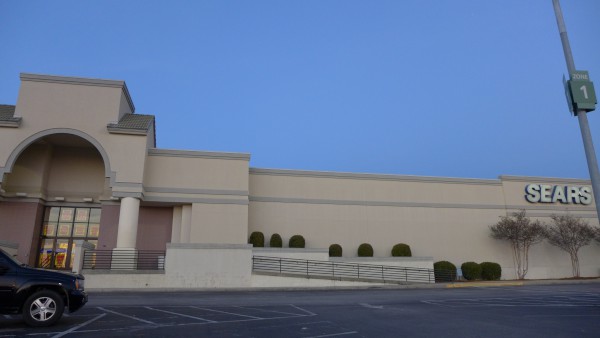 Well, it's old news now, but Sears at Columbiana Centre is closing, and today was the first time I was able to get out that way to get some shots. I'm going ahead with a pretty-well-in-advance closing to give us a landing page to talk about it, and because it's pretty big news. Hopfully I will get inside shots for an update at some point. Certainly the pre-printed closeout signs in these exterior shots are pretty familiar to us all by now (blurry or not..).
It appears that Belk will be taking over some, though not all of this space.
Frankly, given how hollowed-out the Columbia Mall store is at this point, I expected it to go first.
UPDATE 11 February 2014 -- Here are some interior pix from 9 February: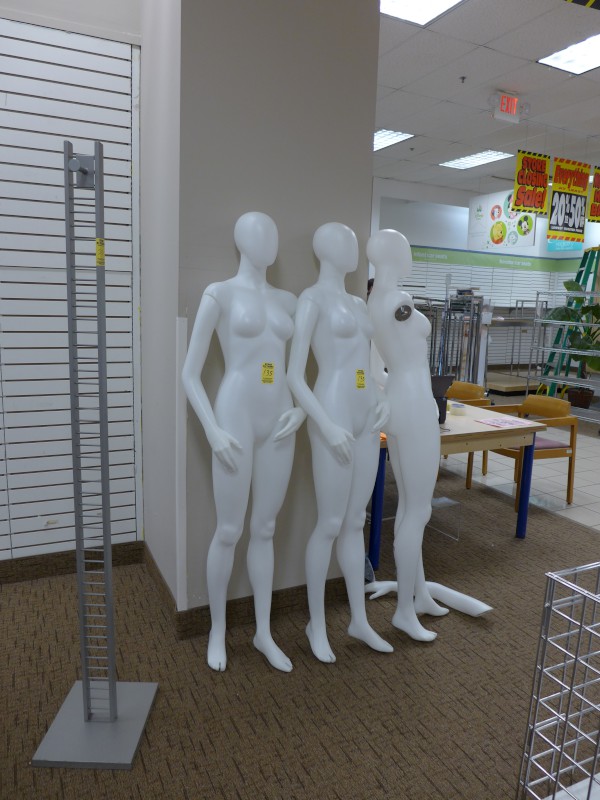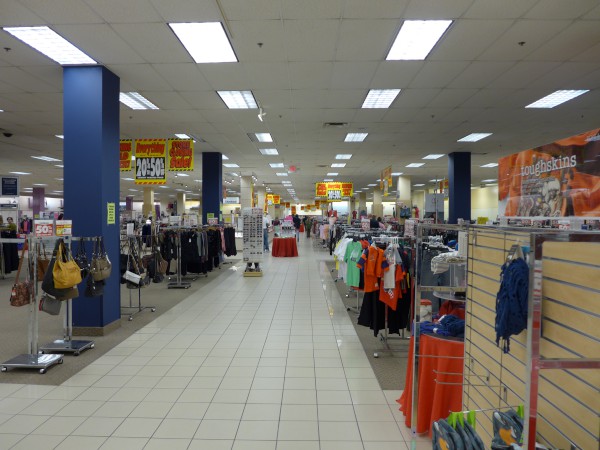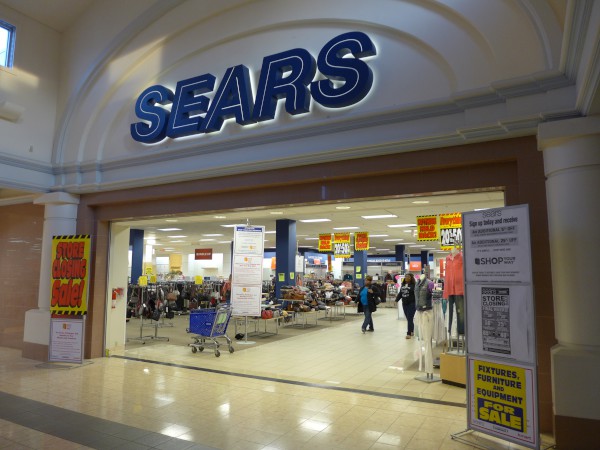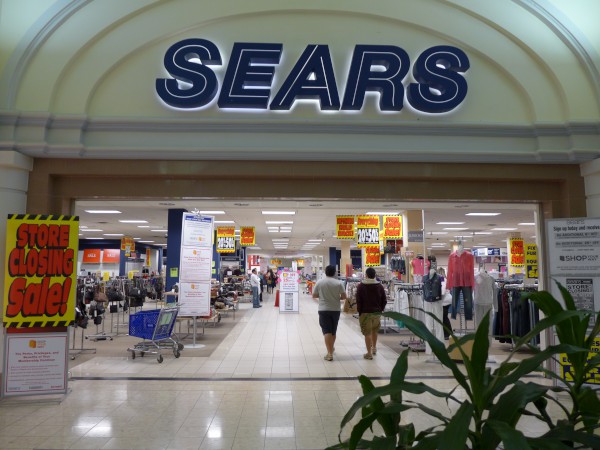 Posted at 12:43 am in Uncategorized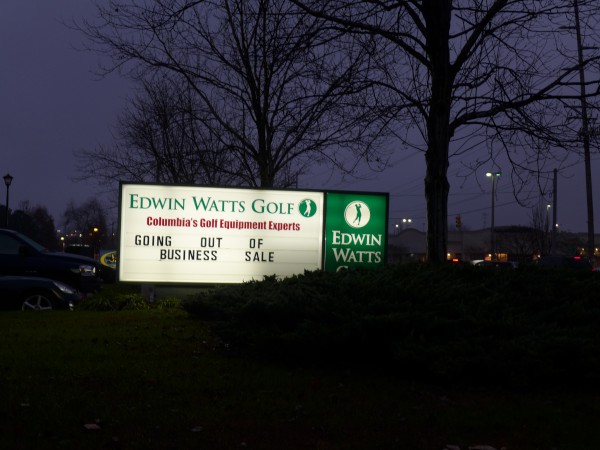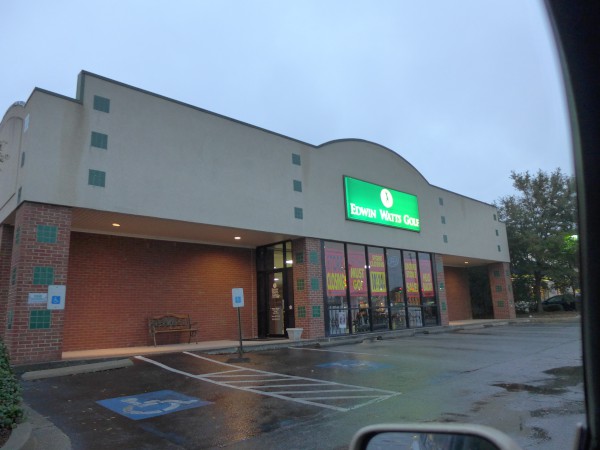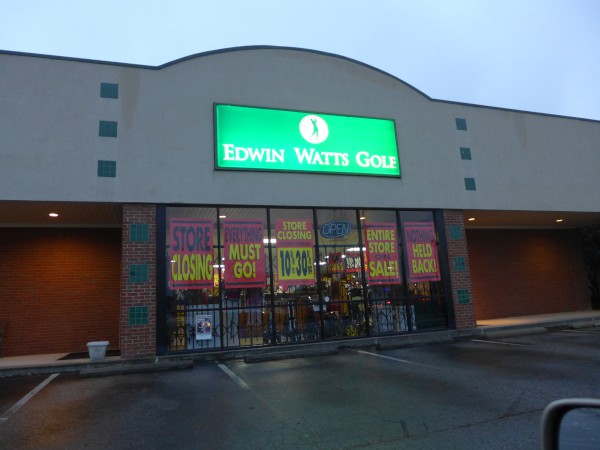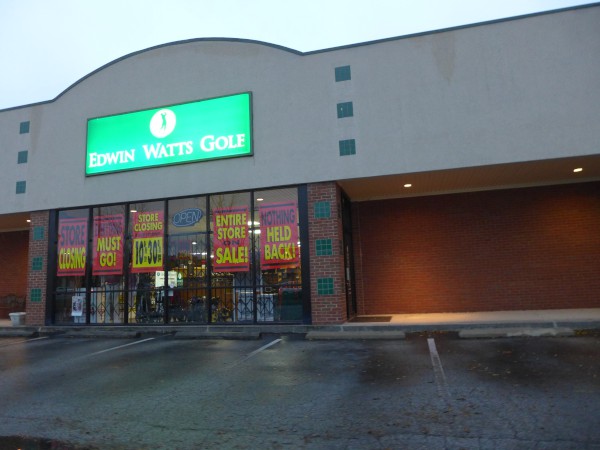 I don't play any course that doesn't have a windmill on it, but some folks do.
Edwin Watts Golf is more or less at the bottom of the hill going down Harbison from Saint Andrews Road, almost at the intersection with Bower, and they are currently in the process of selling to the bare walls.
(Hat tip to commenter John Barrs)