Archive for the 'gas' tag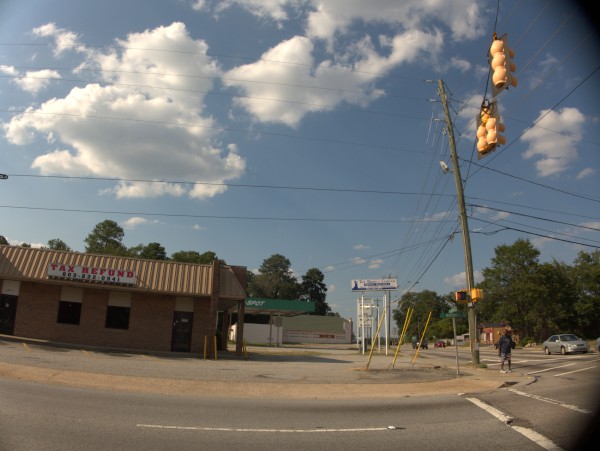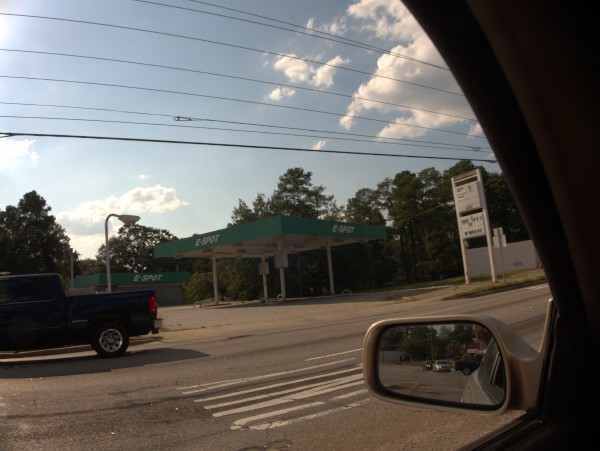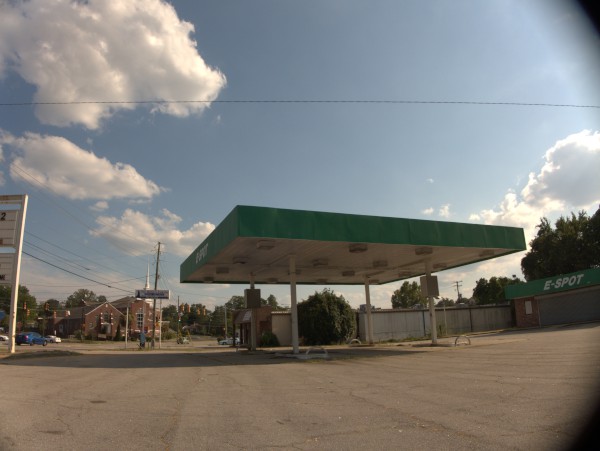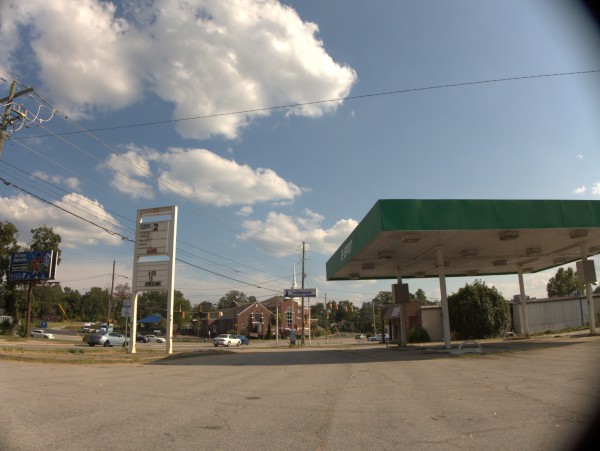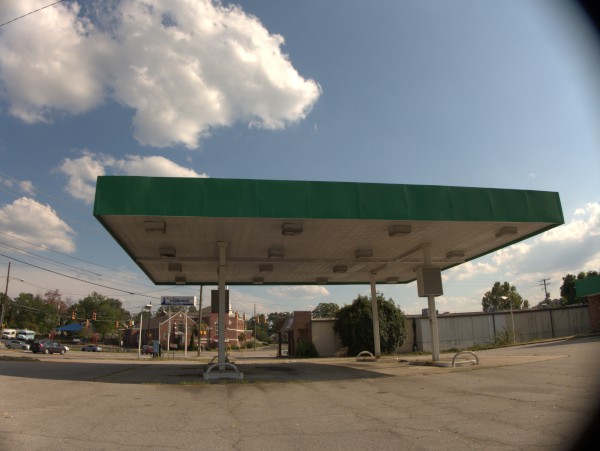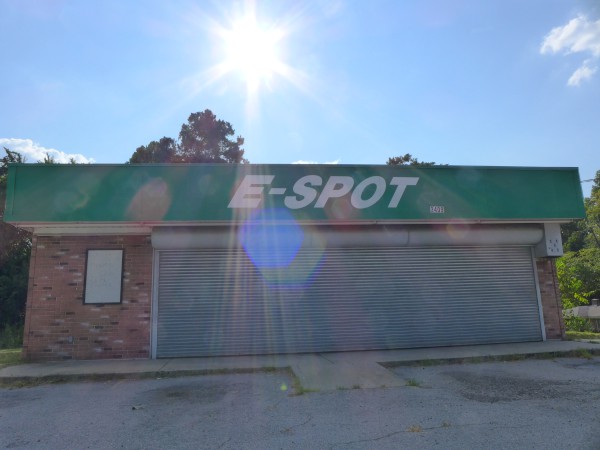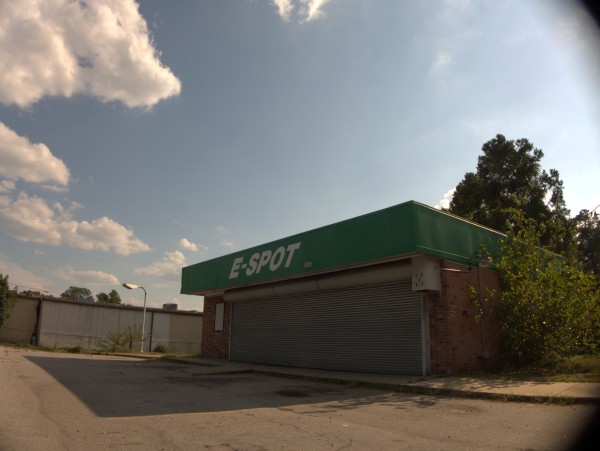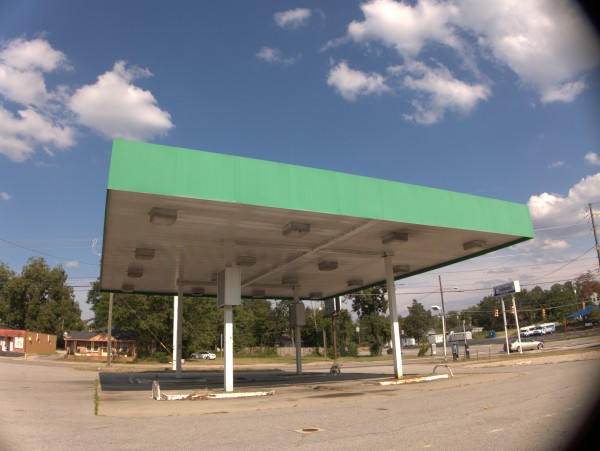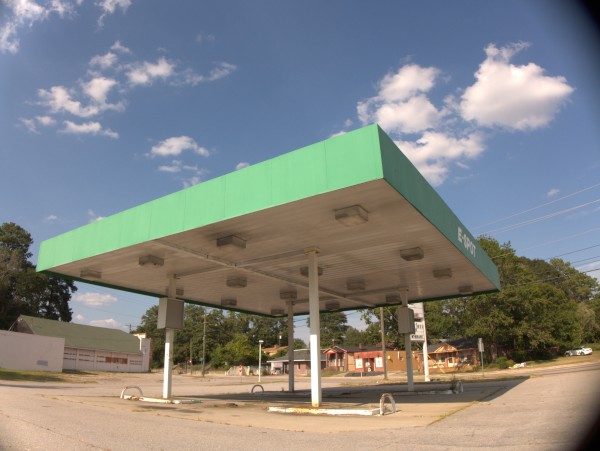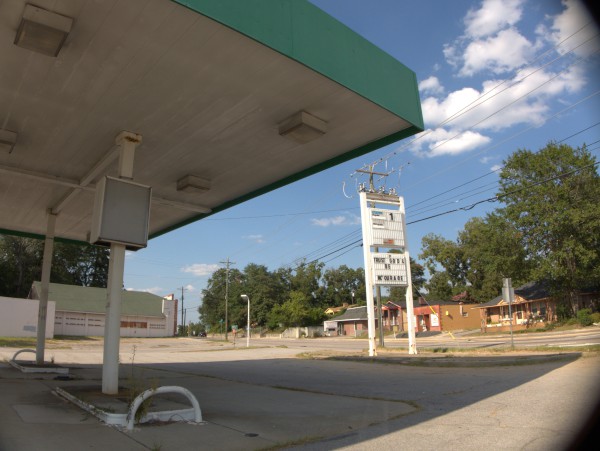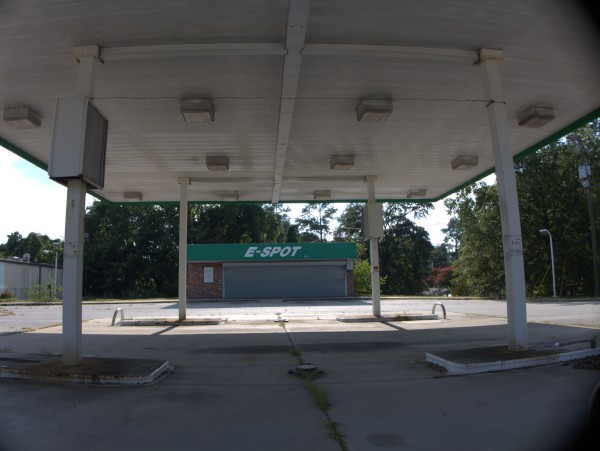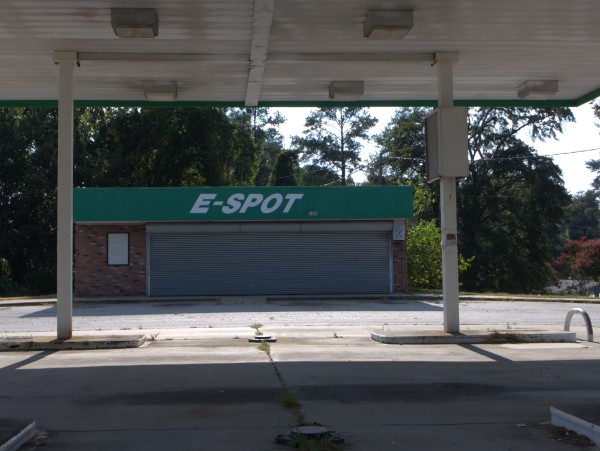 I'm not sure when this convenience and gas operation on Farrow Road almost at Beltline closed, but it was long enough ago that the gas pumps are already gone and at any rate I can't find it in any of my phonebooks.
I can say however that it was definitely open as late as December 2008 as you can see from the rather odd linked crime report.
You've also gotta love the real estate summary for the location.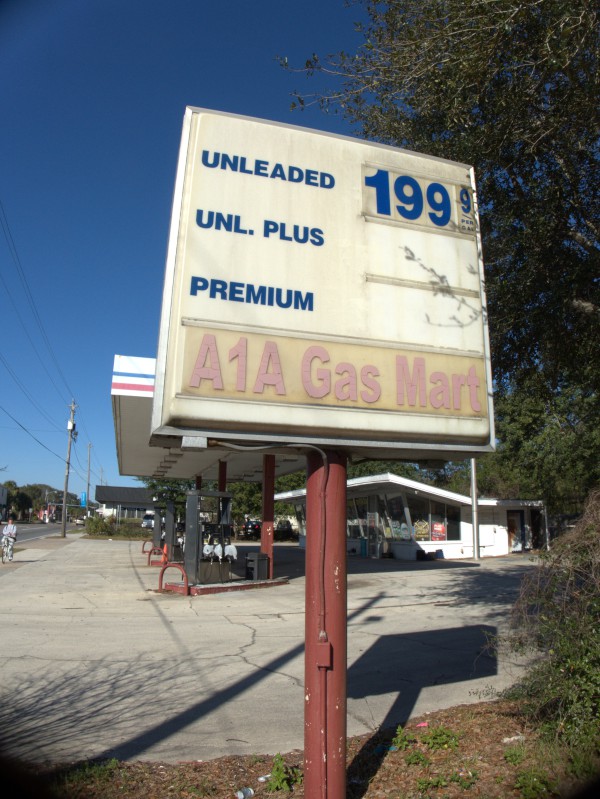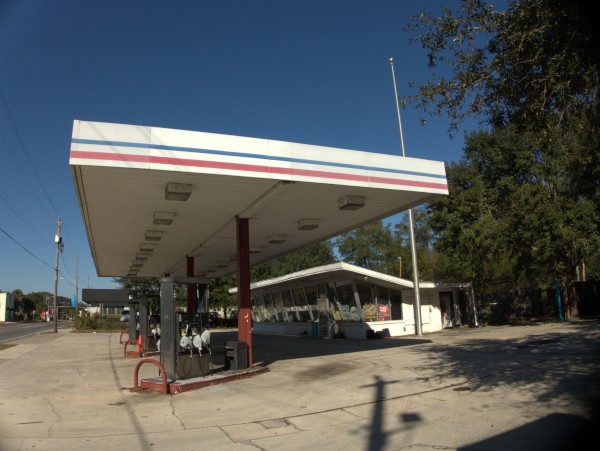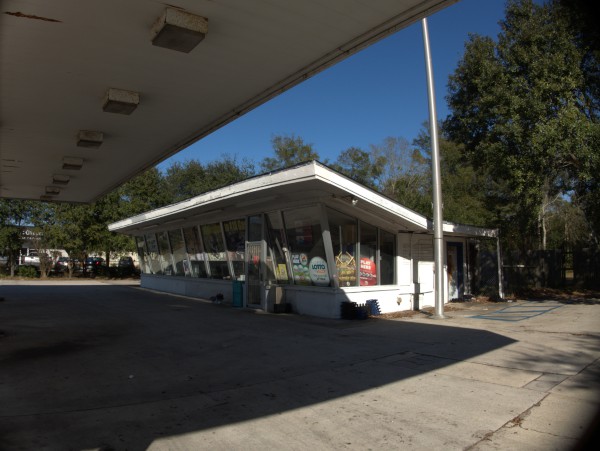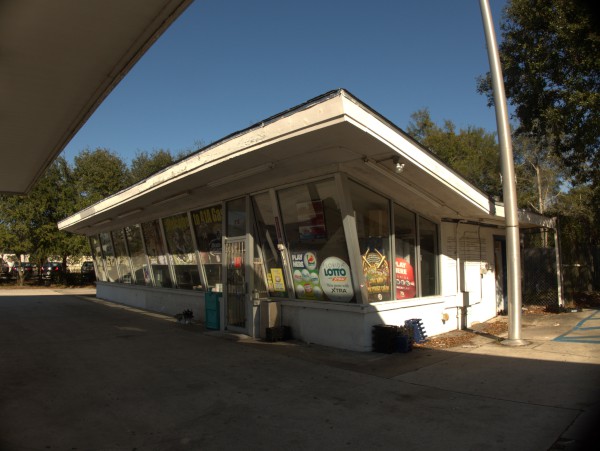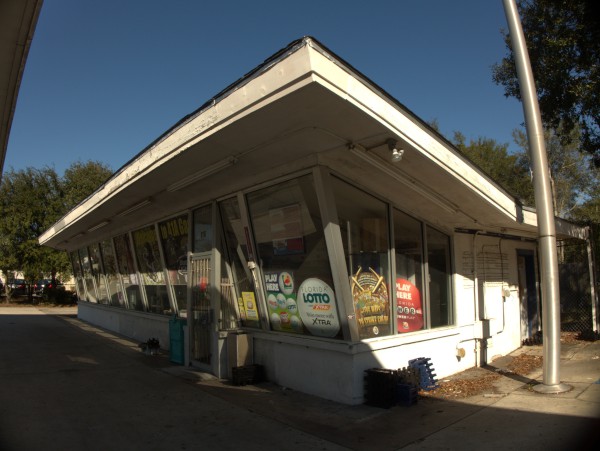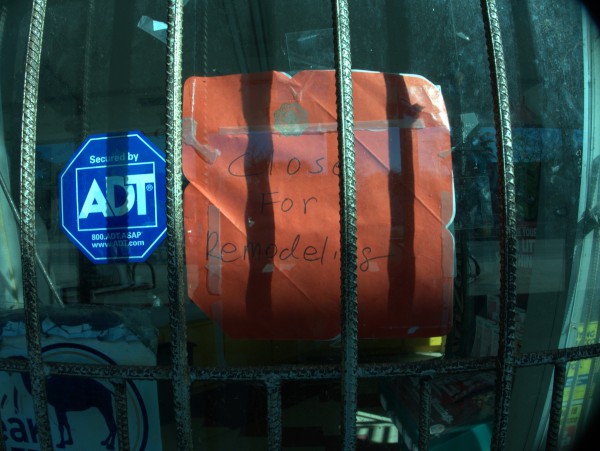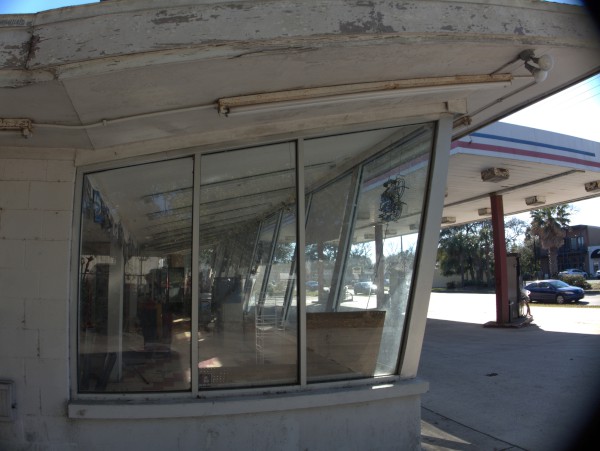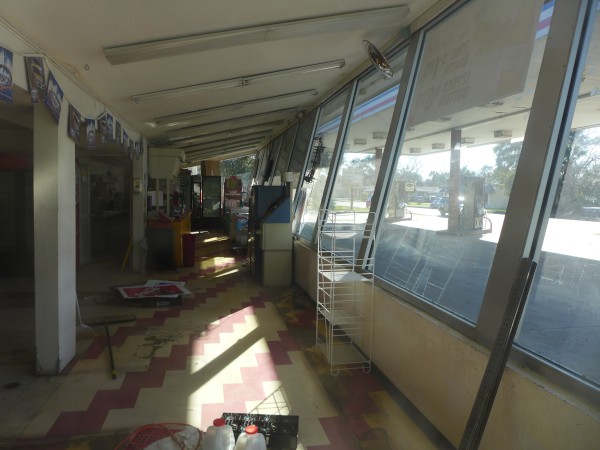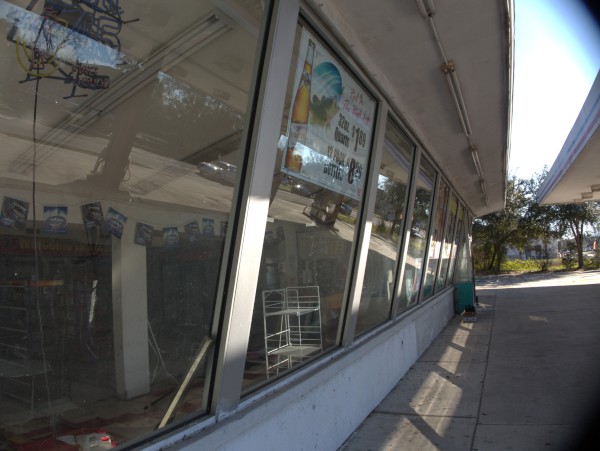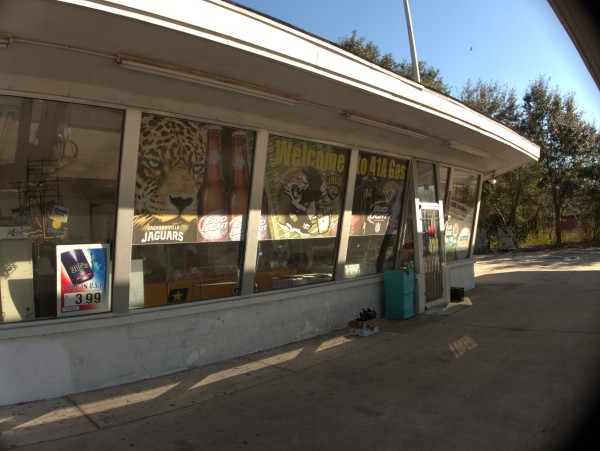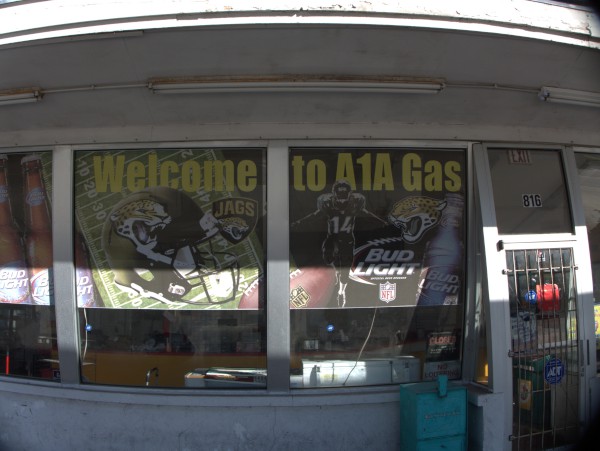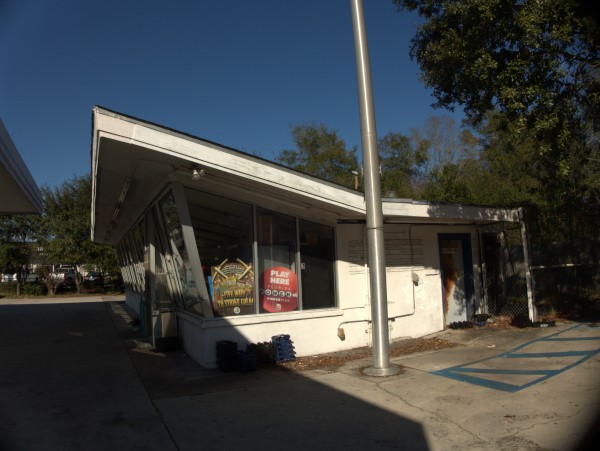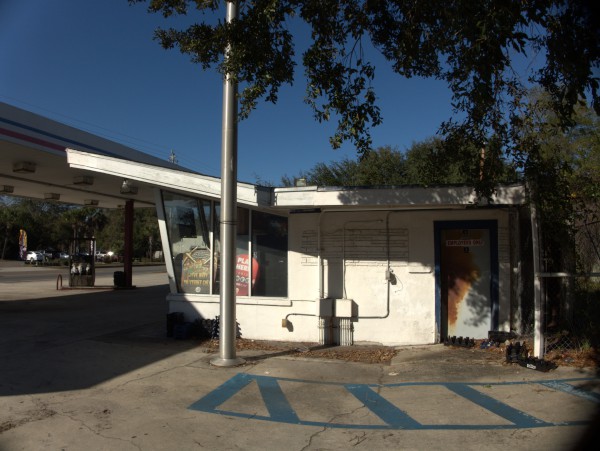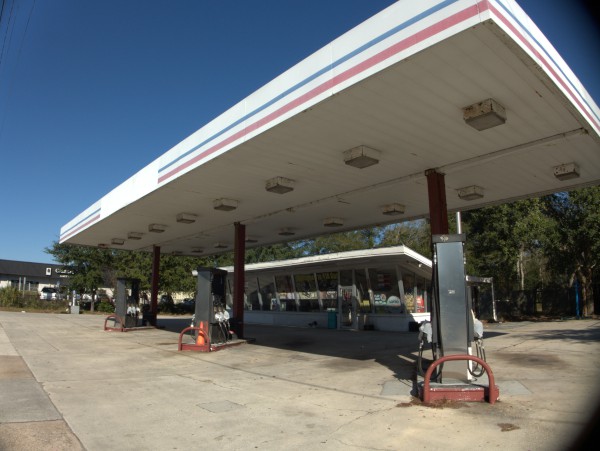 On my recent trip to Fernandina, I noticed that this convenience store on 8th Street (the main connector from off of the island to downtown) was closed. It's a store I've had my eye on for years as I really like the canted glass front. I believe the building has been there for my entire life (which does not make it old by Fernandina standards!), and it has to my eye a distinctive "50s" flair.
The front door sign says they are closed for remodeling: I hope this does not include razing the building and putting up something more current and less distinctive.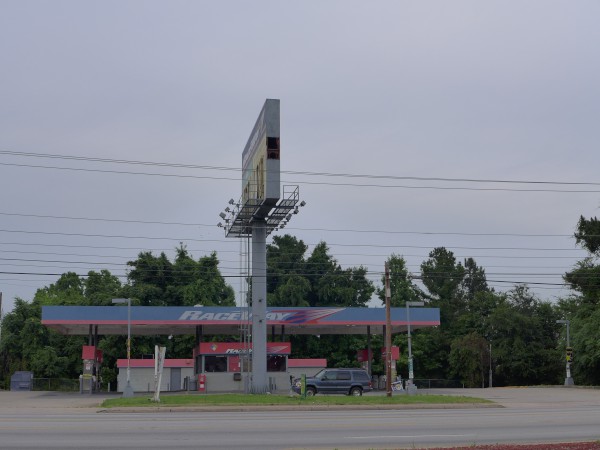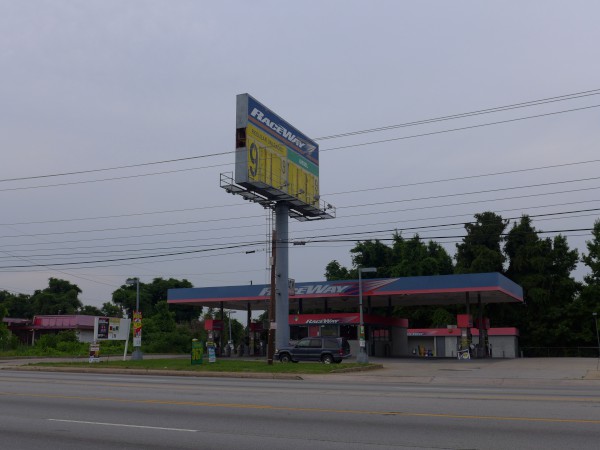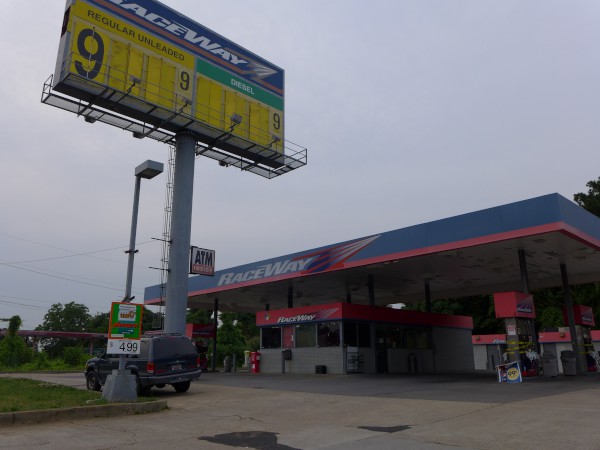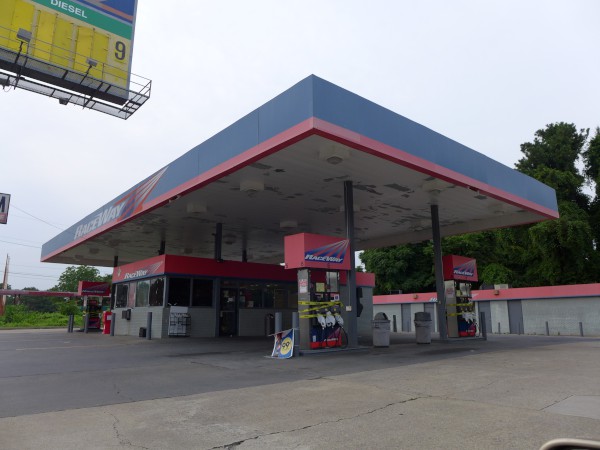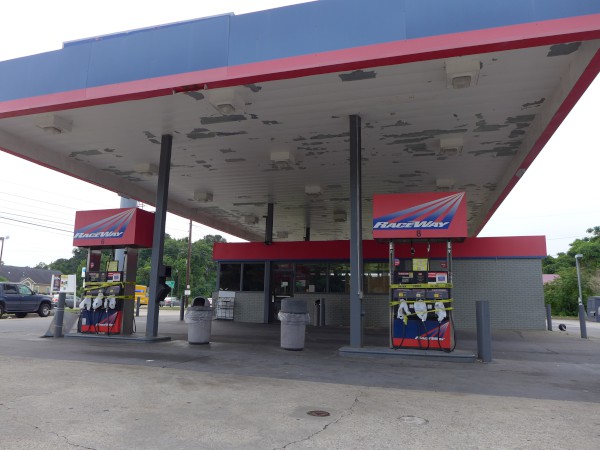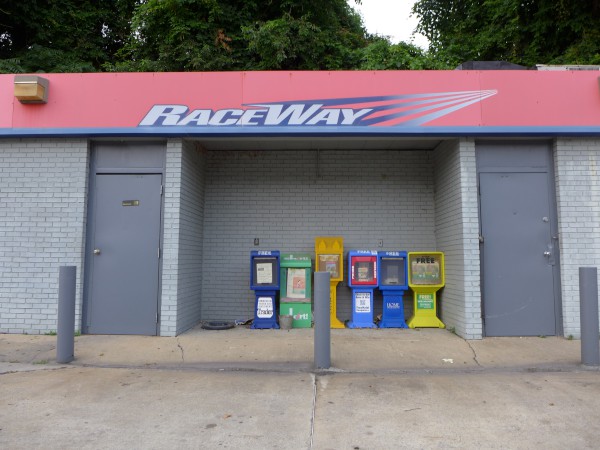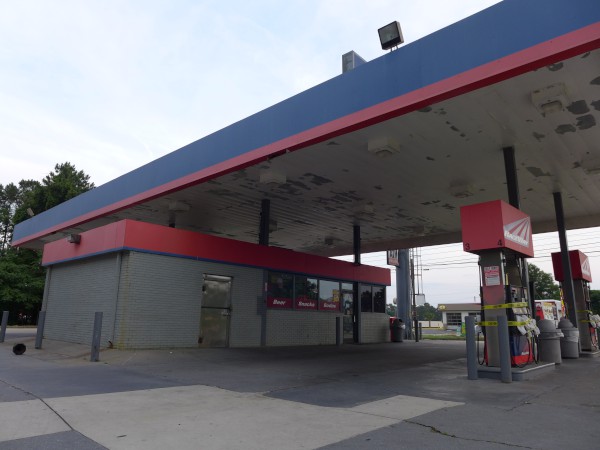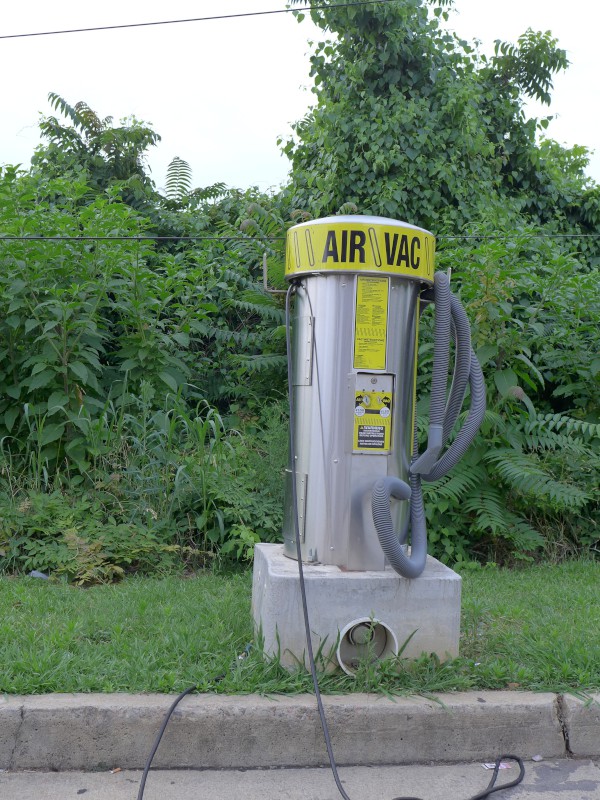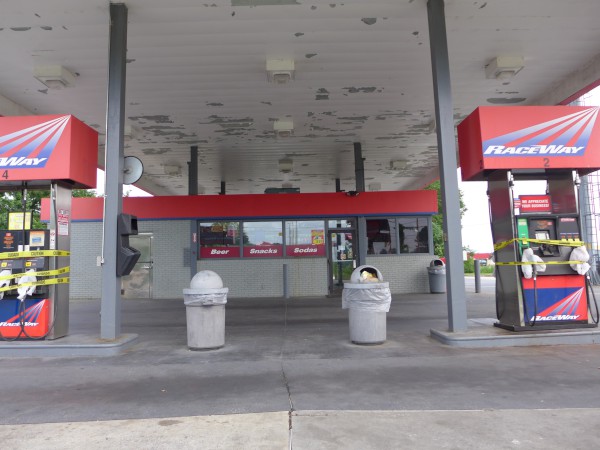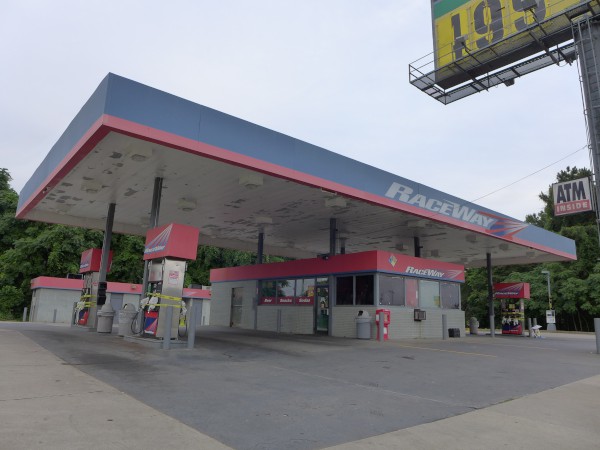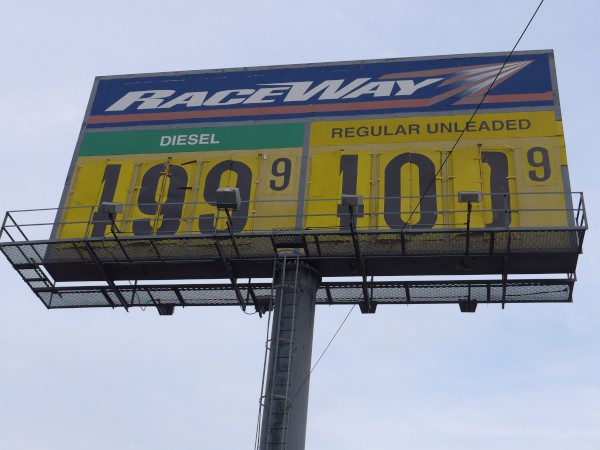 The Raceway on the other river road (Bush River) closed and came back, and now this nearby Broad River Road Raceway has turned off the lights as well. I noticed that the prices on the huge marquee sign didn't look right, so I wasn't too surprised to see the place dark when I got up to it. I actually did stop here a few weeks ago (the only time in the whole period it was open, I think) and found it very hard to get in and out of, since there is no light. Both this and the Bush River location have the somewhat unusual "external bathroom" layout. I think anything built nowdays wants all that traffic to go past the merchandise..
UPDATE 22 December 2014 -- This place is open again (and has been for a while):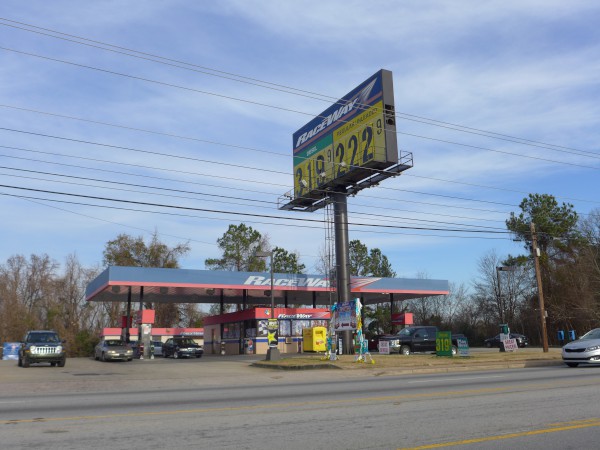 UPDATE 23 September 2016 -- Closed again: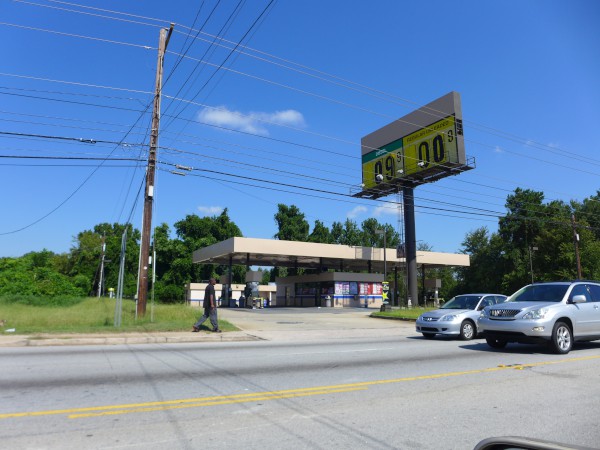 Posted at 10:55 pm in Uncategorized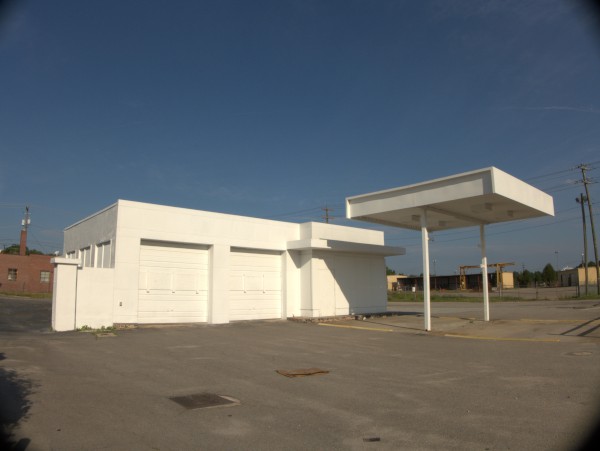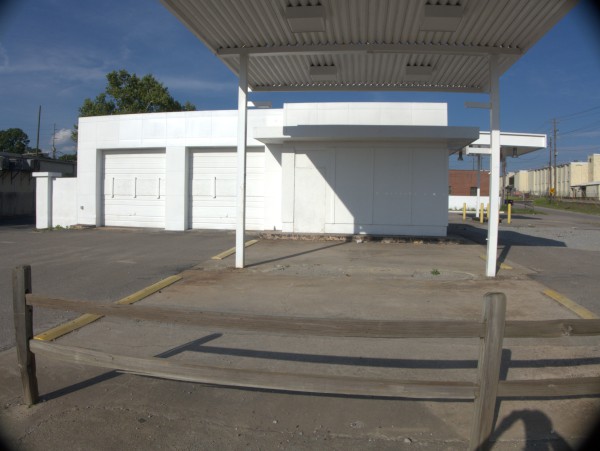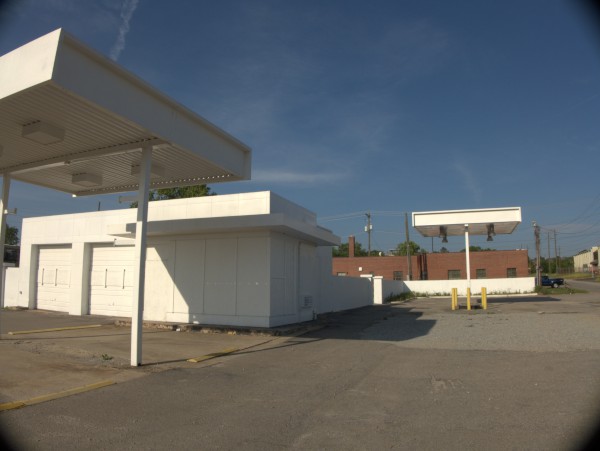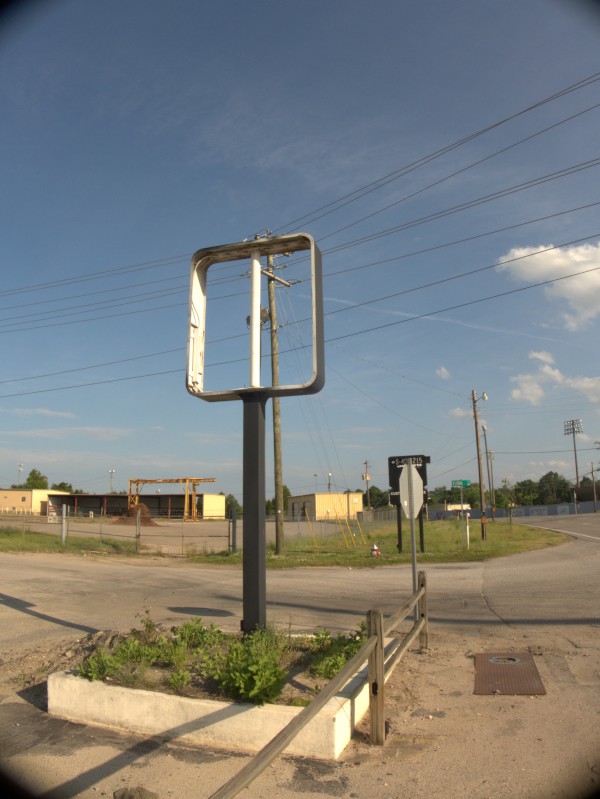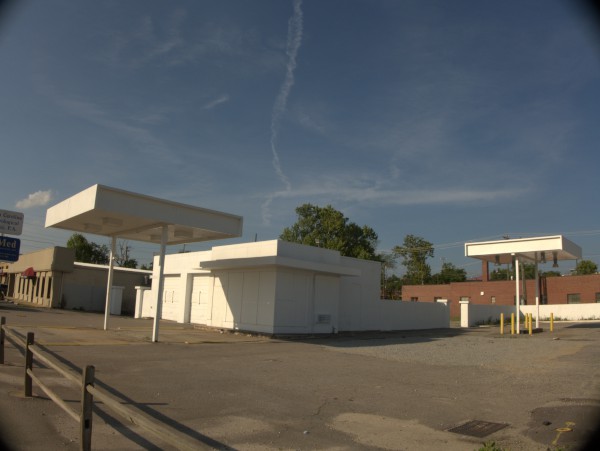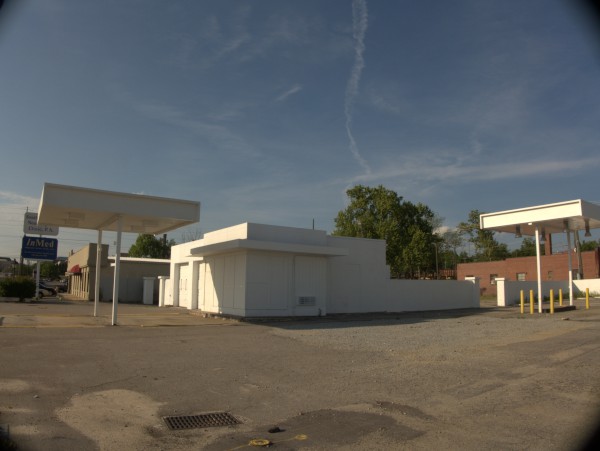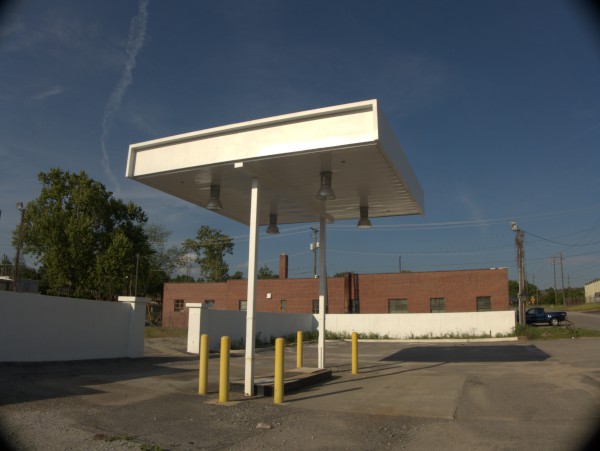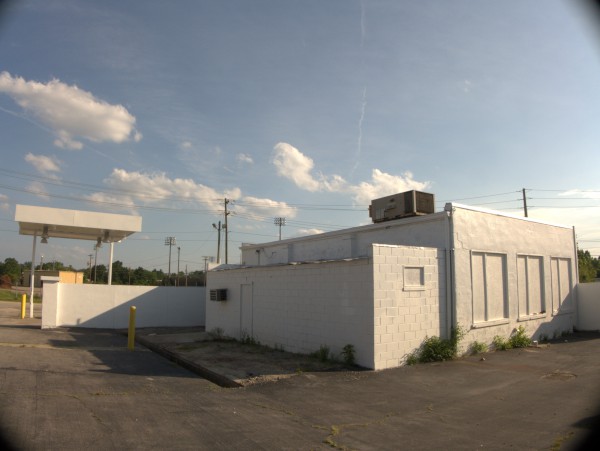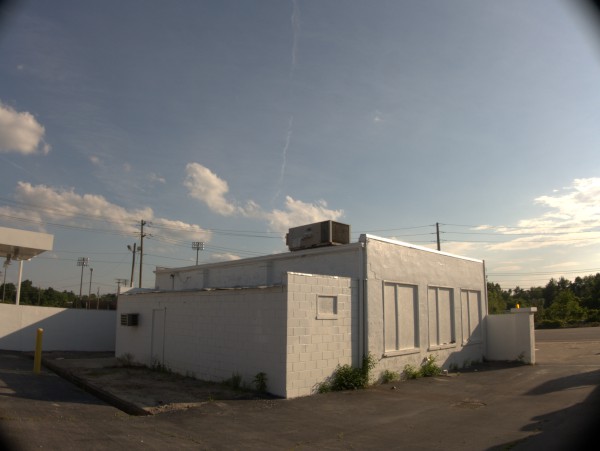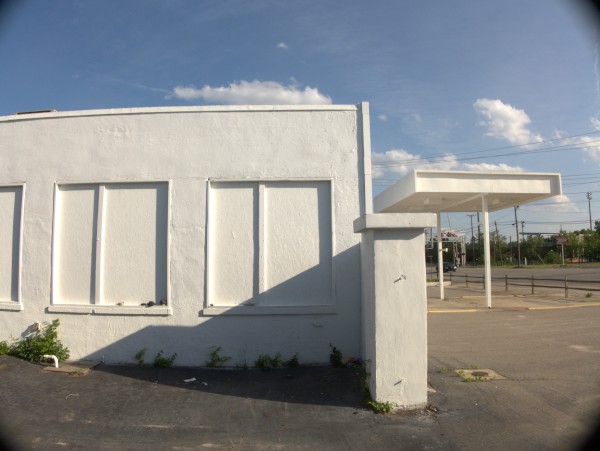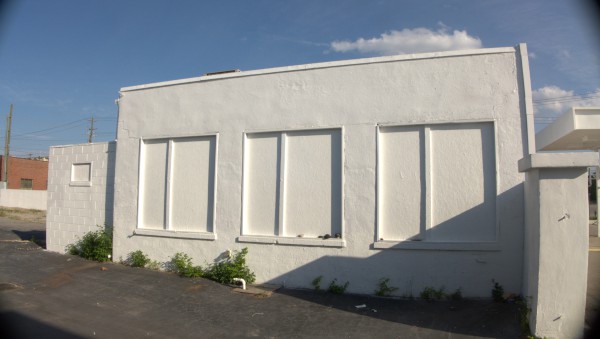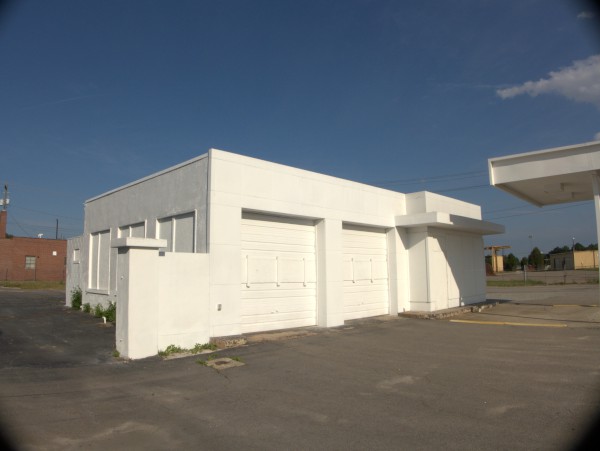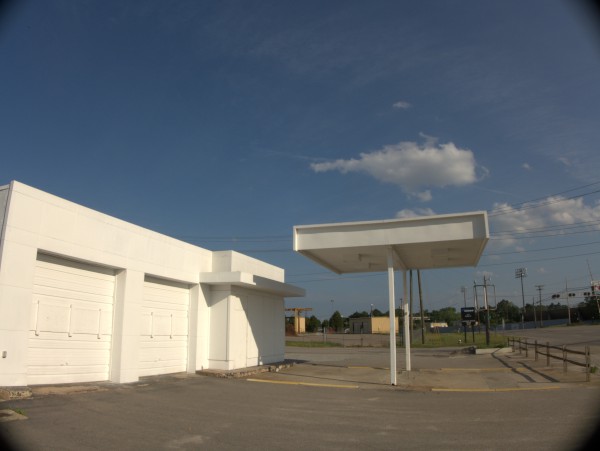 Actually, I am not 100% sure that the street address here is 122. 120 would also make sense. I'm also not 100% sure this was an ARCO station, but page 5 of this City annexation request makes me pretty sure that it was.
This Wikipedia article suggests that Southern ARCO stations were first rebranded as Atlantic Petroleum and then in 1988 as Sunoco, so this station may have been one of those before closing (though again, the PDF is indiciative).
UPDATE 2 May 2014 -- As pointed out by commenter badger, Google Streetview shows this place in operation as the SCE&G Flora Street Fleet Maintenance station, so I have added that to the post title.
Posted at 12:57 am in Uncategorized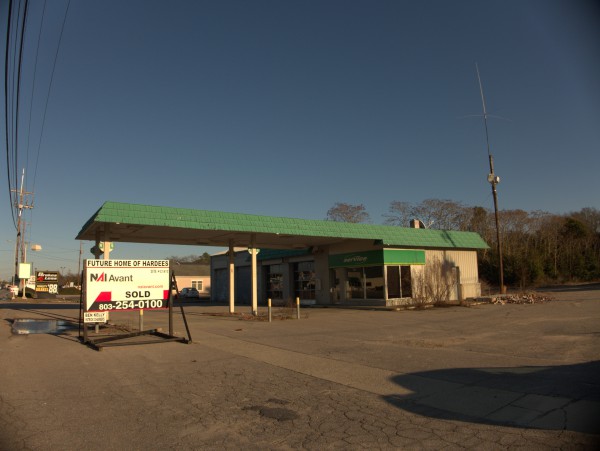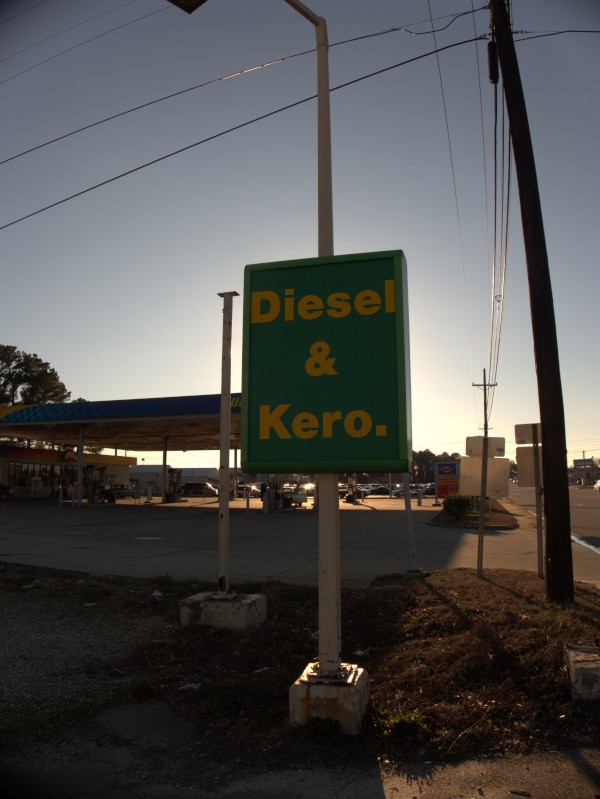 Here's an old-school, single island service station in Lexington. Just looking at it, I suspect it predates the BP era and probably goes back into the (original) Gulf age. This is the kind of place that used to exist to service cars -- which needed almost constant attention. Any thought to customer restrooms or any vending more elaborate than a soft drink machine was pretty much non-existent. Now, one by one they fall by the wayside as that generation of owners retires or they just can't compete against the new convenience store stations that use all the space that could have been bays to sell people stuff.
This one will be selling people Thickburgers soon.
Posted at 12:14 am in Uncategorized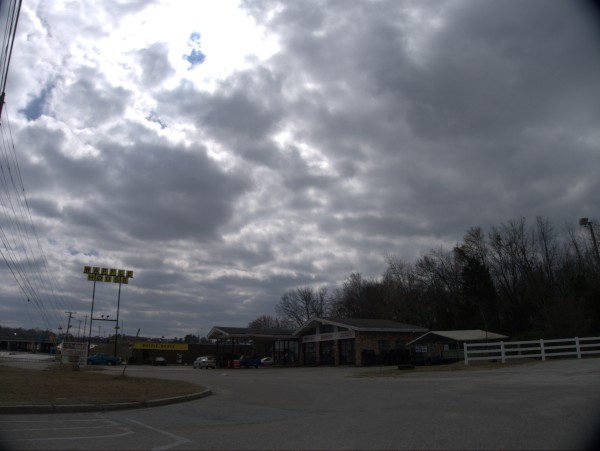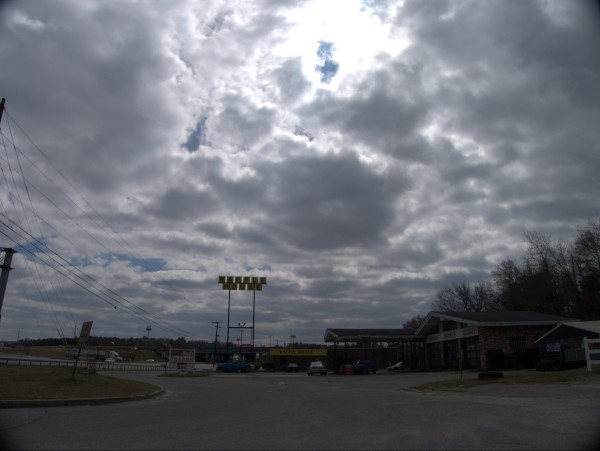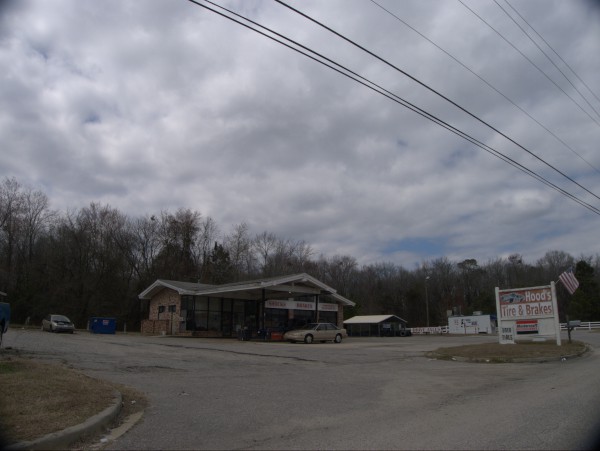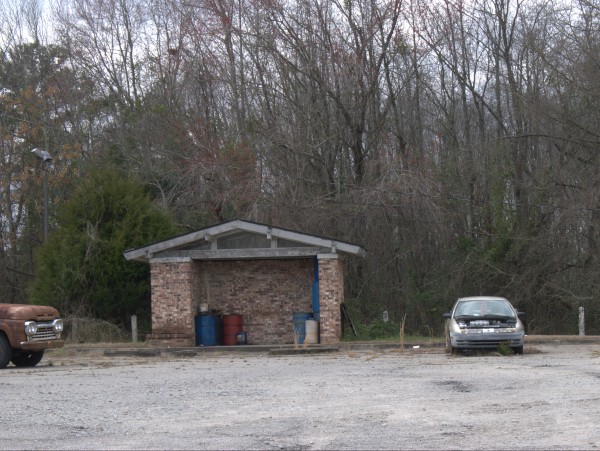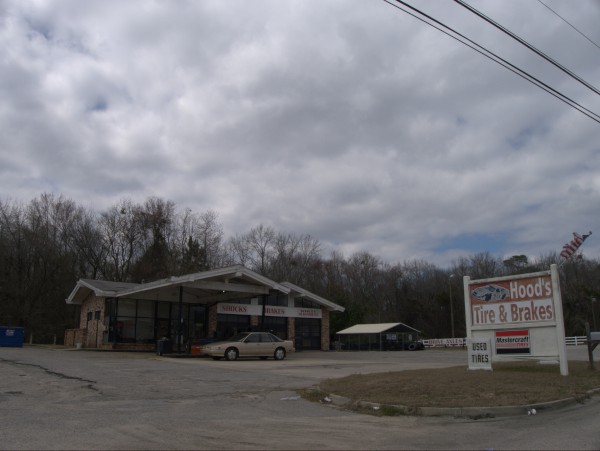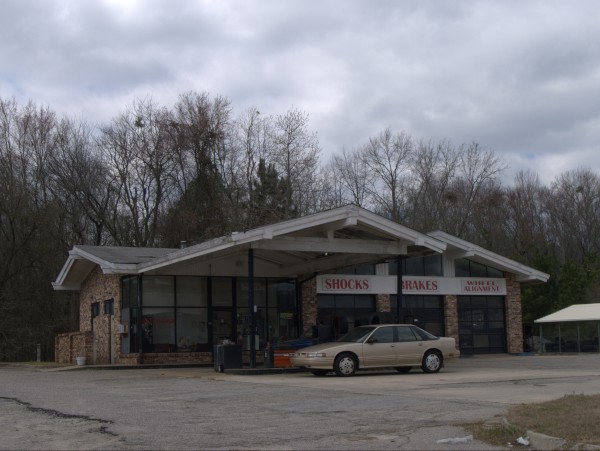 This old service station, now a tire & brake center, is on the Charleston Highway, in that little corner in between I-77 and I-26.
I'm pretty sure it was an Exxon at one time (and may even have gone back into the Esso era). The vending machine bay to the left of the station is very typical of the old days -- a station generally would not like you hanging around inside, which was as much or more "the office" than a retail area.
I'm just guessing "1970s" as a closing date. It could have been much later, but that's when the classic "gas station" started to go into decline..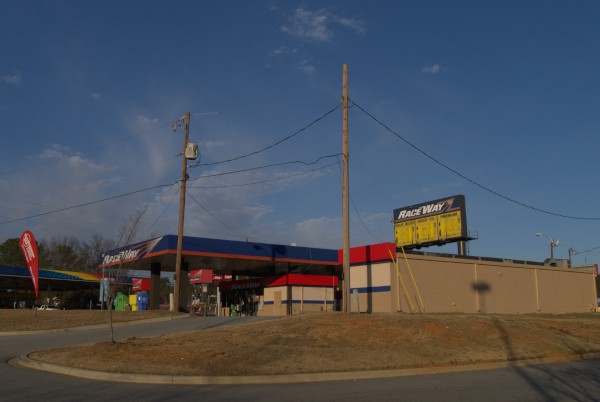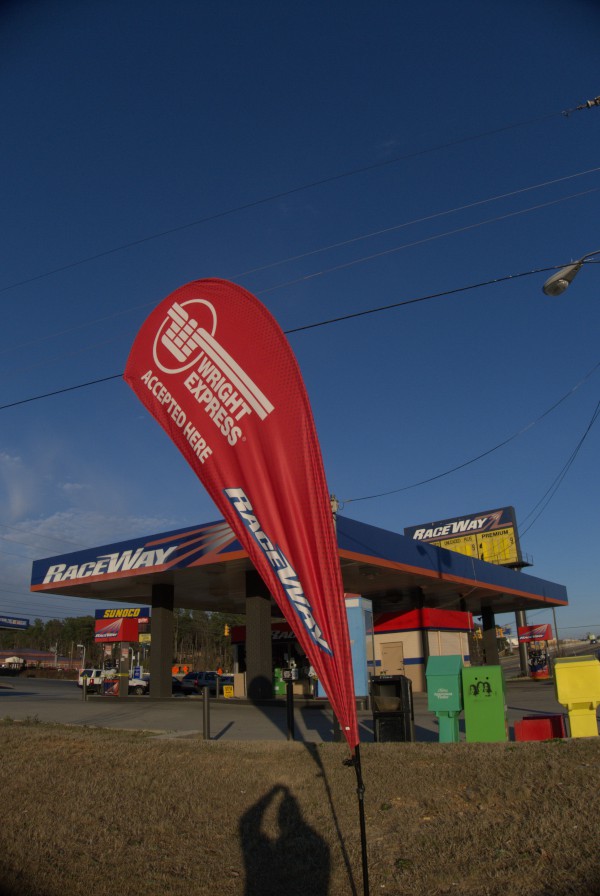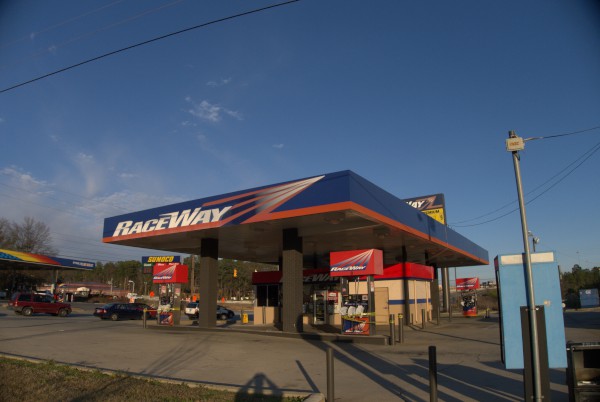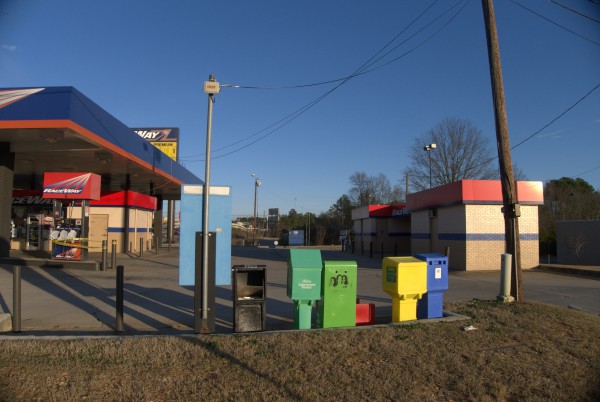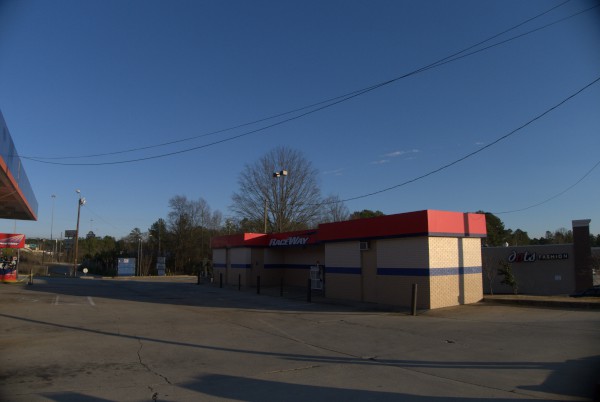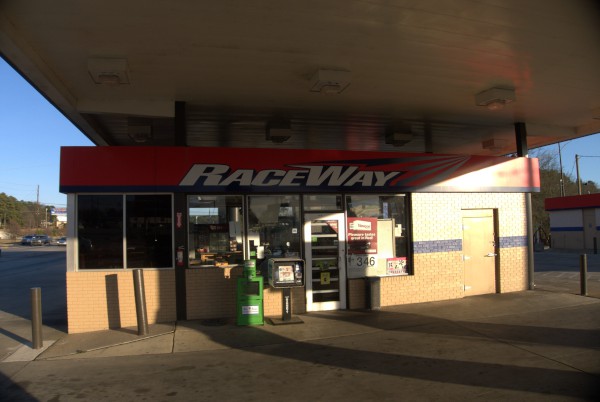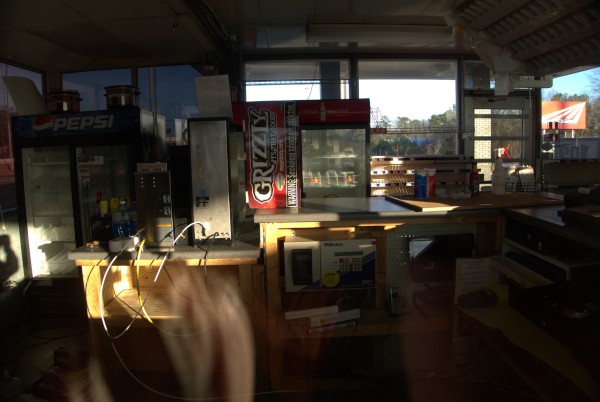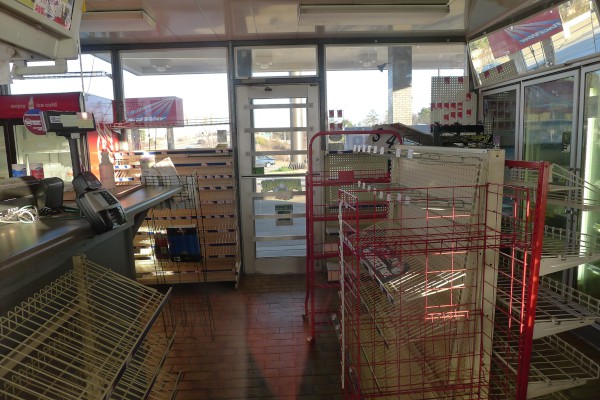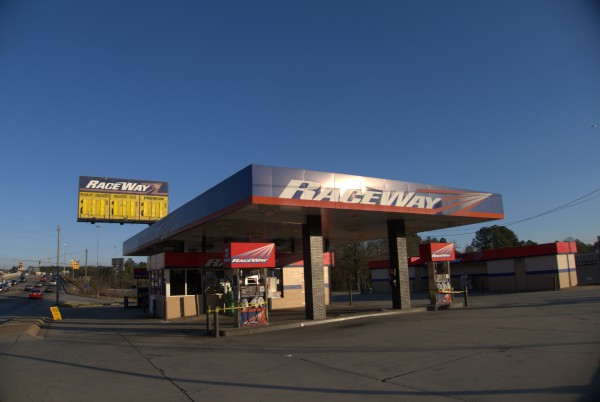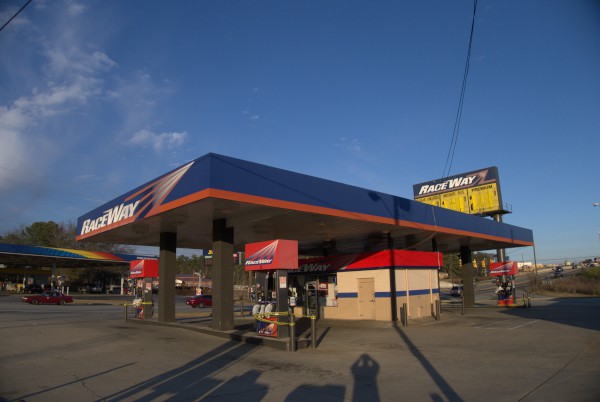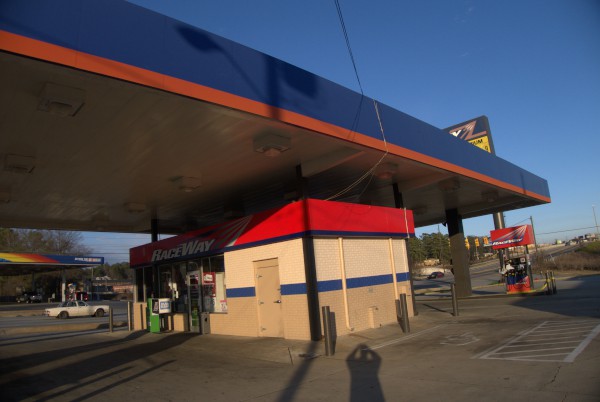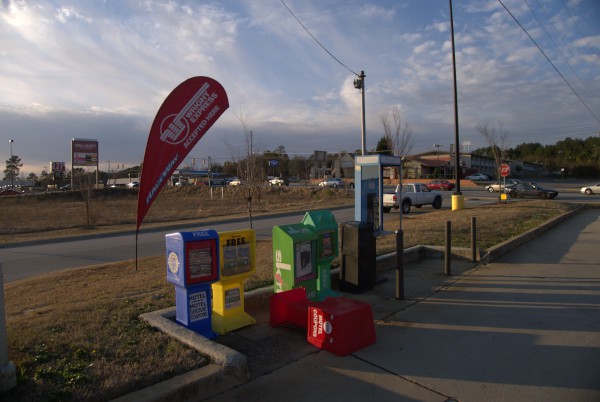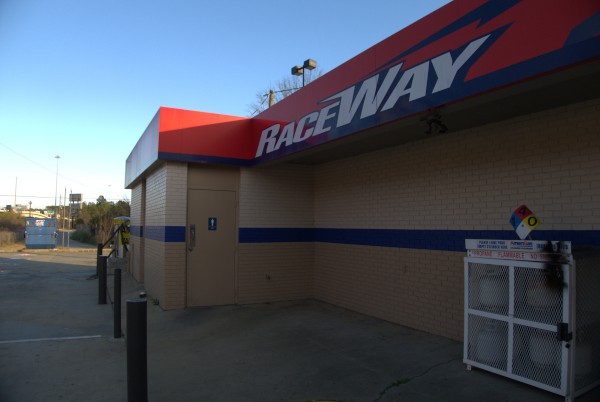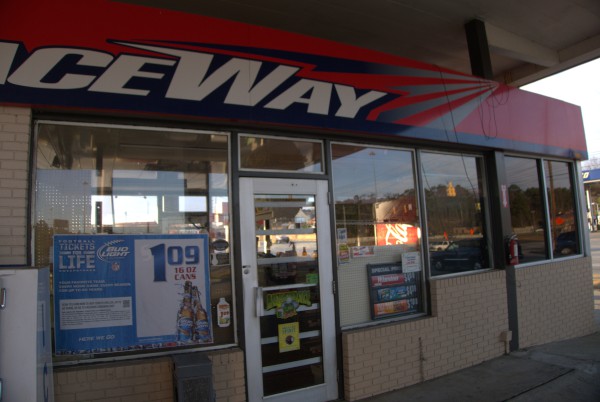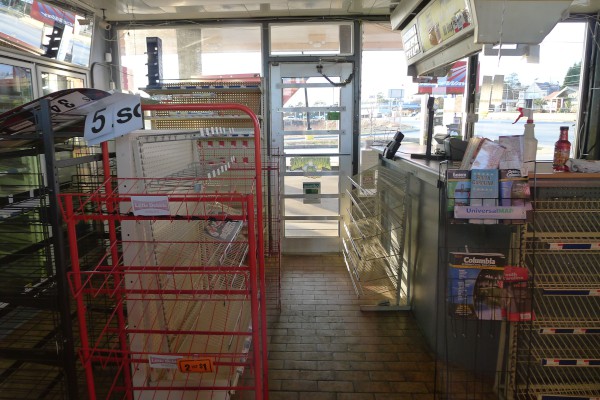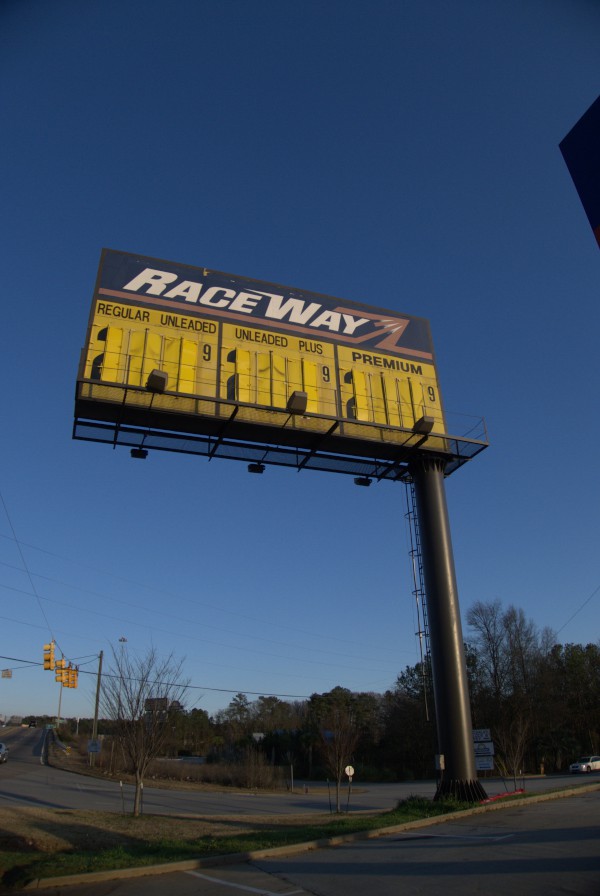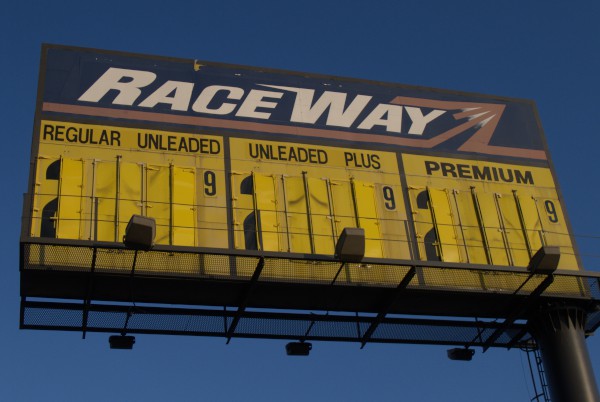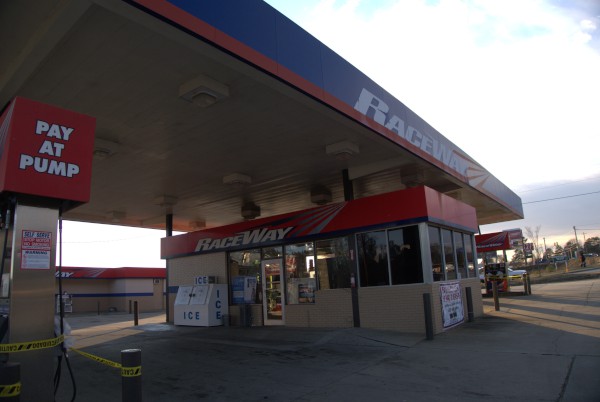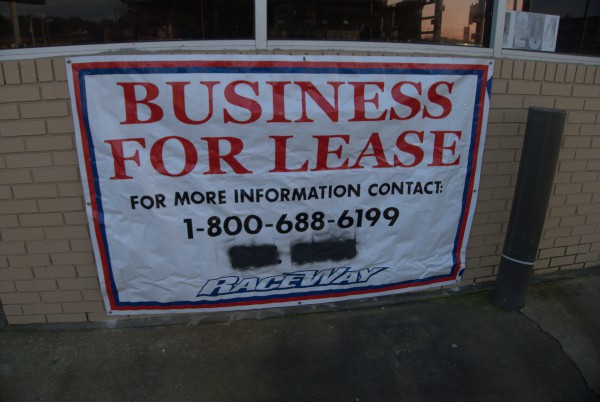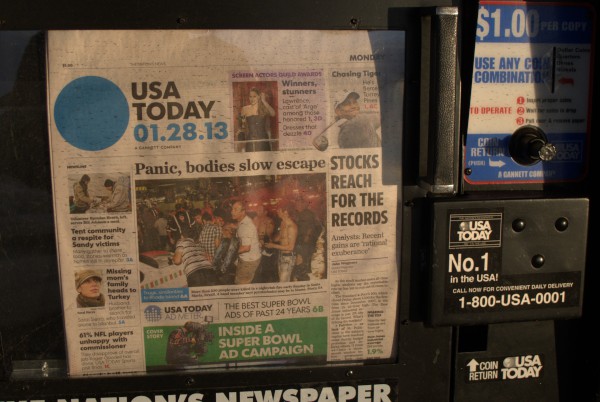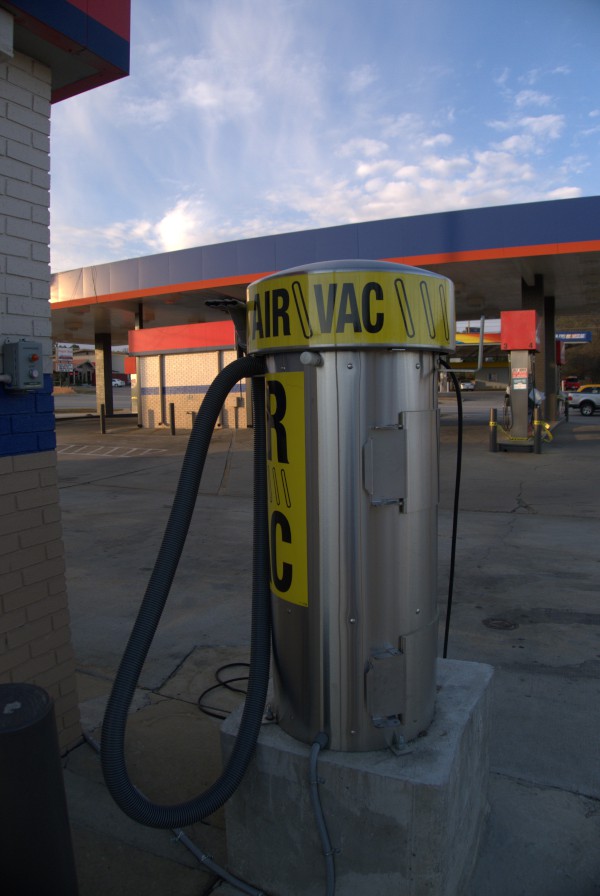 Not sure what happened here, as the location doesn't seem too bad to me, and it has fairly easy access to the Wal-Mart stoplight, but the Raceway at Bush River Road and I-26 has closed. The only site negative I can see is the separate bathroom building, which I personally don't like because there's often a locking hassle and you end up splitting your time at three locations.
(Hat tips to commenters Tom & Frank)
UPDATE 22 June -- As mentioned in the comments, this place is open again: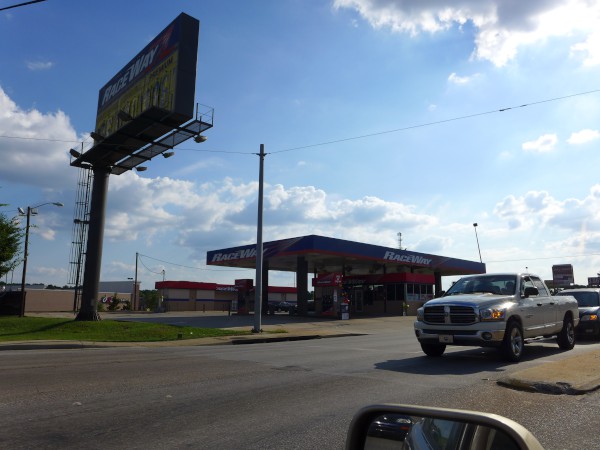 UPDATE 27 January 2016 -- This place is closed again: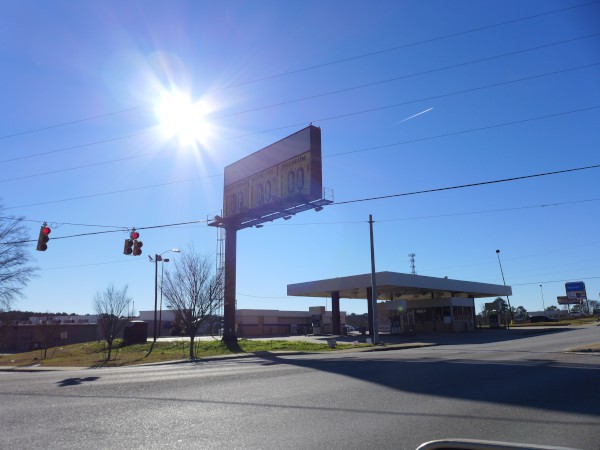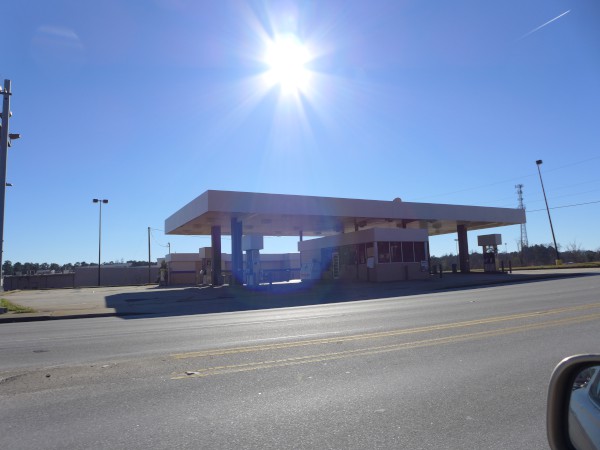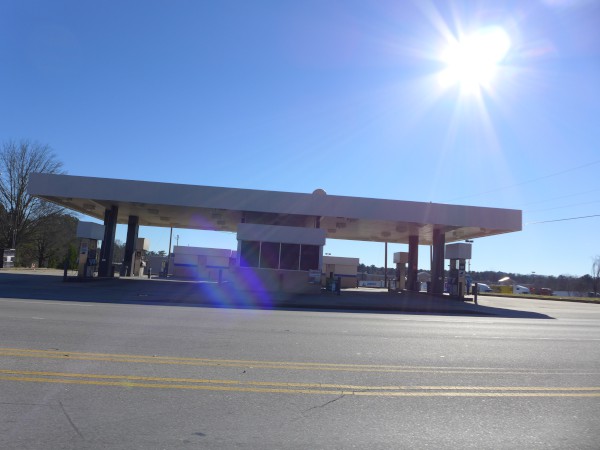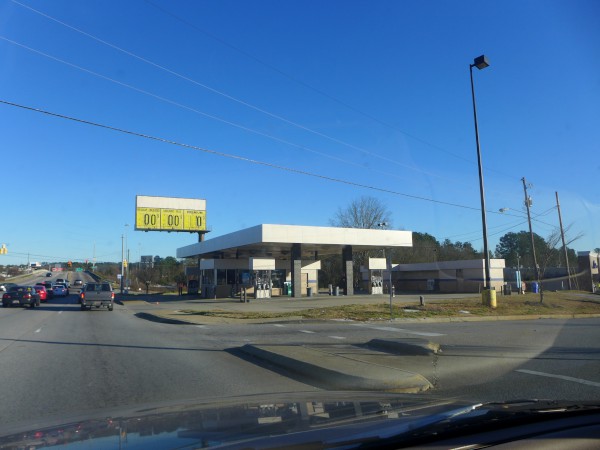 Posted at 1:22 am in Uncategorized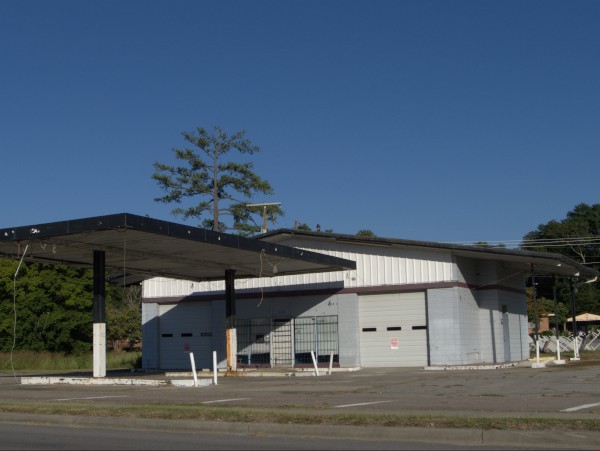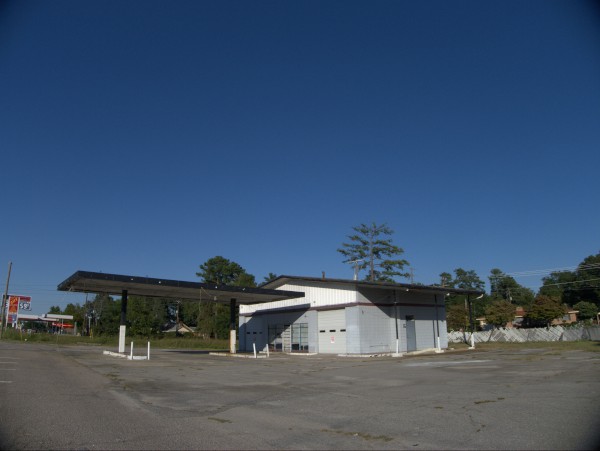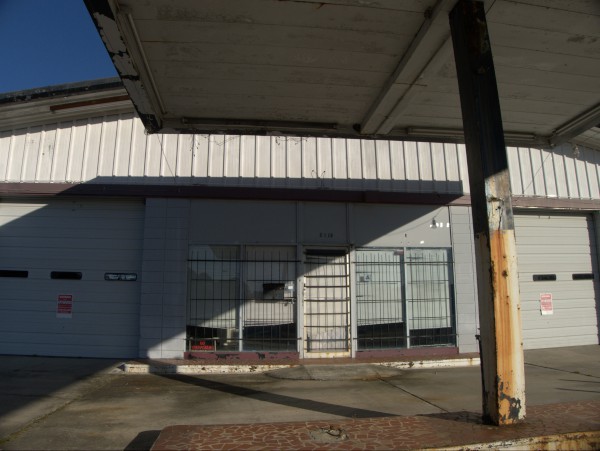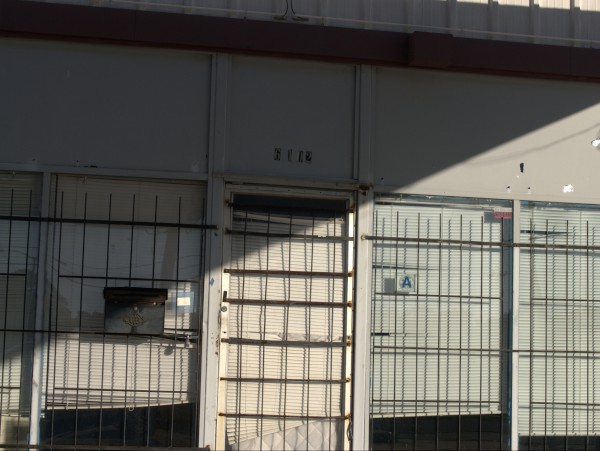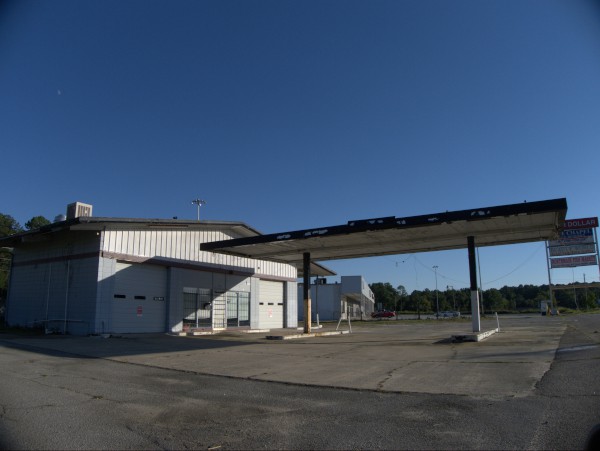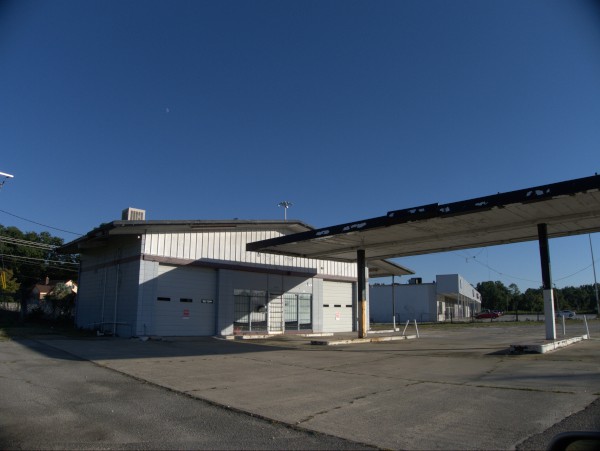 Here's another case where a phonebook search turns up no information, but I'd guess Latimer Seafood has been gone for at least several years. The place was obviously started life as a service station, but the architecture isn't bringing any particular brand to mind for me.
Posted at 12:44 am in Uncategorized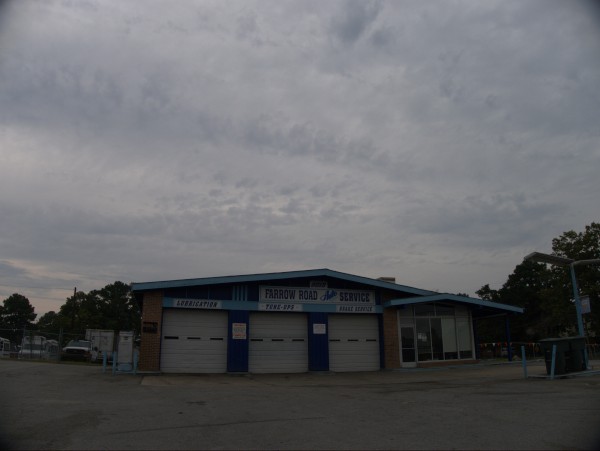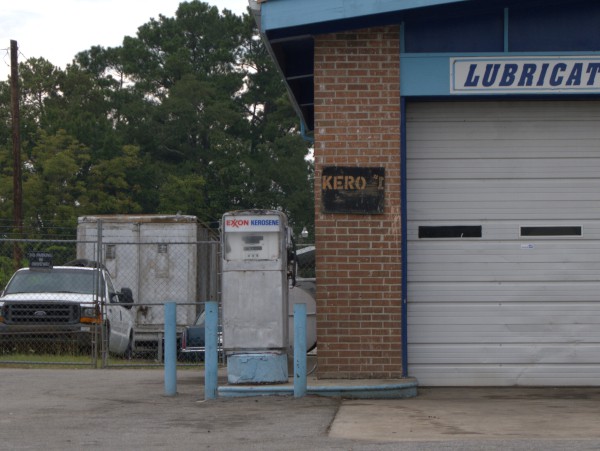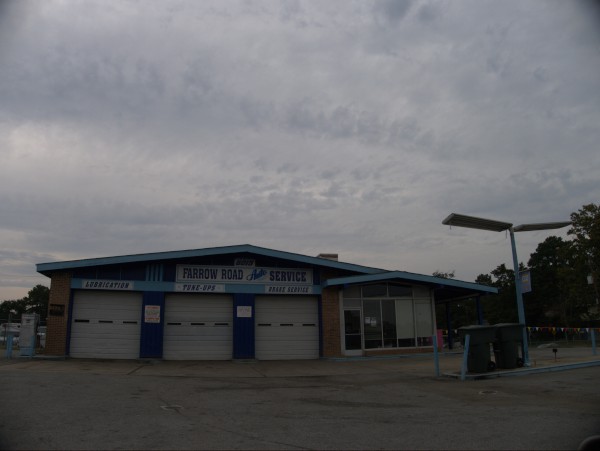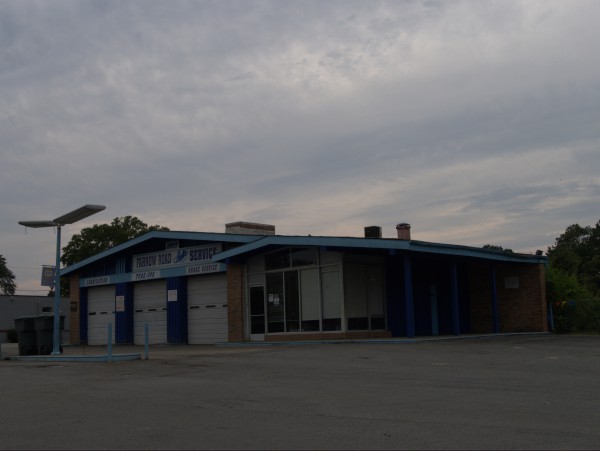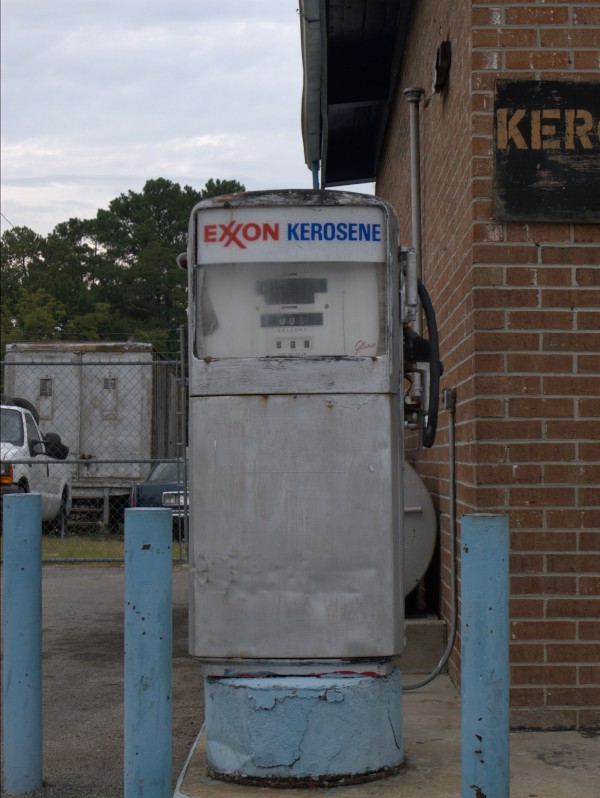 This former Exxon is on Farrow Road where it intersects with Broadland Avenue and is now an independant auto repair operation. I wish it had been a sunnier day so these pictures were less gray and dreary, but that's the way it was, and I don't go by there very often.
Admittedly my closing date is just a guess here, as is postulating that this station started as an Esso, but the gull-wing lights lead me to think it was built before 1970, and the Esso/Exxon switch didn't happen until 1973.
Furthermore, the rounded style of the kerosene pump together with the fact that the price only has two digits (plus 1/10ths of a cent) leads me to think the station didn't make it past the 1970s.