Archive for the 'Sparkleberry Square' tag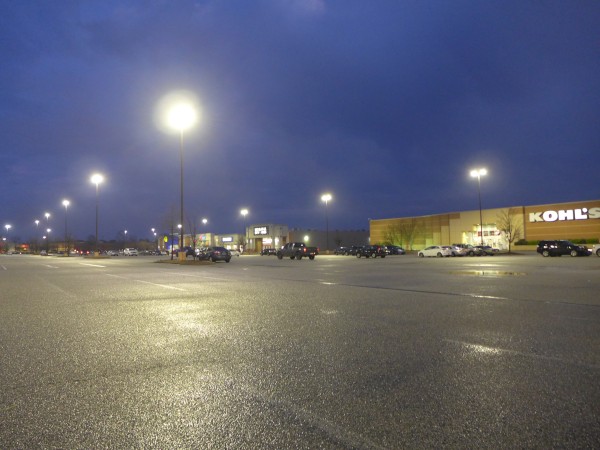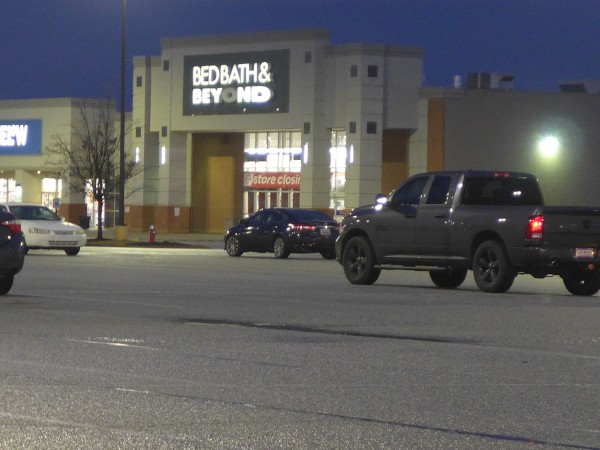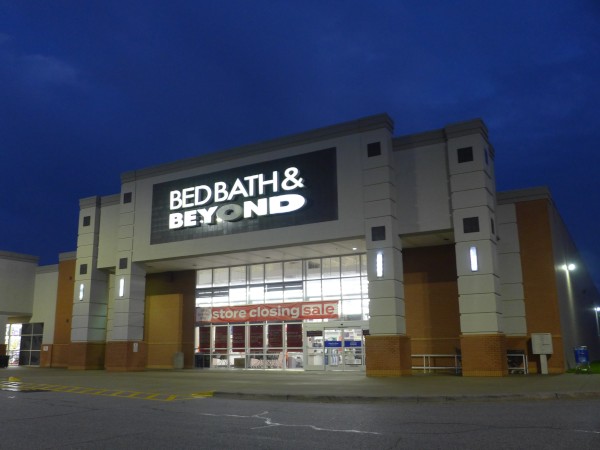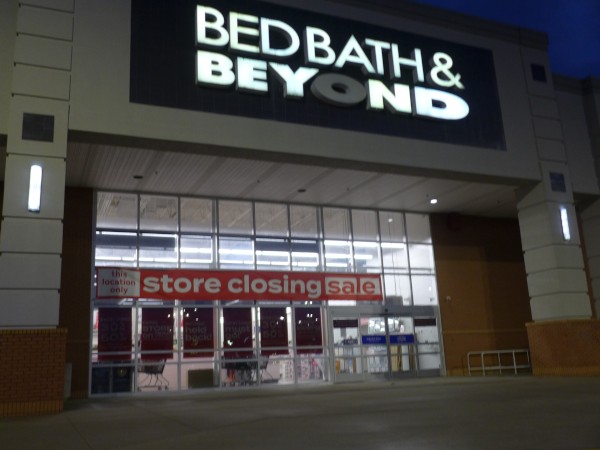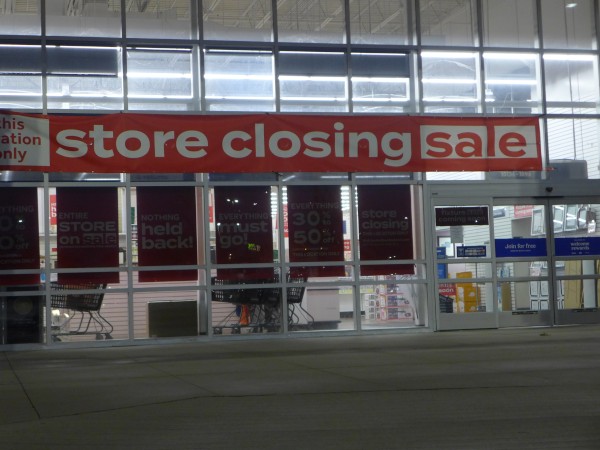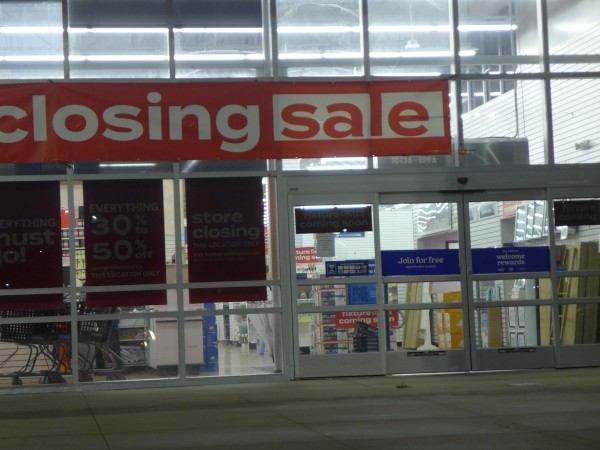 The company has been in trouble for a while, and according to The State announced last September that they would be closing 150 of its 700 stores. This Sparkleberry Square location is one of those, but apparently the Harbison and Garners Ferry locations will stay open, at least for now.
(Hat tip to commenter Andrew)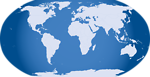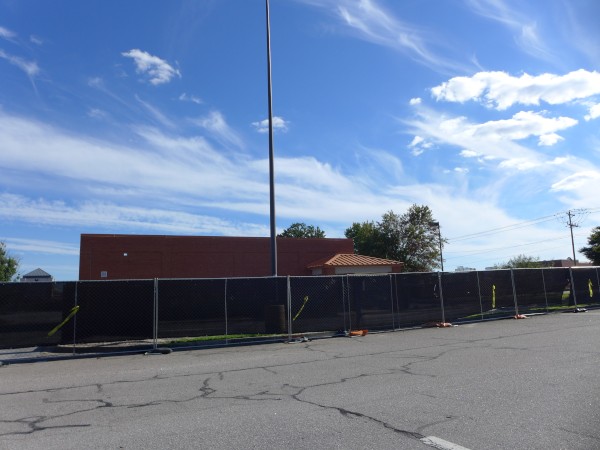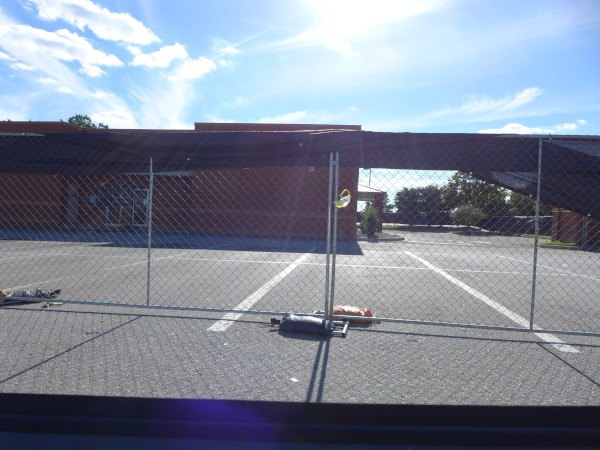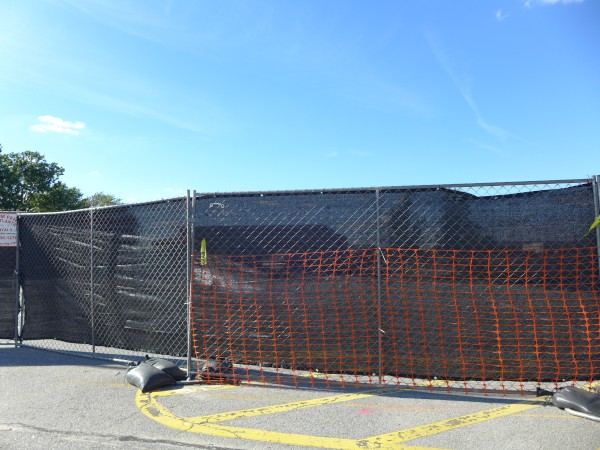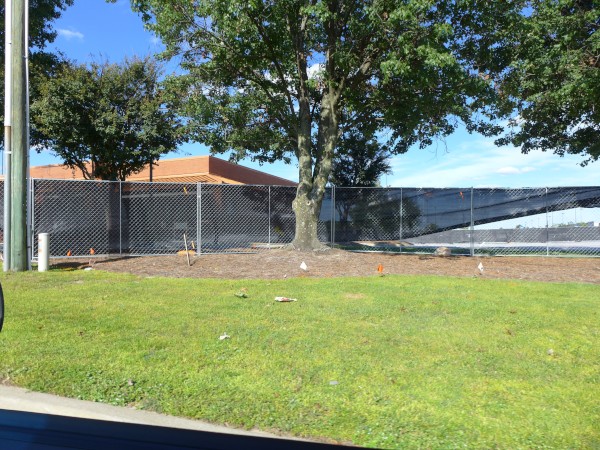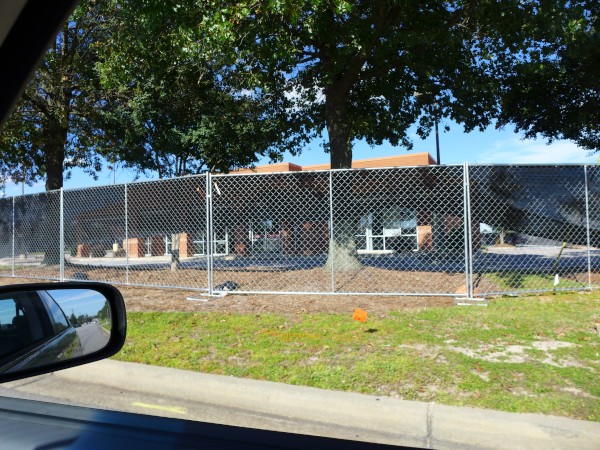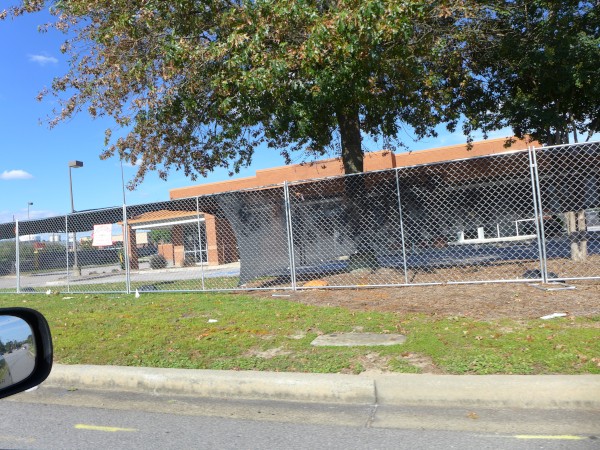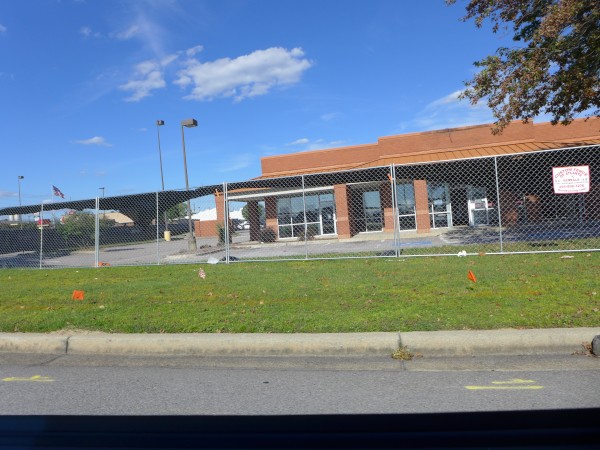 I did not get around to getting pictures of this Sparkleberry Square Firehouse Subs location (sometimes known as Firehouse Subs Spring Valley) until all the signage was down and the building was fenced off. It seems likely to me that it is to be torn down though there are no signs up for whatever is to come.
(Hat tip to commenter Thomas)
UPDATE 28 January 2022 -- The canopy for the forthcoming Kroger gas station is up: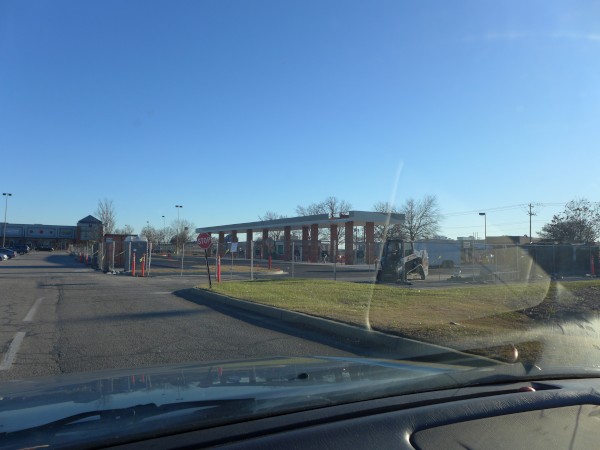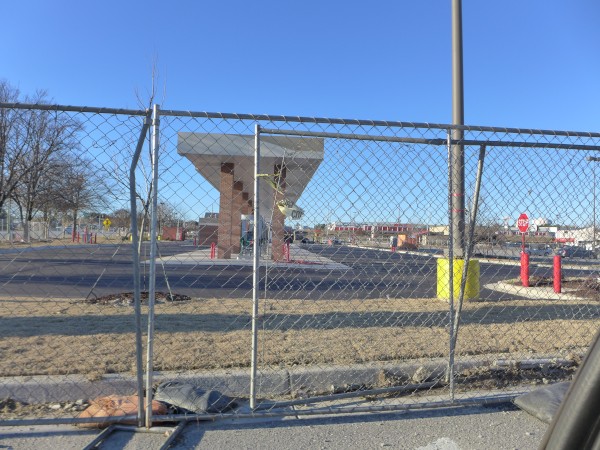 UPDATE 22 February 2022 -- Well the Kroger gas station is up and running. That was pretty quick!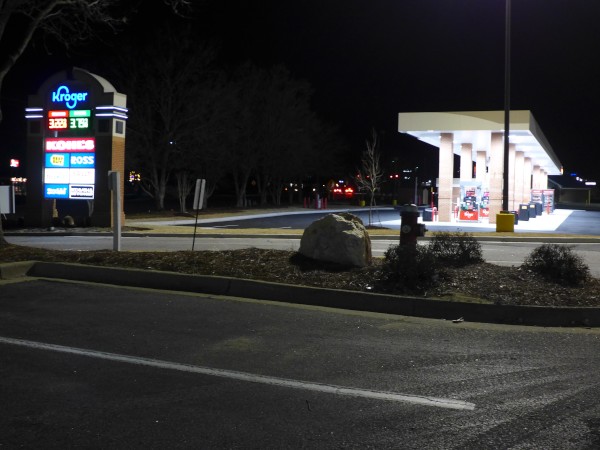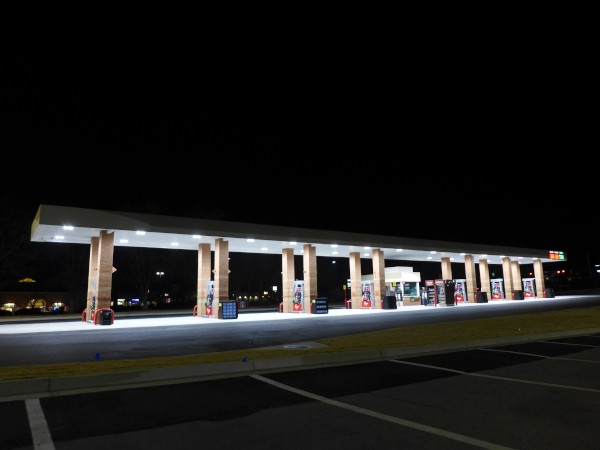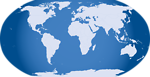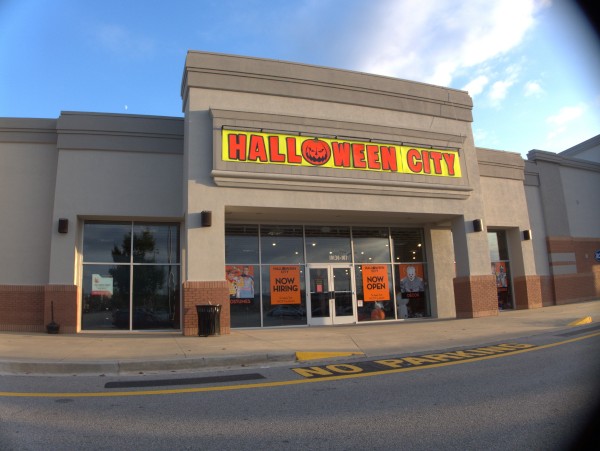 As I mentioned once, I have fond memories of quirky products from childhood visits to the old Pier 1 on Garners Ferry. In recent years, the place has rather fallen off of my radar screen to the extent that I didn't even know that they had had a store in the Sparkleberry area until commenter Andrew mentioned it in regards to the old Dentsville location. The State has a bit of information on the closing -- the main reason given is too many locations for the market.
As you can see from the picture, as of this writing, the storefront is yet another Halloween pop-up store.
(Hat tip to commenter Andrew)
UPDATE 30 June 2020: Update post title ("Pier 1" ==> "Pier 1 Imports") and tags.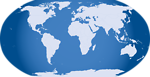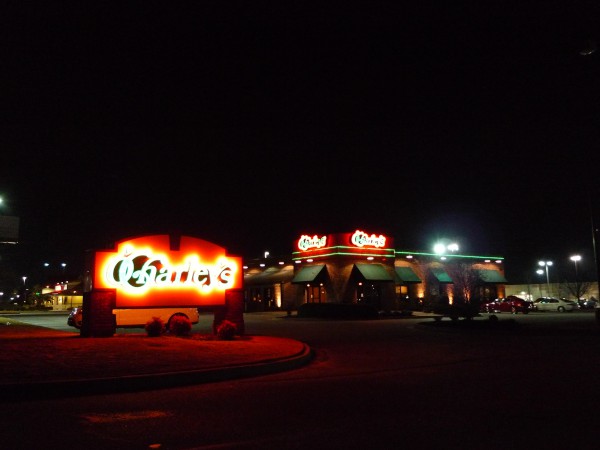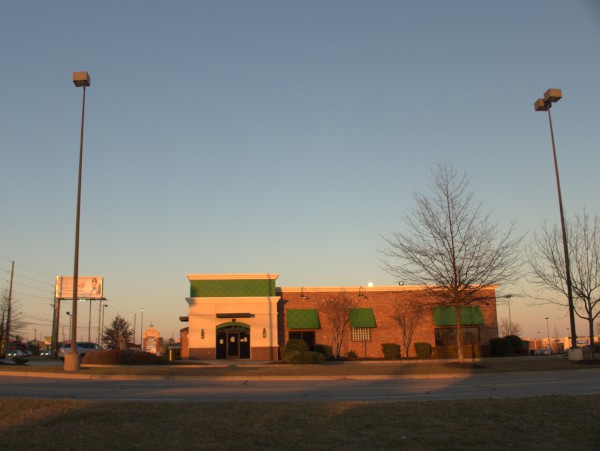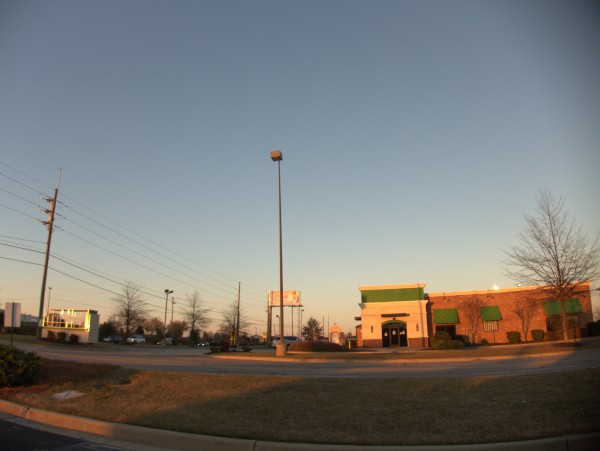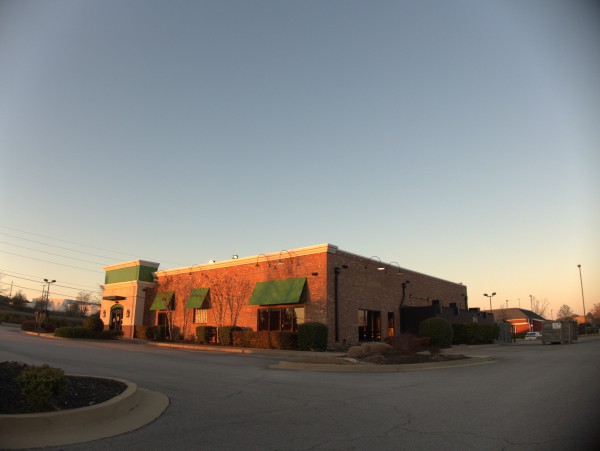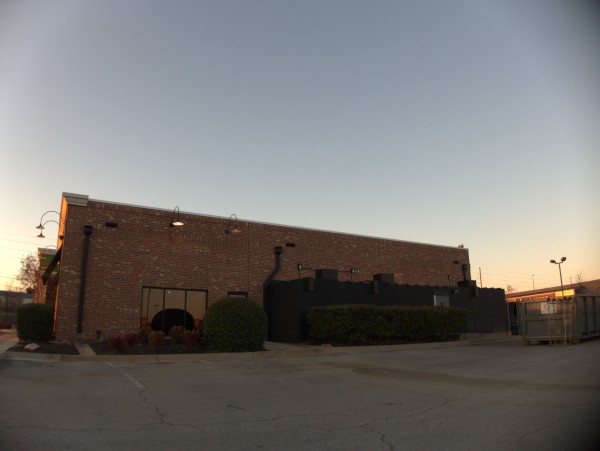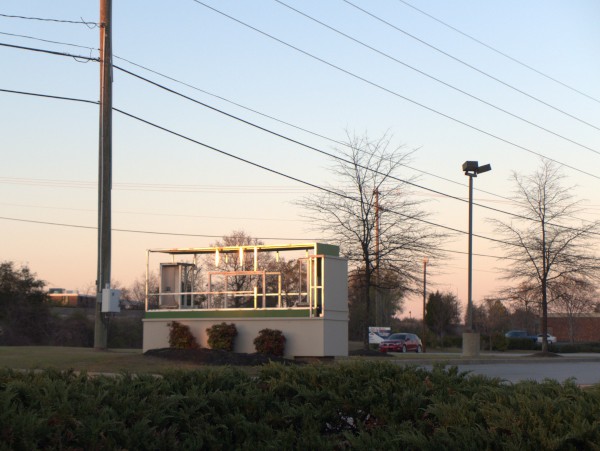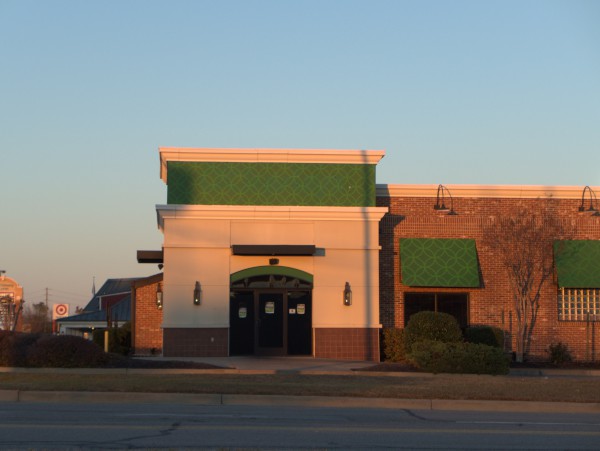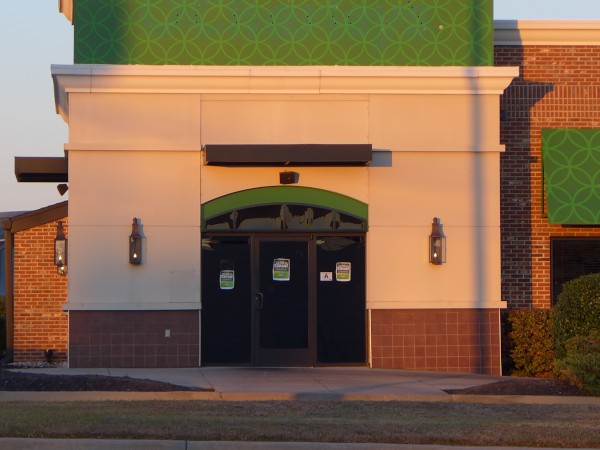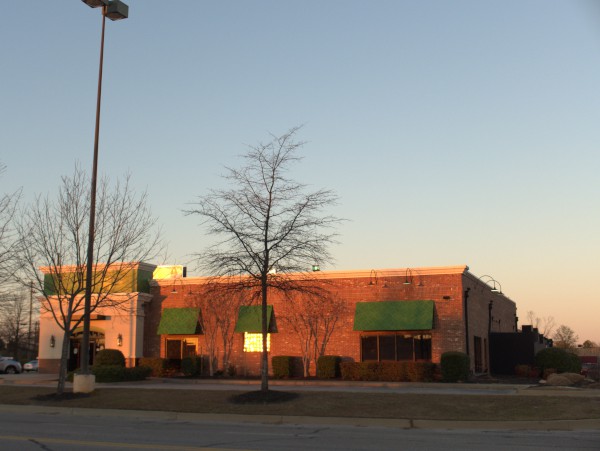 I think the my problem with O'Charley's is that I have never been quite sure what it is. I mean, it's not a fine restaurant, it's not an Italian, Mexican, seafood or hamburger restaurant; it's not homecooking or a diner -- there's a lot of things it isn't but no hook to hang its hat on. In that way, it is rather like Ruby Tuesday (hmm, even the lyric is appropriate..).
That said, I did used to go to O'Charley's from time to time when I was working in Augusta. There was (perhaps still is) one just off the Bobby Jones Expressway in what is Augusta's "Harbison" area. They had a chips & salsa appetizer with in-store-made salsa that was quite good, and the burgers were decent. When this store opened at Columbia Mall and I was in town for the weekend, my sister, father and I would eat Sunday lunch there from time to time. After the store moved to Sparkleberry, I only stopped by once, and found that the chips & salsa appetizer was off the menu, and furthermore, they were out of burgers -- I left without eating anything, and didn't go back.
According to The State the chain closed this store because it was underperforming, and near the end of its lease. If the concept couldn't perform here, or or in Harbison, it's hard to think where it could, although so far the Lexington store is still with us.
The first picture was taken several years ago. I was admiring the way the sign looked at night and stopped to take some pictures, but in the event they didn't turn out well because the lighting made the sign over-exposed and the rest under-exposed, and I didn't want to set up a tripod and try for bracketed exposures for HDR as I would be a highly visible person doing something very questionable looking on a busy road. The rest of the pictures were taken after the closing, although I will need to go back eventually and get out of the car for some closer looks.
(Hat tip to commenter JB)
UPDATE 27 March 2017 -- A few more and closer: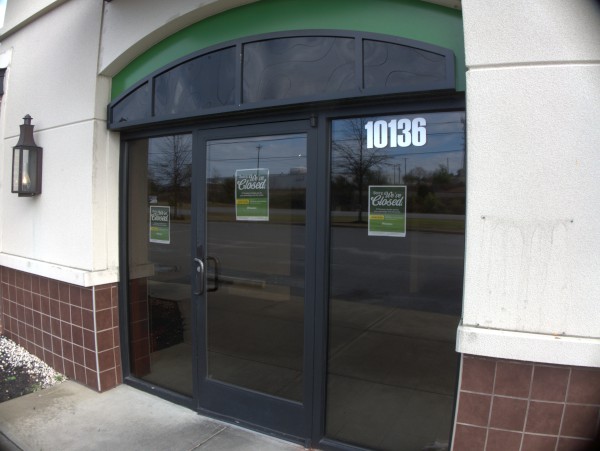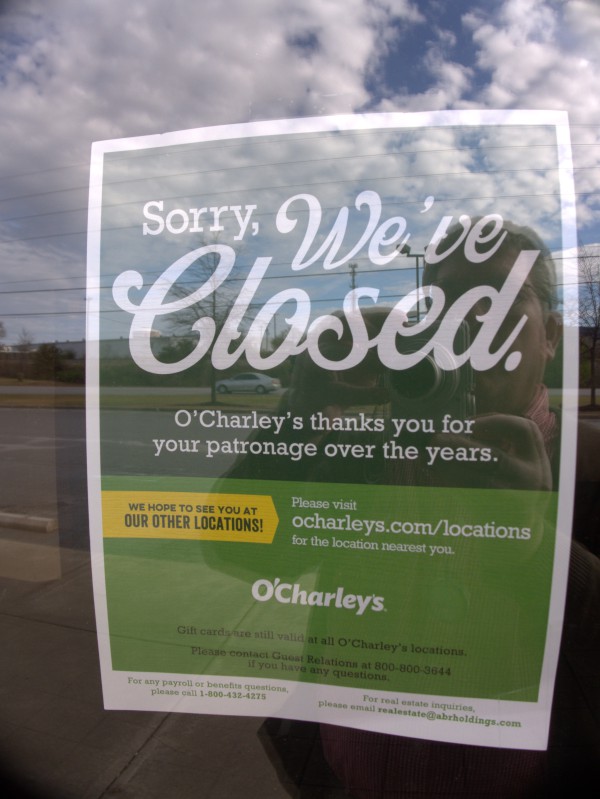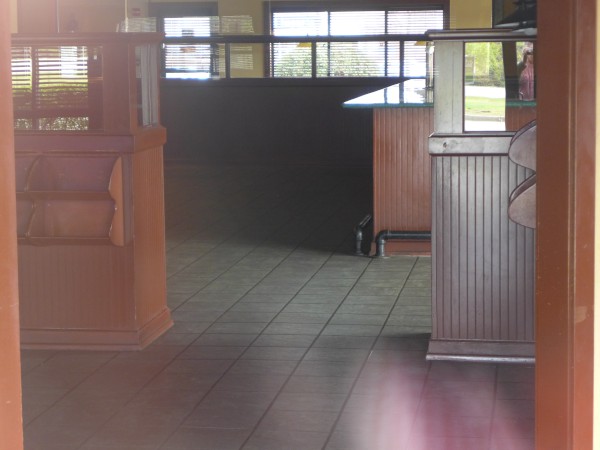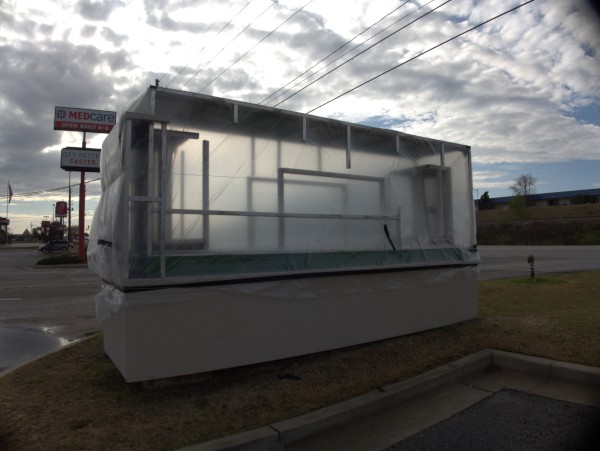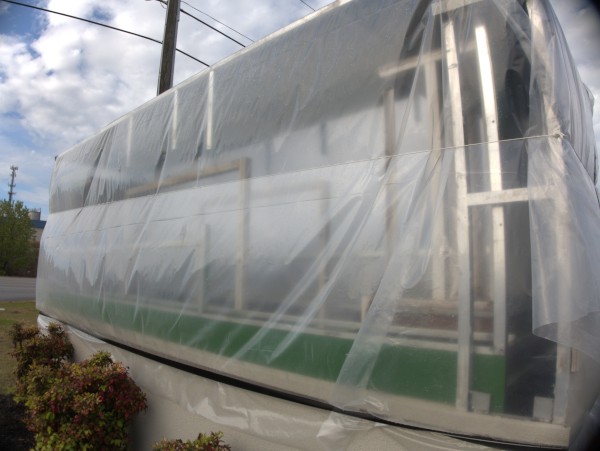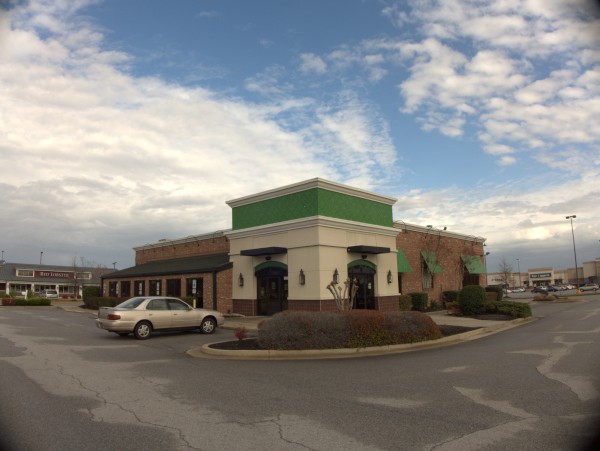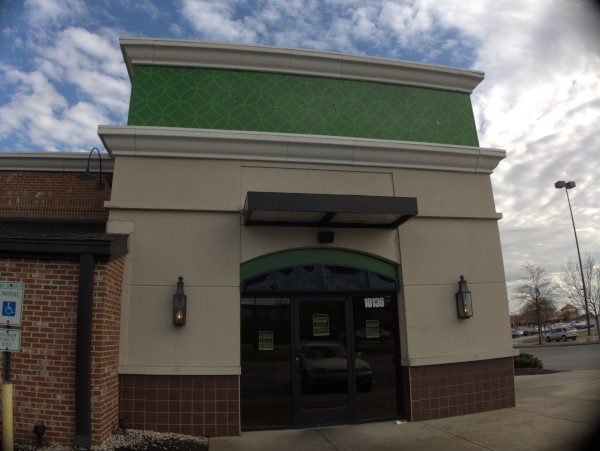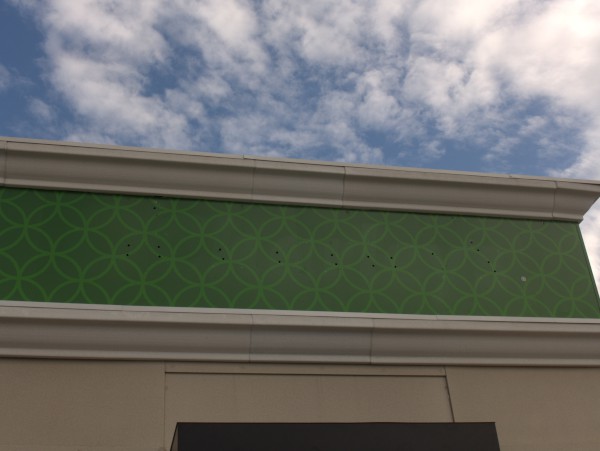 UPDATE 8 October 2019 -- Now a Chipolte & Tropical Smoothie Cafe: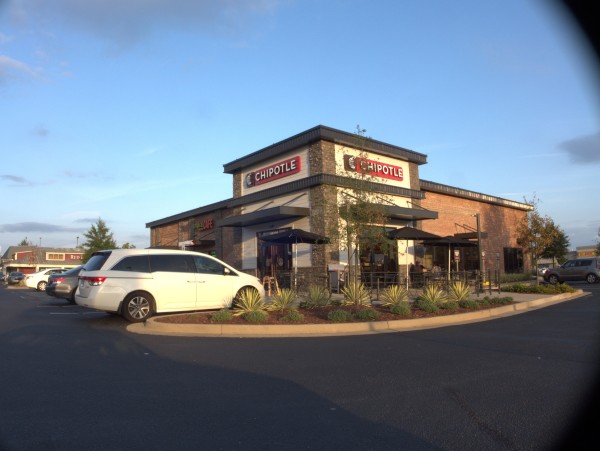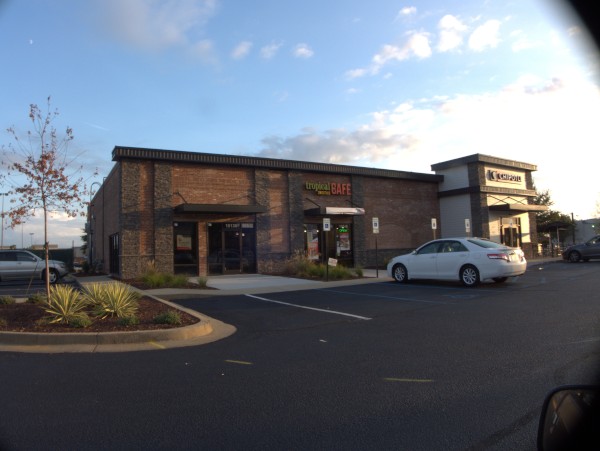 UPDATE 19 August 2022: Add map icon and upate tags.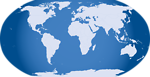 Posted at 10:54 pm in Uncategorized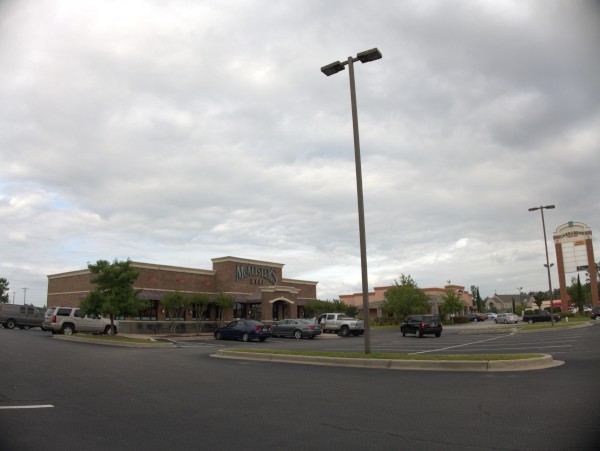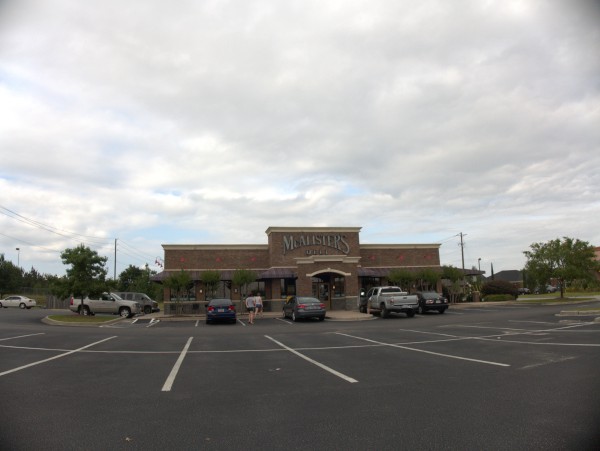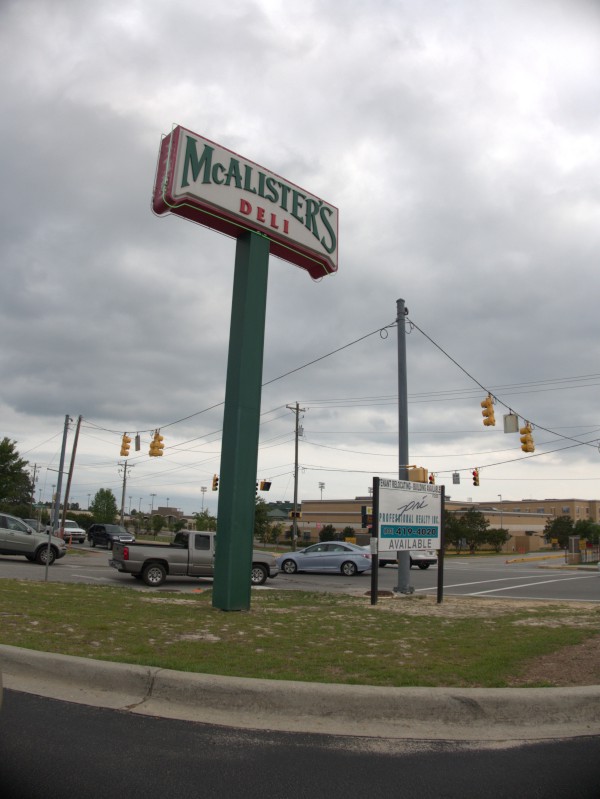 Commenter Bobby notes that this McAlister's Deli at the corner of Sparkleberry Lane and Graces Way will be moving down Two Notch soon to set up shop by Hobby Lobby.
If I am reading this historical listing right, then the property has been sold once in the last couple of years already. (If there's a more current listing, google is not making it obvious to me).
As I think I have mentioned before, I have never really warmed up to this chain, possibly because you have to go to the counter to beg for drink refills.
(Hat tip to commenter Bobby)
UPDATE 27 October 2014 -- The move is now complete: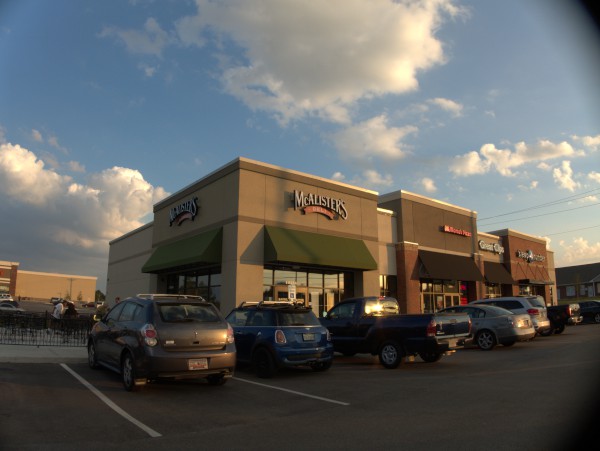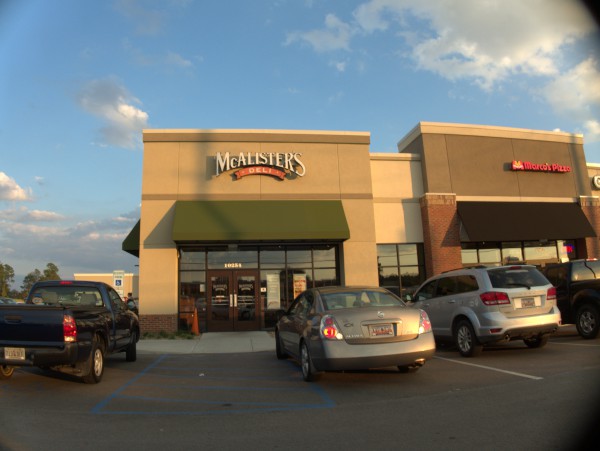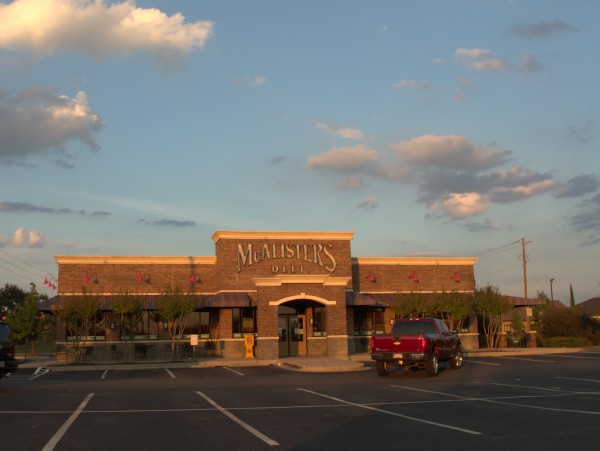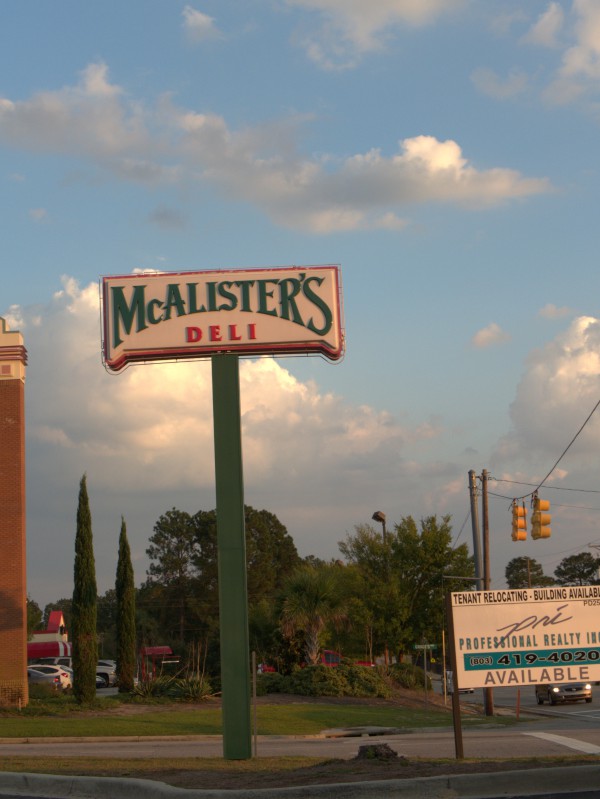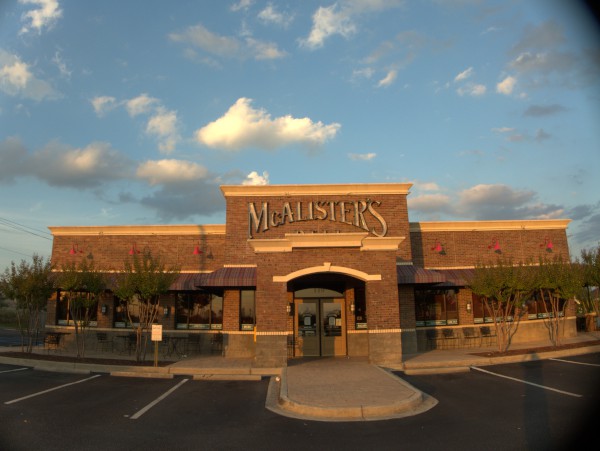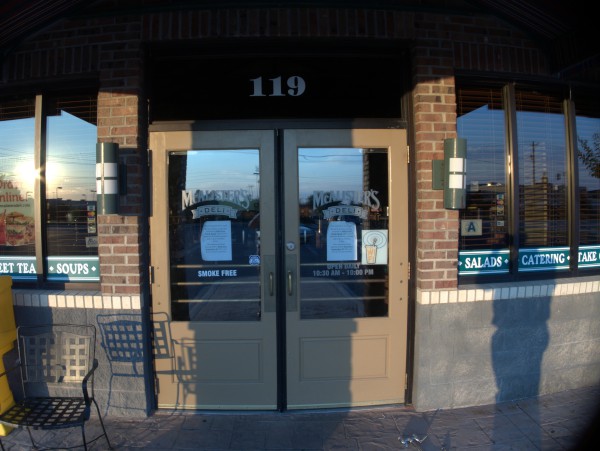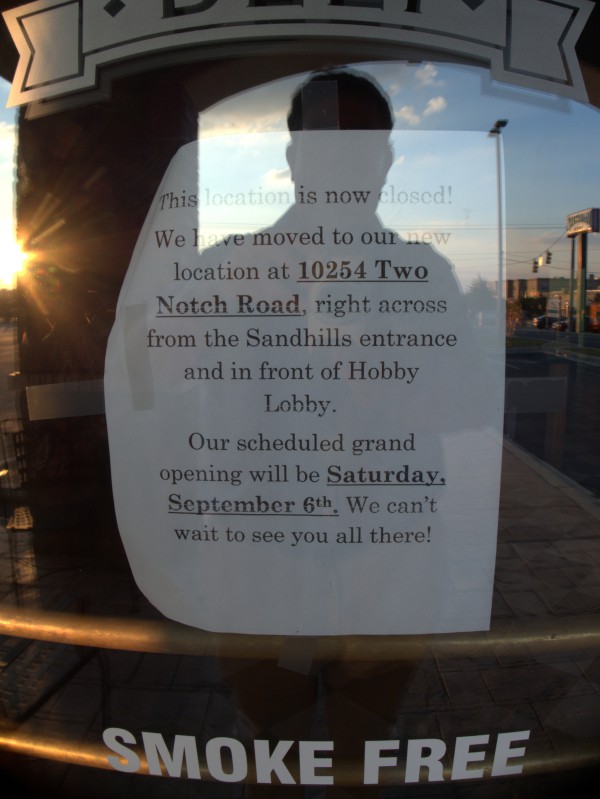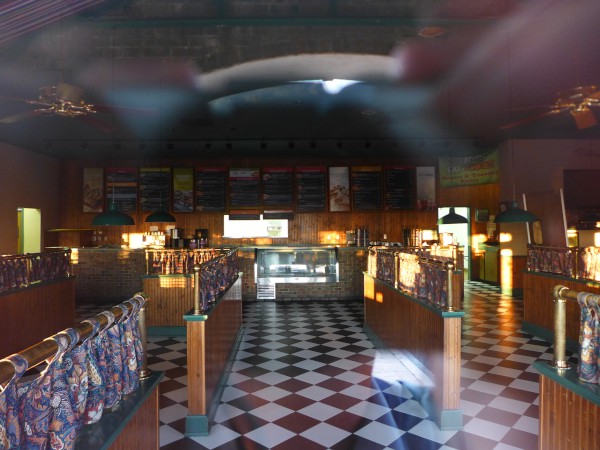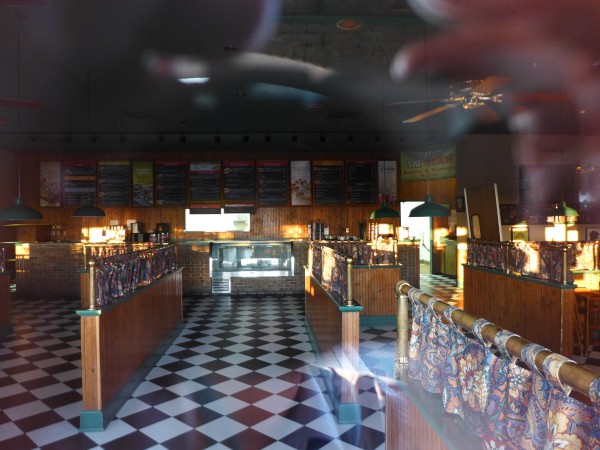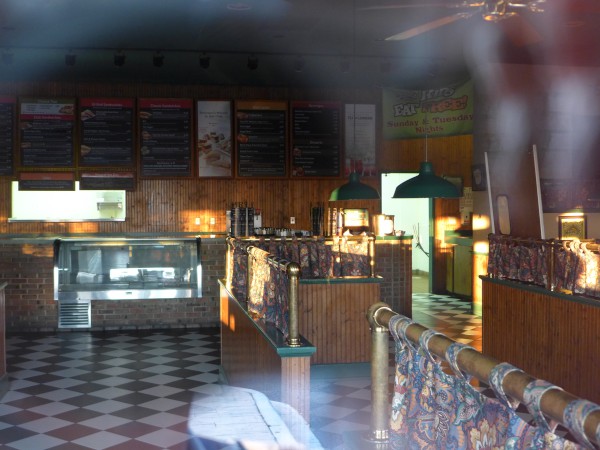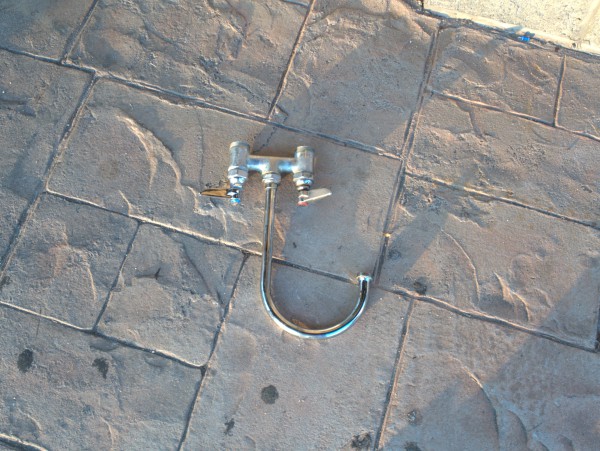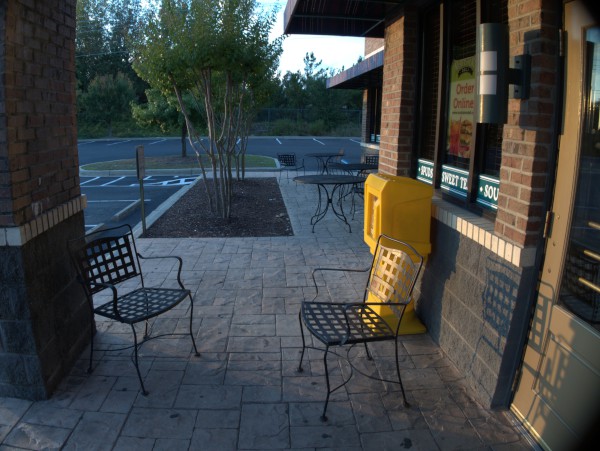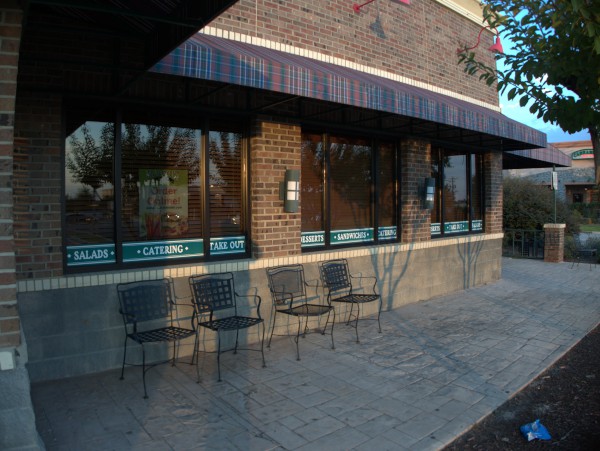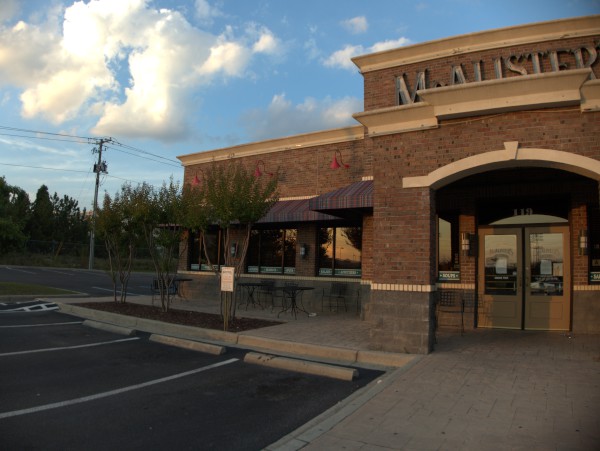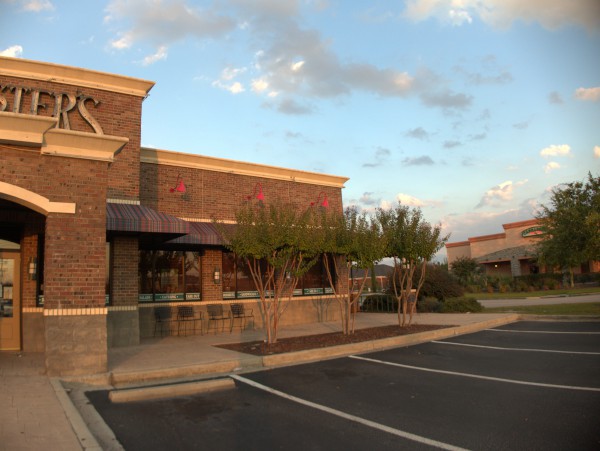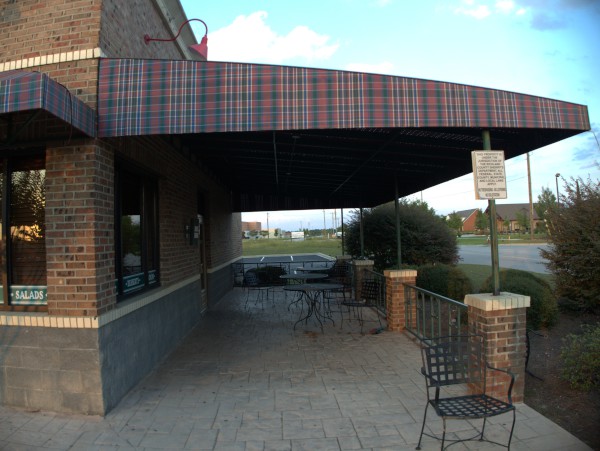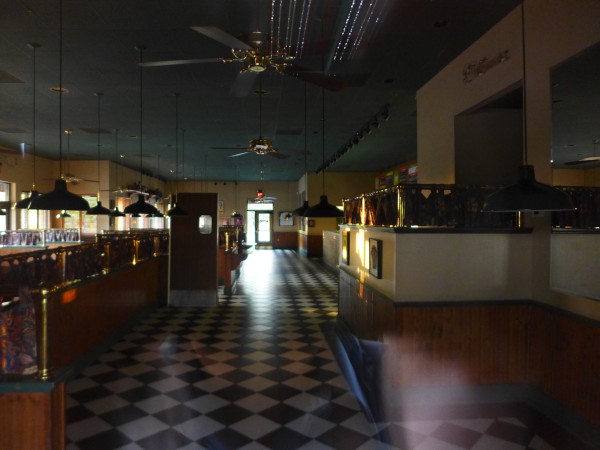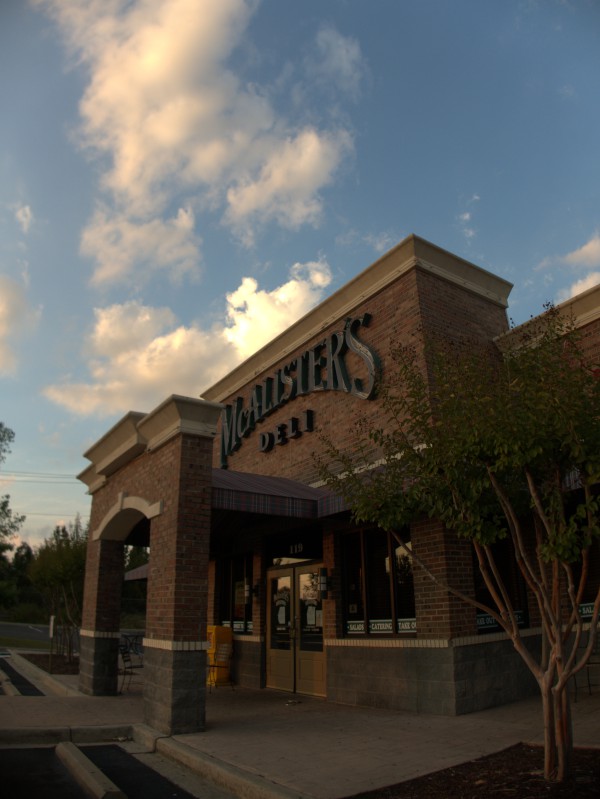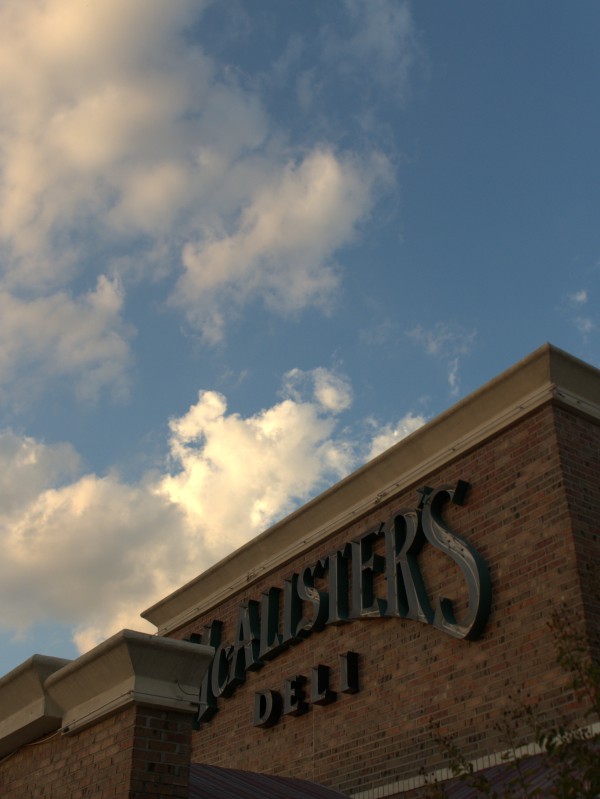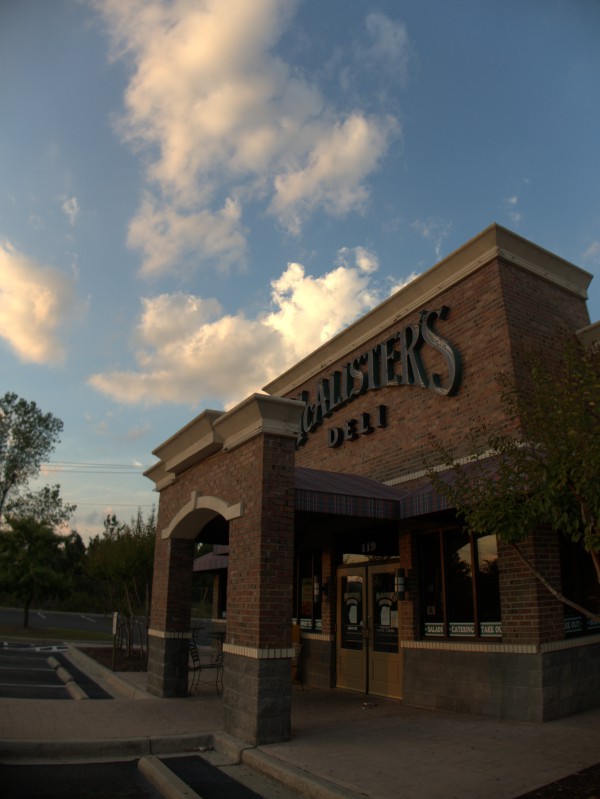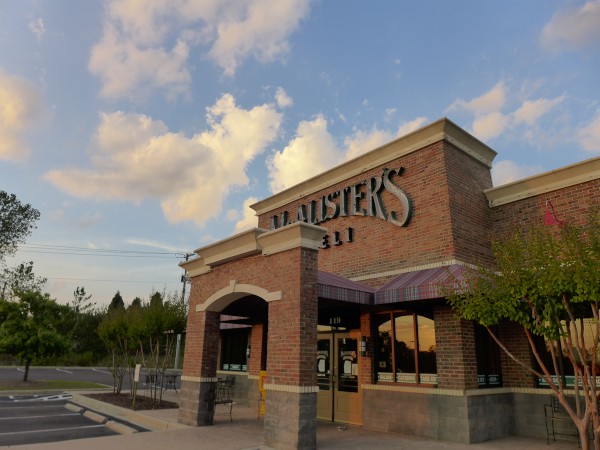 Posted at 1:05 am in Uncategorized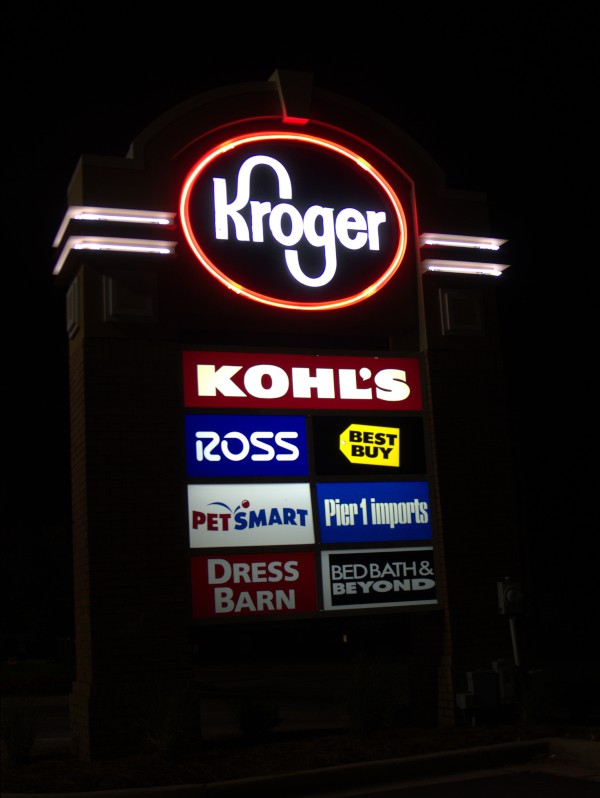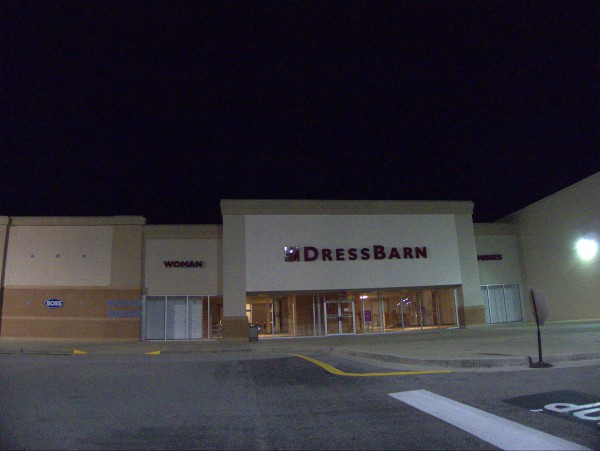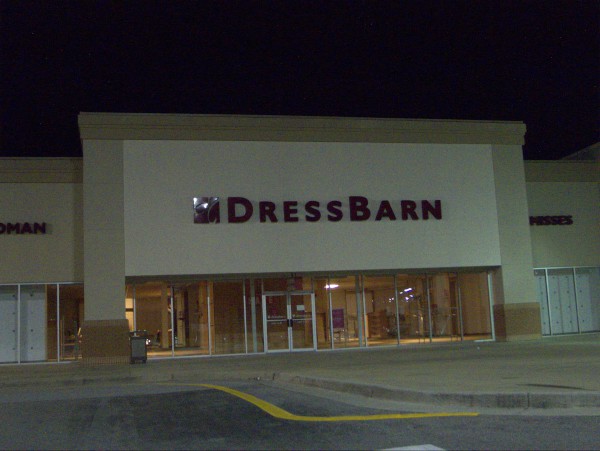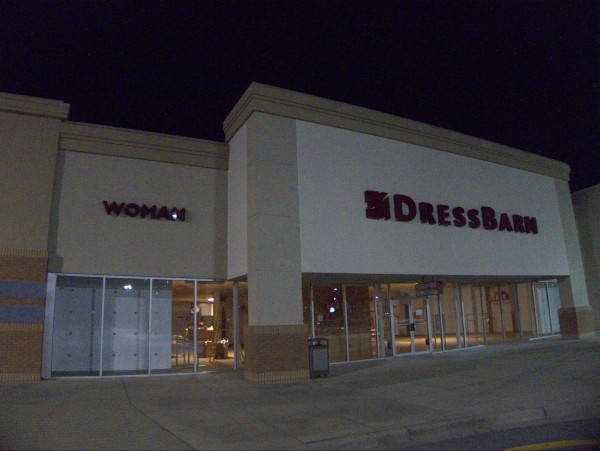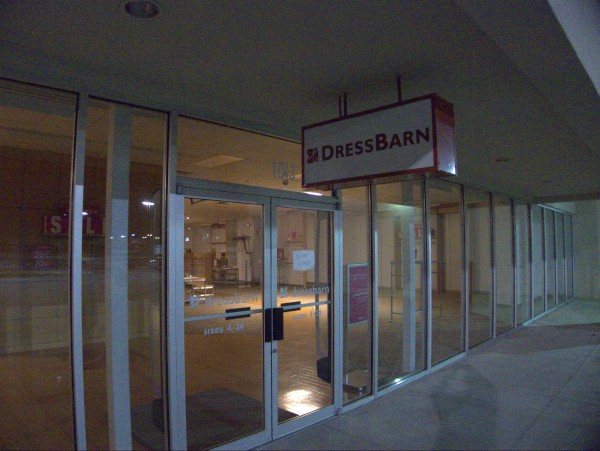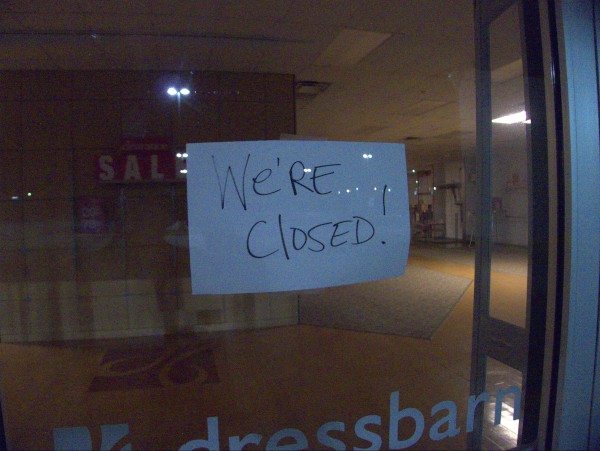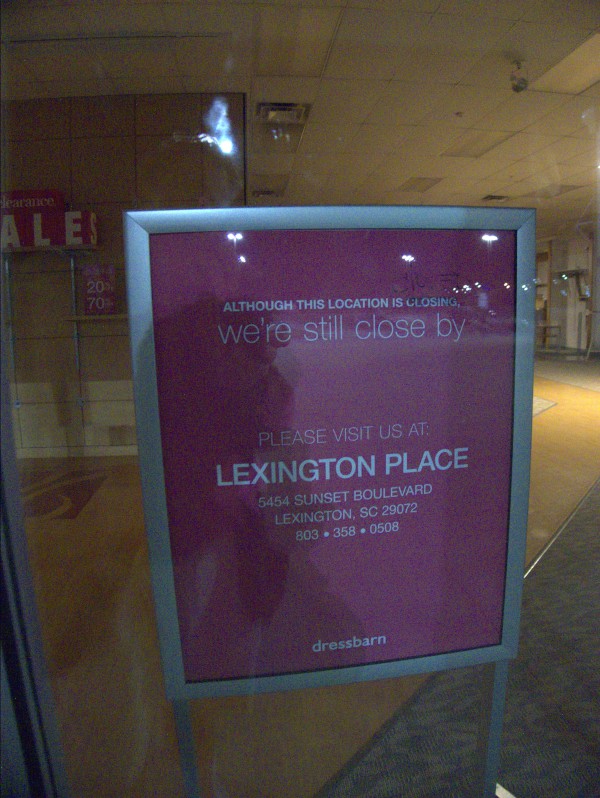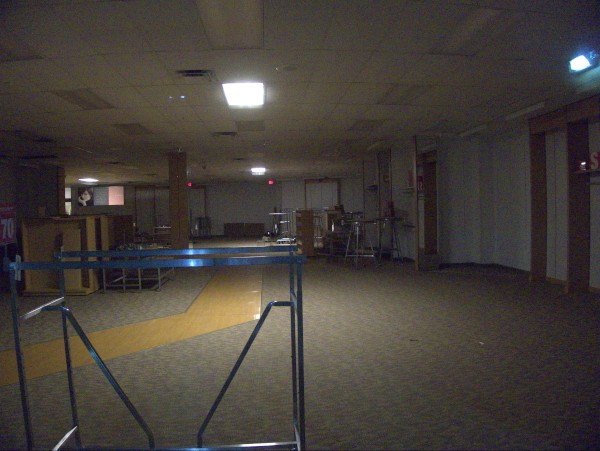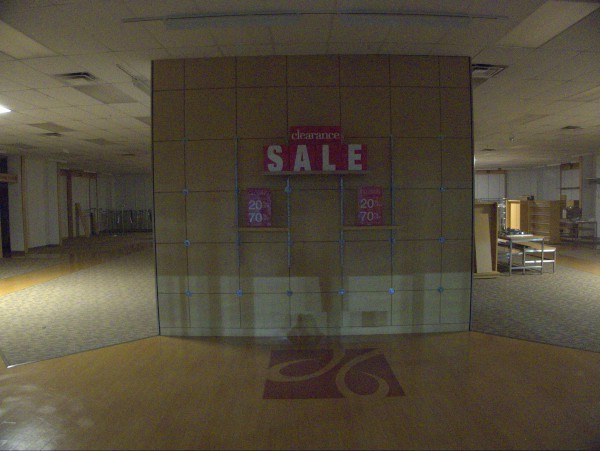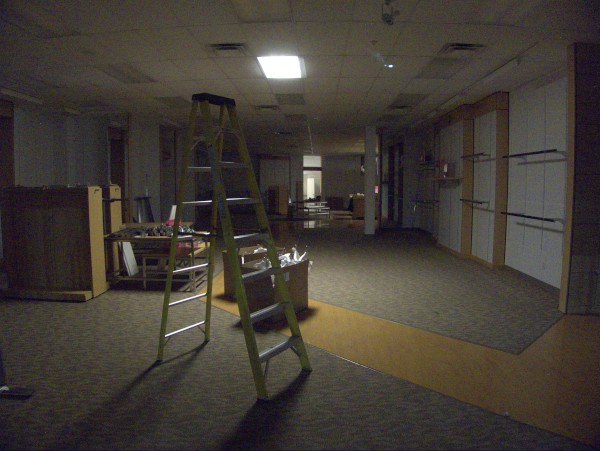 Here's another closing in Sparkleberry Square. I can't say much about Dress Barn other than they sell women's clothes, and I always thought it was an iffy name ("that dress makes you look like the broad side of a barn"). Interestingly (or not), Sparkleberry Square has now flanked Kroger with clothing closings, men's to the right of Kroger and women's to the left.
(Hat tip to commenter Andrew)
Posted at 11:06 pm in Uncategorized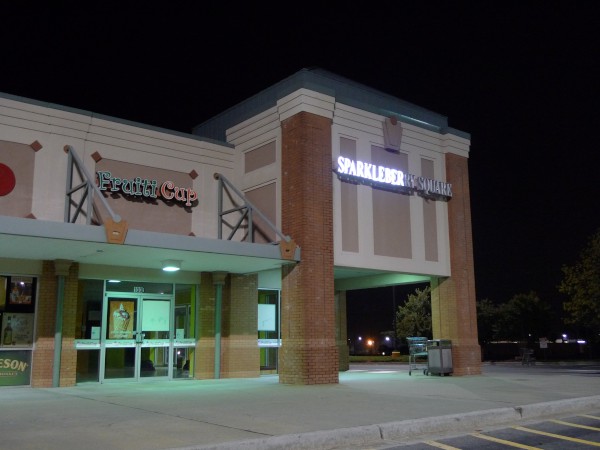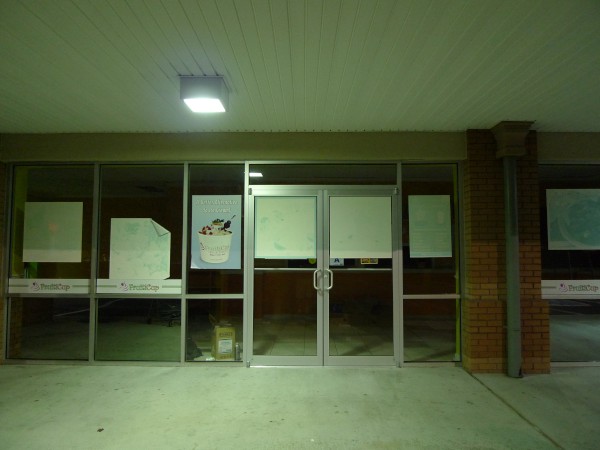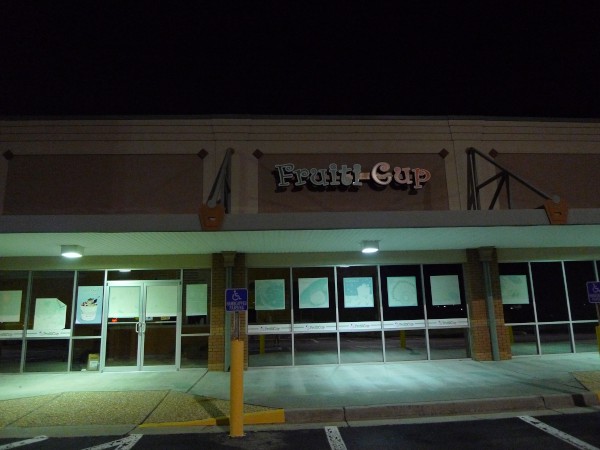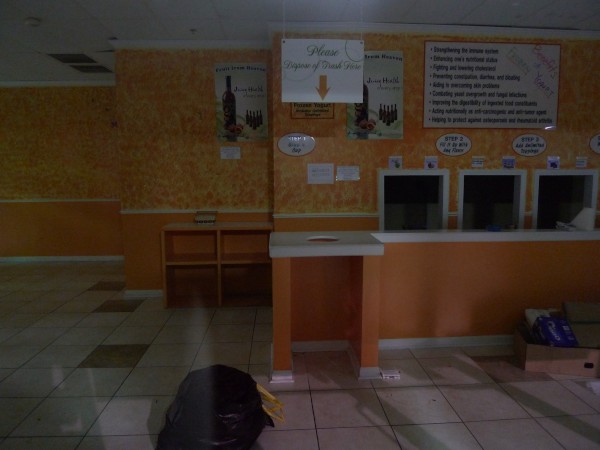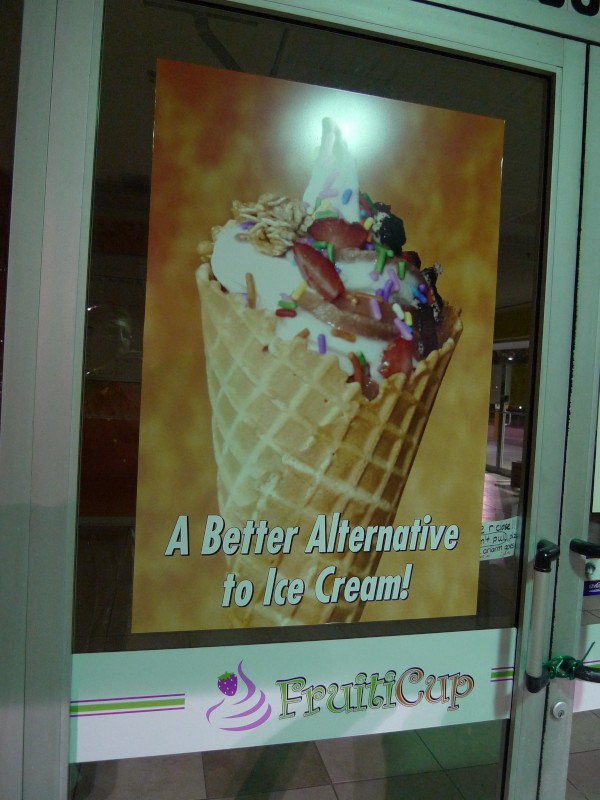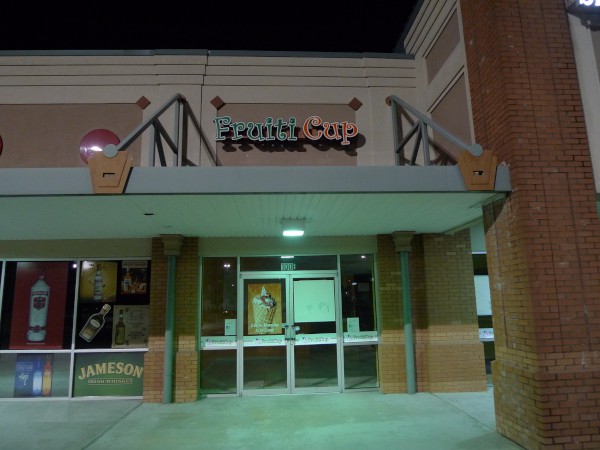 Noticed Monday night as I was coming out of Carrabba's that Fruiti Cup frozen yogurt in Sparkleberry Square was gone. Well, actually that's not quite accurate because I never knew it was there first, and I couldn't completely tell if it were going out or coming in. A little googling established it though, and puts the date sometime after 3 August.
This spot was originally, or at least previously Ritz Camera, and this closing adds one more to Sparkleberry Square's list.
UPDATE 12 September 2011 -- Some daylight pix: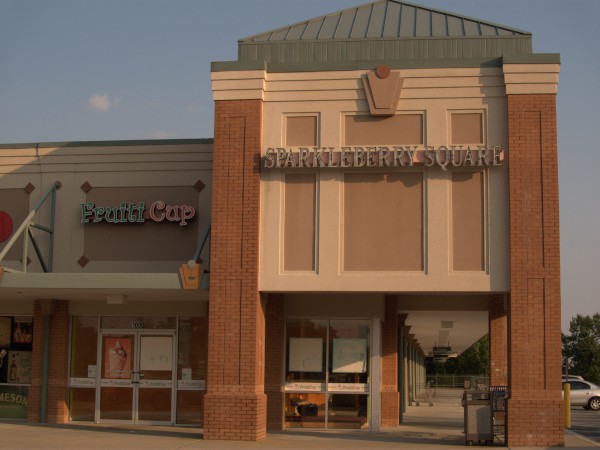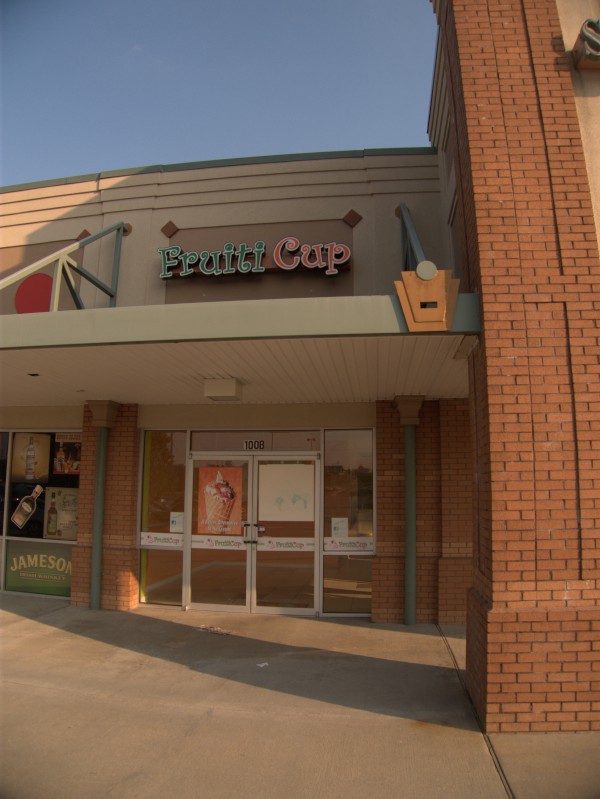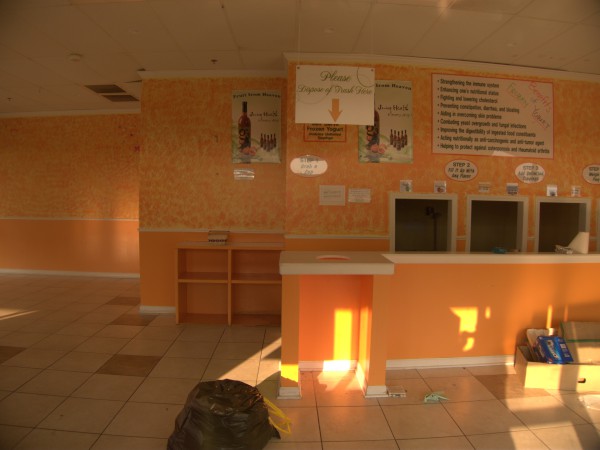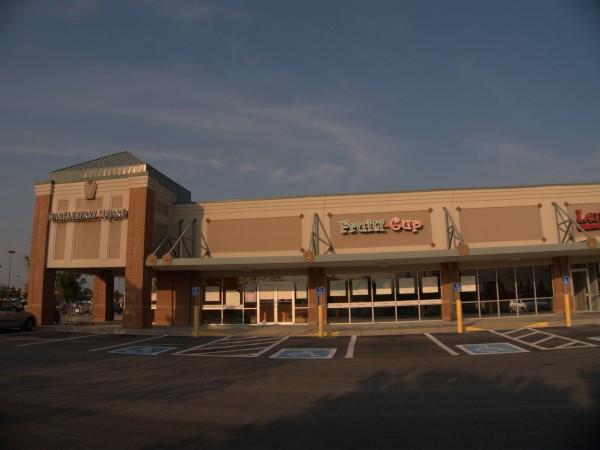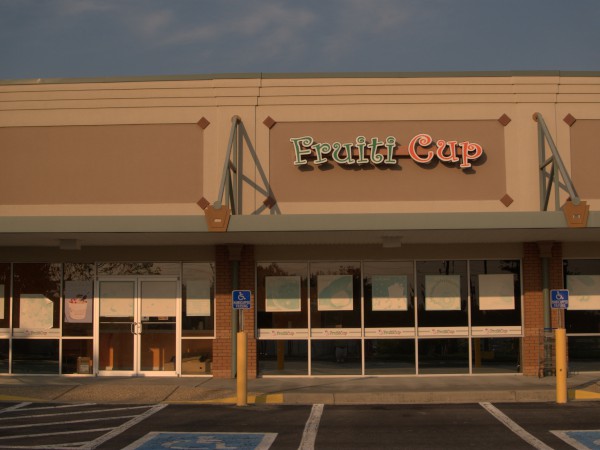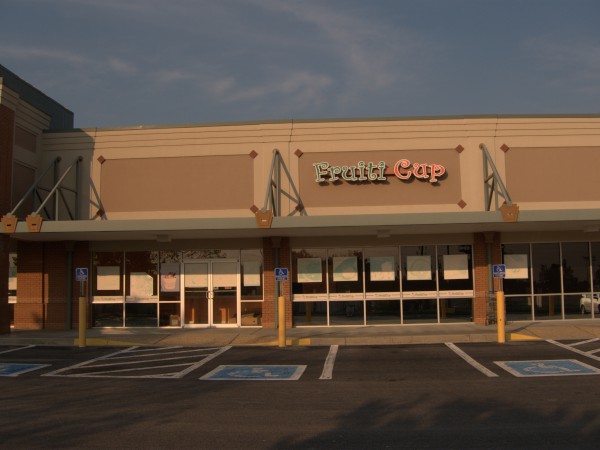 UPDATE 17 April 2012 -- Looks like it's to be Dickey's Barbecue Pit restaurant: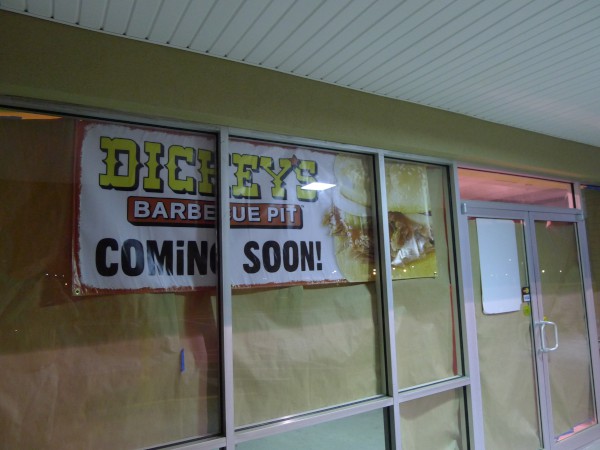 UPDATE 29 June 2012 -- As commenter Andrew mentions below, Dickey's is now open: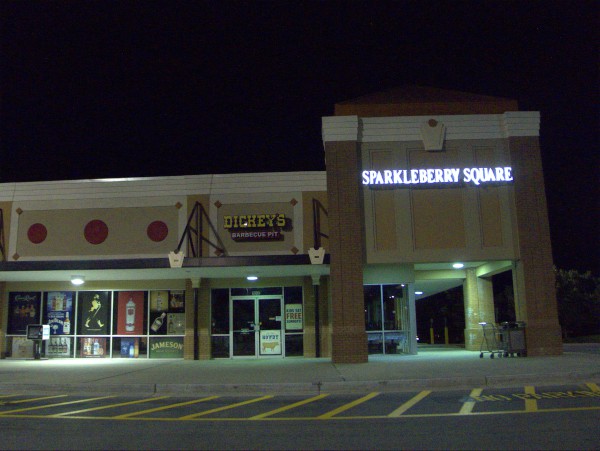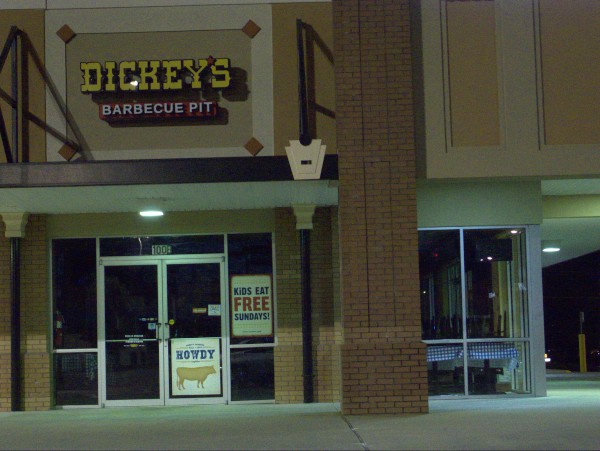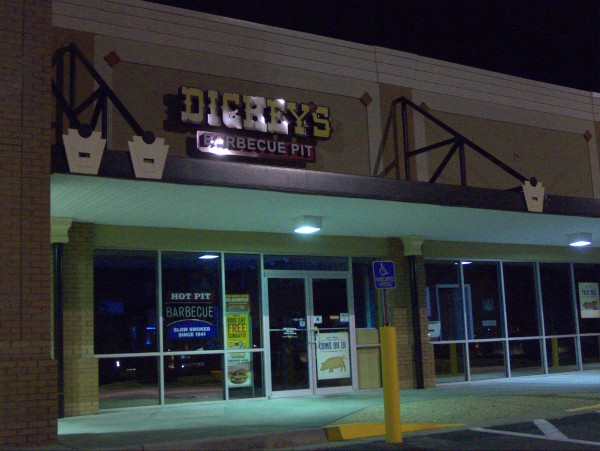 Posted at 1:12 am in Uncategorized
I probably should read The State more often than I do..
First -- Richland Mall is back:
Sandhill developer takes over Richland Mall

Village at Sandhill developer Alan Kahn has been tapped to breathe new life into Midtown at Forest Acres. And his first act will be to give it back its old name - Richland Mall.
Second -- Kroger at Sparkleberry Square is in trouble:

Kroger on Two Notch Road at Sparkleberry Lane is no longer open 24 hours. The store reduced its hours last week to 6 a.m. to 1 a.m. daily. Other stores in the Columbia area will remain open 24 hours. The chain reduced hours at some stores so they could continue to offer low prices during a difficult economy, a spokesman said.
As to the first, I, for one, have always refused to call the place either "Richland Fashion Mall" or "Midtown at Forest Acres", so I'm glad to see the "classic" name back. Kahn certainly has an uphill slog ahead there though. Given that even the new Village at Sandhill has had a lot of churn and ongoing vacancies, an older, already perceived as failing (because, it is failing) mall is going to have even more trouble luring tenants. I guess the obvious thing to try, as I think Sky City has suggested, would be to try to lure Macy's from Columbia Mall to the vacant Parisian or Bonwit Teller slot. Of course that would put paid to Columbia Mall so I'd rather something else happen..
As to the second, I think that after this, this, this, this, and this, I can say that Sparkleberry Square is "troubled". Kroger cutting its hours certainly does nothing to reverse that perception. For a restaurant, it's fatal sign #1. I don't think the Kroger will close, but I'll bet they're nostalgic for the rents at Decker Mall about now.
Posted at 12:17 am in Uncategorized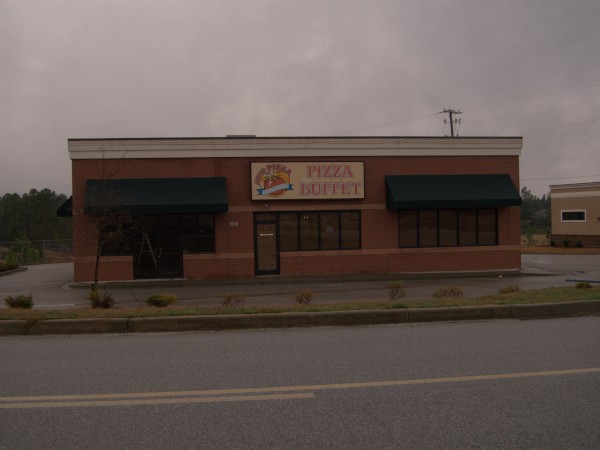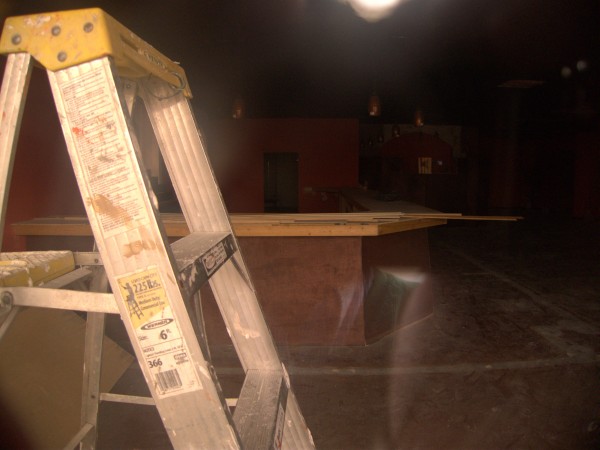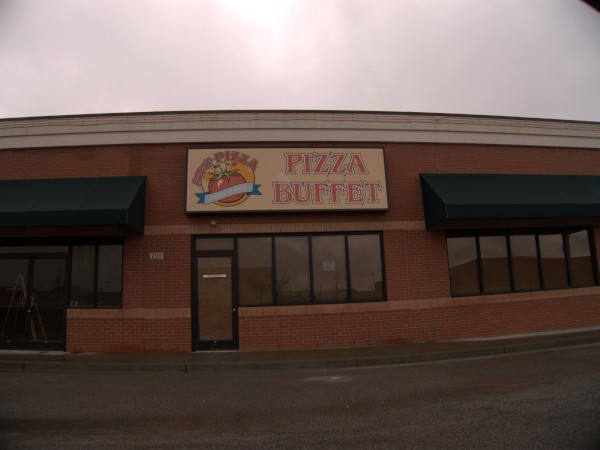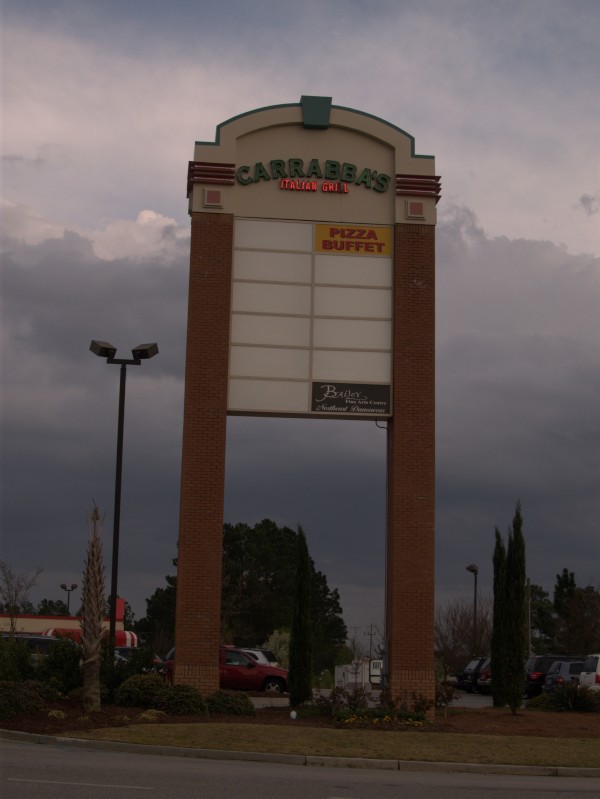 I was having lunch at Carrabba's on Sparkleberry last Sunday, and as I was leaving, noticed an almost empty signboard for the surrounding retail area. One item on the almost vacant space was Pizza Buffet, which struck me as a bit curious since it was so generic.
As it turns out, there is a road behind Sparkleberry Square (parallel to Two Notch) that I had never noticed before called Graces Way. There seems to be very little on it, but that's where Pappa's Pizza To Go was. I had never heard of it, but googling around finds enough other hits that I conclude it is a chain.
I don't generally do pizza buffets anymore since I want my pizza how I like it without having to wait for something that's even partially how I like it, so I have no idea how the pizza was there, but it seems to me they could hardly have chosen a worse location. There is no visibility from Two Notch or Sparkleberry, and the Sparkleberry signage is so small and generic as to be almost useless. Further, while the hope may have been that Graces Way would become a fairly busy road, there is almost nothing on it, and while I was driving down it, and parked taking these pictures, no other cars went by. Granted it was a Sunday, but Carrabba's was doing a very good business.
It appears they are doing interior work so perhaps something else will go in there though the location still seems chancy.
UPDATE 29 March 2010: Added picture of the Sparkleberry sign.
Posted at 11:10 pm in Uncategorized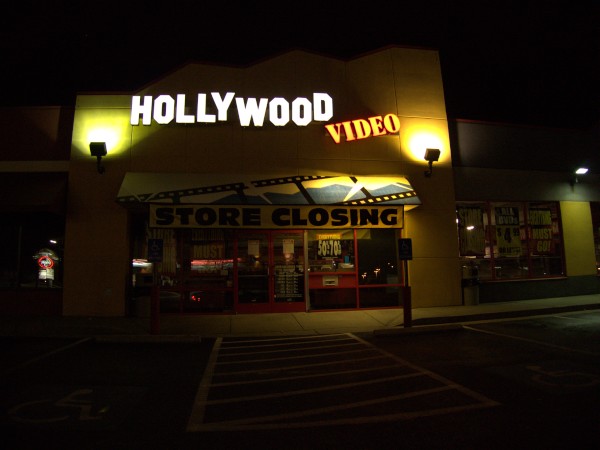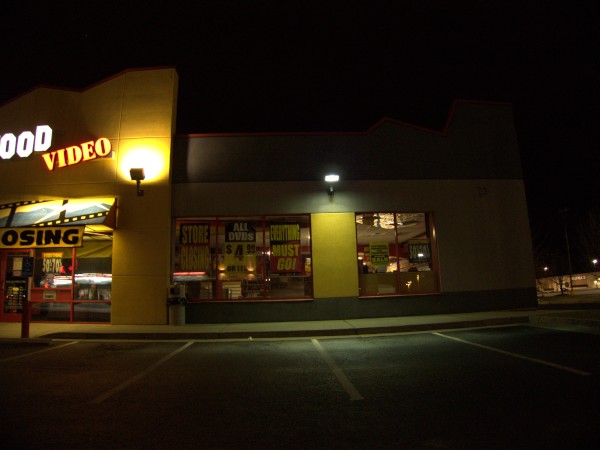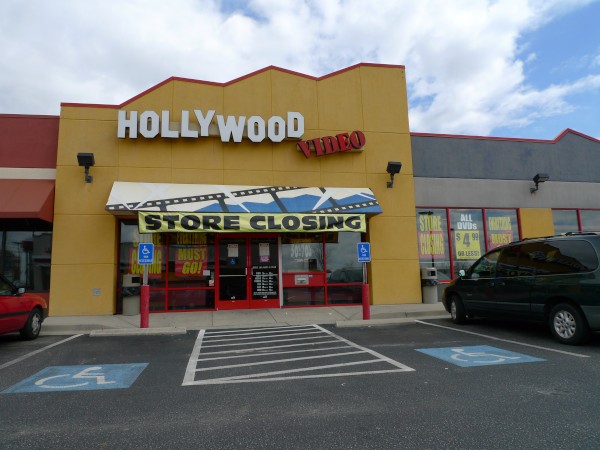 Well, I suppose it was inevitable, but the last Hollywood Video store in Columbia is closing. Previous closings for HV stores are here, here, here, and here.
Looking at their corporate web site and using the store locator, I see that they are also behind the Movie Gallery stores and are closing a number of those in the area as well. They (and Blockbuster) are just trapped in a non-viable business model, and I don't see any way they can come out of it. Even if the economy improves, Netflix, Redbox and online video (both pirated and legal) are going to continue to eat their lunch. Still, you should be able to get some decent bargins there right now.
With this closing, I think the strip containing Hollywood Video, Sparkleberry Square, can be officially described as "troubled".
(Hat tip to commenter Thomas)