Archive for March, 2009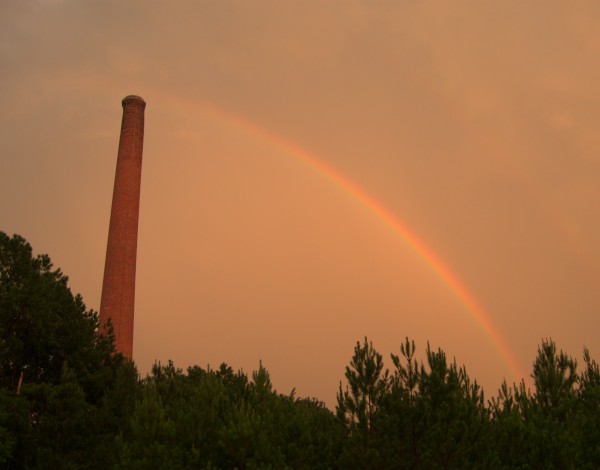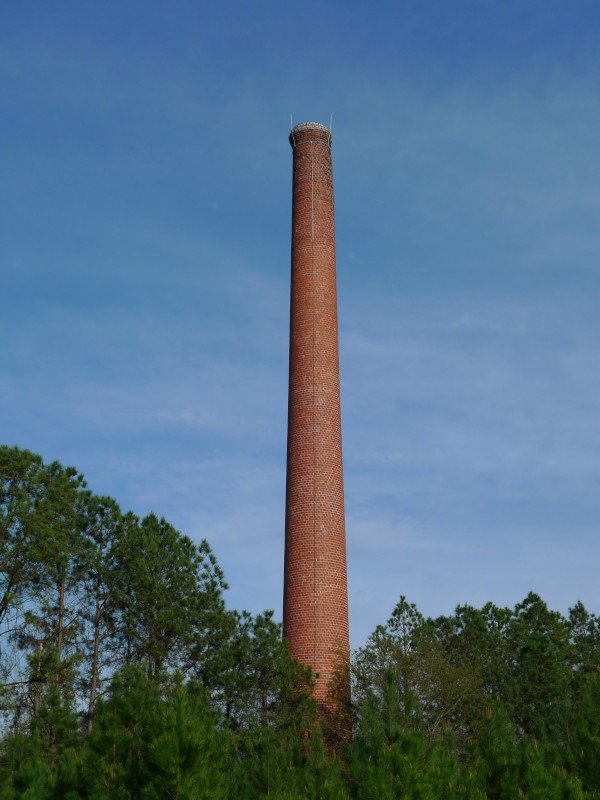 Sometimes a cigar is just a cigar--
Posted at 11:47 pm in Uncategorized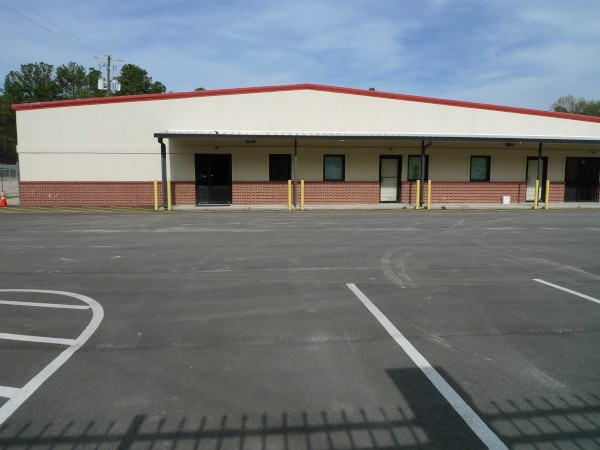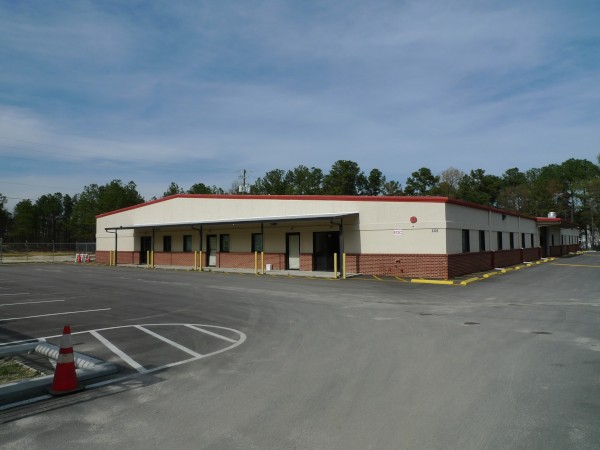 I'm not absolutely certain that this was the Foxcroft Skating Rink but judging from some of the comments on my Redwing Rollerway post, and a recent comment on Have Your Say, this building appears to be the only one plausible. I was never a skater back in the day, so I had no personal experience with the place. Currently the building is a school.
Kneece Road is an odd little dirt road that connects Brookfield Road (where RNE High School is) with O'Neil Court (formerly Hunt Club Road on that stretch) and runs behind the U-Haul center and the old Decker Mall. I drive down it from time to time when I'm going to my storage unit or just for fun, though it can be very iffy on your suspension at points. There is a Foxcroft Road two blocks further up Decker Boulevard. I have no idea why the rink was called that rather than "Kneece Skating Rink" or "Brookfield Skating Rink" though.
Posted at 2:35 am in Uncategorized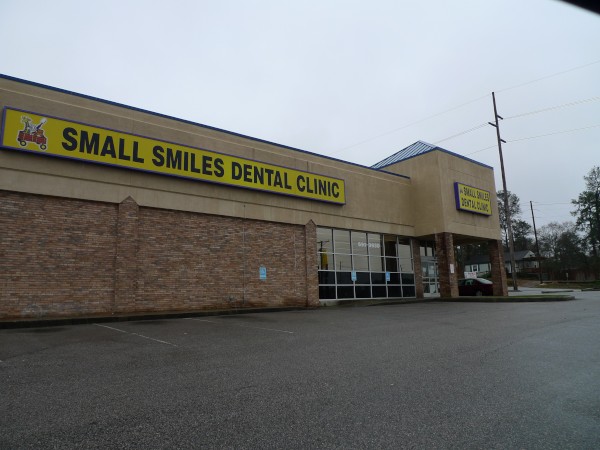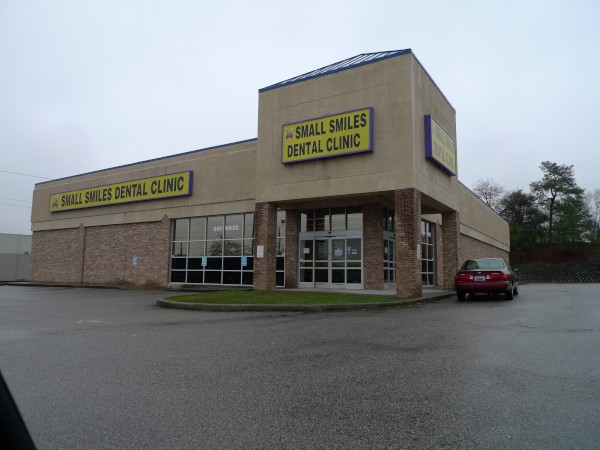 Here's another closed Eckerd store, although google indicates that this one was open as recently as the Rite Aid transition, which is not how I recall it. This store sits at the intersection of Two Notch and Beltline, and is now a children's dental clinic.
I'm pretty sure this location also once housed the local AMC dealership, name now forgotten, where I bought a really awful, I mean world class bad, car, though all those structures have since been torn down (or if they were like the car, may have just fallen apart..)
UPDATE 25 January 2012 -- Interestingly, the building directly across the street (in the old Payless Shoes/Carzzz location) is also becoming a dental clinic.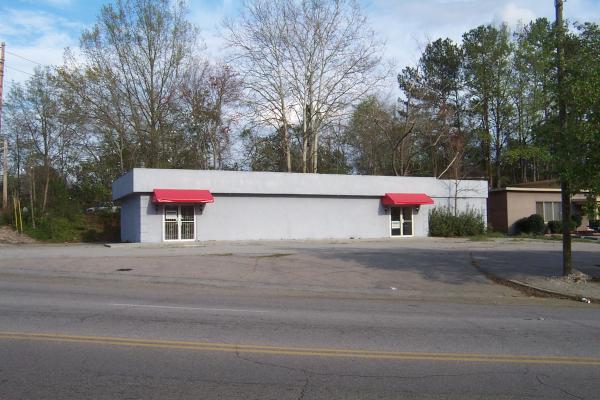 By all rights, I ought to remember Ravenwood Pharmacy. It was in the 1970 phonebook, so I would have been nine at the time, and I recall a lot of stuff from 1970. It was also near to Trenholm Park where we went from time to time and shared a parking lot with the Covenant Road Piggly Wiggly where my mother sometimes (though admittedly not often) shopped. Add to that the fact that presumably it lasted several years beyond 1970, and I'm a bit mystified by why I can't recall it at all. I suppose the fact that we filled almost all our prescriptions at Campbell's Drugs must explain it.
This real estate listing says the building was built in 1960, and I assume the Pharmacy was the first tenant. The second tenant was Forest Lake TV in its second location. I can't recall any tenants after that (though I would have been living out of town at the time) -- certainly the building has been empty for at least five years now.
UPDATE 31 July 2010 -- Looks like it's to be a thrift store now: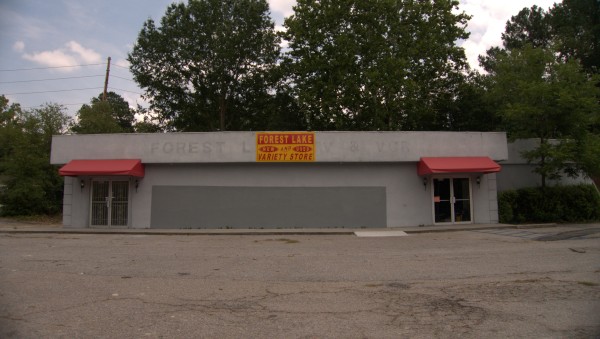 UPDATE 11 September 2010 -- Apparently that's not going to happen: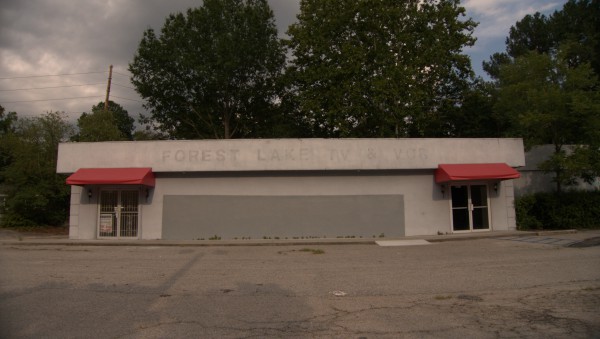 UPDATE 20 June 2016 -- Something looks to be happening here again: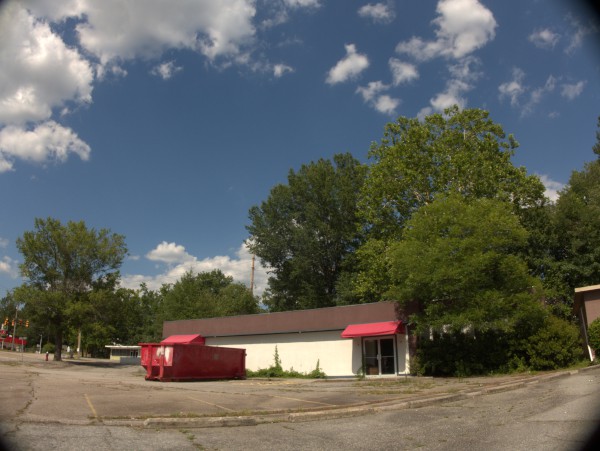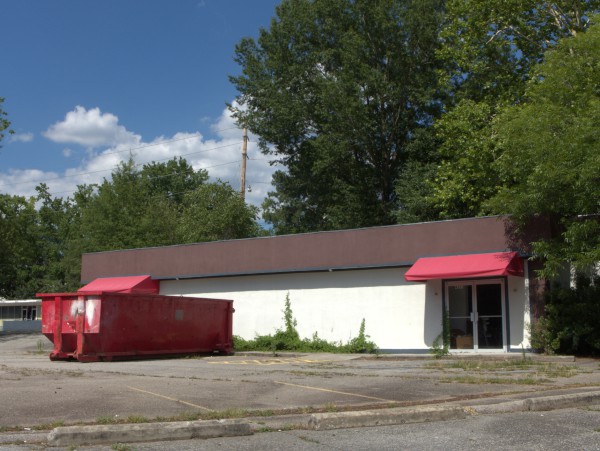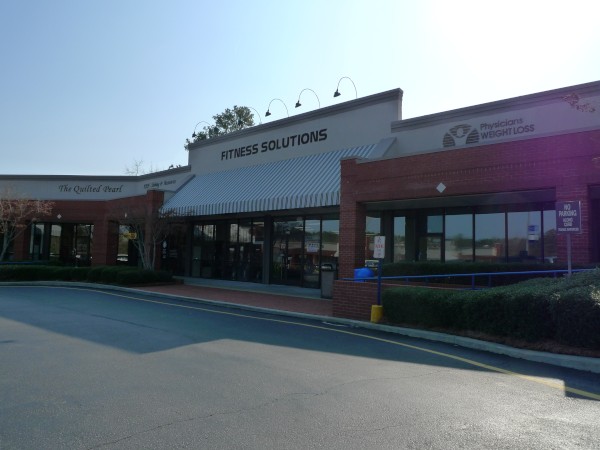 I've written before about Capitol News Stand on Main Street and Capitol News Stand on Saint Andrews Road, but this branch was on the other side of town behind the Two Notch Road K-Mart on O'Neil Court.
My memory is that the building (which now houses a fitness center) was somewhat smaller than the Main Street space. It definitely had fewer paperbacks and foreign magazines. I believe that it was the last branch that Capitol established, and I would say it started sometime in the 80s and I had the feeling that it never really established itself. The location can't have helped -- everything that goes into O'Neil Court fails, and it was somwhat lacking in a raison-d'etre. Downtown had the best selection, so if you really wanted a news-stand type thing, that's where you would look, and Waldenbooks in Columbia Mall was just a few blocks away, so if you wanted a book, that's probably where you would look first. It did have the advantage of convienience over Walden's -- you could park close by and dash in if you just wanted a newspaper where as Walden's had no outside entrance.
I forget exactly when the place closed. It certainly pre-deceased the Main Street location by a good number of years, but I think it outlasted the Hampton Street and Saint Andrews Road Locations.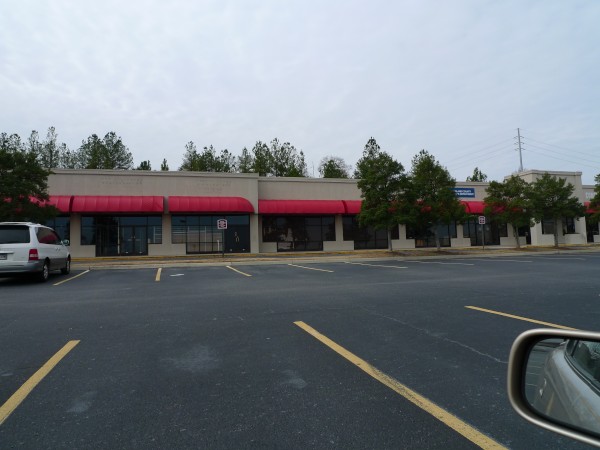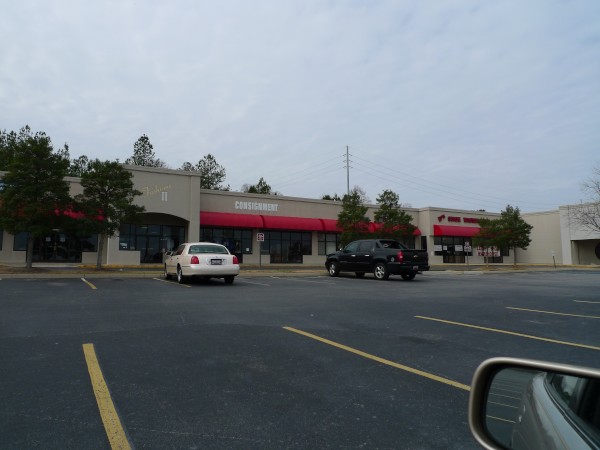 I can't quite recall which storefront in the now largely defunct Capitol Centre plaza behind Columbia Mall housed Aliens & Alibis, but it was one of the ones pictured here.
Aliens & Alibis was the right store at the wrong time. It was a book store which as the name suggested, concentrated on science fiction and mysteries, something I would have been all over in the 70s or 80s. In the event, I think I went there twice. They had some nicely offbeat SF and mystery books -- things like art books of classic pulp covers and small press editions of classic authors -- stuff that wouldn't show up at Waldenbooks.
Unfortunately, they started not in the 70s or 80s, but in the 00s, and the market had completely changed. First, Waldenbooks and The Happy Bookseller were no longer the main in-town competition. Both of those stores were relatively small spaces and simply couldn't stock obscure genre books in depth. That wasn't true, though, for big-box booksellers like Barnes & Noble or Books-A-Million. Second, there was The Internet and the Amazon.com juggernaut. Now virtually any obscure small-press reprint or obscure new book by your favorite (though bottom list) author was available with a mouse click and suddenly the only thing a store like Aliens & Alibis had going for it was the serendipity factor -- going in and seeing something you didn't know existed, and that just wasn't enough, especially in the face of Amazon's improving "you might like this" technology, and internet discussion groups. I saw the same thing happen to Atlanta's Science Fiction and Mystery shop several years earlier, and was actually a bit surprised to see a Columbia operation try the same thing.
I believe that after the shop left Capitol Centre, it went to Garners Ferry and then became a web operation which is probably the only way to do it now, and good luck to them.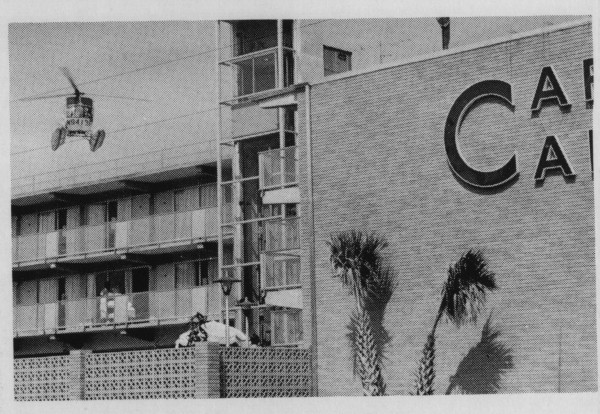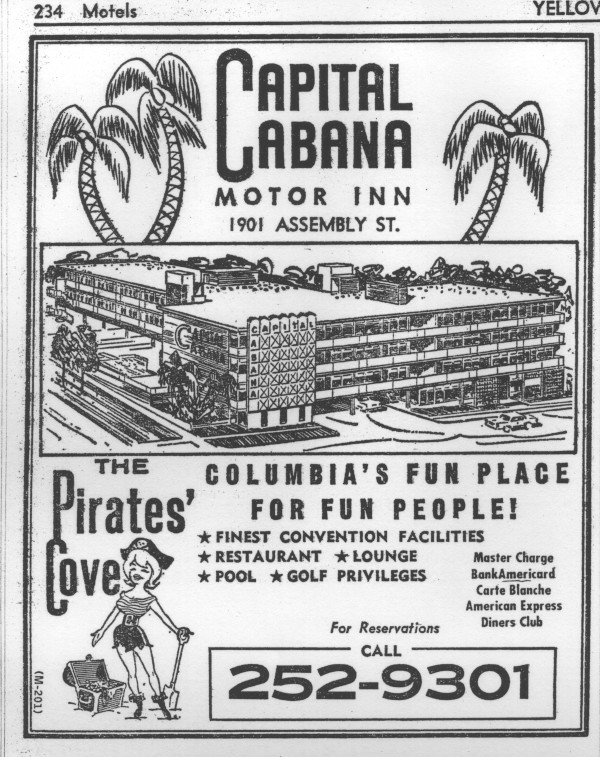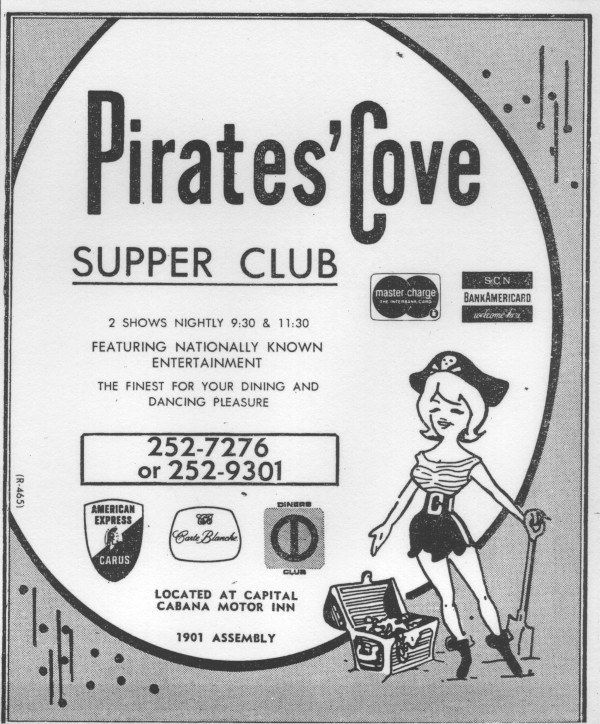 Going by this ad from the Southern Bell Yellow Pages, Capital Cabana Motor Inn was a happening sort of place in 1970. Judging from the graphic, the place was huge, and from the text, unaffiliated. Nowdays you would expect something that size to be part of a national chain, if only for reservations purposes. (In fact, Ocean Boulevard Myrtle Beach is about the only place where unaffiliated motels seem to hang on). I've got to admire going for a tropical island theme in landlocked Columbia (where even the state palm has a hard time in the winter and cool sea breezes are notably absent in the summer). Bring your BankAmericard!
Google suggests that 1901 Assembly is currently the Columbia headquarters for BB&T (though of course in today's environment they could be gone by the end of the week..). I'm not sure when the Capital Cabana was torn down, but since I can't really remember it at all, I'm going to say sometime in the 1970s.
I love the graphic for the Inn's attached restaurant The Pirates' Cove Supper Club. Today, it would set up all sorts of opportunities for quips such as I'd sure like to plunder her booty, but of course I would never stoop to anything like that.
UPDATE 2 Apr 2009: Added the seperate 1970 Yellow Page ad for The Pirates' Cove (now you can see her nose if you look closely).
UPDATE 11 July 2011: Added picture of a helicopter apparently about to land on top of the Capital Cabana from an old Chamber of Commerce promotional book.
Posted at 10:57 pm in Uncategorized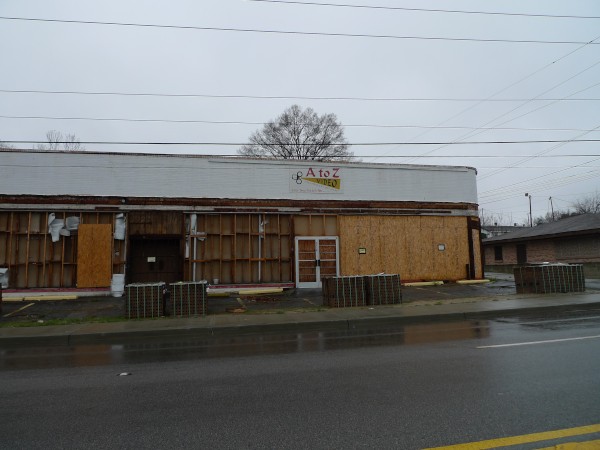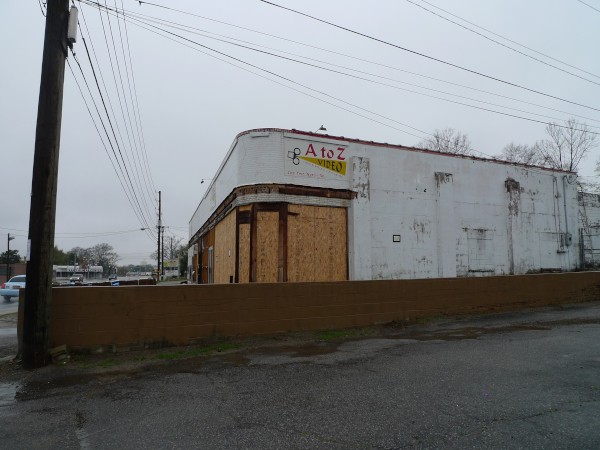 A To Z Video was on Two Notch Road next to Dave's nightclub and almost across the street from the Aaro Rental Center. Although I never went in, I was under the impression at the time that the salient fact in the name was that 'X' was between 'A' & 'Z' -- however, looking at these pictures I notice "videogames" so perhaps I was wrong about that.
At any rate, the place did not last long, and sat empty for quite a while. I figured I ought to go ahead and take these pictures despite it being so drab and rainy as it appears that the building is about to go under construction and I expect to see something new here before too long.
UPDATE 12 September 2011 -- The building has been refurbished somewhat and is now up for lease, though the A To Z signage so far remains: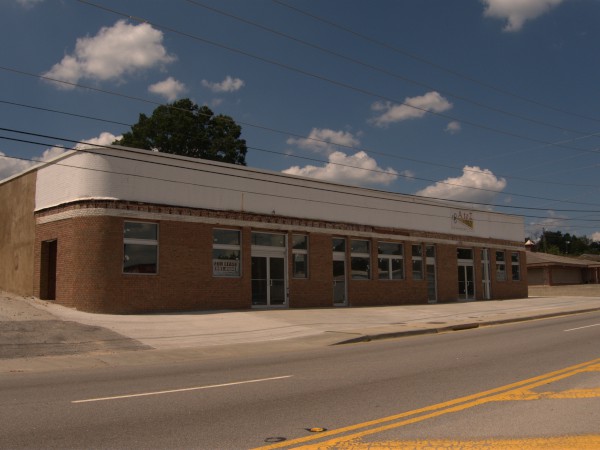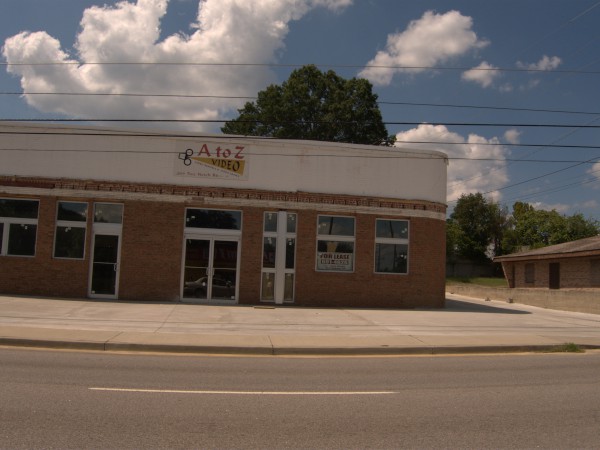 Posted at 9:48 pm in Uncategorized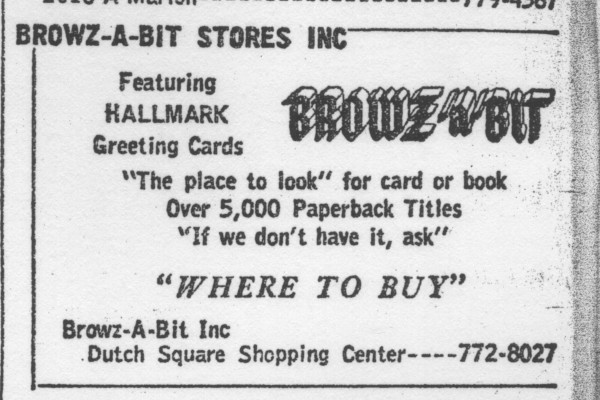 Browz-A-Bit was the "second" book store in the old Dutch Square, with Waldenbooks definitely being the "first". I'm a little hazy on the exact location of the store, but it was on the Bush River Road side of the mall, and I think was a bit up the "hill" from Woolworth's.
In the early 70s my mother would often drop me off at the mall while she and my sister went off to do something different. I guess I would have been around 12 or 13, old enough to have stayed home alone, but I always liked the Dutch Square experience. At the time, I had a weekly allowance of $0.60, and could earn $3.00 mowing the lawn, so I would have a few dollars in my pocket to hit the bookstores.
Sometimes I would walk down to the old Book Dispensary location in Boardwalk Plaza on Bush River Road, but mostly I would hit Waldenbooks and Browz-A-Bit. While Walden's had the "legitimate" book trade cornered, with hardbacks (which I would never be able to afford), some depth in stock and the current New York Times bestsellers, Browz-A-Bit tended more towards "men's adventure" (Doc Savage, The Destroyer, Nick Carter etc), TV tie-ins, the sensational (they seemed to be big on "Edgar Cayce: The Sleeping Phrophet!") and the non-book: Hallmark cards, little gifts, the Weekly World News etc..
While I can still remember very well some of the exact books I bought at Walden's during those days, I can't do that for Browz-A-Bit. I feel sure I would have gotten some Doc Savage books there (and if you only saw the cheesy 70s movie, you should seek out the original pulp adventures, the best of which are cracking good yarns).
If I recall correctly, the store was set up with two rows of wire books racks on the left side of the shop with the greeting cards and knick-knacks on the right side of the store and tabloids by the cash register, which was in the middle-front of the store.
I'm not really sure when or why Browz-A-Bit closed, but I think it was in the 80s, well before the big box bookstores came to Harbison (or indeed to Columbia at all). Maybe it would have helped to have called it Buy-A-Bit instead..
Posted at 10:55 pm in Uncategorized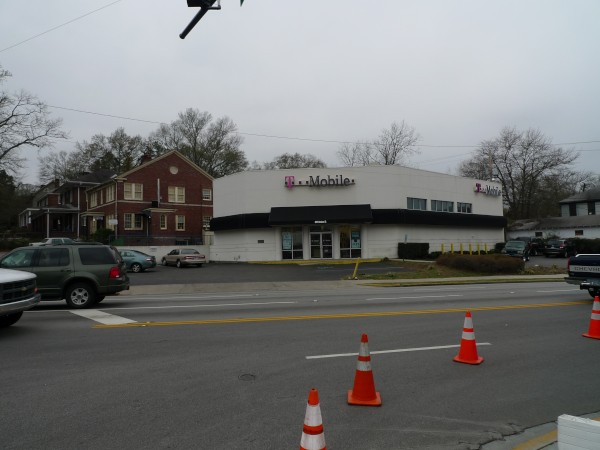 Zesto's is a Columbia area chain of almost-open-air walk-up restaurants. The older ones are generally odd in that while there may be a dining room, it does not connect to the order counter (which may or may not even be "inside"). The chain is greek influenced, and probably does most of their business in chicken, but for me the attraction has always been chocolate-dipped soft-serve vanilla cones. There's almost a little ceremony as the server fills the cone, then upends it and dips it into the vat of molten chocolate. Then, you take it, wrapped in a little napkin which soaks up the vanilla which is already running down the cone to your hand and, and bite into the just hardened shell -- perfection.
This lot on the corner of Harden & Blossom streets was for many years home to the Five Points Zesto. I believe the store was actually built as a Zesto and had a large ice-cream cone "statue" similar to the Triangle City store in Cayce. Although I typically went to the Forest Drive store across from Richland Mall for my chocolate-dip fix, I recall being quite sad when the Five Points store was demolished. What was even sadder is that the location would probably still be viable as a Zesto's, but the store which replaced it, a Record Bar offshoot called Tracks failed pretty quickly. Here's what commenter Hal had to say about Tracks:
I also worked at the Columbia Mall Record Bar. I worked from November of 85 untill the store closed in 91. Brian is correct in that there where two Record Bars in Columbia at the time. One at Dutch Square, which was store #9, and the one at Columbia Mall, which was store #94. The Tracks in 5 points open around 89 or 90, and was the mack-daddy of it's day. It was the first two story store, which they later regreted because it had no handicap access to the second story, and it was a video rental store. It also got national news coverage when a drunk plowed his car straight trough the Blossom street wall. Hillarious.
At any rate, Tracks didn't last there too long. I forget if there was anything else before the current tenant, T-Mobile, which has been there at least five or more years.
The traffic cones, and the general drab & gray aspect of the picture are due to it being taken the day before the Five Points St. Patrick's Day fest -- what great weather they had this year!