Posted at 6:56 pm in Uncategorized
Doing the post on Forest Lake Park made me think of Forest Lake TV.
Why? Because the original (as far as I know) location for Forest Lake TV was in the Forest Lake Shopping Center, directly across from the park: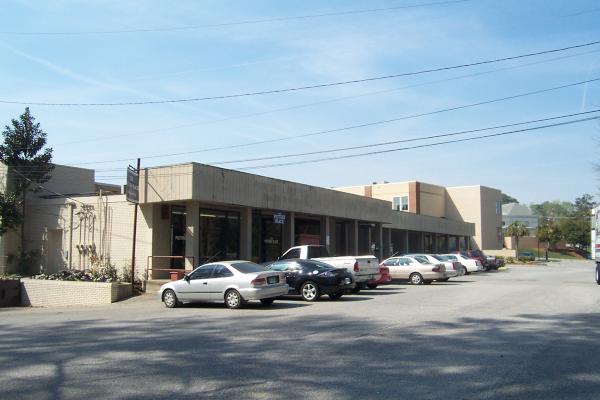 You can still see the stenciling for "Forest Lake TV" across the top edge of the building, though there is now a frame shop in the location. Back in the 60s and early 70s, this was the place we called whenever one of our TVs was acting up. In the case of our floor model (a large 25-inch) black & white behemoth, they would make a house call, fix it there if they could, or otherwise cart it back to the shop. In the case of our 12-inch black & white portable (purchased after I assured my mother that I could fix the big tv -- I "fixed" it all right..), we would cart it to the shop ourselves. In some cases, when the fix was more than just changing a tube (kids, these were like incandescent light bulbs inside your tvs and radios! :-), the set might sit for weeks at the shop awaiting parts. This always seemed unreasonable to me (a kid missing all his shows..) but my parents seemed to feel the guys there knew what they were doing. I think we called them a few times after getting our color TV, but gradually it seemed that TVs were something you didn't fix. New sets were full of more integrated circuits and fewer components that could be swapped out one by one (to be fair, new sets were generally more reliable from the get-go as well).
I think this trend hurt Forest Lake TV, and sometime in the 70s or 80s, they moved to a location I considered a bit more out of the way and a little downscale, a site on Covenant Road near Trenholm park: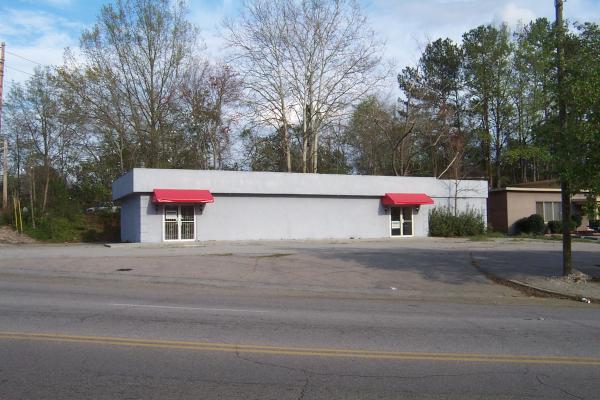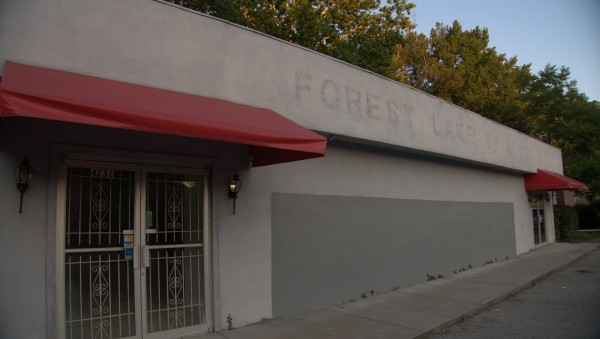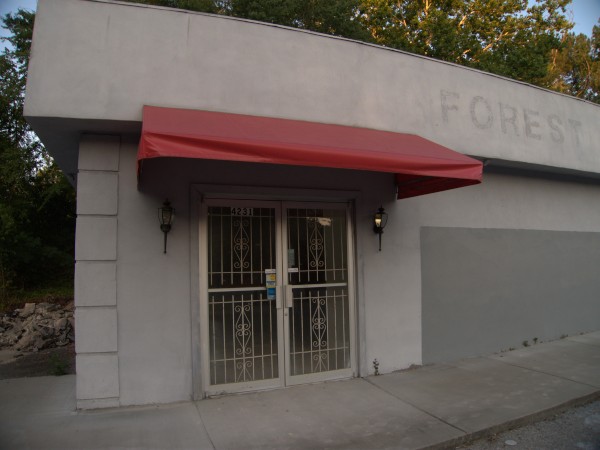 In this case as well, you can still see the stenciling for "Forest Lake TV" if you look hard. I think they had also added "and VCRs" at this time as well. I was living out of town by this point, so I never brought anything to them, and I'm pretty sure I would have heard if my sister or parents did, but I would drive by from time to time, see that they were still open and think "that's nice".
Sometime after that, they moved again, just a little ways down Covenant to a place that struck me as a bit more downscale still: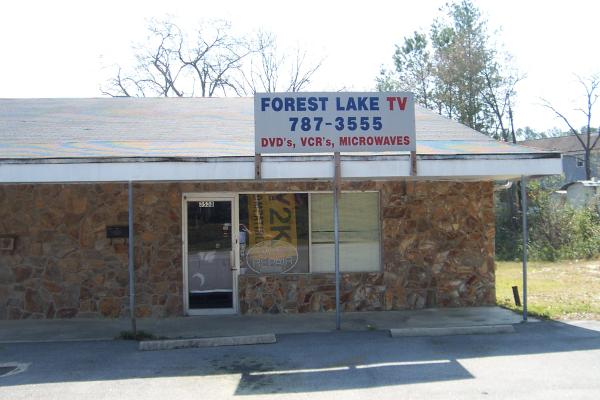 I'm guessing from the "Y2K" (remember that?) signage in the window, that this would have been the late 90s. After that, well, VCRs got so cheap that nobody ever had them repaired, and I don't think DVD players were even considered fixable. Sometime in 2006, I think, I was back in town, and the old color TV finally blew. I debated whether it was worth having fixed (it was about a 1978 model..) and called Forest Lake TV to see what it would take. I got an answering machine with a Mexican accent, so I'm guessing the place changed hands at or before the final move. I never followed up on it because I started moving my stuff back into town and just set up my TV from Aiken, and by the time I considered it again, TV technology was clearly changing too quickly to even consider fixing the old set.
Out of curiosity, I did call the number on the sign after taking the picture a few days ago, and it's been disconnected, so I guess the place's 40 year history has come to a close..
UPDATE 3 Feb 2009: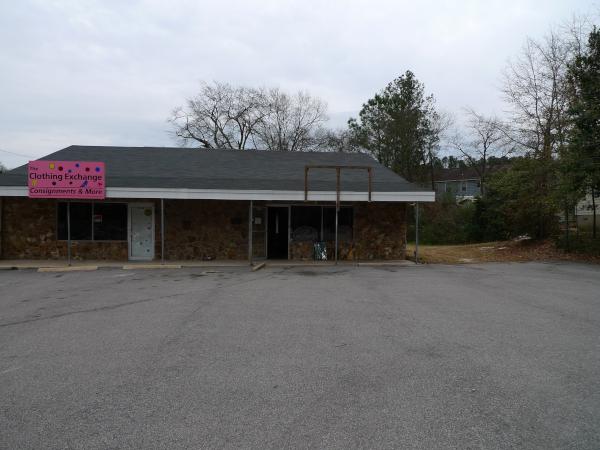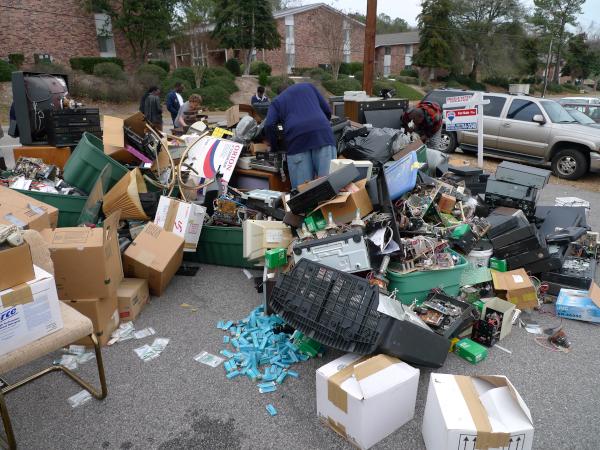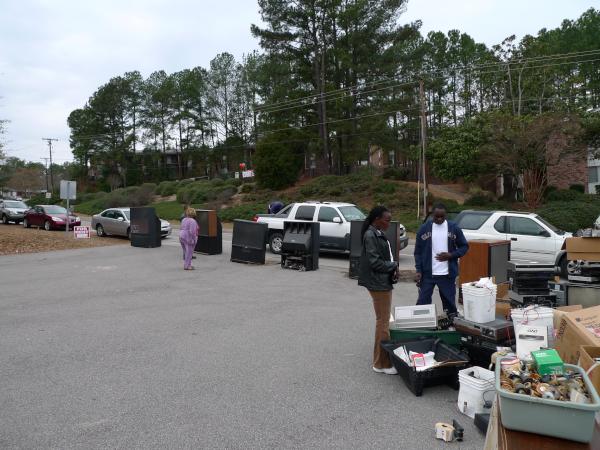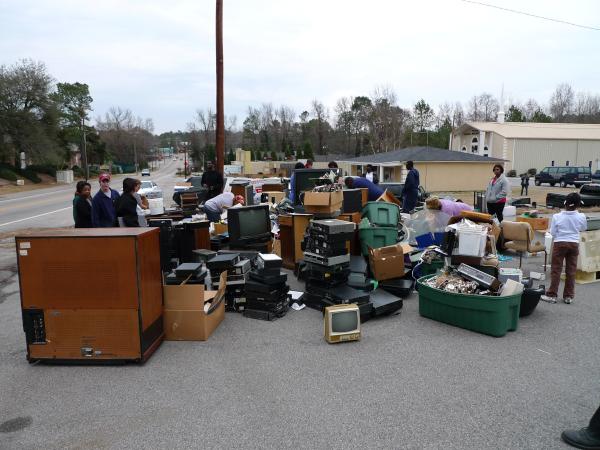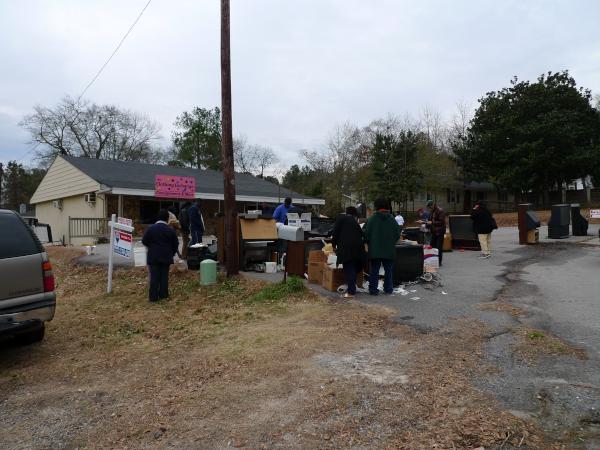 When I drove by the Forest Lake TV building today on my way to Moe's, there was a crowd gathered outside. I turned around and went back to see what was going on. The whole side of the parking lot was littered with VCRs, TVS, cassette decks, tuners amplifiers, vaccum tubes -- the works, and a crowd of people had gathered to rummage through the detritus.
I talked with one guy who seemed to be in charge of the building, and he said that the rent had been unpaid since last May and they finally got the OK from the Sherrif to clean out the building and throw everything to the curb. He expressed some amazement as to the sheer amount of equipment stored in the space and said it took several hours just to get all of it out and that there had been much more before people started picking through it (which he was encouraging). There were even enough large screen TVs to cordon off most of the parking lot to keep traffic from getting out of hand.
UPDATE 7 July 2010: Added two more pictures of the second location exterior above. For the record, the second building is not on Covenant Road as I said above, but on Bethel Church Road (and I have updated the post title to that effect), and is in fact, the old Ravenwood Pharmacy building. Also, it appears someone (perhaps the church next door?) is now using the end of the pharmacy building closest to Dollar General for storage: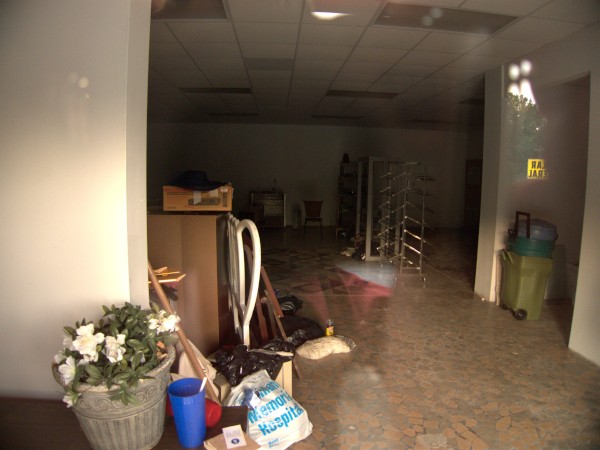 14 Responses to 'Forest Lake TV, 4831 Forest Drive / 4231 Bethel Church Road / 3538 Covenant Road: 2007 (?)'
Subscribe to comments with RSS or TrackBack to 'Forest Lake TV, 4831 Forest Drive / 4231 Bethel Church Road / 3538 Covenant Road: 2007 (?)'.
Leave a Reply