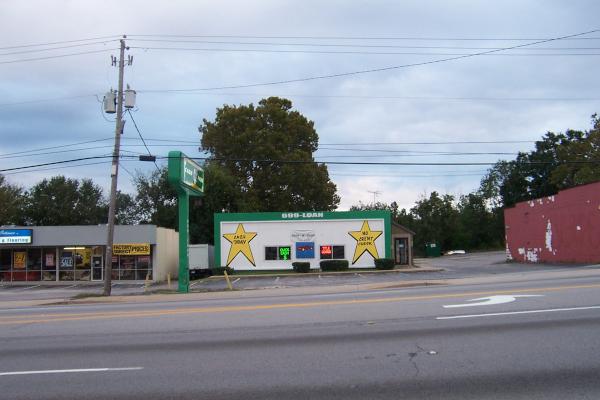 In a comment on a previous post commenter "Jonathan" identified this building on Two Notch Road across from Columbia Mall as Continental Sound. If not for that, I probably would just think of it as "that radio building".
The place is now some sort of loan operation called Cash -n- Dash and has been remodeled, so you can't tell it now, but at one time the whole front of this building was designed to look like a dashboard radio/cassette player. What is now the left star was then the volume knob, while the right star was the tuning knob. I believe the front windows did not have the opaque blue window then so they looked like a cassete insertion slot. I also believe that there was a digital tuning display above the windows. (Though they were not common in cars until later). In the beginning, it was set to "104.7" which was WNOK, which was a rock station at the time. Later, for whatever reason (advertising bucks, new manager whatever) the tuning of the building was changed to another station. My memory says it was WCOS, which was a country station, but I could be wrong.
At one time Continental Sound commercials were ubiquitous on Columbia television, so I really should remember exactly what they did. In fact I have only a vague idea that they sold and installed car stereos because the rest of the commercial was what drew my (and everybody's) attention. Their commercials were always tagged by a girl delivering the catch phrase Sounds Real Good! in a really appealing manner. I say "catch phrase", but I believe it was just meant to be a one-time commercial closing line, until she sold it so well that they went on to feature it in every commercial they did. Again, my memory may be playing me false as it often does, but I believe they actually used the same footage all the time, so perhaps the girl was never able to give the line the same oomph in later readings. Eventually, they did change it -- sort of. The original "sounds real good" girl was average looking -- perfectly OK, but not actress/model quality in the looks department. The final "sounds real good" commercials used a sexier girl who lip synched to the original girl's line.
I don't know what happened to Continental Sound. I think they folded or moved in the 1990s. Google suggests that after that the building was home to Big Apple Music which, I think, left the building's radio motif alone. I can understand why Cash -n- Dash wanted to change it -- it's certainly not what you would expect for that type of operation and would tend to confuse casual traffic, but it's still a shame to lose such a unique building. Though I suppose in a few years parents would have had to explain what a "cassette" was anyway..
UPDATE 14 September 2021: Adding map icon and updating tags.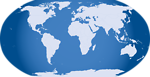 20 Responses to 'Continental Sound, 7032 Two Notch Road: 1990s'
Subscribe to comments with RSS or TrackBack to 'Continental Sound, 7032 Two Notch Road: 1990s'.
Leave a Reply