Posted at 10:30 pm in Uncategorized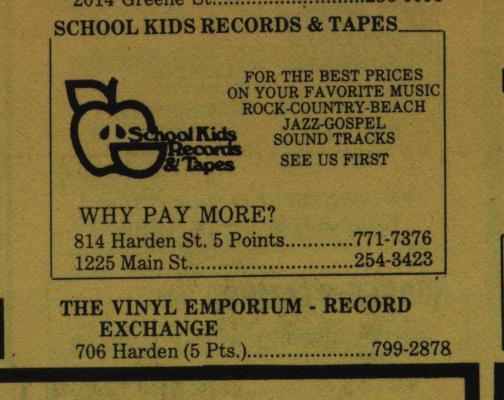 I've written about The Record Bar, Budget Tapes & Records, and Coconuts Music. School Kids is yet another record store that isn't around anymore.
As I recall it, the Harden Street location was in the same block and on the same side of the road as the old Eckerds and that hot-dog place that used to be at the corner of Harden and Greene. I can only definitely remember going there once, while I was living on campus in the early 80s. In those days, I had very little money given that I had no job and was on the "ticket book" plan for meals, so my usual destination when I would go record shopping was Papa Jazz used store, and after that, Peaches. I can only recall School Kids in kind of a negatively-defined way. I just remember thinking something like Hey, this place isn't as good as Peaches. It was certainly a smaller store than peaches, I remember that for sure. As for the other, who knows what I would think nowdays? My tastes have certainly expanded, and the store must have had something to keep it going a block from Peaches. (Although I suppose in the end, neither chain did..)
I see from the Yellow Pages ad that there was also a Main Street location. I don't believe I ever visited that one. Mapquest says it's in the first block of Main, near and on the same side of the street as the old Capitol Restaurant. I'm a little fuzzy on what's in that block now, but it wouldn't surprise me if the building were gone. At any rate School Kids has long since graduated from this vale of tears.
12 Responses to 'School Kids Records & Tapes, Harden Street and Main Street: 1980s'
Subscribe to comments with RSS or TrackBack to 'School Kids Records & Tapes, Harden Street and Main Street: 1980s'.
Leave a Reply