Archive for the 'groceries' tag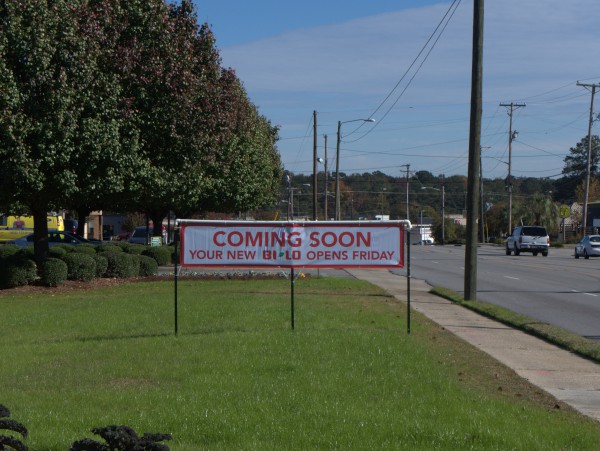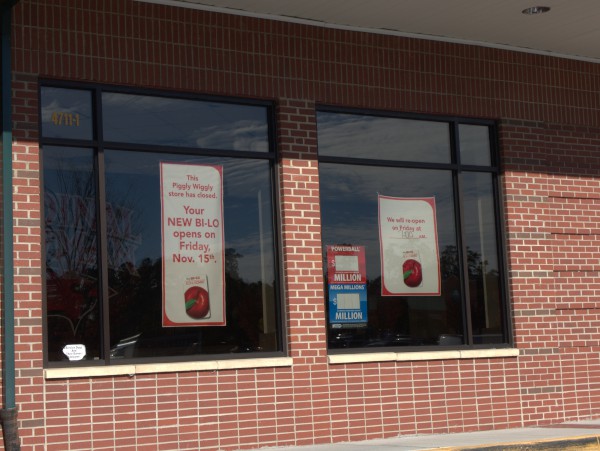 As above, this BI-LO opened on 15 November 2013, giving them about a three year run after taking over from The Pig.
I don't understand the rationale for closing this particular store, as it seems to have some pretty big plus factors to me. The groceries in this area are Kroger on Forest at Beltline, Trader Joe's at 4516 Forest, Fresh Market and Publix at Trenholm Plaza, and arguably Wal-Mart at Forest & I-77. Of those, Fresh Market and Trader Joe's are upscale specialty stores that are a different market than a general grocery, Publix is cramped and has bad parking, Kroger has bad parking and so-so location, and Wal-Mart .. is Wal-Mart. Against that, this spot has good parking, a large layout, and lots of built-in customers as soon as the re-purposing of Cardinal Newman is complete.
On the other hand, BI-LO is not in the most robost shape, and has presumably thought about all these issues.
At any rate, the sell-off was almost complete when I went in on Saturday 24 September. Remaining were only two endcaps of odd frozen goods, and one shelf of deeply discounted (and not particularly popular) items near the registers. The rest of the store was already a hollow shell.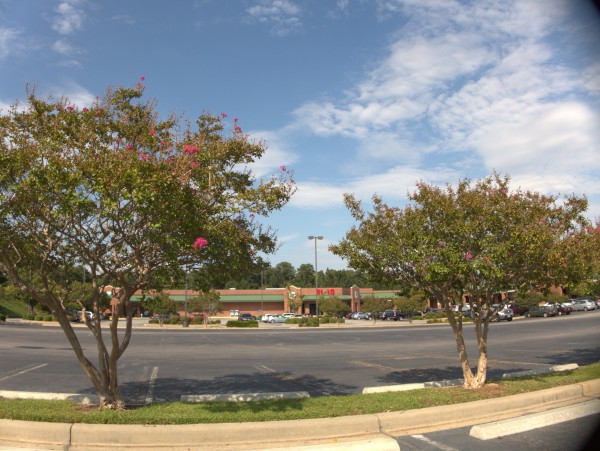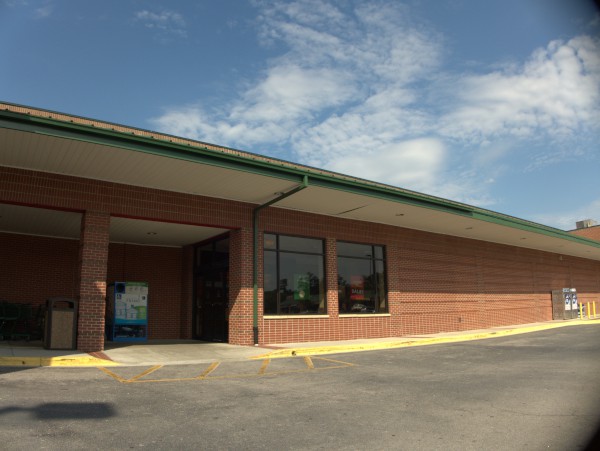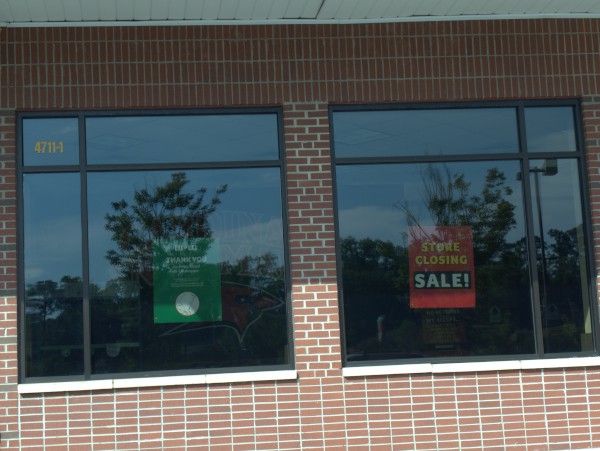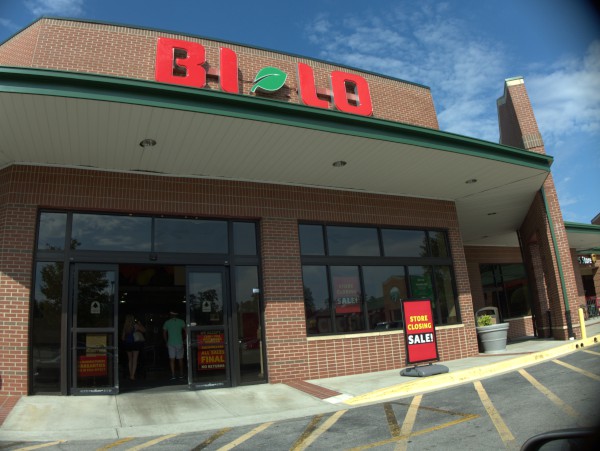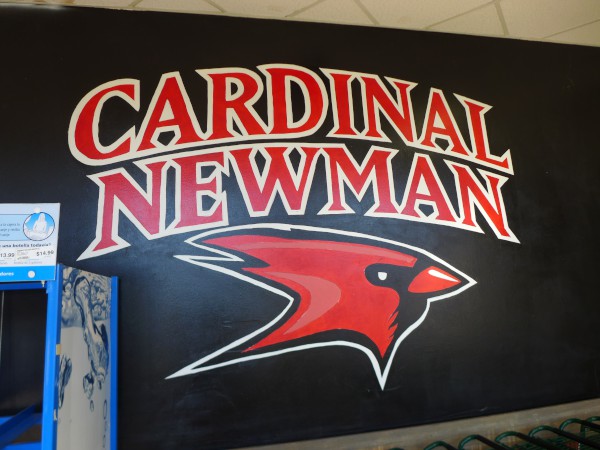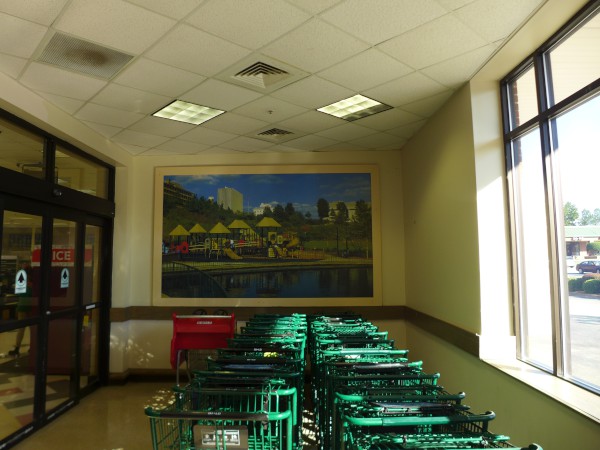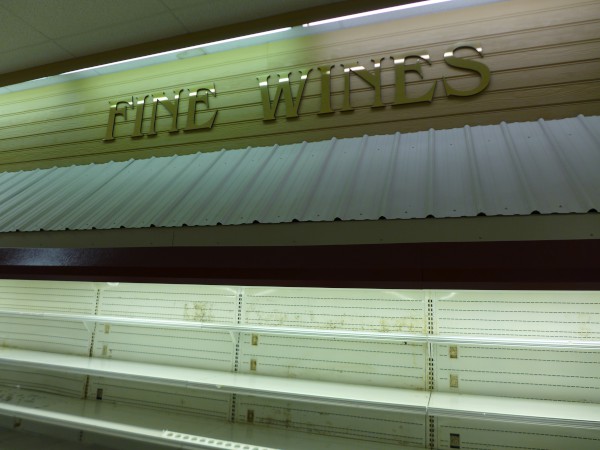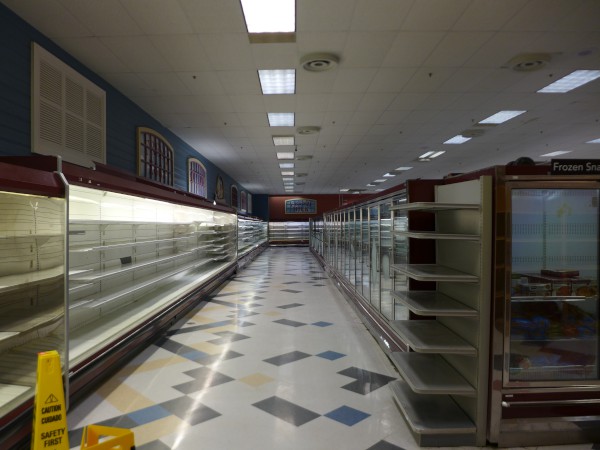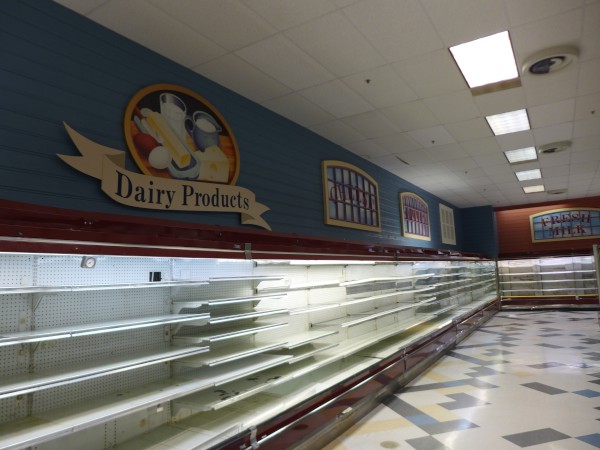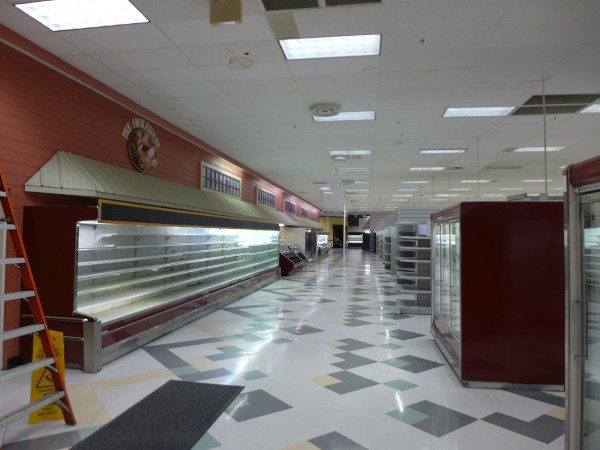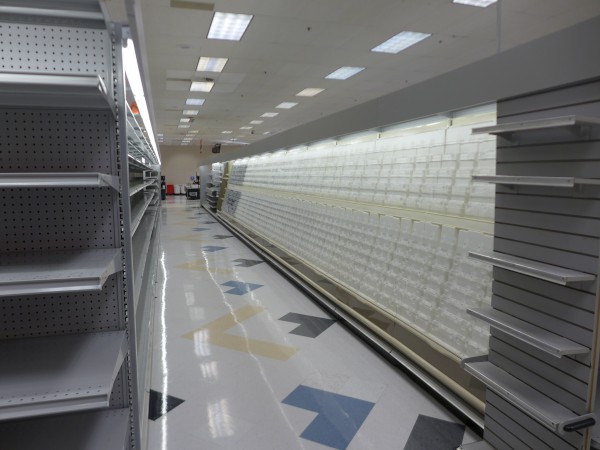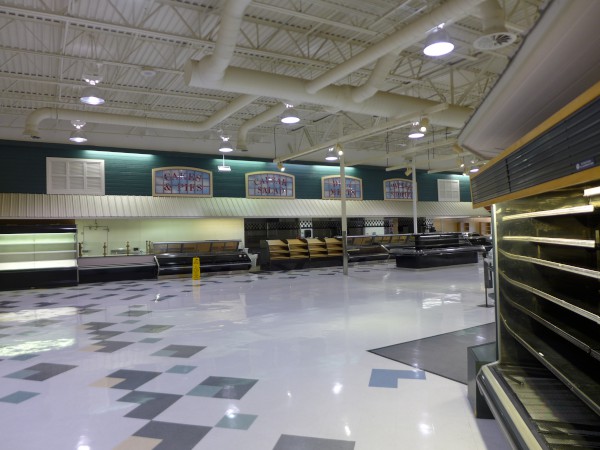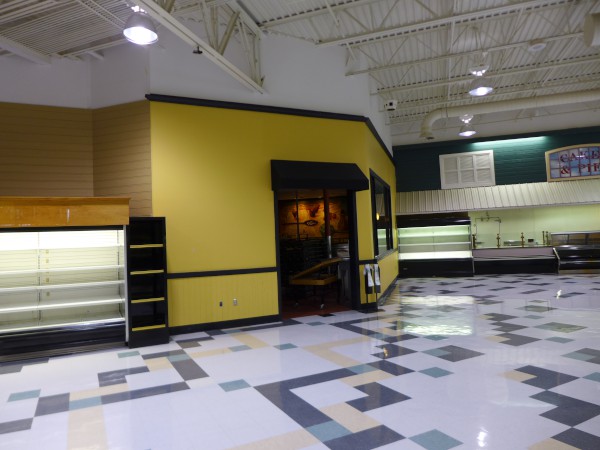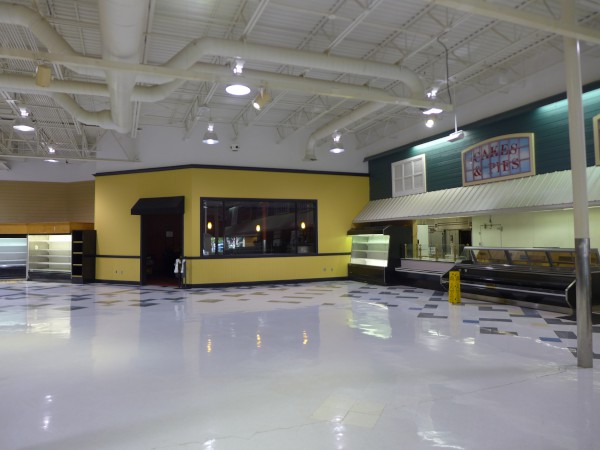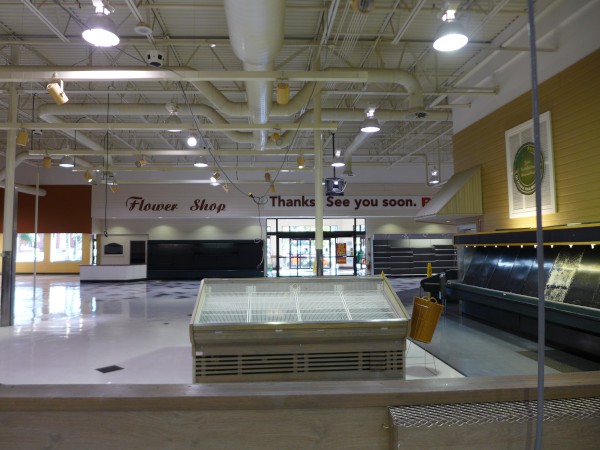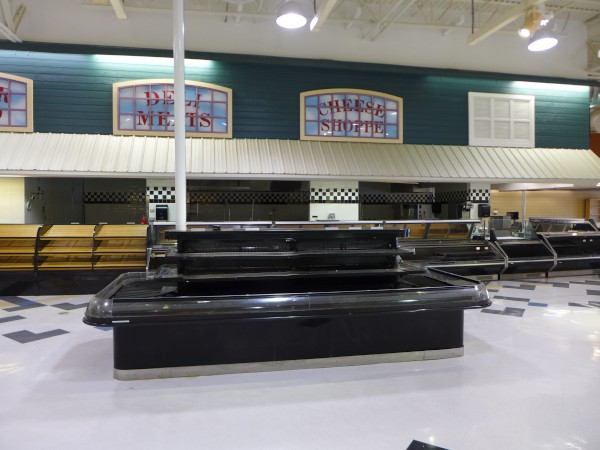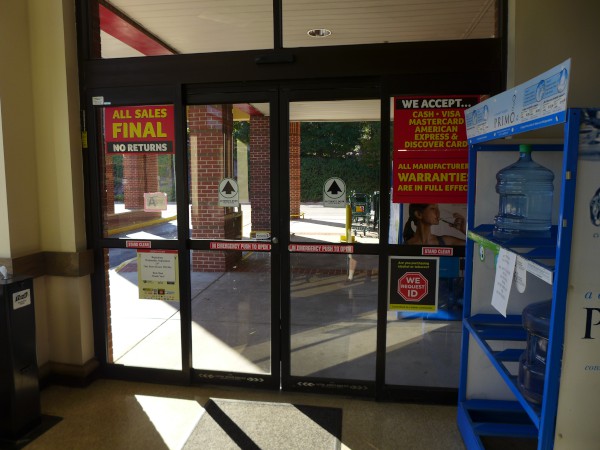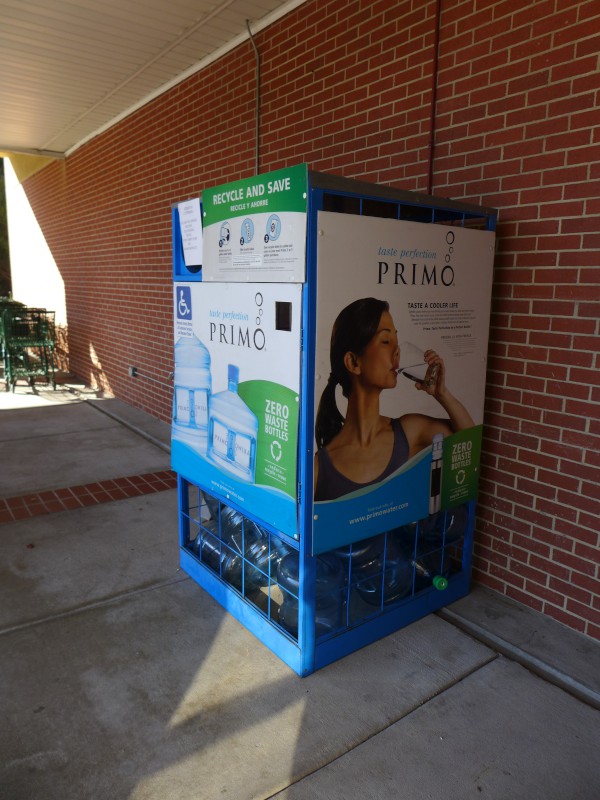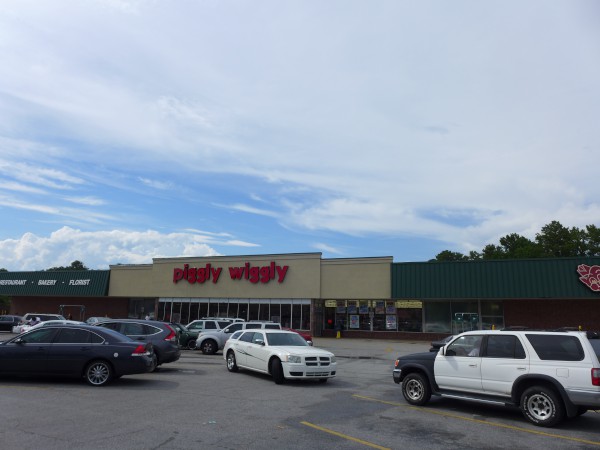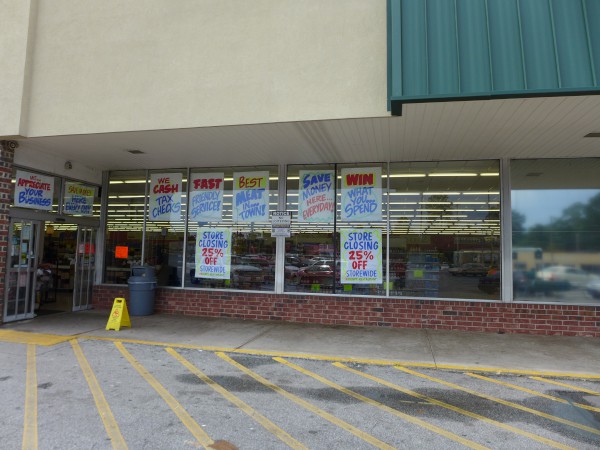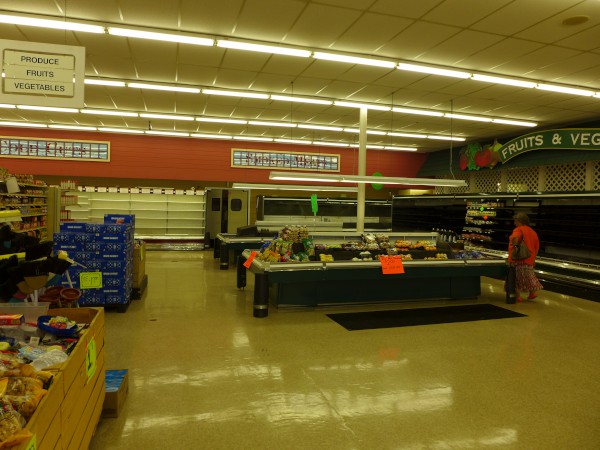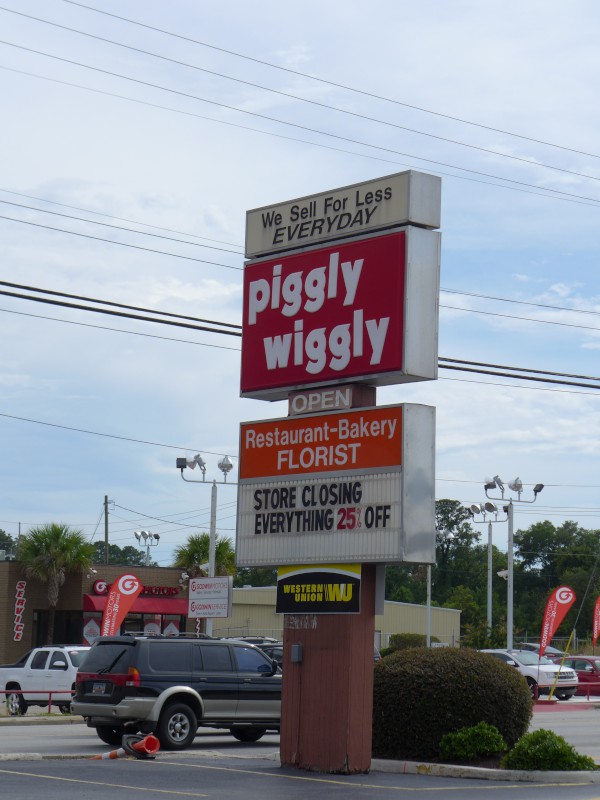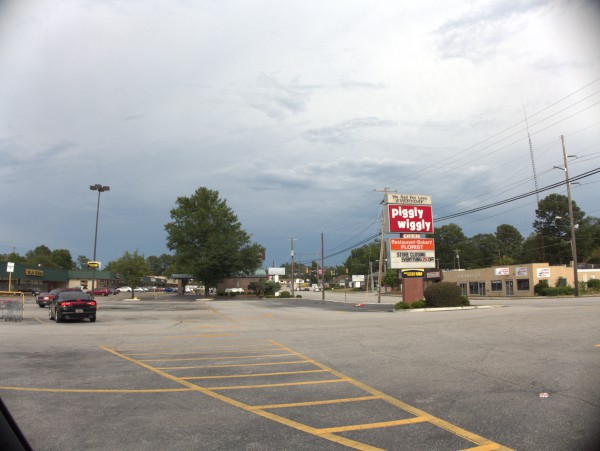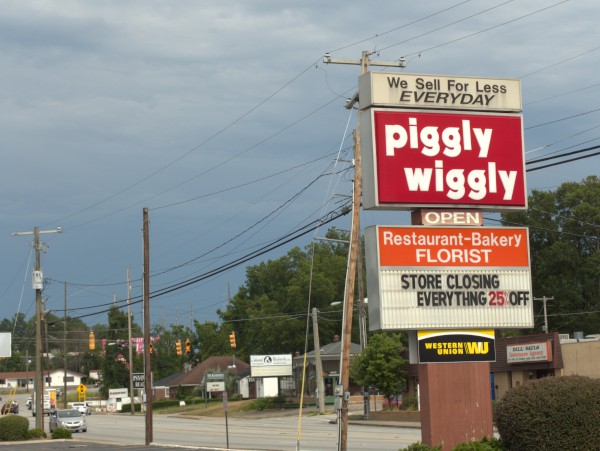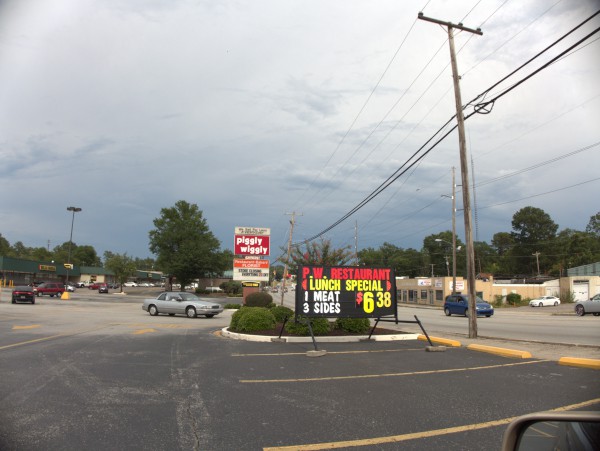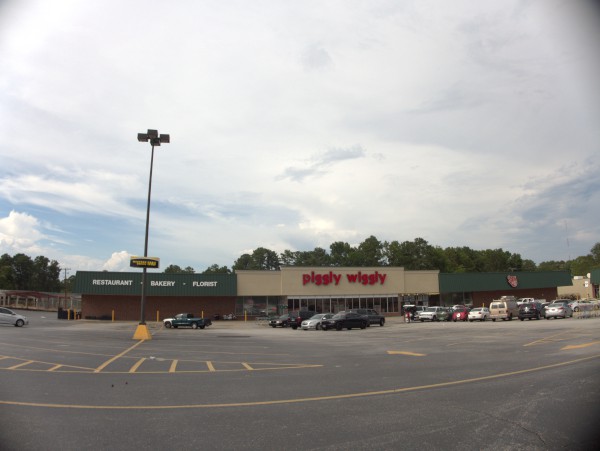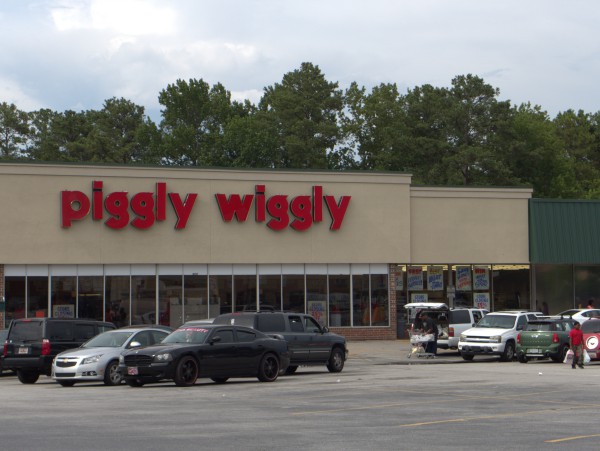 Well, I thought we had reached pigqulibrium, but I gues not. The Edens Plaza Pig on Beltline is in the process of closing now.
I went by today, and the place is at that interesting sweet spot of not too picked over but already pretty good discounts. Perishables are mostly gone, but there are still plenty of canned goods, baking supplies, laundry detergent, toothpaste and other sundries..
The location seems fairly viable to me and the area is not over-grocered. It would not surprise me to see an IGA or Sav-A-Lot go in here.
(Hat tip to commenter Mr. BO via email)
Posted at 2:36 am in Uncategorized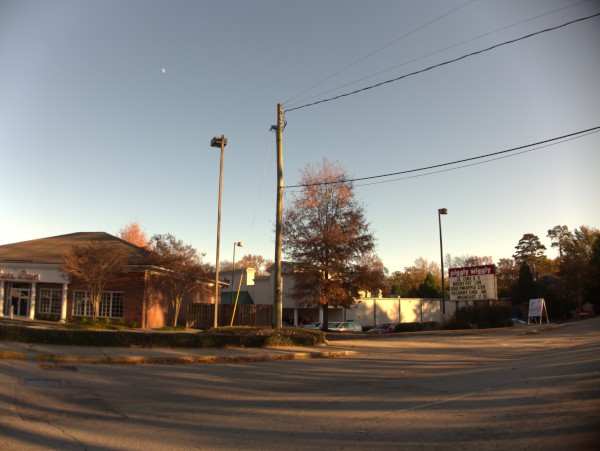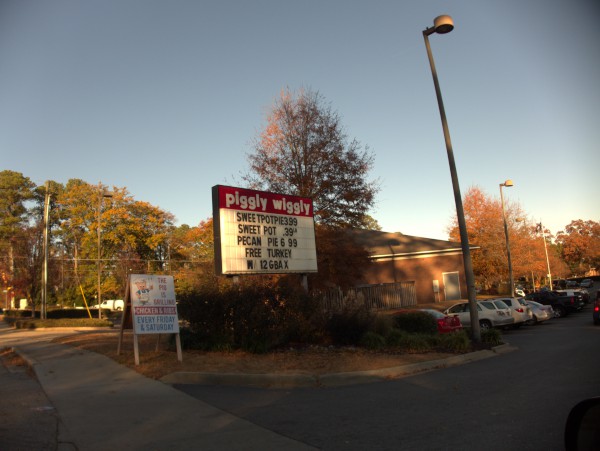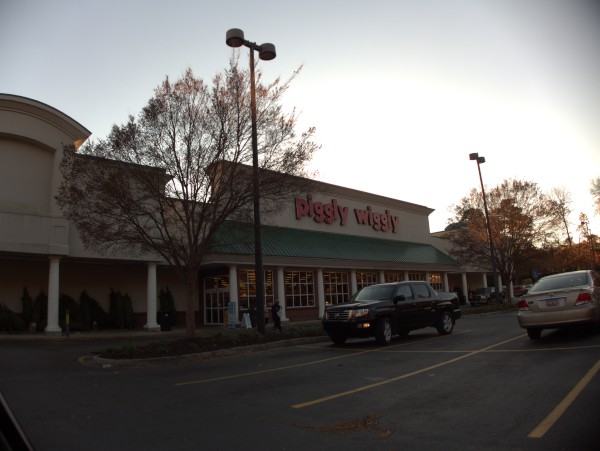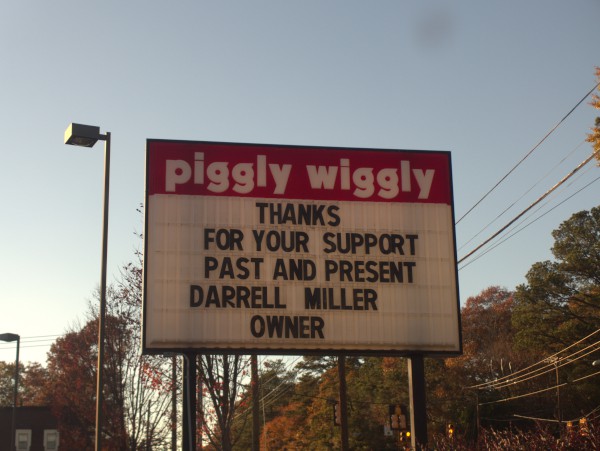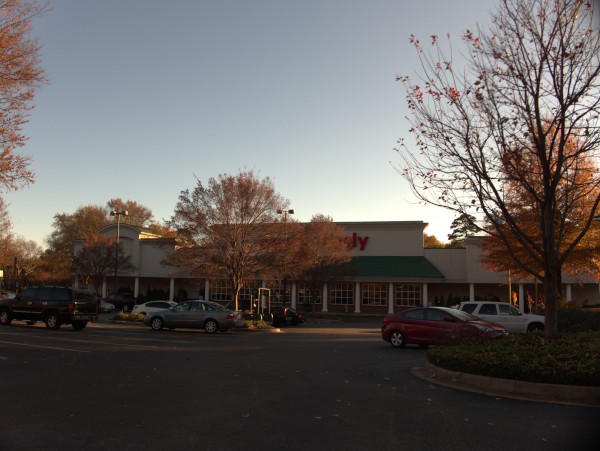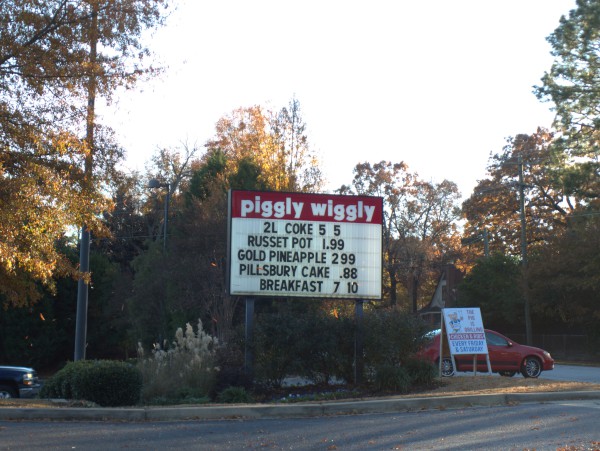 The Devine Street Piggly Wiggly recently changed ownership as noted in a story in The Columbia Star, which you may or may not be able to read here. With all the churn engulfing The Pig recently, it's good to see one store hang on.
In this case, the managers of the former Garners Ferry store have bought Devine Street outright:
The 35,000-squarefoot store closed late last Sunday for an inventory, reopening Monday under the new owners. Miller says customers are unlikely to notice many changes early on. He said the store has been well maintained, but he expects some refurbishing and painting ahead.

"Piggly Wiggly has gone back to its roots as a group of independently owned Piggly Wiggly stores joined by a common brand, collaborative marketing, and the flexibility of individual ownership," said David Schools, president and CEO of Greenbax Enterprises, Piggly Wiggly Carolina's parent.
Put that way, it sounds a bit like IGA.
Posted at 11:23 pm in Uncategorized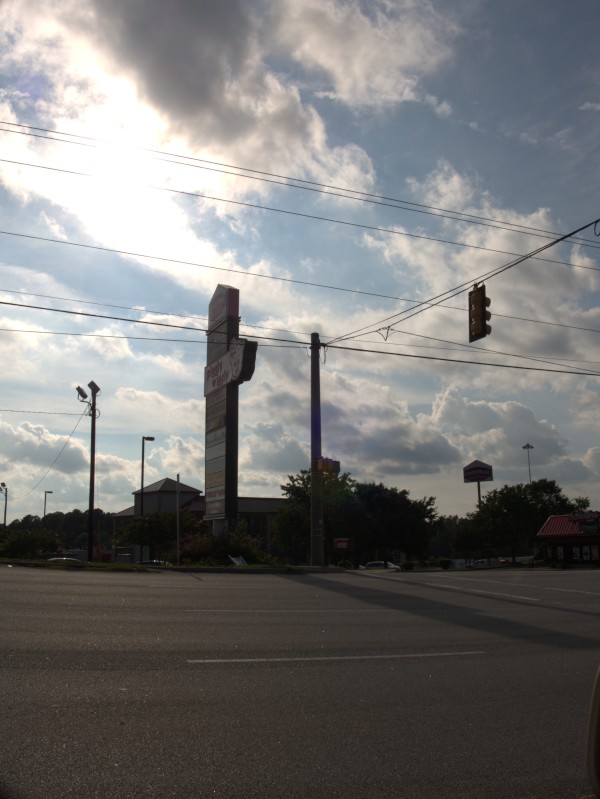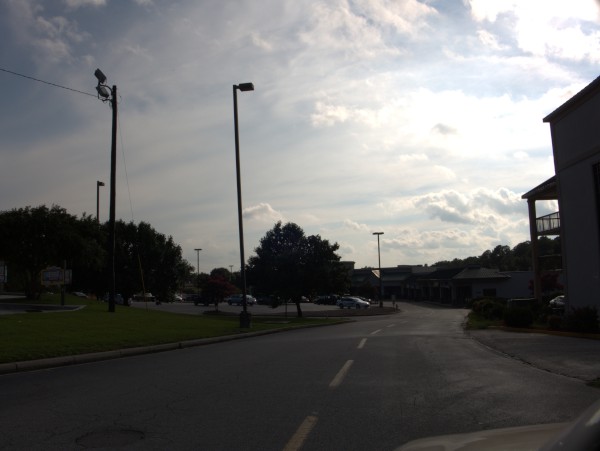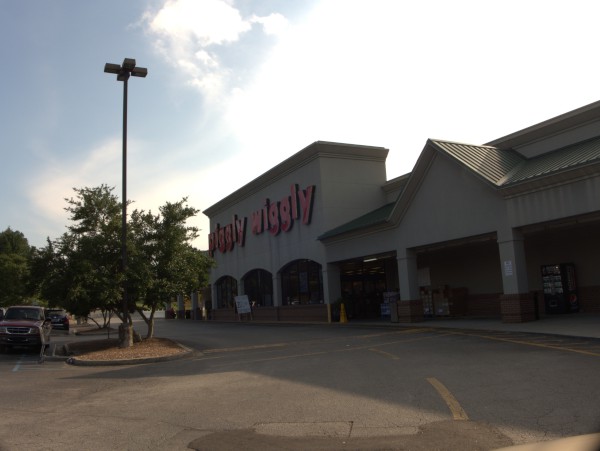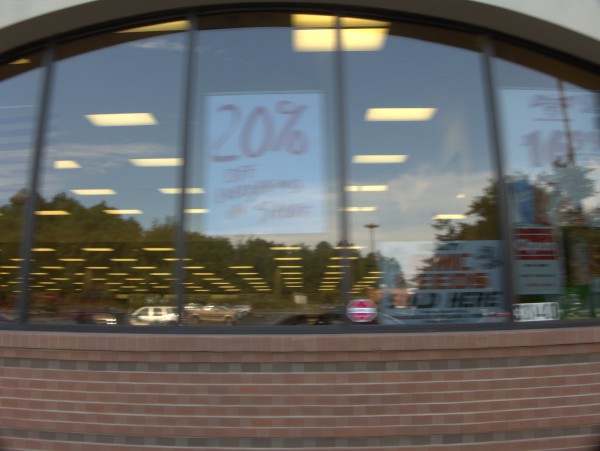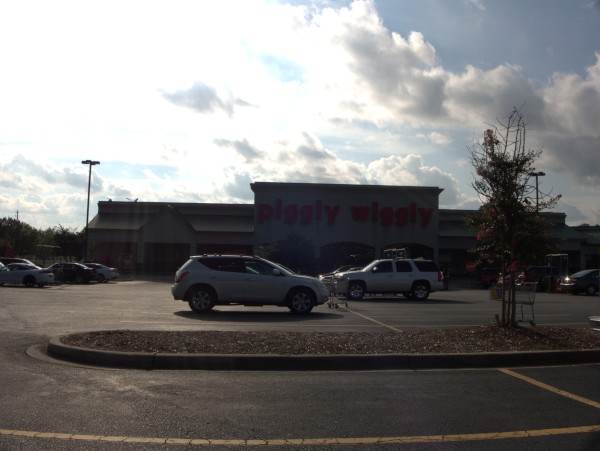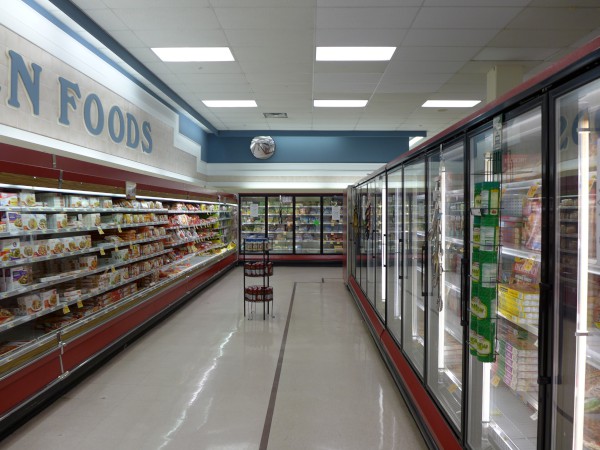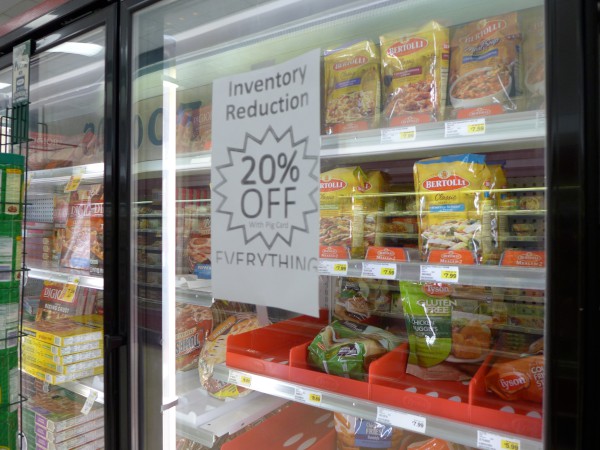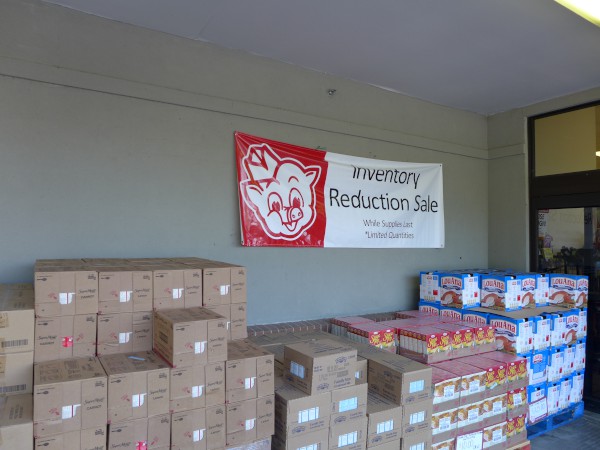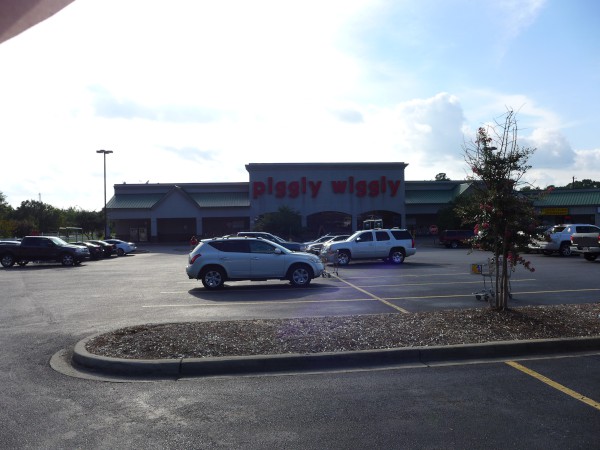 As usual, when I'm trying to shoot against the sun, the results aren't pretty, but this Piggly Wiggly on the Charleston Highway near the I-77/I-26 interchange is on the way out -- in fact, it may actually be closed at this point.
When I took these shots on 3 August 2014, the store was mostly still in full operation. There were a few signs that they were trying to sell off the whole stock, but really, if you had gone for most any normal grocery item, you would have found it and the discounts were pretty modest (I believe most signs said 20%, but only to Pig cardmembers).
With this closure, I'm not quite sure where the nearest replacement store is. There's an IGA in Gaston, but the Reid's which would have been the nearest store in the other direction recently closed as well.
Of course, the new State Farmers' Market is quite nearby for adventurous souls.
UPDATE 21 August 2014 -- The place is now closed: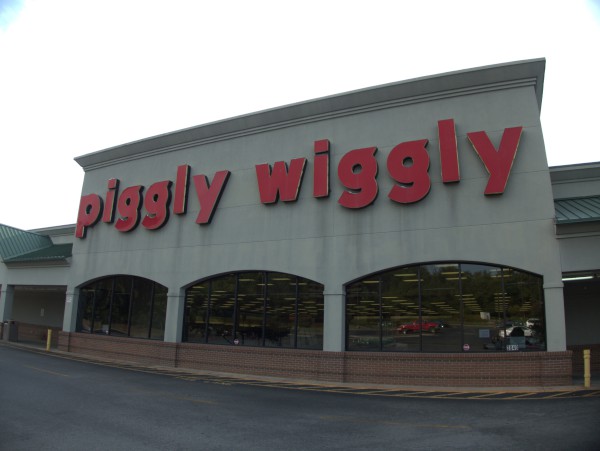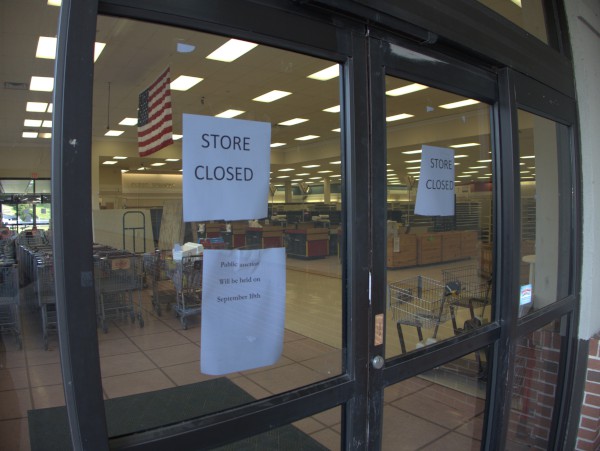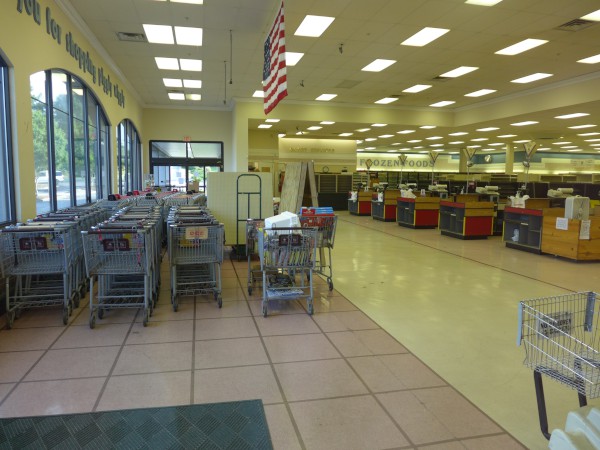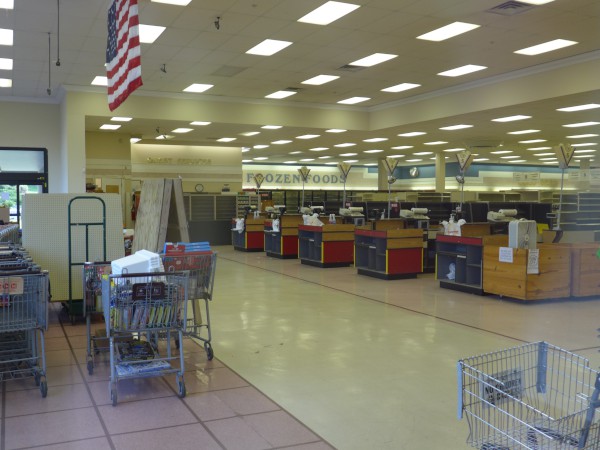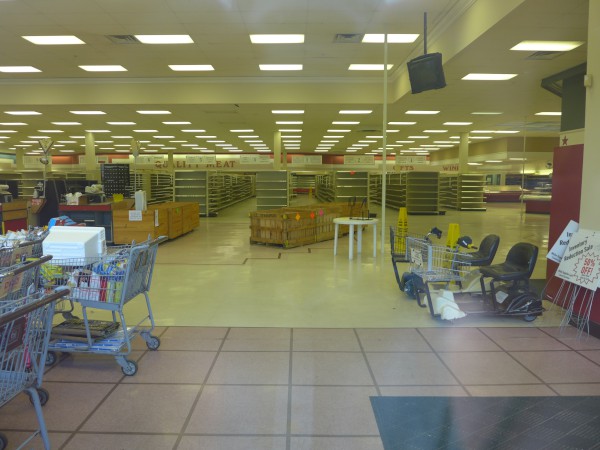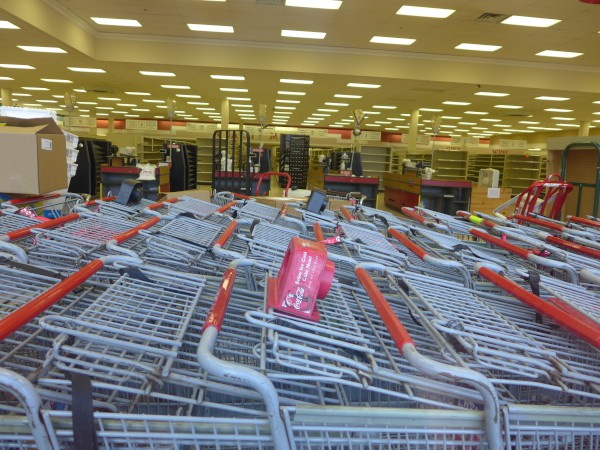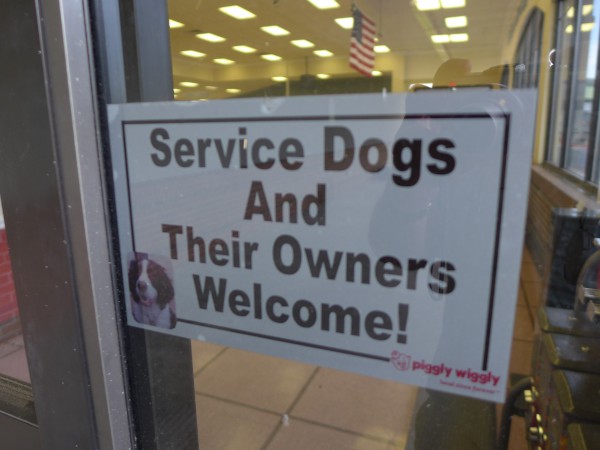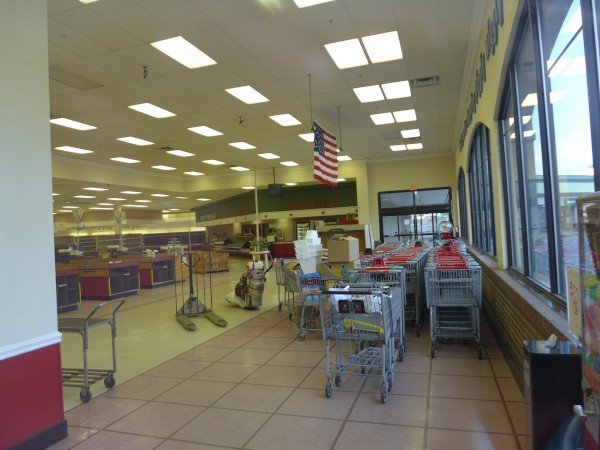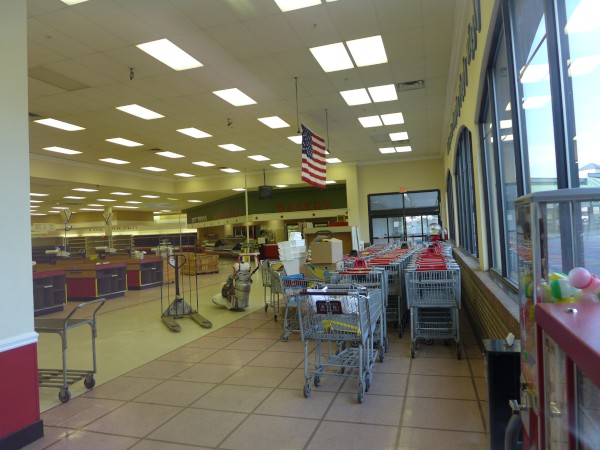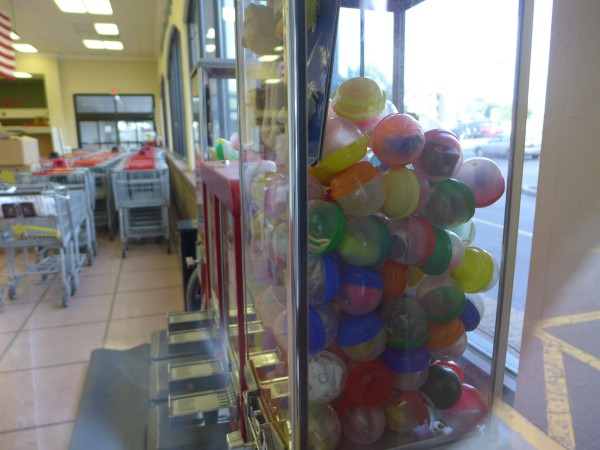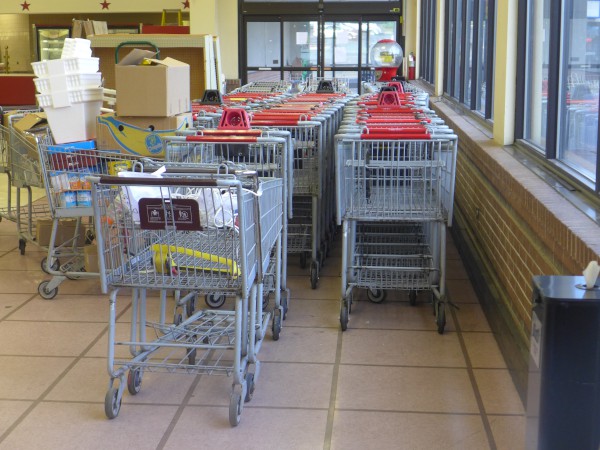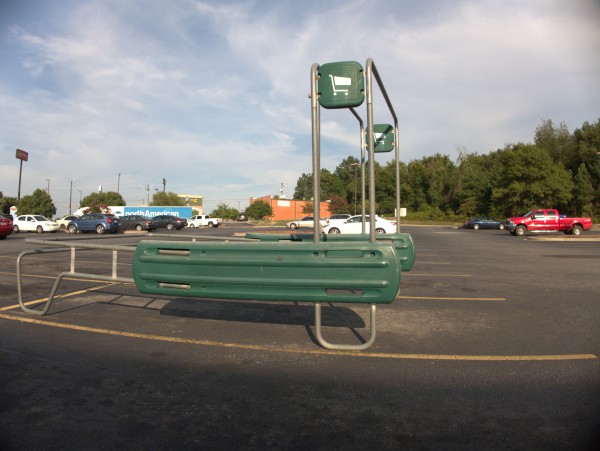 Posted at 12:19 am in Uncategorized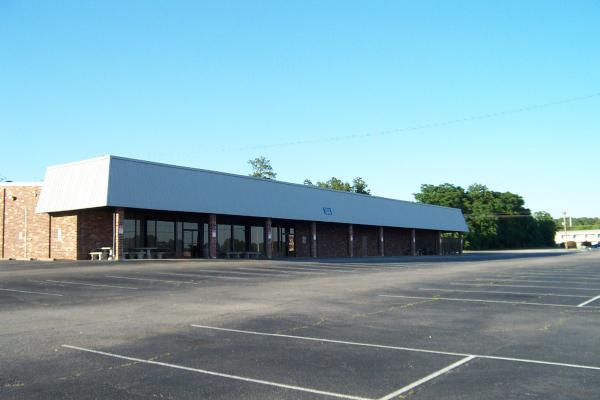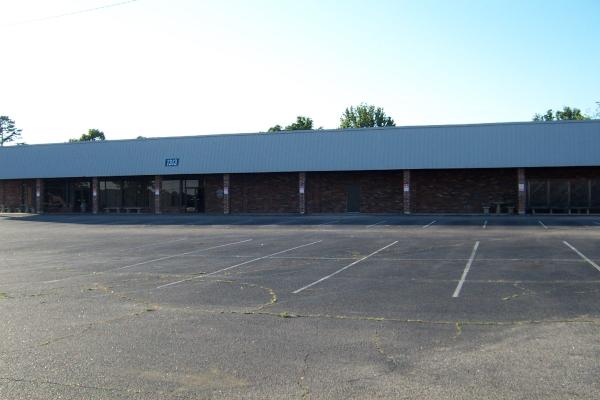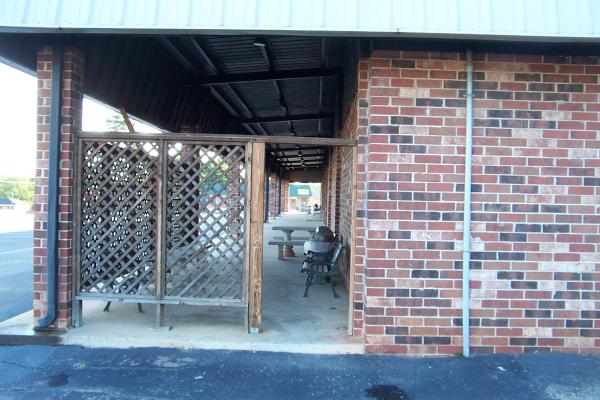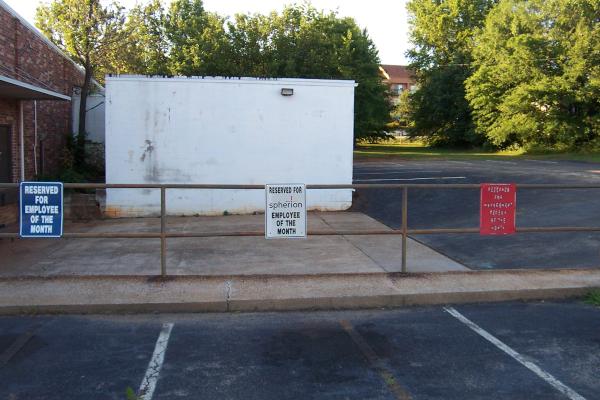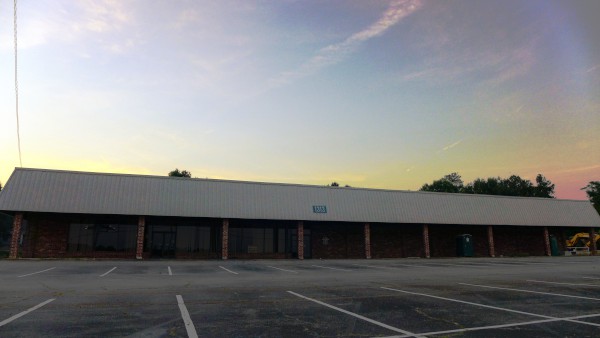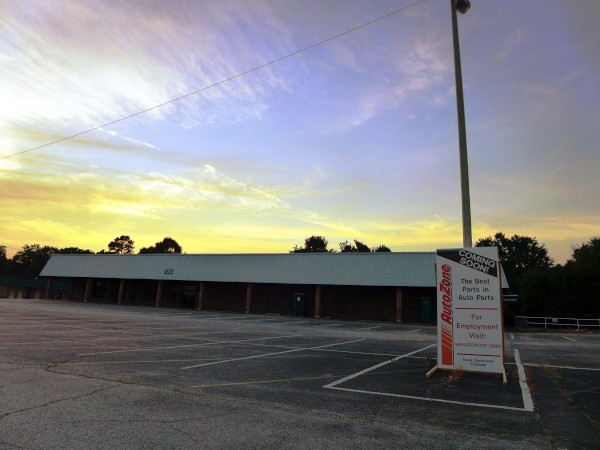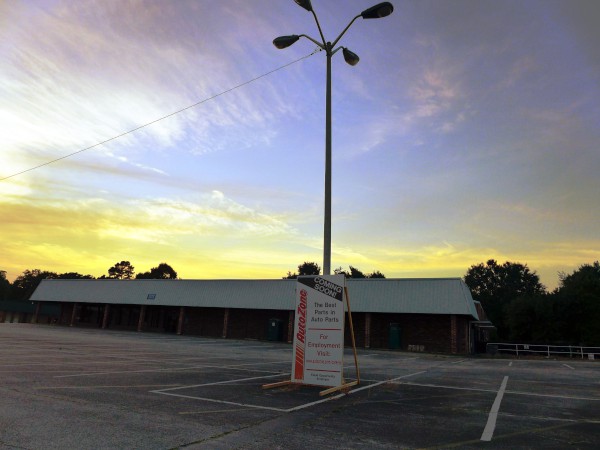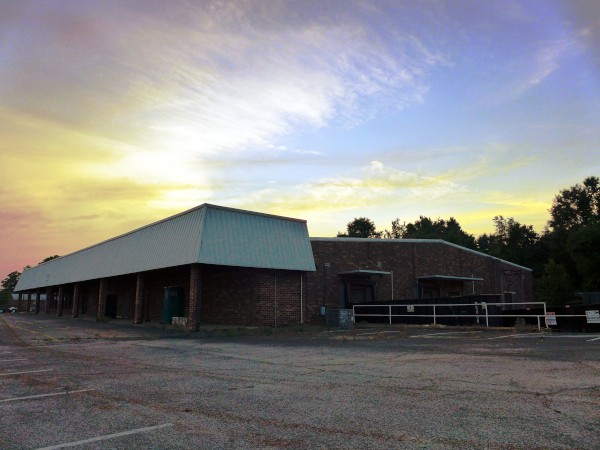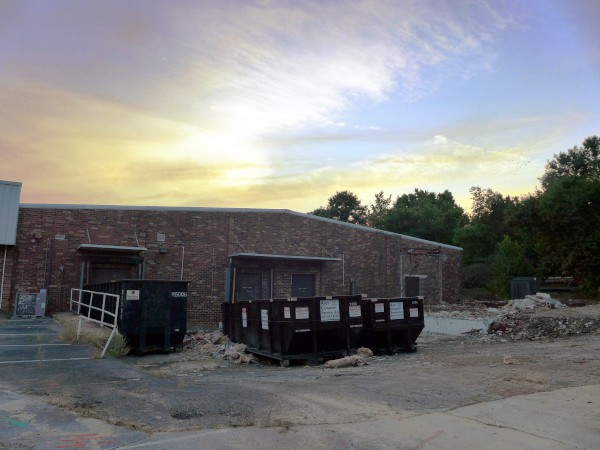 I've featured this building on Bush River Road across from the new(ish) Wal-Mart, before, but erroneously in a post I still have to sit down and clean up and correct eventually. Hopefully this post will be more correct.
This building was a Food Lion grocery until the 1990s. I'm not sure when it closed, but it is not listed in the February 1997 phonebook, so I'm guessing the mid-1990s. According to commenter Saturday's Child, it was built as a Thrifty Mart around 1969 and then became a Food Town, staying with that chain when they switched their name to Food Lion.
After Food Lion left, it was a UPS call center and an operation called Spherion, possibly not in that order.
For the last several years it has been vacant, but as commenter William points out, the building is now being rehabilitated to become an AutoZone.
(Hat tip to commenter William)
Posted at 12:33 am in Uncategorized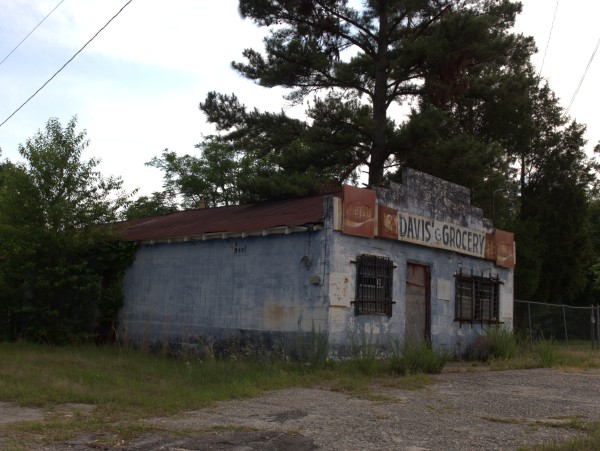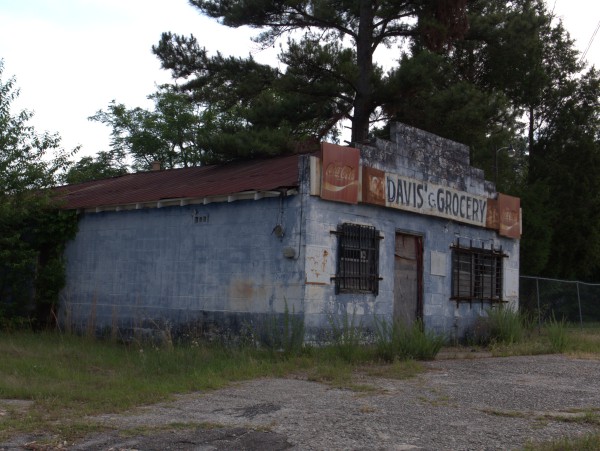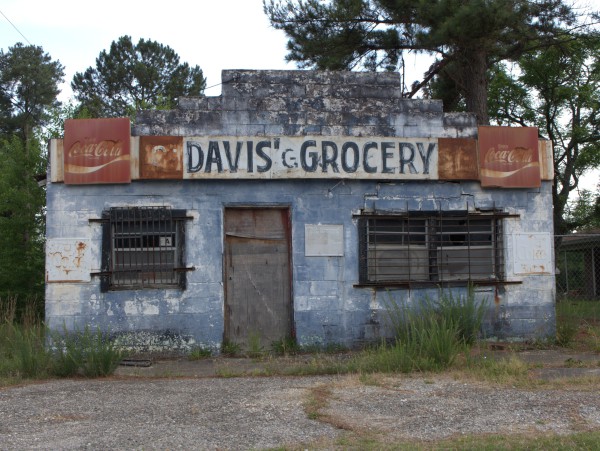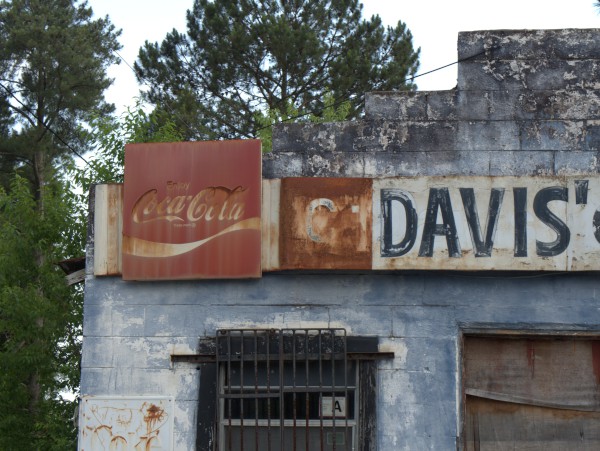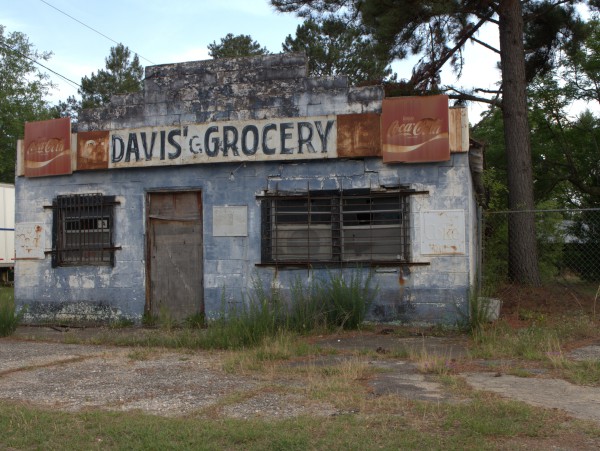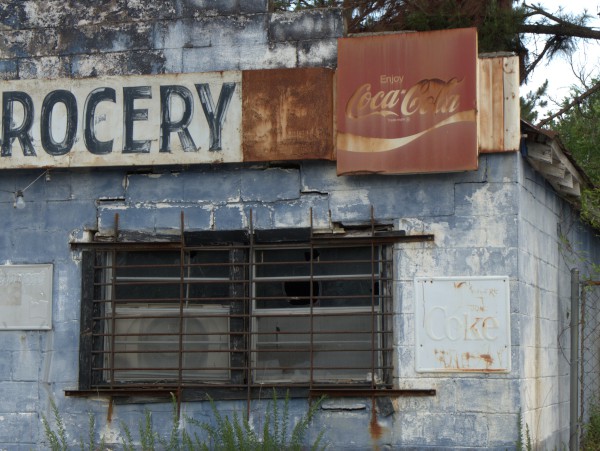 I don't have an address for this old country store, but it is on Bluff Road, I believe somewhere near the National Park. The (Coke provided) sign has obviously been painted over a couple of times. This sort of faux roof-line seems to have been common for stores at one time.
Posted at 11:54 pm in Uncategorized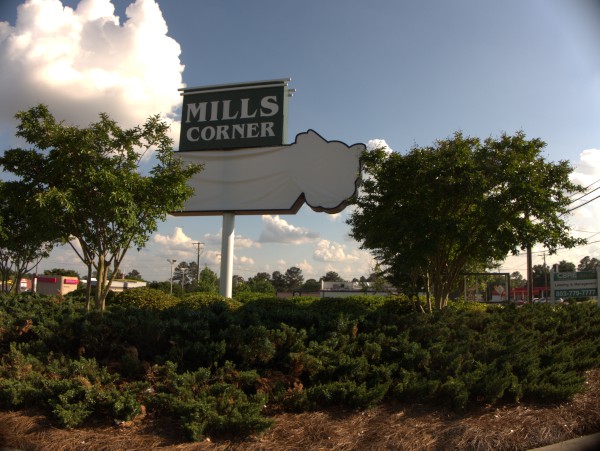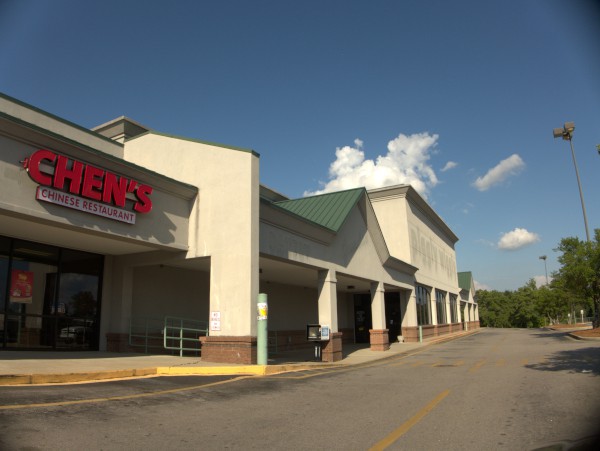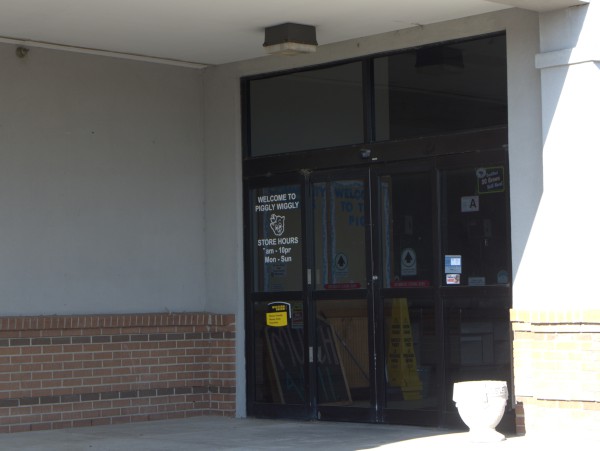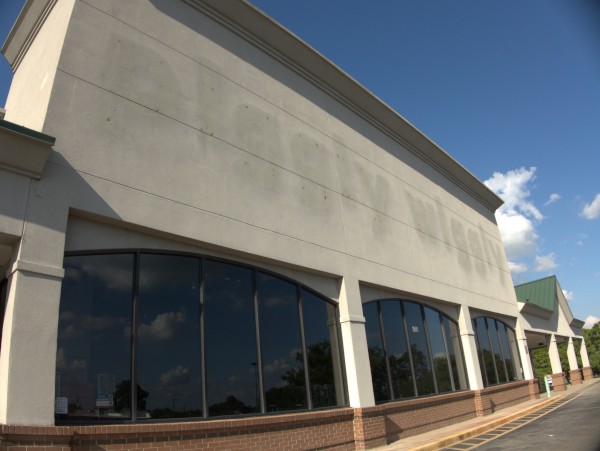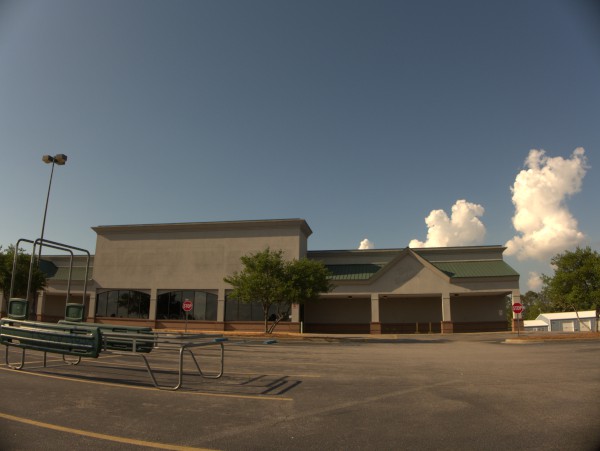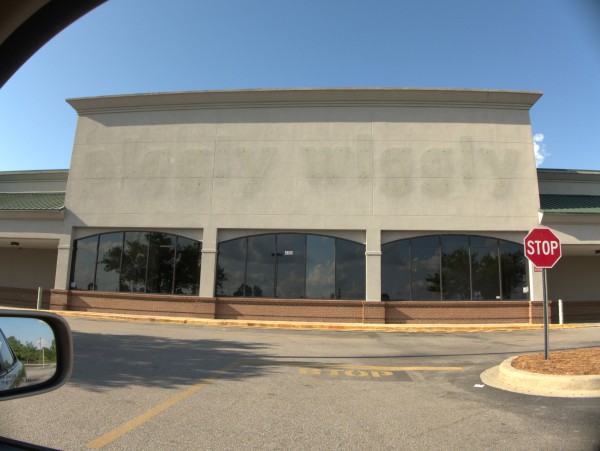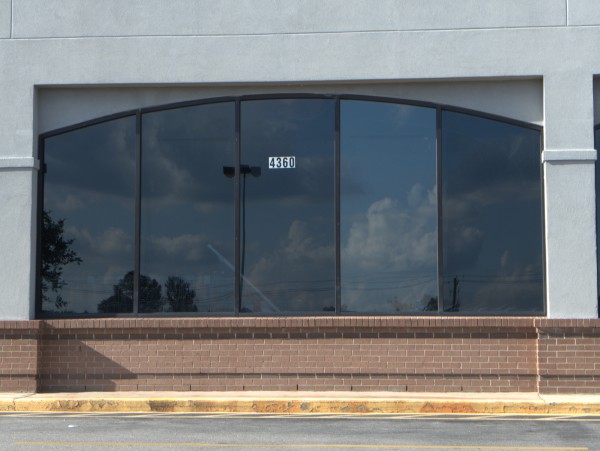 Here's another Pig closing from last year. This one is on the East side of US-1 not too far from the Barnyard flea market. Interestingly, the address is Lexington, though I did not think Lexington started that far South.
Though several recently closed Pigs have become Bi-Los, there is no sign of another tenant for this one yet.
(Hat tip to commenter Andrew)
UPDATE 1 March 2016 -- As mentioned in the comments, this is now KJ's IGA: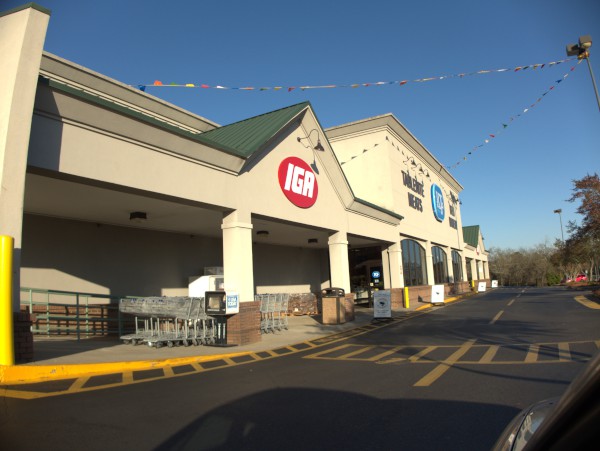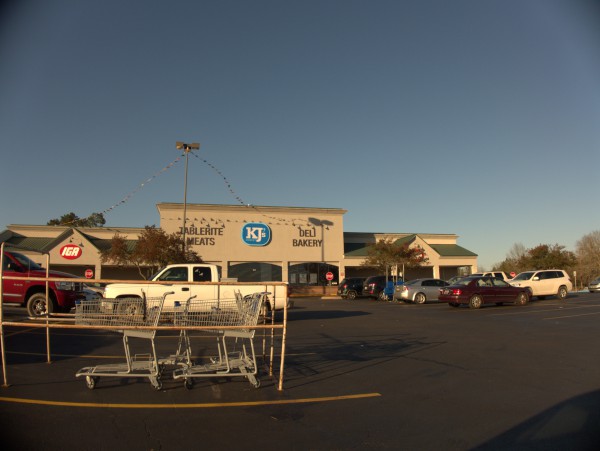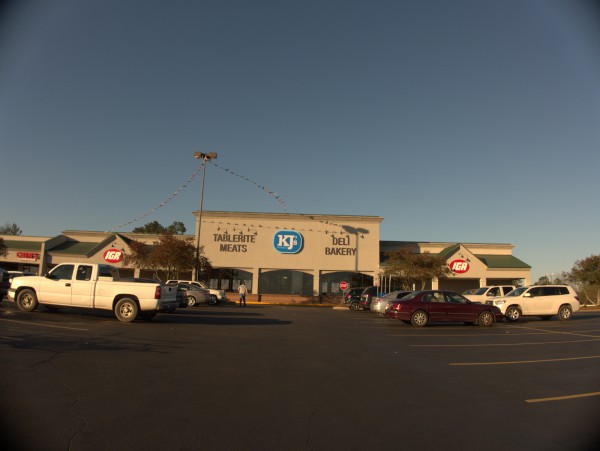 Posted at 12:15 am in Uncategorized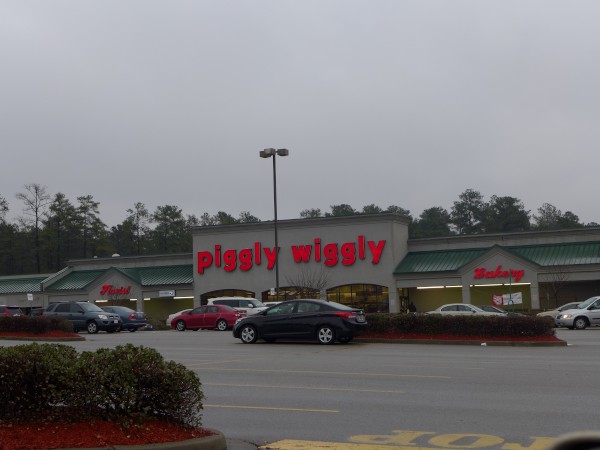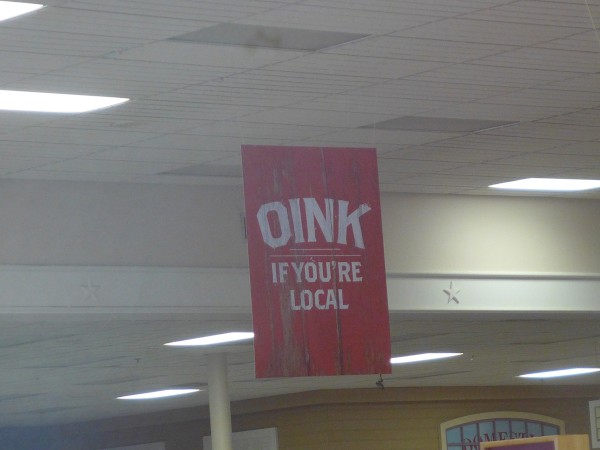 Another day, another Piggly Wiggly.
This store, at the corner of Clemson and Hardscrabble Roads, looks like it was a pretty nice one, though I can;t ever recall going inside. I might have thought that it would have benefitted from the closing of the Food Lion across the street, but in this case the ongoing woes of the chain seem to have outweighed any additional traffic from displaced Food Lion shoppers.
The closing of this store started rather oddly, with an "inventory reduction" sale. Since there is no reason for a grocery store to ever have such a sale in the normal course of events, this seems to have been some sort of signal that the store was closing before the management was able to say that officially.
This closing will be a big hit for Magnolia Pointe, as The Pig was the only anchor in the main strip of the shopping center. There is a CVS in an outparcel region, but that won't bring shoppers in to the shopping center proper.
(Hat tip to commenter ken holler)
Posted at 12:07 am in Uncategorized