Archive for August, 2010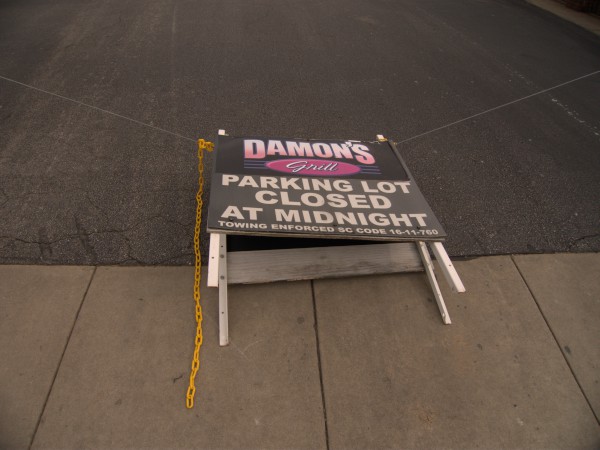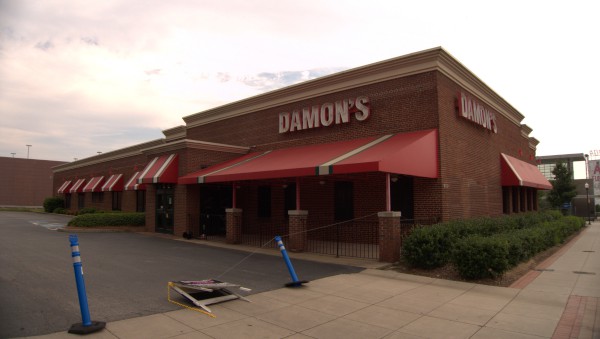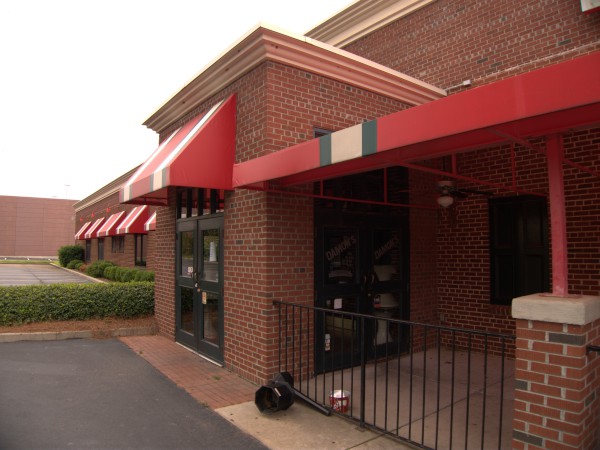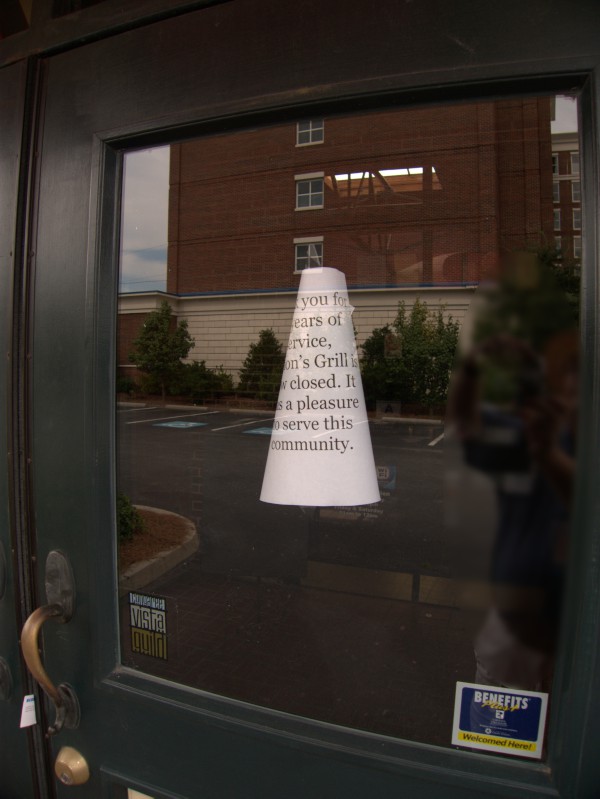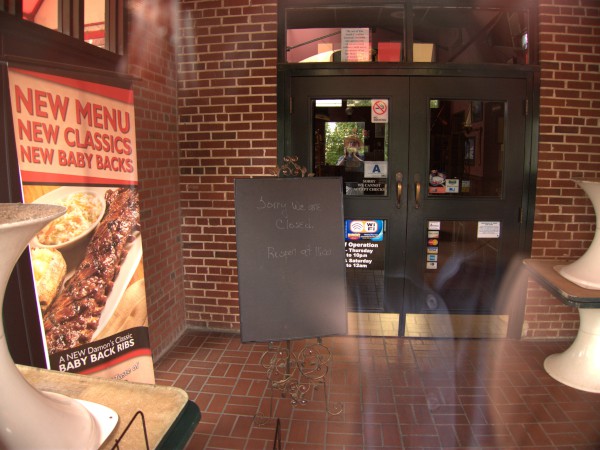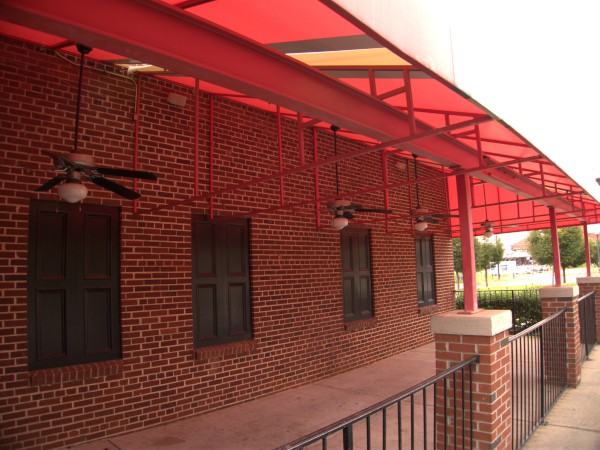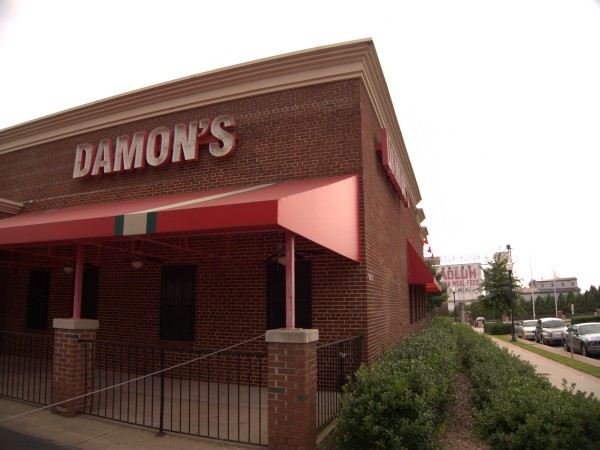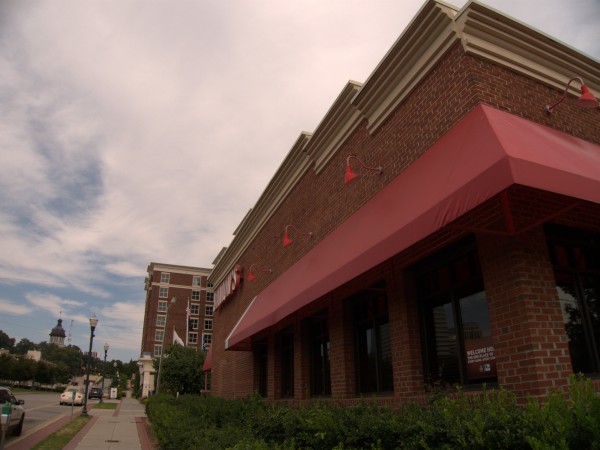 I've eaten at Damon's a few times, first I believe in Litchfield Beach at The Exchange in a space which is now a church, and later in Augusta. I'm not particularly interested in ribs, but as I recall they had good burgers and some sort of deep-fried onion-loaf. If I'm remembering correctly, the only thing I didn't like about the place was they had little teeny-tiny napkins that were really wash-cloths.
That's Damon's in general -- this particular Damon's I never got to. Given the location, if I was in the area and craving a burger, I would more likely cross the street to 5 Guys.
It is a nice location though, and it looks like they had a patio which would be very pleasant evenings this time of year. According to LoopNet, the building is being sold as a fully kitted out restaurant, and in fact the Damon's franchaise itself appears to be still available for the right offer.
(Hat tip to commenter Steve)
UPDATE 31 March 2014 -- The place was demolished some time ago, and now is in preparation to be the new USC Alumni Association headquarters: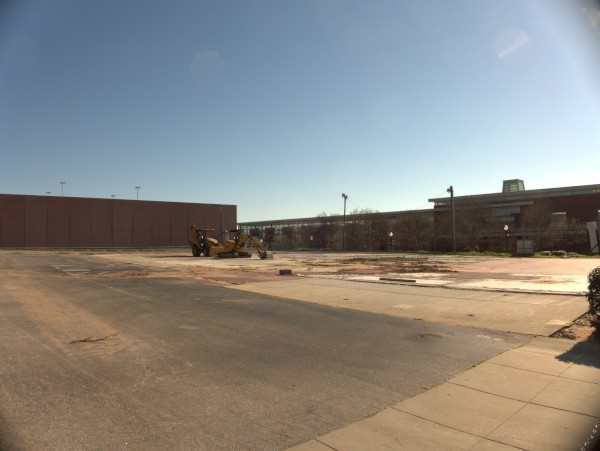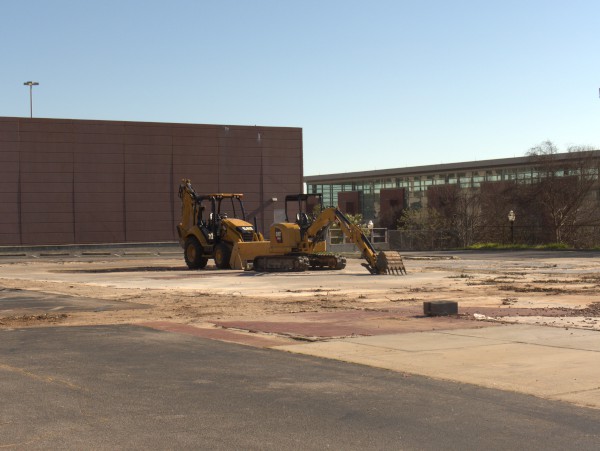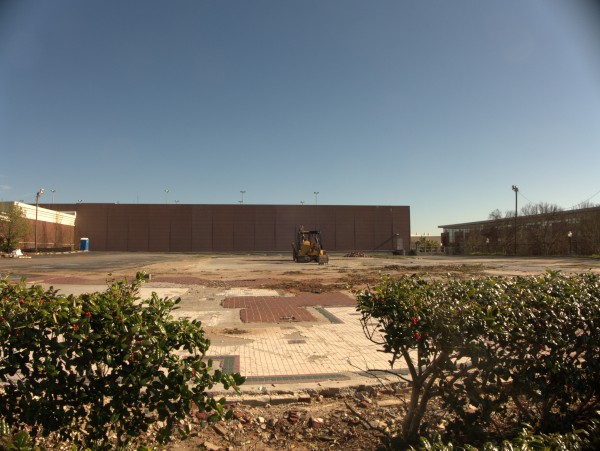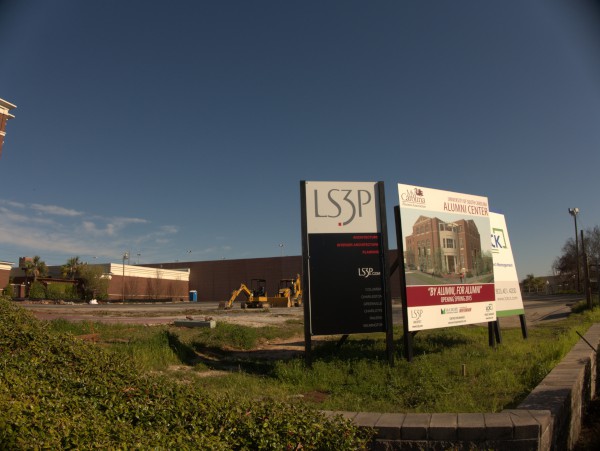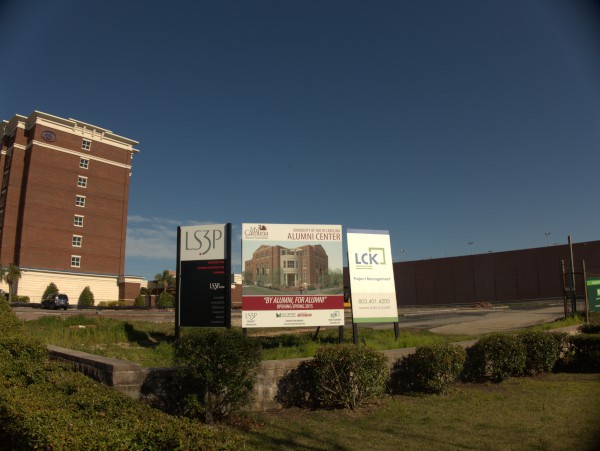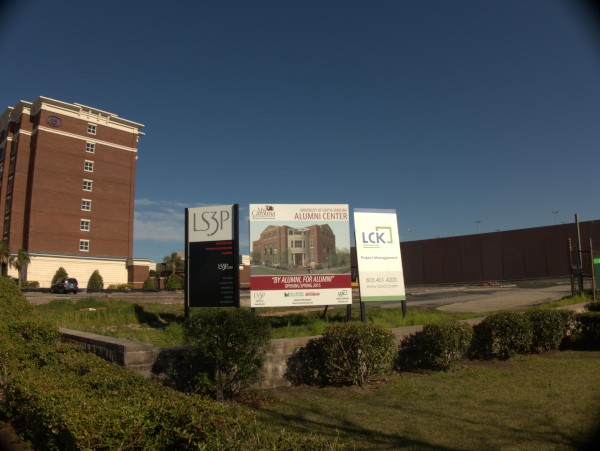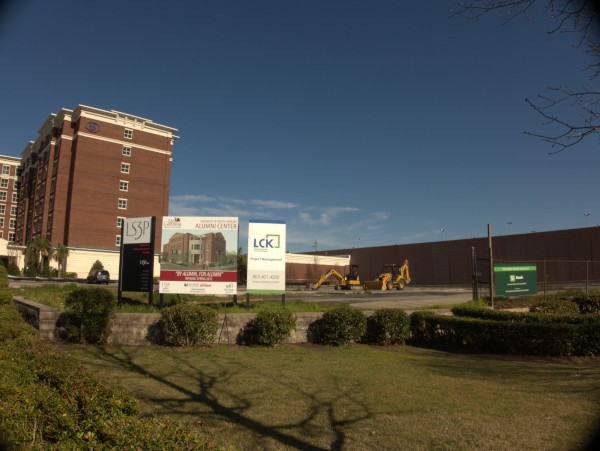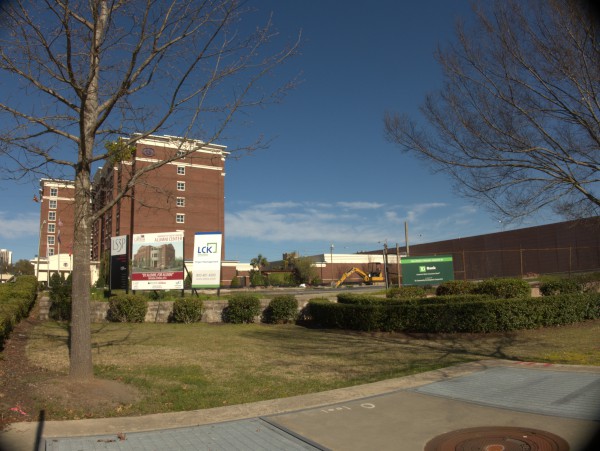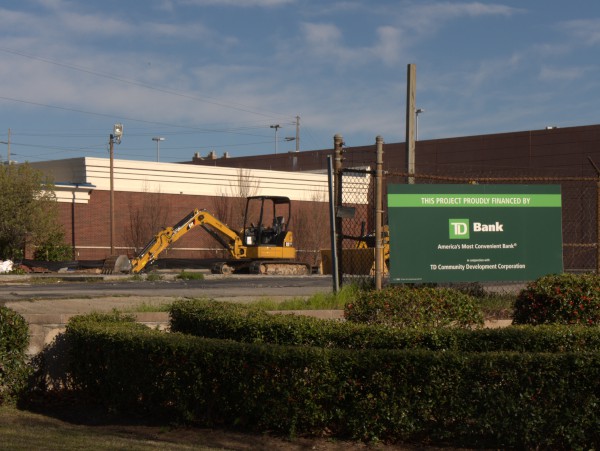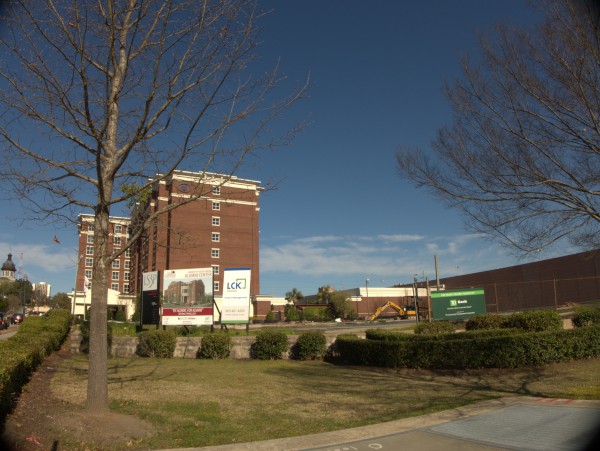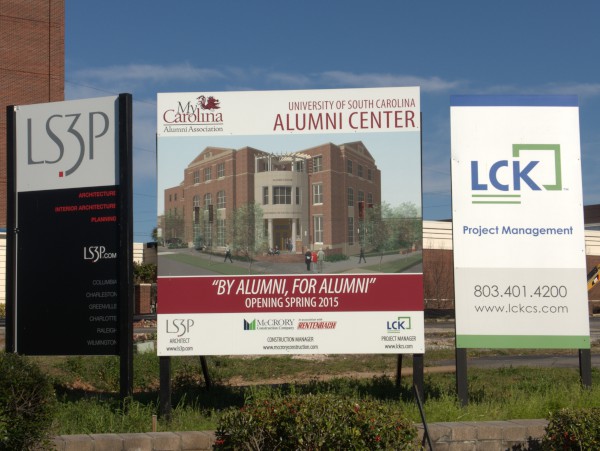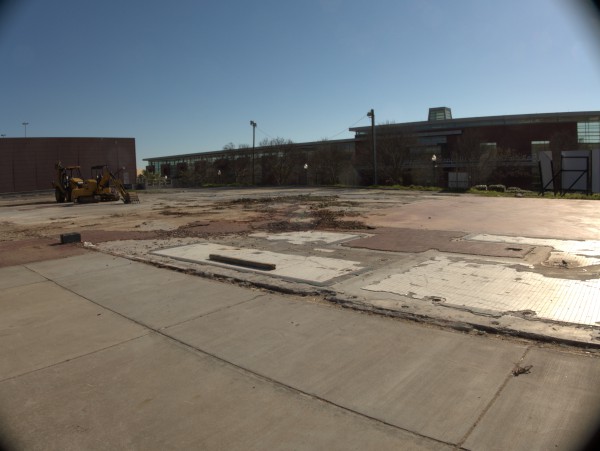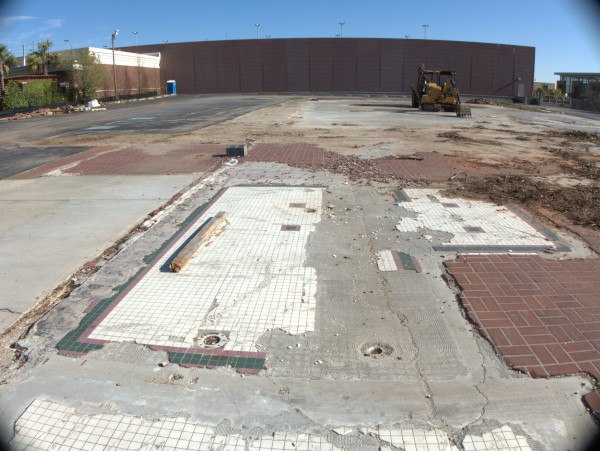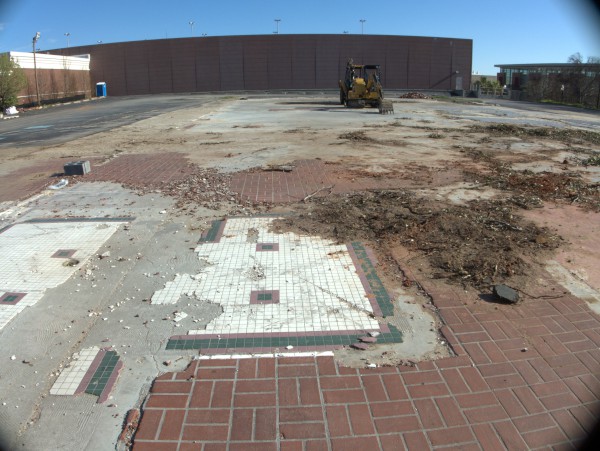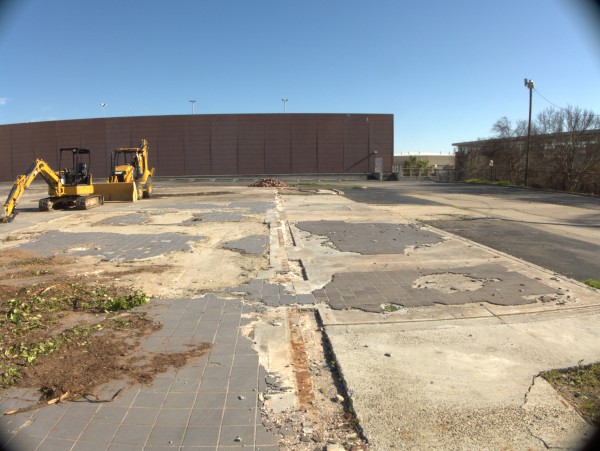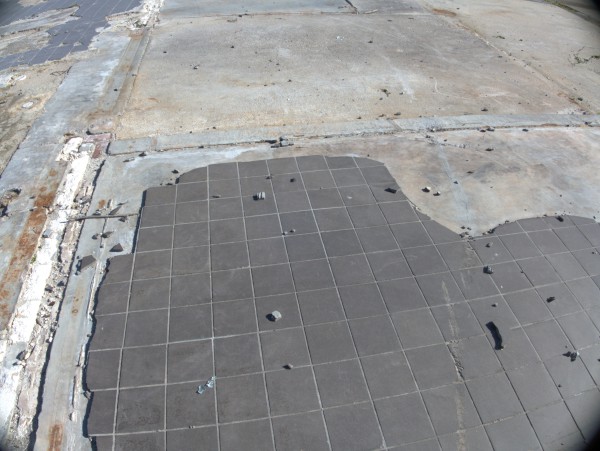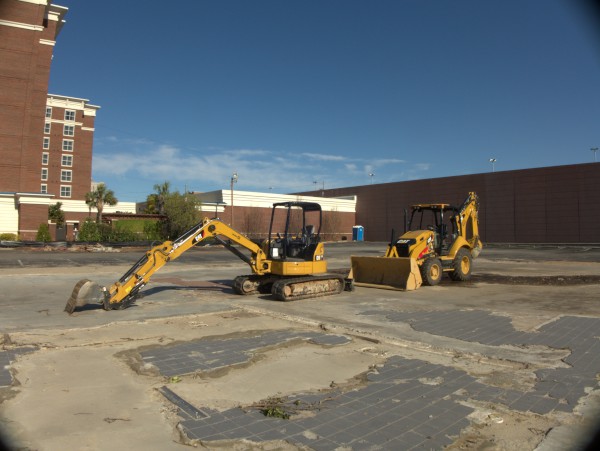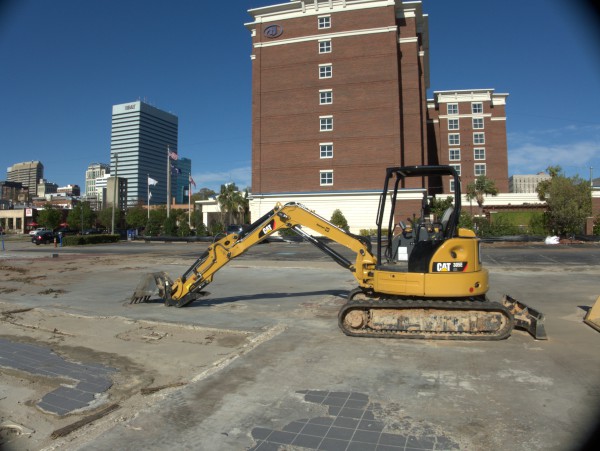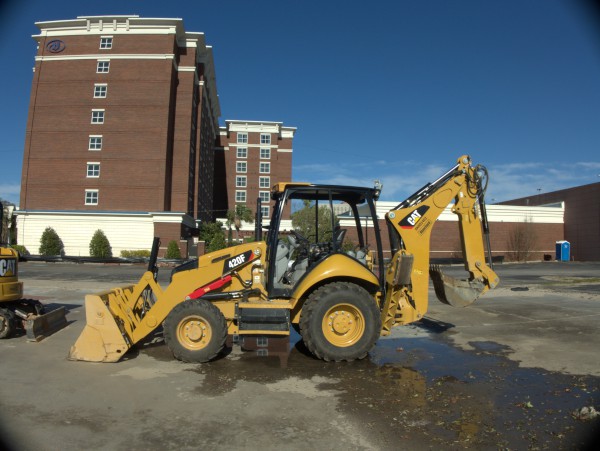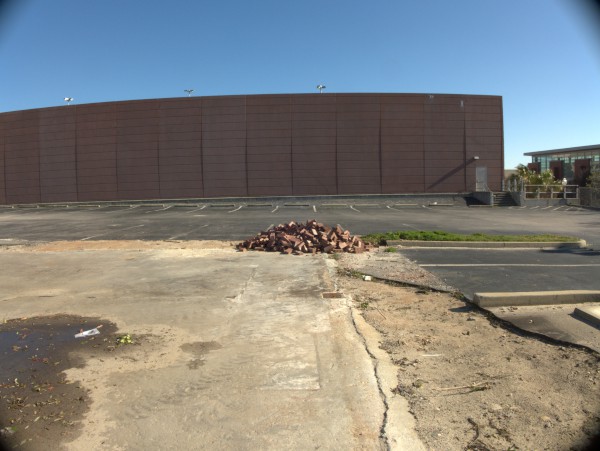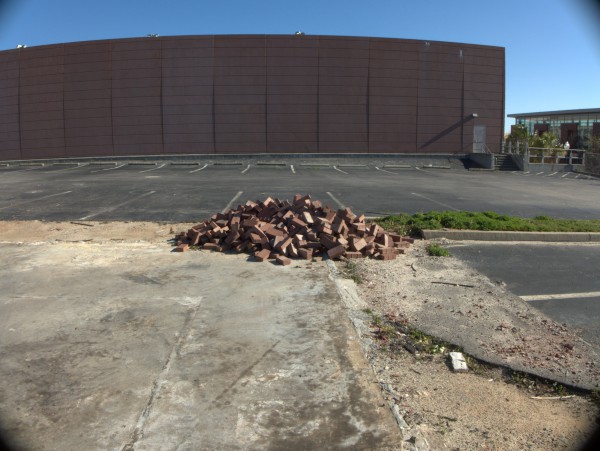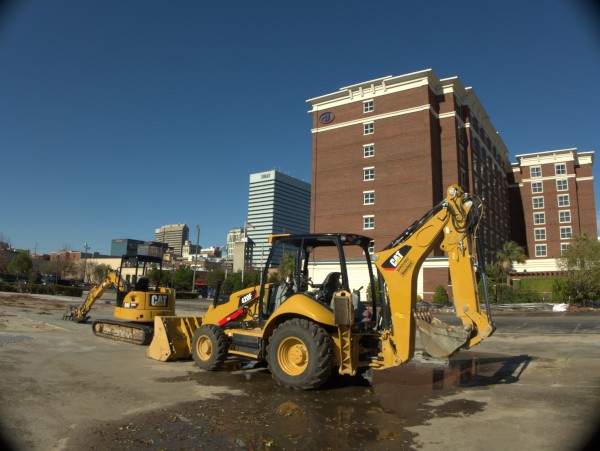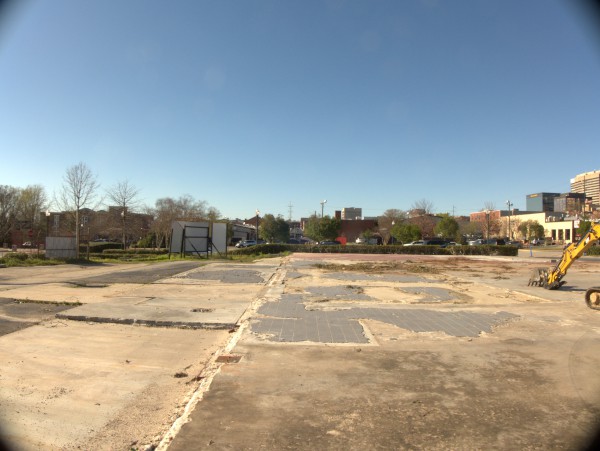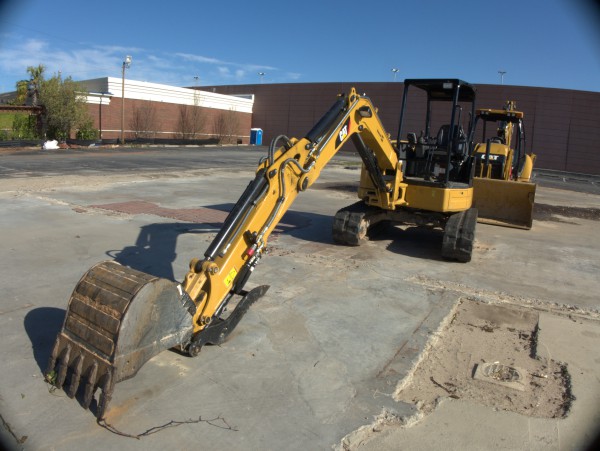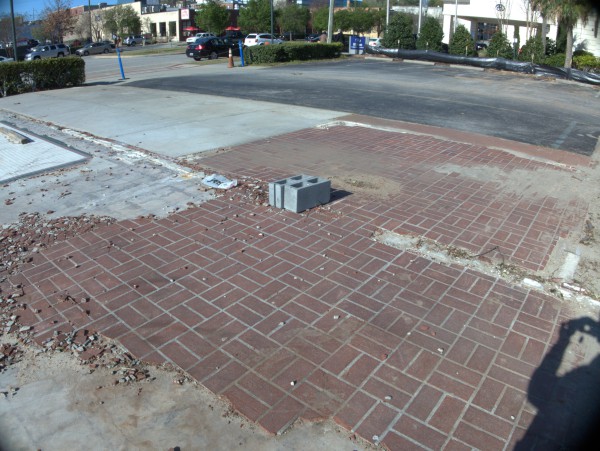 UPDATE 17 July 2014 -- Construction has started: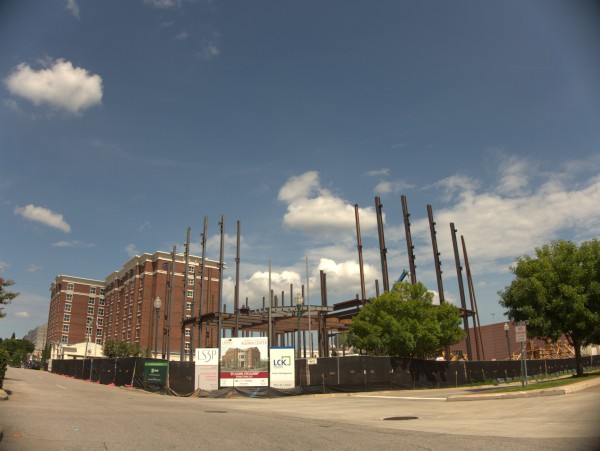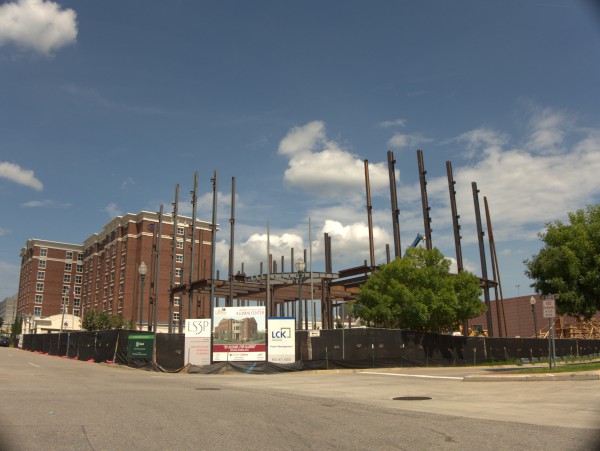 Welcome to visitors from the www.city-data.com forum! If you want to see more grand strand area memories and pictures, click this link. There are posts on The Pavilion, Waccamaw Pottery and a number of other Grand Strand institutions -- Ted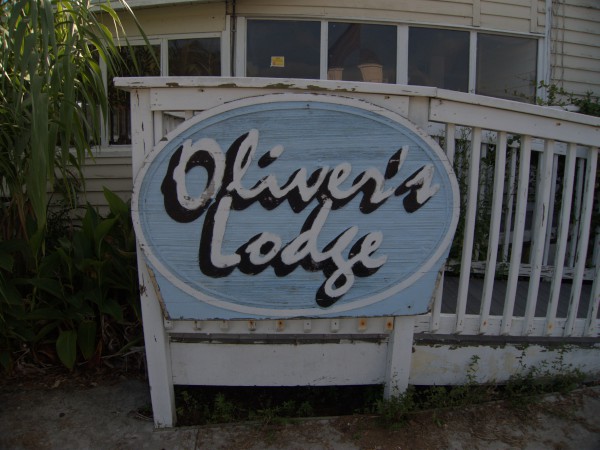 [22 Jan 2010]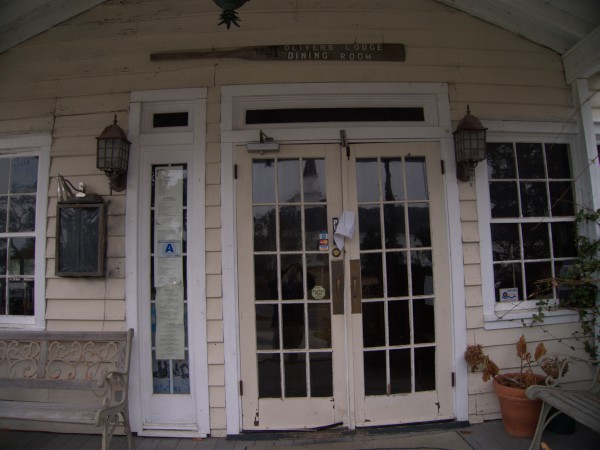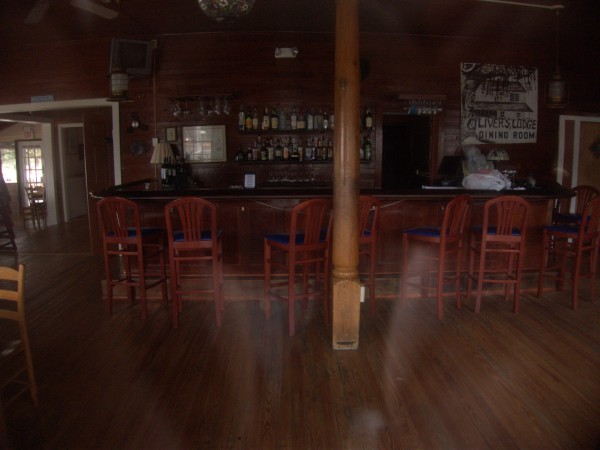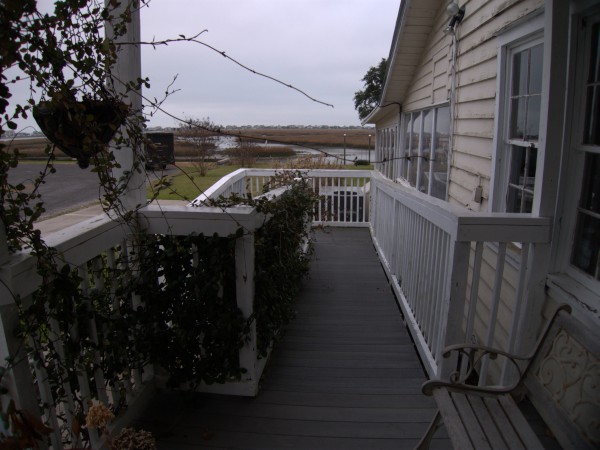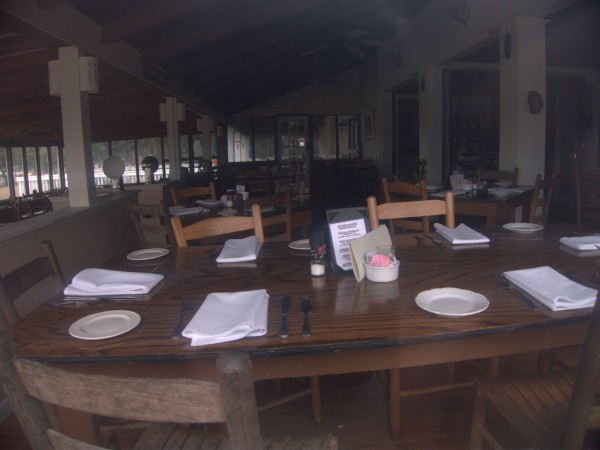 [12 Aug 2010]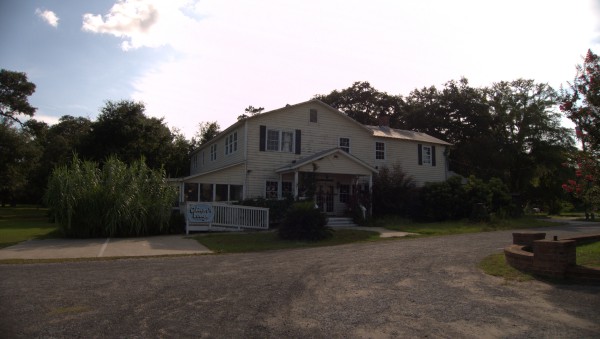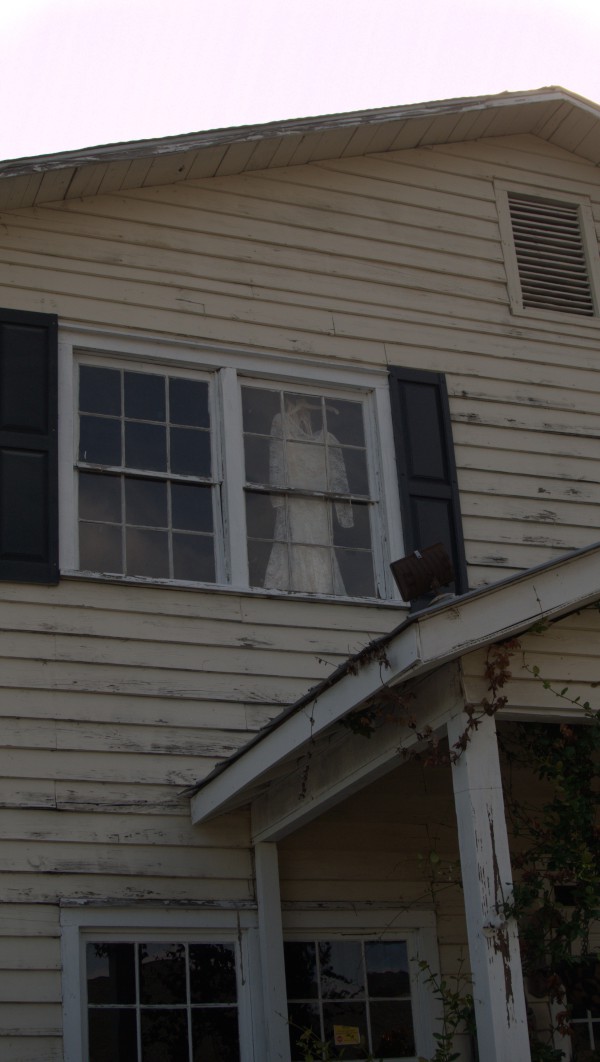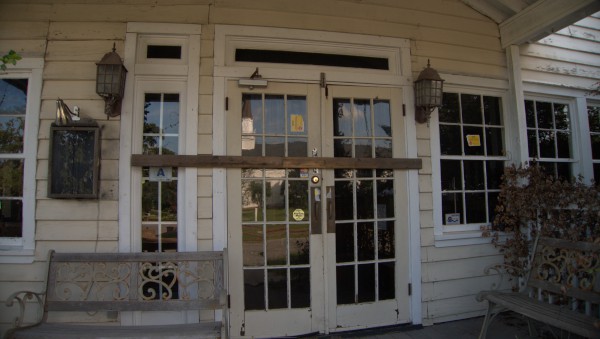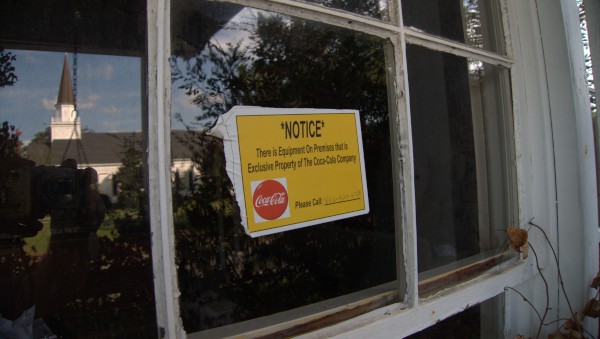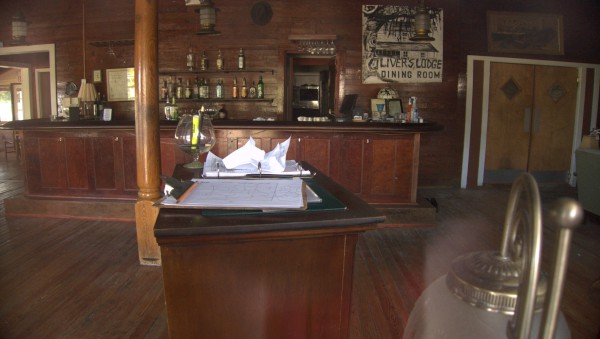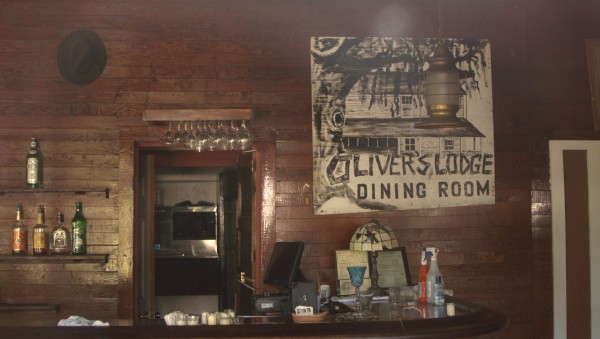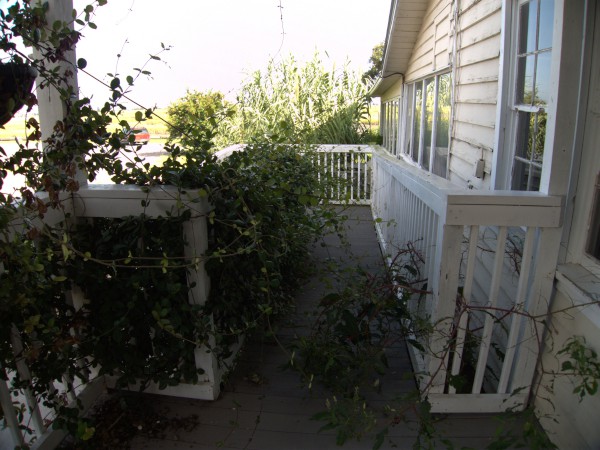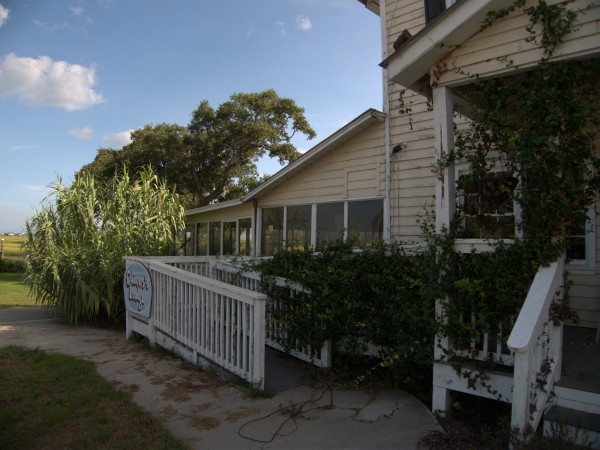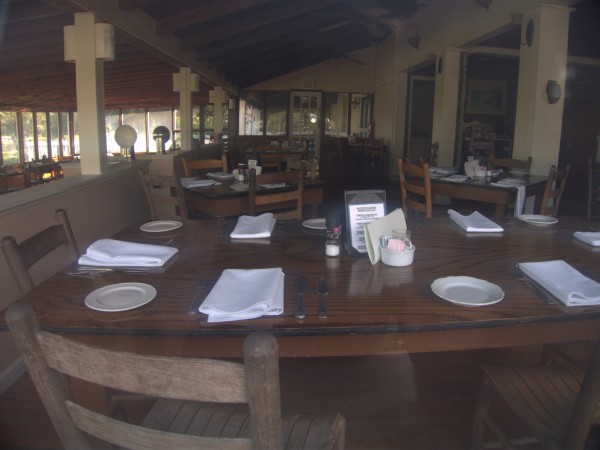 Oliver's Lodge (pronounced as one word Oliverslodge) is the first seafood restaurant I can recall eating at.
Now, if you've read this blog for a while, you'll know I don't like seafood and never have. Nonetheless, as a kid I was always eager to go whenever we were at the beach. At that time (the late 1960s), they served a lunch menu until 5pm, and that menu had spaghetti, something I would always eat, so my folks usually tried to arrange for us to arrive just before 5 so I could have my spaghetti and the grownups could have "supper". The timing was usually touch-and-go since the place drew tremendous crowds, and getting there before 5 was no guarantee of being seated before 6.
Waiting for anything with kids is always dicey, and if there were cousins as well as my sister and me, things could very easily get out of hand, but the location worked towards letting kids "free range". As you can see from some of the pictures, Oliver's sits on a large lot fronting on Murrells Inlet itself. There were several huge trees (which are still there) and a derelict john-boat or two (now gone) as well as a dock going out into the marsh where the fresh fish were brought in each day during the time when the place was a working lodging house. In addition, the lot next door was a church which was generally vacant on weekday afternoons, so there was plenty of room to race around, and plenty of things to fool with. Best of all, the lodge's big back porch always had a low-country "joggling" board -- a long flexible plank suspended between two rocker-edged saw-horses. You could get a crowd of cousins on that going back and forth and up and down until the grownups would eventually get alarmed and tell us to take it easy.
My memory is that when we first started going, dining was mostly on the back porch which was, at that time, screened, but not air-conditioned. Aside from my spaghetti (or baked-potato or whatever I ended up having ot get if we missed the 5pm deadline), the food was basic Calabash Style fried seafood with piping hot delicious hush-puppies.
The building was always a bit ramshackle. I don't know when it stopped being a boarding house and went to restaurant only operation, but the big upstairs area was largely unused in my memory. When we started going, there was still a customer restroom available upstairs, and I always liked going up there and looking around -- by the 1970s I believe the upstairs was wholly closed to customer access.
Also in the 1970s, the owners tacked up plastic sheeting over the screen porch. And I do mean "plastic" and not plexiglass or anything solid. Whenever anyone would open a door or the air conditioning kicked in, the sheeting up over all the walls would billow in and out.
It seems to me that as the 70s went on, we went to Oliver's less and less. It's not that anyone stopped liking it, but more that other options became available as the coast commercialized. The last time I recall going with a large party of cousins was probably in the late 1970s just as my generation was heading to college. We ate inside rather than on the porch, and my cousin Mike stuck his nose in a big sawfish nose hung on the wall -- a picture that I'm sure will surface eventually. I think we also played name-that-drink charades with the bar menu.
After that, I believe the next time I ate there was the last. I think it was the early 1990s, and I was either alone or with a very small party. We (or I) was on the back porch, and I noticed that the plastic sheeting had been replaced with plexiglass. The menu was also radically different, and it was evident that Oliver's had undergone a change in ownership. The defining moment for me was when they brought out the huspuppies and I found they were served with raspberry butter. That might be good, but it wasn't Oliver's.
After that, and after I started spending a lot more time at the beach I thought of going back a number of times but somehow never got around to it. Last winter I actually made the effort, but it never worked out. I would find that it wasn't open weekdays during the off season, or that it was only open for lunch, or not open Mondays or -- that it was apparently never open.
That last was a conclusion I flirted with, but never quite committed to. After all the website was still up [try this archived version once that link goes dead] , I could see the tables set through the window, and there was no note on the door..
Finally I went back on 12 August this year, and this time it was obvious that the place was closed: There was a big bar across the front doors, Coke had put a sticker claiming the fountains inside and the place was seriously overgrown. All these photos except 2, 3, 4 & 5 come from that visit.
So when did the place actually close for the last time? That's hard to say, but look at photos 2, 3, 4 & 5. These were taken on 22 Jan 2010. In particular, look at the place settings on the back porch table. Although a chair has been moved, it is clear to me that the napkins, plates and silverware in the 22 Jan photos are exactly the same as in the 12 Aug photos. So, sometime before 22 Jan, the bus staff laid out all the place settings -- and never came back.
As I was taking these photos on 12 Aug, two different cars pulled into the lot looking to eat, and both parties took their own pictures and shared stories of eating there as kids as well.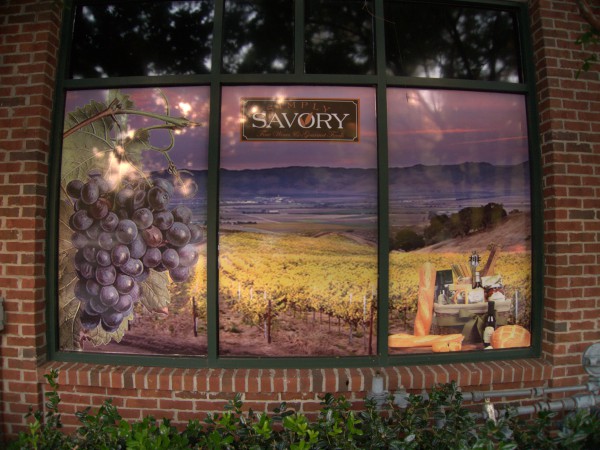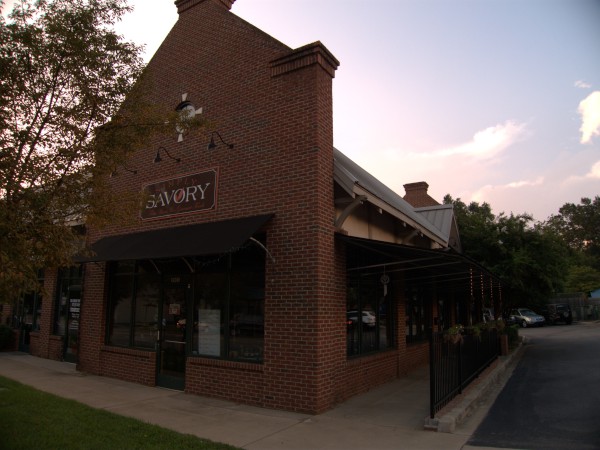 I noticed in The Free Times this week that Simply Savory on Devine Street had closed.
At this point, their web site is still up, and it's a bit melancholy to see that their contact page lists them as being "next to Ben & Jerry's and Birds on a Wire", both of which have been gone for a while themselves.
Also according to that page, they opened on 10 September 2007, so they had an almost three year run, which is not bad for that area and this economy.
I only went in to Savory once. I was actually looking for Ben & Jerry's which was already gone at that point, but decided that as long as I was there anyway, I might as well check it out. I believe this was before they added their cafe area, and as I'm not a wine person, my impression of the store was that they sold mainly jars of condiments and spreads along with esoteric kitchen items. Given that I was ignoring the wine, I'm not sure how accurate that impression is, but I found it a bit like The Island Gourmet at the Hammock Shops, or Plum Pudding on Laurens Street in Aiken. I believe they had a couple of jars of something open for dipping and sampling, and that it was pretty good but not something I ended up buying.
(Hat tip to Eva at The Free Times)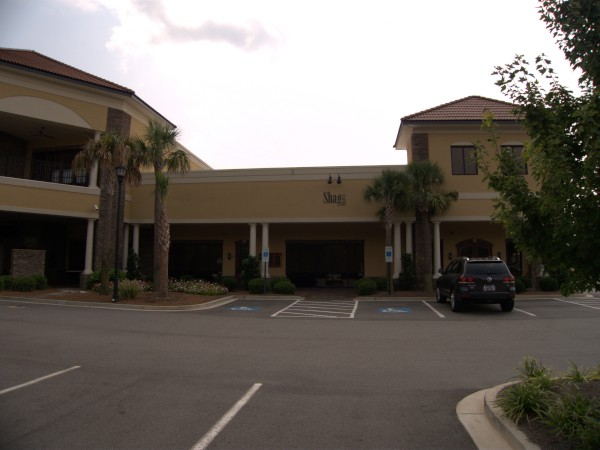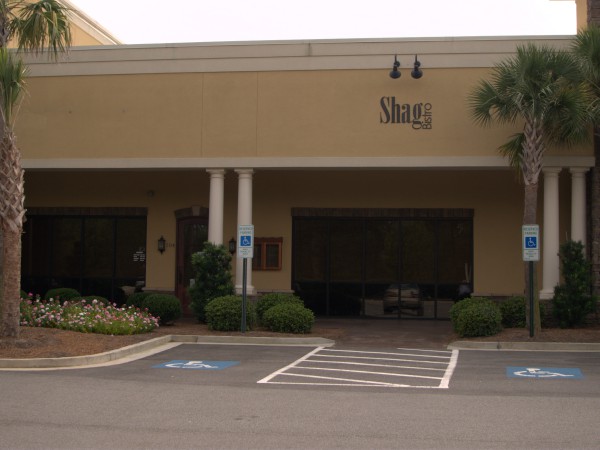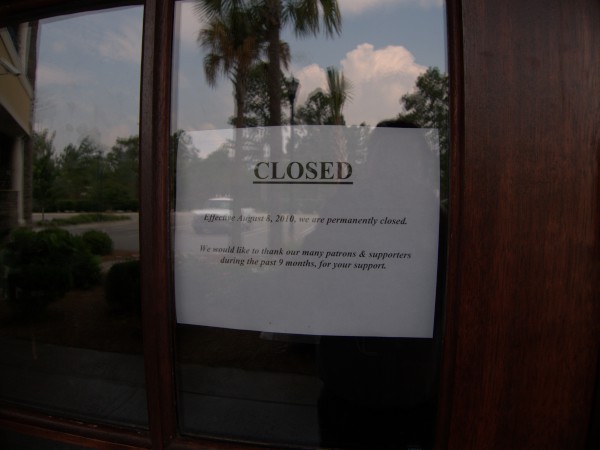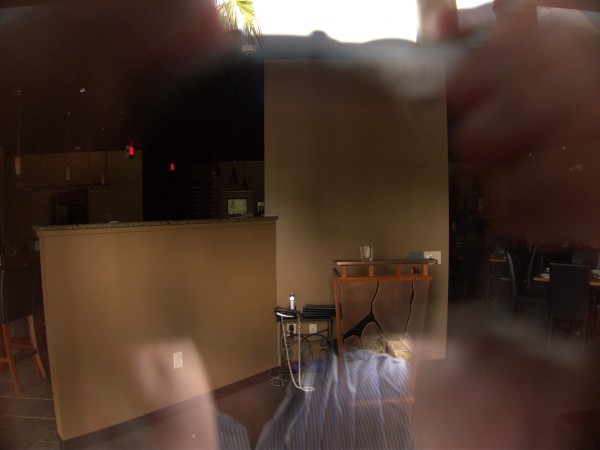 I wrote the first closing on this location when it was Mangia! Mangia!.
Shag Bistro opened not long after Mangia! closed, and while I never went there, I got the impression that it was an attempt to establish a place with more mass appeal than a somewhat upscale Italian restaurant. The name suggests something very casual and beachy, or at least the Shag part does. I've never been entirely certain what Bistro is supposed to connote in a restaurant name, but inasmuch as I have any impression, it goes in the opposite direction of casual and beachy.
Why didn't I ever get to Shag Bistro? Well, it's pretty much the same reasons I only got to Mangia! Mangia! once: location and presence-in-mind. That is to say, it's an awful long way to drive, and I usually would forget it even existed.
Of course, it's not a long way for people already in the area, but I suspect both Mangia! and Shag were just a little ahead of their time. I think everyone expects the metro area to hit Pontiac at some point, but while it might have already happened in the old economy, I suspect it will still be a while before the recession passes and the metro area starts building out again. The move of the Verizon call center from Richland Mall to Spears Creek will probably help area restaurants, but I guess it was too late for Shag.
(Hat tip to commenter Cheryl)
Posted at 10:35 pm in Uncategorized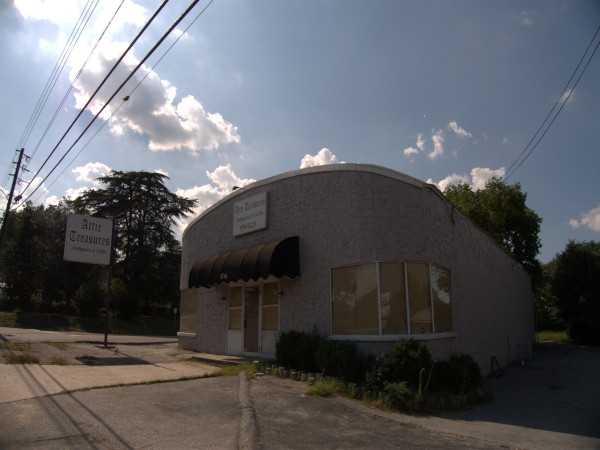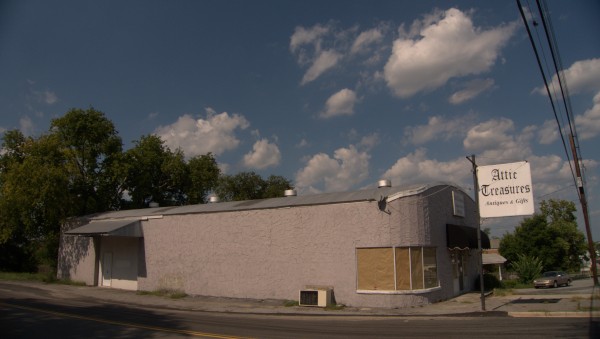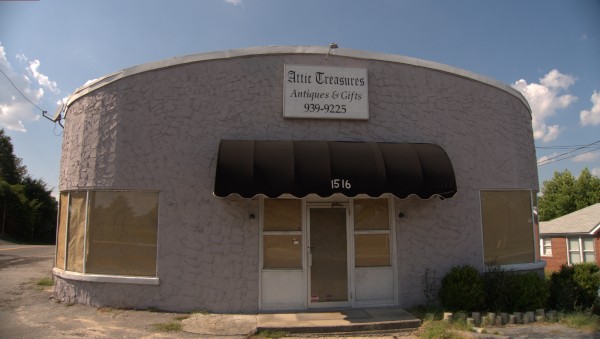 Here's a little antique store in West Columbia that I'm afraid I never got around to visiting. Here's what commenter Larry had to say about it:
Small but missed is the Attic Treasures on Meeting Street (I think). It was a typical antique mall with lots of booths offering things from lots of people. It was in this odd building and a bit smaller than most but still a great place to find neat things like an old manual typewriter for $15.
It sounds like the kind of place I would find interesting. I really don't like high-end shops with a lot of antique furniture, I like places with a lot of "old stuff" -- the warehouse antique mall on State Street being a prime example (as was the lamented Dixie Used Furniture in the Vista.
In fact, I bought the first Closing-Cam at an "antique mall" in Fernandina Beach, making it the first "antique" digital camera I'm aware of..
("Hats Off To Larry")
UPDATE 21 January 2012 -- It's now Perkins Jewelry & More as seen in this not very good drive-by picture: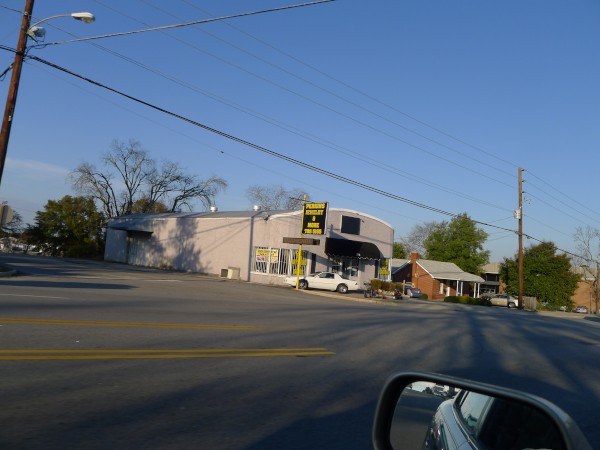 Posted at 10:18 pm in Uncategorized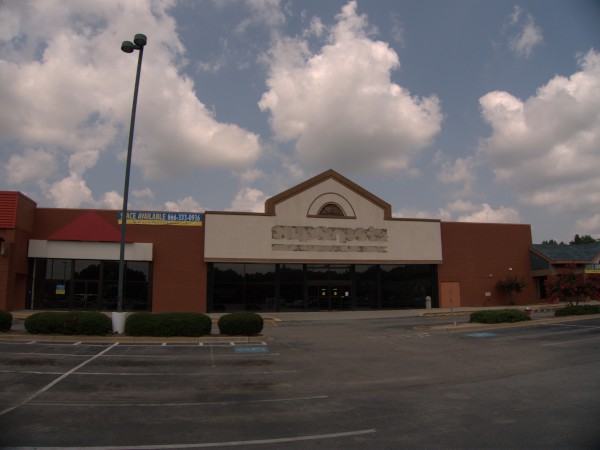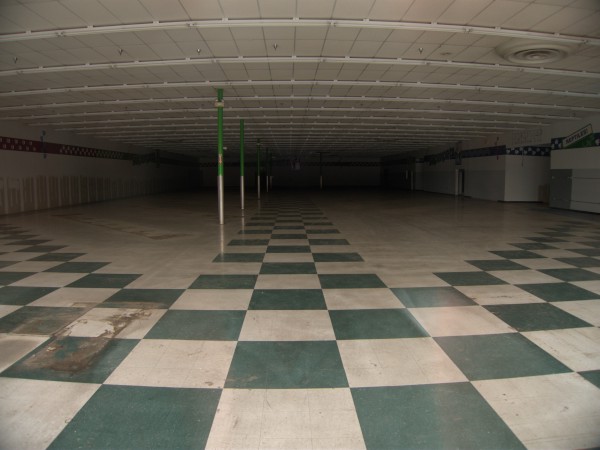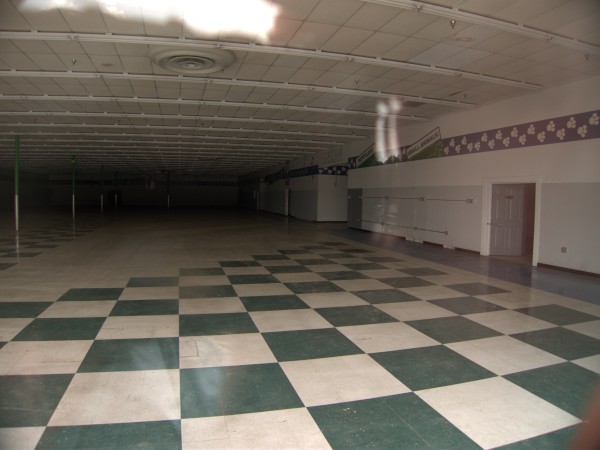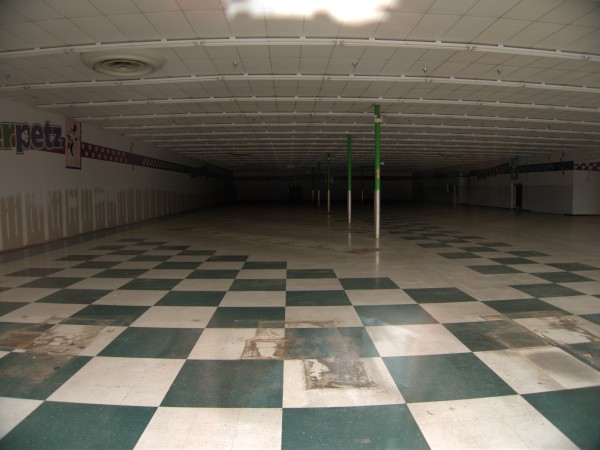 I only went into Superpetz a few times. I'm pretty sure I got pigs ears for my sister's dogs there once, and think I was in there one other time, though I can't remember what for. The place was kind of a Wal Mart for pet paraphernalia, with the non-WalMart touch that you could actually take your pets inside with you.
According to the chain's web site, this was the only Columbia store, which makes me suspect issues with the chain as a whole rather than the standard "things don't do well on Decker" issue. This closing is a further blow to the Fashion Place plaza which housed Superpetz, although it did recently make good the Cici's Pizza vacancy with the opening of Gabby's Pizza in that spot.
(Hat tip to commenter Matt)
UPDATE 8 Oct 2010: Added Phar-Mor to the post title based on the comments.
UPDATE 10 September 2011 -- It appears that Goodwill will be moving across the plaza from its current location in back to this location: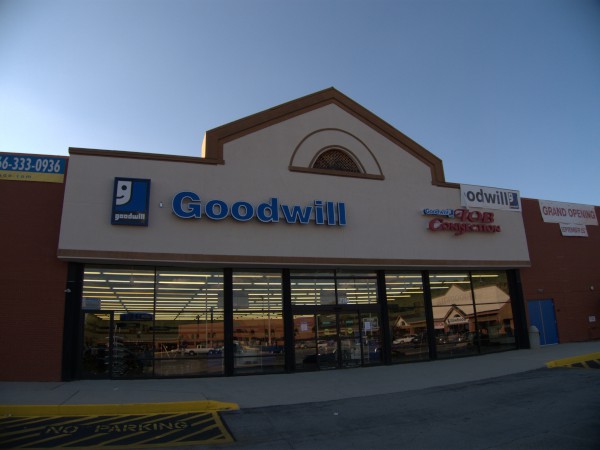 Posted at 9:49 pm in Uncategorized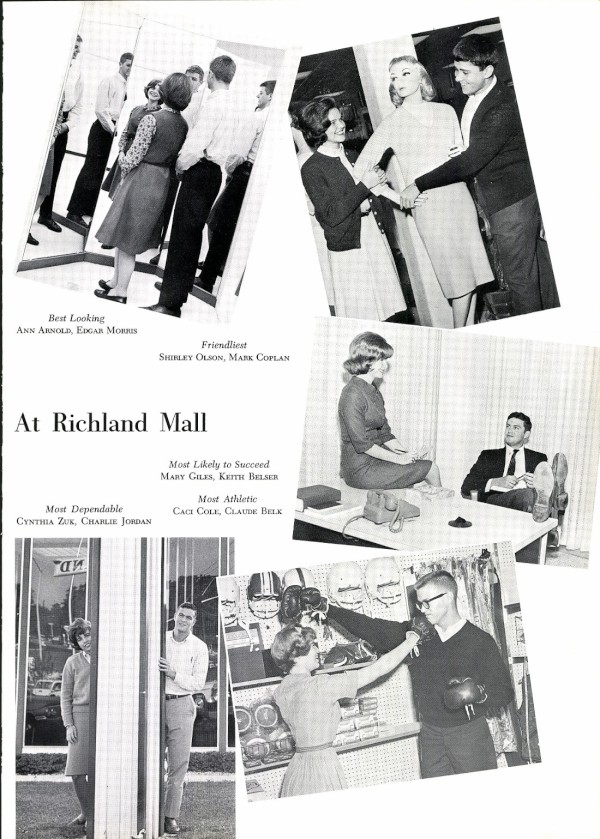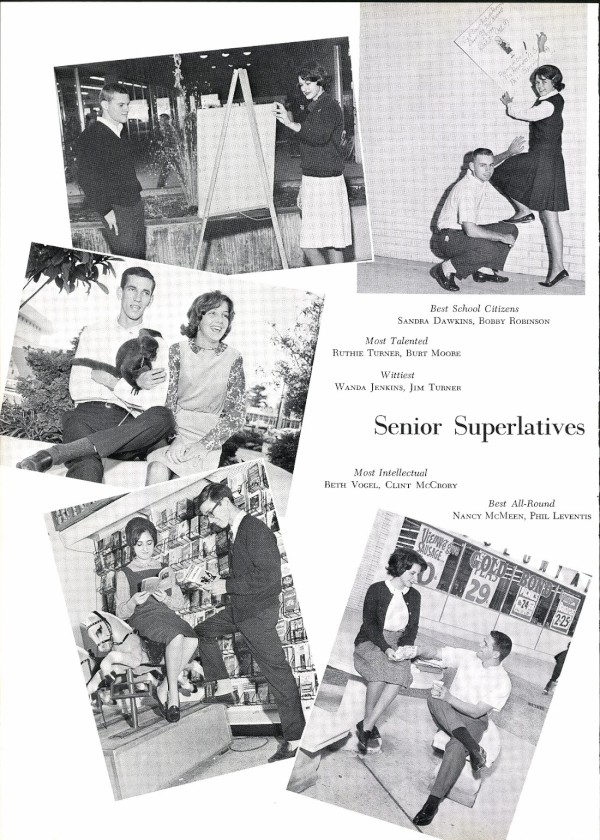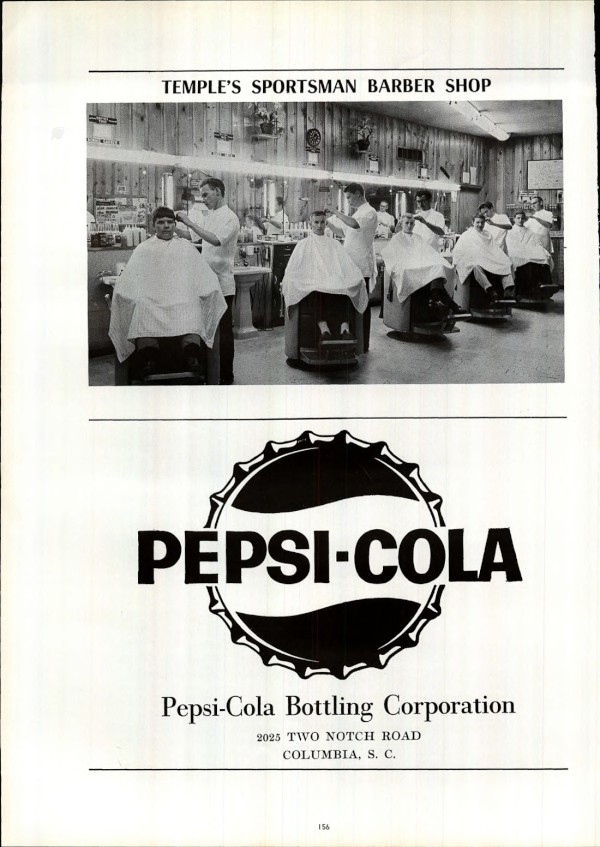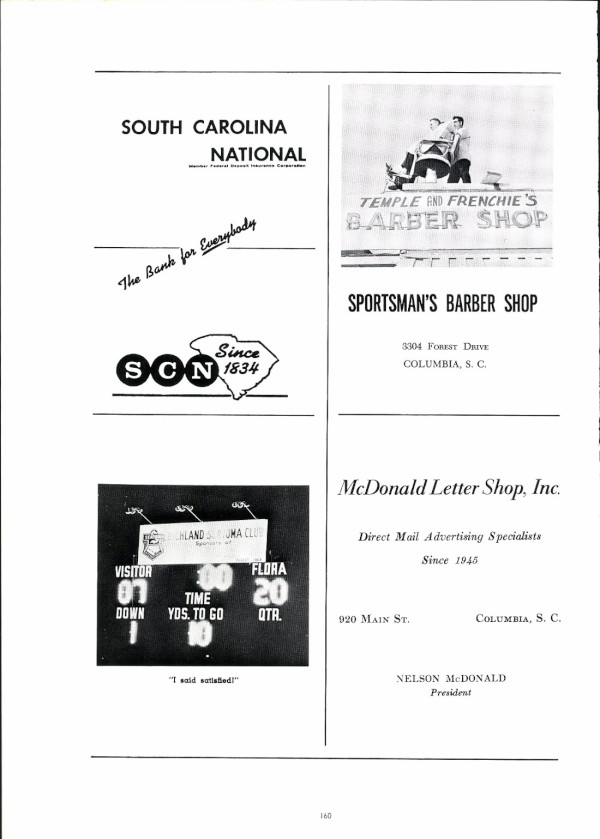 Now that I'm back, I'm finally getting around to putting up this note and interesting photos from longtime commenter Michael Taylor:
Ted,

I just discovered Classmates.com has a new feature that allows folks to upload yearbooks IN TOTAL! They can be viewed with a special "player" that lets you expand and magnify each page-pair giving the viewer an incredible close-up of life from years ago. So far, Columbia only has a few yearbooks: A.C. Flora has two (1964 &1965), Dreher has one (1975, done as a take-off on MAD magazine), and Columbia High has four (two from the early '60s when it was downtown, one from 1976 and one from 1980, both from when it moved to the Dutch Square area). I had looked at all except for the 1964 Flora yearbook when I came across the following two pages, which was a double-page spread of all the "best of" kids from that year and happened to take place at the old Richland Mall.

The scenes in the top page (left page in the pair) are pretty easy to place for the most part: the top-left is looking toward Beltline Blvd. through that dark entrance hall that went between the Colonial Store and Woolworths. I had forgotten all about that fountain. Below that image is the one where the boy & girl are sitting with a monkey (insert joke here), which was no doubt from the pet store that had the monkeys, but where that was posed is not so clear. It could be the Forest Drive end of the mall looking toward the back of the strip mall where the Sportsmans Barbershop was (more on that later)? Directly below the monkey, two kids are posing at the bookstand in either Eckerds or Woolworths because I remember the horse rides at the bookstand in one of those stores; I want to say it was probably Eckerds, but I wouldn't bet on it. I don't think the Happy Bookseller was there at this time, but it could have been from another bookstore I suppose. The image on the bottom-right is the easiest to recognize from the whole photo spread, and that would be the kids sitting at one of those never-forgotten cement picnic benches with the Colonial Store clearly in the background. Even the pebbled flooring with the drain looks familiar in this photograph. This photograph, out of all the images, is the one that really brings back the memories for me. I sat at this very table most every time I visited Richland Mall.

The images on the second page are pretty vague for the most part. I'm assuming the two top photographs are from one of the clothing stores in the mall. The bottom-right photograph must be from some sporting goods store that was at the mall (don't remember one), or it could just be from the sporting goods section of Whites (don't remember a sporting goods section there either). There is a possibility that Woolworths at one time had a sports equipment section, but I don't remember one. The middle picture must be from either the office of the mall manager or perhaps the manager of Whites. There could have been an insurance office at the mall ( or something like that, seem to remember some sort of office), but I don't remember that for sure. The bottom-left picture would be pretty hard to pin-point if it wasn't for the reflection in the window over the girl. You can clearly see the backwards 'ND' of the large Richland Mall sign that was at the main Forest Drive entrance, so I'm thinking this photograph must have been taken in front of the bank that used to be immediately next to that entrance (don't remember the bank's name however). The windows in this photograph also look like a much larger version of the vague background in the page-one photograph with the monkey.

After I found the Richland Mall photo spread, it occurred to me that the ad section of a yearbook quite often has ads with pictures of the business as part of the ad. As a matter of fact, I was a yearbook photographer at A.C. Flora for the 1973 yearbook, and I personally took photographs at Belks on Main Street (don't ask me where those photographs are because they only used one, and it didn't have anything recognizable in it). I looked through all of the yearbooks for Columbia and all I could find with pictures were the two ads for the Sportsman Barber Shop in the A.C. Flora yearbooks. The top page is from the 1965 yearbook and the bottom page is from the 1964 yearbook. The top photograph doesn't show the outside, but anyone who got their hair cut here would instantly recognize the pine wall paneling. I got my hair cut at just about every barbershop in Forest Acres at one time or another, but the last old-style barbershop that I personally remember using was the Sportsman. As a matter of fact, the first barber on the left was my barber for most of those later-day haircuts. I think that's Frenchie third from left, and I'm guessing that the barber on the right in the background is Temple.

The bottom page doesn't really have much in the way of memories, but it does have a picture of Frenchie and Temple standing on the roof in front of the sign. Actually, that's Frenchie standing and getting ready to cut Temple's hair in the barber chair, which was a fixture on top of the barbershop for years. Of course, Frenchie was a Forest Acres barbershop legend in his own right, I think I've read you reference him in one post or another. My very first job, other than cutting grass around the neighborhood, was shining shoes at the Ravenwood Barbershop when I was either 13 or 14. If I'm not mistaken, the last place Frenchie worked before he either retired or died was the Ravenwood Barbershop. Yeap, I can actually say that I worked for Frenchie the Barber.

I guess this proves that those "missing photographs" can be found just about anywhere. Not sure if you want to use these or not, but I had to share them with you because I knew you would appreciate at least a few glimpses of the old Richland Mall; I suppose we would take any glimpses of the old mall that we could get, eh? Technically, since these yearbooks don't have a copyright notice anywhere, they can be considered public domain, making them free to use for Columbia Closings. However, I'm guessing that though they are great for a blast-from-the-past reflection, they are probably not too practical for your blog. They really don't show much of the overall mall or barbershop, and only someone who already knew what they were missing would know what they were looking at. At any rate, thought you would enjoy them.
Thanks Michael!
Posted at 12:21 am in Uncategorized