Posted at 10:20 pm in Uncategorized
Welcome to visitors from the www.city-data.com forum! If you want to see more grand strand area memories and pictures, click this link. There are posts on The Pavilion, Waccamaw Pottery and a number of other Grand Strand institutions -- Ted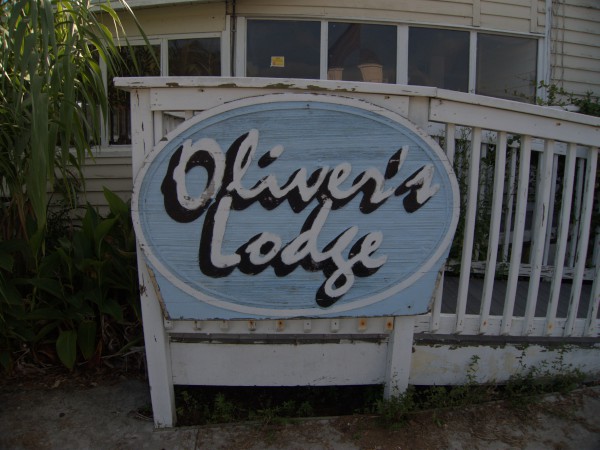 [22 Jan 2010]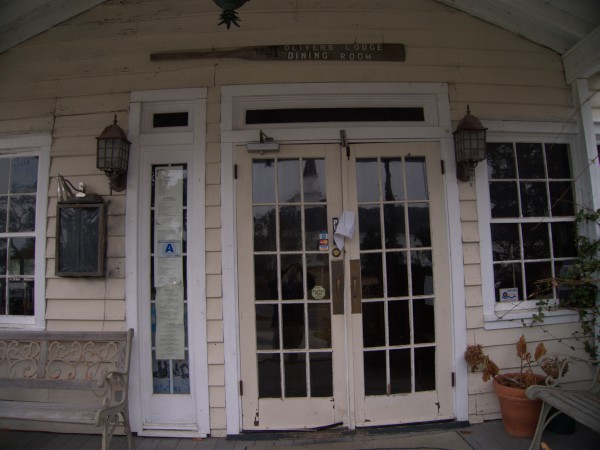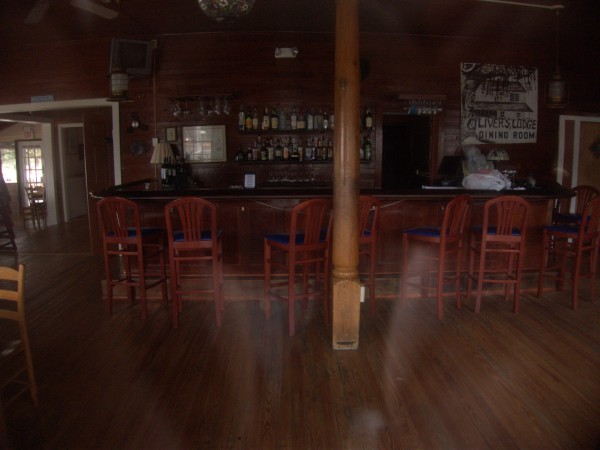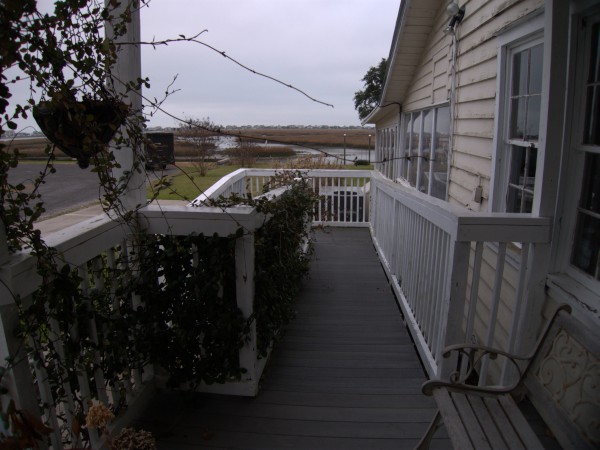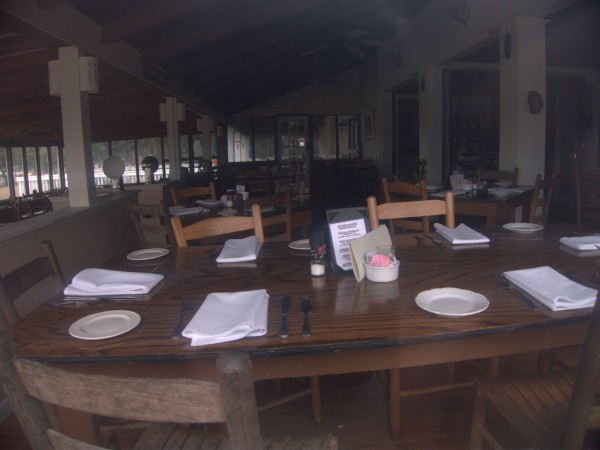 [12 Aug 2010]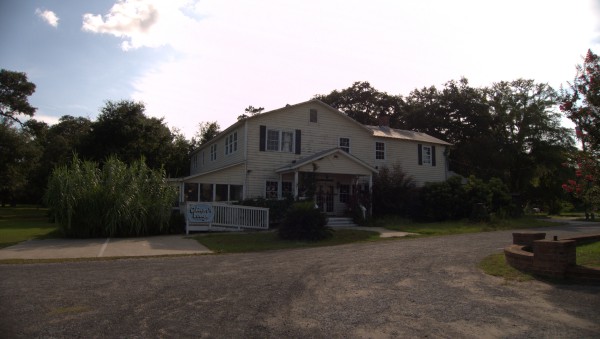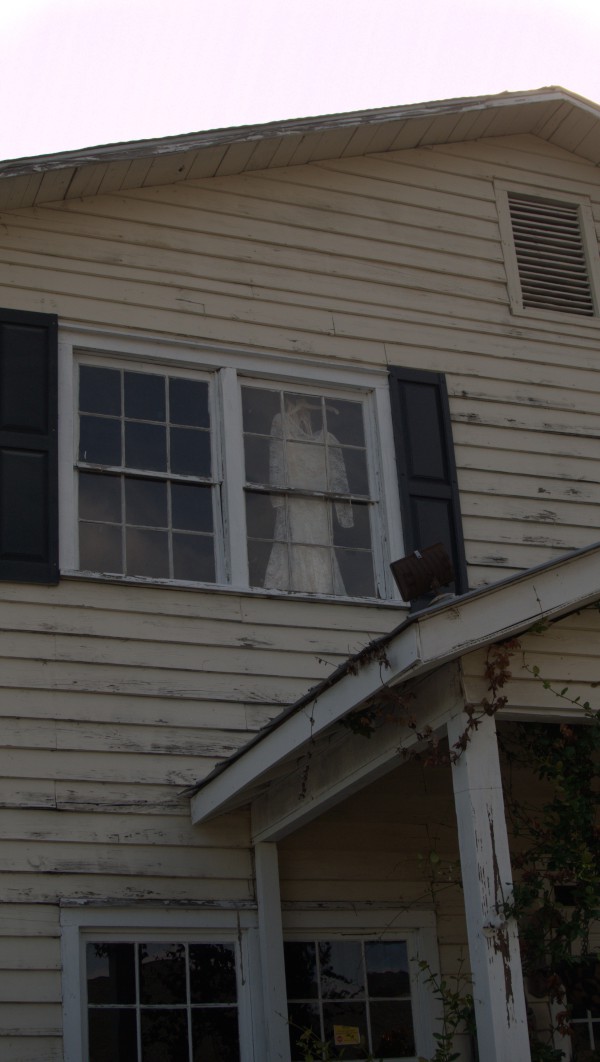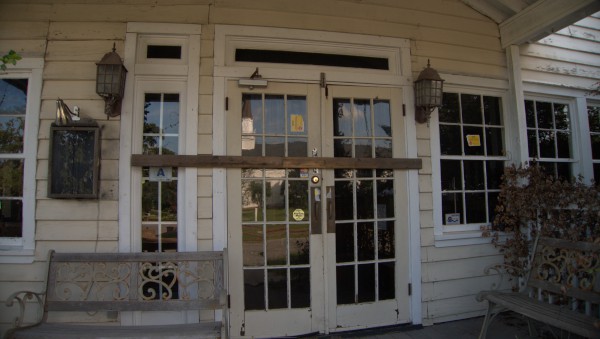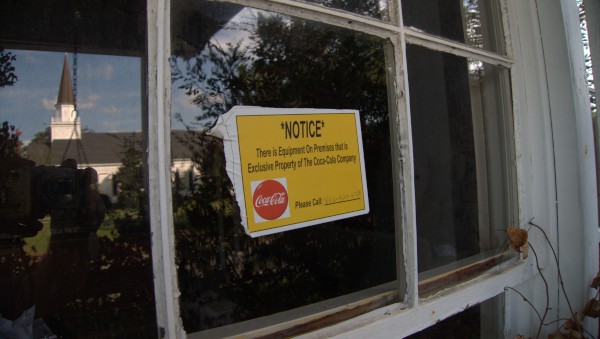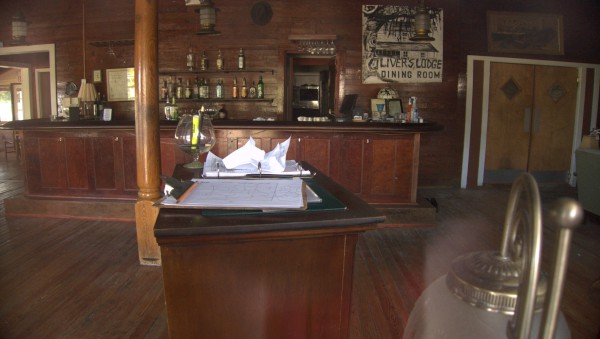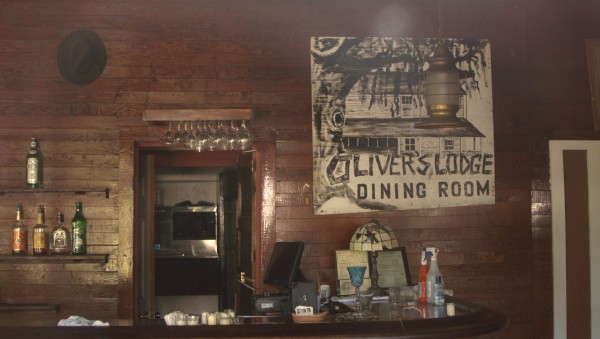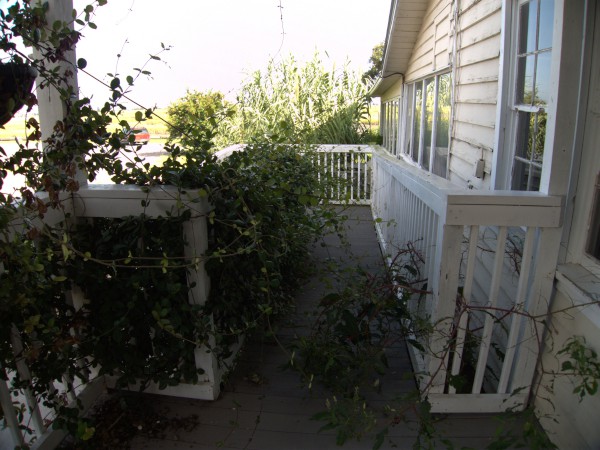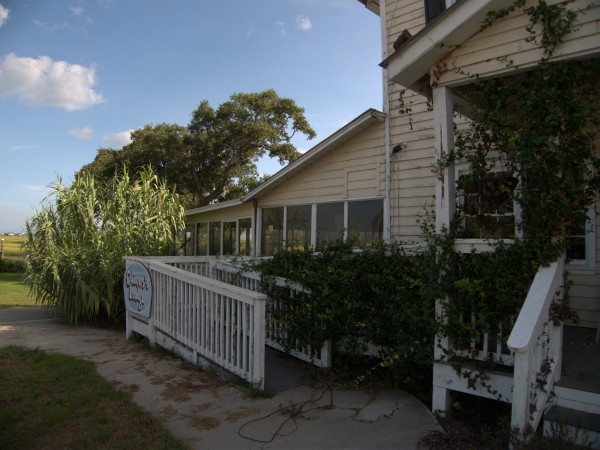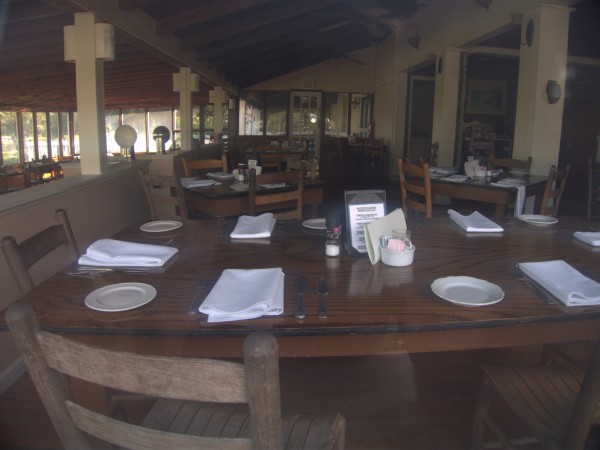 Oliver's Lodge (pronounced as one word Oliverslodge) is the first seafood restaurant I can recall eating at.
Now, if you've read this blog for a while, you'll know I don't like seafood and never have. Nonetheless, as a kid I was always eager to go whenever we were at the beach. At that time (the late 1960s), they served a lunch menu until 5pm, and that menu had spaghetti, something I would always eat, so my folks usually tried to arrange for us to arrive just before 5 so I could have my spaghetti and the grownups could have "supper". The timing was usually touch-and-go since the place drew tremendous crowds, and getting there before 5 was no guarantee of being seated before 6.
Waiting for anything with kids is always dicey, and if there were cousins as well as my sister and me, things could very easily get out of hand, but the location worked towards letting kids "free range". As you can see from some of the pictures, Oliver's sits on a large lot fronting on Murrells Inlet itself. There were several huge trees (which are still there) and a derelict john-boat or two (now gone) as well as a dock going out into the marsh where the fresh fish were brought in each day during the time when the place was a working lodging house. In addition, the lot next door was a church which was generally vacant on weekday afternoons, so there was plenty of room to race around, and plenty of things to fool with. Best of all, the lodge's big back porch always had a low-country "joggling" board -- a long flexible plank suspended between two rocker-edged saw-horses. You could get a crowd of cousins on that going back and forth and up and down until the grownups would eventually get alarmed and tell us to take it easy.
My memory is that when we first started going, dining was mostly on the back porch which was, at that time, screened, but not air-conditioned. Aside from my spaghetti (or baked-potato or whatever I ended up having ot get if we missed the 5pm deadline), the food was basic Calabash Style fried seafood with piping hot delicious hush-puppies.
The building was always a bit ramshackle. I don't know when it stopped being a boarding house and went to restaurant only operation, but the big upstairs area was largely unused in my memory. When we started going, there was still a customer restroom available upstairs, and I always liked going up there and looking around -- by the 1970s I believe the upstairs was wholly closed to customer access.
Also in the 1970s, the owners tacked up plastic sheeting over the screen porch. And I do mean "plastic" and not plexiglass or anything solid. Whenever anyone would open a door or the air conditioning kicked in, the sheeting up over all the walls would billow in and out.
It seems to me that as the 70s went on, we went to Oliver's less and less. It's not that anyone stopped liking it, but more that other options became available as the coast commercialized. The last time I recall going with a large party of cousins was probably in the late 1970s just as my generation was heading to college. We ate inside rather than on the porch, and my cousin Mike stuck his nose in a big sawfish nose hung on the wall -- a picture that I'm sure will surface eventually. I think we also played name-that-drink charades with the bar menu.
After that, I believe the next time I ate there was the last. I think it was the early 1990s, and I was either alone or with a very small party. We (or I) was on the back porch, and I noticed that the plastic sheeting had been replaced with plexiglass. The menu was also radically different, and it was evident that Oliver's had undergone a change in ownership. The defining moment for me was when they brought out the huspuppies and I found they were served with raspberry butter. That might be good, but it wasn't Oliver's.
After that, and after I started spending a lot more time at the beach I thought of going back a number of times but somehow never got around to it. Last winter I actually made the effort, but it never worked out. I would find that it wasn't open weekdays during the off season, or that it was only open for lunch, or not open Mondays or -- that it was apparently never open.
That last was a conclusion I flirted with, but never quite committed to. After all the website was still up [try this archived version once that link goes dead] , I could see the tables set through the window, and there was no note on the door..
Finally I went back on 12 August this year, and this time it was obvious that the place was closed: There was a big bar across the front doors, Coke had put a sticker claiming the fountains inside and the place was seriously overgrown. All these photos except 2, 3, 4 & 5 come from that visit.
So when did the place actually close for the last time? That's hard to say, but look at photos 2, 3, 4 & 5. These were taken on 22 Jan 2010. In particular, look at the place settings on the back porch table. Although a chair has been moved, it is clear to me that the napkins, plates and silverware in the 22 Jan photos are exactly the same as in the 12 Aug photos. So, sometime before 22 Jan, the bus staff laid out all the place settings -- and never came back.
As I was taking these photos on 12 Aug, two different cars pulled into the lot looking to eat, and both parties took their own pictures and shared stories of eating there as kids as well.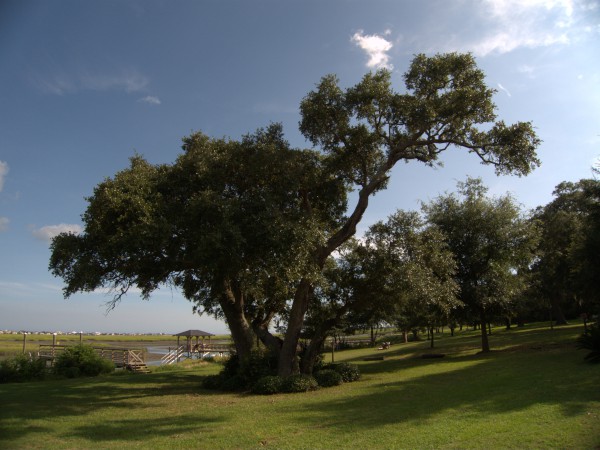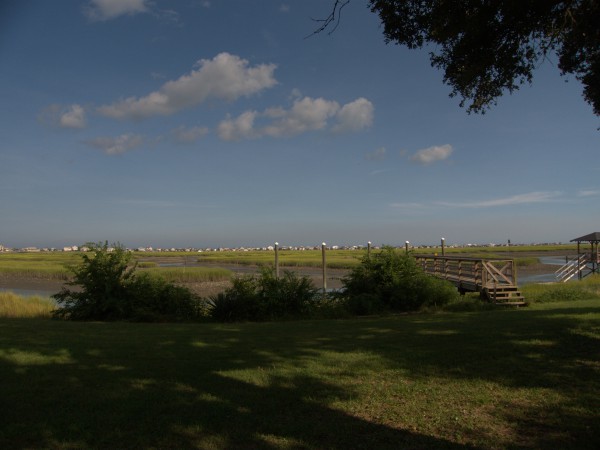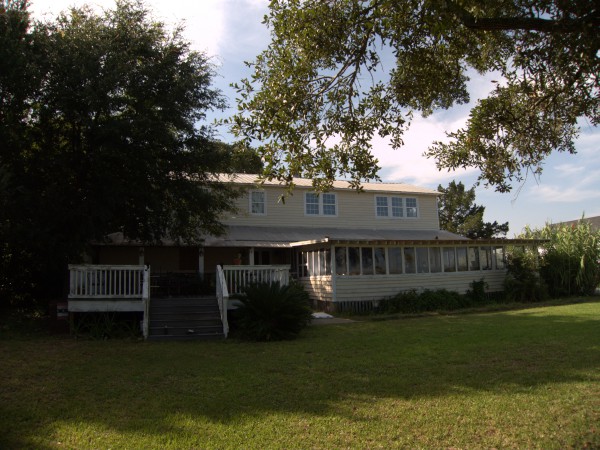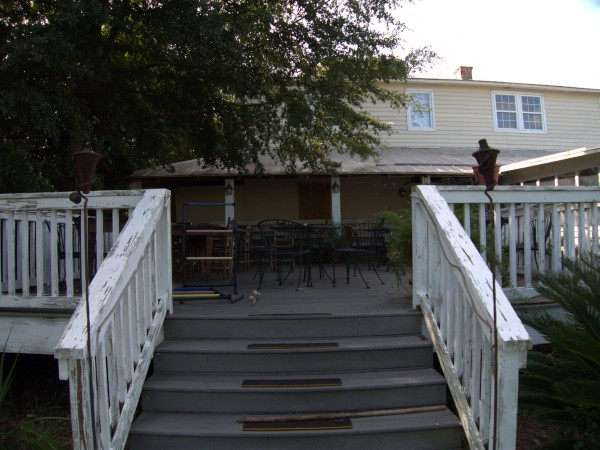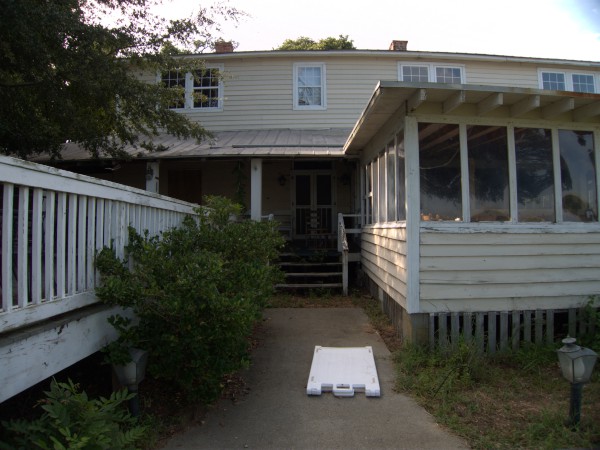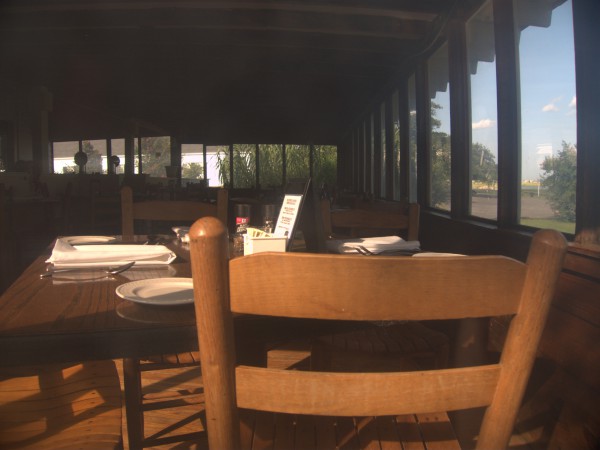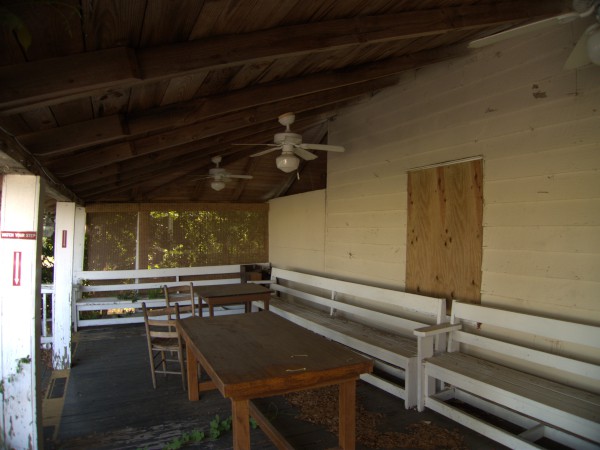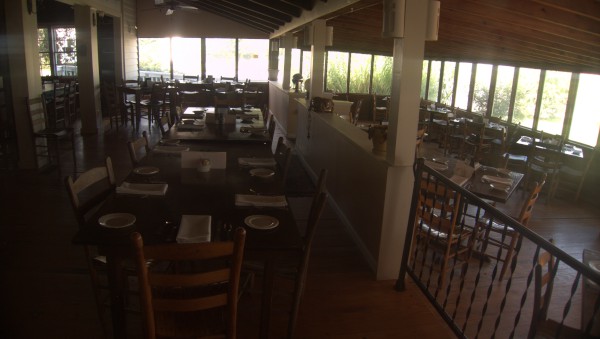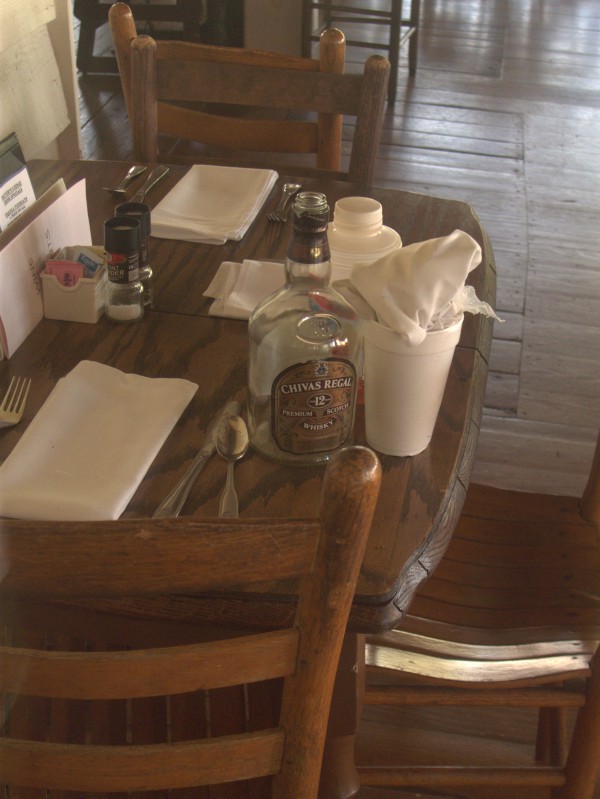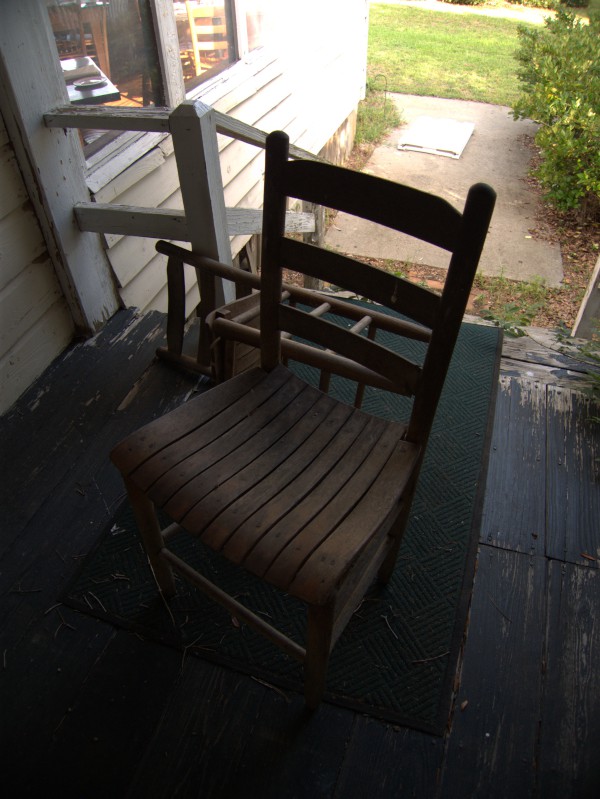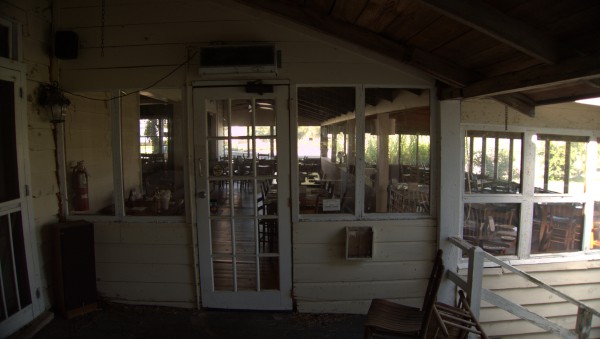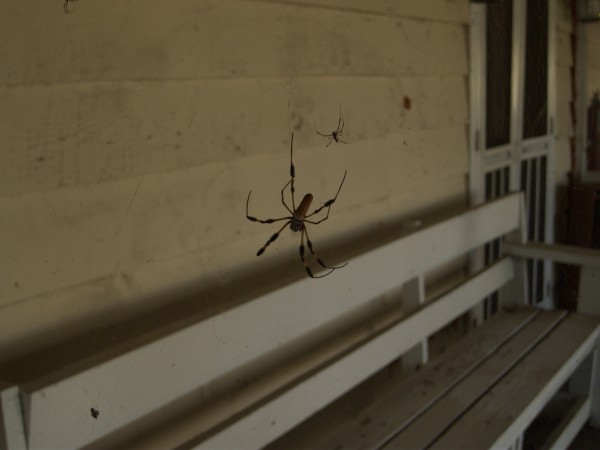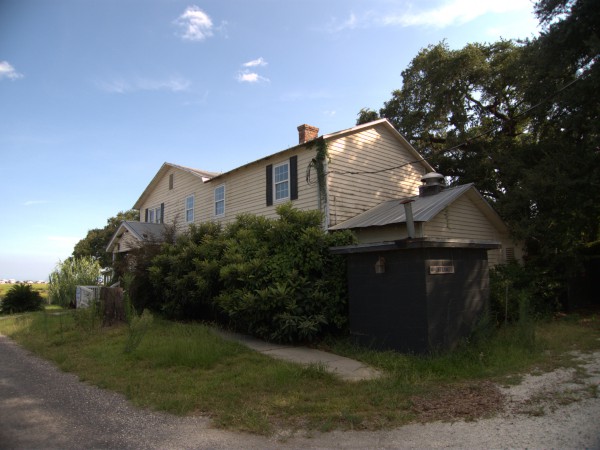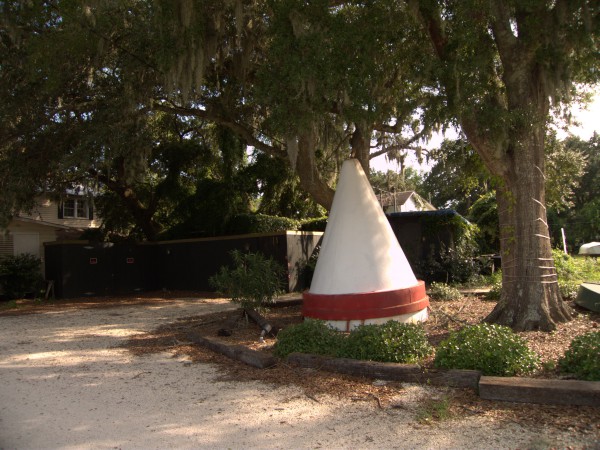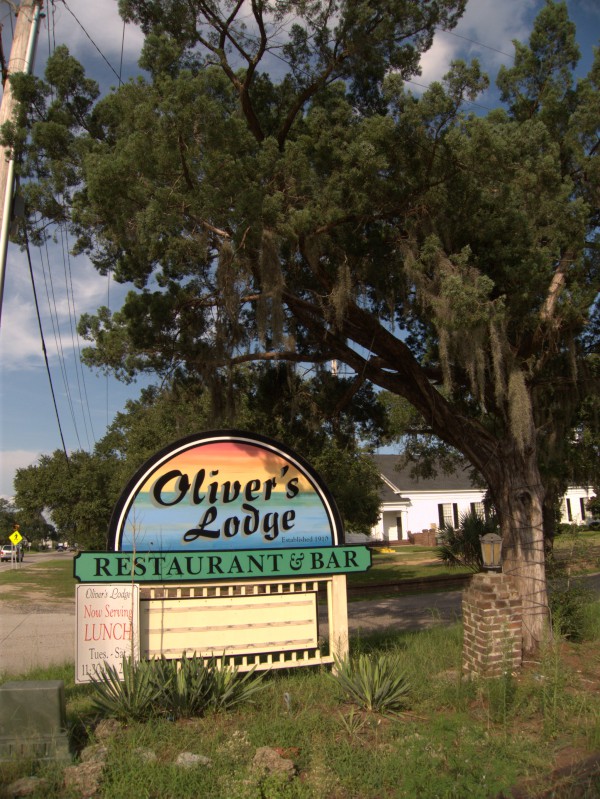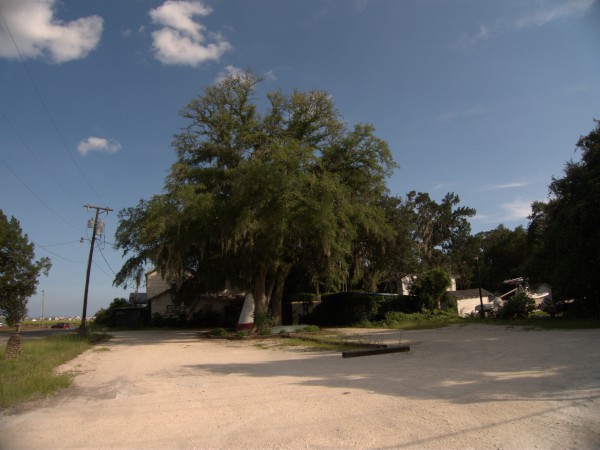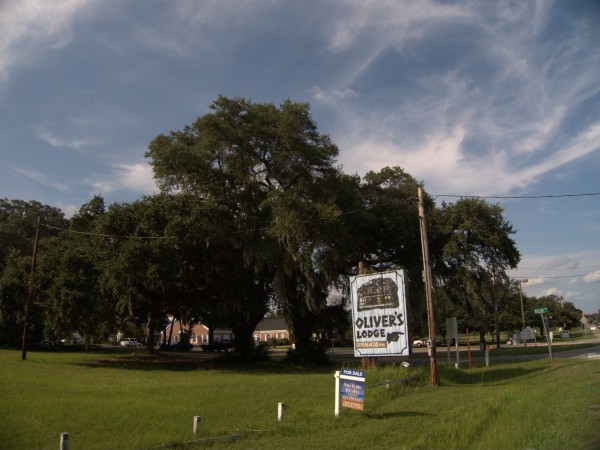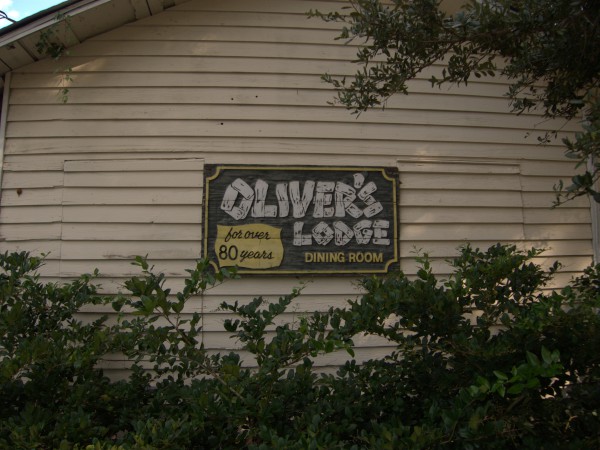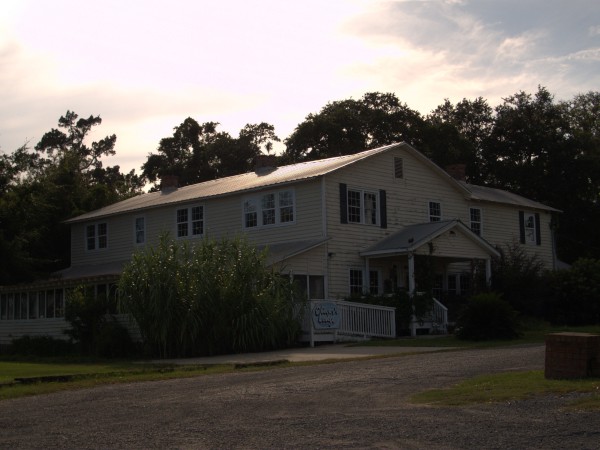 UPDATE 16 June 2011: Added whole 12 August 2010 photoset link.
UPDATE 18 July 2011: here is an article remembering Oliver's Lodge from the Georgetown Times.
UPDATE 31 January 2012 -- Take a look at these interior pictures by Beverly Bledsoe on the Ugly Hedgehog photography forum. Very nice!
UPDATE 11 July 2012 -- As mentioned by commenter Paul, someone has taken the property in hand and has partially boarded it up and posted it. Still no "For Sale" sign though. Pictures from 4 July 2012: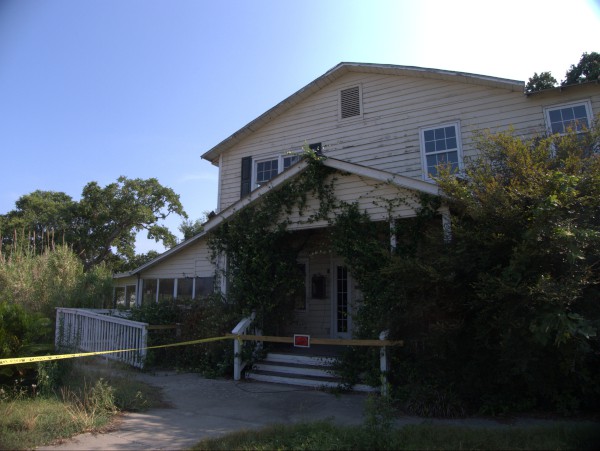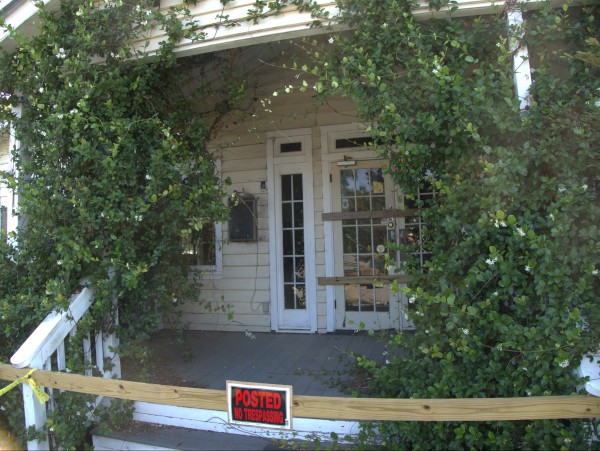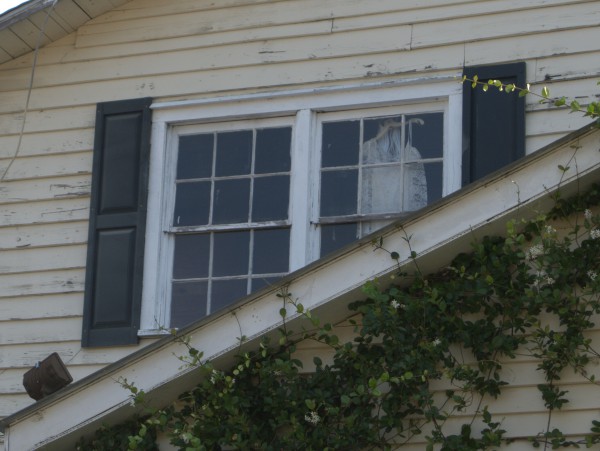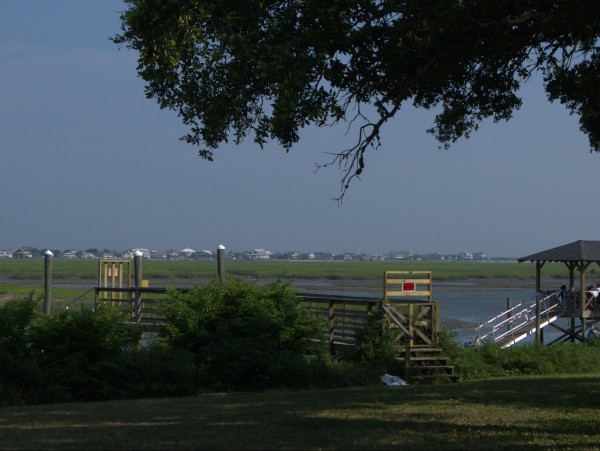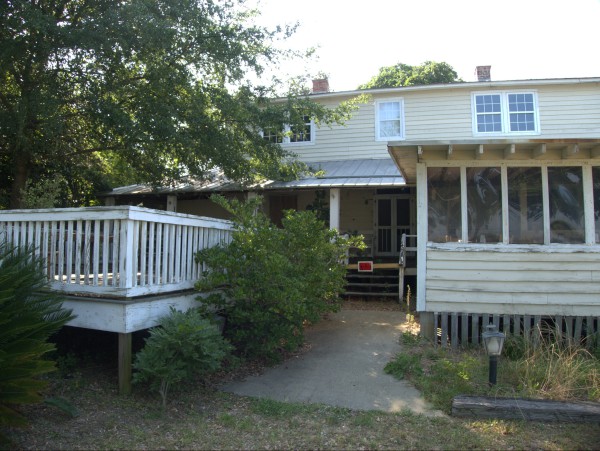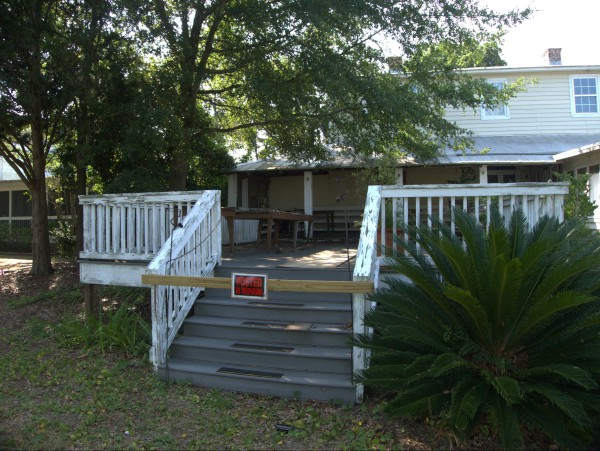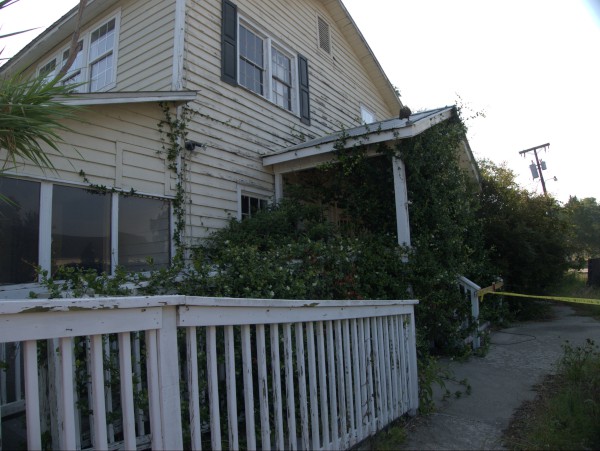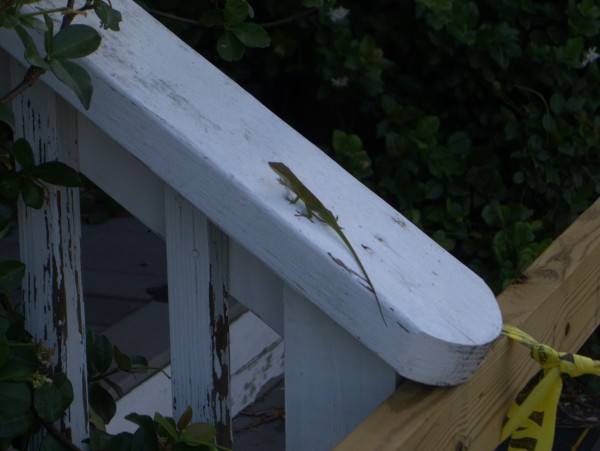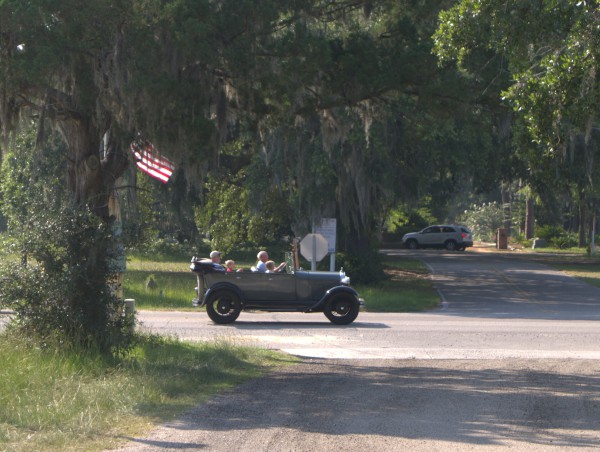 73 Responses to 'Oliver's Lodge, 4204 Highway 17 Business Murrells Inlet: Winter 2009'
Subscribe to comments with RSS or TrackBack to 'Oliver's Lodge, 4204 Highway 17 Business Murrells Inlet: Winter 2009'.
Leave a Reply