Archive for October, 2008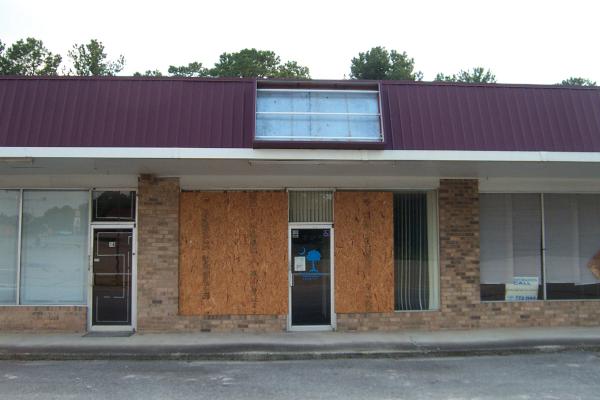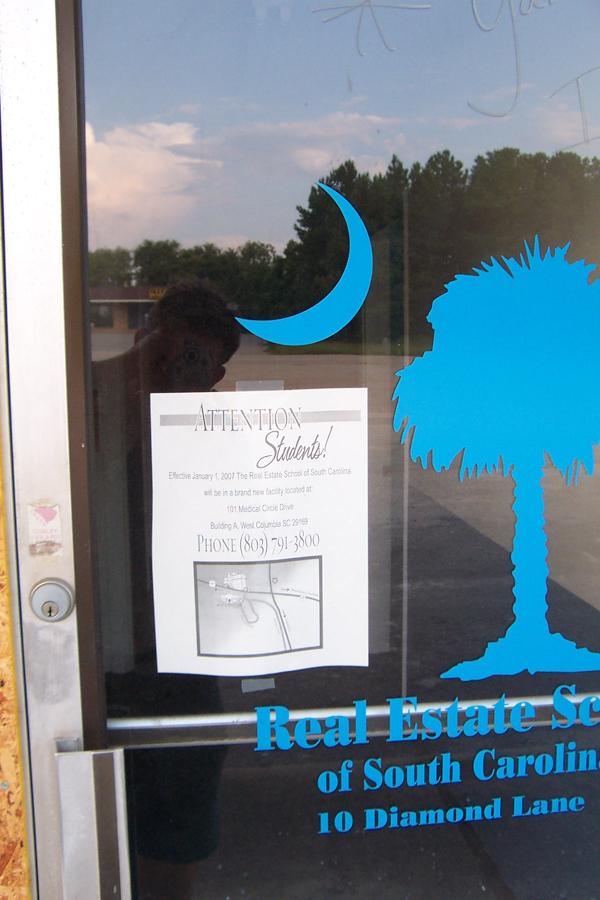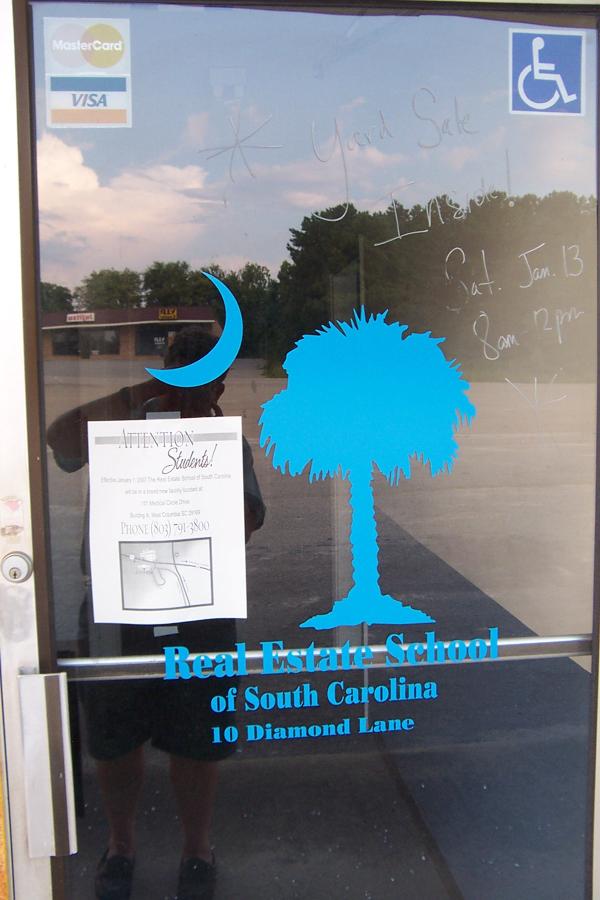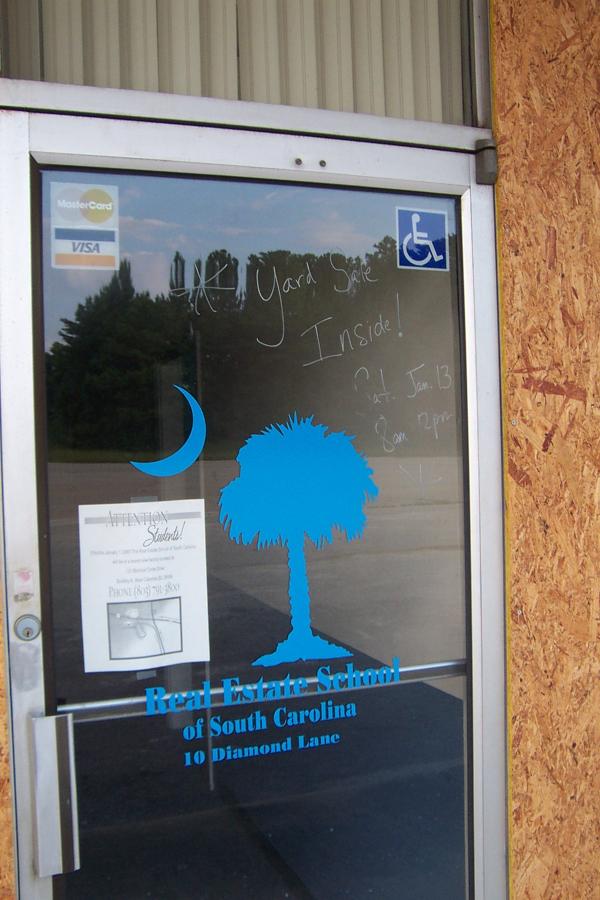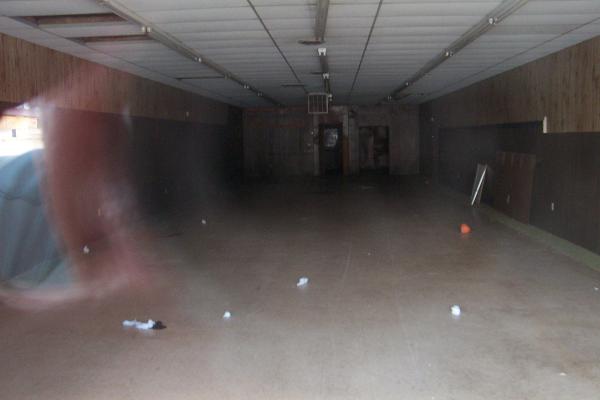 Here's another now empty store-front in Intersection Center. In this case, the business is still around and appears to have a nicer, free-standing facility now.
According to their sign, they've been moved for almost two years at this point, and I believe Intersection Center itself has been on the market for at least that long. I'm sure that wanting to present a more upscale image than a run-down strip mall allowed was a big factor in the move, but I wonder if they also expected that the place would sell and be demolished long before now. I'm a little surprised it hasn't, but I guess nobody is going to bet on redeveloping a struggling retail corridor in this economic climate. The few places still hanging on there are probably safe until the buildings are actually condemned.
Wonder how the Yard Sale turned out?
UPDATE 21 July 2011 -- Here are the school's new digs off Sunset Boulevard: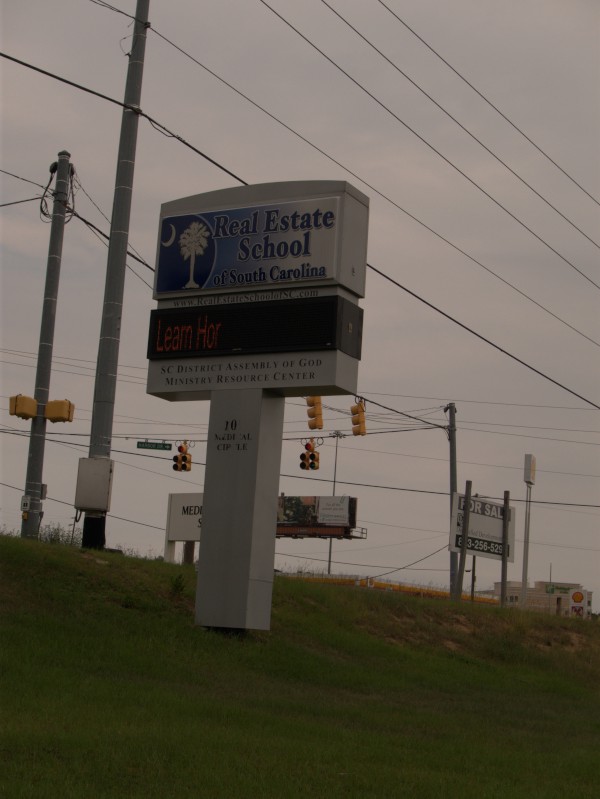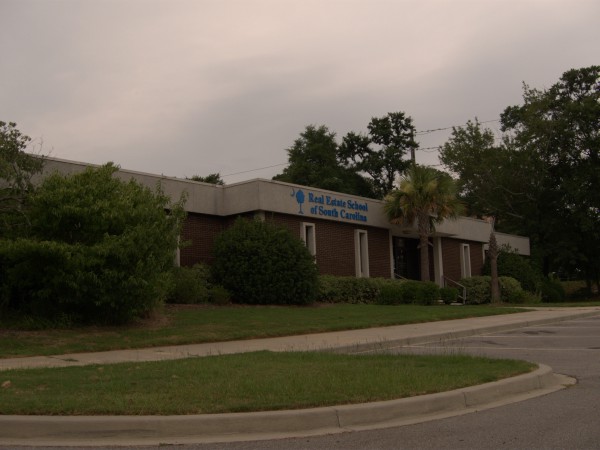 Posted at 11:12 pm in Uncategorized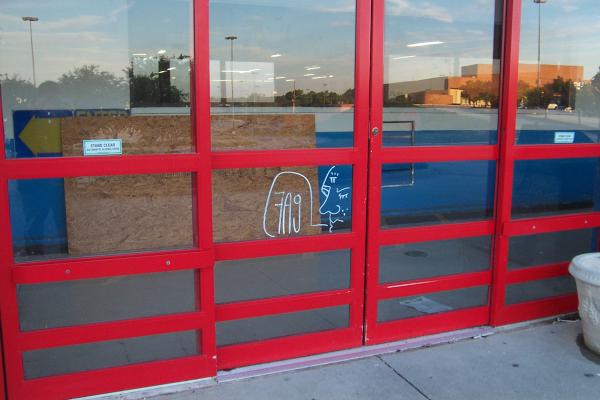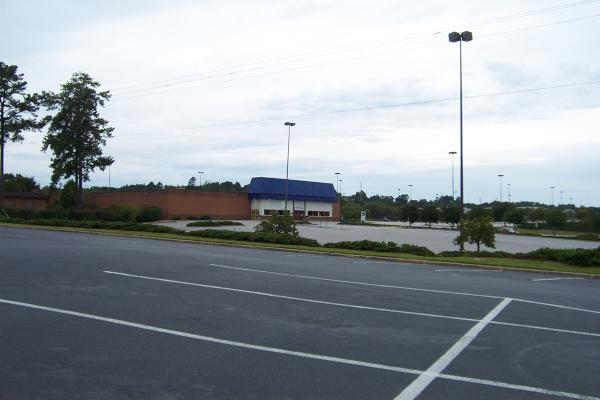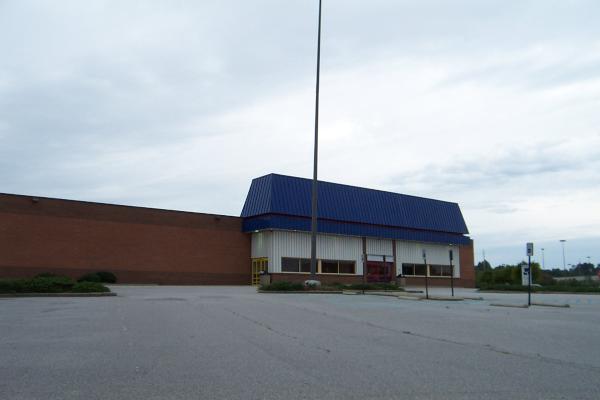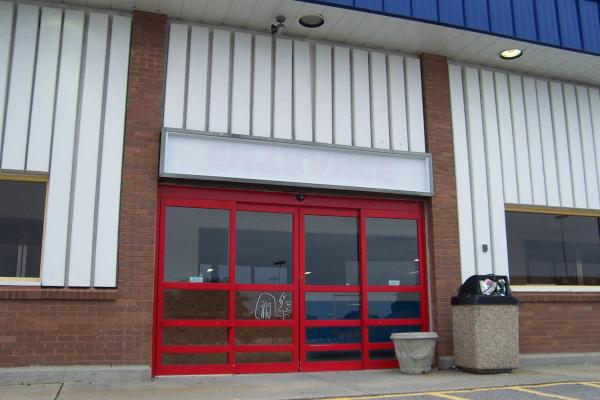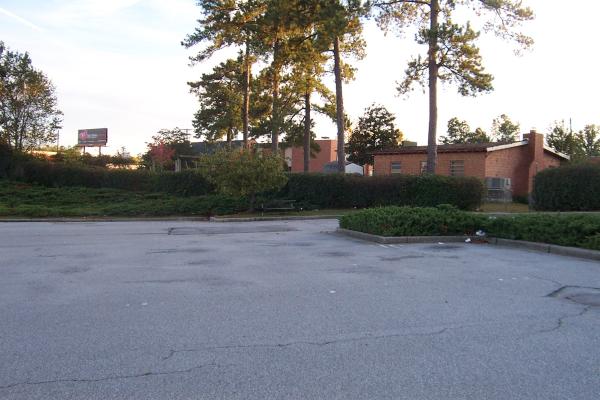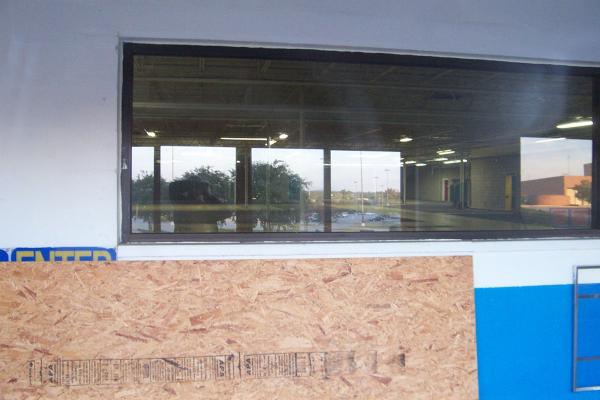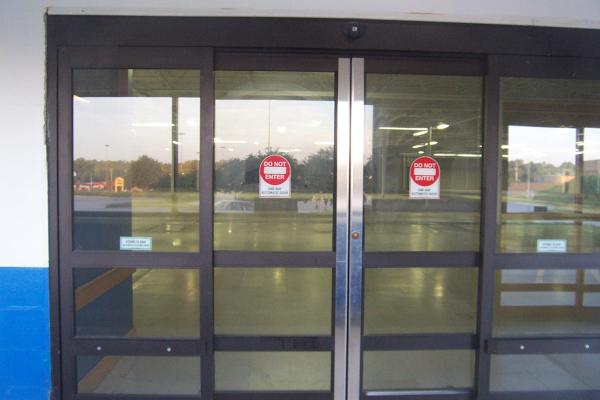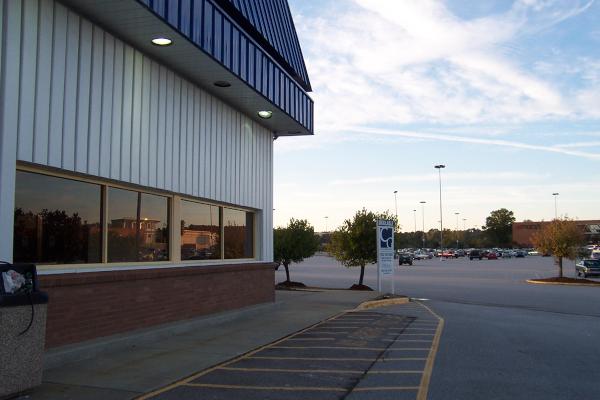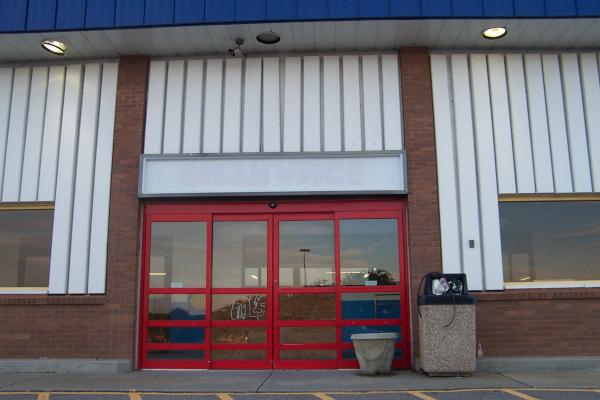 For a while, the Dentsville area had two big-box toy stores as well as a couple of smaller storefronts inside Columbia mall. I can't remember the name of the first of the big ones to go, but it was in the same little plaza on Decker Boulevard and Trenholm Road Extension that Winn Dixie was in and that The Comedy House is in now. As I recall, the closing caused a lot of brouhaha and local ill-will because the place timed their closing to be after Christmas shopping and before Christmas returns. It seems to me there was another way in which they did customers dirty in addition to that, but the details escape me at this remove.
At any rate, you might have expected that with the entire "destination toy store" market in the area now ceded to it, Toys 'R' Us would have prospered and have had some incentive to stay put, but that proved not to be the case. Since I wasn't really a toy shopper at the time, I didn't pay much attention to where the store went. I just figured it had joined the general flight from Dentsville and the Decker Corridor to somewhere down Two Notch. However, doing a quick online Yellow Pages search, the only location I see in the Columbia area is near Columbiana Center. I know I'm certainly not driving out there for toys -- not when there's Amazon.
The building has never had another tenant since Toys 'R' Us departed. It appears to be in fairly good shape (some minor tagging, but only on glass) though the architecture now looks a little dated. Unfortunately, with the upcoming closing of Dillards, I can't see that any first tier replacement will be willing to locate at Columbia Mall any time soon.
Update 27 Jan 2010: Well something is happening at the old Toys 'R' Us building. From the work going on, it would appear that something will be going in there: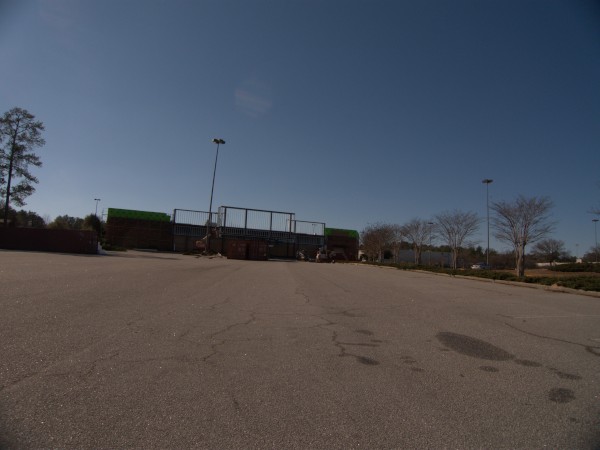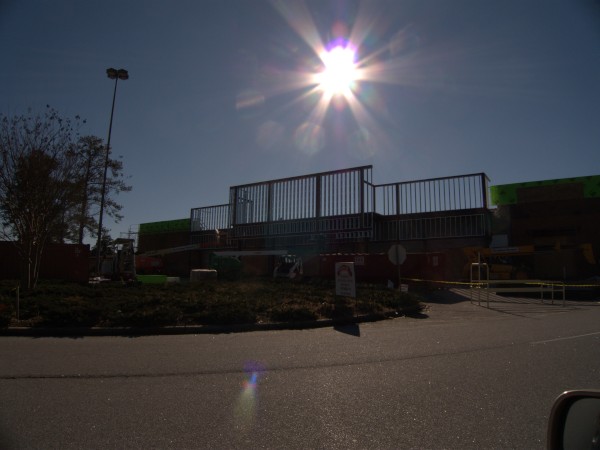 UPDATE 1 April 2010 -- Looks like the Virginia College Career Center is ready to open: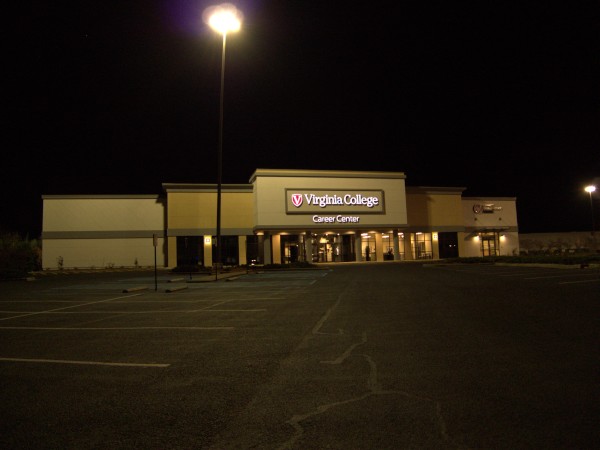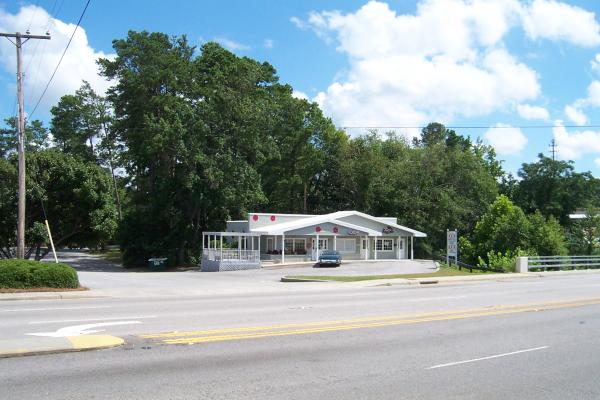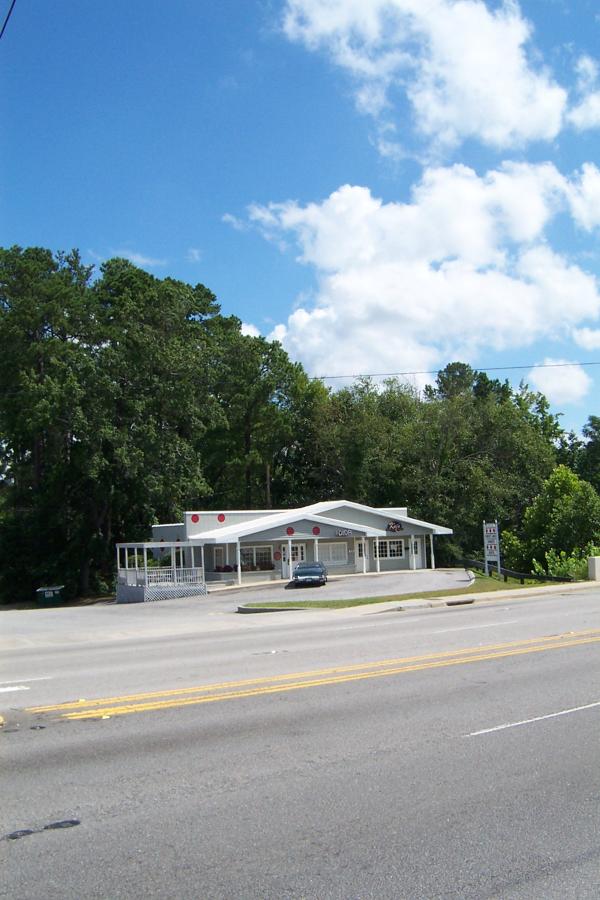 The Steak 'n Egg Kitchen was in this building on the bank of Gills Creek across the street from Trenholm Plaza and in front of Forest Lake Park. Commenter Lisa B's parents ran the restaurant (and another in Cayce), and she has an interesting rememberance here.
What I remember about the place is that it had a counter fitted with round, floor-mounted, stools on which a kid could twirl for as long as a parent could stand it and unpadded booths, like at the Waffle House or Huddle House lining the outside walls. I don't remember much about the menu, though I think it inclined towards hearty breakfast and lunch fare, but I do remember one item in particular. We didn't get to go there often (and in fact generally ate only one meal a week 'out'), but when we did, I had to have "Black Bottom Pie". I don't remember what was inside the chocolate cracker crust, but whatever it was, it was good! I think it's rather interesting that with the Steak 'n Egg Kitchen, there were at least three lunch counter operations in this block of Forest Drive. The other two were Liggett's Drugstore (later Ligget Rexall) at Trenholm Plaza and Campbell's Drug Store at the other end of Forest Lake Shopping Center. All three are gone now..
I'm not sure how long the Steak 'n Egg Kitchen lasted, but I'm pretty sure it was gone by the time I started college in 1980, and think it was in fact several years before that. This article from 1987 says that the chain still had 130 units then, but that it was troubled and that the new owners were attempting a turnaround. I don't find a corporate web site, so I'm guessing it didn't work. Anyway, after Steak 'n Egg Kitchen closed, another restaurant set up shop briefly in the building (which was remodelled). I can't recall the name of the place, but I got the impression that it was family run, and it had home-made raw fries. I think there was a non-retail business after that, perhaps an insurance office or some such and then the current tenants arrived and split the building. I've bought brandy & rum for cooking from the liquor store, but I don't know anything about the other two outfits. At any rate, none of them have Black Bottom Pie..
UPDATE 30 Jan 09:
Here's the old Harden Street location (mentioned in the comments). It's now El Burrito.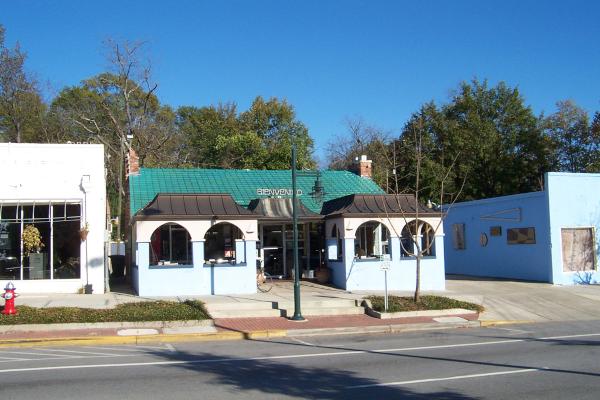 UPDATE 14 July 2012: Added the full street address for the Forest Drive location, and added the "Dobbs House" name to the post title. Also added some tags.
UPDATE 11 October 2013: Here is a great picture of one of the incarnations of this location. Thanks to commenter Dennis for ferreting this out!
Posted at 11:35 pm in Uncategorized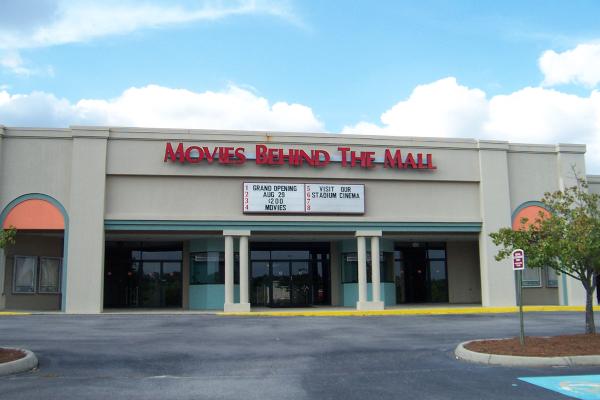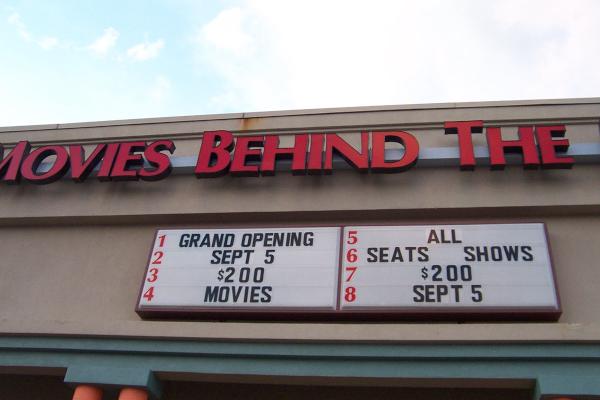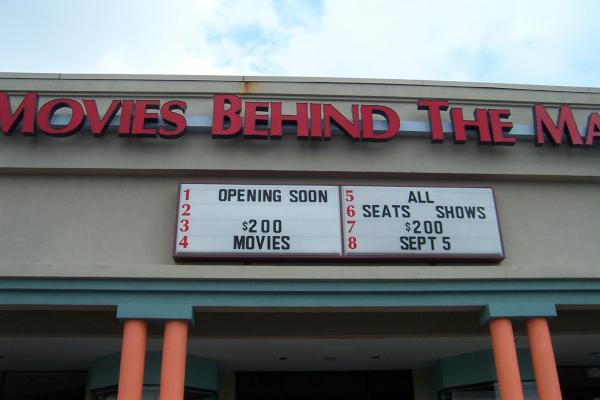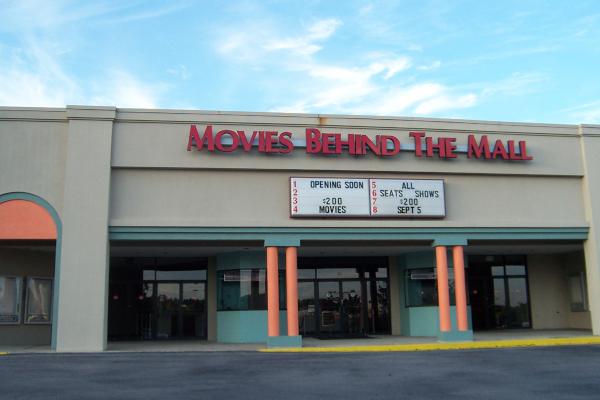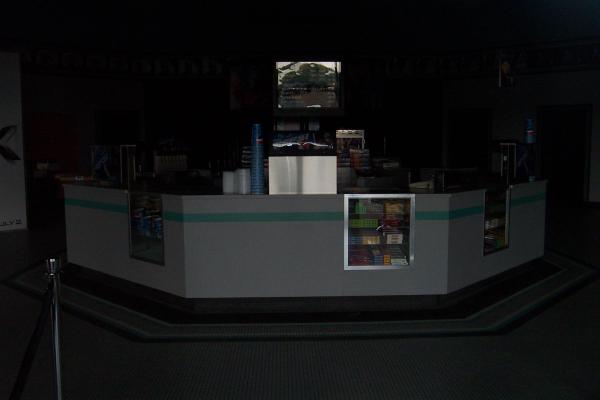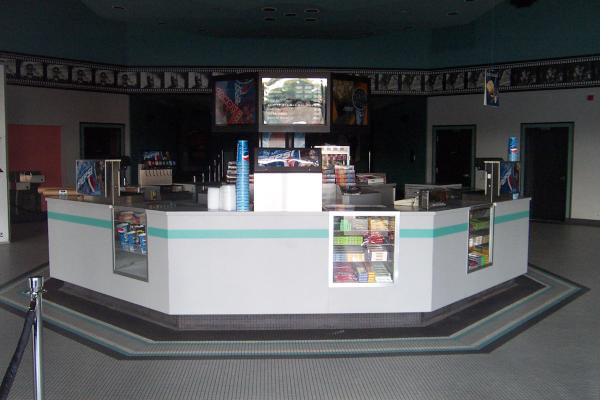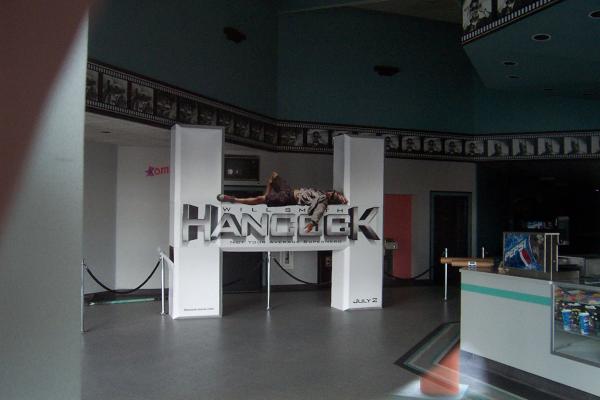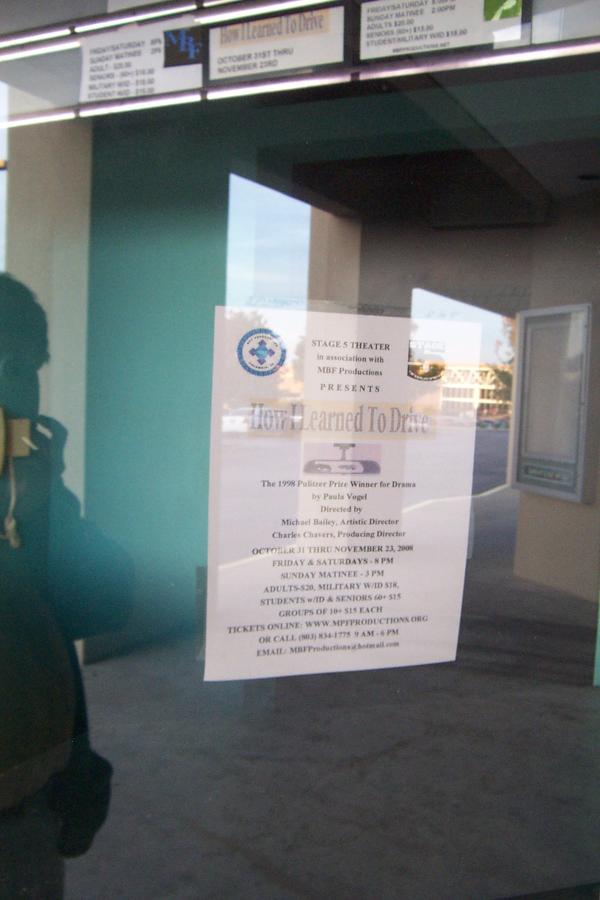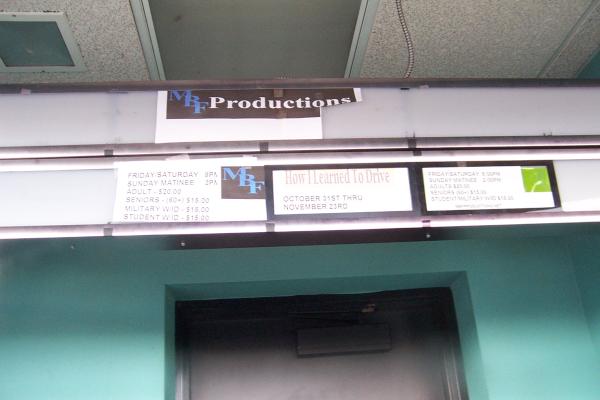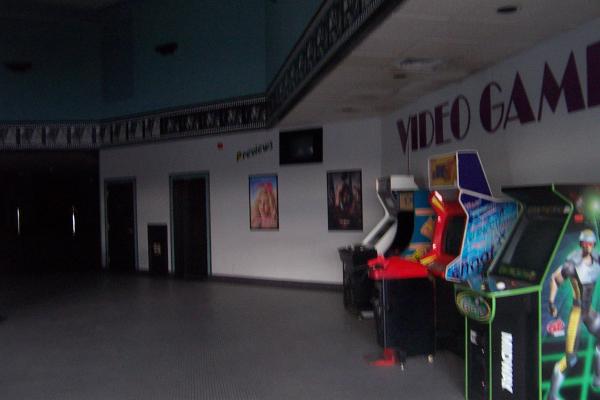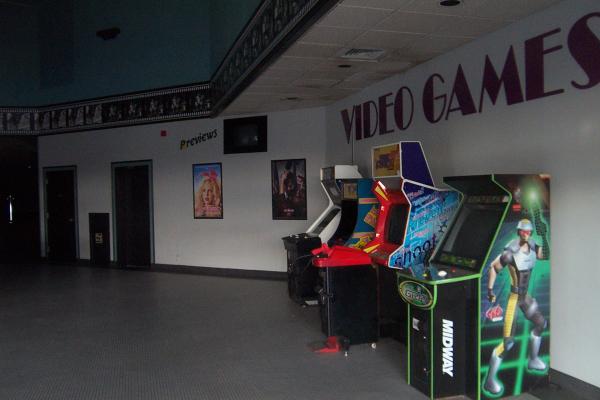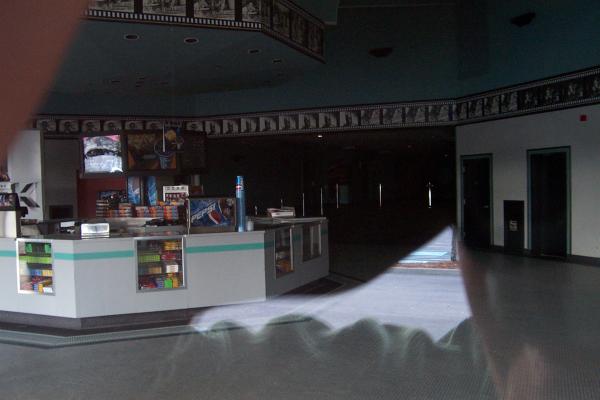 I first wrote about this building in a closing for Capitol Centre Theatre. At the time, I was surprised to see a projector sitting in the lobby given that the place had been closed for a number of years. I suspect in retrospect that the projector was going in rather than coming out. There was some speculation in the comments for that post that the place was to become a Spanish language theater, but in the event that seems to have been wrong (or to have changed) so that the building was to become instead a discount $2.00 movie theater called Movies Behind The Mall.
However, somewhere along the line something seems to have run somewhat awry. I don't want to minimize the difficulties involved in starting a business. I've never done it, and probably don't have the patience or energy to ever do it, and I wish everyone trying it well. (And from a selfish point of view, would really like a discount theater in my neck of the woods). That said, the opening of Movies Behind The Mall seems to have hung-fire several times. Notice that the marquee at first promises a 29 August grand opening. Next this is changed to a 5 September grand opening and then to "Opening Soon".
After that information remained for a while, a new poster was put up in the box-office advertising what appears to be a stage play, which I presume is to be performed live at the theater for most of November (the window sign manages to give the wrong web site, but from the price board, it would appear to be http://mbfproductions.net/, a GLBT themed production company). In the meantime, the concession stand has been stocked, arcade games have been rented, and coming attraction posters and floor displays have been brought in. It would appear that the play will take at least the prime 8pm weekend slots, and 2pm matinee so I don't know what that means for actually showing discount movies at the place. We'll see!
UPDATE 21 Nov 08:
They do seem to be open now!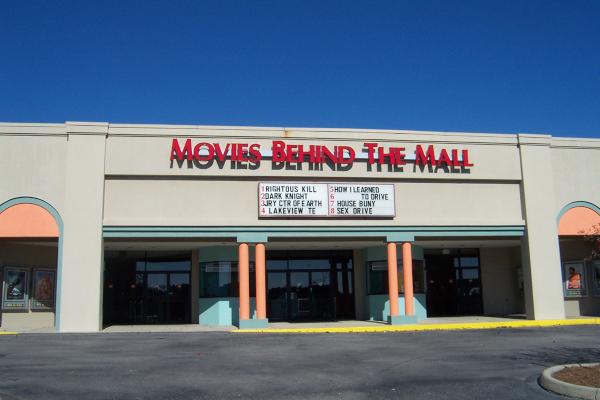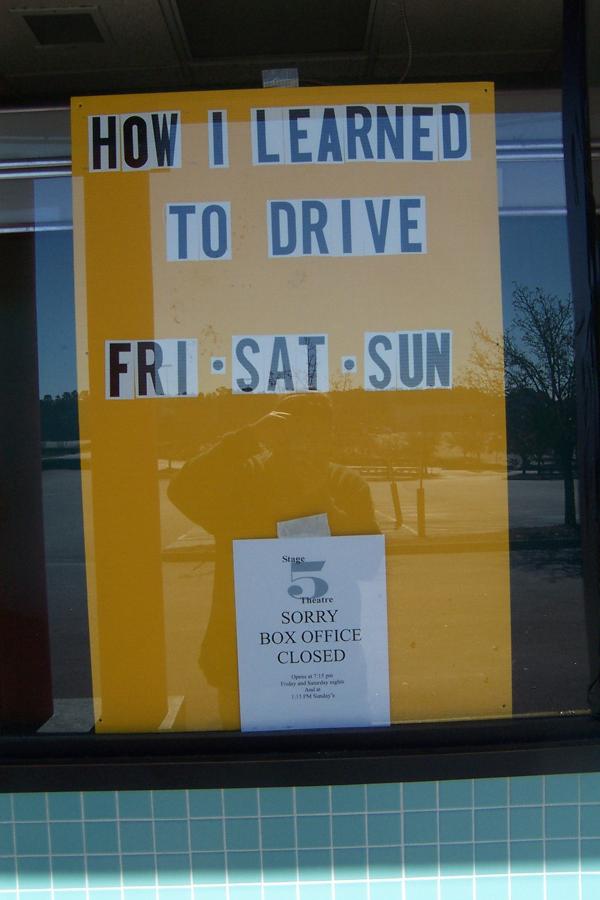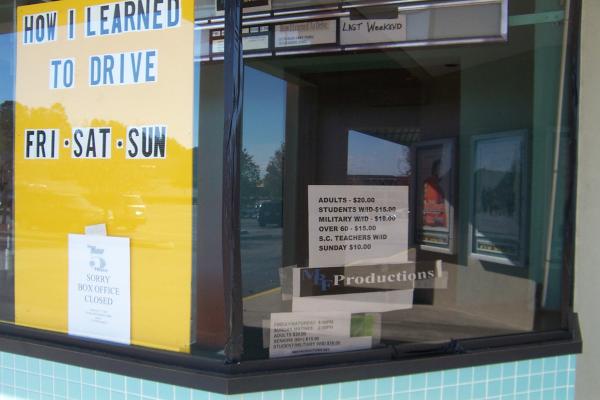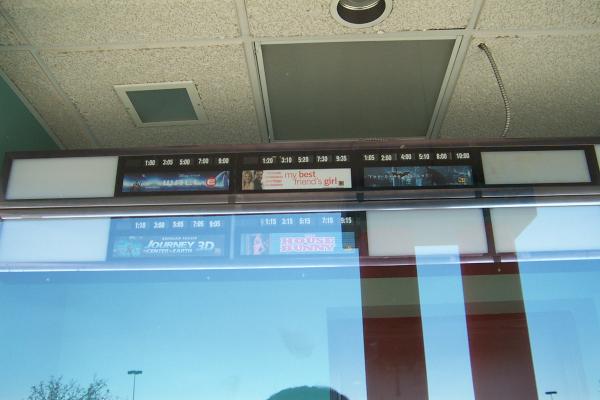 UPDATE 26 Feb 09:
Well, that didn't last long.
I went by The Movies Behind The Mall yesterday to find it closed, and closed long enough that all the video-games and concession stand paraphenalia have already been trucked out. I think the place finally opened in November, and it's gone in February, so that's four months or less.
It's a real shame. I'd certainly like to have a "dollar" cinema closer than Saint Andrews Road, and you would think that the current economic conditions would be favorable for a cheap night out, though perhaps things are so bad they just couldn't compete with Netflix, Itunes and pirated movies over the Internet.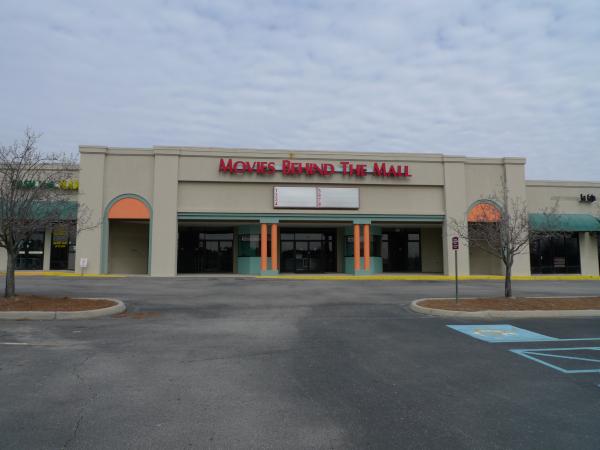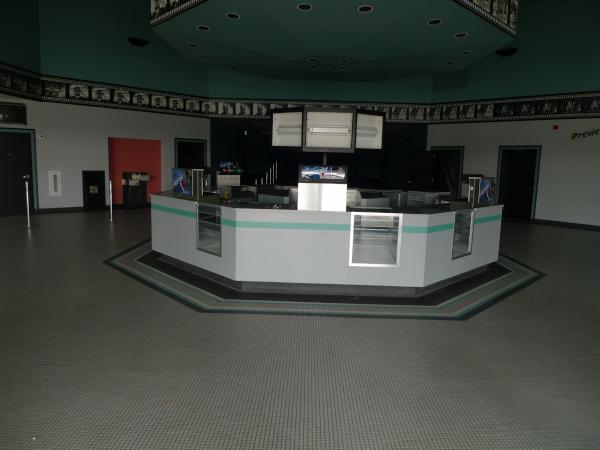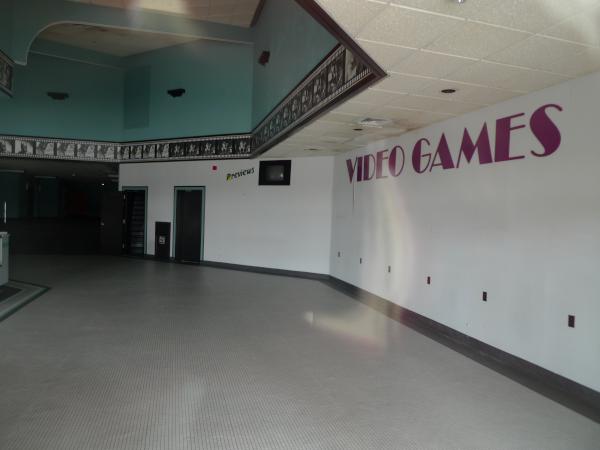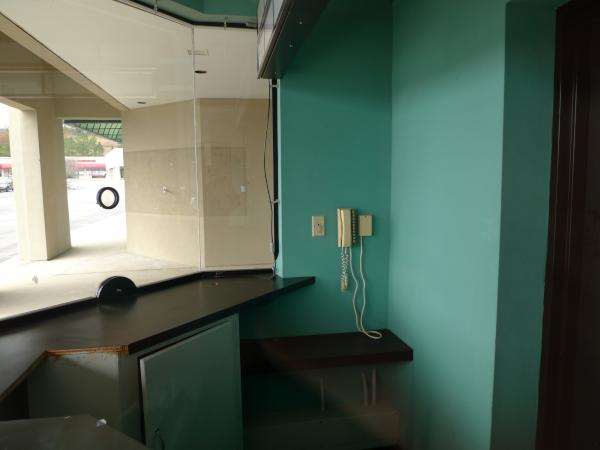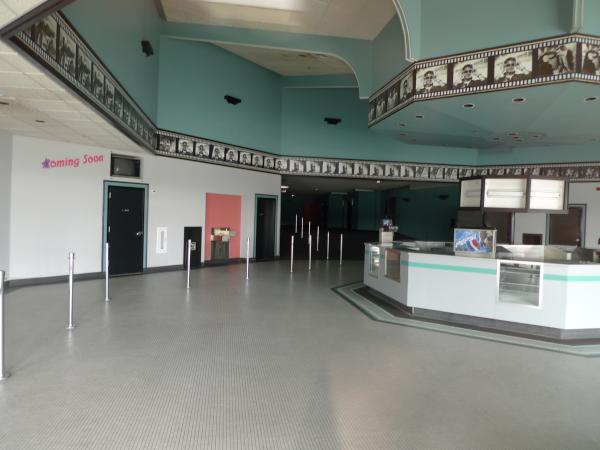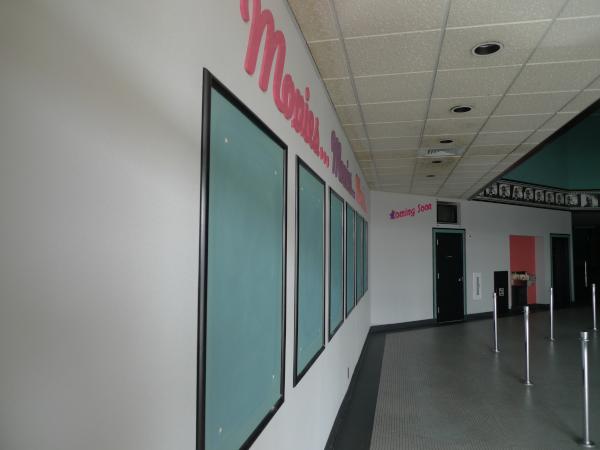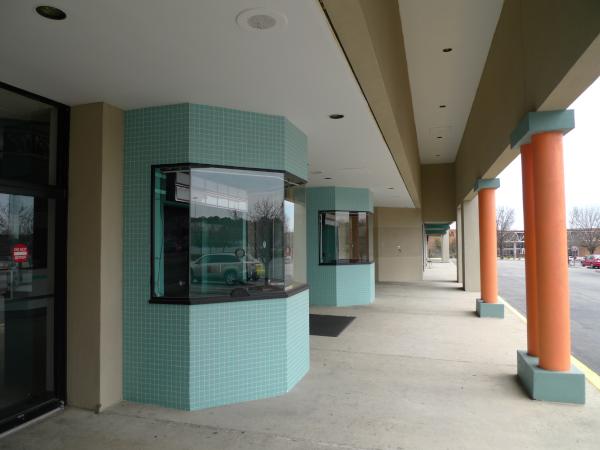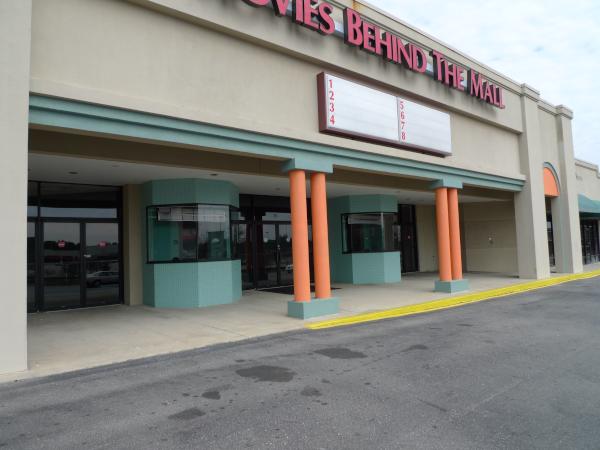 UPDATE 9 March 2009: Interesting note on MBF Production's site:
Stage 5 Theatre is looking for a permanent home for our production company. If you know of a location or, anyone with a location looking for a company that is progressive and even edgy at times, we would appreciate hearing from you or them. Movies behind the Mall, our old location, has gone into foreclosure forcing us out of that space. We were in full rehearsals for both shows, "Same Time Next Year" and "Second Weekend in September", and had to tear down sets and stage and put them into temporary storage while we search for a new performance venue. If you know of any available space we want to hear from you immediately. Your help and support is not only appreciated but needed.
Posted at 10:03 pm in Uncategorized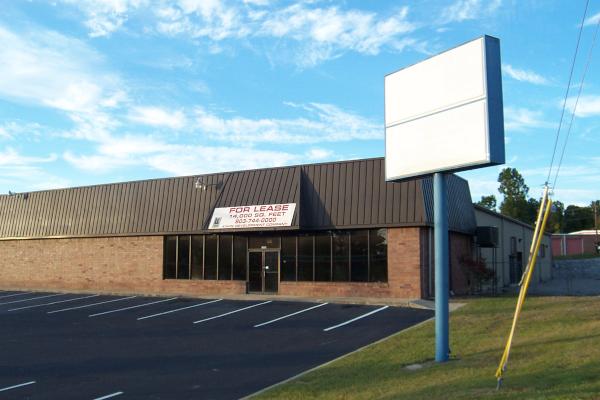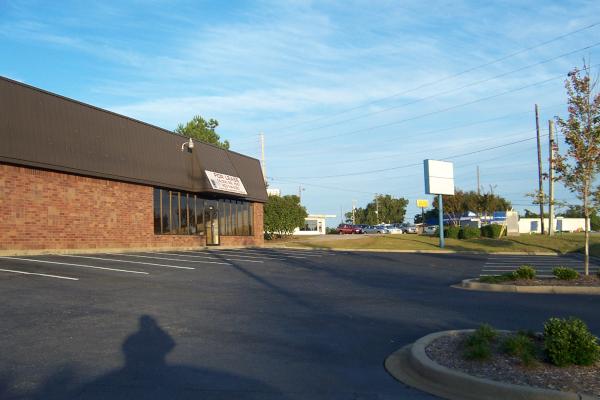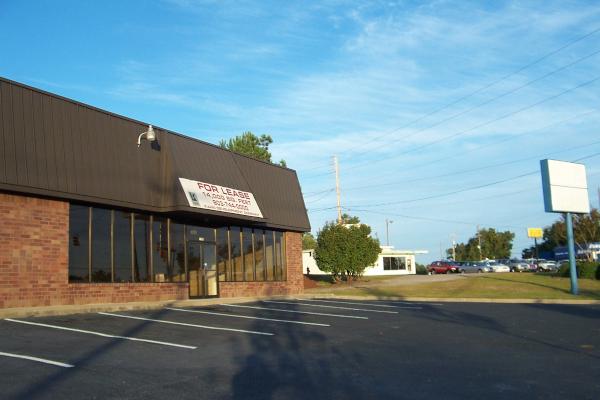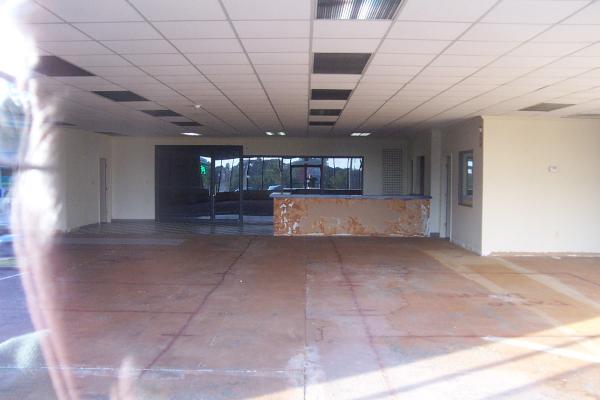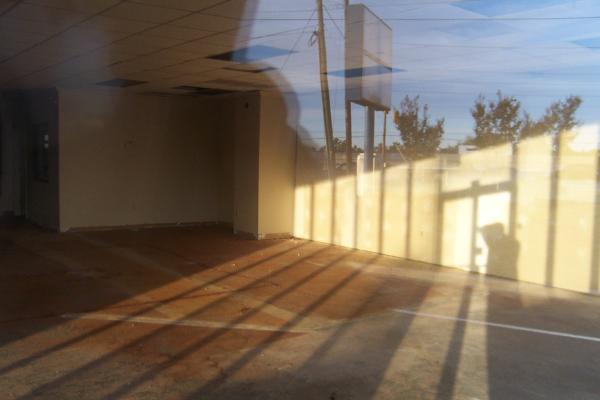 Well, we all know the first rule about Fight Club, but here goes anyway.
This store front (which was almost certainly not actually called Fight Club) was the only amateur boxing rink I've ever seen in Columbia. Granted, I haven't looked for one, but when I first noticed it driving by on my way to and from SC-277, it put me in a retro frame of mind. Since I don't follow current boxing at all, it makes me think of 30s and 40s movies and pulp stories where the wise old trainer, who could have had a shot if he hadn't blown out his knees, shakes the arrogance out of a kid who can make it to the big time if only he will take it seriously.. There was actually a whole pulp-fiction genre with its own set of magazines devoted to boxing stories; Robert E. Howard, the creator of Conan wrote a series of such about "Sailor Steve Costigan", the fighting merchant marine.
So anyway, I would drive by, see all the cars and imagine all these dramatic scenes until the final time I drove by and the place was packed with blue-lights-blazing police cars and I never saw it open again.
Apparently a fight had broken out..
Posted at 5:55 pm in Uncategorized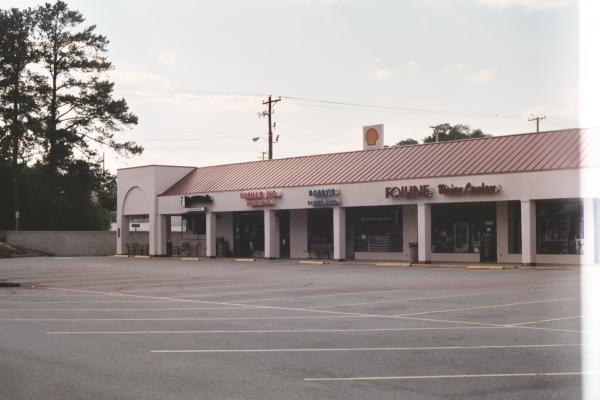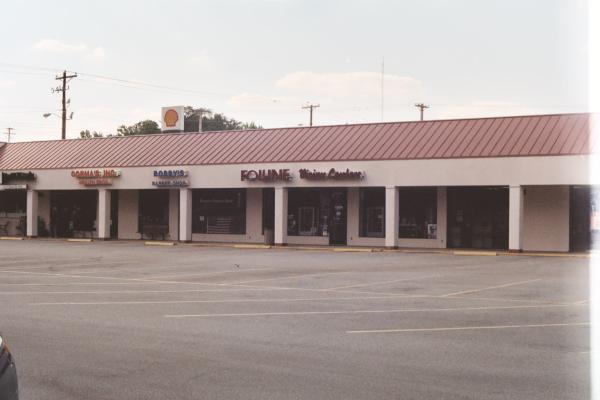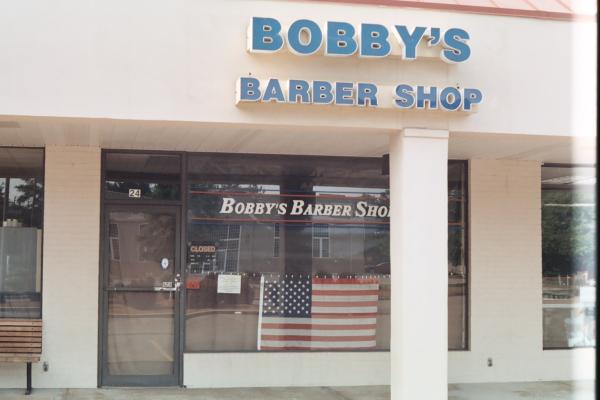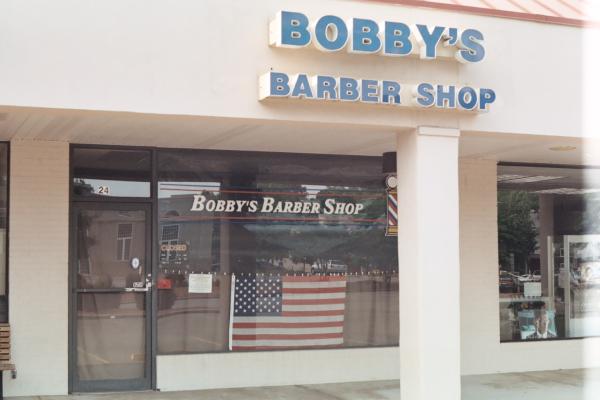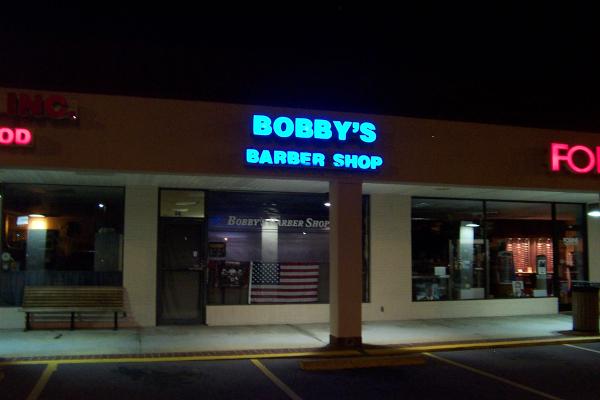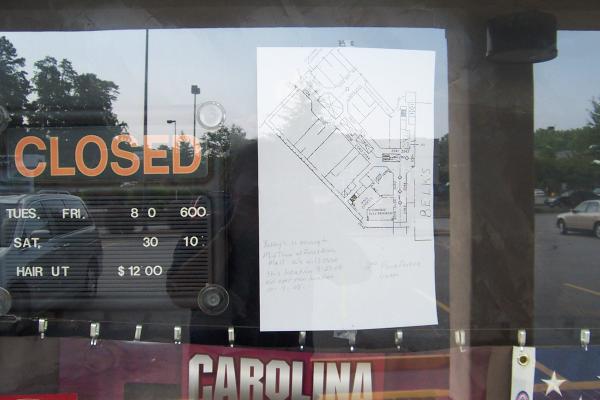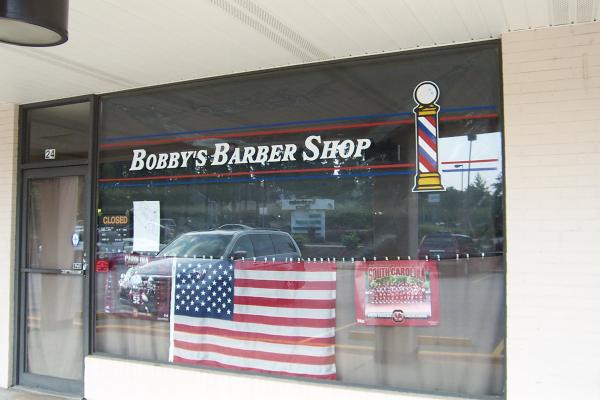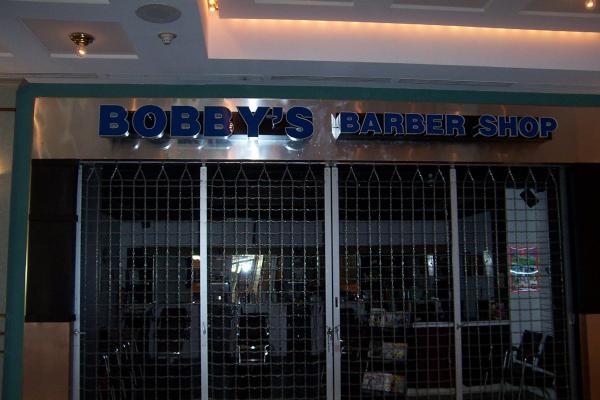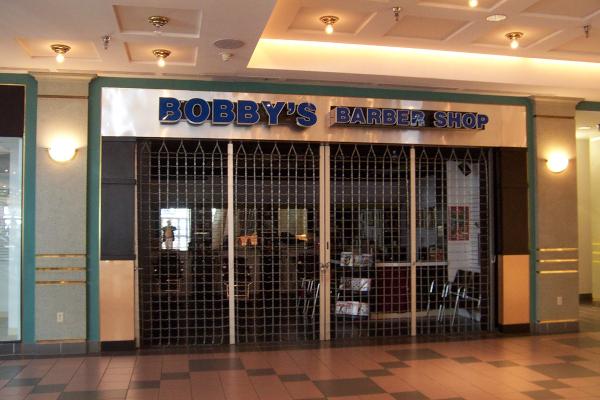 I'm happy to report that Bobby's Barber Shop has successfully moved from Trenholm Plaza (in the Hooligan's/UPS wing, which is to be torn down) to Richland Mall, near the second floor entrance to Belks (on the Barnes & Noble side of the mall). Haircuts are still the same price!
Posted at 11:38 pm in Uncategorized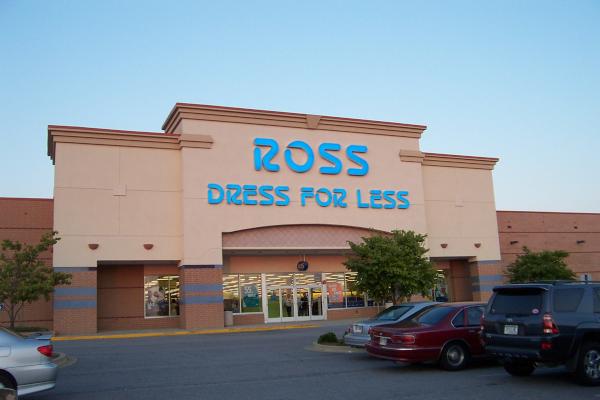 Phar-Mor was a discount drugstore, though perhaps it would be more accurate to say that it was a mini-department store (think Walgreens, but larger) that filled perscriptions. This store on Harbison, next to the Barnes & Noble, is the only one I'm aware of in Columbia (I also know of one that was in Aiken at Aiken Mall). At one time, the Phar-Mor chain appeared to be a category beater, growing faster and bringing in more money than any of its competitors. Unfortunately in the aftermath it emerged that the whole thing was a giant crooked pyramid scheme with the founder cooking the books right and left. The chain went into bankruptcy, and the founder went to jail. I believe the chain struggled on a while after this store closed, but finally went totally under in 2002.
Ross Dress For Less has occupied the spot since Phar-Mor closed, and seems to be doing well. The strip mall seems to have regular turnover of smaller storefronts, but luckily has been able to hold on to (or in this case replace) the anchors.
UPDATE 26 Sep 2010: I've added the full address to the post title. However, while the current address appears to be 287 Harbison Boulevard, my older sources give the address as 272 Harbison Boulevard, so apparently there has been some re-numbering within that plaza.
UPDATE 20 March 2011: Updated the closing date based commenter Andrew's research, also added the store number "0229".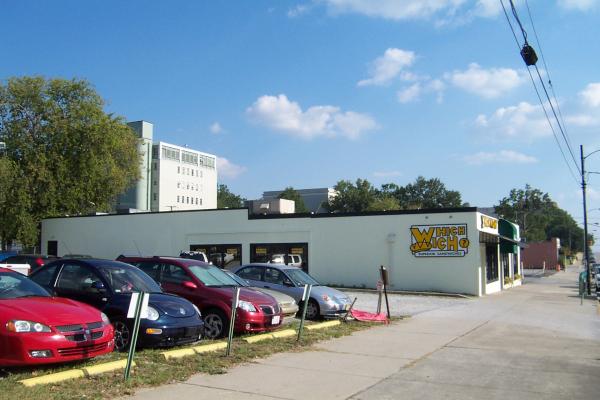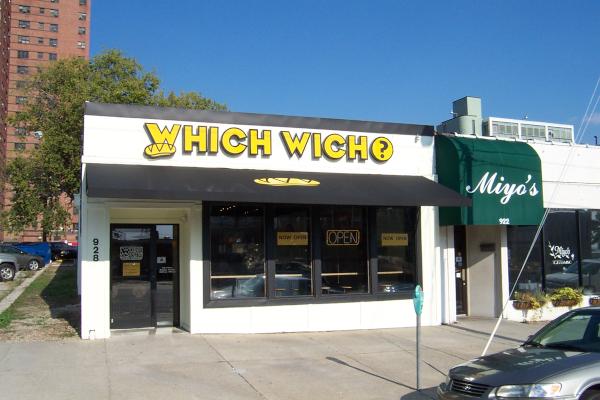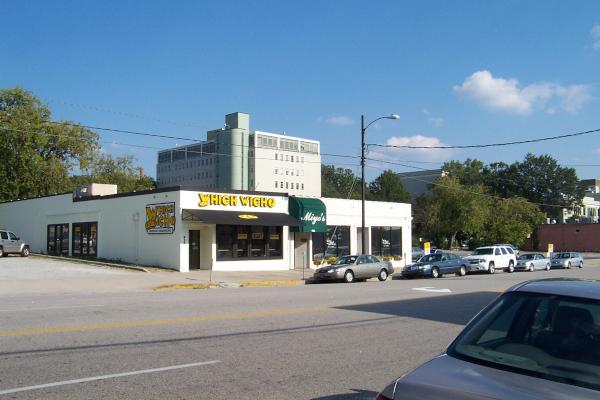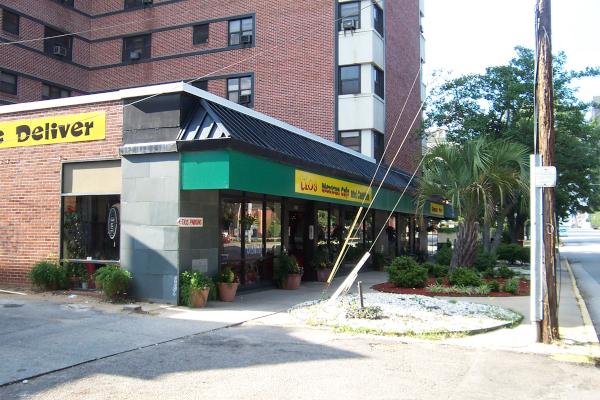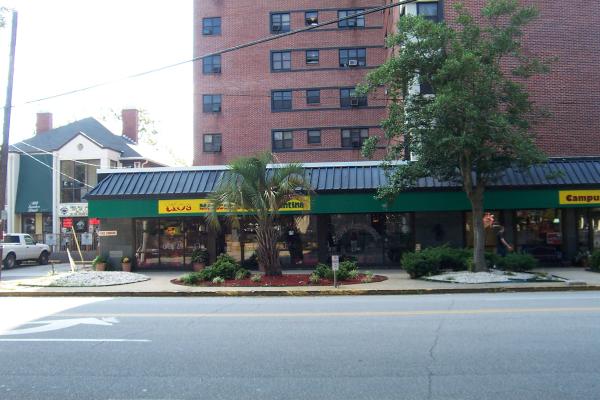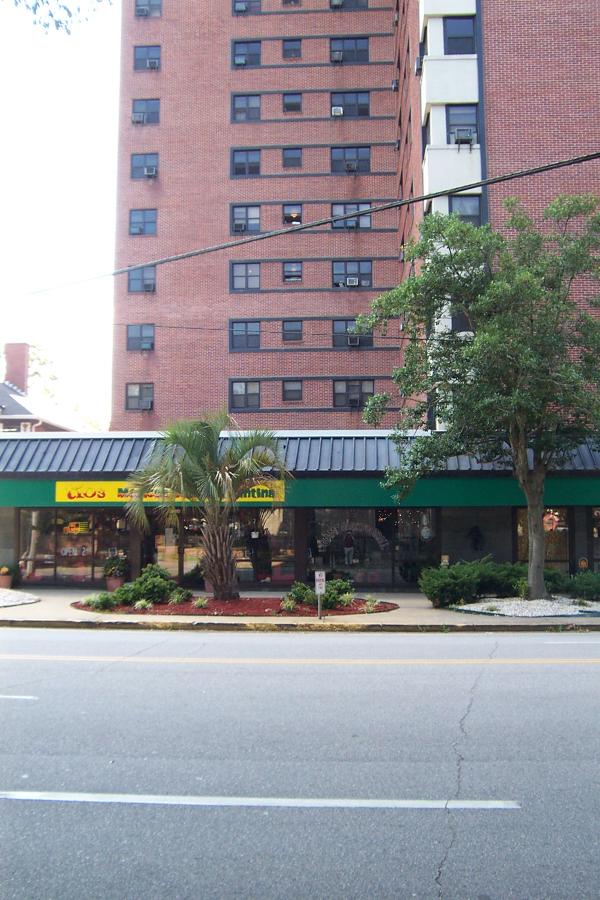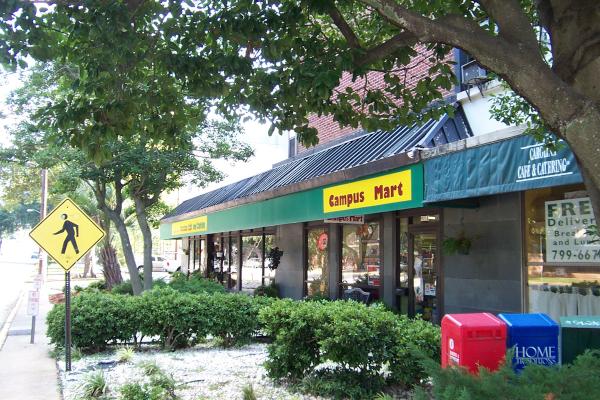 The thing about Tio's is that it is open late. However, that's not enough in my opinion. I went there a few years ago when it was after 10pm and not a weekend night, so my choices for Mexican were severely limited. I was a bit encouraged by the place featuring dozens of bottles of different kinds of hot sauce, but unfortunately, they didn't seem to actually use any of them in preparing the food. When I was on campus recently, I picked up a copy of the student newspaper, The Daily Gamecock which had a less than positive review.
Anyway, I mention Tios because it has moved from Main Street at the base of the Capitol to Sumter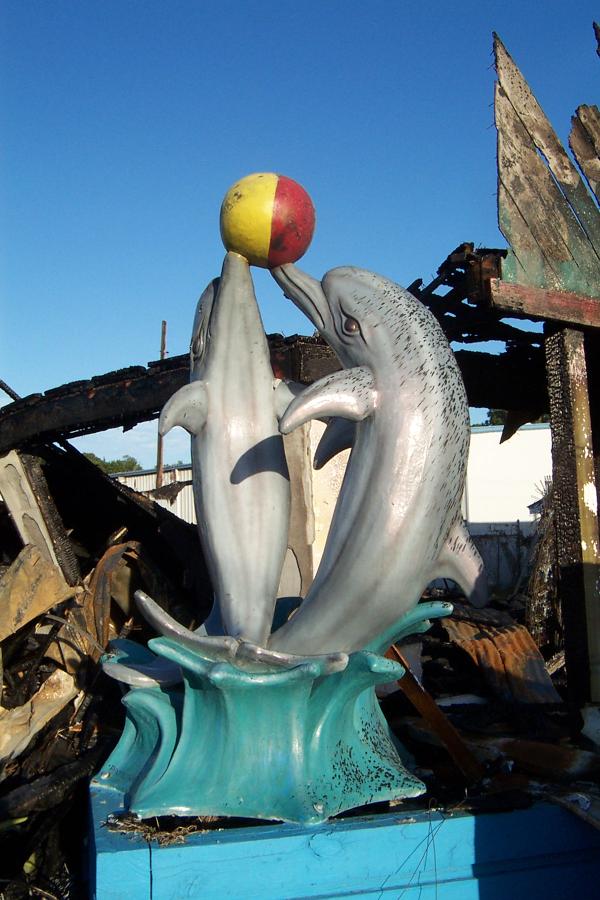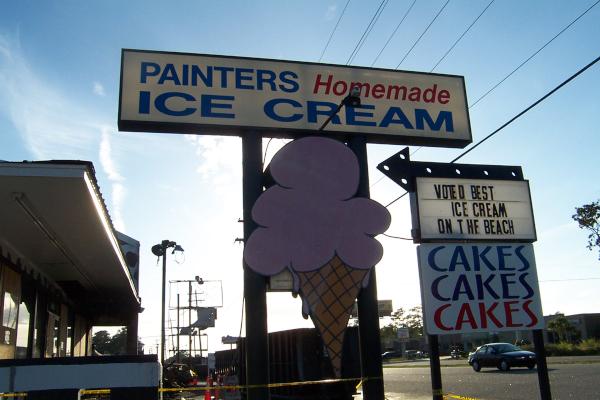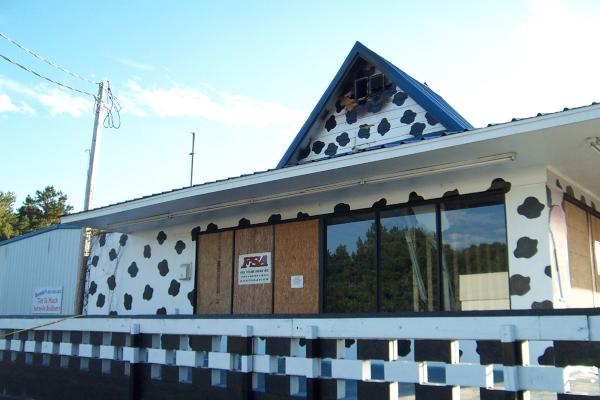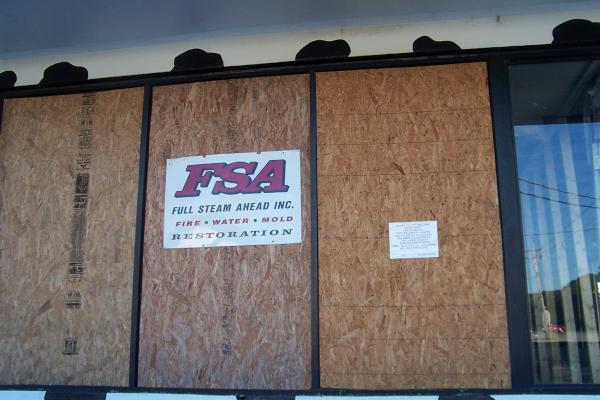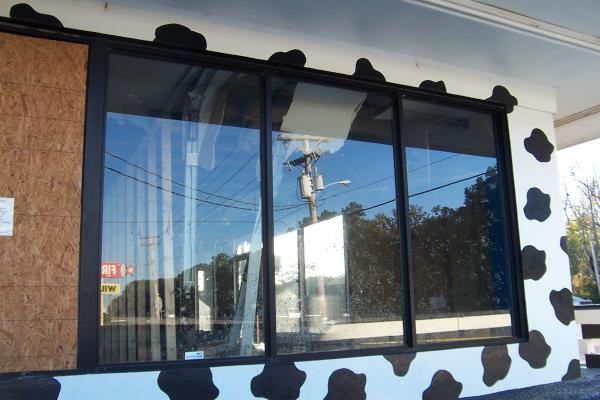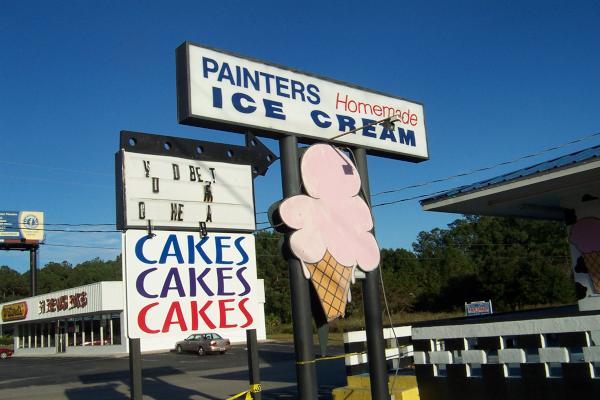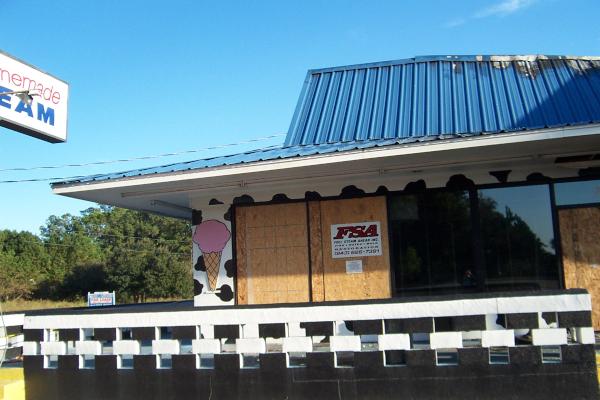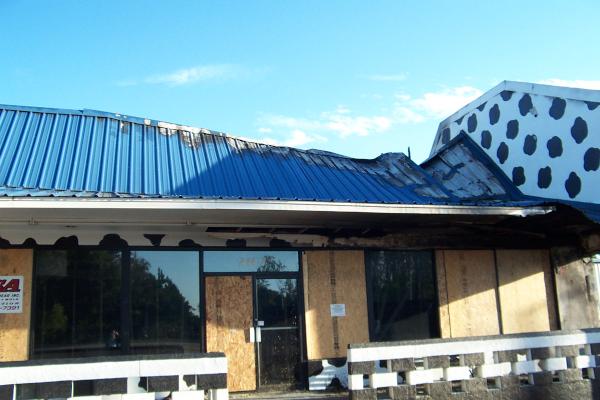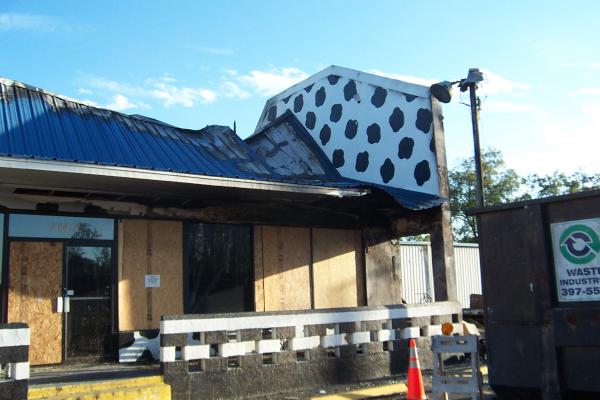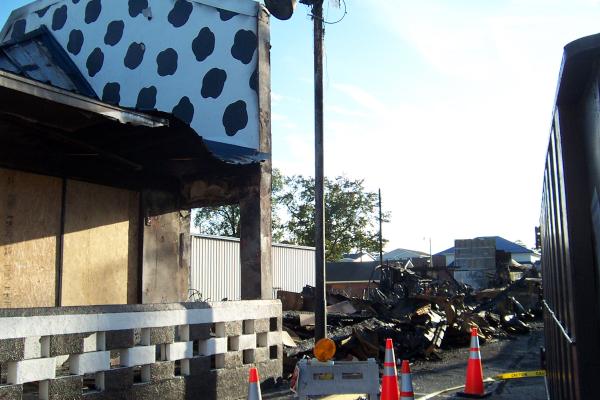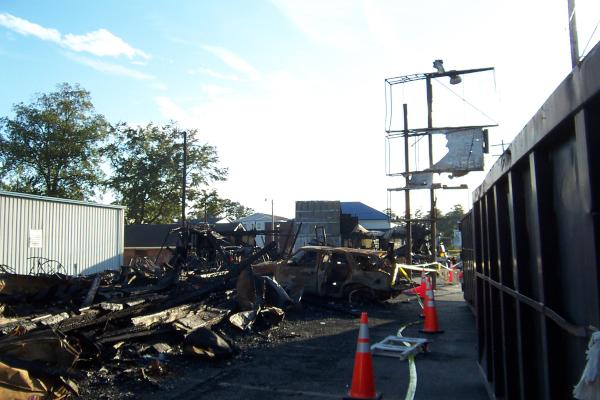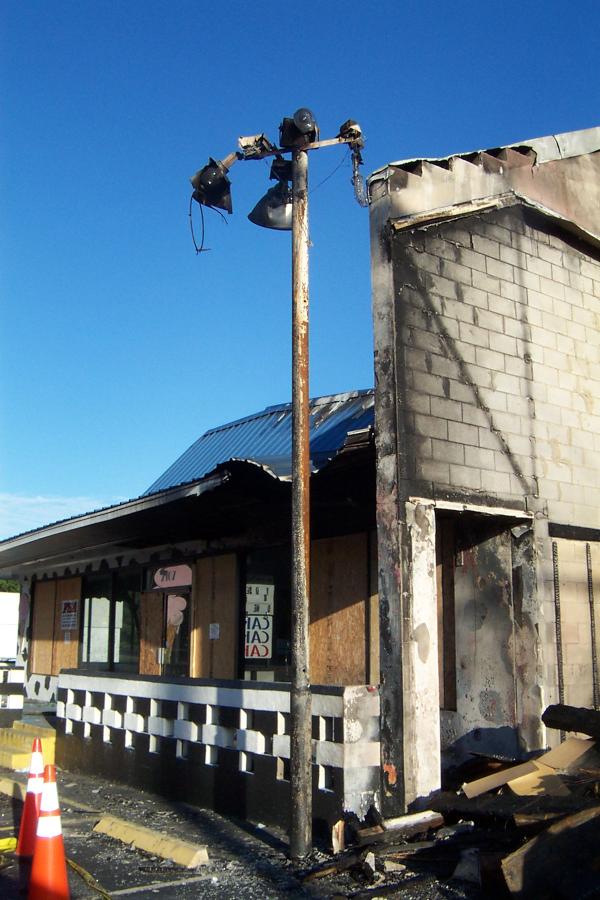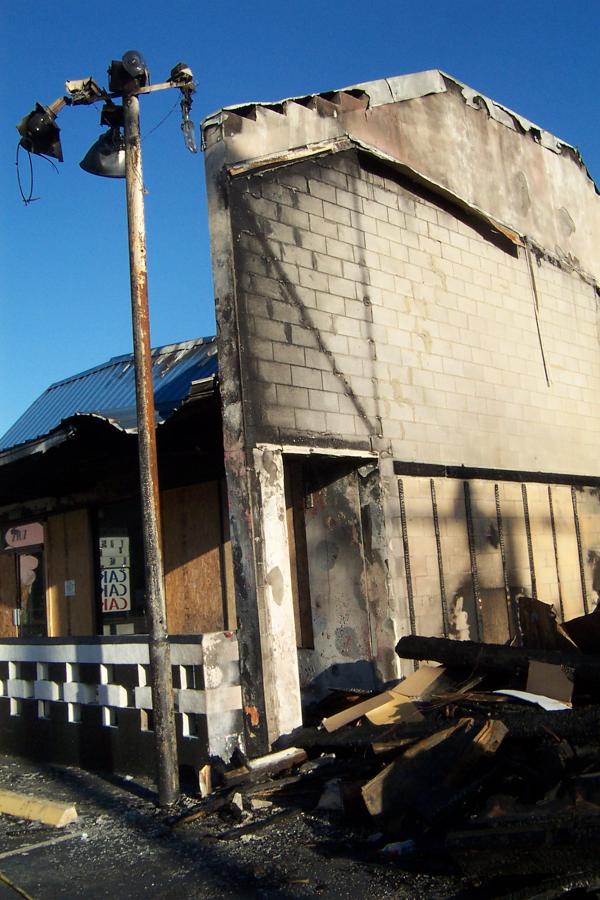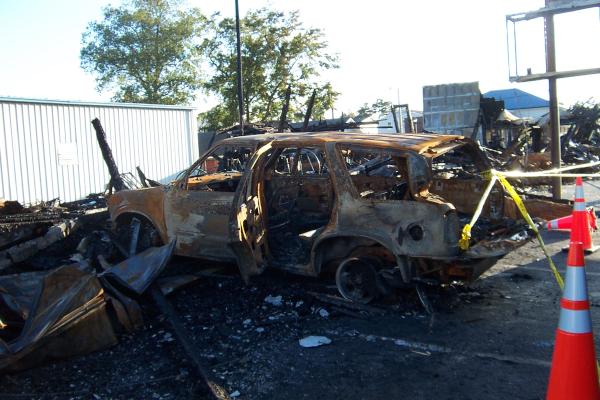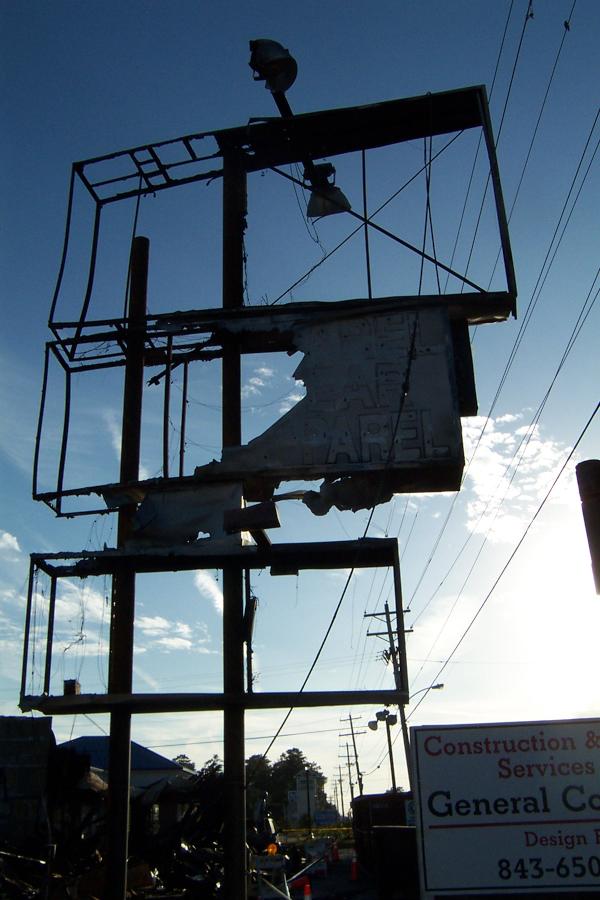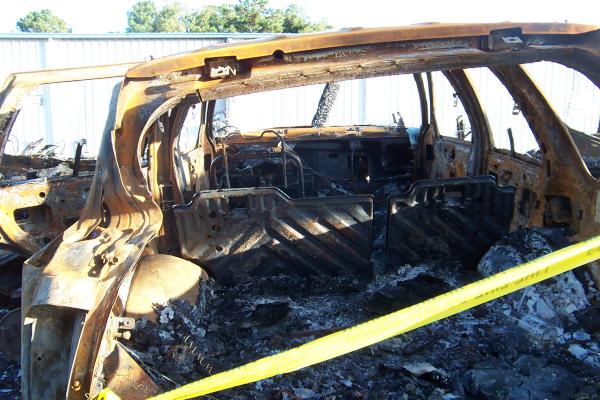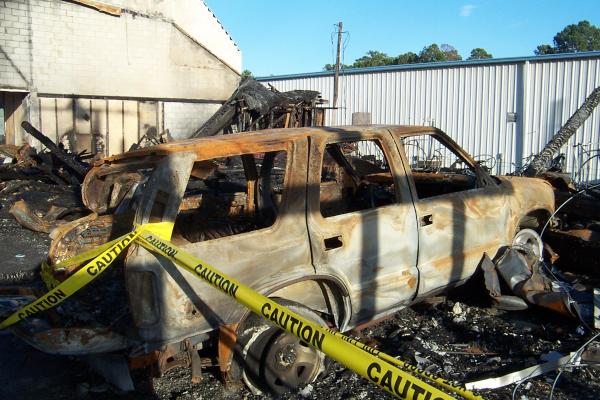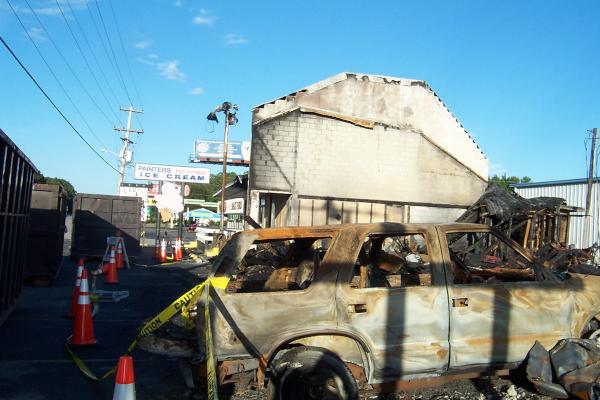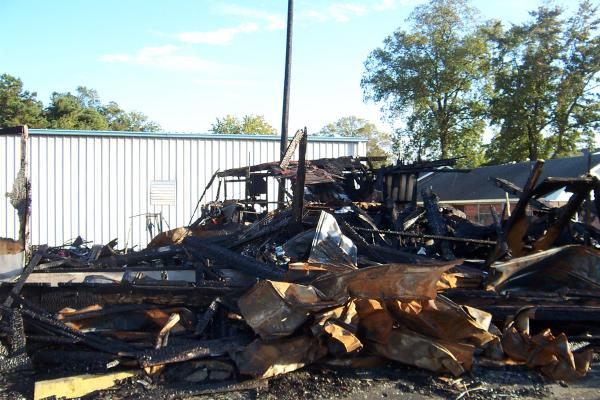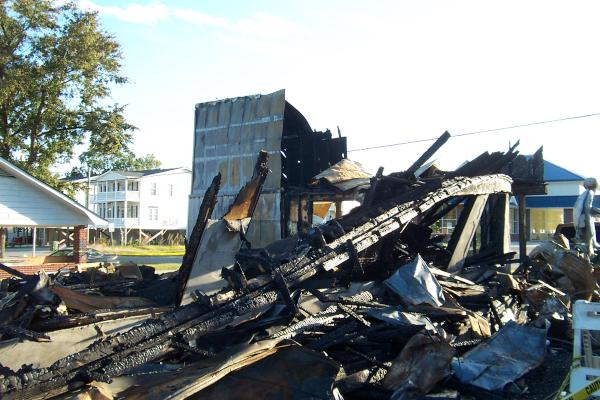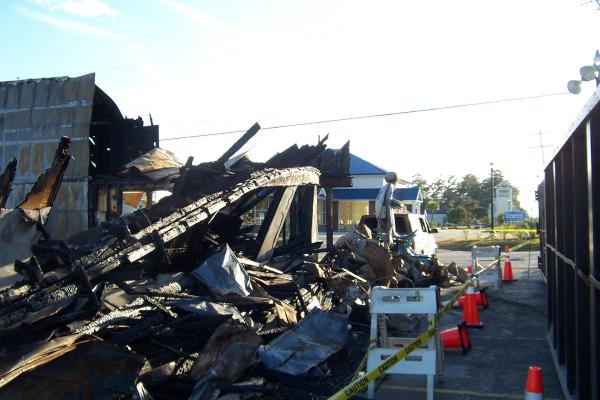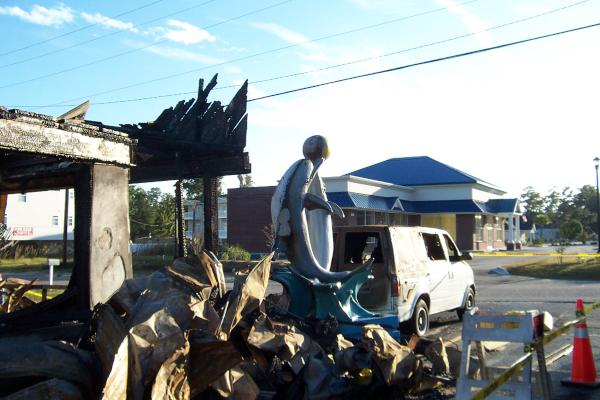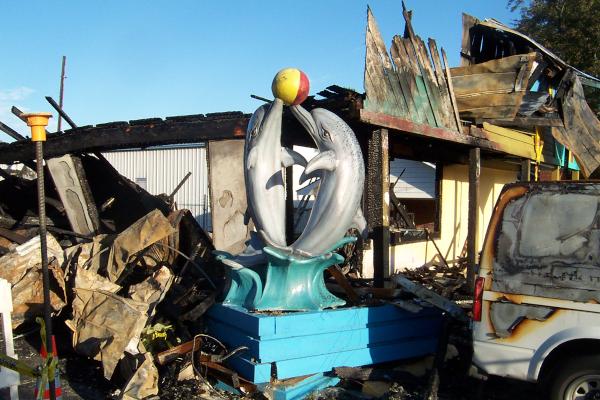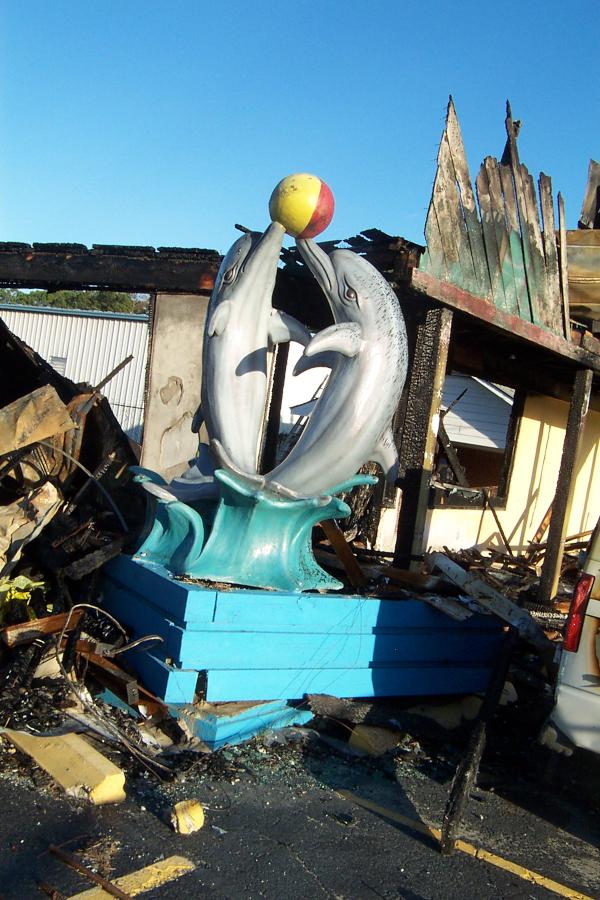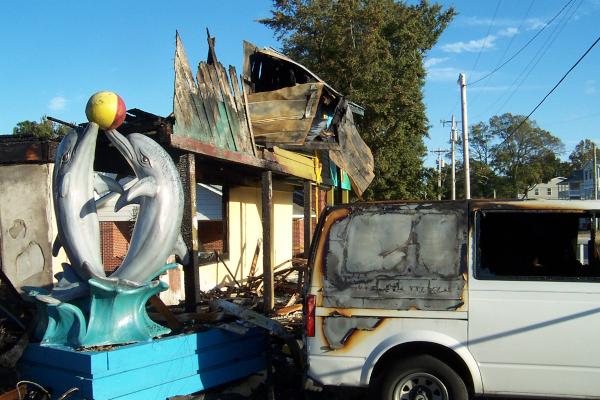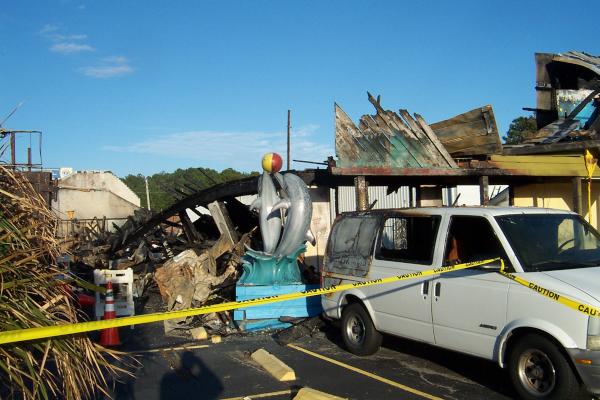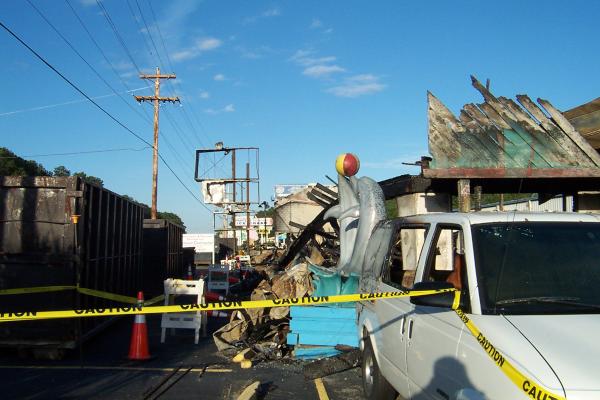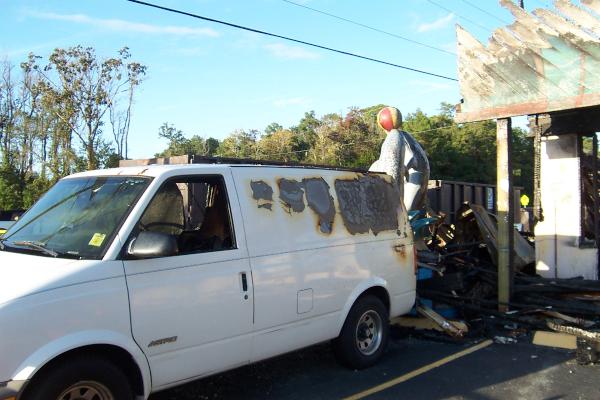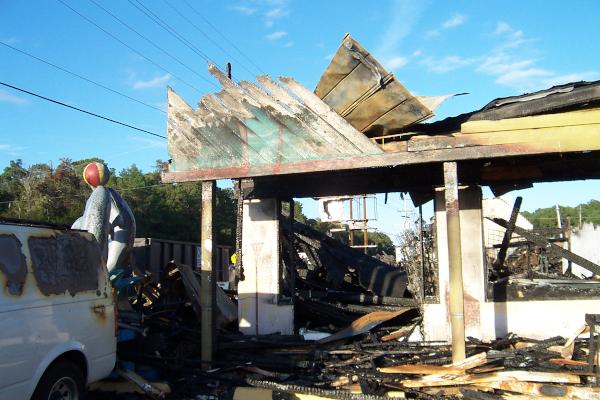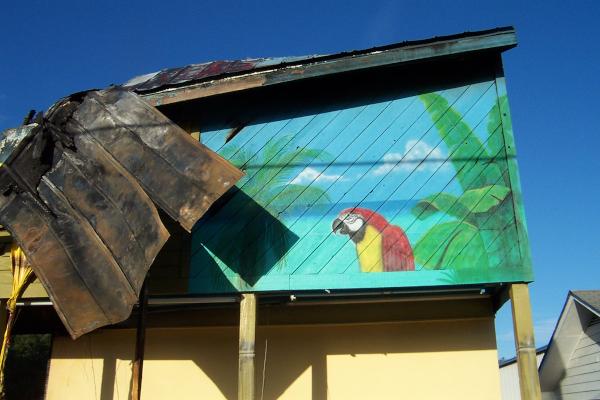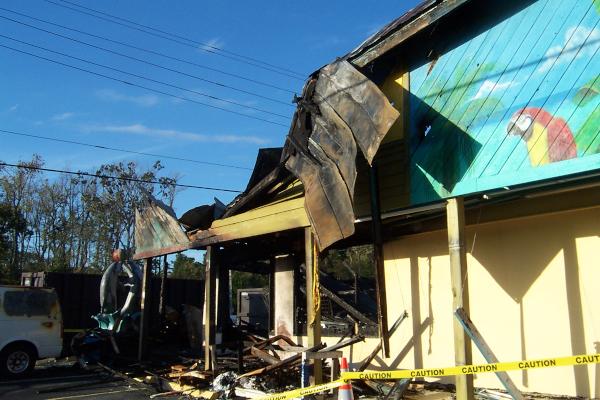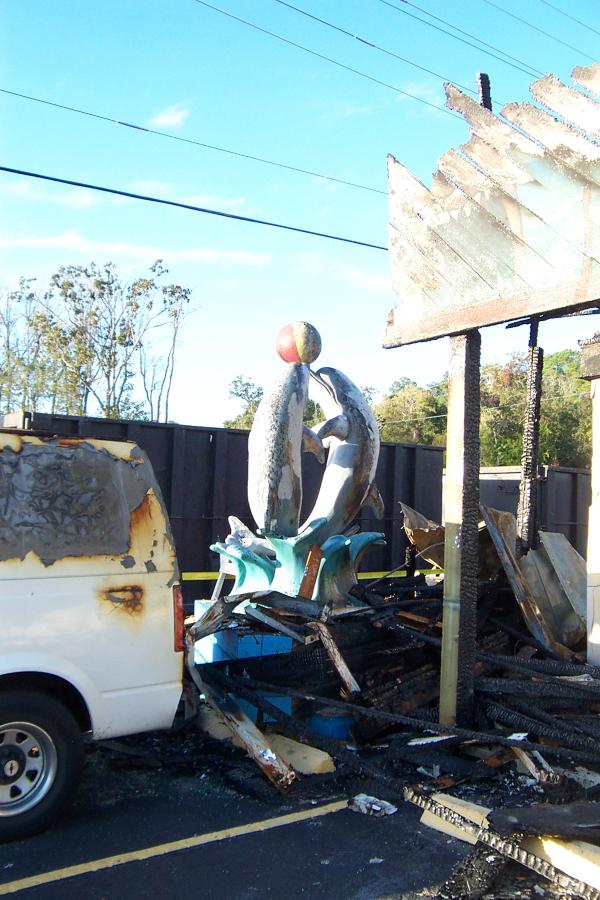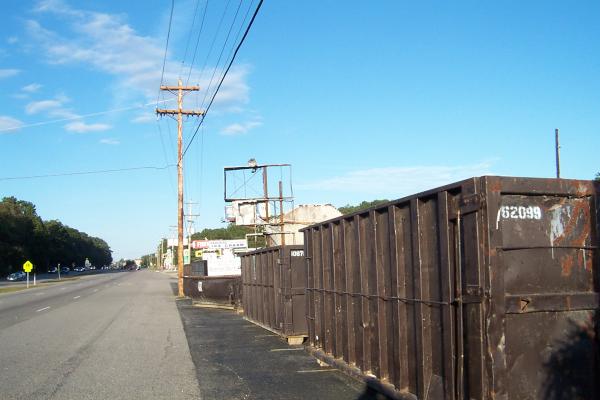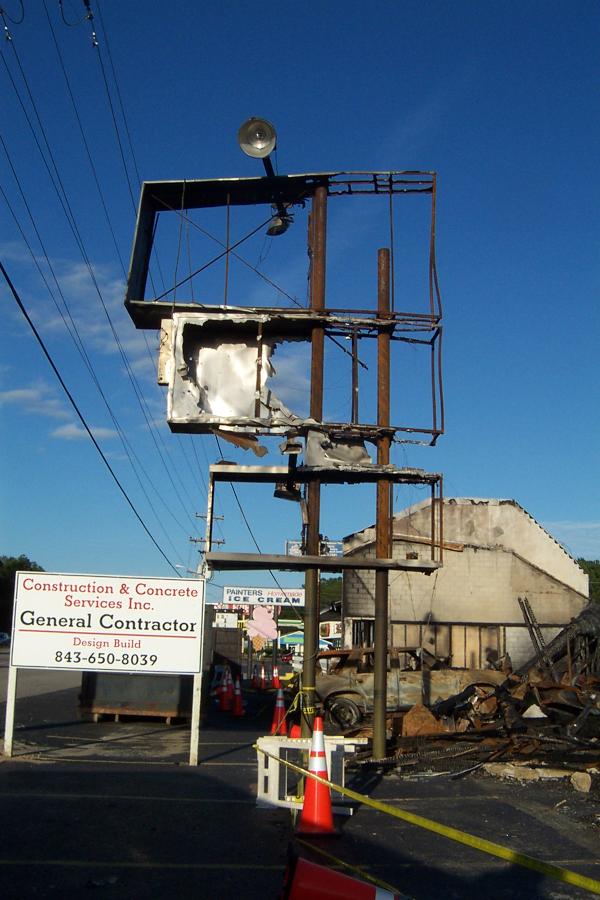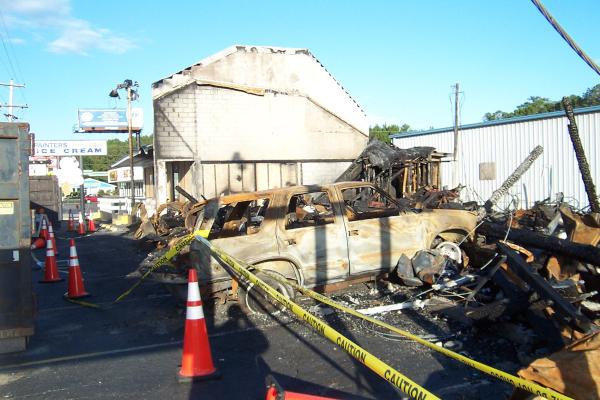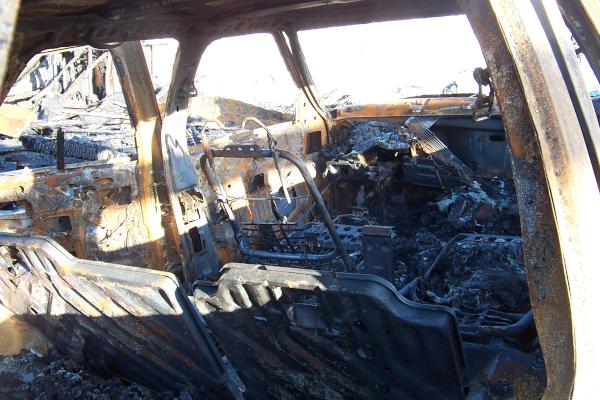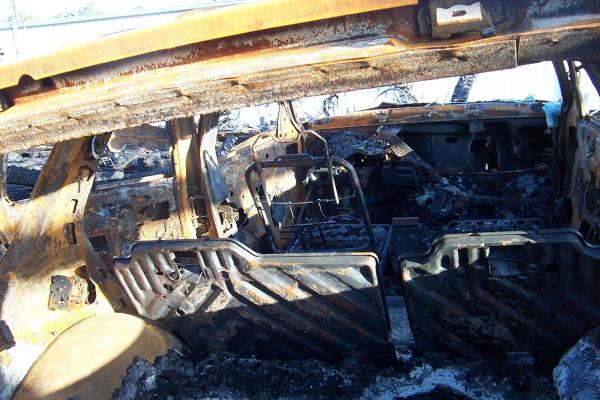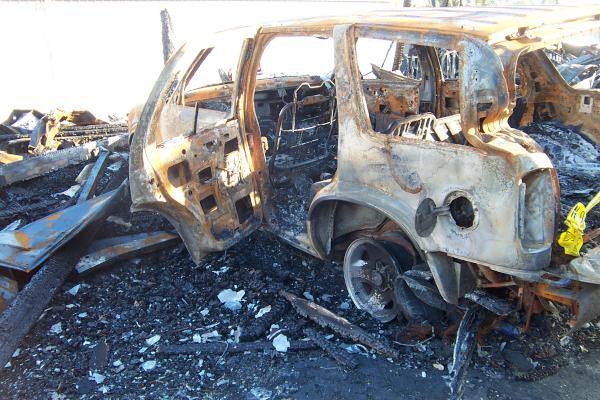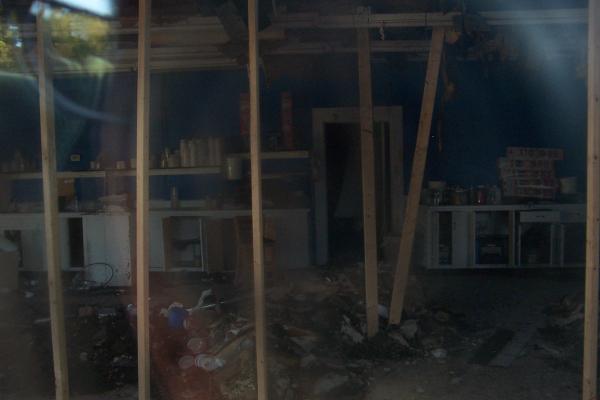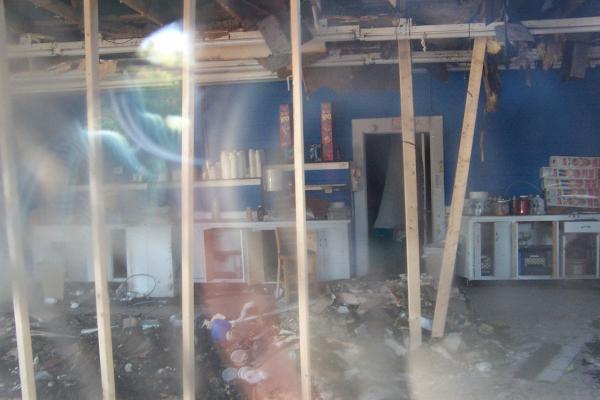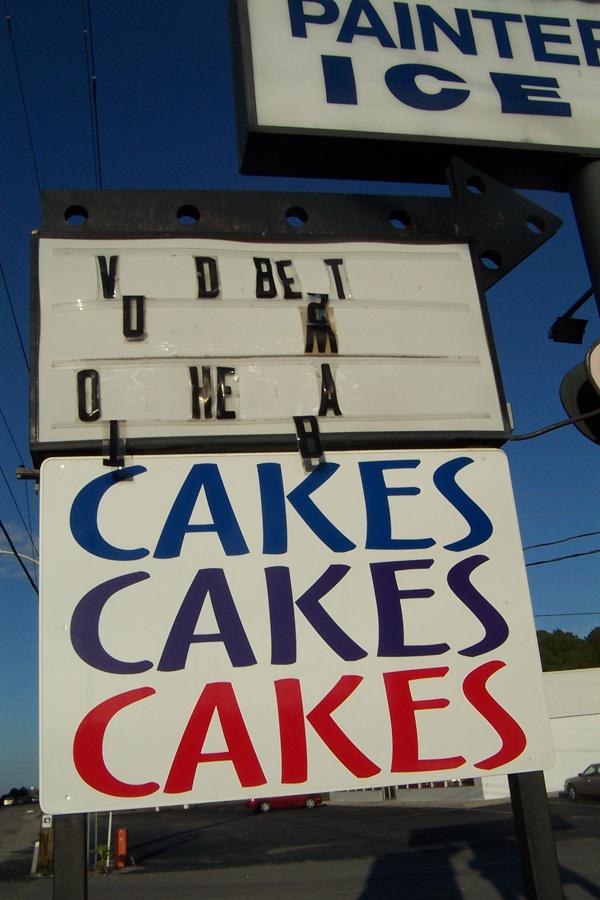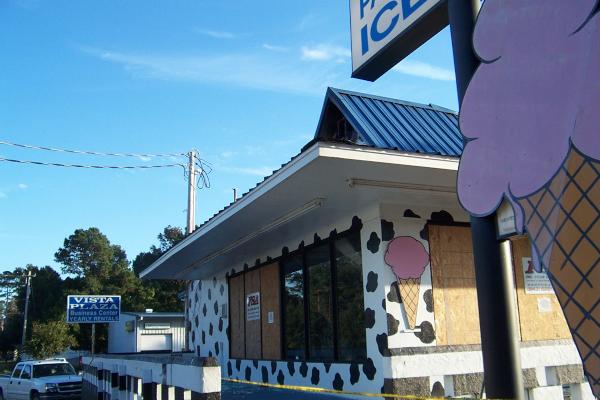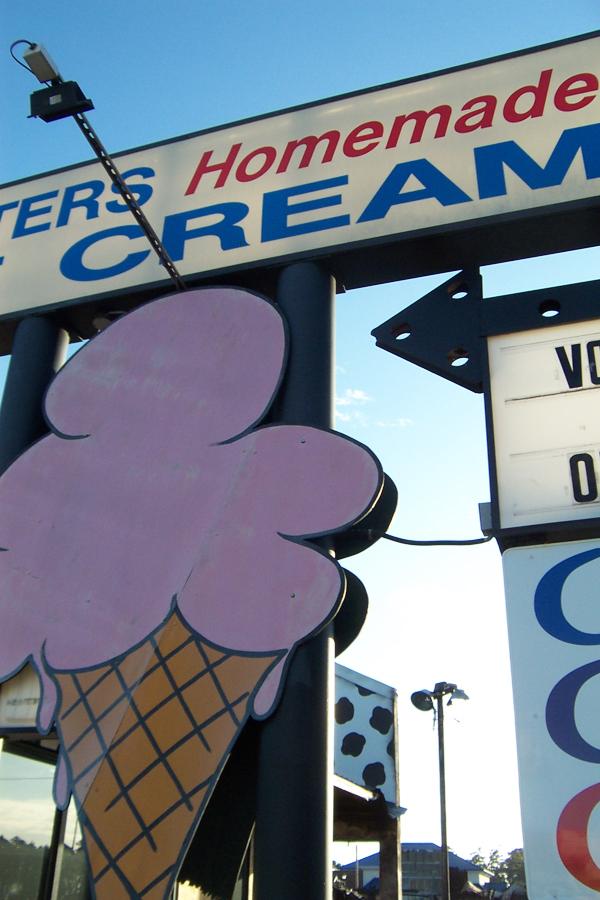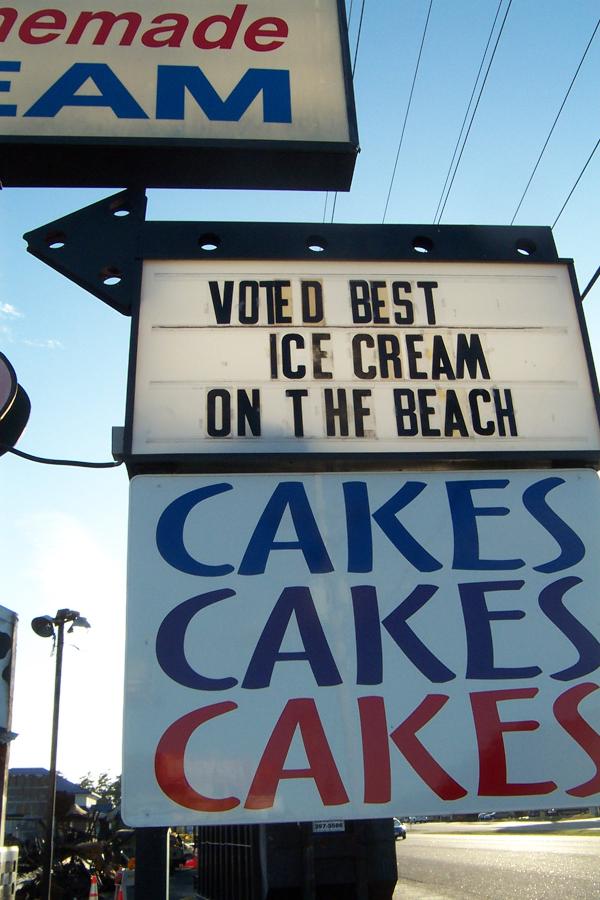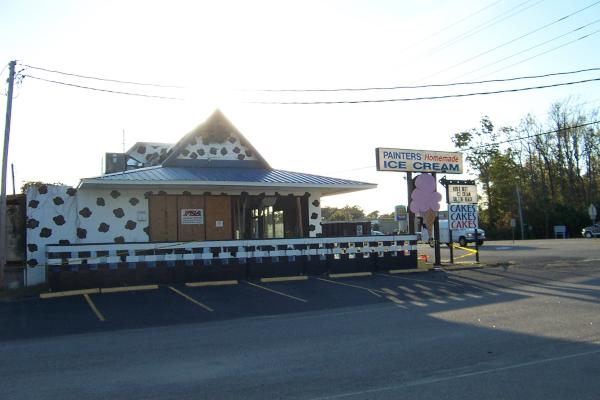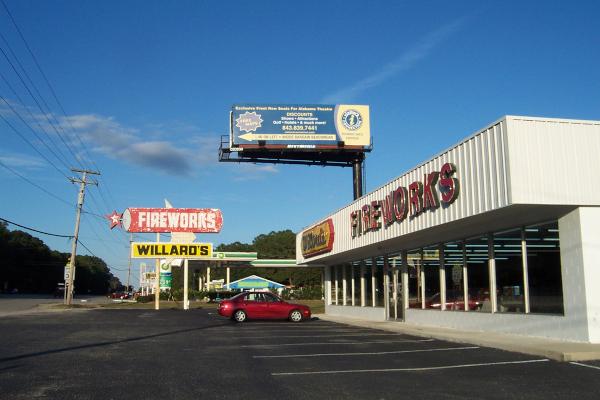 Painter's Ice Cream is a creamery chain local to the Grand Strand (as far as I know). They make good ice cream, and very good milkshakes. Their fortunes have varied over the years with some stores coming and going (they used to have a store in the strip across from "Magic Harbor" for example), but this particular store has been on US 17 a mile or so North of Inlet Square Mall for at least the past 20 or so years. It abuts, or did abut Pacific Beachwear, one of the Strand's ubiquitous "beachwear" stores. I believe I went into Pacific once. I didn't find anything I wanted, but it reminded me more of a place from the 70s than the 2000s.
Apparently the fire broke out in the afternoon of 2 October with Painter's last two customers served as part of the evacuation(!). There is video of the blaze here. I'm not sure what the circumstances of the two cars burned were -- it seems that with the blaze in the daytime, there would have been enough time to get them away if the drivers were around. Luckily, the wind was not blowing in the direction of the fireworks store across the street.
The beachwear store is a complete and total loss, but it appears that salvage work is going on at Painters (though the Sun News story indicates that in the immediate aftermath the owners didn't know if they would be back). I hope it comes back!
UPDATE 18 September 2009: It did come back. Demolition started fairly quickly as can be seen in this picture from 6 November 2009: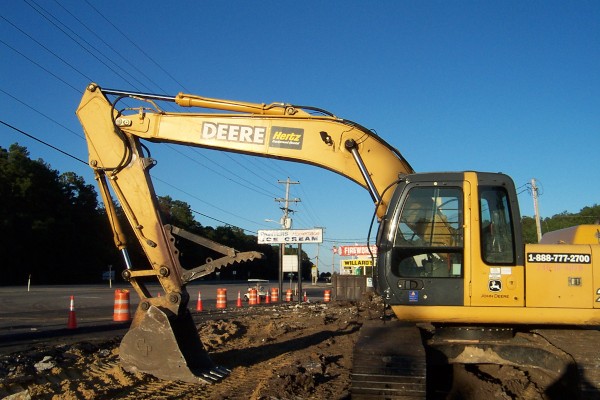 and the place was rebuilt and open on 14 August 2009 when I stopped by for a nice shake. A beachwear store is in the new strip too, but it is not the same Pacific Beachwear as was in the old strip.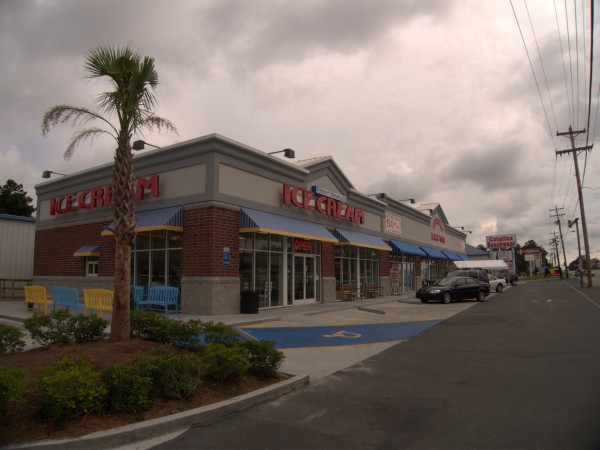 Posted at 10:57 pm in Uncategorized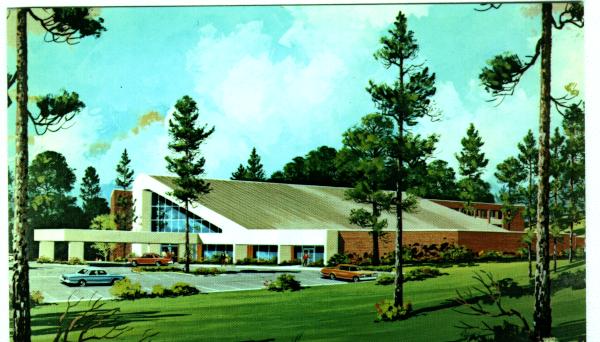 QUALITY INN Northeast
I-20 & U.S. 1
1539 Horseshoe Drive
Columbia, South Carolina 29204
Phone 803 -- 736-1600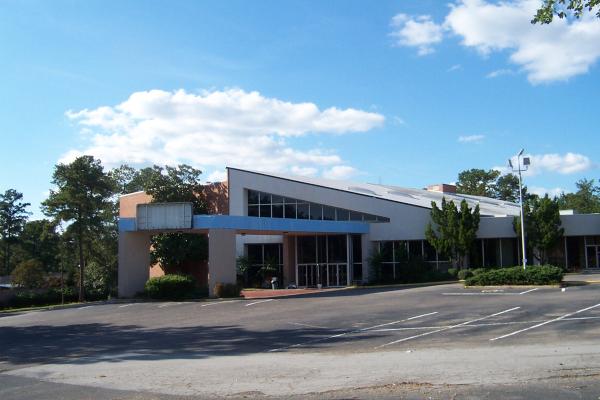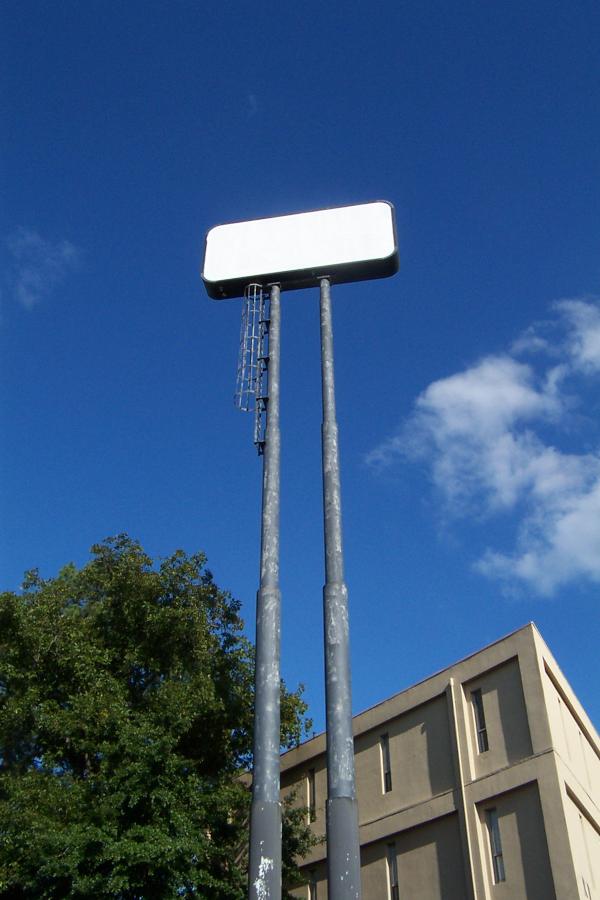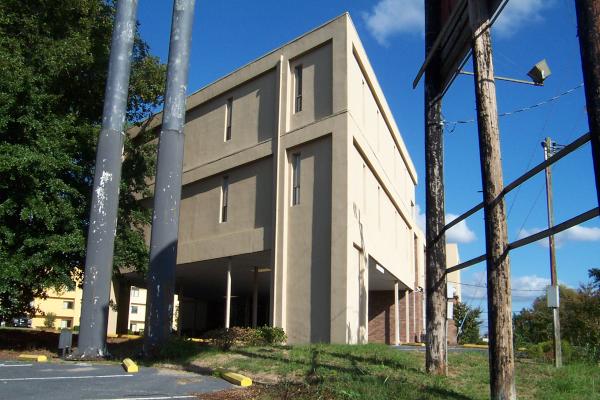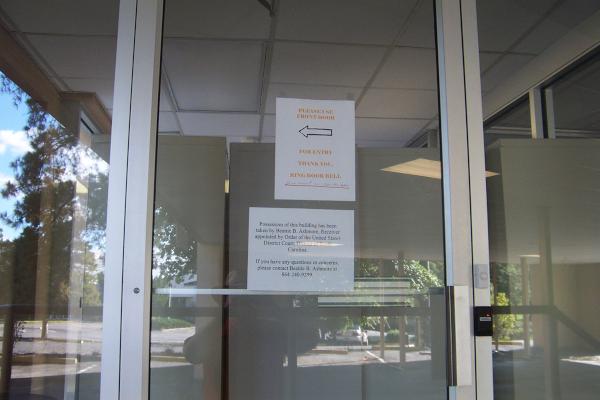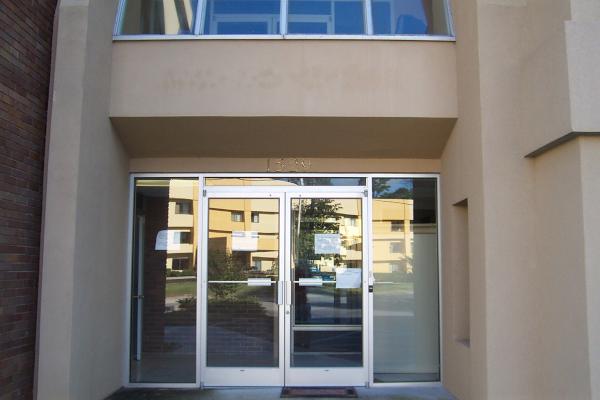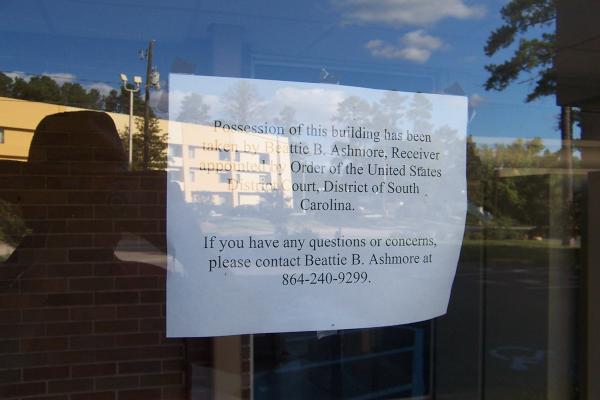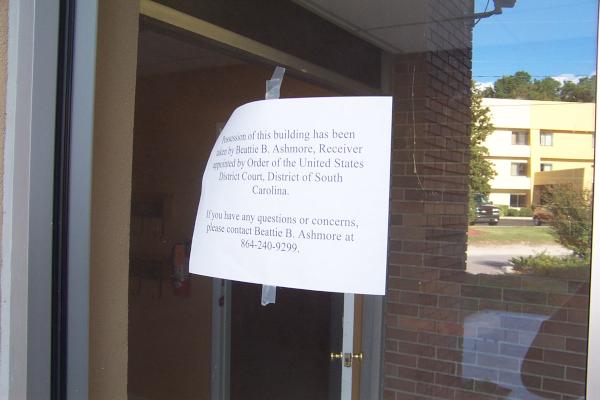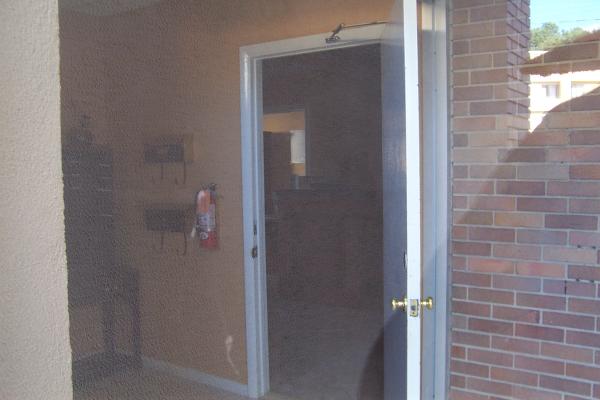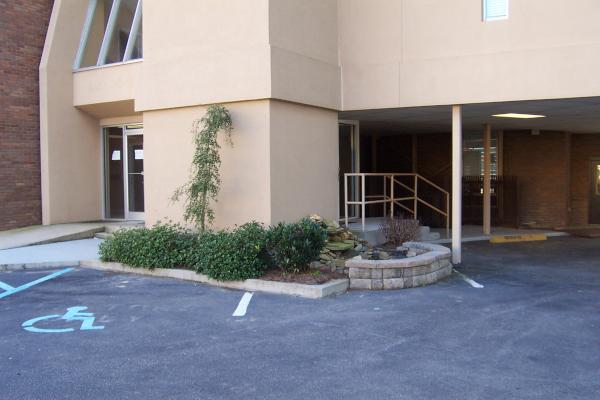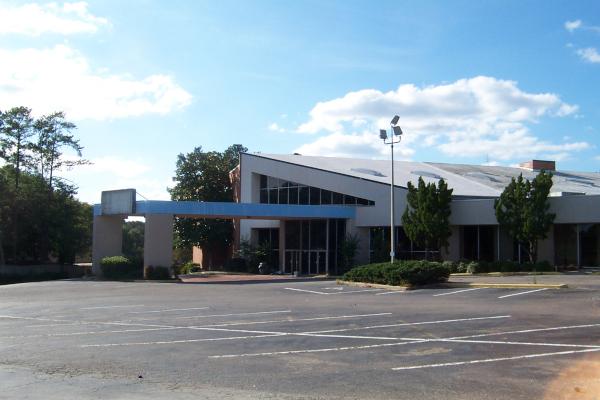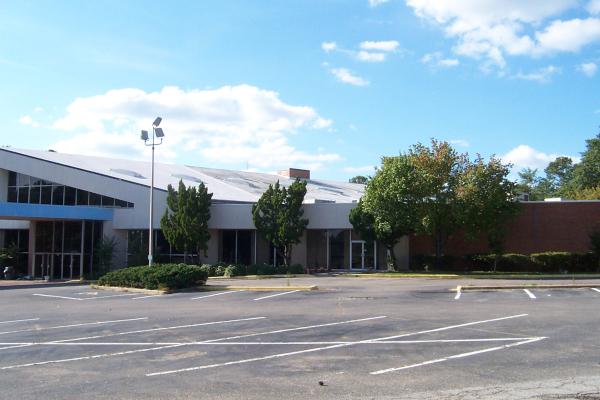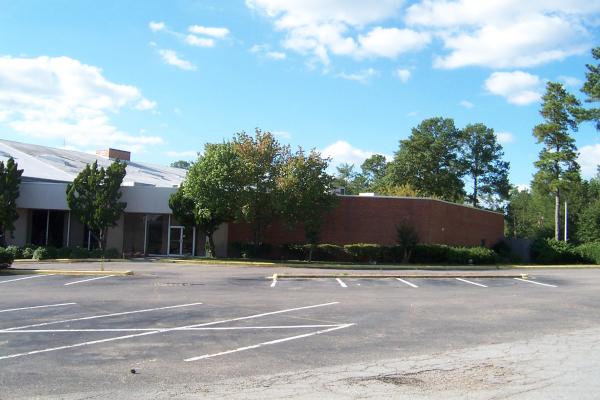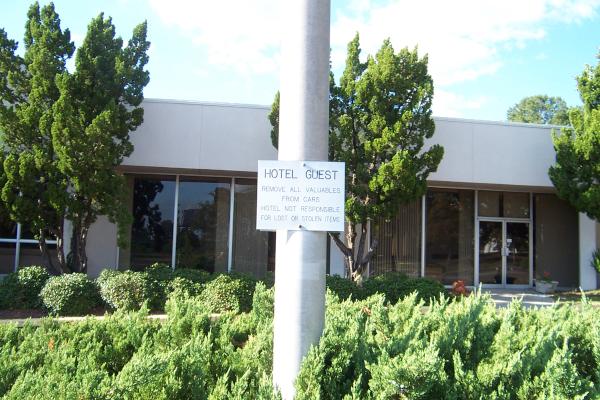 I noticed the other day that there was a blanked out hotel sign visible from Two Notch at the I-20 Westbound on-ramp, so I decided to turn at the Union 76 station and take a look.
I'm not sure it comes across in the picture, but you can barely read "Travelodge Suites" on the blanked-out sign in person, and a quick google confirms the location. The place is still listed in a lot of "book your hotel online" sites, so I'm guessing the end didn't come too long ago.
The architecture is a bit unusual. The hotel seems to be divided into two buildings, an admin building and the main structure, and both have a "modern" looking design -- not your typical boxy hotel buildings.
I'm not sure what happened to this place, but the notes on the door of the admin building would indicate that it wasn't voluntary. The place is a little hard to get into and out of, what with the somewhat odd light placement on Two Notch and the traffic backing up at the lights. Perhaps that played a role, or perhaps it was something else entirely.
UPDATE 17 September 2009: This place has been in the news lately. It has been taken on by Benedict College as dorm space for students, and in fact the kids have moved in, but now the county says it is unsafe and they will have to move out. Obviously you can't take chances with kids' safety, but there seems to be some miscommunication between the college and the fire marshall on exactly what needs to happen. Stories here, here and here.
UPDATE 13 October 2009: Added scan of Quality Inn postcard and entered the text on the reverse. Also added "Quality Inn" to the post title.
UPDATE 2 July 2010: It turns out I was wrong about the second building, the one with the notes on the doors, being part of the Quality Inn / Travelodge property. It was actually the headquarters for the infamous 3 Hebrew Boys financial scam company, and I have made a separate post about it.
UPDATE 28 July 2010: Well acccording to The State Richland denies Benedict zoning for hotel-turned-dorm, so I guess Benedict now has a huge, useless property on its hands.