Archive for January, 2009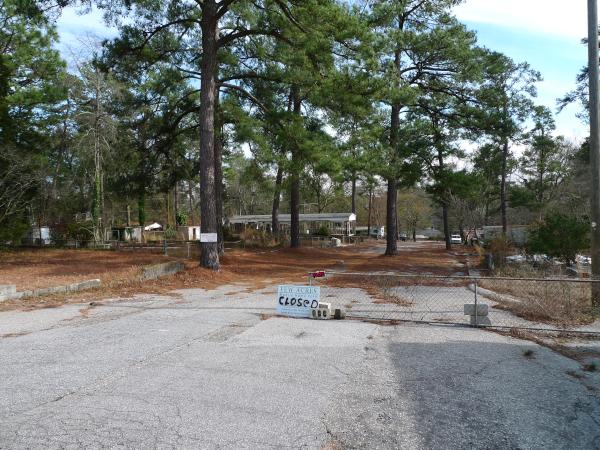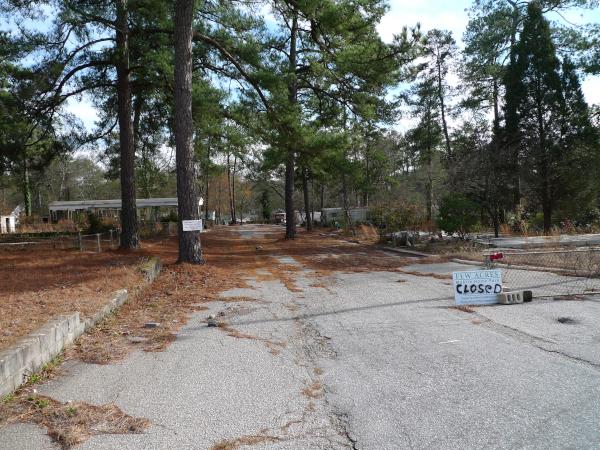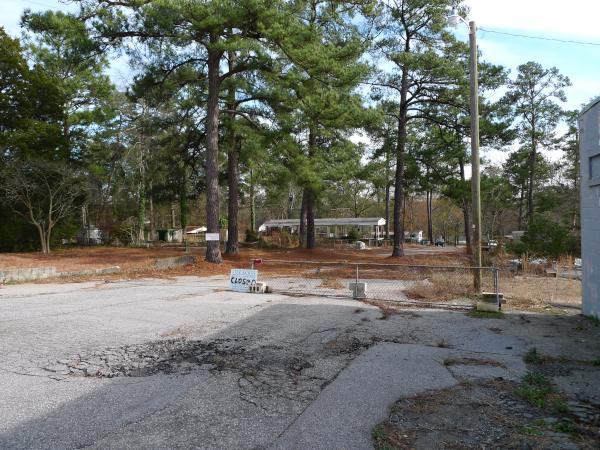 Few Acres is on Two Notch Road near Pinestraw Road, abuting Mr. Muffler. In fact, Mr. Muffler has the same Trailer Park Is Closed signs that the park itself has leading me to speculate (as I did then) that someone has bought both properties and is going to develop this corner of Two Notch.
On the other hand, it's been a year since I wrote about the location, and still nothing has happened. The trailer park is still littered with decrepit trailer skeletons, and the Mr. Muffler building still stands untouched. Perhaps the tanking of the economy is delaying things. I must admit that I am in no hurry to see any further development in this stretch of Two Notch. The strip malls already there seem to be struggling, and it's always nice to see a wooded lot admidst all the concrete.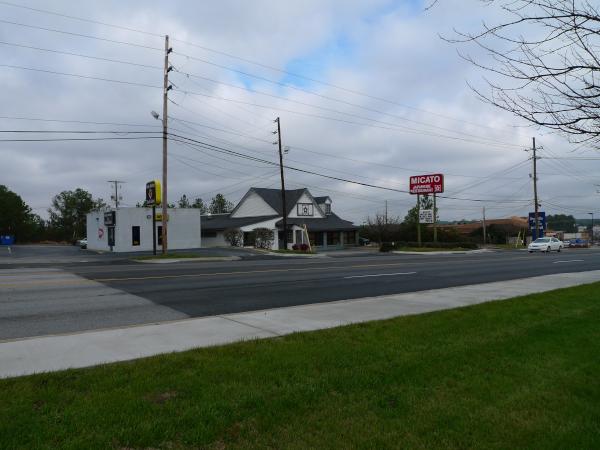 River City Cafe is a Murrells Inlet institution. Located on the creek side of US-17 business, it is a very casual burger joint with license plates all over the walls, peanut shells on the floor and graphitti carved into the tables. They make a good burger, and keep malt vinegar on the tables for your fries. The restaurant is part of a coastal empire called The Divine Dining Group which includes River City, Bovine's, Ultimate California Pizza and some other brands I forget. Anyway, in the 90s, or it could have even been the late 80s, they decided to try to expand from the coast into Columbia. They opened two River City Cafes in Columbia that I am aware of. One was on Greene Street near the train tracks and the other was this building on Two Notch Road. I'm not sure why neither store prospered. Sometimes I think that when a local chain gets large enough that the owners can't just casually drop by any given store to see how things are going, quality suffers. At any rate, neither my sister nor I felt the Two Notch location was as good as Murrells Inlet (I never tried Greene Street), and both stores closed fairly quickly. The Greene Street store became The Salty Nut Cafe, and this one became Yesterday's.
I don't go too often, but I've always enjoyed Yesterday's in Five Points. They have a good combination of down-home food plus stuff like lasagna and mexican-inspired dishes. The Two Notch location was only open long enough for my sister and I to go once, and we both agreed that it was considerably lower in quality than Five Points. I remember in particular ordering the chips & salsa appetizer and having a dish of round Tostitos with about a tablespoon of frigid salsa in a sealed plastic container being plopped onto the table. The presentation was bad, and the quality was, um, lacking.
I believe the current tenant, Micato, was the next venture in the building, and it has been there some years now, so I would guess they actually know what they are doing, though I have never eaten there.
River City at the beach remains good, as does Yesterday's downtown. I guess they just couldn't find the talent to replicate the experience.
UPDATE 26 May 2011 -- Commenter palmettopanic sends in this 1989 ad for another restaurant in this building, one that came before RIver City and Yesterday's and one that I had never heard of (or at least can't remember having heard of): "Bird's":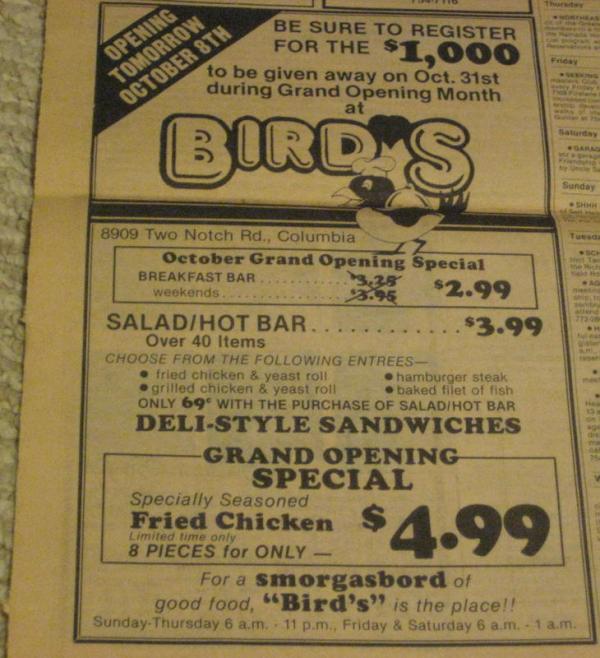 Also, I haven't mentioned it on this entry yet, but the follow-on in this building Micato has been gone for some time.
Posted at 10:45 pm in Uncategorized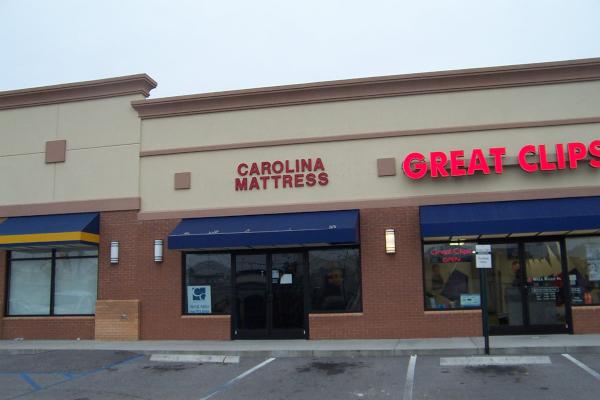 Until I recently had cause to note it, I never realized just how many mattress stores there are in Columbia. Two Notch Road in particular seems infested with them. This one however was on Beltline across from Richland Mall in a little strip with a Moe's a vitamin shop and some sort of hair salon. I usually hit that Moe's twice a week, but it was a while before I noticed the mattress place was gone.
I'm not sure what happened, but I'd hazard a guess that in the current economic climate, people reckon they can put up with that lumpy old mattress another year. For that matter, the storefront seems rather small to allow much of a mattress selection to be displayed.
UPDATE 30 April 2009:
It's now a nail spa: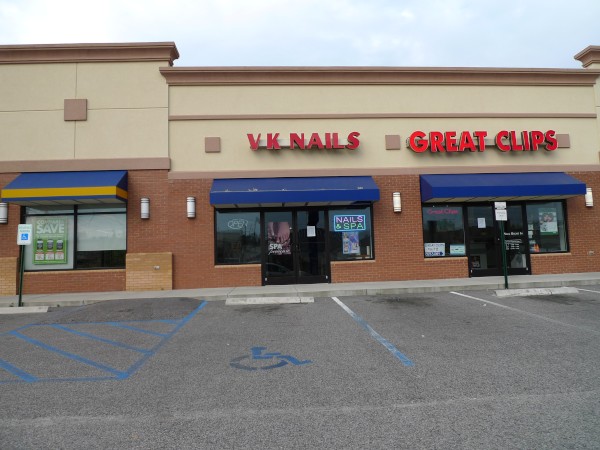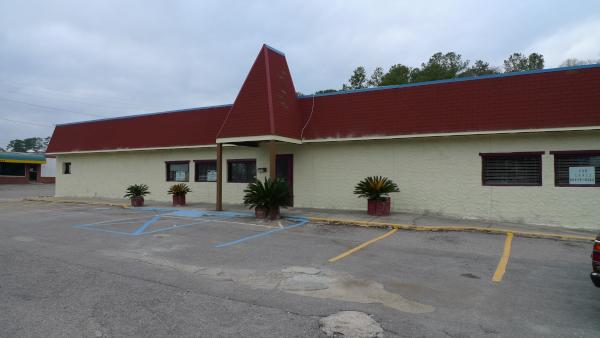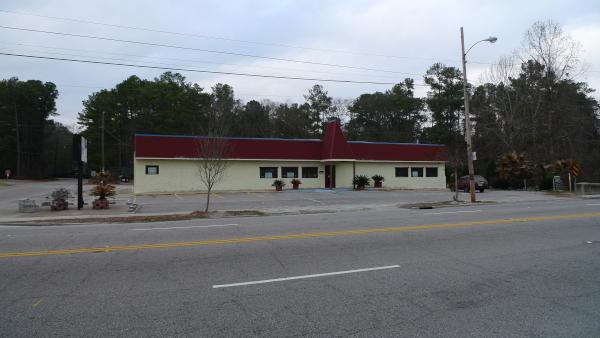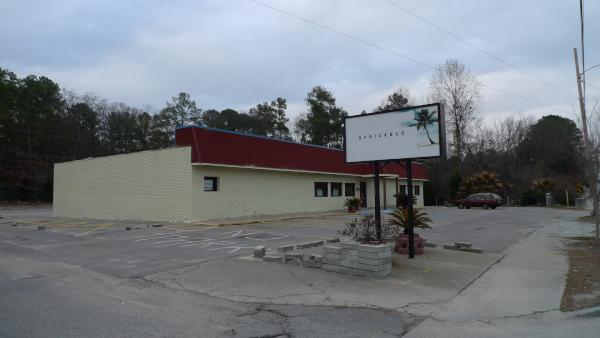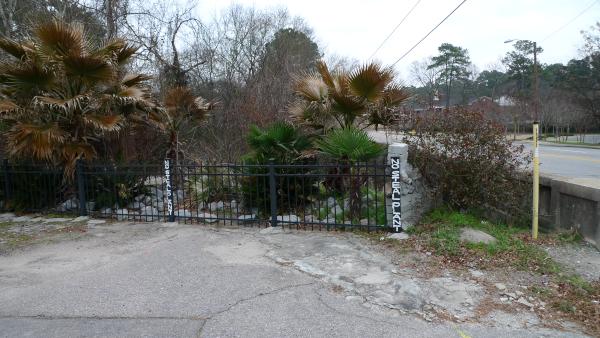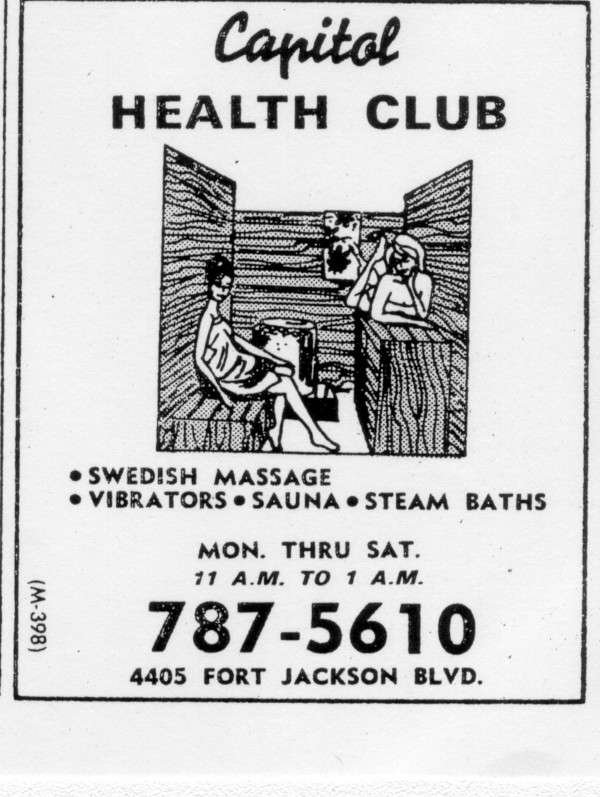 First of all, can someone give me a definitive name for the road that starts at Fort Jackson, goes under I-77, passes in front of K-Mart and ends where Devine Street meets Garners Ferry? I've called it "Jackson Boulevard" all my life, but the I-77 exit signs read "Fort Jackson Boulevard", and half of the street signs on the road itself have "Fort" and half don't. Likewise, when I googled the address of this storefront, I find both uses.
Anyway, I became aware of this building when I would drive down (Fort) Jackson Boulevard and cut through to Ruby Tuesday's. As far as I could tell, it was a mexican restaurant which seemed to have passed through a protracted coming soon stage directly to an out of business stage without ever actually opening. Google on the address gives an even more interesting story. Apparently at some point in the not too distant past, it was a Chinese place called Lulan Wang. I'm not surprised I don't remember that as I'm not overly fond of Chinese food so those places don't really attract my attention. On the Mexican front however, it was apparently two different places, and must have been both quite recently: El Korita and Los Portrillos, so I'm apparently conflating and re-arranging two coming-soon and out-of-business progressions in my mind.
I like that the main available sign leaves the palm tree -- that's nicer than just a blank white sign. Also, notice the plaintive writing on the fences to the side of the restaurant urging No Steal Plant. Is that a big problem in Columbia? The fact that they felt the need to write it argues it happened at least once..
UPDATE 28 Jan 09: Several people in the comments mention that the place was also (and first) Jesudi's, an Italian restaurant that was decorated as a cave inside and out. I had completely forgotten that! I knew I had eaten in a "cave" restaurant somewhere in Columbia growing up, but did not connect it with that building at all. I've updated the post title to add Jesudi's to the list of tenants.
UPDATE 31 March 2011 -- Added full street address to post title. Added 1973 Southern Bell ad for Capital Health Club an establishment with a rather different menu than the rest.
UPDATE 22 July 2011 -- The place is now being worked on as an "Upfit for proposed new restaurant":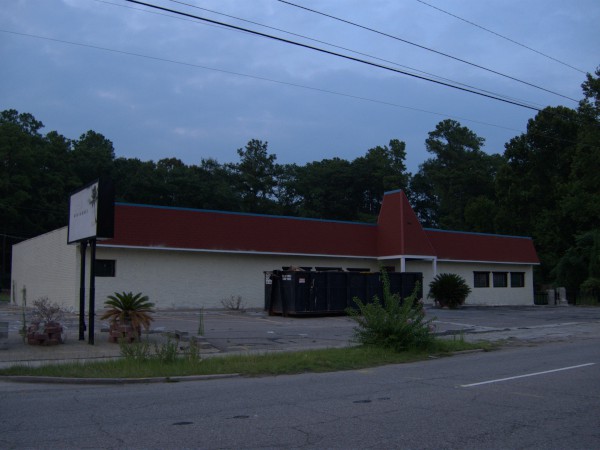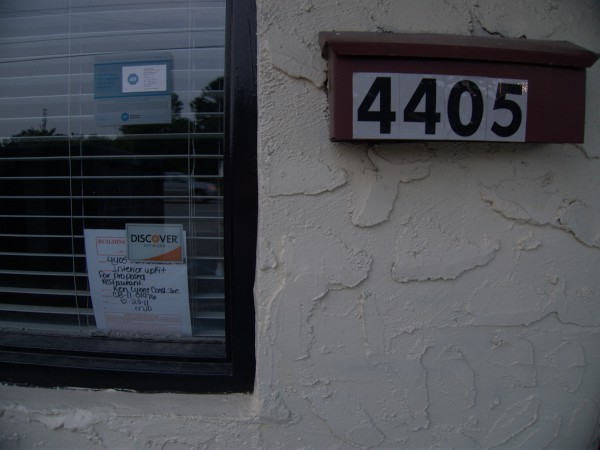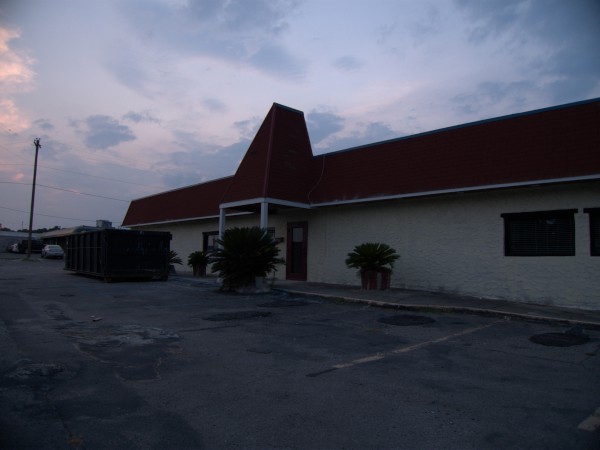 UPDATE 25 October 2011 -- Well, it's to be The Diner: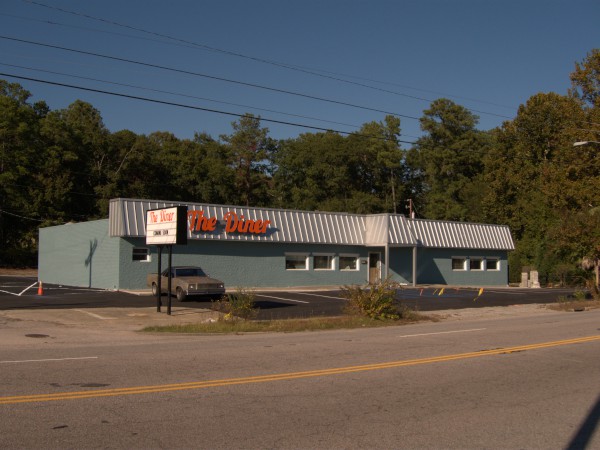 UPDATE 15 January 2012 -- The Diner is open: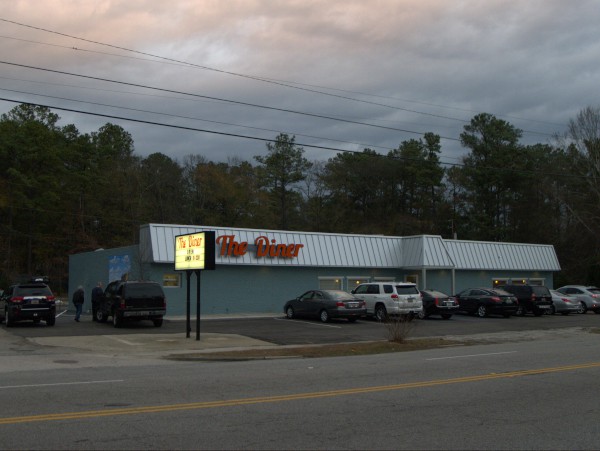 UPDATE 25 January 2012 -- Here's the mural on the side. Looks as though they are still working on it: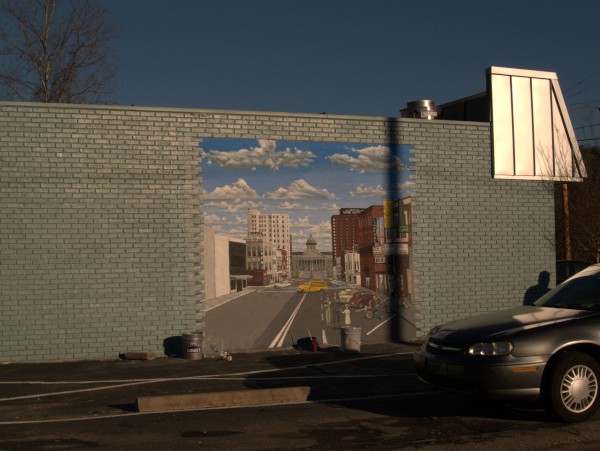 UPDATE 28 January 2012 -- Yep! Definitely still working on it: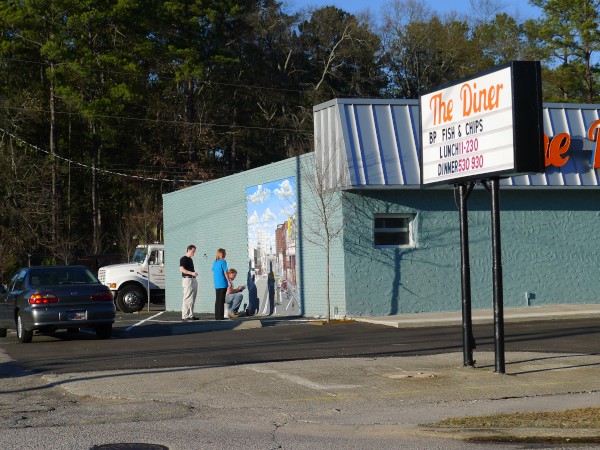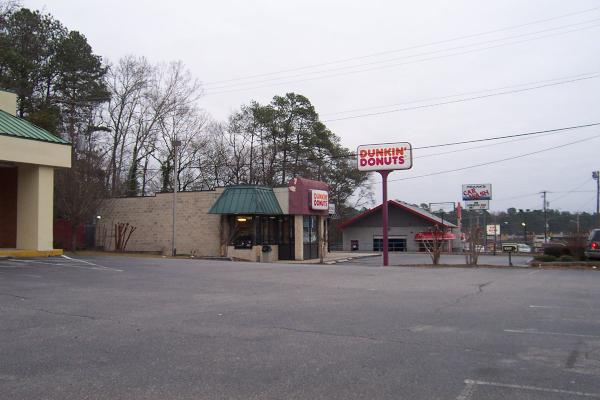 I talked about the doughnut store on Saint Andrews Road a few days ago, and that made me think of Mister Donut on Forest Drive.
I've written earlier about how we used to get hot Krispy Kremes when we went to wait for my aunt at the train station, but after Krispy Kreme moved across the river, Mister Donut was the only doughnut store near us, and it was always a special treat to stop there.
I had a little trouble with the name of the place. Their sign used a flowing cursive script, and to me it looked like "Wister Donut", which when you are a kid doesn't seem like an impossibly stupid name for a store, so that's how I always thought of it, though I was always able to get it straight when talking about the place.
Mister Donut dougnuts were both larger and more substantial than Krispy Kremes. My favorite was the "honey dipped", which I would say was about twice the size of a Kripy Kreme "original glazed", and much denser (though it was still a true [non "cake"] doughnut). In those days, I wasn't allowed coffee except on special occasions, so I liked to get the hot chocolate (which I remember as very good) for dunking purposes.
I was upset when Mister Donut was replaced by Dunkin' Donuts, a chain which I felt (and feel) had inferior recipies (and which at this location, according to my sister and The Free Times, can not operate a competent drive-through window). I didn't know until I looked it up today that Dunkin's parent company bought out Mister Donut and mostly dropped the brand in the US (it survives overseas).
The Dunkin' operation was smaller than Mister Donut and the east side of the building stayed vacant for years but has recently been occupied by, I believe, a travel agency.
UPDATE 26 March 2012: Added full street address to the post title, and added some tags.
Posted at 12:01 am in Uncategorized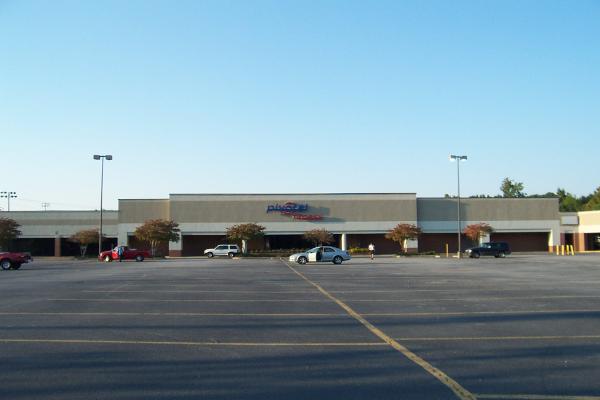 This is not the fancy Piggly Wiggly that was once at the top of the hill on Saint Andrews Road, but a later store. It was a typical Pig of its time, which was somewhat before the chain's current upscale push with stores like Forest Drive and Litchfield Beach. As I recall, I only stopped here once, and found nothing in particular to like or dislike. The plaza where it was located is below the Bush River Road / Saint Andrews Road intersection, near the industrial plant and Seven Oaks Park. It was the anchor store, and the whole strip has been hurting since it closed. I'm not entirely sure why that happened, but I think it may have been leap-frogged by the upscale new Bi-Lo which opened a few blocks down the road. The property was vacant for a while after the Pig pulled out, but is now some sort of fitness center.
UPDATE 2 Feb 2011: Added store number (102) and full street address to post title.
UPDATE 9 March 2011: Added specific closing date based on comment by commenter Andrew
UPDATE-2 9 March 2011: Oops! There were two Pigs on Saint Andrews road, and I got the wrong date and address. (Which also means it was not store #102..) -- Fixed.
UPDATE-3 9 March 2011: OK, the store number moved here from the other Saint Andrews store, so it was store # 102, just not the first location for store #102.
Posted at 1:34 am in Uncategorized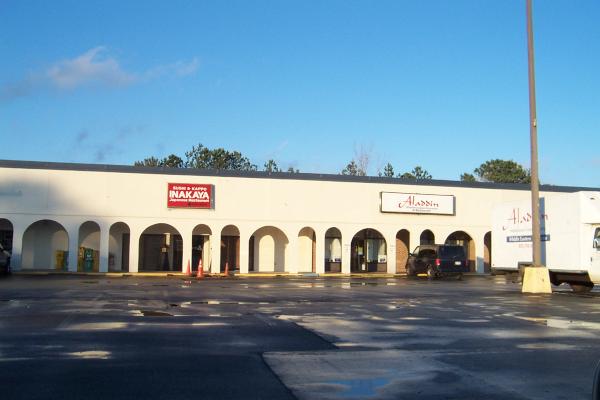 I wrote about the closing of Capitol Newsstand on Main Street. That was always the flagship and the final store to go, but at one time Capitol had three other branches that I know of. There was another one downtown on the south side of one of the streets parallelling Taylor Street, there was one in Dentsville on O'Neil Court, and this one, now Aladdin on Saint Andrews Road. I may have the order wrong, but I think this one closed after the second downtown store and before O'Neil Court.
I didn't get to Saint Andrews Road that often, but on my few visits to this store, I got the impression that the selection of magazines was smaller, even discounting the foreign language ones the Main Street location had, and that the timely appearance of new paperbacks was less reliable. That could just be an artifact of my irregular observations though. I'm not sure why the store closed, certainly parking and panhandling were not the issues they were on Main Street. I suspect however, that with the opening of Books-A-Million and Barnes & Noble on Harbison Boulevard, the market this store served dropped markedly.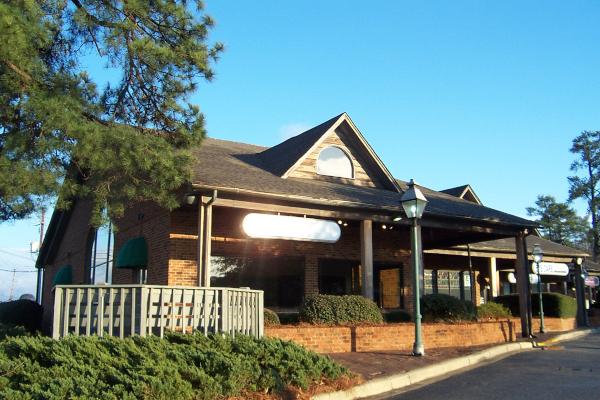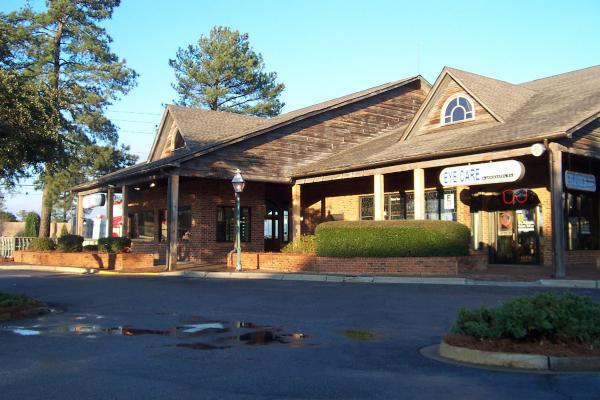 This store-front, in a nice looking little plaza at the top of the hill on the south side of Saint Andrews Road, has been a number of things over the years. I can't begin to recall them all, but I think the one that impressed me as the most off-the-wall was a "bring all your friends and make pottery" store.
The one I actually visited a few times though was a doughnut operation. I think it was an independant operation, and I recall thinking that its doughnuts were more like Mr. Donut's "honey-dipped" than the much less dense Krispy Kreme "original glazed". Unfortunately for them, I liked both MD and KK's product better than theirs, and was rarely on that side of town anyway. I don't know what happened to them in the end. Perhaps most people felt that way, or it just could be Saint Andrews Road, which, as one commenter pointed out, has become something of a restaurant graveyard. At any rate, I believe they closed sometime in the 90s when I was living in Fayettevile. I think the closest doughnuts to Saint Andrews now may be the Dunkin in Boozer Shopping Center. (Though Dunkin is another operation I like less well than either MD or KK -- I was bummed when a Dunkin replaced the Forest Drive MD).
Posted at 1:08 am in Uncategorized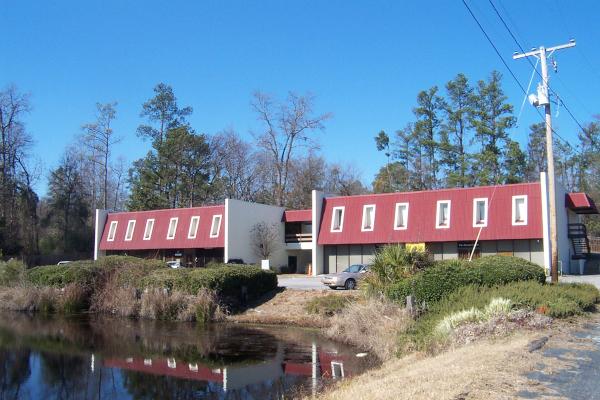 It's hard to remember at this remove how revolutionary Apple's McIntosh was. As I recall, I was starting grad school when the big roll-out came. Through being in computer science, I was somewhat aware of Xerox's PARC work, and of Apple's Lisa which ripped off built on Xerox's concepts, but I had never actually seen a GUI environment, and didn't expect to any time soon either. So when there was a big Apple expo down at The Coliseum, I didn't really know what to expect, but walked down anyway.
I remember vividly that there was a booth with the original 128K Mac and an Apple guy demo-ing it. He had MacPaint up, with the, at one time ubiquitous, black-and-white stylized image of a Japanese Geisha combing her hair. I was completely blown away, but tried to be skeptical by asking the guy what good such fancy graphics were if you couldn't print them out, at which point he fired up the original ImageWriter dot-matrix printer and gave me a copy of the picture then and there. It sounds primitive now -- it is primitive now, but I had the strong feeling I was seeing the future.
Not long after that, I got to interact up-close-and-personal with one of those 128K Macs as I was assigned to port an experimental computer language interpreter to it. The code was in "C", and the first C compiler had just been released for the Mac -- it was a nightmare. This amazing computer of the future did not have a hard drive. It did not even have two floppy drives as many PCs (A: and B:) did. It had one very slow floppy drive, so the process of compiling a program was something like: Insert the program disk, double click, insert the first compiler disk, insert the second compiler disk, re-insert the program disk, re-insert the compiler disk, re-insert the second compiler disk, re-insert the program disk. You get the picture. You could easily go 45 minutes and 30 disk swaps before getting your error messages. At which point you had to start swapping in and out the editor disk. Not to mention that the compiler didn't really support standard stdio calls and that 128K was just not enough RAM to support the runtime recursion that the program wanted to do once you actually got it compiled. I never did finish that assignment.
Anyway, another feature of the Mac floppy drive was that it initially only supported very special and hard to find floppy disks. I believe they were pre-formatted, though I may be wrong about that. In order to get anywhere I had to have a couple of boxes of them (which I still have somewhere) and the only place in town I could find them at first was a store in this office complex on Two Notch behind a small pond, across from The Impulse Club and next to Hi Line Imports.
The computer store (then) was on the second floor in the central piece where you can see the wooden rails. The complex as a whole has never seemed to prosper, but never fails either. According to some signage by the road, there is still a computer store there, but the original one is long gone.
The image that rocked my world is still a classic though: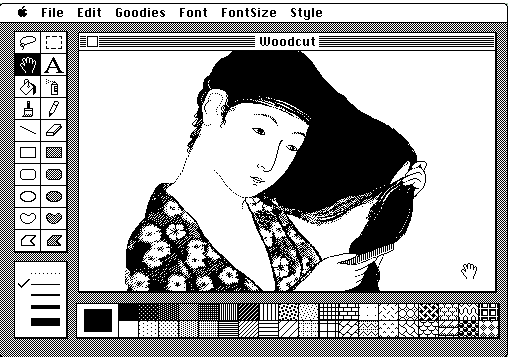 Posted at 12:39 am in Uncategorized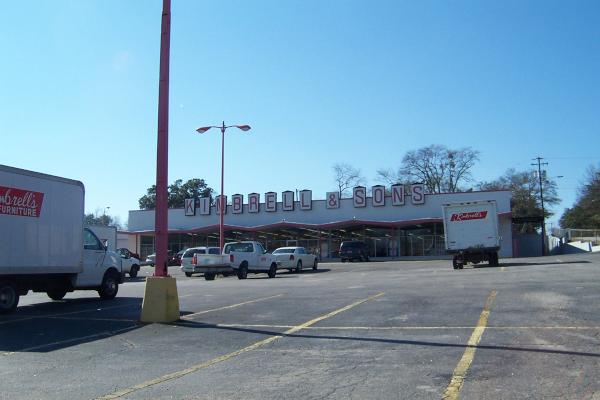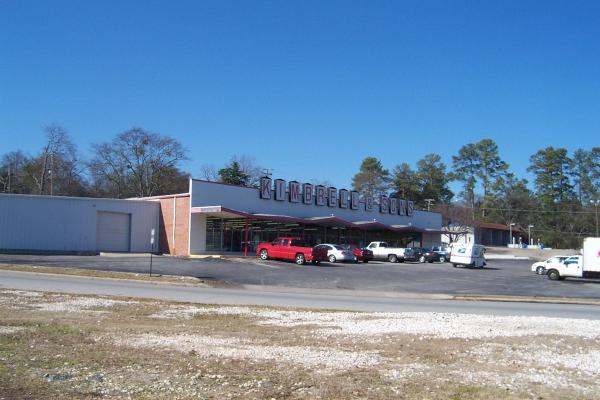 I don't ever remember this PIggly Wiggly, now a furniture store, being in operation, but then we didn't go down South Beltline much growing up. The building has a classic 1960s look, and I'm happy to see that Kimbrell & Sons have kept the raised marquee letters along the roof-line.
This store is similar in size to the old Trenholm Park Pig which also had the roof letters back in the day. I'm not sure why the store closed, but there's a newer Pig about half a mile up South Beltline, so I'll speculate that this stand-alone operation was axed in favor of locating in what would have been at the time a new strip mall, and which is closer to the Two Notch corridor as well.