Posted at 5:50 pm in Uncategorized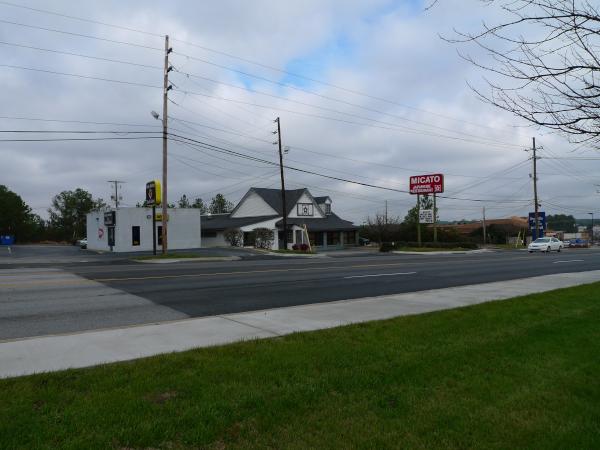 River City Cafe is a Murrells Inlet institution. Located on the creek side of US-17 business, it is a very casual burger joint with license plates all over the walls, peanut shells on the floor and graphitti carved into the tables. They make a good burger, and keep malt vinegar on the tables for your fries. The restaurant is part of a coastal empire called The Divine Dining Group which includes River City, Bovine's, Ultimate California Pizza and some other brands I forget. Anyway, in the 90s, or it could have even been the late 80s, they decided to try to expand from the coast into Columbia. They opened two River City Cafes in Columbia that I am aware of. One was on Greene Street near the train tracks and the other was this building on Two Notch Road. I'm not sure why neither store prospered. Sometimes I think that when a local chain gets large enough that the owners can't just casually drop by any given store to see how things are going, quality suffers. At any rate, neither my sister nor I felt the Two Notch location was as good as Murrells Inlet (I never tried Greene Street), and both stores closed fairly quickly. The Greene Street store became The Salty Nut Cafe, and this one became Yesterday's.
I don't go too often, but I've always enjoyed Yesterday's in Five Points. They have a good combination of down-home food plus stuff like lasagna and mexican-inspired dishes. The Two Notch location was only open long enough for my sister and I to go once, and we both agreed that it was considerably lower in quality than Five Points. I remember in particular ordering the chips & salsa appetizer and having a dish of round Tostitos with about a tablespoon of frigid salsa in a sealed plastic container being plopped onto the table. The presentation was bad, and the quality was, um, lacking.
I believe the current tenant, Micato, was the next venture in the building, and it has been there some years now, so I would guess they actually know what they are doing, though I have never eaten there.
River City at the beach remains good, as does Yesterday's downtown. I guess they just couldn't find the talent to replicate the experience.
UPDATE 26 May 2011 -- Commenter palmettopanic sends in this 1989 ad for another restaurant in this building, one that came before RIver City and Yesterday's and one that I had never heard of (or at least can't remember having heard of): "Bird's":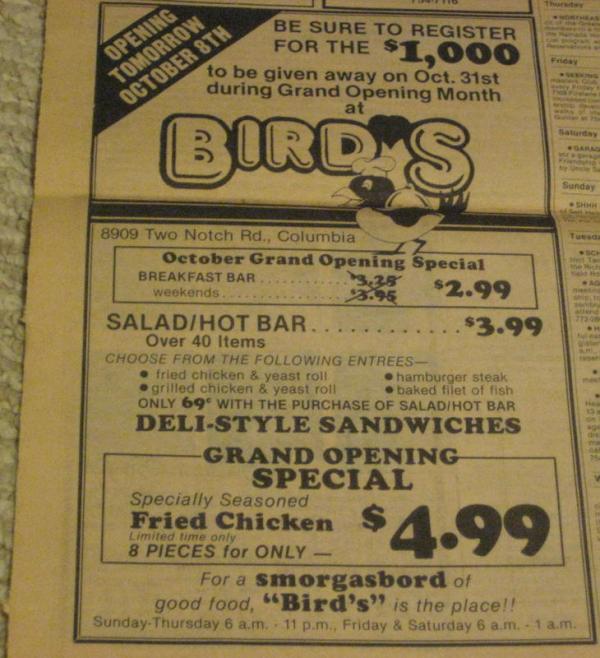 Also, I haven't mentioned it on this entry yet, but the follow-on in this building Micato has been gone for some time.
9 Responses to 'Bird's / River City Cafe / Yesterday's, 8909 Two Notch Road: 1990s'
Subscribe to comments with RSS or TrackBack to 'Bird's / River City Cafe / Yesterday's, 8909 Two Notch Road: 1990s'.
Leave a Reply