Archive for July, 2009
Posted at 5:21 pm in Uncategorized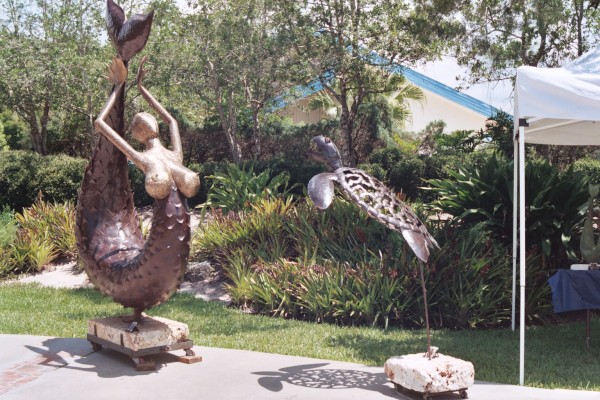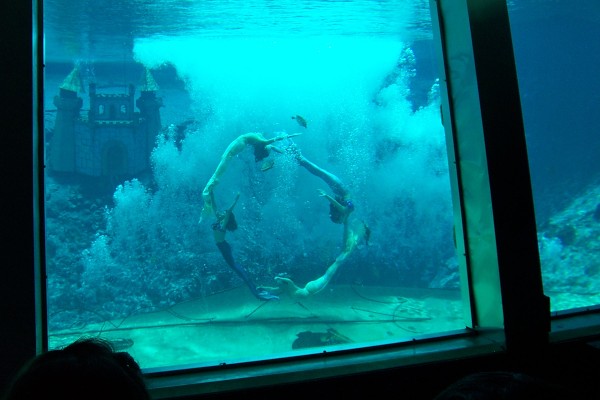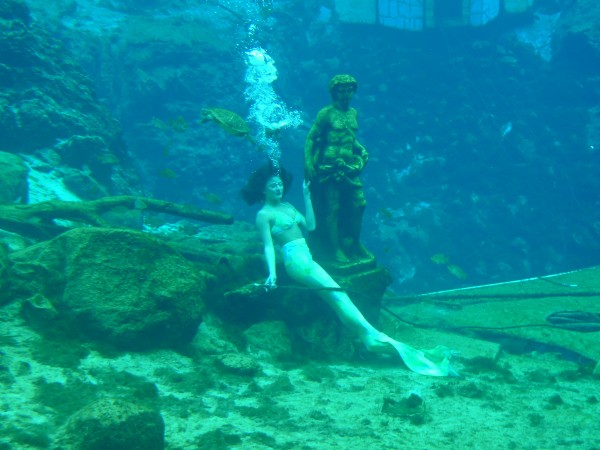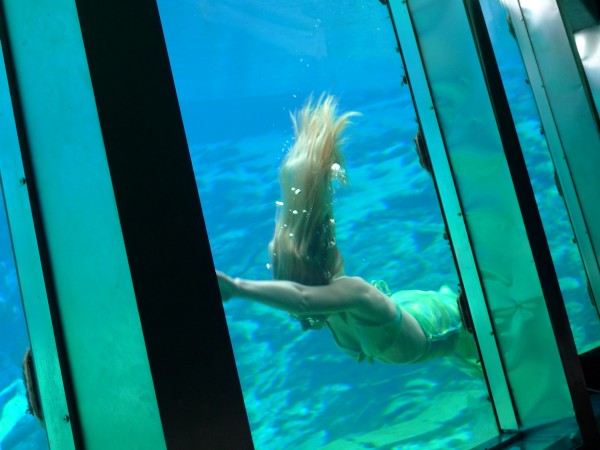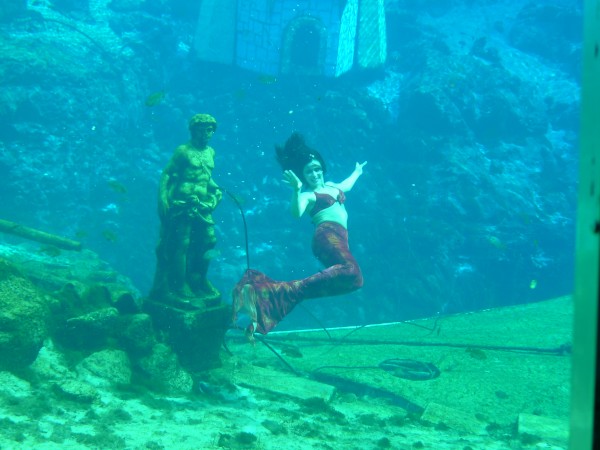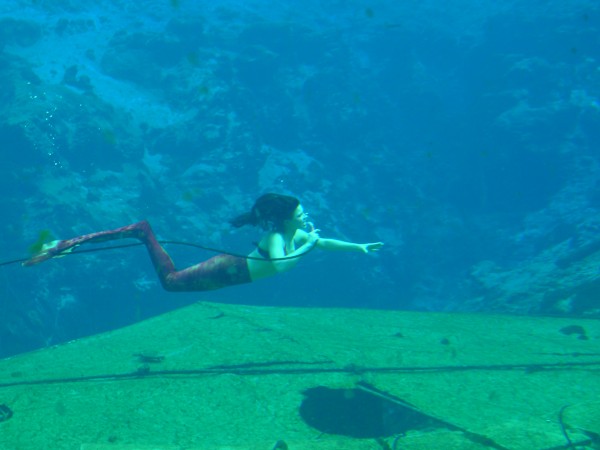 Stage 3 of my summer vacation starts today -- posting will be light to non-existent for the next three weeks, so chat amongst yourselves!
Posted at 11:57 pm in Uncategorized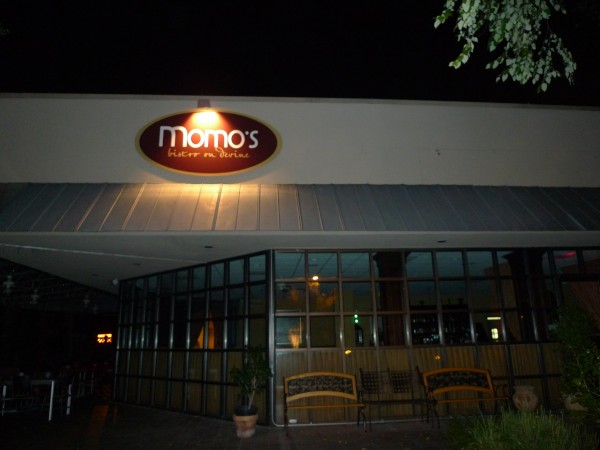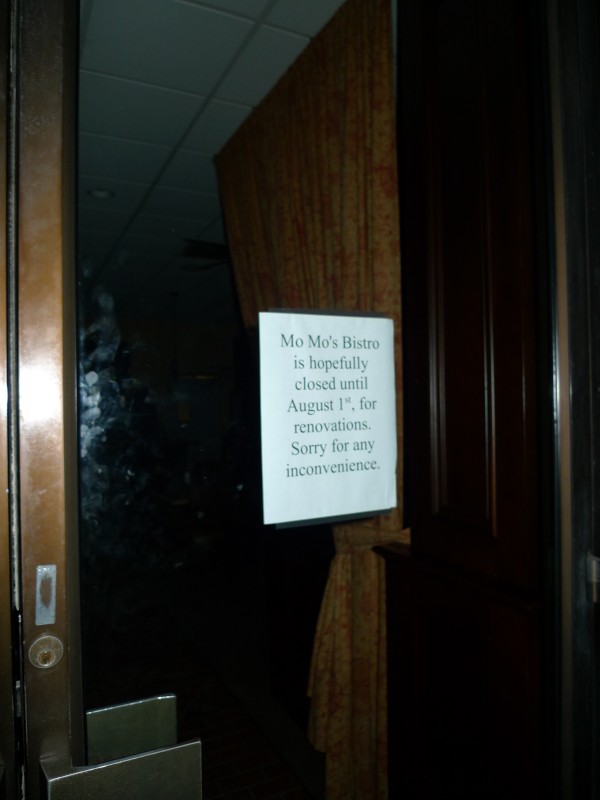 I was at Za's and noticed that Momo's Bistro in the same strip was dark, so I went over to take a look and snap a few pictures (the flash worked better than I expected). After that, and a bit of googling around, I'm not entirely sure of the status of this place.
The sign on the door suggests that they will "hopefully" be back at the start of August while the message on their answering machine says the end of August while their facebook pagedoesn't commit them to anything specific. On the other hand, this site (which I would expect to be pretty careful about what goes out under their logo) seems to imply that they are gone for good.
I would say that the phone still being connected and the website still being up are good signs, but it sounds very iffy at best.
UPDATE 16 November 2009: Open again!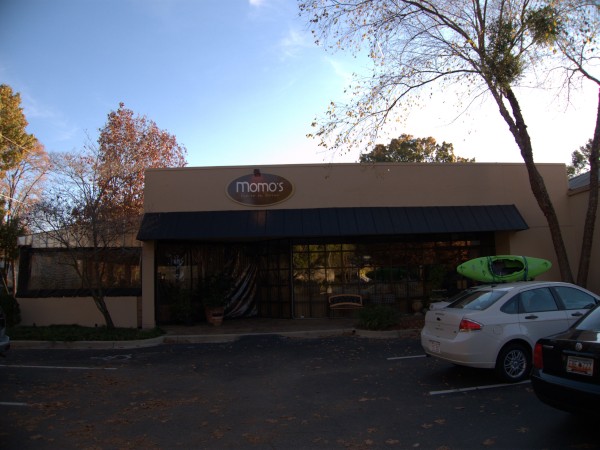 UPDATE 27 May 2014 -- Momo's is closed again, this time for good. According to The State, an Eggs Up Grill will be opening there soon. Eggs Up started in Litchfield Beach in the same building as Latte Litchfield (and they originally shared ownership). Currently their flagship store has moved to the old Piggly Wiggly shopping center a bit north on US-17 and they have several other coastal locations for the breakfast and lunch concept.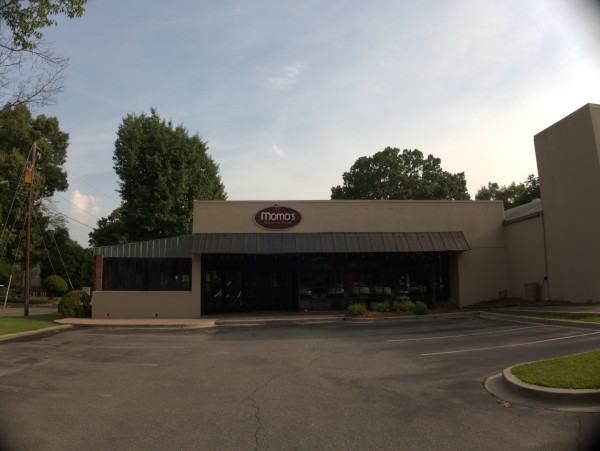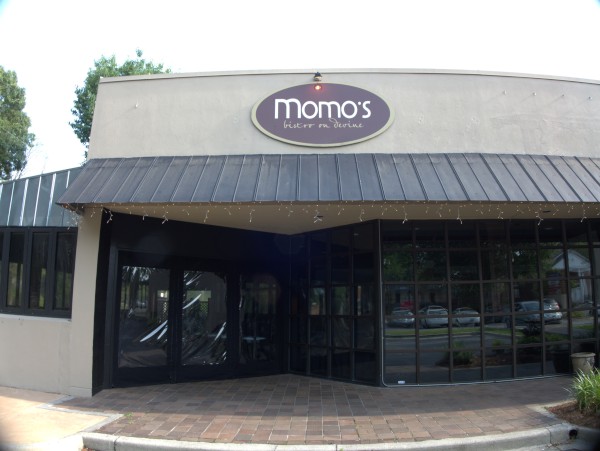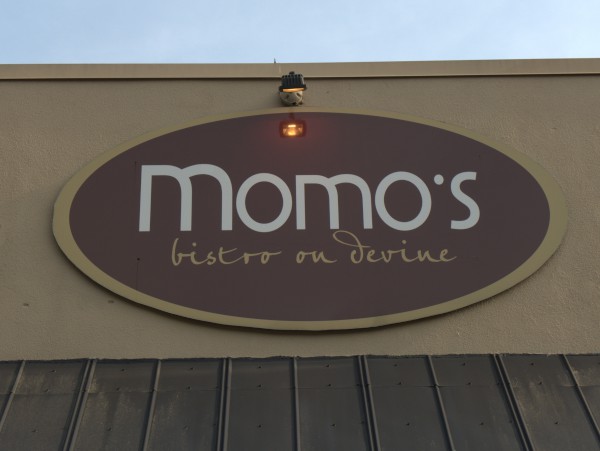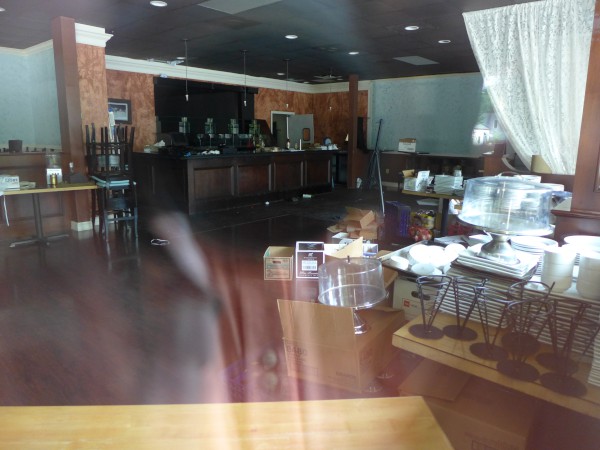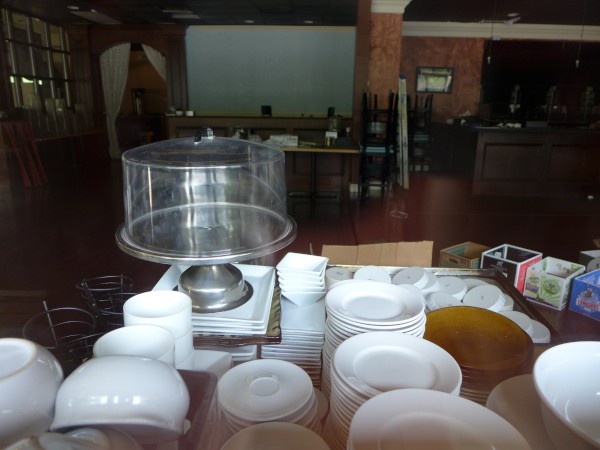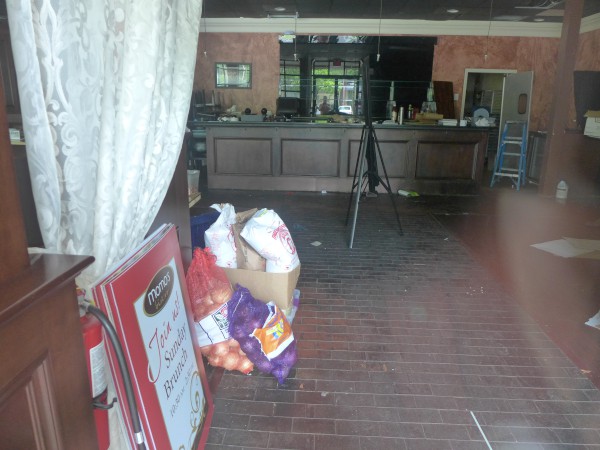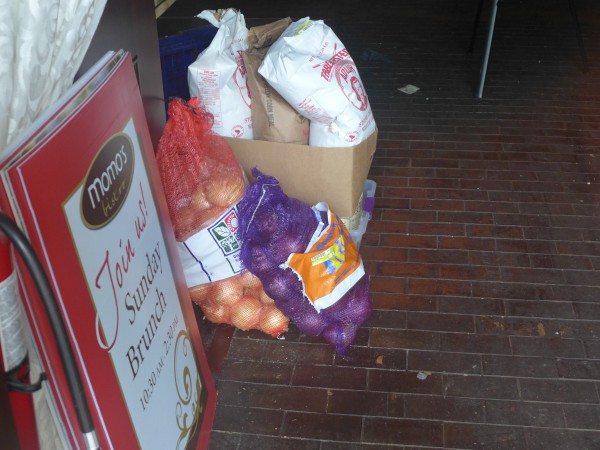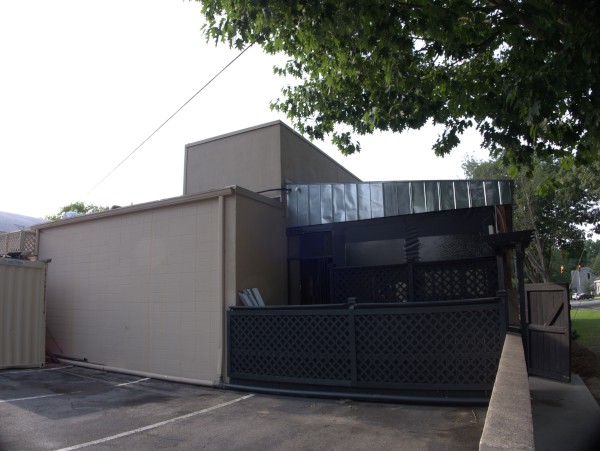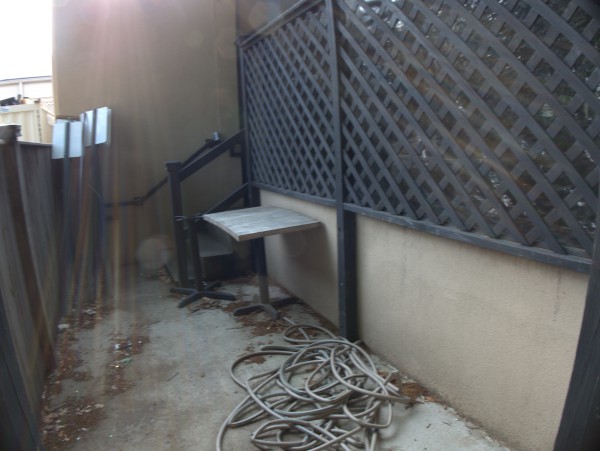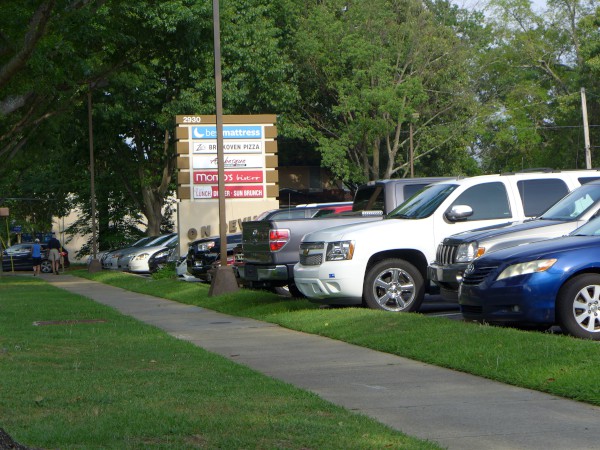 Posted at 1:23 am in Uncategorized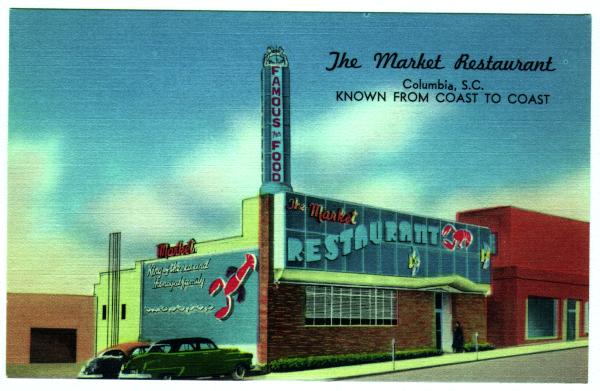 The Market Restaurant
Columbia, S.C.
Opposite State Capitol
At Intersections of:
U.S. Hwy's 1, 21, 321, 176 and 378
"Famous for Food"
Featuring Maine Lobsters
U.S. Prime Western Steaks and Dinners.
OPEN FROM 11 A.M. TIL 11:45 P.M.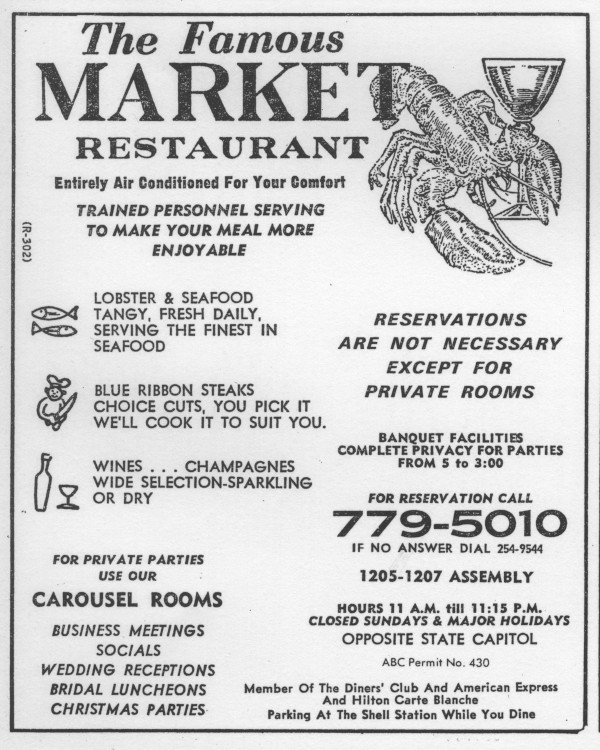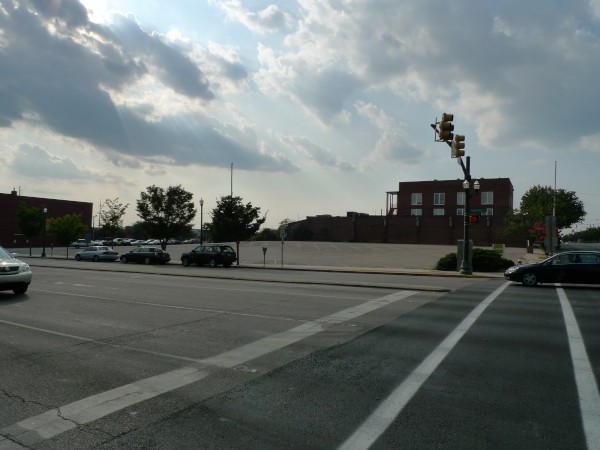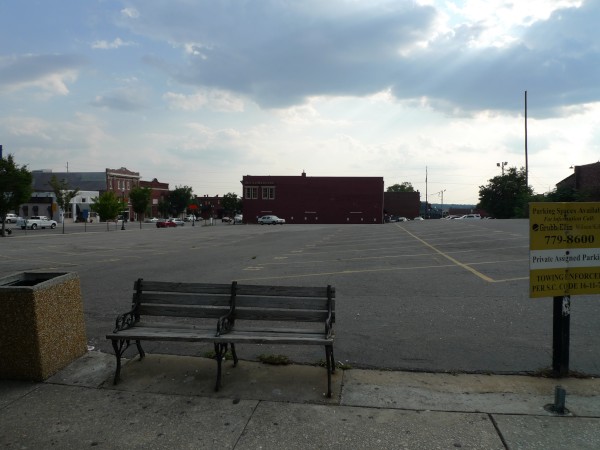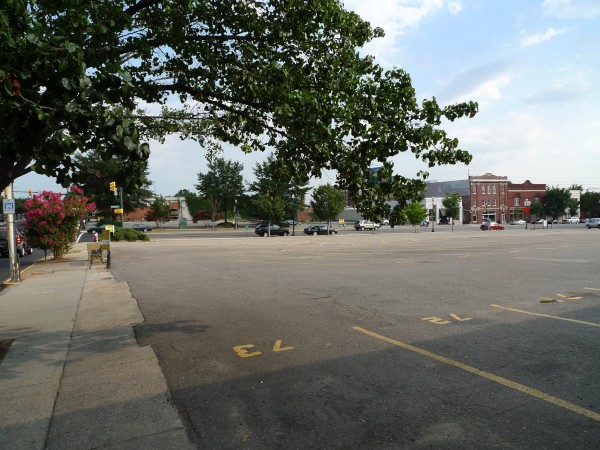 I should remember this place, but for some reason I don't. From the 1970 Southern Bell Yellow Pages ad, it looks much too fancy for anything that our parents might have taken us to, and when I was picking restaurants on my own, the lobster and fish would have scared me off.
As you can see from these shots, the building is long gone, and the area is now an annoying parking lot (always half empty, but zealously patrolled) at the corner of Gervais and Assembly streets bordered on the bottom by The Mellow Mushroom and on the right by the former John Paul's Armadillo Oil Company.
Notice also on the ad another common feature from restaurants of this era: Late hours. I really wish this had continued and that there were decent places open until "11:15" on week-nights nowdays.
Anyone know what happened to this place?
UPDATE 13 October 2009: Added a postcard of The Market and the text from the back of it.
UPDATE 4 January 2012: Updated the closing date in the post title from "1970s" to "11 January 1985" based on the comments. I was only off by 10 years or so..
Posted at 1:27 am in Uncategorized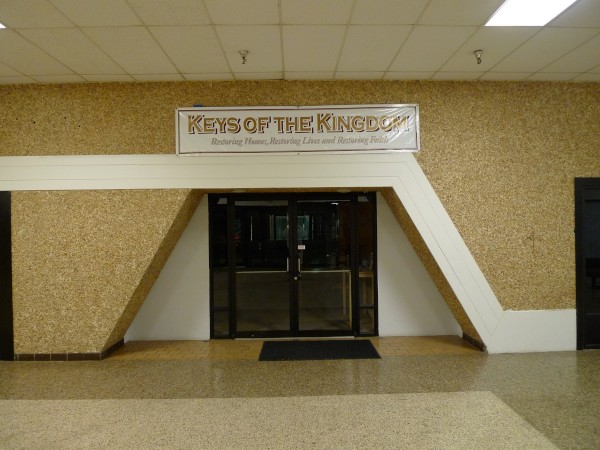 Actually, this might not be Land of Oz as I can't remember if that was at both Bush River & Decker Malls, or only at Bush River with this being another operation. Whatever the name, it was definitely the Decker Mall video arcade though.
In its current incarnation, it has had somewhat "regular" doors retrofitted into the distinctive flat-arch entranceway, but originally, I believe they just drew a sliding mesh curtain at nights.
The layout I most remember had Don Bluth's pioneering "Dragon's Lair" console dead center in the entranceway facing the hall. This game was a combination of traditional hand-drawn "cel" animation served up from a laser-disc (not a DVD!) and choose-your-adventure gameplay with the transition between the scenes being guided by the game-play lever. For instance, if a dragon was about to fry your knight, and you raised your shield, the disc would transition to a "flame bounces off shield" scene, if you didn't raise it, it would transition to an "the ashes of your character blow away scene" (those are just examples, I don't recall the actual specifics). Actually like many "pioneering" technologies, it wasn't that good because they were pushing the video scene changing tech further than it was really ready to go, and the transitions were really clunky.
If you turned left at "Dragon's Lair", there was a "Bezerk" somewhere in the left side of the store. This was the pushy game that would in "attract mode" declare "COIN DETECTED IN POCKET" from time to time. You had to either shoot the robots or run them into the electric walls. I liked it, but wasn't that good.
Somewhere against the back wall, I think was "Battlezone" a vector-graphics based POV tank game. You had two levers, one for each tank tread, and you could spin in place by running one tread fowards and the other tread backwards. I usually ended up fooling around with navigating the tank and getting shot.
I don't recall any more of the layout, but they definitely also had "Asteroids", "Space Invaders","Tempest", "Defender" (which I could not play at all -- too many things to keep track of), "Milipede", and "Missle Command". I suppose they must have had "Pac Man/Ms Pac Man", but I don't really recall it. I'm prettty sure they did not have some of my other favorites, "Star Castle", "Galaxian", "Phoenix", "Gorf", and "Joust", or my all-time favorite, "Galaga". Of course, it could just be that when I was in college, I went to Robos instead of here and thus missed the gradual turnover.
I'm not really sure when they closed. The mall underwent a long gradual decline that accelerated into death-spiral when Kroger and Target pulled out, but I think they were gone before that, probably late 80s I'm guessing.
UPDATE 18 June 2012: The last city directory listing Land of Oz is 1986, so I have updated the closing time in the post title from "1980s" to "1986".
Posted at 12:28 am in Uncategorized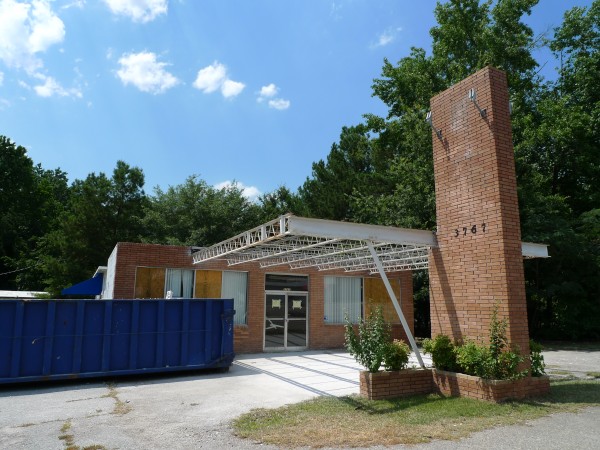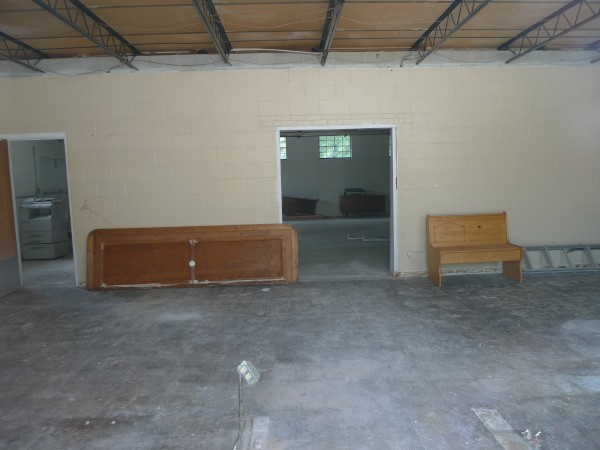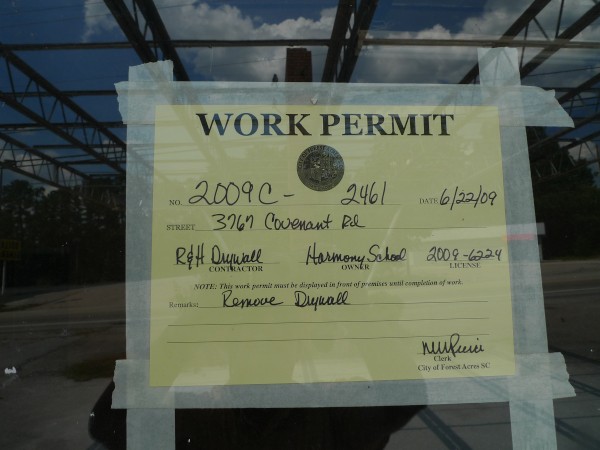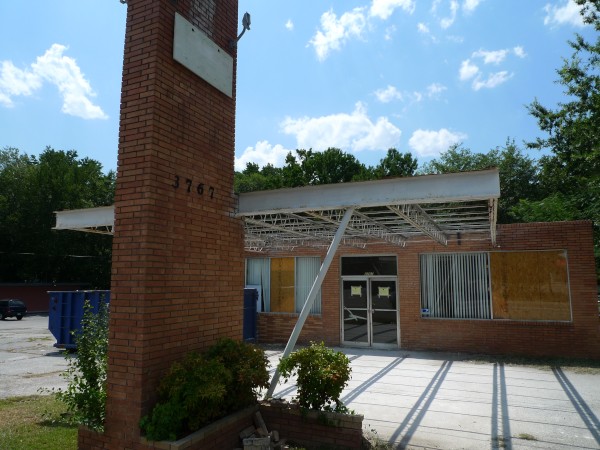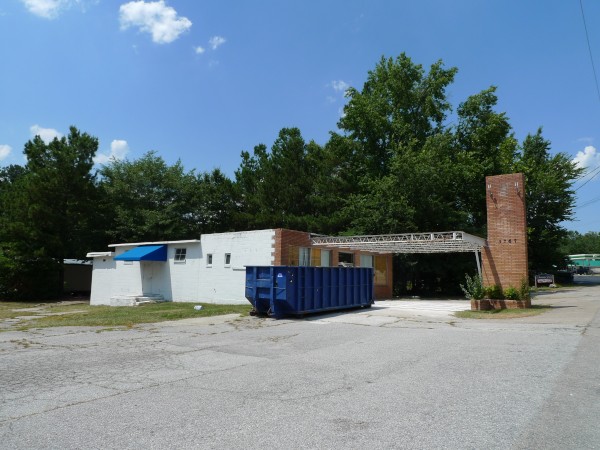 I'm not sure if Video Solutions & Satellite Connection were two different businesses or two "DBA"-es for the same company. What I am sure of is that there have been many other businesses in this striking little building on Covenant Road just across from the former Piggly Wiggly and just down from Trenholm Park over the years, going back at least into the 60s. Unfortunately, I can't now recall any of them, though I'm pretty sure it started as a drycleaner's.
I put 2005 as the date for the last operations there due to this document, which appears to be related to a creditors' take-over of some *other* satellite company. There's not much information in the header part, but I'm thinking since Satellite Connection was apparently one of the creditors, they may have paid money for equipment they did not get, which is not a good situation for a small business to be in. I could be totally wrong.
Anyway, according to the construction permit, the building has been taken over by Harmony School which is the small school more or less behind this building. Since these pictures were taken, they have implemented the "Parliment" option and have torn the roof off that sucker.
UPDATE 22 July 2009: Added Sunshine Cleaners to the post title in response to indetifications from the comments.
UPDATE 7 July 2010 -- It appears that work on the building is nearly done: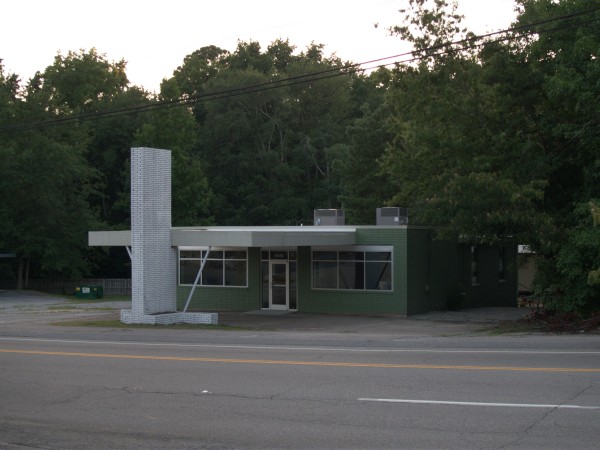 UPDATE 15 Jan 2011: Correction -- it was never a Sunshine but it was Custom Cleaners & Laundry (at least from 1970 - 1976 according to the city directories) and was a Brinson Laundry & Cleaners from 1977-1984. I don't have dates for the other operations.
Posted at 12:03 am in Uncategorized
I wrote this twenty years ago today (well, technically yesterday now):
Twenty years ago, a boy of eight sat in front of a decrepit black and white TV and tried to make out the suited figures walking across that desolate surface. If he thought hard he could remember Gemini. His father could remember Lindbergh. He couldn't appreciate how immeasurably far the world had come since Kitty Hawk, how impossibly great an effort had been expended since 1961, but he knew what was important and he was there watching. He heard the words that everyone knows, and he watched until that strange buglike craft lifted and returned the men whom history had just rendered immortal to their companion in orbit and from there back to the embrace of the mother planet. He knew where he was going when he grew up.

Twenty years later, when the future he had planned on has been bargained away, he's sure of fewer things. He does know that he had the privilege that July day in 1969, of living through the event to which all previous human history will be just a footnote. And he knows too that whatever else may happen, there will still be ...

footprints on the Moon.
Posted at 1:01 am in Uncategorized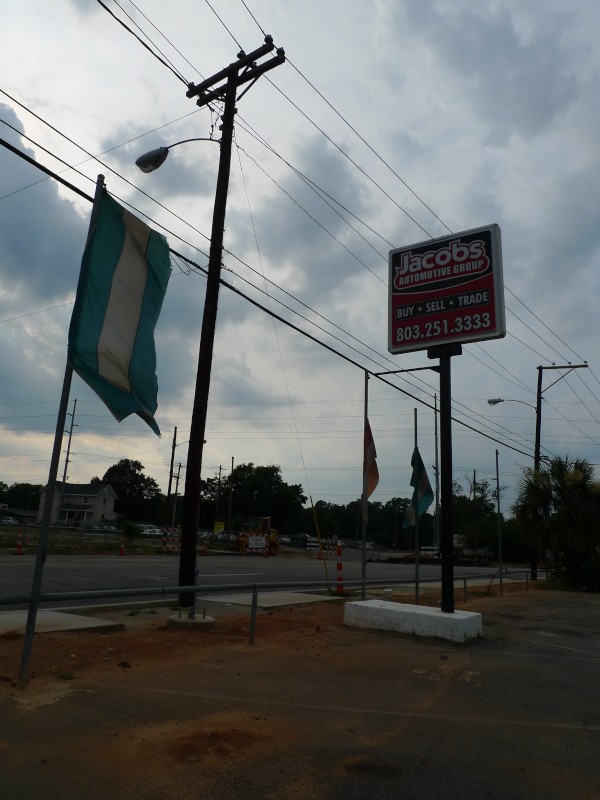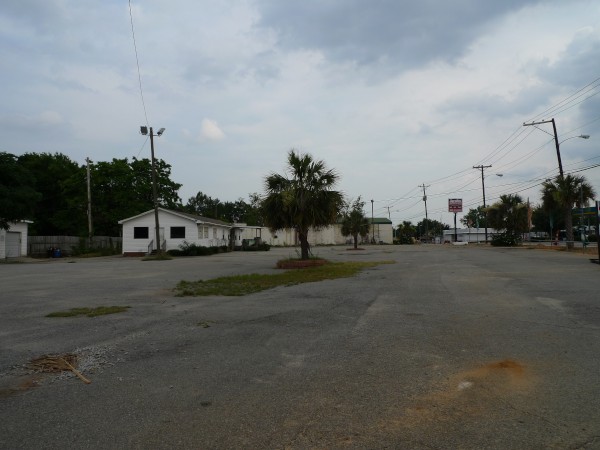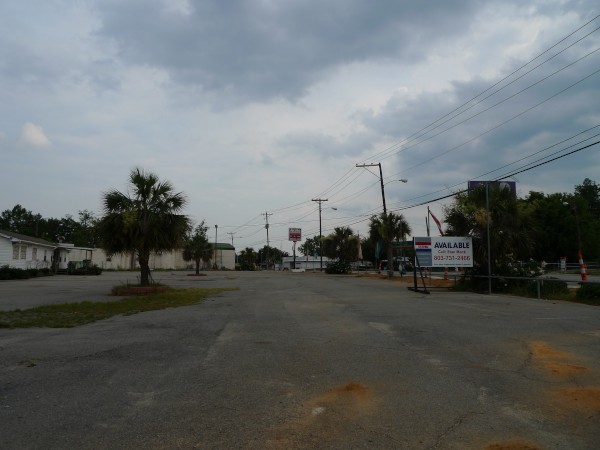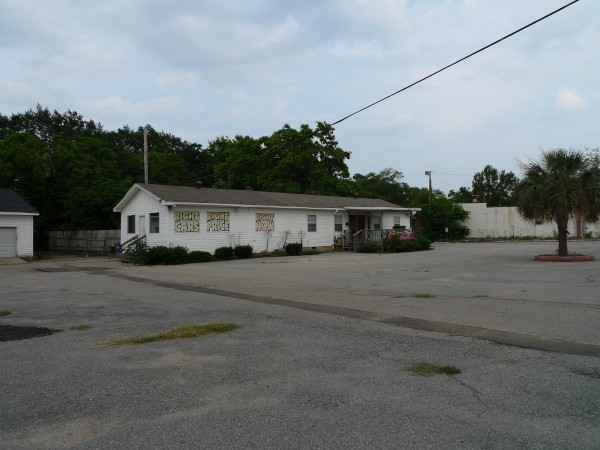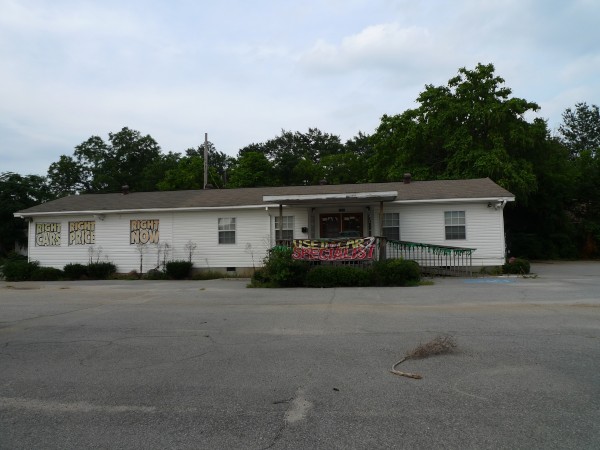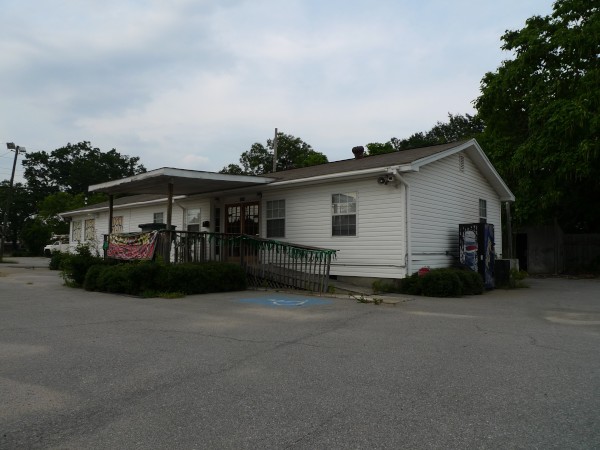 I noticed this empty car lot a week or so ago as I was driving down North Main towards Sunset. It's really a pretty good sized property, and looks to have shut down fairly recently, as the soft drink machine is still there, but that's just a guess. I really like all the flags and banners that car lots have. Unfortunately this was an overcast day, so they don't look that great here.
You've got to love the (possibly misplaced in this case) optimism of car lots too:
Right Cars! Right Price! Right Now!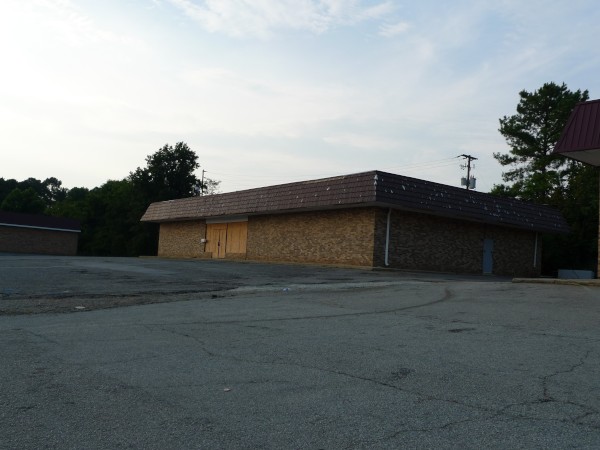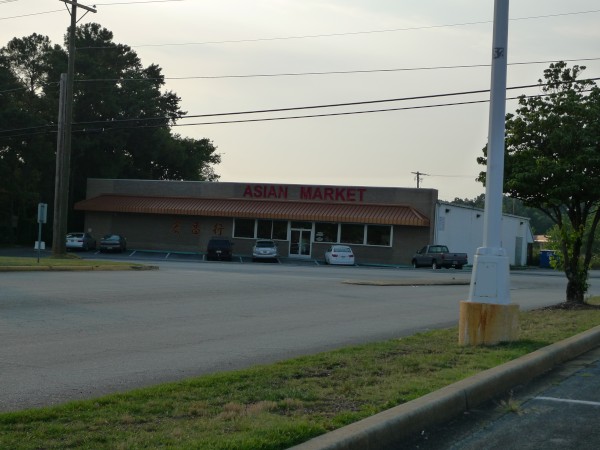 OK, I'll admit that I'm not 100% sure that the Asian Market on Diamond Lane is the same one that opened recently across from Dutch Square at 1221 Bakersfield Road, but given the timing and the same marquee description, I think it's a pretty good bet (and I'm sure someone will set me straight otherwise).
I used to notice this place when I would cut through the mostly dead Intersection Center to see what remained and marvel that it was still in business. I guess part of that is that it's a destination -- if you need something that's historically exotic to SC and that you can't just hop-to-the-pig for, it doesn't matter if the store is off the beaten track. Still, I was glad to see them move to a better location. (Though believe it or not, a few stores are still have their doors open on Diamond Lane!). I got the Hong Chang Hang part of the name from here, as Chinese is Greek to me :-)
I was a bit surprised to see the address of the new store as Bakersfield Road -- if you had asked me I would have said the street was Dutch Square Boulevard all the way from Broad River Road to Bush River Road.
UPDATE 22 January 2020: Update tags, add map icon.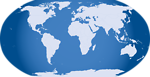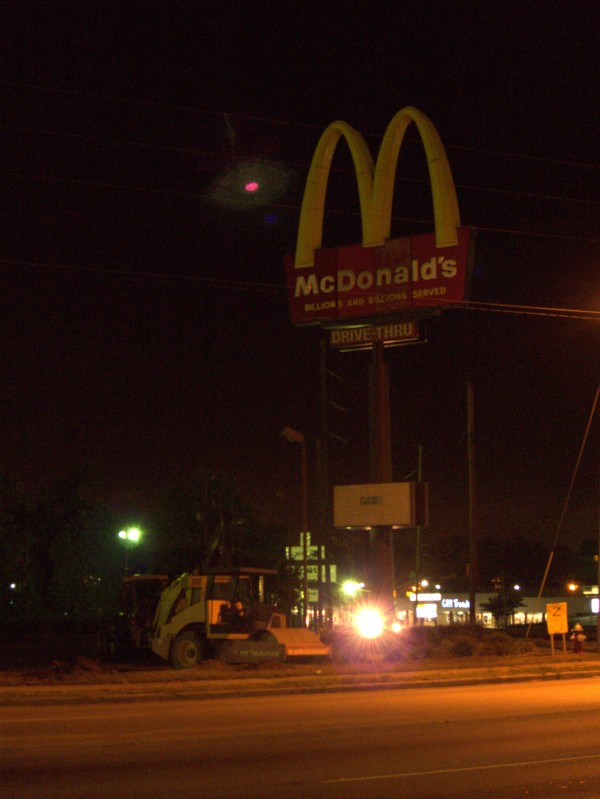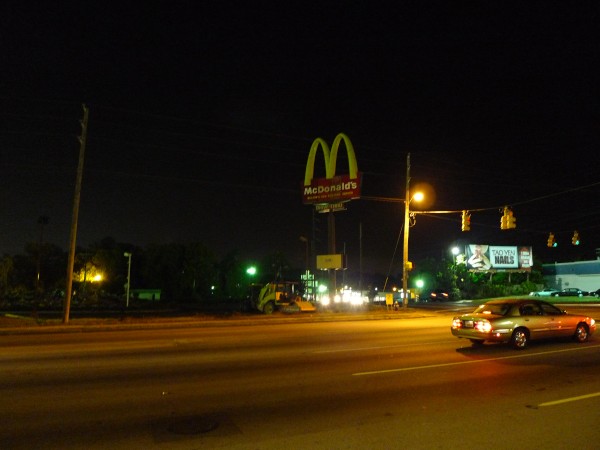 Well, I wasn't expecting that. I drove by McDonald's on Two Notch tonight and found the place razed to the ground (with the exception of the sign). There's a yellow "zoning" notice sign in front of the place, but I couldn't tell what it said from across the street, and I didn't stay because I was about to be panhandled. I wouldn't have taken night pictures anyway, but with the bulldozer parked there, I was afraid that the sign would be gone by tomorrow.
This McDonald's, on the corner of Two Notch & Beltline, took the place of Chappy's Authentic English Fish & Chips in 1987, so it had been there a bit over 20 years. I don't believe I ever ate inside though I'm pretty sure I've gotten drinks at the drive-through. In general I haven't eaten much at McDonalds since the 1970s, but lately they have been getting better with pretty good coffee and wi-fi.
Apparently, this is being done to add drive-through capacity, according to this 9 Dec 2008 Zoning Board document:
This is a request to demolish and construct a fast food restaurant (McDonald's) with a drive-through. The property will have ingress/egress along Two Notch Road and Beltline Boulevard. The drive-through for the fast food restaurant is situated within the site such that adequate stacking for vehicles can be provided.
The ammended request for a double drive-through was apparently approved on 14 July 2009 at 10am and they didn't waste any time after that!
UPDATE 17 July 2009: OK, the above reads a bit disjointedly since I hadn't looked up the zoning documents before writing the first part, ie: I wouldn't have worried about the sign being bulldozed if I had known from the get-go that they were going to rebuild on the same lot.
Anyway, here are the daylight pictures: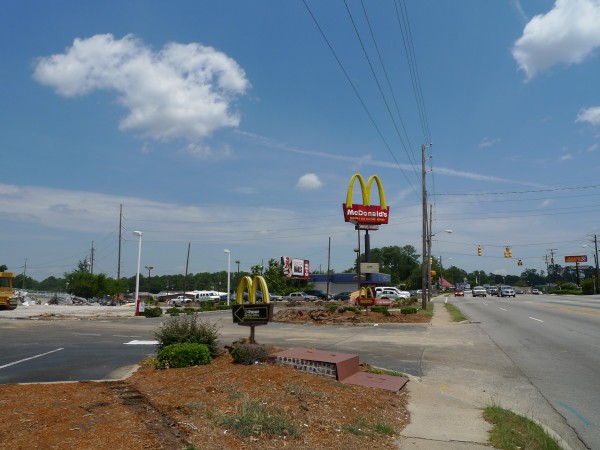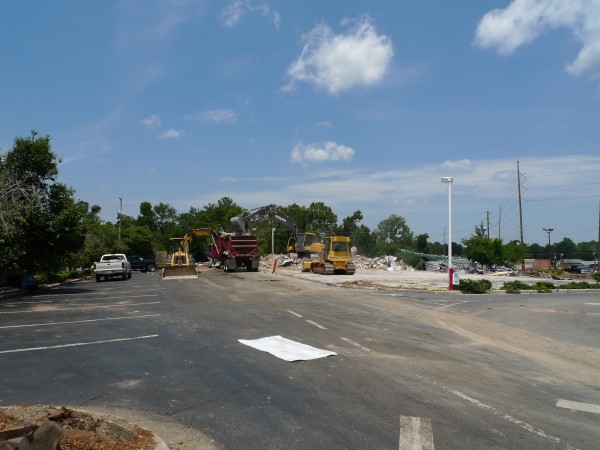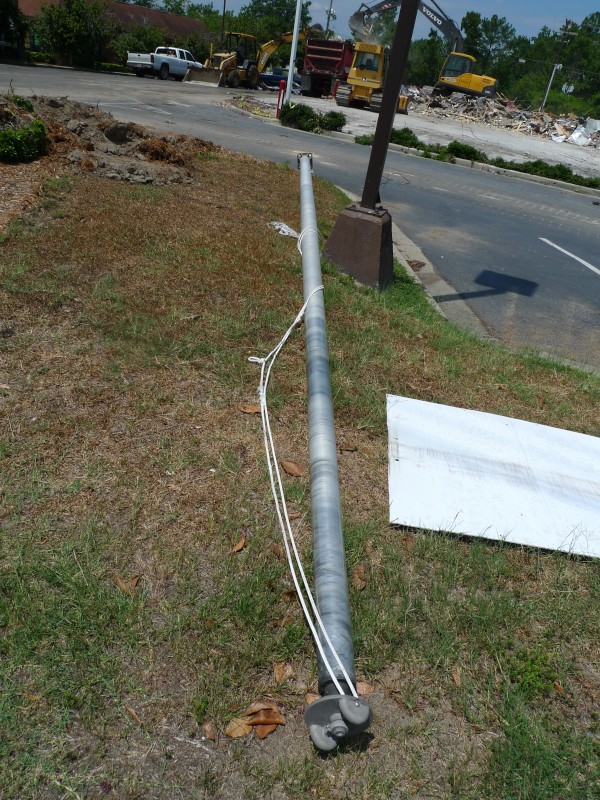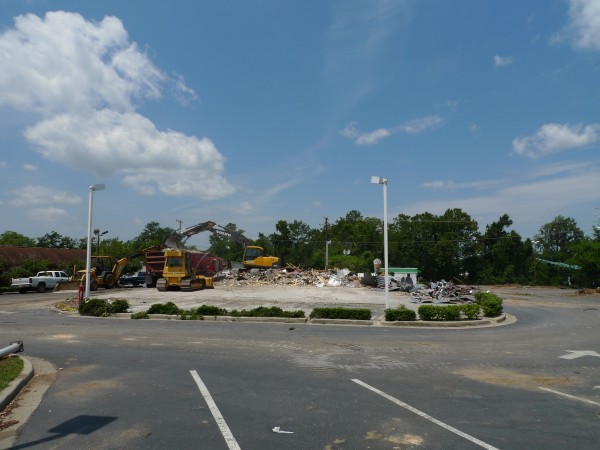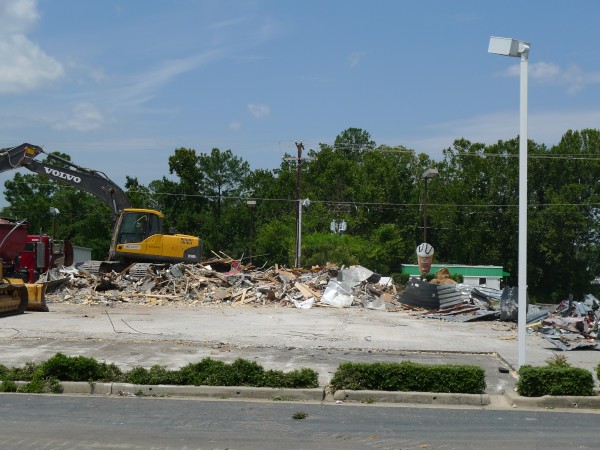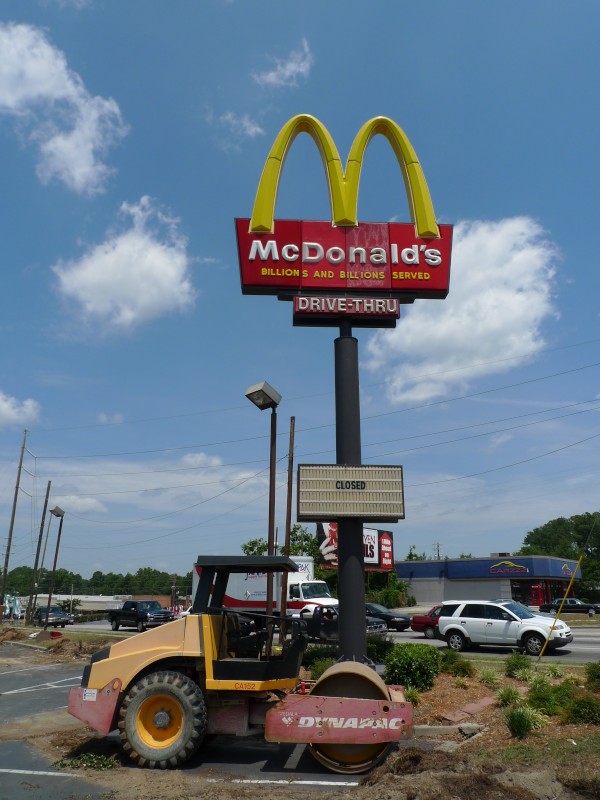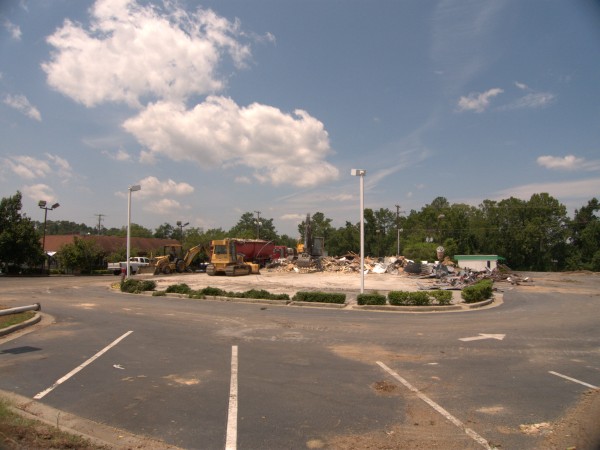 UPDATE 7 November 2009 -- Open again: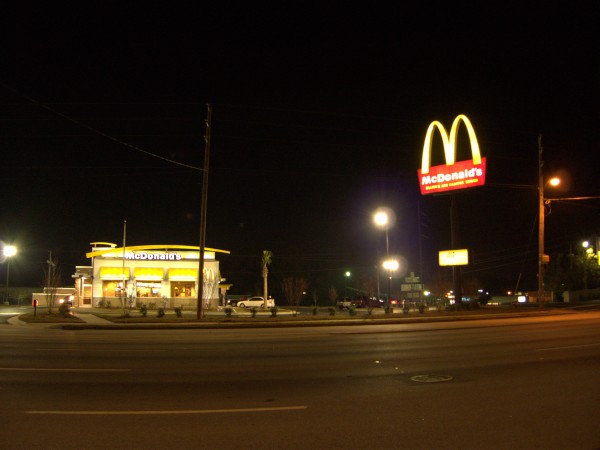 Posted at 11:12 pm in Uncategorized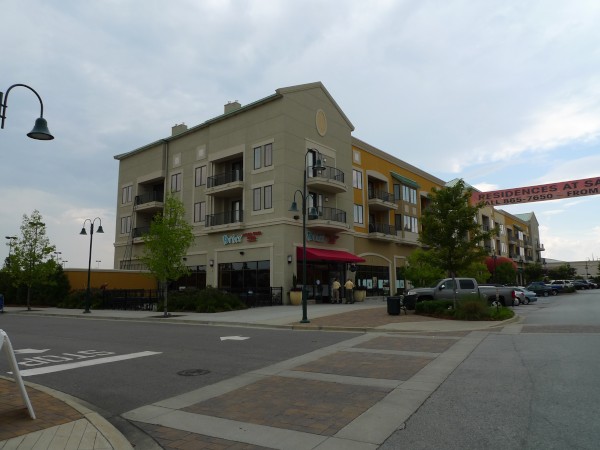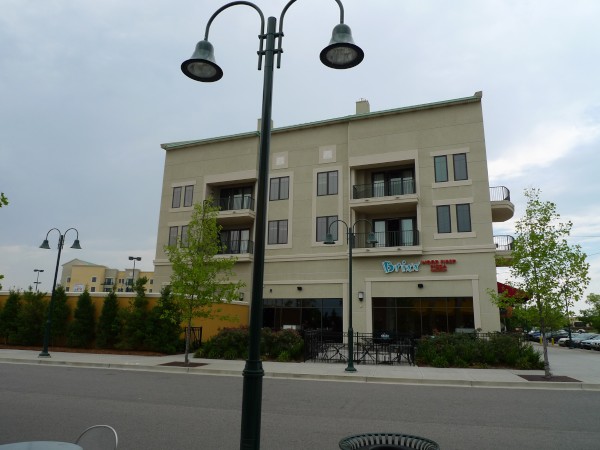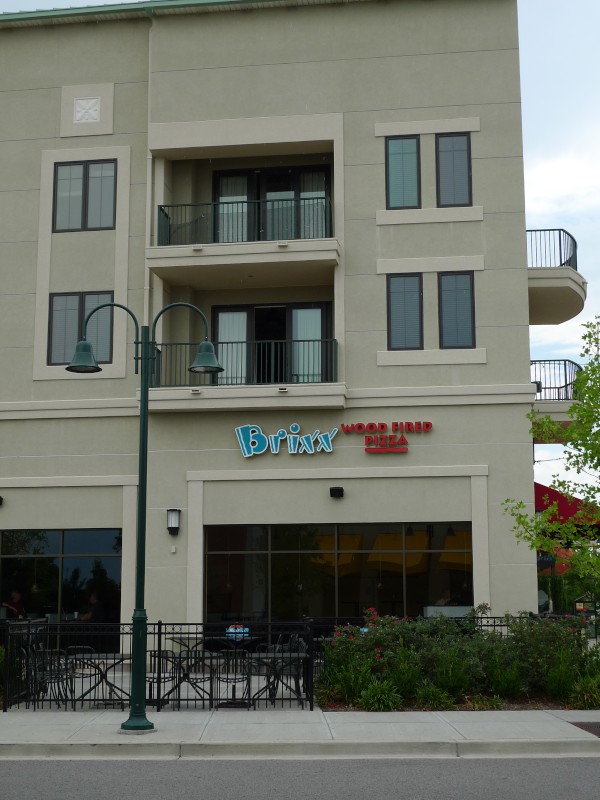 Well, this is unpleasant news:
Columbia Fire Department firefighters were dispatched at 11:09 p.m. to 486 Town Center Place, the location of Brixx Wood Fire Pizza, where a fire had spread up a flue from a pizza oven, Assistant Chief Aubrey Jenkins said.
Brixx is one of my regular after 10pm Tuesday night pizza hangouts (Pizzeria Uno on US-378 is the other), and it's pretty much a roll of the dice that put me at Uno on the 14th rather than enjoying the fun here. Luckily, nobody was hurt. I'm a bit surprised that the news story states that the fire was post closing -- Usually they don't close until midnight or 1am.
I think Brixx is a bit of a frustrating place in that they have a good concept and very attentive staff, but the food execution could be better. They have lots of different combos and some more unusual ingredients, but often when I get a custom pizza, the extra stuff on top is not hot, and the crust and sauce are acceptable, but not great. (Landolfi's at Pawleys Island is the best brick-oven pizza in SC, arguably the best pizza in SC period). Anyway, the sign on the door says closed until further notice, but I hope they come back soon and better than ever.
While I was in there once, one of the wait staff mentioned that the people living upstairs had been complaining about the noise at night -- I suppose that's the good old days now!
These pictures are not very good because at first there was a group of men standing under the front awning with clipboards making some sort of assesment of the situation and I didn't want to just walk up and stick my camera under their noses, snapping away. After that, it started to rain, and I had to stand under an awning at Which Wich. There were some sort of hoses running to the upstairs apartments, but given my angle you can't see them.
UPDATE 20 July 2009: OK, some more pictures, a bit closer: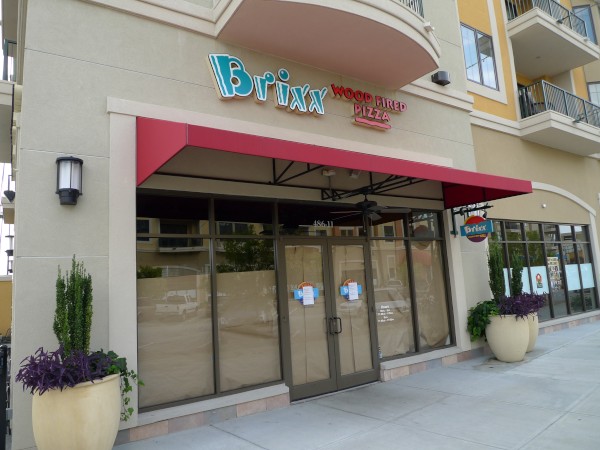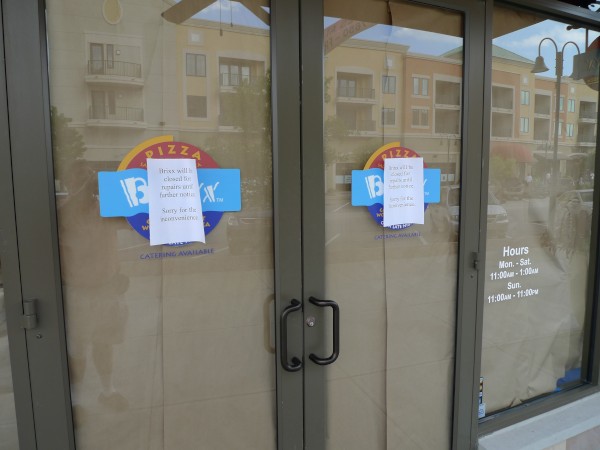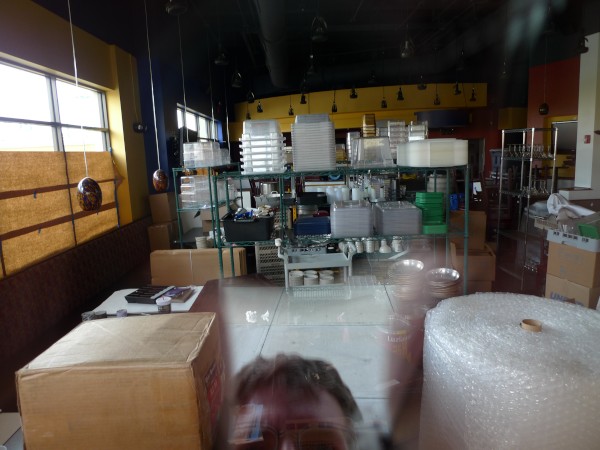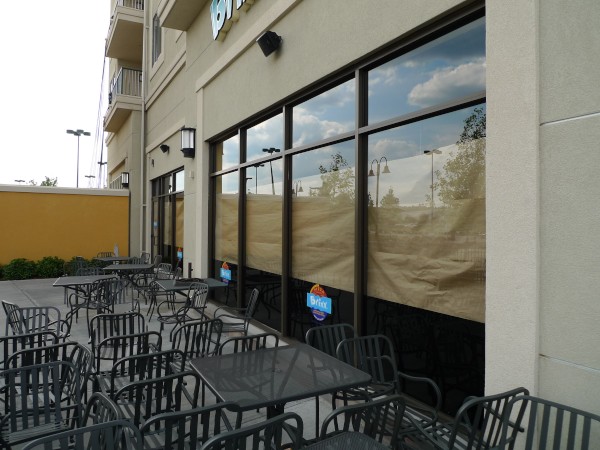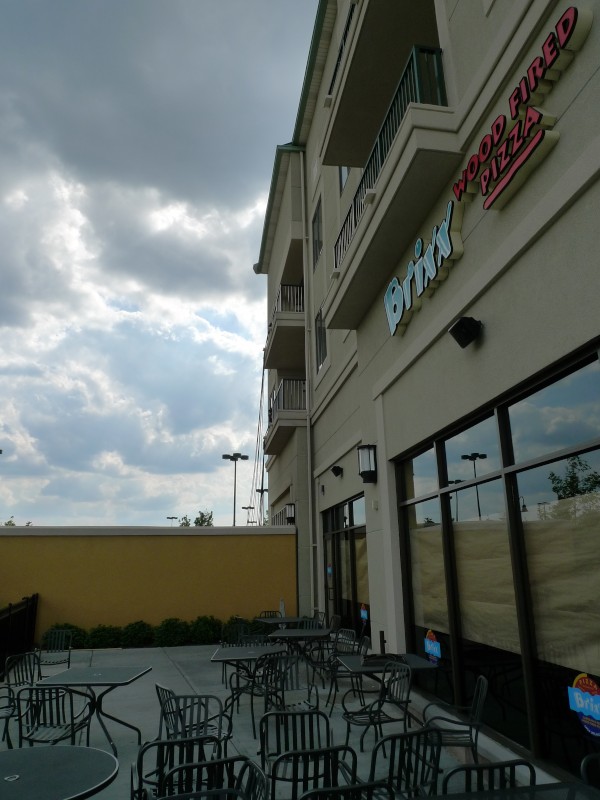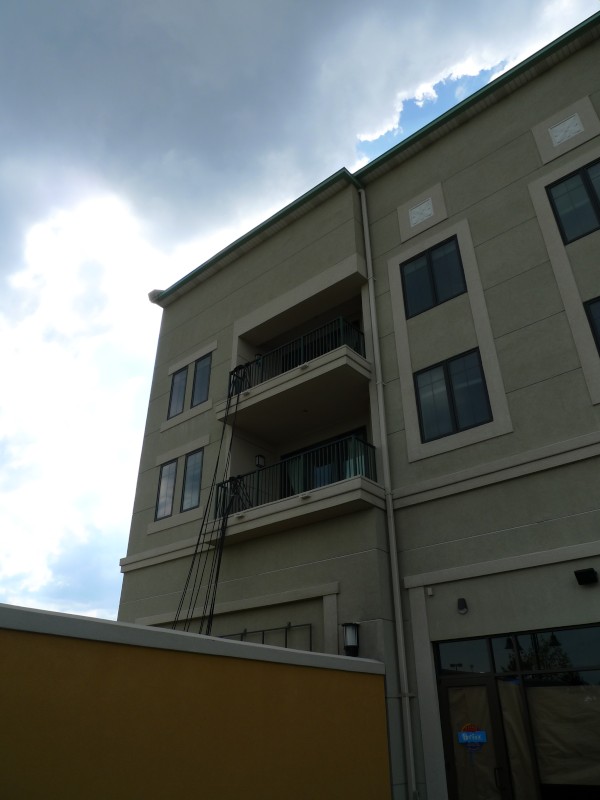 UPDATE 21 December 2011: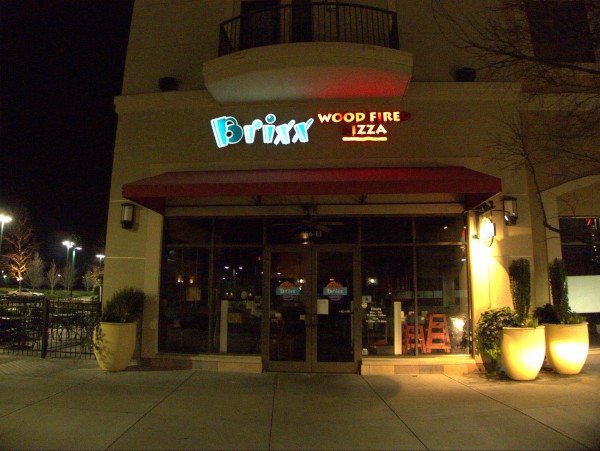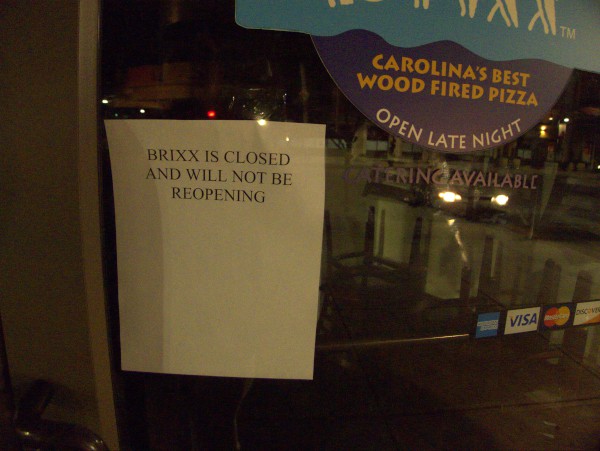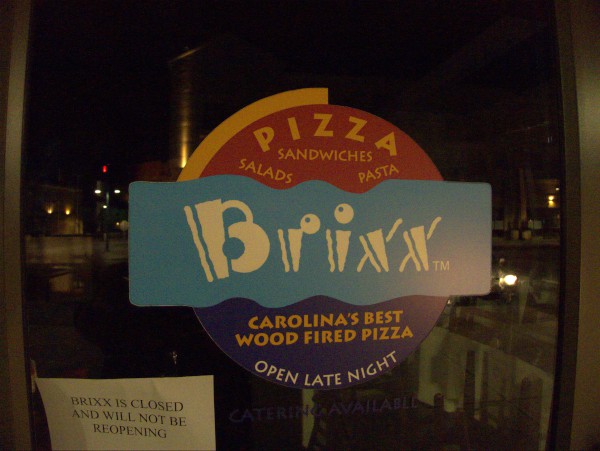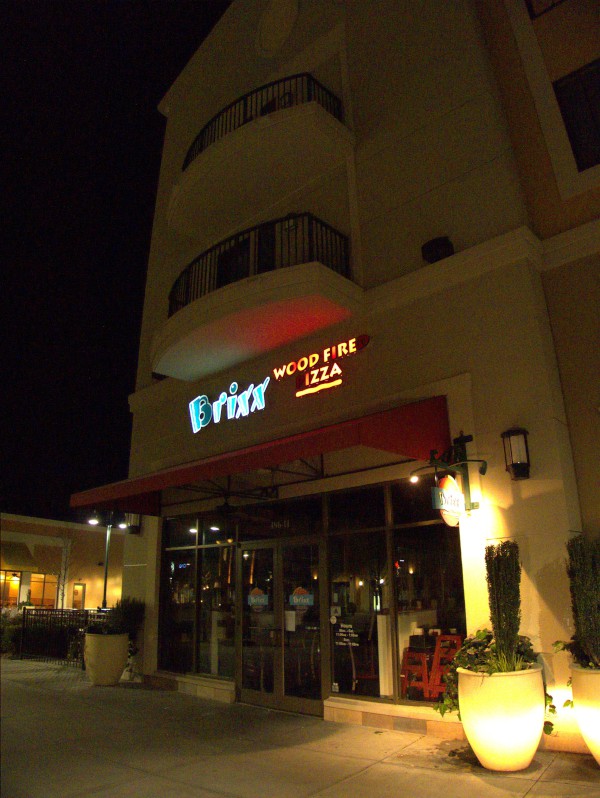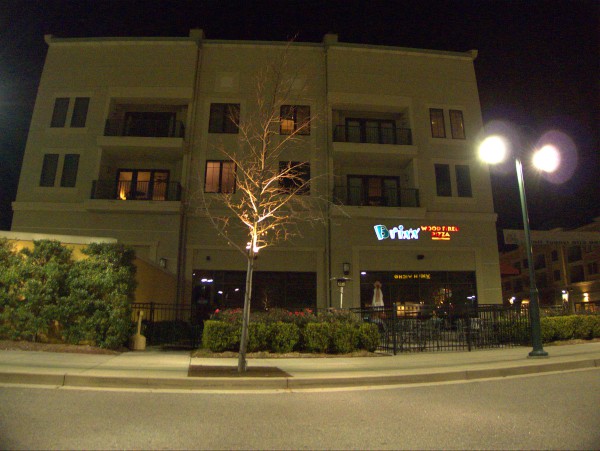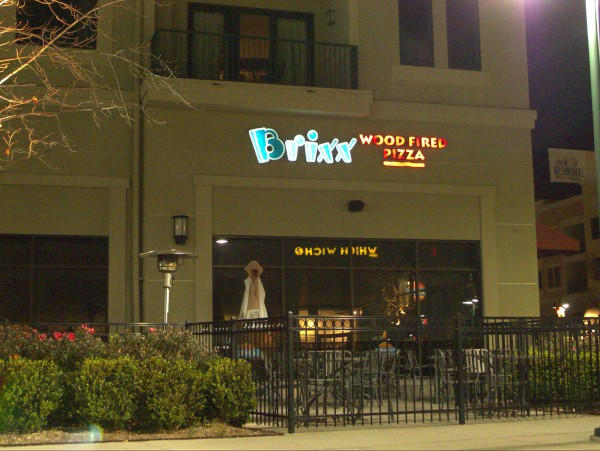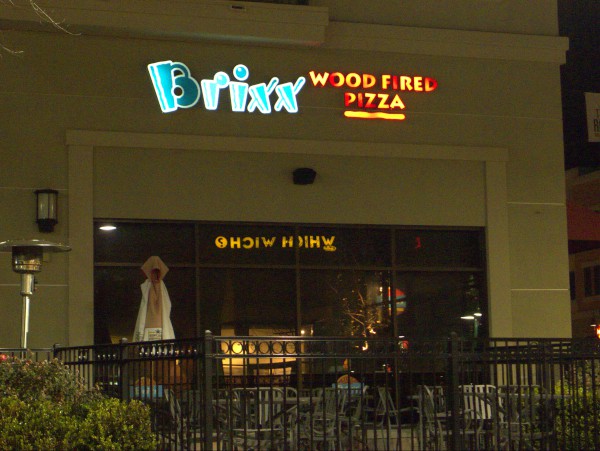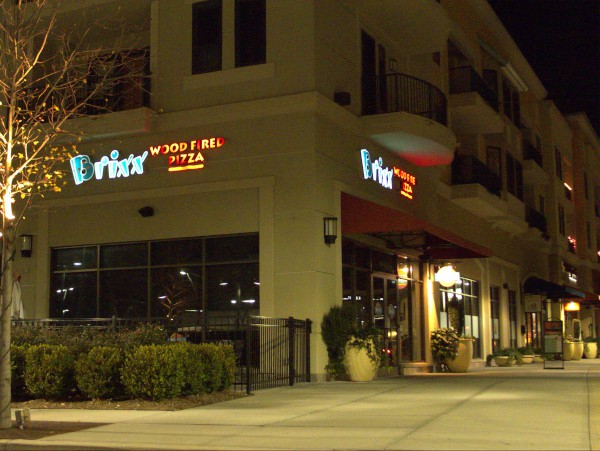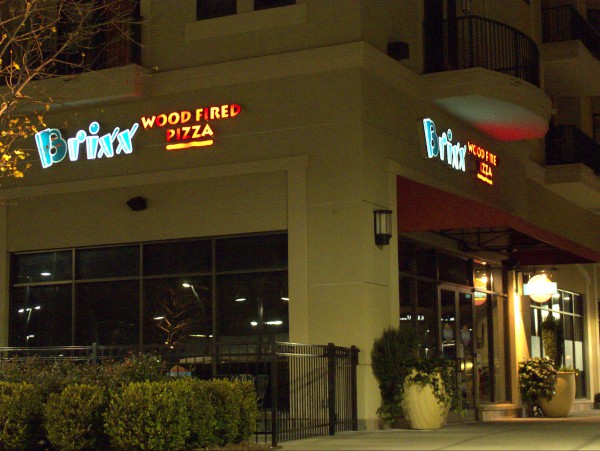 Well, Brixx is closed again, this time for good. I had not been there too much lately because my situation had changed, and I could get to some closer places that closed earlier. However, I did make it there several times after they re-opened, with the last time being on Sunday 11 December 2011. It still wasn't my favorite pizza in town, but a perfectly acceptable one, and my toppings were all nice and hot the times I got back there recently. The waitresses were always good about keeping the tea refills coming too.
I don't know what this says about the Village at Sandhill except that it can't be good news for them as they have taken several hits in 2011 including Talbots, Corked, AAA and La Fogata.
(Hat tip to commenter Sidney)