Archive for the 'Bethel Church Road' tag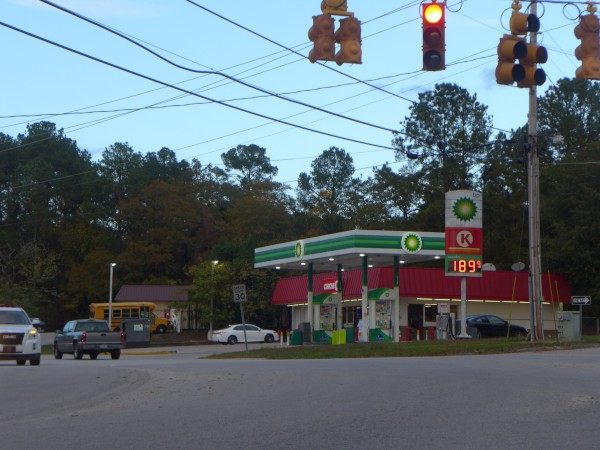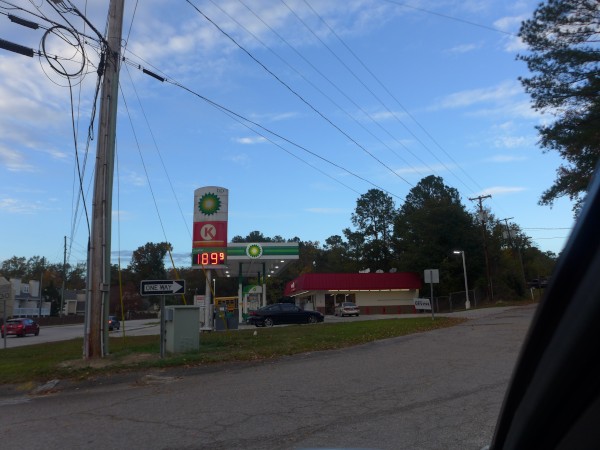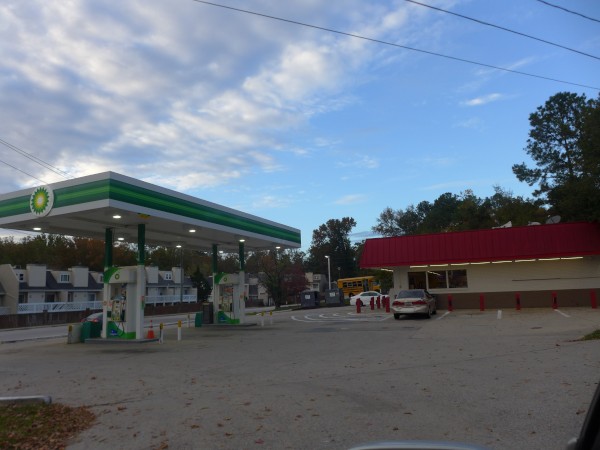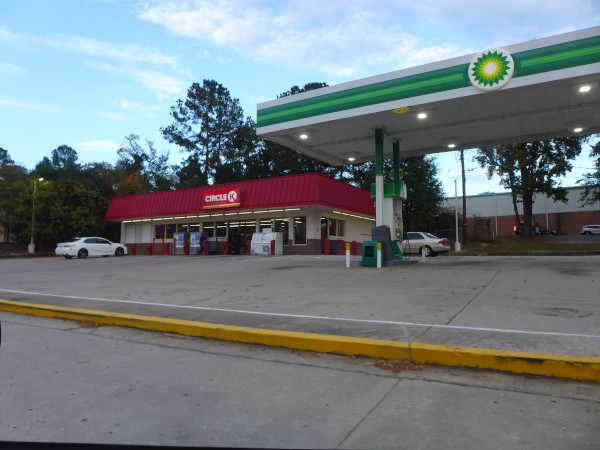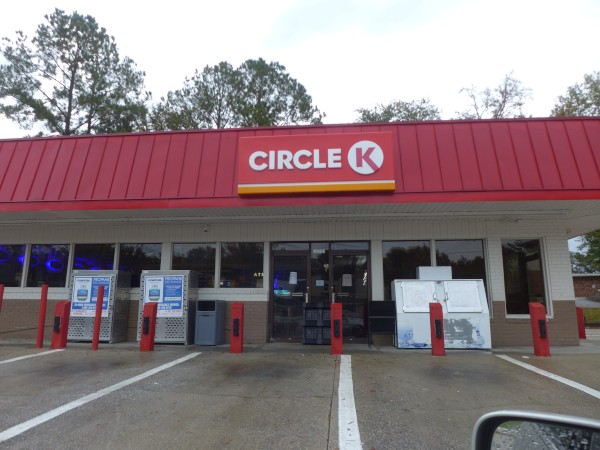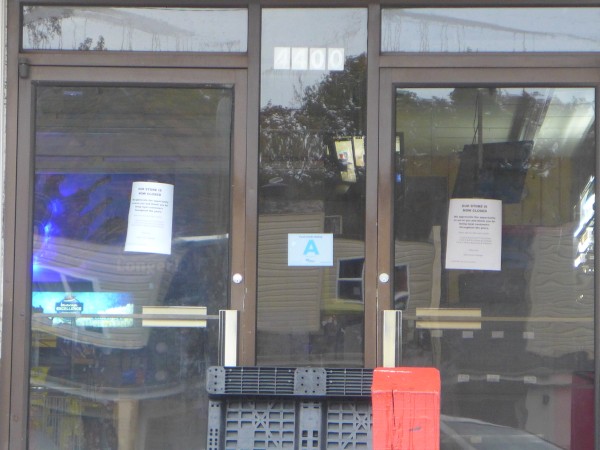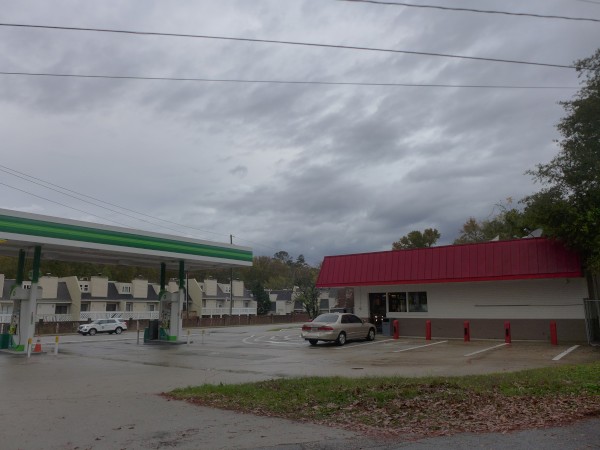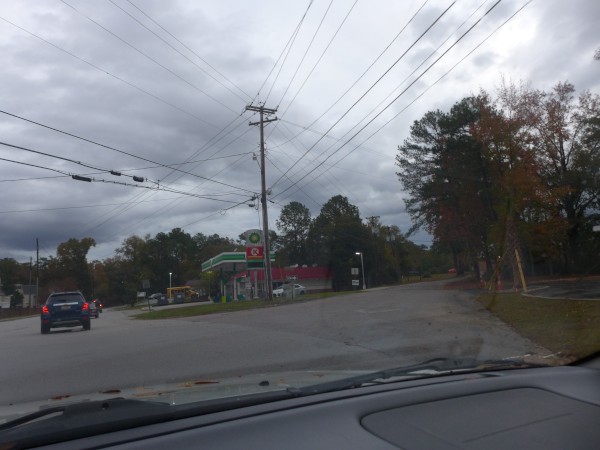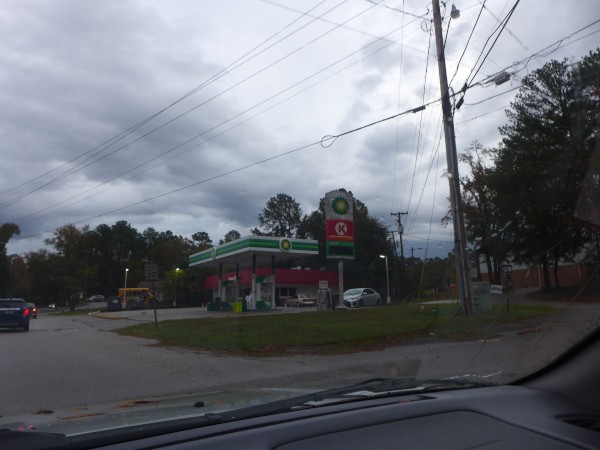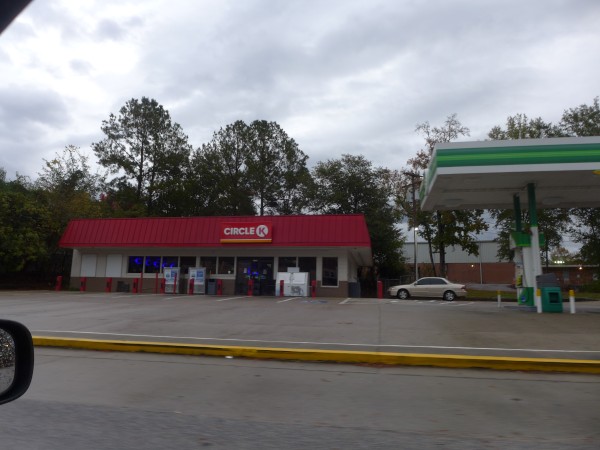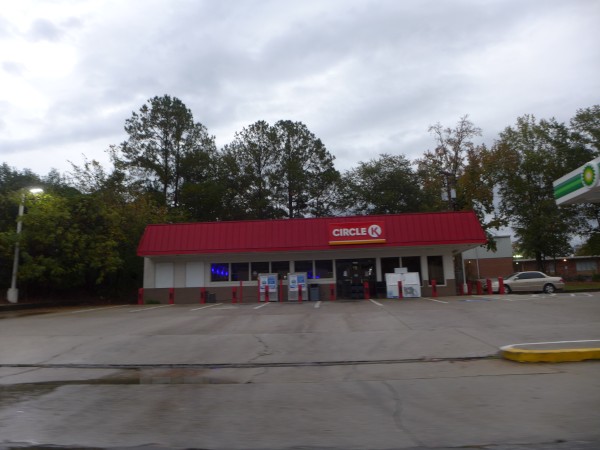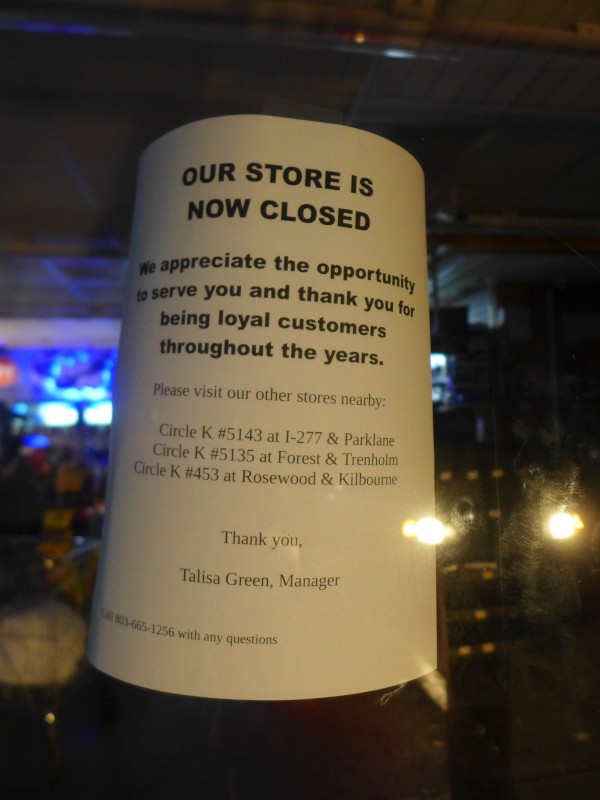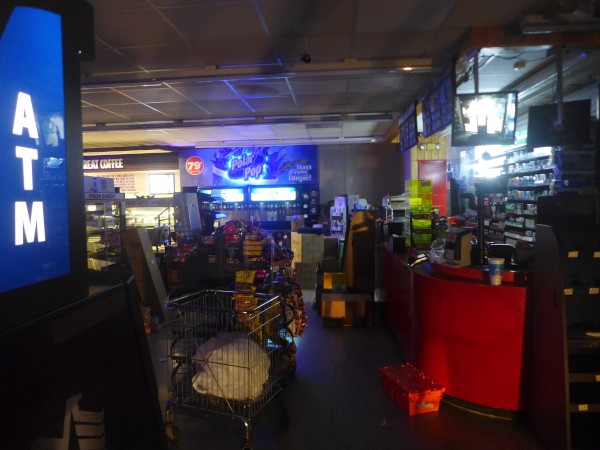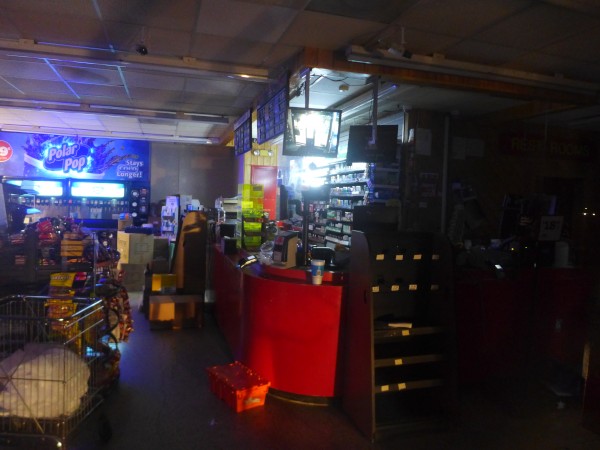 This one has been mooted about in Have Your Say for a couple of days now, but Circle K on Bethel Church Road closed today.
This store was once a Kangaroo Express and went to Circle K a few years ago when Kangaroo was bought out. The building is smaller than the new Circle K concept you see in recent construction like Forest Drive & Harbison, plus another convenience store recently opened across the street in the old Ravenwood Pharmacy, neither of which can have helped.
The gas prices were not particularly low here, but I enjoyed the fact that if I filled up here, I didn't have to go out on Forest Drive or elsewhere out of the neighboorhood. I also generally found the ladies at the counter here to be very friendly, and the new coffee machines (as at all CKs) made a quite decent cup.
(Hat tip to commenter Matthew)
UPDATE 12 November 2020: Adding The Pantry & Kangaroo Express to the post title.
UPDATE 18 November 2020 -- As mentioned in the comments, the gas tanks have been excavated as seen in these 17 November pix: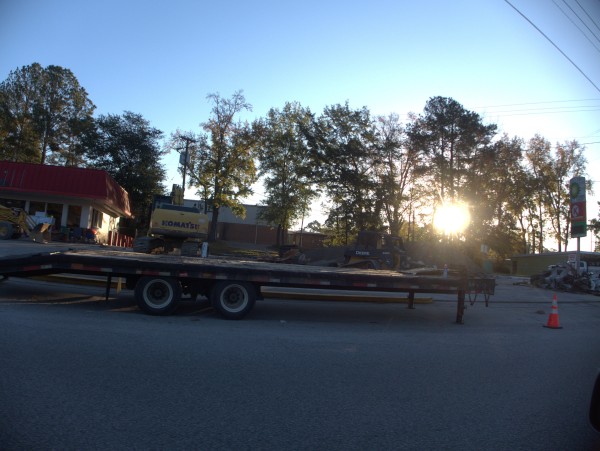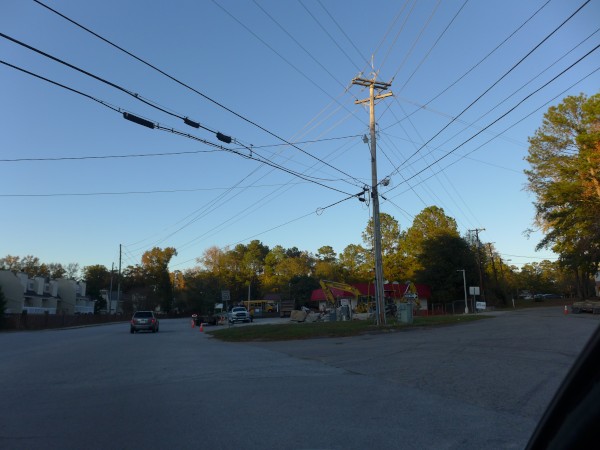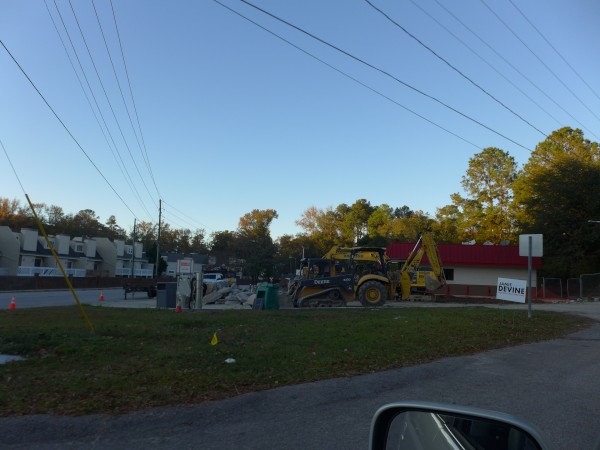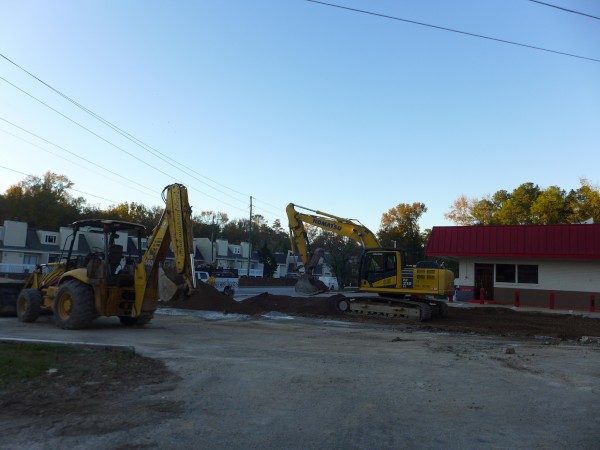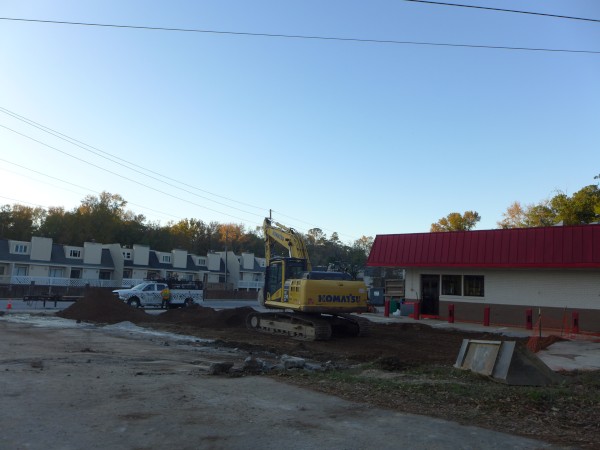 UPDATE 29 March 2023: Updating tags.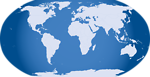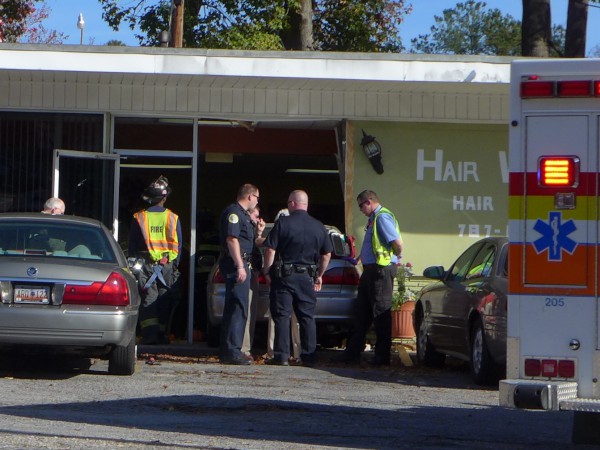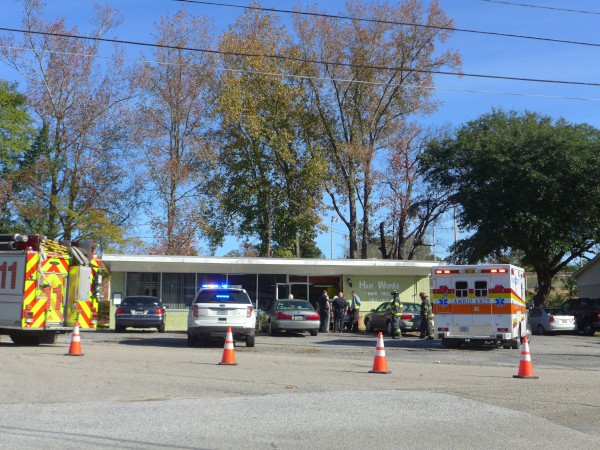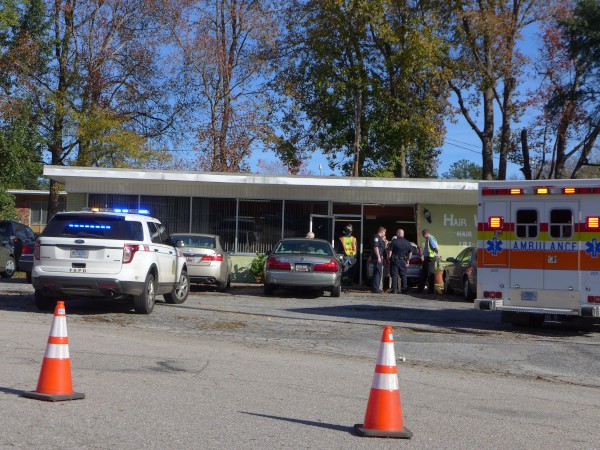 UPDATE 23 November 2015 -- That was quick! Open again: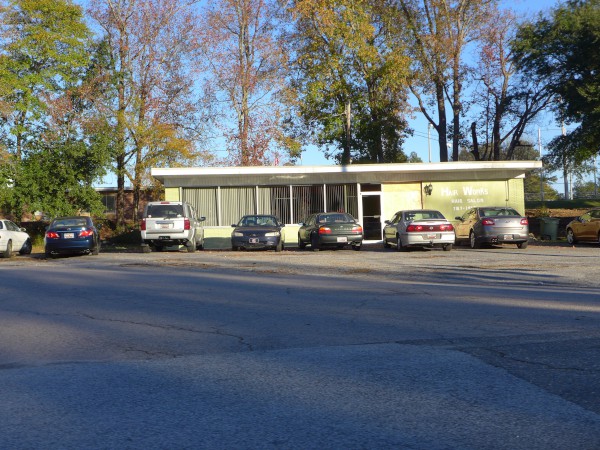 UPDATE 1 June 2018 -- Closed again, and for sale: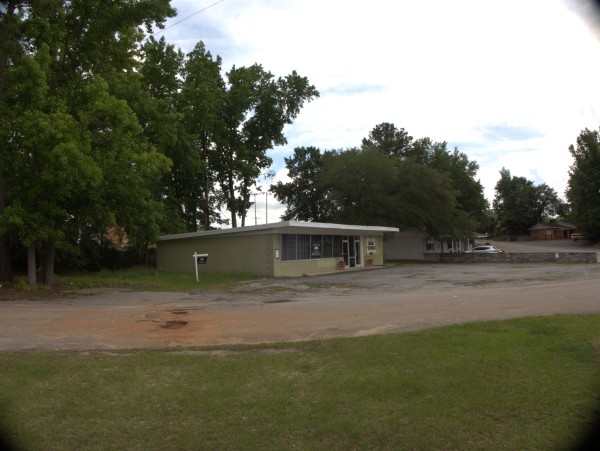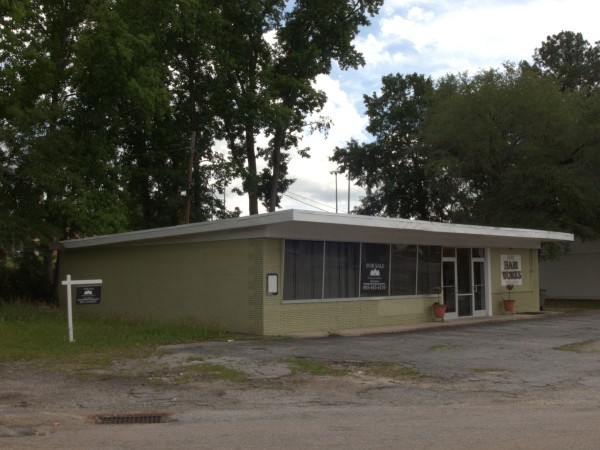 Posted at 12:44 am in Uncategorized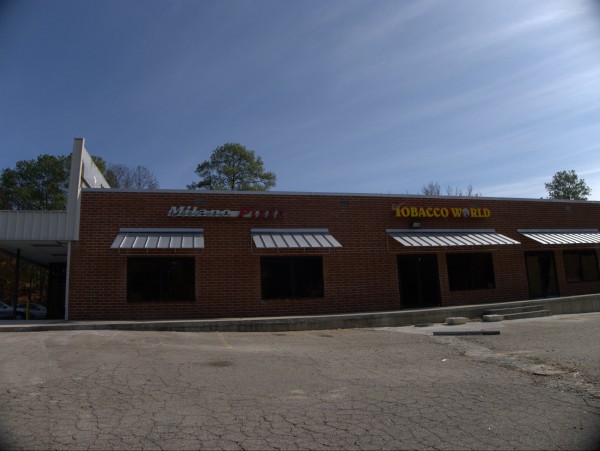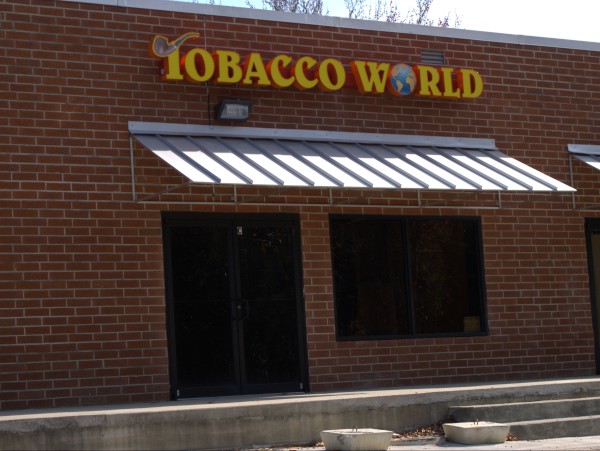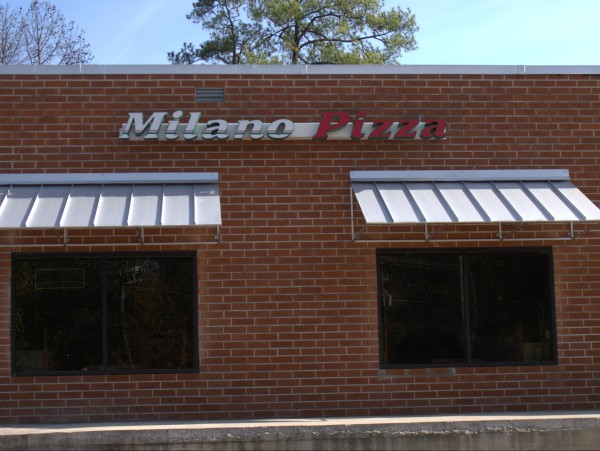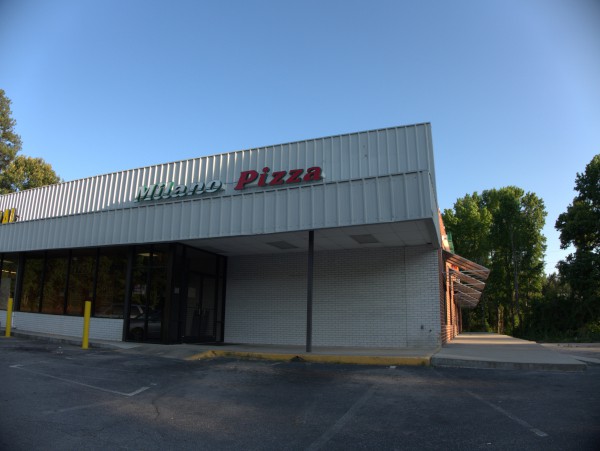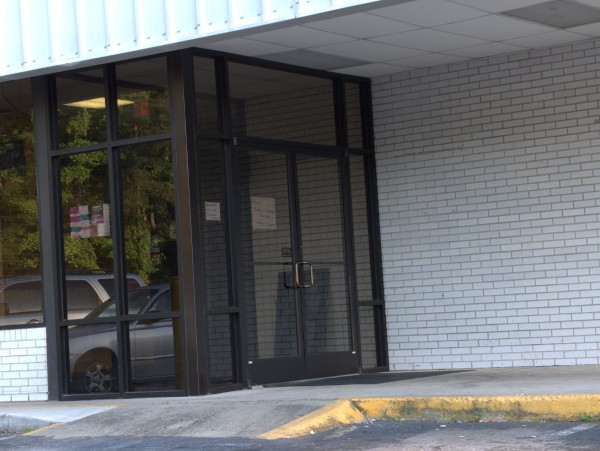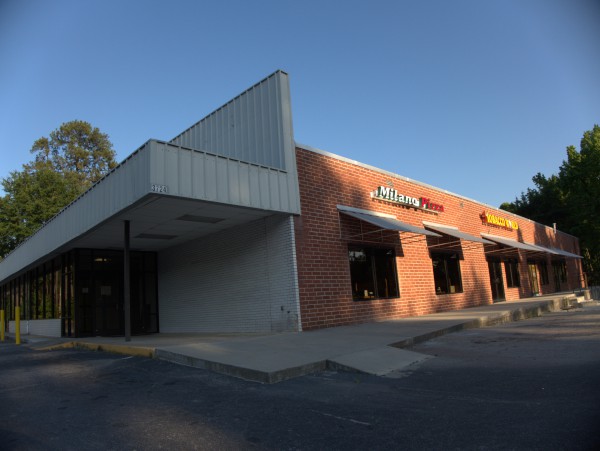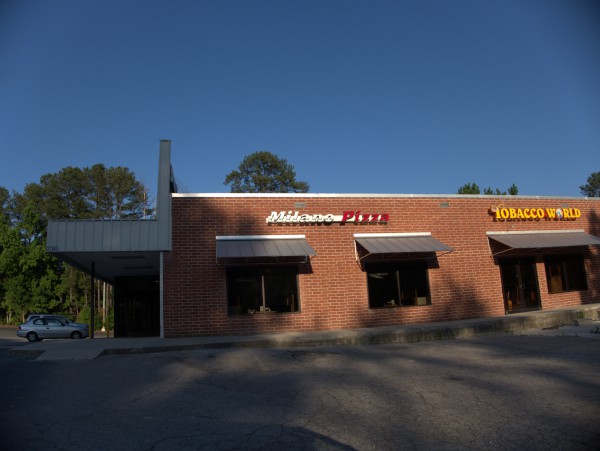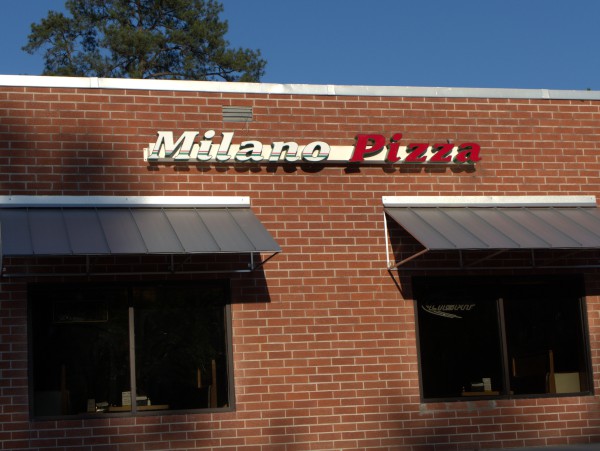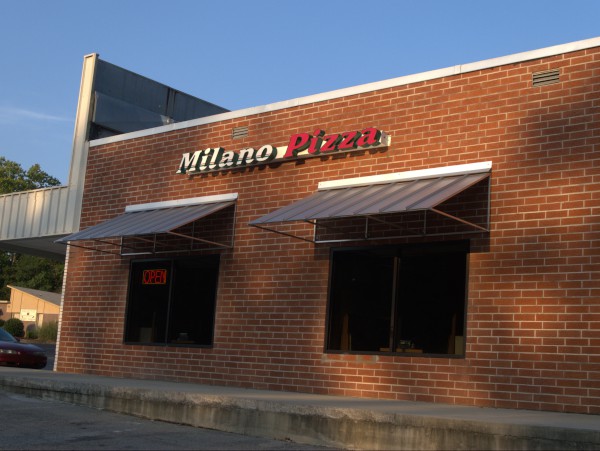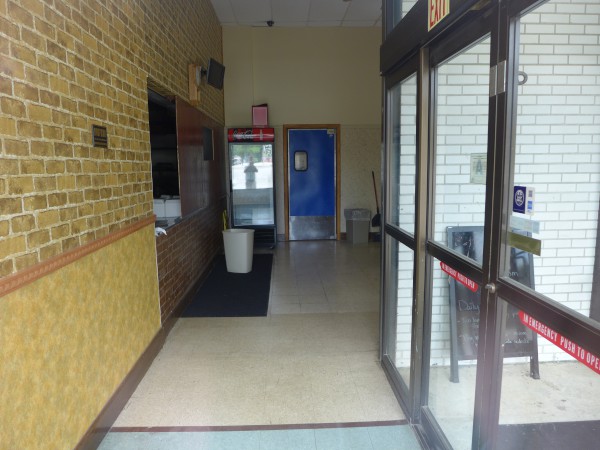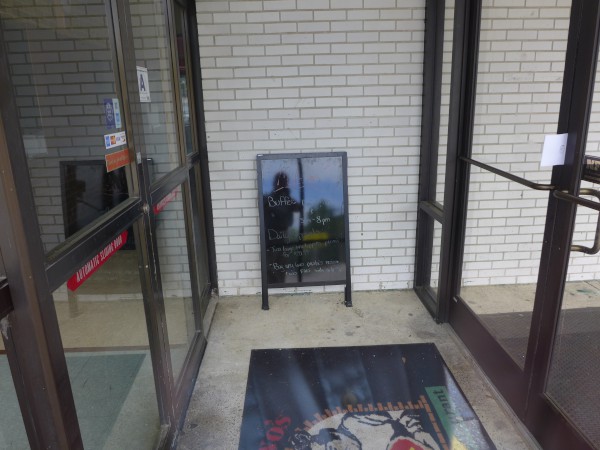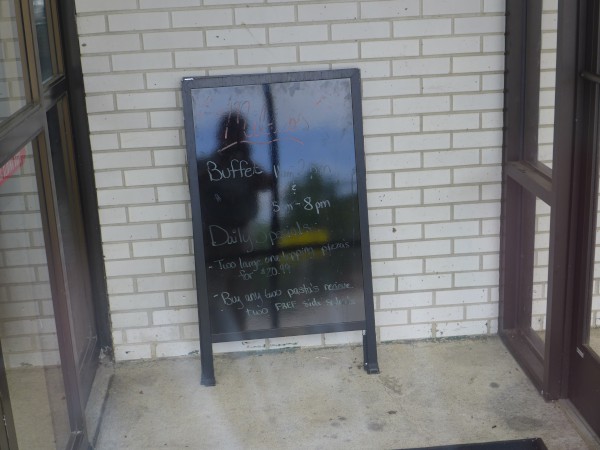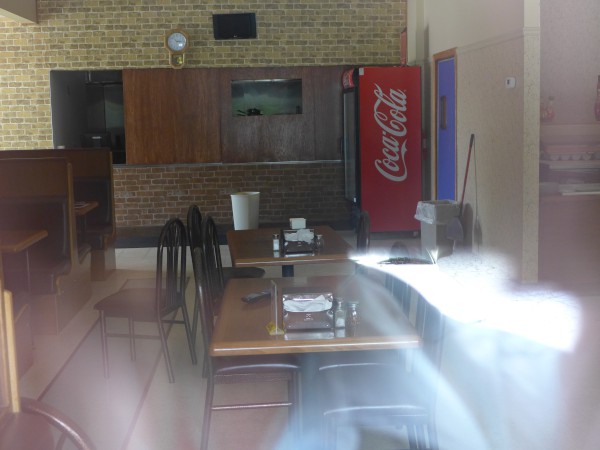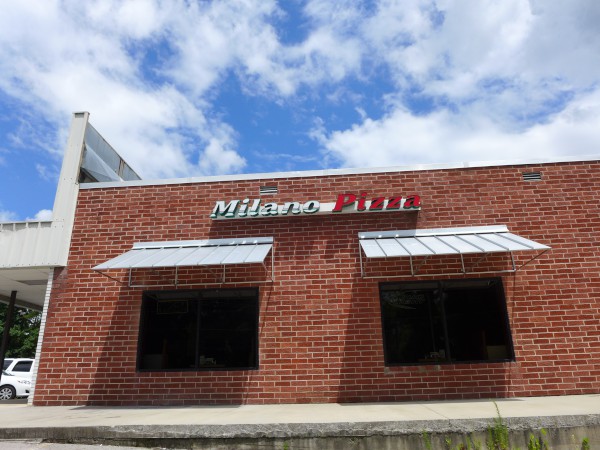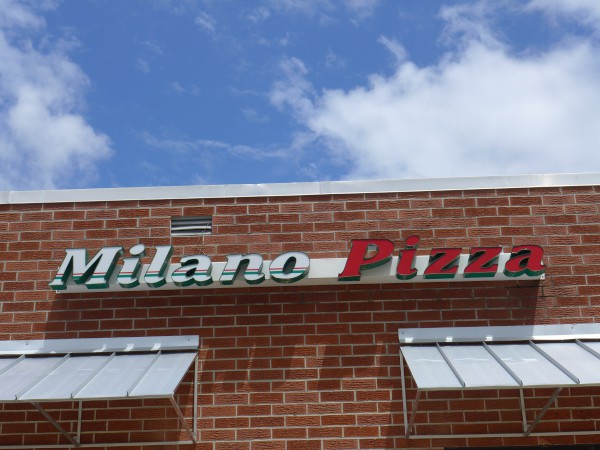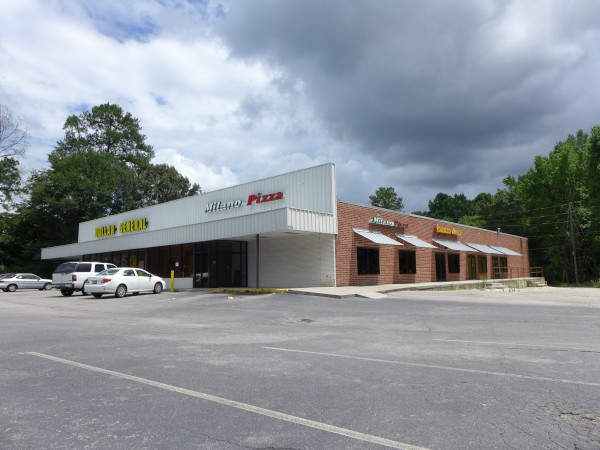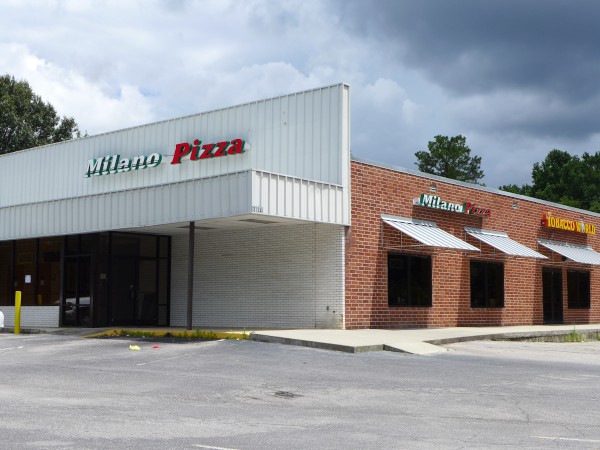 Milano Pizza was one of the follow-on operations to the old Piggly Wiggly in the building at 3724 Covenant (which is basically at the corner of Covenant & Bethel Church). After The Pig moved out, the building was subdivided with a Dollar General taking the biggest slot on the left of the building.
The right side of the building, like Gaul, is divided into three parts. Tobacco World tried and failed to open in the middle suite, and Milano opened in the front one. (The rear suite has never shown any signs of life).
Since I like pizza, and it's fairly close, I had put Milano on my mental list to visit, but somehow it never seemed to come together. I do however, drive past the building almost daily, and it seemed to me that the hours were becoming rather erratic lately. I was never quite sure if it was actually closed, or not, but the most recent time I stopped by, I took a look inside and saw that the fish tank was gone, so I'm pretty sure the place is closed though no sign or note has been posted.
UPDATE 3 September 2013 -- Well, it's official: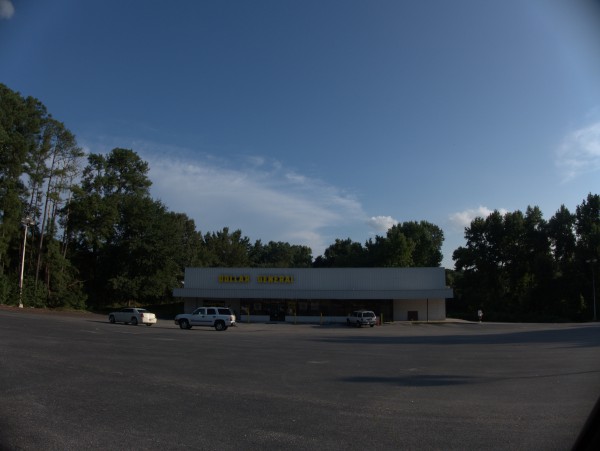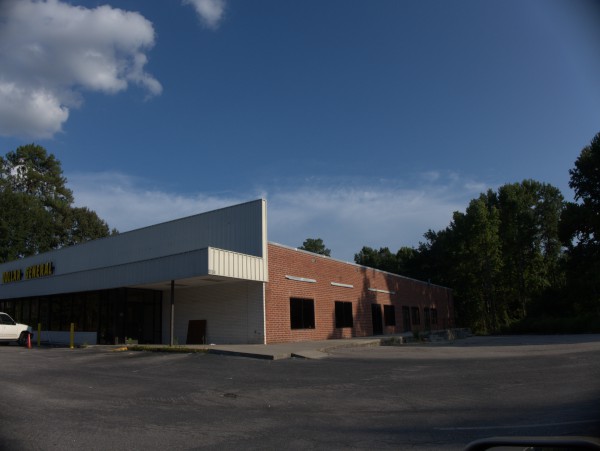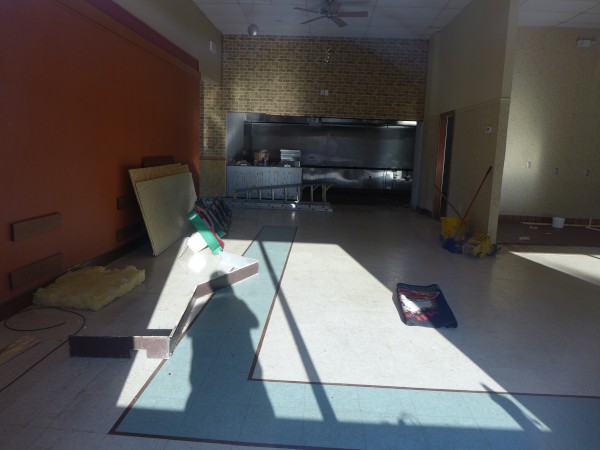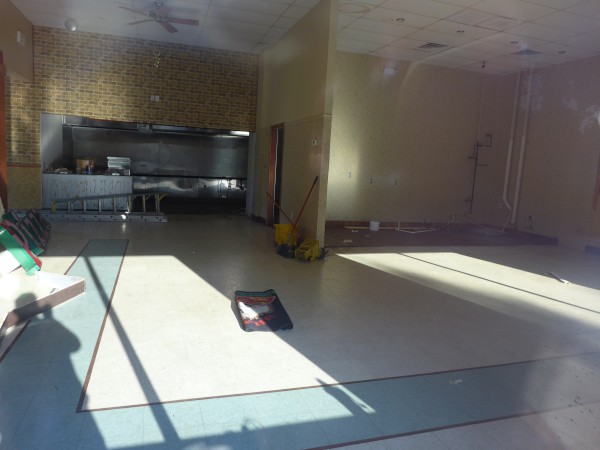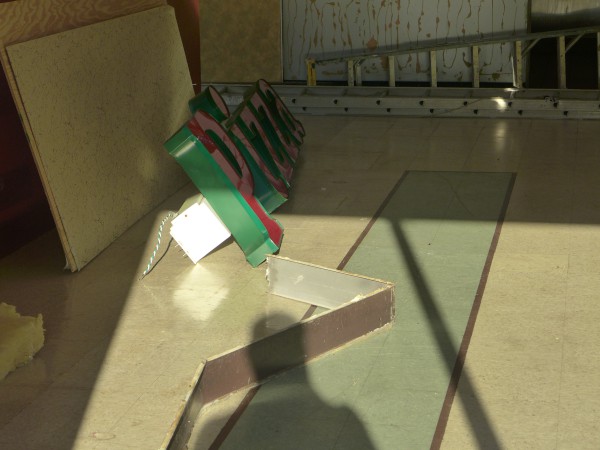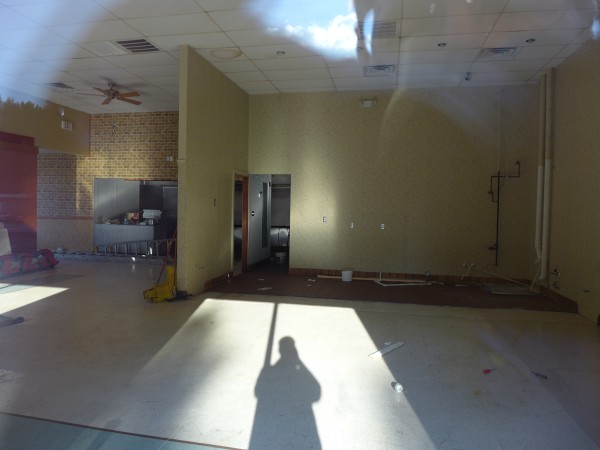 (Hat tip to my sister)
Posted at 12:47 am in Uncategorized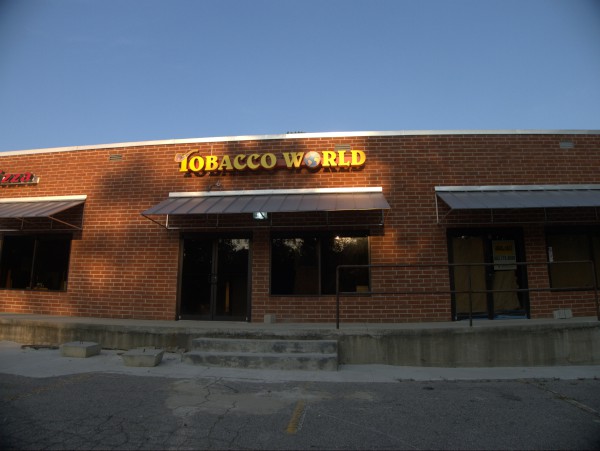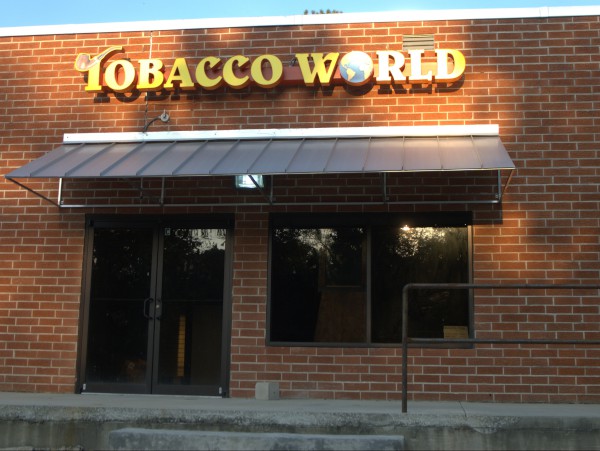 Tobacco World is one of the spaces carved out of the old Covenant Road Piggly Wiggly after the new Dollar General went into most of the old space.
I believe there are three units on the side of the building closest to the road, and of the three, only Milano Pizza seems to have had a successful start. The signage for Tobacco World has been up for at least a year, but as far as I can tell, it has never (yet) opened, and I suspect at this point that it won't. (The third unit has never shown any signs of becoming anything as far as I can recall).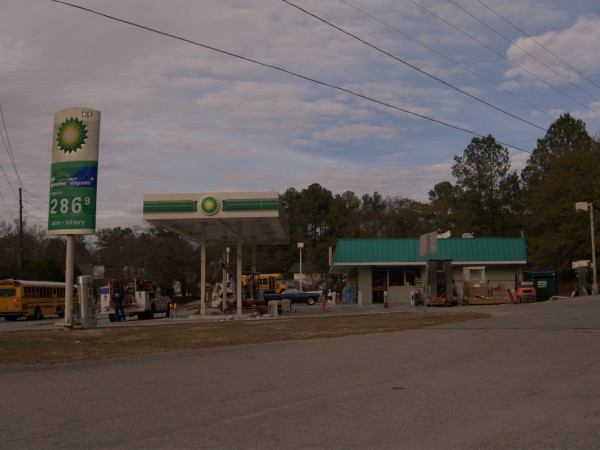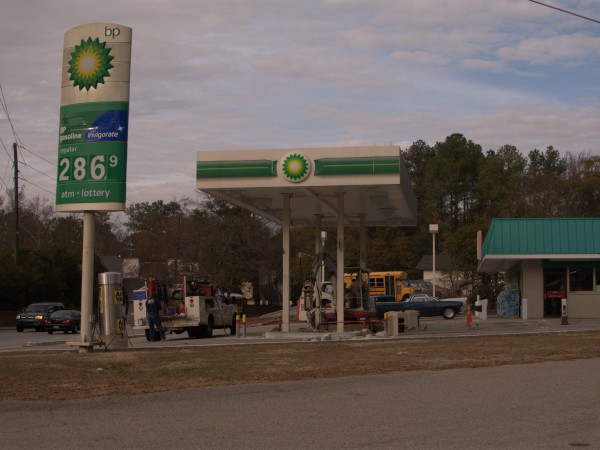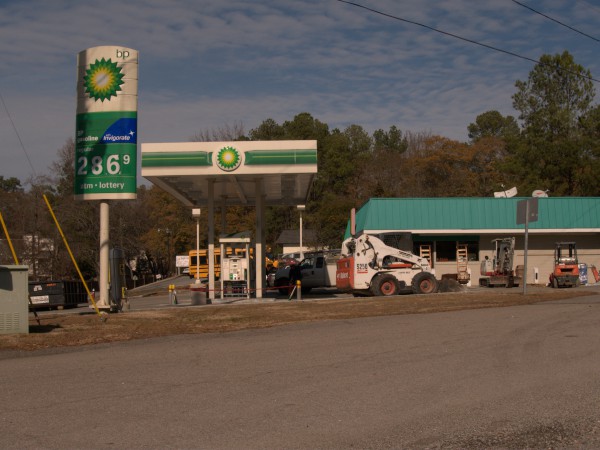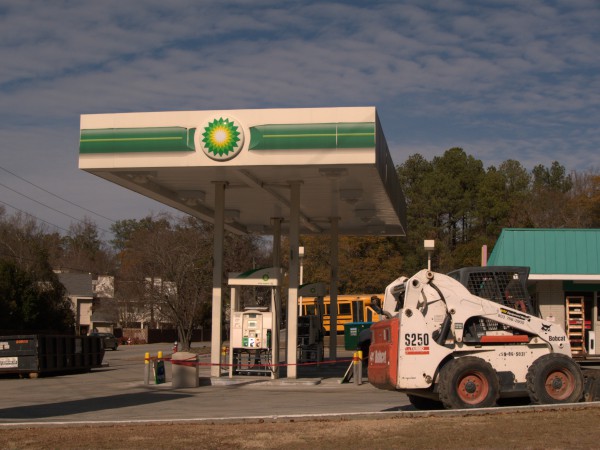 I don't know what was wrong with the old ones -- I used them just a month or so ago, and they seemed fine, but the Kangaroo Express in front of Trenholm Park (and across from Keith's K&A Automotive) spent several days taking out the old ones and putting in these. Maybe they needed something that goes above $9.99 per gallon..
UPDATE 10 May 2016 -- Well, I'm not going to post about every Kangaroo becoming a Circle K, but since I already had this post, I thought I would note the transition: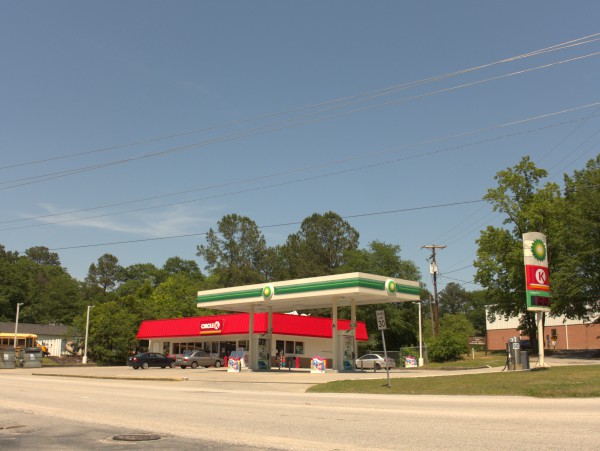 Wonder what happened to all the people who paid for the "'Roo Mugs" promotion?
Posted at 12:51 am in Uncategorized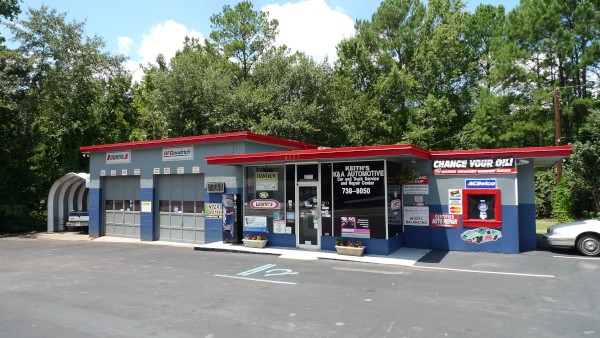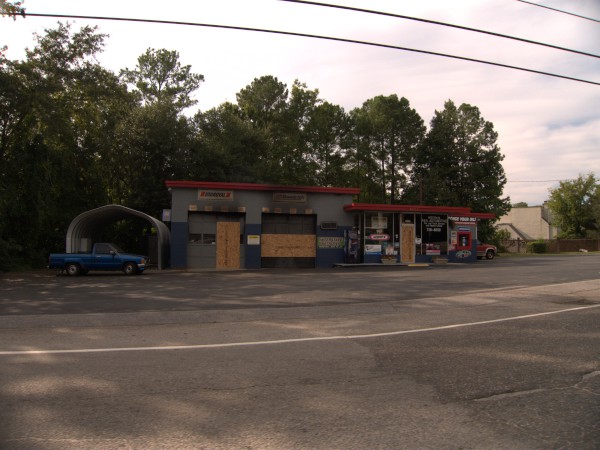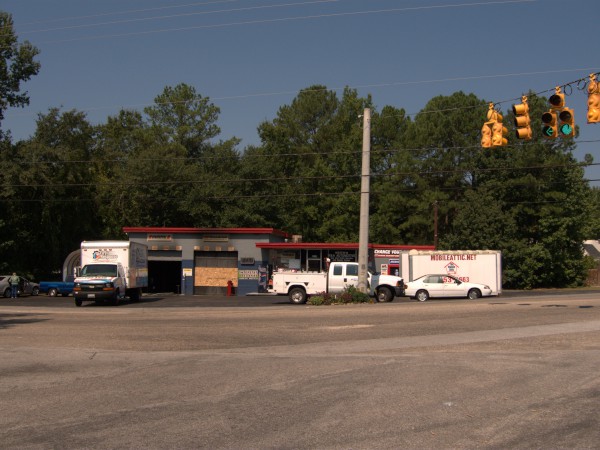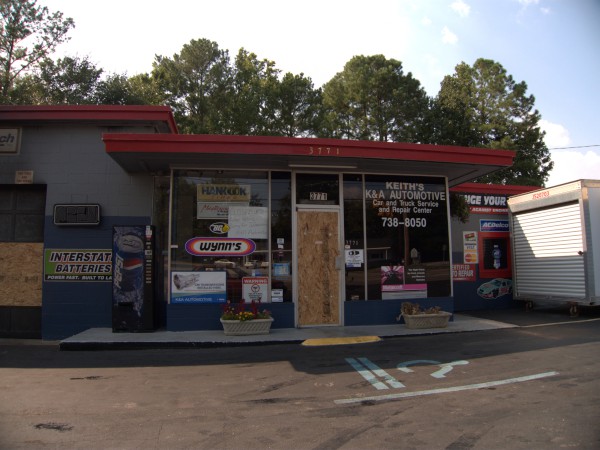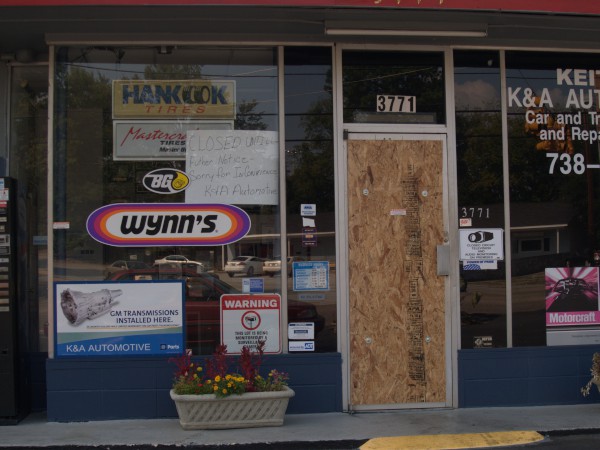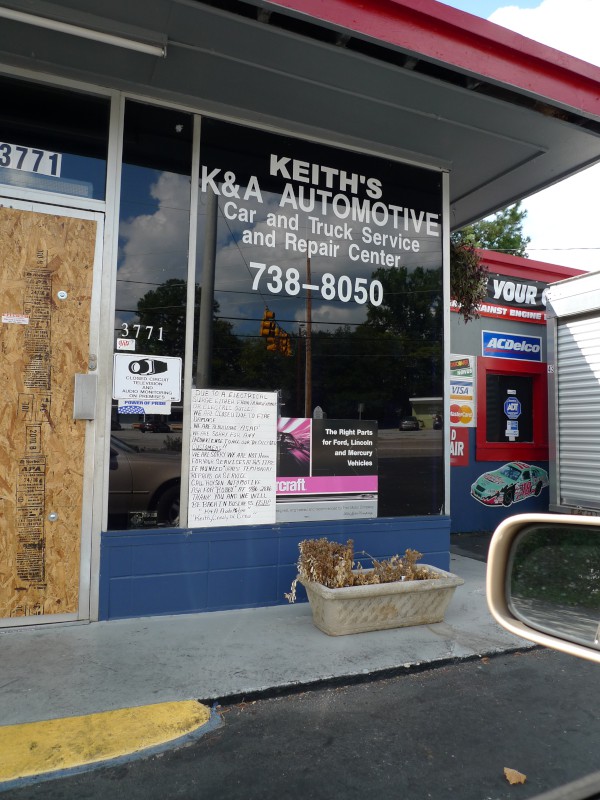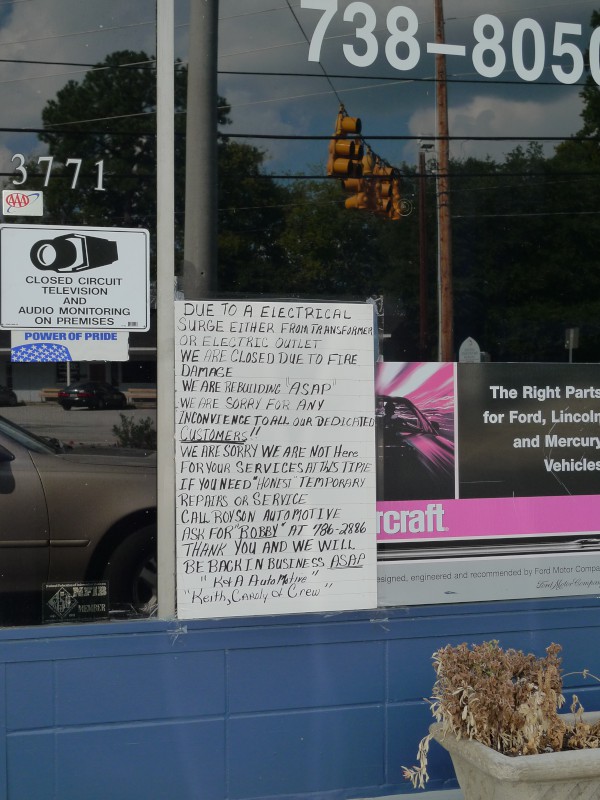 Curiously enough, I wrote about this building just a few weeks ago in a post about Bill DuBose 66 Service Station.
At the time I used a number of pictures, including the first one above, of the current tenant, Keith's K & A Automotive to represent this stylish old building. Apparently almost immediately after I returned to town from my vacation, they experienced a fire and have had to shut down temporarily. I drive by there at least every other day, and from the level of activity I have seen there, they are working to make repairs sooner rather than later.
UPDATE 19 Jan 2011 -- open again: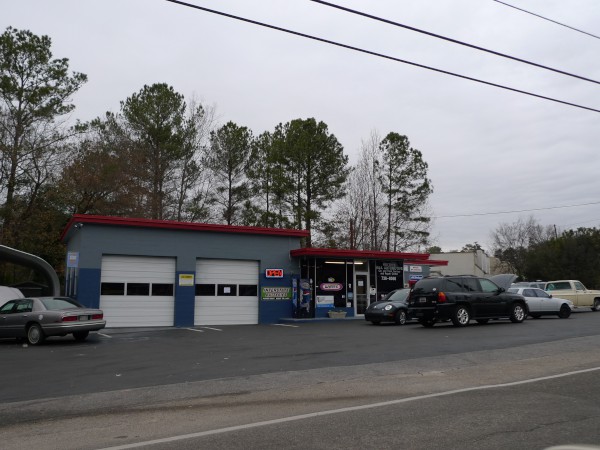 Posted at 12:47 am in Uncategorized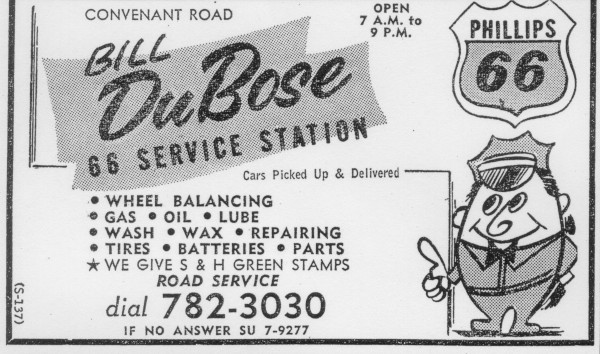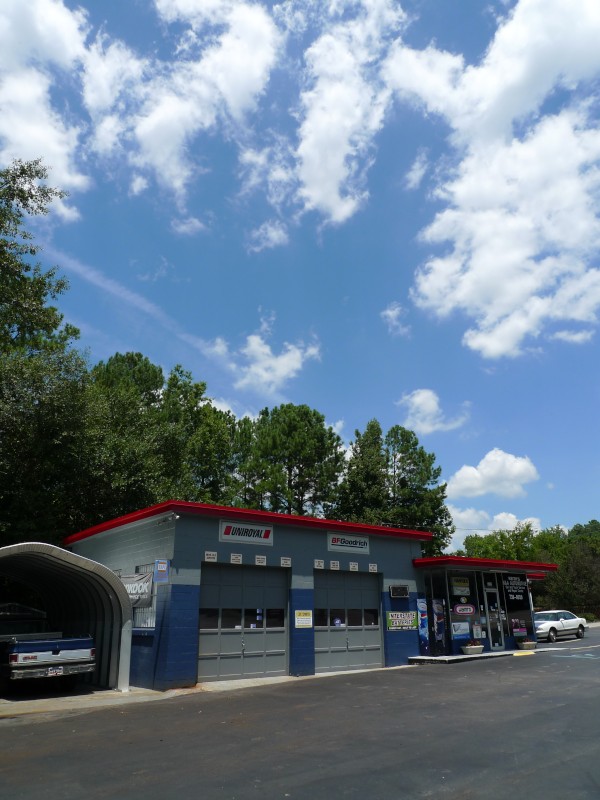 The ad is from the December 1961 Southern Bell phonebook, and looking at the Service Station section is rather interesting. It almost appears that most every station choosing to get a picture ad used the same studio, with each ad having a Zip-A-Tone gray-wash area and a (different) little cartoon service-man.
I'm not completely sure that this building was DuBose. The older phonebooks are less anal conscientious about giving full numbered street adresses than the current ones. I am sure it was a Phillips 66, and it is on Covenant Road, so I'm pretty sure it's it.
The station is in Ravenwood just at the intersection of Covenant & Bethel Church Roads, catty-cornered from the old Campbell's Convenience Store and the old Piggly WIggly, directly across from the second location of Forest Lake TV / Ravenwood Pharmacy and next door to the old Sunshine Cleaners. (Heavens, that sentence got more complicated and link-full than I expected -- there's been a lot of turnover in the area!)
I'm a little hazy on exactly when the 66 station closed and what followed it. I think it was the 70s, and I think the building got a bit run-down afterwards. The current tenant, Keith's K & A Automotive spruced it up a good bit and seems to do a very good business there -- I had to wait for a Sunday to get a picture of the place without lots of cars in front of it. I really like the bi-level construction and strong roof-line of the building.
Posted at 12:28 am in Uncategorized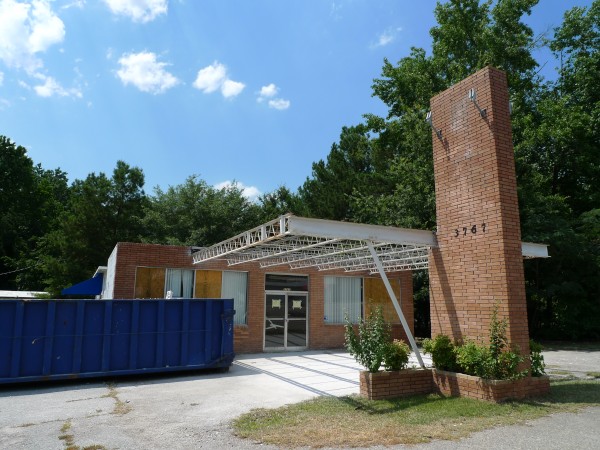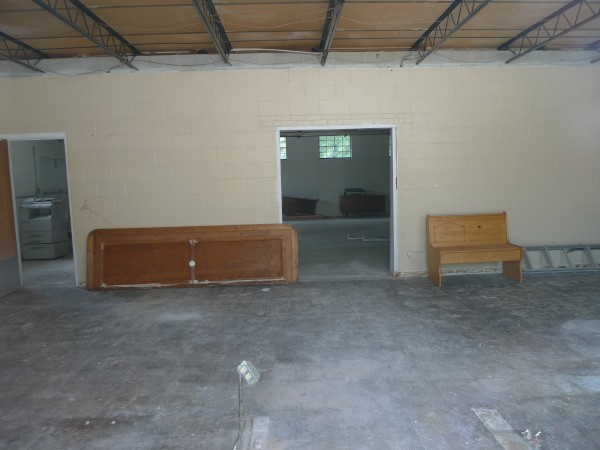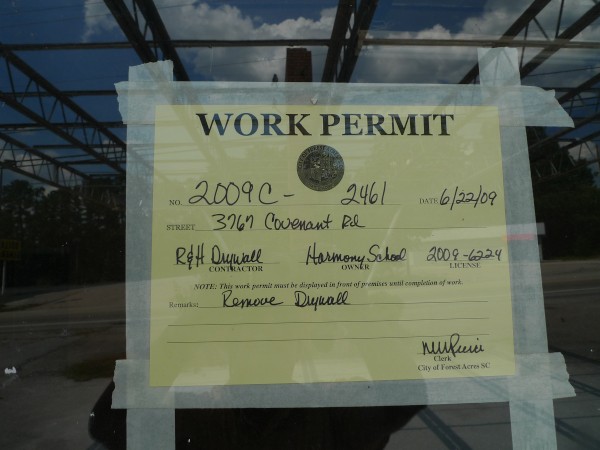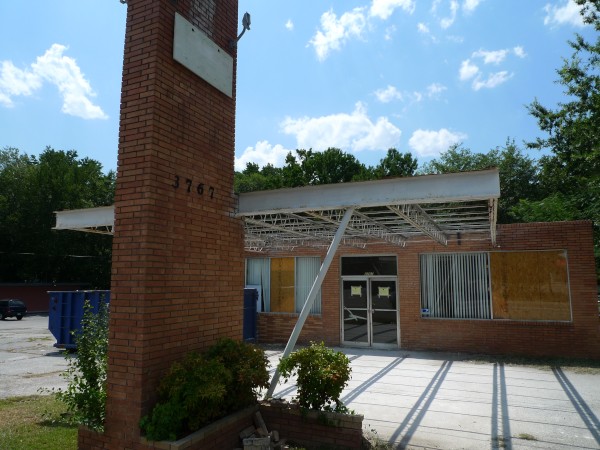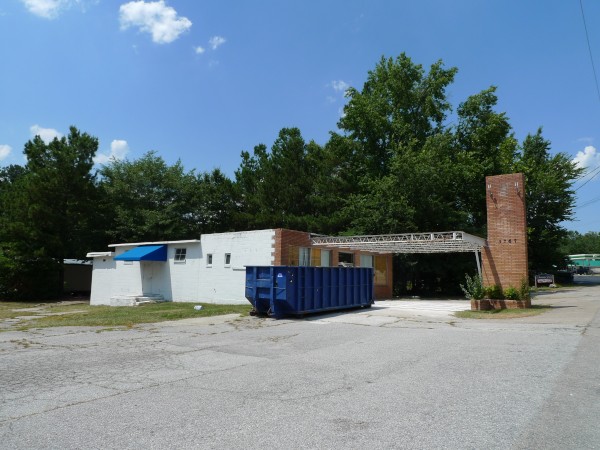 I'm not sure if Video Solutions & Satellite Connection were two different businesses or two "DBA"-es for the same company. What I am sure of is that there have been many other businesses in this striking little building on Covenant Road just across from the former Piggly Wiggly and just down from Trenholm Park over the years, going back at least into the 60s. Unfortunately, I can't now recall any of them, though I'm pretty sure it started as a drycleaner's.
I put 2005 as the date for the last operations there due to this document, which appears to be related to a creditors' take-over of some *other* satellite company. There's not much information in the header part, but I'm thinking since Satellite Connection was apparently one of the creditors, they may have paid money for equipment they did not get, which is not a good situation for a small business to be in. I could be totally wrong.
Anyway, according to the construction permit, the building has been taken over by Harmony School which is the small school more or less behind this building. Since these pictures were taken, they have implemented the "Parliment" option and have torn the roof off that sucker.
UPDATE 22 July 2009: Added Sunshine Cleaners to the post title in response to indetifications from the comments.
UPDATE 7 July 2010 -- It appears that work on the building is nearly done: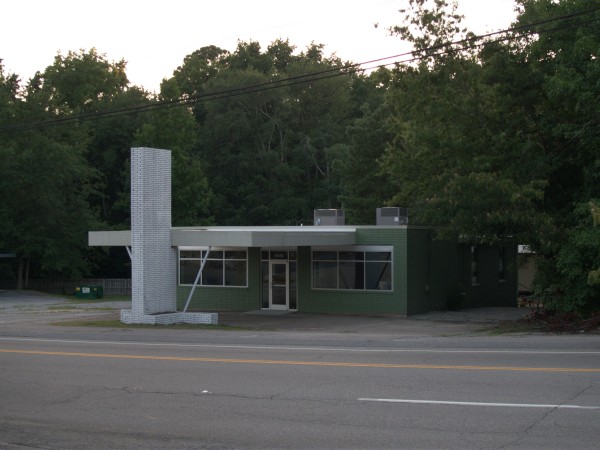 UPDATE 15 Jan 2011: Correction -- it was never a Sunshine but it was Custom Cleaners & Laundry (at least from 1970 - 1976 according to the city directories) and was a Brinson Laundry & Cleaners from 1977-1984. I don't have dates for the other operations.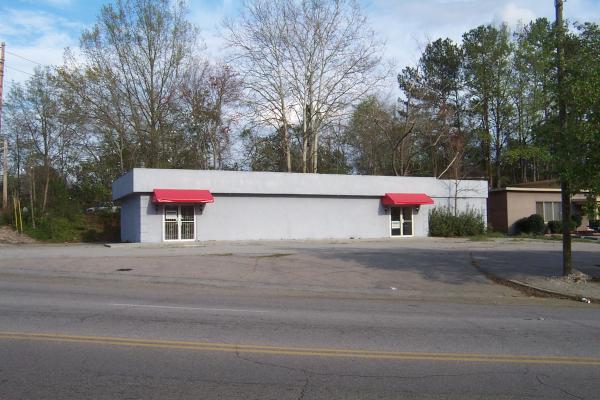 By all rights, I ought to remember Ravenwood Pharmacy. It was in the 1970 phonebook, so I would have been nine at the time, and I recall a lot of stuff from 1970. It was also near to Trenholm Park where we went from time to time and shared a parking lot with the Covenant Road Piggly Wiggly where my mother sometimes (though admittedly not often) shopped. Add to that the fact that presumably it lasted several years beyond 1970, and I'm a bit mystified by why I can't recall it at all. I suppose the fact that we filled almost all our prescriptions at Campbell's Drugs must explain it.
This real estate listing says the building was built in 1960, and I assume the Pharmacy was the first tenant. The second tenant was Forest Lake TV in its second location. I can't recall any tenants after that (though I would have been living out of town at the time) -- certainly the building has been empty for at least five years now.
UPDATE 31 July 2010 -- Looks like it's to be a thrift store now: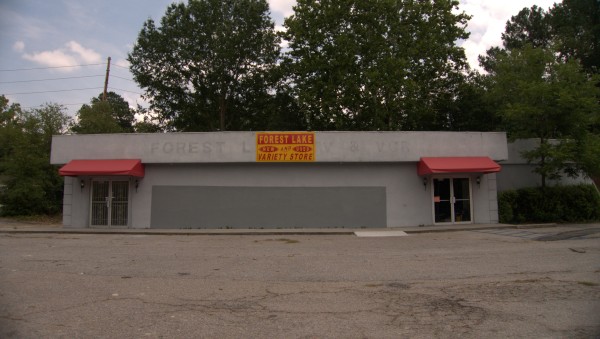 UPDATE 11 September 2010 -- Apparently that's not going to happen: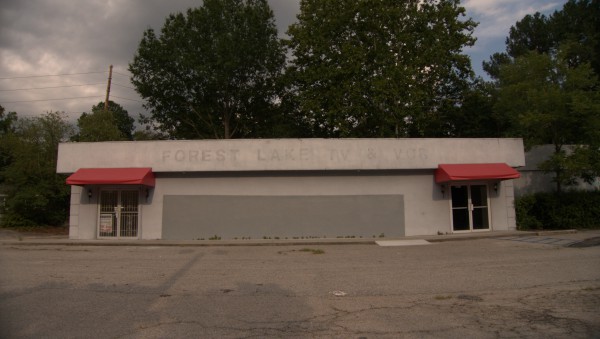 UPDATE 20 June 2016 -- Something looks to be happening here again: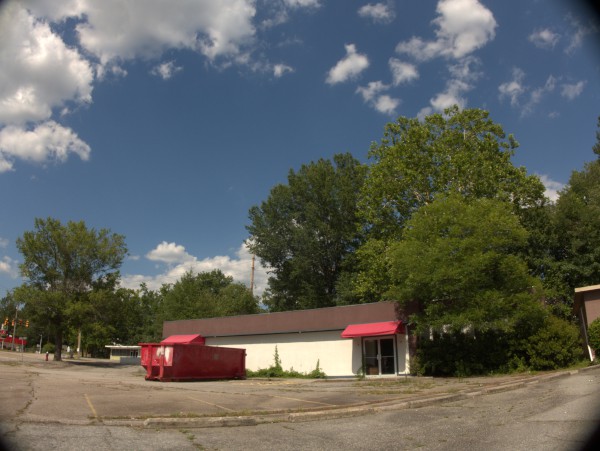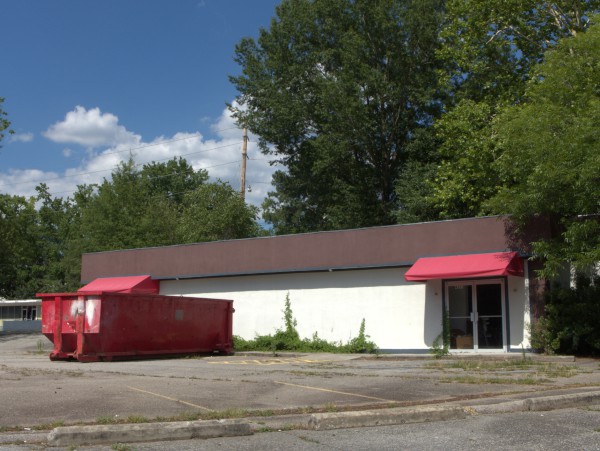 UPDATE 25 April 2018 -- Well, the 2016 attempt didn't happen, but now there is more work going on: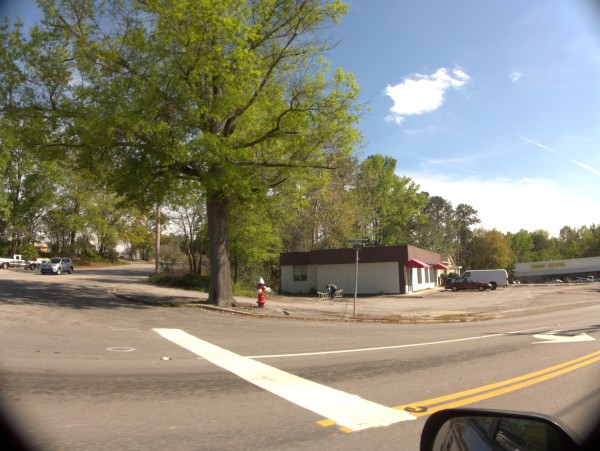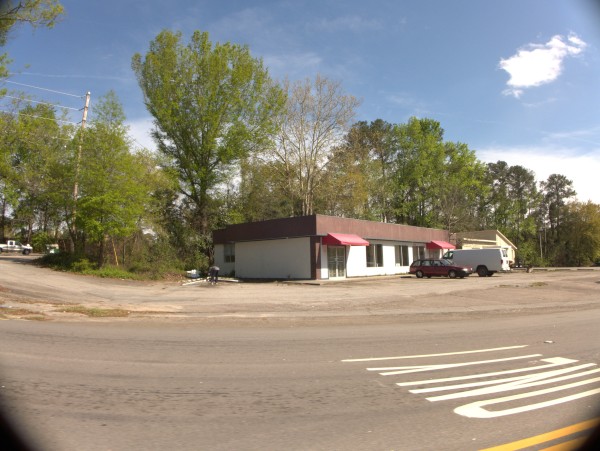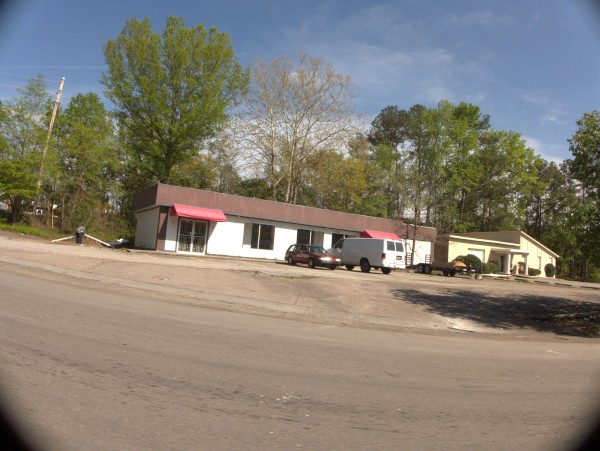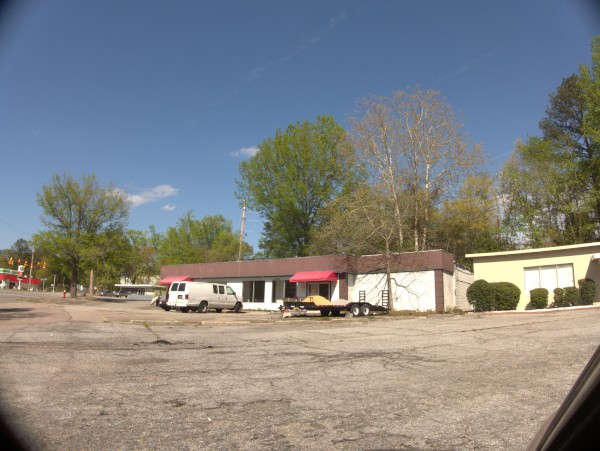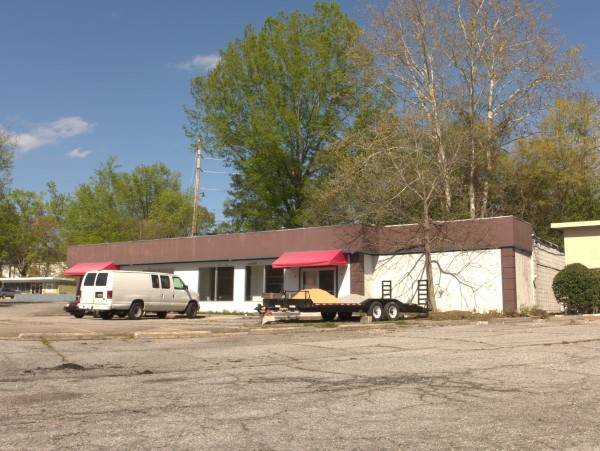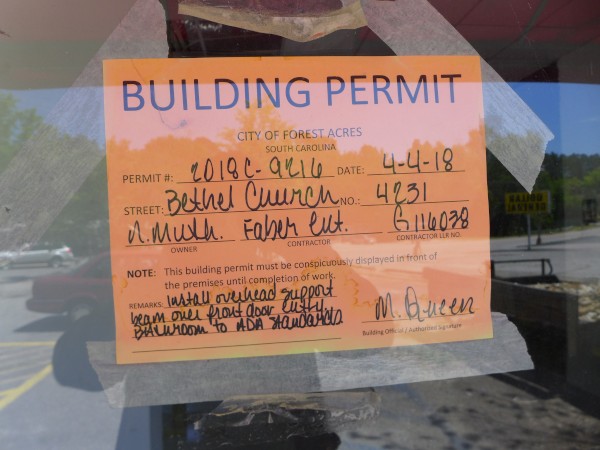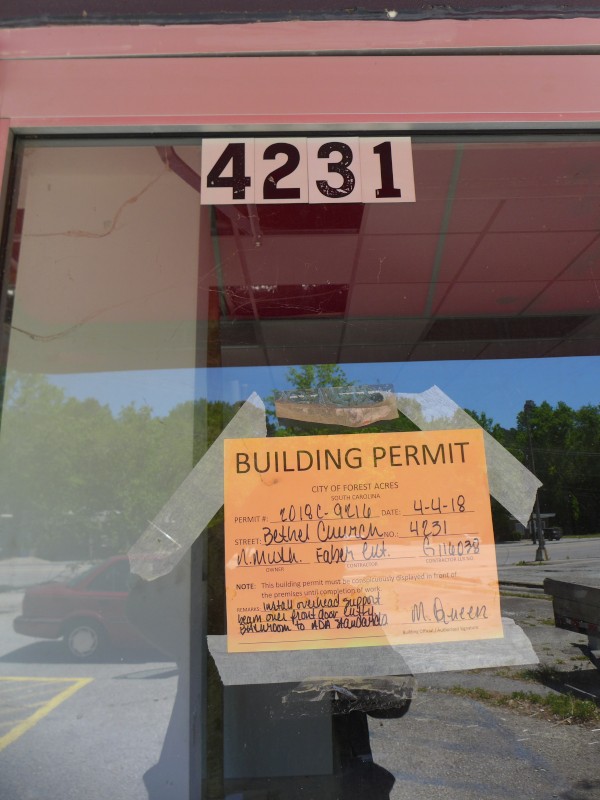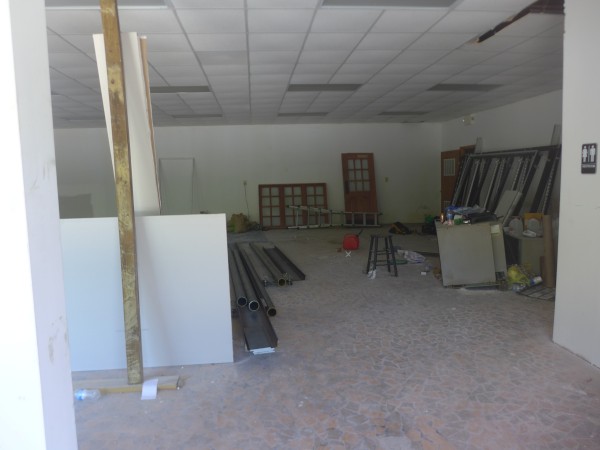 UPDATE 14 June 2018 -- Hmm, very blue. Maybe a Pelican snocone place?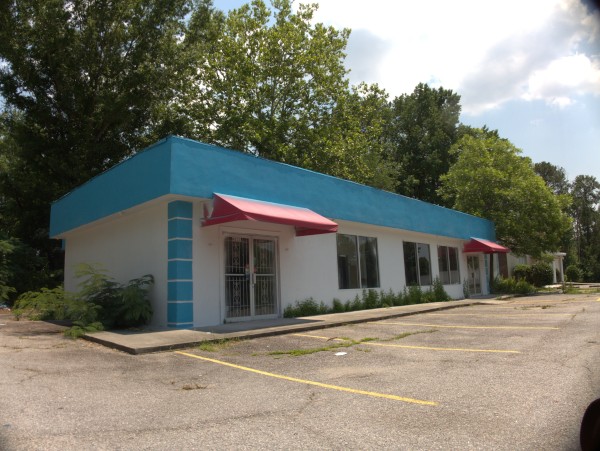 UPDATE 30 October 2018 -- Now open as DCP Convenience: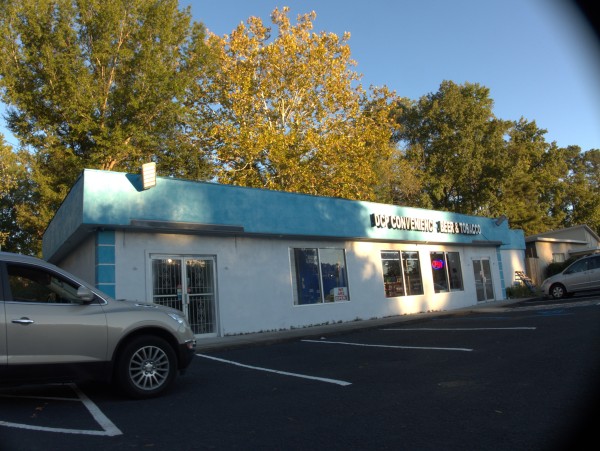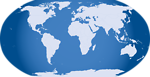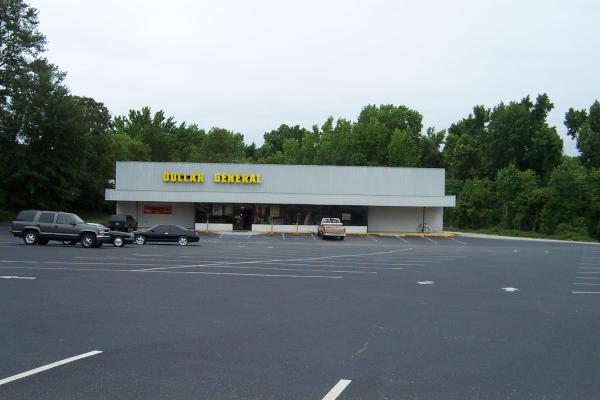 For some reason, when I was in middle-school, I loved popcorn to a degree I never had before or have since. I mean, I still like it, but I probably don't have it more than half a dozen times a year now while back then I had it every day. As soon as I got home from school, I would get out the popcorn popper (no microwave then!), the butter-salt, a big glass of ice-tea and a book. I would sit at the kitchen table and eat popcorn with one hand, and turn pages with the other (I was careful not to get my books greasy!).
Popcorn was not a regular purchase item for my mother's shopping trips. She didn't keep a tab on the status of the bag of popping corn or the level of the butter-salt shaker, so unless I remembered to ask her to get some, I ended up having to make supply runs on my own. Fortunately, there was The Pig.
The Piggly Wiggly on Covenant Road near Trenholm Park had been there as long as I could recall, and unlike a trip to Trenholm Plaza, getting to it from our house required crossing no major roads so my parents had been OK for years with me riding my bike there. I would ride down Oakwood to Satchel Ford to Bethel Church to Covenant and park my bike on the left side of the store. (Back then I didn't lock it, now I probably would). The Pig was a small store, nothing special really, in fact my mother rarely shopped there because they packed their produce on trays under cling wrap so you really couldn't see how fresh it was, but aside from the popcorn it had another draw for me: a book "spinner" rack.
Stocking for racks like this was always hit-or-miss, but apparently the distributor/jobber who had responsibility for The Pig's rack in those days had a taste for science fiction (or maybe he got some kind of discount -- who knows?). At any rate, there were usually new DAW paperbacks in the rack -- those were the days of the white page borders and the Kelly Freas covers:
If I had the money (iffy..), I could always come home with a new book to read with my popcorn.
In later years, I moved out of town and lost close track with The Pig, but apparently it had some rather interesting times before it finally closed. If I recall the story my sister or father told me, at one point it was closed for a while and then got a new owner who refused to stock any beer or wine for religious reasons. (I recall thinking that was an odd amount of leeway for a chain to give to an individual store..). In the end, the market changed, and it was really too small and old a building to compete with the new wave of upscale grocers and probably too close to The Pig on Forest Drive to make sense for the chain (and that Pig is noticably upscale itself). Half of the building now houses a Dollar General (they have the best peppermints I've ever found, by the way, at least since altoids changed their recipie) while the other half is empty.
And darn it, it was fun to say "I'm going to hop to the pig".
UPDATE 28 July 2010: Added full street address to post tile, and the fact that this was store "No. 98" as well. Added graphic (and link to) The Lion Game.
UPDATE 4 May 2011: Changed closing date in the post title to February 2005 based on commenter Andrew's research.
UPDATE 17 October 2011 -- Well they have finally found a tenant for some of the vacant space. It appears we will get a new pizza parlor, Milano Pizza: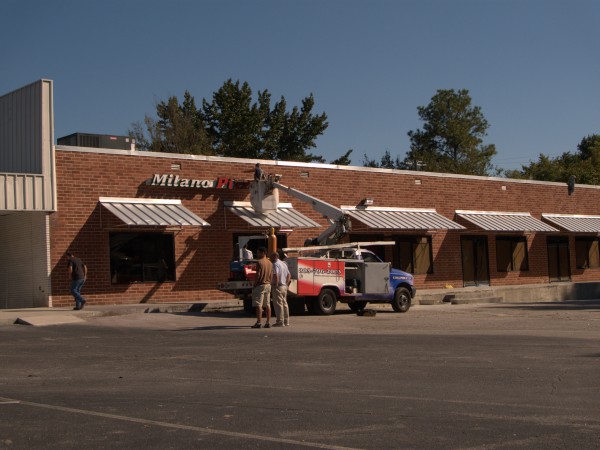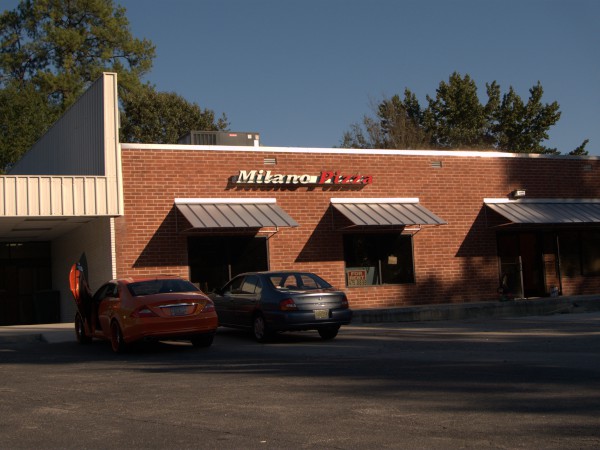 UPDATE 26 January 2012 -- The pizzeria is open: