Archive for December, 2007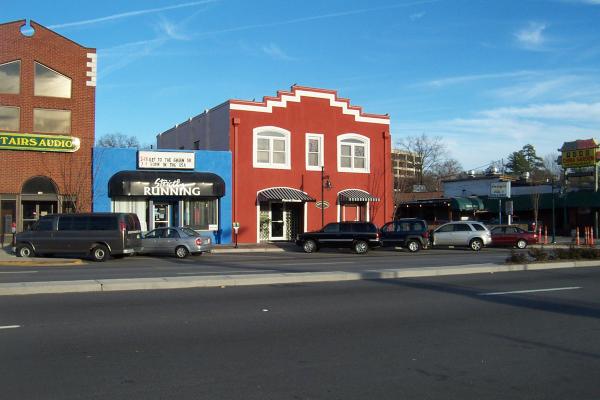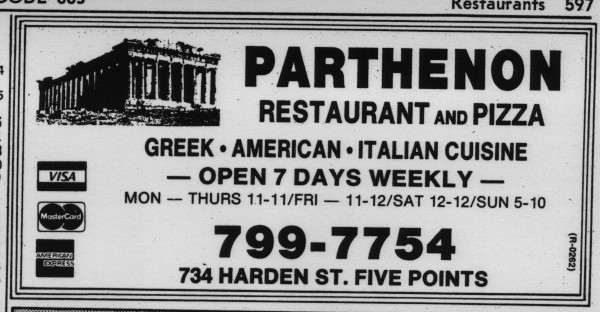 What can I say about The Parthenon? The ambience wasn't anything special, most of the tables were wobbly, and some of the booths were 'tilters'. That, and they had the best pizza in Columbia.
I used to take my father there every Saturday night while he could still get out, and we'd share a medium with pepperoni, onions, bell-pepper and mushrooms. Even after I couldn't take him any more, the permanent staff would ask about him. After the the interminable Five Points street work reached The Parthenon's door, I knew things were iffy. Having to park a fair distance from the entrance was not good for the regular crowd as walking Five Points at night is liable to get you panhandled. The time I walked in and found myself the only customer was a real warning bell, and they announced that they were closing shortly after that. I remain flabbergasted that the work in Five Points was so poorly planned that this landmark was driven under.
There was some speculation at the time that the Parthenon folks would open another restaurant, but if it ever happened, I haven't heard of it.
UPDATE 16 April 2010 -- First, as you can read in the comments, The Parthenon crew are now at Zorba's Express waaaaaay out on Broad River Road. I finally made it over there, and the pizza was great! Second, I've added the 1985 Southern Bell yellow pages ad above.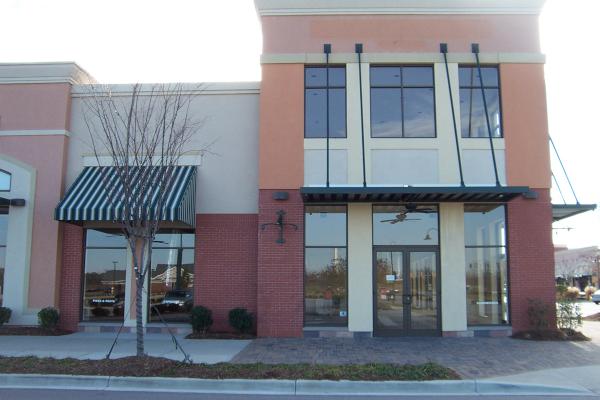 This is one of the closings that tempts me to write good riddance. I know that's harsh, and that this place was someone's dream and livelihood. However..
The last time I was in this place was in the Spring, while the Sparkleberry Fair was running on Clemson Road across from The Village at Sandhills. We had been at the fair with my little three year old neice, and she was tired out and cranky, and had been promised a snack. The ABC was just across the road, and we imagined zipping in, getting her, and ourselves, a cookie and something to drink.
It quickly became apparent that this was not going to happen as visualized. The store didn't seem very full, but for some reason everyone in there was in the line rather than sitting down, and the line was not moving. It seemed the computer was down. OK, that happens. We decided we could wait a few minutes rather than putting my neice back in her car-seat and trying to find somewhere else. However, listening to the staff talk, it gradually dawned on me that none of them had any idea of what they were doing, and none of them had any authority to do anything.
At a well run restaurant in situations like this, after the staff has flailed for a few minutes, the manager comes out of the back and says something like:
Folks, looks like our computer is down, but we're going to take care of you. I've got my calculator and note pad here, and I'm going to write up your orders and get you your change. We'll worry about entering it into the system later.
Nothing of the sort happened here, and for the twenty or so minutes we waited, nobody was helped. It boggled my mind that with half a dozen people being paid to stand around, the most basic function of a business, taking in cash from customers, was not taking place.
The next time I went to Sandhills, I noticed that the store had closed, and was not a bit surprised. I was a bit surprised on a later visit to notice legal notices posted on the door complaining of non-payment of rent. But only a bit.
UPDATE 12 April 2010: Added full street address to post title.
Posted at 12:07 am in Uncategorized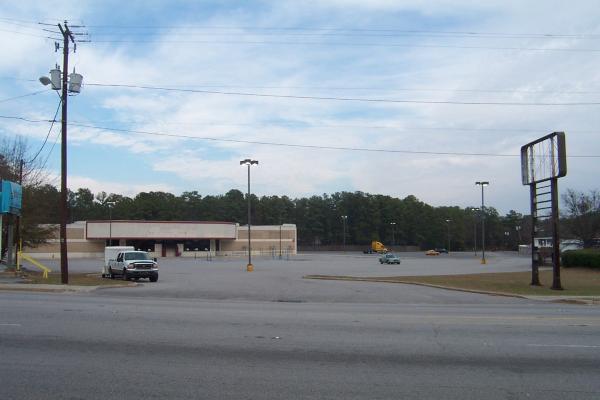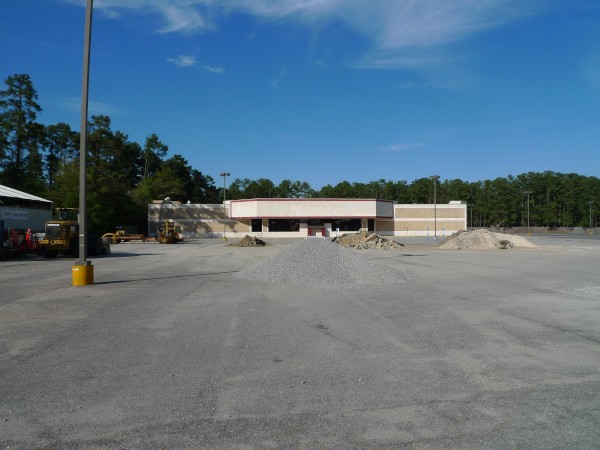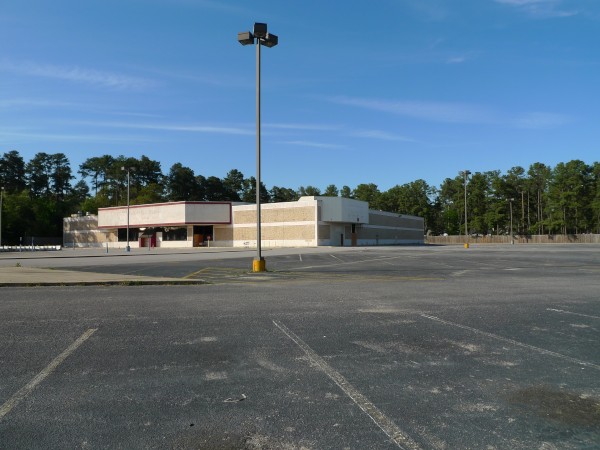 I don't know exactly when this Kroger closed, sometime in November is my best estimate. I was just driving by one day, and noticed that it was gone. It had been looking pretty thread-bare the last few times I was in it.
The closing of this location leaves only one of the inital wave of Kroger's entry into the Columbia market still open: the location at the corner of Forest Drive & Beltline Blvd. I remember when Kroger first came to town, it was the store. I was in high-school at the time, and the Decker Blvd location was convient to me when I first started to drive. My recollection is that Kroger was definitely a cut above anything else in town at the time. All of the stores had full bakeries, and a cheese section with more than the standard block chedder I grew up on. They also had small housewares (the second microwave I ever bought came from Kroger) and if they weren't open all night at the time (I can't quite recall) they were certainly open later than most Columbia grocers.
The initial wave was Decker Mall, Bush River Mall, Forest Drive, Fort Jackson Blvd, and US-1 just past Triangle City. I think the Bush River Mall location was the first to go, as that mall never really established itself. The next was the Decker location, a harbinger of the general decline of the Decker corridor. This was followed by US-1 and now by Fort Jackson Blvd.
Part of this wave of closings, aside from the poor location on Bush River was due, in my opinion to the changes in the grocery market. When Kroger came to town, it was up-market, but the next wave of store openings by its competitors trumped that by being even more up-market and Kroger found itself with suddenly dated looking properties that weren't as nice inside as newer competitors. They seem to have elected to compete by building new stores rather than refurbishing older ones, and the store on Two Notch Rd near Spring Valley High is built to their new standards. It will be interesting to see how long the old store on Forest Drive can survive. The new Piggly Wiggly by Cardinal Newman beats it for up-market, and the one-two punch of Publix and Fresh Market at Trenholm Plaza delivers everything other than 24-hour shopping.
UPDATE 5 April 2009
Here is commentor Melanie (looking cute as a button!) with a clown at the grand opening celebration of this store back in the day: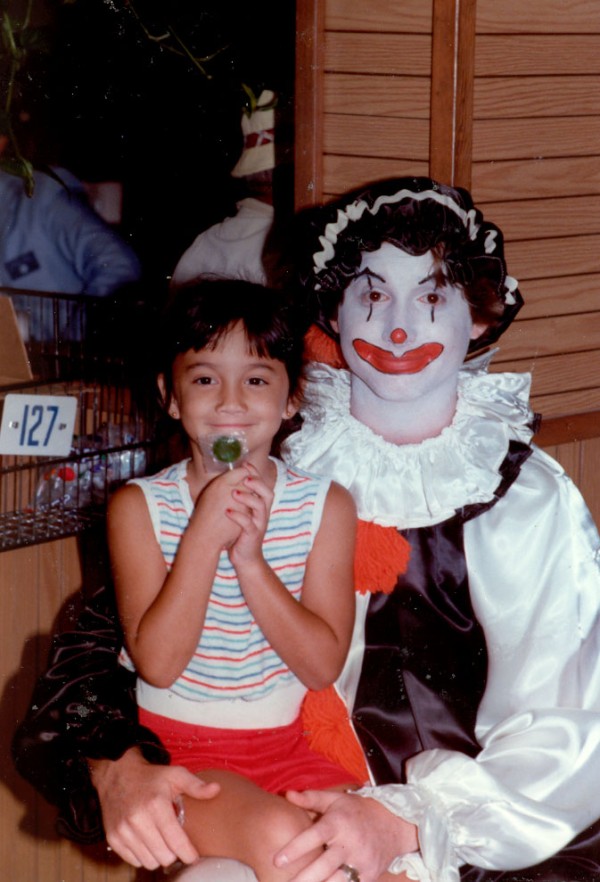 Thanks Melanie!
UPDATE 26 April 2010: Added full street address to post title.
UPDATE 30 April 2010: Added some more pictures (utility work was ongoing in the parking lot at the time these were taken).
UPDATE 6 February 2012 -- Well, it appears that work on the Whole Foods uplift has begun: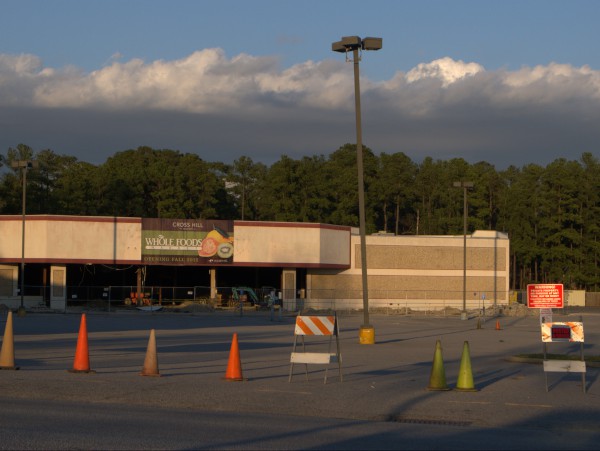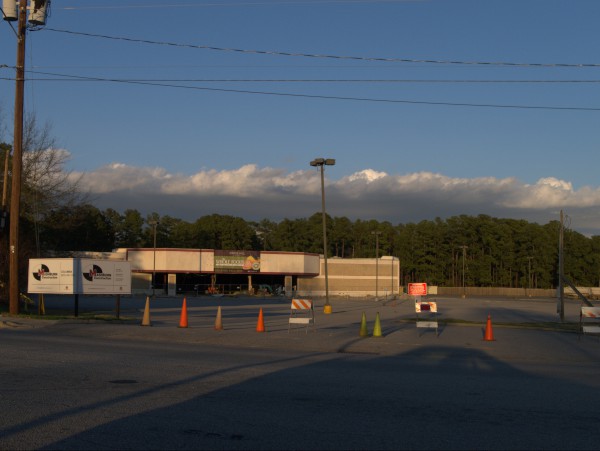 (Also, I have finally got around to adding Family Mart to the post title).
UPDATE 10 May 2012 -- Construction continues in these pictures from 6 March 2012: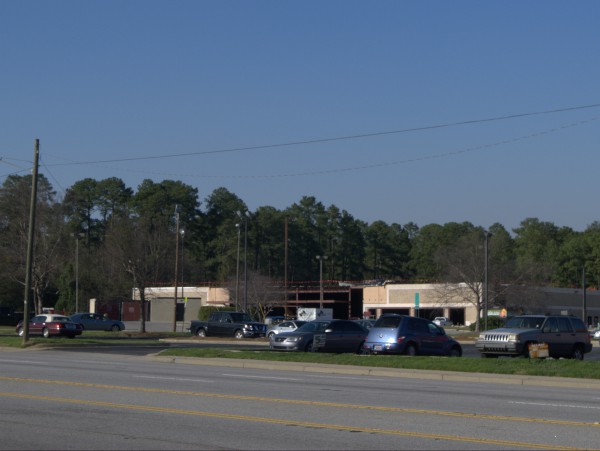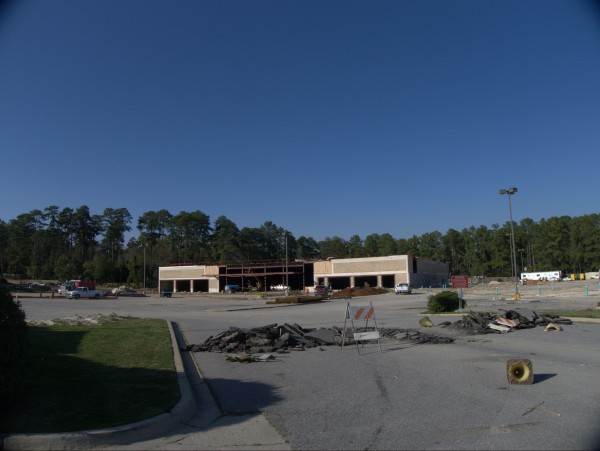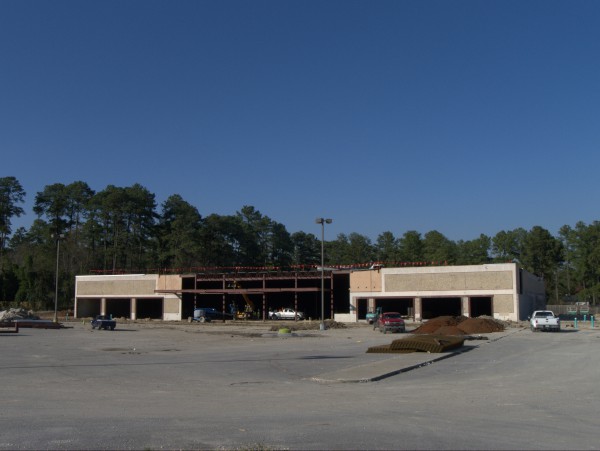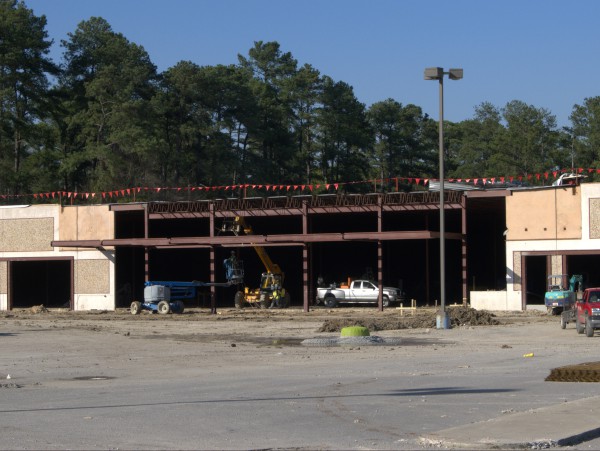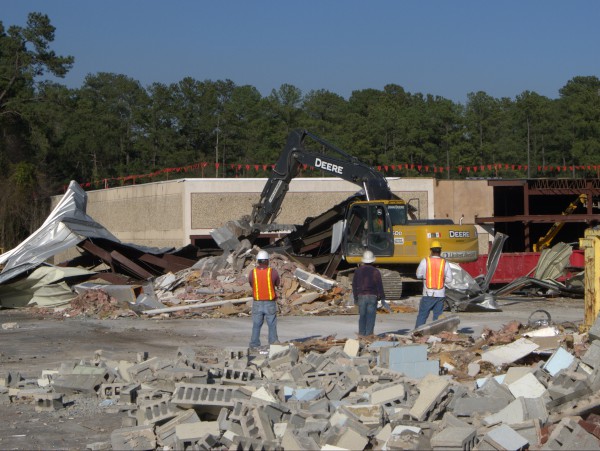 The rubble in the final picture above is from the demolition of the old Lucas Machinery building.
Photosets: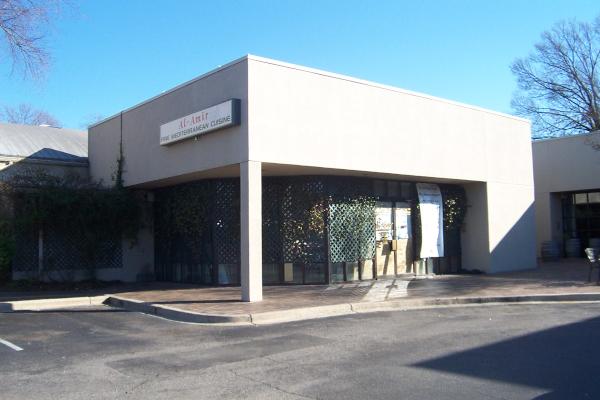 To my mind, Al-Amir was the best Middle Eastern restaurant in Columbia. My favorites were the falaffel with fresh tabouli salad and the fresh seeded Damascus bread hot from the brick oven. The inside dining area was distinctive with its wraparound bench seating, strewn with pillows. My four year old neice loved how she could walk all the way around the table. It was like a little play-area with dining for her.
In mid-December, I noticed a banner outside noting that the restaurant would be closing on 23 Dec. I don't know what happened as they always seemed to be doing a good business to me. Perhaps they were over-extended. They had opened a satellite site on Clemson Road a few years back which didn't last long, and had recently (I believe) opened a location on St. Andrews Road. That location will continue. If I had to speculate, I would guess that the site rent is lower there.
The Mediterranean Tea Room remains an option for Middle Eastern food on Devine Street, but I find its hours to be really odd.
UPDATE 3 July 2008: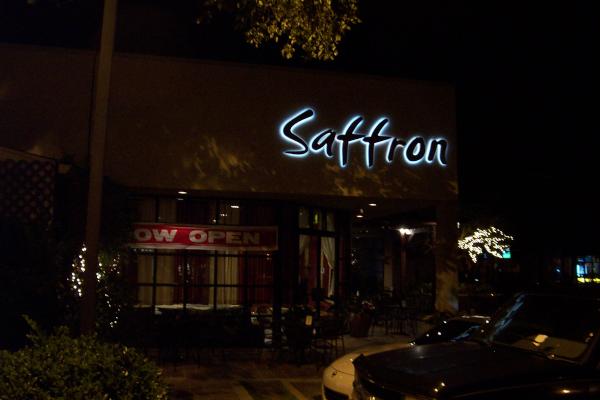 The new restaurant in the Al-Amir space, Saffron is open and has been for some weeks now. The Free Times is ambivalent.
UPDATE 12 April 2010: Added full street address to post title.
UPDATE 19 September 2011 -- Well, after the failure of Tabouli (which followed Saffron), Al-Amir is coming back. Did not see that one coming! Hat tip to my sister:
UPDATE 23 October 2012: Well, it is getting kind of complicated keeping track of the history of this building. First it was Al-Amir, then that closed (which was when I first made this post, the first ever closing on Columbia Closings!), then it was Saffron, then it was Tabouli, then it was Al-Amir again, and *now* it is Arabesque Mediterranean Cusine.
In this case, I think it is simply a name change. The phone number remains the same, as does the staff (who are still stumbling over the new name). I suspect this latest sobriquet can be explained by the yellow ABL Notice in the window. It's always been pretty clear that the Al-Amir restaurants would not serve alcohol.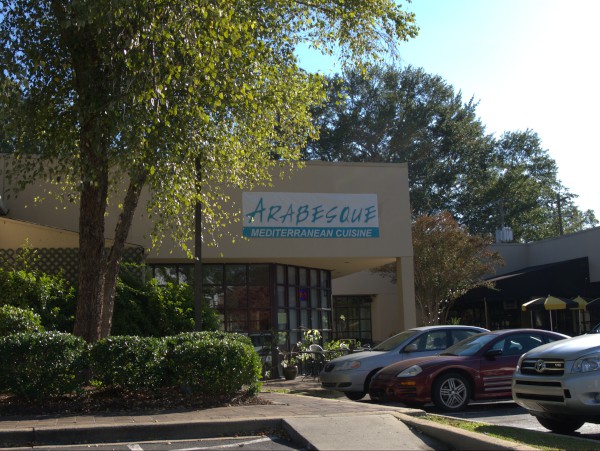 Posted at 4:35 pm in Uncategorized
Here's the deal: This blog is (mostly) about businesses in Columbia, SC which have closed.
How often have you gone to a favorite store or restaurant and found the doors locked and all the tables and chairs stacked against the back wall? Did you wish there was a place to vent about it, say how you saw it coming, or give the inside scoop on what happened? I'd like this to be that place.
As I notice businesses that have closed, I'll post entries on them. If I was a patron, I'll post a few thoughts, if I wasn't, I'll just note the passing. I hope that you, should anyone actually find this blog, can fill in the details with your comments.
In general, this blog will deal, as the title suggests, with Columbia SC. However, I also spend a good deal of time on the Grand Strand, so I won't hesitate to mention closings there, if it strikes my fancy. I also won't hesitate to make "remember when?" posts about places that closed years ago.
Update: I have closed comments on this post because I have moved the text to a "page", which will stay visible for the long term rather than scrolling off. Please leave any additional comments there.