Archive for the 'Cross Hill Road' tag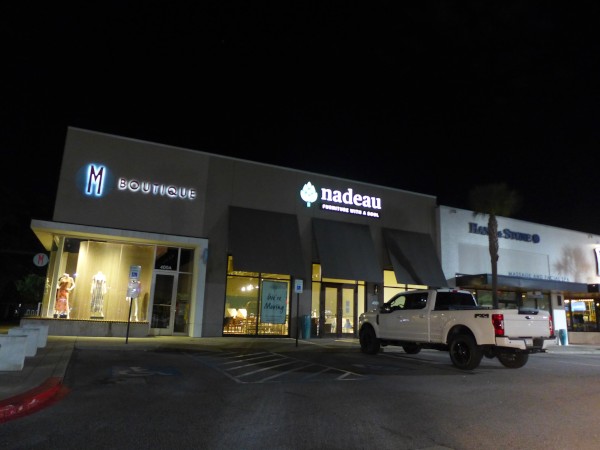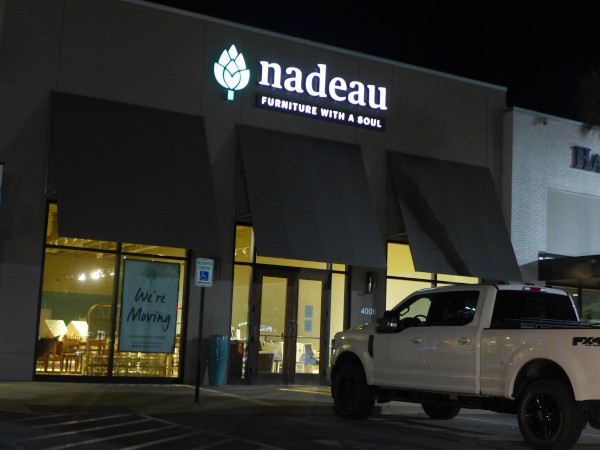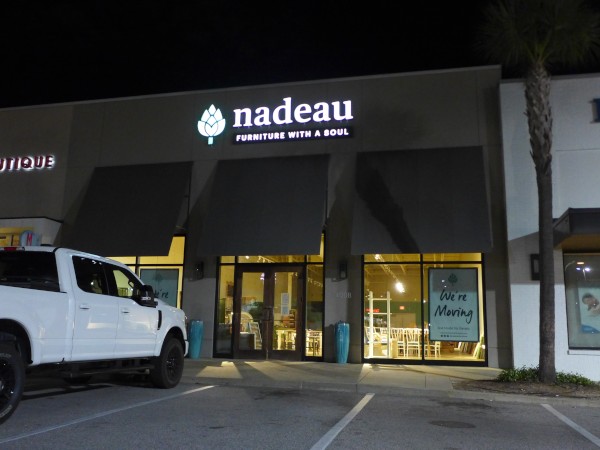 Commenter Larry points out that this furniture store in Cross Hill Market is "moving" to Greenville, though it sounds mostly like they are shipping the inventory to an already existing store there. According to their Facebook, tomorrow (21 April) will be their last day.
I think of Cross Hill Market as still a fairly new place, but there has already been a good bit of turnover there.
(Hat tip to commenter Larry)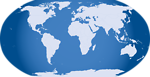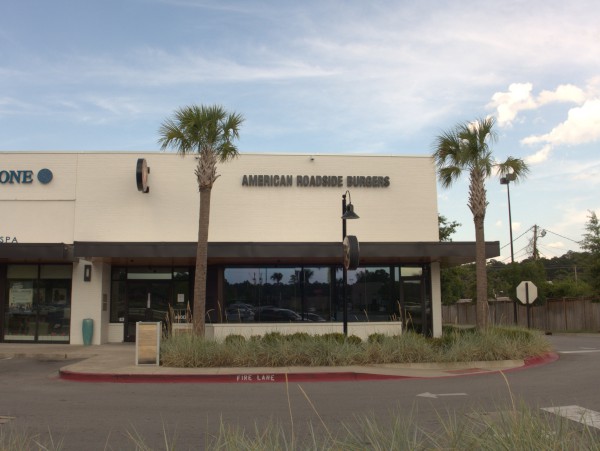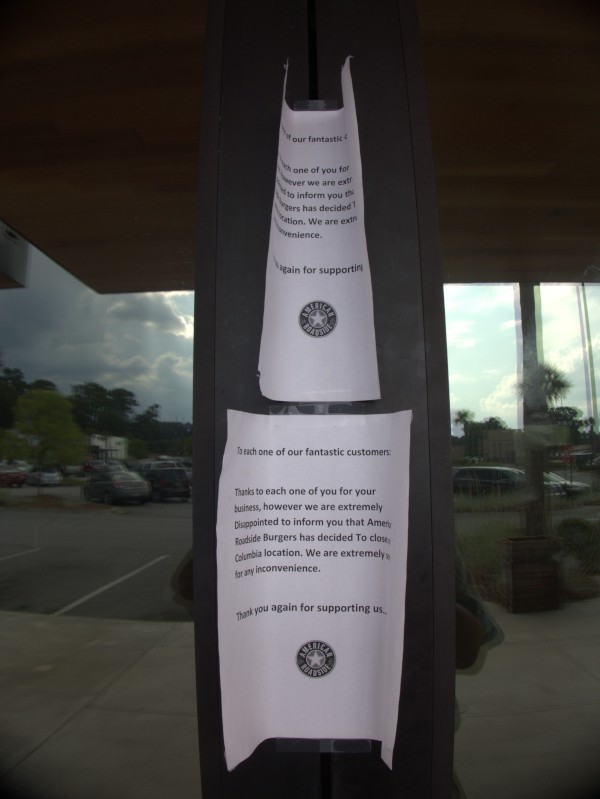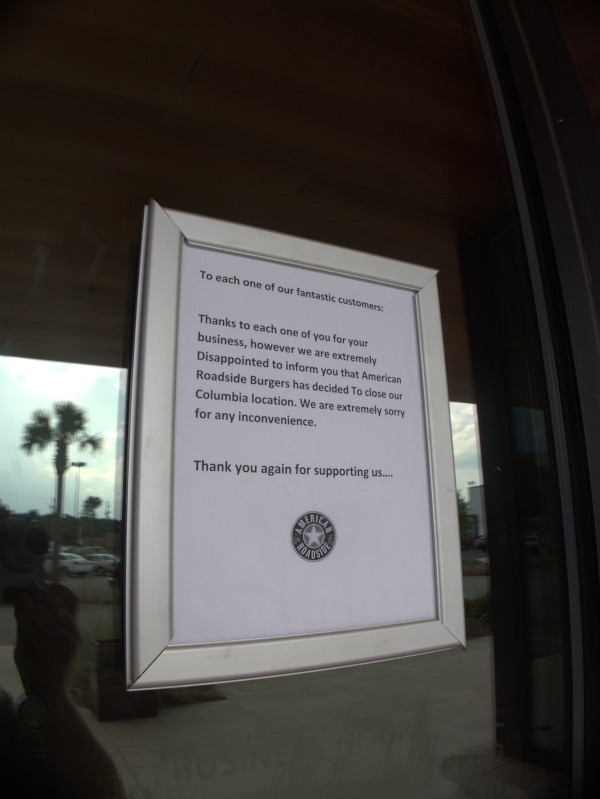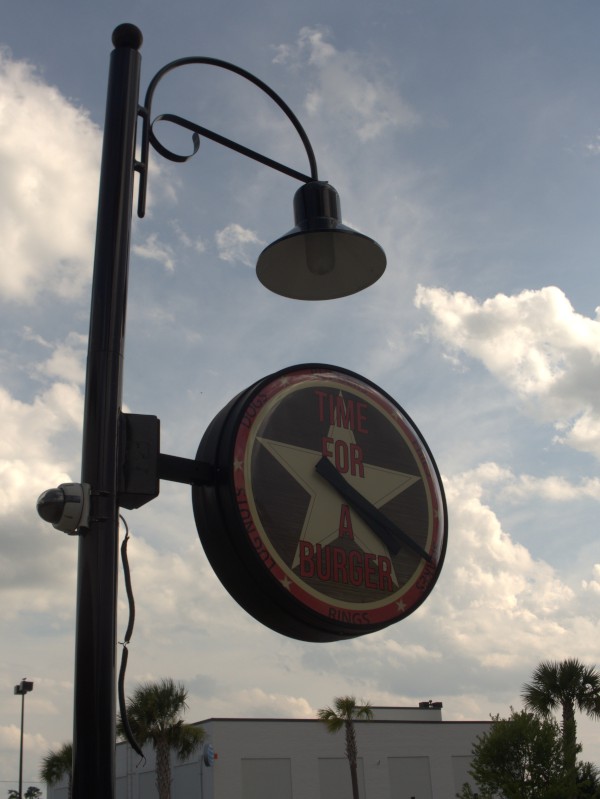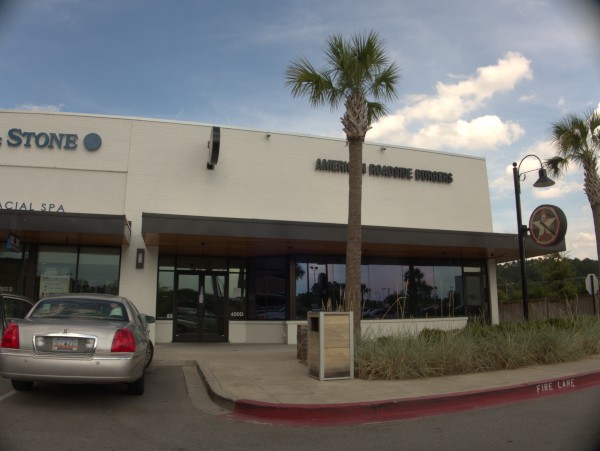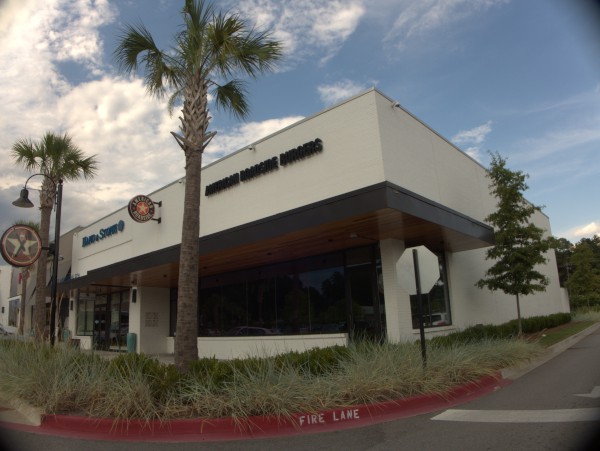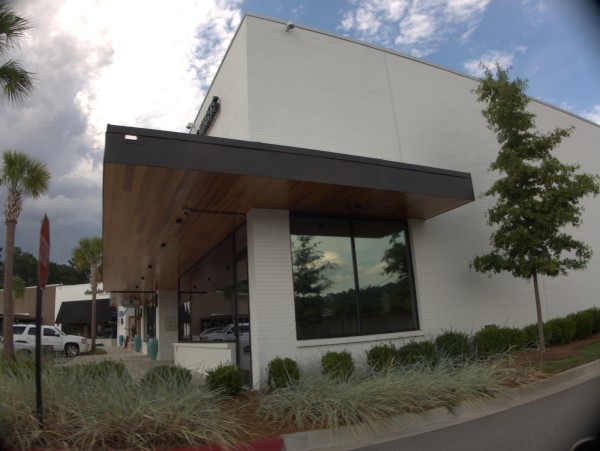 As you know, I don't wish failure on anyone, and certainly the crew at this Cross Hill Market burger joint seemed nice enough and I'm sorry for their jobs, but to be frank, I couldn't figure out how they lasted as long as they did.
I ate here twice, probably about a year apart, the last time in April or May of this year. When I had decided to go, I picked the place because it was a very nice Spring day, and I knew they had patio seating. In the event, by the time I got there, the sky had clouded over, and the temperature had dropped too much for outside seating to be comfortable.
Taking myself inside, I remembered why I had not been back after my first time. The interior was sort of dark and cave-like, not cheery at all, and everything seemed kind of industrial and not homey. In addition, the burgers were quite pricey and I felt like I was paying Red Robin type table service prices for counter service. And while there was certainly nothing wrong with the burgers, I would not count them in the running for Columbia's best. Also, given the location, I wondered after both times why I hadn't just gone to Smash Burger across the street, something I'm guessing a lot of people did.
(Hat tip to commenter Elizabeth)
UPDATE 30 January 2016 -- As commenter MrBO notes, Midwood Smokehouse is now open in this spot: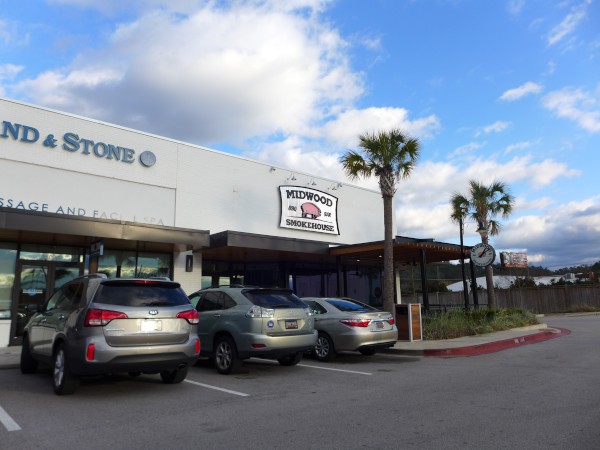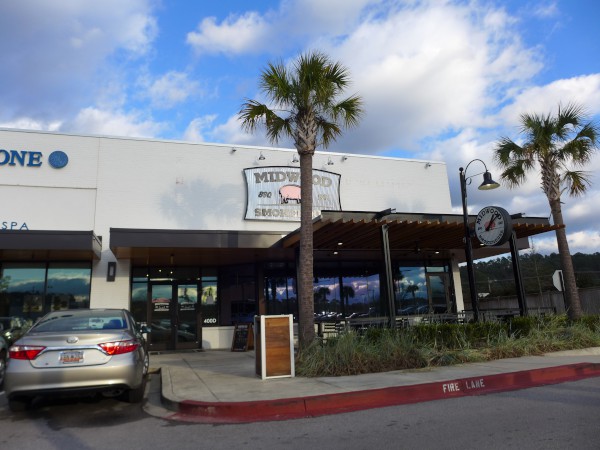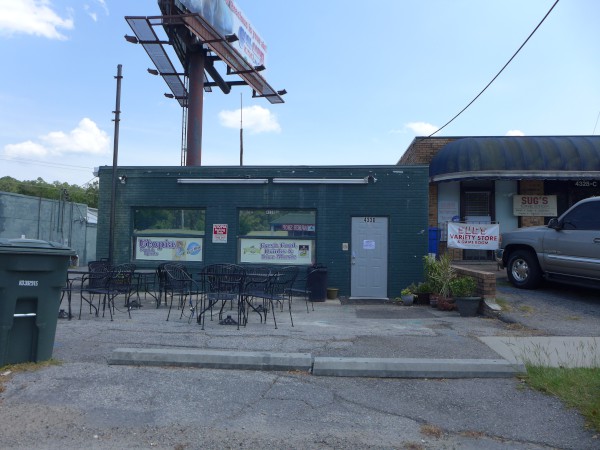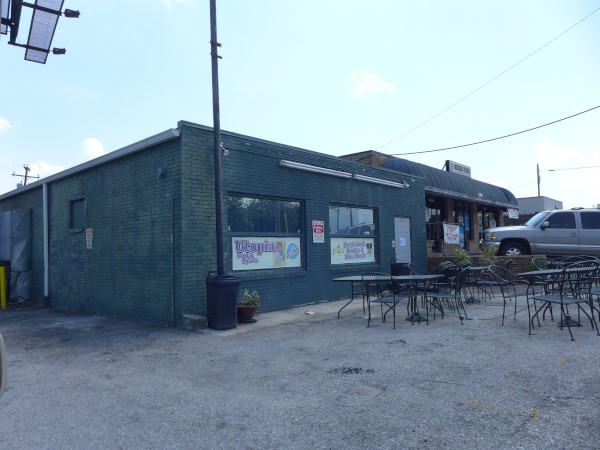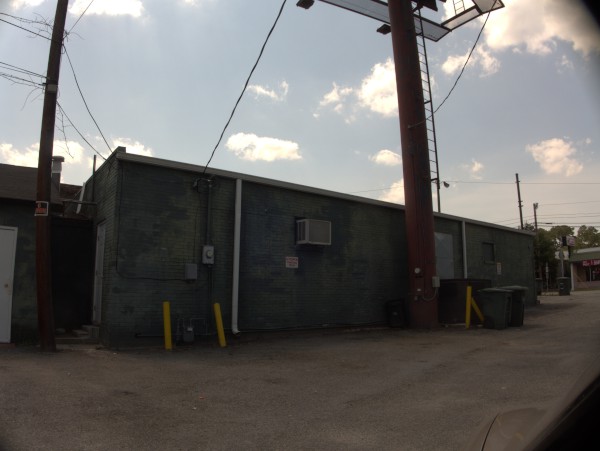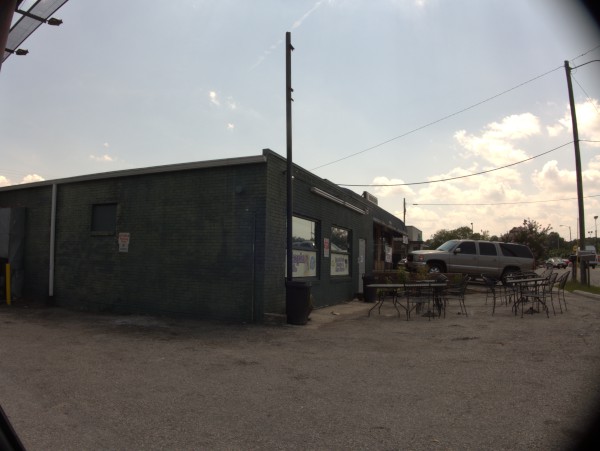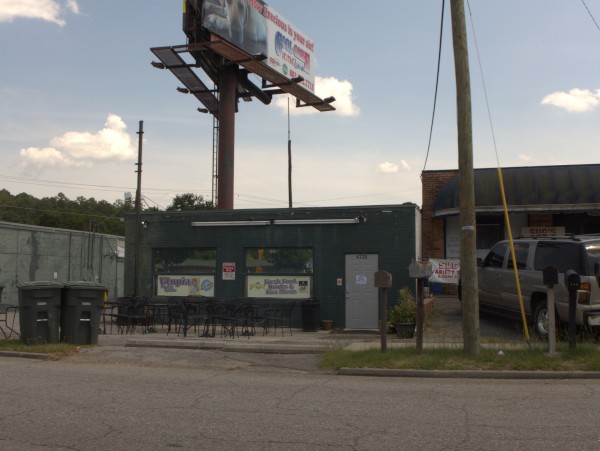 There's already been a good bit of discussion on this in Have Your Say but Utopia Food & Spirits, a local music venue and restaurant across from Cross Hill Market, has closed after suffering extensive electrical damage on 20 June.
Although I posted about their move from Rosewood to this location, I'm afraid the place was not really on my radar, but they seem to have been doing good work providing a showcase for local bands. Unfortunately repairing all the damage was just too expensive given the current economy.
The Free Times has the story here.
(Hat tip to commenter Justin)
Posted at 12:46 am in Uncategorized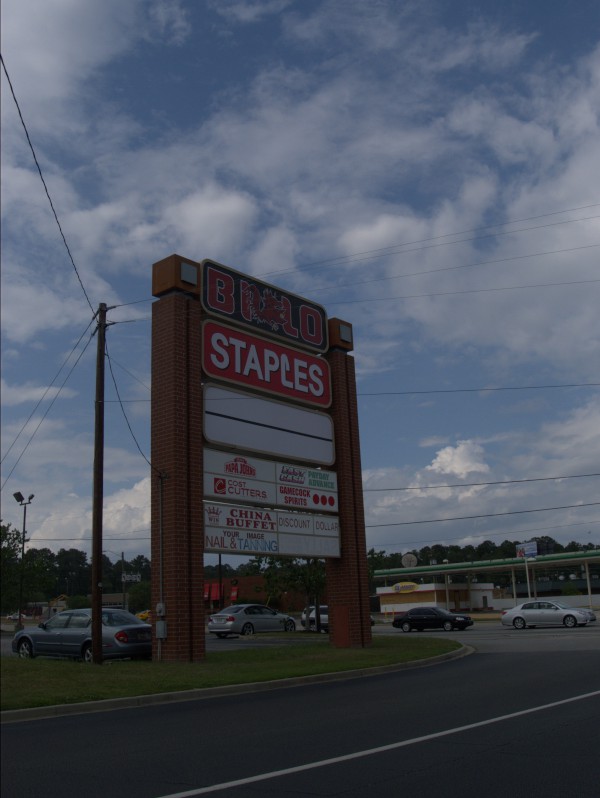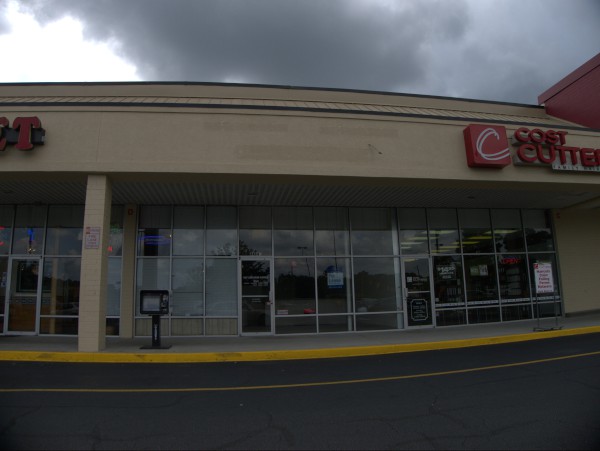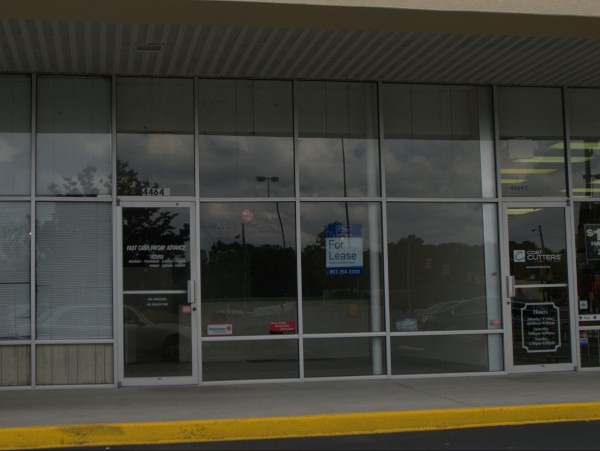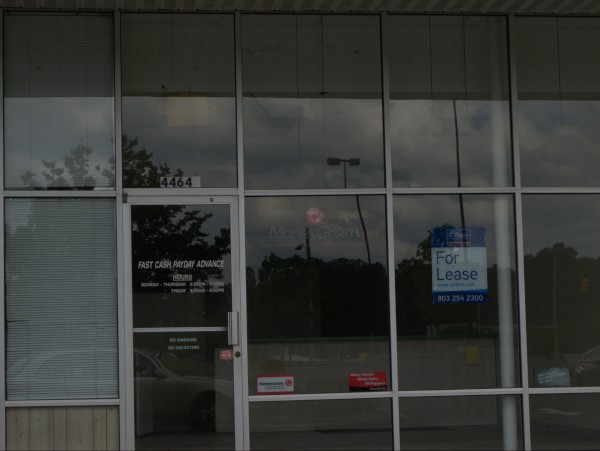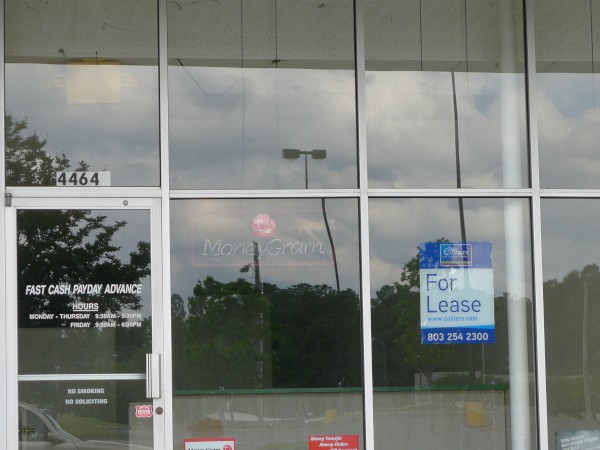 Here's yet another Payday loan storefront that is no longer with us. This one is in the Bi-Lo/Staples plaza at the confluence of Devine, Cross Hill and Fort Jackson Boulevard. (Curiously, this strip mall does not seem to have a name, or at least not one on its marquee.)
Not that this closing leaves the place without a loan operation -- this is where Capitol Loan Office moved to from Main Street. And also note that if you lease this space, you apparently get a free MoneyGram neon sign, which is kind of nifty.
Posted at 2:07 am in Uncategorized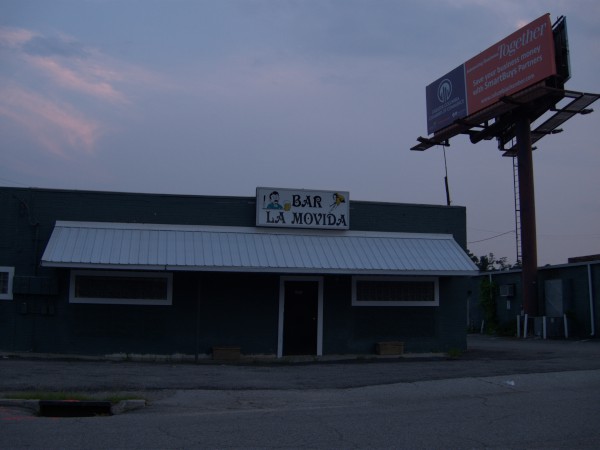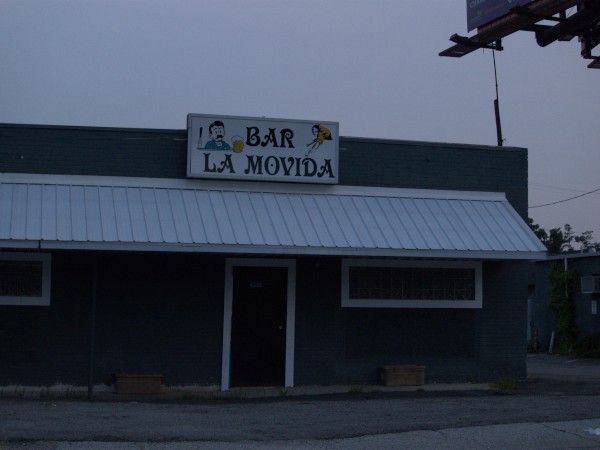 This little, much bar-ed, building is on Fort Jackson Boulevard, at Crowson Road, near the former Check World, and Jesudi's and across the street from La Brasca.
As far as I can tell, El As De Oros means "The Golden Ace", and Bar La Movida means something like "Party Bar" or "Groovy Spot Bar".
El As De Oros applied for their liquor license in 2004, which puts a timeframe on that operation. I am unsure of the status of Bar La Movida. When I took these shots, I was sure it was closed, but they applied for a liquor license in April of this year (2011), so it's possible I just never drive by late enough to see anyone there. The only data point I have on Bullwinkle's is that it was listed in the February 1997 phonebook and I don't know anything about RB's at all.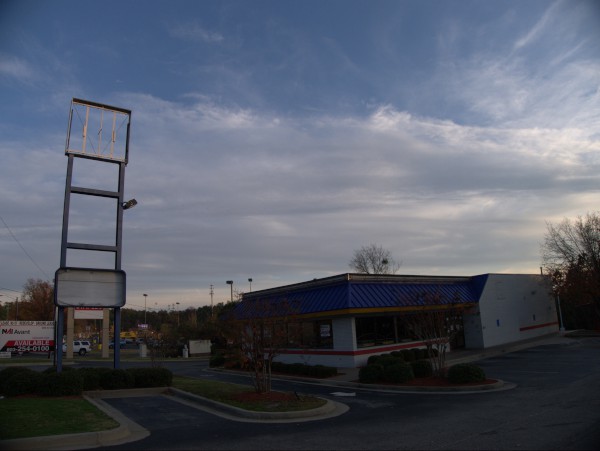 This has already been discussed a good bit on Have Your Say, but:
Hold the pickles, hold the lettuce.. Looks like another Columbia Burger King has closed shop. This one was on Devine Street, just before it intersects in a triangle with Fort Jackson Boulevard and Cross Hill Road. It's certainly a less tony section than the bulk of Devine, and a number of businesses have come and gone in the general area over the years. It is, however, also just across from where the upscale Whole Foods will be going into the former Family Mart / Kroger, so it will be interesting to see what eventually ends up here. Or, it could just be those poor registers saying "Cannot Locate Fileserver" for years..
(Hat tip to commenter Frank)
Posted at 1:14 am in Uncategorized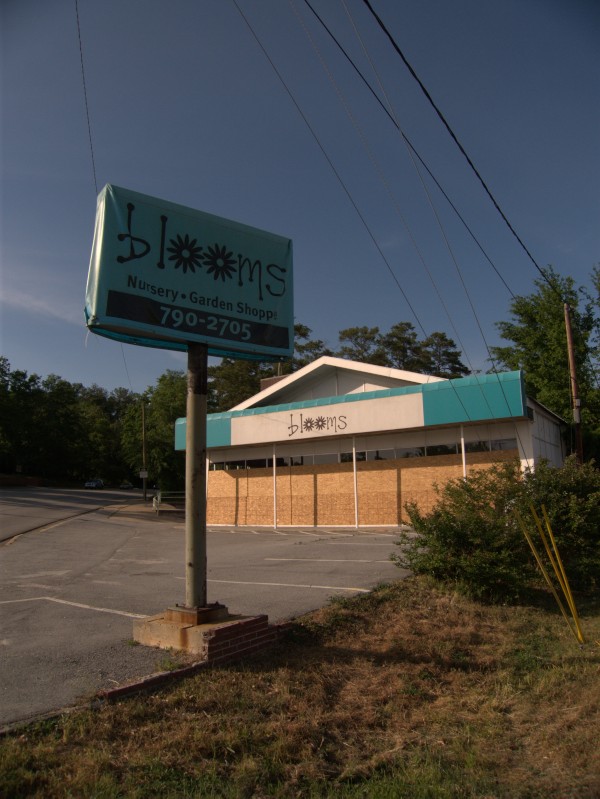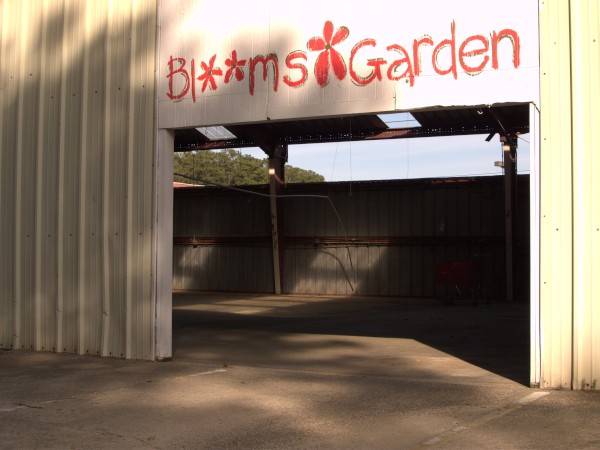 This much retailed (and once churched) spot on Cross Hill Road next to the former Kroger Sav-On has never seemed to catch fire for any of its many tenants, most of which I have only a vague recollection of. Aside from all those listed above on the post title, I'm pretty sure it was a menswear shop also at one point, and I either got or thought about getting a suit there. (Something I hate like posion).
This PDF at the City of Columbia website suggests that the city was thinking about buying the building back in the 2006 timeframe and wondering what the absestos and lead paint implications would be, but apparently nothing came of that. The document describes the building as being "used as a former antiques store" -- that's certainly an odd turn-of-phrase, but implies that the building was vacant at that point, with Fletcher's having been the most recent tenant.
Cross Hill Road is an odd little stretch whose name I never could remember. For years growing up, I thought that Beltline Boulevard ran all the way to Garners Ferry Road instead of turning off towards Rosewood. I can only think that at some point a lot of road work must have been done to make the setup so illogical. (Of course it didn't help either that until last year, I thought that Garners Ferry started where Cross Hill runs into Devine Street and Fort Jackson Boulevard -- I never realized that Devine Street runs all the way to Wildcat).
At any rate, whatever you call it, this lot, along with the Kroger lot, is now Interstate feeder property (which neither was in the beginning), and I expect that eventually a hotel or national chain restaurants will take the real estate.
Posted at 1:45 am in Uncategorized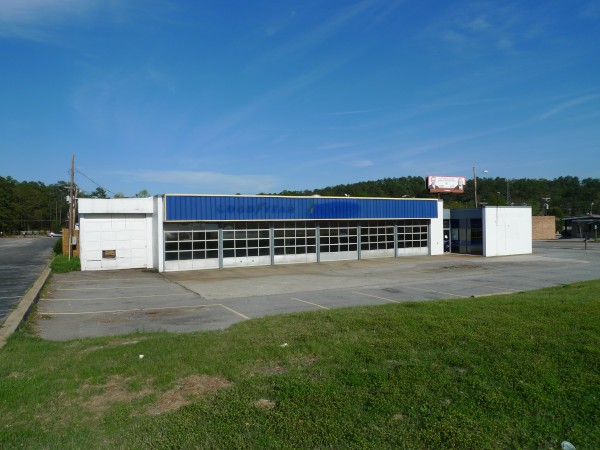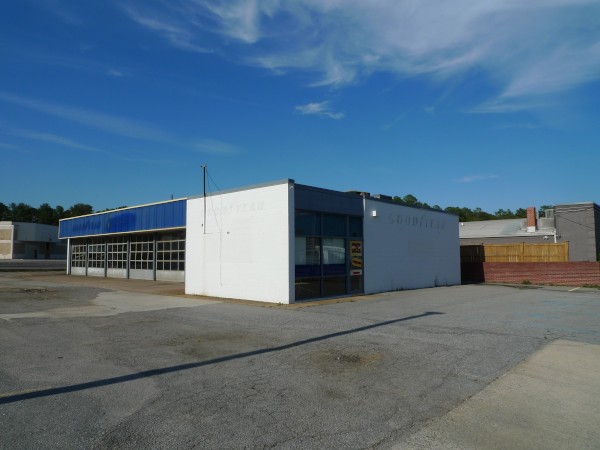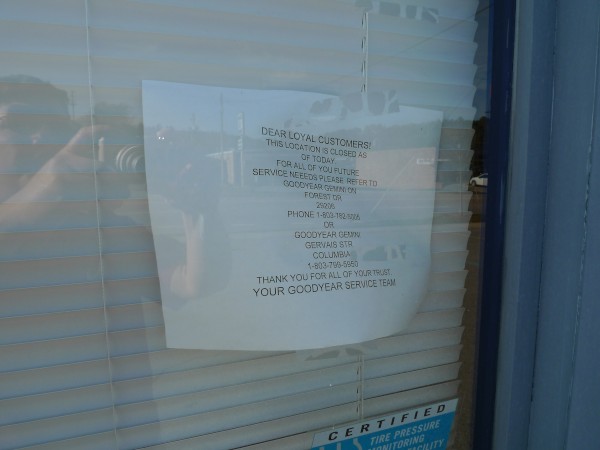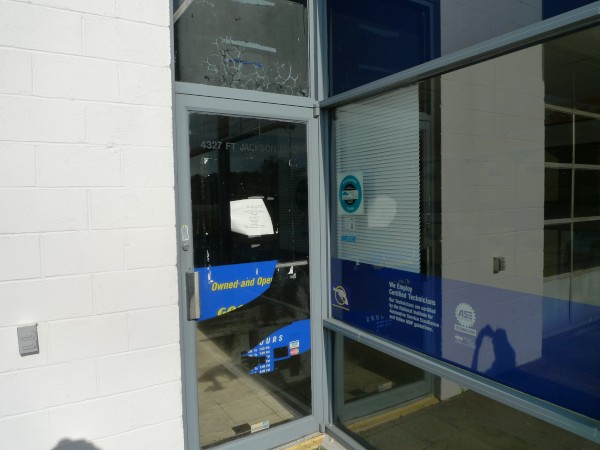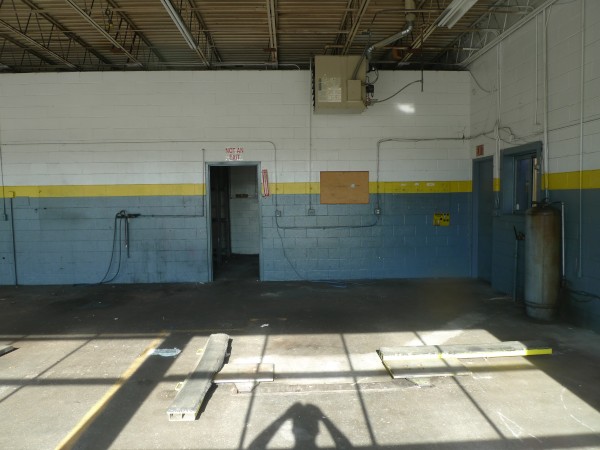 I drove up in the parking lot of the Kroger on Fort Jackons Boulevard because I had noticed some activity there and wanted to see what was going on. In the event I'm still not sure about that, though it appears to be water utility work, but while I was there, I noticed that this Goodyear car repair place on the Kroger outparcel was gone.
There's no date on the note they left on the door, but I believe it's fairly recent. I've used the one on Forest Drive, and they seem pretty decent, so I'm not sure what the issue here was. From this real estate report it appears that the property was built in 1974. I guess that would be not long after the Starlite Drive In there went out of business -- I know it was still there in 1973.
UPDATE 5 April 2009: I see in a comment about the Garners Ferry Kroger that I had forgotten that this place closed in April of 2008 -- I've updated the post title to reflect that.
UPDATE 29 February 2012 -- As mentioned by commenter Andrew below, this building has now been razed: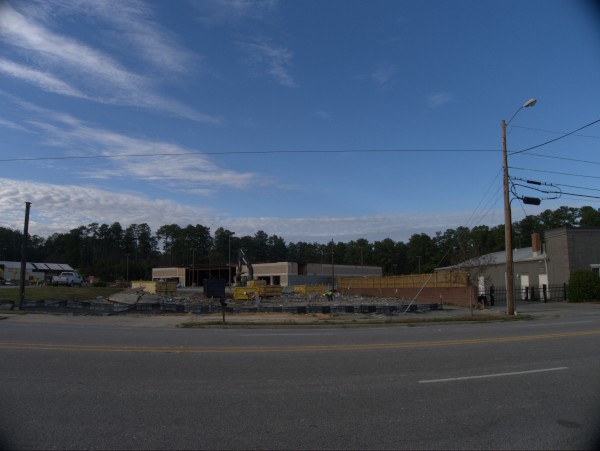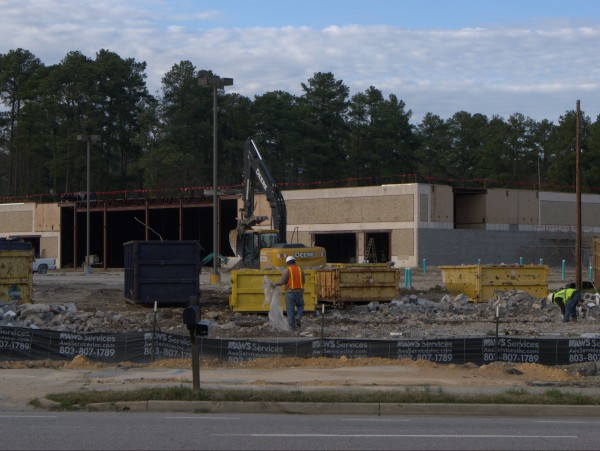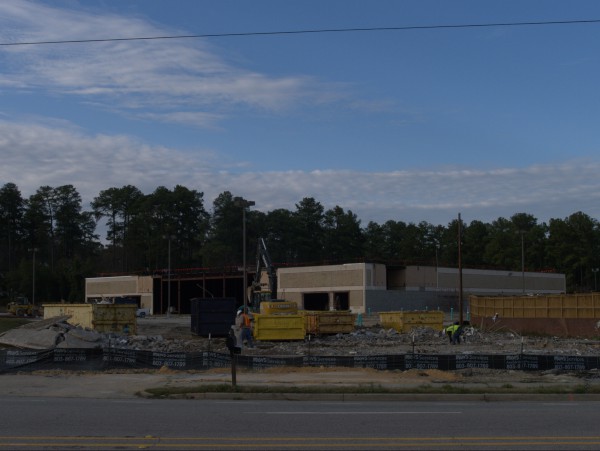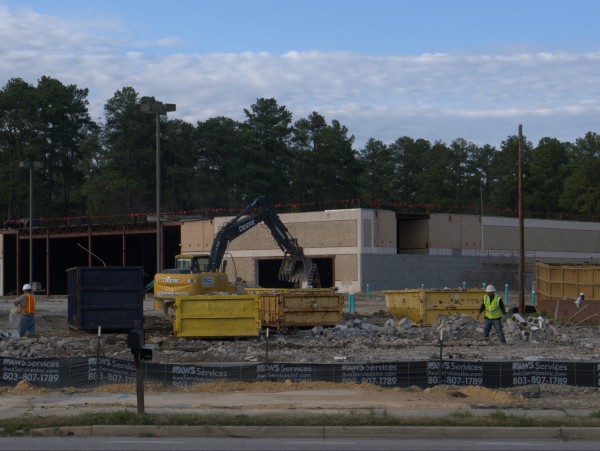 Posted at 12:07 am in Uncategorized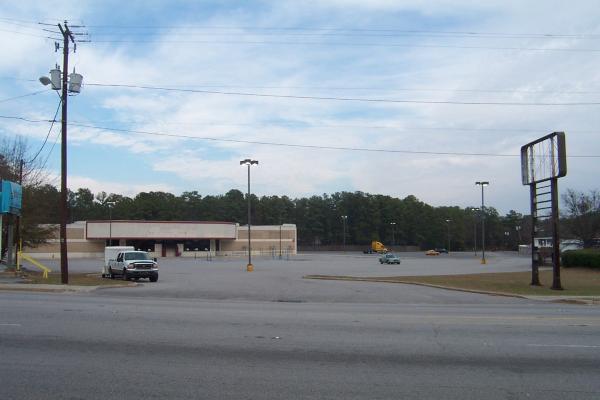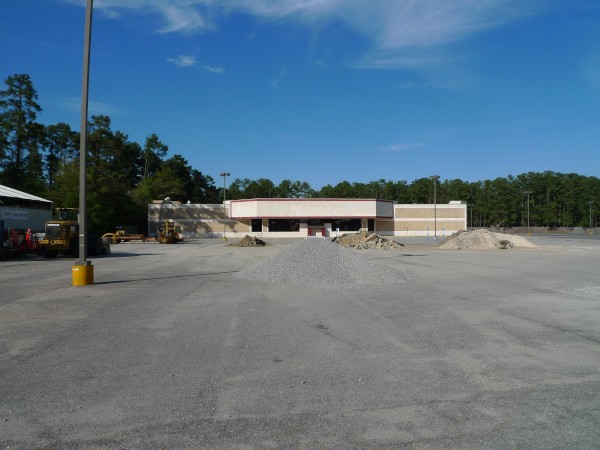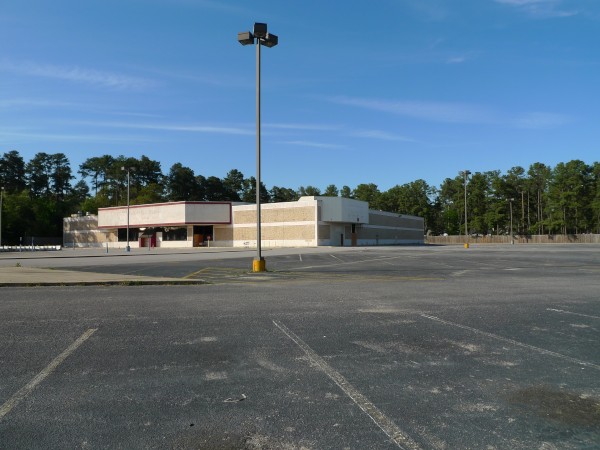 I don't know exactly when this Kroger closed, sometime in November is my best estimate. I was just driving by one day, and noticed that it was gone. It had been looking pretty thread-bare the last few times I was in it.
The closing of this location leaves only one of the inital wave of Kroger's entry into the Columbia market still open: the location at the corner of Forest Drive & Beltline Blvd. I remember when Kroger first came to town, it was the store. I was in high-school at the time, and the Decker Blvd location was convient to me when I first started to drive. My recollection is that Kroger was definitely a cut above anything else in town at the time. All of the stores had full bakeries, and a cheese section with more than the standard block chedder I grew up on. They also had small housewares (the second microwave I ever bought came from Kroger) and if they weren't open all night at the time (I can't quite recall) they were certainly open later than most Columbia grocers.
The initial wave was Decker Mall, Bush River Mall, Forest Drive, Fort Jackson Blvd, and US-1 just past Triangle City. I think the Bush River Mall location was the first to go, as that mall never really established itself. The next was the Decker location, a harbinger of the general decline of the Decker corridor. This was followed by US-1 and now by Fort Jackson Blvd.
Part of this wave of closings, aside from the poor location on Bush River was due, in my opinion to the changes in the grocery market. When Kroger came to town, it was up-market, but the next wave of store openings by its competitors trumped that by being even more up-market and Kroger found itself with suddenly dated looking properties that weren't as nice inside as newer competitors. They seem to have elected to compete by building new stores rather than refurbishing older ones, and the store on Two Notch Rd near Spring Valley High is built to their new standards. It will be interesting to see how long the old store on Forest Drive can survive. The new Piggly Wiggly by Cardinal Newman beats it for up-market, and the one-two punch of Publix and Fresh Market at Trenholm Plaza delivers everything other than 24-hour shopping.
UPDATE 5 April 2009
Here is commentor Melanie (looking cute as a button!) with a clown at the grand opening celebration of this store back in the day: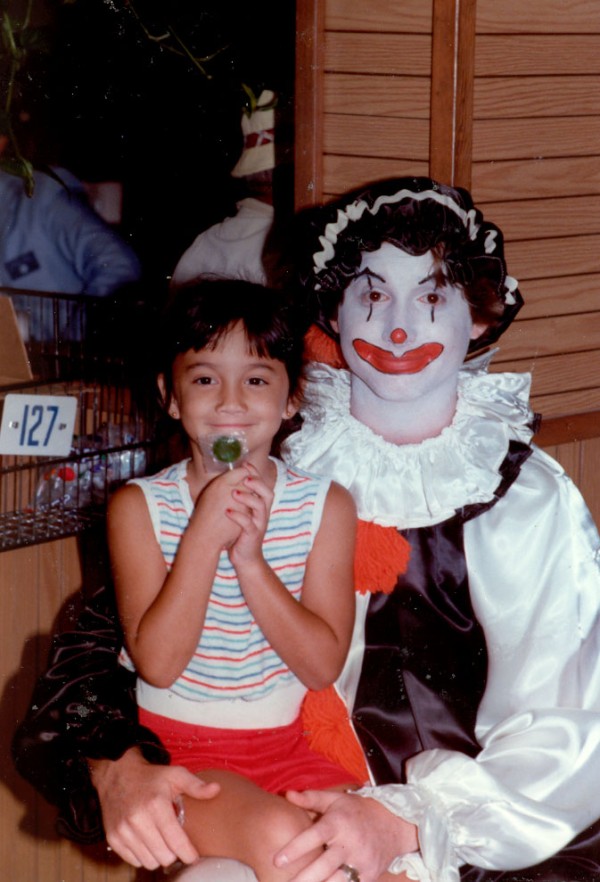 Thanks Melanie!
UPDATE 26 April 2010: Added full street address to post title.
UPDATE 30 April 2010: Added some more pictures (utility work was ongoing in the parking lot at the time these were taken).
UPDATE 6 February 2012 -- Well, it appears that work on the Whole Foods uplift has begun: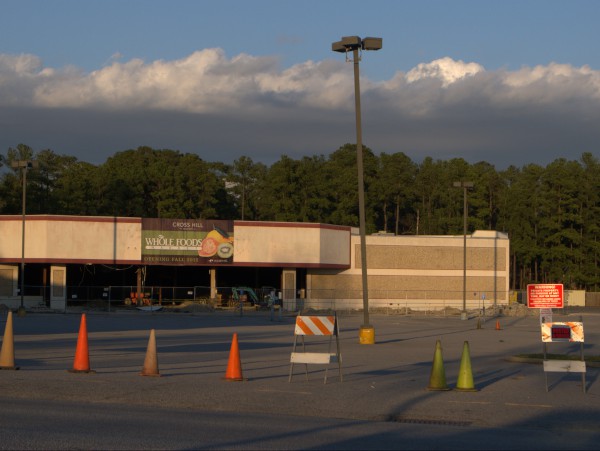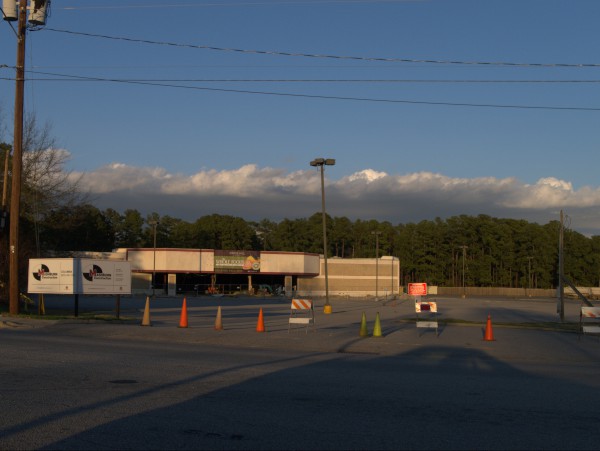 (Also, I have finally got around to adding Family Mart to the post title).
UPDATE 10 May 2012 -- Construction continues in these pictures from 6 March 2012: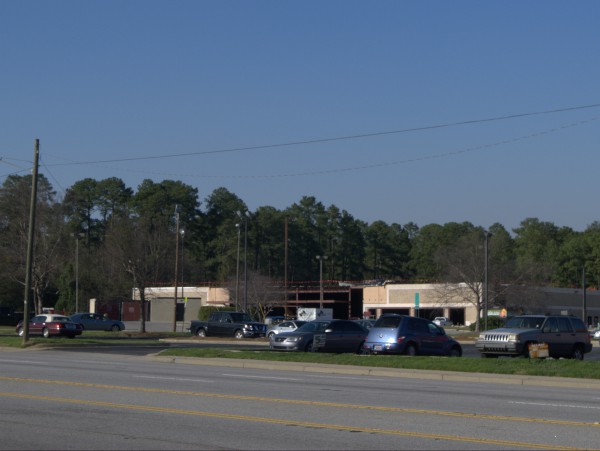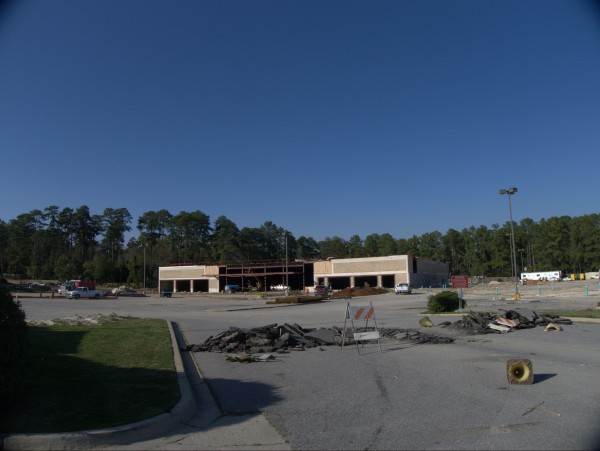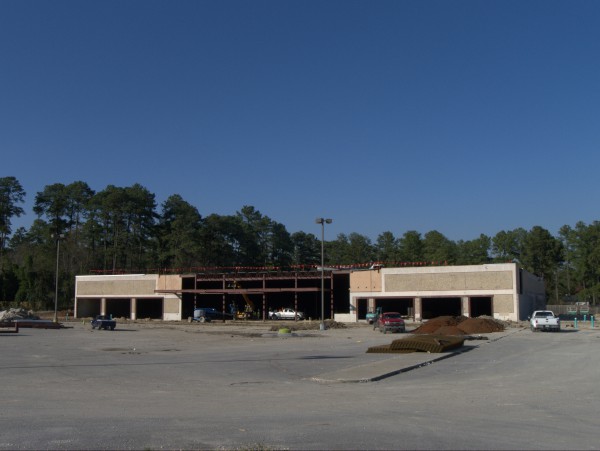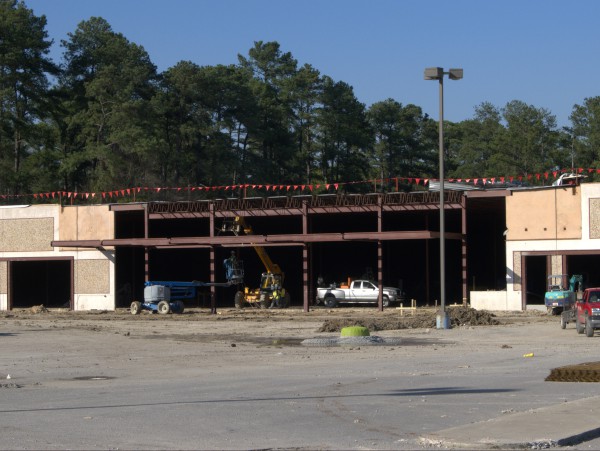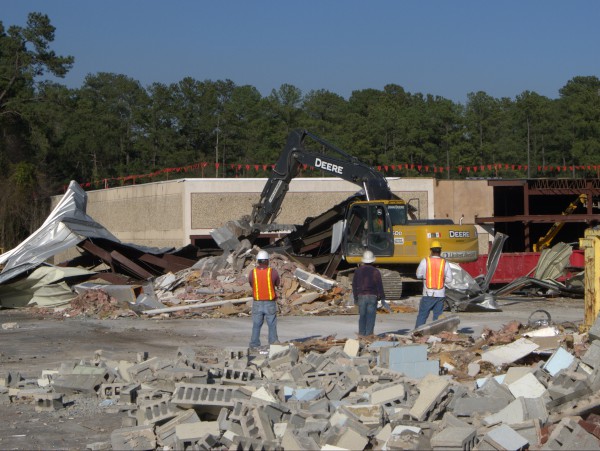 The rubble in the final picture above is from the demolition of the old Lucas Machinery building.
Photosets: