Posted at 5:01 pm in Uncategorized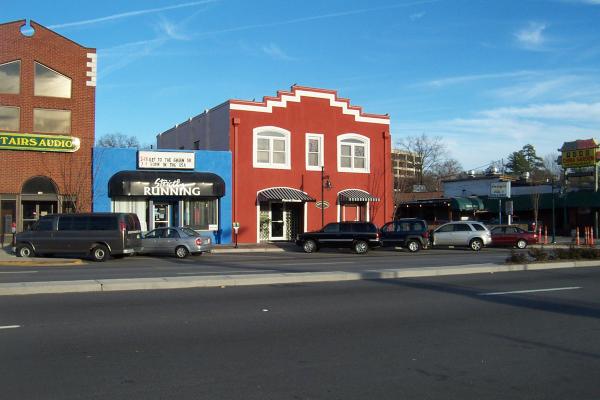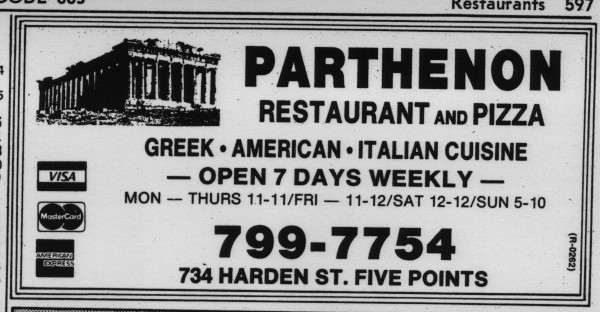 What can I say about The Parthenon? The ambience wasn't anything special, most of the tables were wobbly, and some of the booths were 'tilters'. That, and they had the best pizza in Columbia.
I used to take my father there every Saturday night while he could still get out, and we'd share a medium with pepperoni, onions, bell-pepper and mushrooms. Even after I couldn't take him any more, the permanent staff would ask about him. After the the interminable Five Points street work reached The Parthenon's door, I knew things were iffy. Having to park a fair distance from the entrance was not good for the regular crowd as walking Five Points at night is liable to get you panhandled. The time I walked in and found myself the only customer was a real warning bell, and they announced that they were closing shortly after that. I remain flabbergasted that the work in Five Points was so poorly planned that this landmark was driven under.
There was some speculation at the time that the Parthenon folks would open another restaurant, but if it ever happened, I haven't heard of it.
UPDATE 16 April 2010 -- First, as you can read in the comments, The Parthenon crew are now at Zorba's Express waaaaaay out on Broad River Road. I finally made it over there, and the pizza was great! Second, I've added the 1985 Southern Bell yellow pages ad above.
27 Responses to 'The Parthenon, 734 Harden Street: 2006'
Subscribe to comments with RSS or TrackBack to 'The Parthenon, 734 Harden Street: 2006'.
Leave a Reply