Archive for the 'asian' tag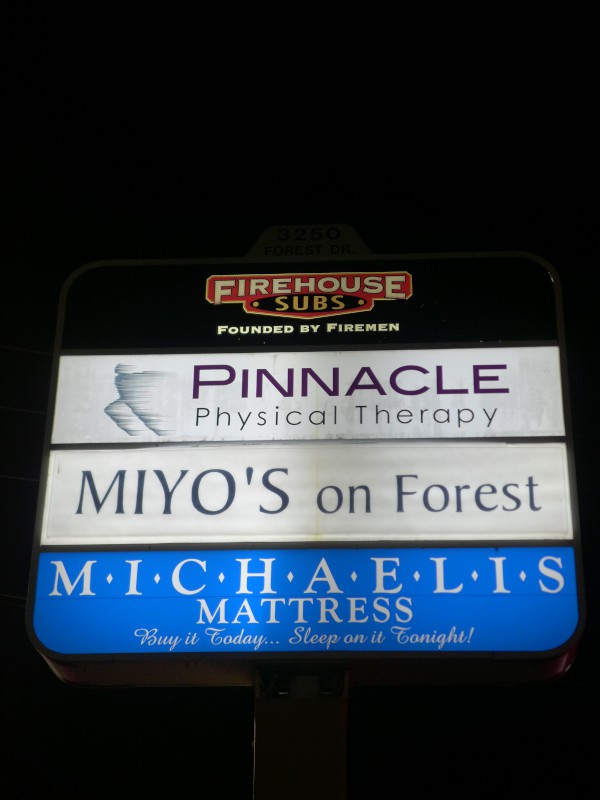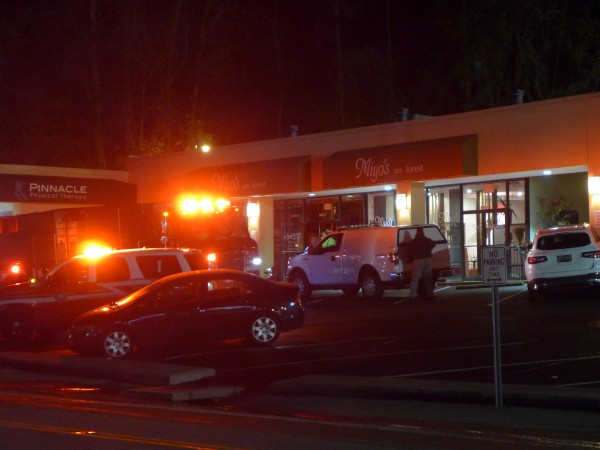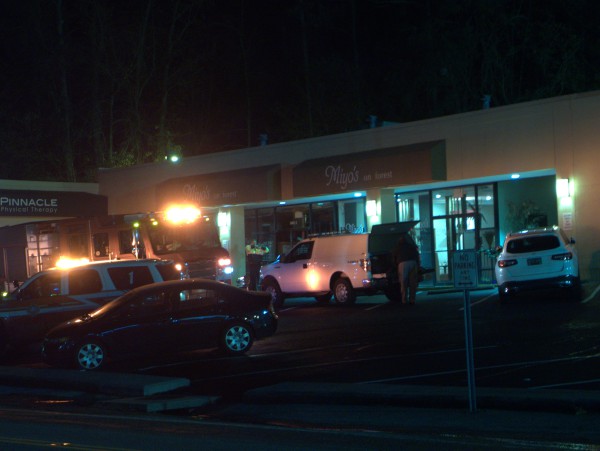 Apparently a grease fire which got way out of hand.
UPDATE 17 February 2018 -- Apparently still in the process of getting the premits straight and getting to work: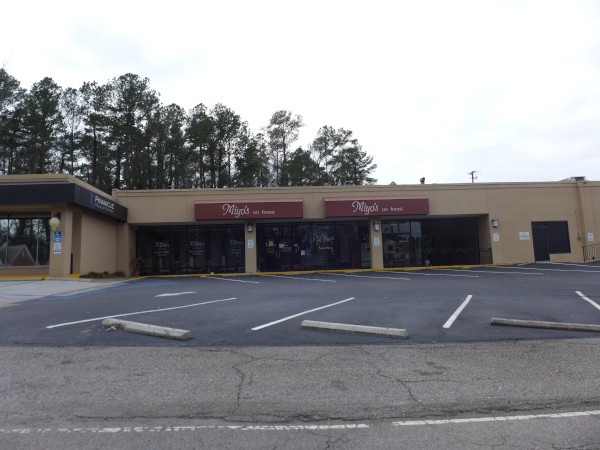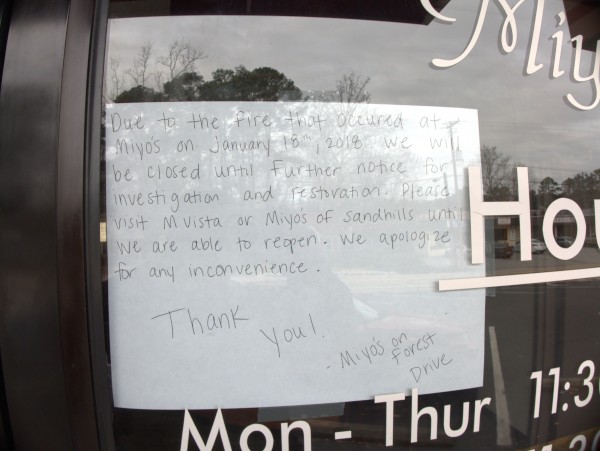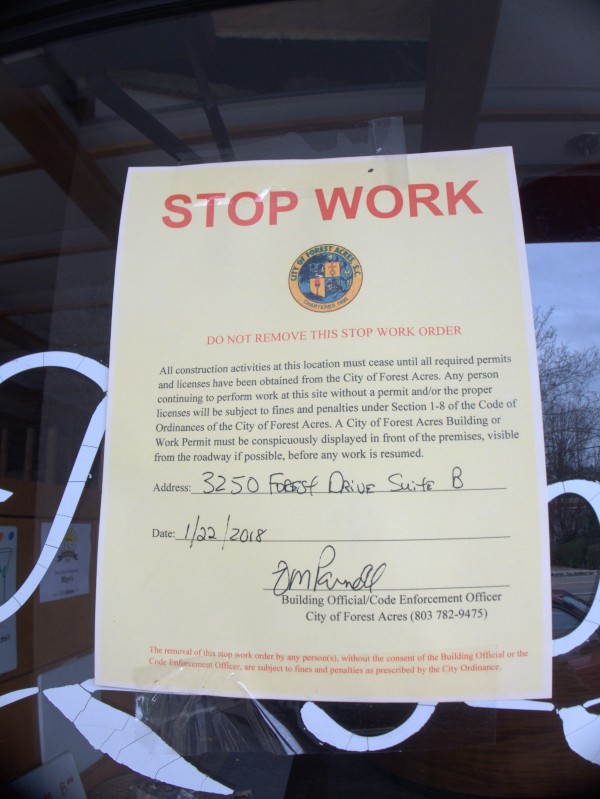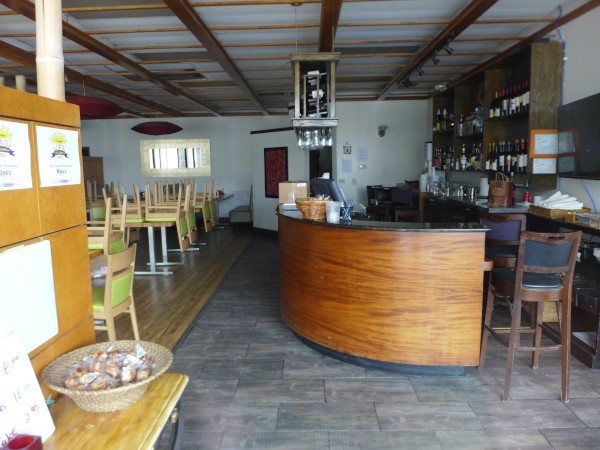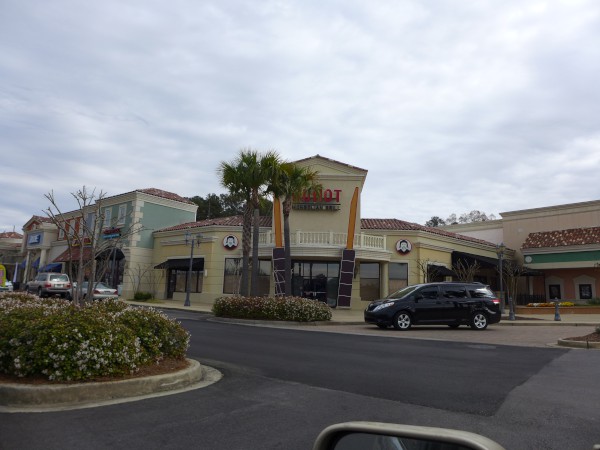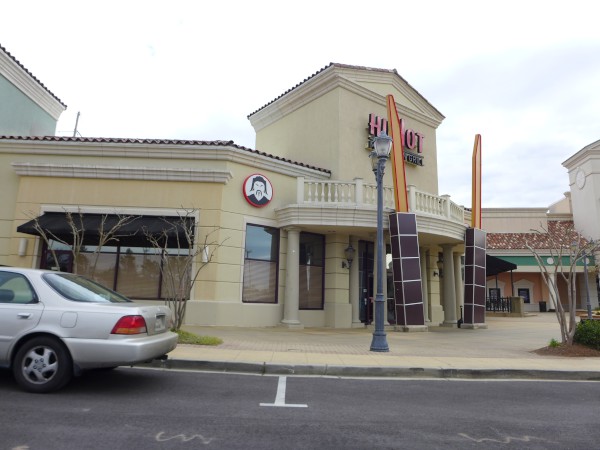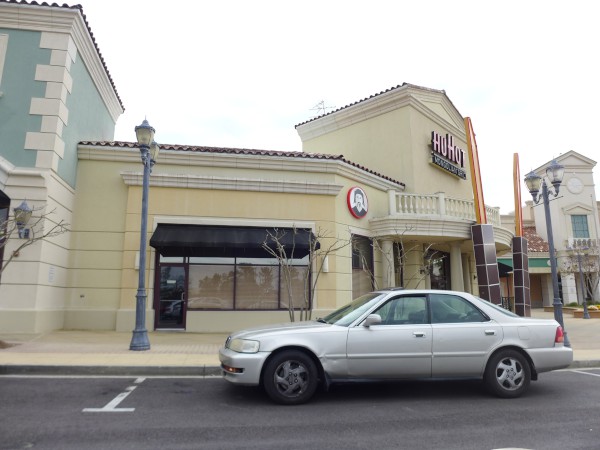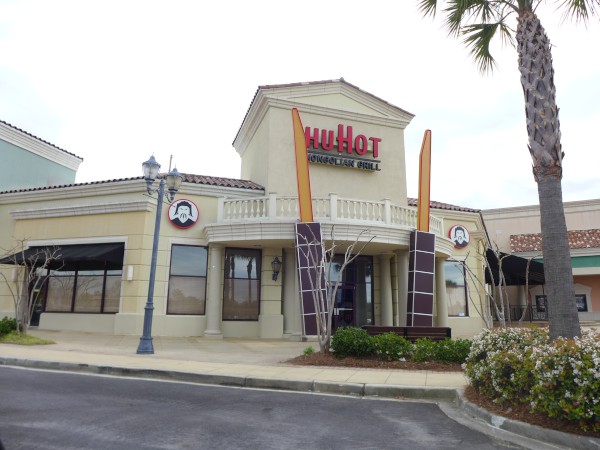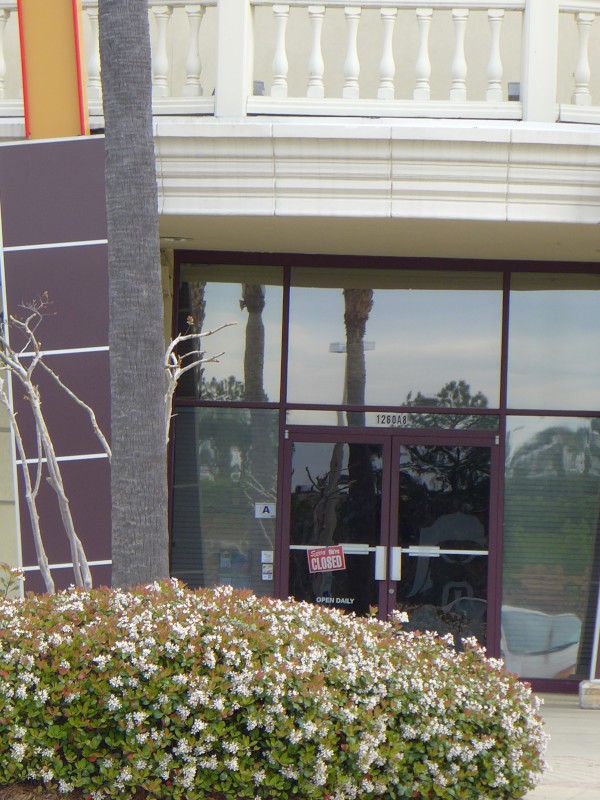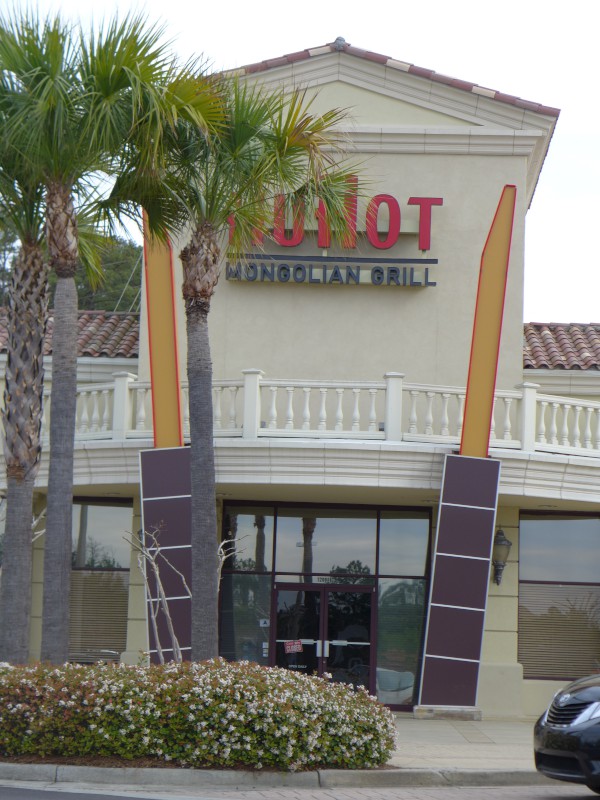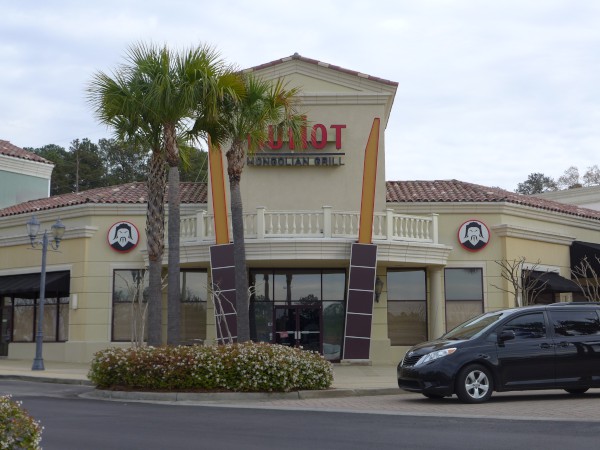 The only Mongolian food item I can ever remember heaing of is Kumis: fermented mare's milk, something I've never had the slightest interesting in trying, and interestinly apparently *not* available at HuHot. Apparently was *was* on the menu is that you picked out a bowl of noodles, vegetables & meats, took it to a central grill where it was cooked in the sauce you selected and you could repeat that for as many times as you liked for one price. I think the closest I've ever come to that was a place in Seoul, except you had your own little grill and could cook your items yourself there.
The Yelp reviews are all over the map. Apparently the folks who liked it really liked it, and those who didn't *really* didn't.
Looking in Alphabetical Closings, I see this is the former site of Za's, Loco Bandito's, CW's Taproom and Naughty Macs.
(Hat tip to commenter Sandra>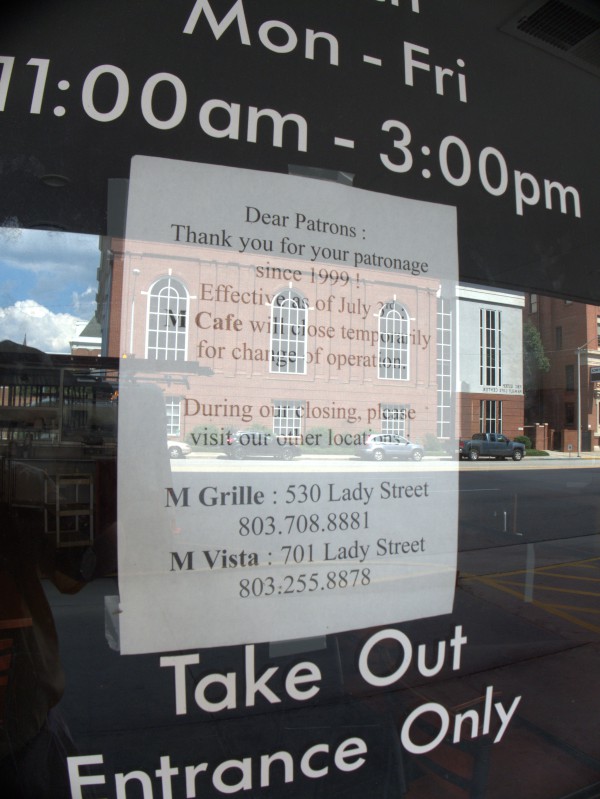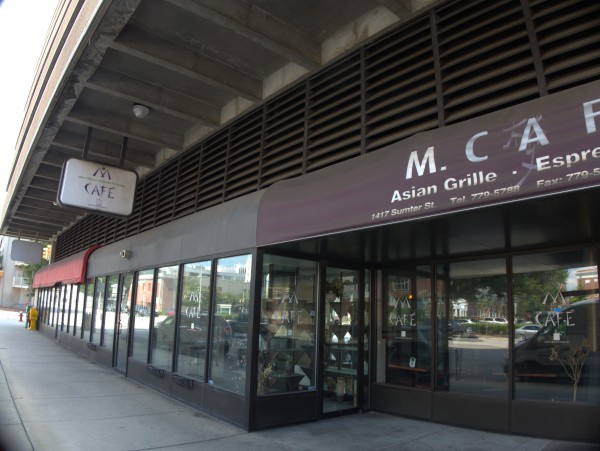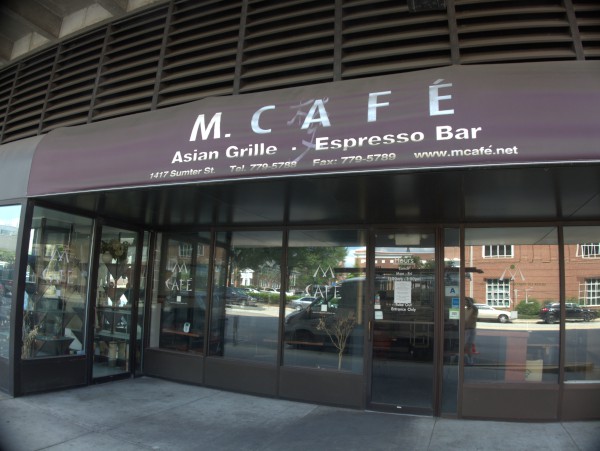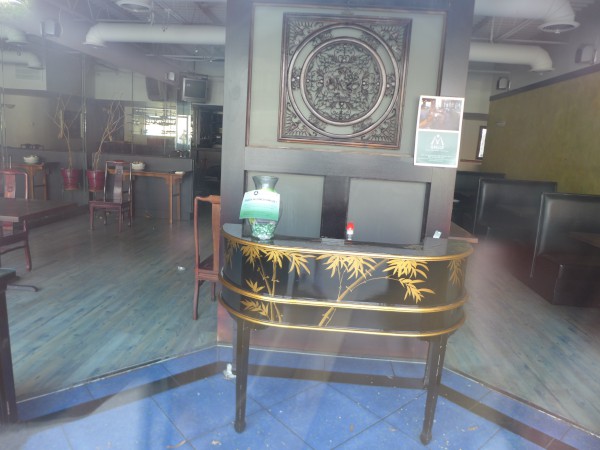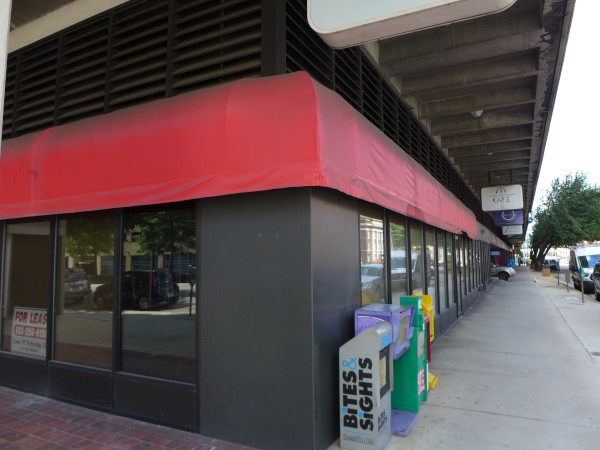 I actually thought I had done this one, but I can't find any trace of it in the alphabetical list. Maybe we just talked about it in the comments somewhere.
At any rate M Cafe on Sumter Street across from the Y has been closed since July of last year. I was a bit surprised that it had been that long, and that all the furnishings and fixtures are still inside what I would think would be a pretty valuable piece of real estate.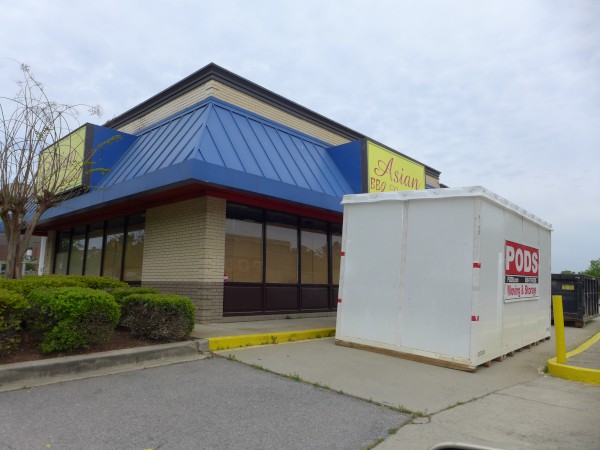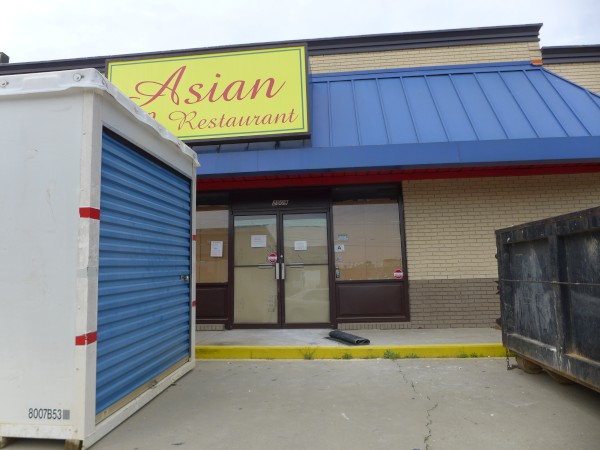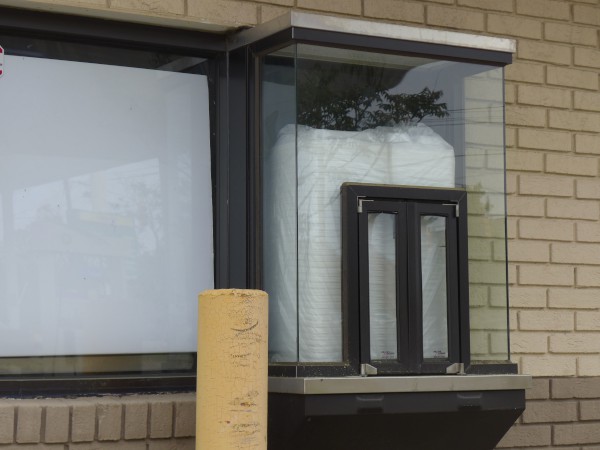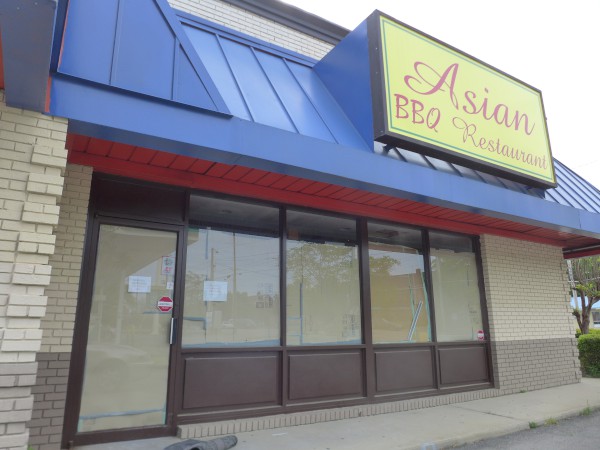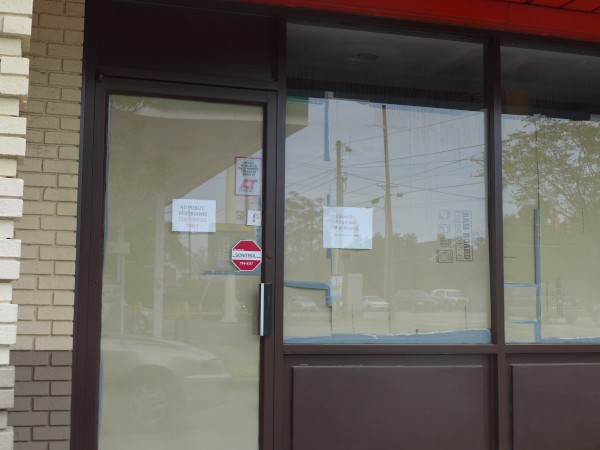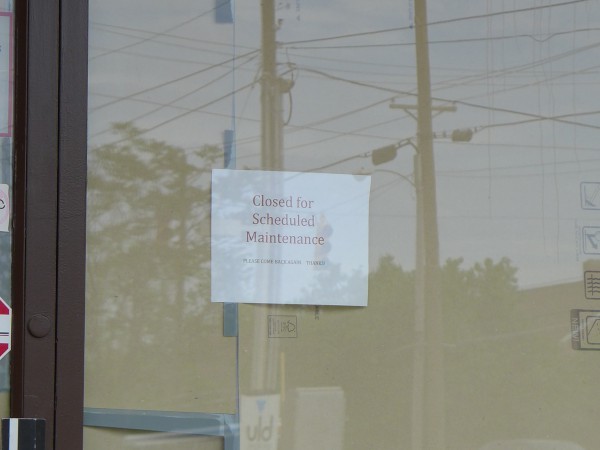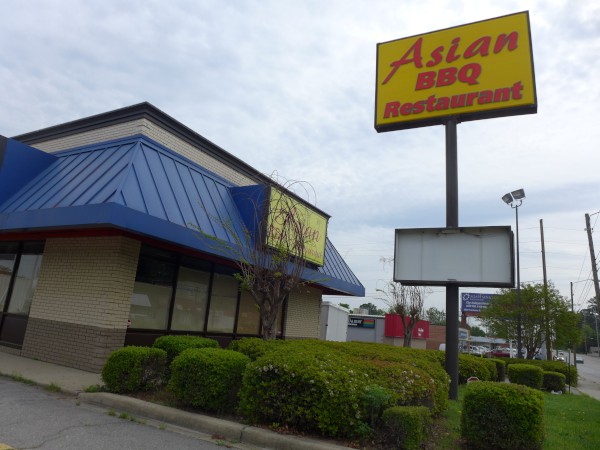 This follow-on operation to Bojangles seems to be undergoing some sort of remodeling, which is a little odd since I think a lot of work was done after Bojangles moved out.
UPDATE 22 June 2016 -- Closed again: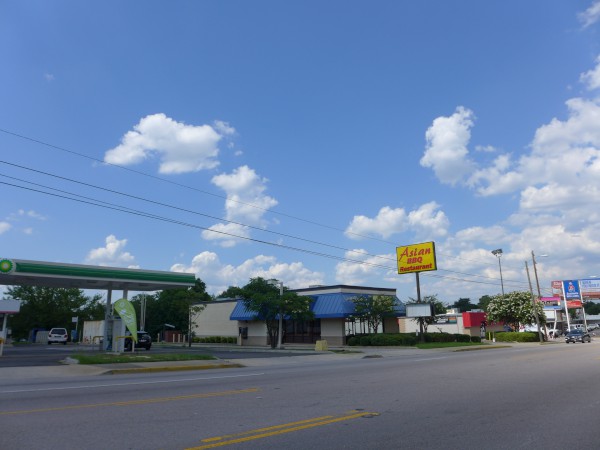 UPDATE 25 September 2016 -- As mentioned in the comments, this is to become a Nick's: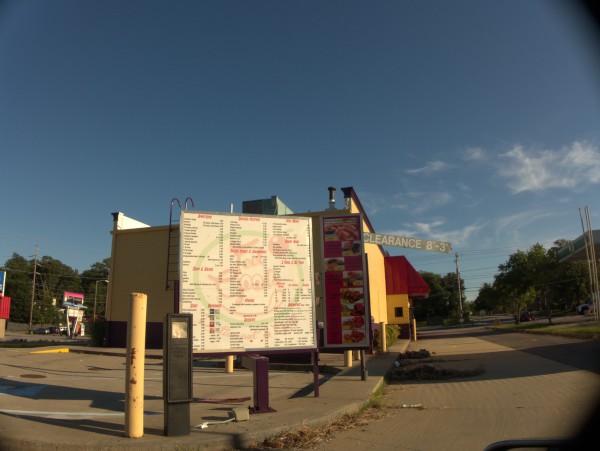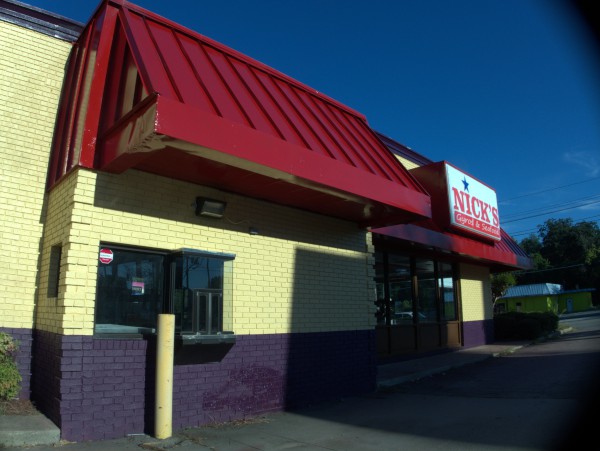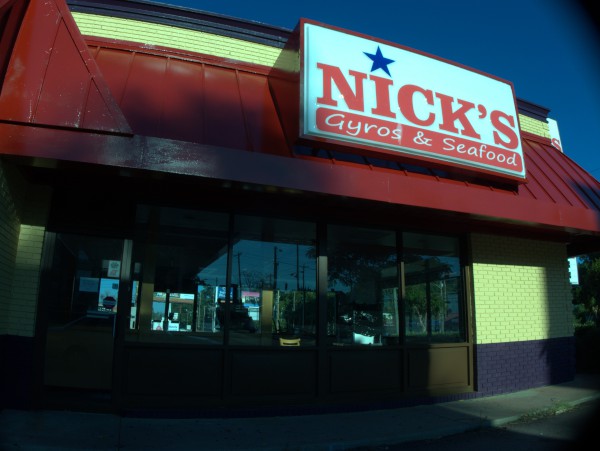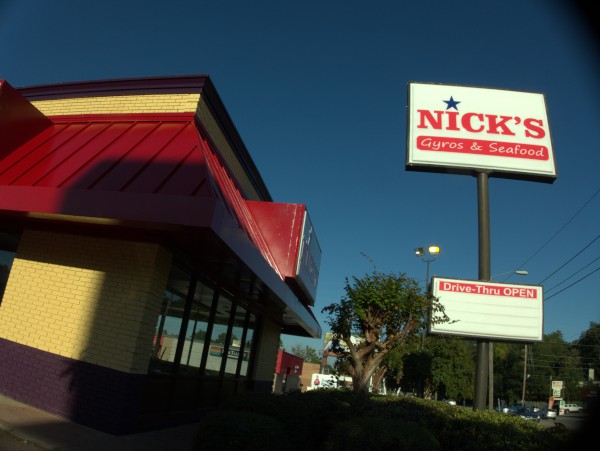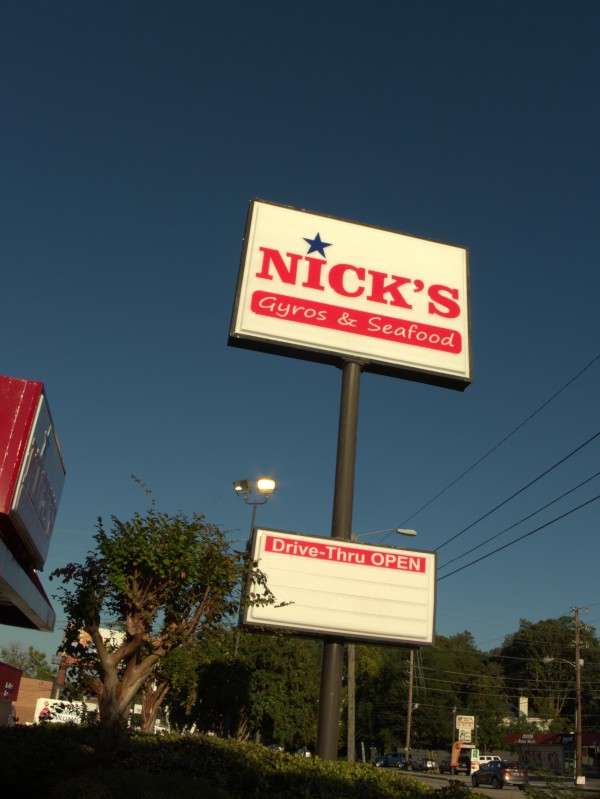 Posted at 1:09 am in Uncategorized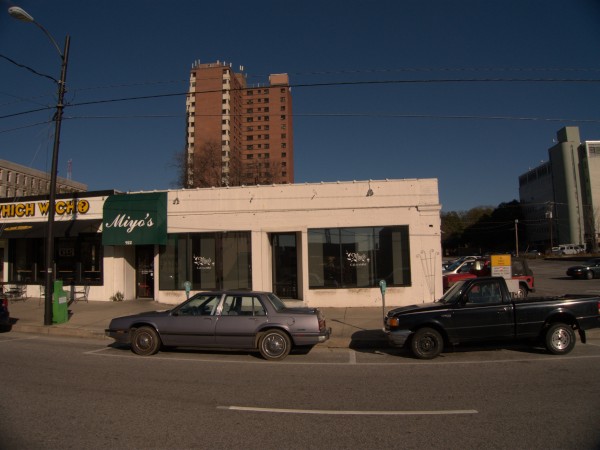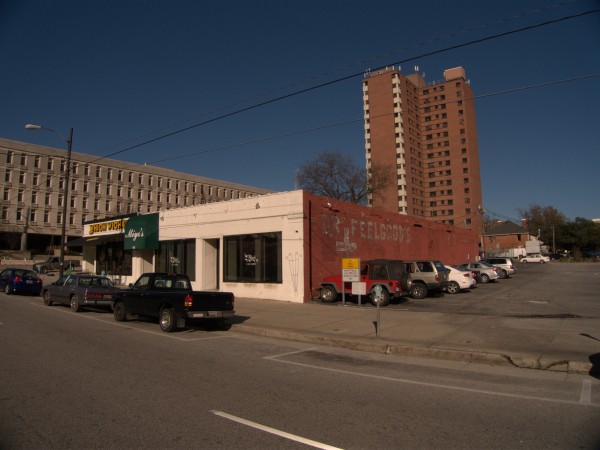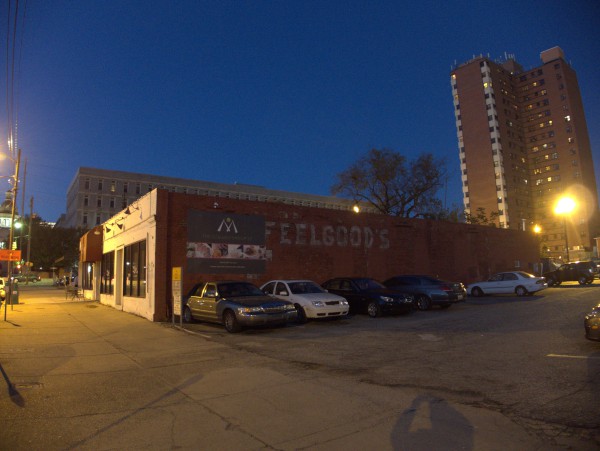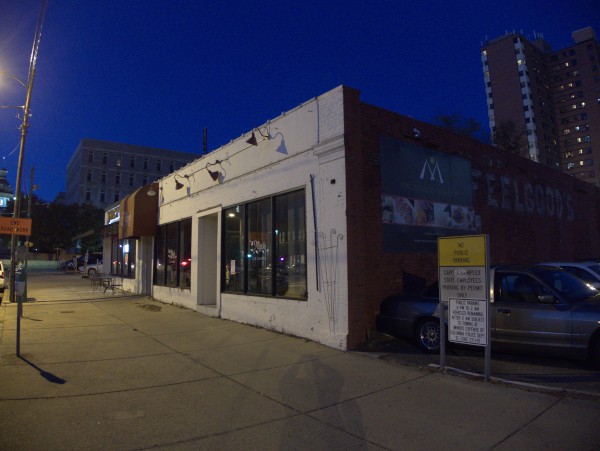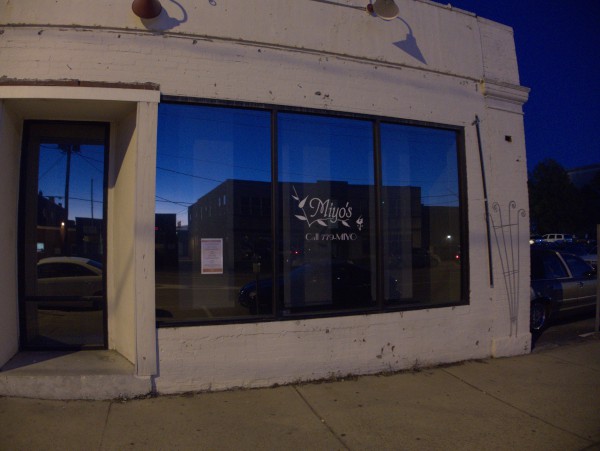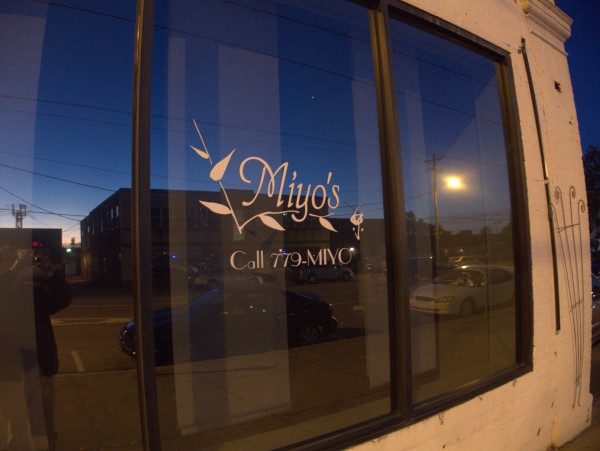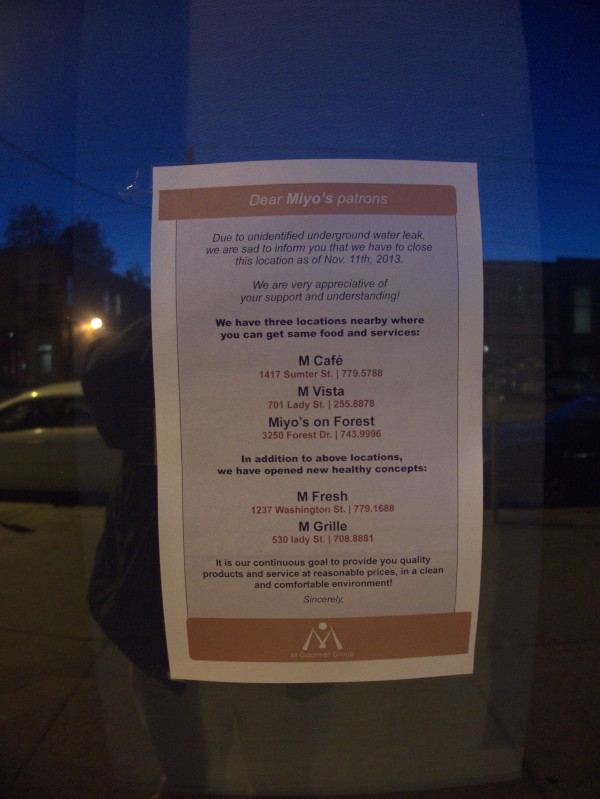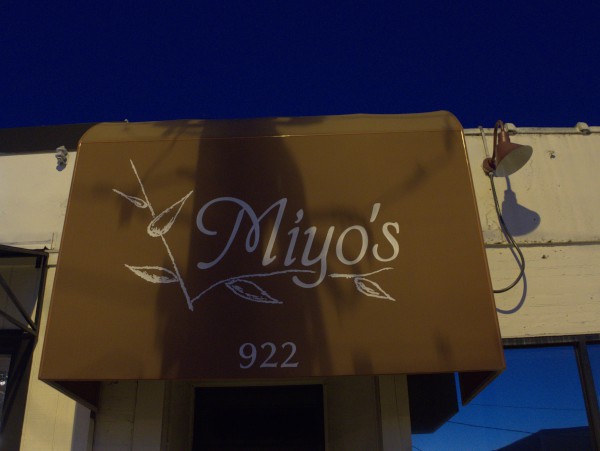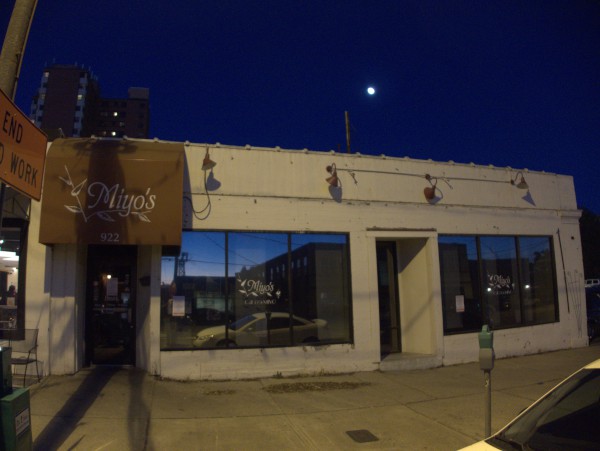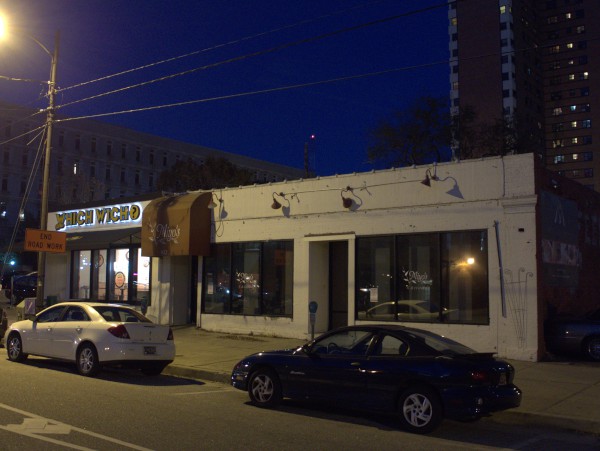 The original home of the Miyo's empire, Miyo's On Main (in the old Dr. Feelgood's building) closed this month. The closing sign cites ongoing plumbing problems, but you have to think that was probably just the final straw.
I don't know that it is a direct replacement for this location, but Miyo's is building a new restaurant at the old Stean 'n Shake spot on Columbiana Drive. (Though as of yet they don't seem to have broken ground for that).
Posted at 12:59 am in Uncategorized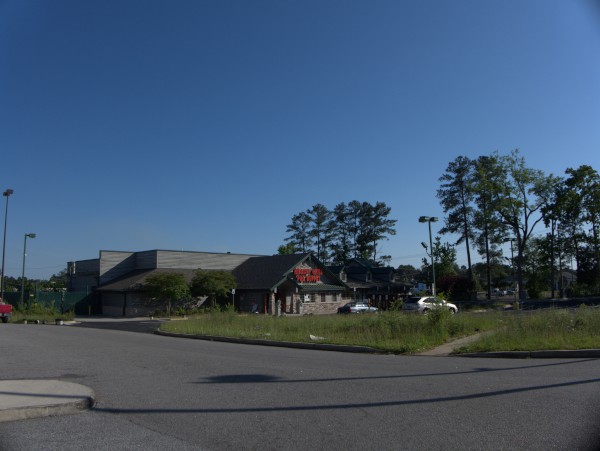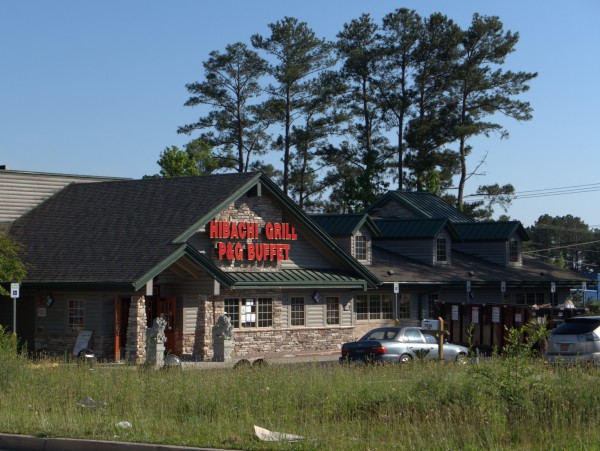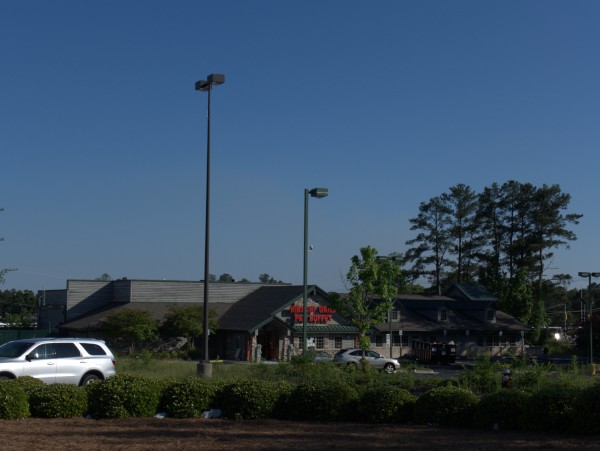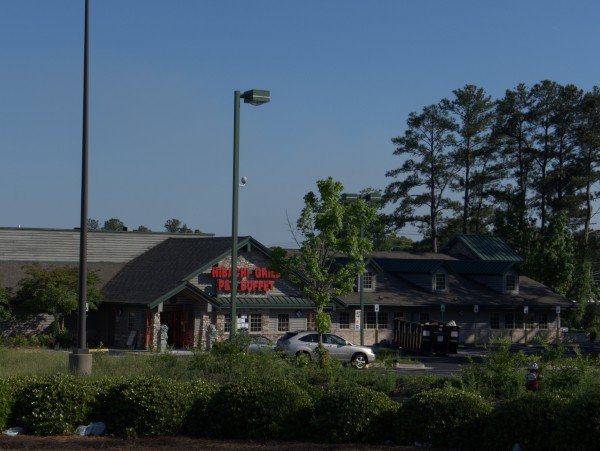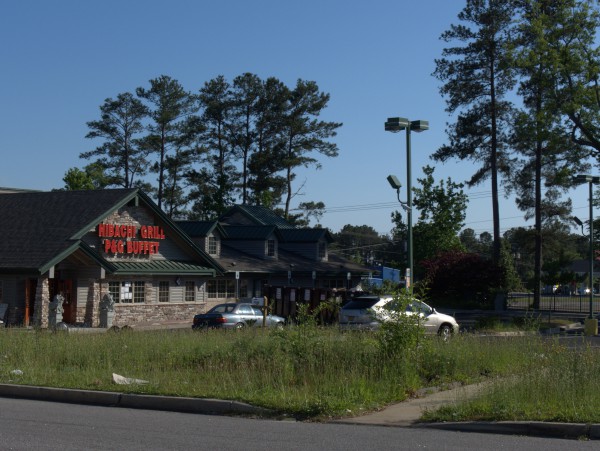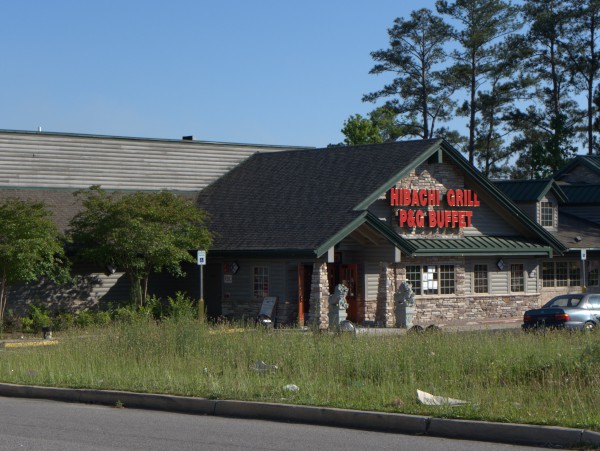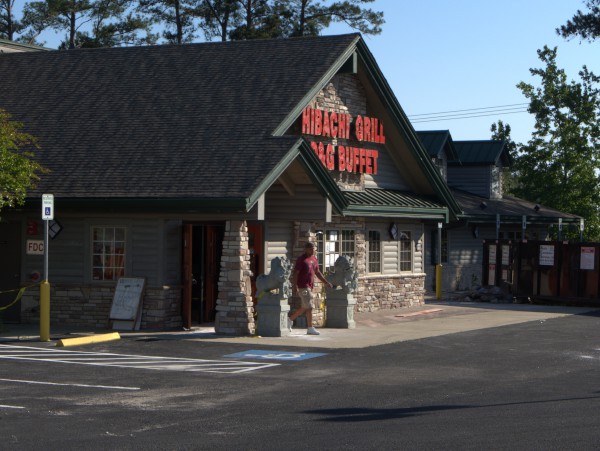 I first wrote about this location doing a closing on the Ryan's that previously occupied the spot. That closed in early 2009, and by early 2010 (if not before) Hibachi Grill P&G Buffett was open in its old spot.
I don't know what the issues with the building are -- it's not that old, but apparently P&G are doing major work on it, and the restaurant is closed during the construction. (And this is not one of those hopeful "closed for remodeling" deals where you know it's never coming back -- the work has actually started and is ongoing).
(Hat tip to commenter badger)
UPDATE 16 July 2013 -- Took the "temporary" tag off the subject line as the location has opened as a new business, Ichiban Hibachi & Sushi Buffett: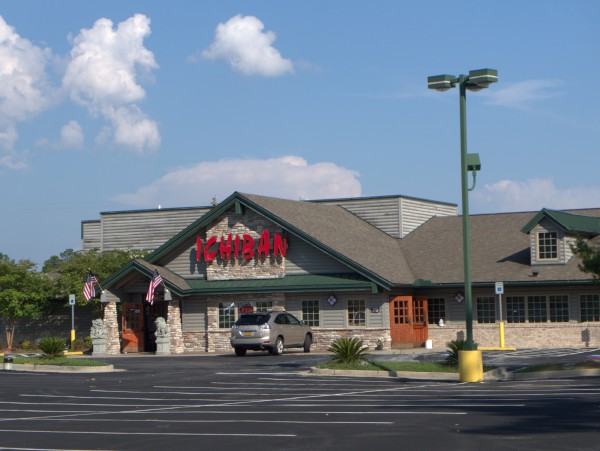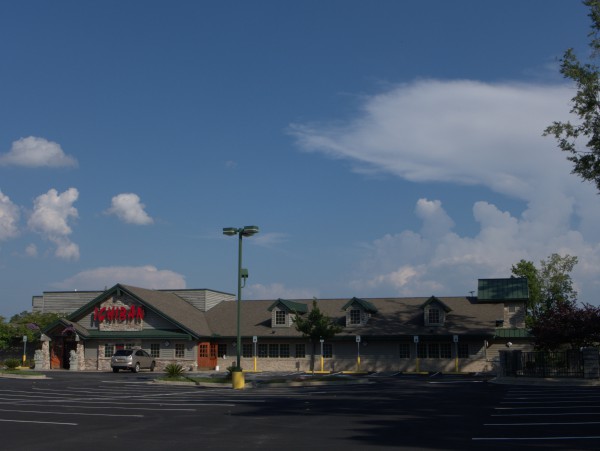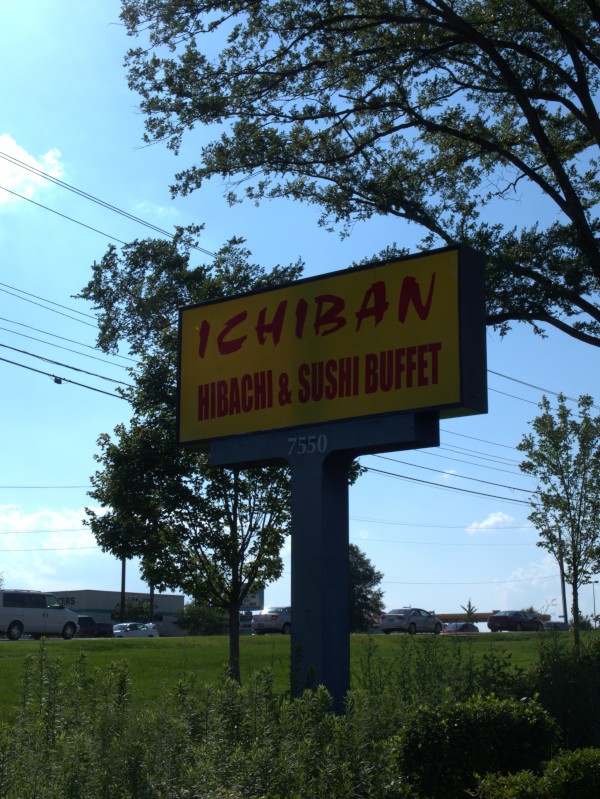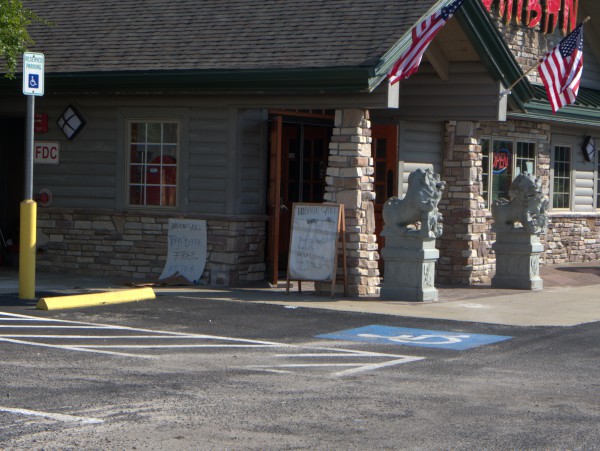 UPDATE -- Ichiban has been doing some billboard advertising: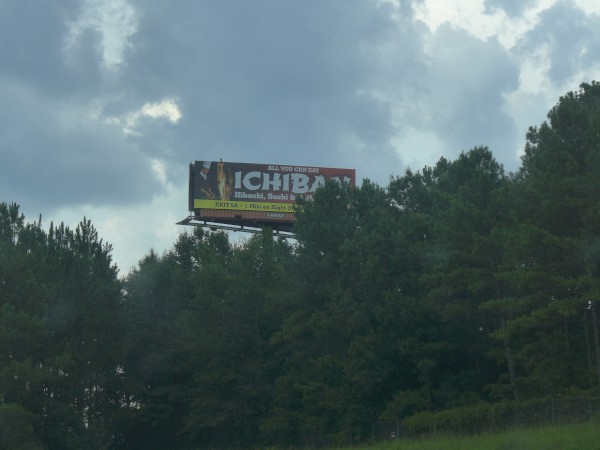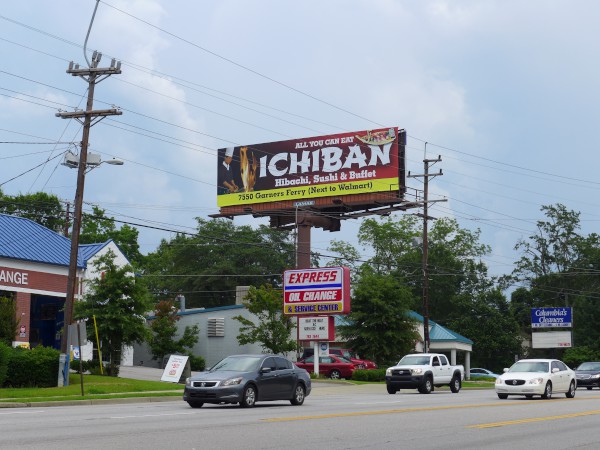 Posted at 12:11 am in Uncategorized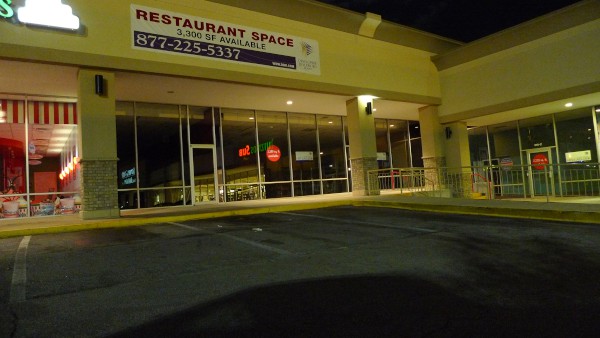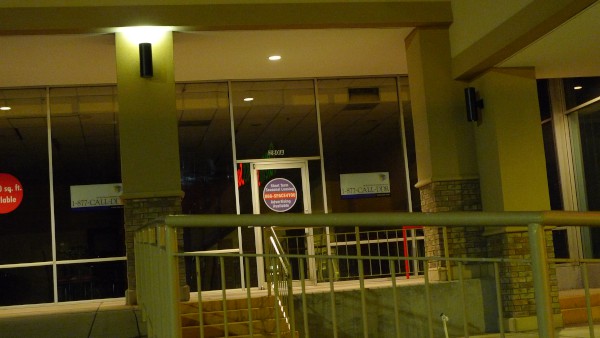 This storefront is in the same plaza as the Harbison Barnes & Noble and is right next to Rita's Ice Custard Happiness (a place that I had picked to last less than a year, but which seems to be going strong).
I can't ever recall it actually being occupied, but google turns up three former tenants. First was a business called Trade Unlimited, Inc, which was incorporated in 1994 and dissolved in 1998. That's a fairly generic name, so I suspect they also would have had a catchier DBA name.
Next, I think was Sesame Inn JJ, Inc which applied for a beer, wine and liquor license in 2004. Again I suspect they did business as a shorter name. In this case, I'm gussing it was probably Sesame Inn, which sounds like an Asian restaurant.
The final name I have is Jiang Asian Bistro which I take to be the most recent tenant as it is still in some online restaurant guides.
UPDATE 15 March 2013 -- It's now (or soon to be) Wing Nuts: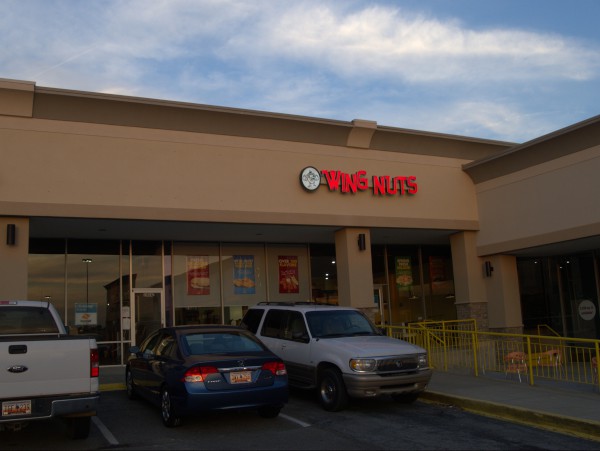 Posted at 1:47 am in Uncategorized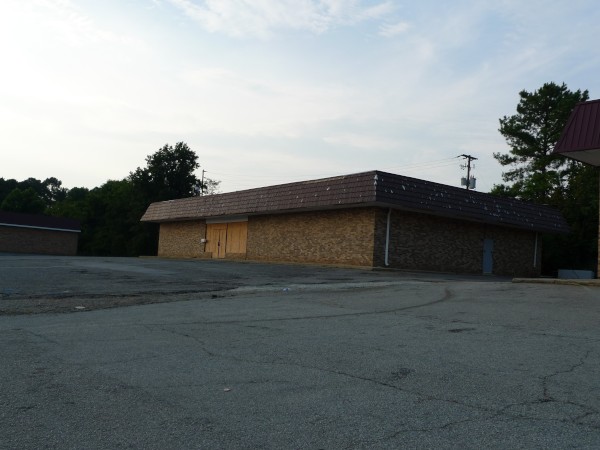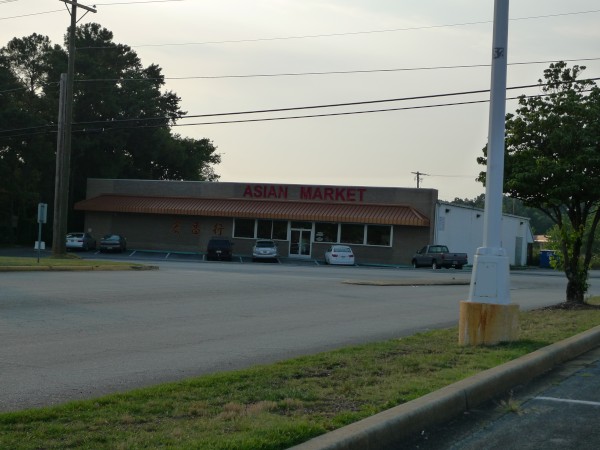 OK, I'll admit that I'm not 100% sure that the Asian Market on Diamond Lane is the same one that opened recently across from Dutch Square at 1221 Bakersfield Road, but given the timing and the same marquee description, I think it's a pretty good bet (and I'm sure someone will set me straight otherwise).
I used to notice this place when I would cut through the mostly dead Intersection Center to see what remained and marvel that it was still in business. I guess part of that is that it's a destination -- if you need something that's historically exotic to SC and that you can't just hop-to-the-pig for, it doesn't matter if the store is off the beaten track. Still, I was glad to see them move to a better location. (Though believe it or not, a few stores are still have their doors open on Diamond Lane!). I got the Hong Chang Hang part of the name from here, as Chinese is Greek to me :-)
I was a bit surprised to see the address of the new store as Bakersfield Road -- if you had asked me I would have said the street was Dutch Square Boulevard all the way from Broad River Road to Bush River Road.