Archive for the 'Pawleys Island' tag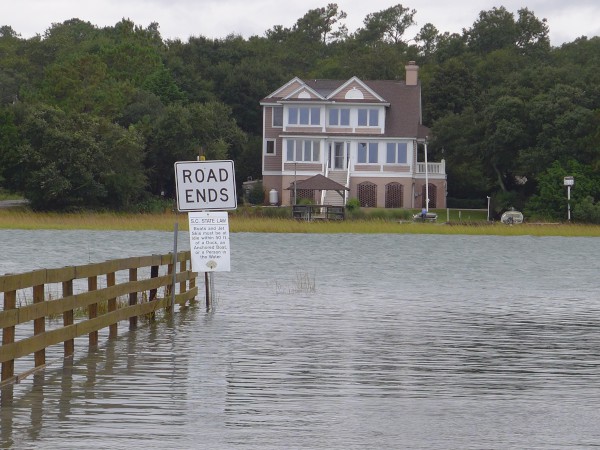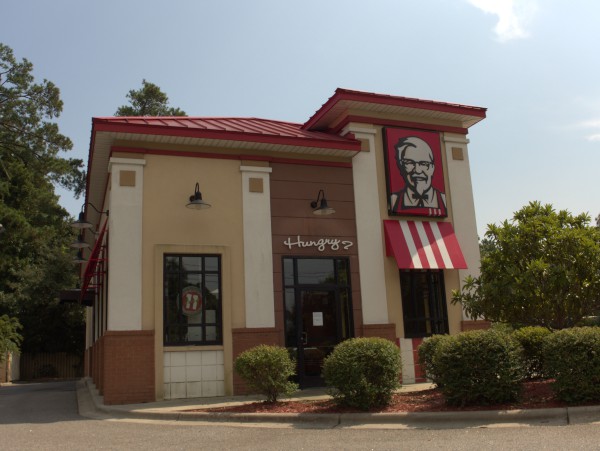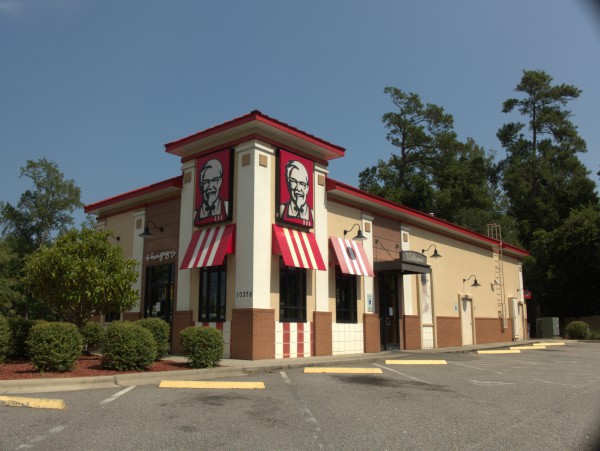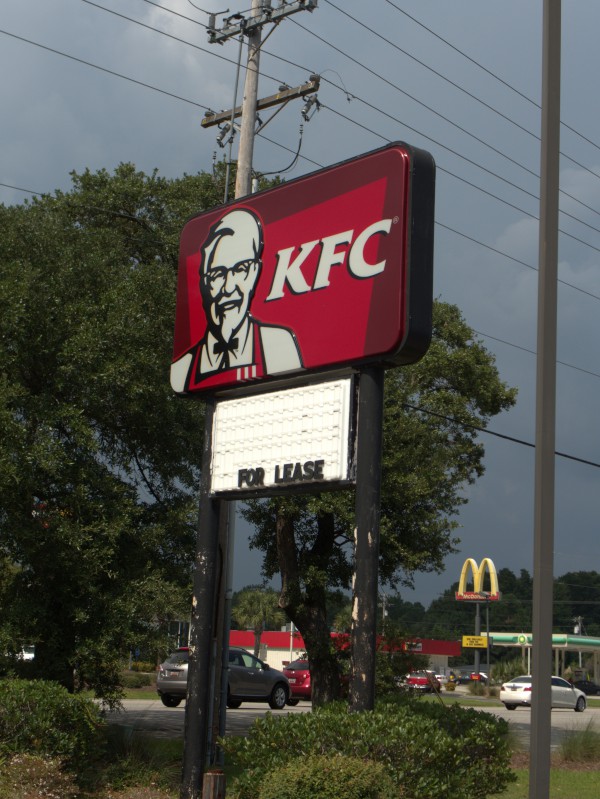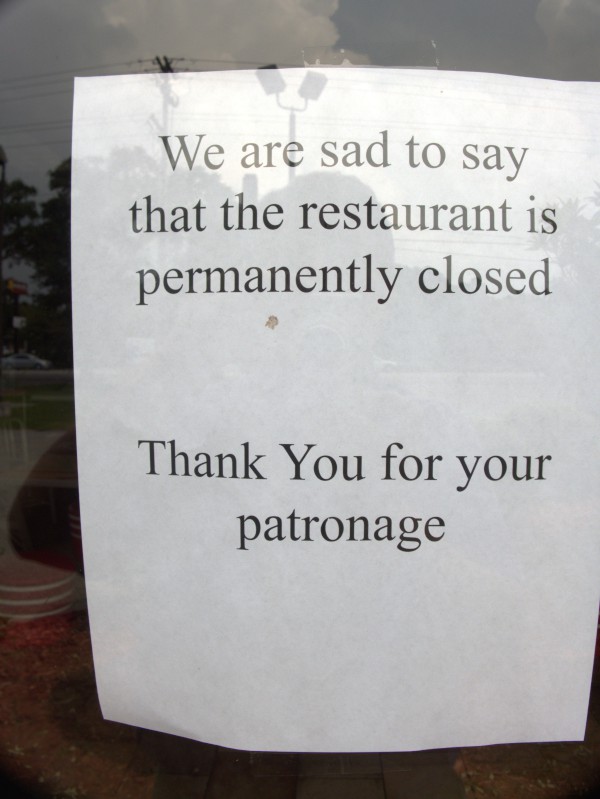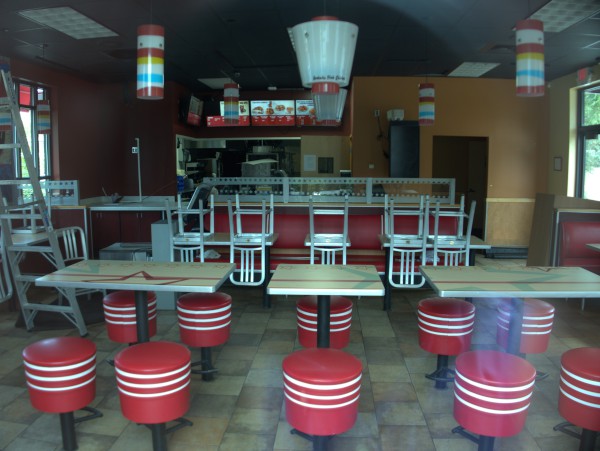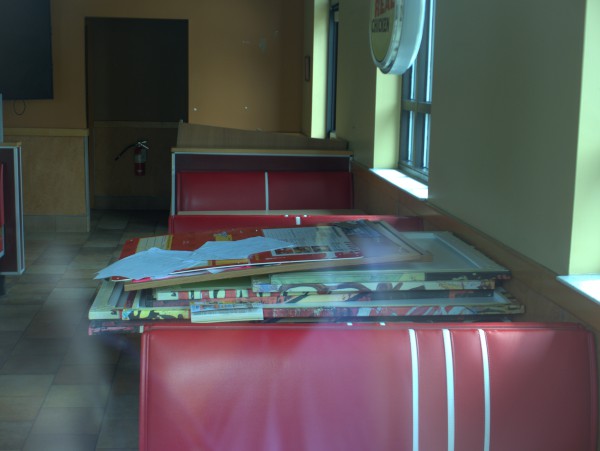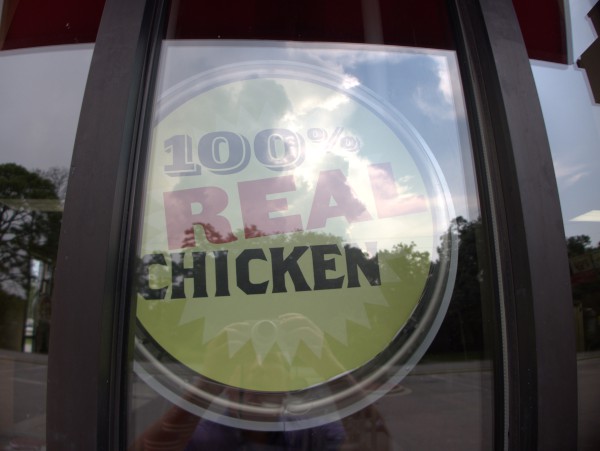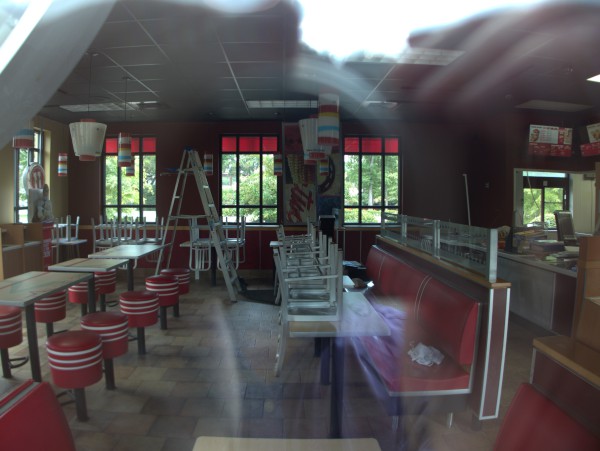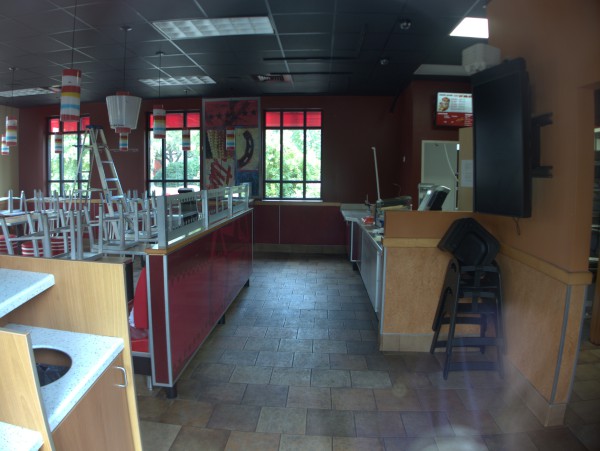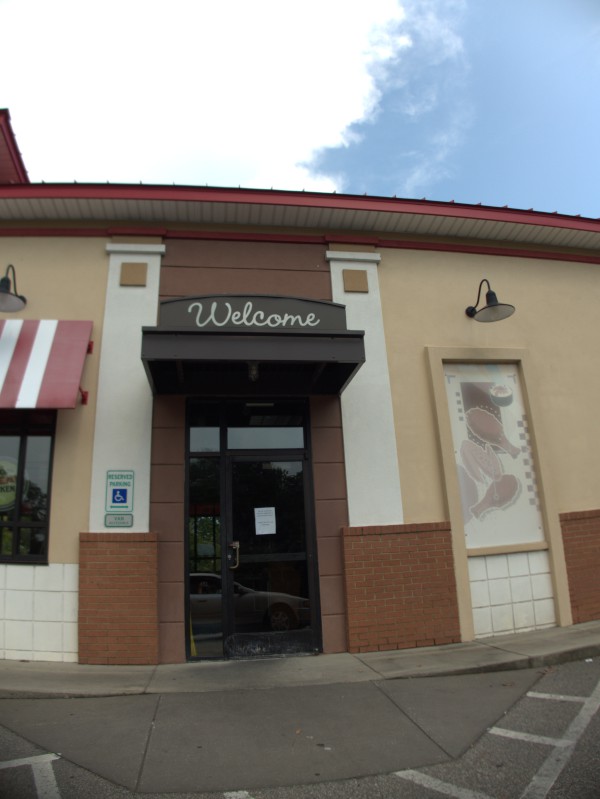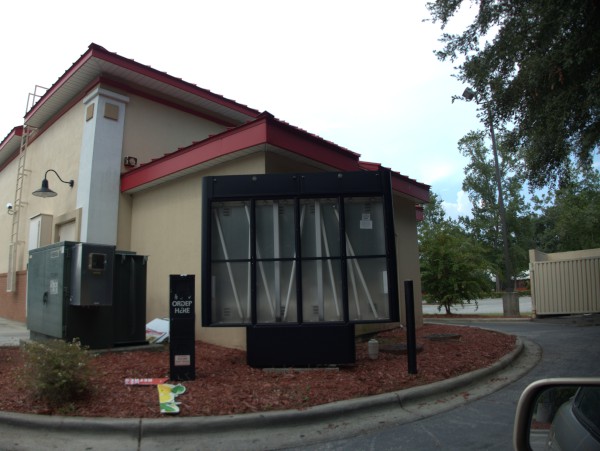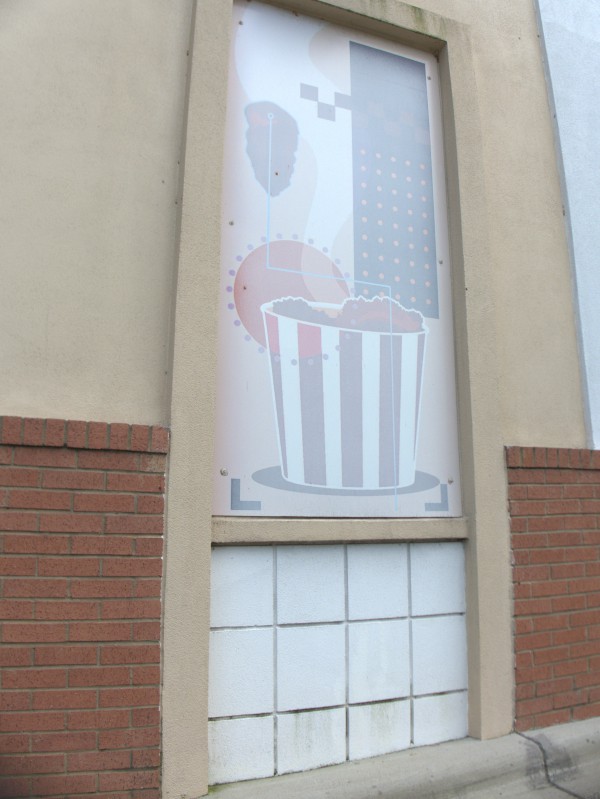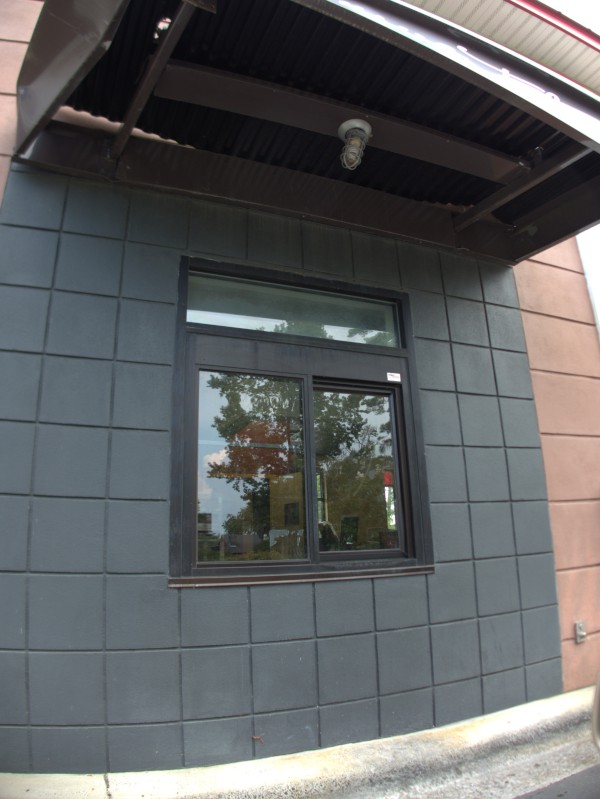 I don't really have a specific date for this closing, but I was down at the beach at the start of August, and am pretty sure I would have noticed if this KFC, next to the new Dollar General had been closed then as it was on Labor Day weekend.
I'm a little surprised at this closing as it was a newly renovated store. The original store, opened probably in the late 80s, was a "mini" KFC that did a mostly drive-through business, and when the time came that the chain wanted a full store, there were concerns whether they could manage it on the piece of property they had, given that the setback and spacing rules had just changed. In the event they came up with the design you see here, which apparently satisfied all the agencies and seemed to do a good business for a number of years.
Posted at 12:31 am in Uncategorized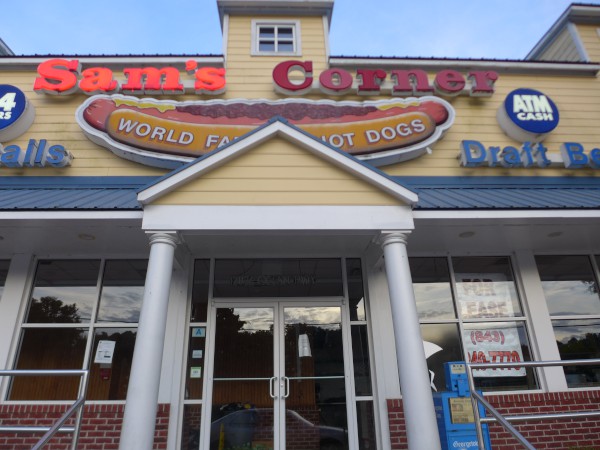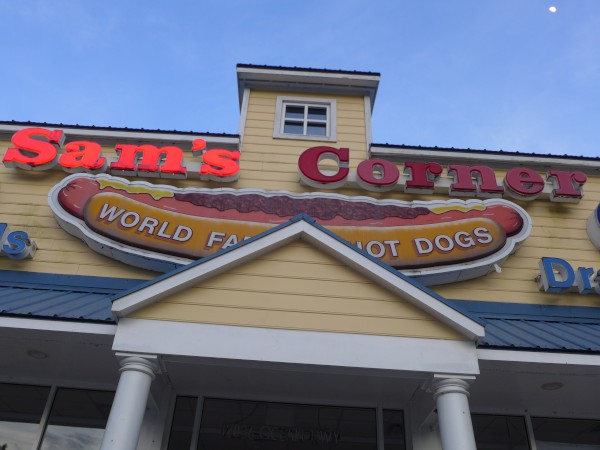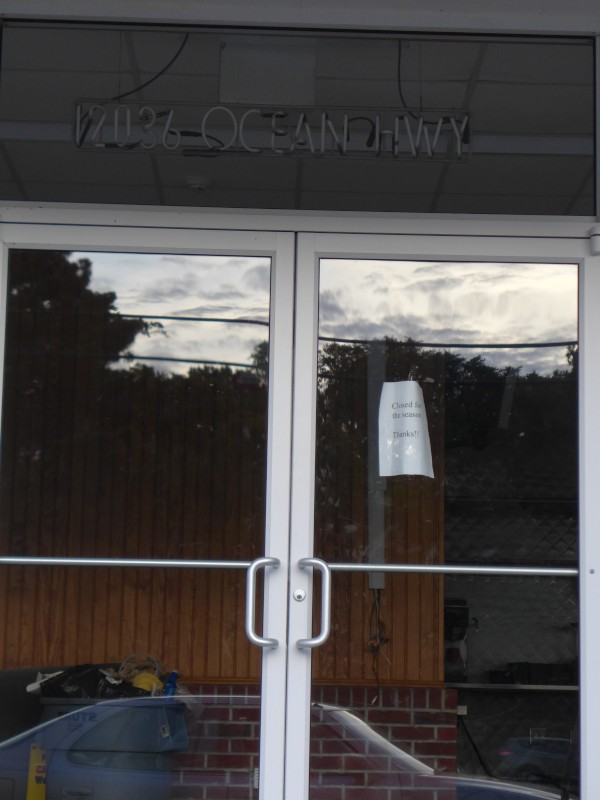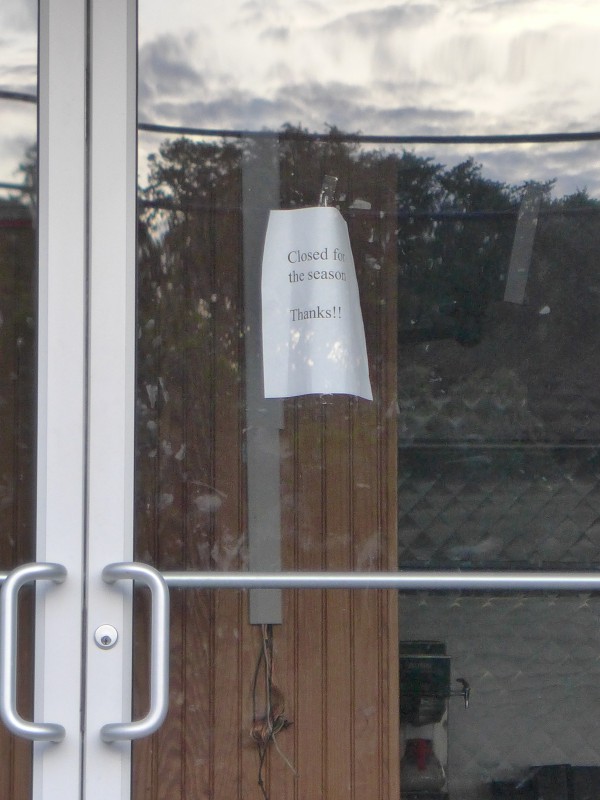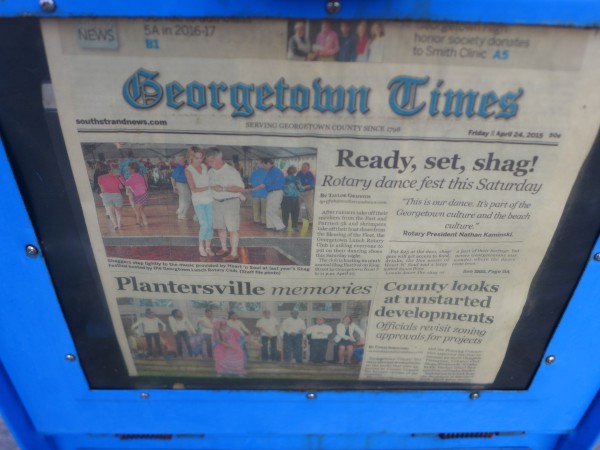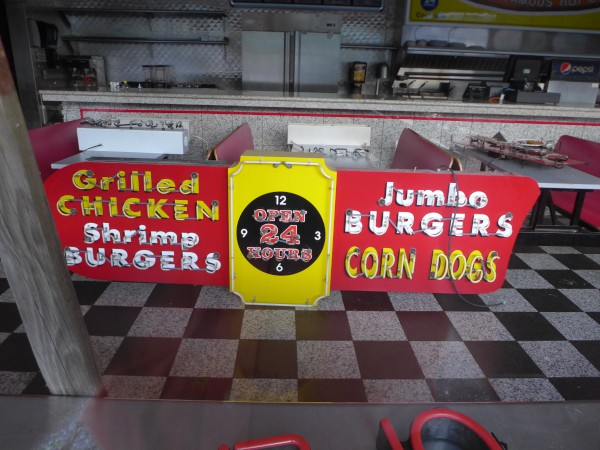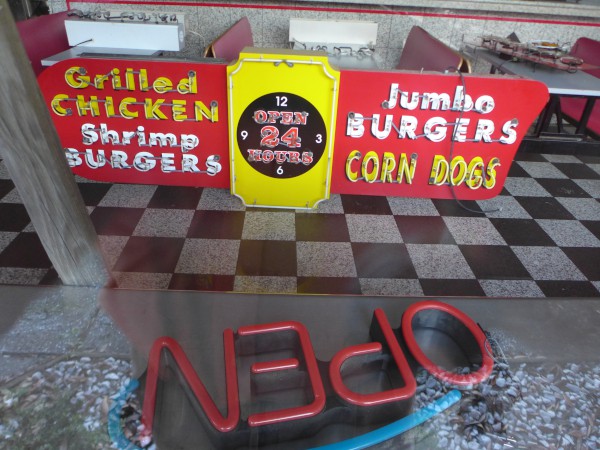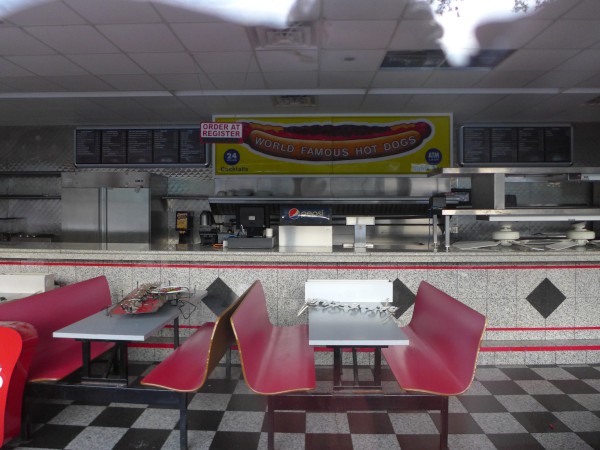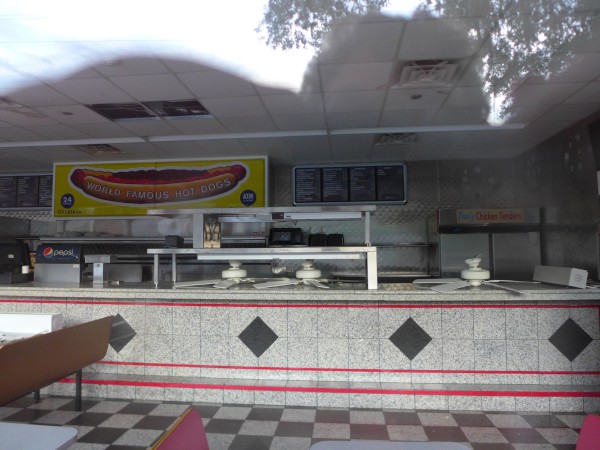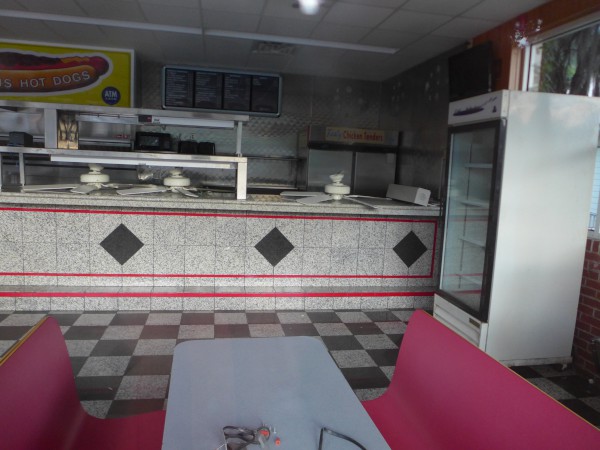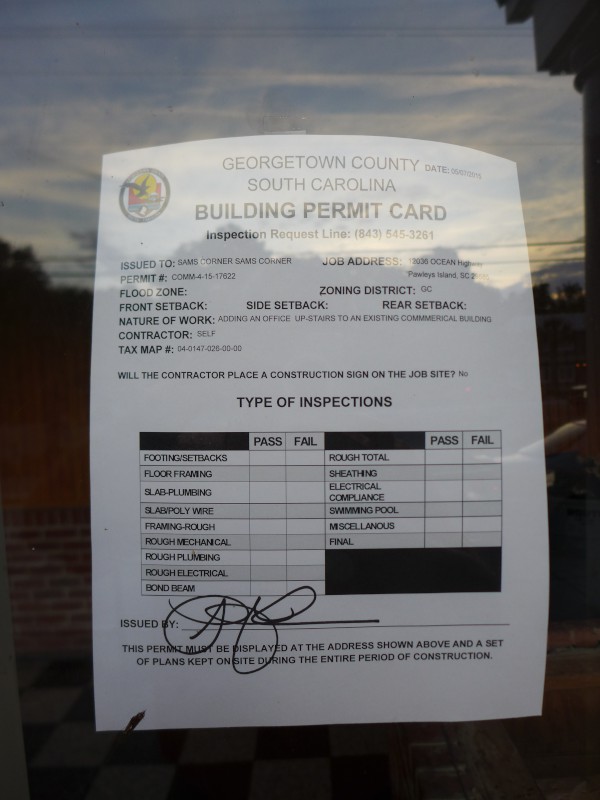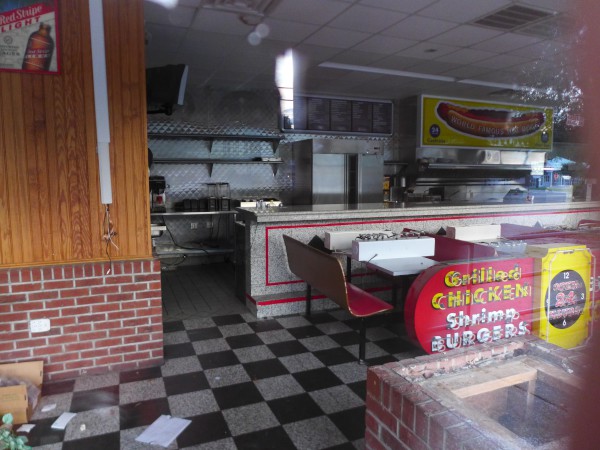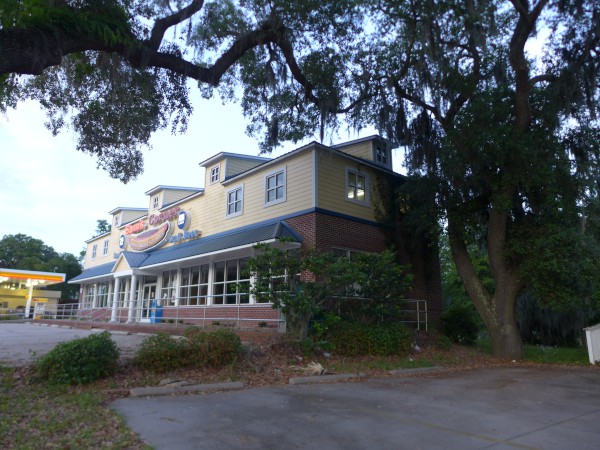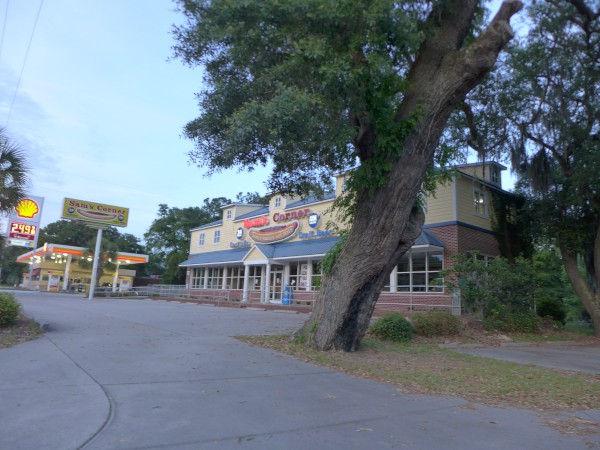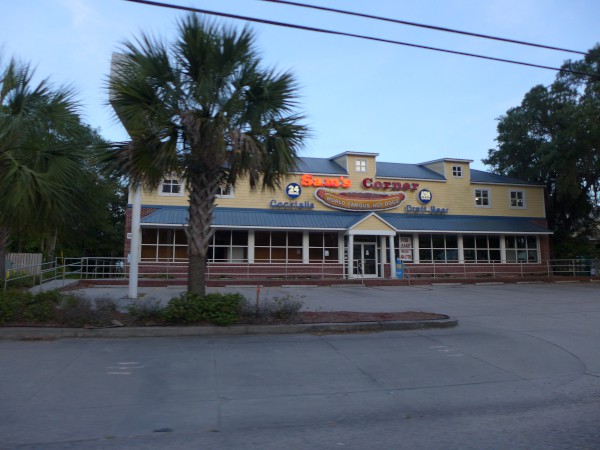 The only time I ever ate at a Sam's Corner was Monday 30 June 1997.
I was living in Aiken at the time (and working in Augusta), but found out less than a week in advance that The Beach Boys were playing the House of Blues in North Myrtle Beach that day. It was a rare small venue appearance, and I think many fans realized it was probably one of the last chances to see Carl Wilson on stage. In the event it was a bittersweet performance. Carl played most of the set seated and I think everyone in the audience could tell he was not long for the world, though he still sounded like an angel.
At any rate, when the show was over, with it not being a weekend, I was on the hook to be at work the following morning, so I fortified myself at the NMB Sam's with a hot-dog and coffee and made it back to Aiken (after further fortification with Waffle House coffee in Manning) in time to slip into bed half an hour before I had to get up. It was not something I could do now, and could barely do then.
Truthfully I was so focused on what I had to do that Sam's made little impression on me other than it was well lit, had an acceptable chili-dog and drinkable coffee.
I think the NMB location was the second for the chain, with one by the pier in Garden City being the first.
This location on US-17 in Pawleys Island came much later, and was, I think, something of a miss-step as the South Strand is a much different place from Myrtle Beach or even Garden City. I had noticed over the few years it was open that despite the proudly proclaimed 24 Hours in fact during the off season, it was rarely open past 10, and lately wasn't open at all except during the summer. I even did a post on the dark building called 25th Hour a few months ago.
On my last trip down over the Memorial Day week I saw that the place is now officially closed, even though they apparently had a plan to upfit the office space.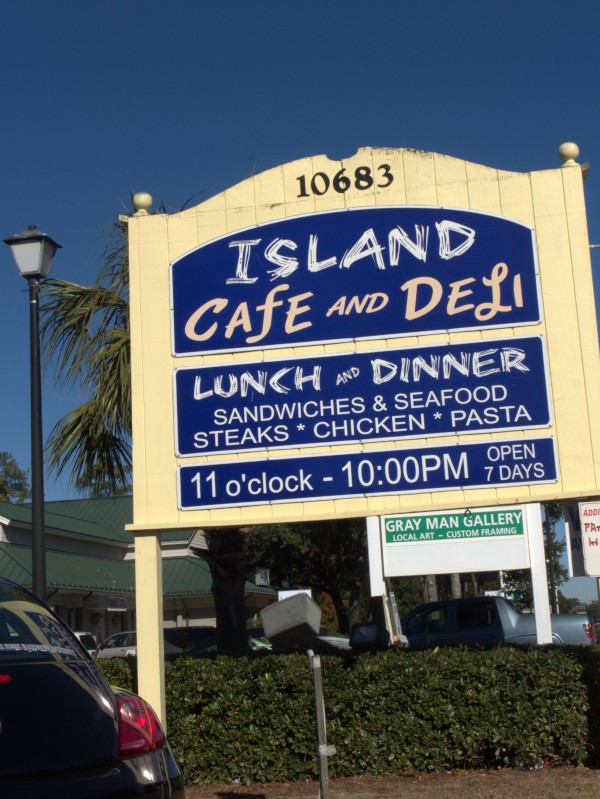 The Island Cafe & Deli was for many years a dependable choice for lunch and dinner at Pawleys Island. Landolfi's is my favorite restaurant in the area, but the Deli had a nice front porch for outdoor dining, and sometimes you just want a grilled cheese or burger with black bean soup instead of pizza. Apart from those options, the menu had a number of quirkily named signature items like the Aristotle Salad or the Strom Thurmond, which the description assured us was "an illustrious member of our menu" and featured "young turkey breast".
Some years ago the place had a bad fire and was closed for an extended period, and I believe that after that, someone once drove a car through the front window. Given that history, I was very surprised when I went down in December for the candles to find the place closed.
It appears that the next tenant will be Rustic Table.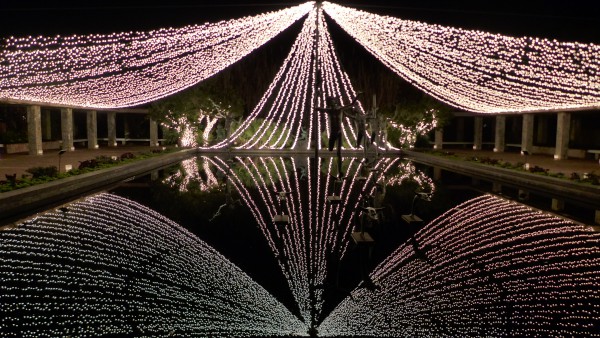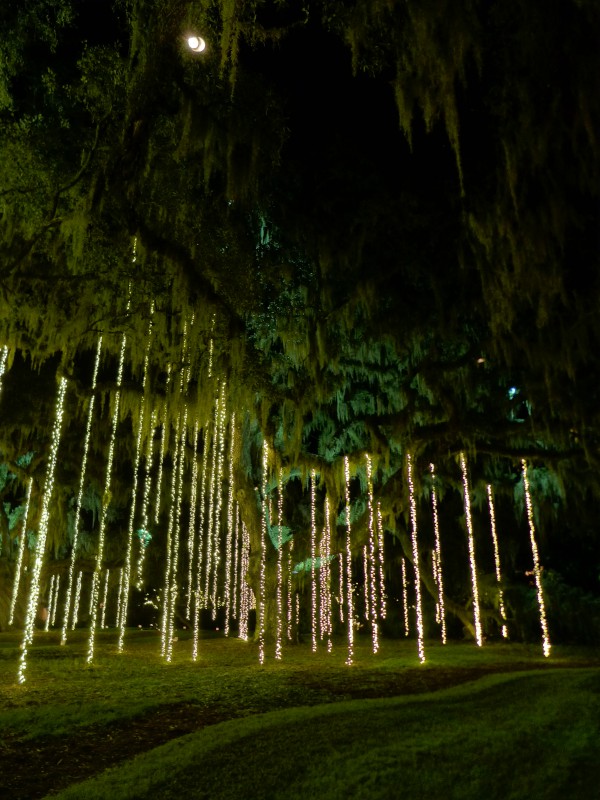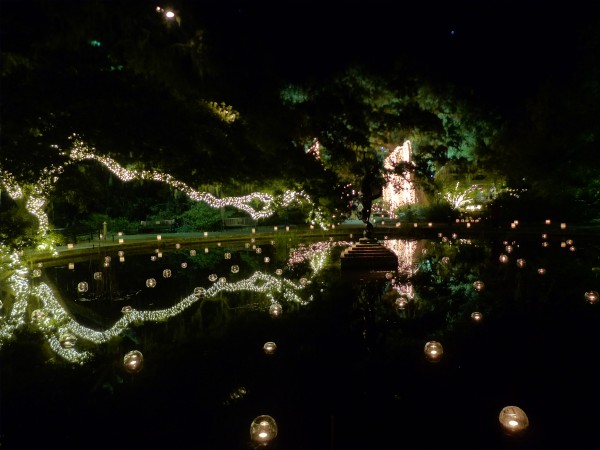 I got to Brookgreen a bit later than I had planned this year, and so did not hit all the spots I usually hit, but it was still a very nice evening out in the cold and lights. Actually, the weather was relatively moderate compared to some prior years -- I was able to hold my camera and adjust the controls without my fingers going numb. There is still an official ban on tripods, and I decided this year I wouldn't go for much in the way of "set the camera on something and do a time exposure" shots, so I cranked the ISO way up and took what I got, so I have to admit I've gotten better shots in previous years. I did play around with the in-camera HDR setting, and that's where some of the freaky green-lit exposures come from. Sometimes it did quite a good job of capturing both the lights and normal objects, and sometimes it didn't (I haven't used those spoiled shots here, obviously).
Getting in was a little quicker this year as they did not bring back the suboptimal secondary dirt road route they tried last year, although there was still quite a jam on US-17 (where I witnessed a fender-bender just as I finally got waved through). You still have three more chances to catch the lights this year on 18 December, 19 December and 20 December, and you really should if you are anywhere near the area.
Posted at 2:52 am in Uncategorized
Must be time for a new Only At Pawleys calendar for 2015!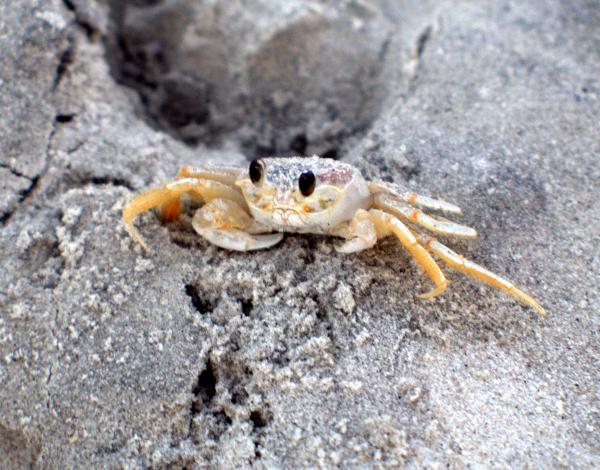 Seven designs to choose from including a totally new set of 13 images for 2015. Most designs are available in standard and oversized formats.
Only At Paweys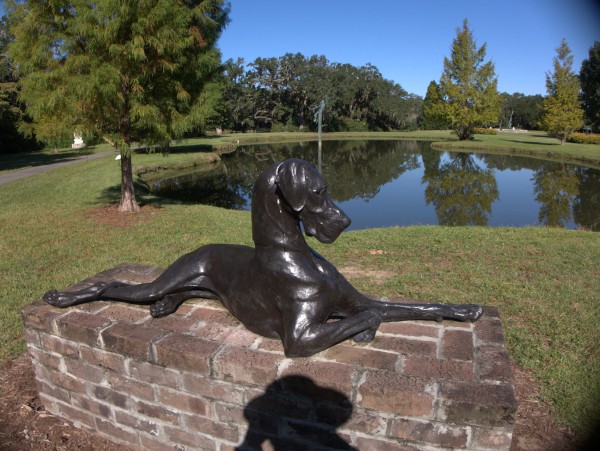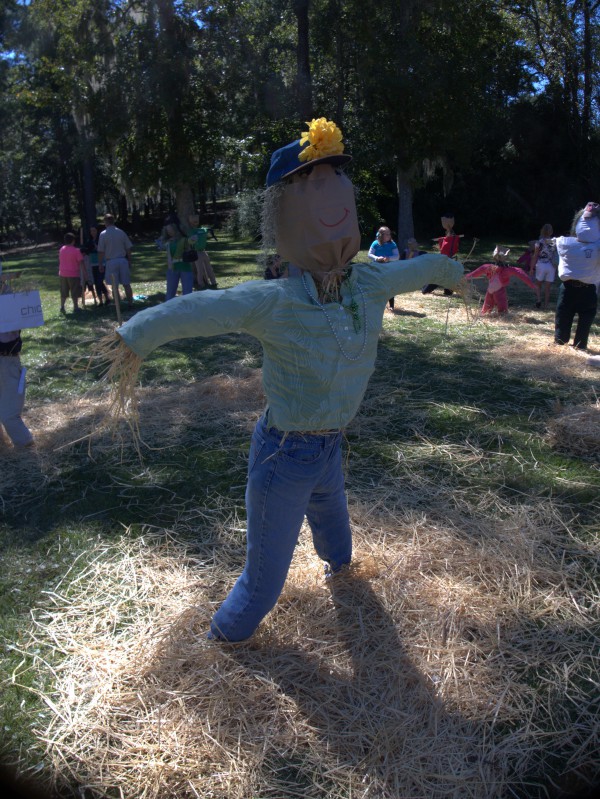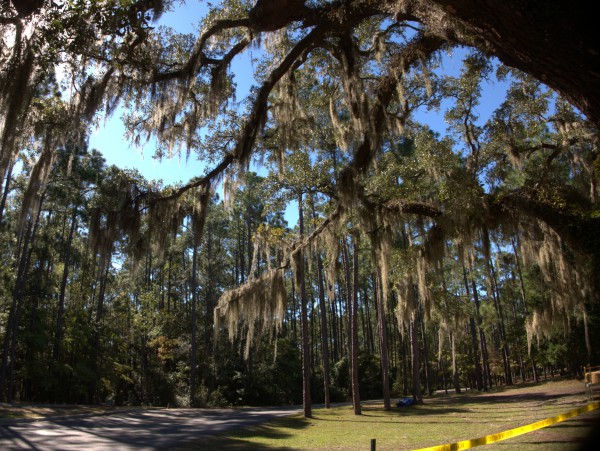 It's a few months until the candles, but what better way to spend a gorgeous Fall weekend than out in the sun at Brookgreen Gardens Harvest Home Weekend? You can build a scarecrow, paint a pumpkin, make a birdfeeder, see butterflies up close and personal, gawk at extroverted otters and cruise past basking alligators.
If you don't happen to have children in tow, you could even look at some sculpture,
Posted at 12:45 am in Uncategorized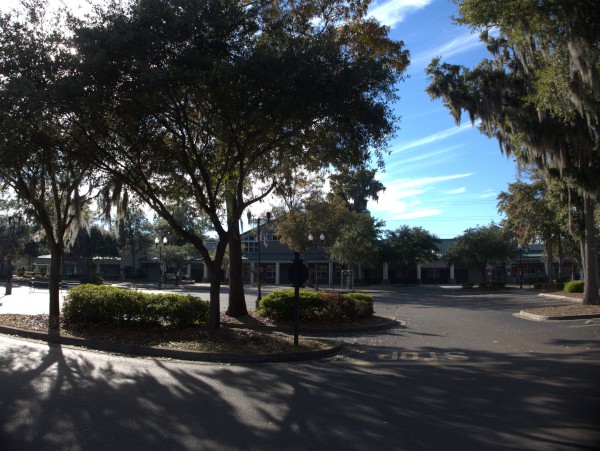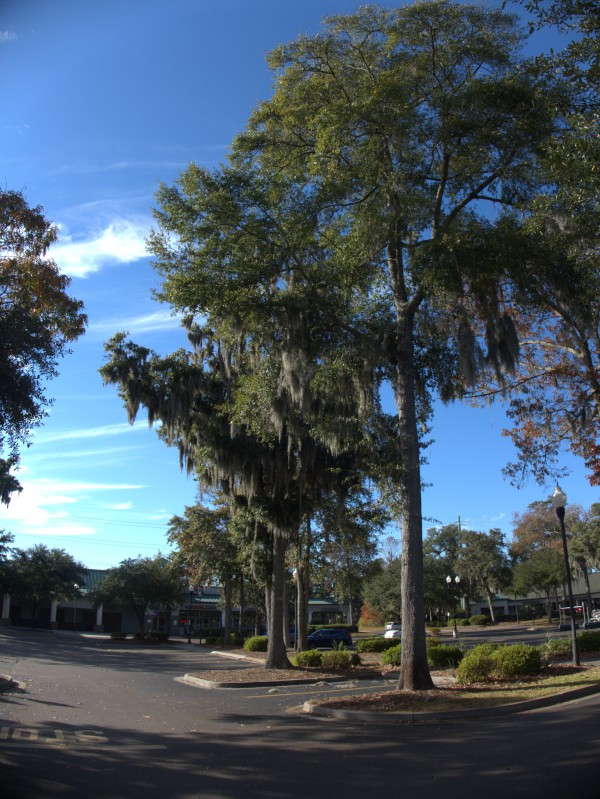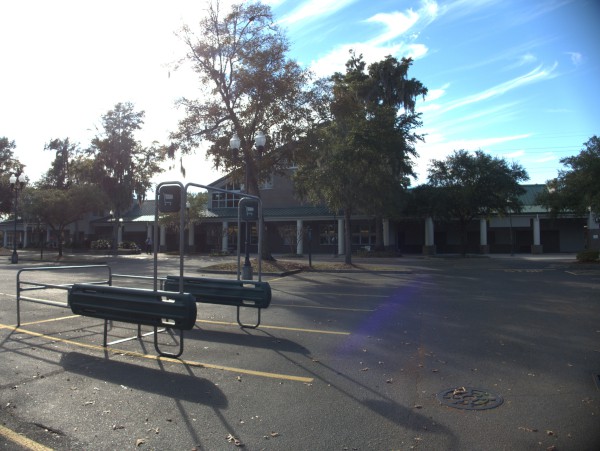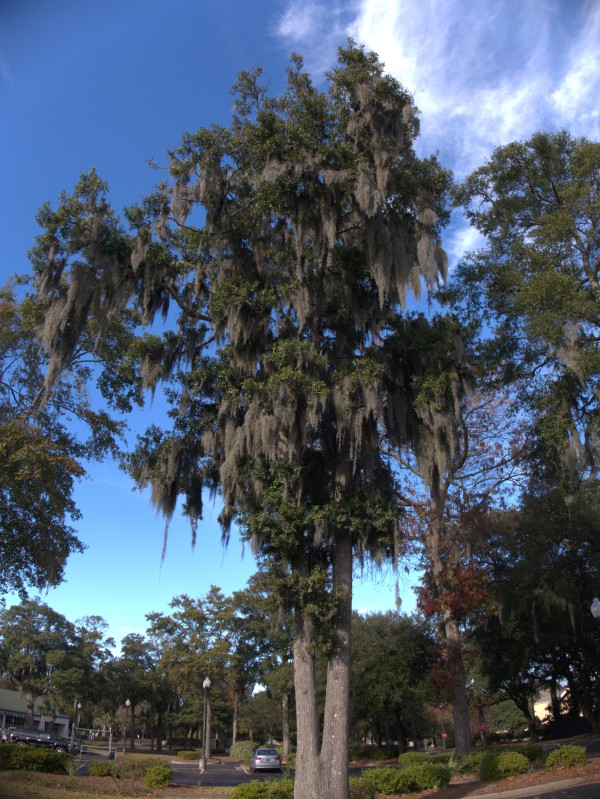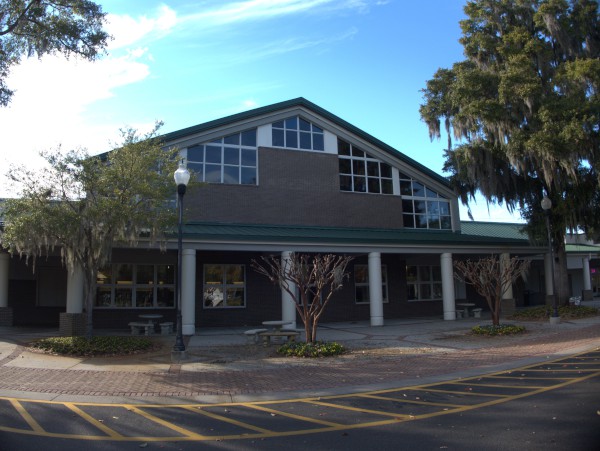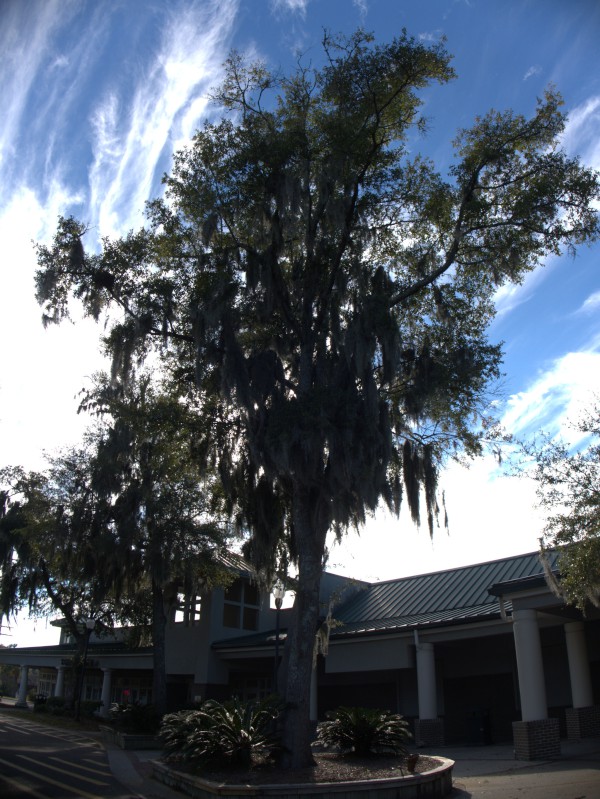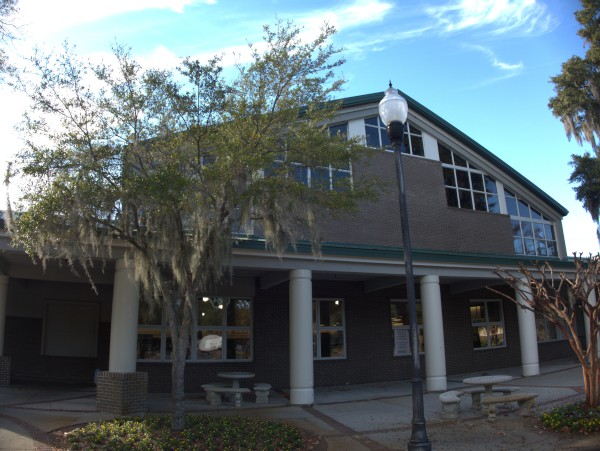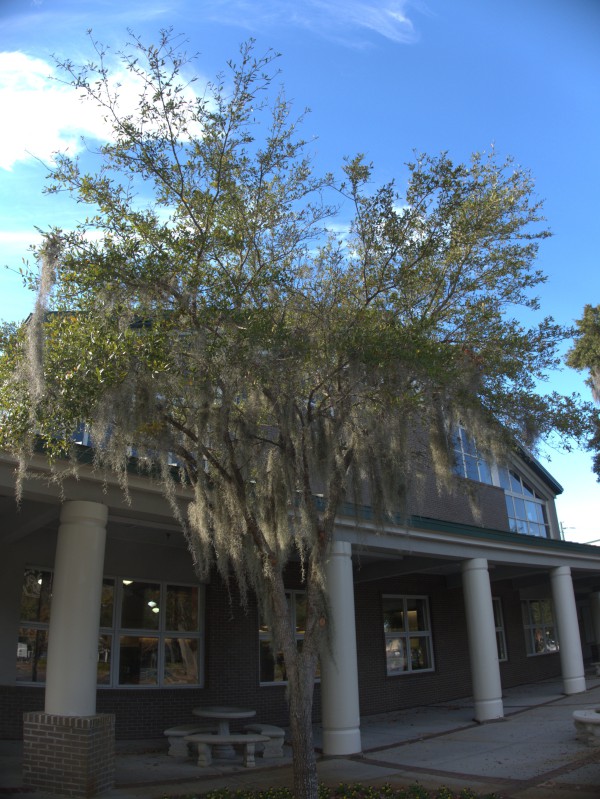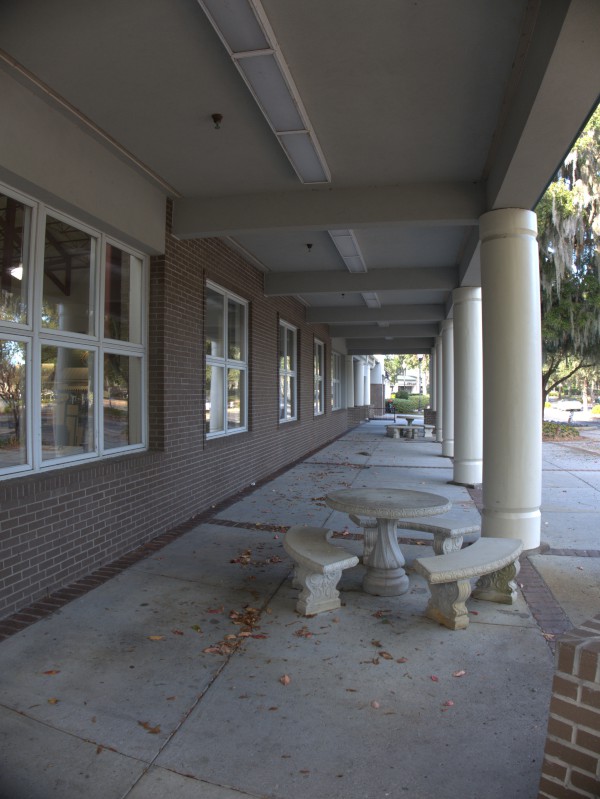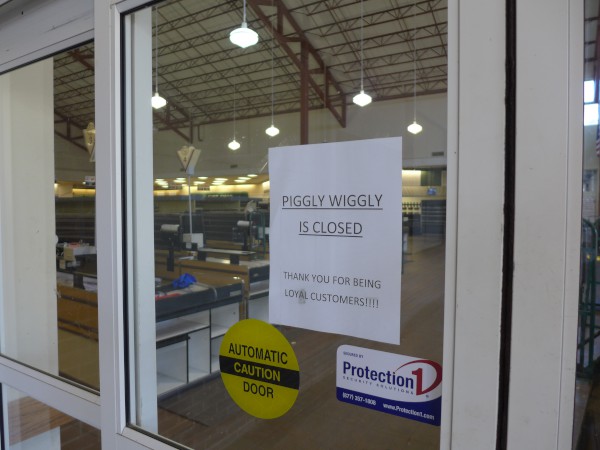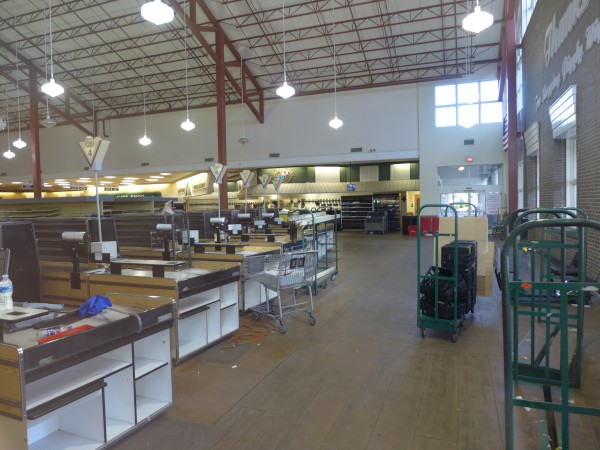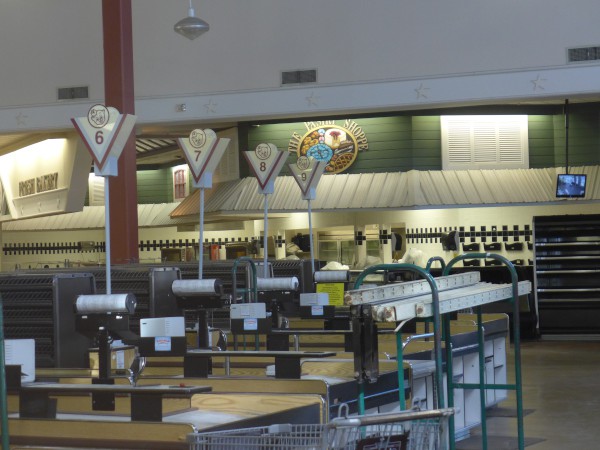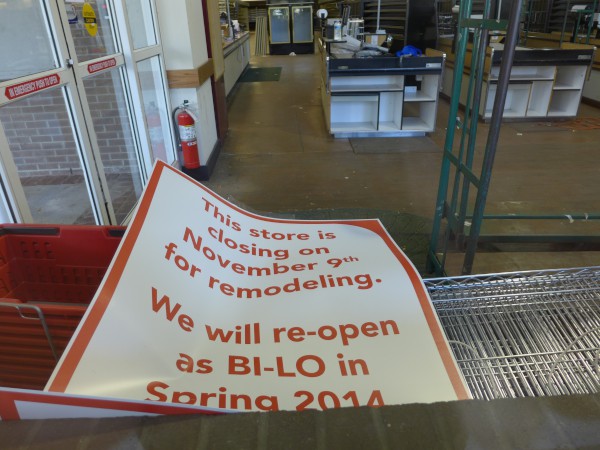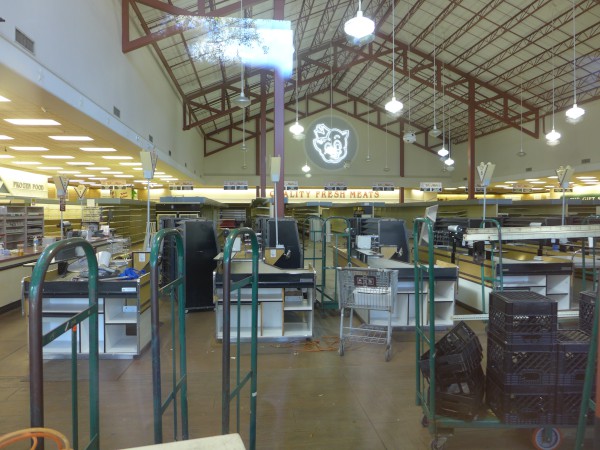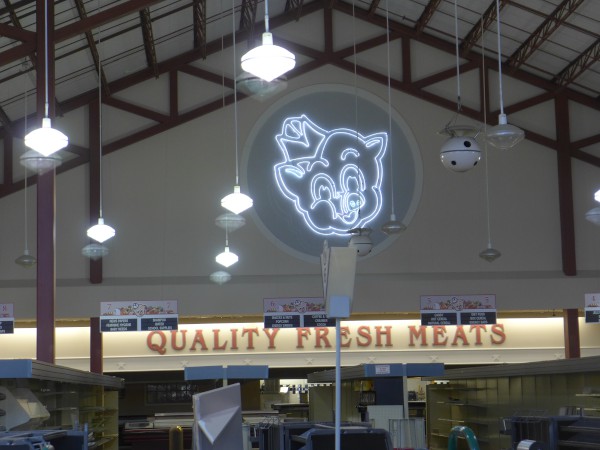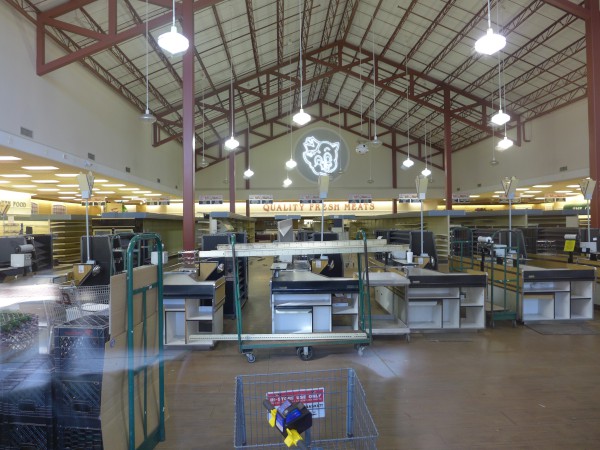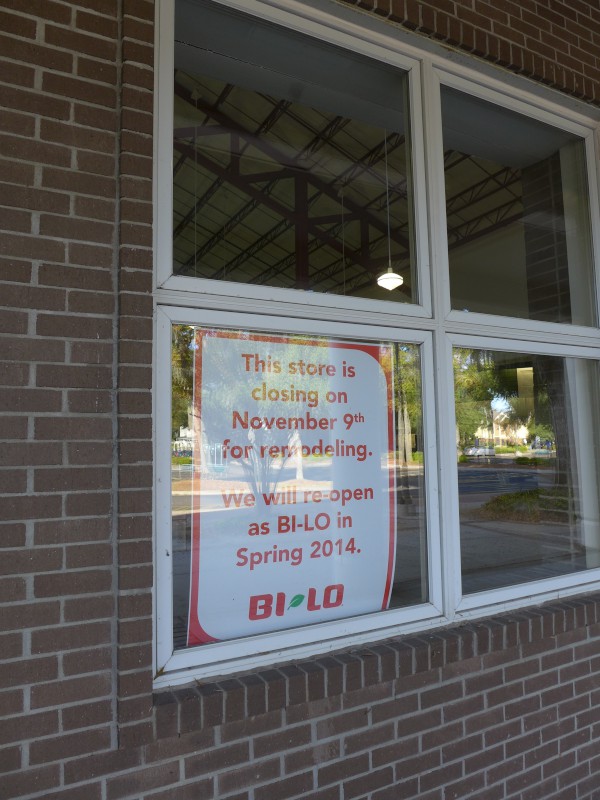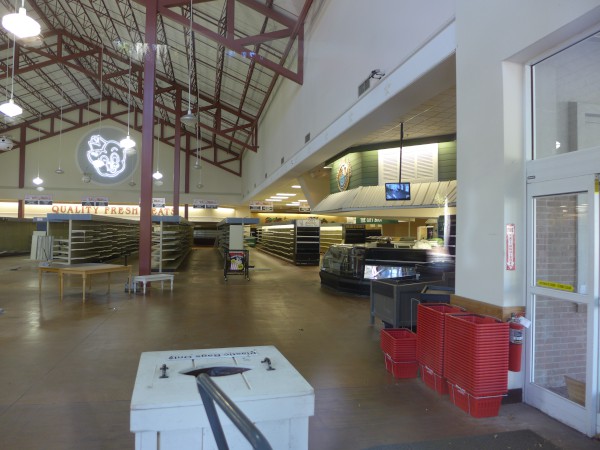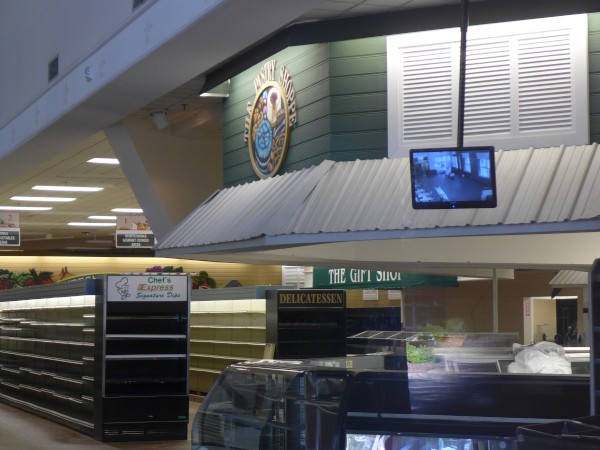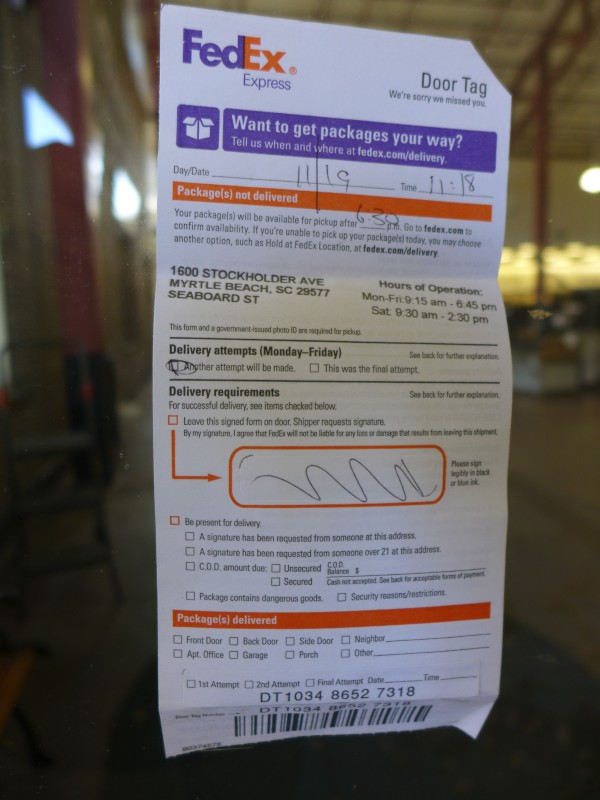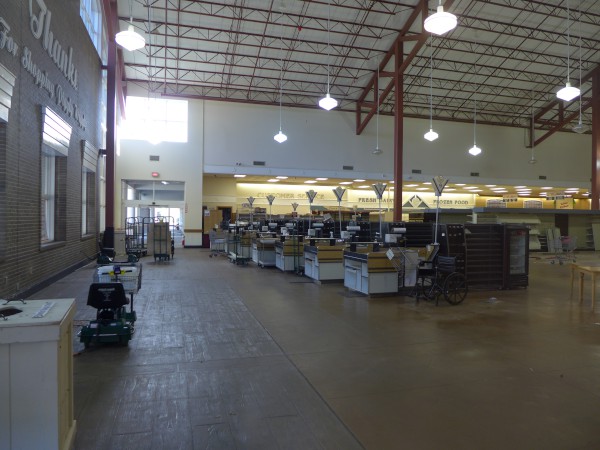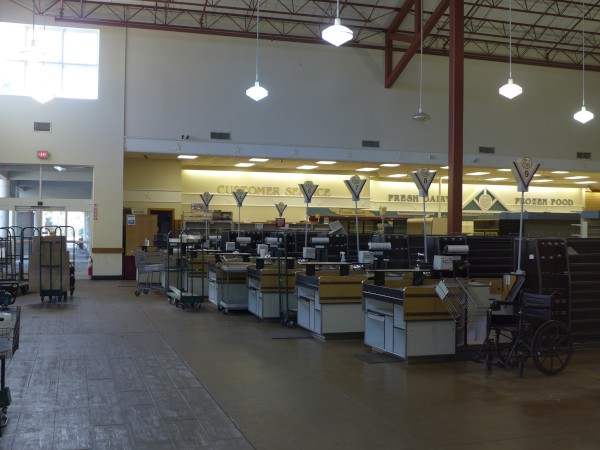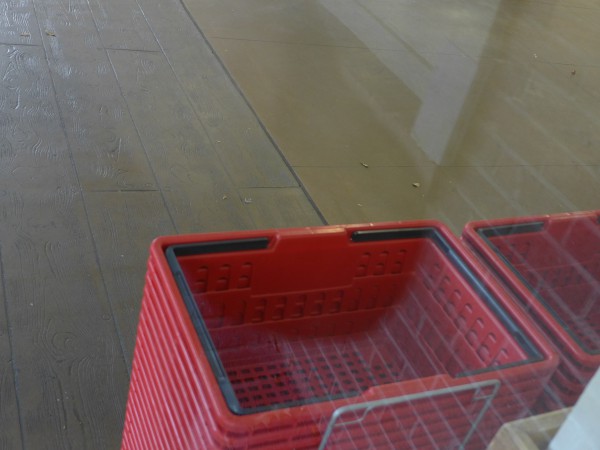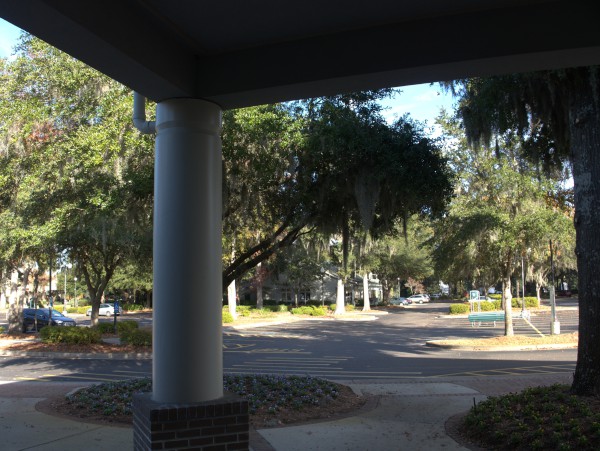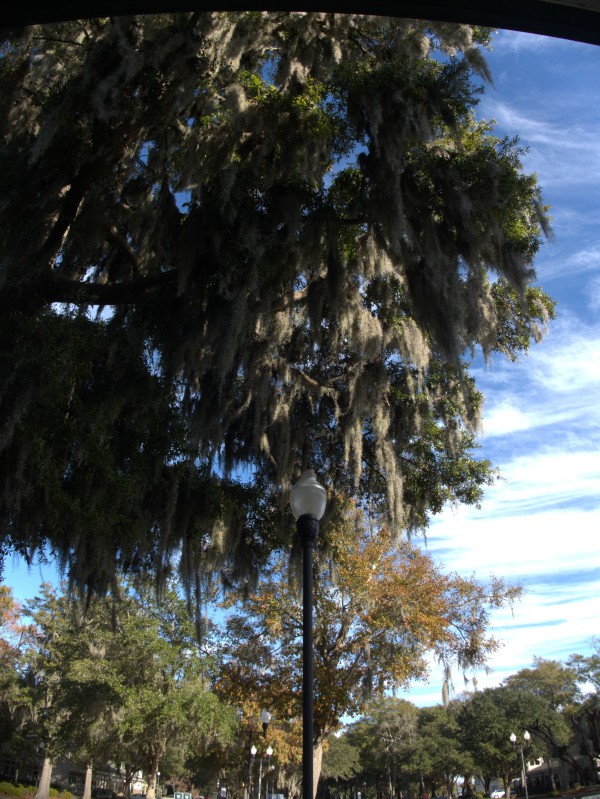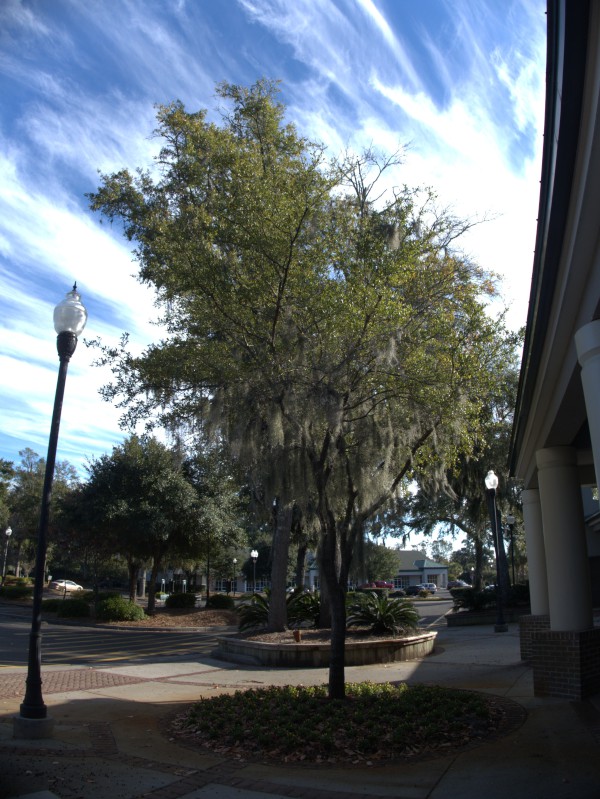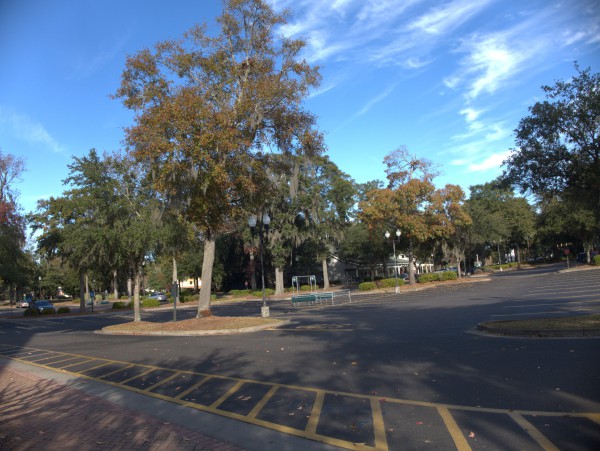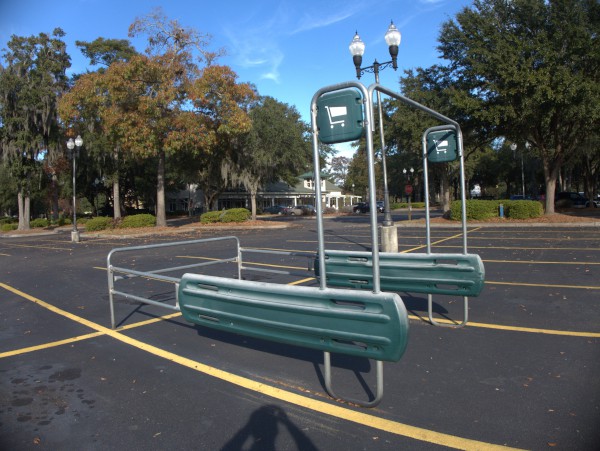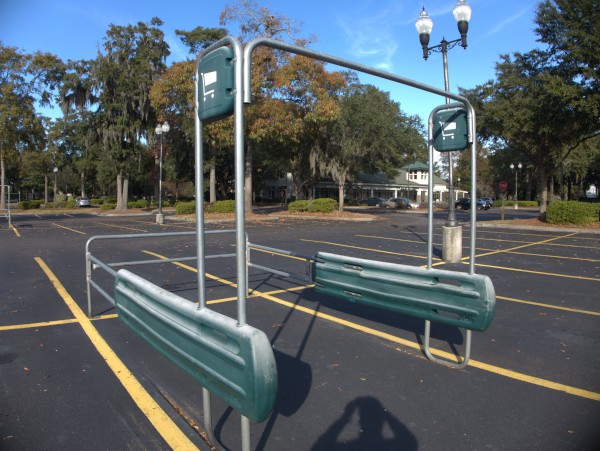 Well, just to continue our ongoing list of Pig closings, the store in Litchfield Beach is now gone.
This was a fairly new store, and quite nice. It also seemed to always do quite a good business as far as I could tell.
The store is located in a plaza just across US-17 from the main Litchfield resort area (with the old Tara Theater) and has a number of restaurants and a few retail operations. There has been some churn during the financial crisis, and Blockbuster, a computer store and a couple of others have gone, but Massey's Pizza and Eggs Up have moved in, so on the whole it is doing OK. Physically the site is quite nice, with moss draped live-oaks and stop-light access.
The Pig will be re-opening as a Bi-Lo, and I have to think that this will mean moving the Bi-Lo from a few blocks north into this spot. Currently the Bi-Lo (originally built as a Harris Teeter) is in an older, failing plaza, which has recently seen the only other decent store (Litchfield Books) decamp to the new Fresh Market complex.
All of this movement takes place in the total revamping of the local grocery environment. Along with the newly opened and afore-mentioned Fresh Market, the Grand Strand's first Publix will be opening in the currently dowdy Pawleys Island Plaza, and a Lowe's Foods will be opening in a new plaza at the Island's South Causeway. This has to be putting a good deal of pressure on Food Lion which has been running a rather up-scale location also at the South Causeway.
(*) All the online google hits list this location as Pawleys Island. In my mind that is clearly wrong. This is Litchfield Beach, plain and simple. Somehow the area covered by the Pawleys Island moniker has tended to spread as "Arrogantly Shabby" has become "upscale" and gained a bit of cachet.
Posted at 12:05 am in Uncategorized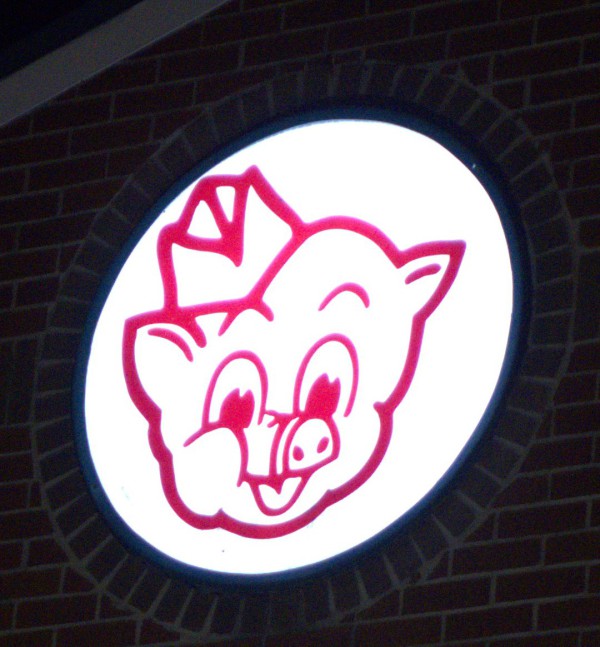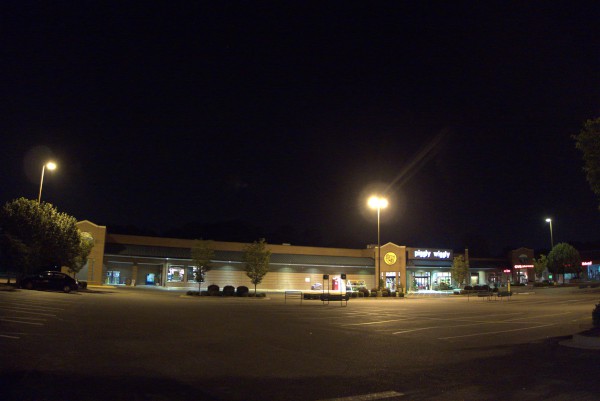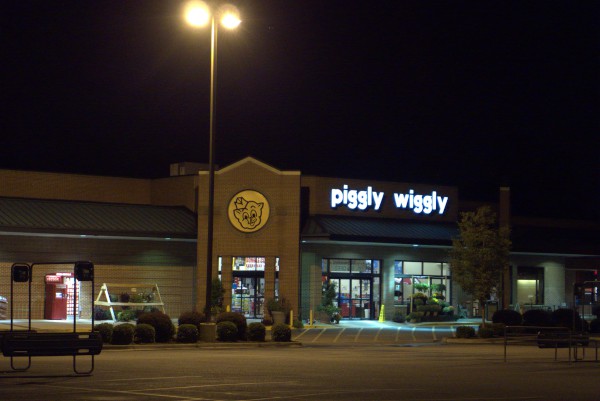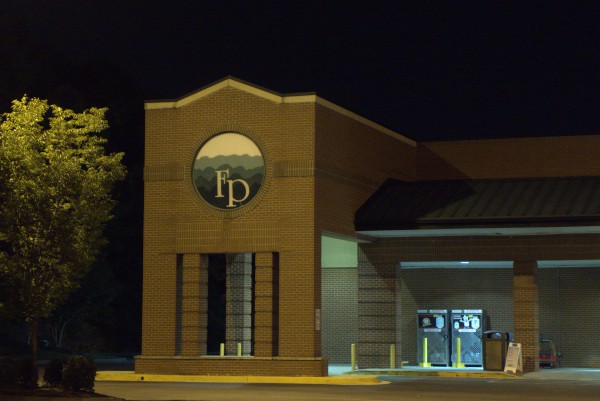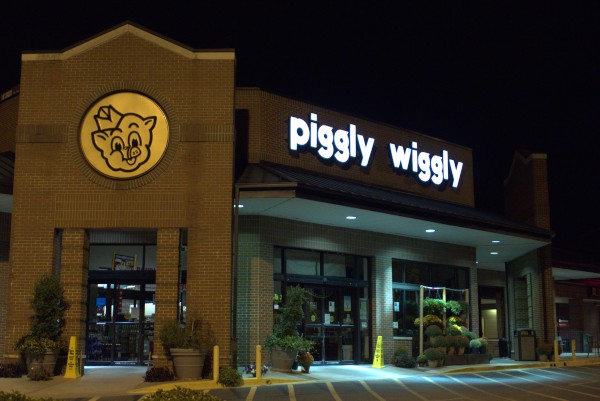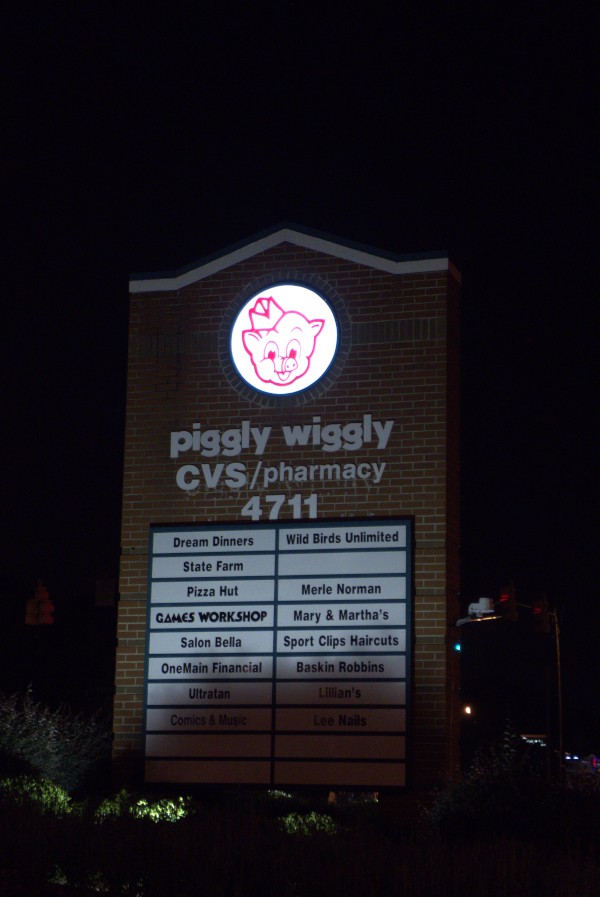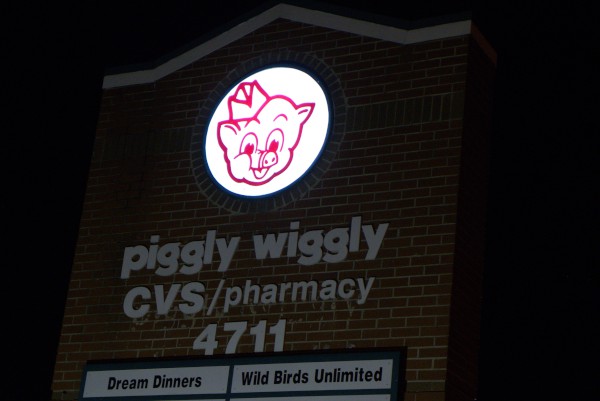 Interesting tidbit in The Sun News.
Here's the thing, this store, the one at Pawleys Island / Litchfield Beach and the recently closed store on Garners Ferry Road are all relatively new and upscale stores. This one in Forest Park is especially nice, and the one at the beach is in the same class (though a bit smaller, I believe). When you're abandoning your best stores, that can't be a good sign.
Posted at 4:49 pm in Uncategorized