Posted at 2:15 am in Uncategorized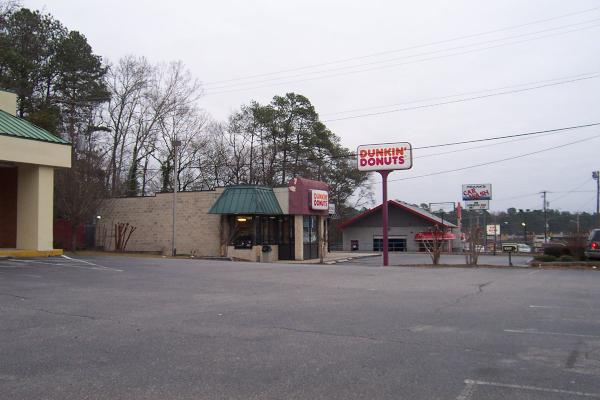 I talked about the doughnut store on Saint Andrews Road a few days ago, and that made me think of Mister Donut on Forest Drive.
I've written earlier about how we used to get hot Krispy Kremes when we went to wait for my aunt at the train station, but after Krispy Kreme moved across the river, Mister Donut was the only doughnut store near us, and it was always a special treat to stop there.
I had a little trouble with the name of the place. Their sign used a flowing cursive script, and to me it looked like "Wister Donut", which when you are a kid doesn't seem like an impossibly stupid name for a store, so that's how I always thought of it, though I was always able to get it straight when talking about the place.
Mister Donut dougnuts were both larger and more substantial than Krispy Kremes. My favorite was the "honey dipped", which I would say was about twice the size of a Kripy Kreme "original glazed", and much denser (though it was still a true [non "cake"] doughnut). In those days, I wasn't allowed coffee except on special occasions, so I liked to get the hot chocolate (which I remember as very good) for dunking purposes.
I was upset when Mister Donut was replaced by Dunkin' Donuts, a chain which I felt (and feel) had inferior recipies (and which at this location, according to my sister and The Free Times, can not operate a competent drive-through window). I didn't know until I looked it up today that Dunkin's parent company bought out Mister Donut and mostly dropped the brand in the US (it survives overseas).
The Dunkin' operation was smaller than Mister Donut and the east side of the building stayed vacant for years but has recently been occupied by, I believe, a travel agency.
UPDATE 26 March 2012: Added full street address to the post title, and added some tags.
19 Responses to 'Mister Donut, 4727 Forest Drive: 1990'
Subscribe to comments with RSS or TrackBack to 'Mister Donut, 4727 Forest Drive: 1990'.
Leave a Reply