Posted at 5:14 pm in Uncategorized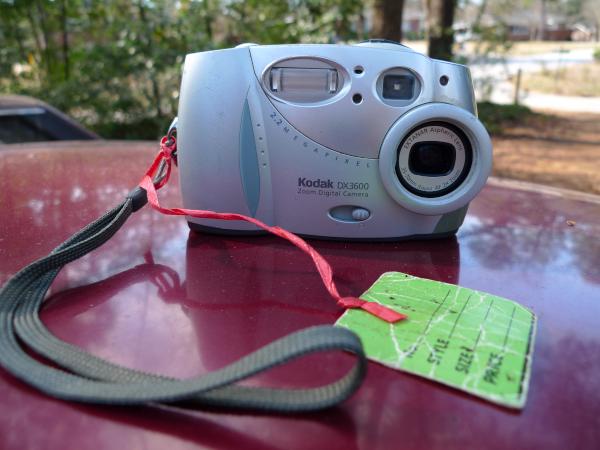 If you've been clicking through to the high-res pictures lately (and assuming your browser doesn't auto-scale them into medium-res), you'll have noticed that they are a lot bigger. That's because I've been using the Lumix LX3 I gave myself for Christmas as the new closing-cam.
The original closing-cam was a Kodak DX3600. My memory says that I bought it on New Years Day 2008, but the photographic record says that, as usual, my memory for dates if off. At any rate I'm sure that I bought it at the antiques mall on Centre Street in Fernandina Beach FL where the old down-town grocery store used to be. I've picked up antique cameras and parts there several times, as well as books, postcards and other what-nots, so when I saw a digital camera for $14.99, how could I resist -- I mean, come on, an antique digital camera!
I went to the Kodak web site and downloaded a PDF of the manual, put in some batteries, and found it ready to go. I'm guessing what happened was that the original owner lost the software somehow or other and found himself with no way to download his pictures (ther was no flash card when I bought it, just the camera built-in memory). I would have had no use for the software anyway as I don't run Windows, but I installed Gnu Photo which recognized the camera immediately, and I was good to go.
At 2.2MP, the resolution wasn't great by modern standards, but I was very happy with the camera, and it performed yeoman's duty for this blog, and in general, including lots of shots it wasn't really designed for, like the avaiable light shots I did at the 2008 State Fair. Unfortunately, it took a spill off the dresser one evening, and was a little flaky after that, culminating in total failure on a trip to Monkey Business indoor amusement park in Lexington on 31 Janurary 2009.
I'm quite happy with the new Lumix, though I still haven't actually read the manual to figure out all the functionality I'm not using yet, but I can hardly say I didn't get my $14.00 worth out of the original closing-cam. Sic transit gloria mundi.
2 Responses to 'Closing-Cam 1.0, everywhere: 31 Jan 2009'
Subscribe to comments with RSS or TrackBack to 'Closing-Cam 1.0, everywhere: 31 Jan 2009'.
Leave a Reply