Posted at 7:08 pm in Uncategorized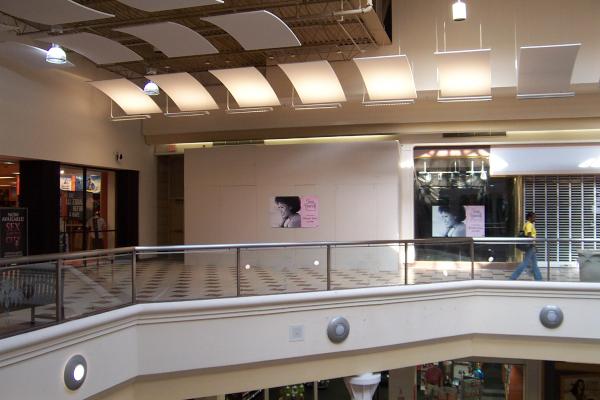 I went down to the sacred store
Where I'd heard the music years before,
But the man there said the music wouldn't play.
I was just at Columbia Mall, a place I go very seldom nowadays. I couldn't help but be struck by how few of the original stores are still there. There's Sears, Waldenbooks, Radio Shack, and that's about it. (I suppose you could count Macy's since there was continuity with their purchase of Rich's..).
Anyway, The Record Bar was on the top level, right next to J.C. Penny's and above Radio Shack. It was not a large operation and wasn't "indie" the way Sounds Familiar and especially Manifest can be, but it performed its function of providing the current hit LPs & 45s with a comendable depth of back catalog for a chain store with limited space. They also had a constantly changing selection of "cut-outs" from which I bagged many a gem, especially considering my extremely limited finances in those days before I had a job.
They also were generally careful to pull out the "Hot 100" pages from the current week's Billboard magazine, and tack them up over the 45 bin. This was nice because in those pre-internet days, you might never know your favorite group had a new song out if it was still down around #60 and never showed up on the radio.
I don't know their hiring practices -- their staff was definitely not as tatooed and pierced as is the norm at Manifest, but someone there seemed to know a bit about music. I pretty much discovered rock music in 1976 as a result of being introduced to "Endless Summer" by The Beach Boys, and I would always check the Beach Boys section in the LPs. Of course by that time, Brian Wilson was still not living on Earth most days, and the Beach Boys glory days were long gone, so there were years between album releases, and even the back catalog was in sad disarray. I found though, that whenever some interesting Beach Boys artifact was released abroad, it would usually show up at the Record Bar. I remember I had to borrow a dollar from my sister to get a "Brian Wilson Rarities" record with stuff that didn't show up in the states for years.
I'm not sure exactly what happened to The Record Bar. They had two locations in Columbia, I always presumed they were a larger chain, but perhaps I was wrong. At any rate, both the Woodhill Mall and the Columbia Mall locations closed in, I believe, the 1980s. It may have been that they were unprepared for CDs to catch on as quickly as they did. It may have been that that made a good bit on 45 singles and those disappeared. It may have been competition from larger non-mall stores like Peaches, Sounds Familiar and Manifest. It could even have been in-mall competition -- I know that at one time there was a larger CD store on the bottom level near Sears (though my impression is that that came after The Record Bar was already gone). Whatever the reason, they packed up, and their stained glass window and wooden door are now long gone. Currently there's not even a storefront in the spot where they were.
The levee is dry..
37 Responses to 'The Record Bar, Columbia Mall: 1980s'
Subscribe to comments with RSS or TrackBack to 'The Record Bar, Columbia Mall: 1980s'.
Leave a Reply