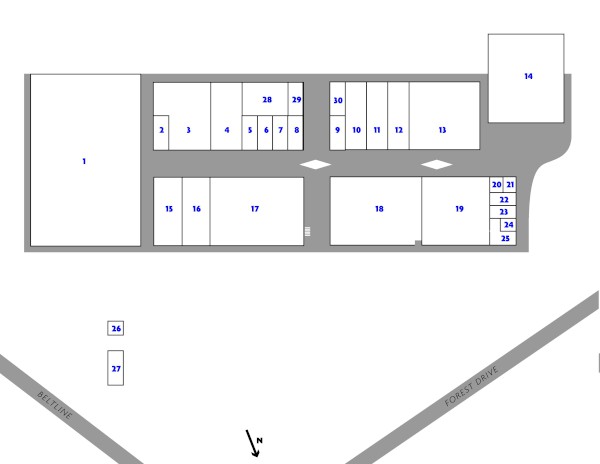 As promised below, this is commenter Dennis's map of the original Richland Mall. He also sends this note:
Hi ted

Well, finally, here's a first attempt at a Richland Mall layout, circa 1968.
Please feel free to correct!

Obviously it is just a sketch, and proportions etc. are extremely
approximate. Not to scale!

1. J.B. White's

2. a jewelry store -- King's?

3. no idea -- what was in this area?

4. Hickory Farms

5. The Shop for Pappagallo (women's shoes way too expensive for our family)

6. Baubles 'N Things (not sure about this one)

7. Mr. Popper's

8. Meri's Records

9. maybe this was Baubles 'N Things

10. ?

11. Pet-A-Rama

12. Ruff Hardware

13. Berry's on Main (actually at Richland Mall - always thought this was a
dumb name)

14. Winn Dixie

15. Redwood Cafeteria - not sure this was a plain rectangle; it may have
been an L shape. For a while the corner closest to White's had a separate
entrance and a little soda fountain area.

16. Hickory Farms' second location after the moved "across the aisle."

17. Woolworth's

18. Colonial Stores / Big Star

19. Eckerd's

20. What was here? A little travel agency, maybe? Remember travel agencies, before the internet?

21. Gerald's Shoe Repair

22. Merle Norman Cosmetics (or maybe they were 23)

23. Russell Stover (before they put their own building way out in the
parking lot)

24. coin laundromat; owned by the cleaners next door. The manager had a little walk-thru between the two.

25. dry cleaner's -- Ed Robinson's, maybe?

26. automated Post Office, like the one at old Woodhill Mall. An exercise in frustration every time.

27. Russell Stover's own building, far enough from the mall to make sure
they went out of business.

The white boat shapes in the center walkway were fountains when new, then, like every other property owner that gets completely fed up with the trouble and expense of fountains, the owners turned them into planters. Sometimes they covered them with carpeted plywood and used them as stages. I met Jolly Jim and J.P. Sidewinder there one Saturday. Was there a third one down closer to White's?

The white lines between Woolworth's and Colonial show the bike rack, used constantly by me.

The little gray inset into Colonial was their loading dock, which always
stunk. Speaking of stink, there was a really ugly dumpster in the parking
lot right out the back door of Redwood Cafeteria that reeked and bred vermin in ways that defy explanation.

28., 29., 30. The shady backside of the mall had a few offices that held no
interest for me. One was a State Farm agency, I think, and one was the
mall's business office.
Thanks, Dennis!
Have at it folks..
UPDATE 19 Sep 2010 -- Well, I went down to the library today and ended up looking in the old "City Directories". I hadn't really paid a lot of attention to those, since they tend not to have interesting ads like old phonebook yellow pages. HOWEVER what it turns out they *do* have is complete (or at least pretty complete) listings of shopping center tenants. Herewith the Richland Mall listings for 1962 (which I believe was the mall's first year of operation), 1975 and 1985:
1962: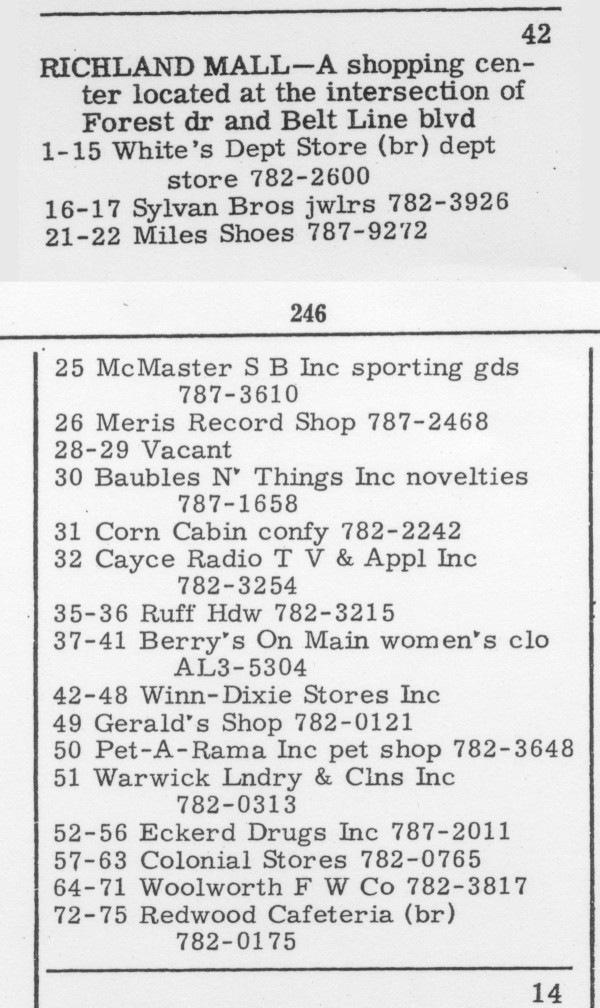 1975: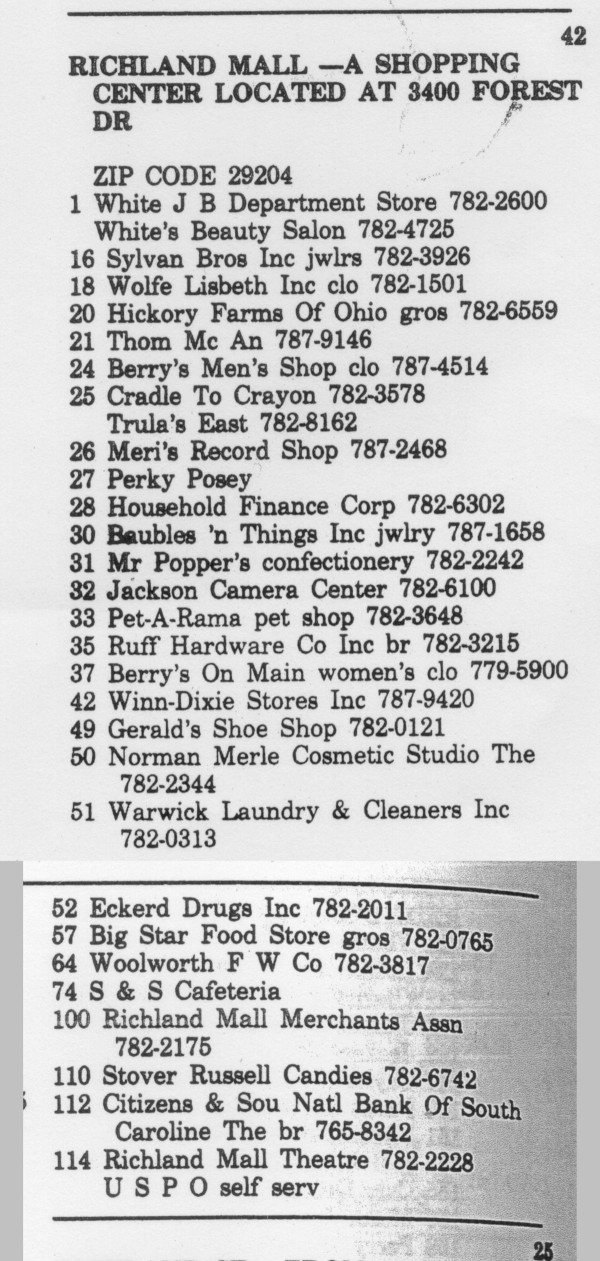 1985: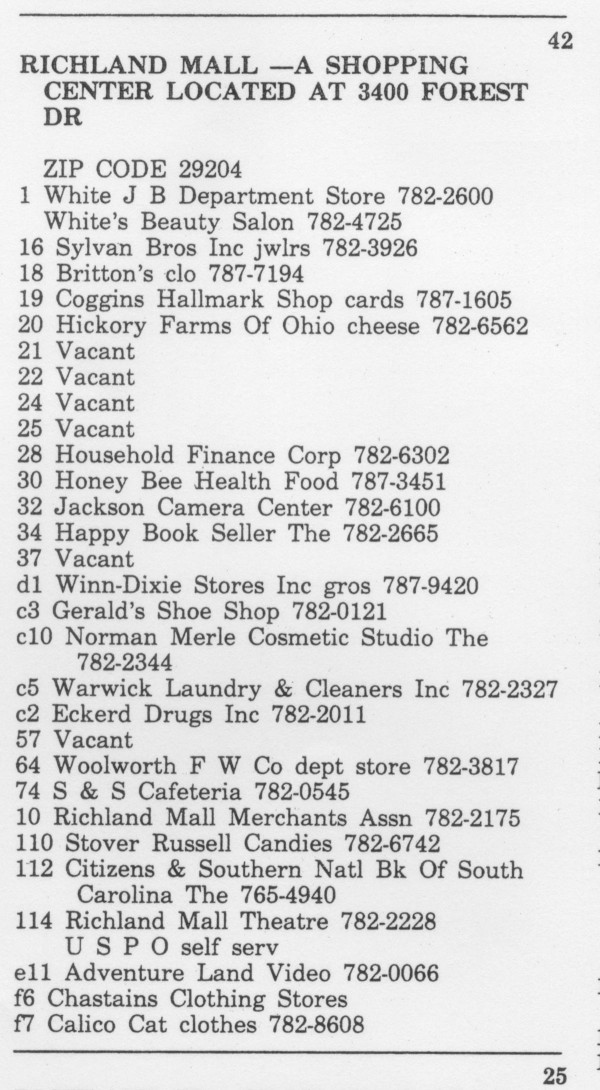 UPDATE 21 June 2011: Added [at top] a view of the old Richland Mall including Whites, Russell Stover, Richland Mall Theater, and part of Redwood Cafeteria from an old Chamber of Commerce promotional book.
UPDATE 9 February 2012 -- Well Richland Mall is rezoning: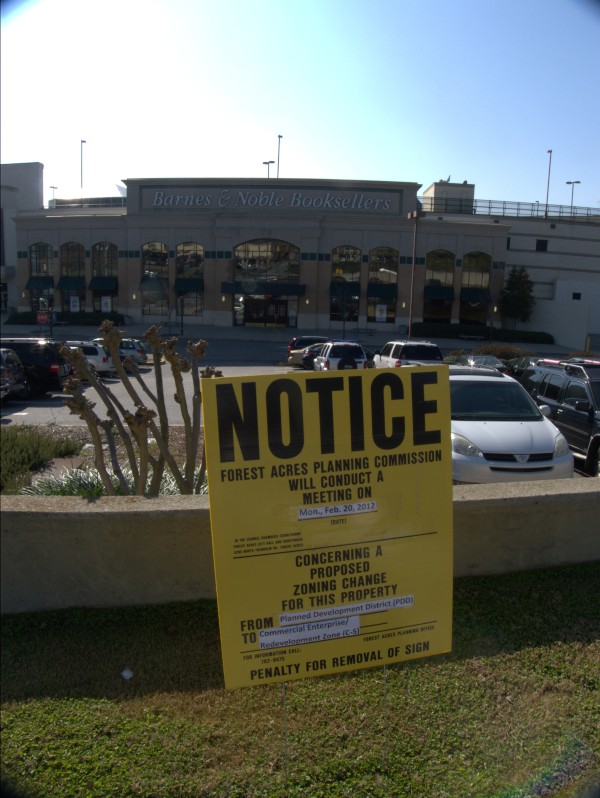 According to The State:
The new zoning allows the mall owners "all kinds of options," including space for offices, residences, hotels, restaurants and schools, according to Mark Williams, Forest Acres' city manager.
UPDATE 21 May 2020 -- Here's a nifty color shot of the old Richland Mall centrial corridor at the Colonial. Unfortunately I can't inline it due to copyright, but it's worth a click.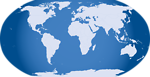 79 Responses to 'Richland Mall: The Map'
Subscribe to comments with RSS or TrackBack to 'Richland Mall: The Map'.
Leave a Reply