Posted at 9:48 pm in Uncategorized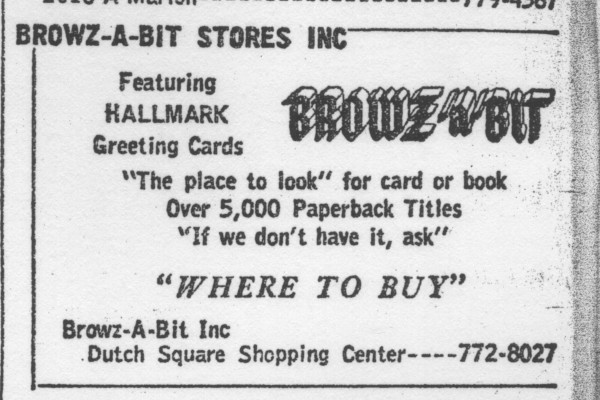 Browz-A-Bit was the "second" book store in the old Dutch Square, with Waldenbooks definitely being the "first". I'm a little hazy on the exact location of the store, but it was on the Bush River Road side of the mall, and I think was a bit up the "hill" from Woolworth's.
In the early 70s my mother would often drop me off at the mall while she and my sister went off to do something different. I guess I would have been around 12 or 13, old enough to have stayed home alone, but I always liked the Dutch Square experience. At the time, I had a weekly allowance of $0.60, and could earn $3.00 mowing the lawn, so I would have a few dollars in my pocket to hit the bookstores.
Sometimes I would walk down to the old Book Dispensary location in Boardwalk Plaza on Bush River Road, but mostly I would hit Waldenbooks and Browz-A-Bit. While Walden's had the "legitimate" book trade cornered, with hardbacks (which I would never be able to afford), some depth in stock and the current New York Times bestsellers, Browz-A-Bit tended more towards "men's adventure" (Doc Savage, The Destroyer, Nick Carter etc), TV tie-ins, the sensational (they seemed to be big on "Edgar Cayce: The Sleeping Phrophet!") and the non-book: Hallmark cards, little gifts, the Weekly World News etc..
While I can still remember very well some of the exact books I bought at Walden's during those days, I can't do that for Browz-A-Bit. I feel sure I would have gotten some Doc Savage books there (and if you only saw the cheesy 70s movie, you should seek out the original pulp adventures, the best of which are cracking good yarns).
If I recall correctly, the store was set up with two rows of wire books racks on the left side of the shop with the greeting cards and knick-knacks on the right side of the store and tabloids by the cash register, which was in the middle-front of the store.
I'm not really sure when or why Browz-A-Bit closed, but I think it was in the 80s, well before the big box bookstores came to Harbison (or indeed to Columbia at all). Maybe it would have helped to have called it Buy-A-Bit instead..
6 Responses to 'Browz-A-Bit, Dutch Square: 1980s'
Subscribe to comments with RSS or TrackBack to 'Browz-A-Bit, Dutch Square: 1980s'.
Leave a Reply