Archive for the 'video' tag
12 March 2012: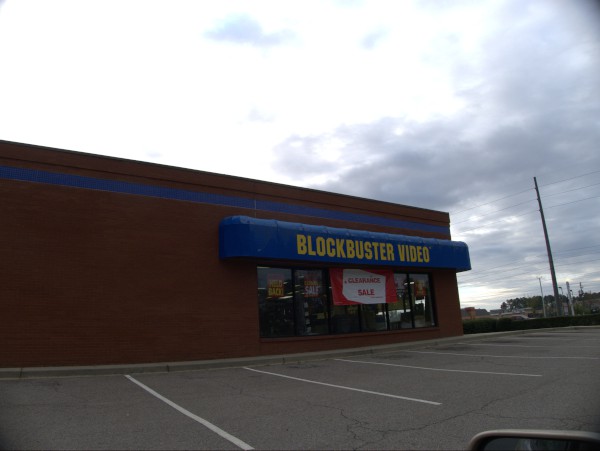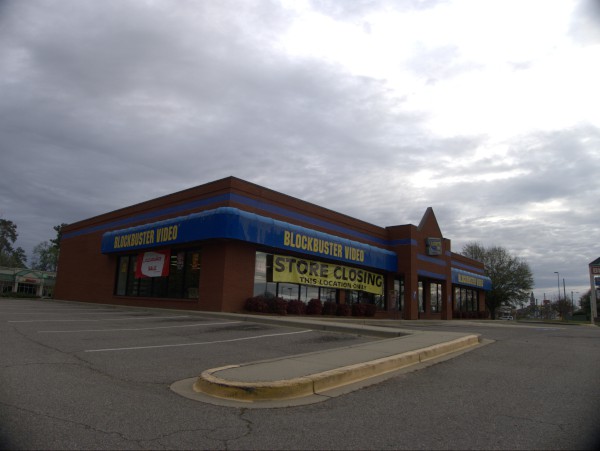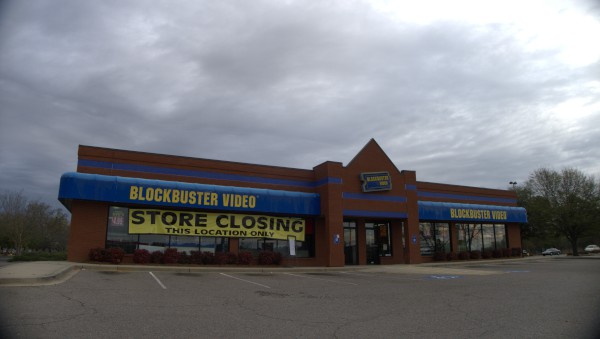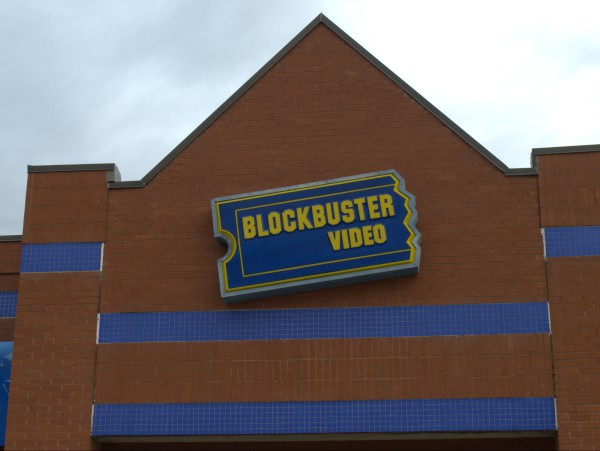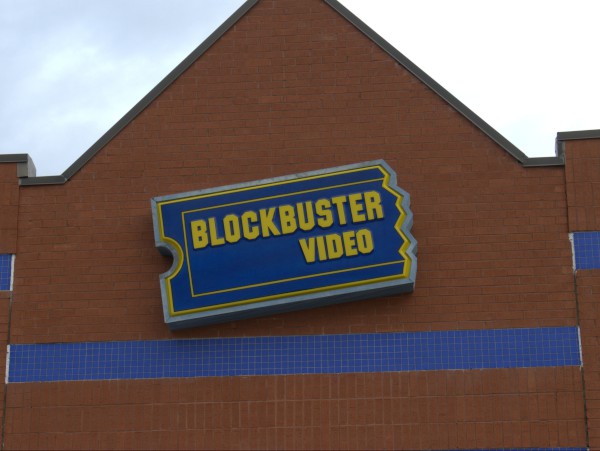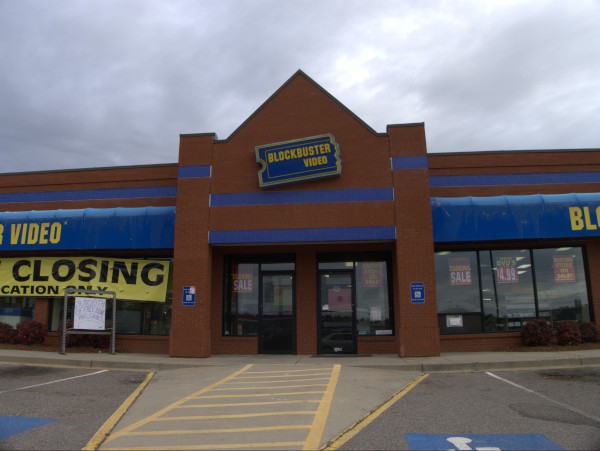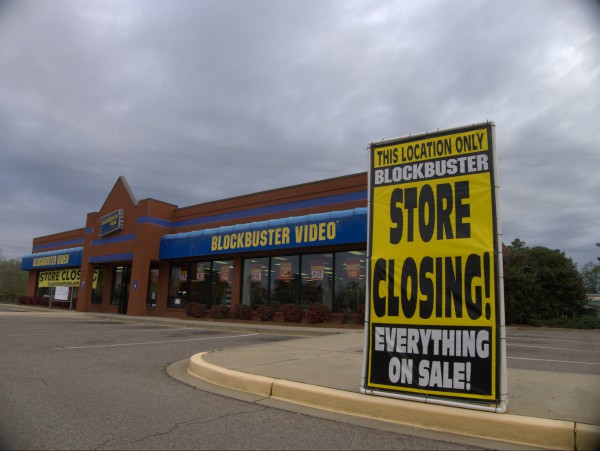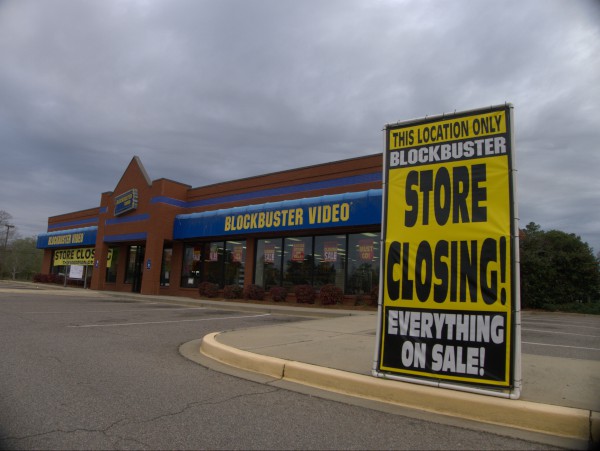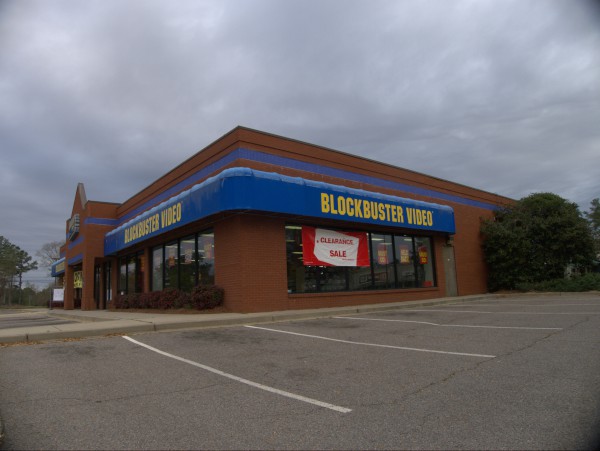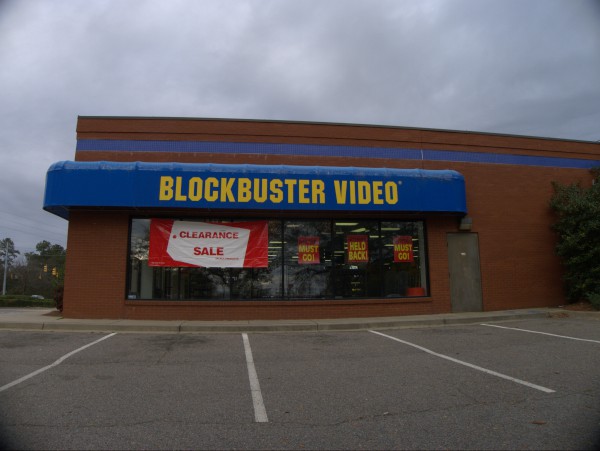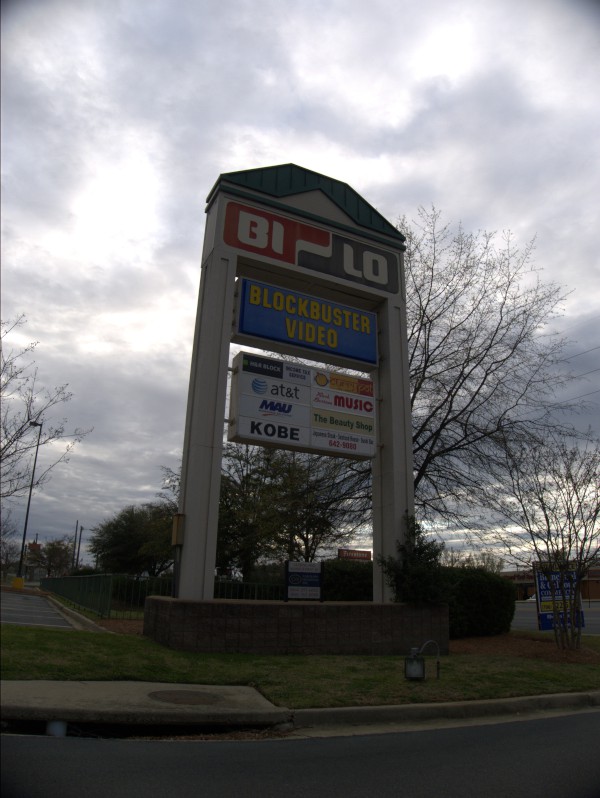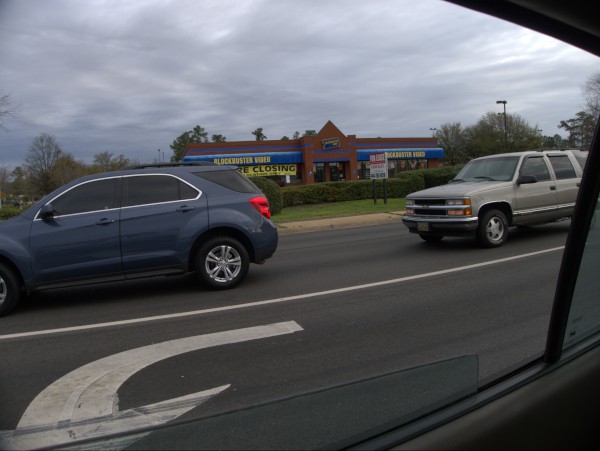 11 March 2013: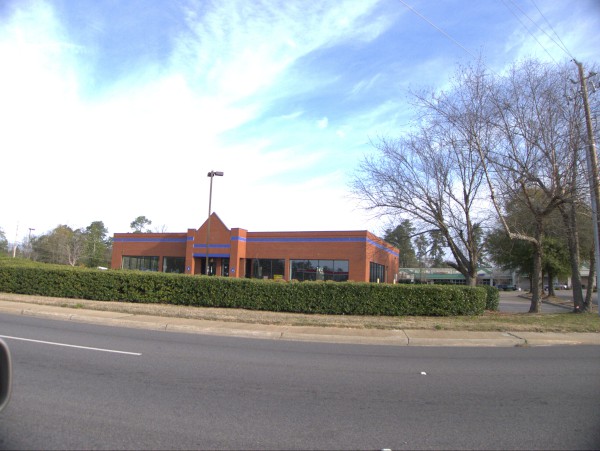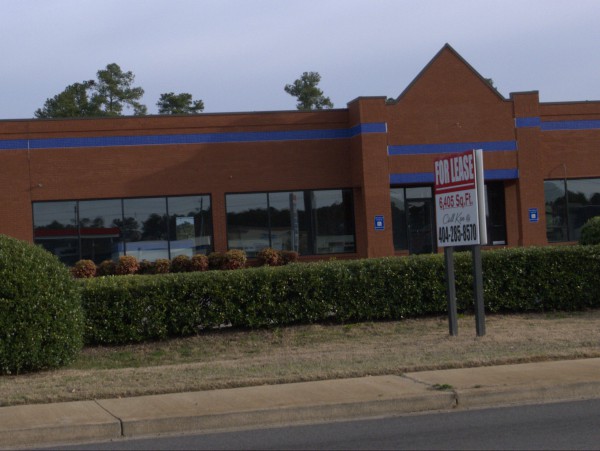 11 March 2014: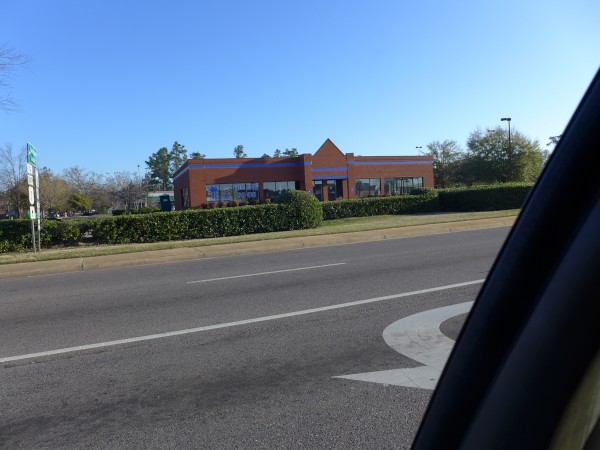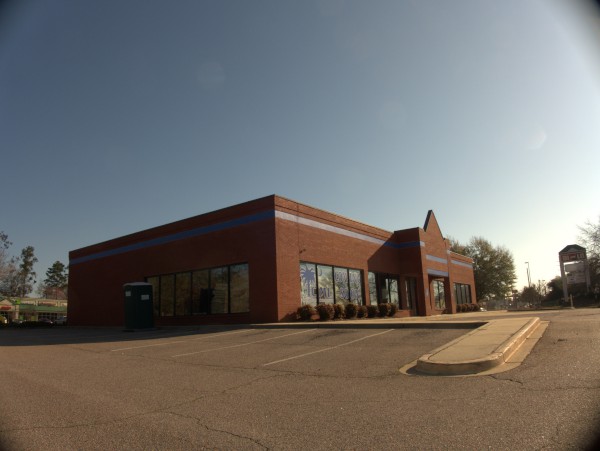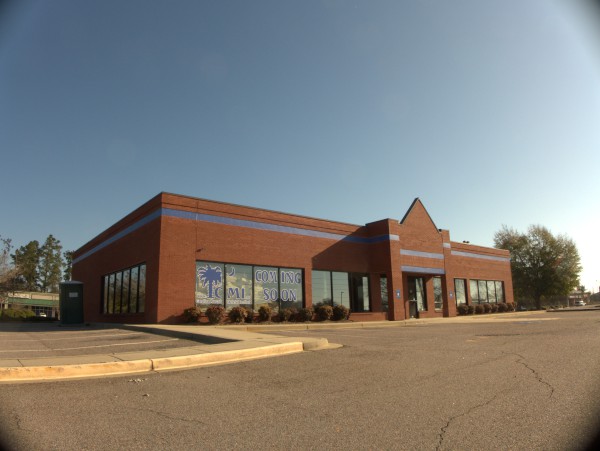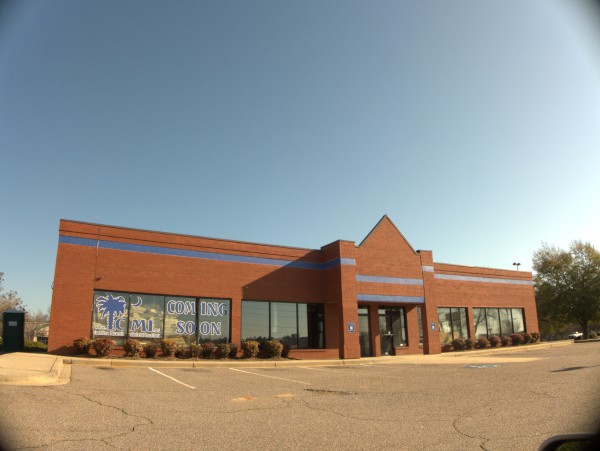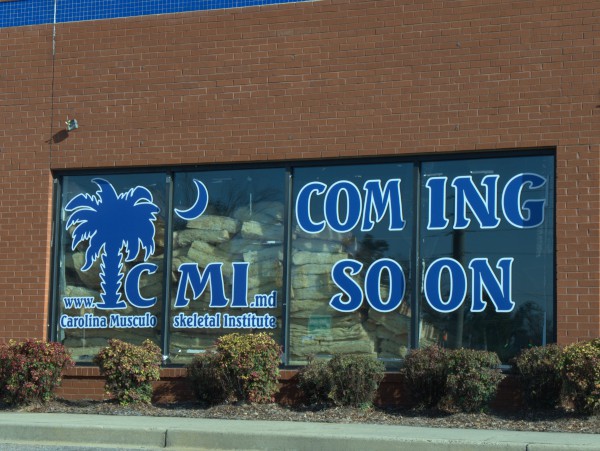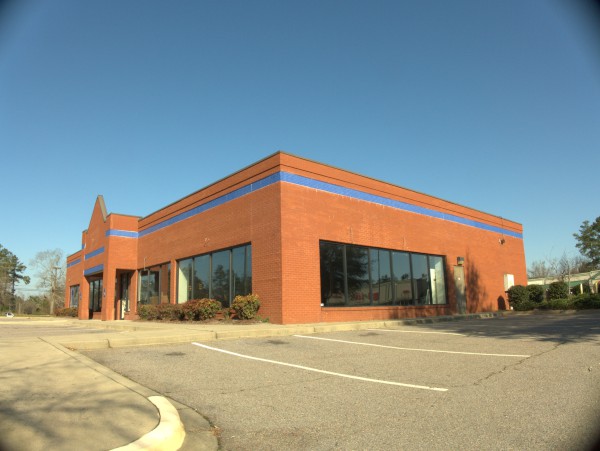 I took an annual trip to Aiken last week, and was amazed at the amount of storm damage over there. I had though all the "worst tree kills since Hugo" headlines were a bit of hyperbole since I didn't see anything like that here in Columbia.
Not that that has anything to do with this post. While I was there I also noticed that the Blockbuster in the Bi-Lo parking lot on Silver Bluff Road is finally getting a new tenant. Given how many Blockbuster closings I've done here, I figured I might as well add this one too. (Eventually, I'll get the Litchfield Beach store as well).
Posted at 12:37 am in Uncategorized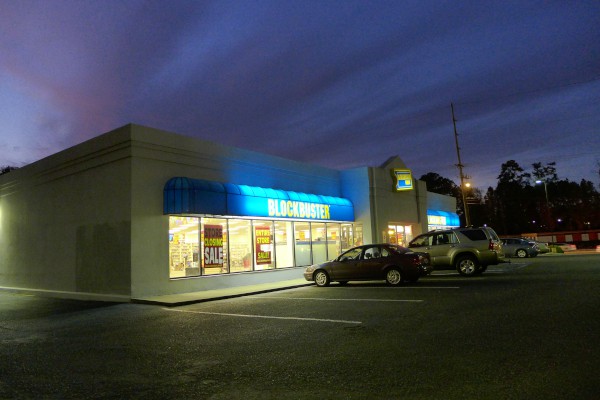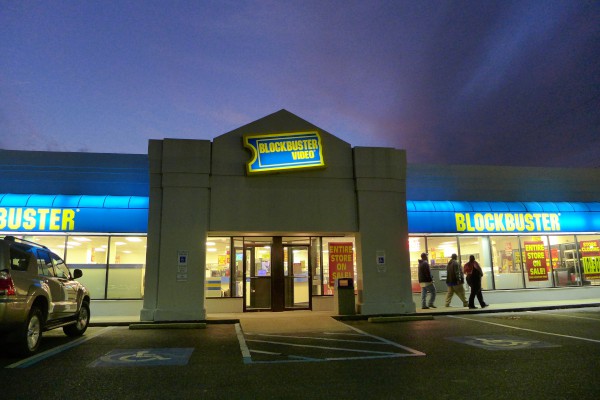 Another day, another Blockbuster. I guess it's too late to change their pre-printed banners which continue to say This Location Only..
This particular storefront is on the tail-end of Rosewood, in a little strip which has now had the misfortune to have bet on two outlets for now defunct media formats.
UPDATE 26 November 2013 -- Here are some daylight pix: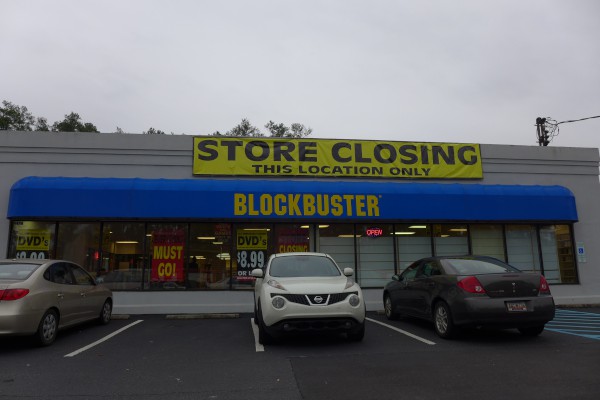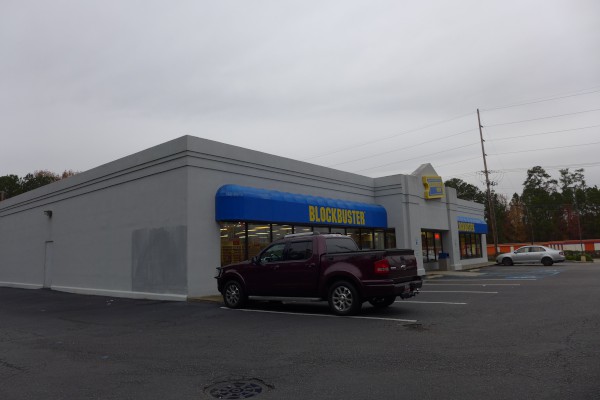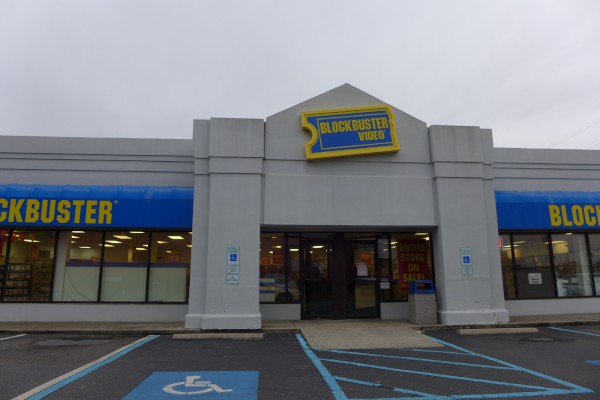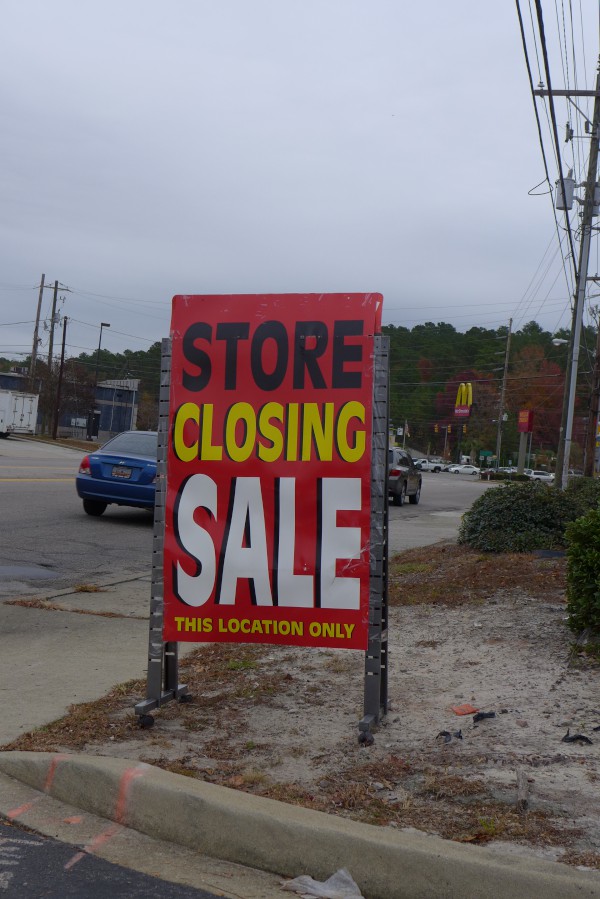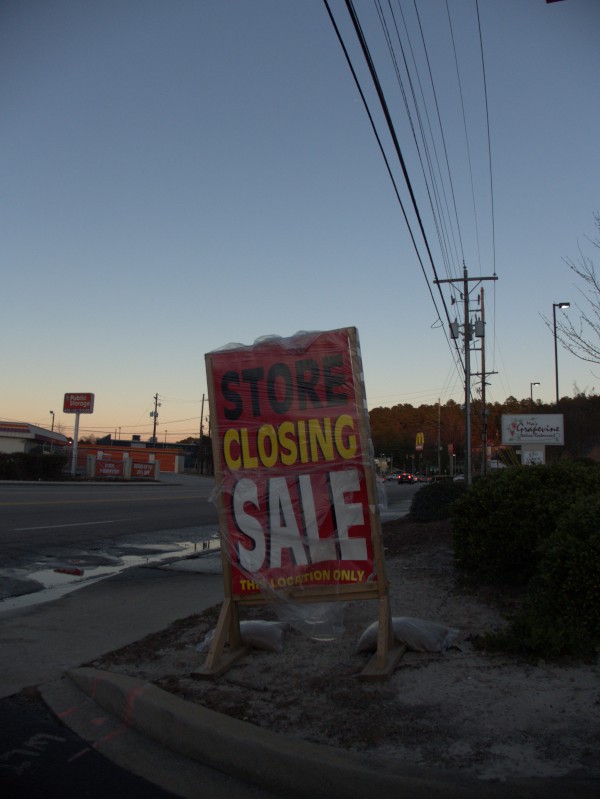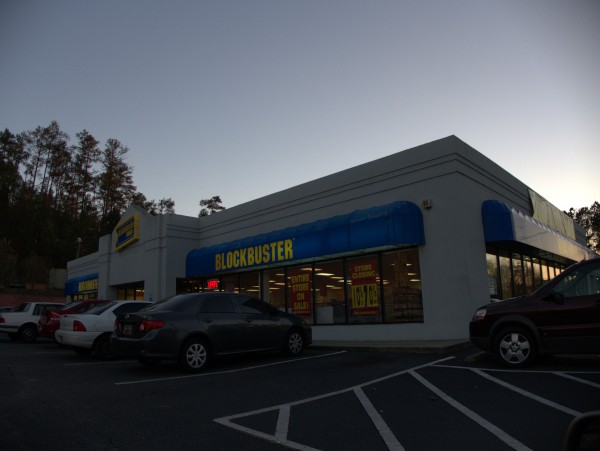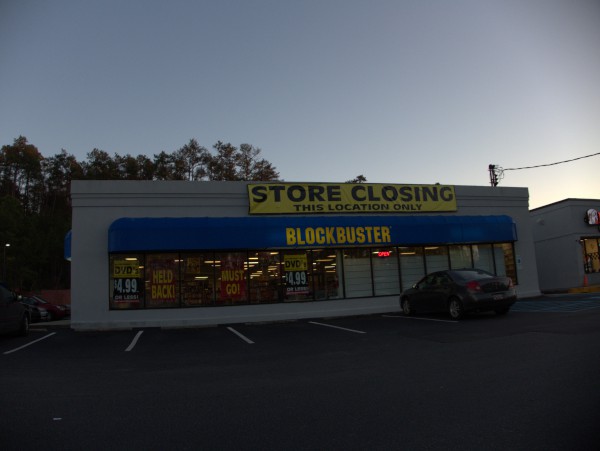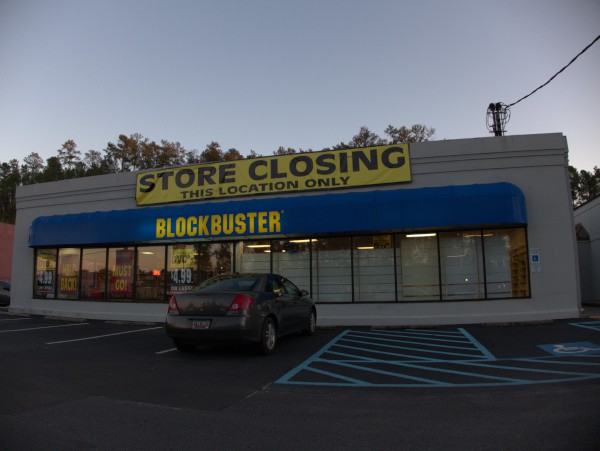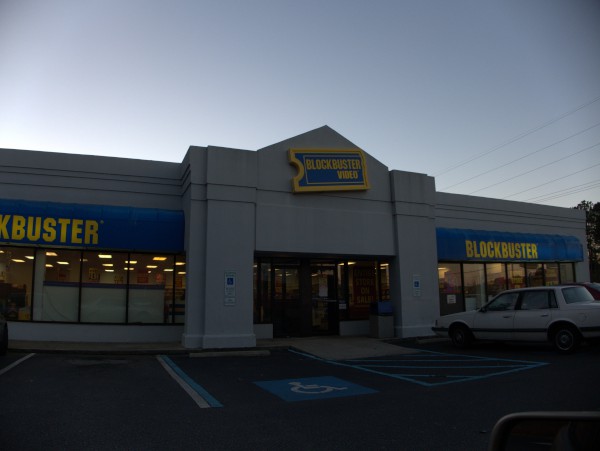 UPDATE 14 January 2014:
Say Goodnight Gracie.
"Goodnight Gracie!"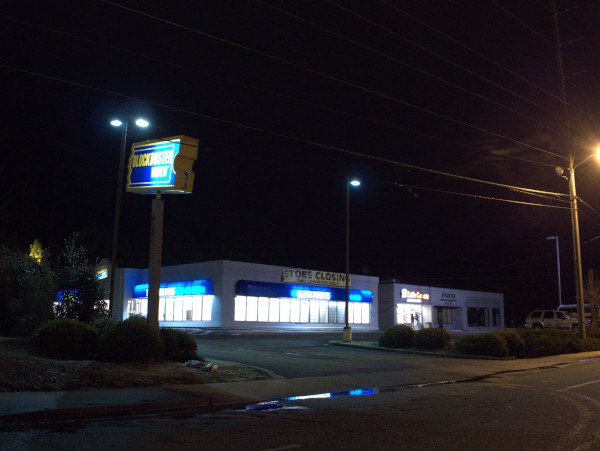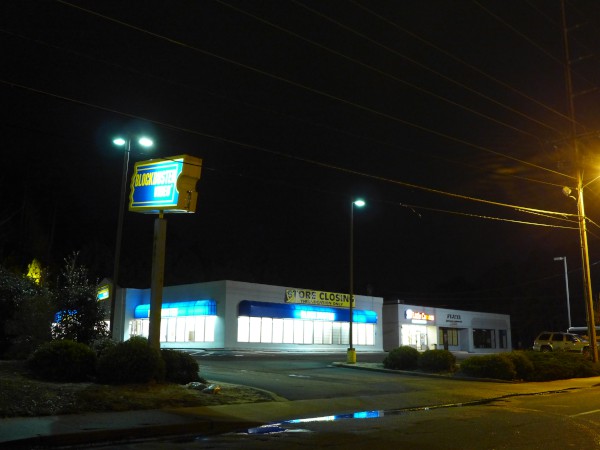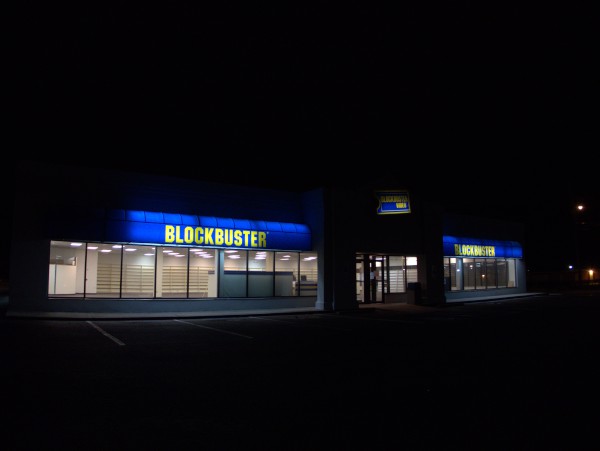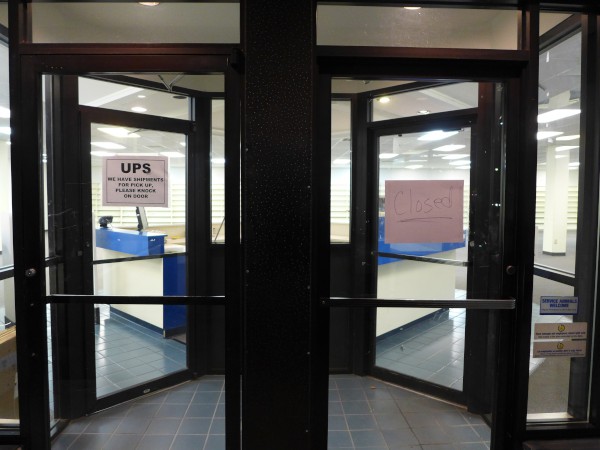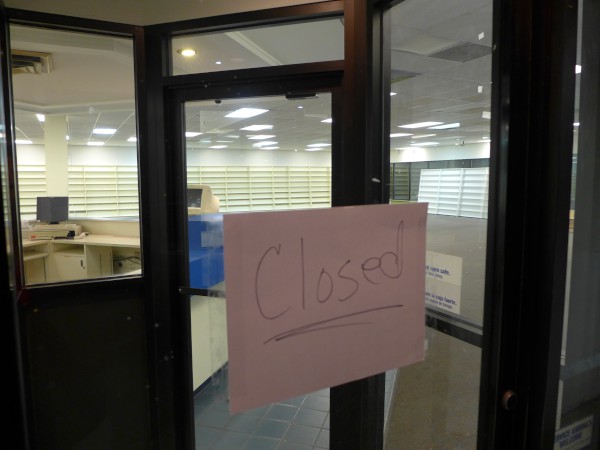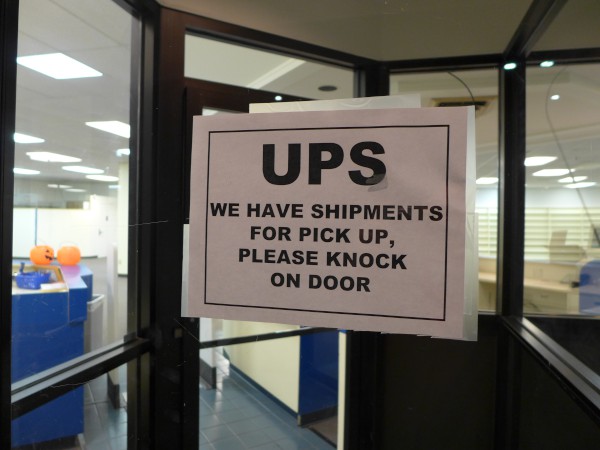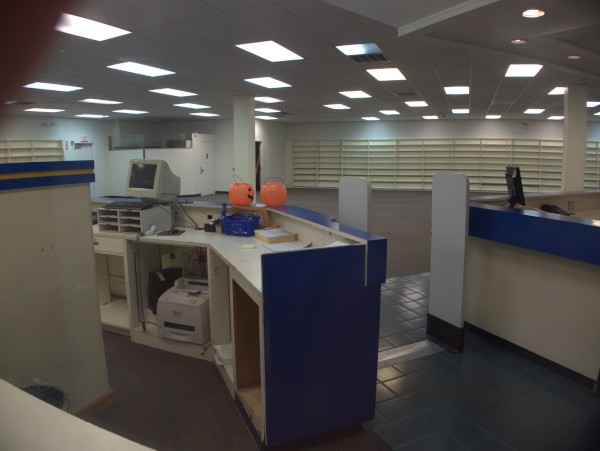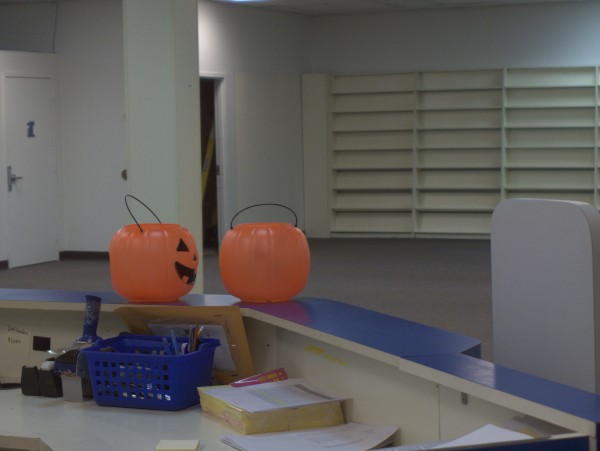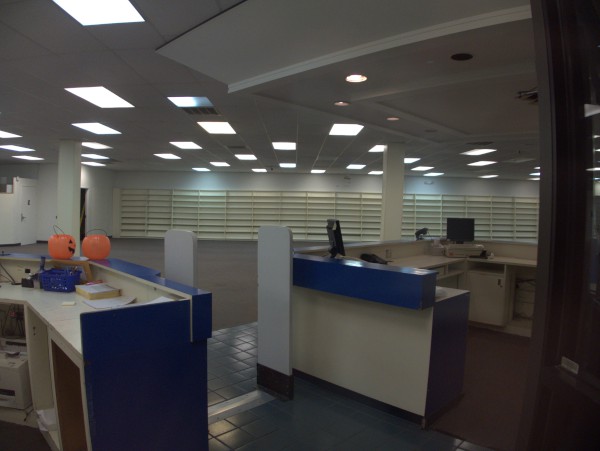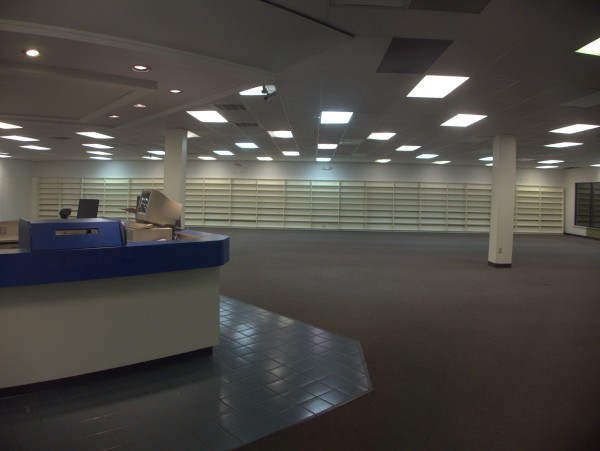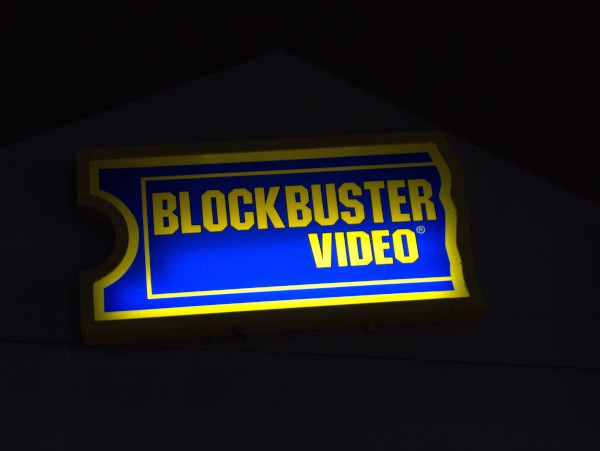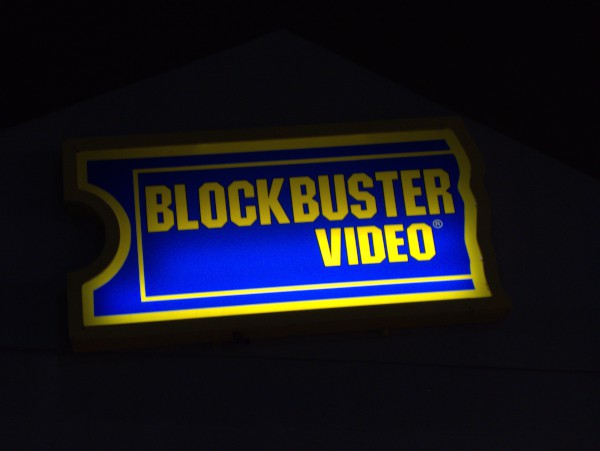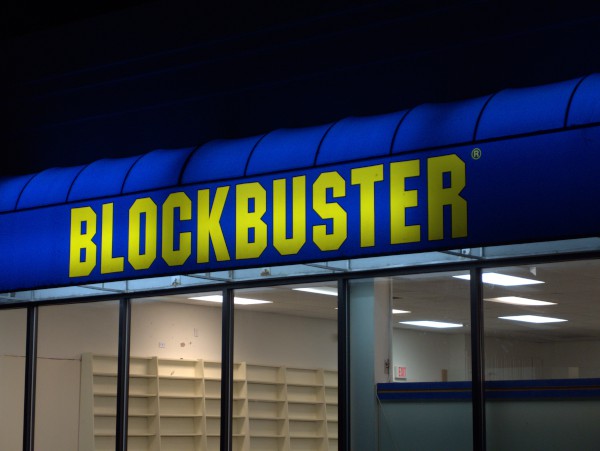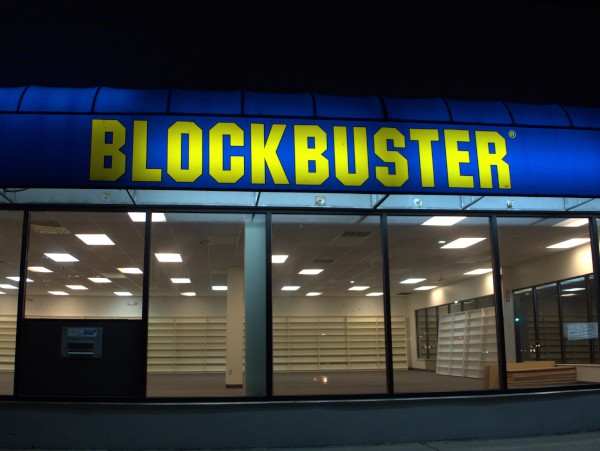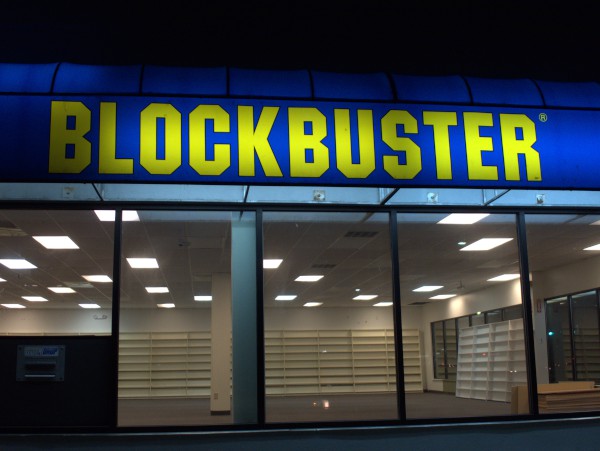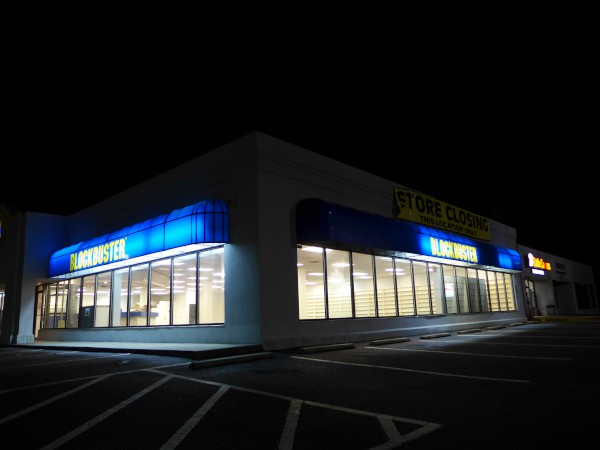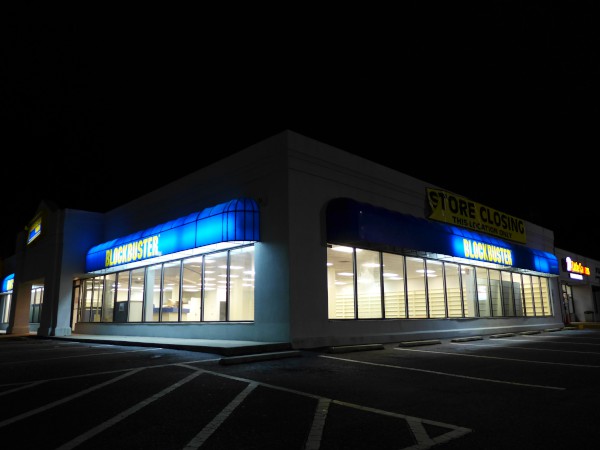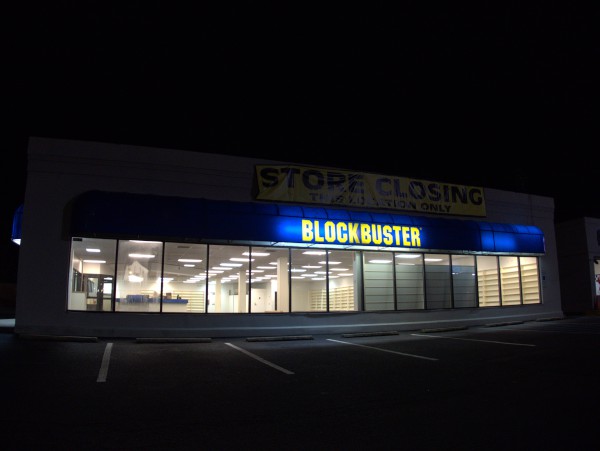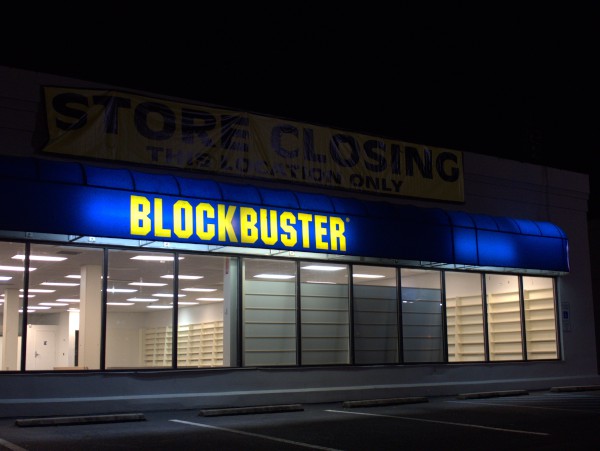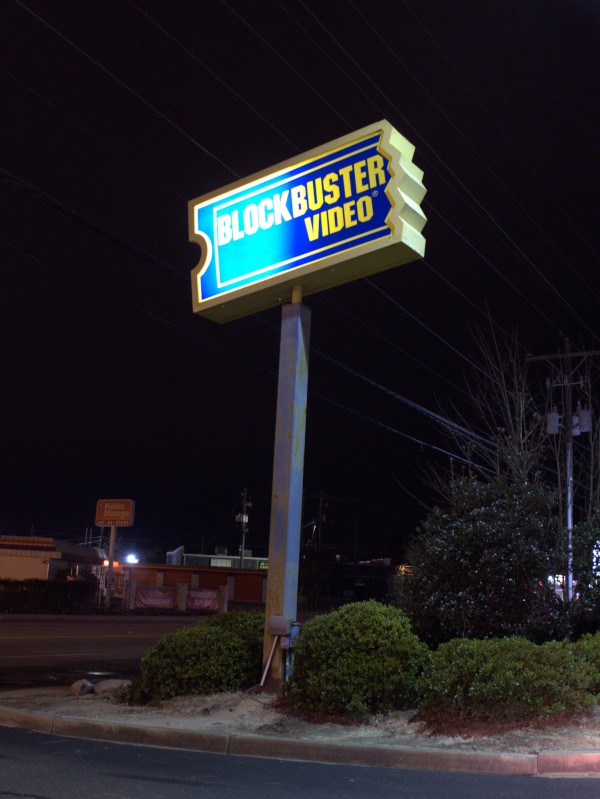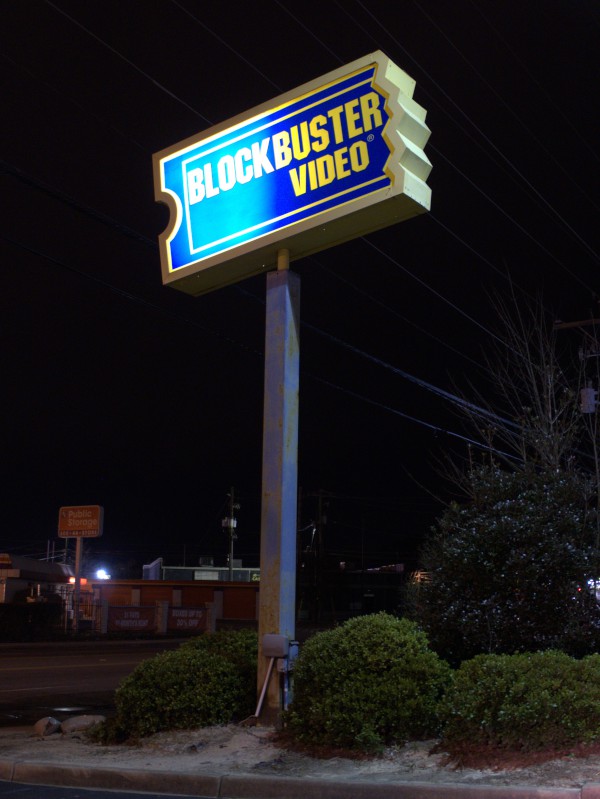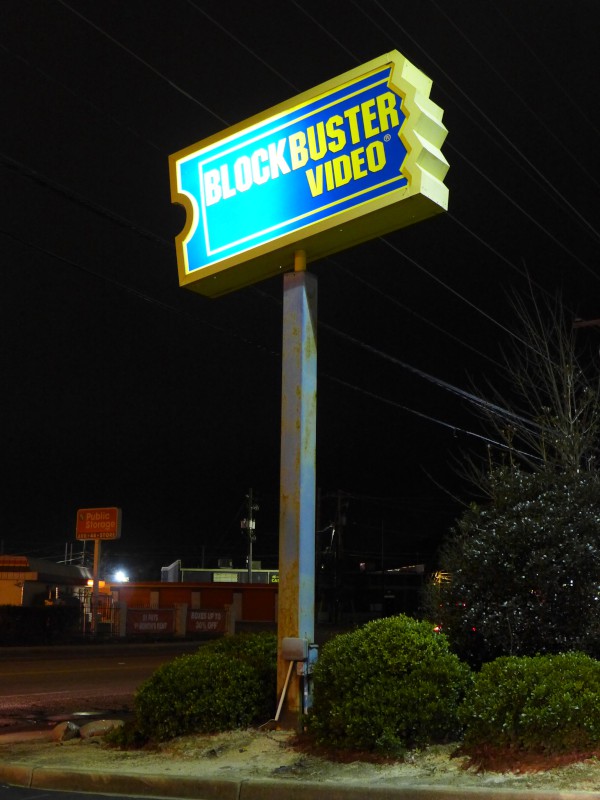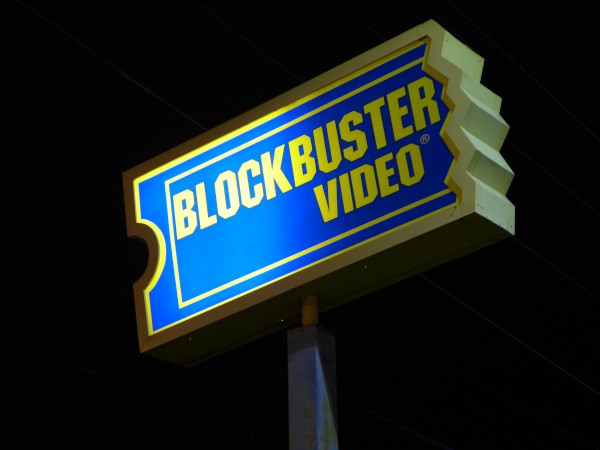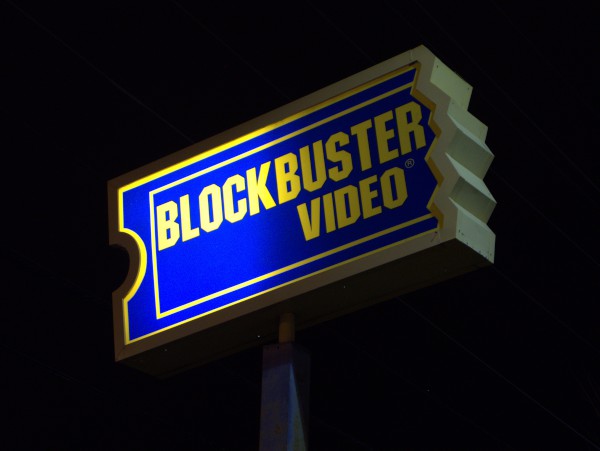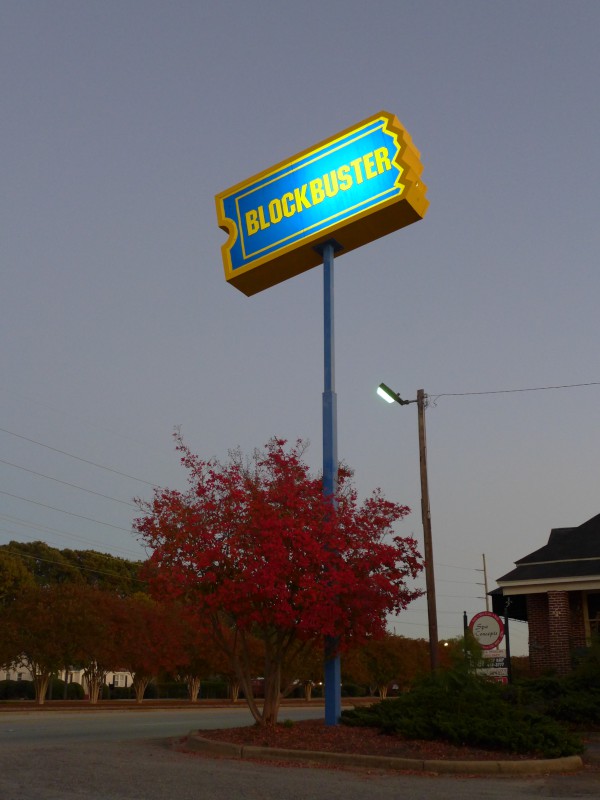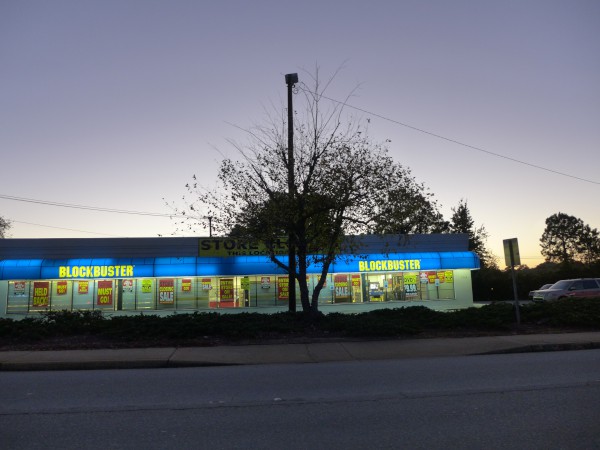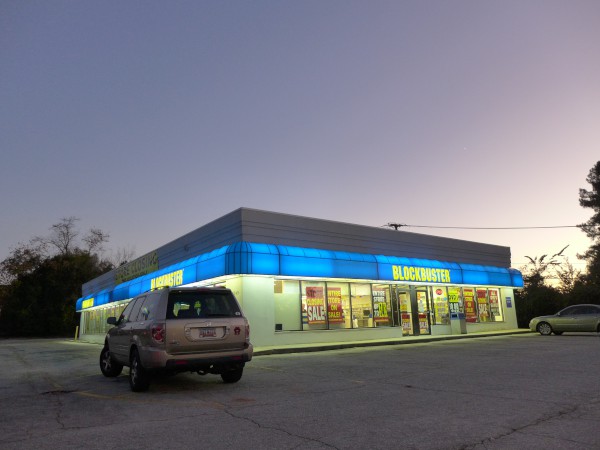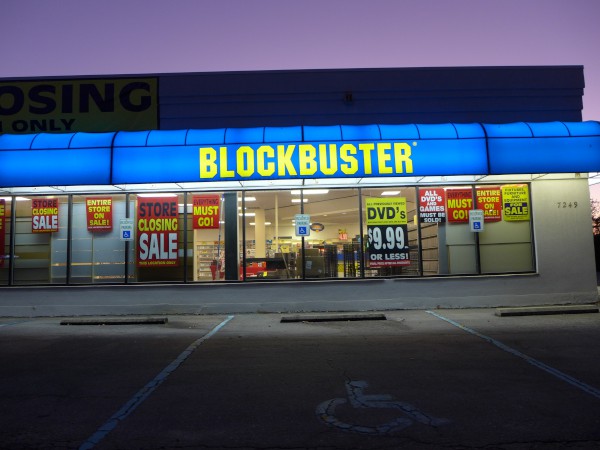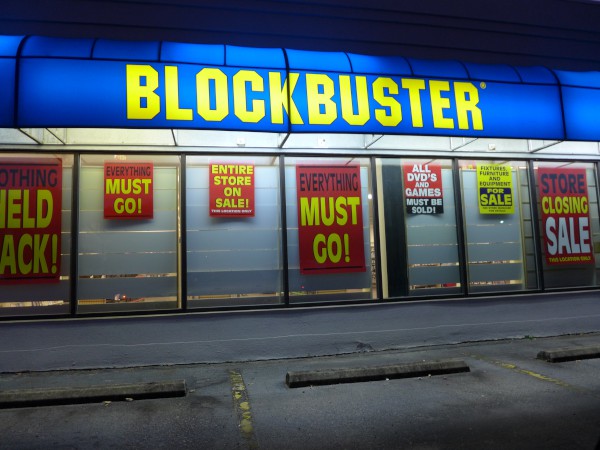 Well, as we've discussed recently, Blockbuster, at least as a physical store, is on the way out. The parent company, Dish Network is shuttering the chain, basically, due to the rise of Internet video. The last Blockbuster movie rental, 'This Is The End', was on Saturday in Hawaii.
I'm not sure how long the clearance at the remaining stores will go on. It's possible this Irmo store is already closed, as these pictures were taken a week ago now, and I haven't been back by. This location joins a long list of Columbia area Blockbusters which have featured here. And Rosewood will be up as soon as I get the chance to get some pictures there.
UPDATE 26 January 2014 -- Well, that's it, as seen in this pix from 12 Jan: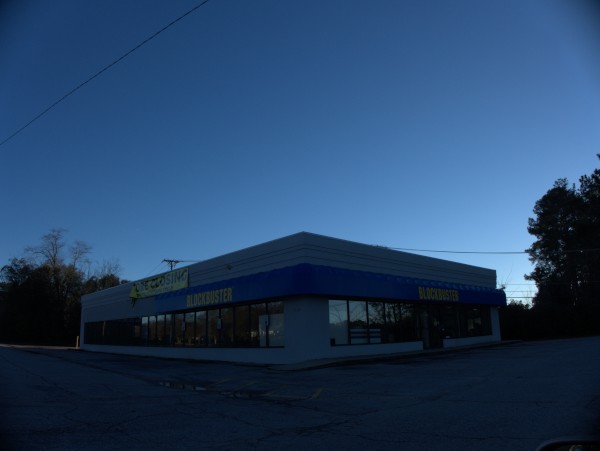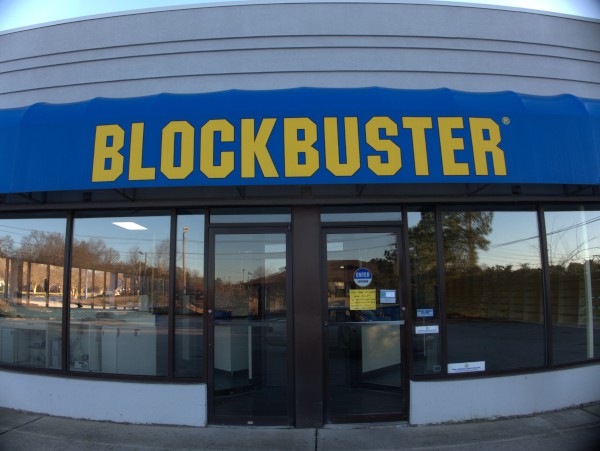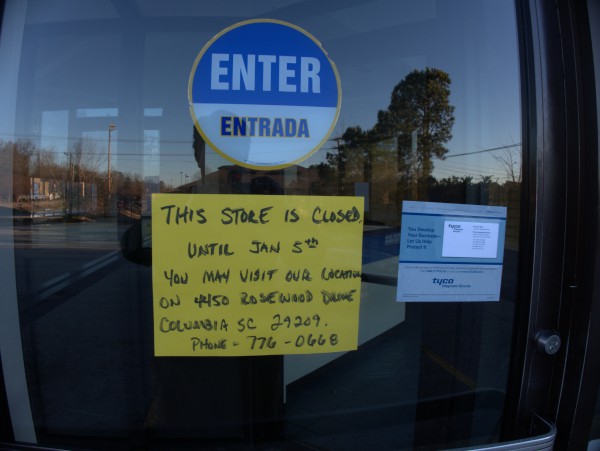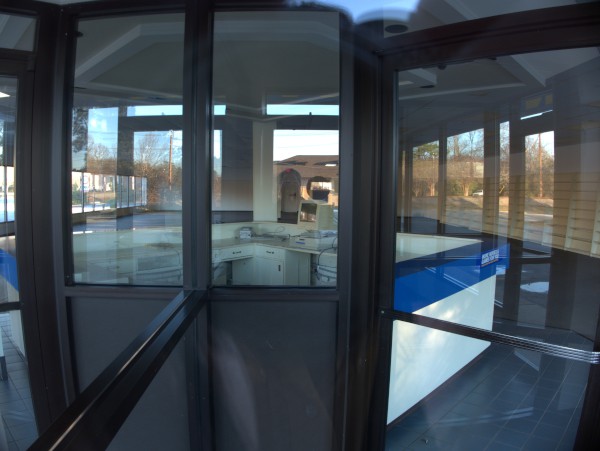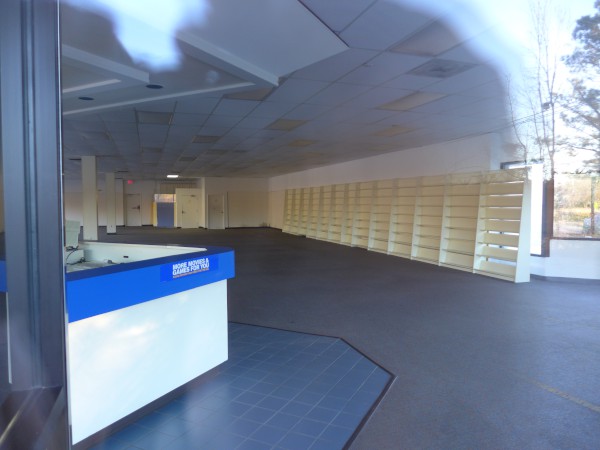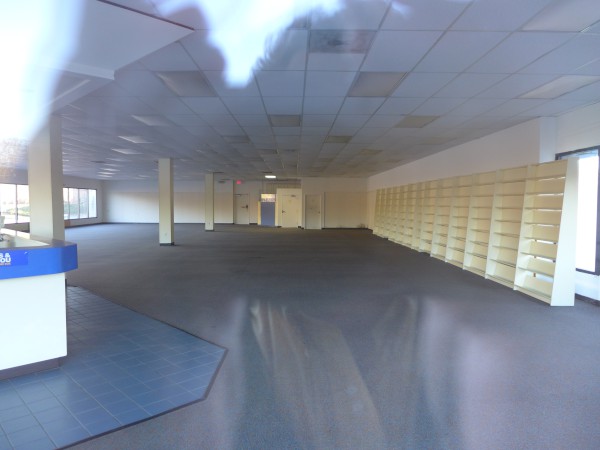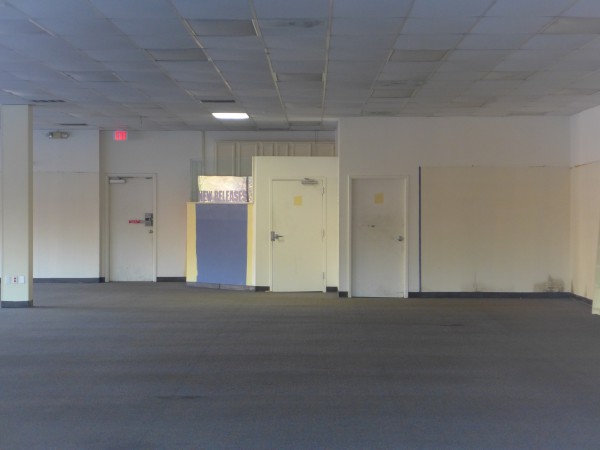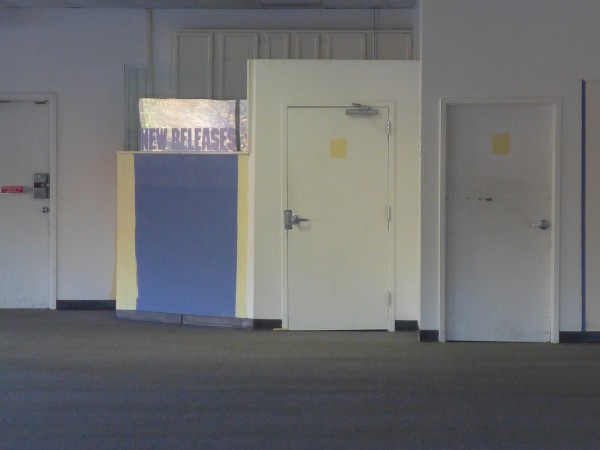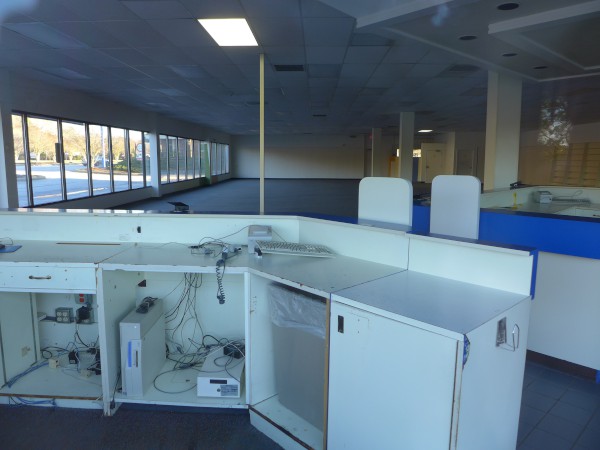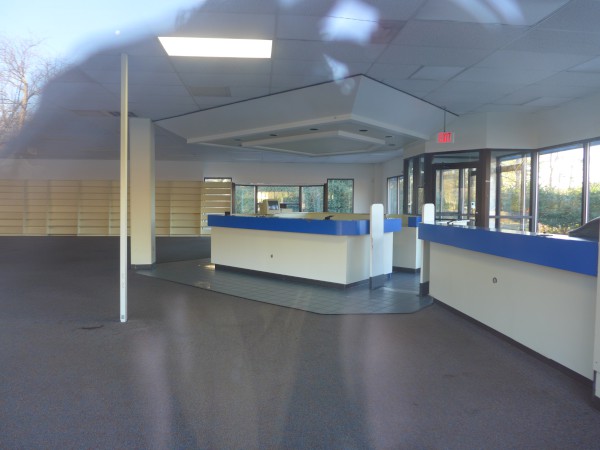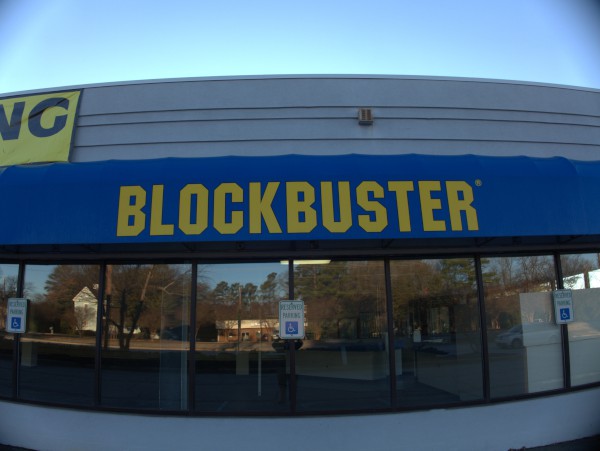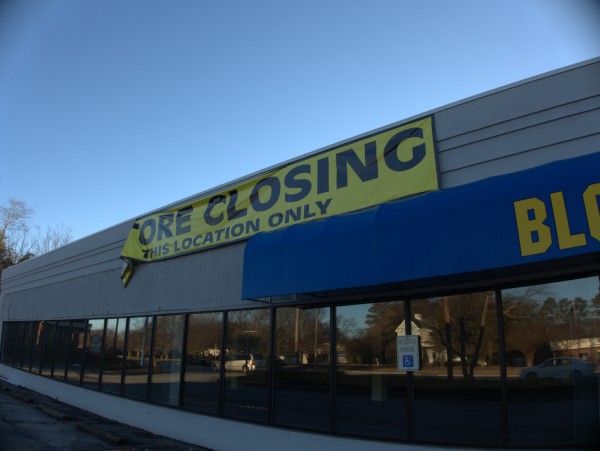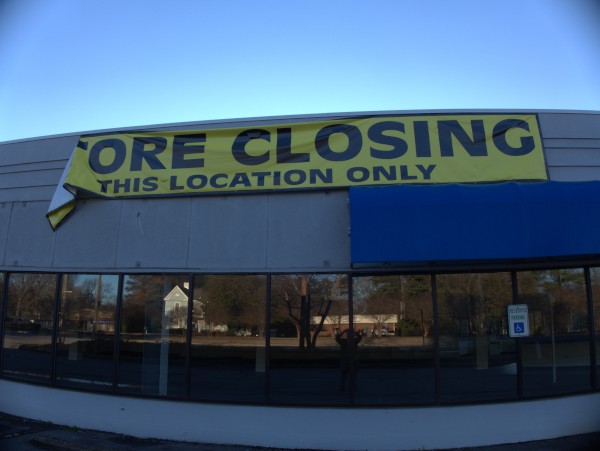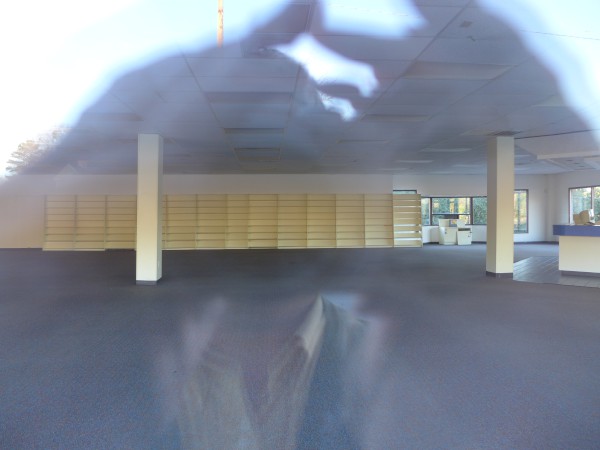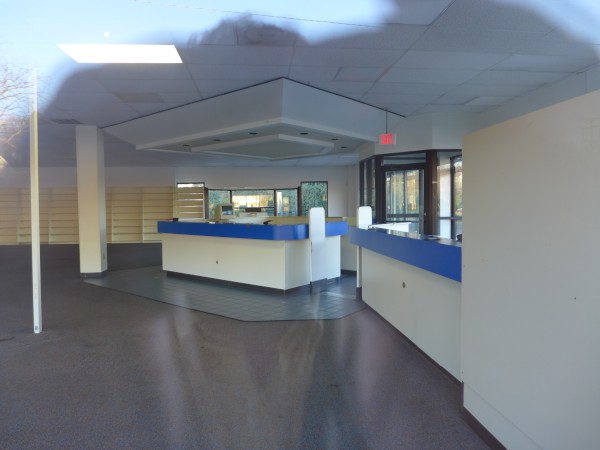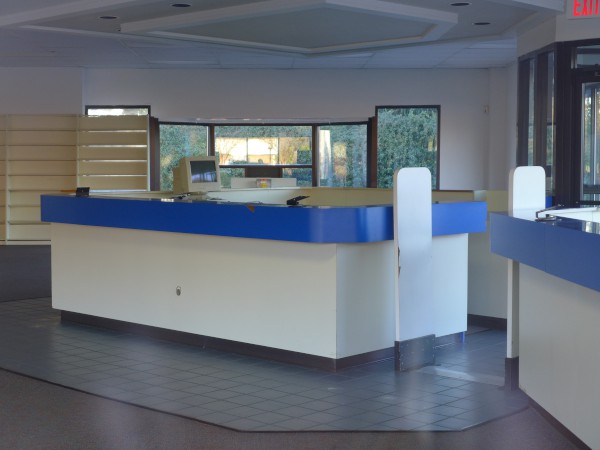 Posted at 12:24 am in Uncategorized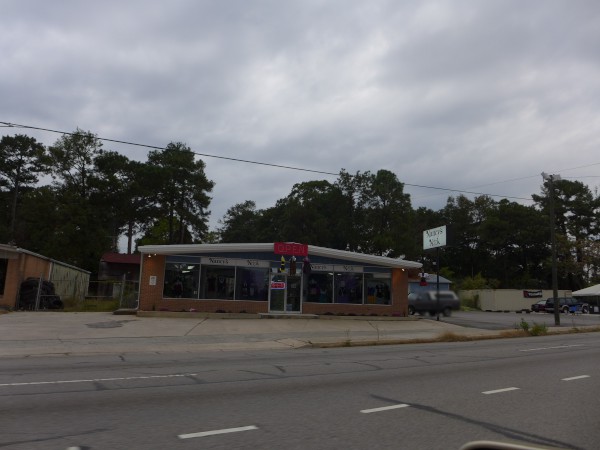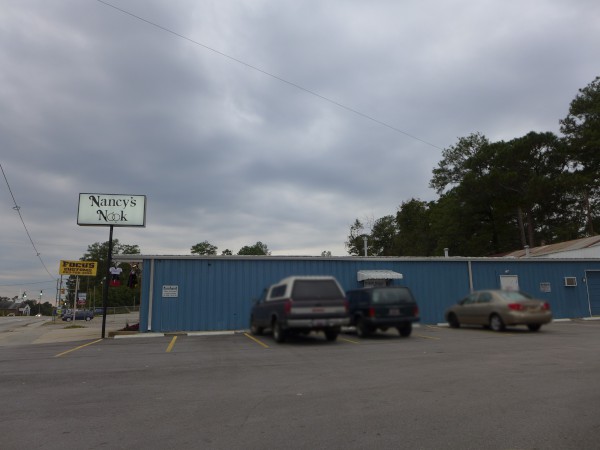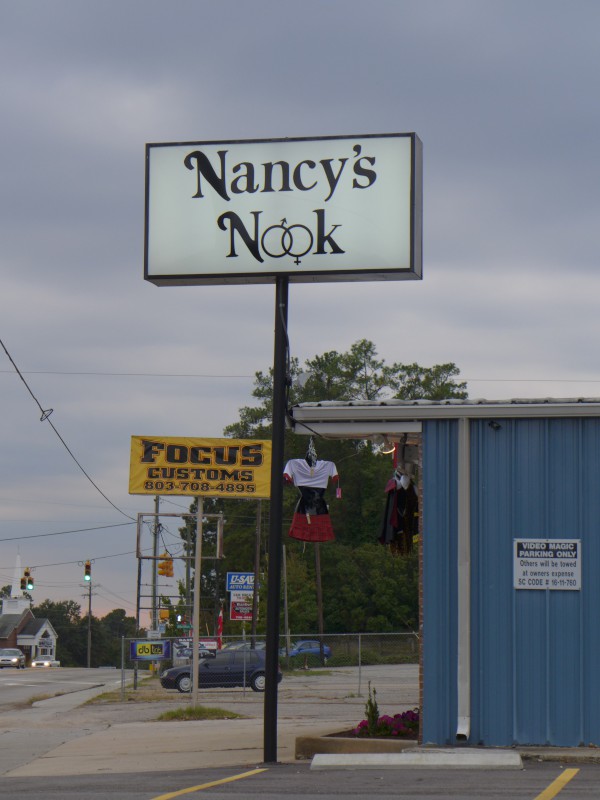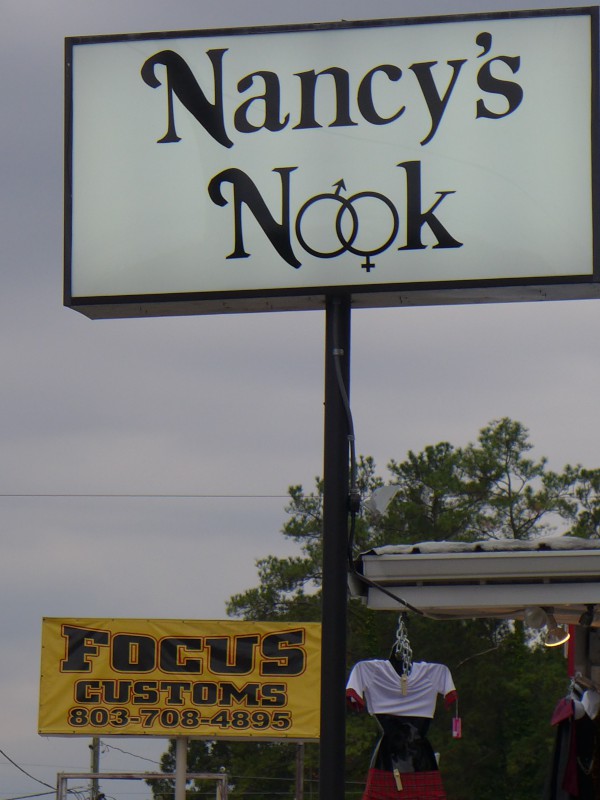 I don't think the post title is quite right. At one time, this place was Video Magic & Mags. That incarnation closed for a few weeks, then re-opened, apparently under the same ownership, but with a new name and more emphasis on lingerie than videos or "mags". That new name eludes me now.
Anyway, I noticed earlier this month that that operation has closed or re-flagged, and the place is now a second location for longtime Broad River Road "Couples store" Nancy's Nook (which name it always strikes me lacks a syllable).
Posted at 12:08 am in Uncategorized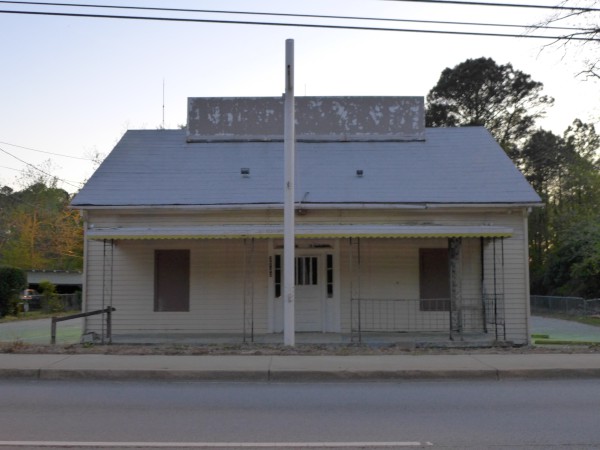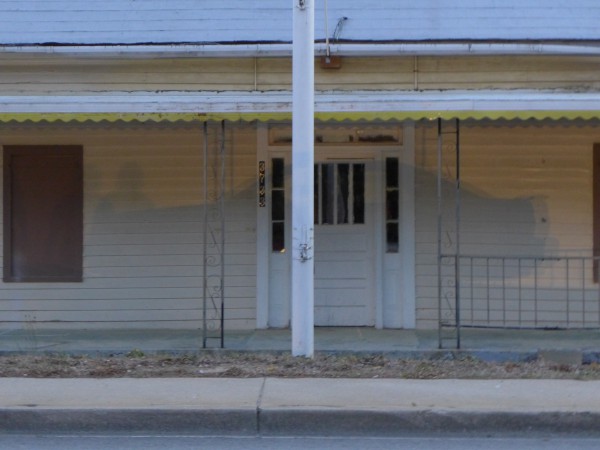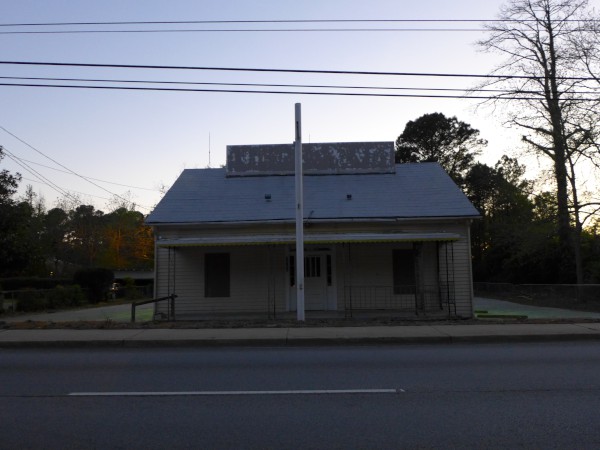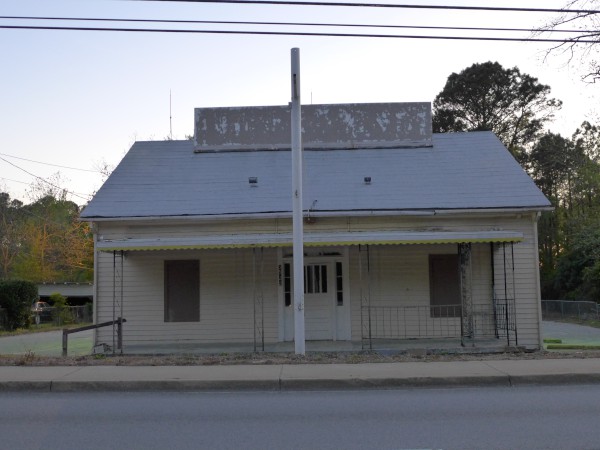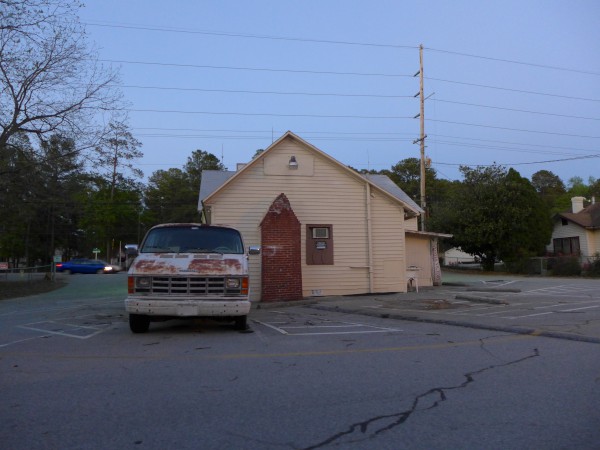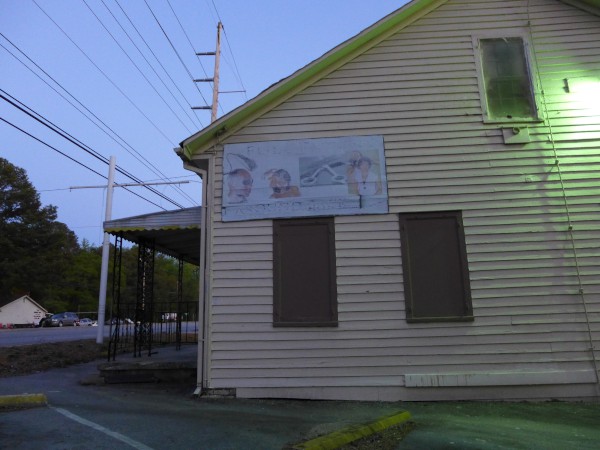 This old country-house-looking building is out on Broad River Road in between Saint Andrews Road and Harbison Boulevard. I guess the area is starting to be developed some now, but for many years, this was essentially out in "the stix". I would often notice this mom & pop video store as I drove by, and wondered how the thing lasted well past the video startup era and into the Blockbuster era. In the end Blockbuster did come to the area, though it was a short lived victory.
The place seems to be a barbershop and hair salon now.
Posted at 11:46 pm in Uncategorized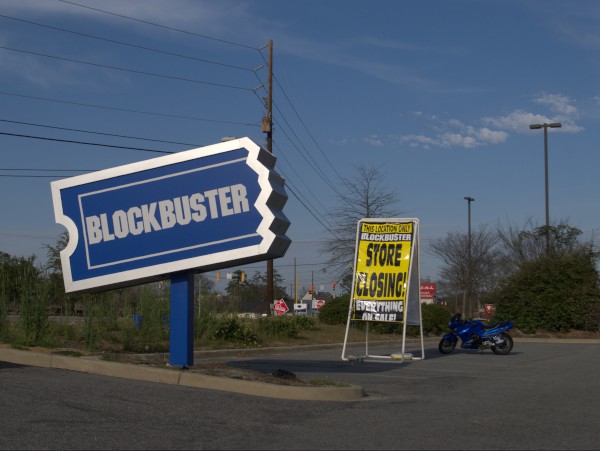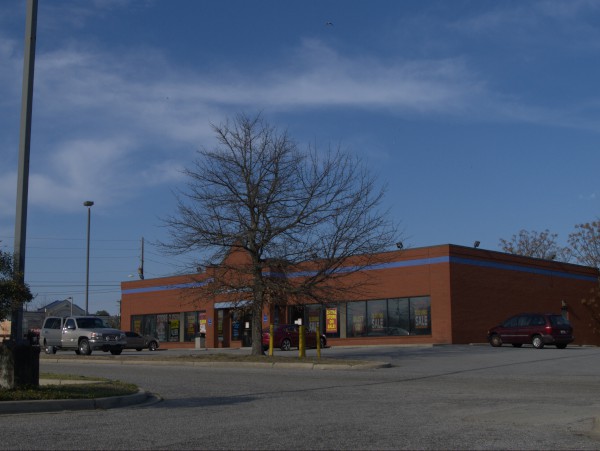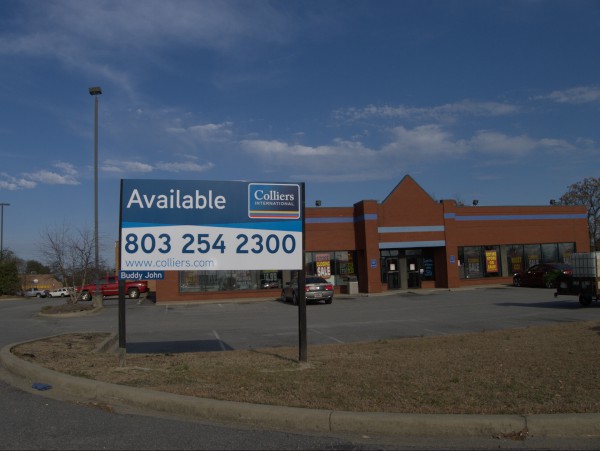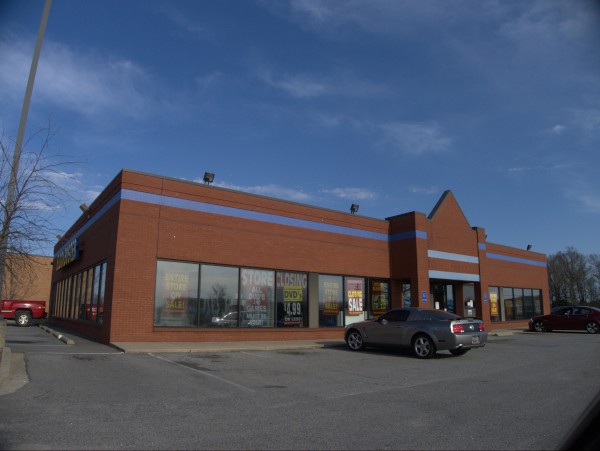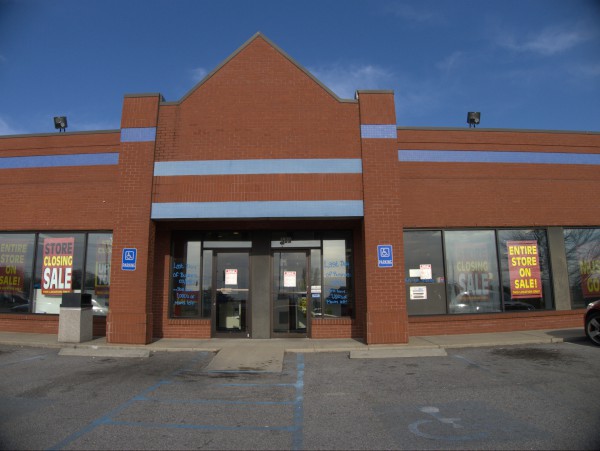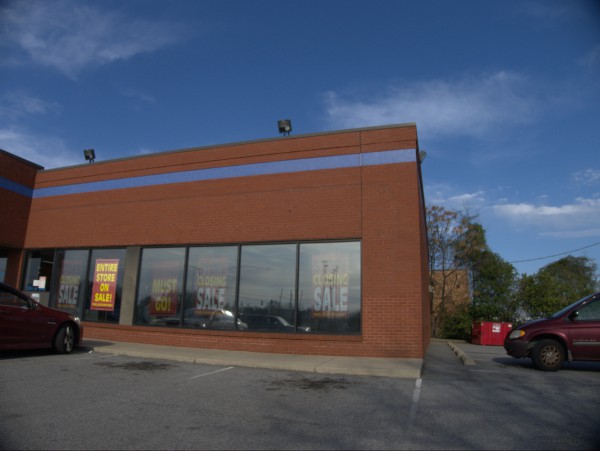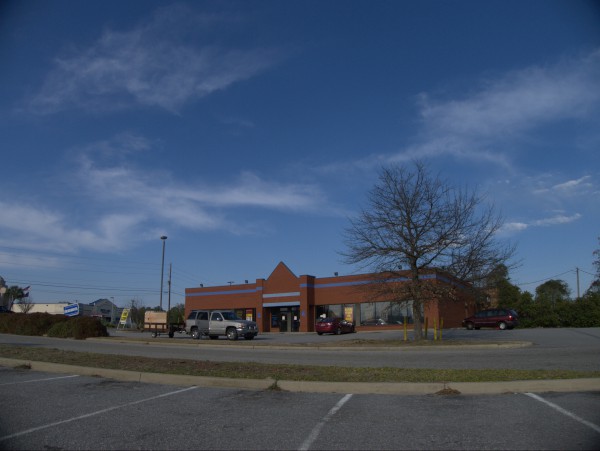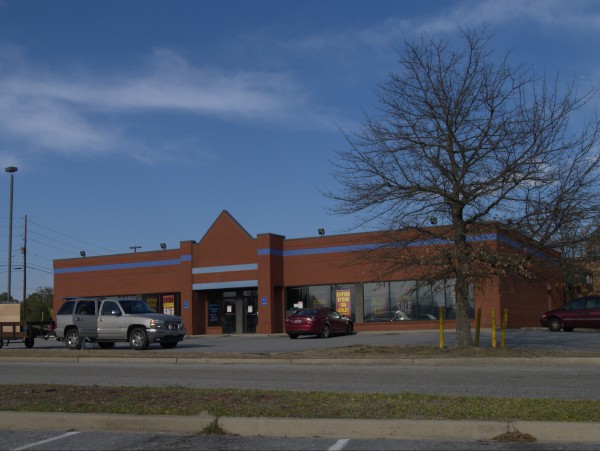 Well, this has already been talked about enough that I'm not sure who the hat-tip goes to, but I finally got over to Lexington last weekend and got some shots of the Main Street Blockbuster closing down. It was already pretty near the end-days, and as I watched, I saw a guy walk out and hoick a set of display racks into his truck.
I was also in Aiken this week, and the Blockbuster there which closed about this time last year is still vacant despite being in a pretty good spot..
UPDATE -- the place is still vacant: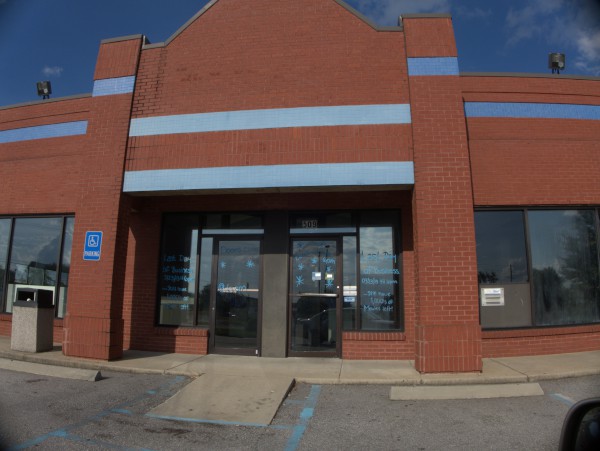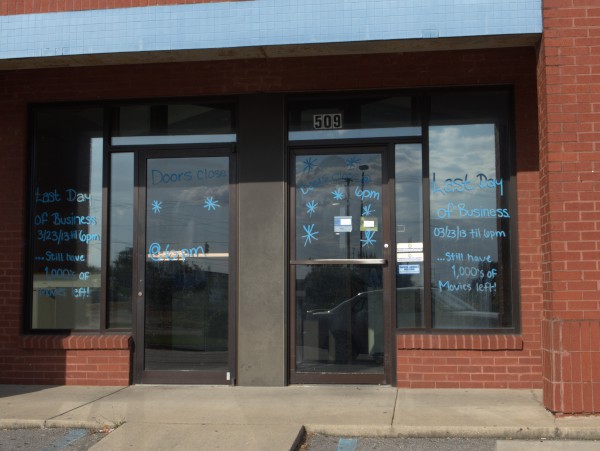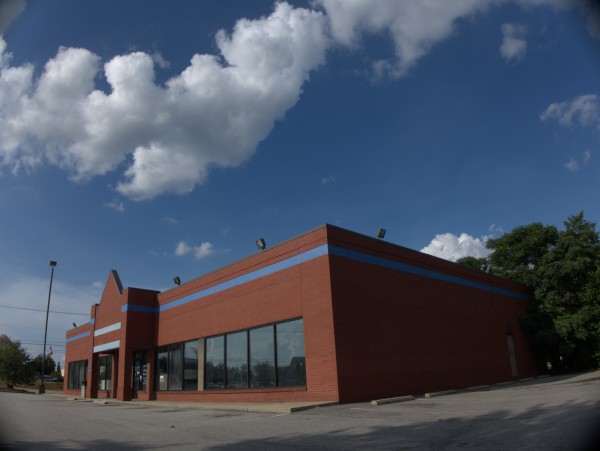 UPDATE 4 March 2014 -- This shot is through a windshield and from too far away, but you can see this building is now a Pet Supermarket: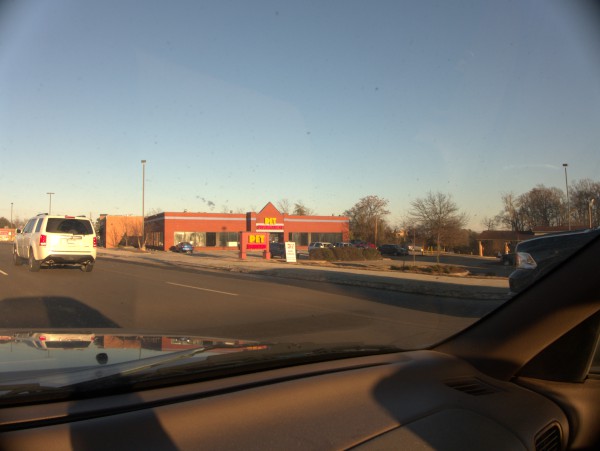 Posted at 1:18 am in Uncategorized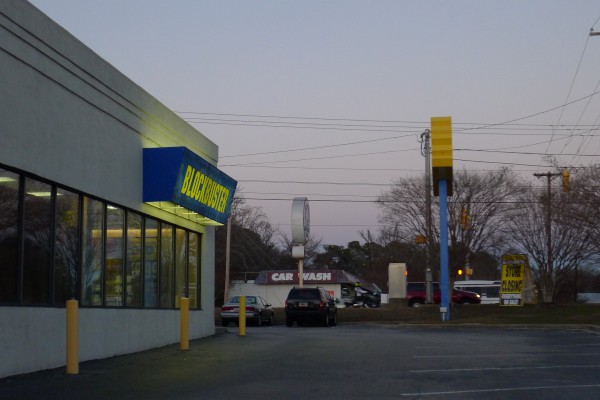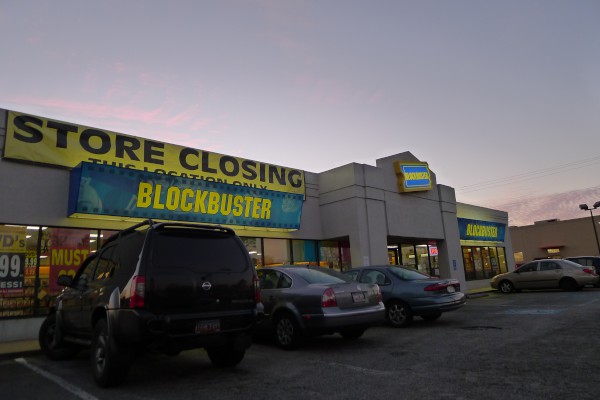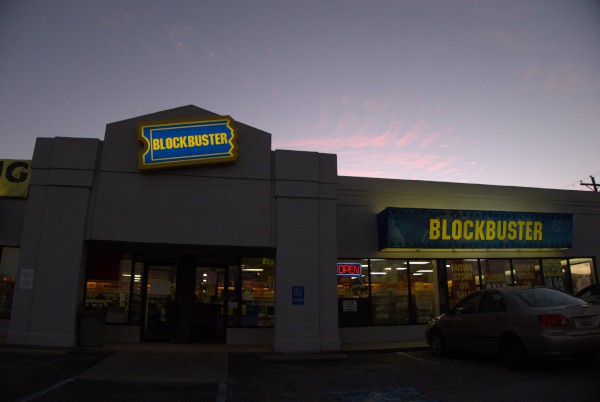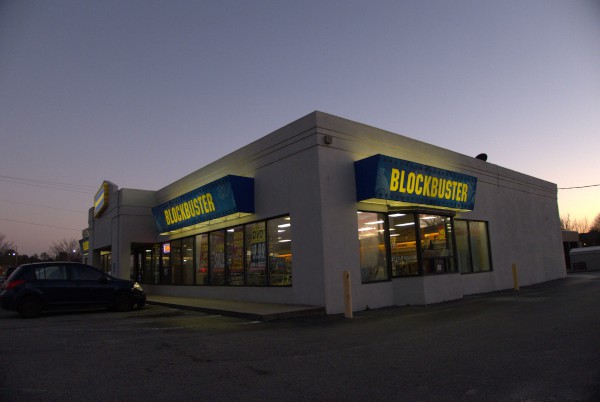 I've done so many closings on Blockbusters that it's hard to believe there are still some around. It's kind of like finding one of those prehistoric fish that get dredged up every now and then. This one is on Broad River Road near the old G-E-X, and is already having their final clearance sale. It's amazing how far and how quickly a company which once had naming rights to everything and thought they were the future of entertainment has fallen..
(Hat tip to commenter William)
UPDATE 8 April 2013 -- As reported by commenter Andrew below, this place closed on 24 March, and the signs are down: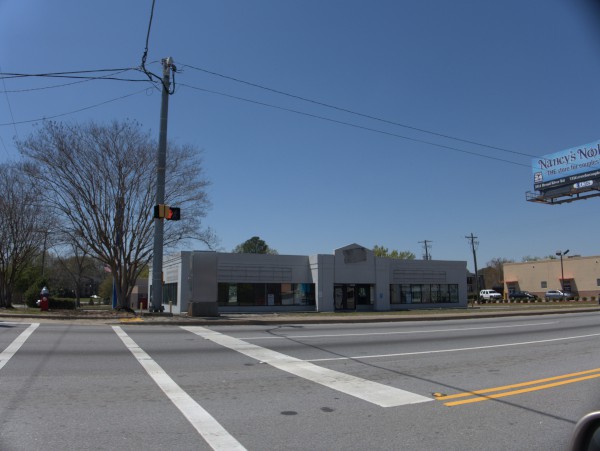 UPDATE 9 April 2014 -- Now a Buddy's Home Furnishings: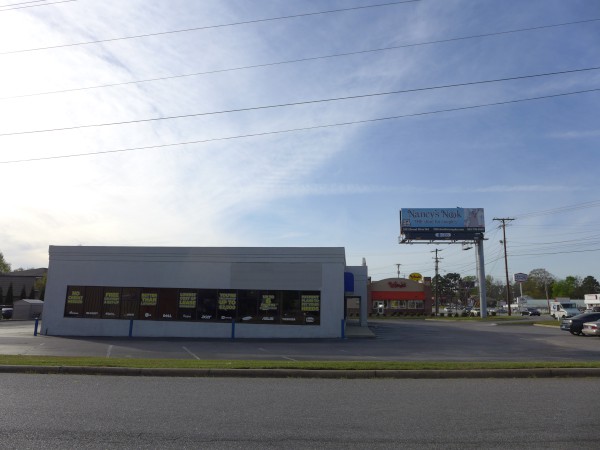 Posted at 12:38 am in Uncategorized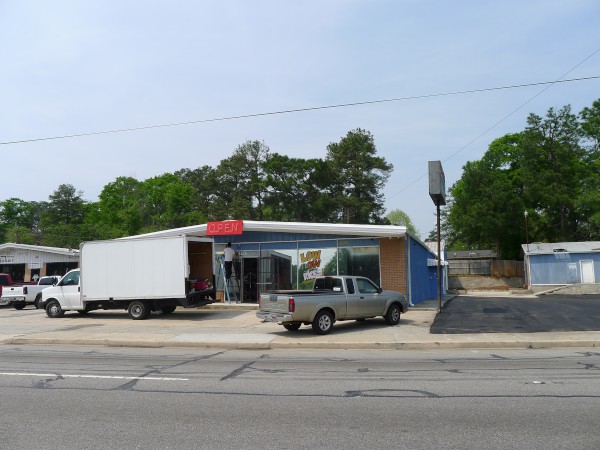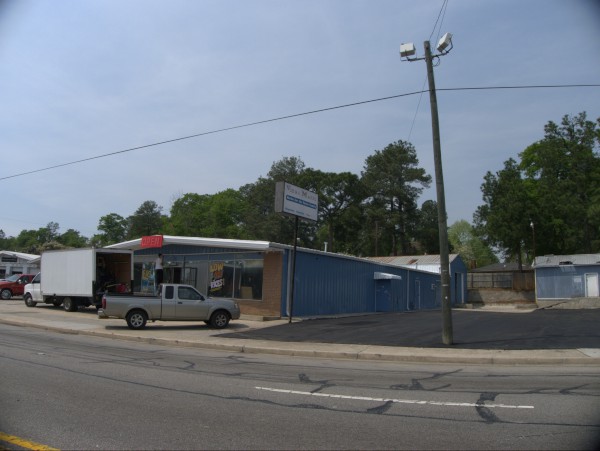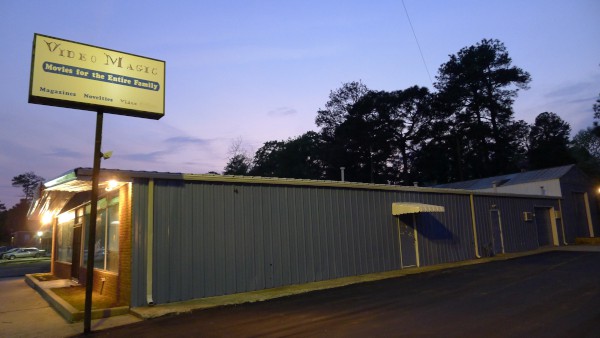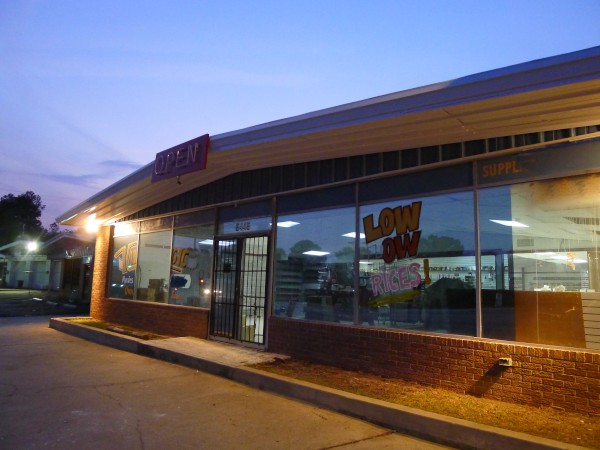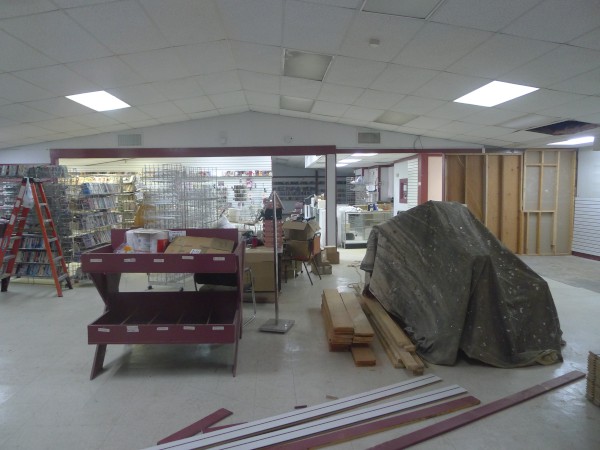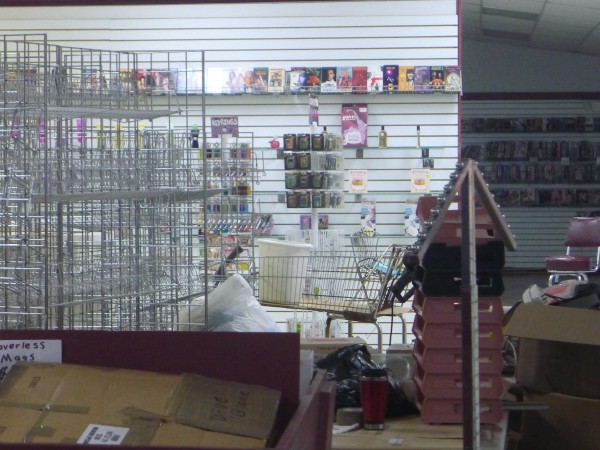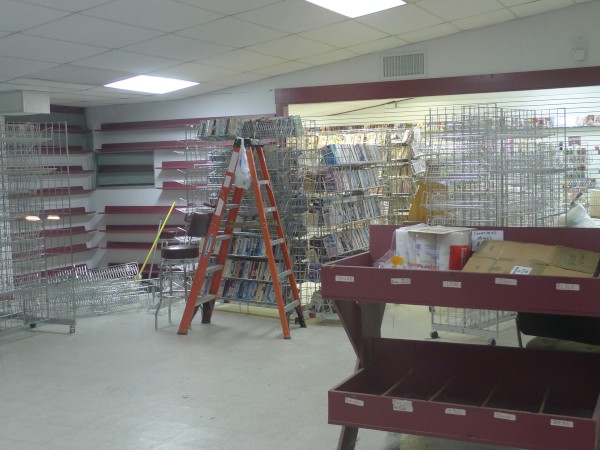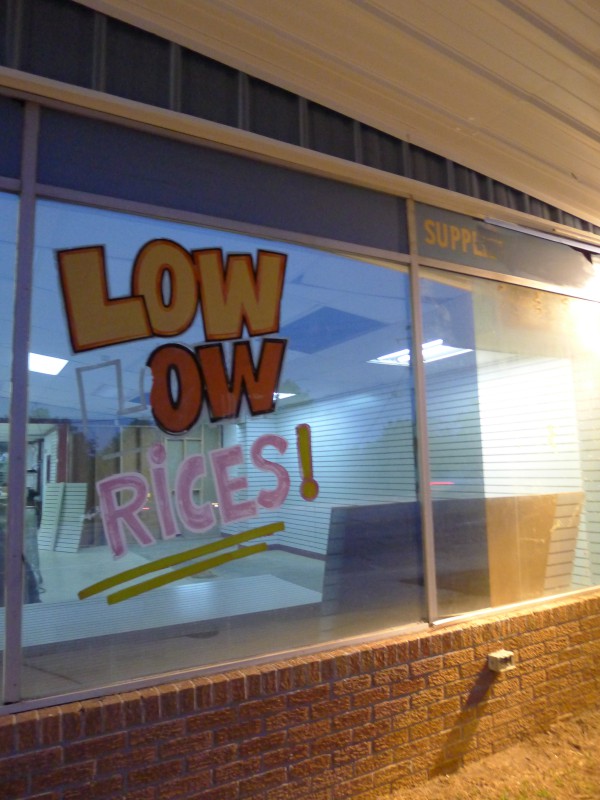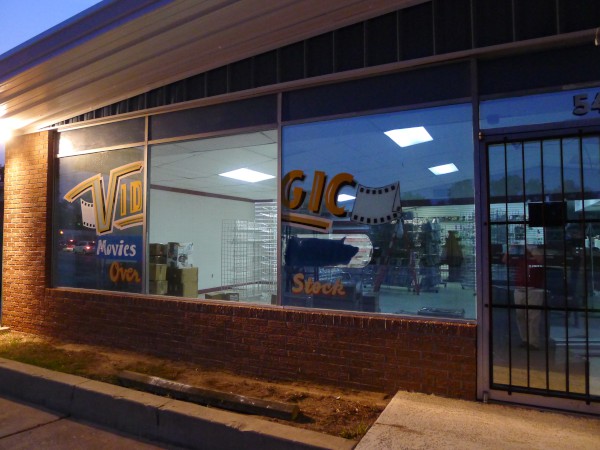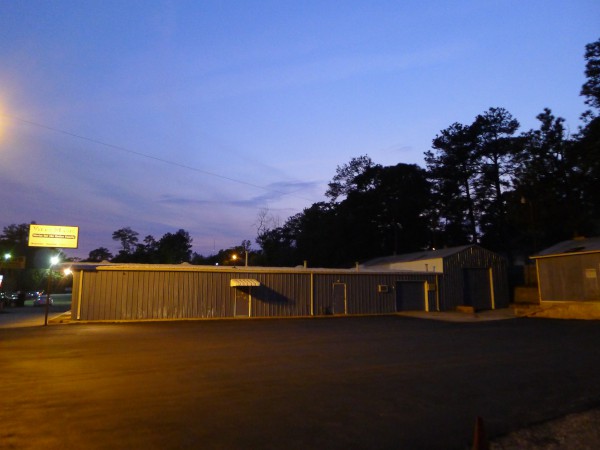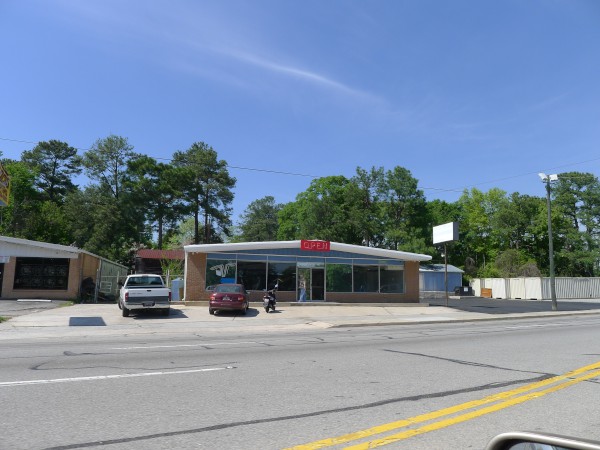 Well, it looks like Video Magic & Mags on Two Notch just before Fontaine has gone under despite (or because of?) their Low Low Rices, and that their Movies For The Entire Family are being cleared out.
This porn emporium has been there seemingly forever, and outlasted the one on the other side of Fontaine by probably a couple of decades.
It appears that a new incarnation for the building will be forthcoming shortly as the parking lot has been re-paved, the sign has already been painted over, and there seems to be a stream of folks in and out working on the interior.
Posted at 12:58 am in Uncategorized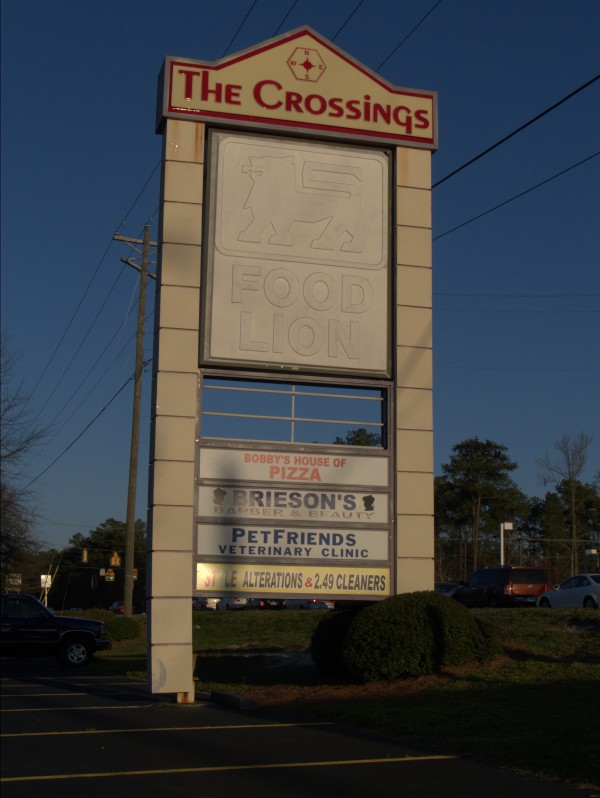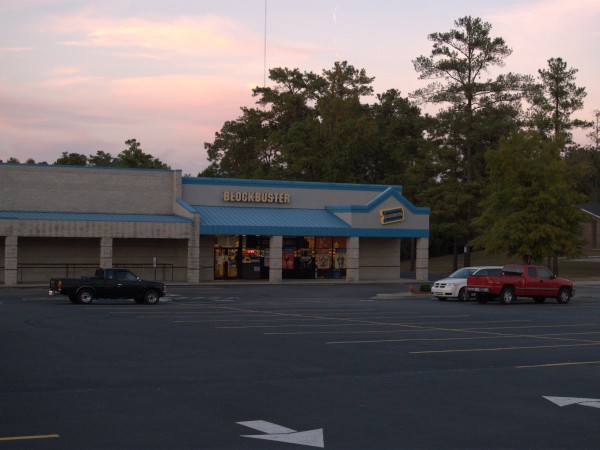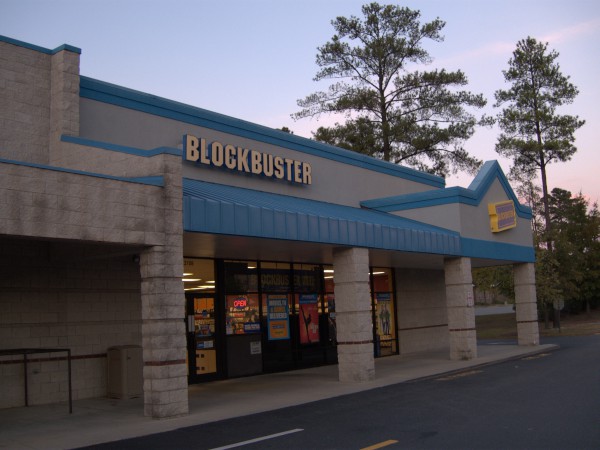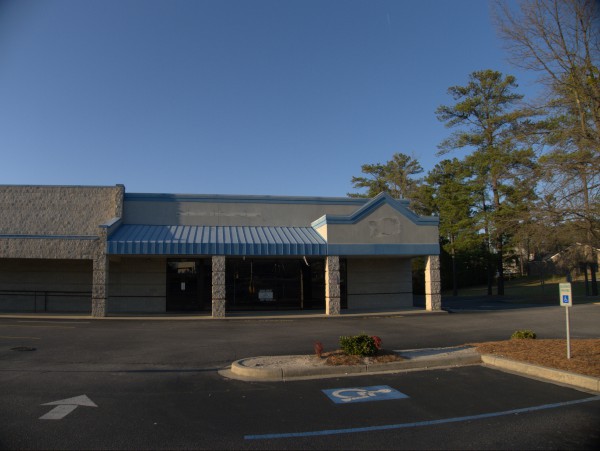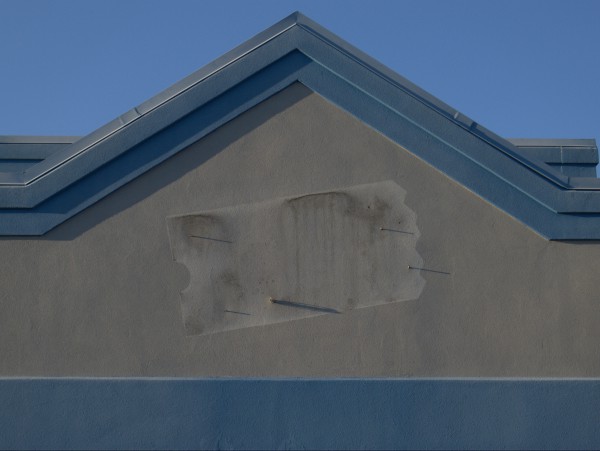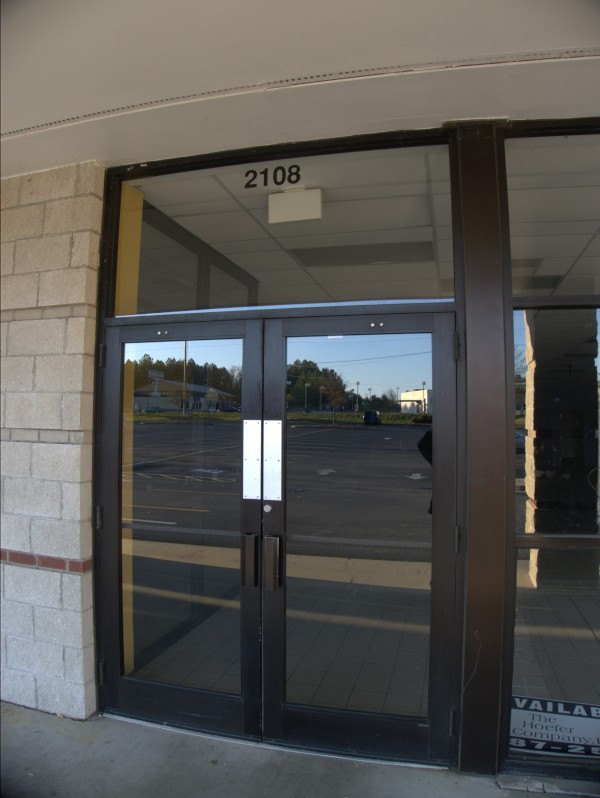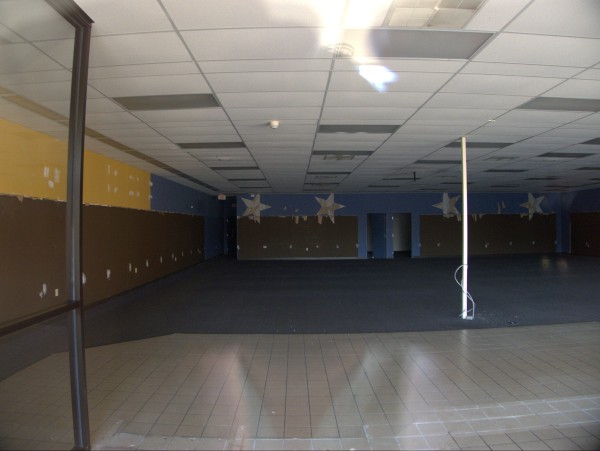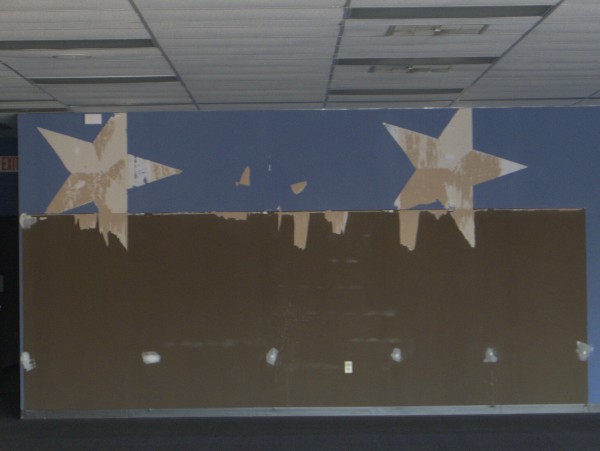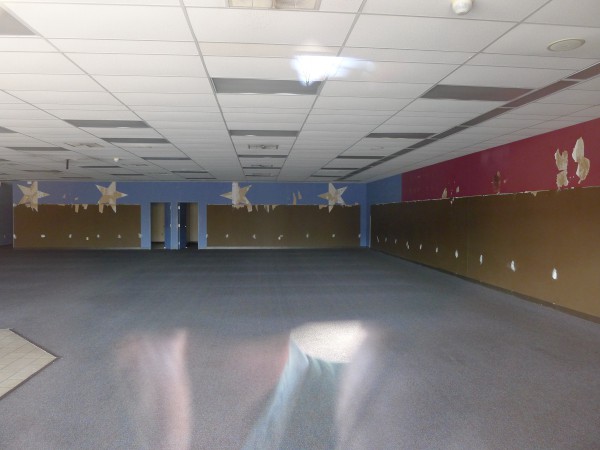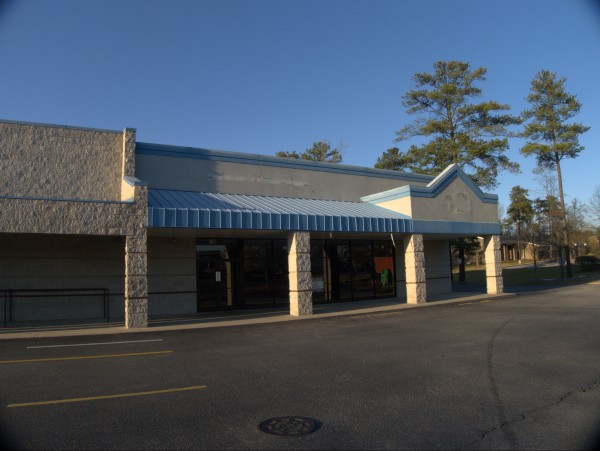 Well, the once mighty Blockbuster chain continues to implode, and this store at The Crossings shopping center on the corner of Clemson and Hard Scrabble finally went under earlier this month.
I was surprised that it hung on as long as it did, especially after the closing of the adjacent Food Lion last year. Of course, I'm a little surprised now to see any Blockbuster still open -- It's kind of like going fishing and reeling-in a trilobite.
Commenter Joey points to this story about the store closing and if I recall correctly, commenter Andrew pinpointed the exact date in a comment I can no longer find.
(Hat tips to commenters Joey & Andrew)
UPDATE 18 October 2012 -- Commenter Andrew notes below that this storefront was wrapped in butcher paper and marked "Top Secret". Well, by the time I got by there, the secret was out: It's to be a gym: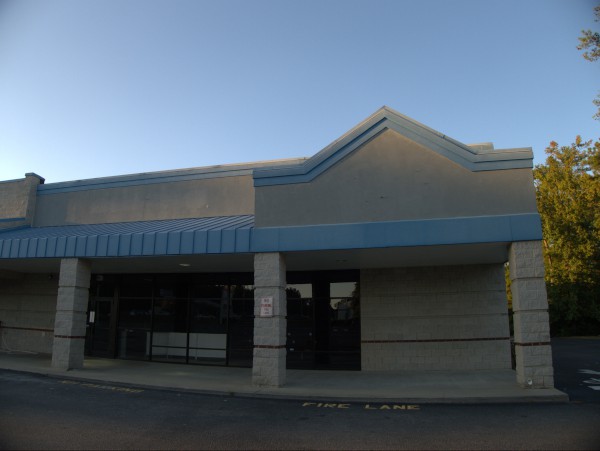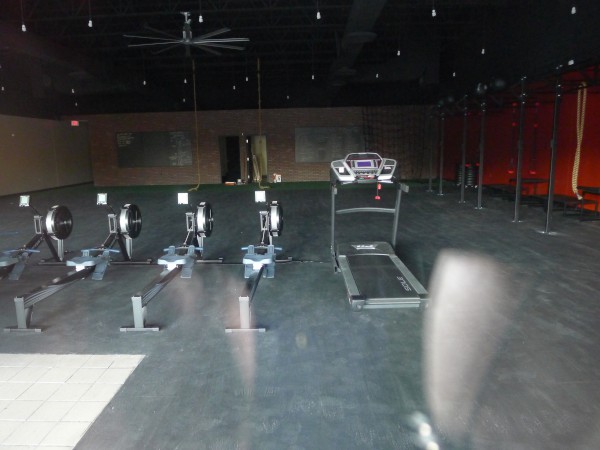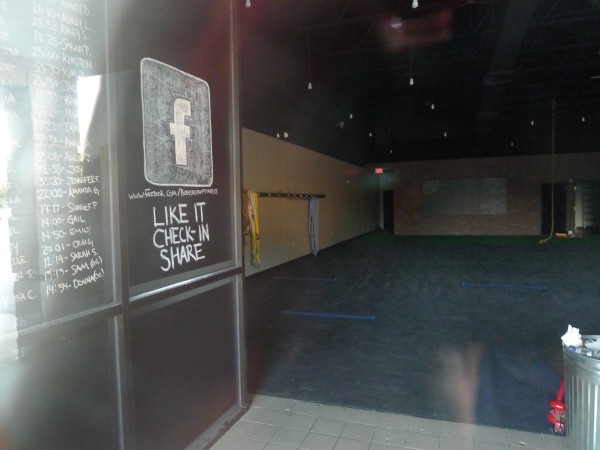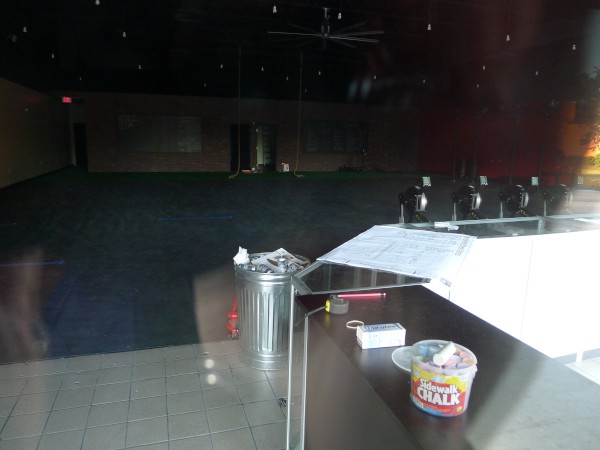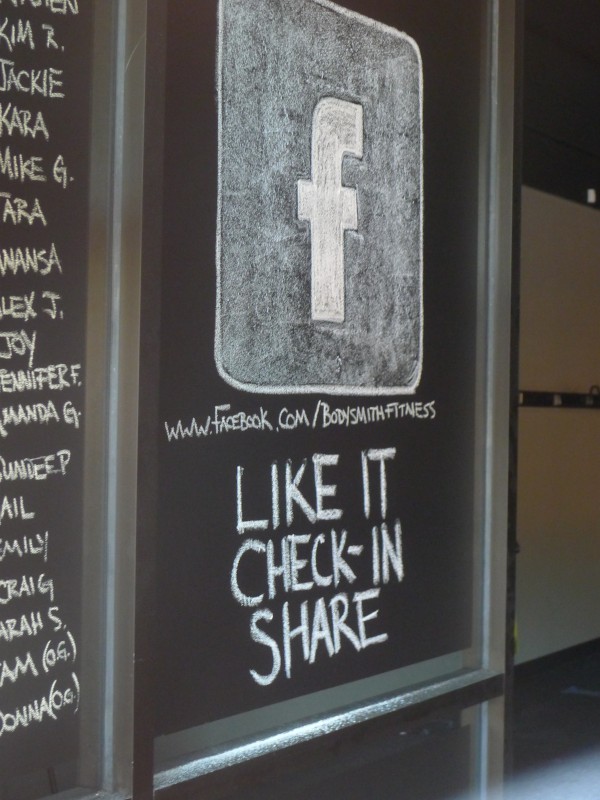 Posted at 12:57 am in Uncategorized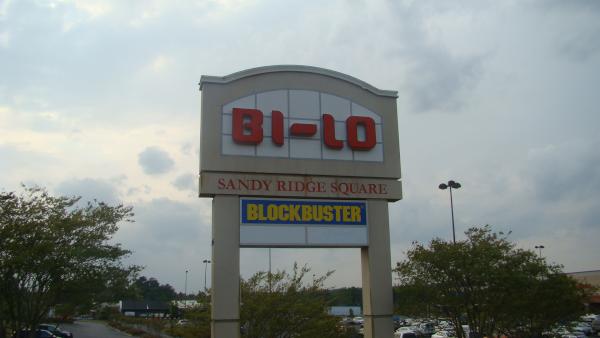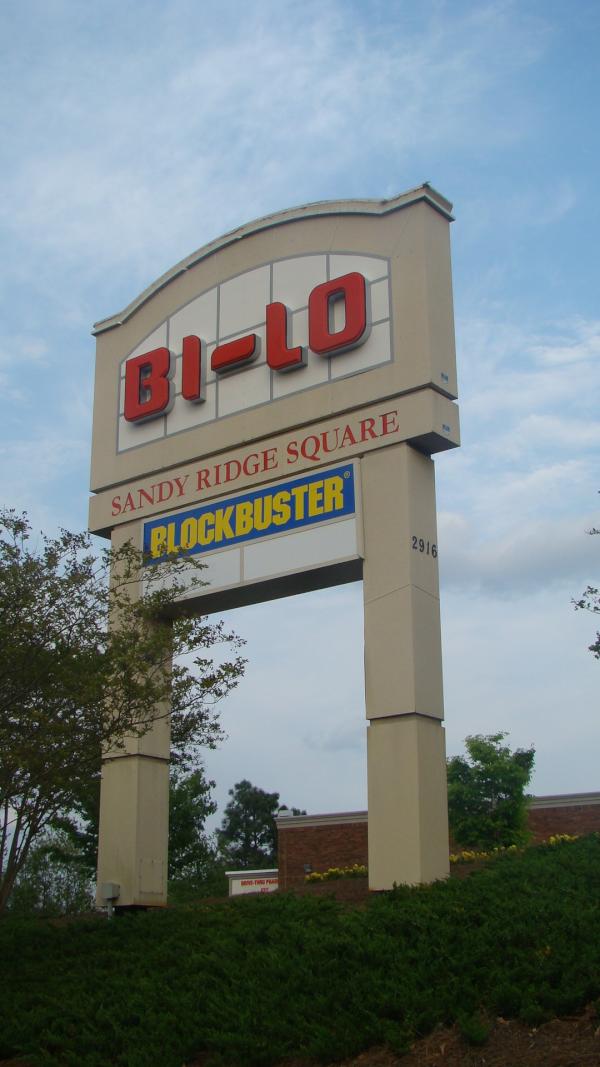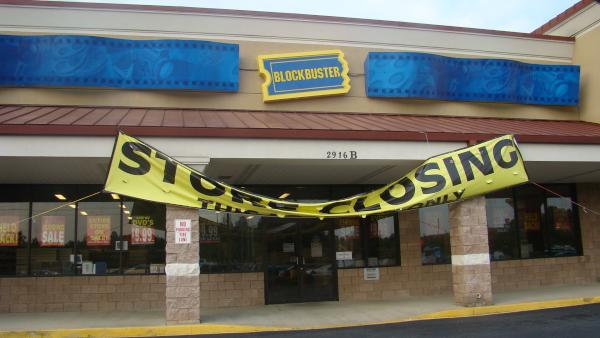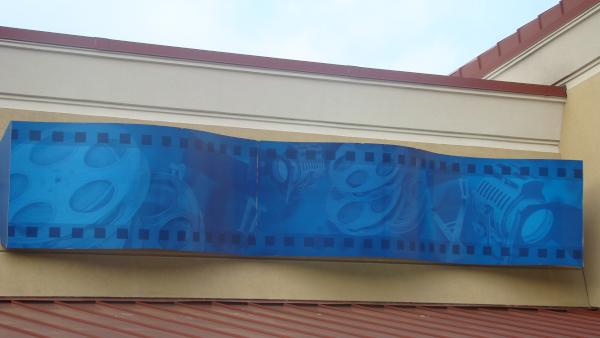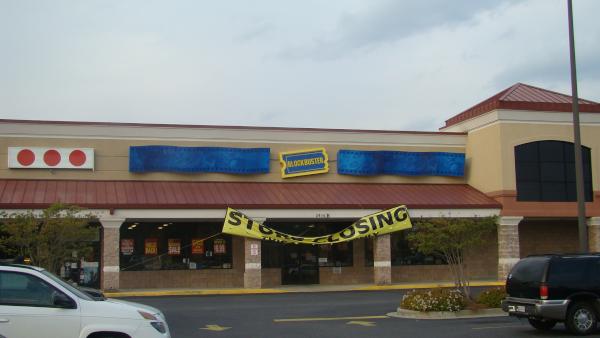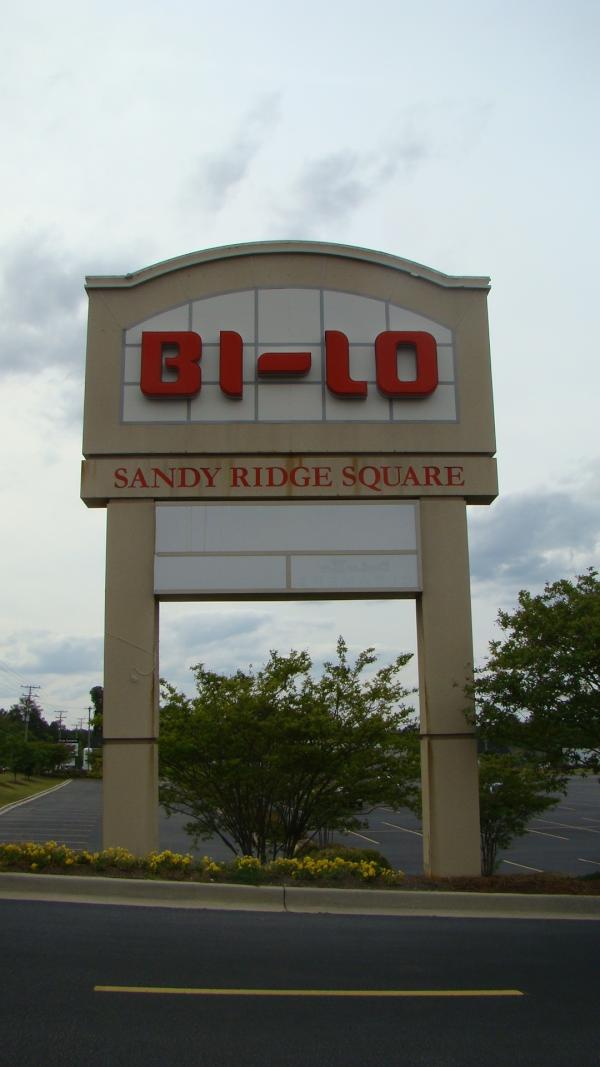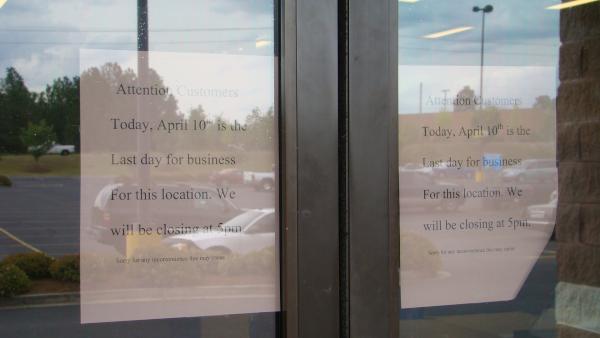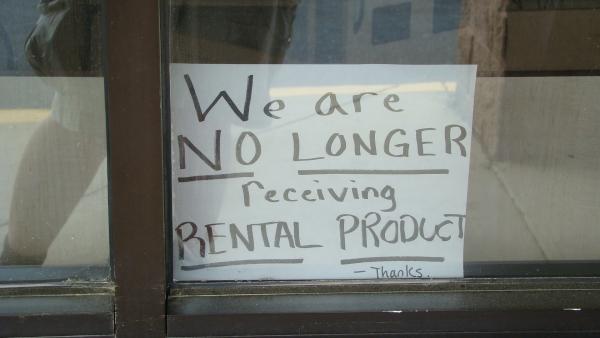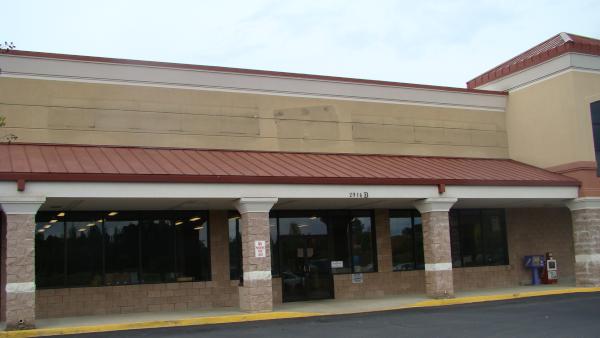 In a companion closing to yesterday's, commenter Andrew sends these before (8 April 2011) and after (15 April 2011) pictures of the Blockbuster on Emanuel Church Road, saying:
This is located in West Columbia at the intersection of Emmanuel Church & Old Barnwell Road. The Street address is 2916B Emmanuel Church Road. It is in a shopping center called Sandy Ridge Square, anchored by Bi-Lo.
Thank you, Andrew. I confess that I had to plug the address into google maps and then zoom out twice before I had any idea of where Emanuel Church Road was.
(Andrew offers a hat tip to commenter Thomas for the heads-up)