Archive for the 'video' tag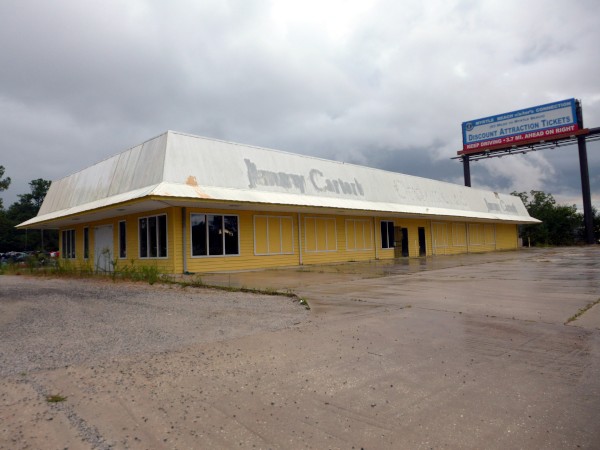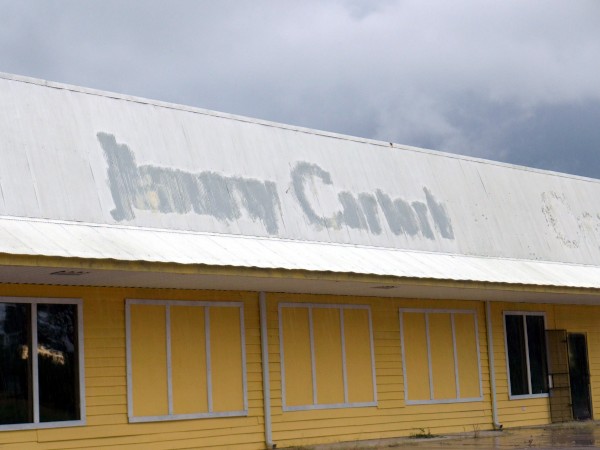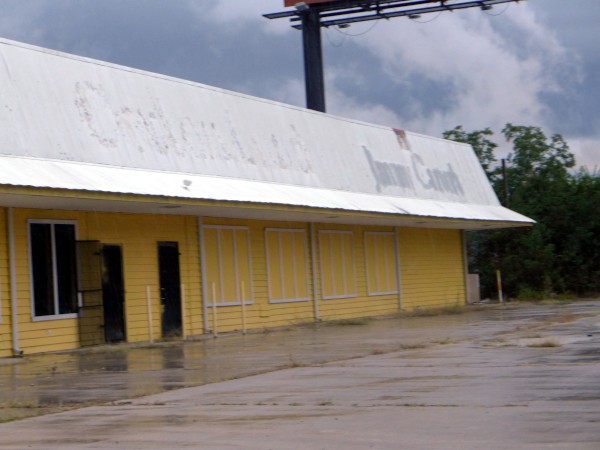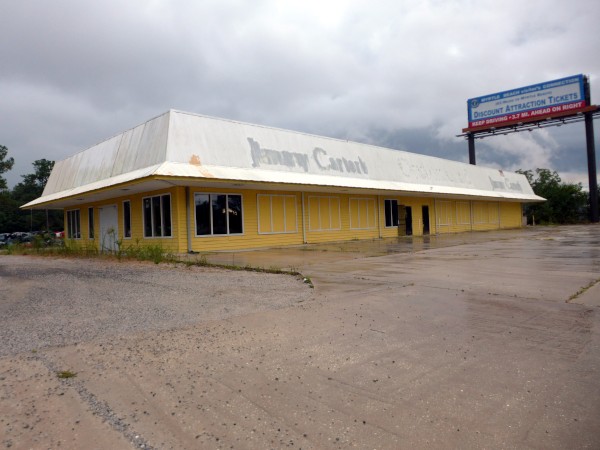 Commenter Andy Farmer asks about Jimmy Carter's in Marion. Here's what I remember, and have been able to find out.
First of all, we never went this way to the beach while I was growing up as access to the South Strand was easier through Georgetown. I guess the first time I ever came this way was sometime in the early 1980s when I was in college and going to the beach after visiting relatives in Hartsville. My memory is that the store had a big mural on one wall, probably the Southern wall, as that is the one you would see best going towards Myrtle Beach, depicting a toothy and widely grinning man, or possibly a toothy and widely grinning anthropomorphic peanut. This was of course a caricature of our then President, James Earl Carter who was often depicted in that way. I don't really remember anything but that image and the big signage for Jimmy Carter's. I could not have told you what kind of business it was. It was, however very distinctive, even apart from that, because it sits in the median of US-76/US-301, and this is the only area from Florence to the Beach where that is done.
This Reddit thread establishes Jimmy Carter's as mainly a fireworks store, though incorporating a greasy-spoon diner and various tourist trap merchandise. It also establishes that the owner really was named Jimmy Carter (I suppose hundereds of people must share that), that this was the second building in that location, and that Mr. Carter has passed away.
Once I moved to Fayetteville, I would come to the beach this way more often (if I were not going cross country from South Of THe Border), and at some point I noticed that Jimmy Carter's was gone, and the building now housed a strip club. I can't recall the name, and google is no help, but I think it might have been Paradise City. Then at some point later, the strip club apparently moved to the East side of the building, and the West side became an adult video store. This news story establishes that both of those businesses were gone by October 2015, and based on the facade peel back to the painted over Jimmy Carter signage, I'm thinking they actually closed several years before that.
This real estate flyer gives an address for the building (though somewhat ambiguously, and without a zip code) and has much better pictures than mine (which were taken under an umbrella) to include some interior shots. It also establishes the city location as Marion, which I would not have guessed, as I would put the place much closer to Florence, and that the Jimmy Carter's era was more than 40 years. I will also note that the map button is set to street view and also has a much better picture of the place than any of mine.
As one final note, the Reddit thread mentions that the logical successor to this store is Sparky's Fireworks & Gifts several miles further east and on your left. I second the notion, and you should stop there at least once.
(Hat tip to commenter Andy Farmer)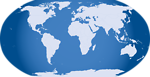 Posted at 11:20 pm in Uncategorized
12 March 2012: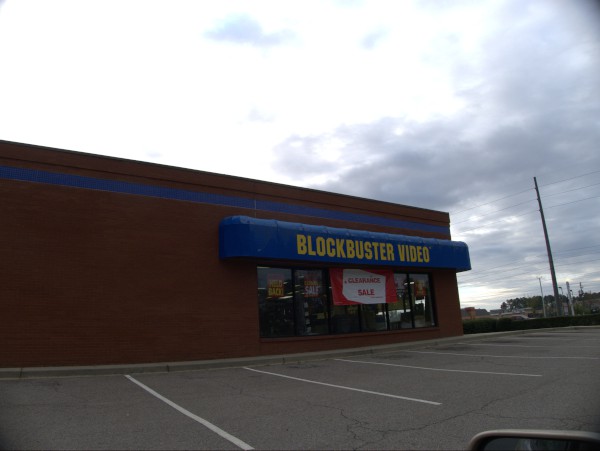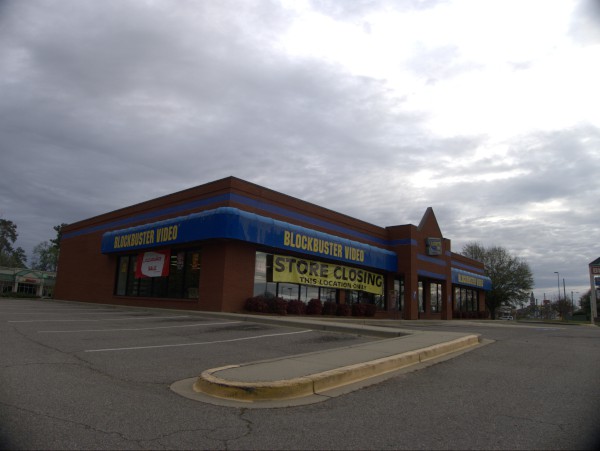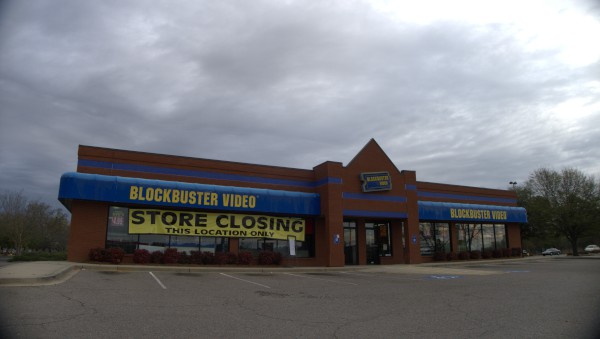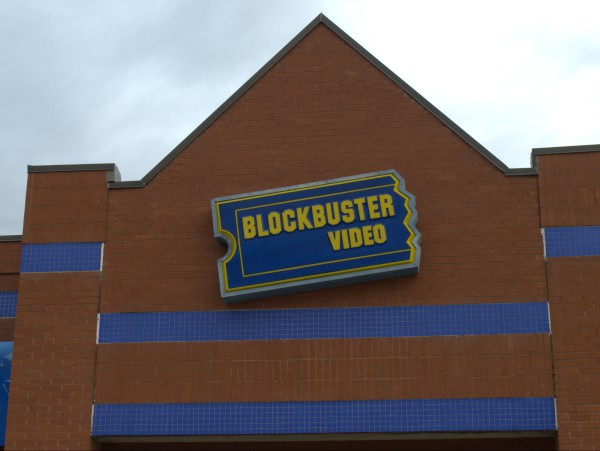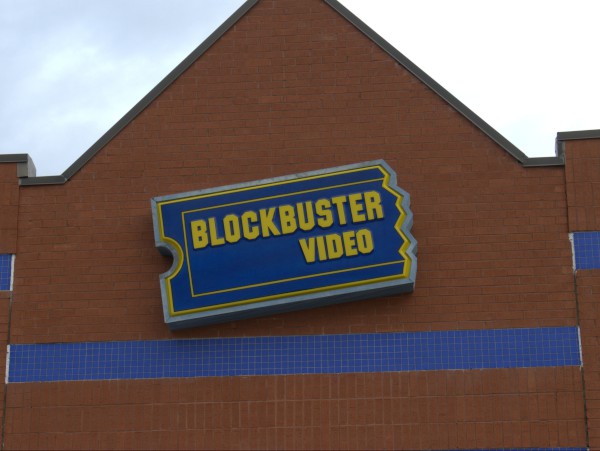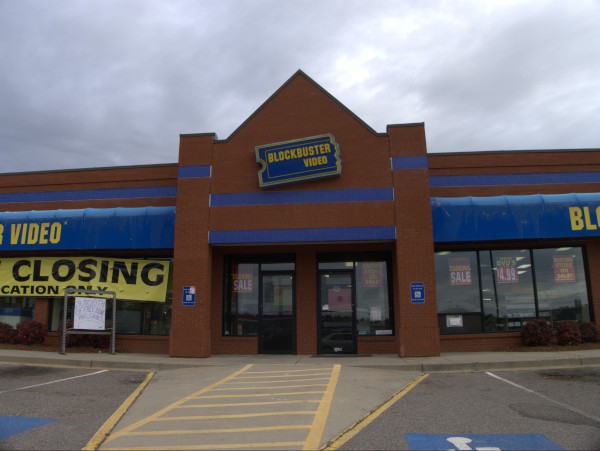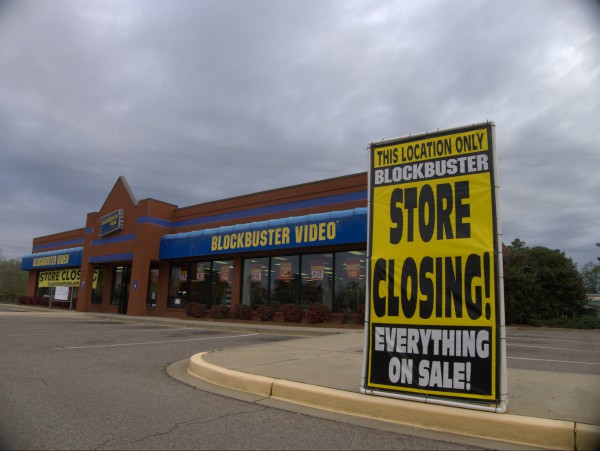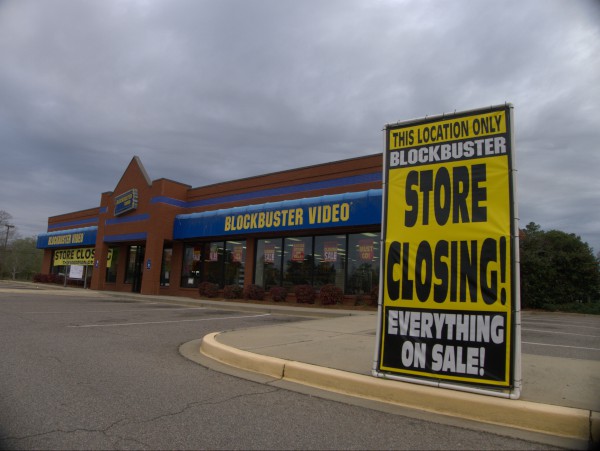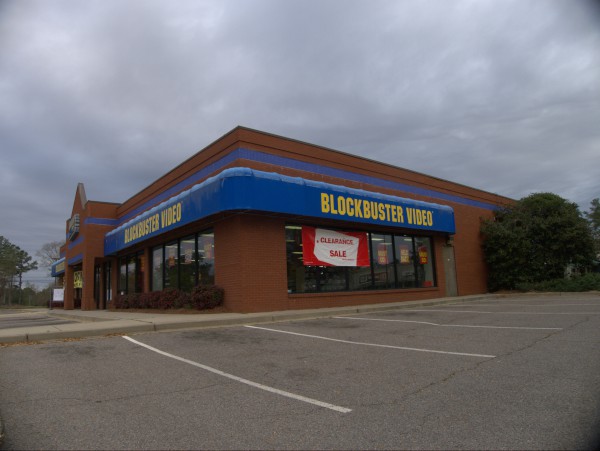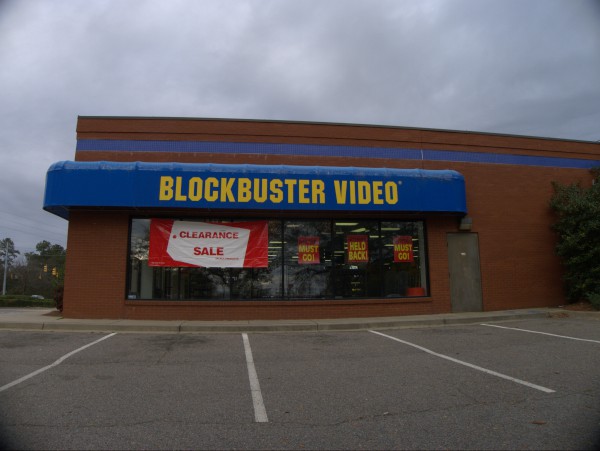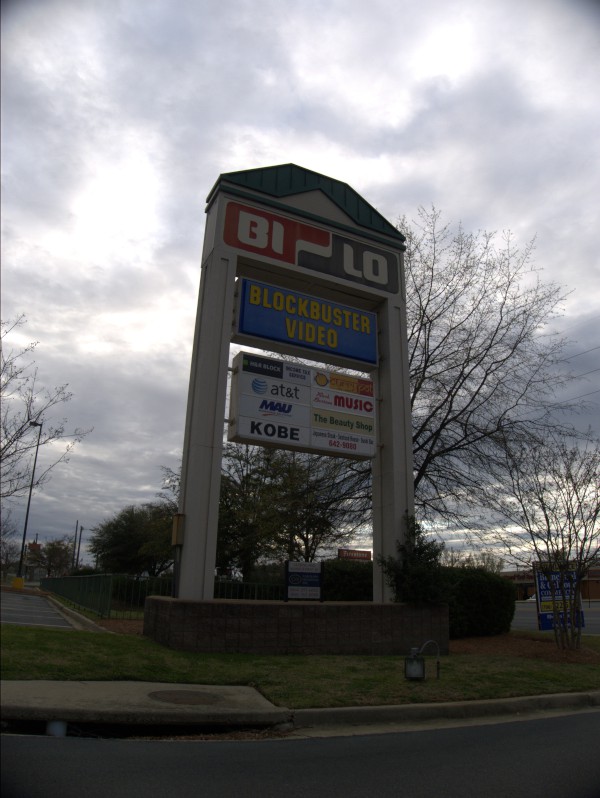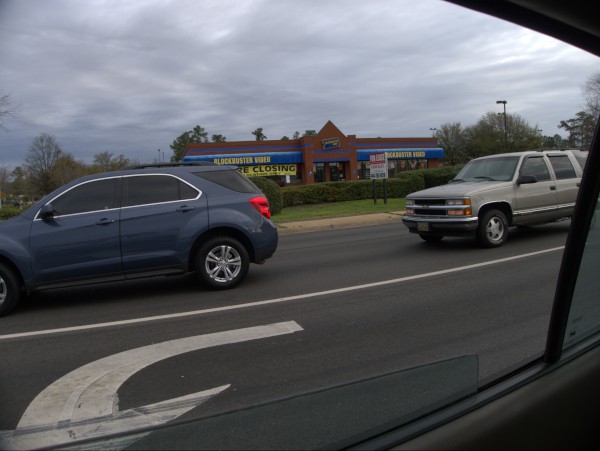 11 March 2013: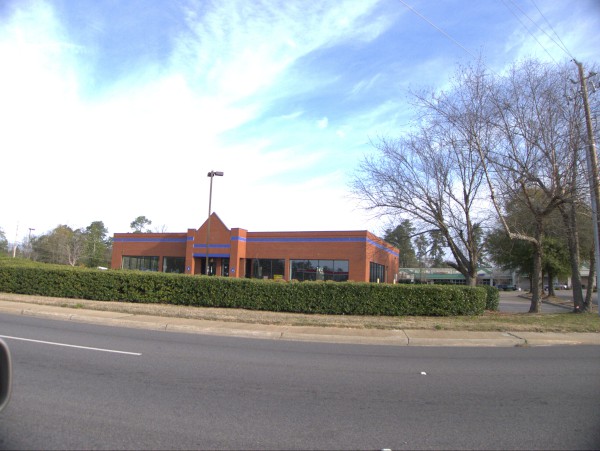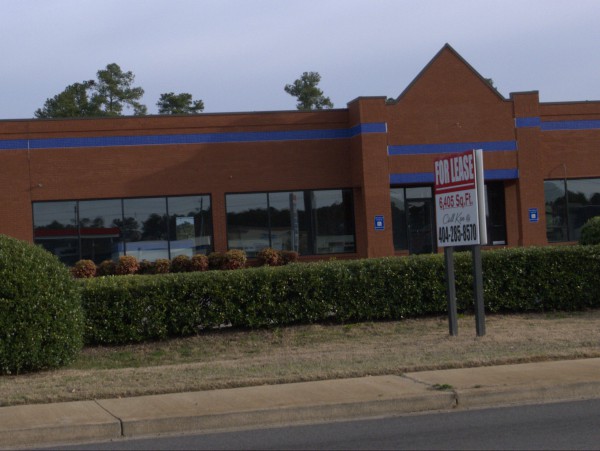 11 March 2014: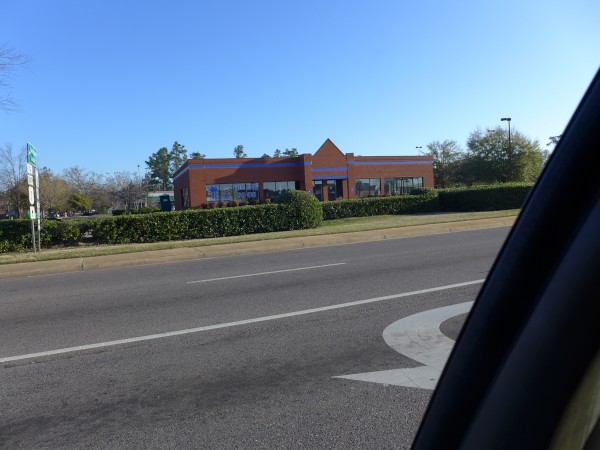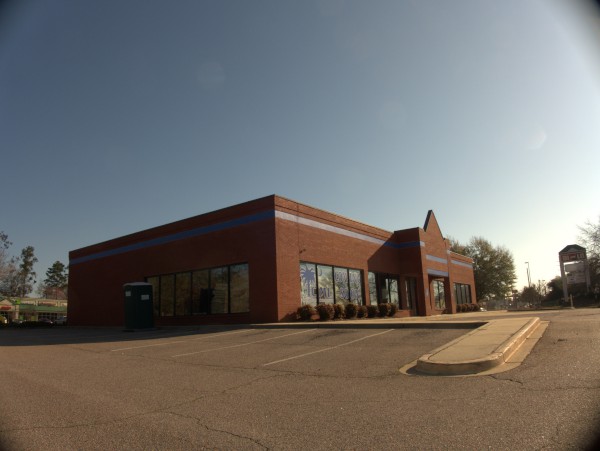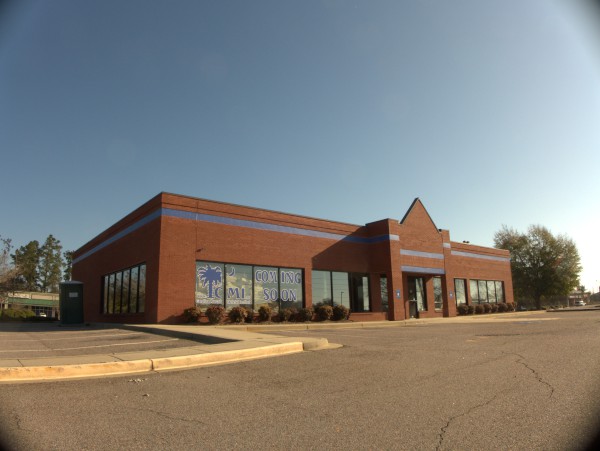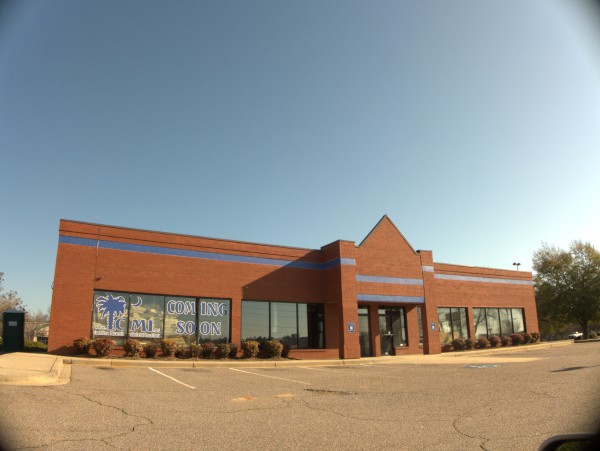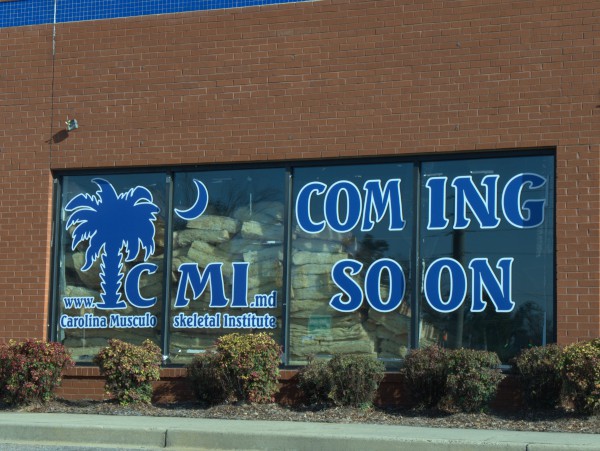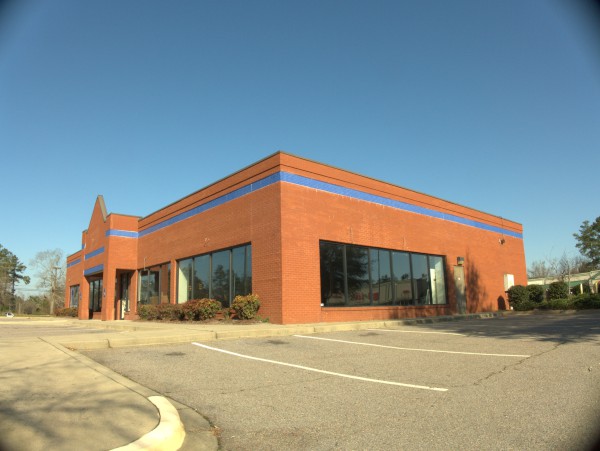 I took an annual trip to Aiken last week, and was amazed at the amount of storm damage over there. I had though all the "worst tree kills since Hugo" headlines were a bit of hyperbole since I didn't see anything like that here in Columbia.
Not that that has anything to do with this post. While I was there I also noticed that the Blockbuster in the Bi-Lo parking lot on Silver Bluff Road is finally getting a new tenant. Given how many Blockbuster closings I've done here, I figured I might as well add this one too. (Eventually, I'll get the Litchfield Beach store as well).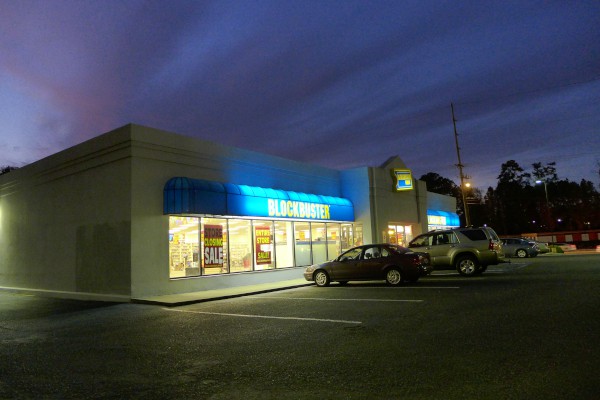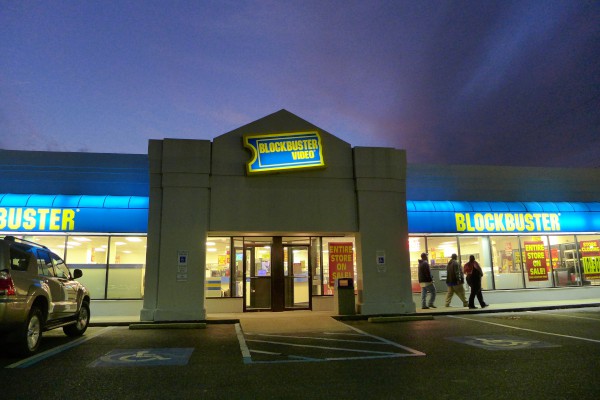 Another day, another Blockbuster. I guess it's too late to change their pre-printed banners which continue to say This Location Only..
This particular storefront is on the tail-end of Rosewood, in a little strip which has now had the misfortune to have bet on two outlets for now defunct media formats.
UPDATE 26 November 2013 -- Here are some daylight pix: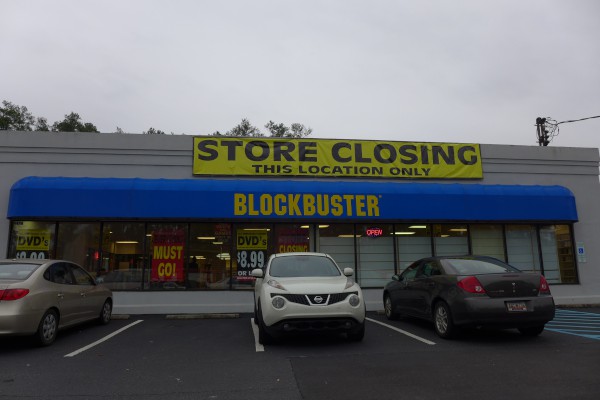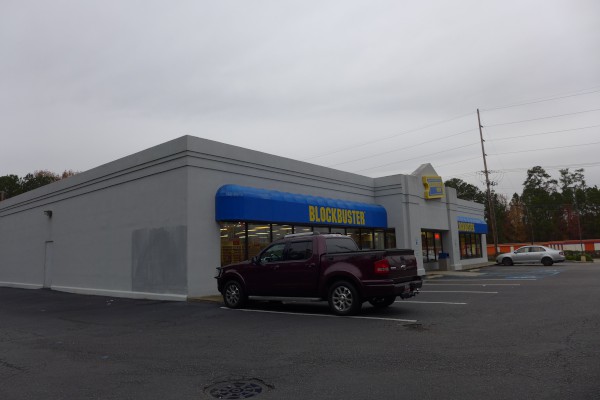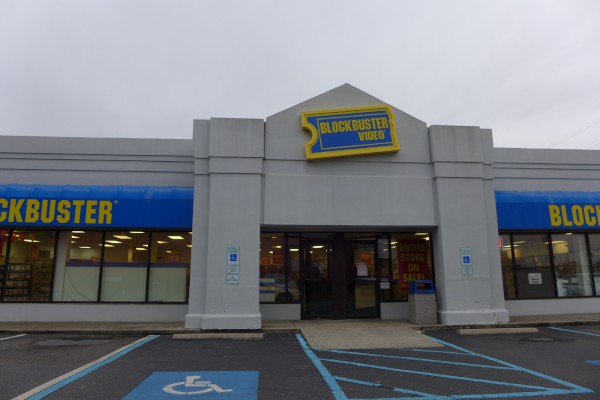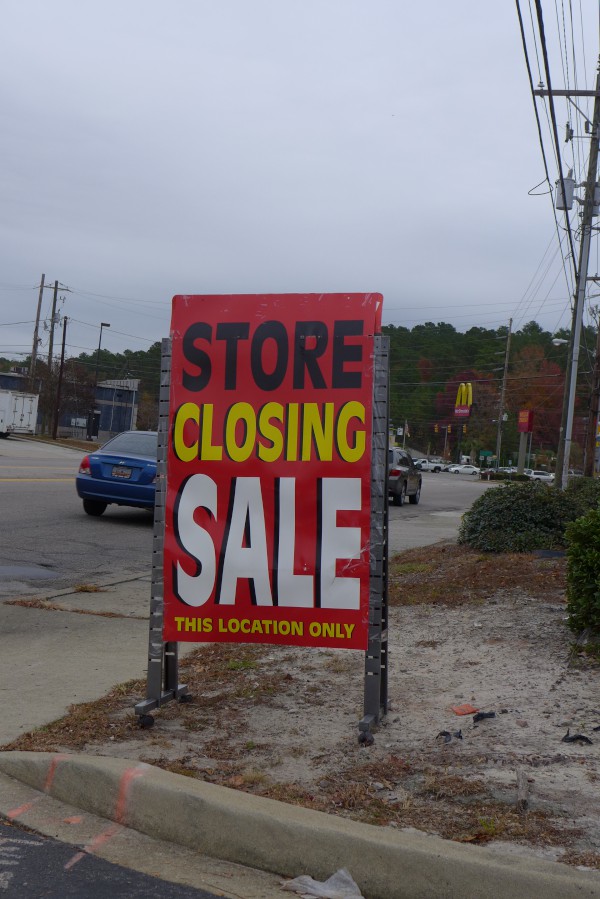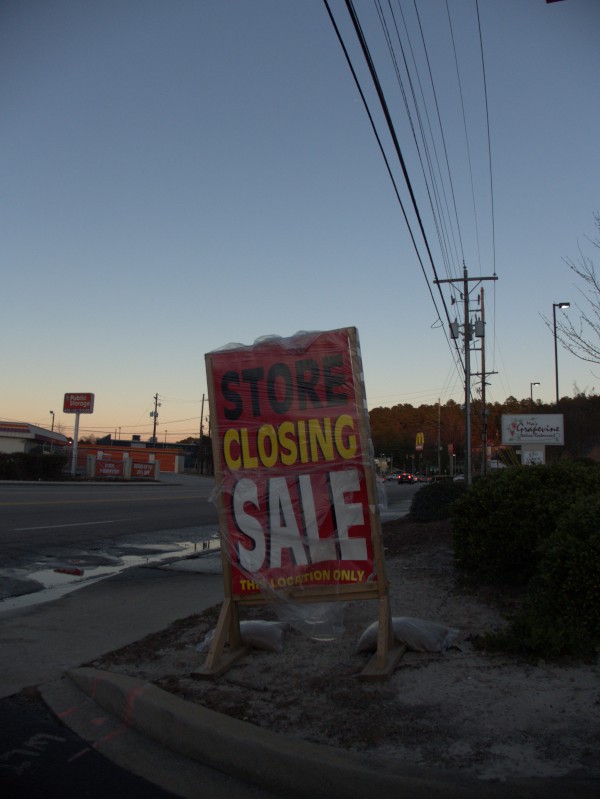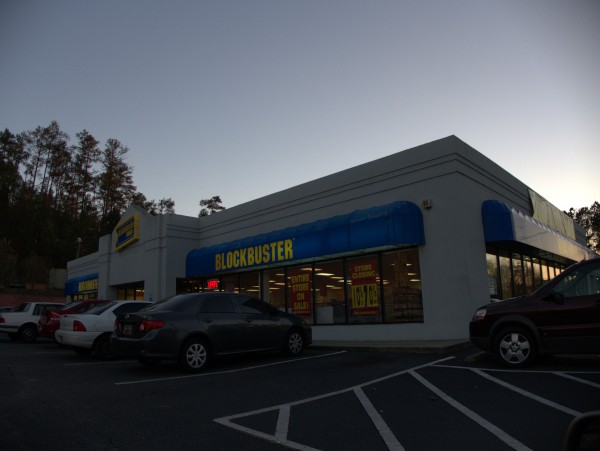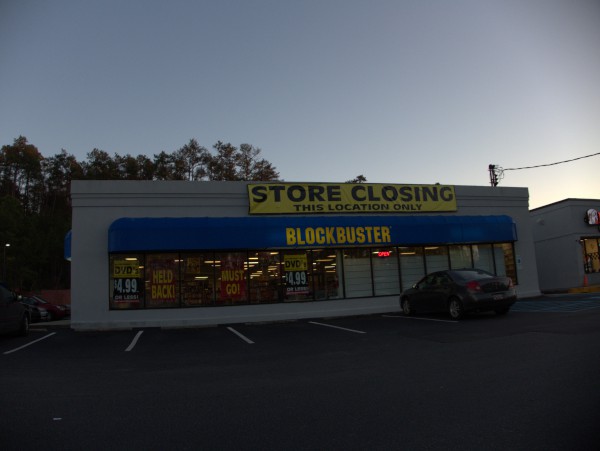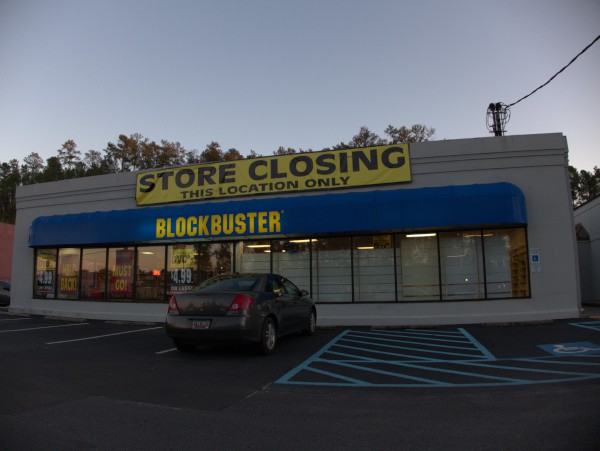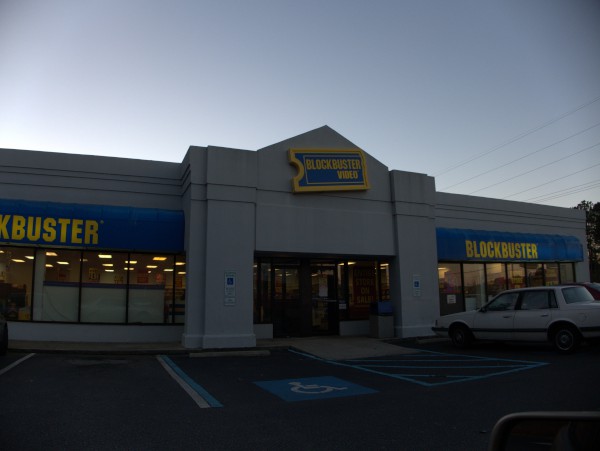 UPDATE 14 January 2014:
Say Goodnight Gracie.
"Goodnight Gracie!"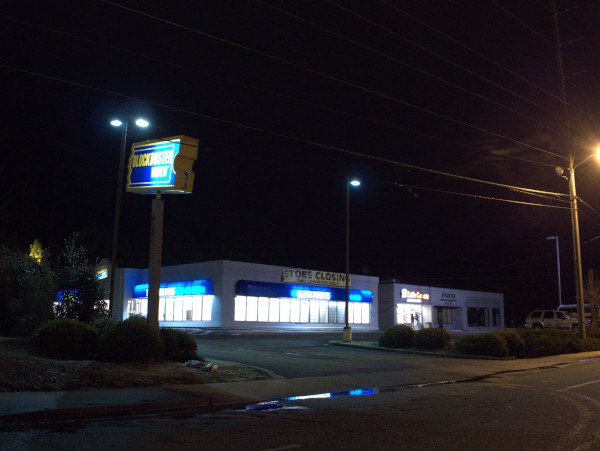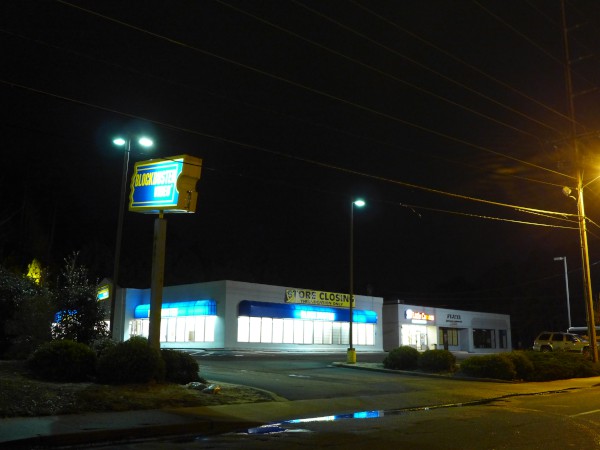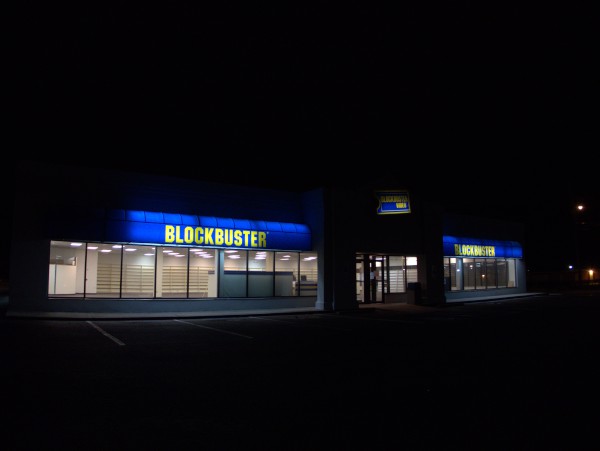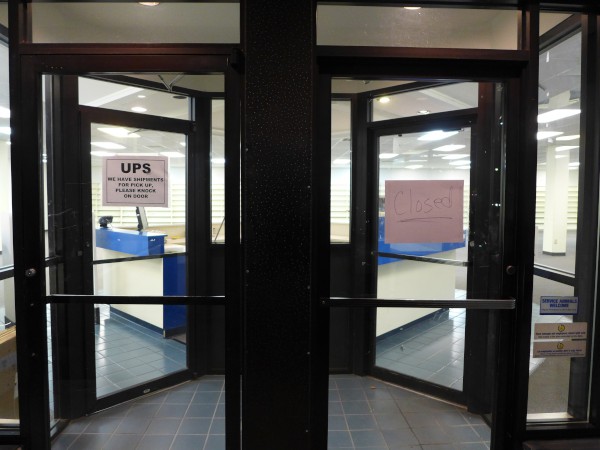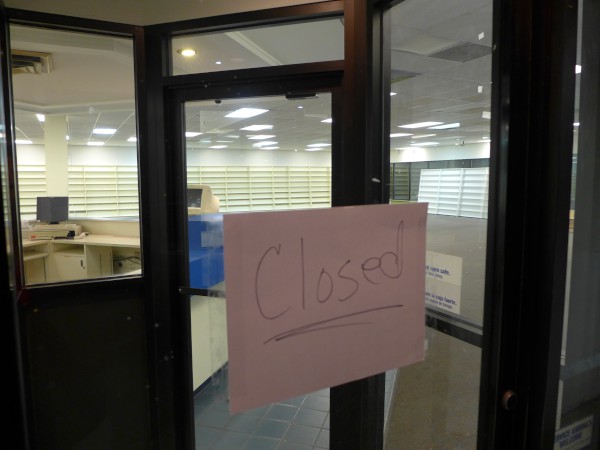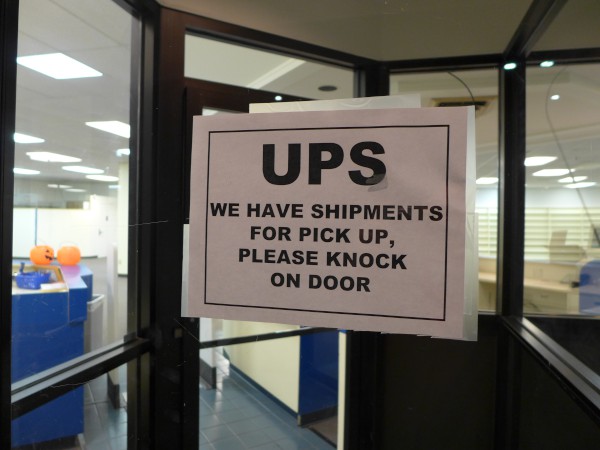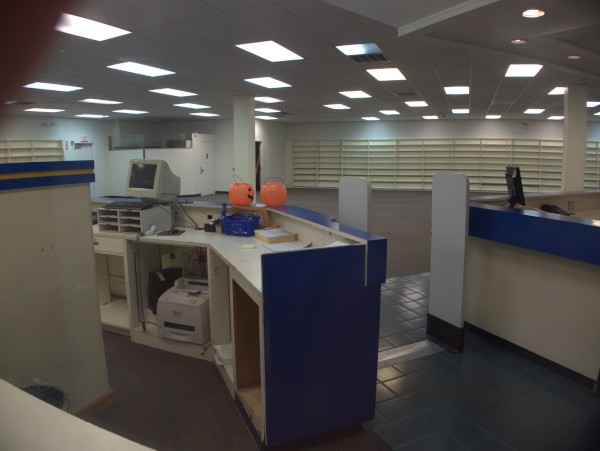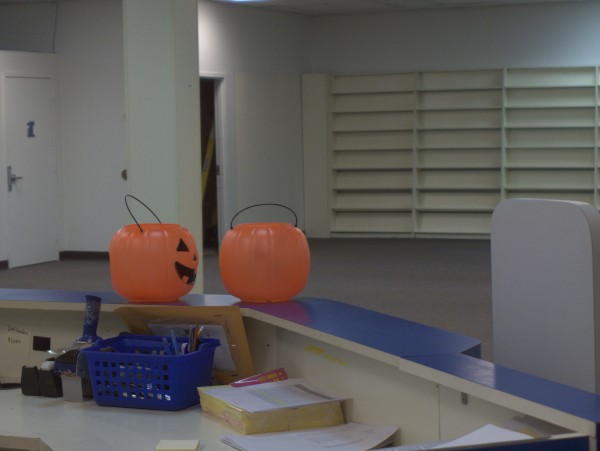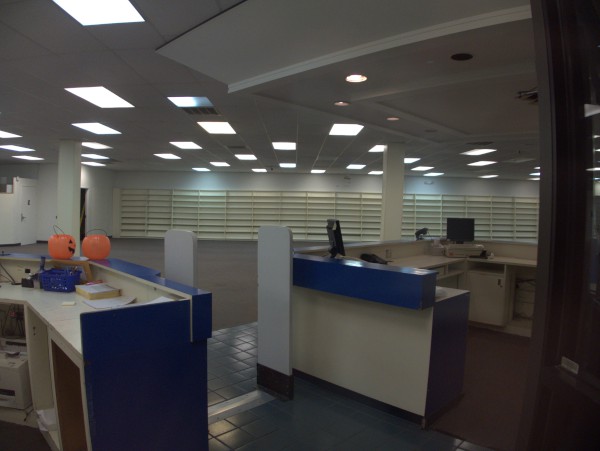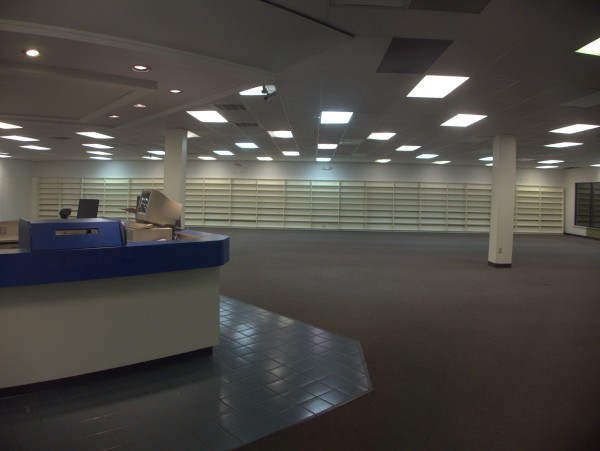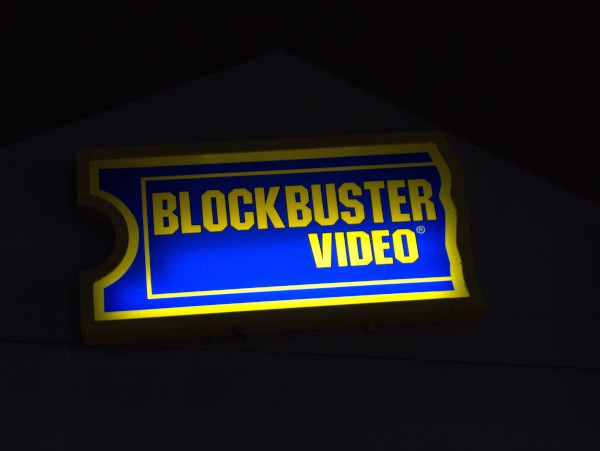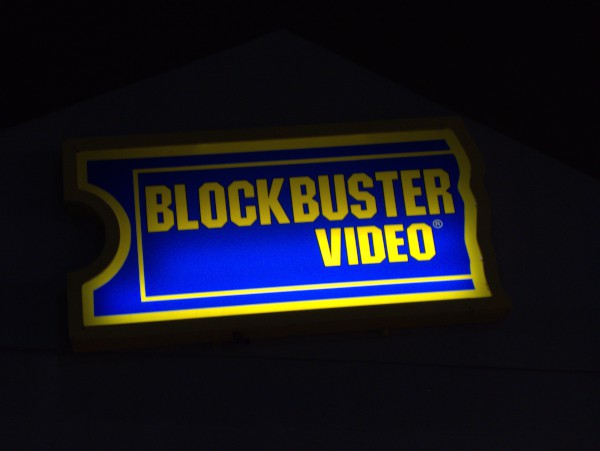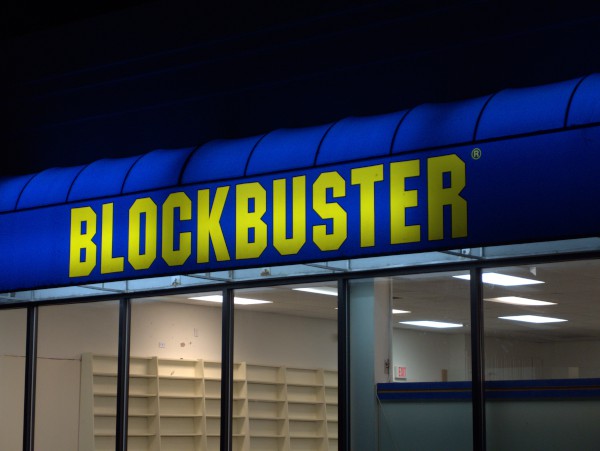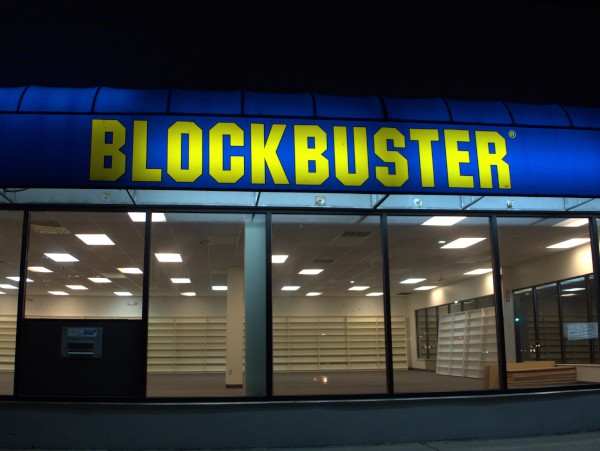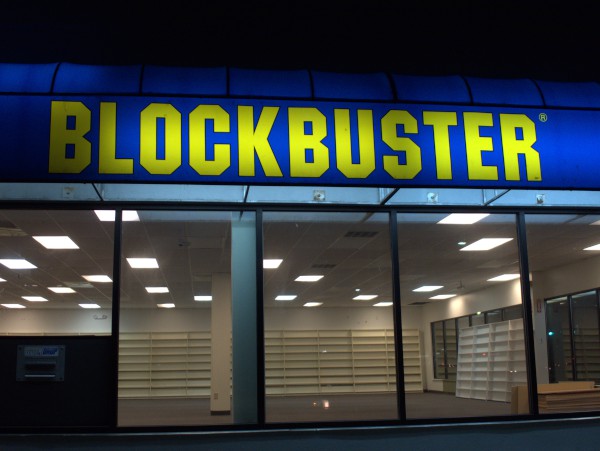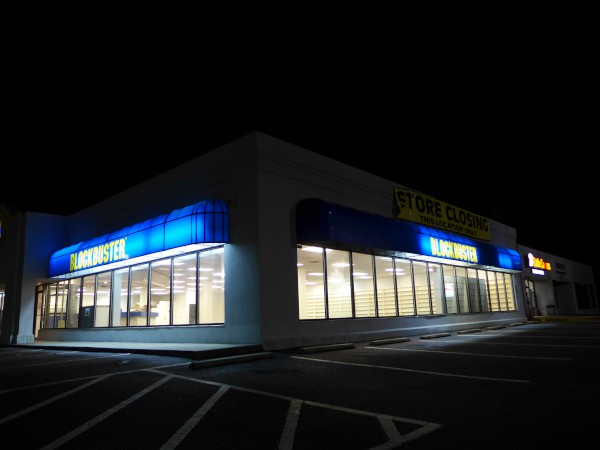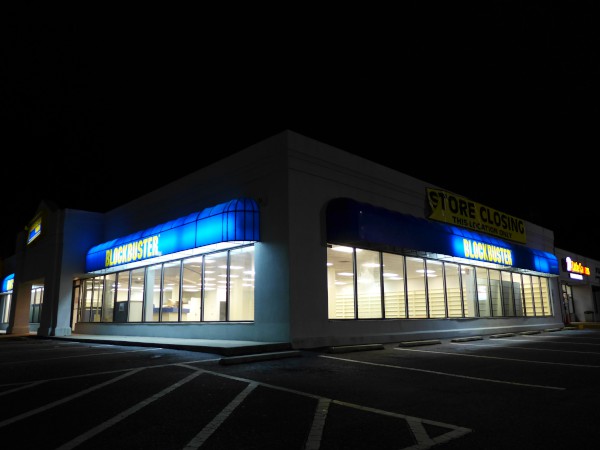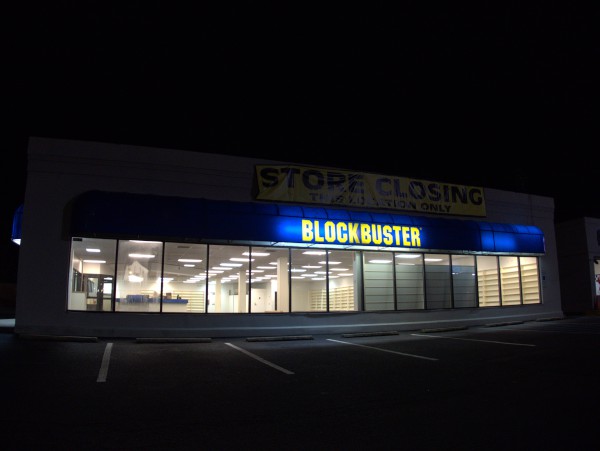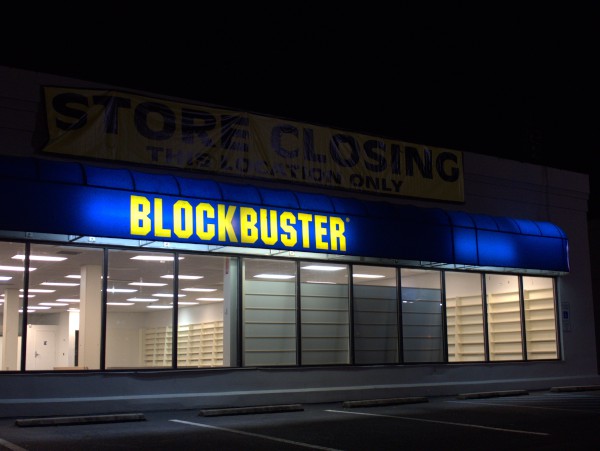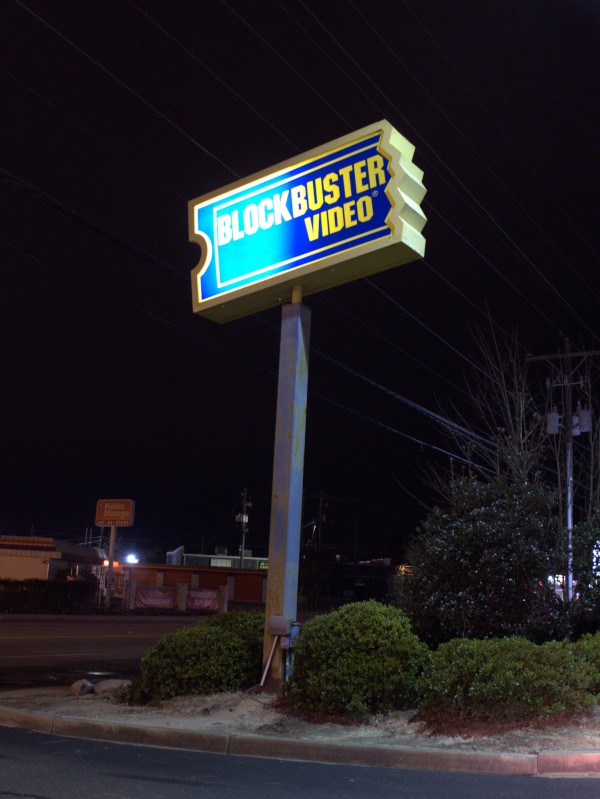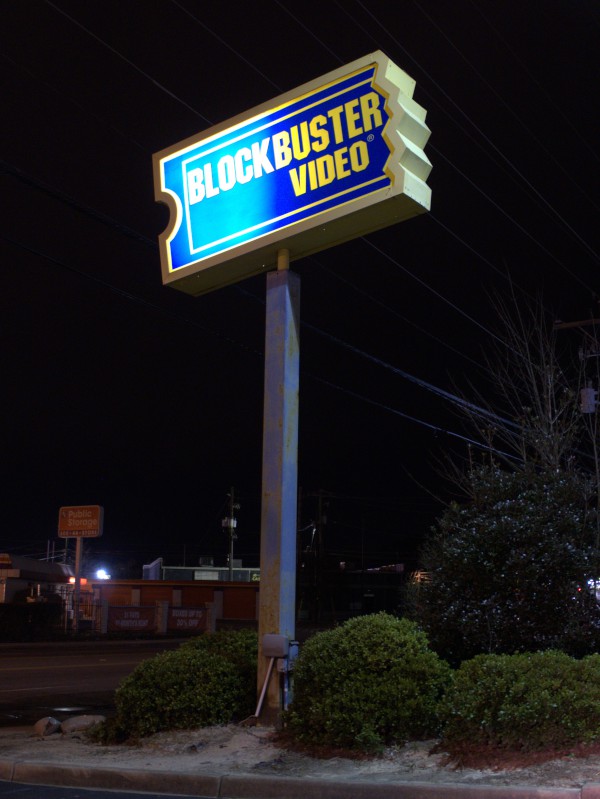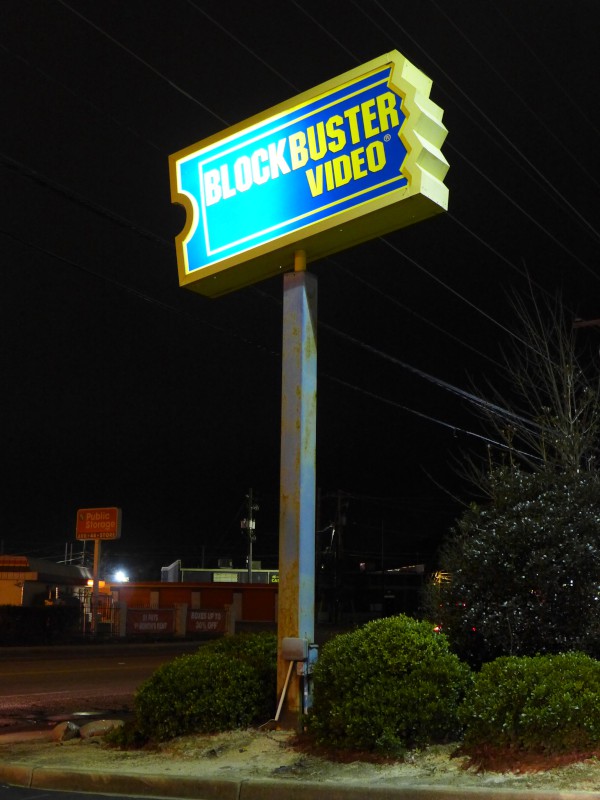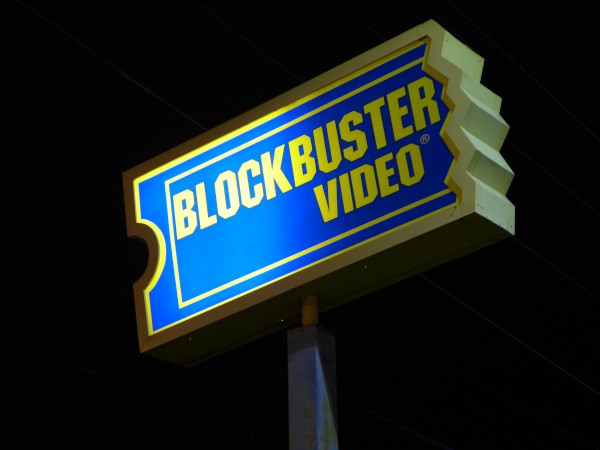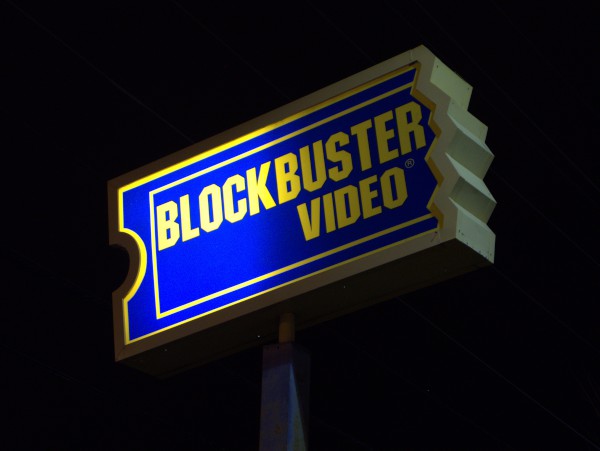 UPDATE 15 May 2017 -- It appears this storefront now has a permanent occupant, Colonial Healthcare: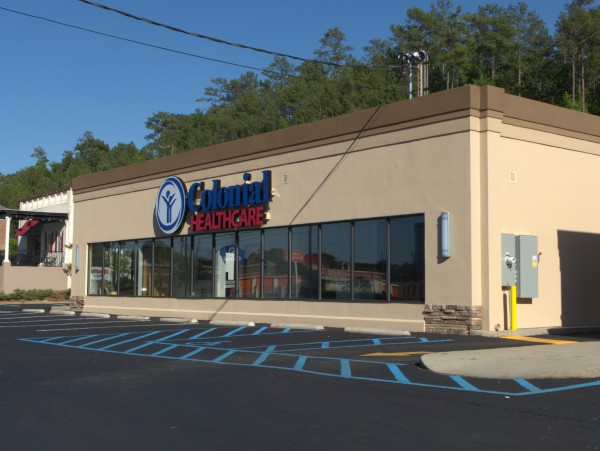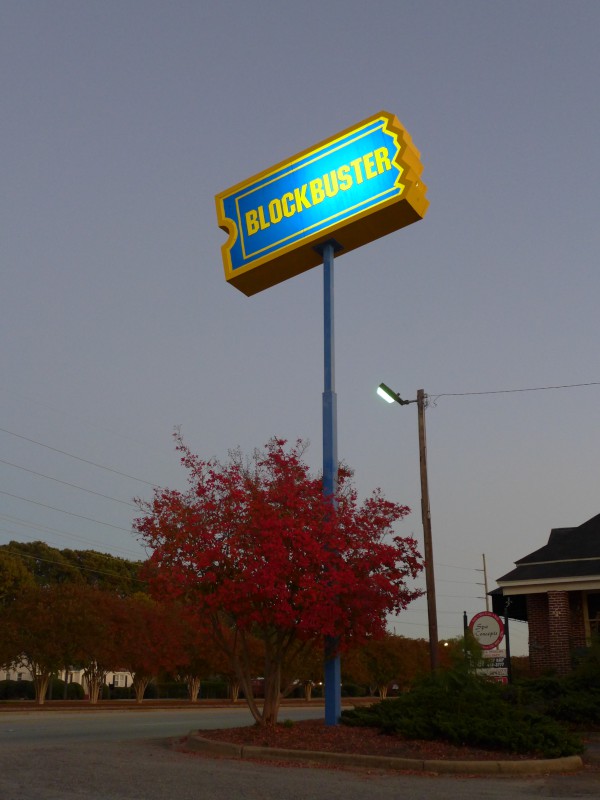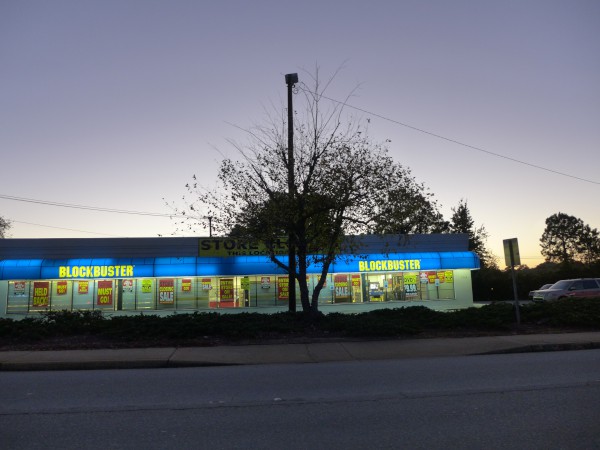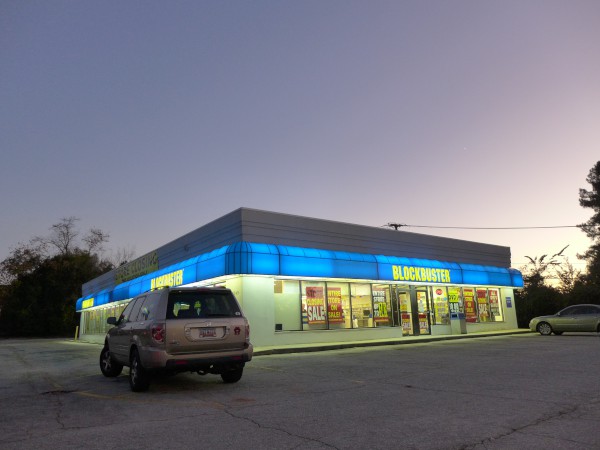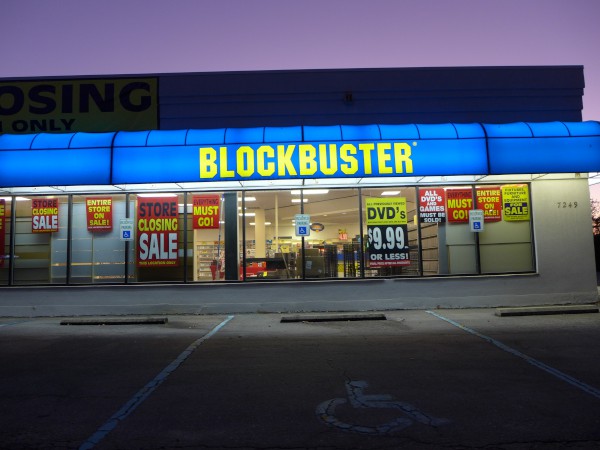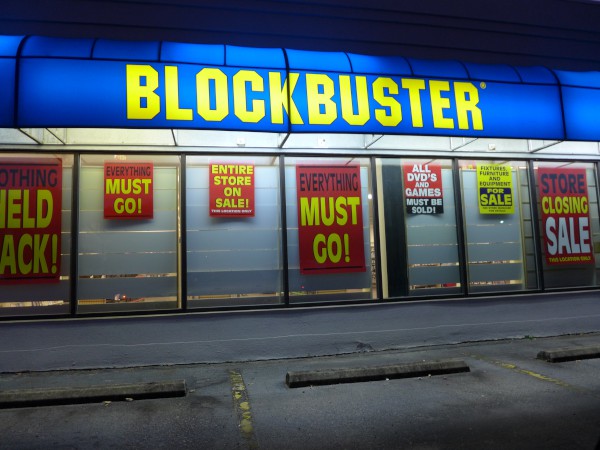 Well, as we've discussed recently, Blockbuster, at least as a physical store, is on the way out. The parent company, Dish Network is shuttering the chain, basically, due to the rise of Internet video. The last Blockbuster movie rental, 'This Is The End', was on Saturday in Hawaii.
I'm not sure how long the clearance at the remaining stores will go on. It's possible this Irmo store is already closed, as these pictures were taken a week ago now, and I haven't been back by. This location joins a long list of Columbia area Blockbusters which have featured here. And Rosewood will be up as soon as I get the chance to get some pictures there.
UPDATE 26 January 2014 -- Well, that's it, as seen in this pix from 12 Jan: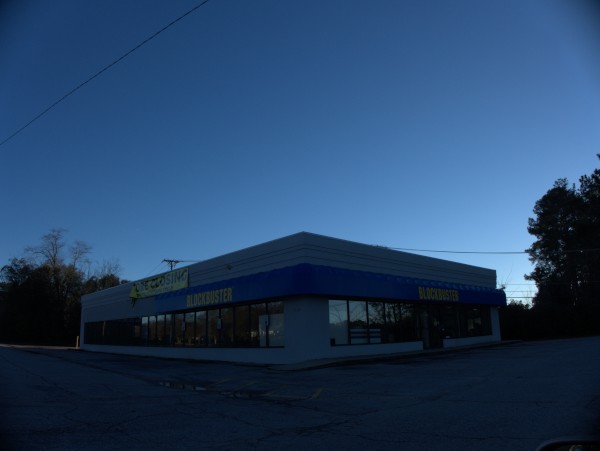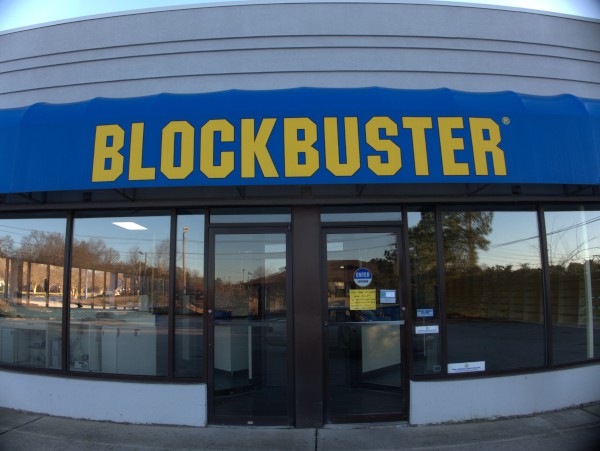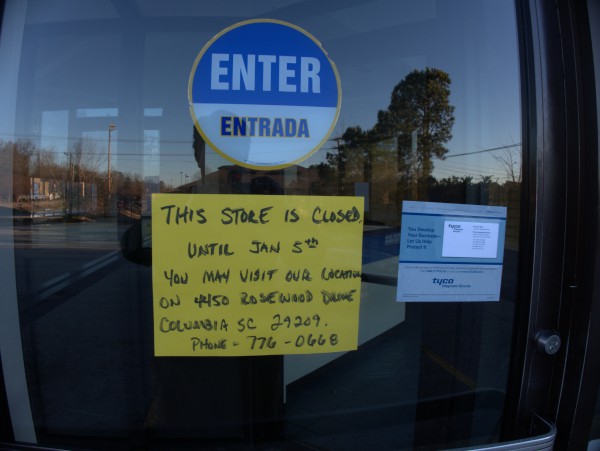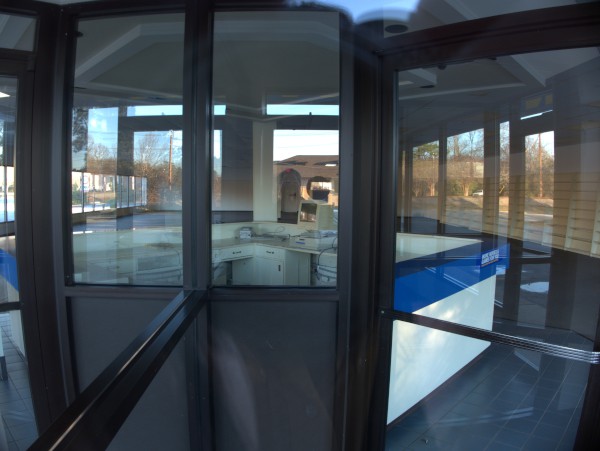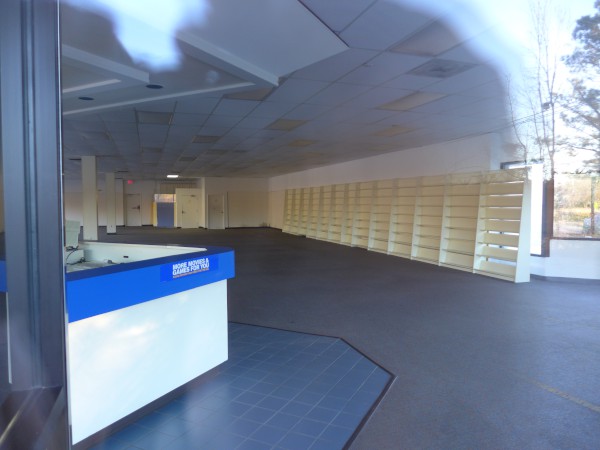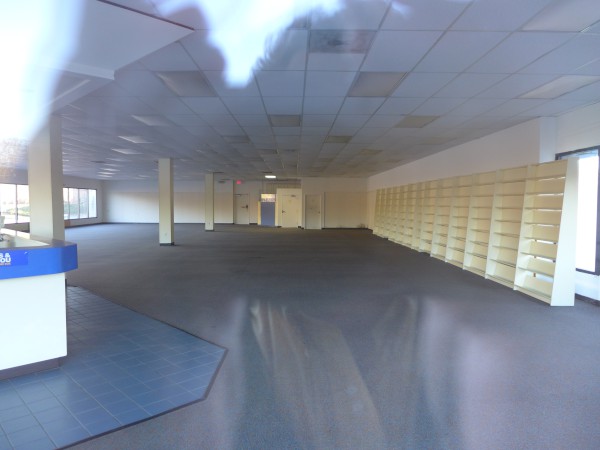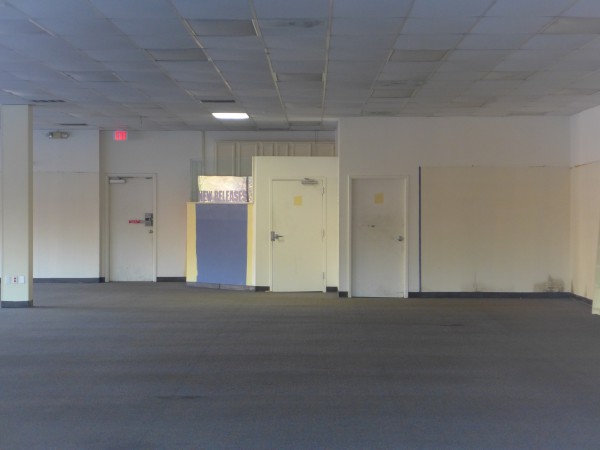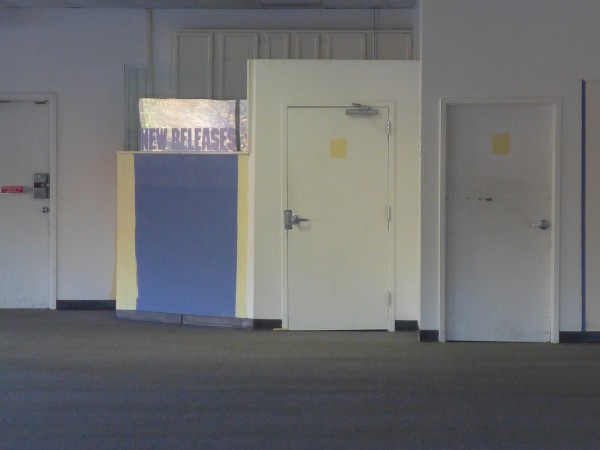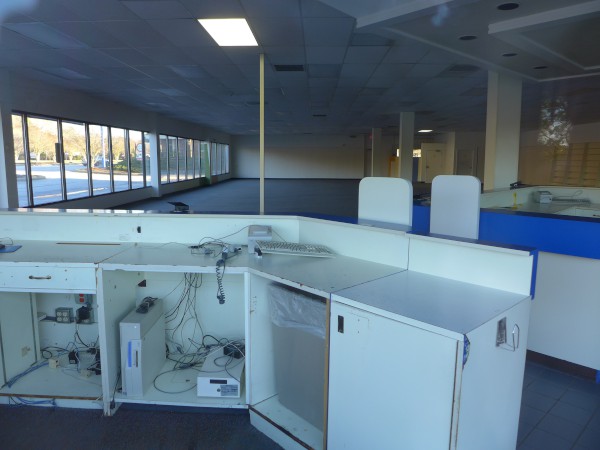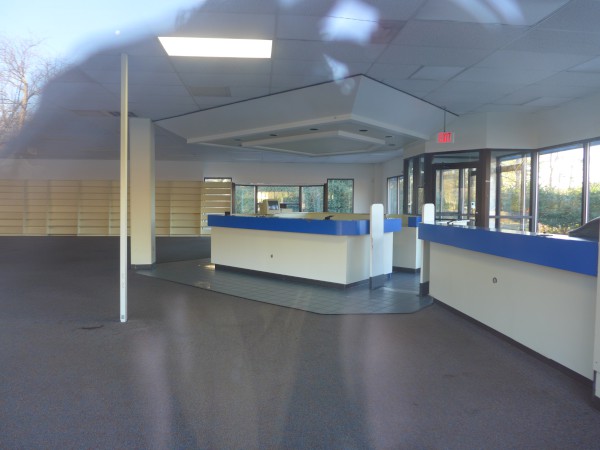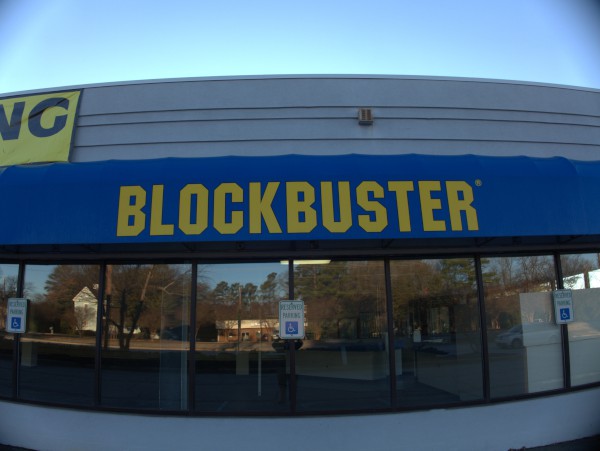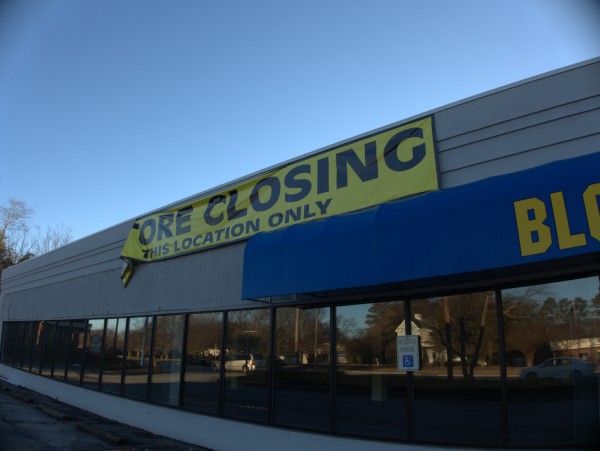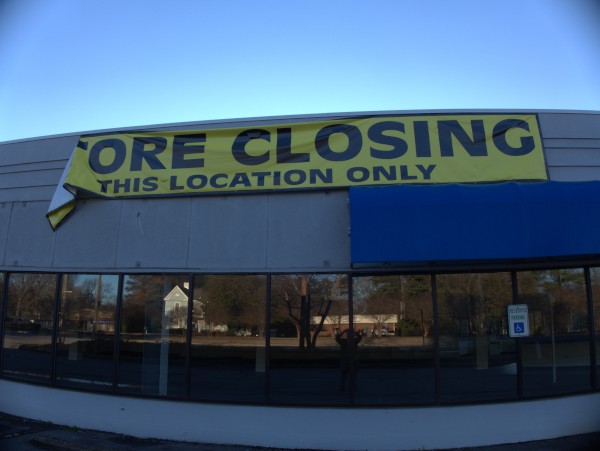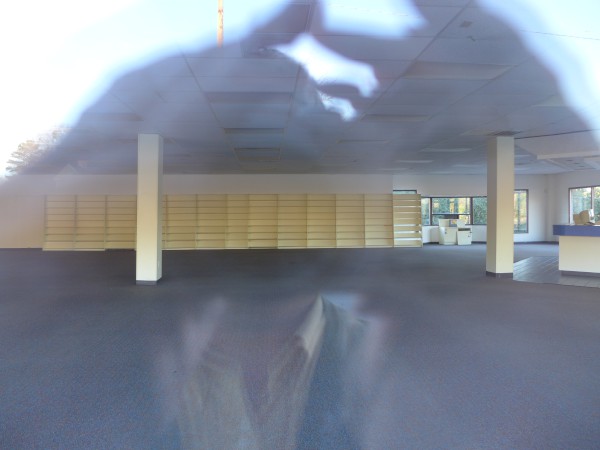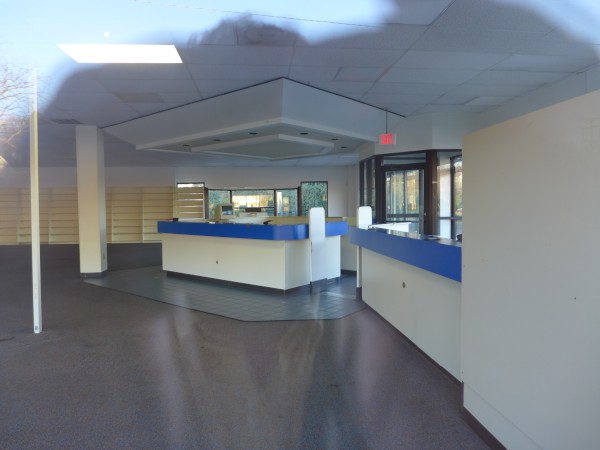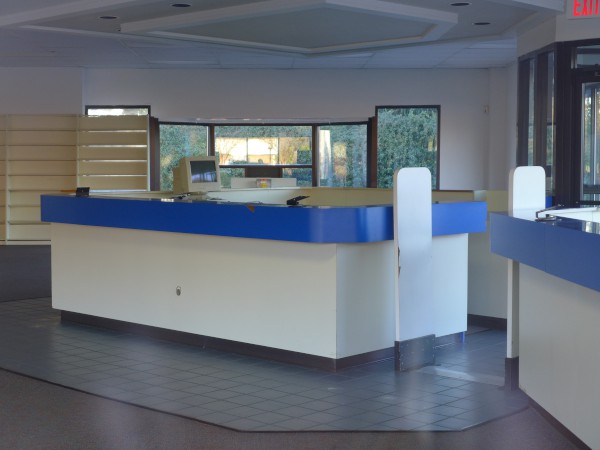 UPDATE 12 February 2016 - As mentioned in the comments, this whole store has now been subdivided and re-purposed: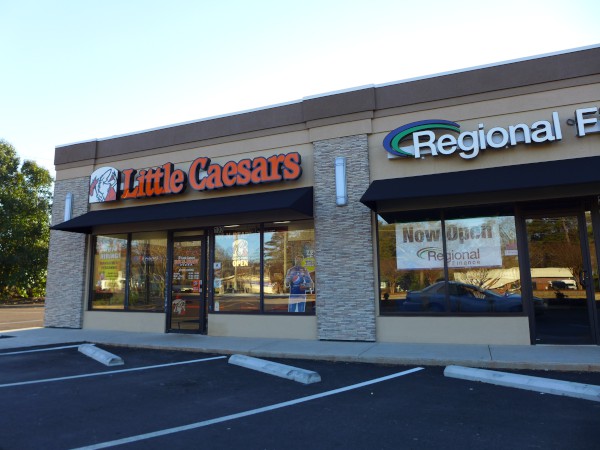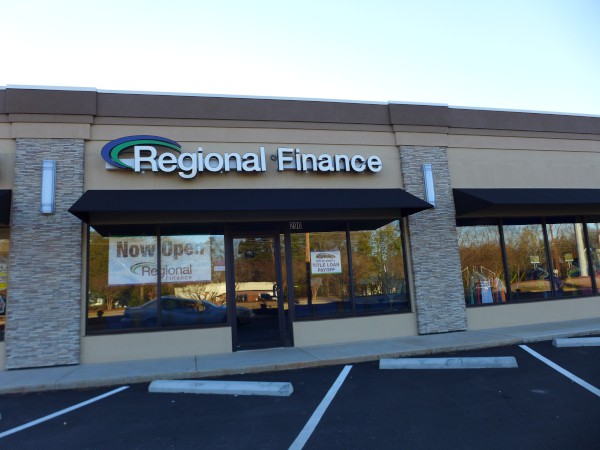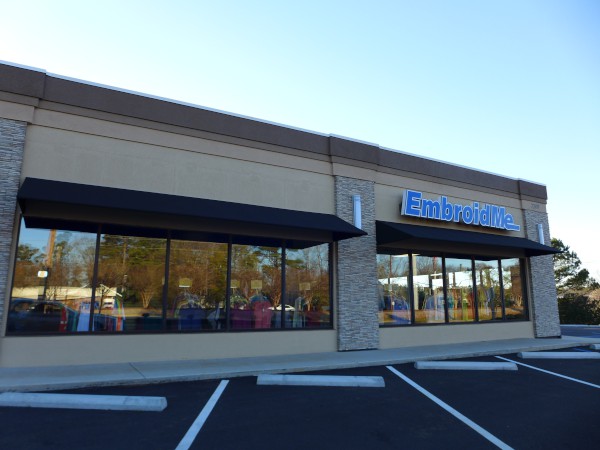 Posted at 12:24 am in Uncategorized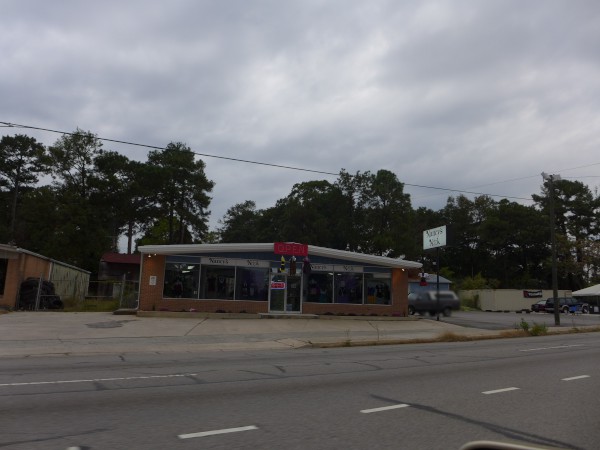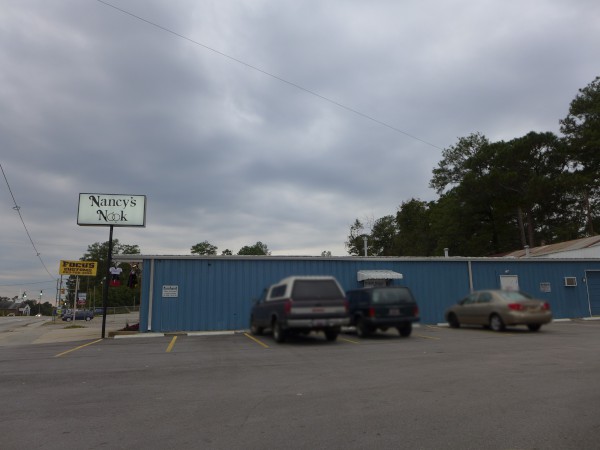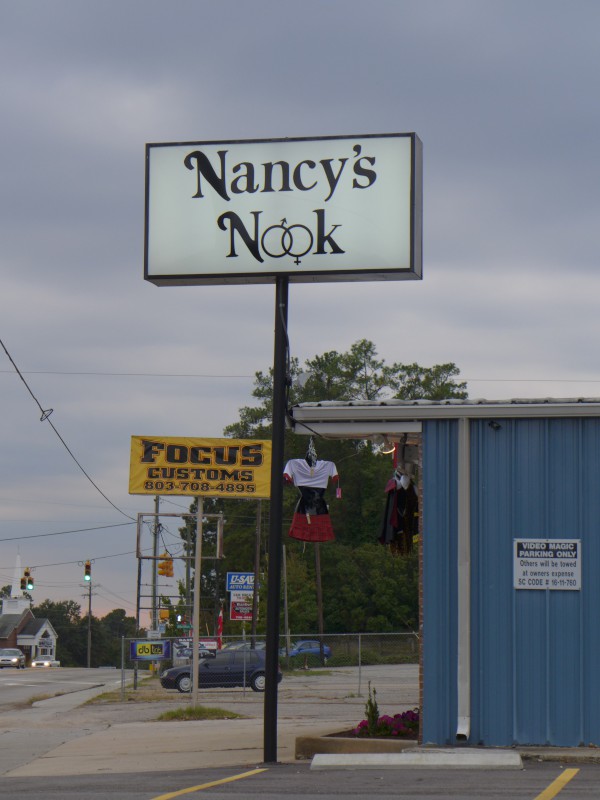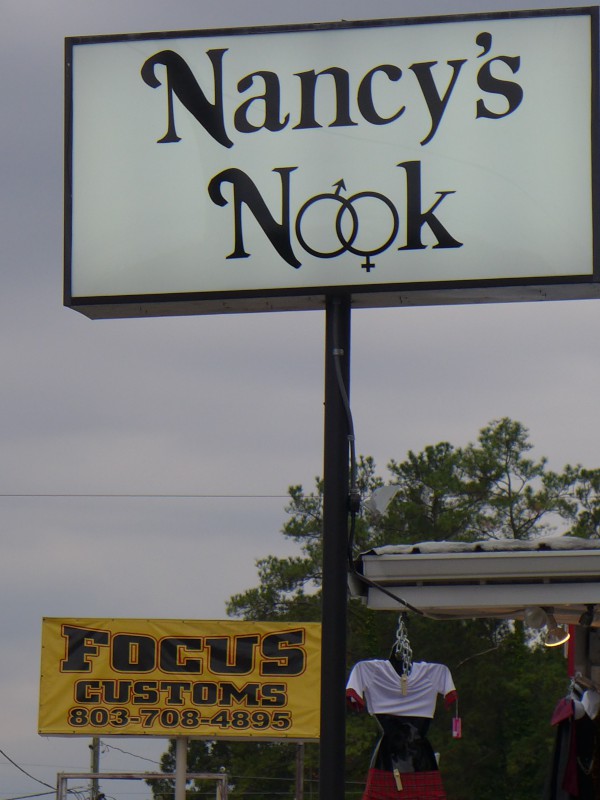 I don't think the post title is quite right. At one time, this place was Video Magic & Mags. That incarnation closed for a few weeks, then re-opened, apparently under the same ownership, but with a new name and more emphasis on lingerie than videos or "mags". That new name eludes me now.
Anyway, I noticed earlier this month that that operation has closed or re-flagged, and the place is now a second location for longtime Broad River Road "Couples store" Nancy's Nook (which name it always strikes me lacks a syllable).
Posted at 12:08 am in Uncategorized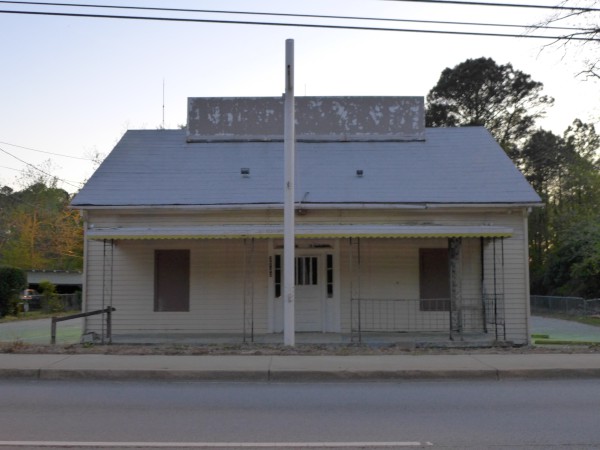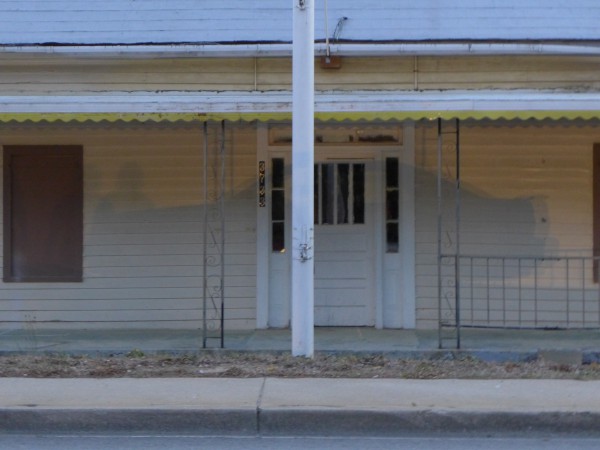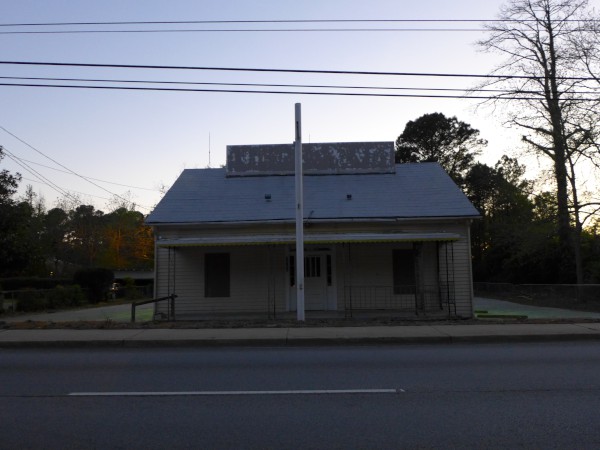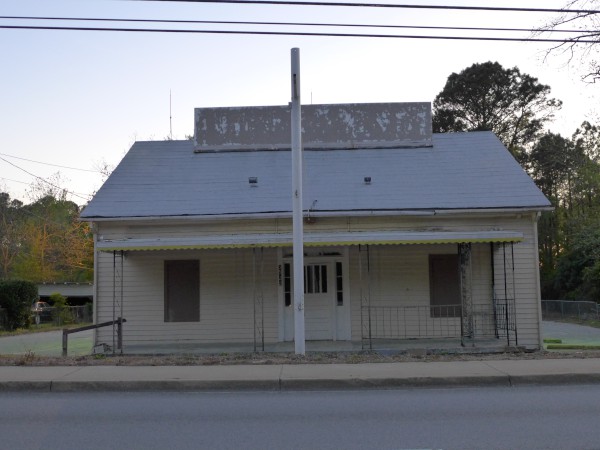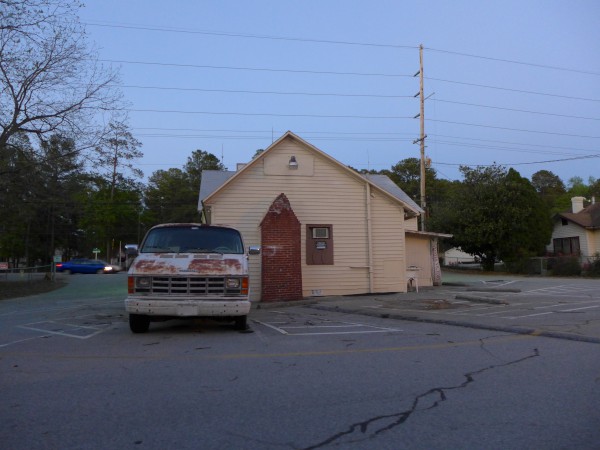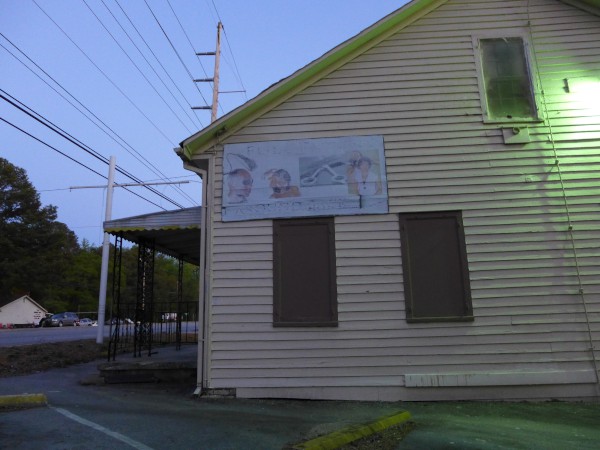 This old country-house-looking building is out on Broad River Road in between Saint Andrews Road and Harbison Boulevard. I guess the area is starting to be developed some now, but for many years, this was essentially out in "the stix". I would often notice this mom & pop video store as I drove by, and wondered how the thing lasted well past the video startup era and into the Blockbuster era. In the end Blockbuster did come to the area, though it was a short lived victory.
The place seems to be a barbershop and hair salon now.
Posted at 11:46 pm in Uncategorized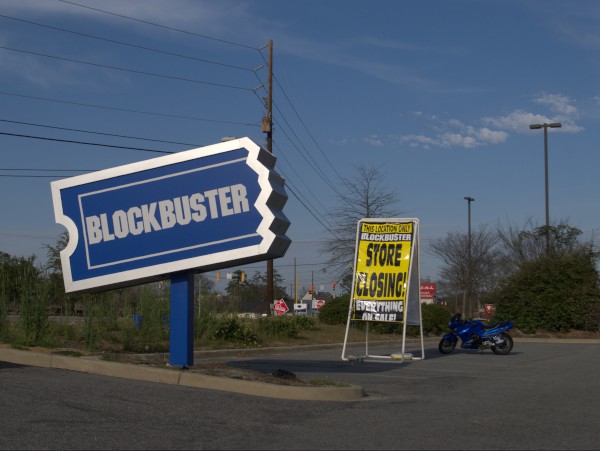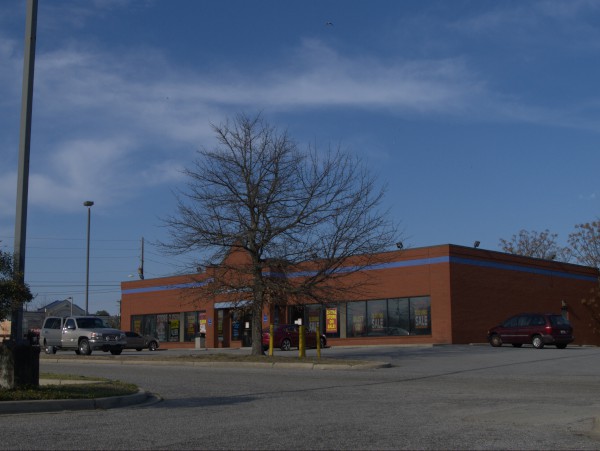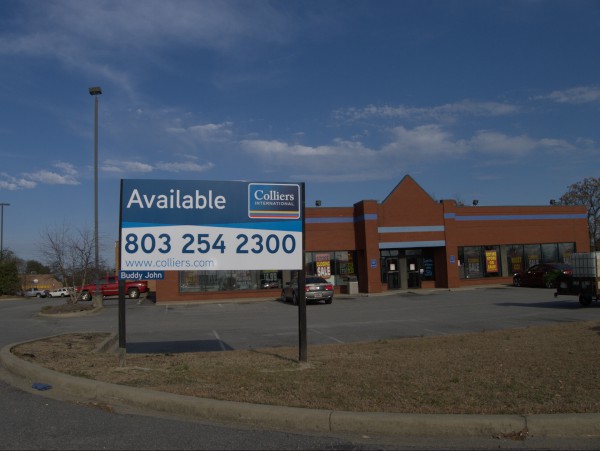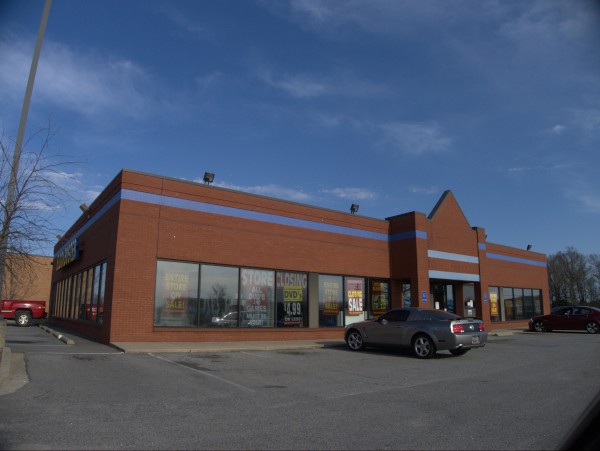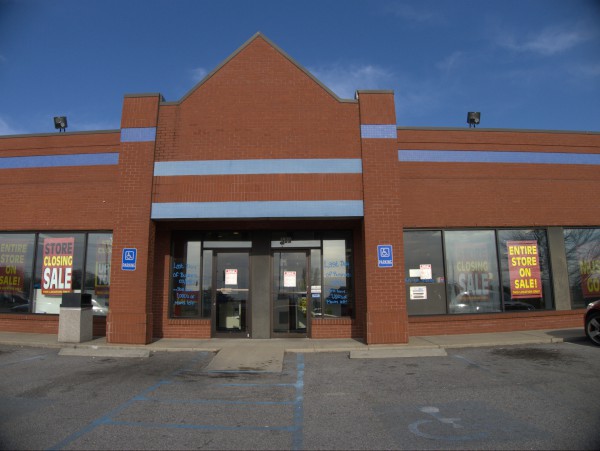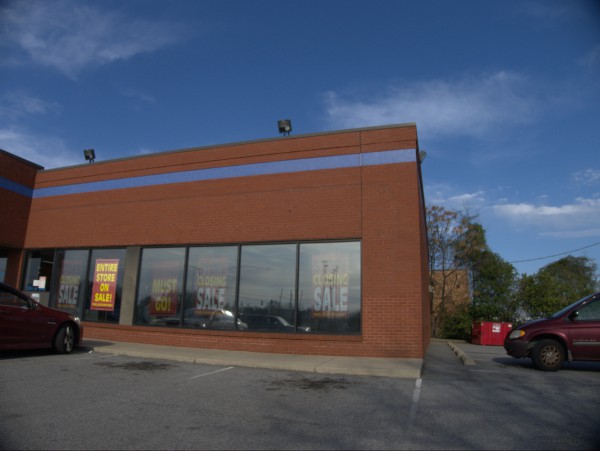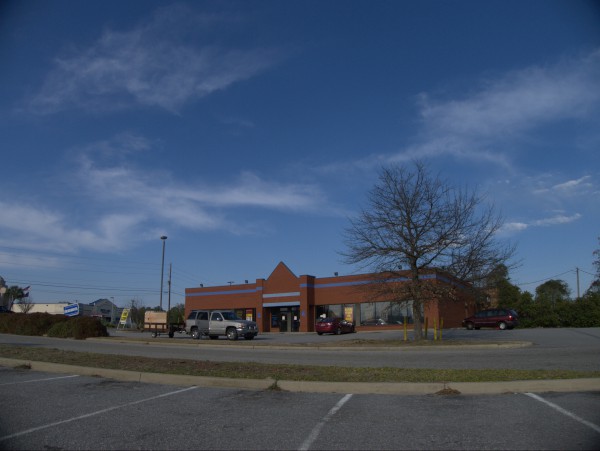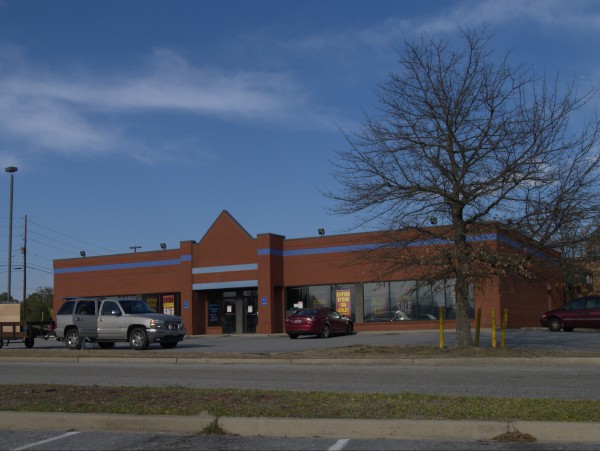 Well, this has already been talked about enough that I'm not sure who the hat-tip goes to, but I finally got over to Lexington last weekend and got some shots of the Main Street Blockbuster closing down. It was already pretty near the end-days, and as I watched, I saw a guy walk out and hoick a set of display racks into his truck.
I was also in Aiken this week, and the Blockbuster there which closed about this time last year is still vacant despite being in a pretty good spot..
UPDATE -- the place is still vacant: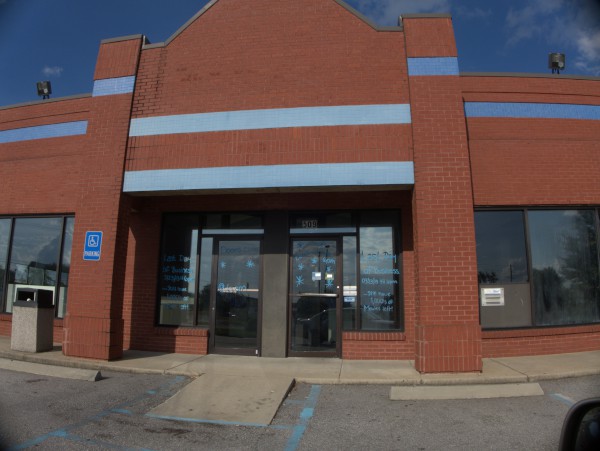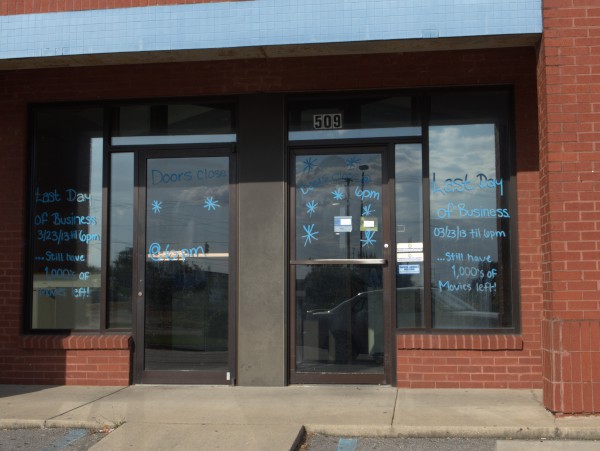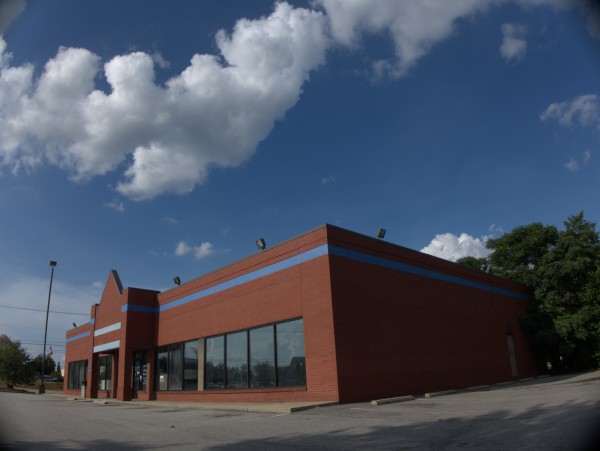 UPDATE 4 March 2014 -- This shot is through a windshield and from too far away, but you can see this building is now a Pet Supermarket: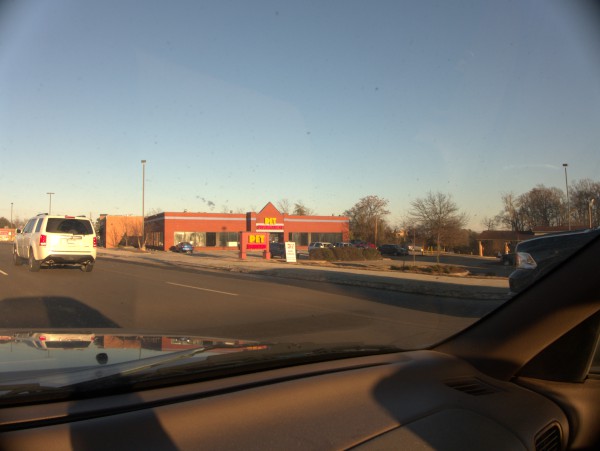 Posted at 1:18 am in Uncategorized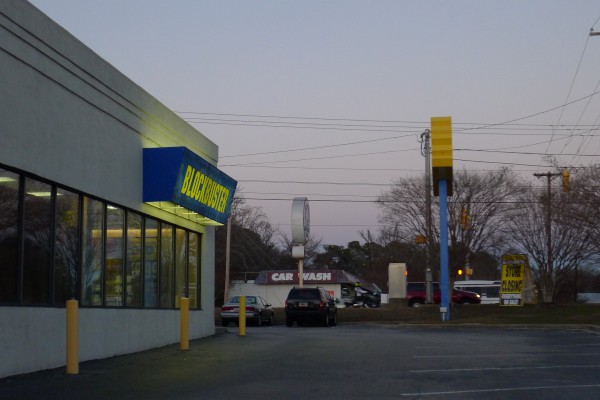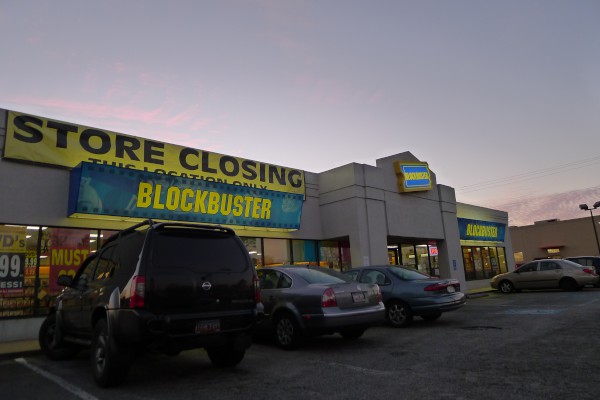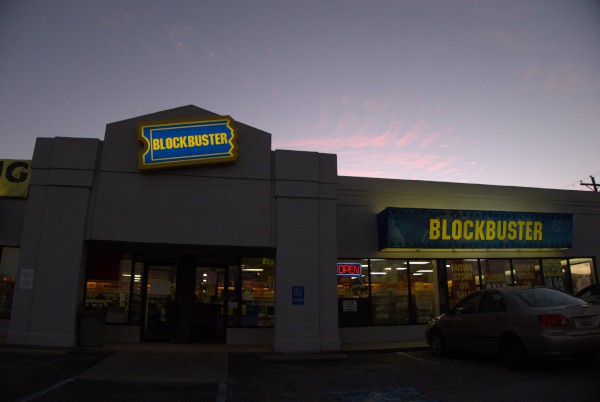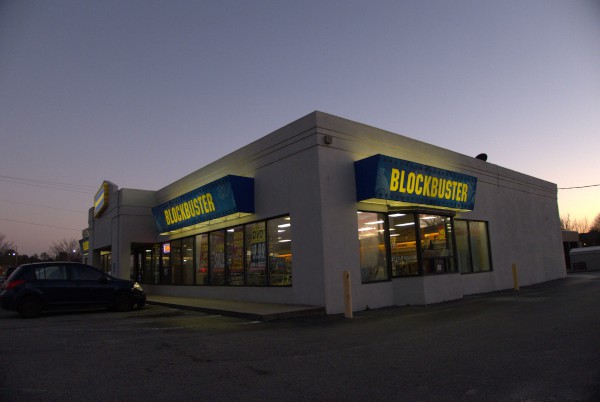 I've done so many closings on Blockbusters that it's hard to believe there are still some around. It's kind of like finding one of those prehistoric fish that get dredged up every now and then. This one is on Broad River Road near the old G-E-X, and is already having their final clearance sale. It's amazing how far and how quickly a company which once had naming rights to everything and thought they were the future of entertainment has fallen..
(Hat tip to commenter William)
UPDATE 8 April 2013 -- As reported by commenter Andrew below, this place closed on 24 March, and the signs are down: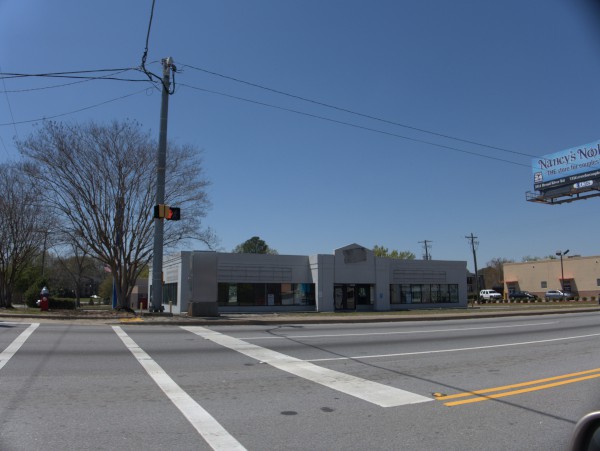 UPDATE 9 April 2014 -- Now a Buddy's Home Furnishings: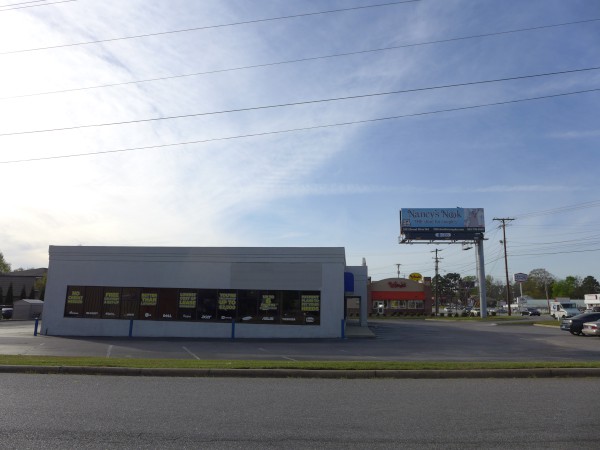 Posted at 12:38 am in Uncategorized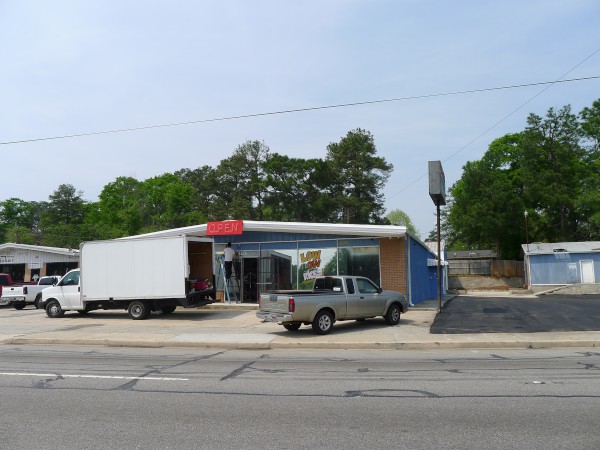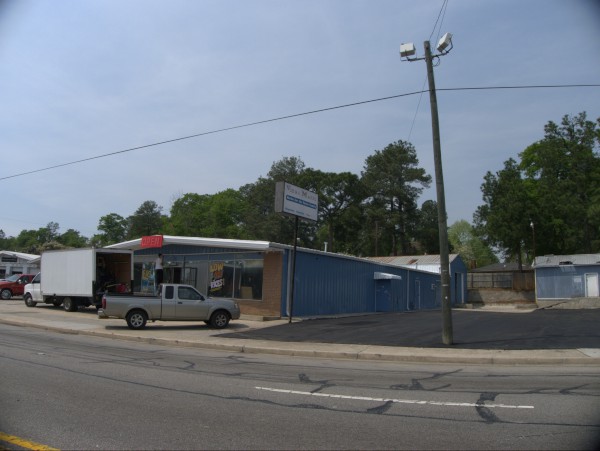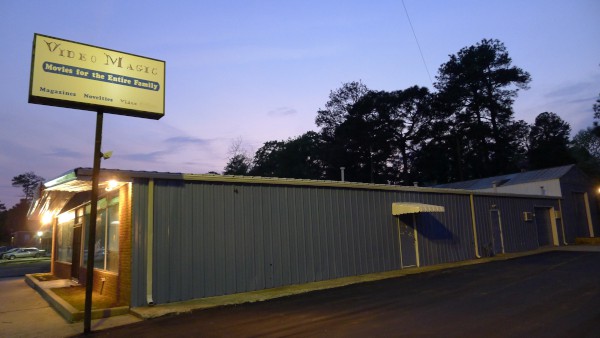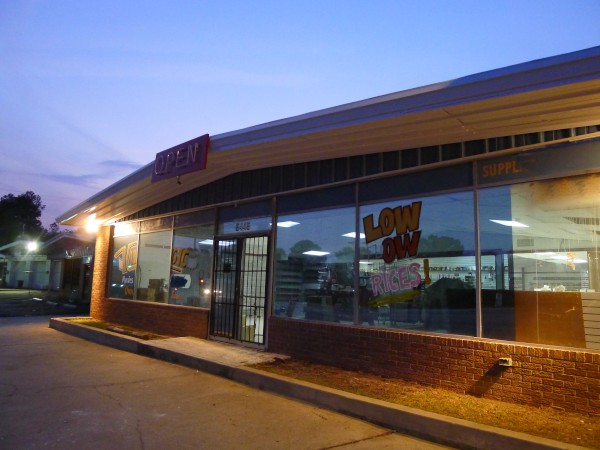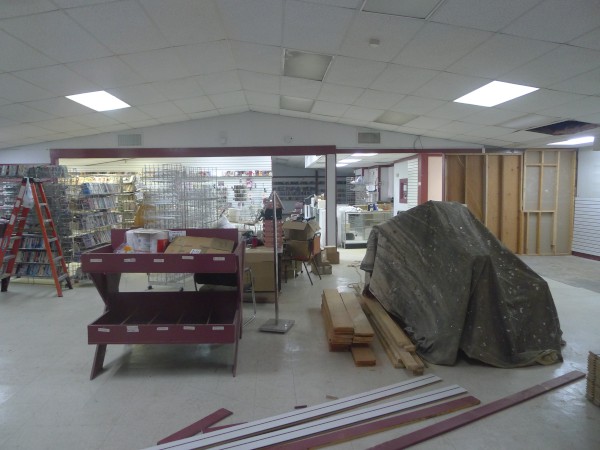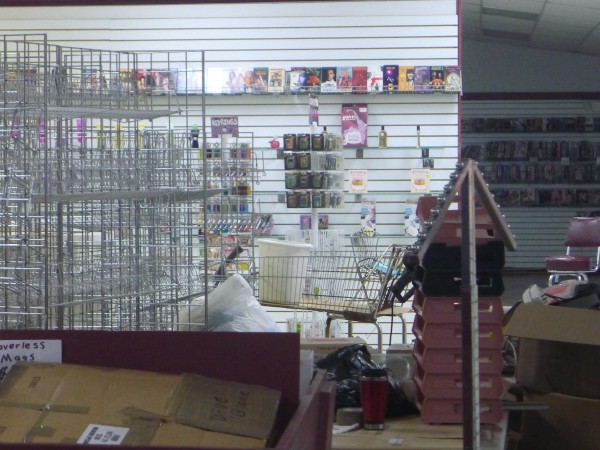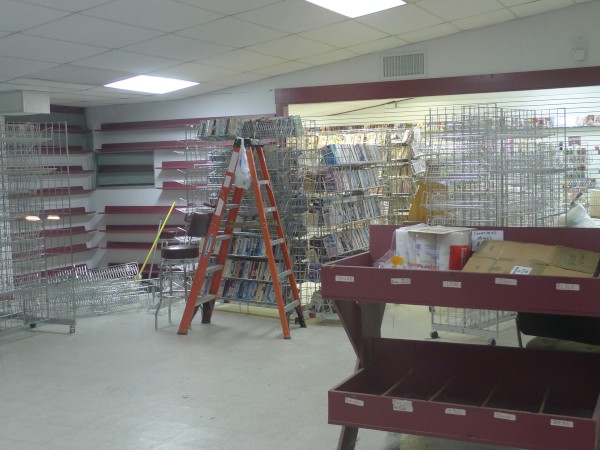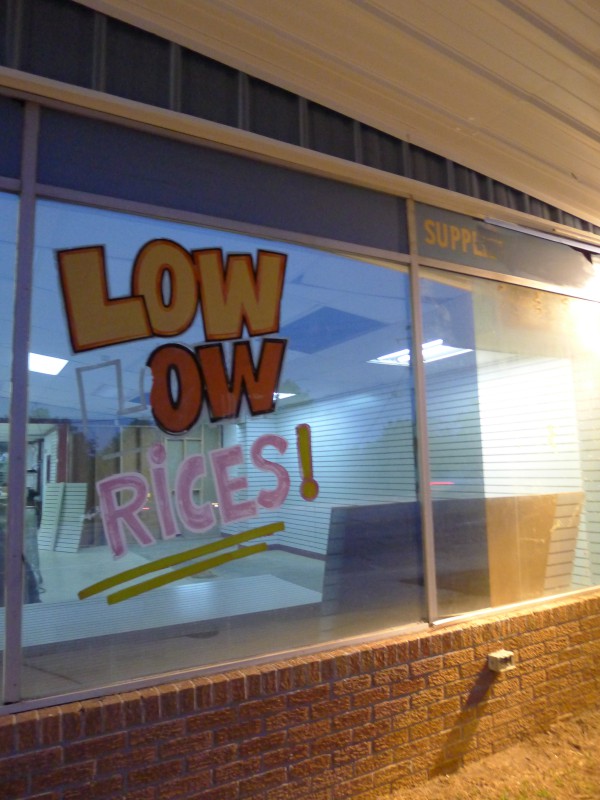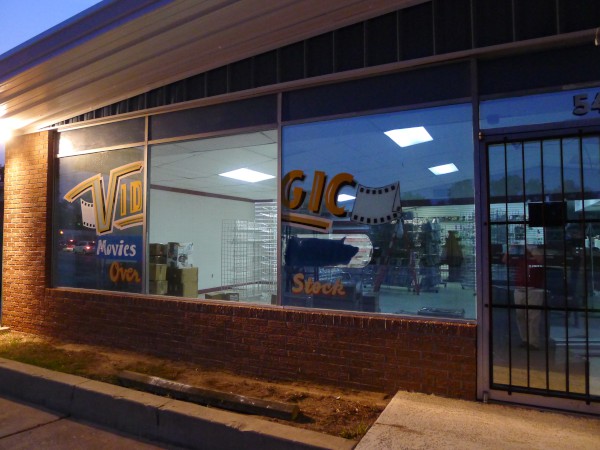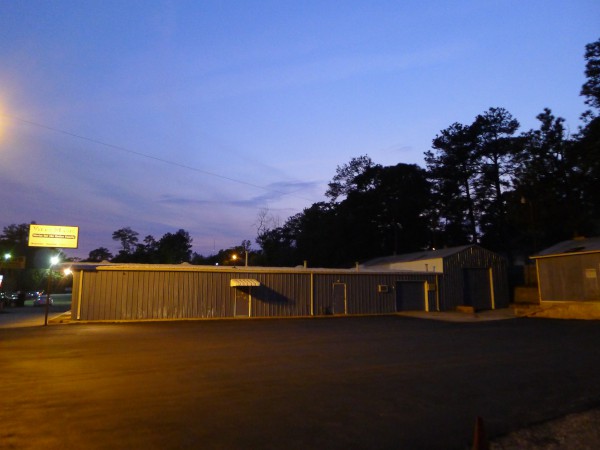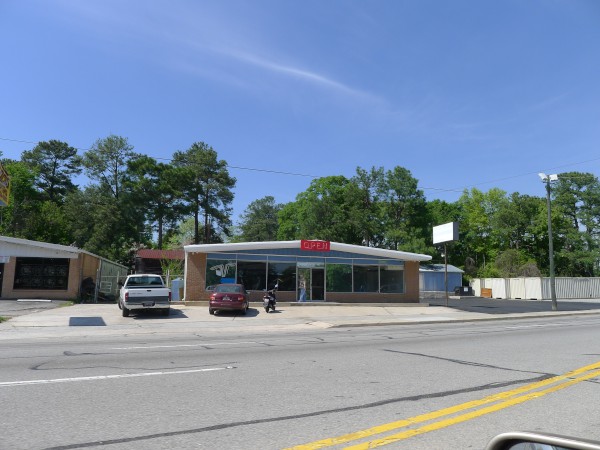 Well, it looks like Video Magic & Mags on Two Notch just before Fontaine has gone under despite (or because of?) their Low Low Rices, and that their Movies For The Entire Family are being cleared out.
This porn emporium has been there seemingly forever, and outlasted the one on the other side of Fontaine by probably a couple of decades.
It appears that a new incarnation for the building will be forthcoming shortly as the parking lot has been re-paved, the sign has already been painted over, and there seems to be a stream of folks in and out working on the interior.