Archive for the 'Parklane Road' tag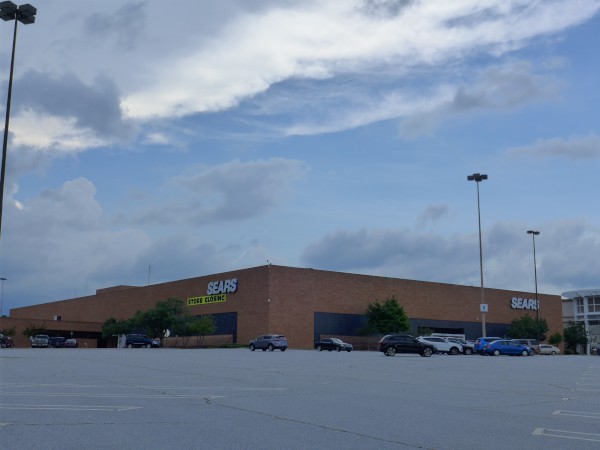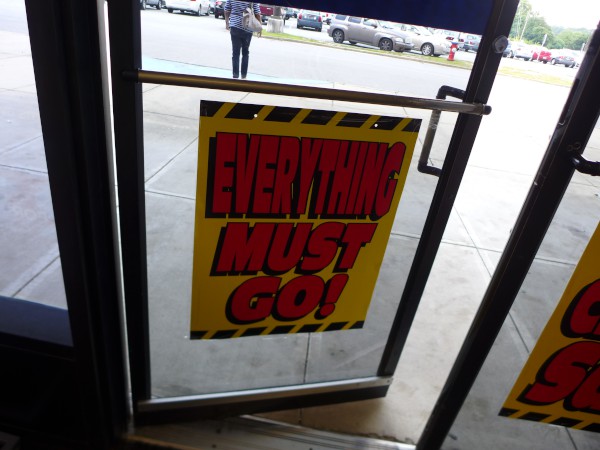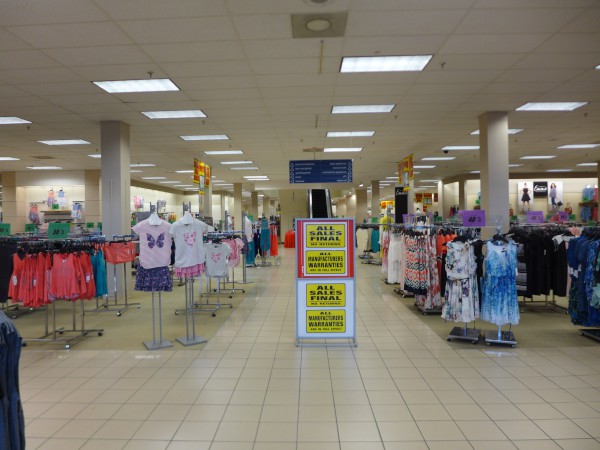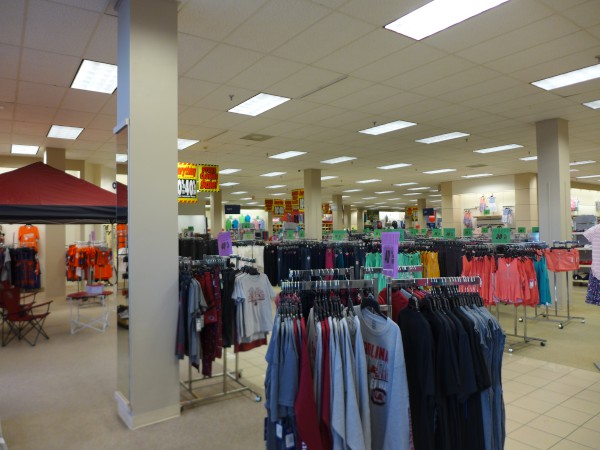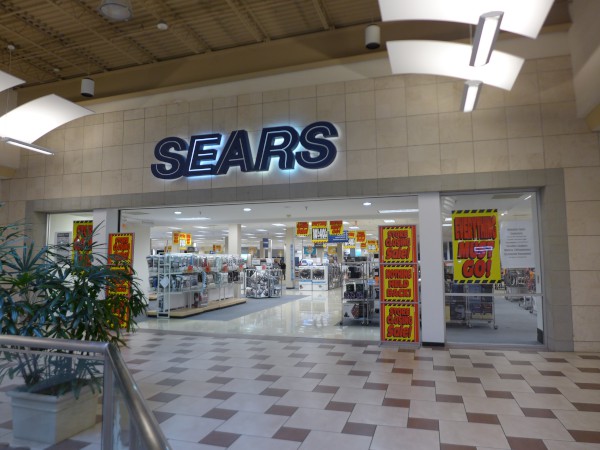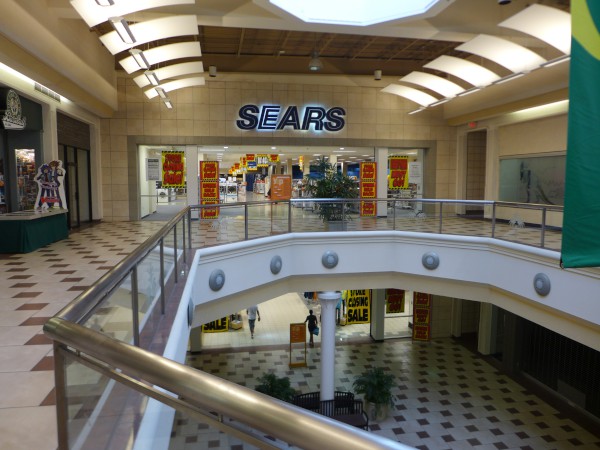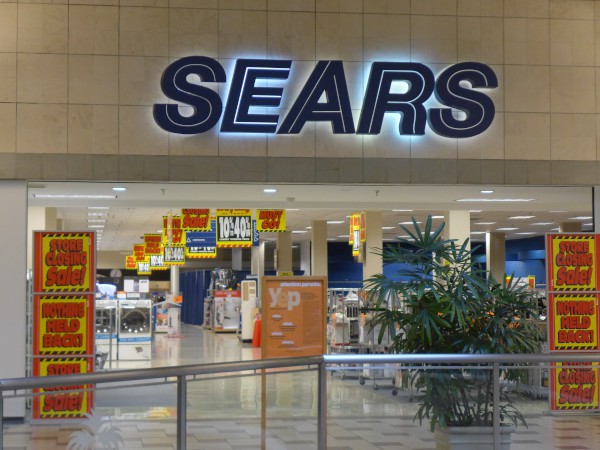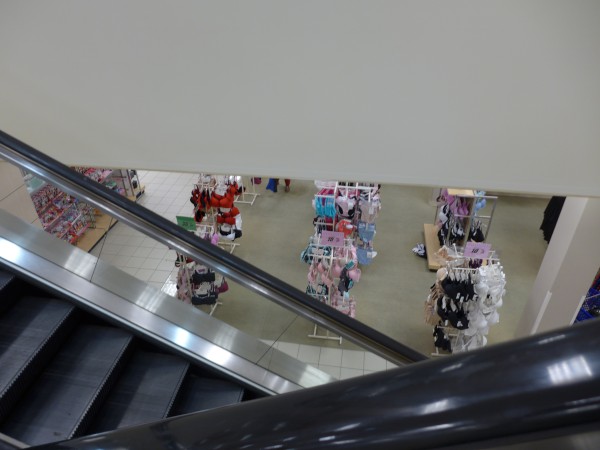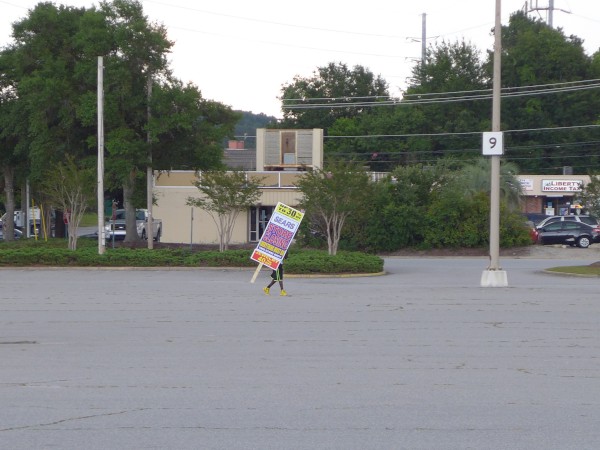 As I remarked to my sister, they have been closing this store for years. You could say it started when they did away with the roasted nuts counter, part of the classic heritage that had followed them from Harden Street, but that half-joking aside, it was really apparent in recent years that the store was being hollowed out: there was less and less stock, and more and more empty space. It never got as bad as Belk at Dutch Square with a whole floor abandoned, but it was impossible not to notice. Then, several years ago, they decided it wasn't worth keeping the store open for all the hours that the mall was, and you'd find the mall doors drawn during normal business hours. This year, Sears as a whole finally put Going Concern language in their financial report, and when the latest list of store closings came out, I can't imagine anyone was surprised to see this store on it.
The closing of Sears will leave Columbia Mall with only one anchor store, and Macy's isn't looking that robust either lately.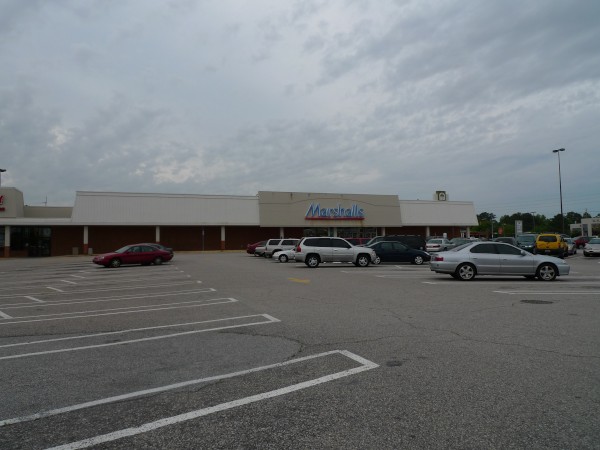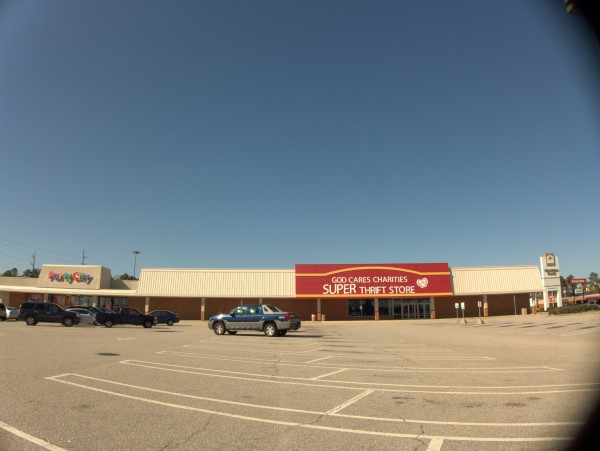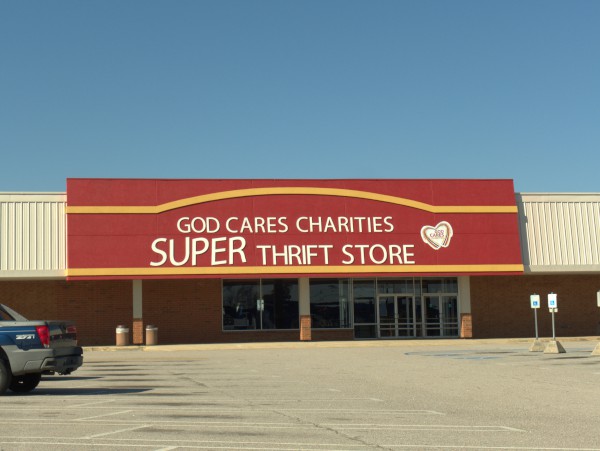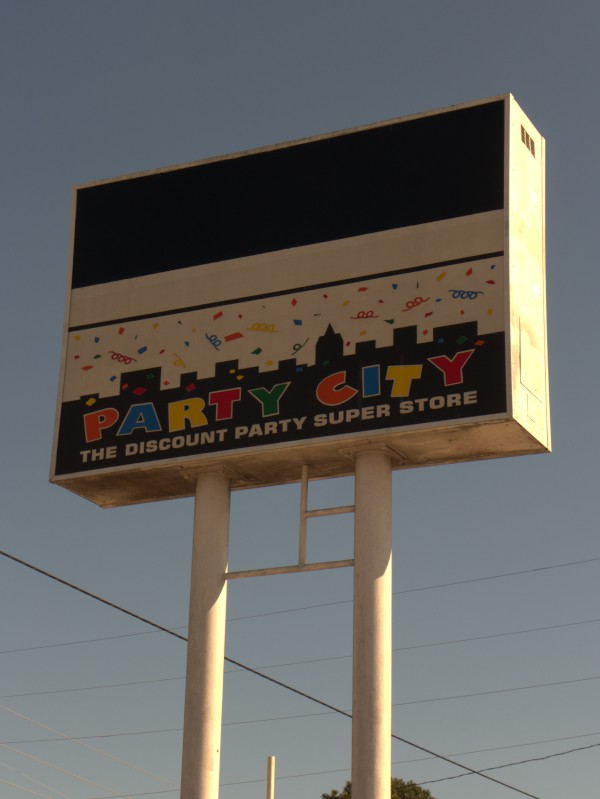 Marshall's moved off of Parklane just in time to get caught by the flood in the new Rosewood Crossing shopping center: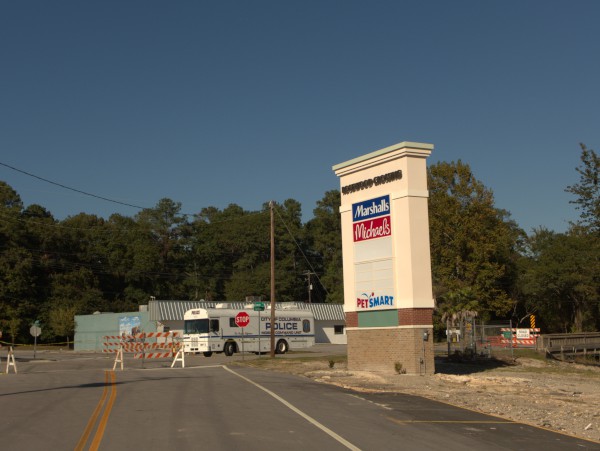 I noticed recently that their old Parklane storefront is now a church thrift store.
(Hat tip to commenter Dustin)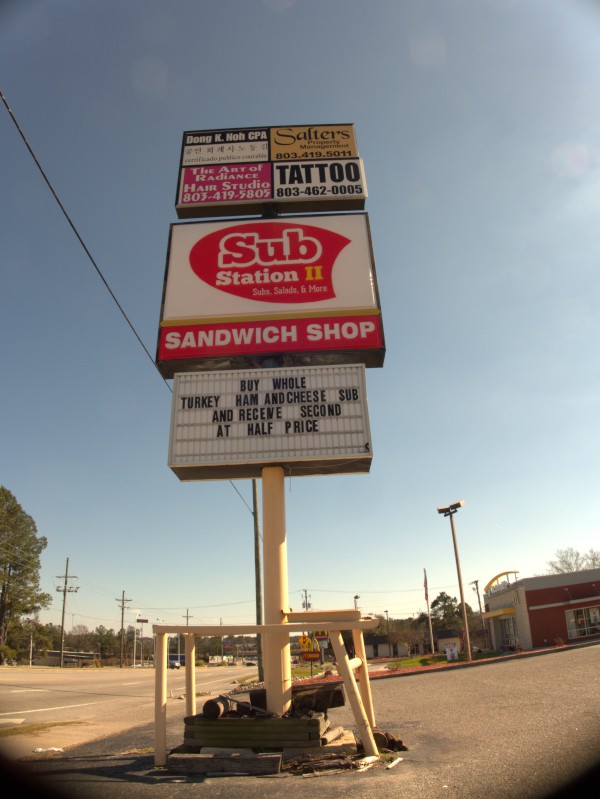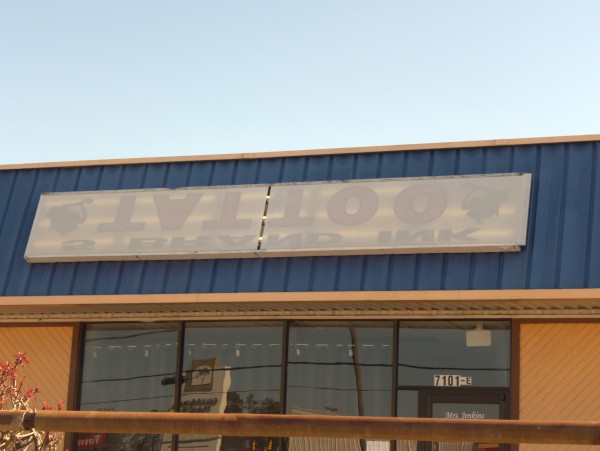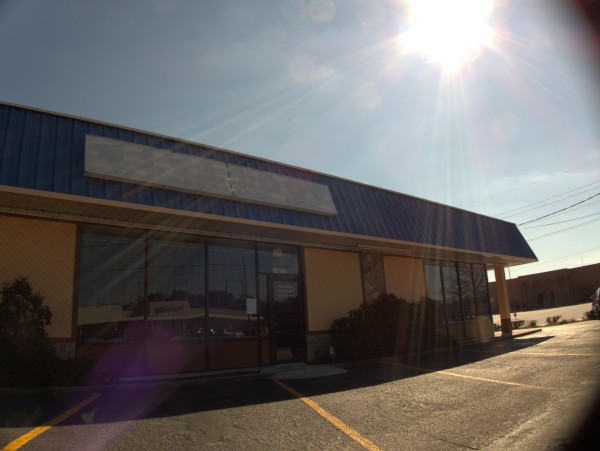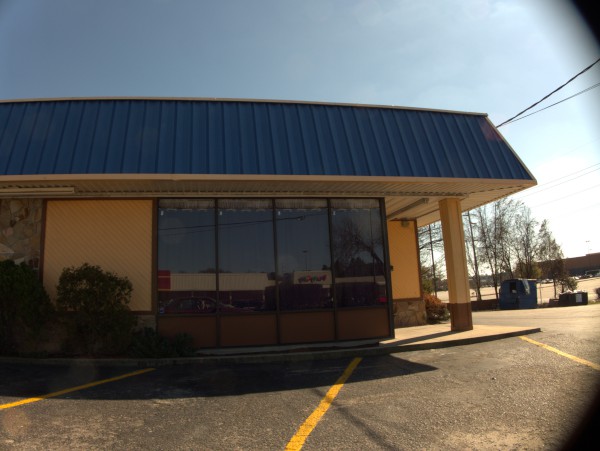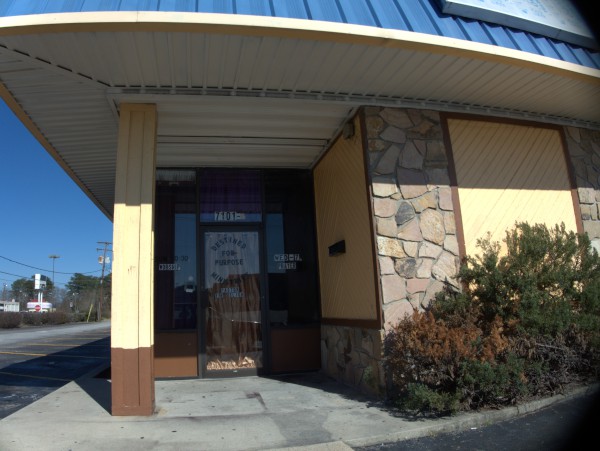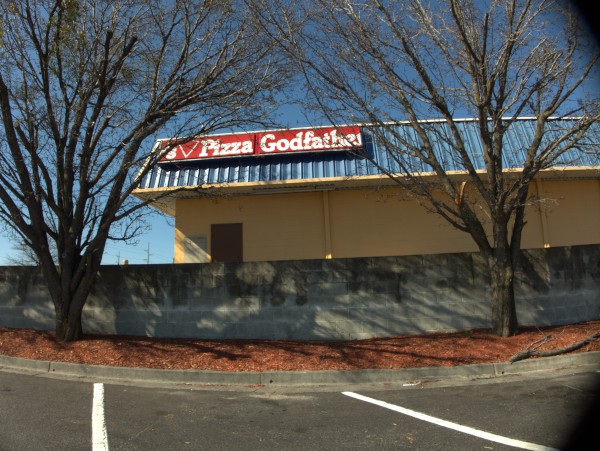 5 Brand Ink Tattoo was in the old Godfather's Pizza location in this Parklane strip mall abuting Columbia Mall. I can't find them in any of my phonebooks, so that may not have been the official name for the place, but flipping the reversed marquee around shows that's definitely what was on the storefront.
This suite is now a church, which is a contrast to the devil-heads on the old marquee.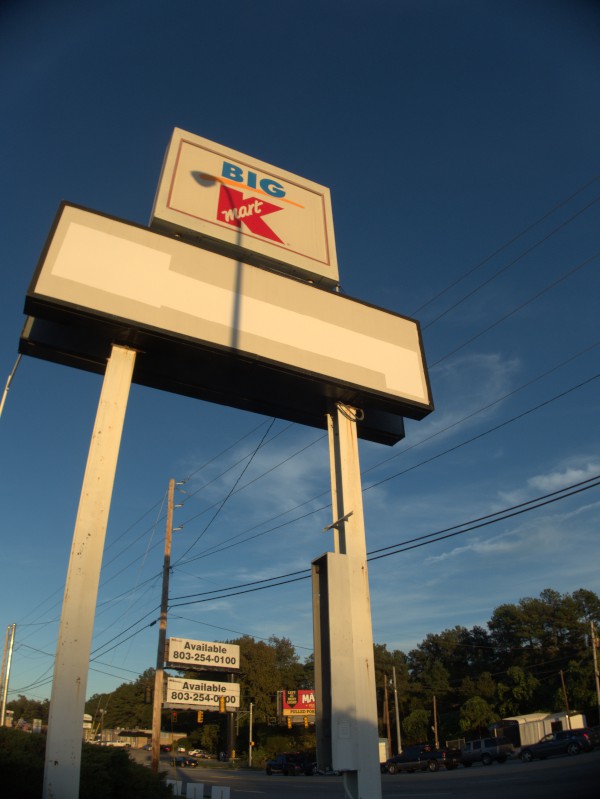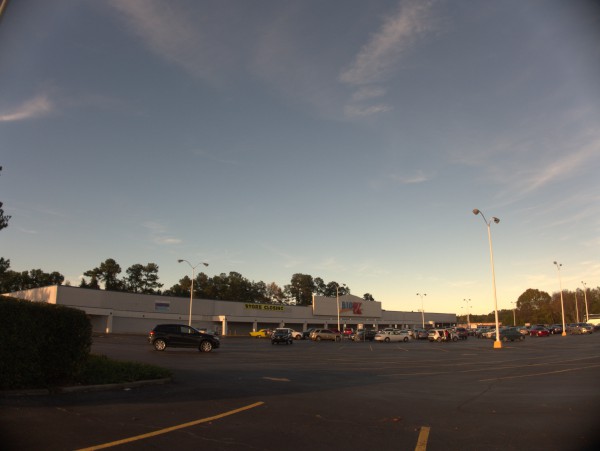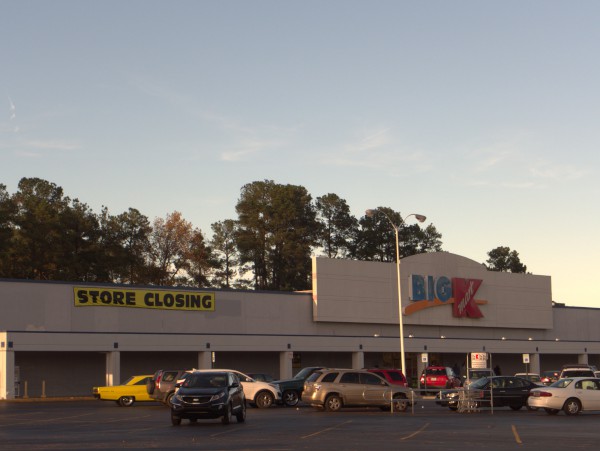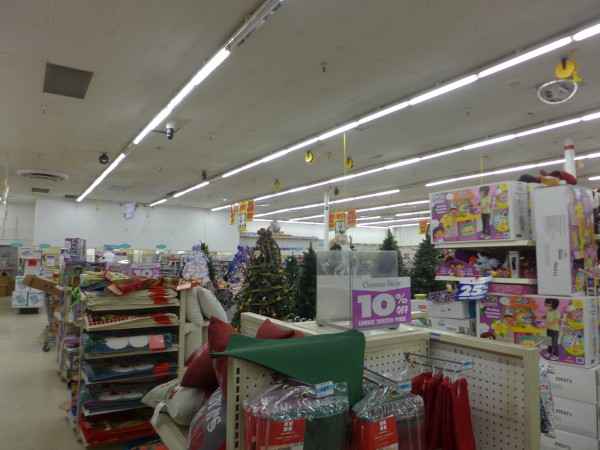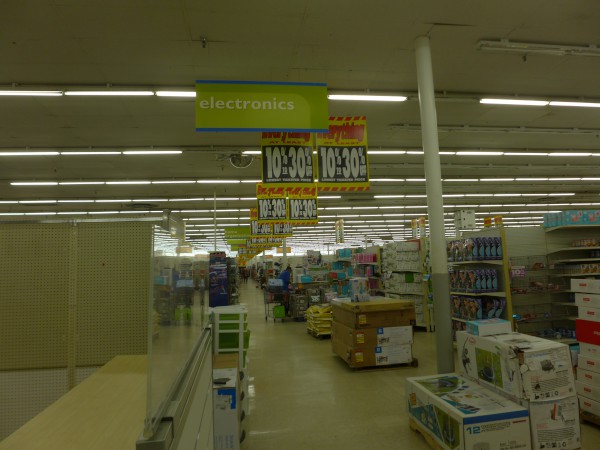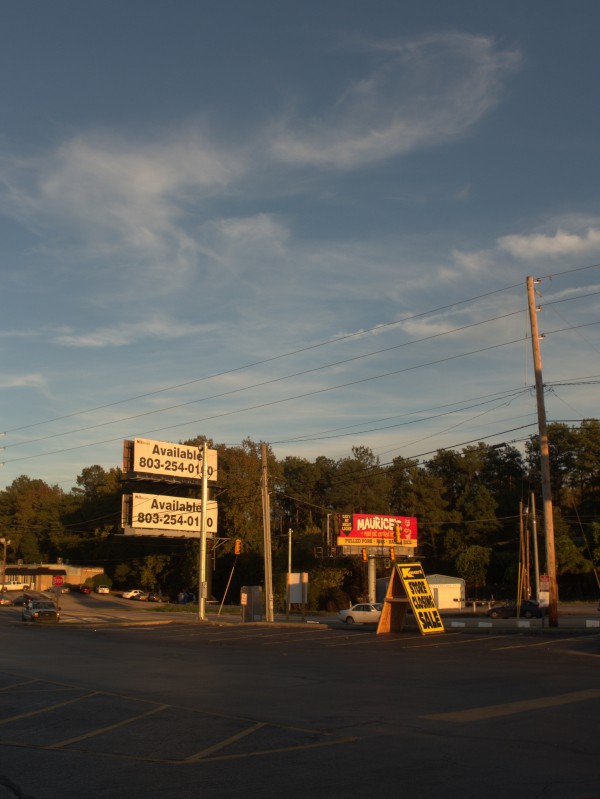 This is the only store I have ever been lost in.
It was probably about 1965 when my mother took me here to do some clothes shopping. Now of course the clothes displays are shorter than almost all adults, but taller than almost all four years olds, and at some point I lost track of her among the racks and panicked, racing around the floor trying to find her. Since I didn't spend the rest of my life in the clothes department, I must have located her at some point, but *that* part of the debacle I can't remember..
This store was a regular stop for us throughout the 60s and 70s. We preferred the store brand jarred roasted peanuts to Planters and in those days when Sears was still in Five Points and Dutch Square was the only mall this store was always the closest place to pick up whatever odds and ends we needed. I brought my first record album here, which I still have, the Beach Boys two record compilation set Endless Summer for which I paid $5.25. Here I also bought the Focal brand camera tripod which I still carry in my trunk today.
After I left town in 1985, I rarely visited this Kmart and I remember noting when I came back to town in the early 2000s how threadbare it looked. Since it was still close, I did visit it every now and then, but invariably noted that whatever I had gone in for, they didn't have it, and gradually stopped trying.
(Hat tip to commenter joelc)
UPDATE 30 January 2016 -- As noted by a number of people, the store is now closed: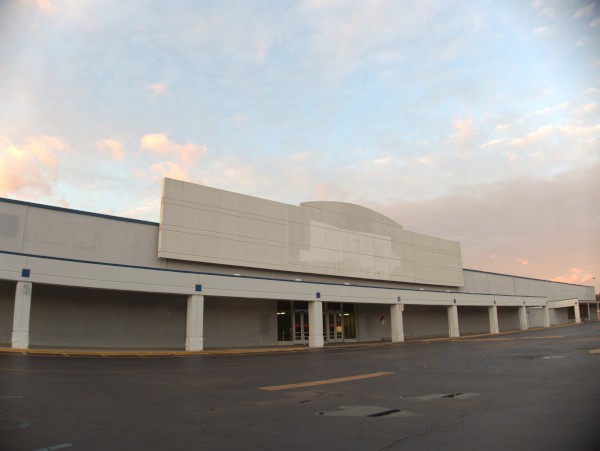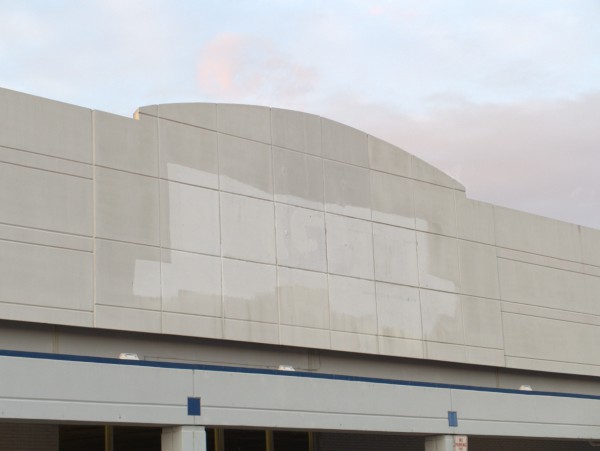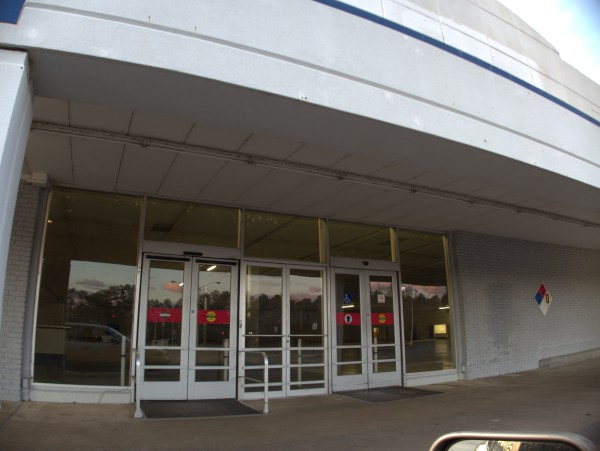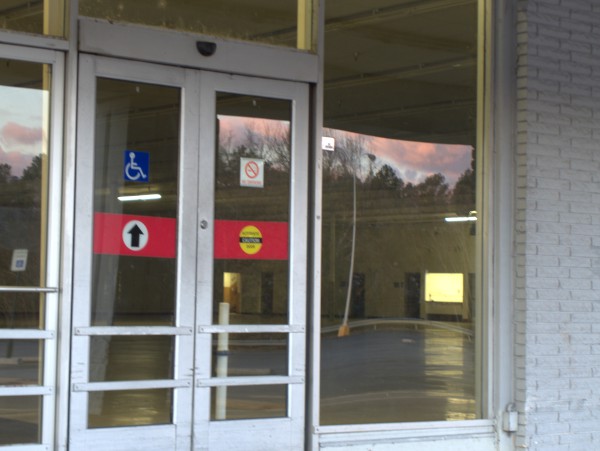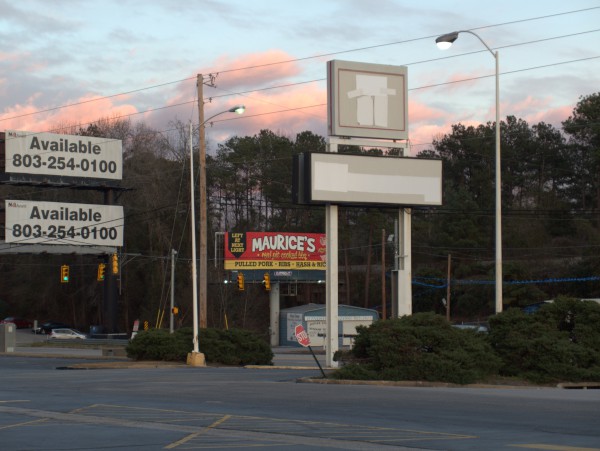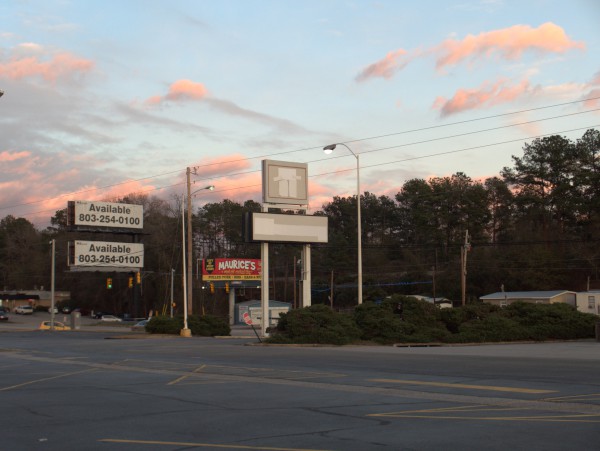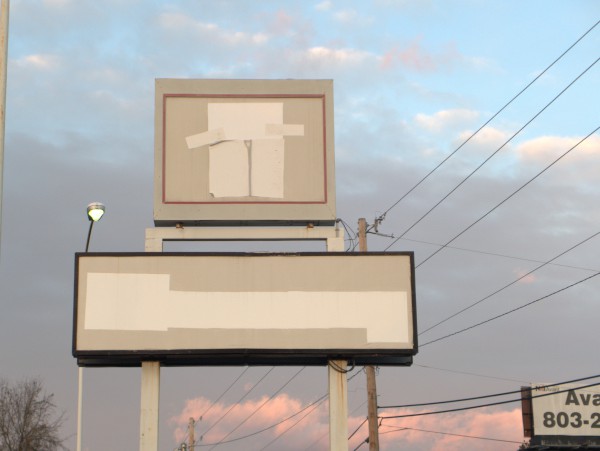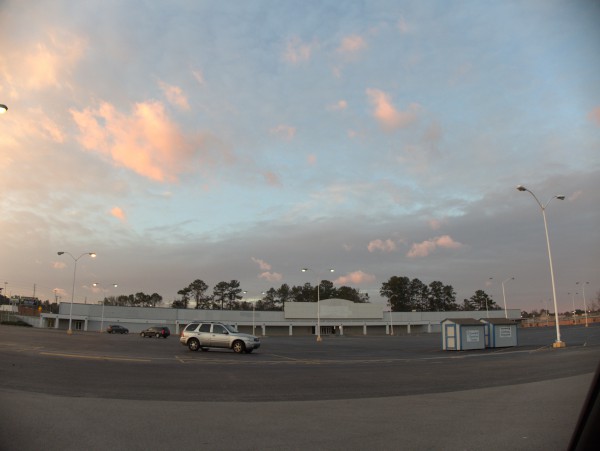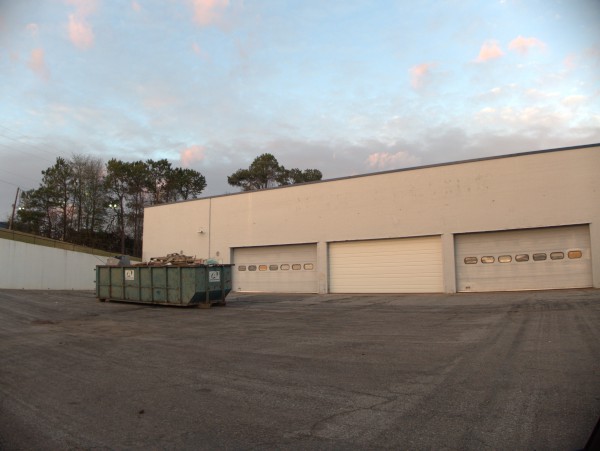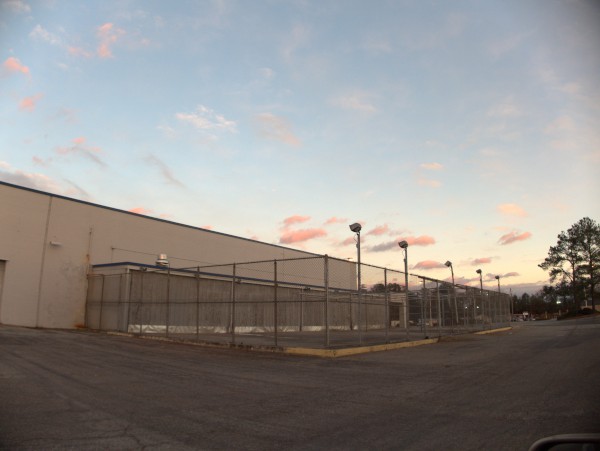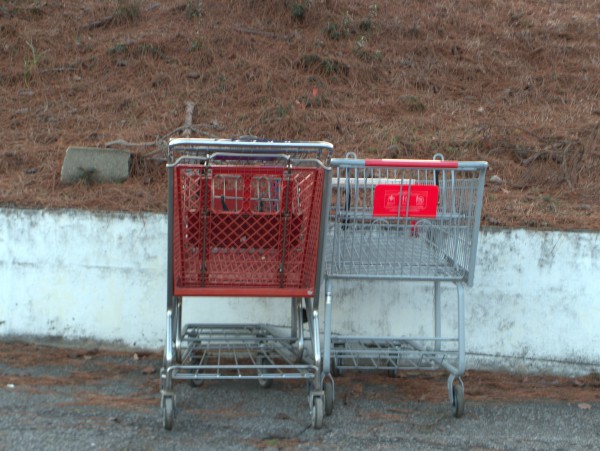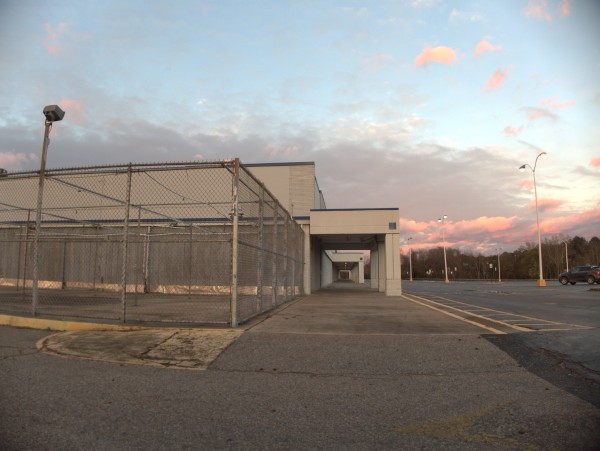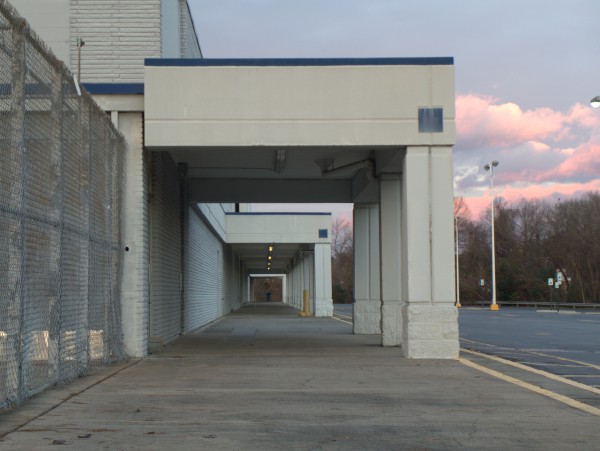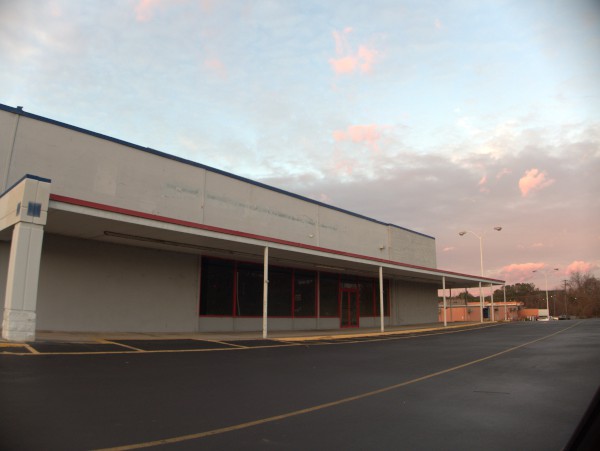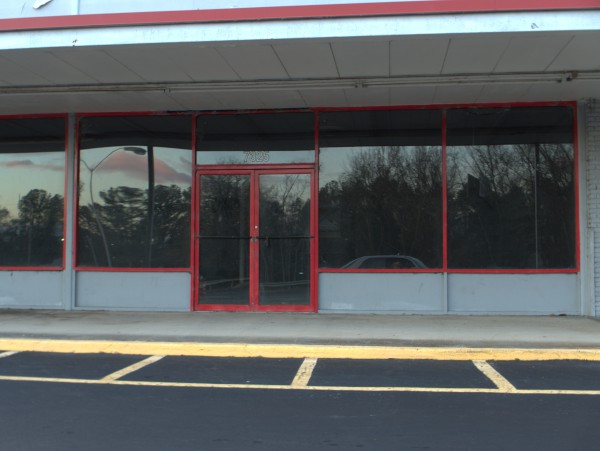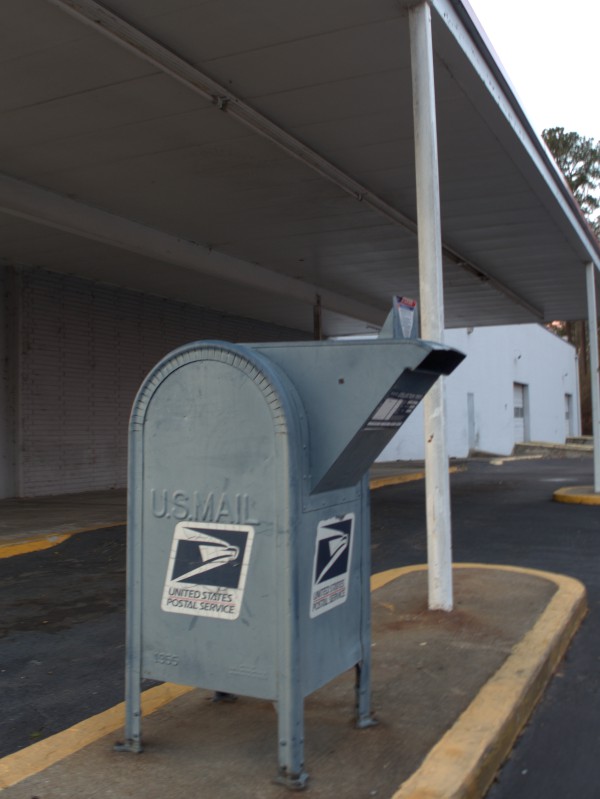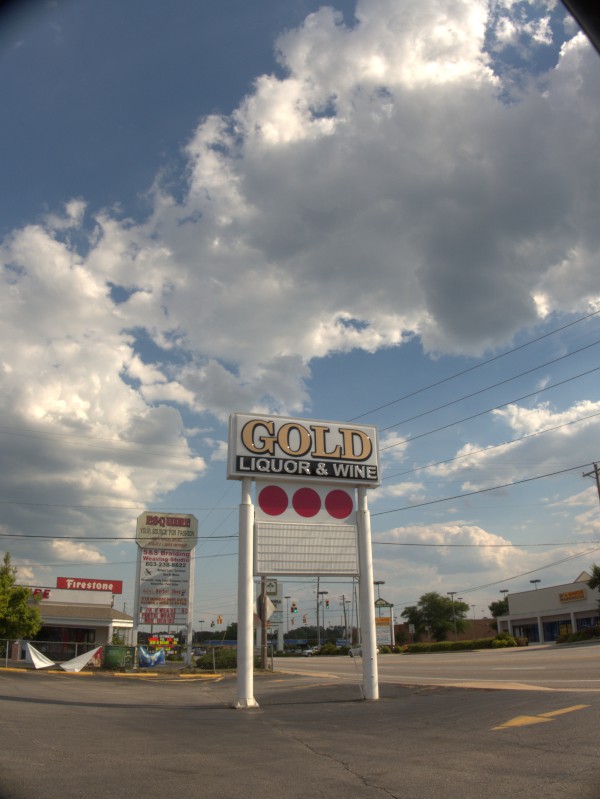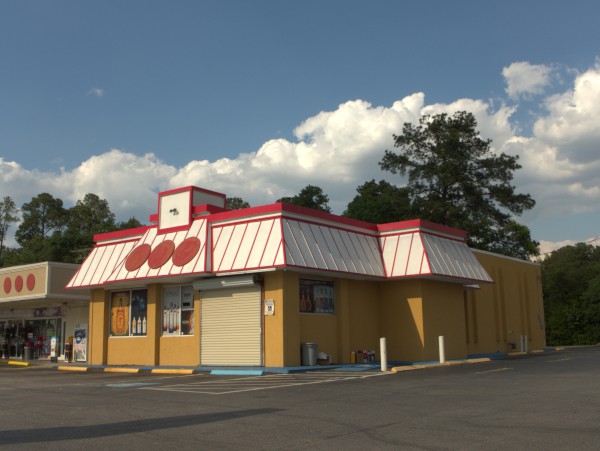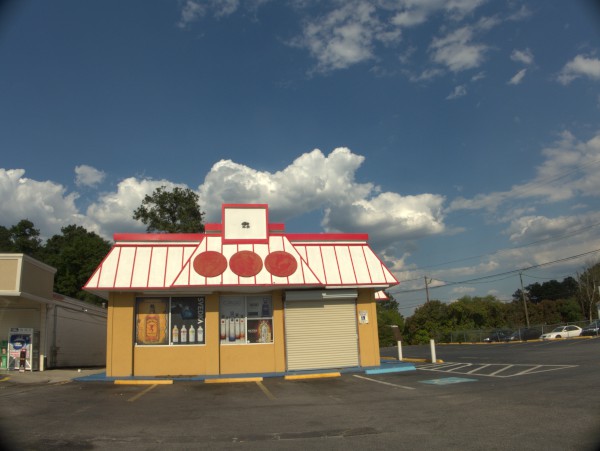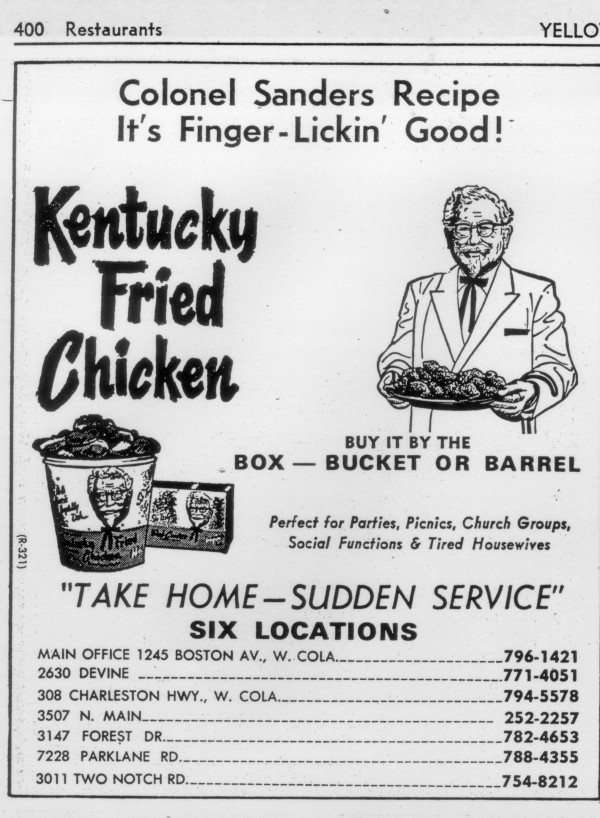 This KFC was gone as early as the February 1997 phonebook, which is the earliest I have at home. As you can see from the ad in the 1976 phonebook, at one time this was store #7 for Kentucky Fried Chicken in Columbia, and at this remove, it's easy to forget that the picture in the ad was that of a living man who still toured the country promoting Kentucky Fried Chicken, despite being unhappy with what corporate had done with his gravy.
(Hat tips to commenters Andrew & Sidney)
Posted at 11:02 pm in Uncategorized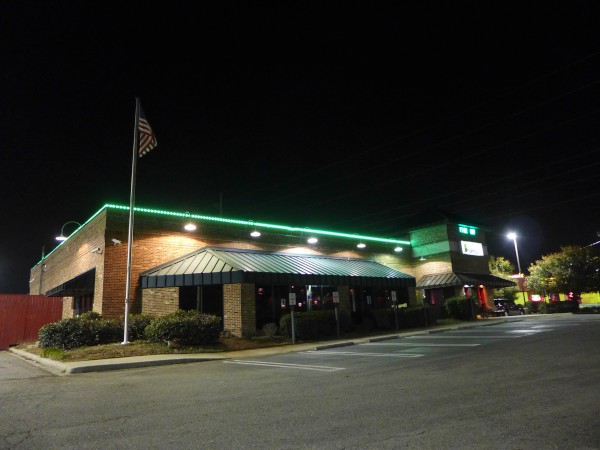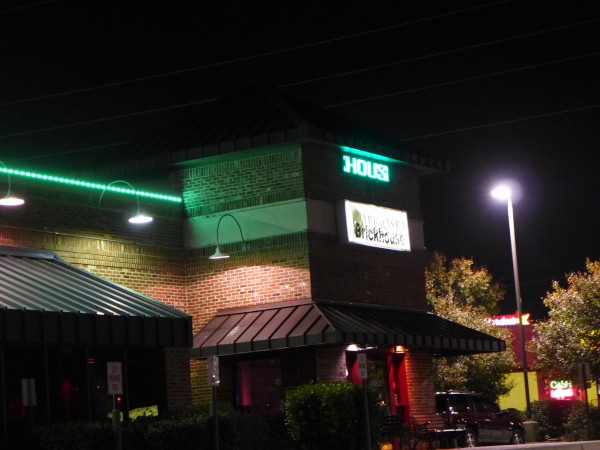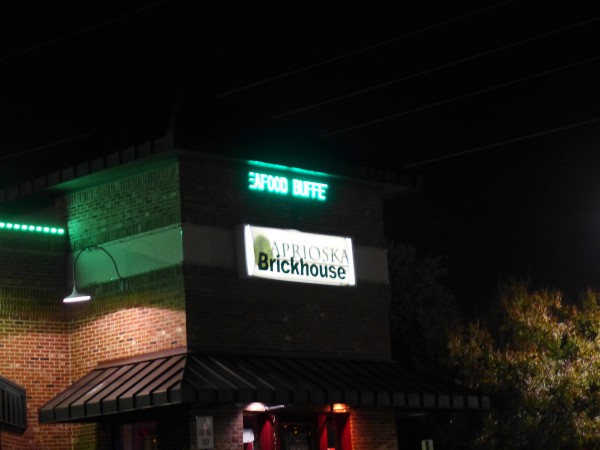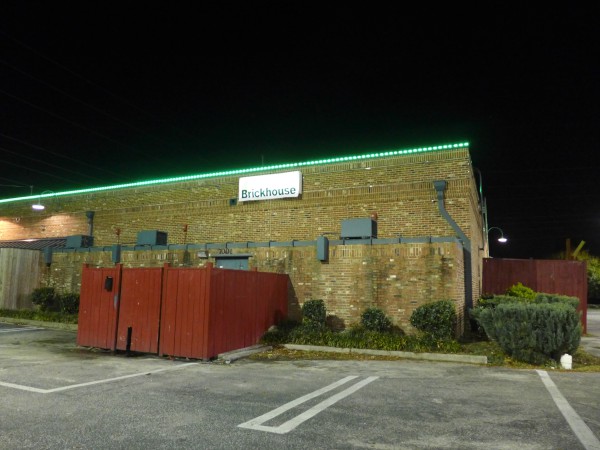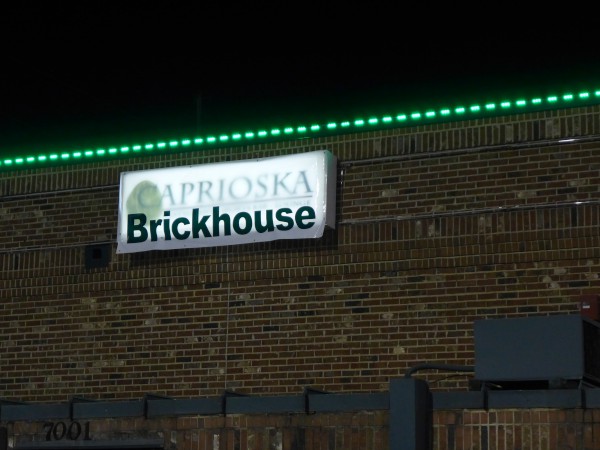 I noticed this evening as I was driving by Columbia Mall that there were no cars visible in the outparcel parking lot of Caprioska (the old O'Charleys / Sticky Fingers location). For a Friday evening, that seemed odd, so I turned in.
Taking a tour of the parking lot revealed that the place is open, but as Brickhouse, not Caprioska.
The Caprioska web site is as succinct as any I've ever seen, and their Twitter feed and Facebook page lead me to believe that they closed some time between 15 and 20 November 2013.
In the beginning, I think this place was to be sort of a Brazilian spot, but reviews indicate that changed over time.
Posted at 4:49 pm in Uncategorized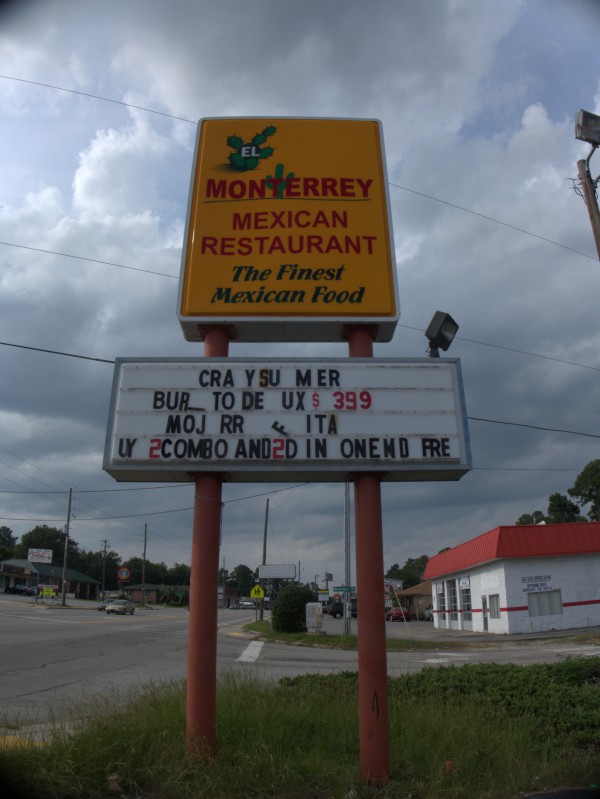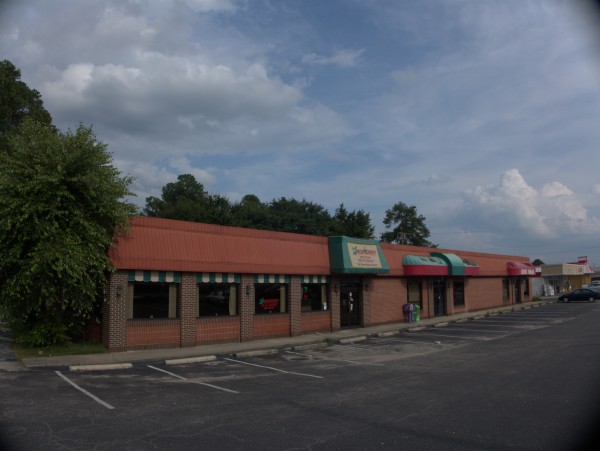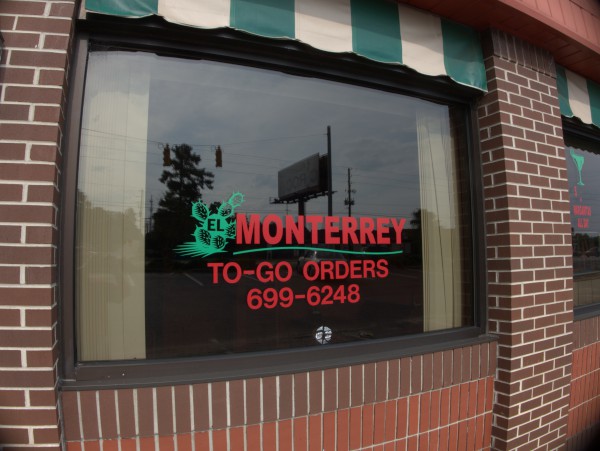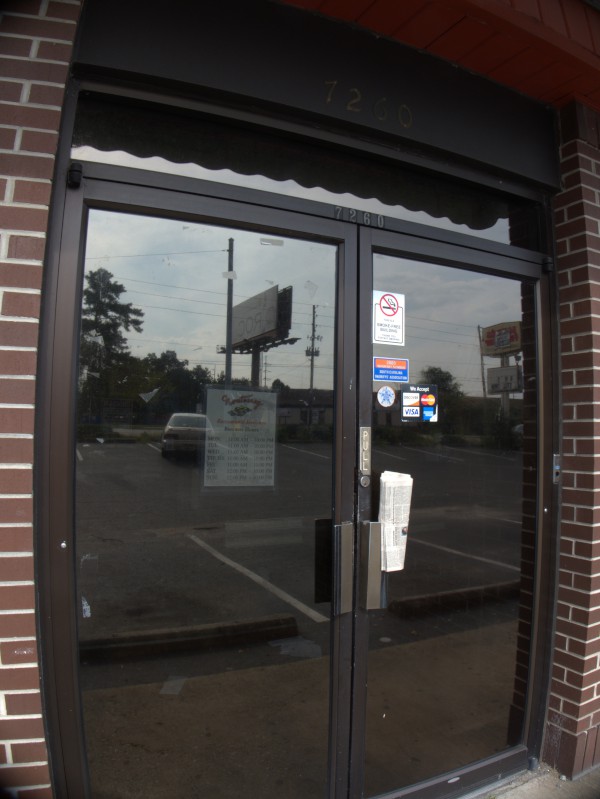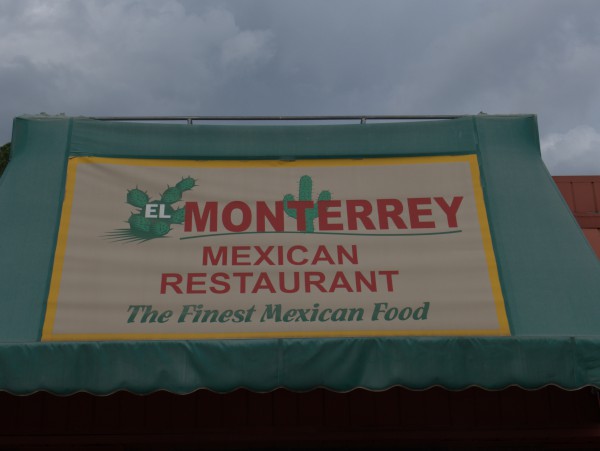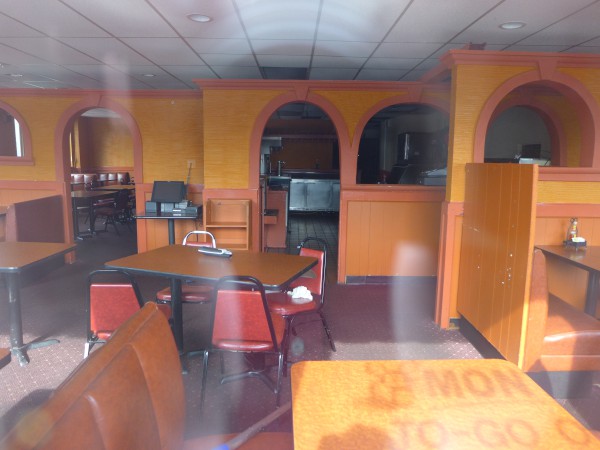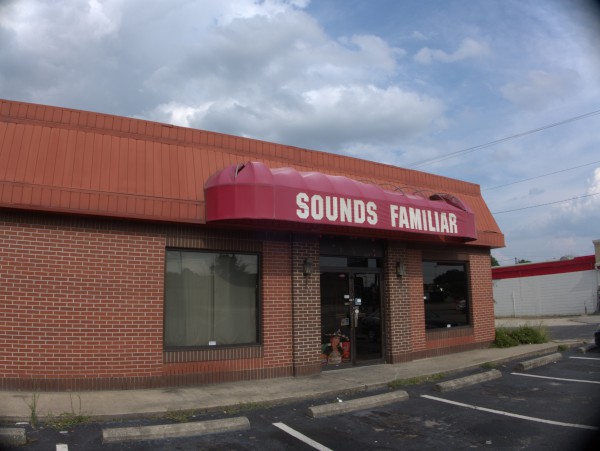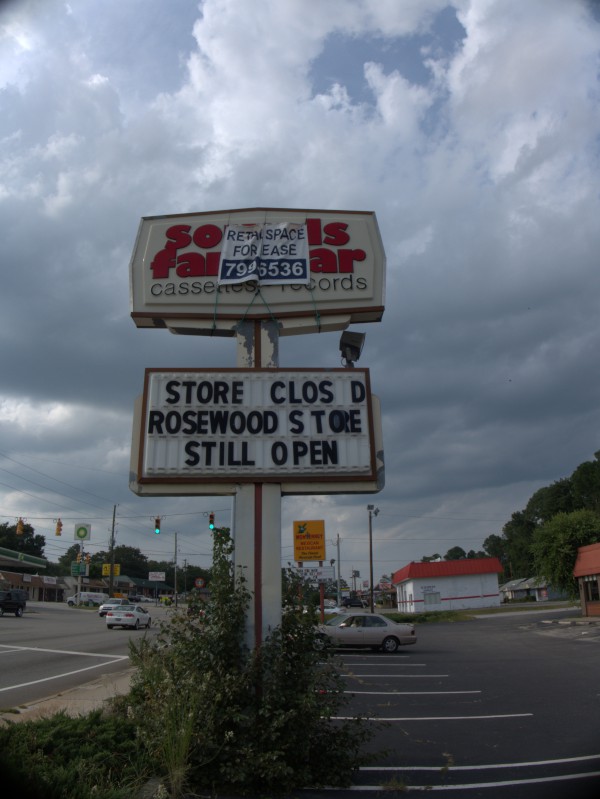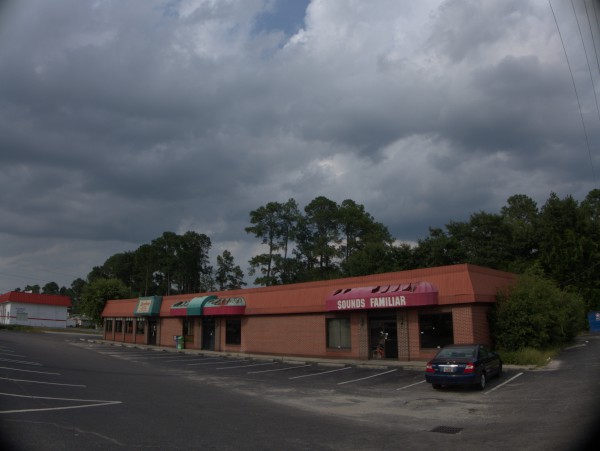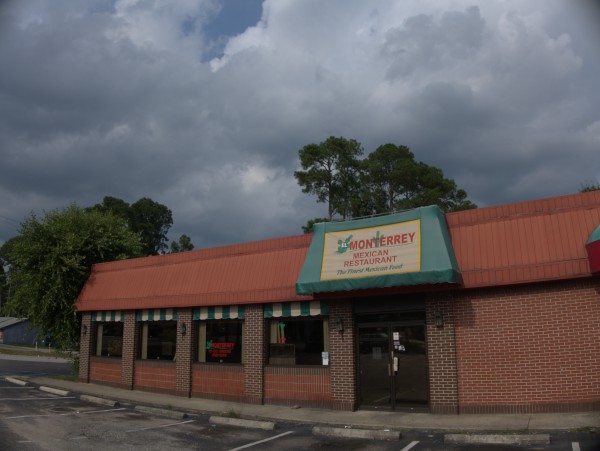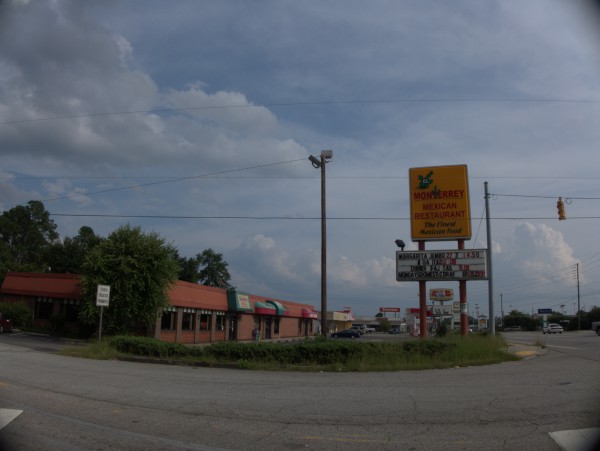 Somehow I never made it to this Monterrey in all the years that it was there (and they were considerable) despite the fact that I often visited the adjacent Sounds Familiar and comic store.
I believe with this closing, the chain is down to the one in the Vista and the one on Knox Abbott.
(Hat tip to commenter J.P.)
Posted at 1:59 am in Uncategorized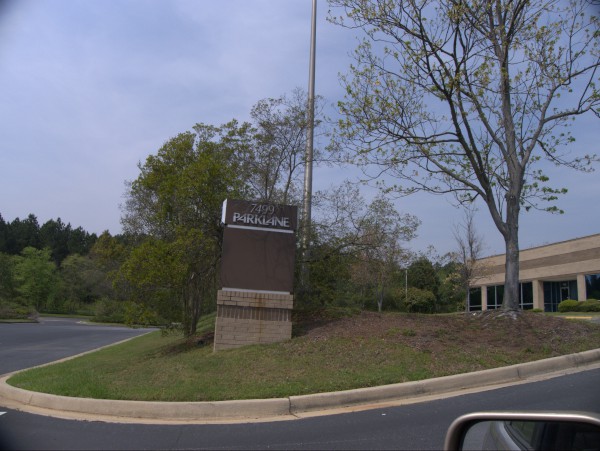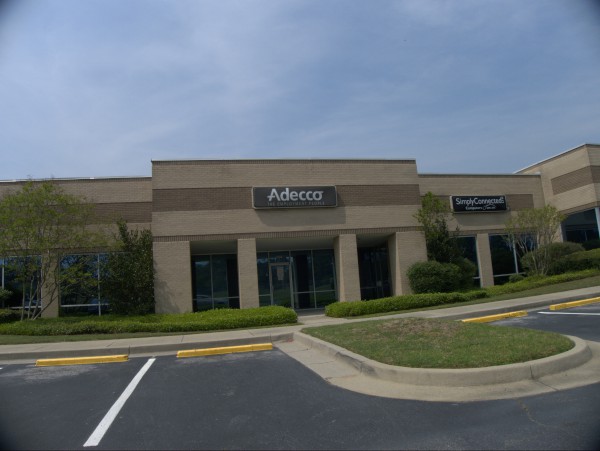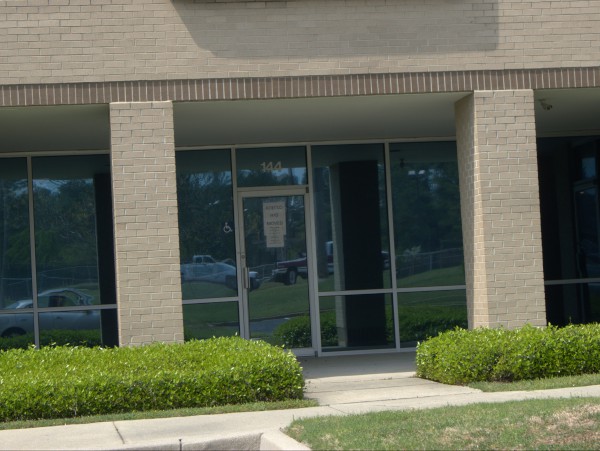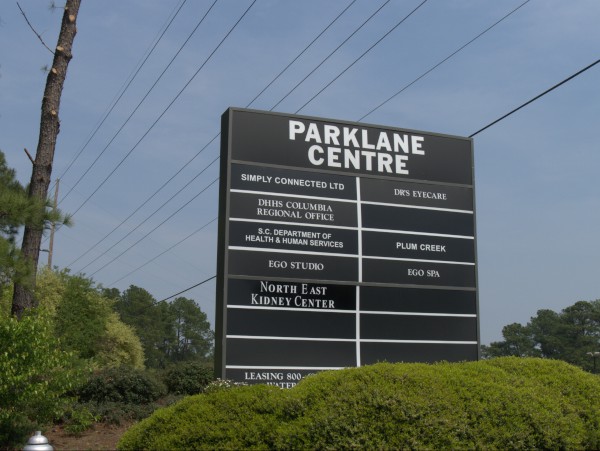 Staffing company Addecco has moved from Parklane Centre, but for some reason, I didn't get a closeup giving the new address.
Posted at 4:00 am in Uncategorized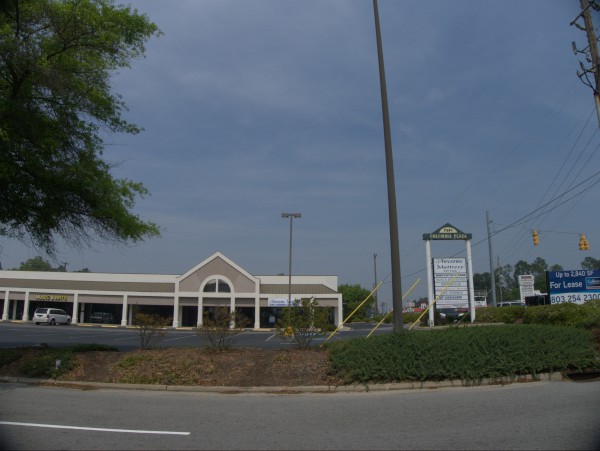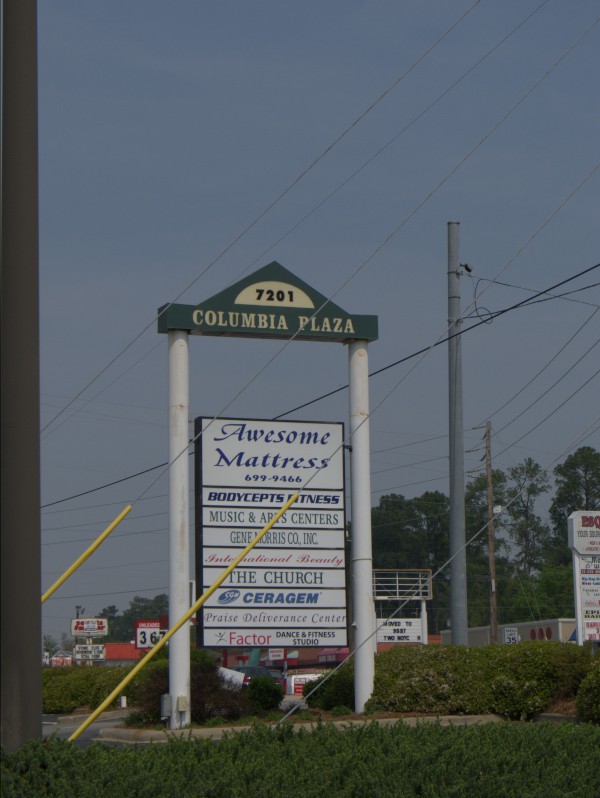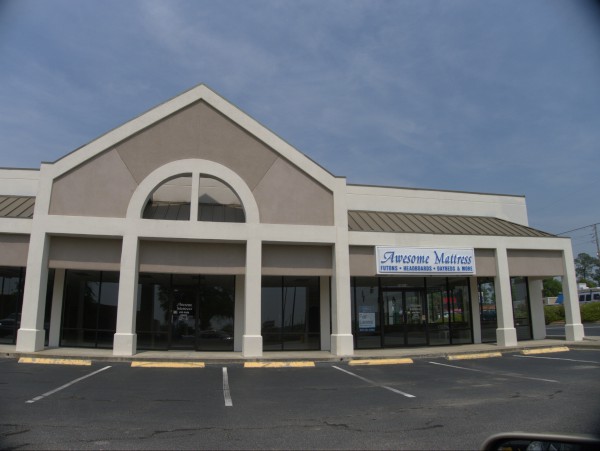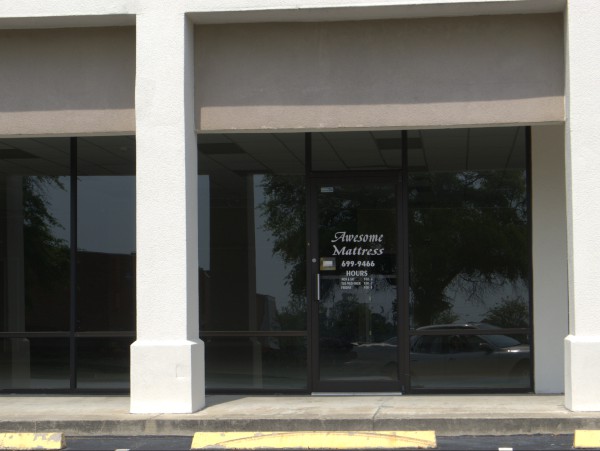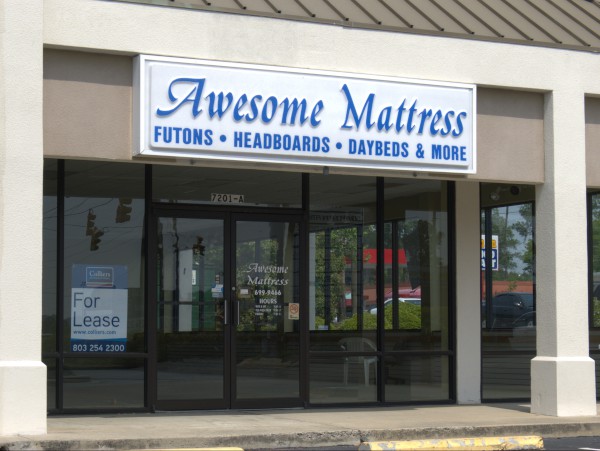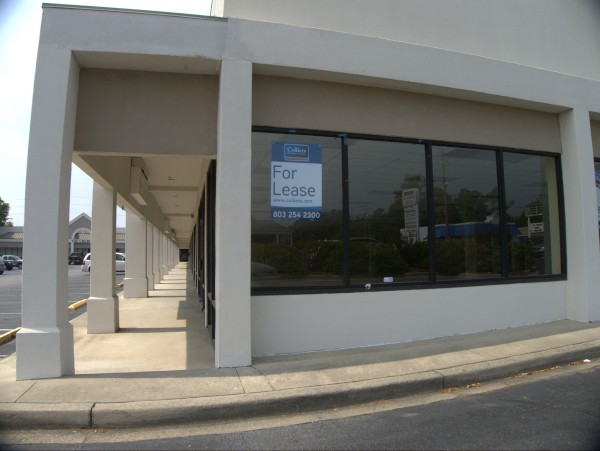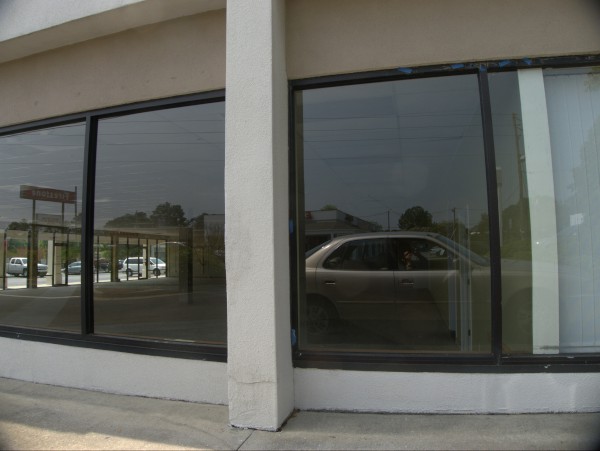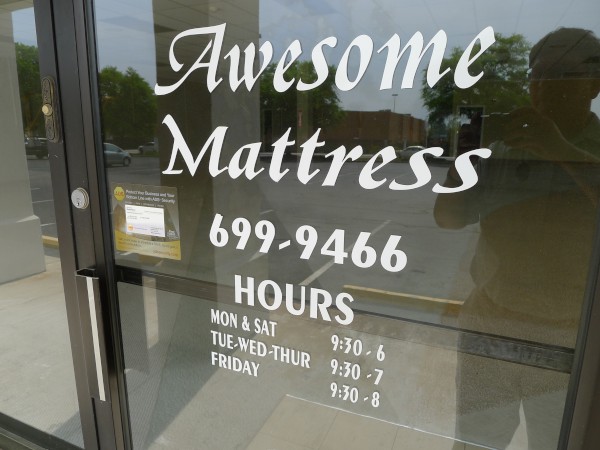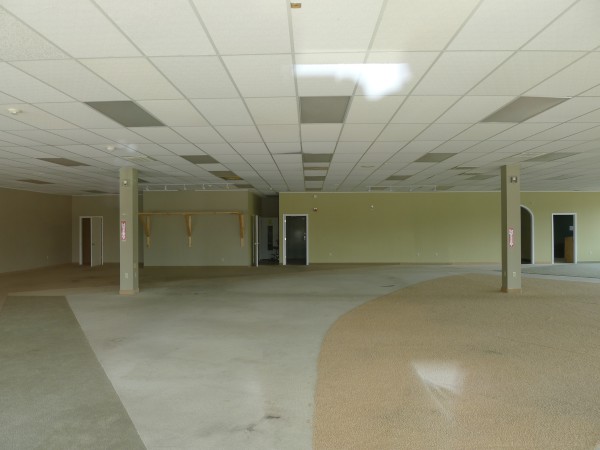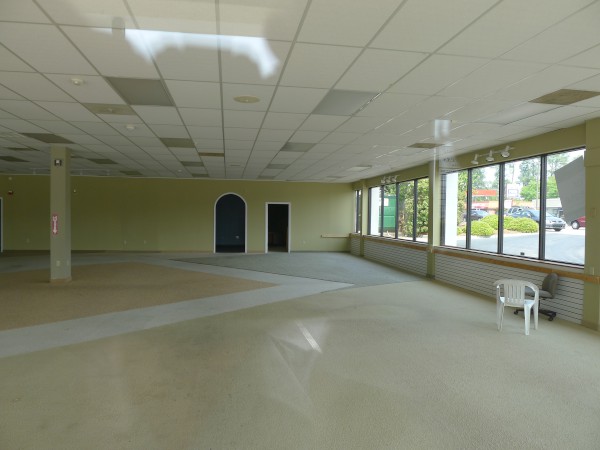 I don't know if this was the same Awesome Mattress business that was on on Two Notch in the old Zesto building that is now Hola Mexico, or a different one. If it was the same one, it didn't last too long in its new location, wihch is not one that catches my eye often. In fact, I don't ever recall going to this little Columbia Mall outparcel strip-mall for anything, and would be hard pressed to name any store that has ever been there..
UPDATE 1 June 2012 -- It's now a Richland County Sherriff's station: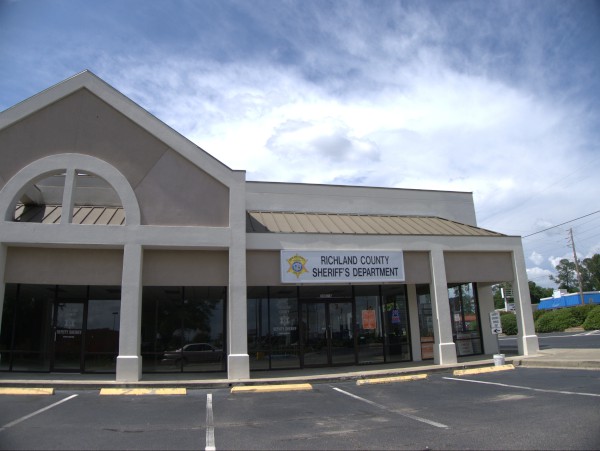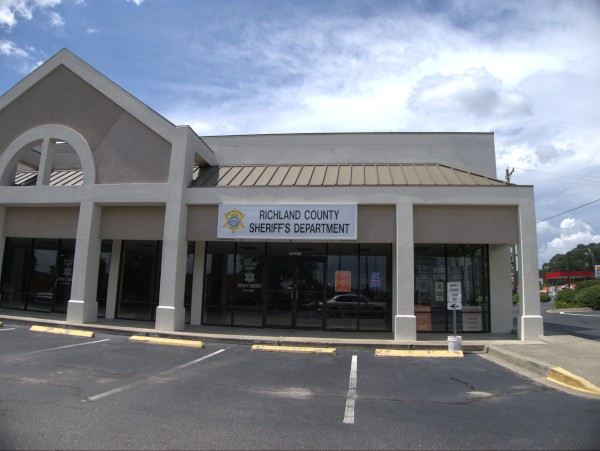 Posted at 12:31 am in Uncategorized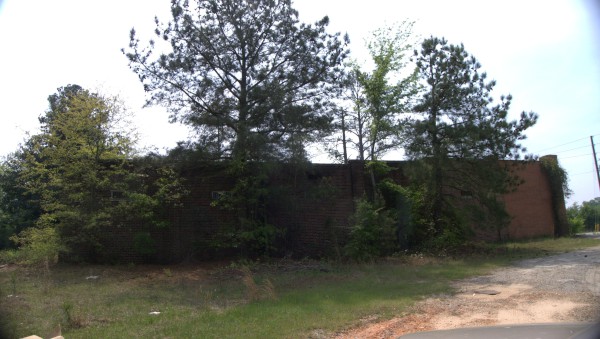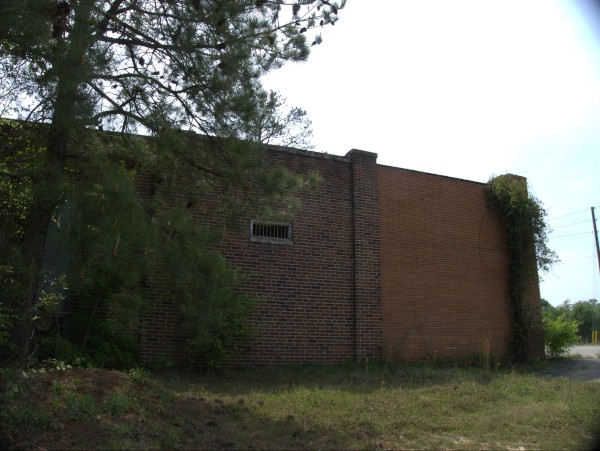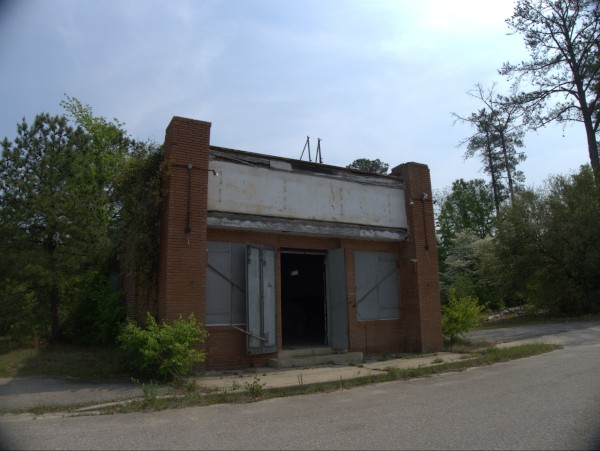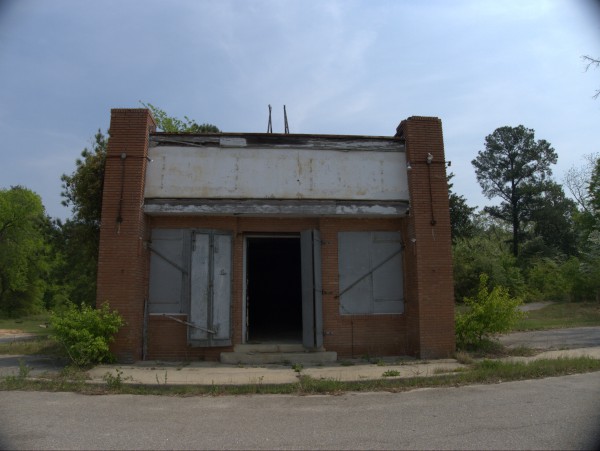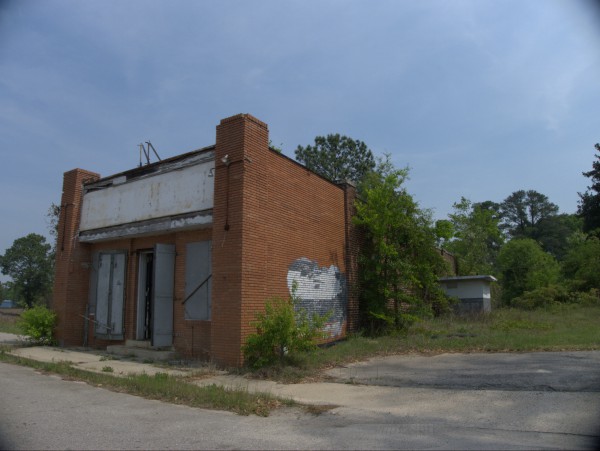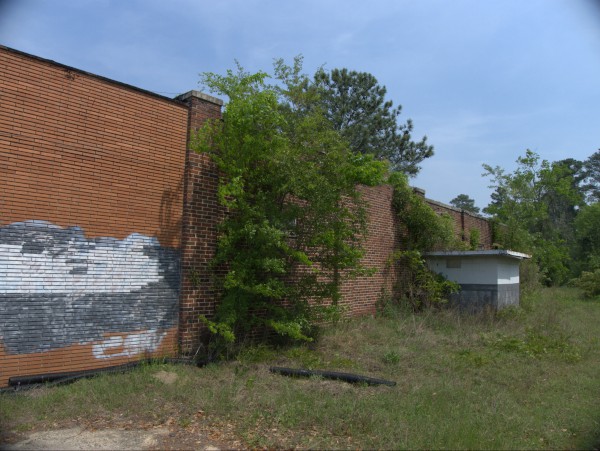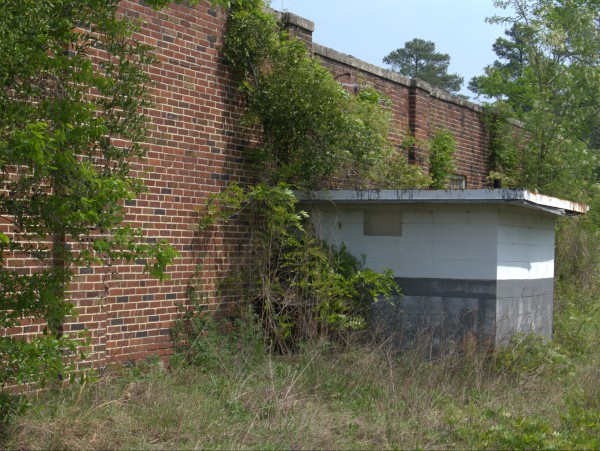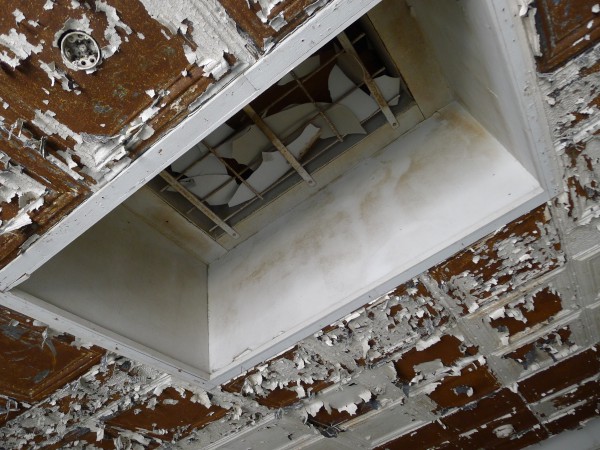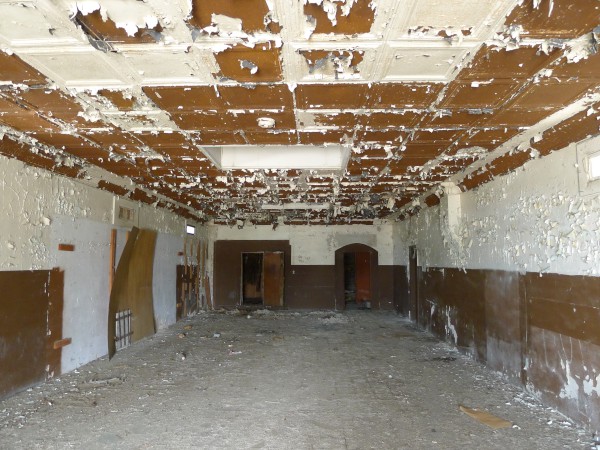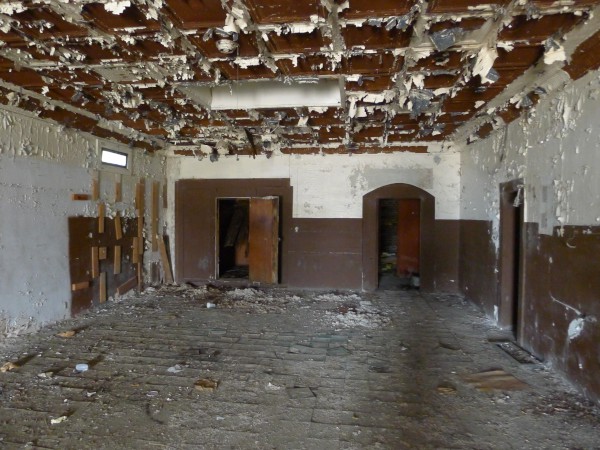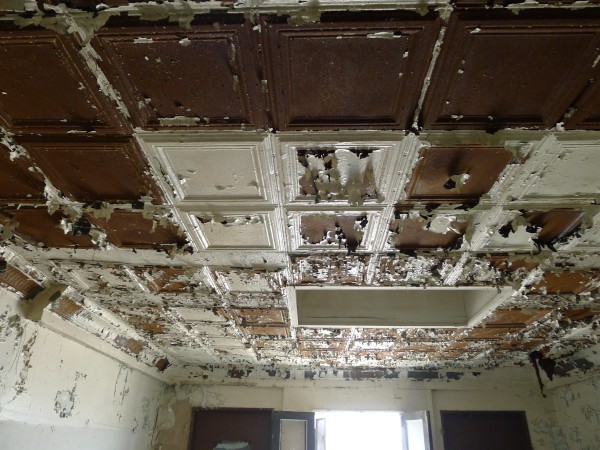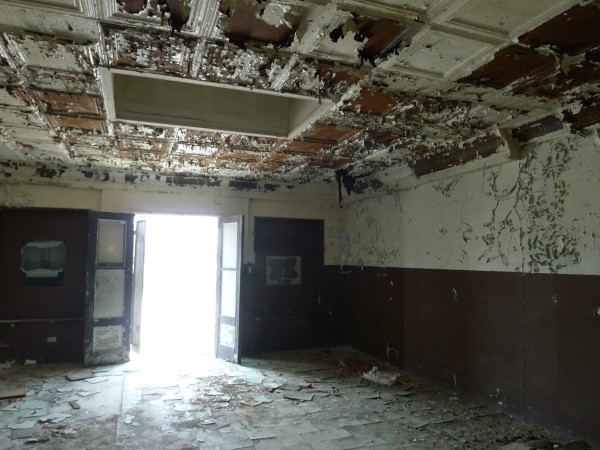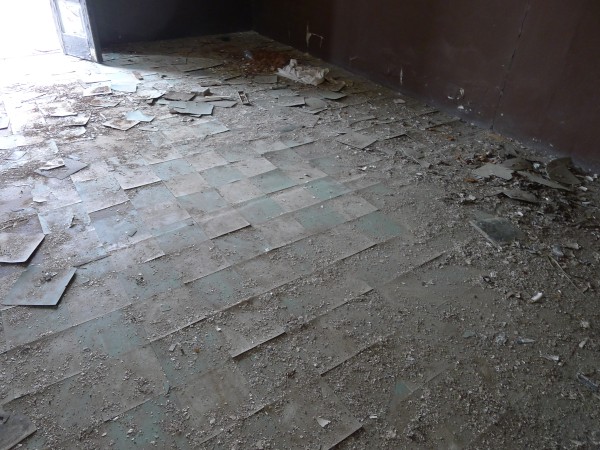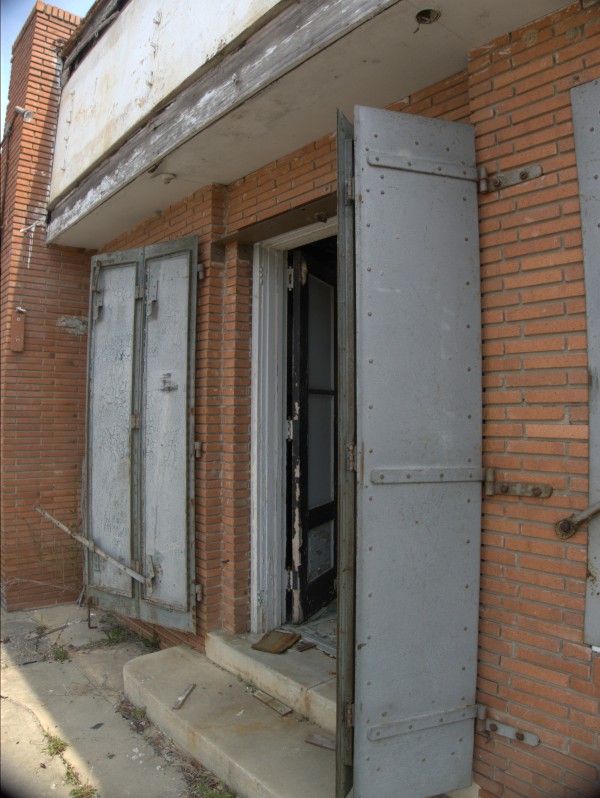 This distressed building, on Old Legrand Road just off of Parklane near the Farrow intersection, was obviously a store of some sort, judging from the marquee space above doors in front. It also appears to have had a really nice ceiling at one time, though no more. I considered taking a closer look at the back rooms which are visible here, but decided that was the kind of place where people who don't want company might stay. There's what appears to be a pump shed on the right side of the building, so I'm guessing this place was never on city water.
Google has a pretty good satellite view of the place:
Looking at that, it appears there is another decrepit building on the same lot further back from the road.
UPDATE 14 April 2012: Commenter sugarbear1 provides one of the names for this place: Mr. B's Railroad Tavern. I have put that in the post title and have taken out the generic "Building". Also changed the "1970s" closing date to "1990s".
UPDATE 15 April 2012: Changed the closing date again to "late 2000s" based on the fantastic photos commenter Dennis dug up (check his link in the comments).
UPDATE 24 April 2012: OK, I did some research at the library. Interestingly, this location apparently never had a telephone listing, and I had to get the infromation from on "city" directories.
The first such listing is in the 1983 city directory, and gives the address (which is clearly *now* on Old Legrand Road) as 8444 Parklane Road. The listing is for
Mr. B's Railroad Tavern (Thos Hammonds)
I assume Thomas Hammonds was either the business owner or the property owner..
The last listing was in the 1991 city directory, and the 1992 directory lists the address as "vacant".
The Febuary 1993 Bellsouth directory is the first to list Mr. B's Railroad Tavern as being at 6531 Two Notch Road. The last listing was in the February 2000 directory. Here is a shot of what's currently at that location: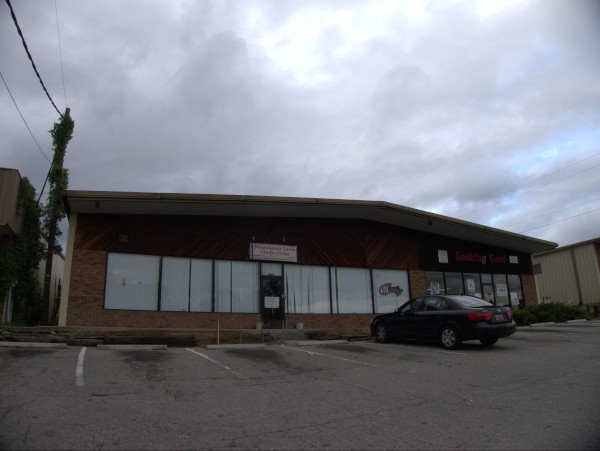 I'll note also, that it turns out "Mr. B's" is a pretty popular name for various places, and there were a number of other places with that prefix during the same time period. In fact, there is currently a Mr. B's at 3128 Two Notch Road just east of Beltline which appears to be a bar and venue.