Archive for the 'River Drive' tag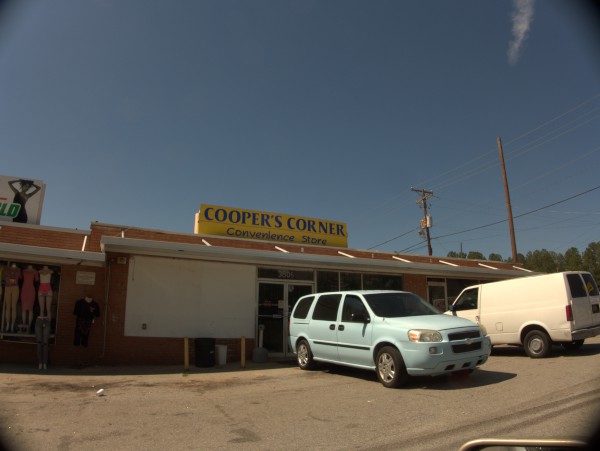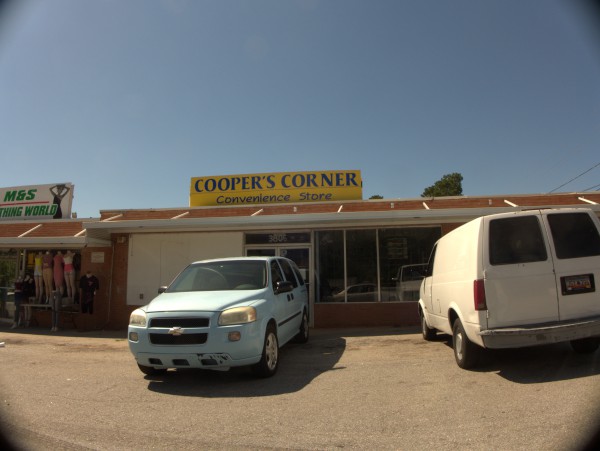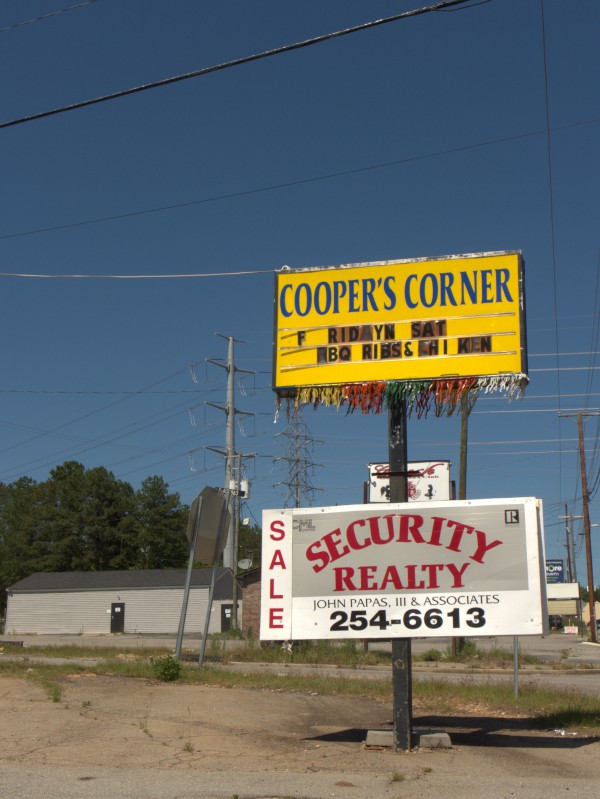 Commenter Justin noted a while back this this River Drive conenience store has closed. I was not aware of the place, but it is actually fairly well placed as I cannot think of another one nearby. The next closest would be the one at the top of the hill on the other side of the river I believe.
(Hat tip to commenter Justin)
UPDATE 19 January 2018 -- Here's a bit of a further back view: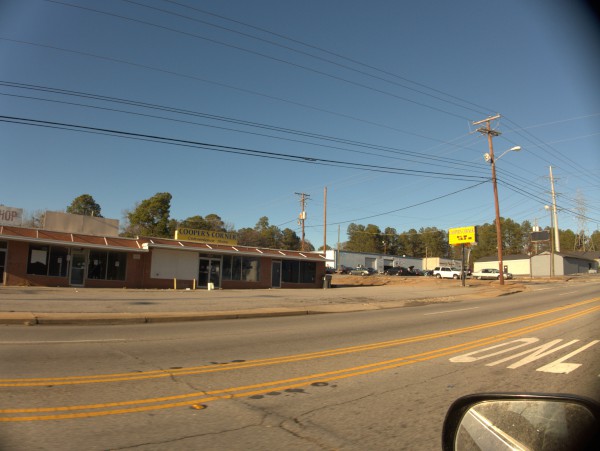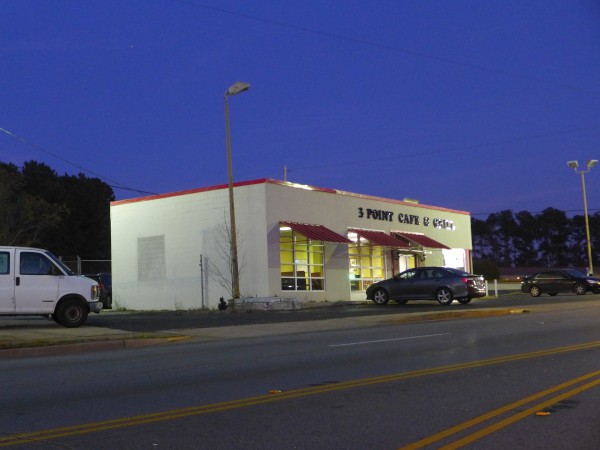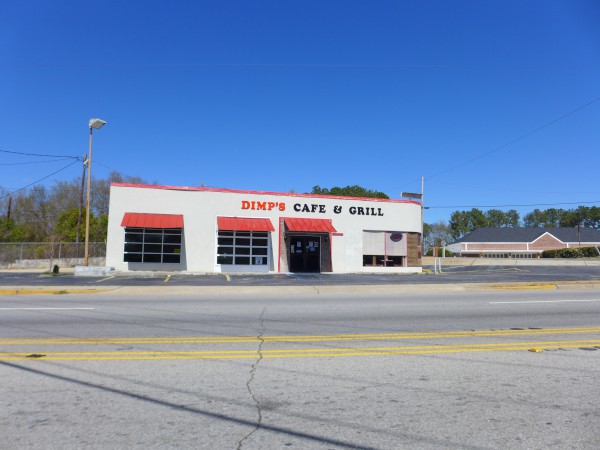 I noticed the other weekend that 3 Point Cafe & Grill, the follow-on to Buck's Cafe, on River Drive had now closed and that a new restaurant was in its place: Dimp's Cafe & Grill. That makes three restaurants into this spot since it was remodeled. Hopefully this one will stick around for a while.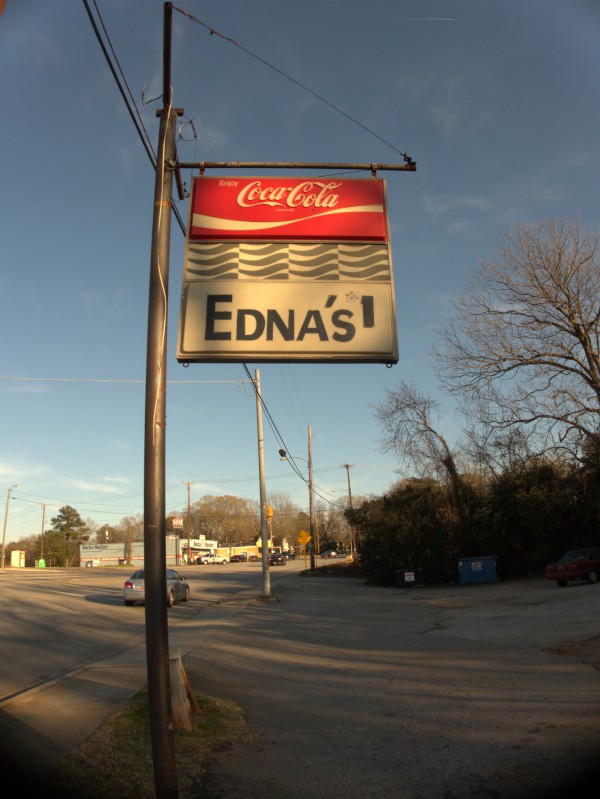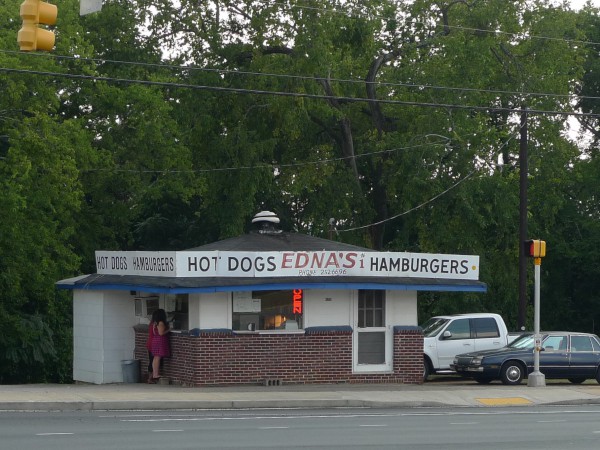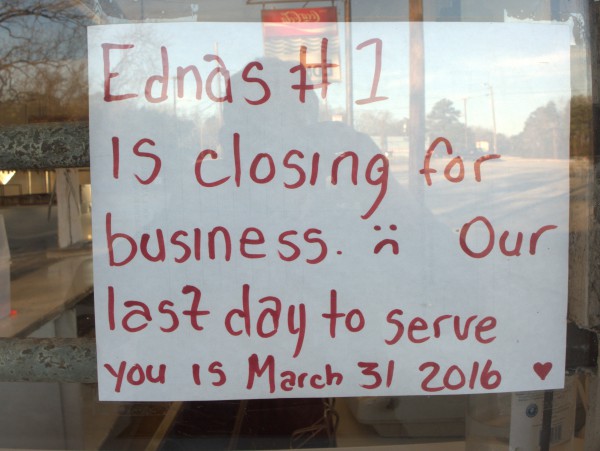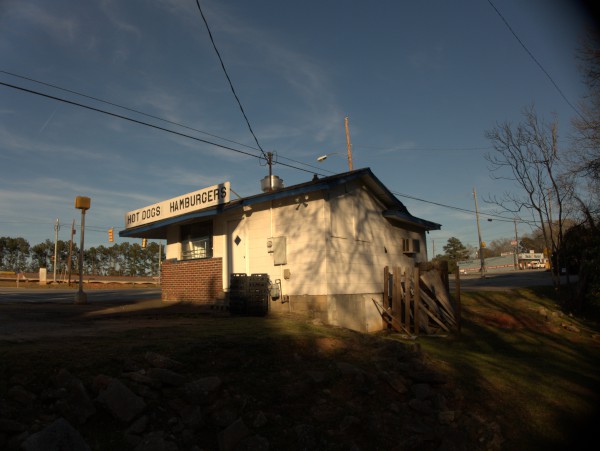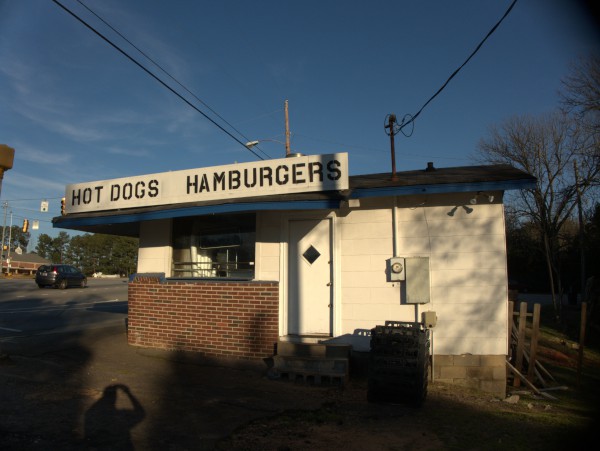 Well, this is the end of an era. Edna's on River Drive predates me into this world by something over a year, so has been a Columbia institution longer than I've been alive. Of course, it has been an institution in a part of the town we used to think of as far away, so if we ever ate here growing up, it was long enough ago, and infrequently enough that I can't remember it. I'll have to try to remedy that before 31 March.
This kind of walk-up, no inside dining restaurant used to be common. In fact that's the way I recall Bell's and the original Garners Ferry McDonald's. Nowdays it is much less common, though you can still see remnants of the style, now worked around, in Zesto and Dairy Bar. I love the common-sense practicality of the cement blocks shorter customers can stand on to bring them up to window level.
Edna's also had an affiliated located at 2200 Two Notch Road, in a building that is still there, and a third location off Forest Drive, which was razed some years ago.
Here is a nice appreciation of Marie Rose Tyner, who ran the restaurant for many years and passed in the summer of 2015.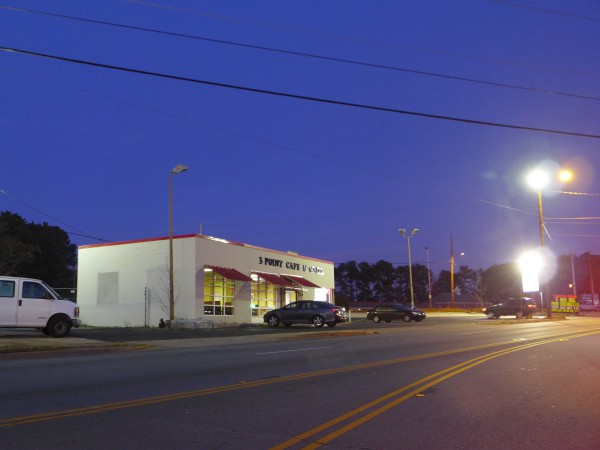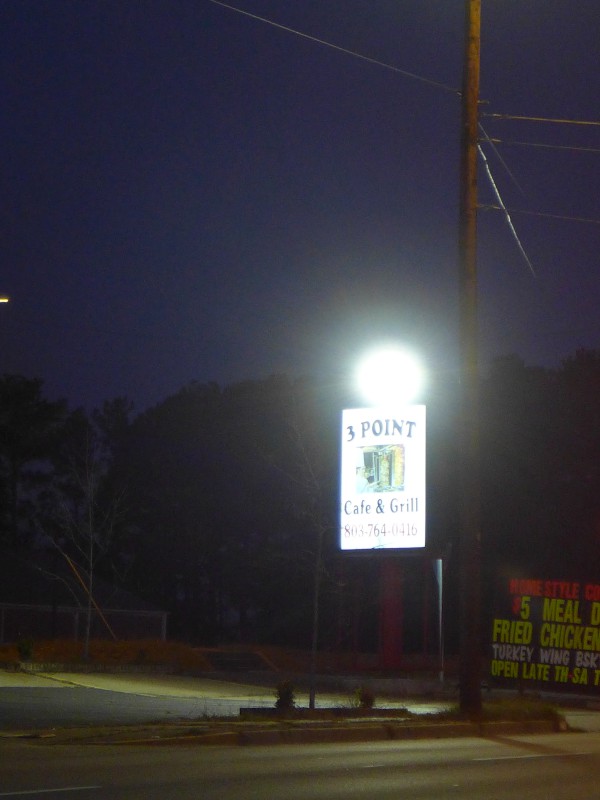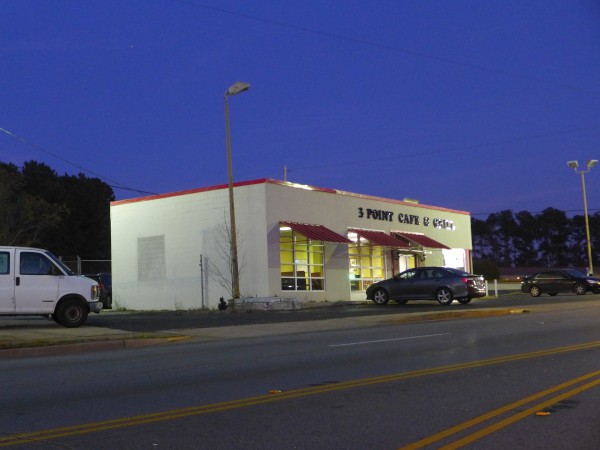 Pretty plainly a service station at one time, this building at the intersection of River Drive, Sunset Drive and Clement Road had most recently been a title loan operation before Buck's Cafe moved in.
I presume that the cafe was associated with Buck's Market catty-cornered across the intersection, but I don't know that for a fact. I believe Buck's opened here in 2014, closed for remodeling around the end of that year and then re-opened in 2015. Somewhere I have some pictures of the restaurant in operation, but as usual, cannot put my hands on them right now.
The follow-on operation to Buck's is the aptly named 3 Point Cafe & Grill which judging from the sign is a "home cooking" type of restaurant.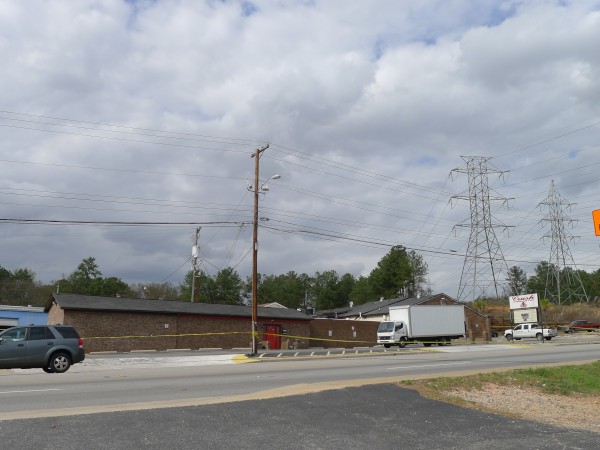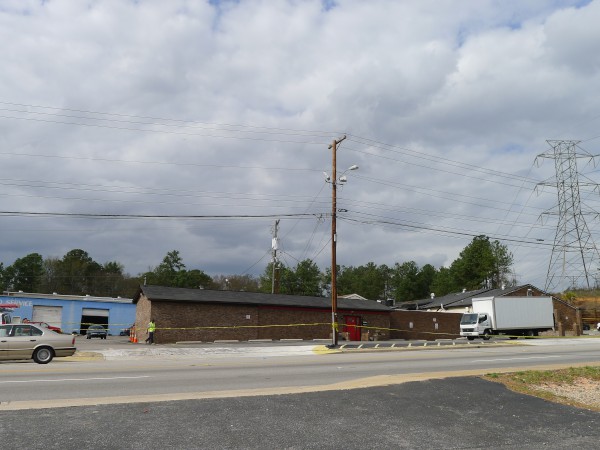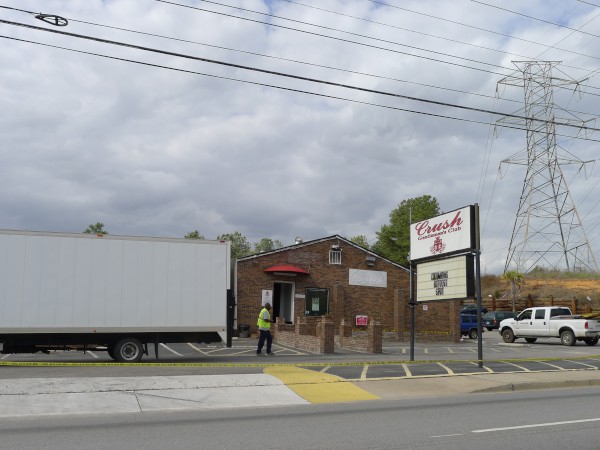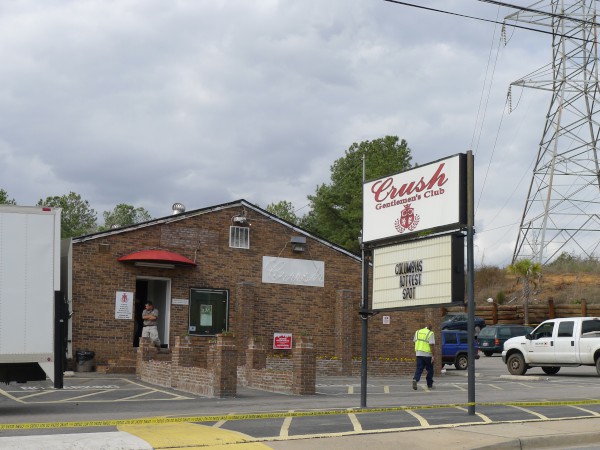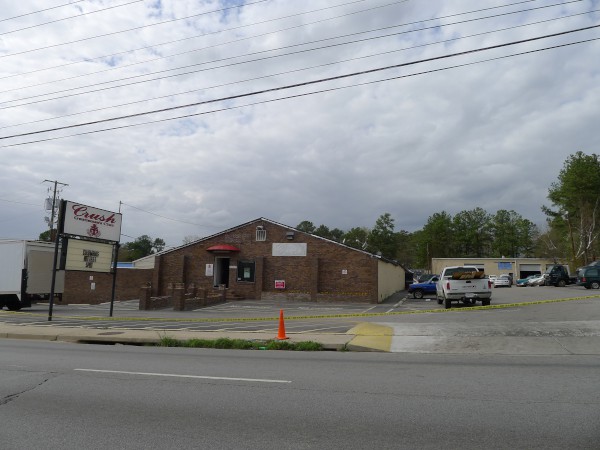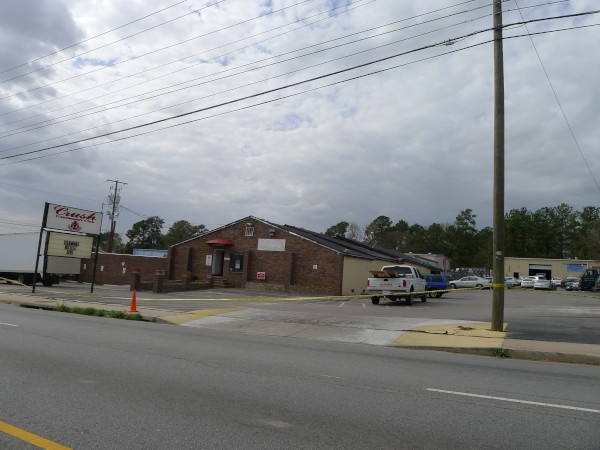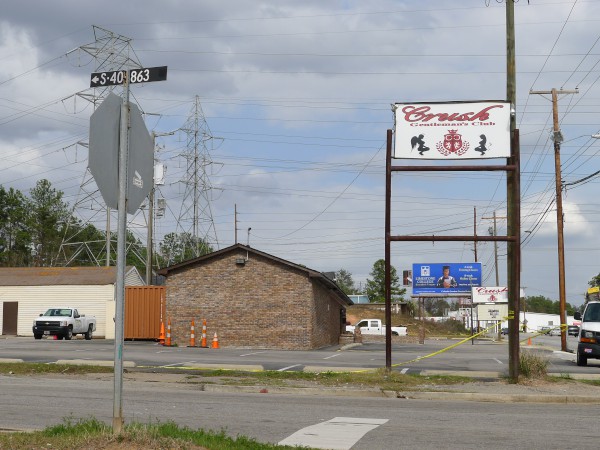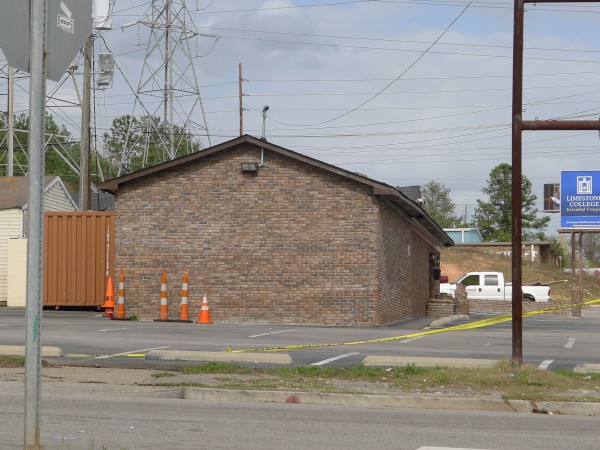 Well, this one is ripped from the headlines -- It seems that on the morning of Thursday 8 March 2012, somebody set fire to Club Crush (aka Crush Gentlemens Club) on River Drive just down from a defunct Cash / Title shop and the old A&P.
OK, I'm jumping the gun on the theory that it was arson, but given the recent history of the club (a woman was shot on 1 March and a tow truck driver was shot at on 7 March), I doubt that it just *happened to catch fire.
Actually I find the story of the woman being shot all the more remarkable in that it recapitulates the most famous incident to happen at this building. In both cases people inside the building were shot by bullets coming in from outside the club. Luckily, the woman is said to not be gravely injured -- in the first incident a man was killed. As I recall the story, the fatal incident happened while the building was occupied by Chastitys Gold Club. It seems that a man (a lawyer in fact!) was attempting to take liberties with a dancer that neither she nor club management would countenance, and the man was thrown out of the club, whereupon he went home, got a gun, came back and fired through the (closed) front door, killing a club employee.
I don't think that Chastitys ever really recovered from the bad publicity, and after limping on for a while, closed in 2009. The building shortly re-opened as another strip club, Savannahs Gentlemens Club (no apostrophies anywhere..) which didn't last too long and was replaced by Club Crush in late 2010 or 2011.
In fact, this building has always seemed to have sort of a revolving door problem. I was amused recently when both The State and The Free Times reported on Richland County mooting a change to zoning rules to close county stripclubs, and both papers seemed to believe that Chastitys was still open (unsurprisingly they noted they were unable to get a comment from the owners about the proposed regulations, given that the club was long gone..). Some other businesses I know of in this building were Coconuts Inc, The Club House and Crockmeyer's,which all sound like night clubs, and Swipe USA which doesn't. (In fact, I'm not sure what that sounds like..).
I'm not sure about Club Crush, but the building itself did not appear badly damaged, and based on history, I predict a club will be open there again soon, whatever the name.
UPDATE 13 December 2013: According to The State the building as been denied a permit to operate as a bar under new ownership, with, I think, the subtext being: this is for all time. To me this seems like visiting the sins of the past into the future..
UPDATE 19 January 2018 -- The place either is operating as or is about to open as Tryst: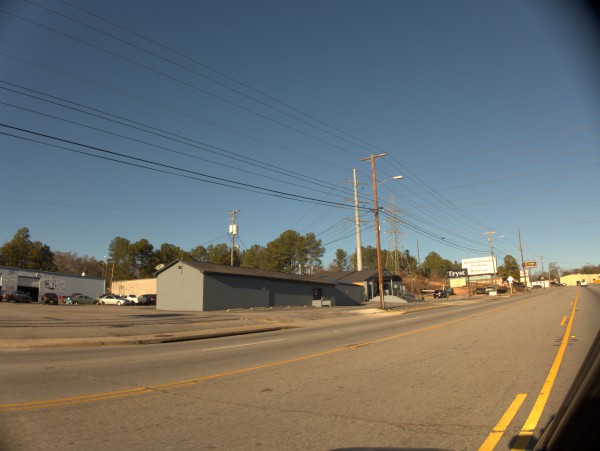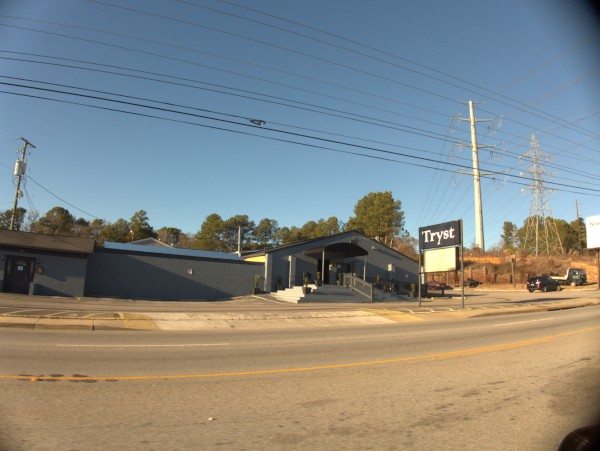 Posted at 1:36 am in Uncategorized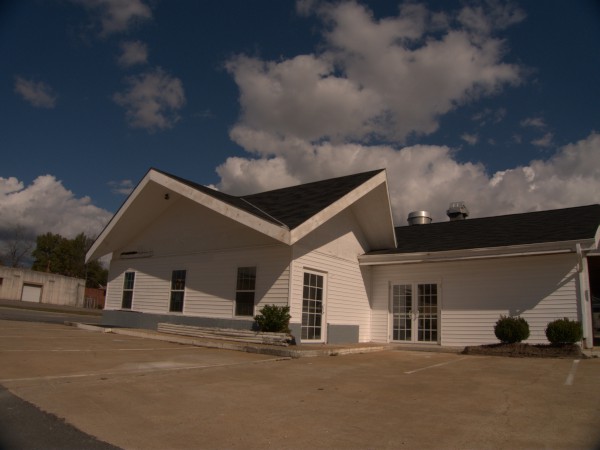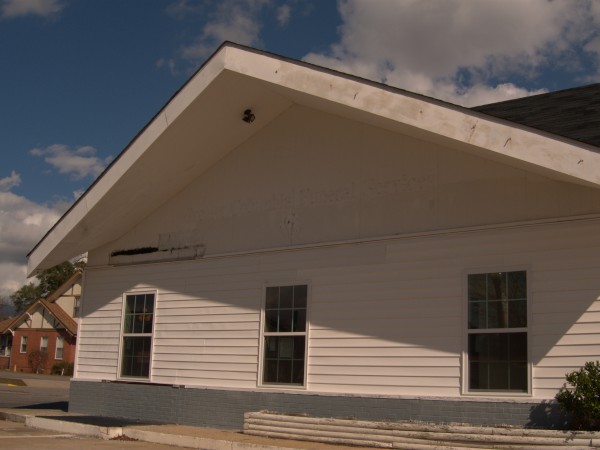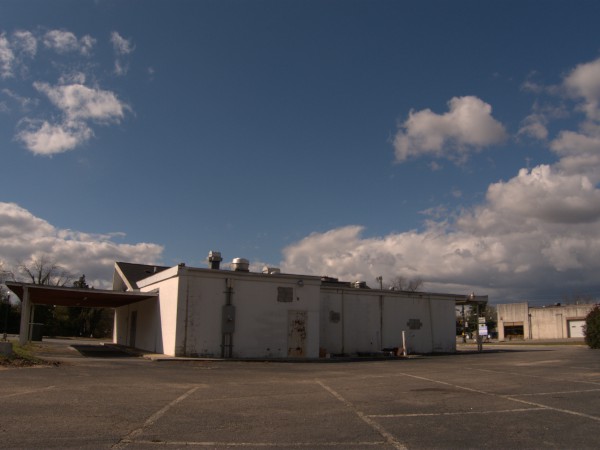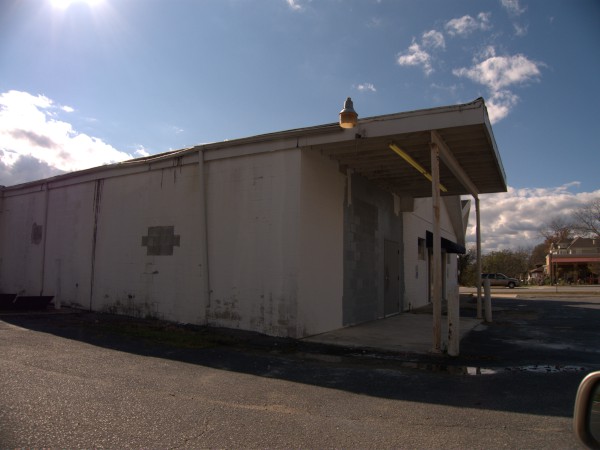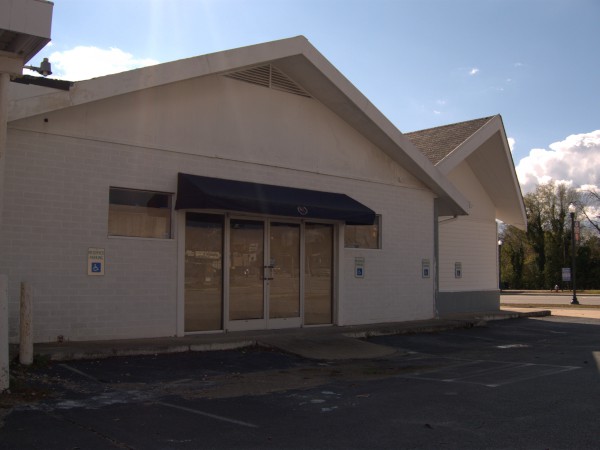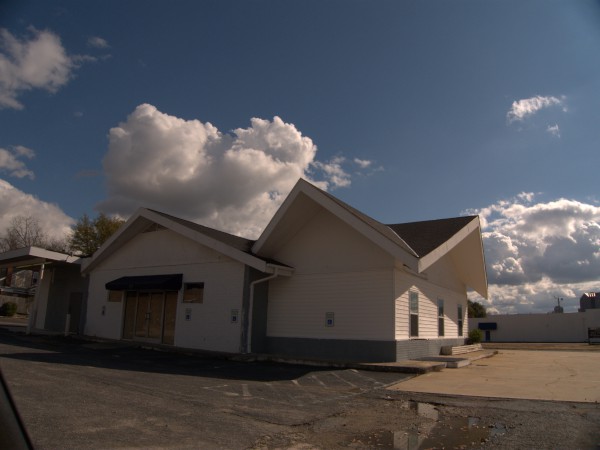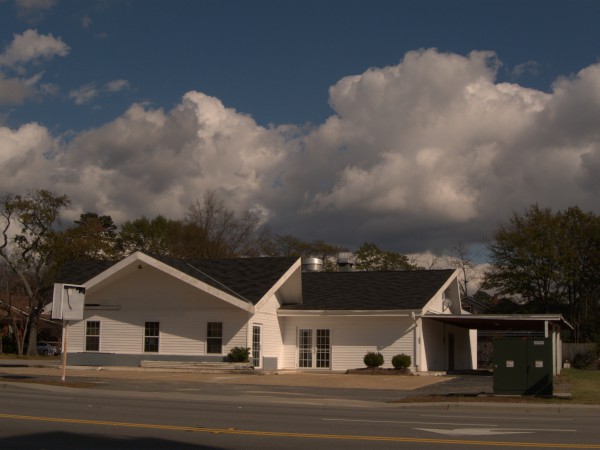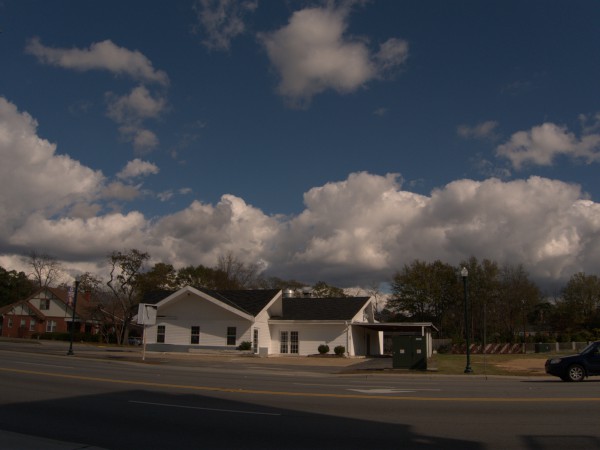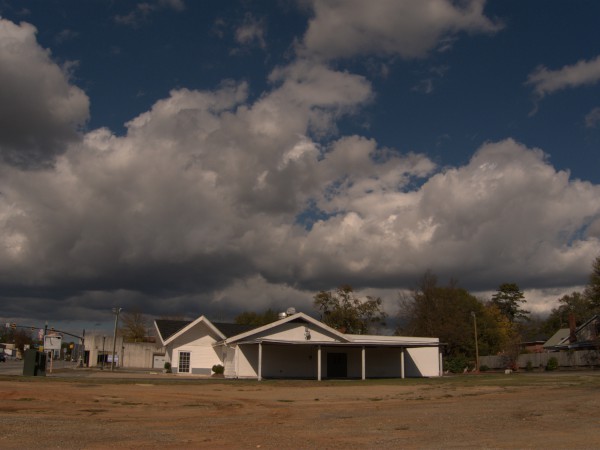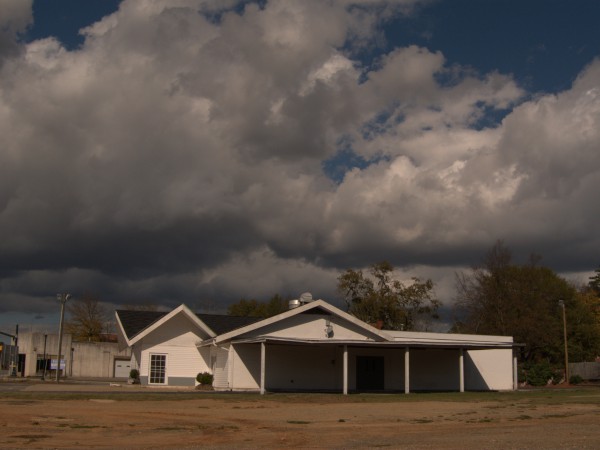 I noticed this vacant funeral home driving down Main Street near River Drive the other day. I could weed the pictures down further, but I like the clouds in the long shots too much to lose them.
You can still see the label-scar for the business name on the front of the building, and on the turned-inside-out roadside sign if you look closely enough. I had no doubts what the building was even before seeing them however as the design is pretty unequivocal. That's not to say it's generic -- I really like the sharp points and slopes of the roof-line. The online property data says it was built in 1960, which I have no problem believing, and LoopNet says it sits on a 1 acre lot, which I would not have guessed.
Posted at 12:38 am in Uncategorized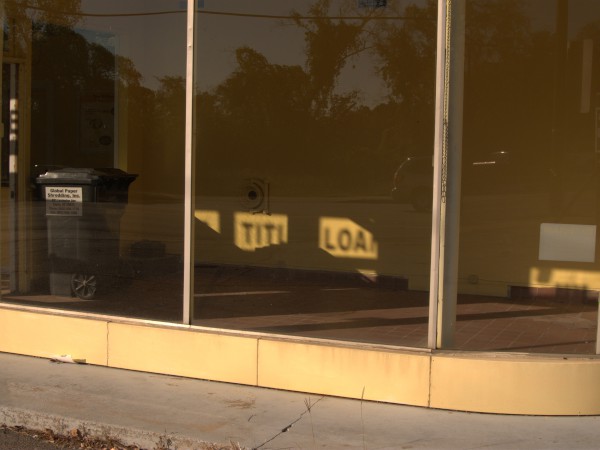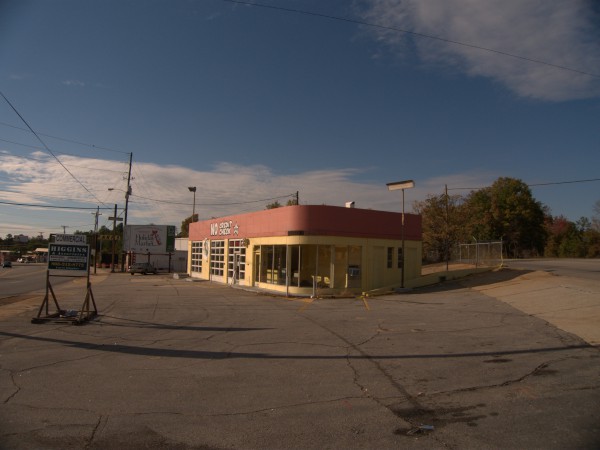 This vintage looking building, which almost has to have been an old gas station originally, sits at the point where Sunset Drive ends, River Drive jinks west and Clement Road fails to become either of those. It's across from Edna's, Great China Chinese Restaurant and the old A & P in Sunset Shopping Center.
I know that going back into the 60s there had to be more, but currently I am able to google three former tenants, all auto related. I'm using June 2010 as the closing date for Cash Loans for Car Titles because that seems to be when the building went up on the realtor's web site.
I like the building and hope the next owner keeps it. The curved endcap reminds me of the KC Customs building on Augusta Road.
Posted at 2:23 am in Uncategorized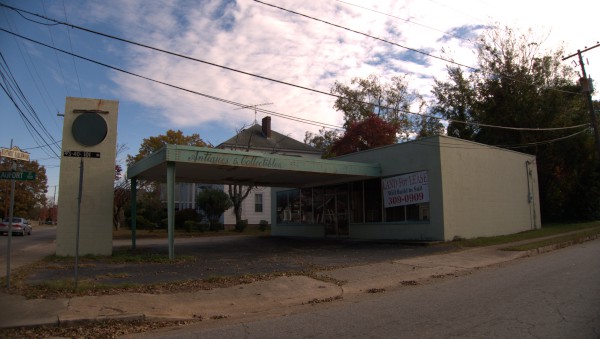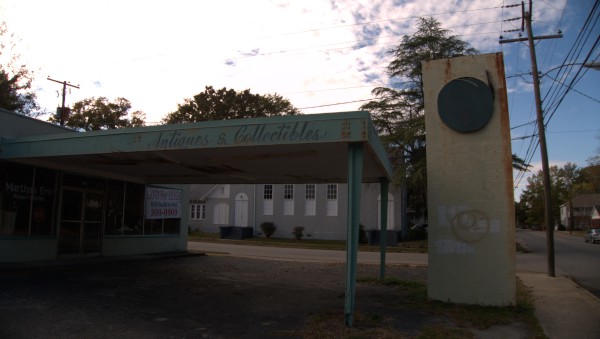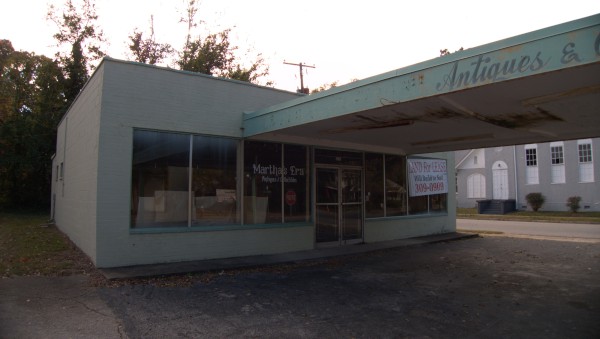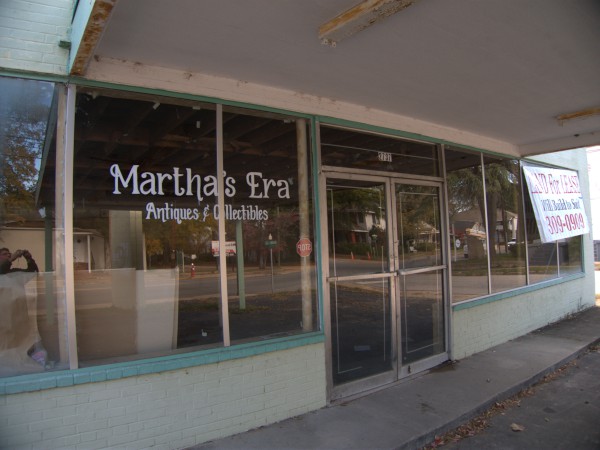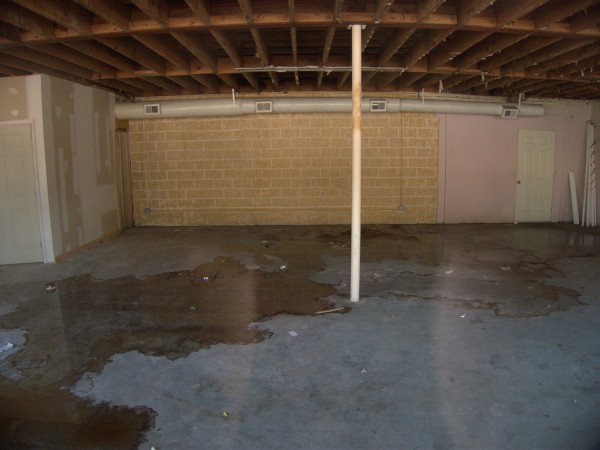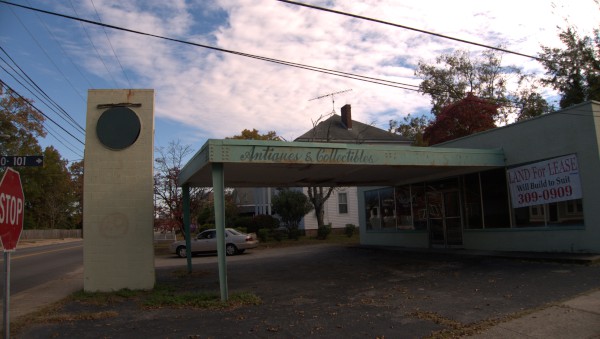 I don't drive down River Drive all that often, but when I do, I always note this building. It seems to me that it is a close twin to the Mediterranean Tea Room building on Devine Street, although the Tea Room building has had a lot more work done to it, especially in the last few years.
I had it in the back of my mind that it hadn't been vacant all that long, but when I finally stopped to look and take these pictures, it was obvious from the state of the interior that it had been empty a good while.
Googling the address turned up an interesting story, which apparently did not play out as planned. These three PDFs of 2008 zoning board minutes here, here and here tell the story.
Many years ago, the place was a cleaner (they never mention the name) and then Martha's Era (they never explicitly give that name either, but it seems pretty clear that there was only one antique business ever there). By 2008, they were talking about the building having been vacant for 20 years, and indeed, I cannot find Martha's in the 1998 phonebook.
At any rate, a new tenant wanted to lease the building (still owned by the Martha's proprietor) to open a largely take-out pizza business, apparently to be called Neighboorhood Pie. The big stumbling block was parking, of which the site has very little. There was a lot of back and forth on that issue, and the board suggested he make some new plans and come back later, which he did, rounding up a parking lease arrangement with a nearby church (which had no issues since the restaurant would not be open Sunday, and would not sell alcohol). There were a few minor issues with neighboring residents, but those were all ironed out, and the board gave the goahead in Sept 2008.
For whatever reason however, the restaurant never happened, and from the appearance of the interior, never even got to the "starting refit" stage. The property is currently up for lease once again, and apparently the owner is willing for the building to come down if necessary. That would be a shame as it is rather distinctive with its street-side pillar and vintage canopy.
UPDATE 20 Nov 2010: Commenter Mike identifies the place as originally a Sunshine Cleaners which makes sense given its resemblance to the one on Covenant. I've upadated the post title.
Posted at 1:12 am in Uncategorized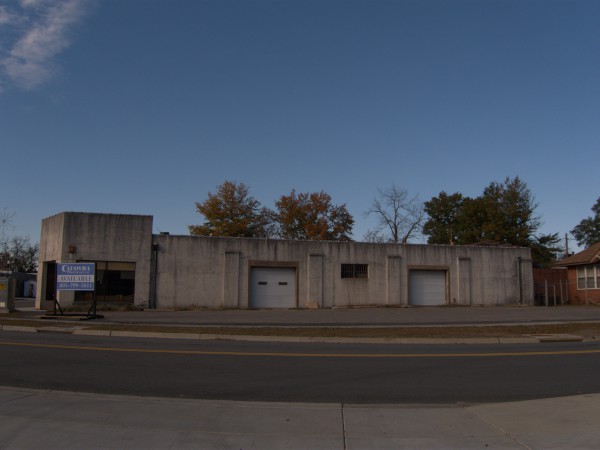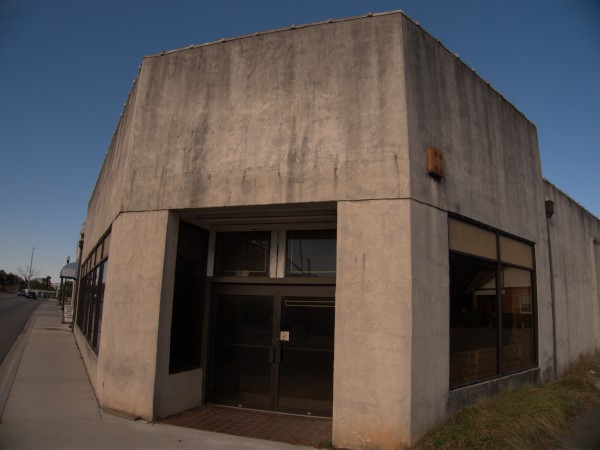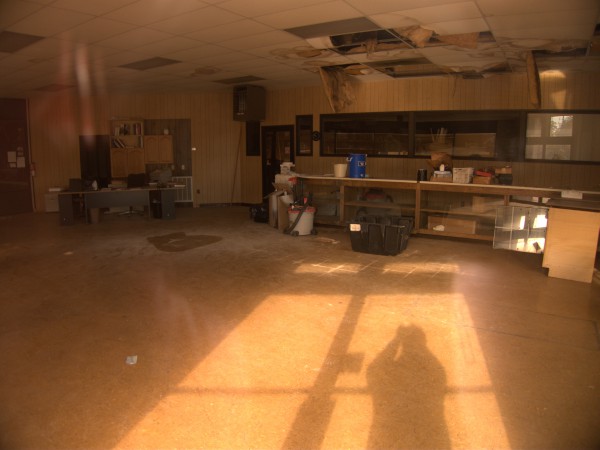 This venerable building is on Main Street at the intersection with Summerville Avenue and River Drive. This property valuation says that it was built in 1930, and I can believe that. The side view is fairly nondescript, but the angled entrance gives it character, and does hark back to that time. The last tenant, Terlizzi Home Improvements is in the Feb 2008-Feb 2009 phonebook, but not this year's, so I'm saying they closed in 2009. I don't know anything about Terlizzi except that every time I see the name, I can't help but think
The boys are back in town!