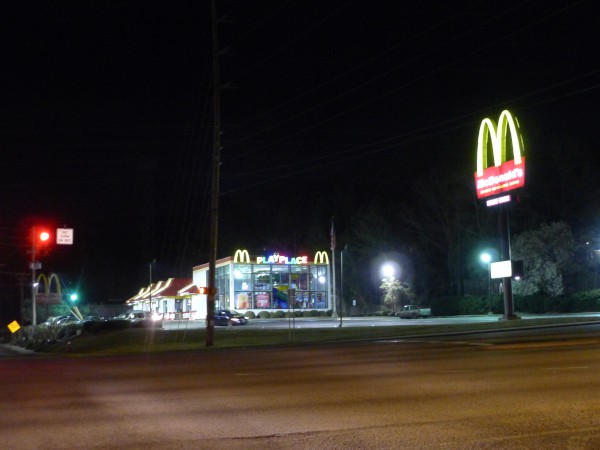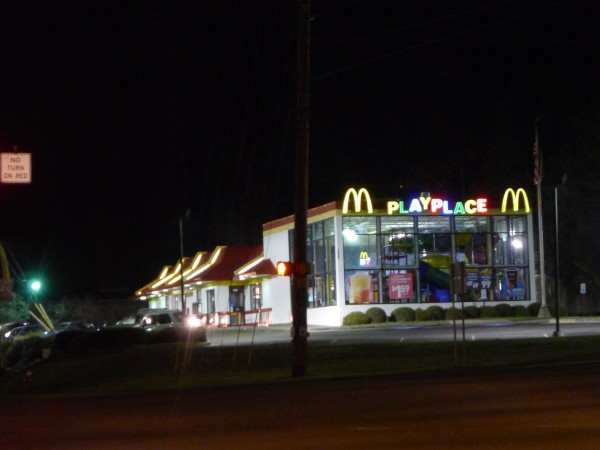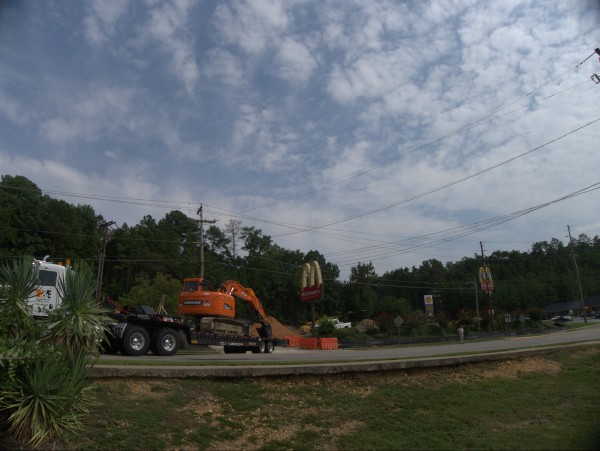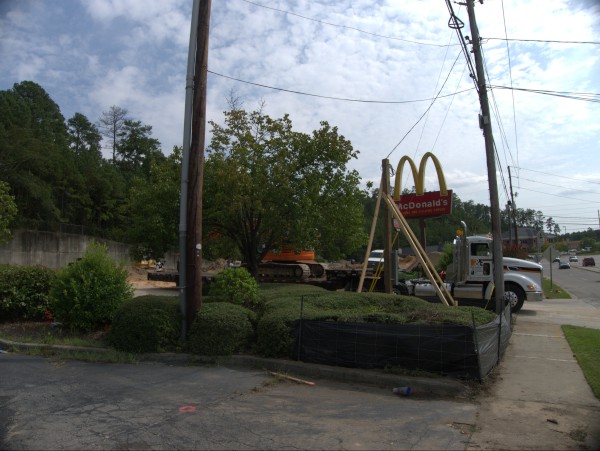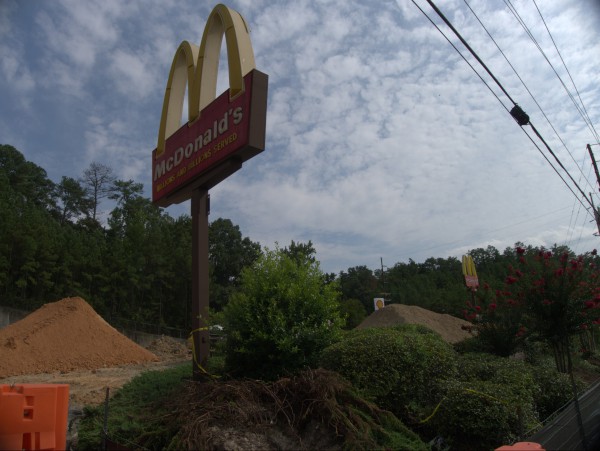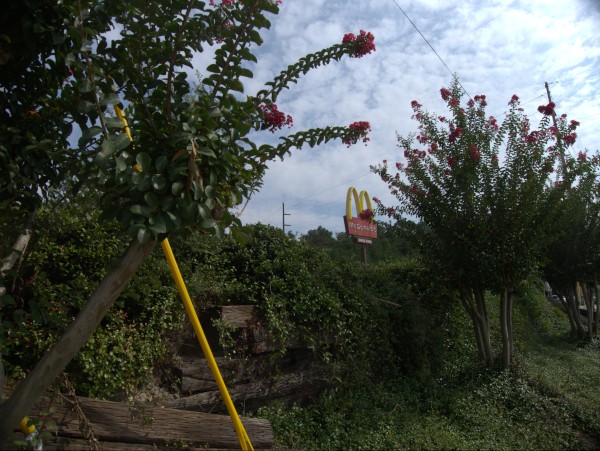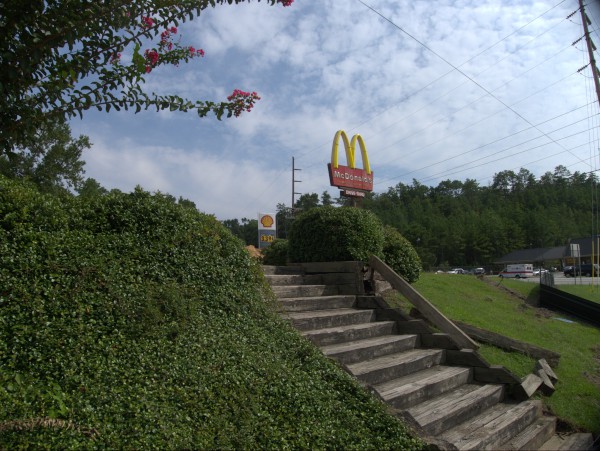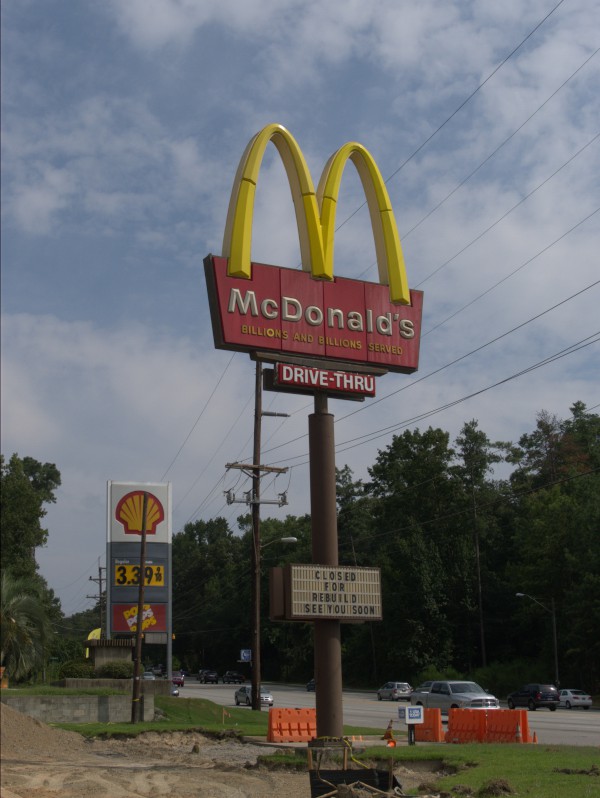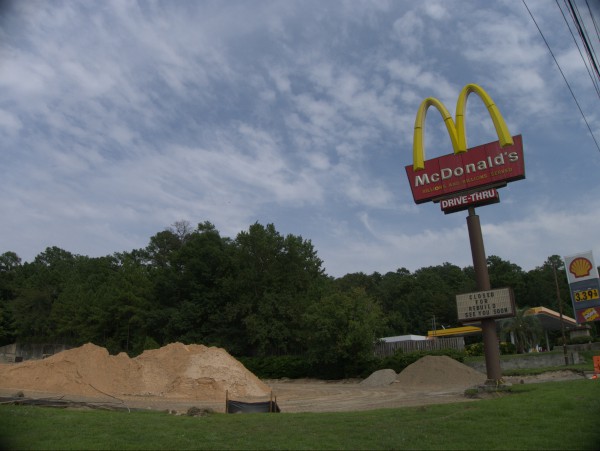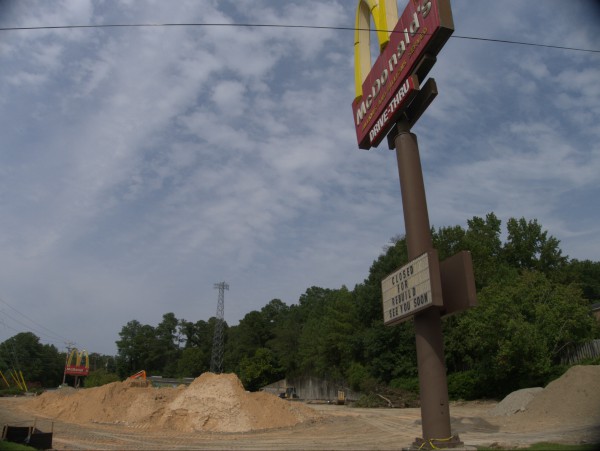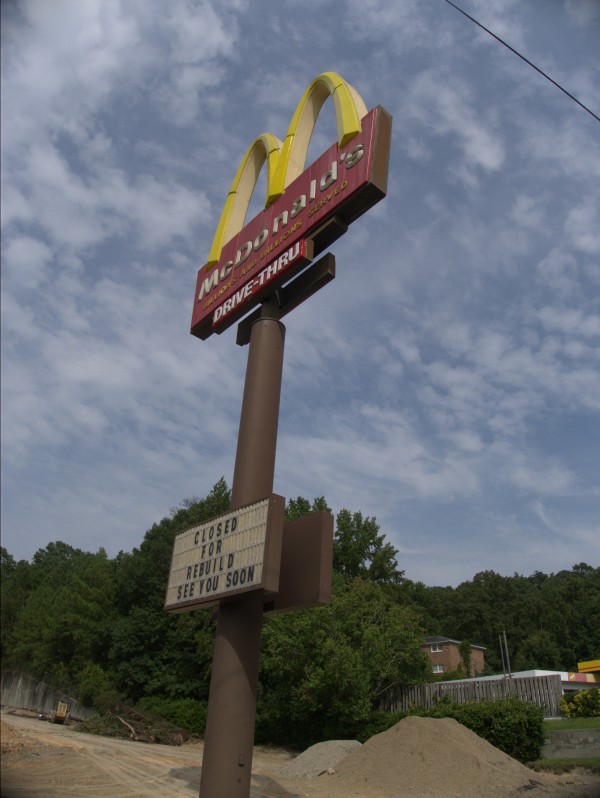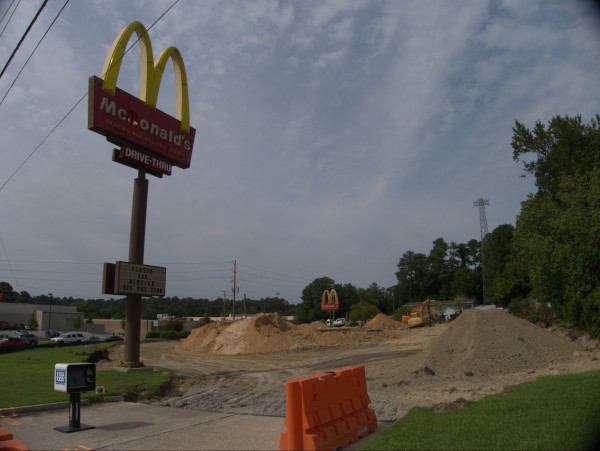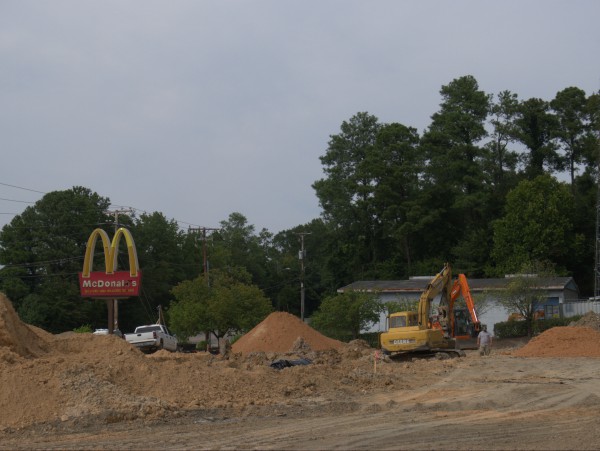 This should be some sort of lesson to me as I had several daylight pictures of this place, but a few weeks ago I decided they weren't very good, and deleted them with an eye to getting some better ones at some point. That's not the first time I've done that sort of thing either. I should learn!
However I did manage to hold onto the two nighttime pix of the place which are presented up top.
Commenter Joe Hinson remarks on the "old style" of the demolished building, but when I tood the night pix, I was thinking how modern it looked. In part I suspect that's because I remember at least one other version of the store here, and probably two.
The initial building sat much closer to the road than the most recent one, and was, I think, still in the classic McDonald's "walk up" style. It was something like this retro building from Starke Florida: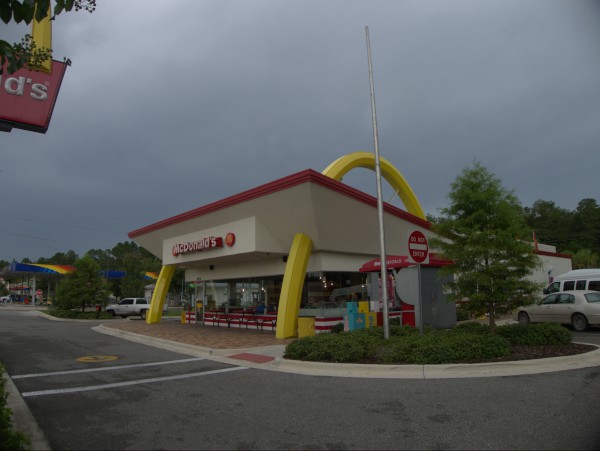 I believe this version was the first McDonald's in Columbia, and indeed, the 1970 phonebook lists 4801 Garners Ferry Road as "No. 1", with 1303 Charleston Highway as "No. 2", 2907 Two Notch as "No. 3", and 1729 Broad River Road as "No. 4". (4336 Wildcat Road was listed as the office location). Certainly it was the first McDonald's I had ever encountered, and it played a big part in my elementary school days at Satchel Ford. This was because, while we normally got our burgers at Bell's on Forest Drive, when report cards came out in Richland One, this McDonald's always ran a promotion such that if you had all 'A's & 'B's, you got a free hamburger.
Now, in those days, I was a pretty good student, and I always had all 'A's & 'B's, *except* for handwriting for which I always had a 'C'. In my mind, handwriting was not a "real" subject, and I always had my father make that case to the window clerk, and it always worked. In retrospect, I know he didn't relish the idea of arguing with some guy over a burger, but he was proud of me, and a great dad, so he did it every report card period without demur. I believe that mascot "Ronald McDonald" debuted in this era. Initially he was a pantomine clown with an overbearing boss whose tasks for Ronald always turned into a series of pratfalls..
The second McDonald's here, I think was a non-descript 70s building that did emphasize inside dining more than walkups, but had no play area. We didn't go to that one often because by that time, there was one more or less at the corner of Decker & Trenholm which was closer and involved fewer traffic lights. (And Bell's was gone by then). I believe it was at this point that the restaurant was set further back from Garners Ferry.
I'm not sure when the play-area, boxy looking remodel came in, but I think it was while I was living out of town in the 80s or 90s, by which time I was essentially never eating at McDonald's anymore. (Lately they have learned to make a very good cup of coffee, and provide wifi so that I finally have been back some).
(Hat tip to commenter mamarose)
UPDATE 1 September 2012 -- I found another set of daylight (well, twilight..) pictures of the building: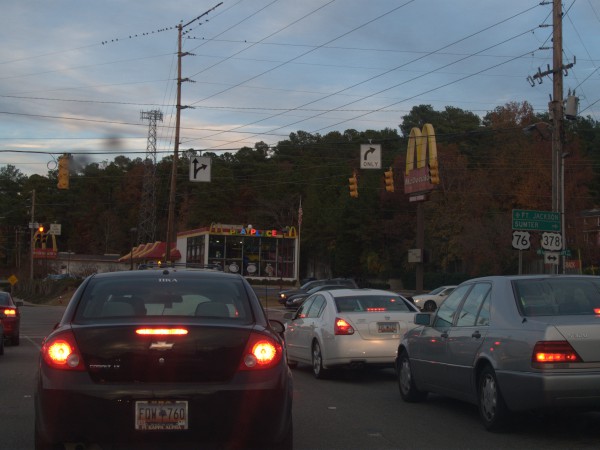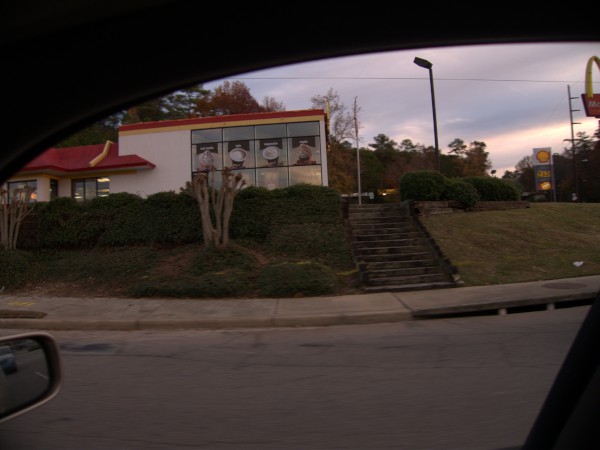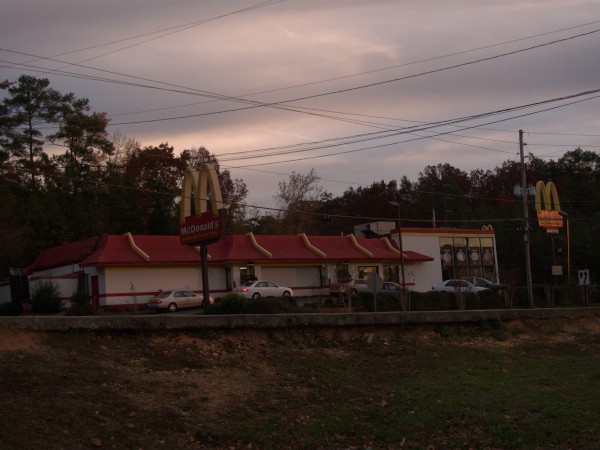 UPDATE 12 September 2012 -- Construction has started is moving at a pretty good clip: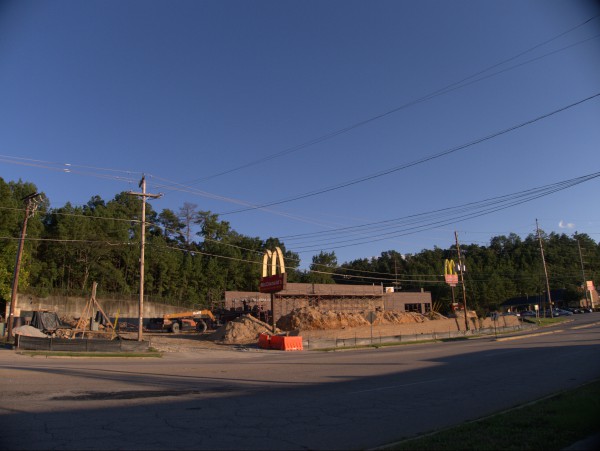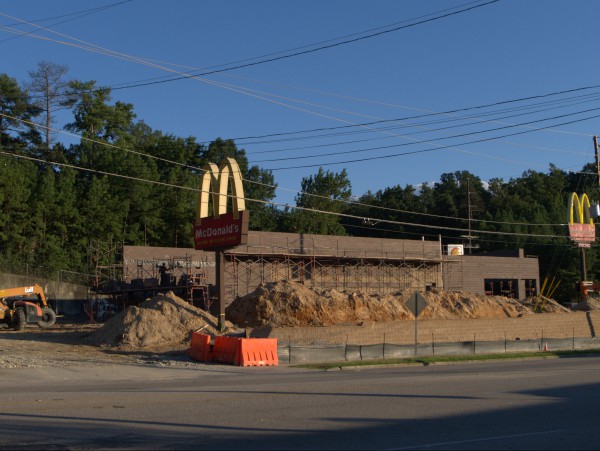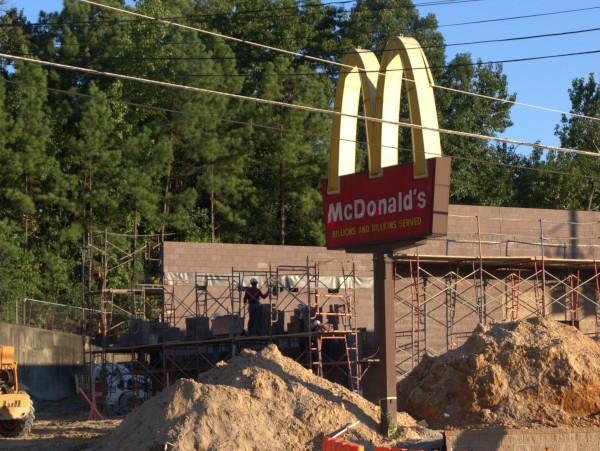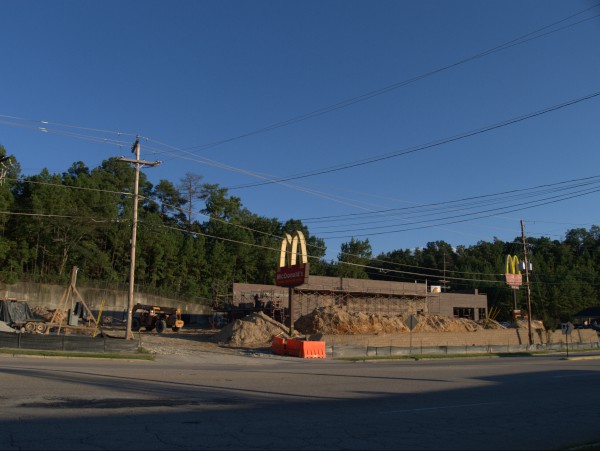 And here's a yellow pages ad from the walkup days: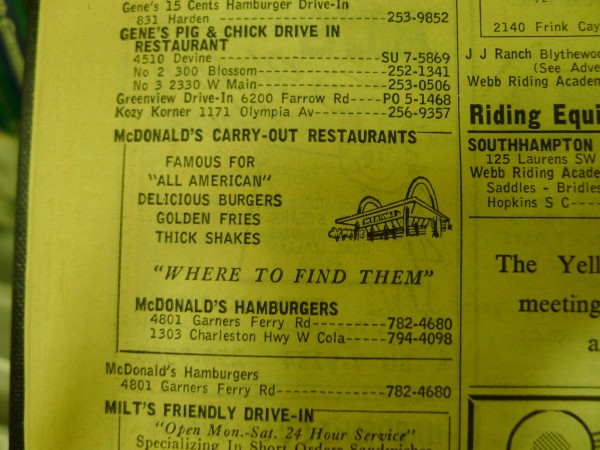 UPDATE 18 September 2012 -- The frame appears complete, and hiring has started: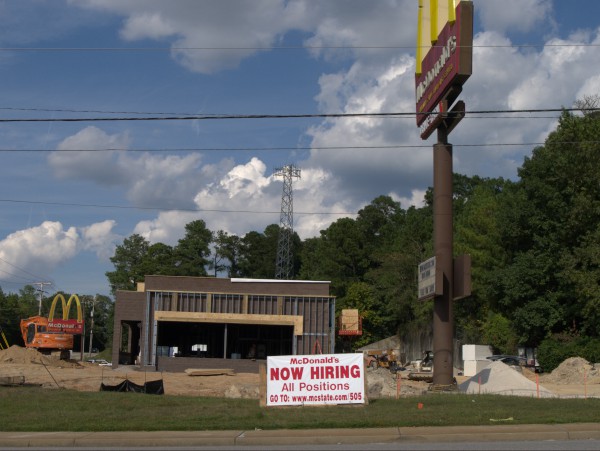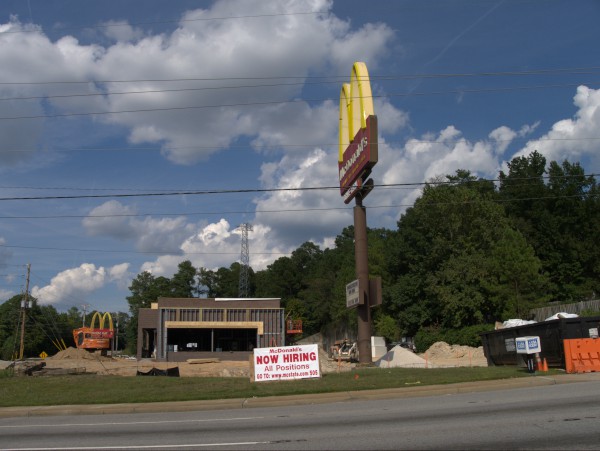 UPDATE 9 November 2012 -- As mentioned in the comments, this store is open again: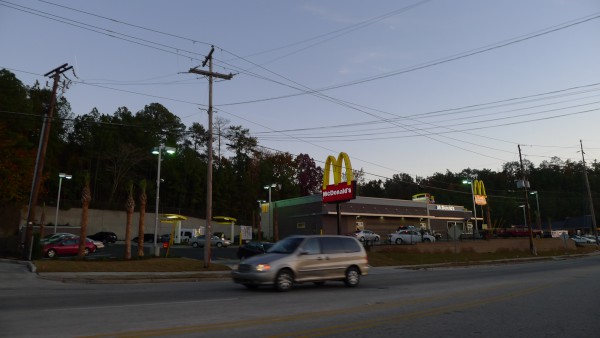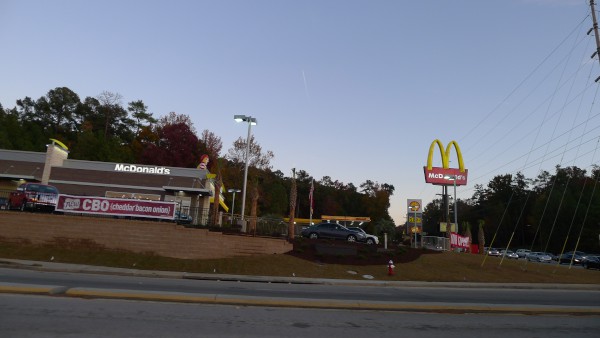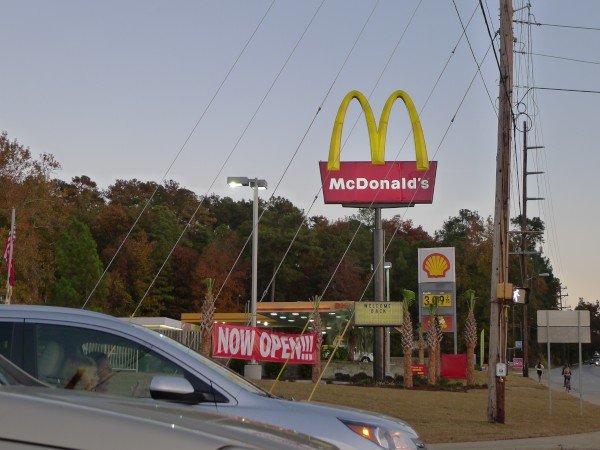 18 Responses to 'McDonald's Hamburgers, 4801 Garners Ferry Road / 4336 Wildcat Road: August 2012 (open again)'
Subscribe to comments with RSS or TrackBack to 'McDonald's Hamburgers, 4801 Garners Ferry Road / 4336 Wildcat Road: August 2012 (open again)'.
Leave a Reply