Archive for the 'Wildcat Road' tag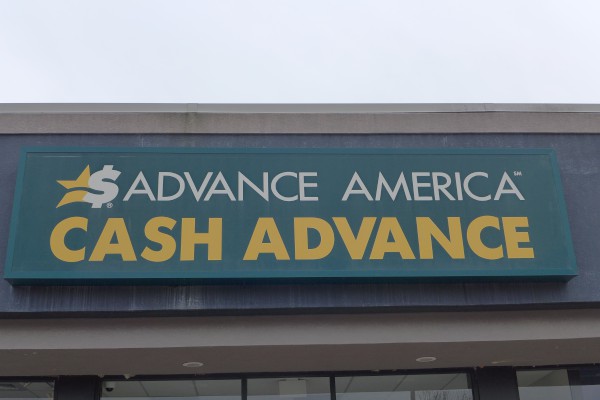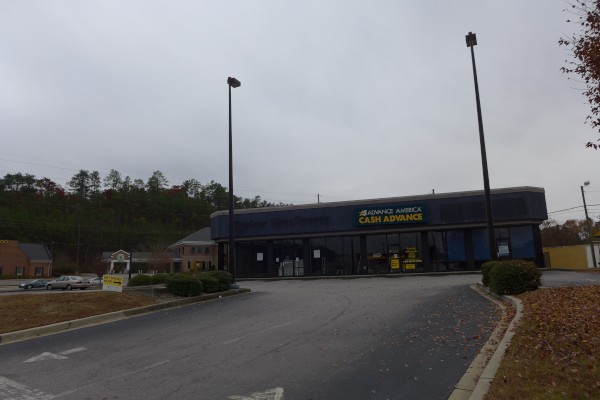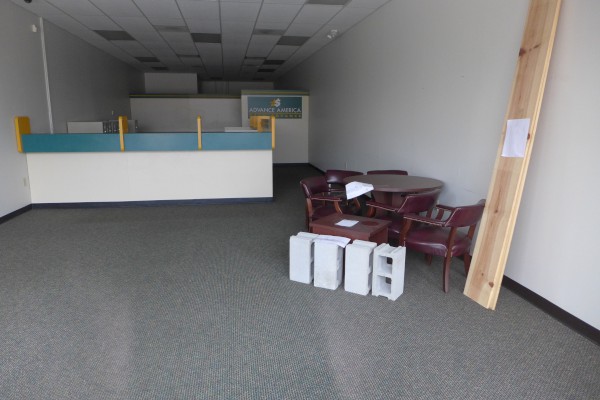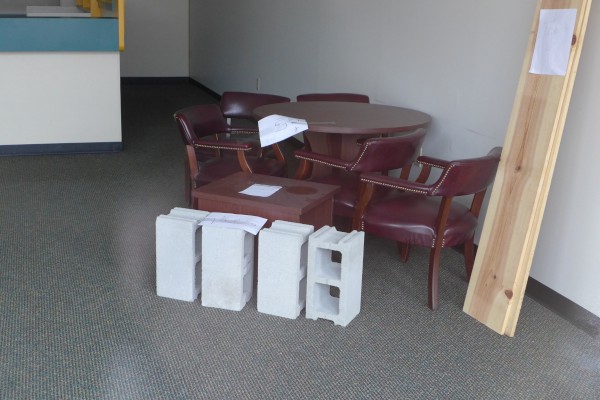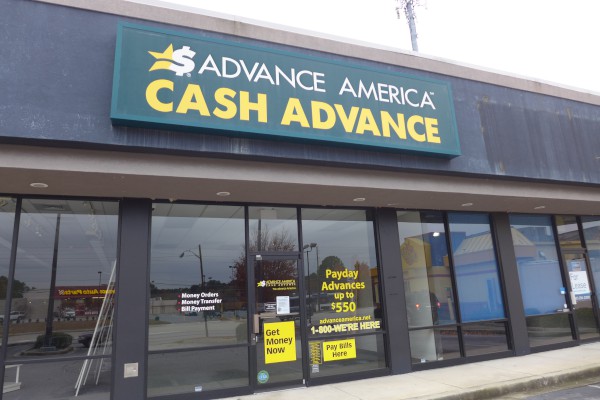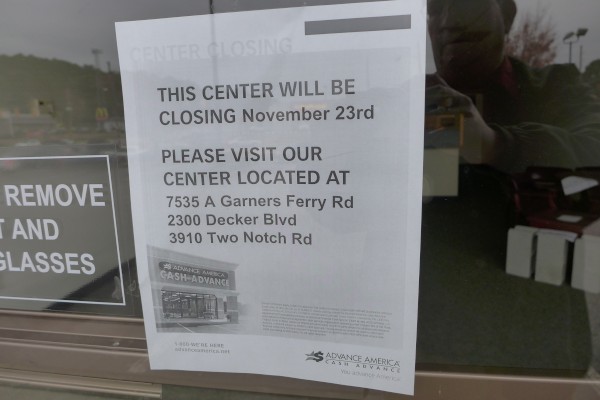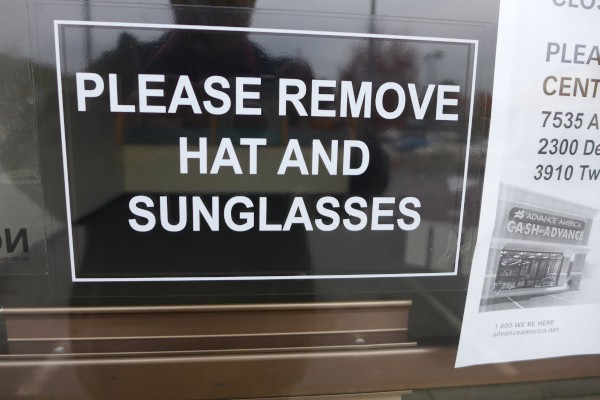 This is the third, and last, suite in the building at 4732 Devine to feature here. You have to wonder, given that every tenant has either closed or moved, if this building is to be torn down or if some new tenant wants the whole building.
Posted at 12:44 am in Uncategorized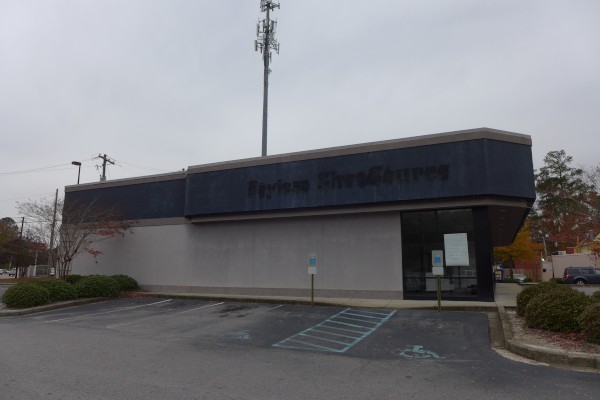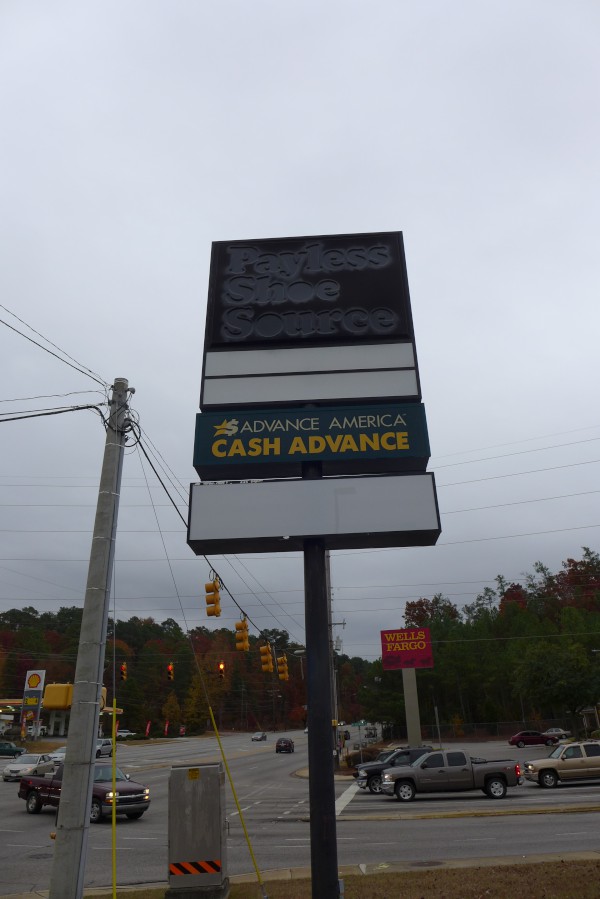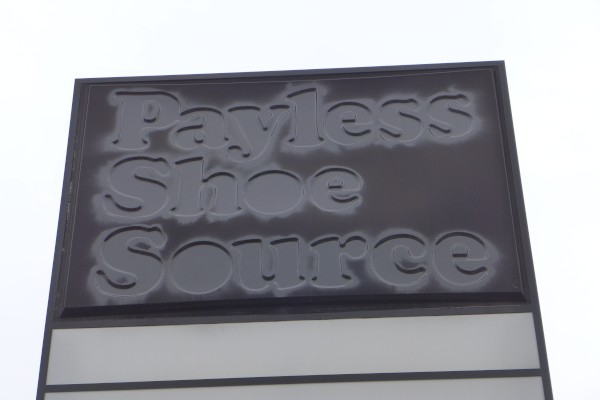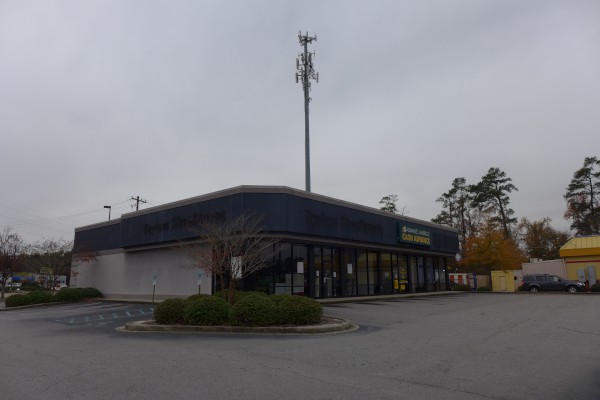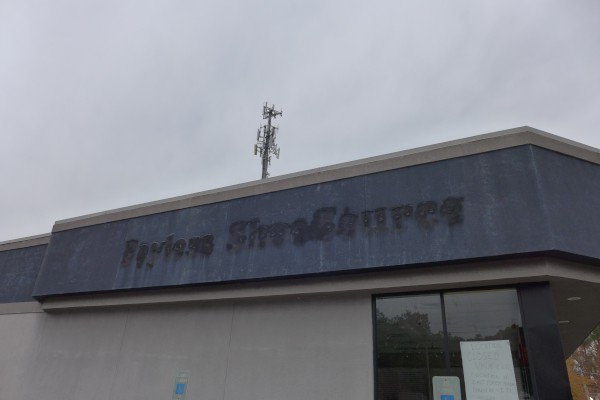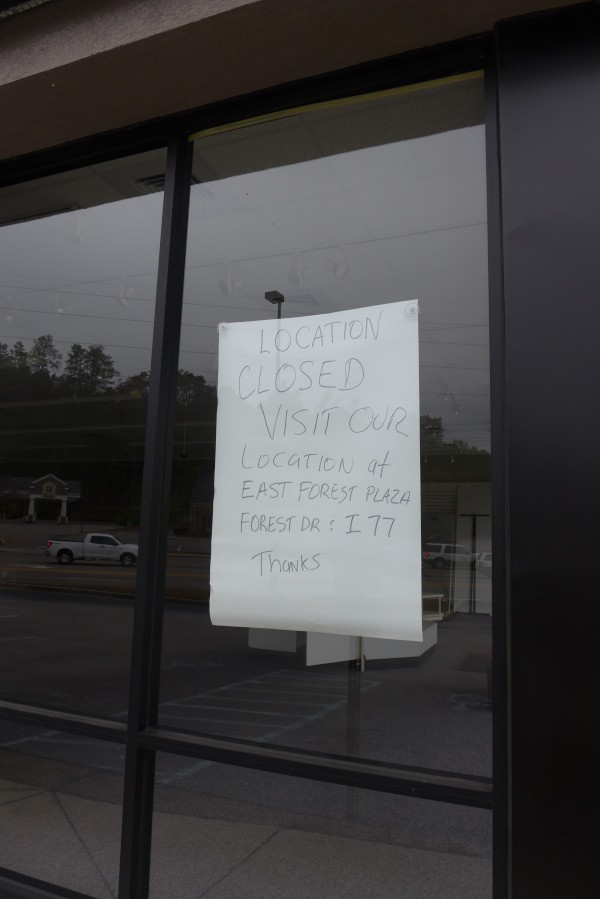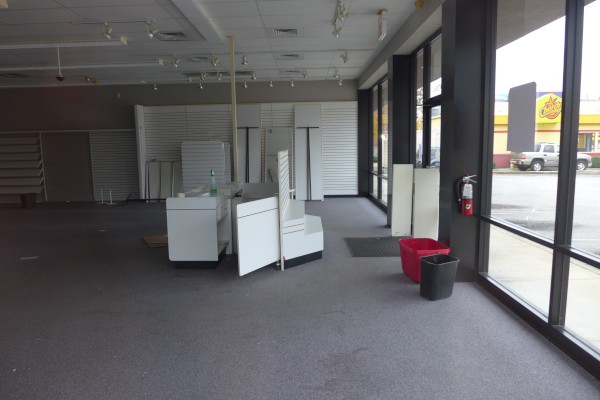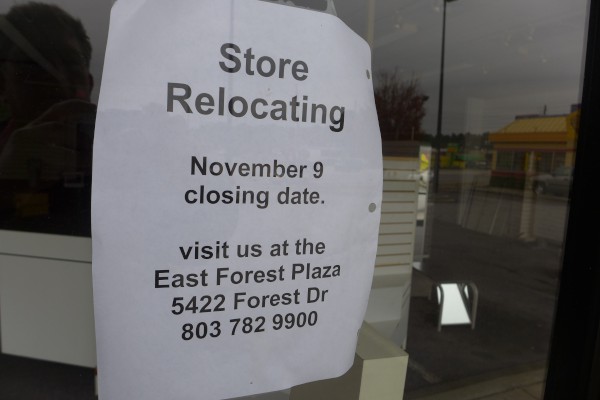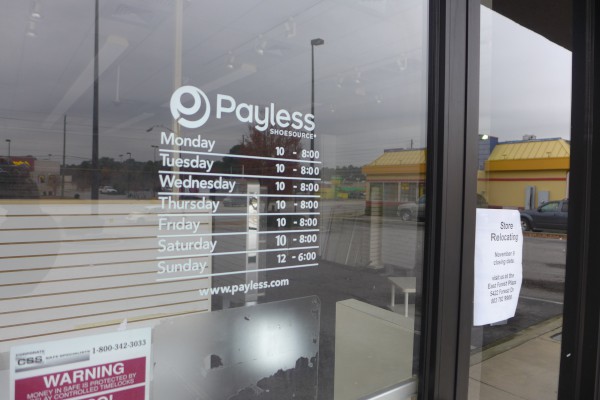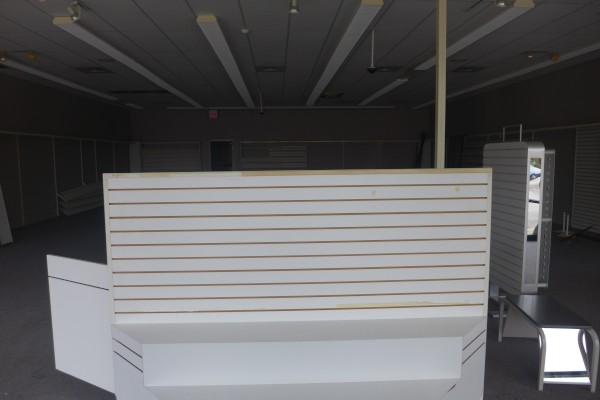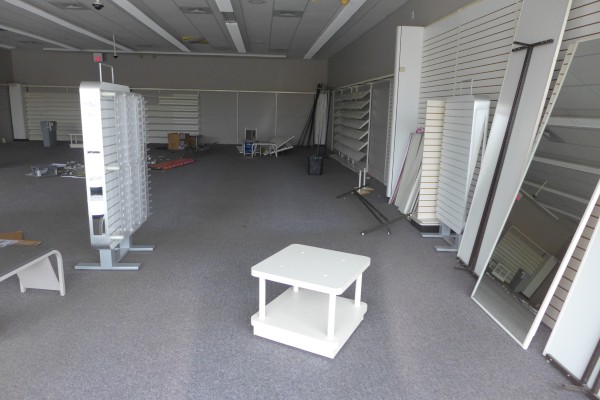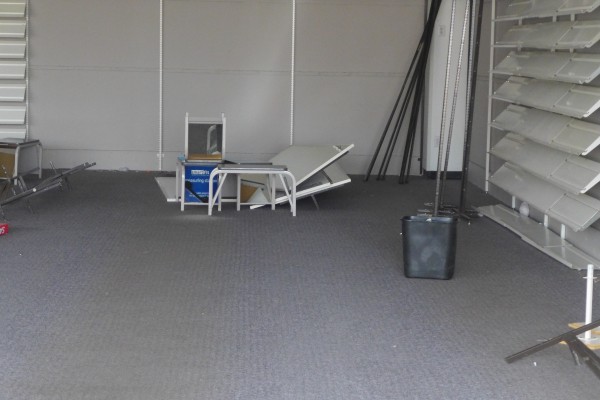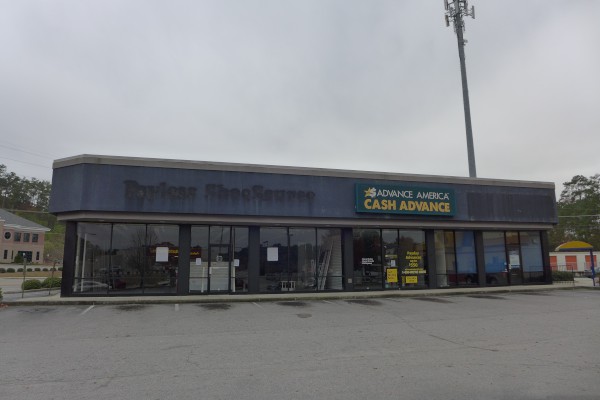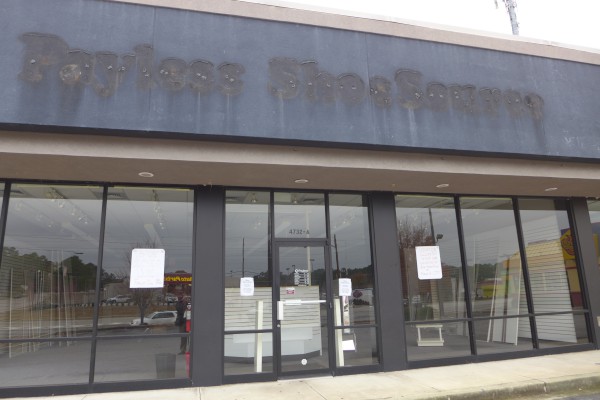 This Payless shoe store was at the corner of Devine & Rosewood, not far from the old Taco Bell and the Rosewood Blockbuster.
One sign says that the store is relocating, but while I hope the employees were able to move, I think this is really just a call-out to an already existing other store.
I believe I still have a pair of shoes from Payless, though I'm not sure it was this store, that have lasted quite a few years. Of course, I only wear them to weddings and funerals, so there has not been a lot of wear & tear.
(Hat tip to commenter john)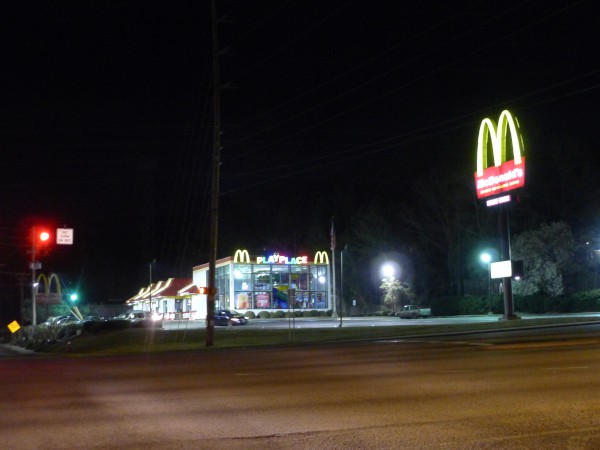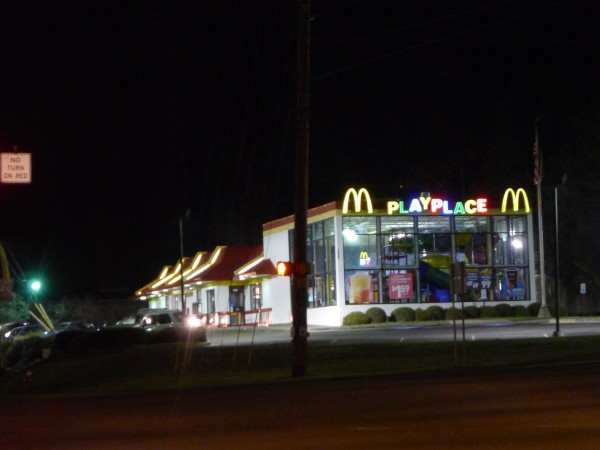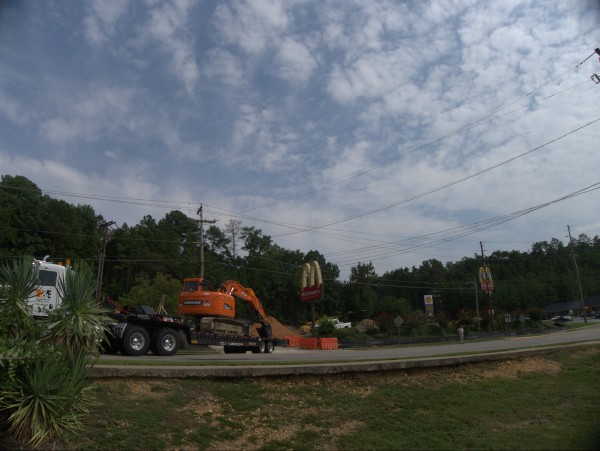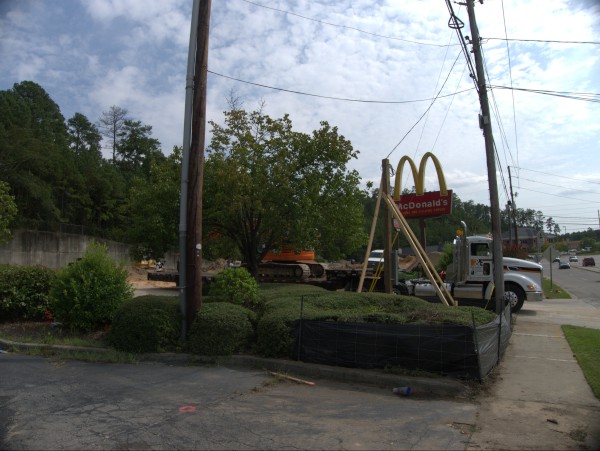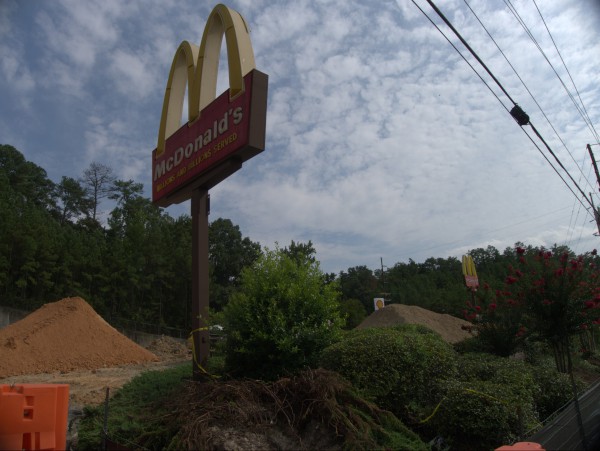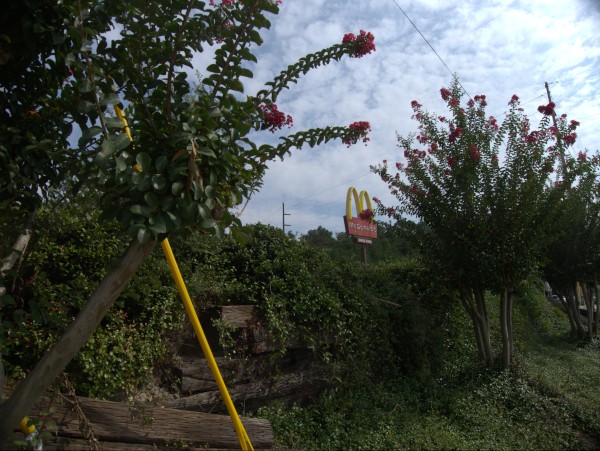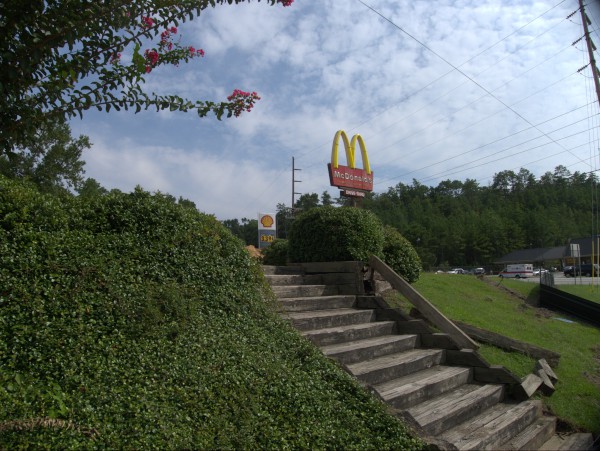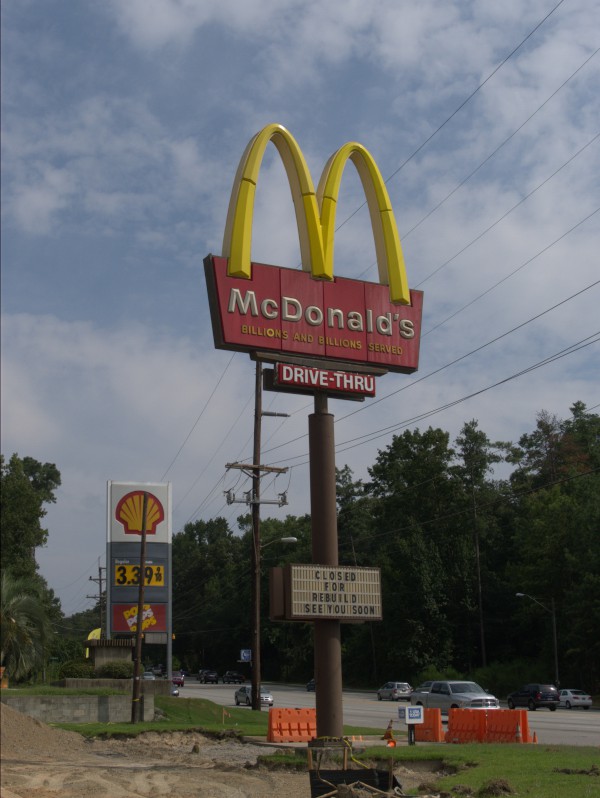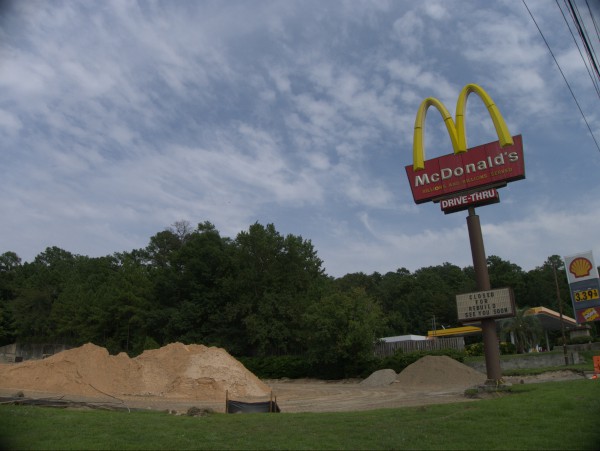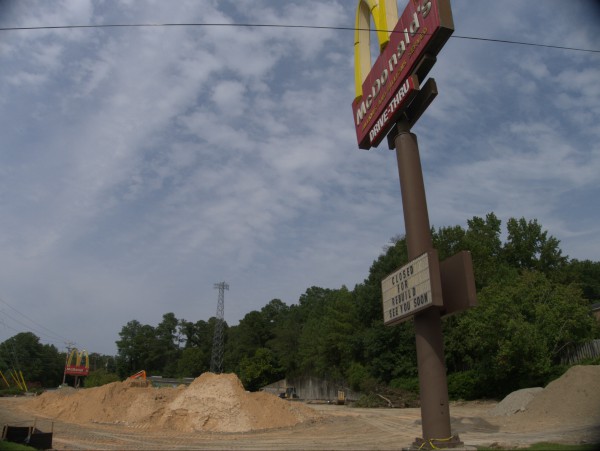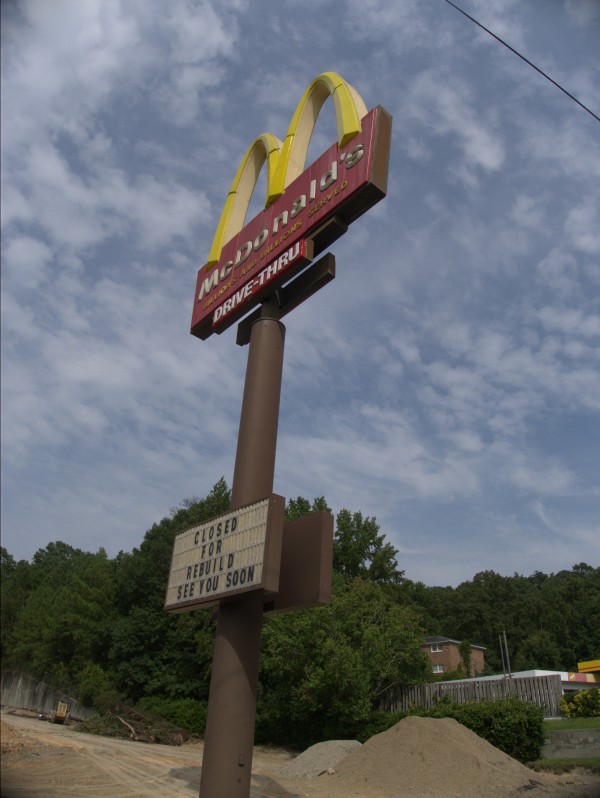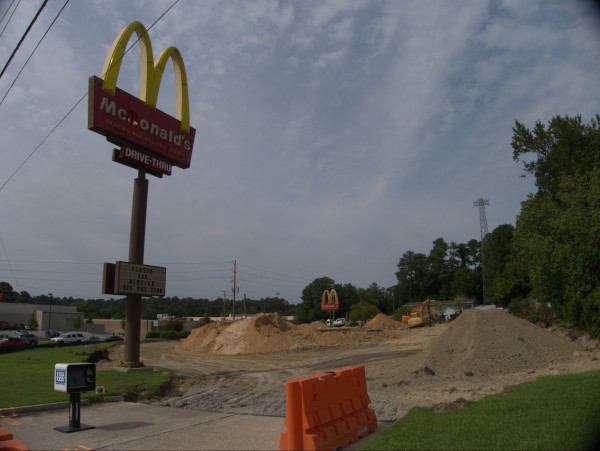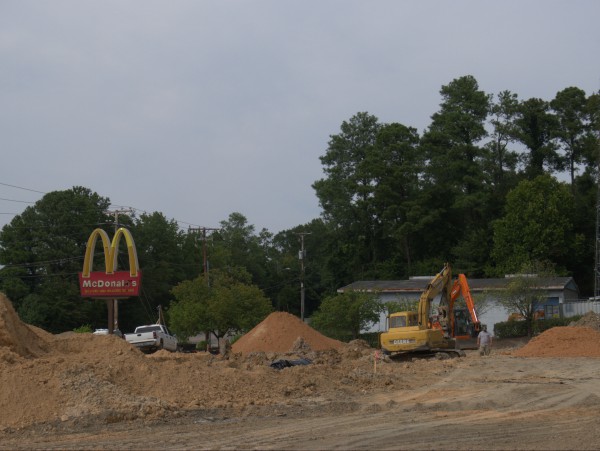 This should be some sort of lesson to me as I had several daylight pictures of this place, but a few weeks ago I decided they weren't very good, and deleted them with an eye to getting some better ones at some point. That's not the first time I've done that sort of thing either. I should learn!
However I did manage to hold onto the two nighttime pix of the place which are presented up top.
Commenter Joe Hinson remarks on the "old style" of the demolished building, but when I tood the night pix, I was thinking how modern it looked. In part I suspect that's because I remember at least one other version of the store here, and probably two.
The initial building sat much closer to the road than the most recent one, and was, I think, still in the classic McDonald's "walk up" style. It was something like this retro building from Starke Florida: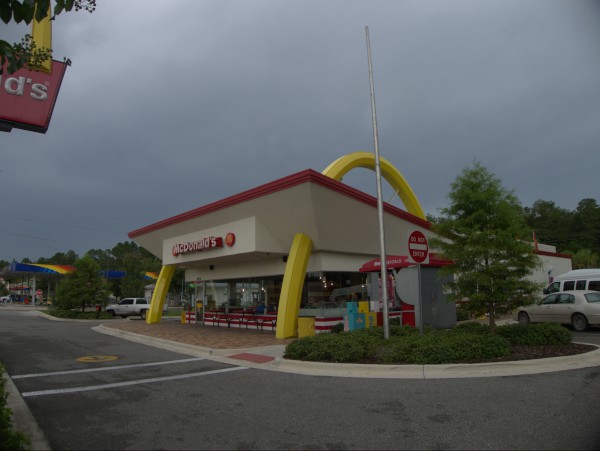 I believe this version was the first McDonald's in Columbia, and indeed, the 1970 phonebook lists 4801 Garners Ferry Road as "No. 1", with 1303 Charleston Highway as "No. 2", 2907 Two Notch as "No. 3", and 1729 Broad River Road as "No. 4". (4336 Wildcat Road was listed as the office location). Certainly it was the first McDonald's I had ever encountered, and it played a big part in my elementary school days at Satchel Ford. This was because, while we normally got our burgers at Bell's on Forest Drive, when report cards came out in Richland One, this McDonald's always ran a promotion such that if you had all 'A's & 'B's, you got a free hamburger.
Now, in those days, I was a pretty good student, and I always had all 'A's & 'B's, *except* for handwriting for which I always had a 'C'. In my mind, handwriting was not a "real" subject, and I always had my father make that case to the window clerk, and it always worked. In retrospect, I know he didn't relish the idea of arguing with some guy over a burger, but he was proud of me, and a great dad, so he did it every report card period without demur. I believe that mascot "Ronald McDonald" debuted in this era. Initially he was a pantomine clown with an overbearing boss whose tasks for Ronald always turned into a series of pratfalls..
The second McDonald's here, I think was a non-descript 70s building that did emphasize inside dining more than walkups, but had no play area. We didn't go to that one often because by that time, there was one more or less at the corner of Decker & Trenholm which was closer and involved fewer traffic lights. (And Bell's was gone by then). I believe it was at this point that the restaurant was set further back from Garners Ferry.
I'm not sure when the play-area, boxy looking remodel came in, but I think it was while I was living out of town in the 80s or 90s, by which time I was essentially never eating at McDonald's anymore. (Lately they have learned to make a very good cup of coffee, and provide wifi so that I finally have been back some).
(Hat tip to commenter mamarose)
UPDATE 1 September 2012 -- I found another set of daylight (well, twilight..) pictures of the building: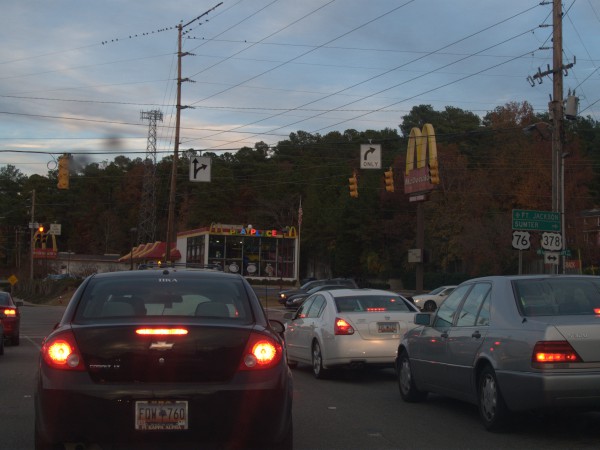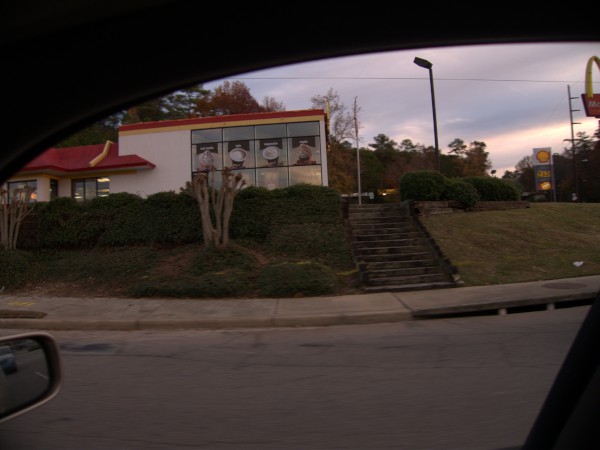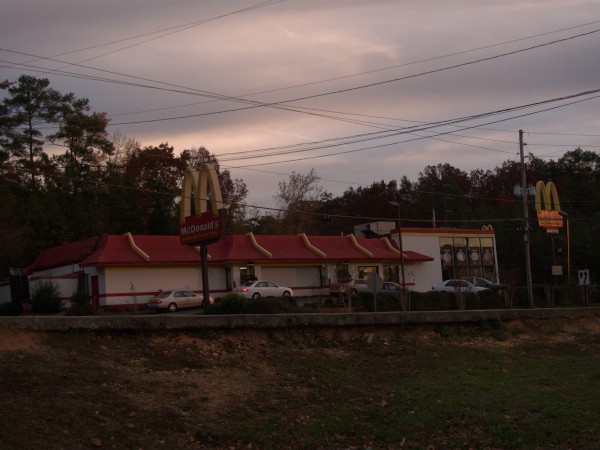 UPDATE 12 September 2012 -- Construction has started is moving at a pretty good clip: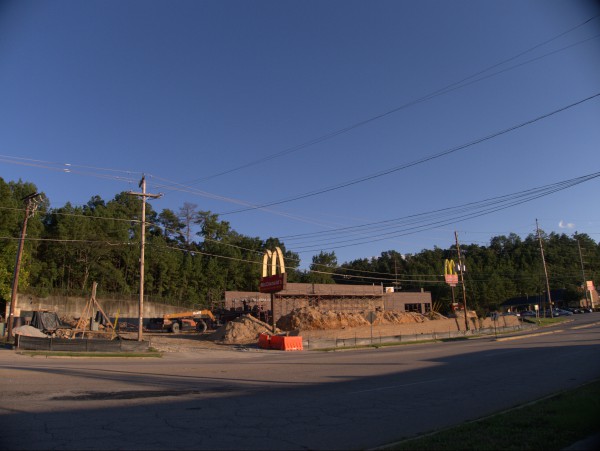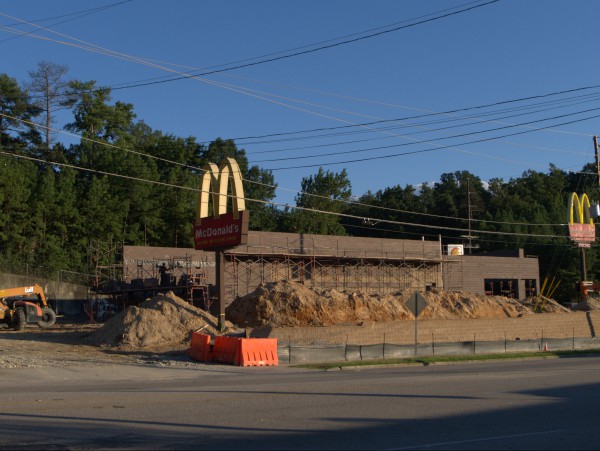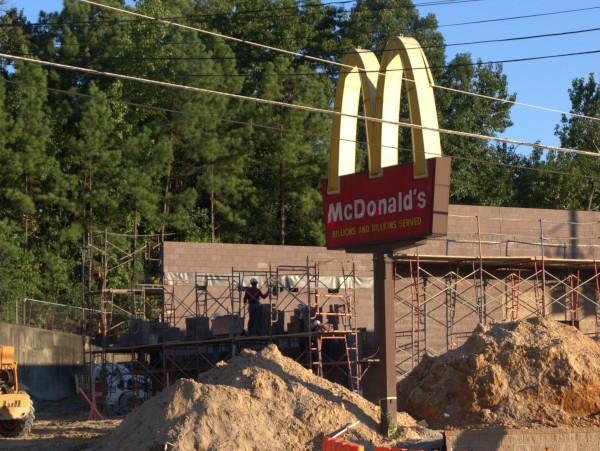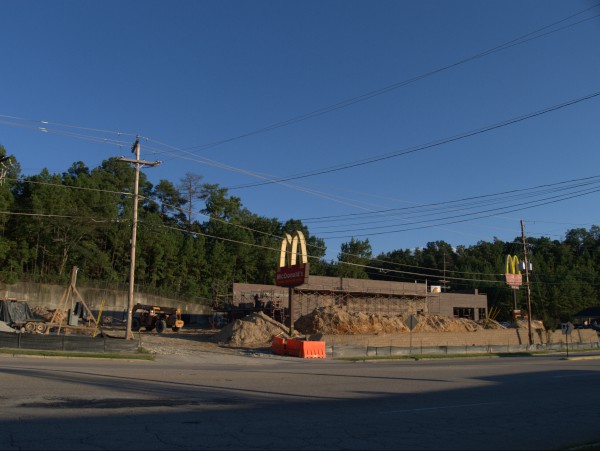 And here's a yellow pages ad from the walkup days: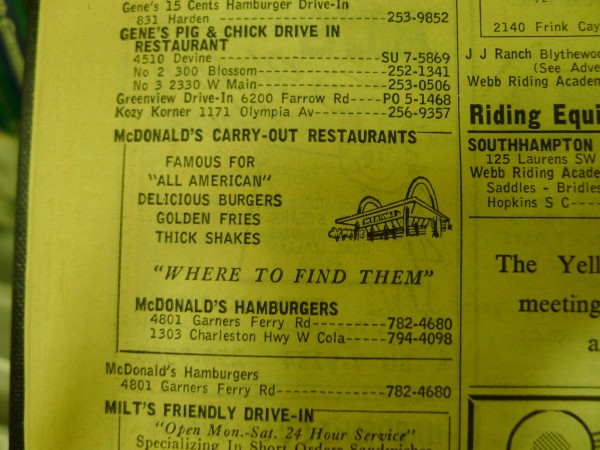 UPDATE 18 September 2012 -- The frame appears complete, and hiring has started: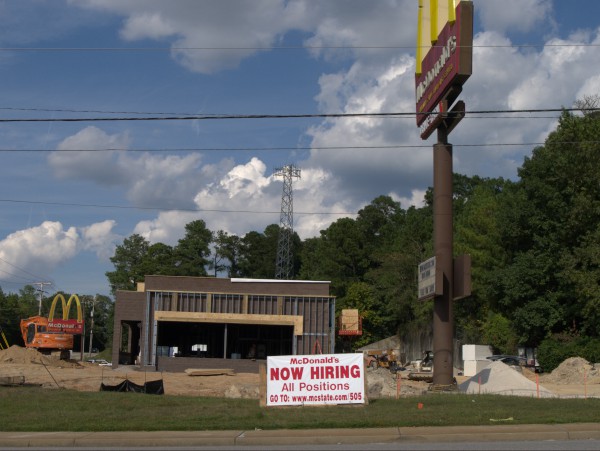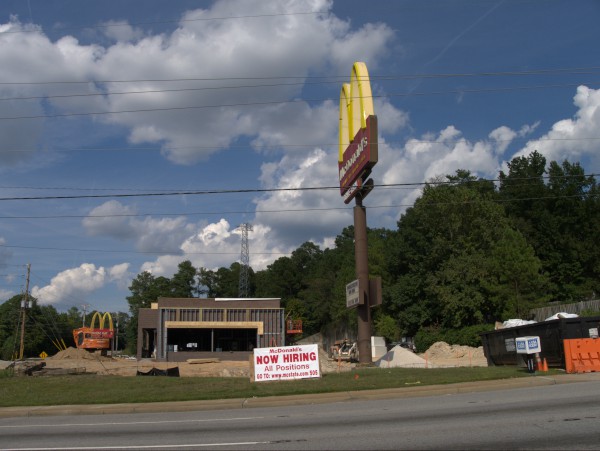 UPDATE 9 November 2012 -- As mentioned in the comments, this store is open again: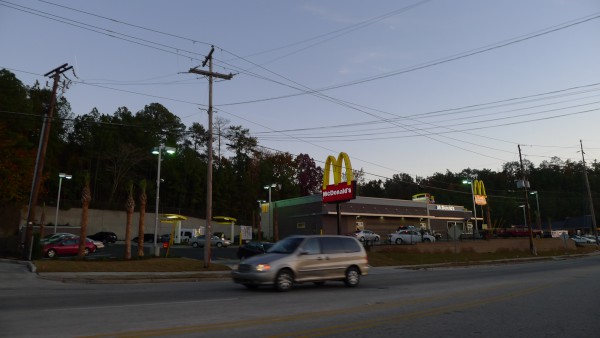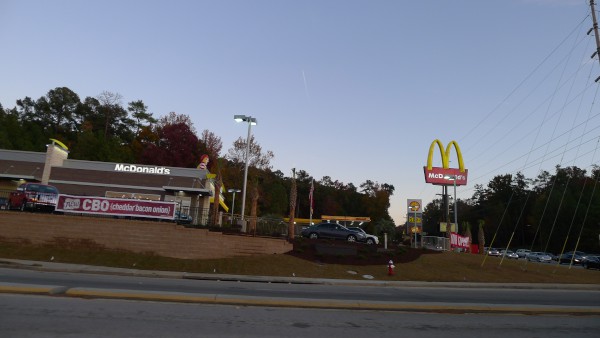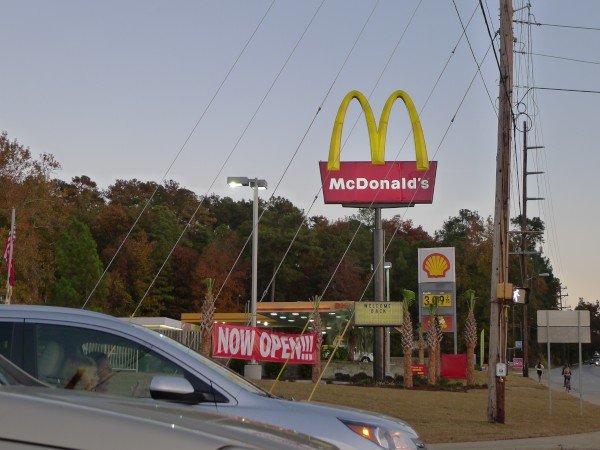 Posted at 12:11 am in Uncategorized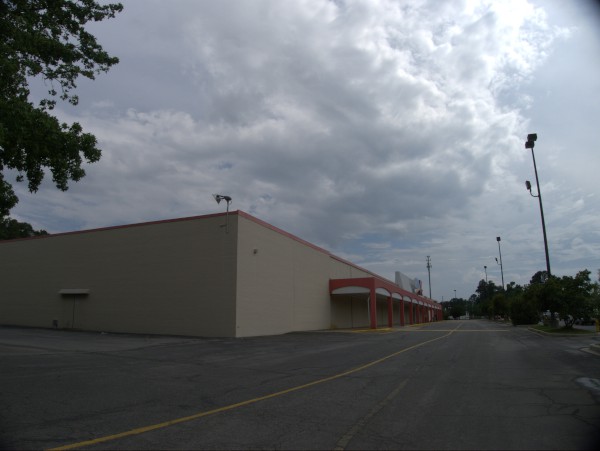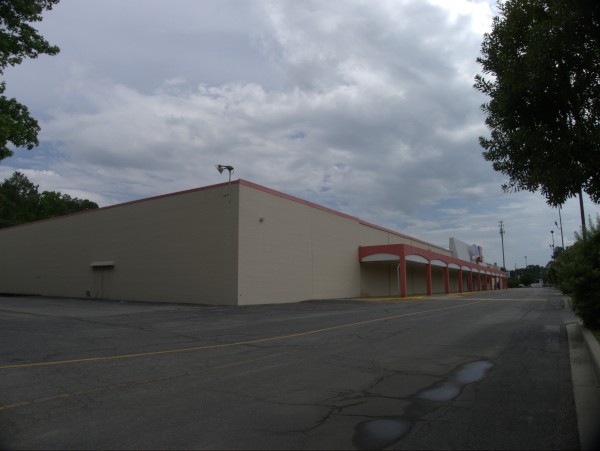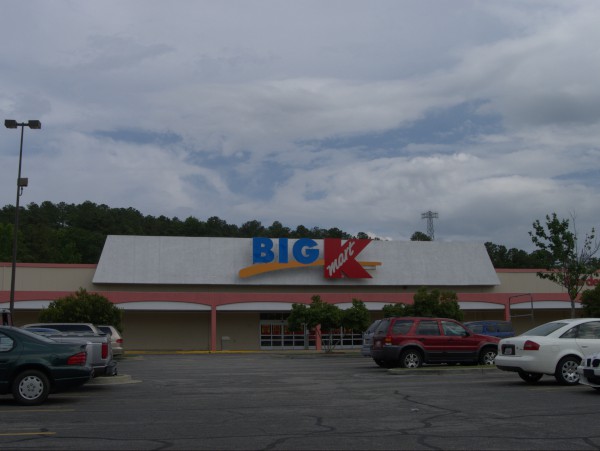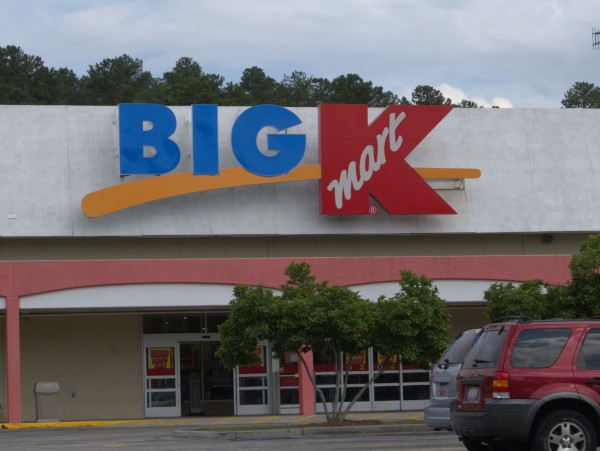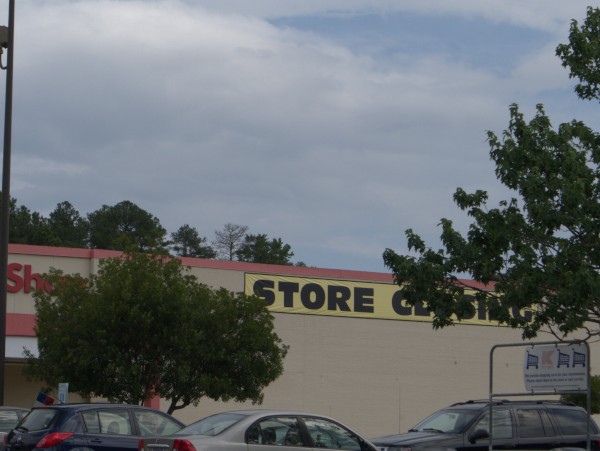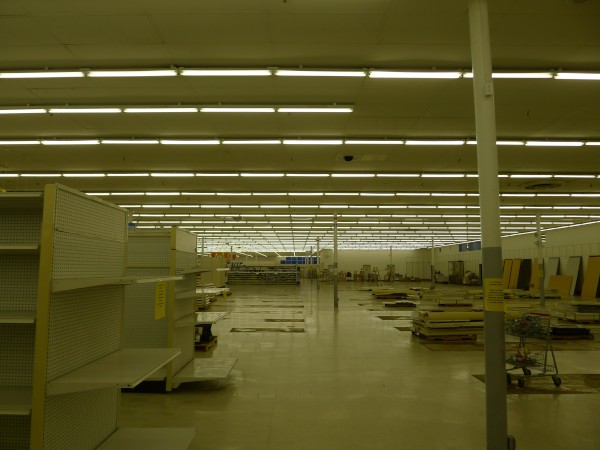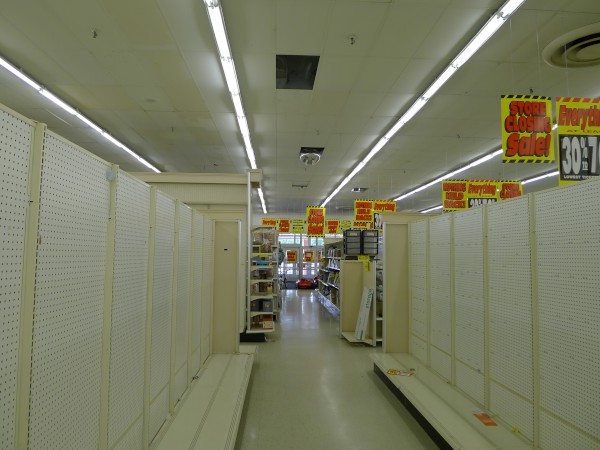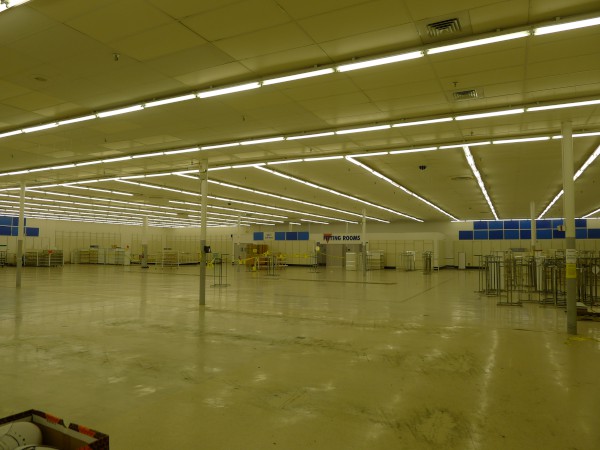 This Kmart, accessible from Fort Jackson Boulevard, Devine Street, Crowson Road and Wildcat Road has been there for my entire, remembered, life (it is technically a little younger than I am), and was a place I went many times with my Mother over the years (though probably not as many times as to the Two Notch store). In the beginning, the left side of the Kmart building was occupied by a Big Star grocery and then by an Old America Store. Finally, in the throes of the last good idea the chain had, Kmart converted to a Big-K format store and expanded into the old grocery space. This status-quo lasted a good number of years, but recently there have been signs of malaise like closing and trying to rent out the auto service bays.
I want to like Kmart as I have good childhood memories of the place, but their current strategy seems to be to not have a strategy, other than, perhaps, closing stores when Wal Mart opens nearby. Now, I'm not saying I know what a successful stragegy for them would be, but good heavens, they have to try *something*! Go 24 hours, get Martha Stewart back, co-brand with The Food Channel, open in-store bowling alleys -- something!
And hire some staff, yes, that's expensive, but if you're in a "bet the company" situation (and you are, whether you think of it that way or not) you've got to make shopping easy. The last time I stopped at this store, I was in a bit of a hurry and found my item quickly, but it was in a locked display case with nobody in the department. The staff I could find in other departments were very friendly, but couldn't leave their area and nobody ever showed up who could make the sale before I had to go -- so they didn't make that sale, and I'm not sure they can afford to not make sales.
Anyway, as of Memorial Day, the place was not completely picked clean and still had some reasonable looking bargins. I noticed in particular, that if you need some alkaline batteries, now is the time to get your "Die Hard" AAA, AA 9V & Cs (didn't see any Ds).
UPDATE 6 June 2012 -- And, it's gone!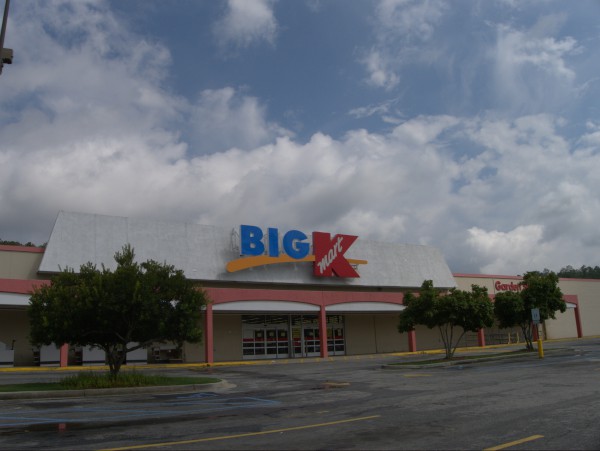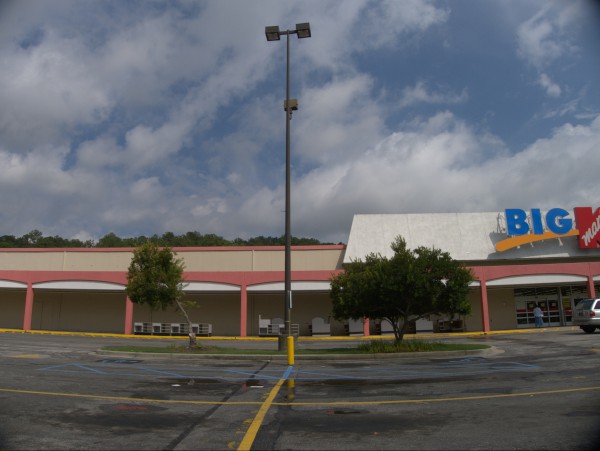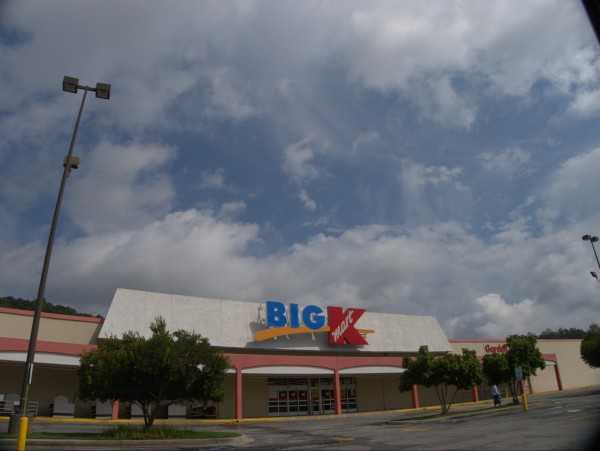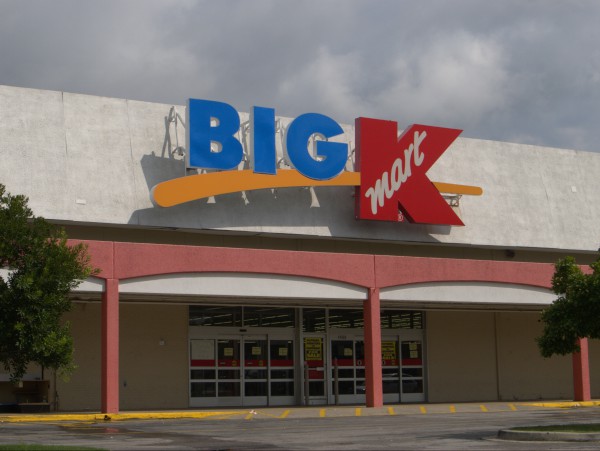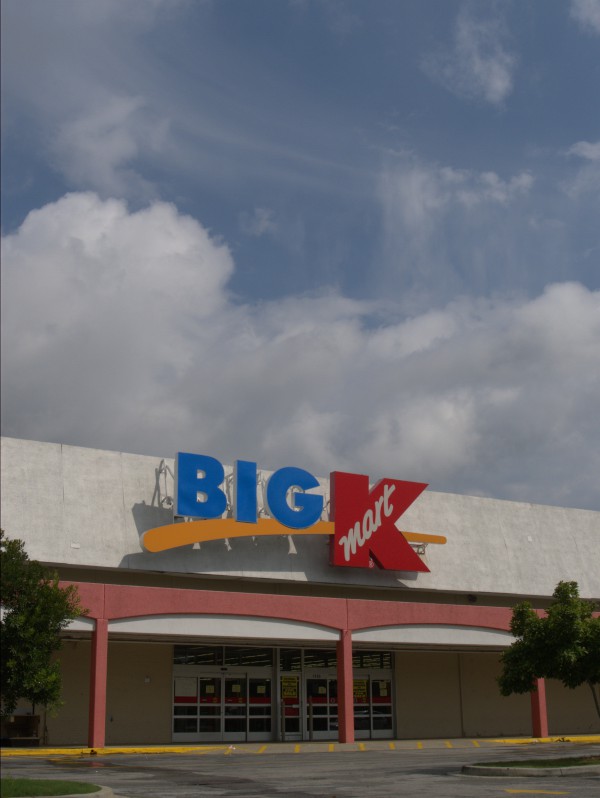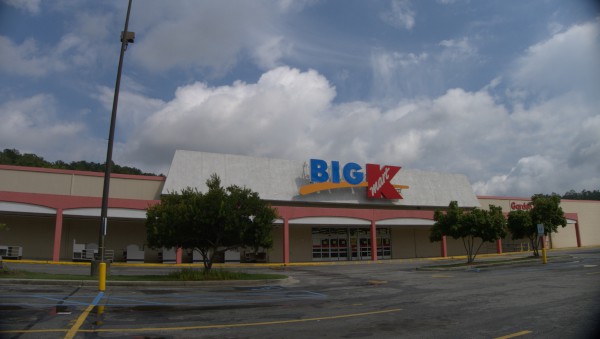 UPDATE 11 June 2012 -- Pix from 7 June. The Devine Street roadside sign is gone, and the marquee sign is about to go: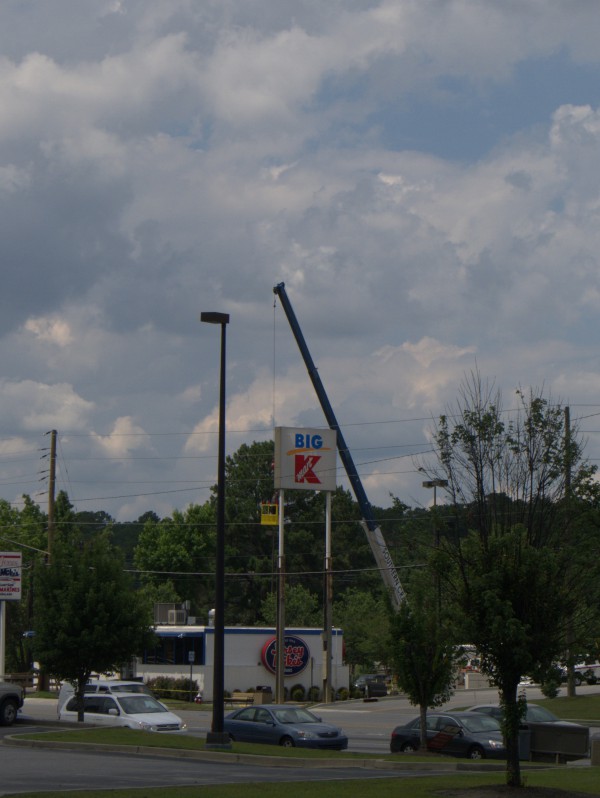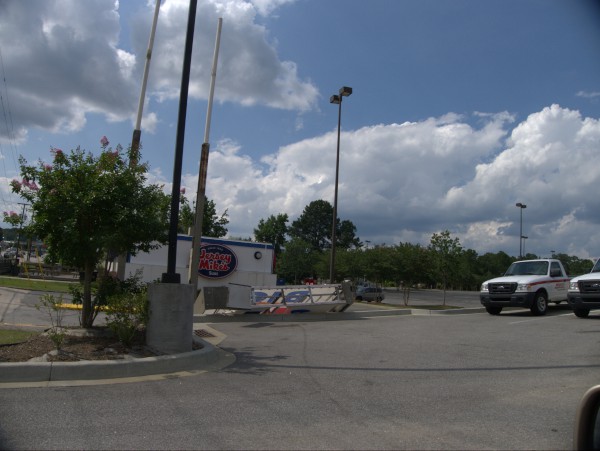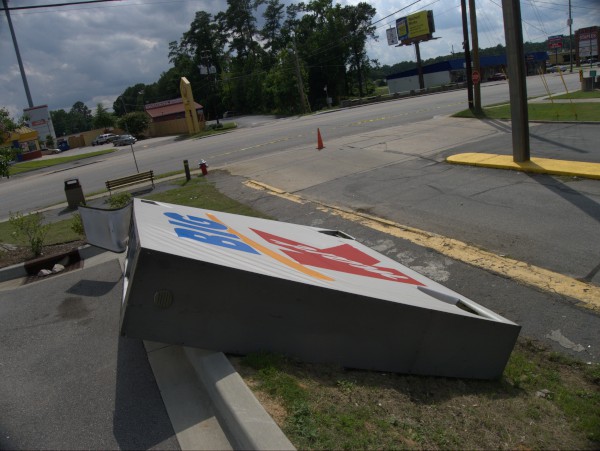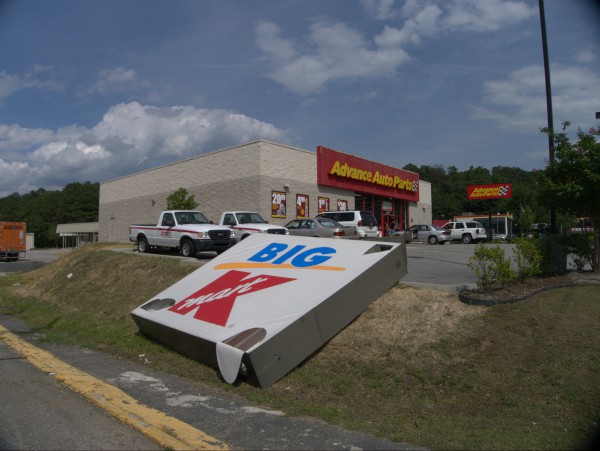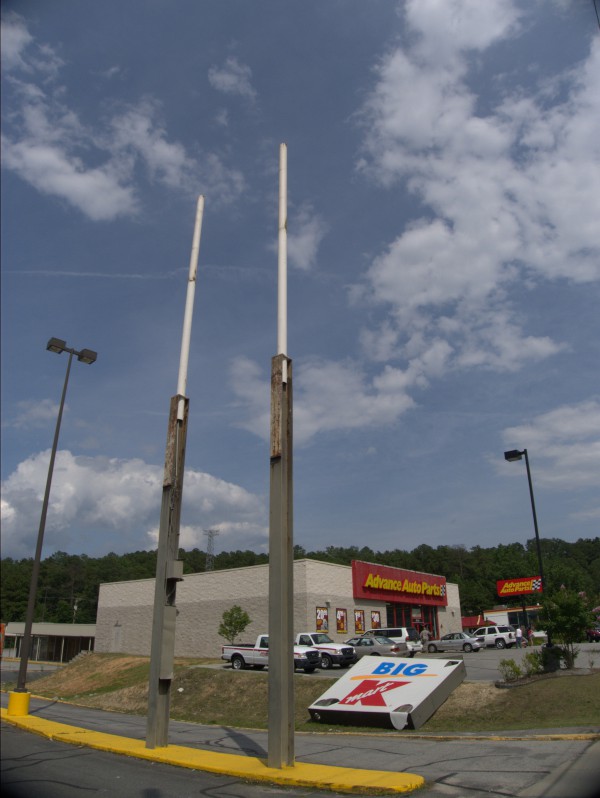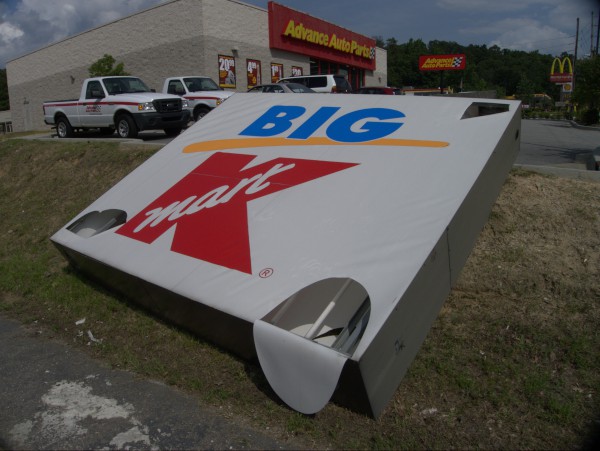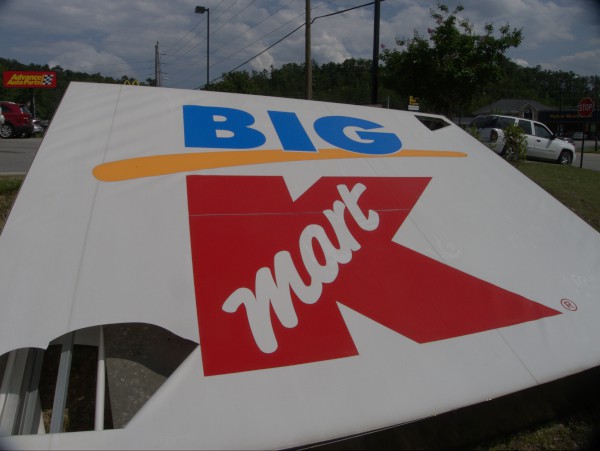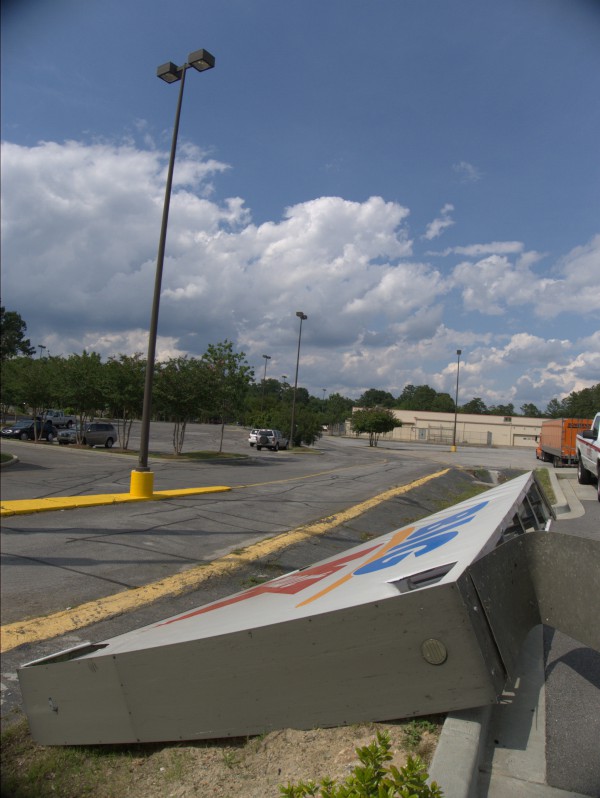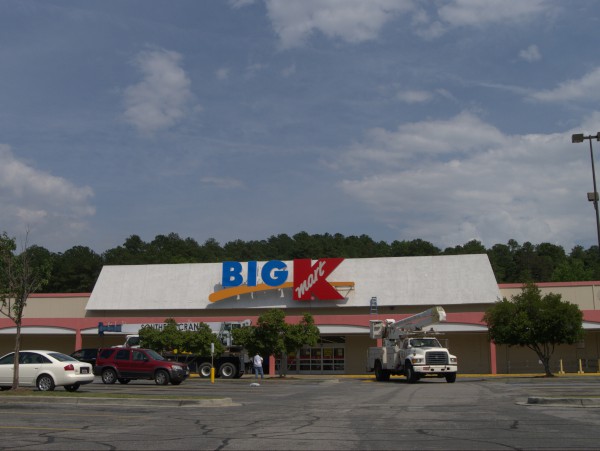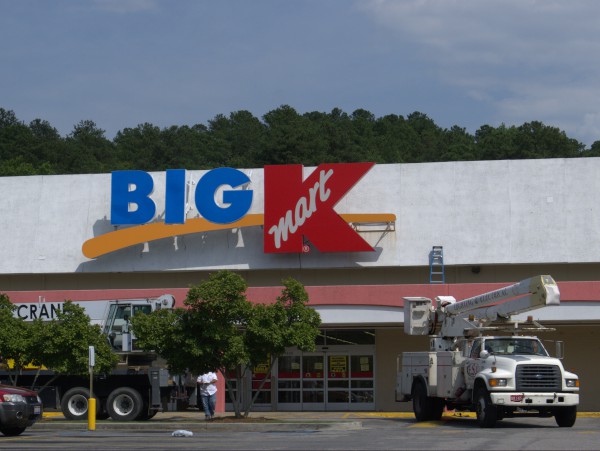 UPDATE 14 June 2012: Added full 7 June 2012 photoset.
UPDATE 20 June 2012 -- As these pictures from 8 June show, all the signage is now gone (also added full 8 June photoset below):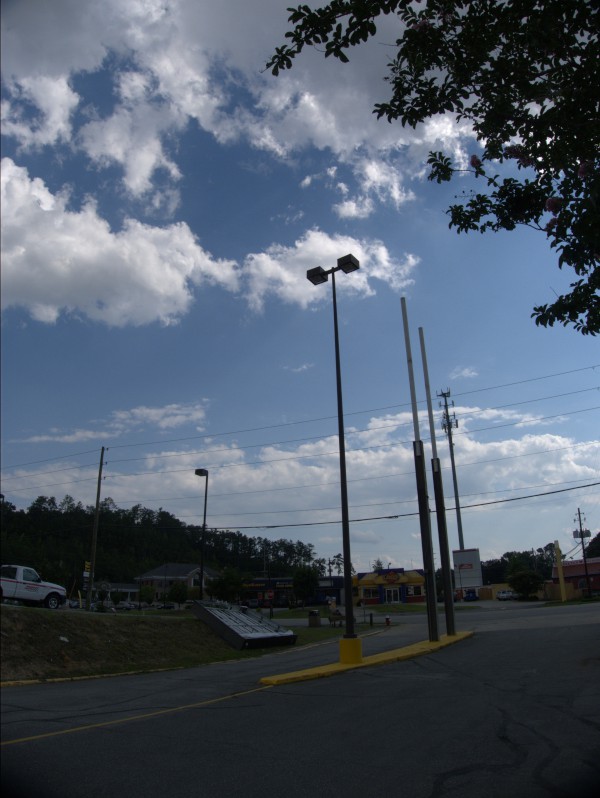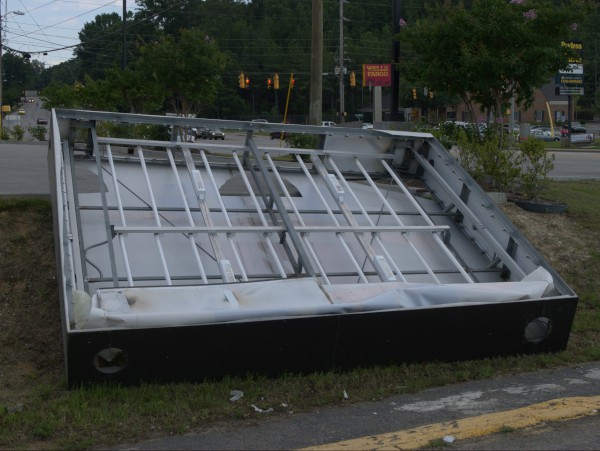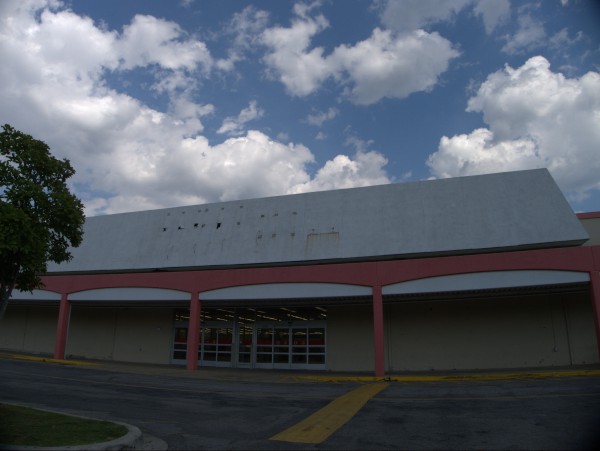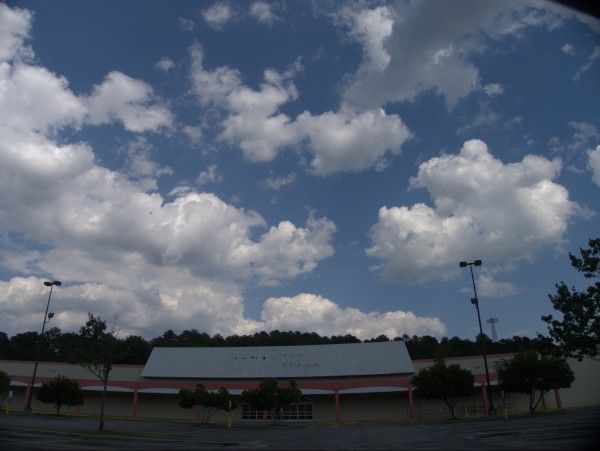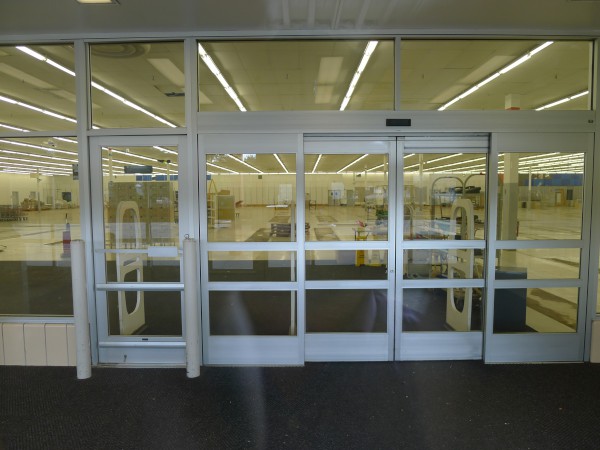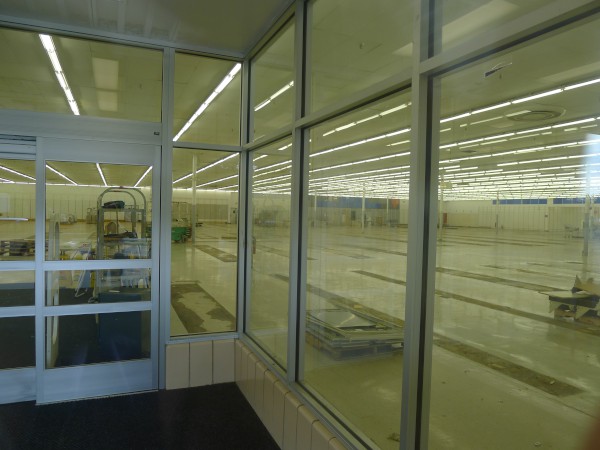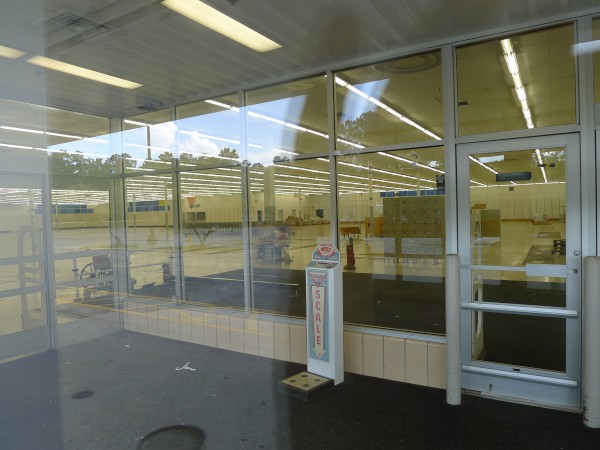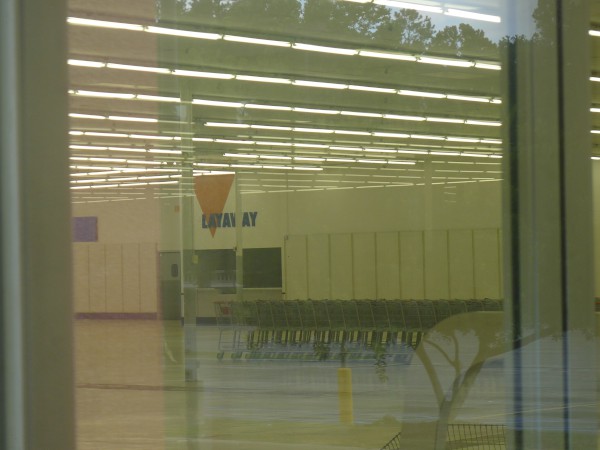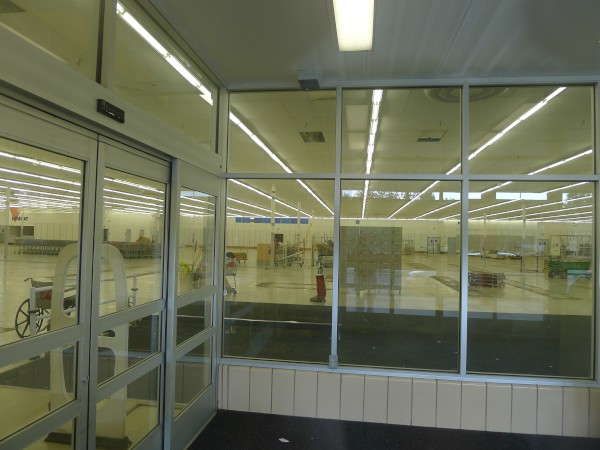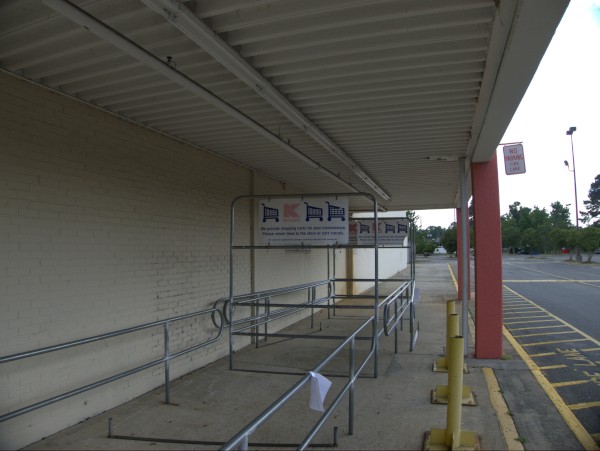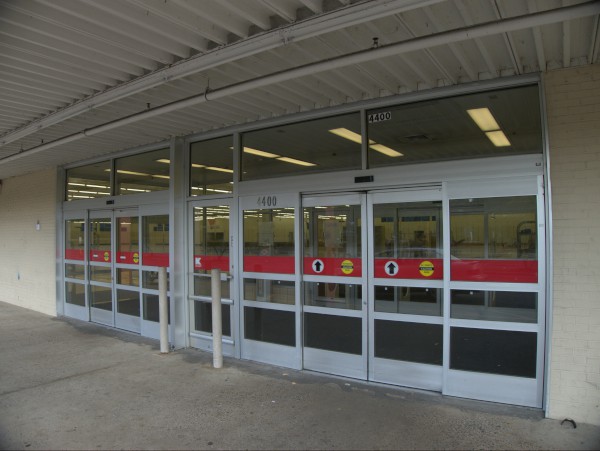 Photosets: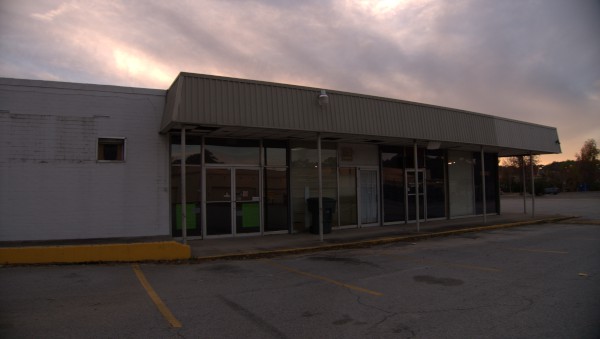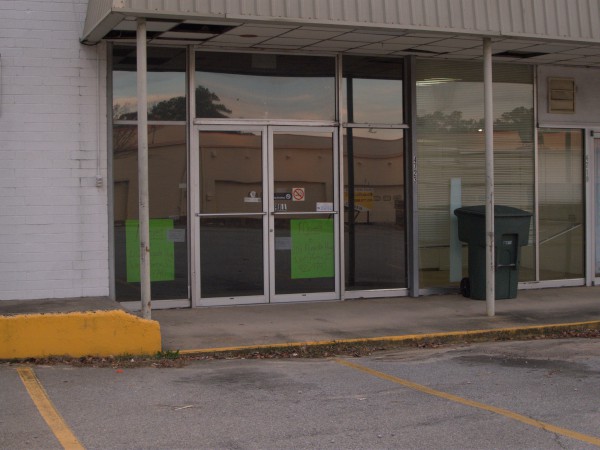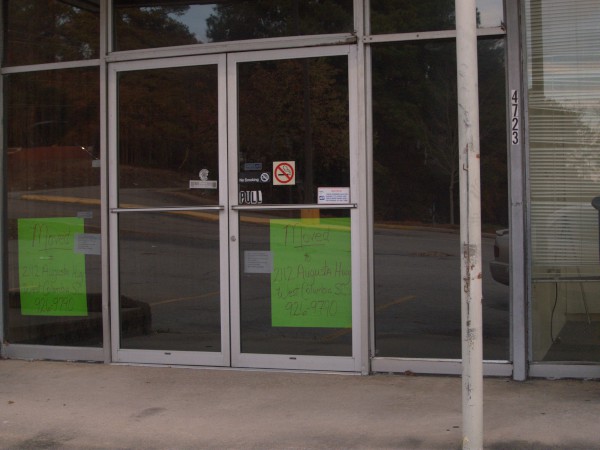 Here's another vacancy in the old Robo's/Slot Car building behind the Fort Jackson Boulevard K-Mart.
Their sign says they've moved to the Augusta Highway, but the phonebook shows that the Augusta location co-existed with this one, so I think it's more of a consolidation than a move. I don't know about that location, but this one is not ideal for drive-by traffic. You have to be coming into the K-Mart the back way to see it, and given that the K-Mart auto bays on that side are closed (and I believe the garden center may be as well) and that the general "pull" of K-Mart is pretty low right now in general, it can't have got a lot of notice.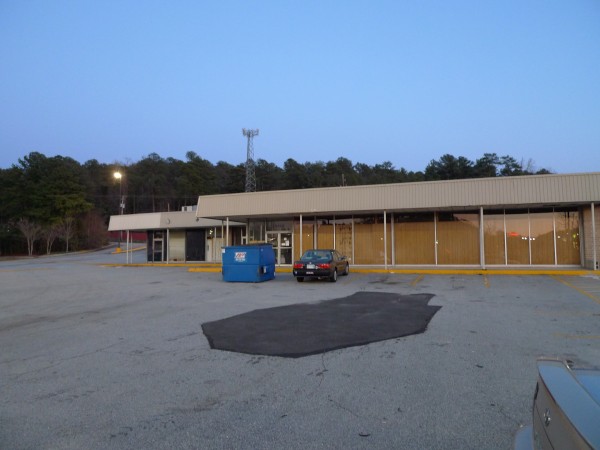 I wrote at some length about Robo's on Main Street some time ago, and that's the location I overwhelmingly went to to hone my Galaga skills (and by hone, I mean, I was "ok"). That made sense as I lived across the street from there, but when I was home and had access to a car, I would come to this location from time to time. I recently parked near there to get some pictures of the Advance Auto Parts demolition, and decided to take this shot.
At this remove, I'm not entirely sure which storefront Robo's was, but I think it was the one to the left of the blue dumpster. My memory also says that this location was something of a poor stepchild in the Robo's family -- I recall it as being smaller, less busy, and having a smaller variety of games. Unlike the University location, it didn't have a clear constituency (ie: college kids), though I suppose there are plenty of residences in the general area. I'm not sure if it outlasted the Main Street or Dutch Square locations -- it did have the advantage of not having its building torn down, but I think Main Street had folded long before that happened to its former home.
Posted at 12:52 am in Uncategorized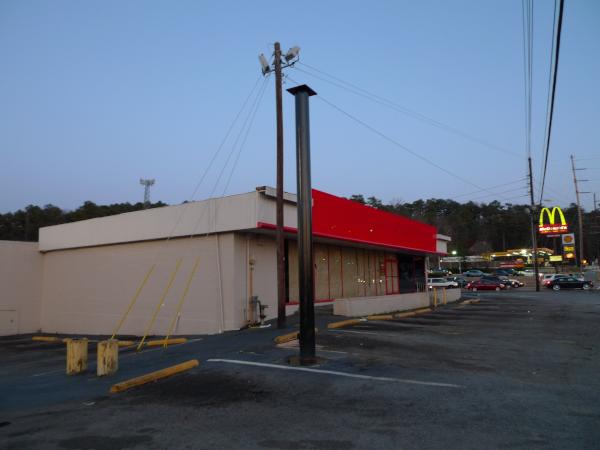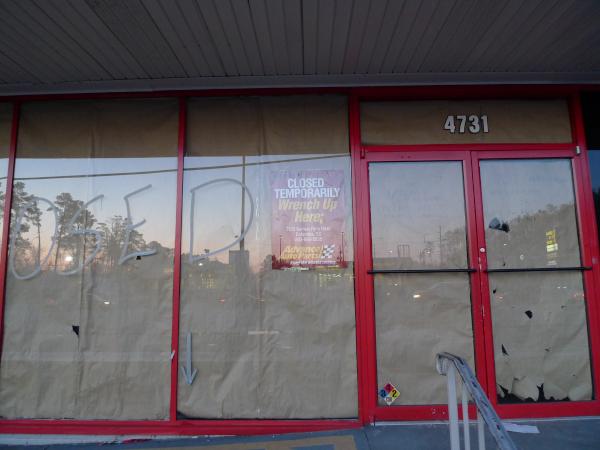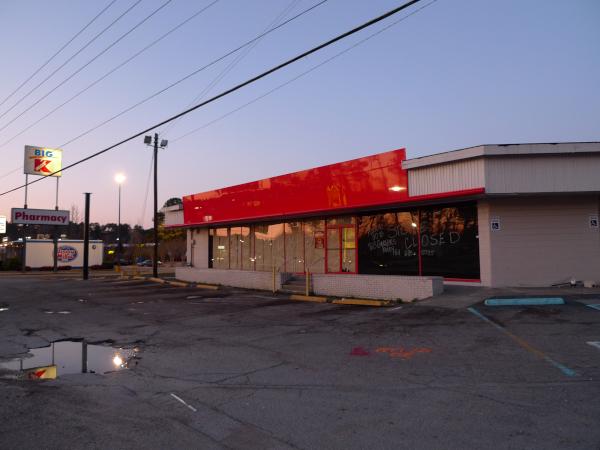 I was going to Panera Bread the other day, and noticed that this Advance Auto Parts store in an outparcel of the Garners Ferry Road K-Mart was gone. Actually, the day I noticed it, one of those fly-by-night sofa sales operations had set up shop in the parking lot (which is well located for access and visibility). The door sign optimistically states "closed temporarily", but we shall see. Interestingly (or not :-) this place is just catty-cornered across the street from the NAPA Auto Parts store I wrote about a while back.
And as a special added bonus, the historical marker for "Camp Jackson", which is in the store parking lot: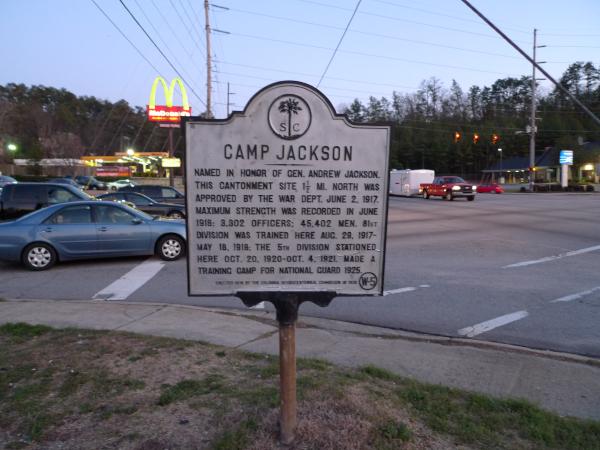 UPDATE 18 March 2009:
Well, looks like I took those pictures just in time. I went by on 12 March, and they had already knocked the whole place down (except for the front steps) and were digging a honking big hole where it was. So far the historic plaque is untouched.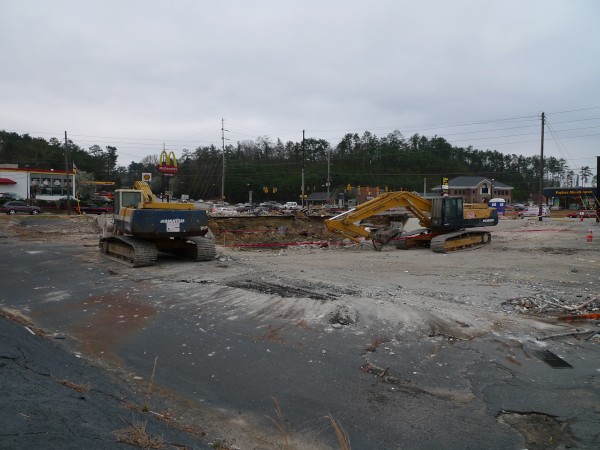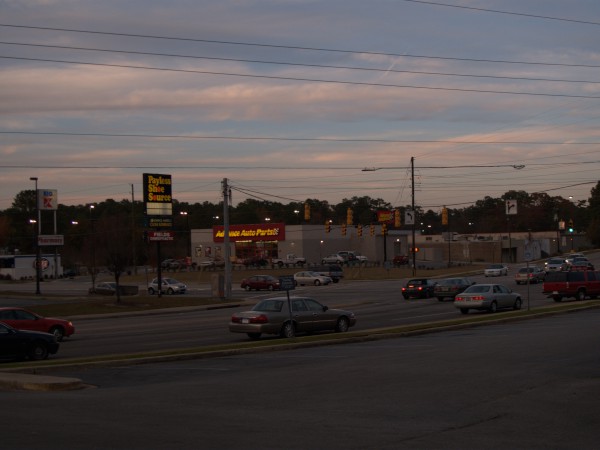 UPDATE 17 Dec 2010: Fixed the post title to indicate "Devine Street" rather than "Garners Ferry Road". Added a second picture of the new store.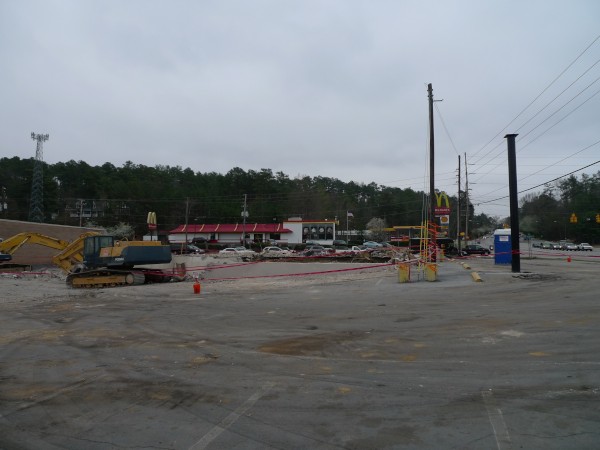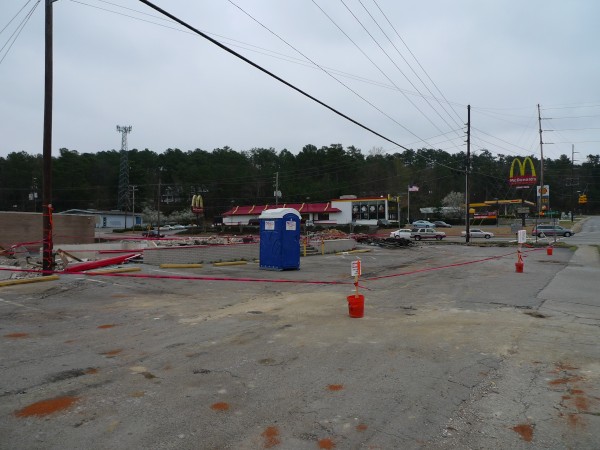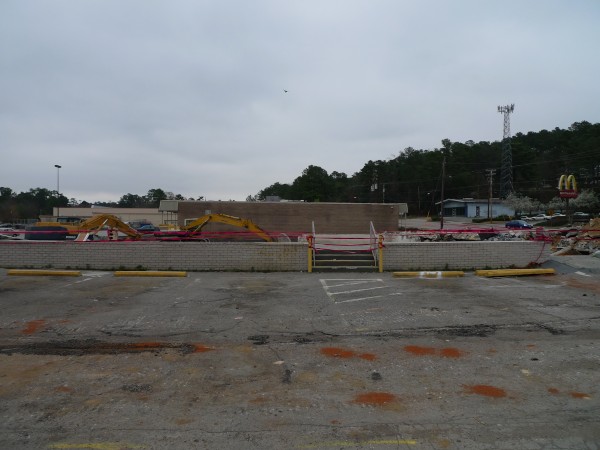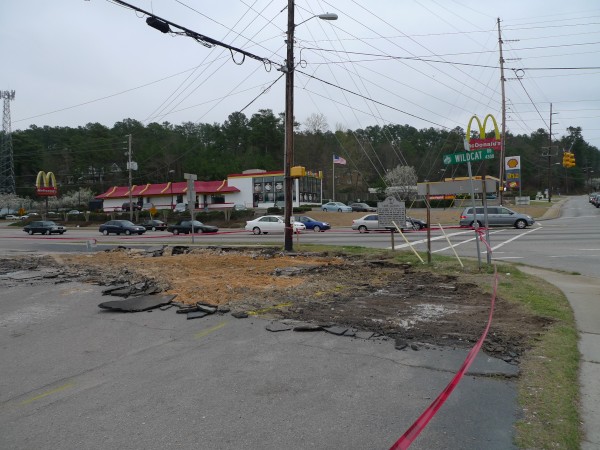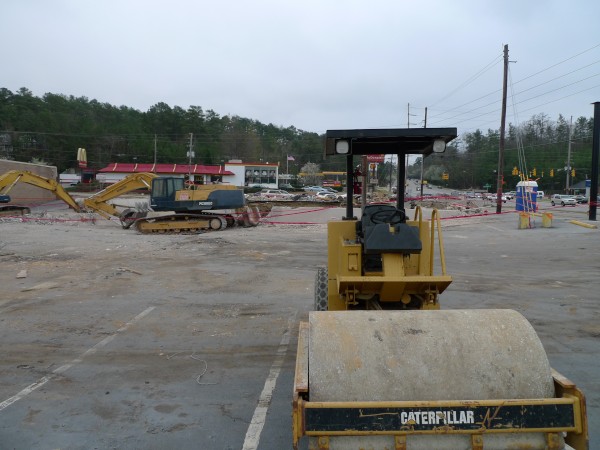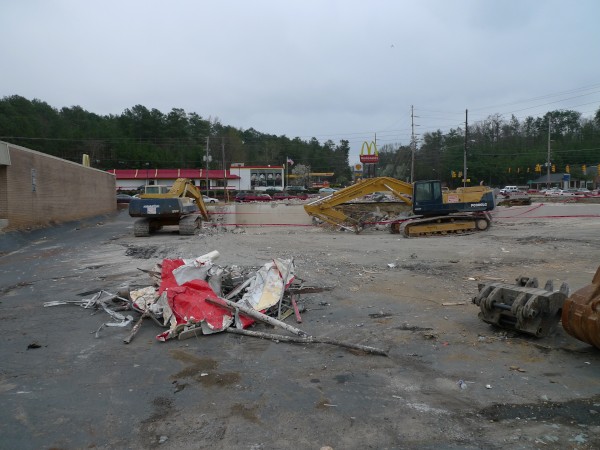 UPDATE 5 October 2009: The new store is built and open: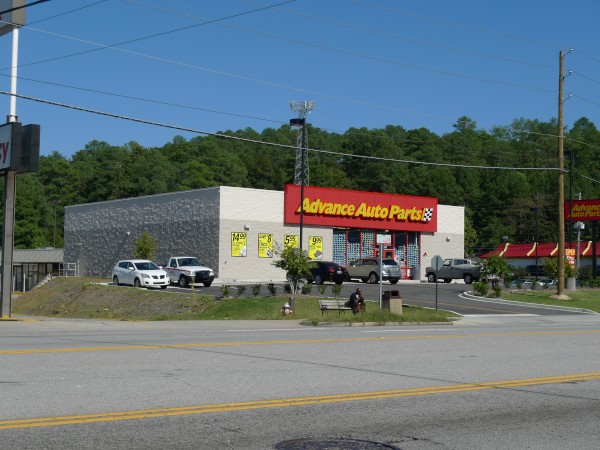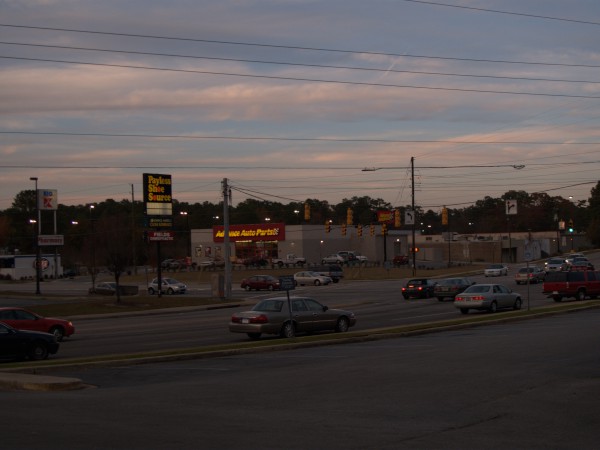 UPDATE 17 Dec 2010: Changed post title to indicate Devine Street rather than Garners Ferry Road. Added another picture of the new store.