Posted at 1:05 am in Uncategorized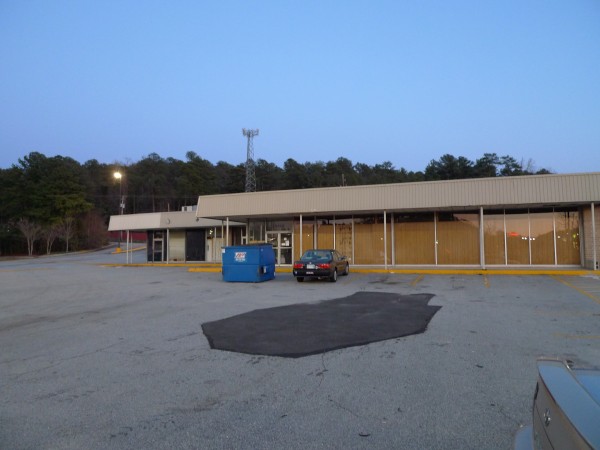 I wrote at some length about Robo's on Main Street some time ago, and that's the location I overwhelmingly went to to hone my Galaga skills (and by hone, I mean, I was "ok"). That made sense as I lived across the street from there, but when I was home and had access to a car, I would come to this location from time to time. I recently parked near there to get some pictures of the Advance Auto Parts demolition, and decided to take this shot.
At this remove, I'm not entirely sure which storefront Robo's was, but I think it was the one to the left of the blue dumpster. My memory also says that this location was something of a poor stepchild in the Robo's family -- I recall it as being smaller, less busy, and having a smaller variety of games. Unlike the University location, it didn't have a clear constituency (ie: college kids), though I suppose there are plenty of residences in the general area. I'm not sure if it outlasted the Main Street or Dutch Square locations -- it did have the advantage of not having its building torn down, but I think Main Street had folded long before that happened to its former home.
4 Responses to 'Robo's Video Arcade, K-Mart outparcel Devine Street: 1980s'
Subscribe to comments with RSS or TrackBack to 'Robo's Video Arcade, K-Mart outparcel Devine Street: 1980s'.
Leave a Reply