Archive for the 'hotdogs' tag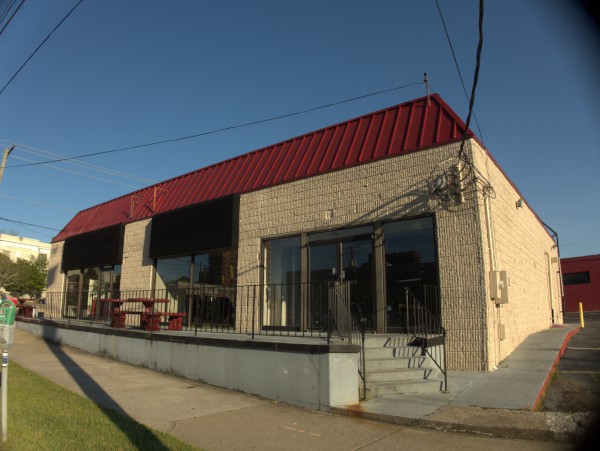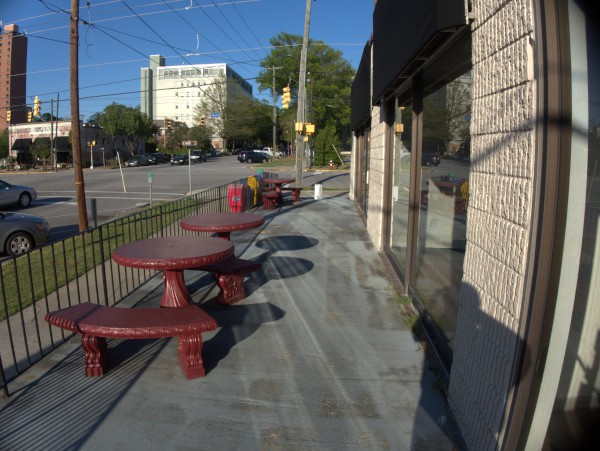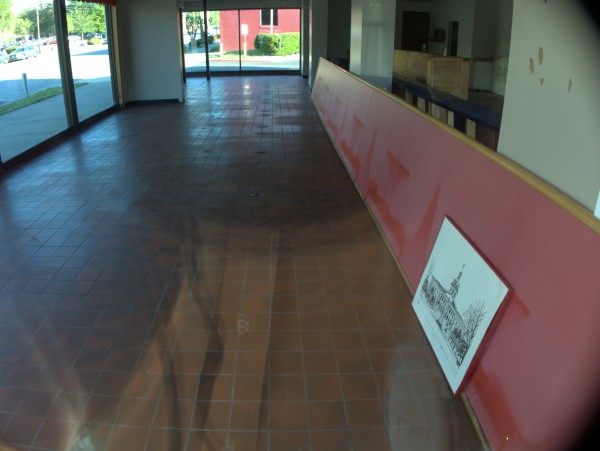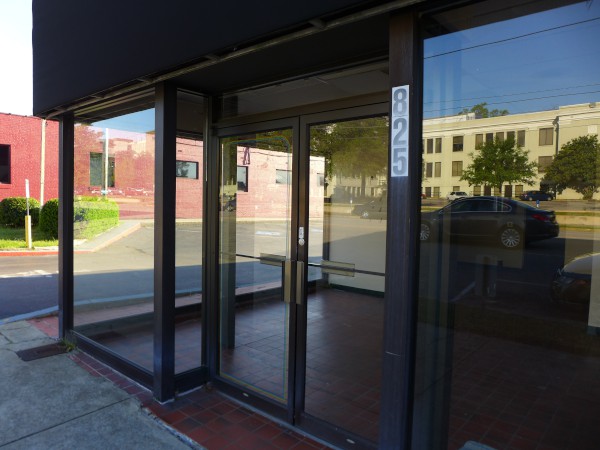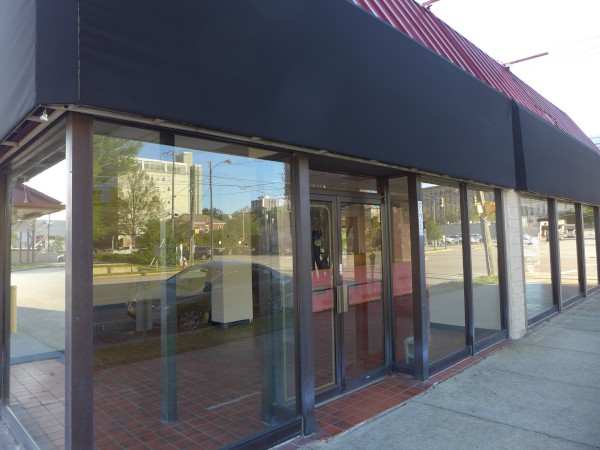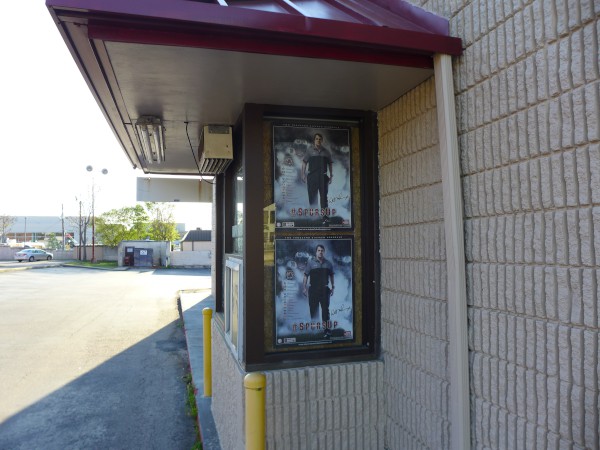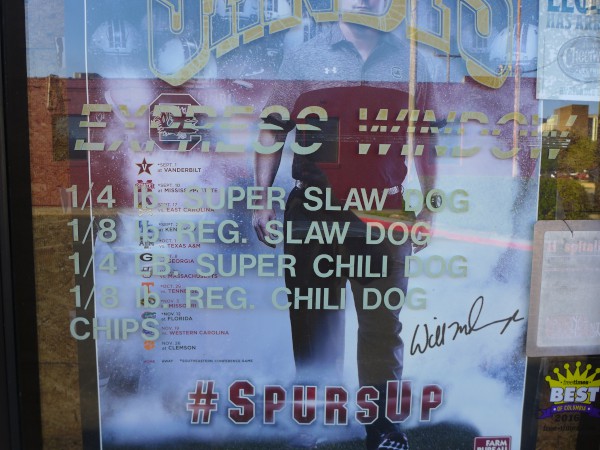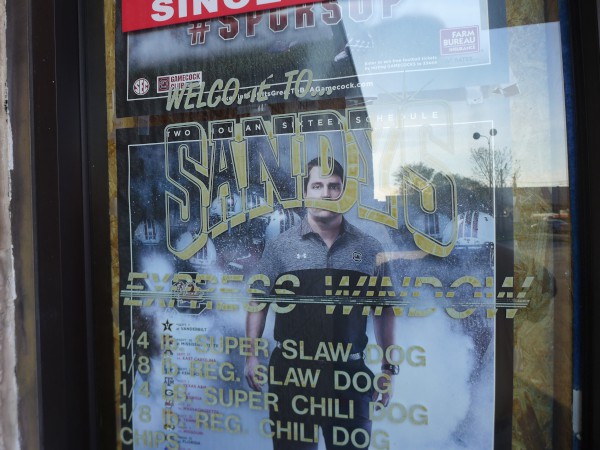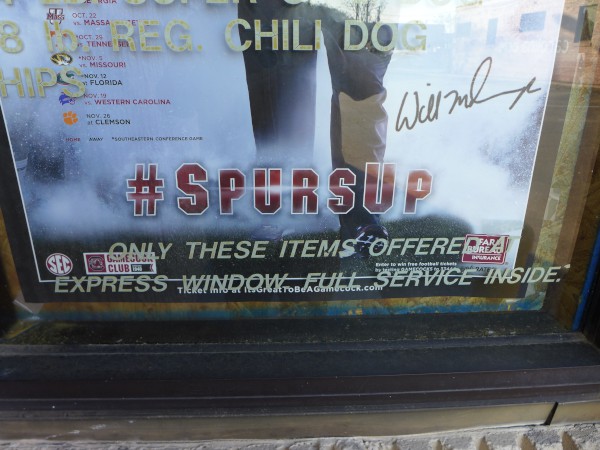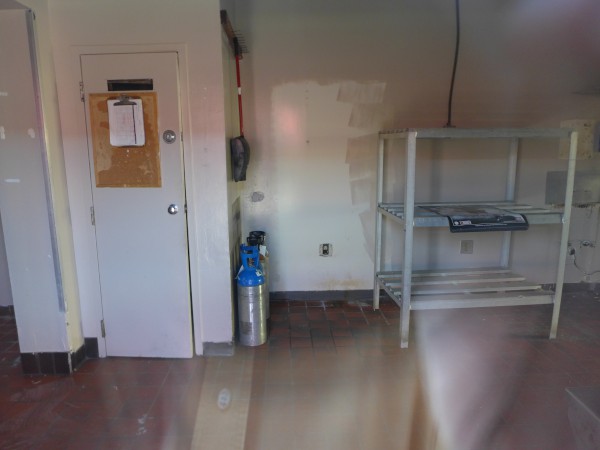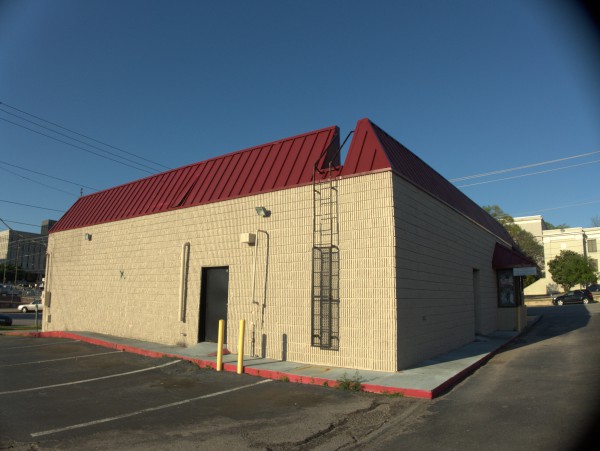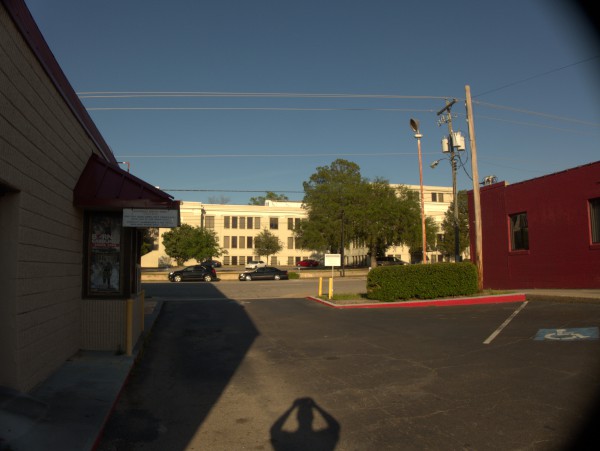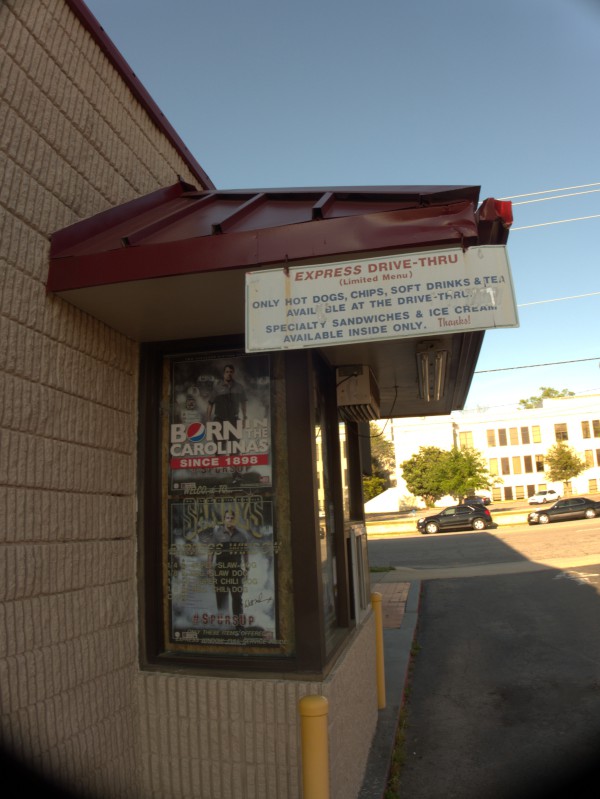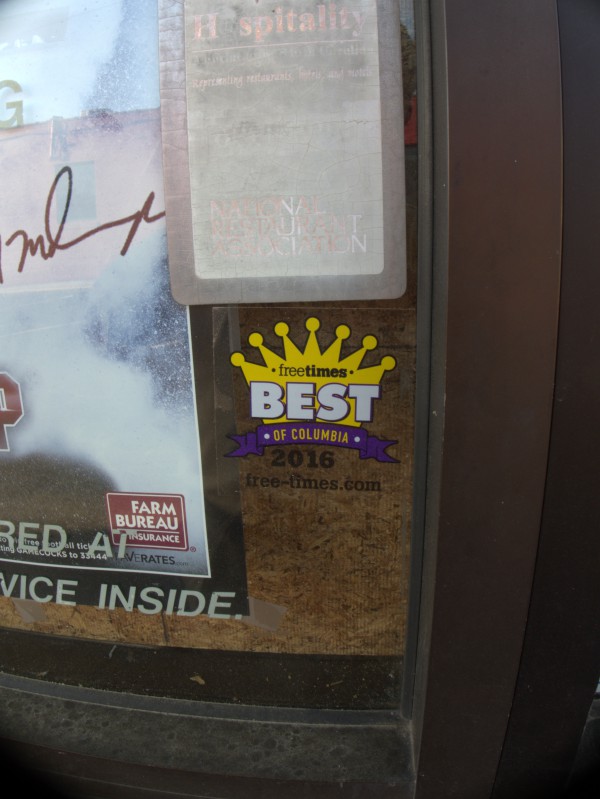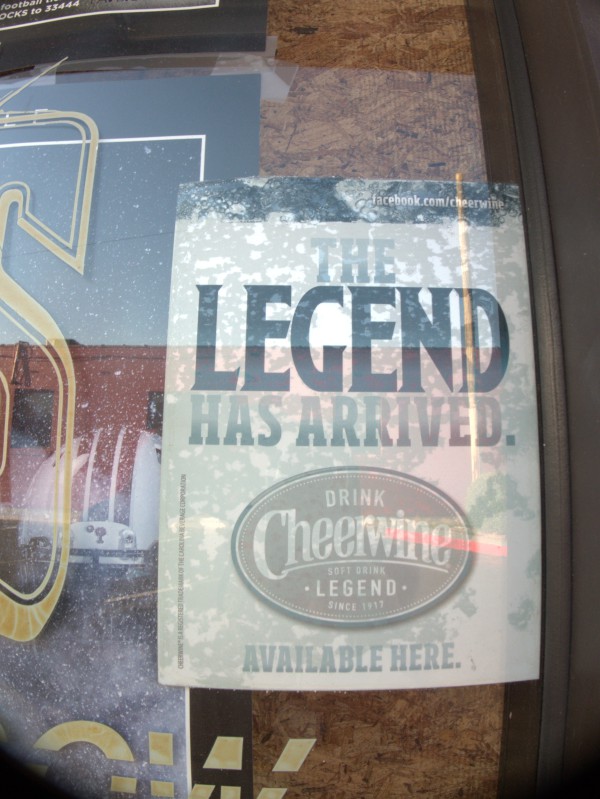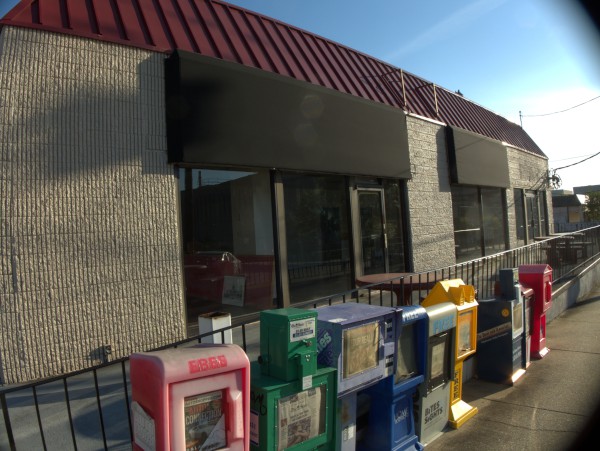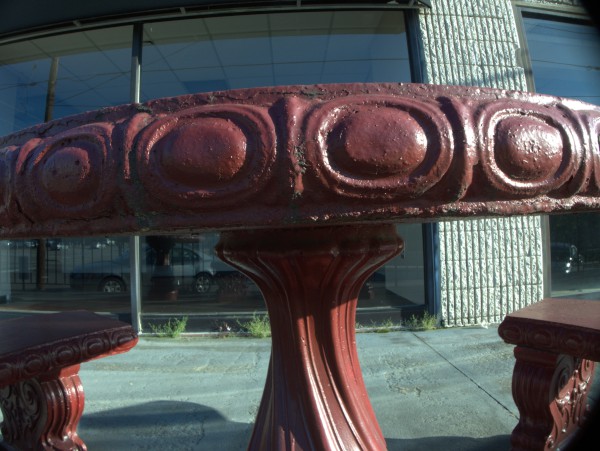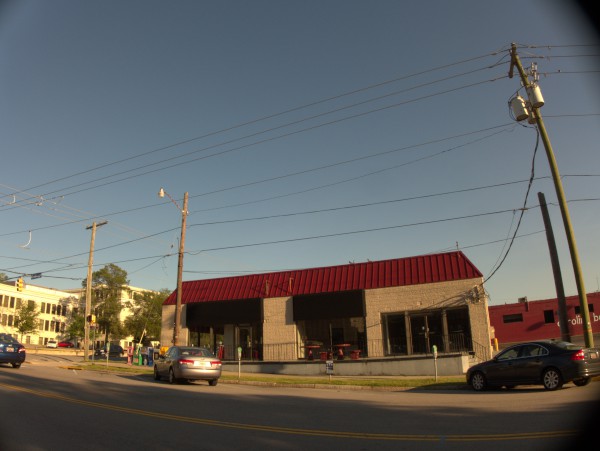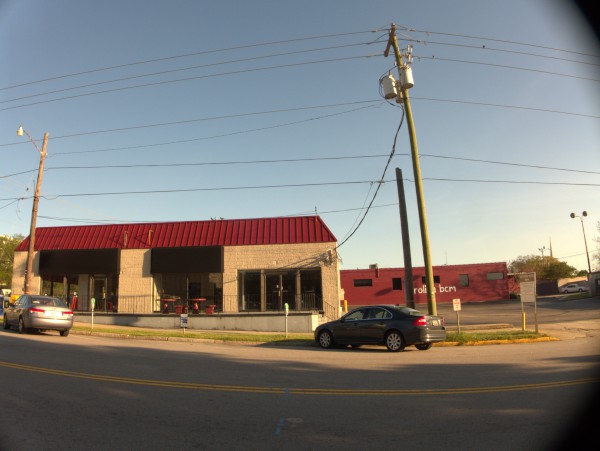 For some reason I haven't had a Sandy-dog in years. Ever since I started working from home again, I figured one day I would drive down to main for lunch and do it, but someshow there always seemed to be a deadline or some urgent problem that would make me reluctant to go that far. I guess if I want to do it now, it'll have to be Broad River and on a weekend..
According to The State this Sandy's had been open since 1989. I believe that before that, it may have been a Hardee's though I'm not sure. It was some sort of fast food at any rate. This closing is a bit curious as in March 2016 The State was reporting that after a student housing scare they had just put a good bit of money into the building and planned to stay for the long haul, while by December 2016 they had sold the property to the USC Development Foundation.
You can see a good picture of the place in operation here.
UPDATE 18 April 2017: Added "Hardee's" to the post title. Apparently this was the Hardee's franchaise that later moved to the corner of Blossom & Assembly.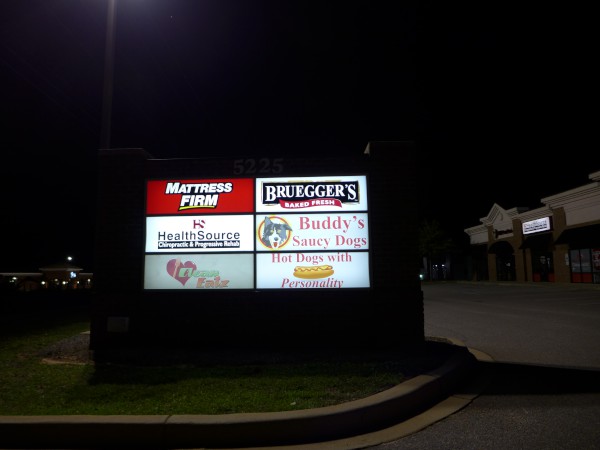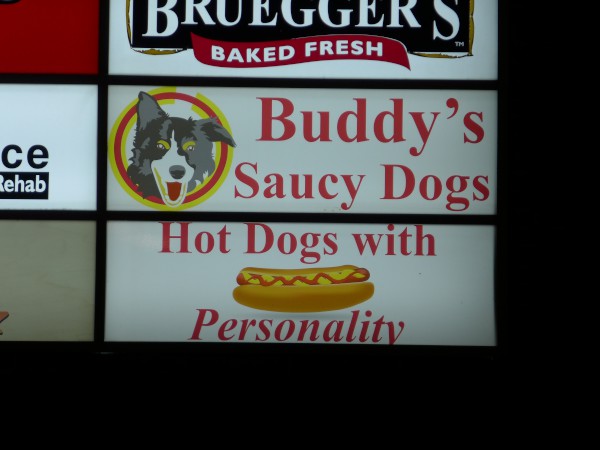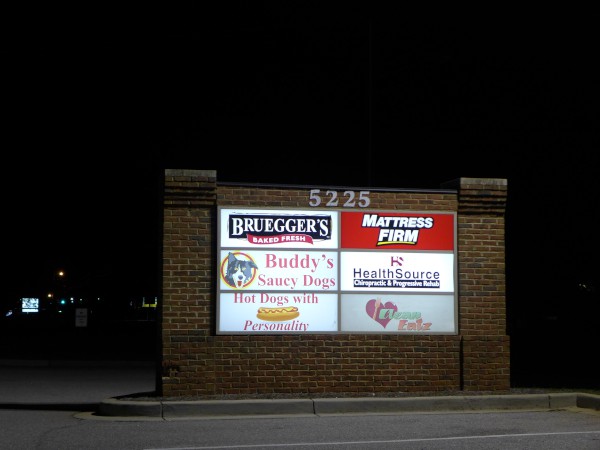 If you look way in the back left in the first shot above, you can vaguely see the Buddy's storefront. For some reason, when I went by this little Lexington plaza the other night, I was thinking Buddy's was in the slot next to Brueggers and did not take any pictures of the right storefront. (I certainly should have known better, as I did a closing for Mr. Hibachi which was the real former tenant next to Brueggers..)
Anyway, the reason I was there at all (aside from pizza at Uno) was this little article from The State, noting that Buddy's Saucy Dogs had closed down, and is to be replaced by an "artisan taco restaurant, One Taco, Two Taco".
I like hotdogs; I don't know why I very rarely get them from a restaurant. I guess I automatically think of cooking them over a fire on a stick, or over the burner on a fork..
UPDATE 10 October 2016 -- Signage for One Taco Two Taco is up. Interesting that they are going the full bar route. That puts them up with Cantina 76: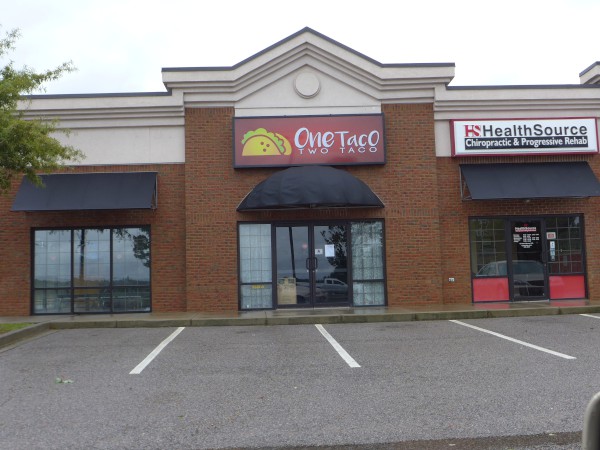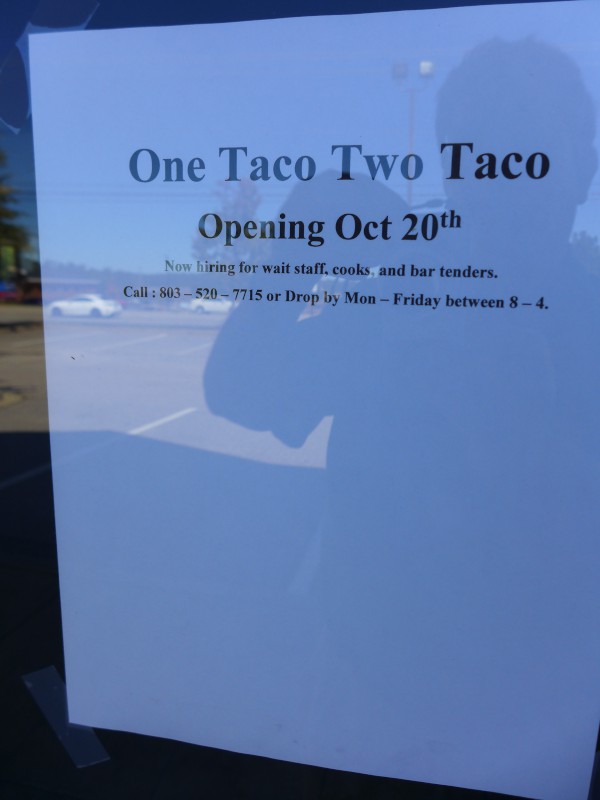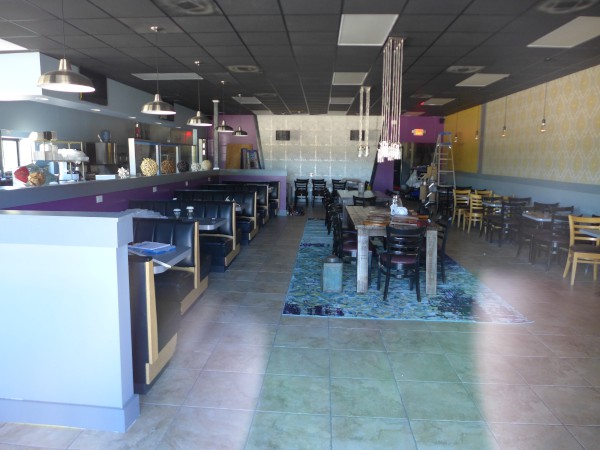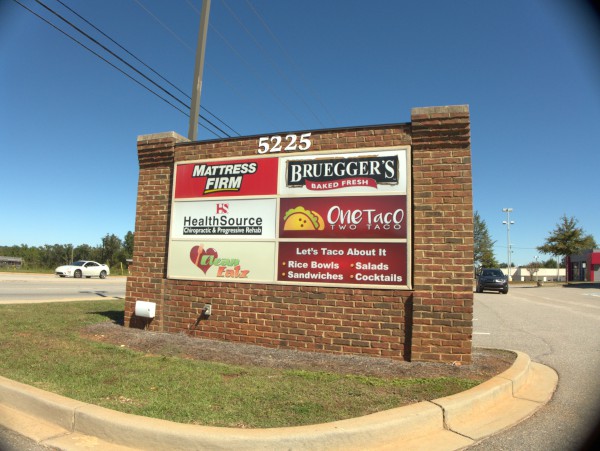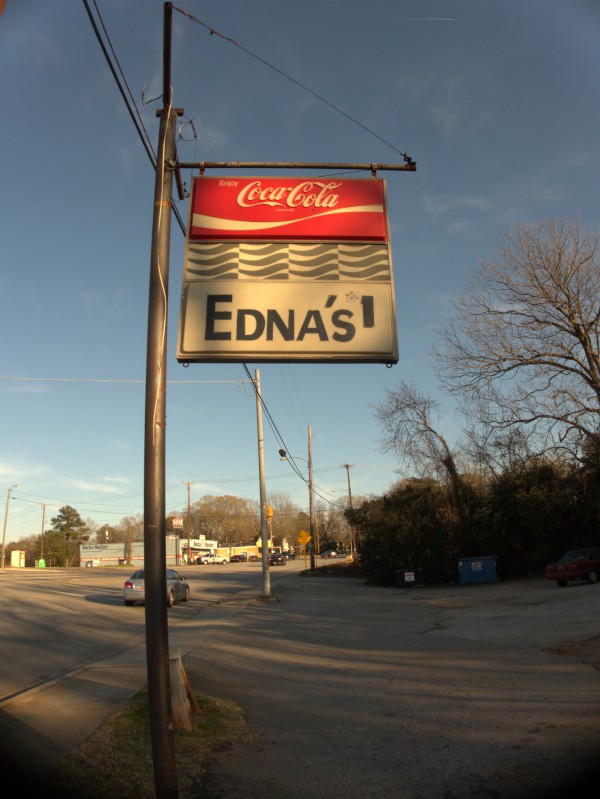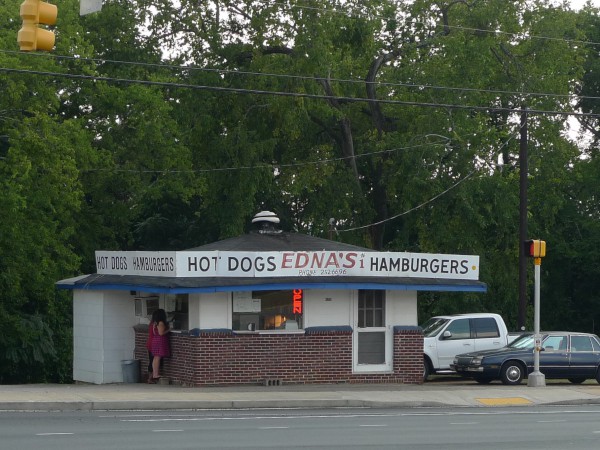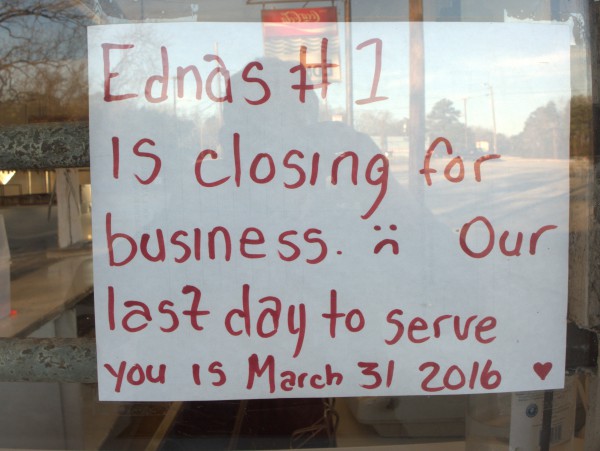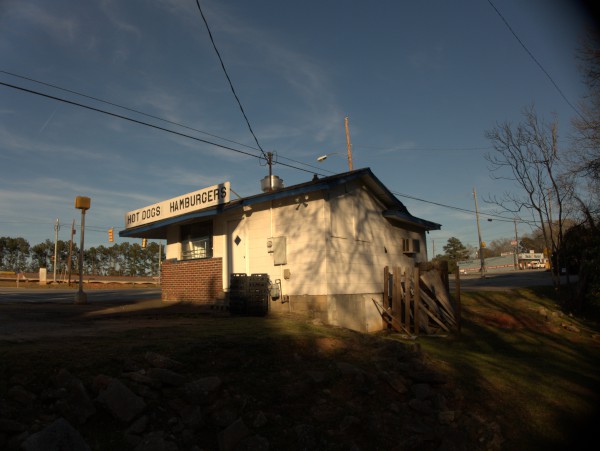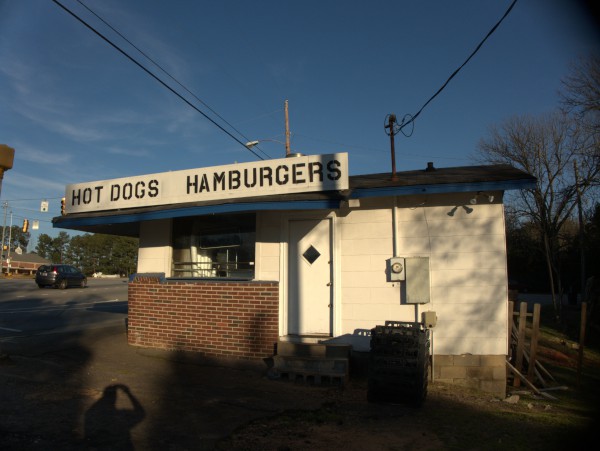 Well, this is the end of an era. Edna's on River Drive predates me into this world by something over a year, so has been a Columbia institution longer than I've been alive. Of course, it has been an institution in a part of the town we used to think of as far away, so if we ever ate here growing up, it was long enough ago, and infrequently enough that I can't remember it. I'll have to try to remedy that before 31 March.
This kind of walk-up, no inside dining restaurant used to be common. In fact that's the way I recall Bell's and the original Garners Ferry McDonald's. Nowdays it is much less common, though you can still see remnants of the style, now worked around, in Zesto and Dairy Bar. I love the common-sense practicality of the cement blocks shorter customers can stand on to bring them up to window level.
Edna's also had an affiliated located at 2200 Two Notch Road, in a building that is still there, and a third location off Forest Drive, which was razed some years ago.
Here is a nice appreciation of Marie Rose Tyner, who ran the restaurant for many years and passed in the summer of 2015.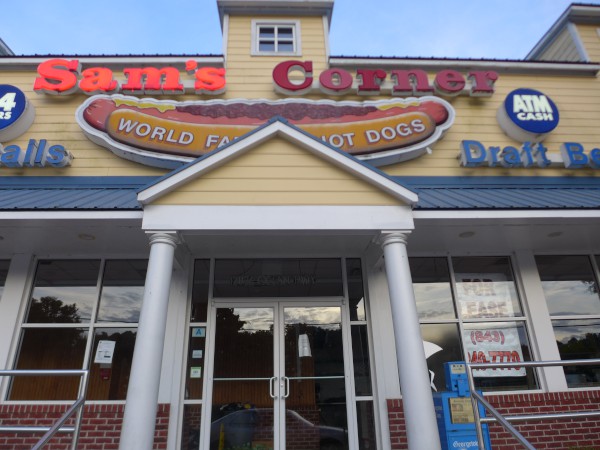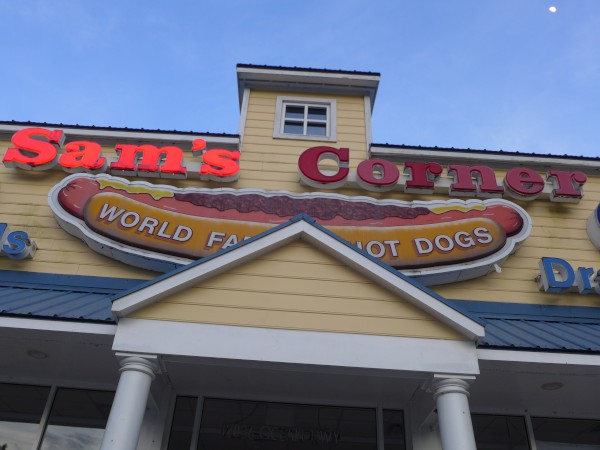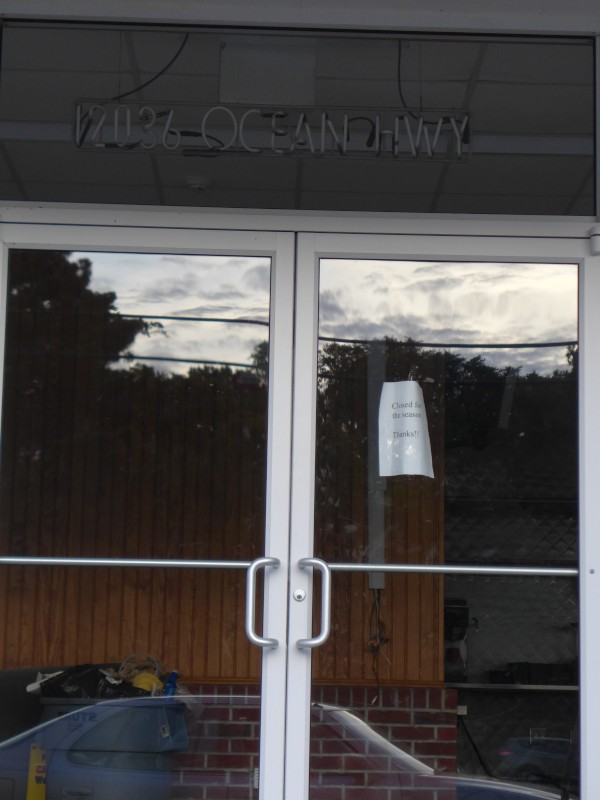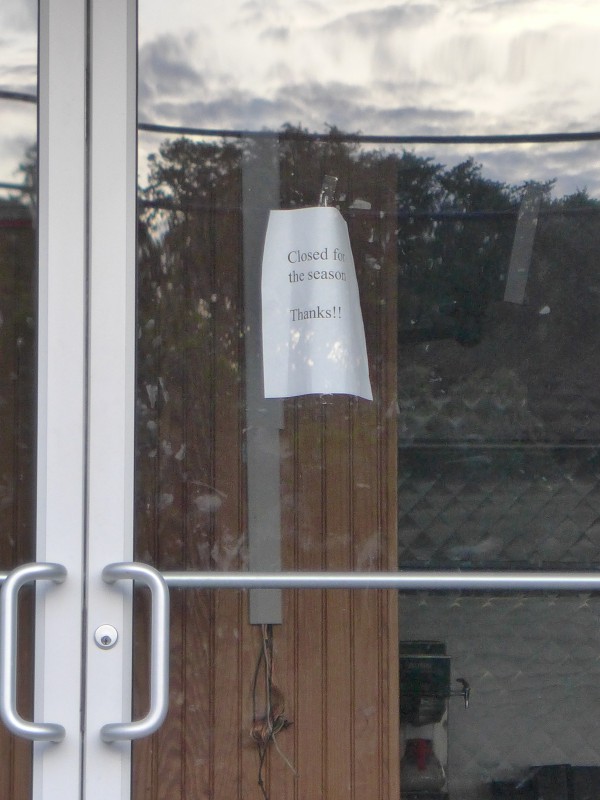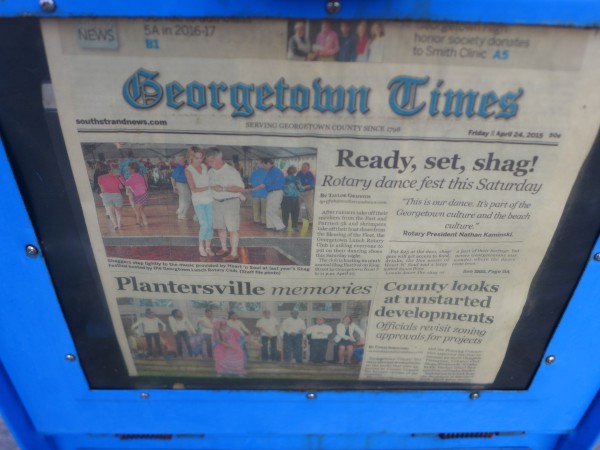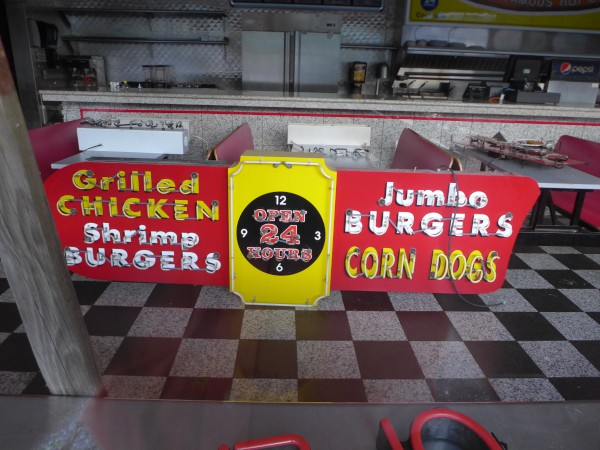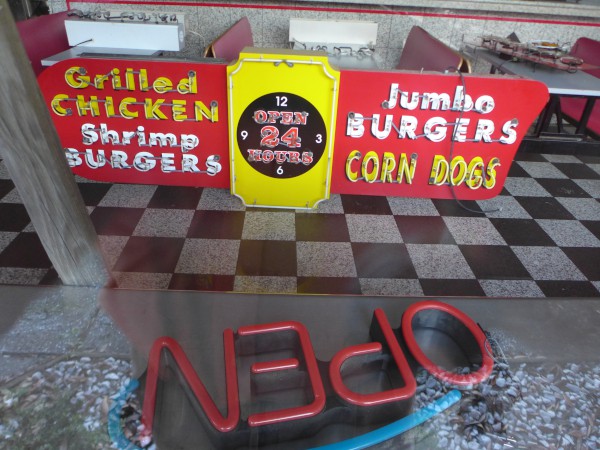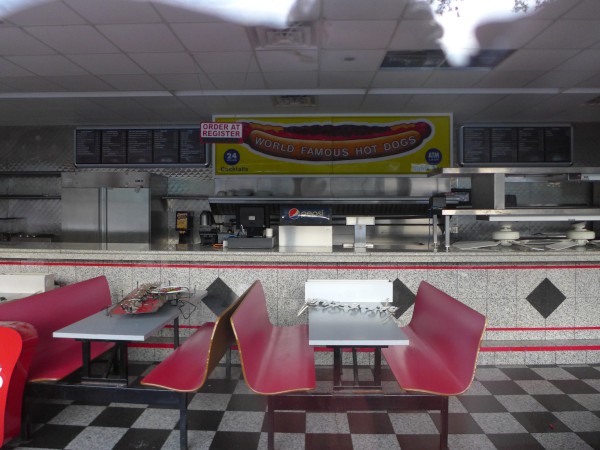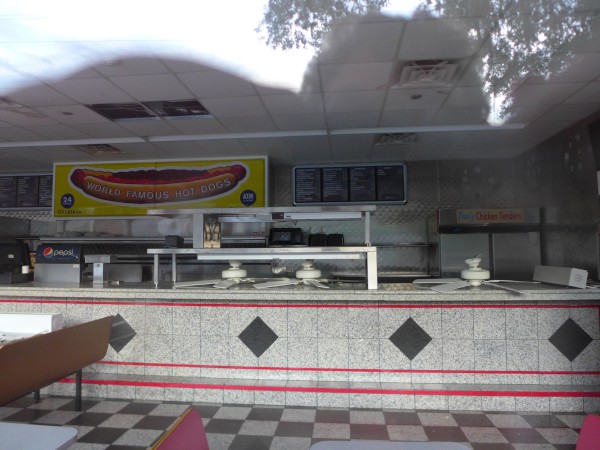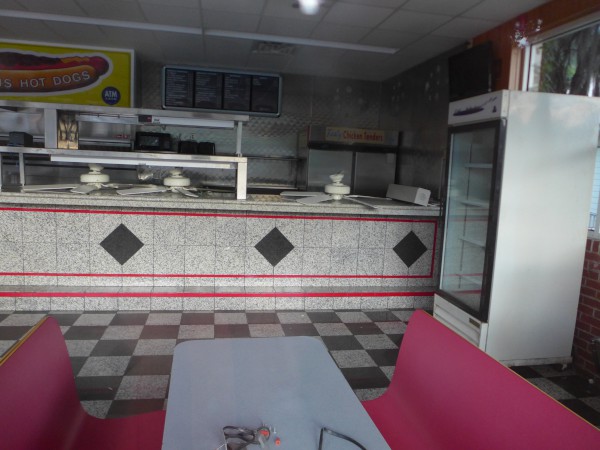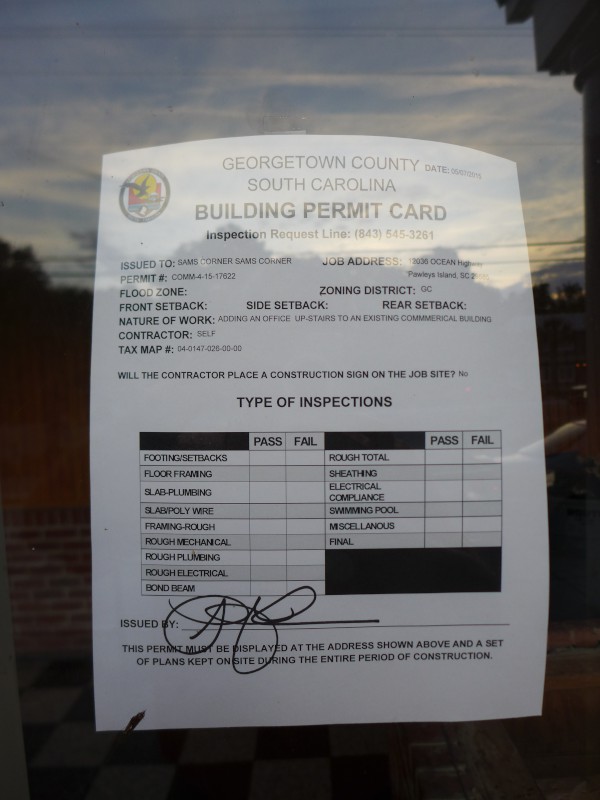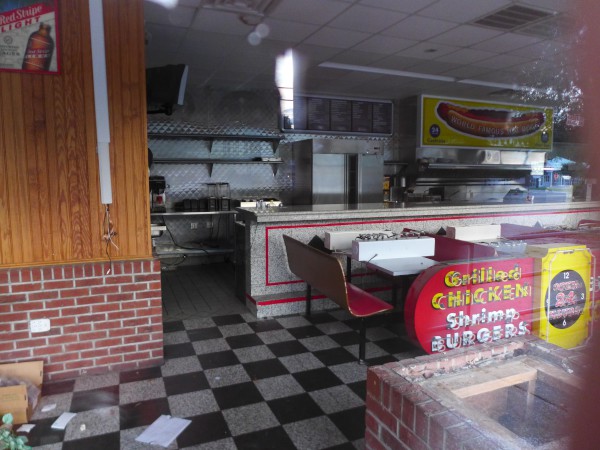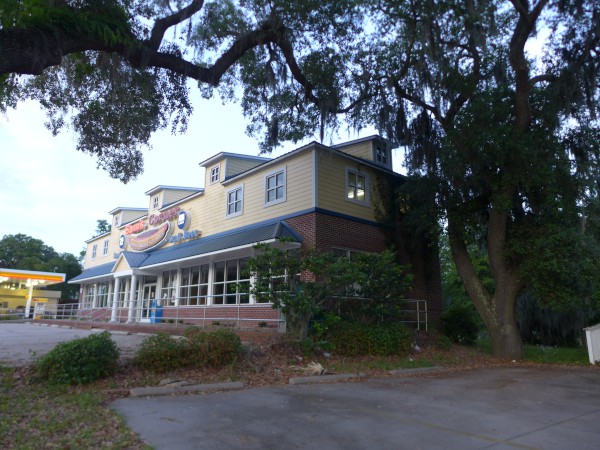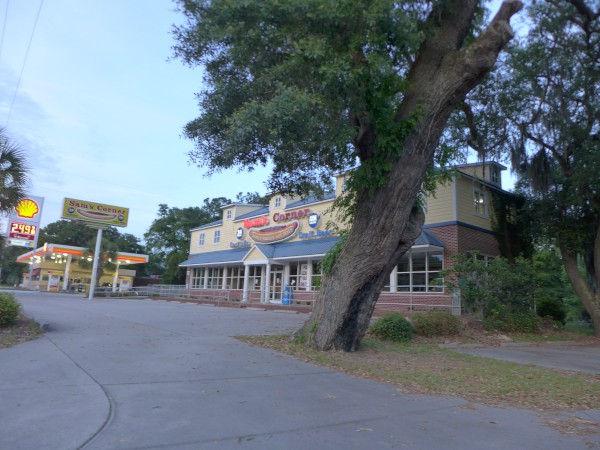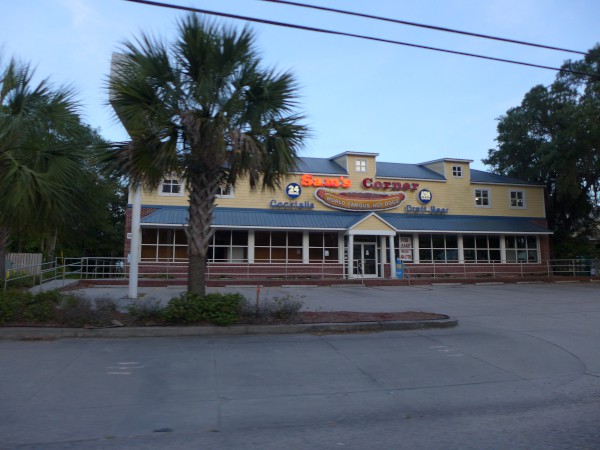 The only time I ever ate at a Sam's Corner was Monday 30 June 1997.
I was living in Aiken at the time (and working in Augusta), but found out less than a week in advance that The Beach Boys were playing the House of Blues in North Myrtle Beach that day. It was a rare small venue appearance, and I think many fans realized it was probably one of the last chances to see Carl Wilson on stage. In the event it was a bittersweet performance. Carl played most of the set seated and I think everyone in the audience could tell he was not long for the world, though he still sounded like an angel.
At any rate, when the show was over, with it not being a weekend, I was on the hook to be at work the following morning, so I fortified myself at the NMB Sam's with a hot-dog and coffee and made it back to Aiken (after further fortification with Waffle House coffee in Manning) in time to slip into bed half an hour before I had to get up. It was not something I could do now, and could barely do then.
Truthfully I was so focused on what I had to do that Sam's made little impression on me other than it was well lit, had an acceptable chili-dog and drinkable coffee.
I think the NMB location was the second for the chain, with one by the pier in Garden City being the first.
This location on US-17 in Pawleys Island came much later, and was, I think, something of a miss-step as the South Strand is a much different place from Myrtle Beach or even Garden City. I had noticed over the few years it was open that despite the proudly proclaimed 24 Hours in fact during the off season, it was rarely open past 10, and lately wasn't open at all except during the summer. I even did a post on the dark building called 25th Hour a few months ago.
On my last trip down over the Memorial Day week I saw that the place is now officially closed, even though they apparently had a plan to upfit the office space.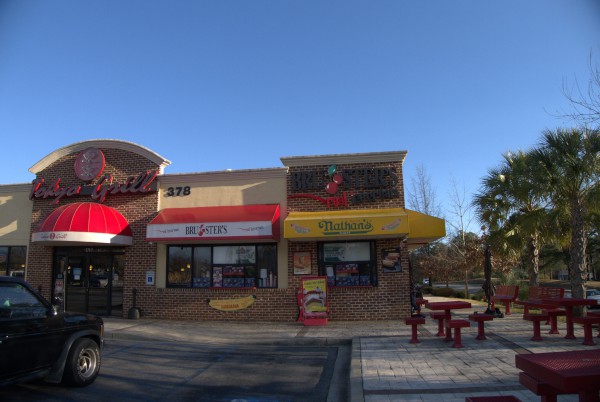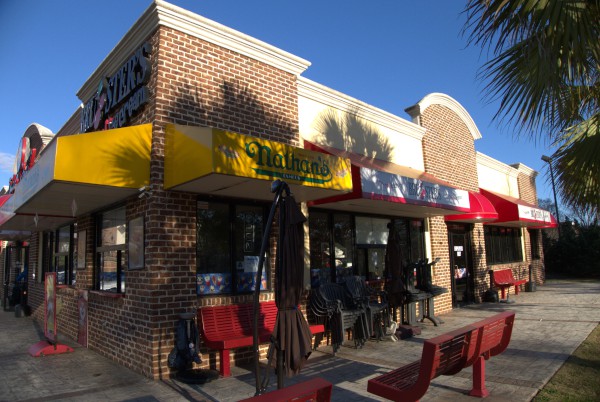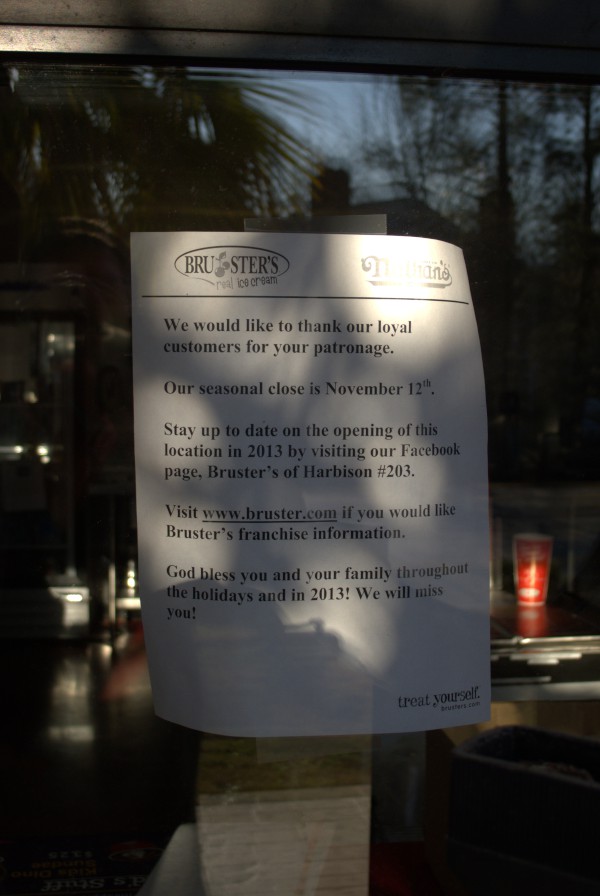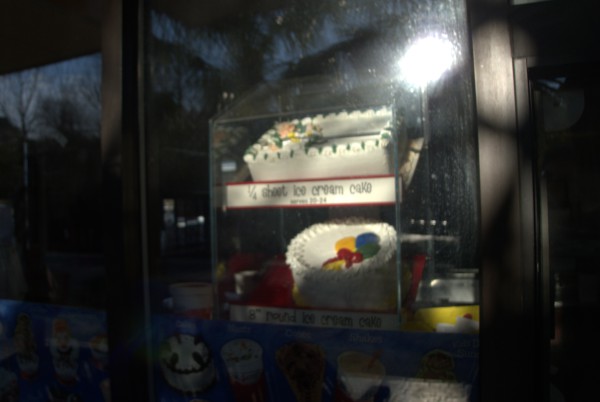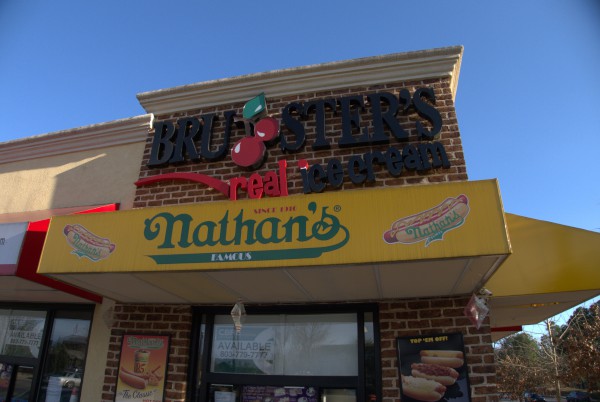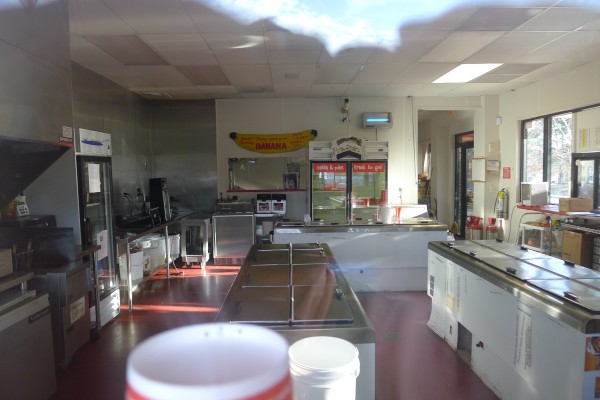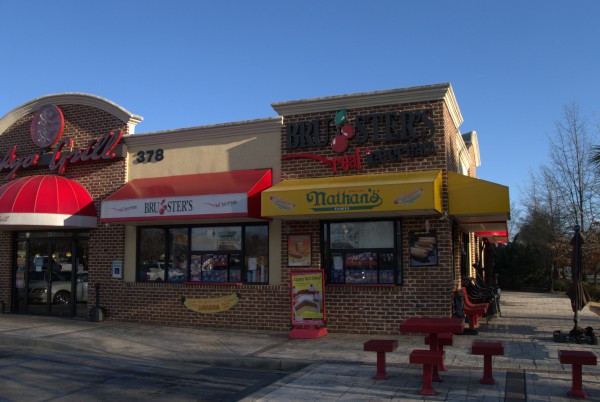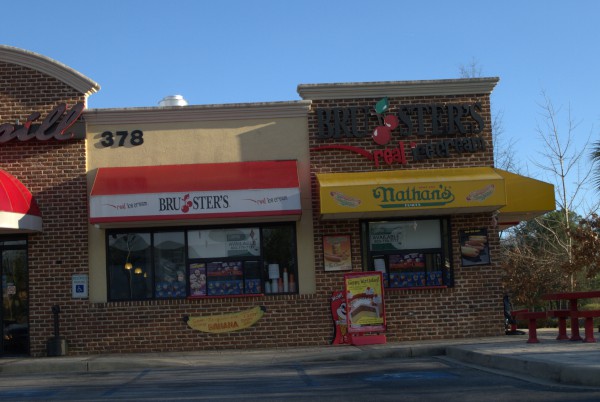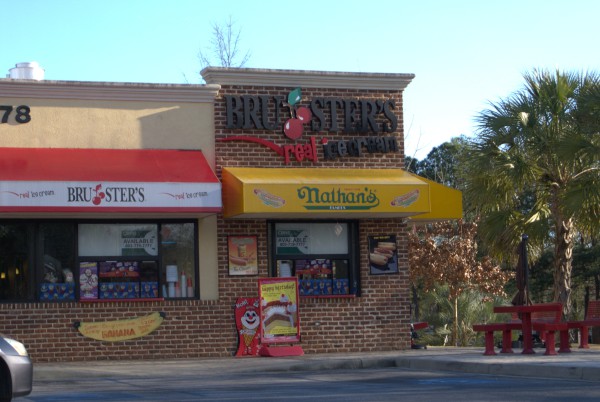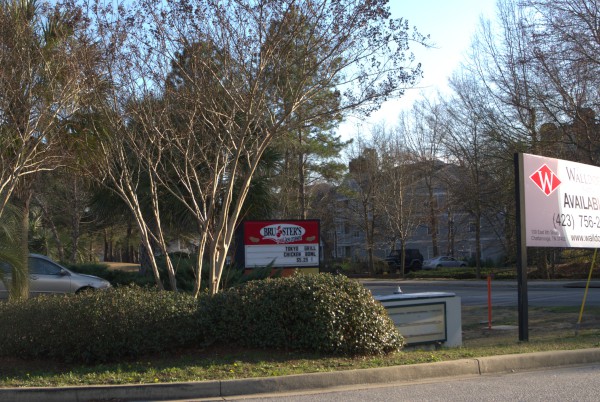 While their closing note is hopeful, the real estate sign in the window and their recent facebook traffic is not. It looks like this combination Bruster's Real Ice Cream and Nathan's Famous on Columbiana Drive is gone.
I don't think I've ever had a Nathan's frank, but the few times I've had Bruster's ice cream, it's been perfectly fine. I do rather question their no-dining-room concept. I think that hurt the one on Beltline and the one in Murrells Inlet. This one actually seems to have more in the way of picnic tables and outside benches than those did though. I wonder too if some of these Columbiana/Harbison places are a victim of the Yogi Berra Effect:
Nobody goes there anymore, it's too crowded.
It was not a particularly peak time when I took these pix, and it was still a bit of a wait to turn left into the complex -- and that's when I had made it that far. Another trip to look into the reports of Chick-Fil-A closing in the mall got aborted when I came down the hill from St. Andrews Road and saw the backup from Bowers Parkway on -- I just pulled a you-ie and 180-ed out of there..
(Hat tip to commenter Mike)
Posted at 12:49 am in Uncategorized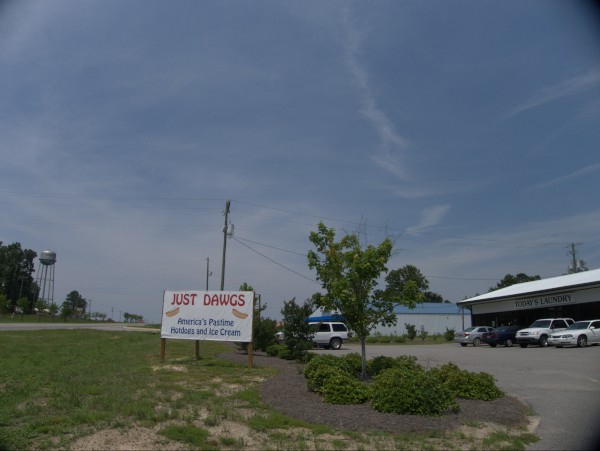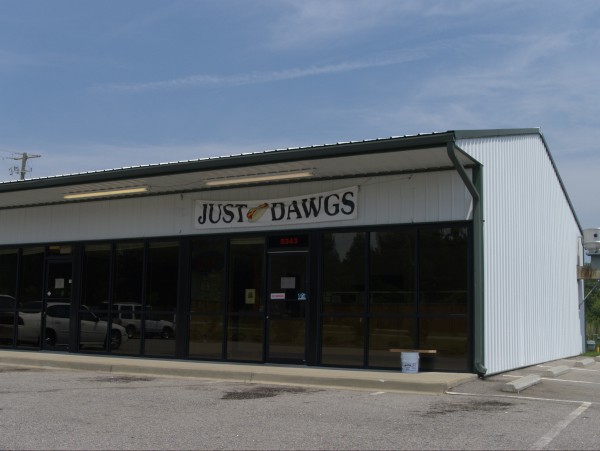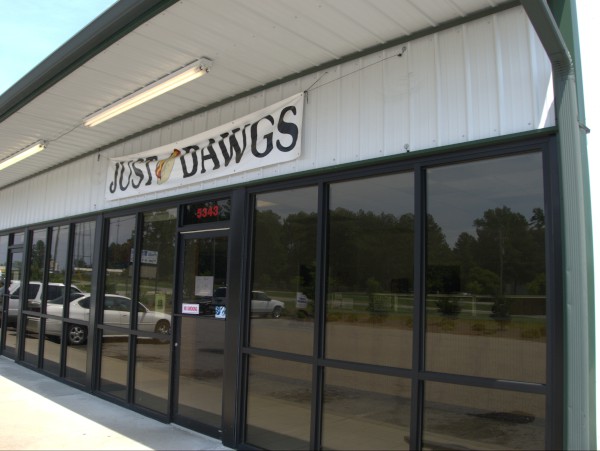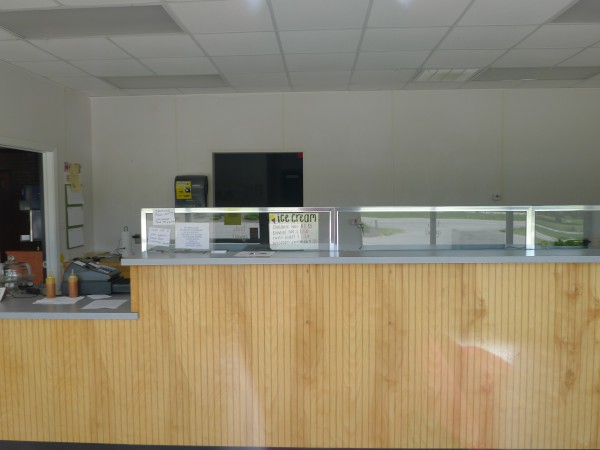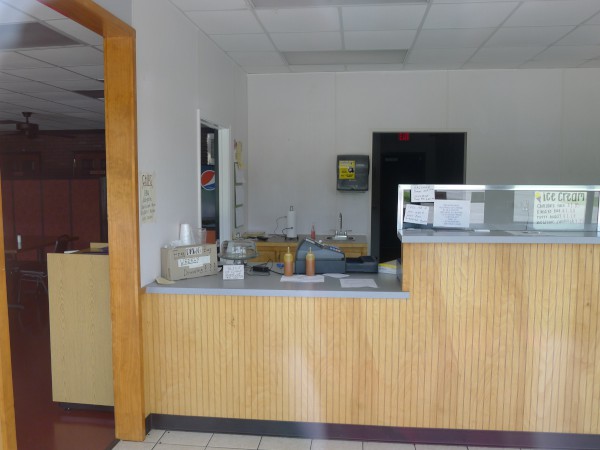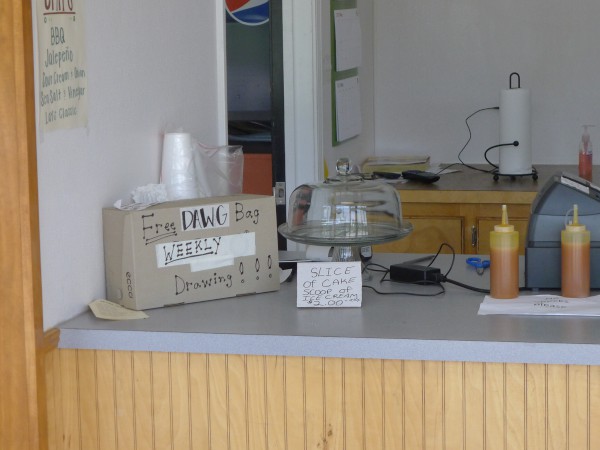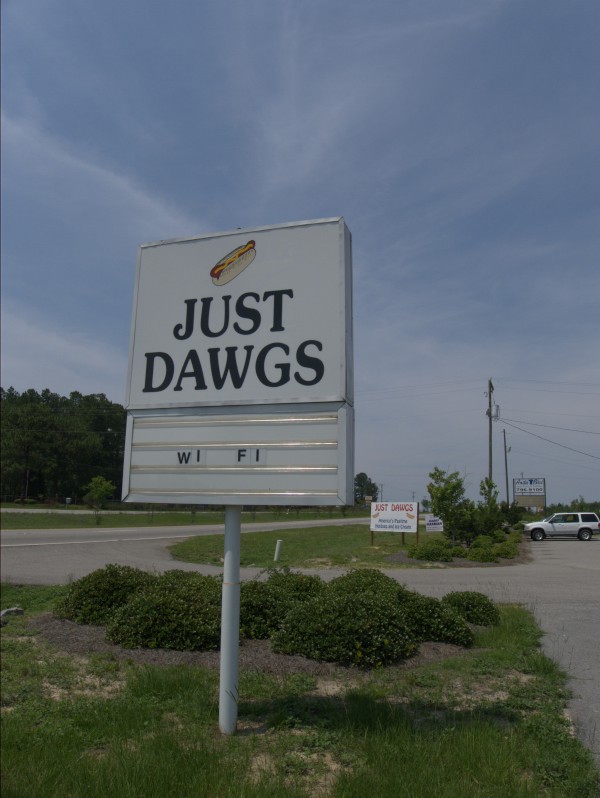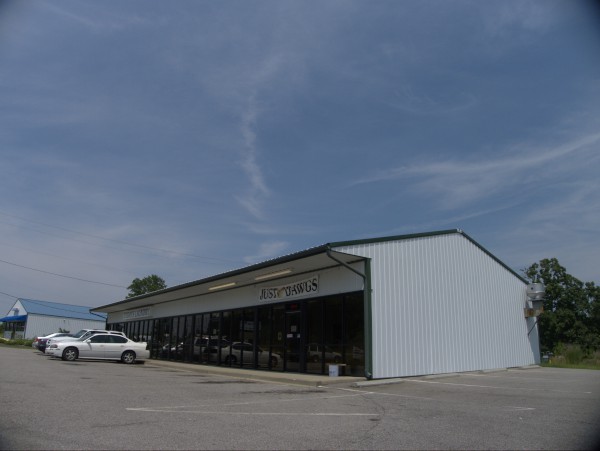 To the best of my recollection, I had never been in Gaston before, so when commenter Jimmy mentioned that Just Dawgs on US-321 there had closed (he was not a fan), I decided I would go out sometime to take a look.
As it turns out, the place is about 9 miles past the new State Farmers Market on a four lane, divided, stretch of US-321 not too from from a Food Lion and a La Fogata. Gaston, the part of it I saw anyway, seems nice enough. Pretty rural, so you can probably still get a big lot, but with good roads back to I-77/I-26 (or not too bad cross country to US-176/I-26).
Anyway, Just Dawgs was in a little strip with a laundromat, and apparently, in fact, was not *just* dawgs -- it looks like ice cream was an important part of the mix as well.
(Hat tip to commenter Jimmy)
Posted at 10:25 pm in Uncategorized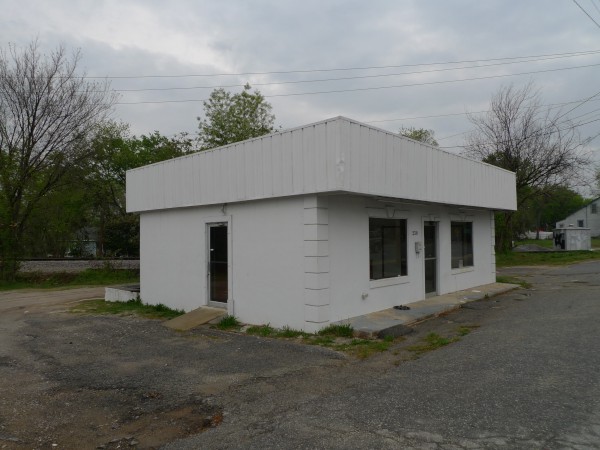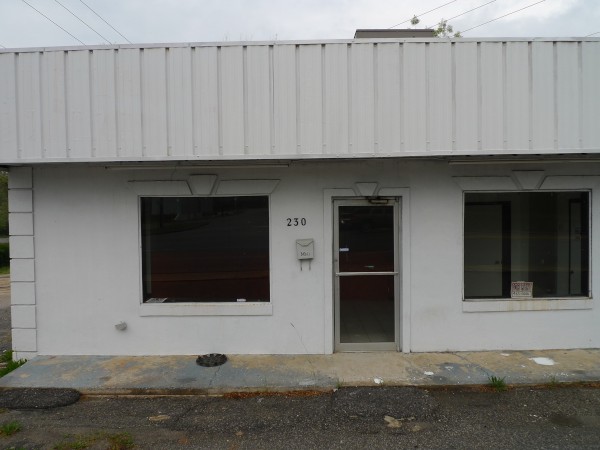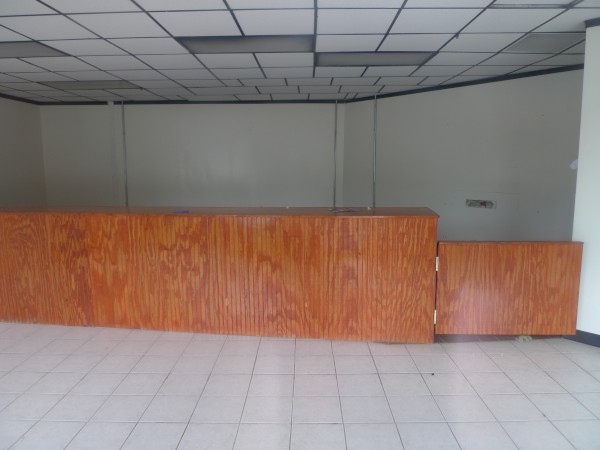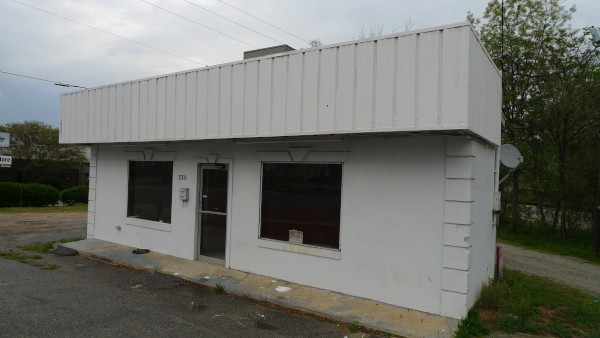 Here's a little 1940s building by the tracks at the start of Huger Street (that's you-gee street for you out-of-towners..), that has been, I'm sure, many more things than this list over the years since it was built.
To be honest, I have to say I can't personally remember any of them. It's a section of street I drive very seldom, and some of the tenants, for instance, a roofer, are pretty invisible until you actually need one. The most recent operation seems to have been The Dog Shack hotdog restaurant, which apparently set up shop in April of 2010, and was definitely open as late as 18 June 2010, when a group of Columbia hotdog aficionadoes visited and gave it a mediocre grade.
While I was taking pictures a train rolled through, backing up traffic on Huger. I imagine working all day in that location would get old pretty quick.
Posted at 12:00 am in Uncategorized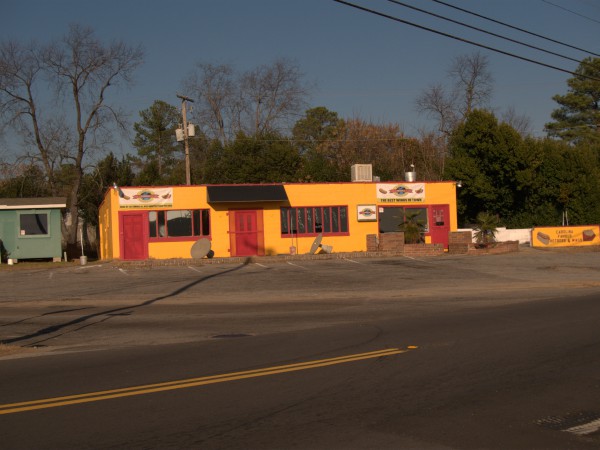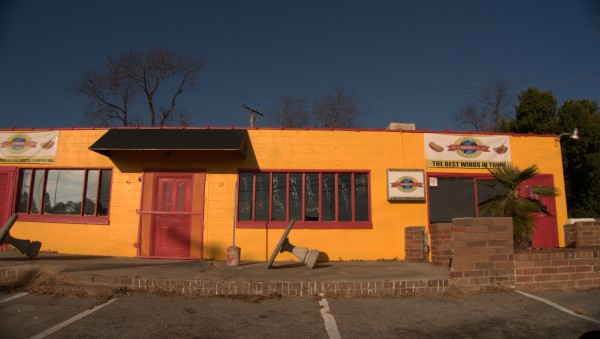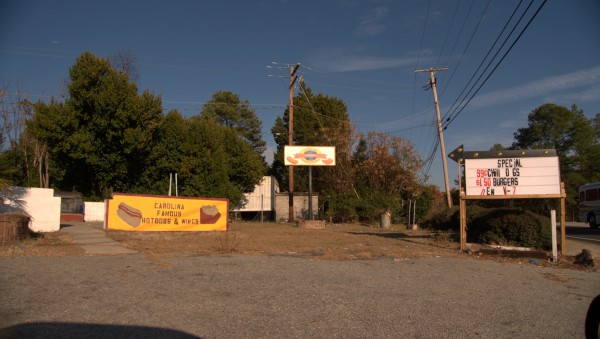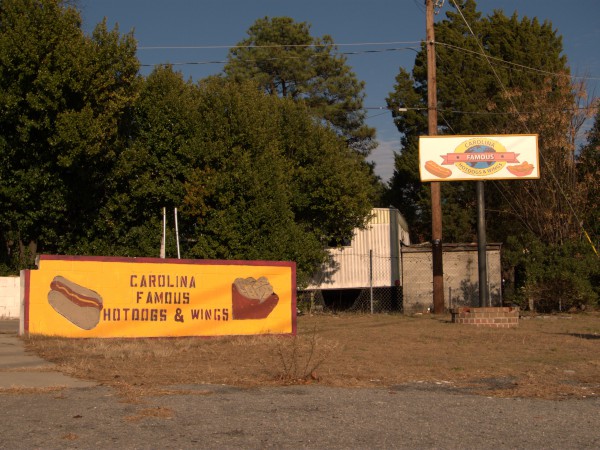 This building, on Shakespeare Road at the intersection with Humphrey Street has been a number of things over the years -- none of which stick in my mind.
Assuming the latest incarnation Carolina Famous Hotdogs and Wings started about the time this youtube video ad was uploaded (22 July 2010), then I'm afraid it didn't last long at all. In general it seems that the only things which survive on Shakespeare are industrial type operations.
Posted at 11:13 pm in Uncategorized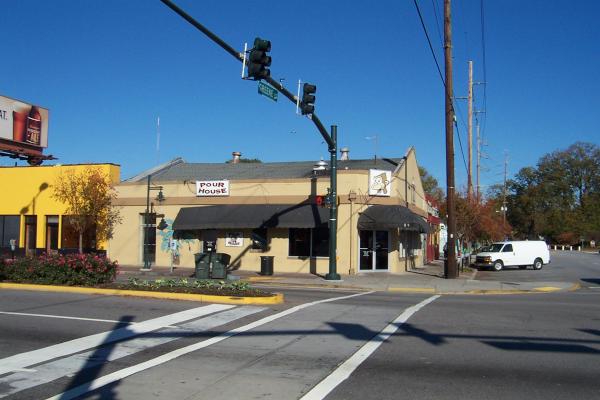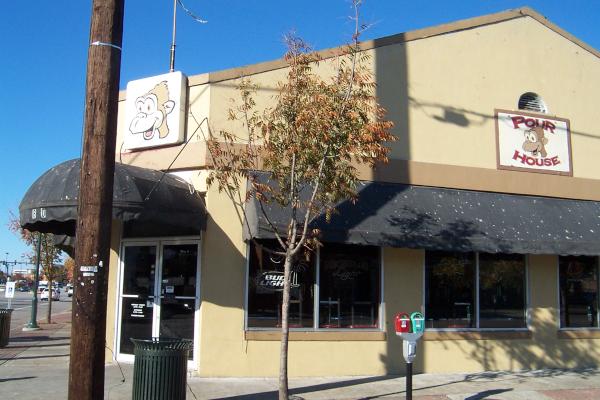 This corner building, now the site of The Pour House was the long-time location of Frank's Hotdogs, yet another of the many Columbia restaurants I was going to "get around to" and never did before it was too late.
From what I could gather in years of walking and driving past, the place was open late-nights and had a diner-like setup with a serving counter and tables around the walls. It appeared that the owner took a certain pride in the "basic" nature of his setup, and for many years, a window slogan proclaimed "No Reservations Required". Curiously, given how uncommon non-Sandy's hotdog places are, Frank's was just down the street from Lum's Hotdogs. I don't know if their years of operation overlapped at all though.
Posted at 12:29 am in Uncategorized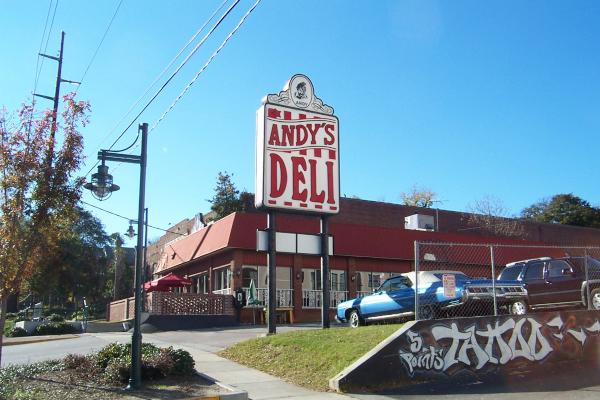 Lum's was a small chain of hot-dog restaruants. I say small, because I only knew of two stores -- I suppose it could have been huge somewhere else in the country, but as far as I know, in South Carolina there were only this store on Greene Street (now Andy's Deli) and a store in Myrtle Beach by the Family Kingdom amusement park (the home of the "Swamp Fox" coaster).
I don't know why it is, perhaps because hot-dogs just seem such a casual food, but hot-dog restaurants don't seem to make it big. I know Sandy's is locally beloved, but those are small stores with no table service, and I believe the same is true for the only other famous hot-dog outfit I can think of: Nathan's. If I recall correctly, Lum's did have menus and table service. It's been so long ago that I was there that I'm on very shaky ground here, but I believe their big claim to fame was hot-dogs cooked in beer. I'm sure we wouldn't have been allowed to have such a thing. I have an even vaguer memory that perhaps I had a "cheese-dog" there, a hotdog covered with melted cheese. I also think that perhaps the hot dogs were plumper and less firm than I now prefer -- I enjoy the consistency of an Oscar-Meyer dog myself (cooked on a fork over a stove eye is fine if a grill isn't available).
Whether because folks just don't associate hot-dogs with a real "restaurant" or for Lum's specific reasons, both the stores I was familair with closed long ago -- I don't believe either made it out of the 1970s: Guess they coudn't cut the mustard...
UPDATE 20 April 2010: Added full street address to post title, and corrected spelling of "Greene" Street.
UPDATE 9 June 2010: Changed post title from "Lum's Hotdogs" to "Lum's Restaurant" as that was how they listed in the 1970 Yellow Pages.