Archive for the 'wings' tag
Posted at 11:49 pm in Uncategorized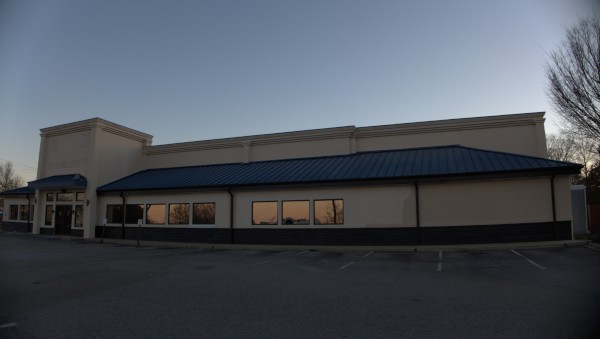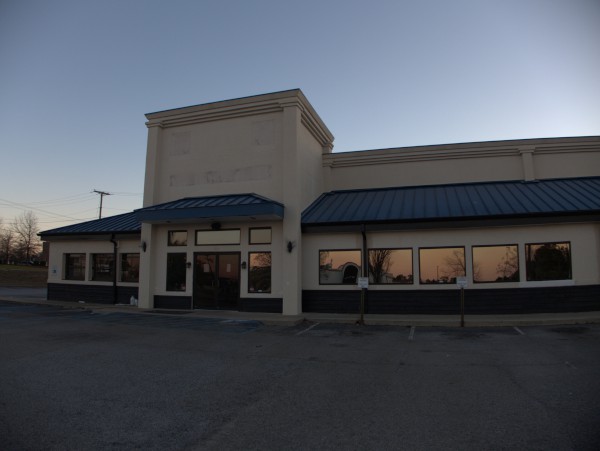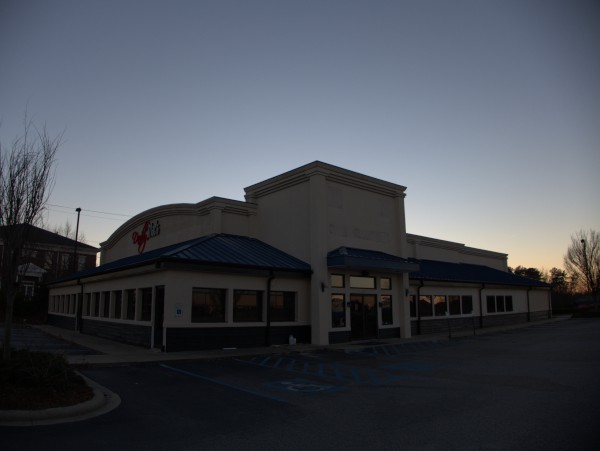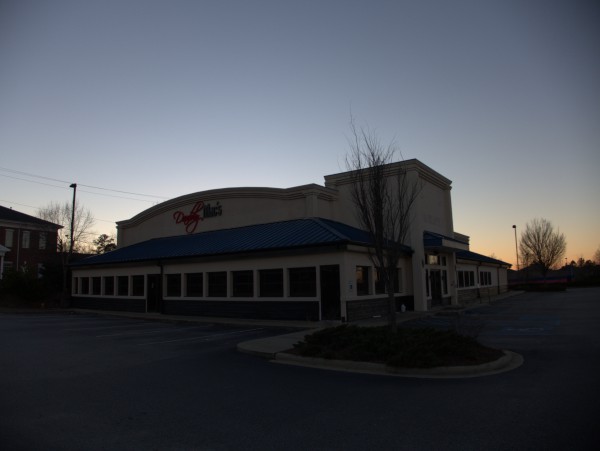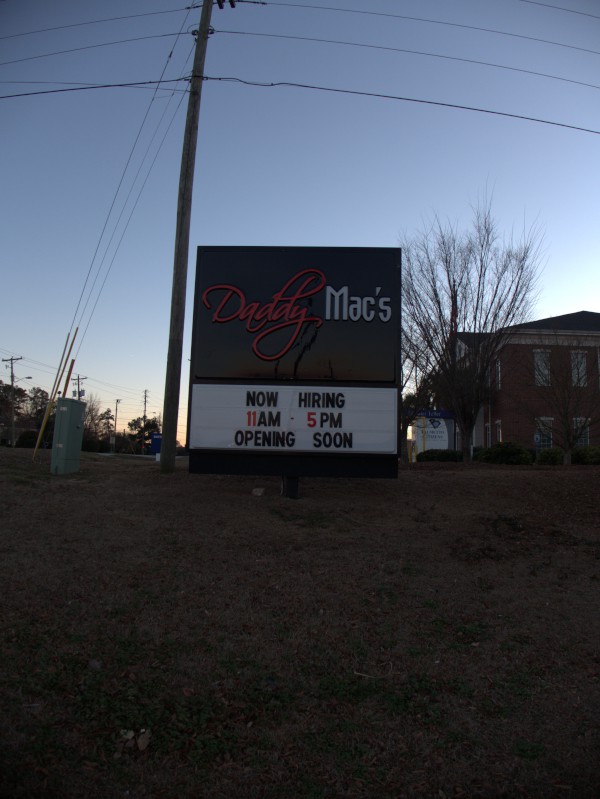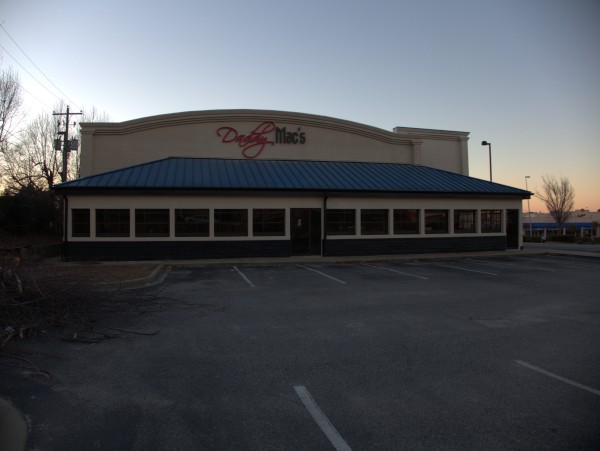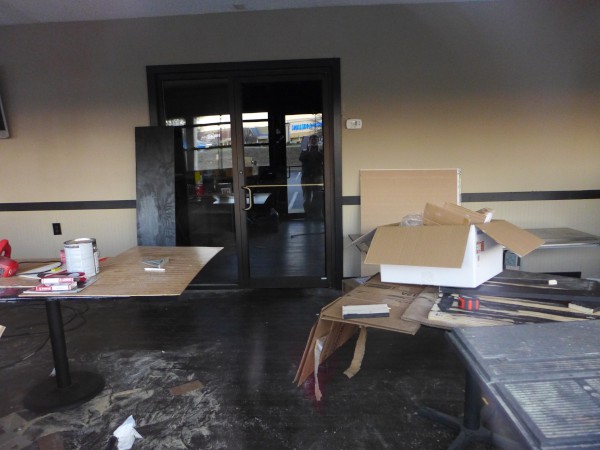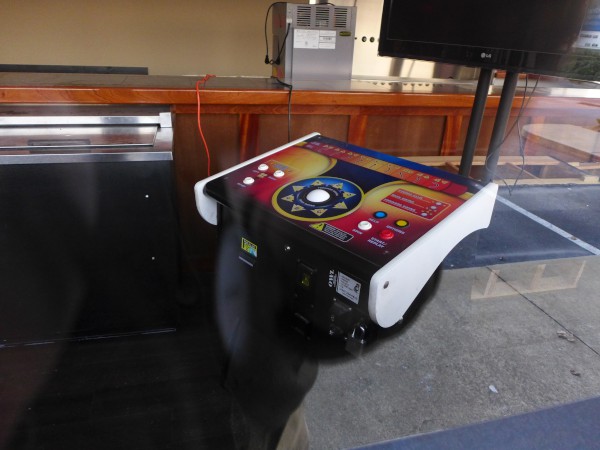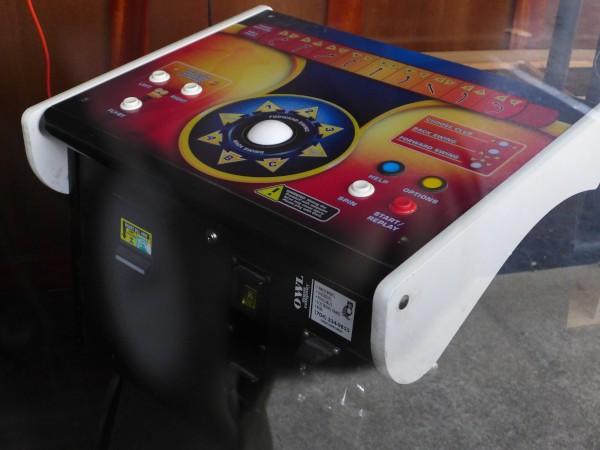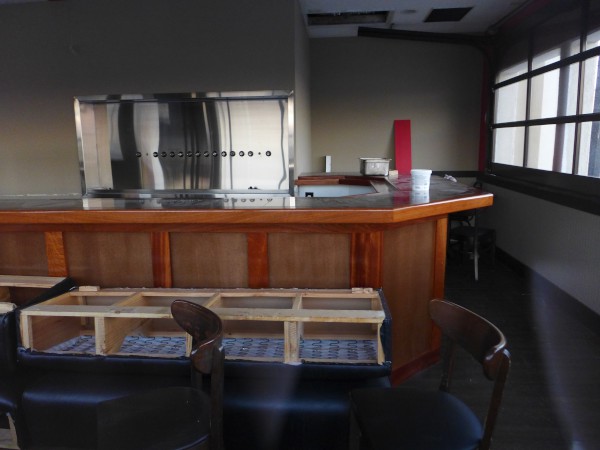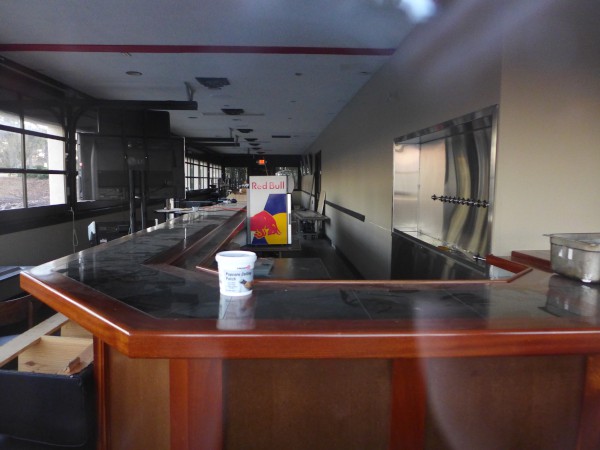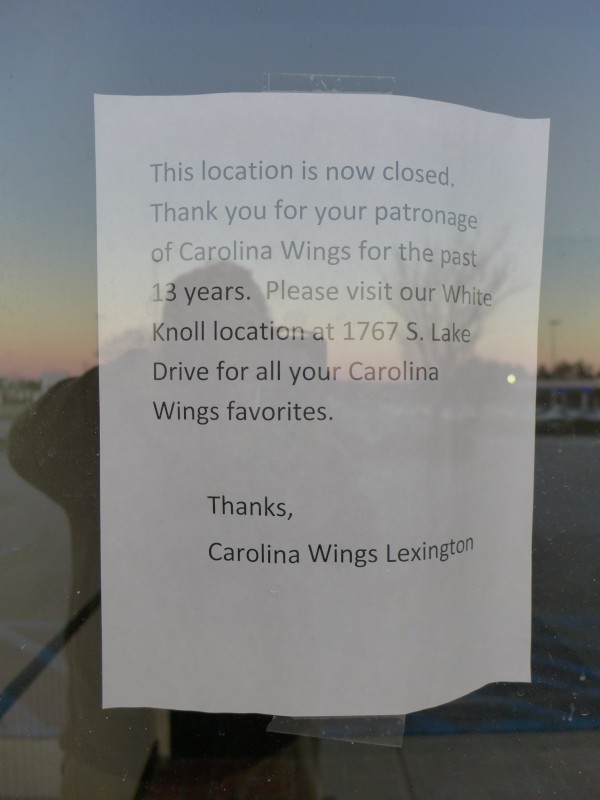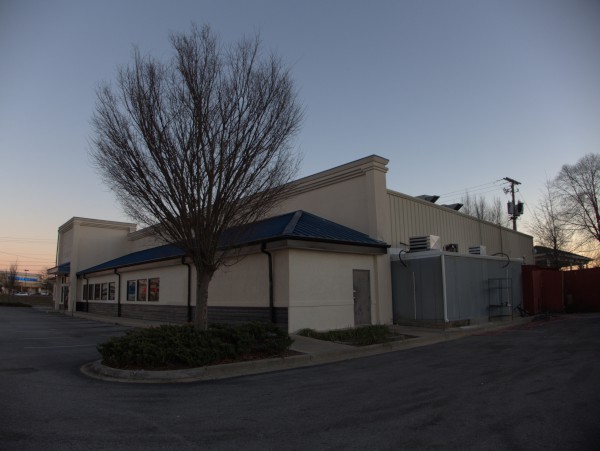 The latest Carolina Wings to close is this one in Lexingtion near the Regal theaters.
As you can see here, things are alreay in-train to reopen this building as Daddy Mac's of which, their facebook page says:
Daddy Mac's Restaurant was created by three brothers as a tribute to their Grandfather, whom they affectionately called Daddy Mac. This restaurant brings back childhood memories filled with laughter, fun, larger-than-life stories and wonderful aromas of great meals being cooked by Daddy Mac in his kitchen.
The grandsons' vision is to open their kitchen and share with you, those comforting and delicious meals that invite laughter and good times with friends and family. We hope that you will take home fond memories of your own.
and their Help Wanted ad on CraigsList says:
We are a full service restaurant that will specialize in hand cut steaks, pastas, burgers, speciality appetizers & desserts. We also offer one of Lexington's largest craft beer selections as well as an extensive wine and liquor list.
(Hat tip to commenter Beth)
Posted at 12:01 am in Uncategorized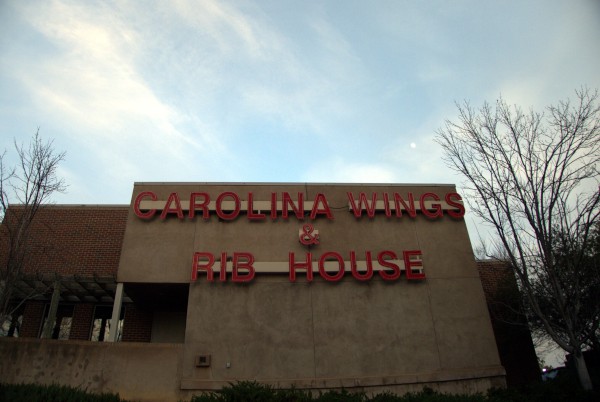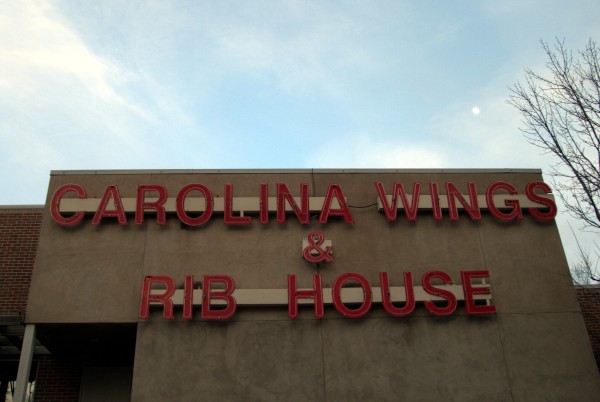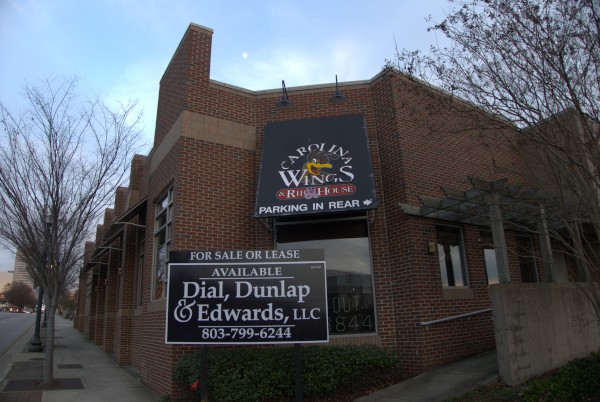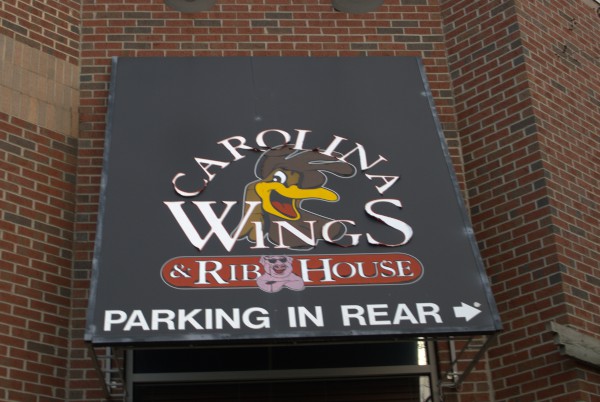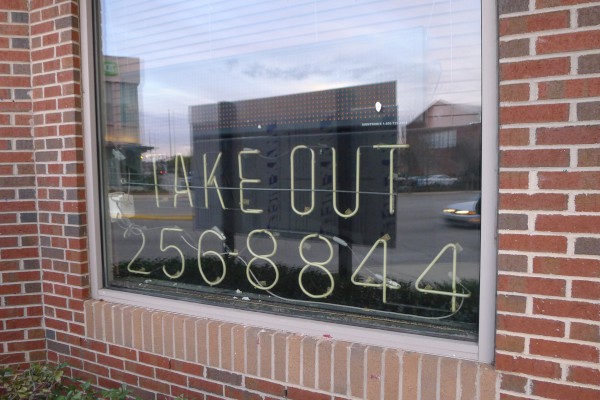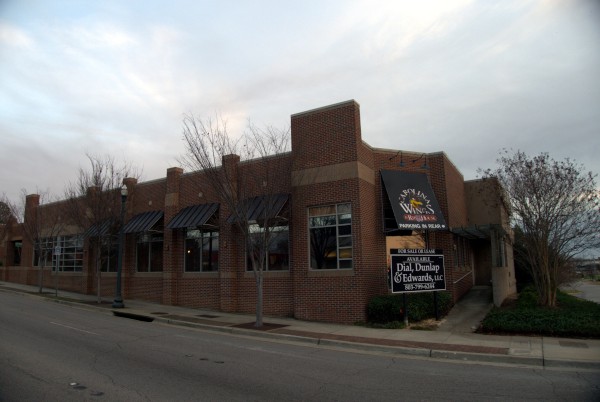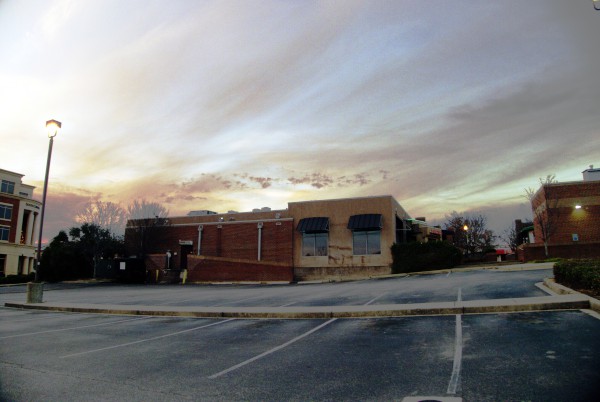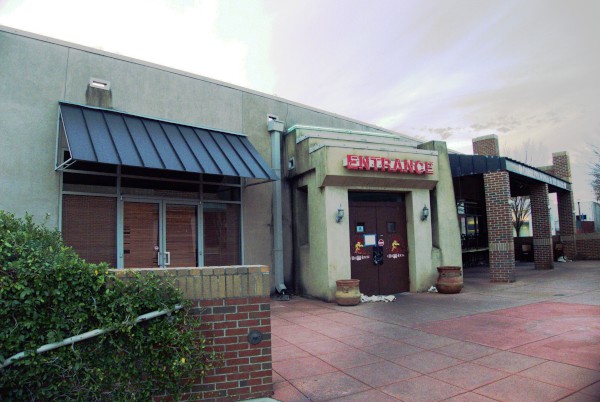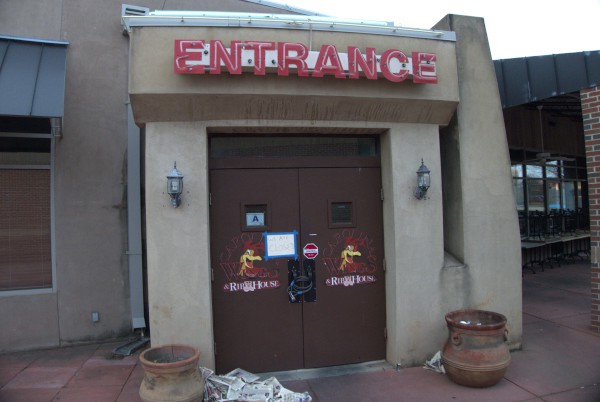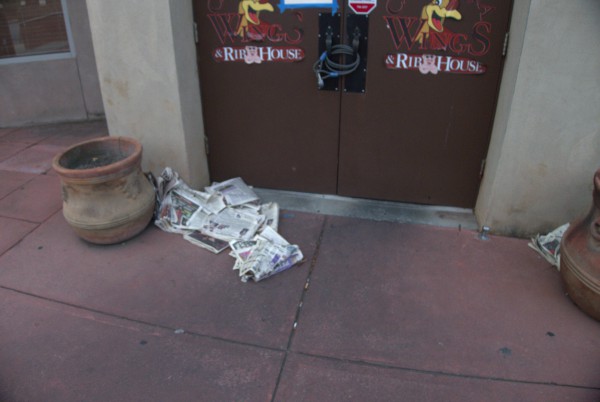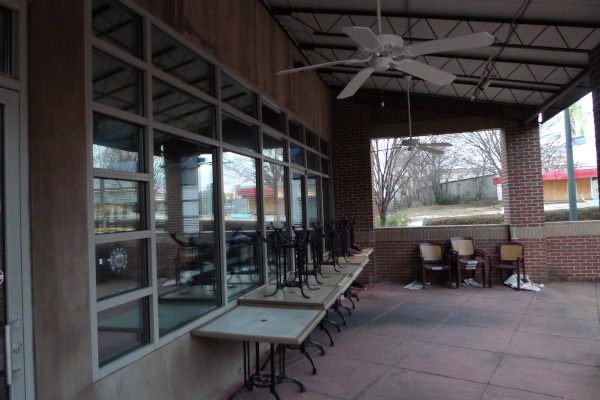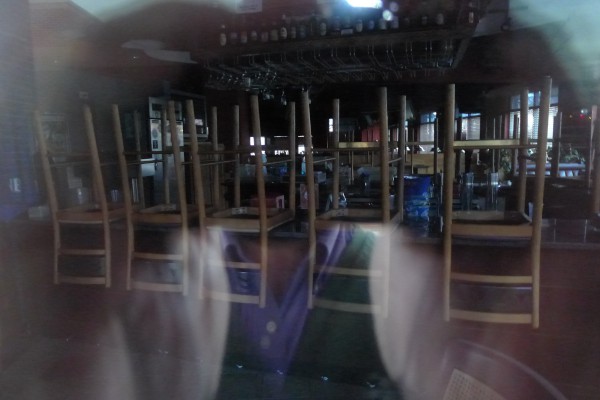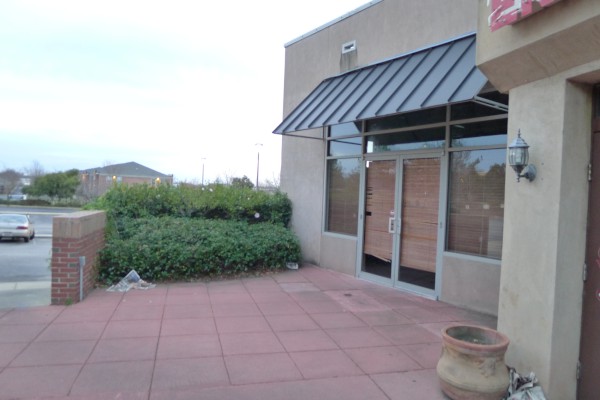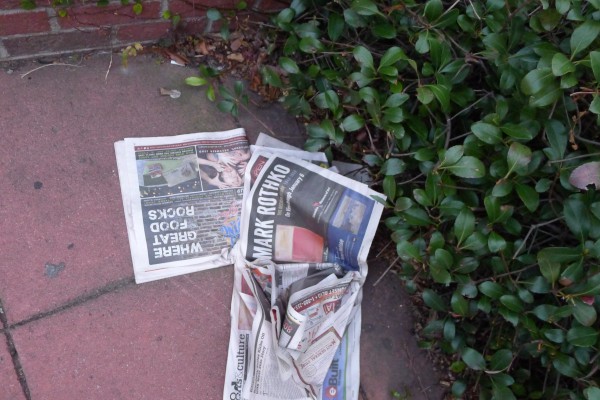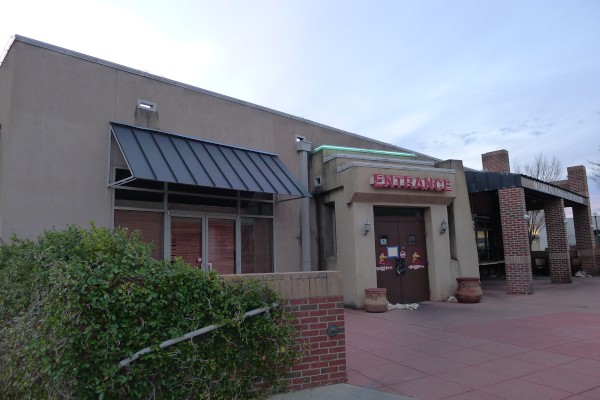 The Carolina Wings at the corner of Gervais & Pulaski is the latest location of this local chain to close. (You can see other stores here, and here).
There was an article in The State about it. I didn't save the link, but the gist as I recall it was that the chain went into bankruptcy, and that as part of their reorganization to come out of it, they were closing stores where the rent was too high and the margin too low to make sense in their current status.
As of a few weeks ago, at least, their Pawleys Island location (really Litchfield, but everybody tries to say they're Pawleys nowadays..) was still open, so they still do have a bit of a non-Midlands presence.
(Hat tip to commenter MB)
UPDATE 14 July 2014 -- As mentioned by commenter Andrew, this building has now been sold: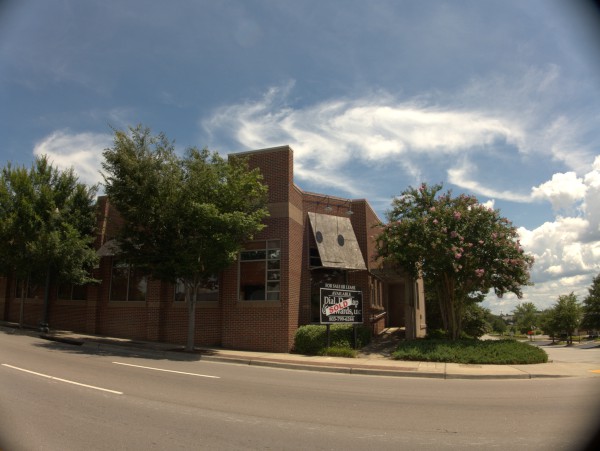 Posted at 1:50 am in Uncategorized
Video: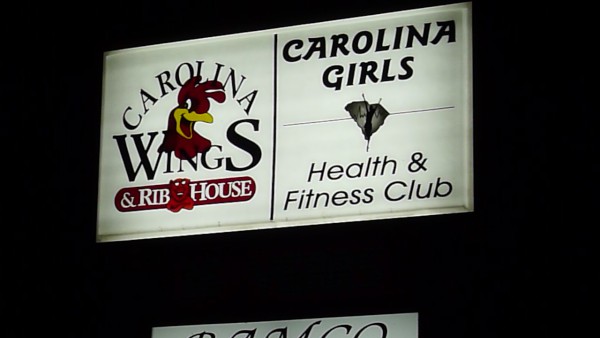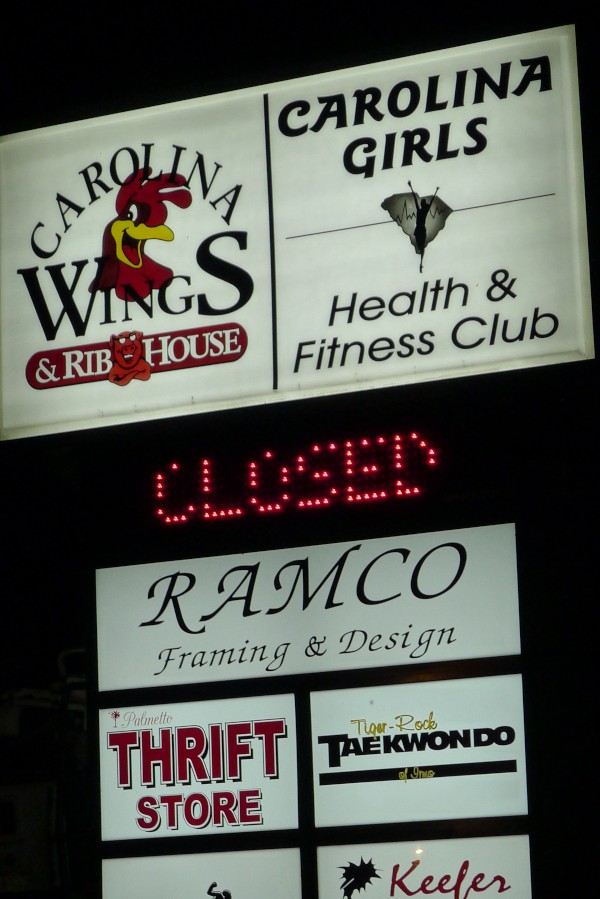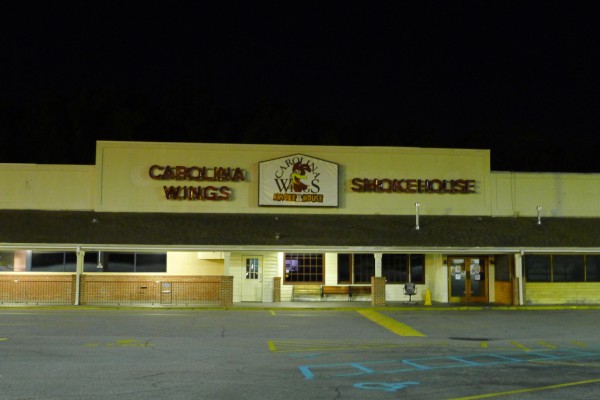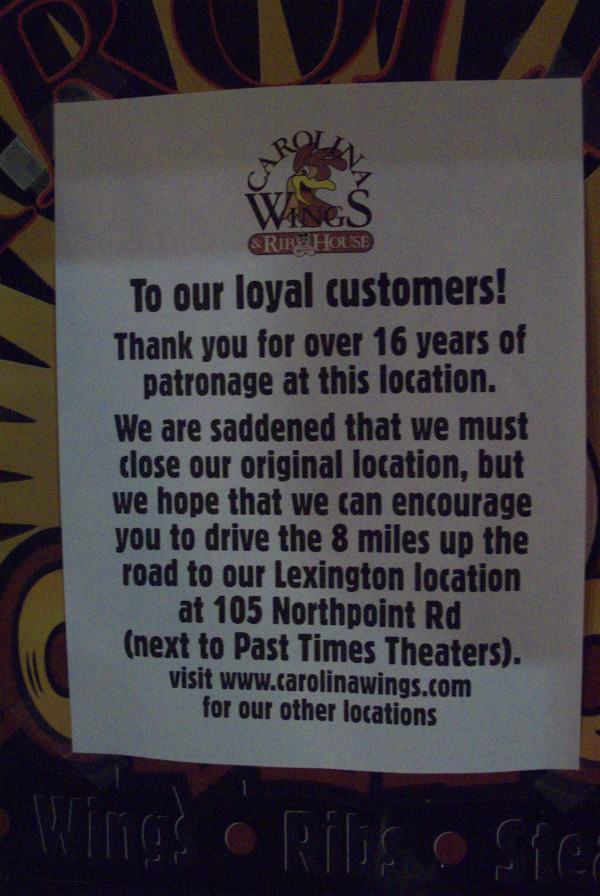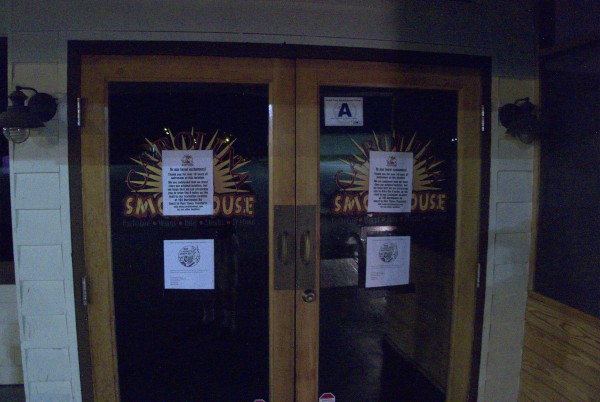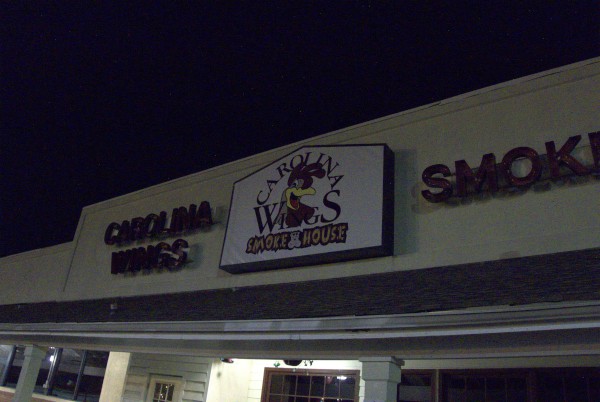 I think taking the time and trouble to program a Thank You message into the roadside message board was a nice touch.
This storefront (which looks to me as though it may once have been a grocery) on Saint Andrews Road north of Lake Murray Boulevard was the first location for the Carolina Wings & Rib House chain. I'm not sure what the "Smokehouse" marquee signifies exactly -- I don't believe I have noticed that at other Carolina Wings locations.
(Hat tip to commenter jonathan)
UPDATE 8 September 2012: Label the video (first image).
Posted at 12:17 am in Uncategorized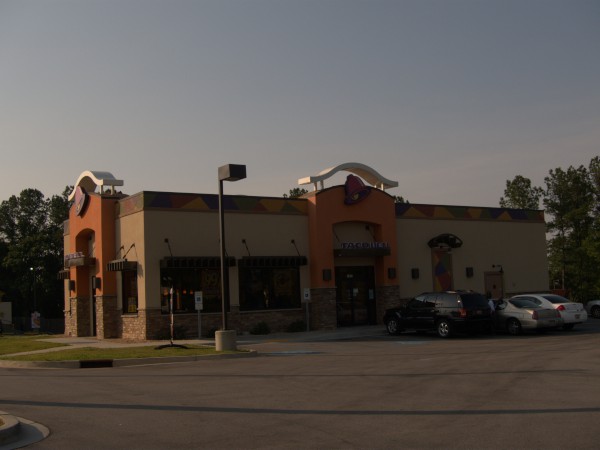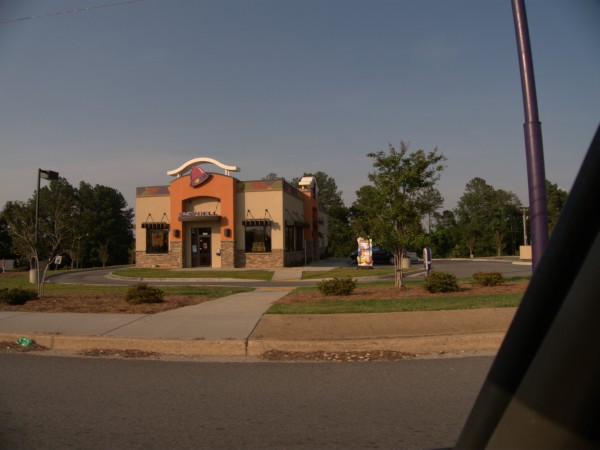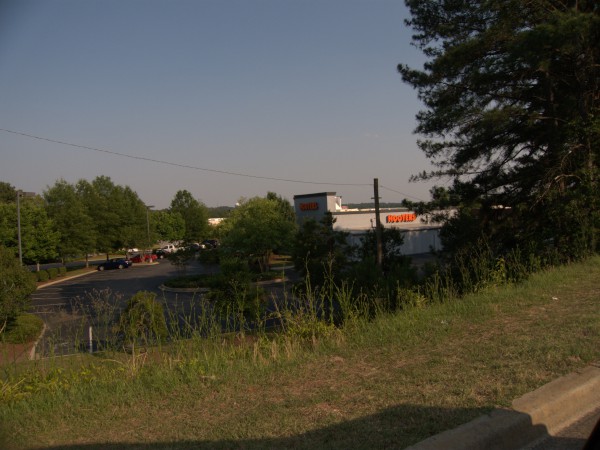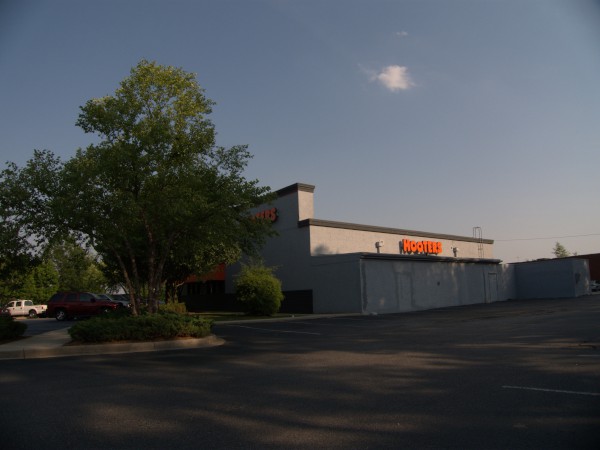 The original Columbia Hooters was on Broad River Road near to Dutch Square and Intersection Center. Keeping abreast of trends, the chain relocated from the distressed Broad River area to Harbison, and moved into the site of the former Hops brewpub at 5195 Fernandina Road. (Curiously, when Columbia got a second Hooters it also set up shop in a former Hops, this one on Two Notch Road).
After Hooters moved, the Broad River Road building (which was not built as a Hooters, but some other restaurant I can't recall right now) was knocked down, and rebuilt as a Taco Bell which itself was a relocation for the original Broad River Road store.
Also, as an aside, I just learned today that Hooters is part of a whole market segment, the name of which I just have to stop and admire: Breastaurants.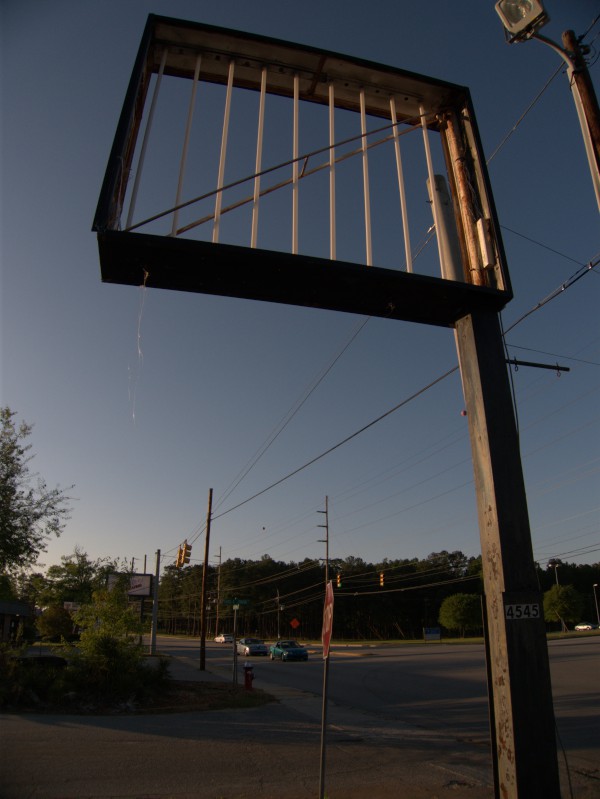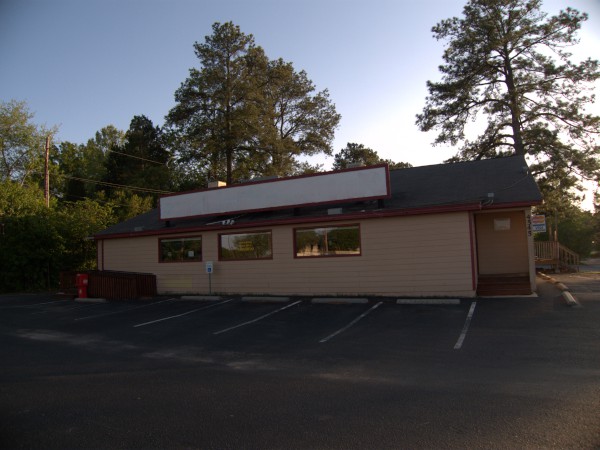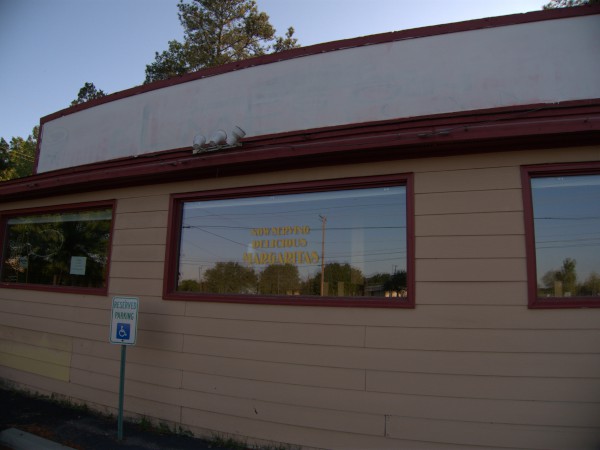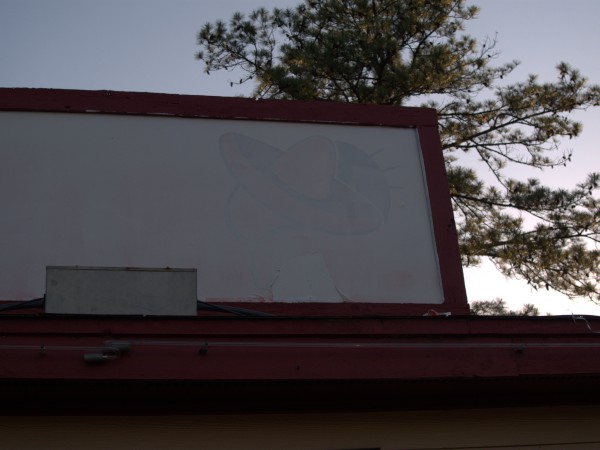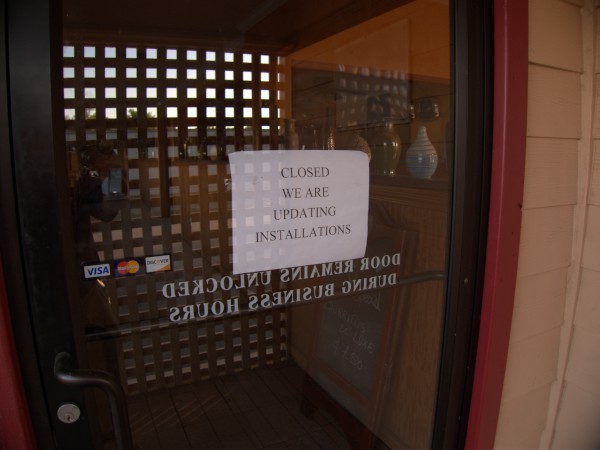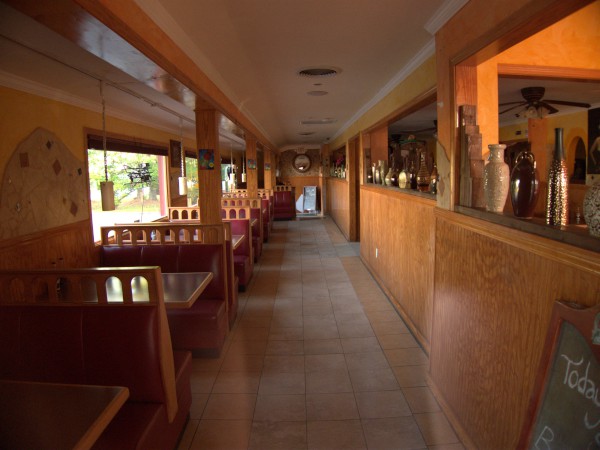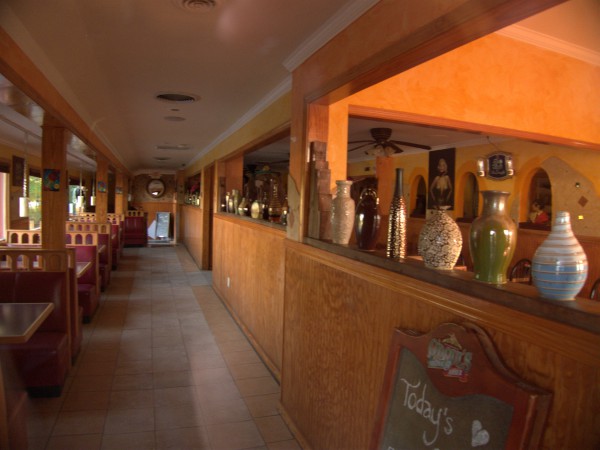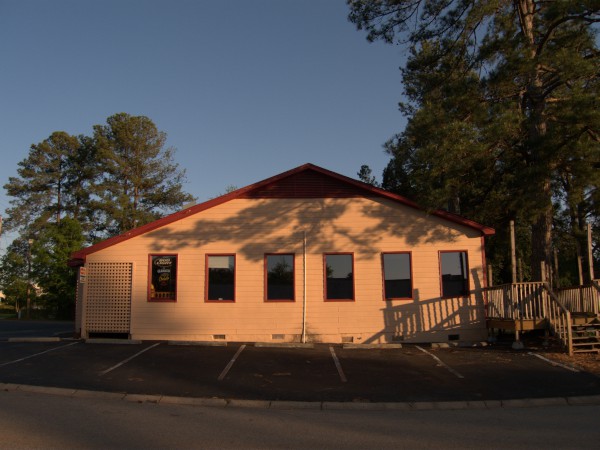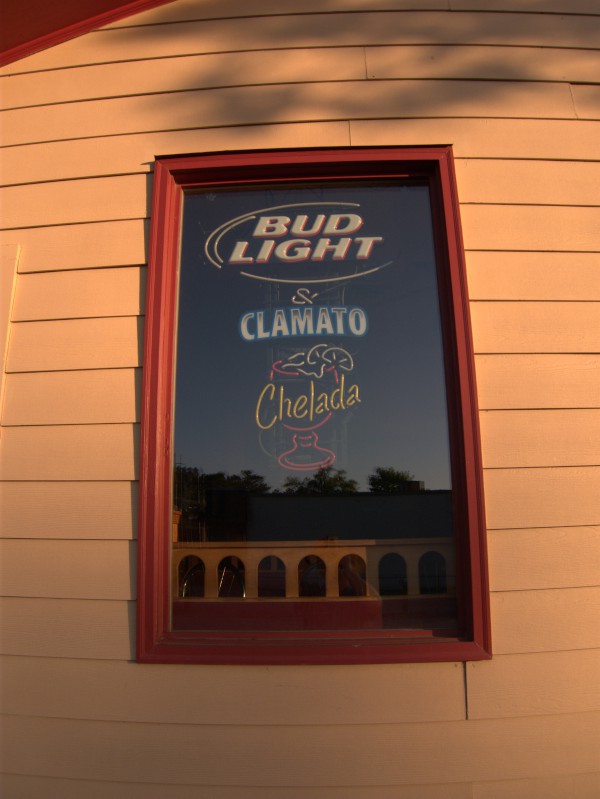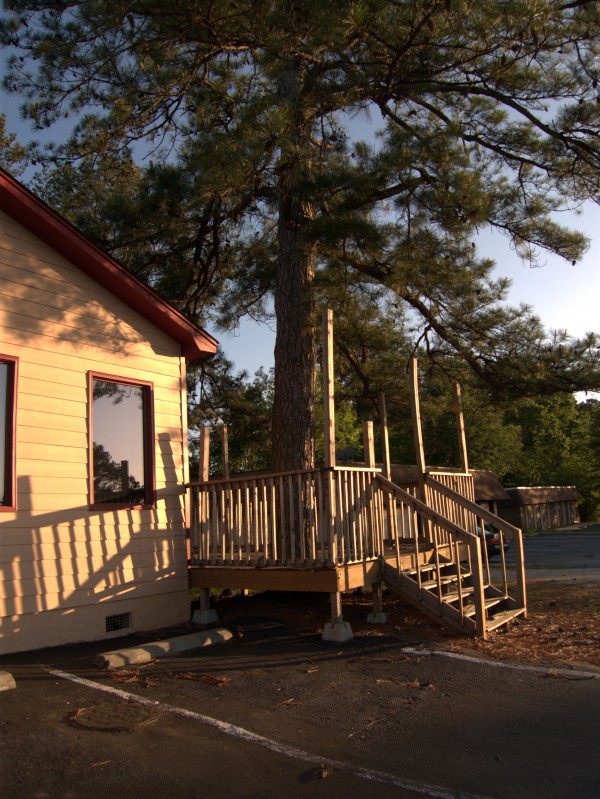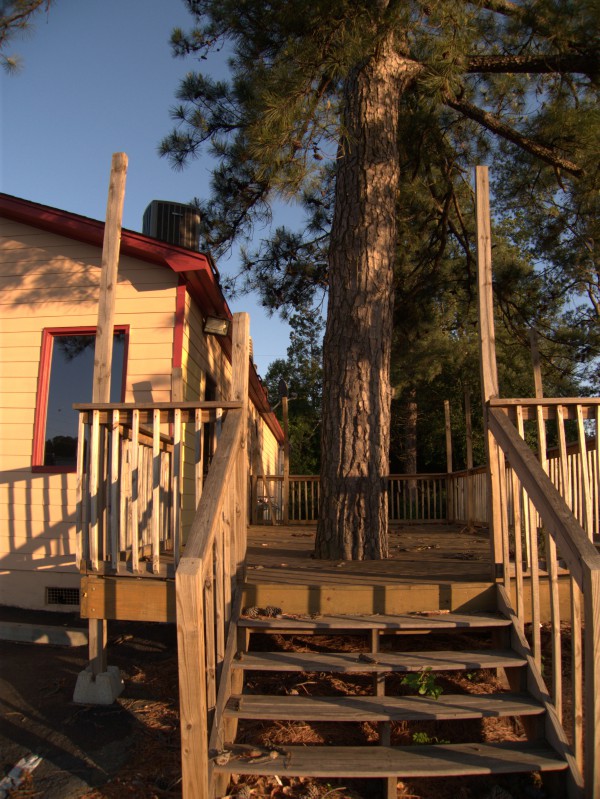 Wow! If IrmoJeff hadn't mentioned that this was a Lizard's Thicket, I never would have known that in fact this was the Lizard's Thicket, the original first location from 1977. You can see an artist's representation of what is clearly the same building on the company's history page, which says:
The original Lizard's Thicket was a five room house converted into a restaurant with three small dining rooms and a small kitchen.
Now I go through phases of eating at Liz and not eating at Liz, but I find when I'm down, or fighting a cold or trying to get back on track after days of erratic eating that their Southern comfort food really hits the spot. I particularly like to get a vegatable platter with field-peas over rice and macaroni & cheese.
I'm not sure when the original location closed, but it was a good while ago though there is still one on Broad River Road.
La Fogata until fairly recently has seemed like the up-and-coming local Mexican chain, joining San Jose, Monterray and Casa Linda. They had this location on Broad River, took over the Pirmarily Pi location on Sunset and took over the Village Bistro location at Sandhill. I don't know if they over-extended, or just figured the economy would turn around faster than it has, but they've since closed this location and the Sandhill location. I've never eaten at a La Fogata, but comments on the Sandhill closing indicate it was pretty good.
I don't know anything about the La Fogata follow-on operation, El Meson except that it was also a local Mexican restaurant. Their door sign indicates that they may be back. The omens are mixed for that. On the one hand, the roof and roadside marquees are down. On the other hand the fixtures and decor are still inside.
Does anyone actually drink Clamato?
(Hat tip to commenter IrmoJeff)
UPDATE 25 May 2011 -- Well, it appears that even though the fixtures are still apparently in place, there will be no re-opening: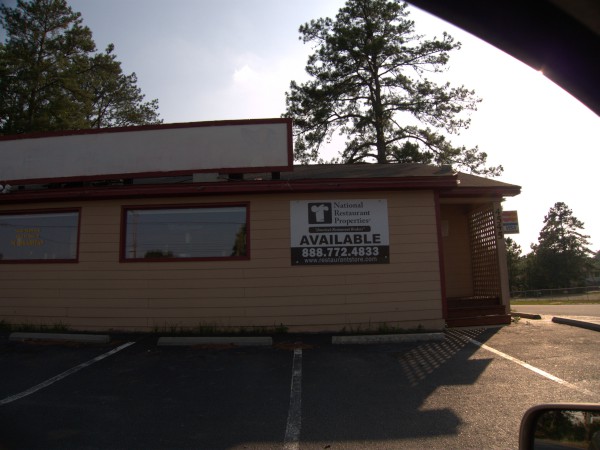 UPDATE 31 March 2012: Added Westbury's wing joint to the post title based on commenter IrmoJeff's info.
UPDATE 24 August 2012 -- Now Tain's Caribbean Cuisine & Bar: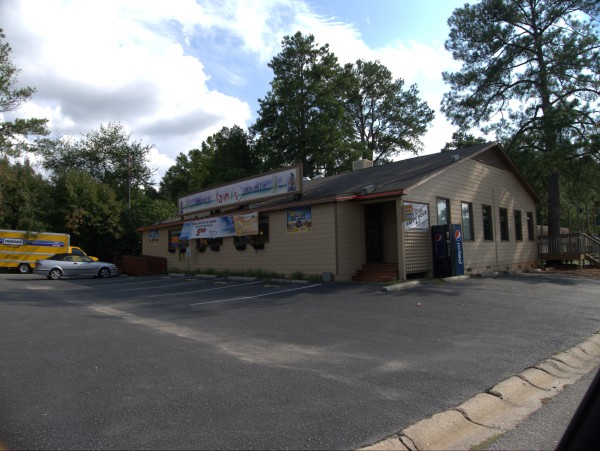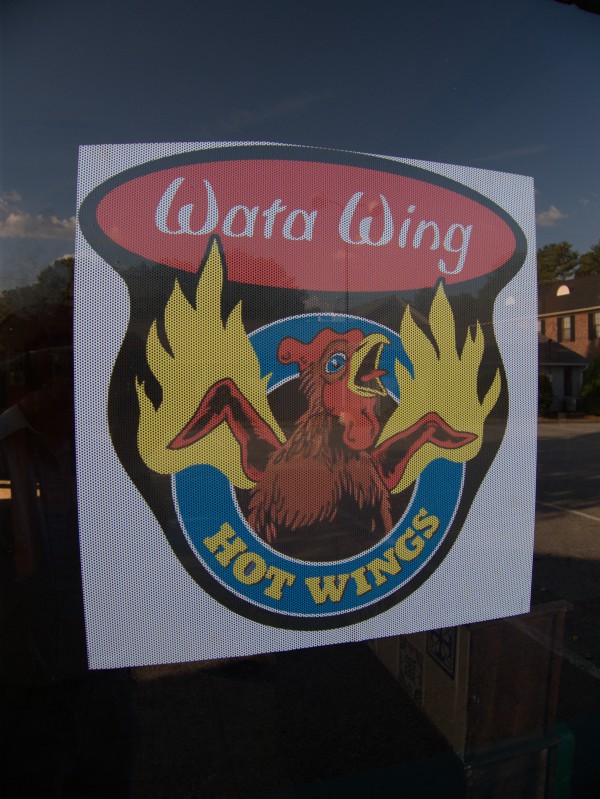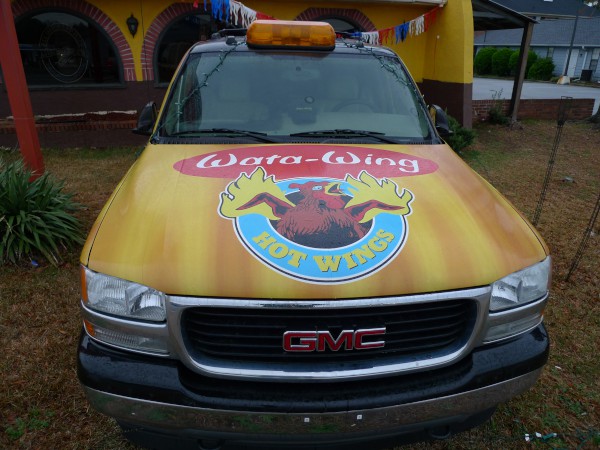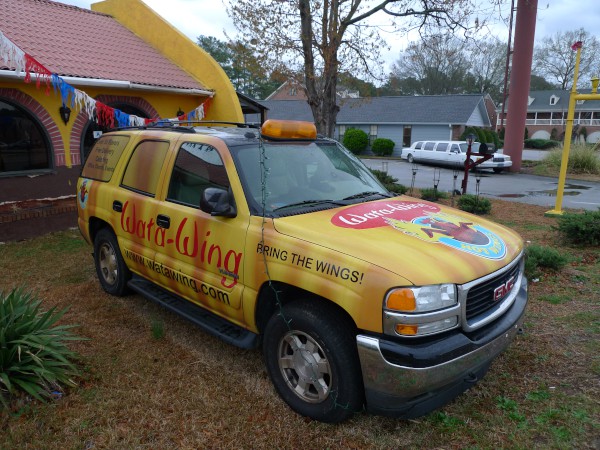 I was a bit reluctant to do this post yet, hoping that the place was going to make it, but I've been by several times within the posted hours (including a Saturday evening) and found it dark (though the phone still rings..)
At any rate, I first wrote of this building when I did a closing for longtime tenant Little Mexico and follow-on Cancun.
After Cancun another Mexican operation Mi Tierra set up shop in the building, and lasted about a year. (And you should visit both of those closing links because the previous comments and pictures for Wata Wing are spread out between them).
After Mi Tierra closed, there were indications fairly early on that the place was to become a Wata Wing chicken wing operation. The setup seemed quite protracted, and with the stall out of the Wata Wing roll-out in the old Taco Bell on Knox Abbott: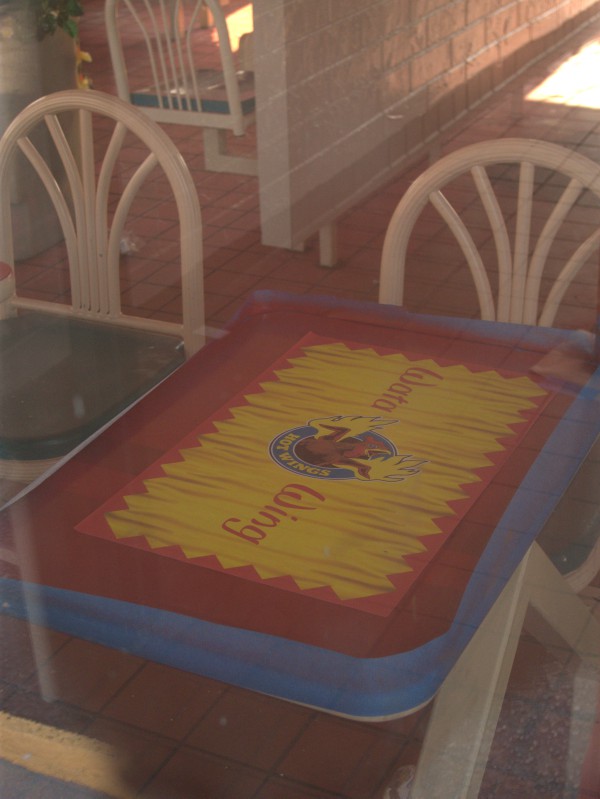 combined with reports of some legal difficulties the chain (which I should stress is probably totally different people in different areas) was facing in Maryland, it seemed for a time that this location might not open.
In the event it did open some time between 3 November 2010 and 1 December 2010 when commenter Badger stopped by.
I had thought, given this sign: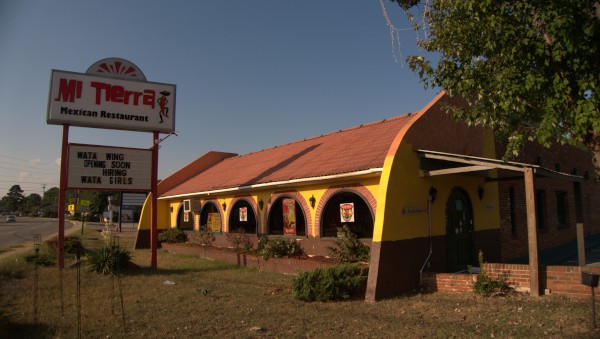 that the operation might be headed in a Hooters, Wing House direction with the "Wata Girls" front and center, but that seems not to have been the case.
If this location is closed (and it certainly seems to be), then that would throw into question the opening of a Wata Wing in the old Shoney's/Santa Fe/Savannah's location on Two Notch Road: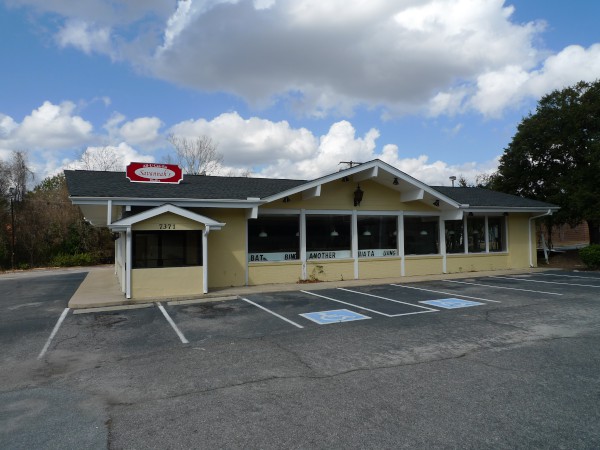 Posted at 12:00 am in Uncategorized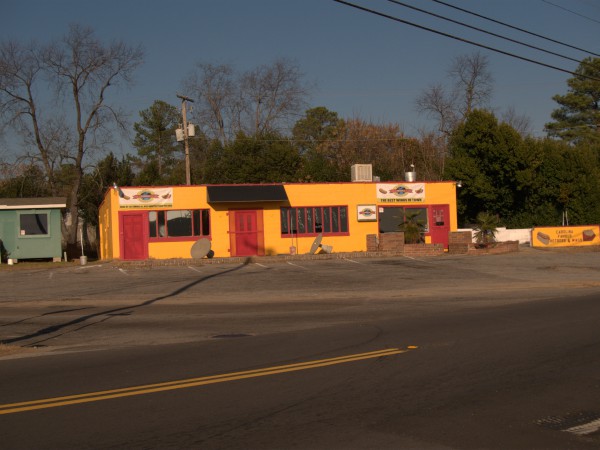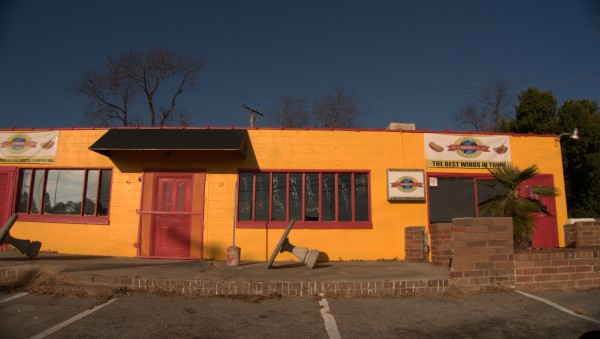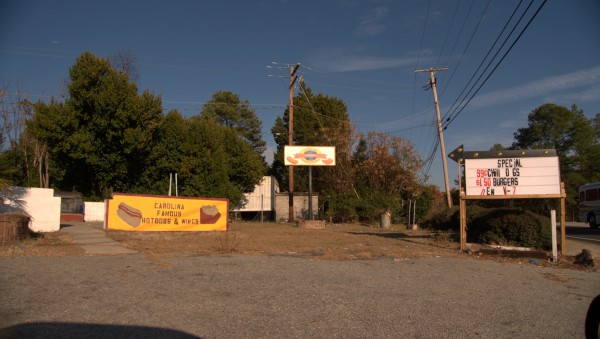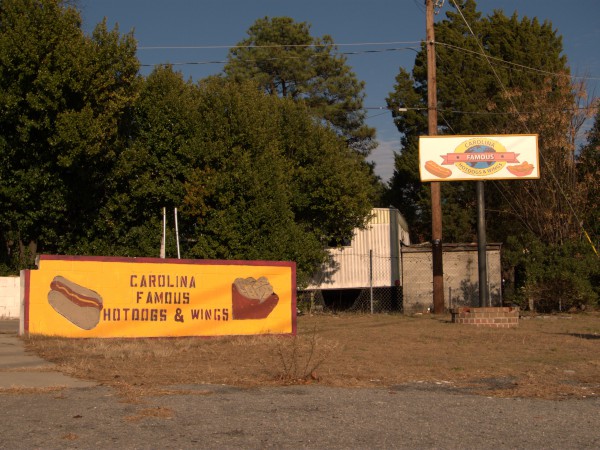 This building, on Shakespeare Road at the intersection with Humphrey Street has been a number of things over the years -- none of which stick in my mind.
Assuming the latest incarnation Carolina Famous Hotdogs and Wings started about the time this youtube video ad was uploaded (22 July 2010), then I'm afraid it didn't last long at all. In general it seems that the only things which survive on Shakespeare are industrial type operations.
Posted at 8:56 pm in Uncategorized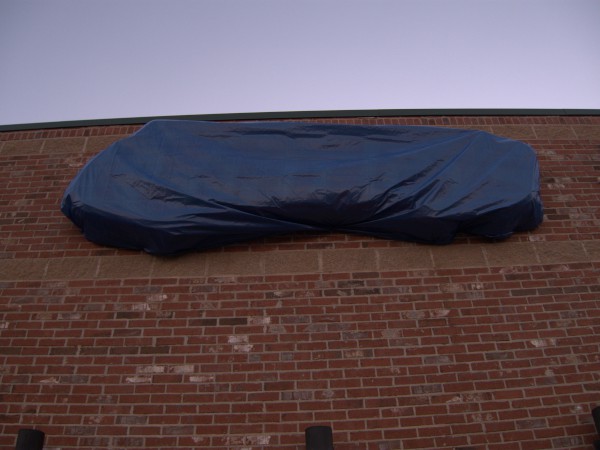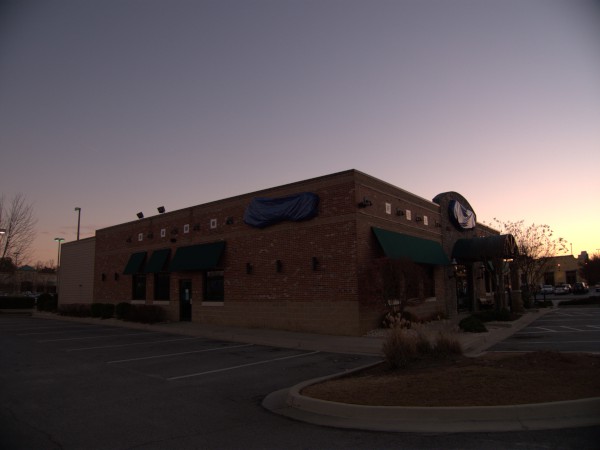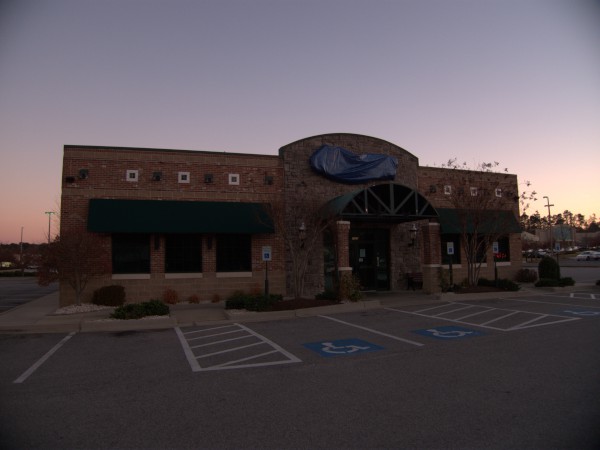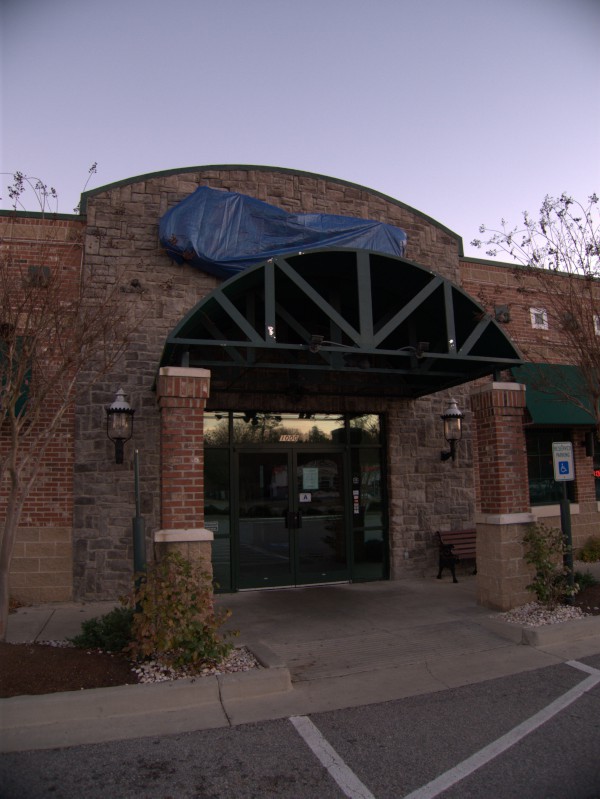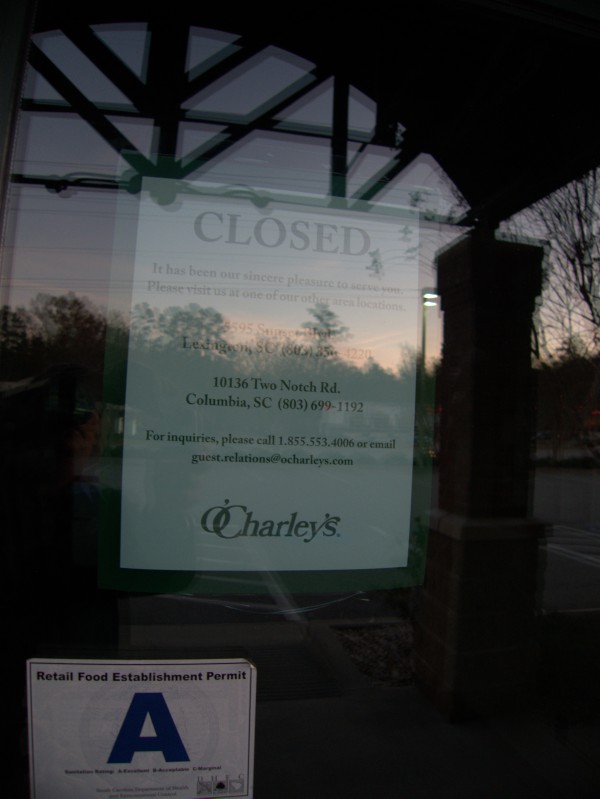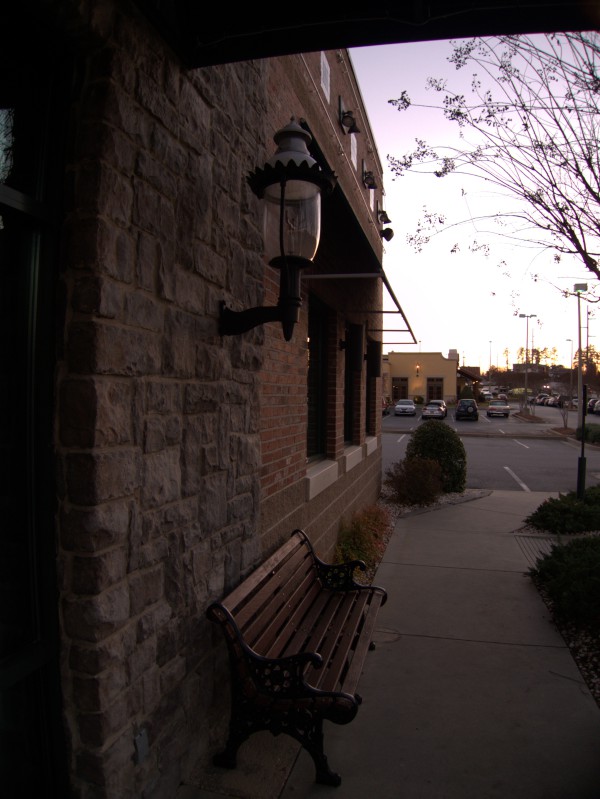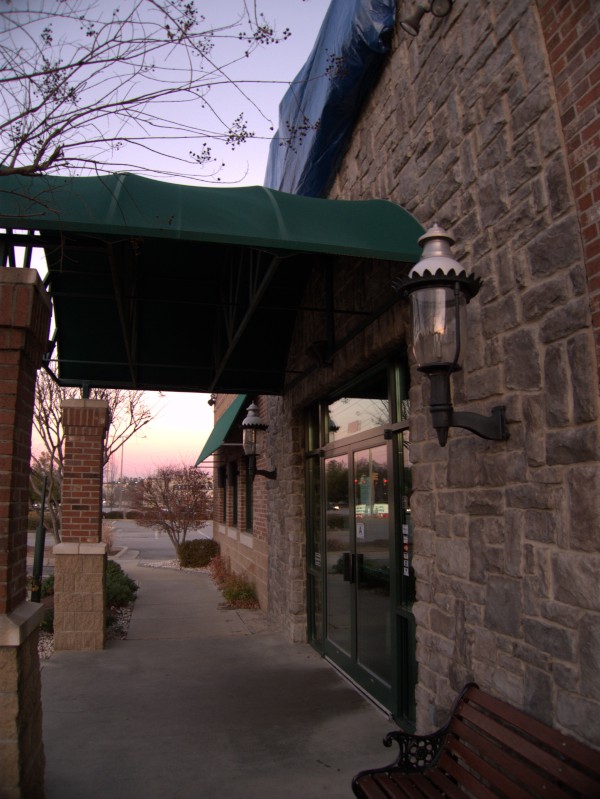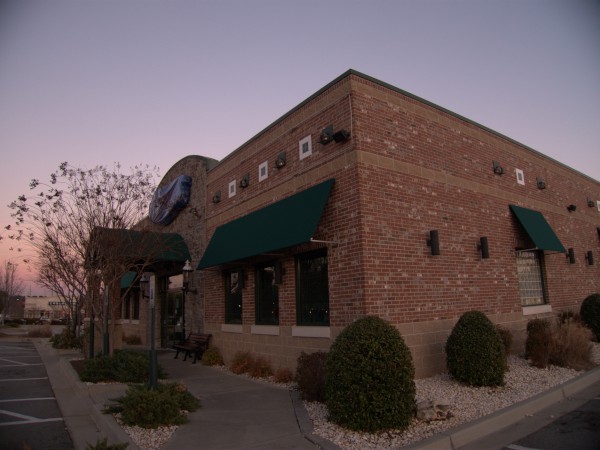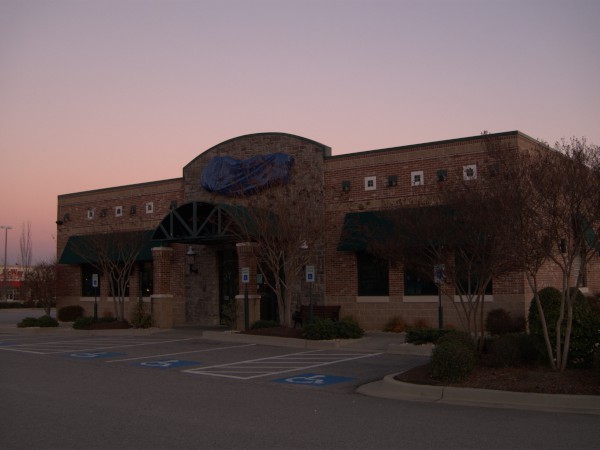 When I heard about the closing of the Harbison O'Charley's, my first thought was that I hadn't remembered one was over there, and my second thought was: Why Would I Go To O'Charley's?.
In fact it's always seemed to me to be a pleasant enough place without any real "hook" to get me in. I went to the one at Columbia Mall several times, and the one in Augusta at least once, and basically recall only that they had pretty good chips & salsa and burgers.
Interestingly (or not) this one closing made me try the one on Two Notch again -- I got in there, and found that a) they didn't have the chips & salsa anymore, and b) they were out of hamburgers. I had never heard of that before!
The State says that this one shut when the company
closed 16 underperforming stores Monday.
and that
The Harbison location was the only one in South Carolina to close.
(Hat tip to commenter William)
UPDATE 17 July 2011 -- work on the building and facade for the conversion to a Buffalo Wild Wings is ongoing: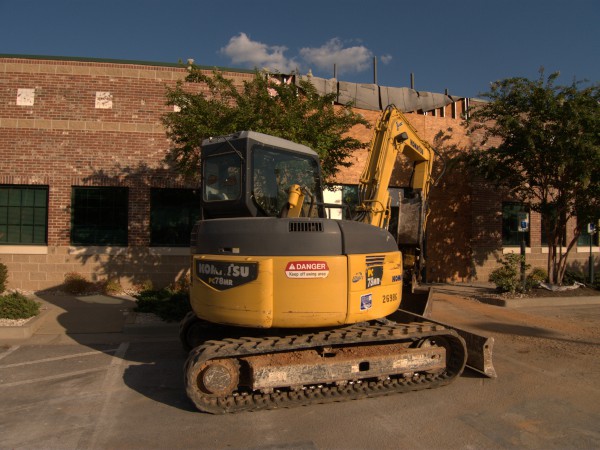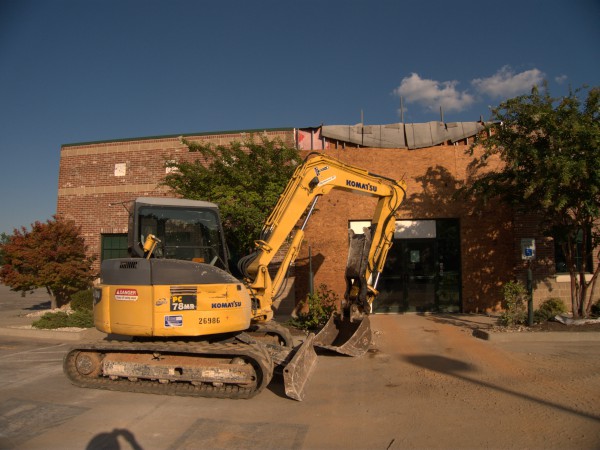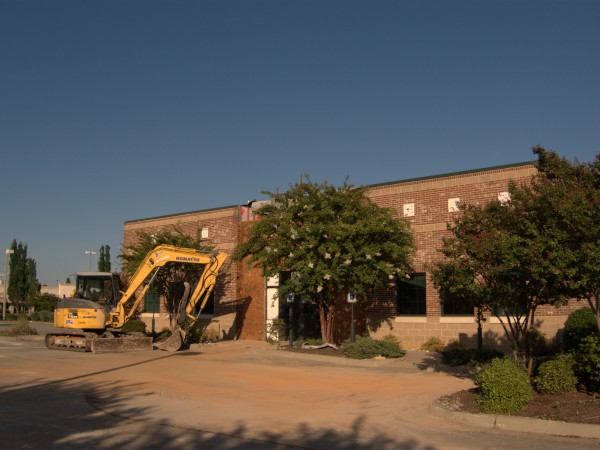 UPDATE 24 September 2011 -- They're getting close.. and have certainly changed the look of the building!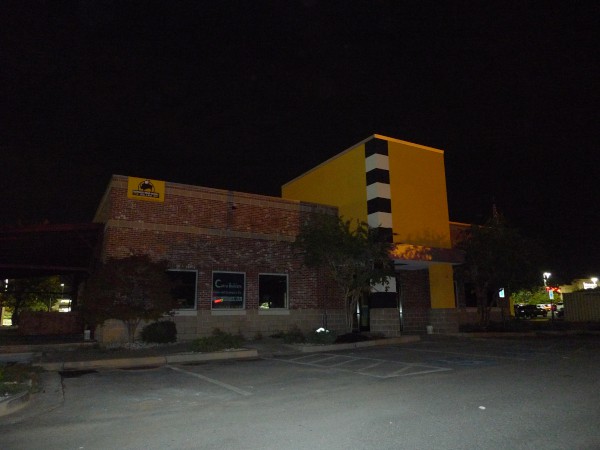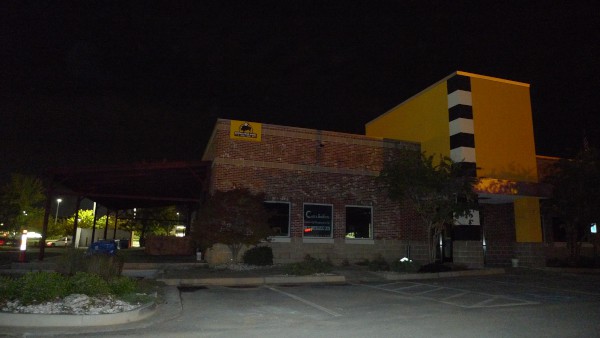 UPDATE 31 October 2011 -- As commenter Andrew has already noted, it looks like they're set to open on 7 November 2011: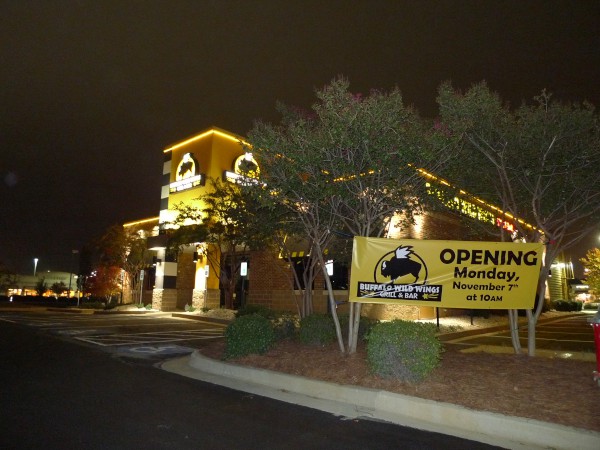 Posted at 9:47 pm in Uncategorized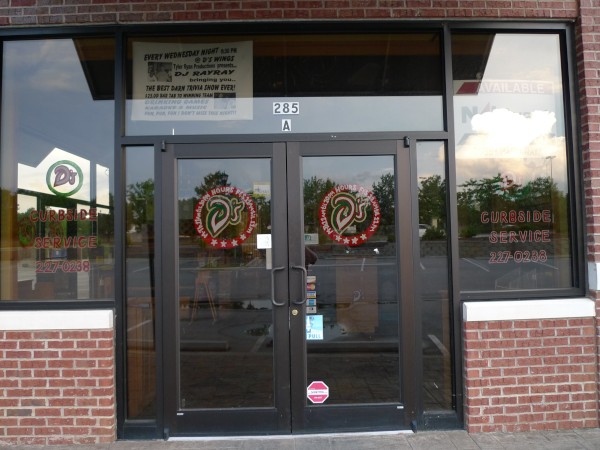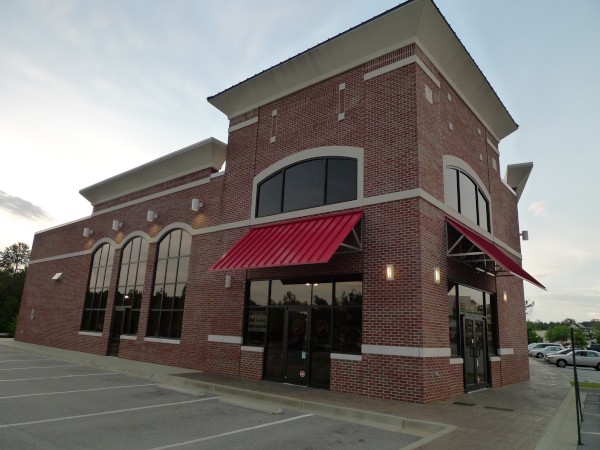 I've written about D's Wings a couple of times before. The short version is that it's a local chain with a surprisingly large menu (including good grilled cheese sandwiches and raw fries!) that has gone through a rough patch over the past couple of years.
I think this location, on Columbiana Drive just past Columbiana Center, closed at about the same time the Blythewood and Clemson/Sparkleberry stores did, which was around October last year. I don't know the ownership structure of the chain, but I would speculate that there are several owners because other D's locations (Beltline & Parkland Plaza for instance) continue on.
If you've followed this blog for a while, you've come to know one of my photographic weaknesses, and I indulged it fully the evening I finally stopped by this location.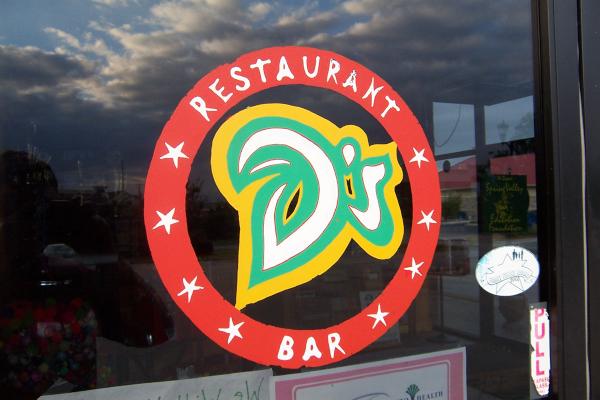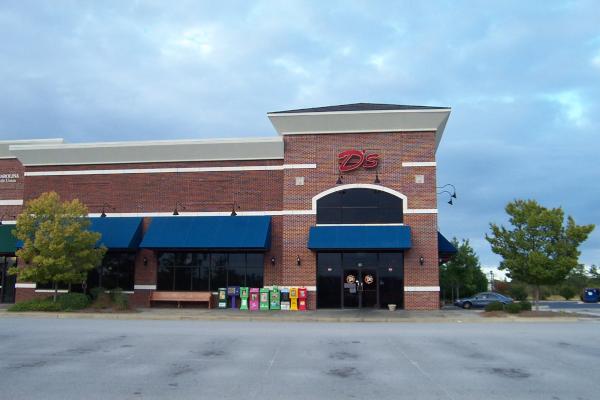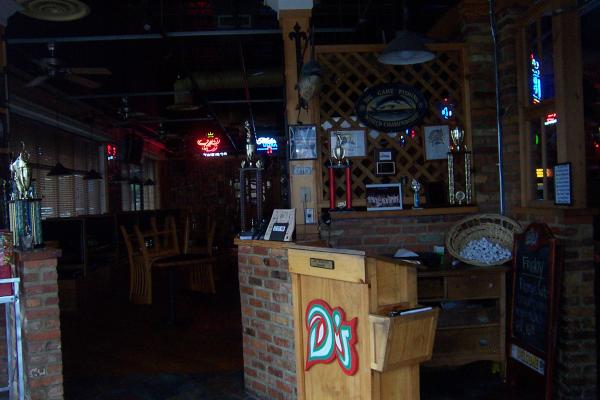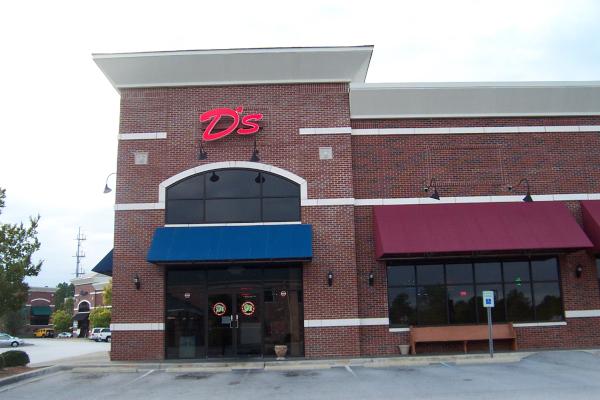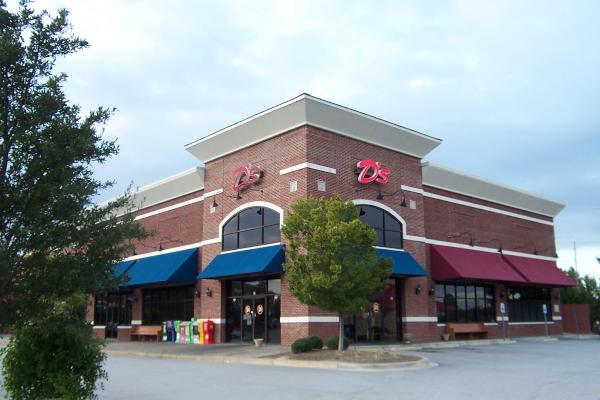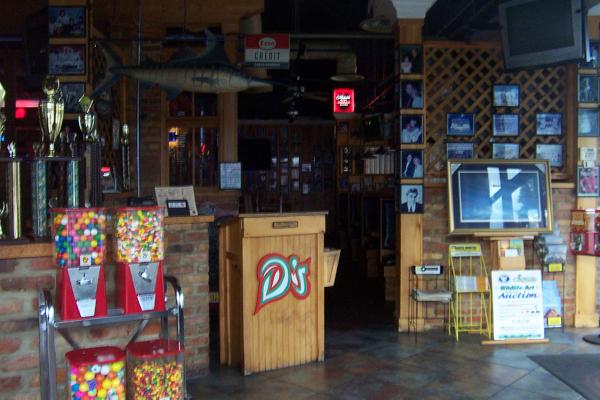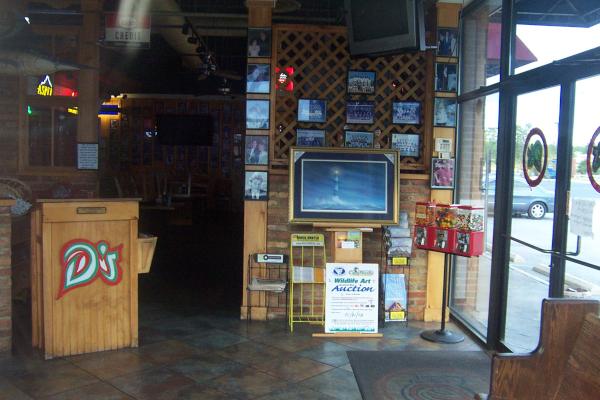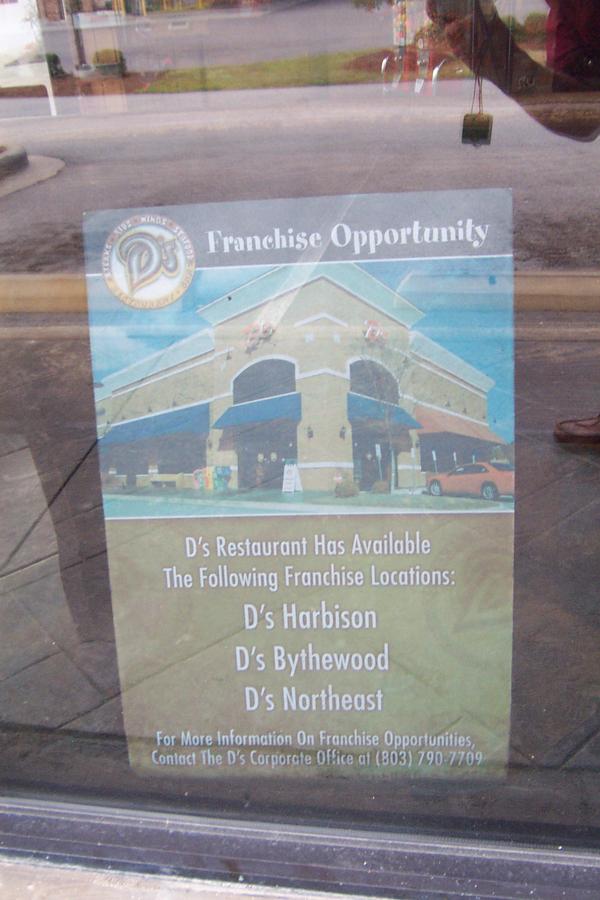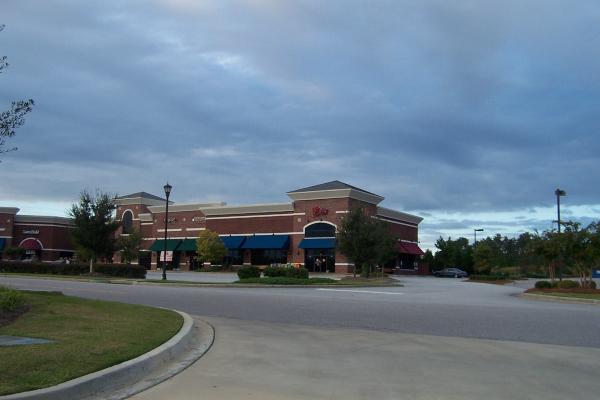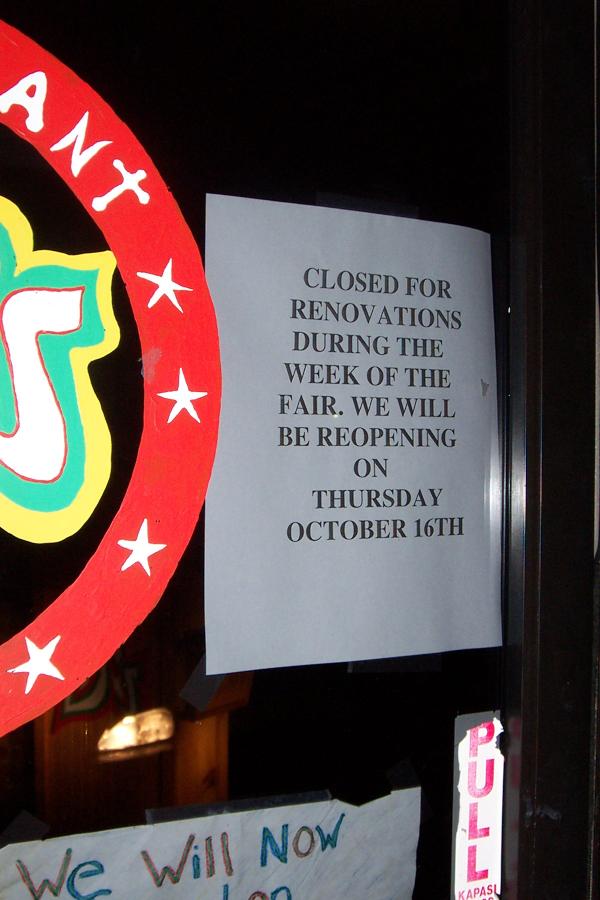 I've written about D's before. Recently in the comments people mentioned that several other D's had now closed. I was over in the Harbison area, so I decided to check that one out, but found that I actually didn't know where it was, and had been thinking of Wild Wing (which is still open). After that, I decided to check on this location, which is on Clemson Road at Sparkleberry in a strip mall which has seen a number of restaurants flounder.
What I found was a little odd in that while there was a floor sign offering a "franchaise opportunity" (when "opportunity" is used in this way, I always decode it as in the immortal phrase from Pogo: We are confonted with insurmountable opportunities!) for this restaurant, the one in "Bythewood" and the one in Harbison, all the lights were still on, and the place looked as though it had been straightened up for business, not closing. Nonetheless it wasn't open. Still, it looked so not closed that I hesitated to post on it. Then when I was on my way to Brixx the other night I stopped by again and saw a very definite sign saying that the place would be reopened on 16 October, though it also used the dreaded "renovations" word which often indicates more of a fond wish to re-open someday than anything else (especially as no renovation work was visible through the windows). So, we will see tomorrow!
UPDATE 17 Oct 2008:
Well, they did not reopen on 16 October..
UPDATE 6 May 2009: They are definitely gone for good now, so I have taken the "(temporary?)" tag off the post title. I have also updated the post title with the full street address of the store, and added the word "Northeast" to the store name.
UPDATE 10 Jan 2010: A new operation "7 Grill & Bar" is moving into the old "D's" slot: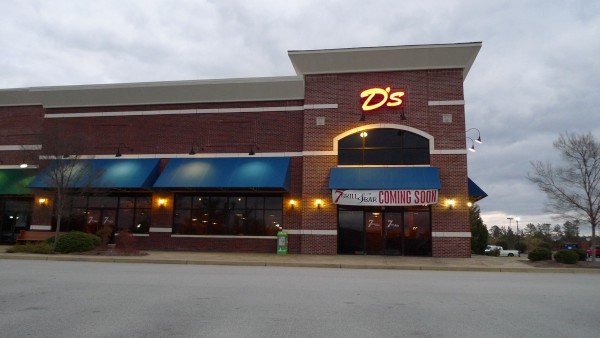 UPDATE 28 April 2010 -- The D's replacement, 7 Grill is now open: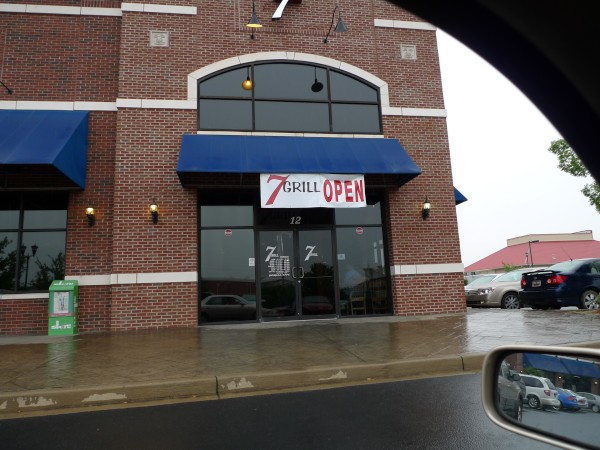 UPDATE 11 December 2012: Interesting tip from commenter Frank to the effect that D's will be reopening here soon. These pictures pretty much confirm it. The 7 Grill marquee is still up, but the interior has been filled with D's stuff. In fact, that cigar store Indian is almost certainly the one from D's on Beltline so it would appear that the Beltline store is moving here!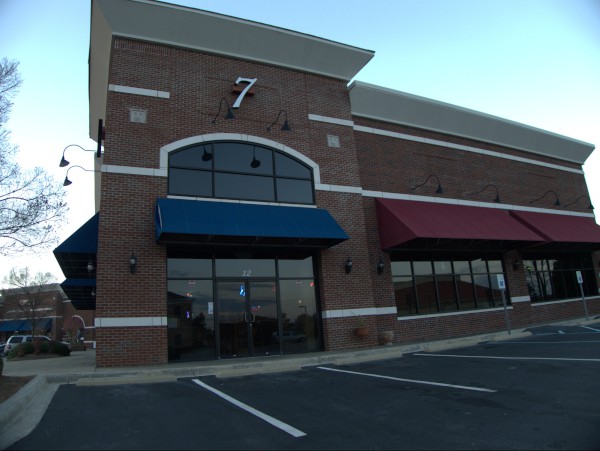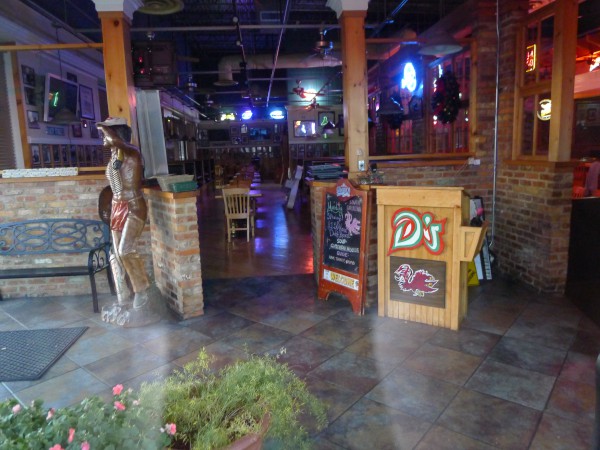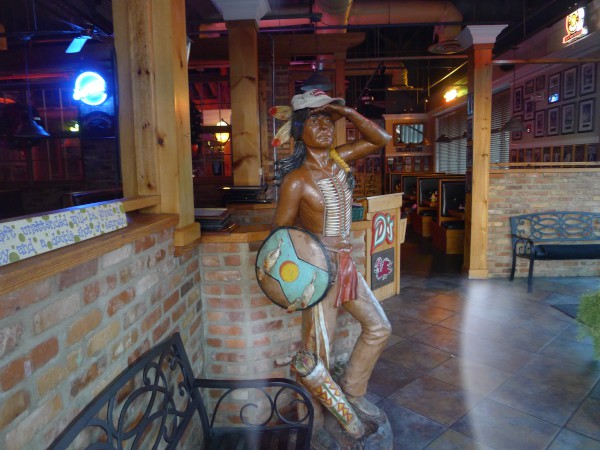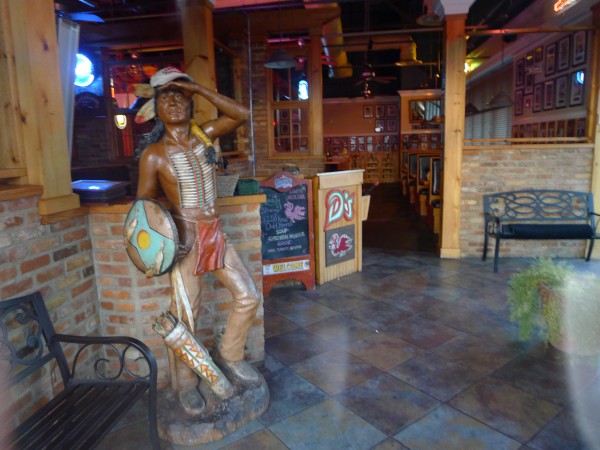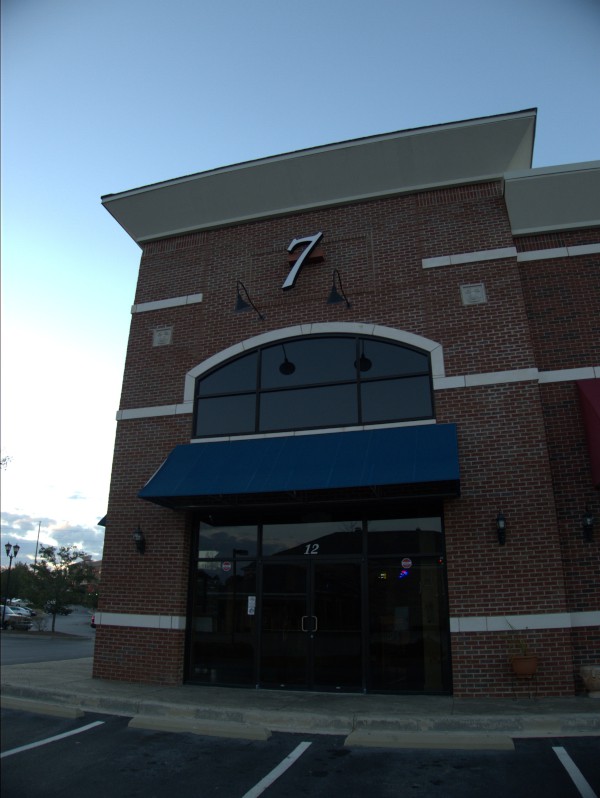 UPDATE 23 October 2015 -- OK, this is getting a little hard to follow, but this location (D's Northeast) closed in 2008, then the building became 7 Grill which closed, then the D's from Beltline (which was a seperate operation) moved here, and now it has closed. As you can see by the door note, this latest closure came sometime before 15 September 2015: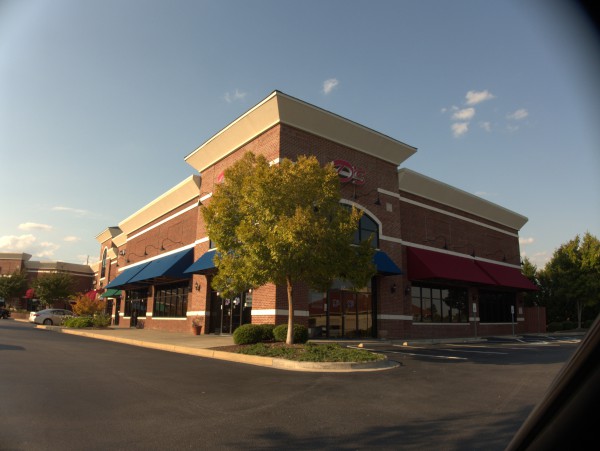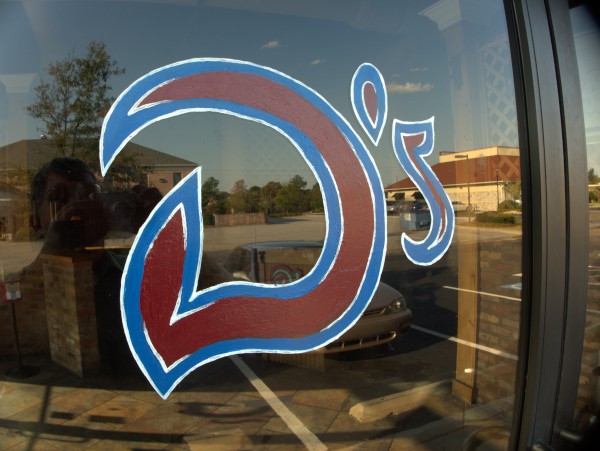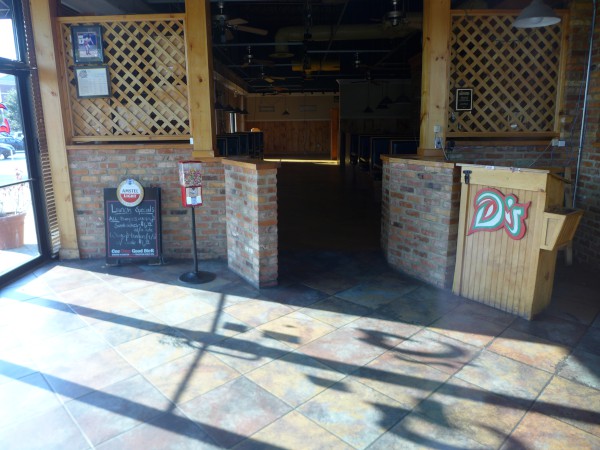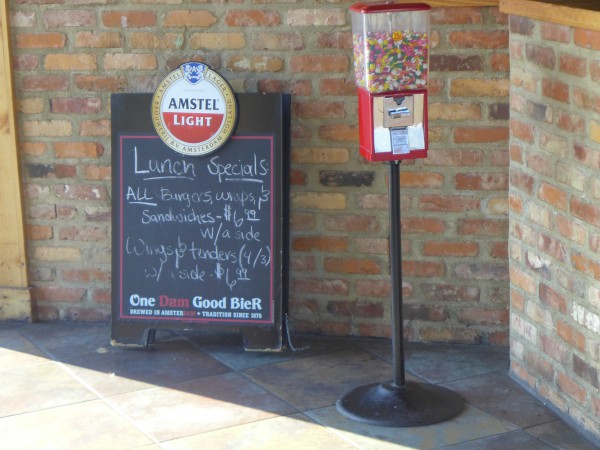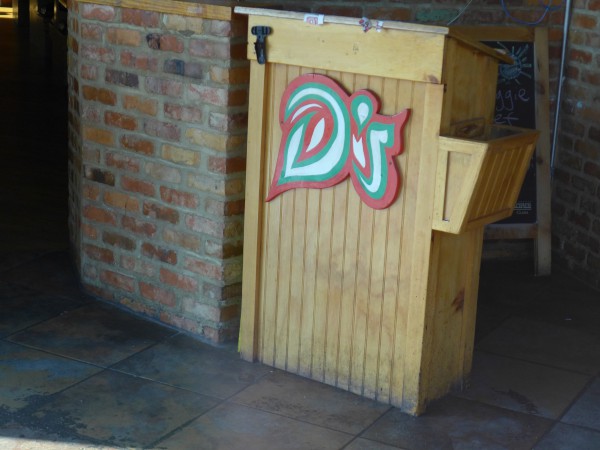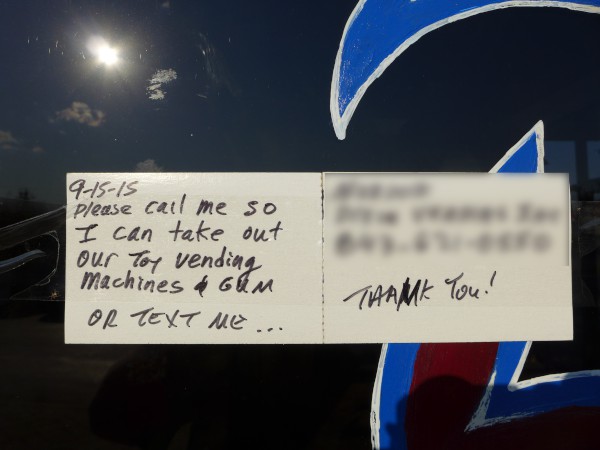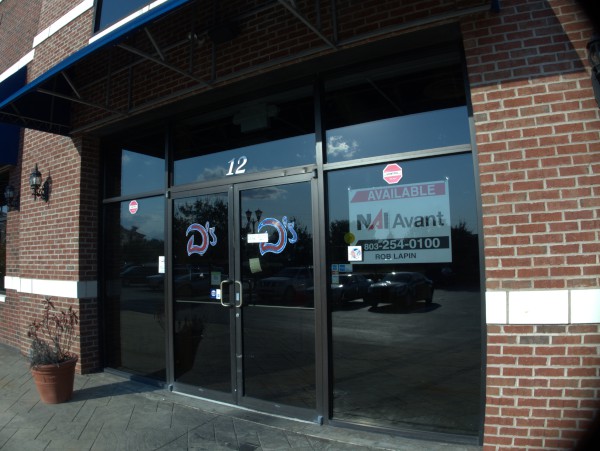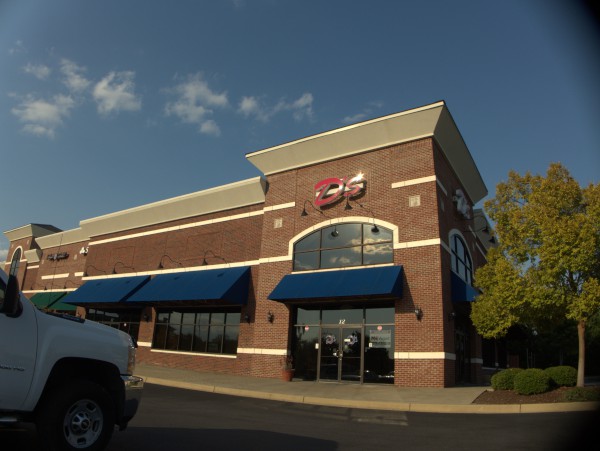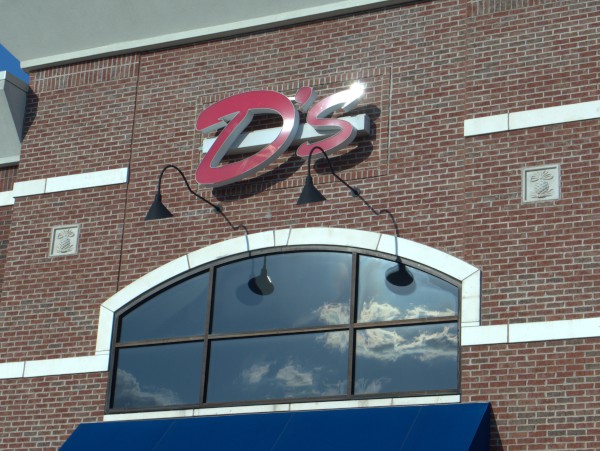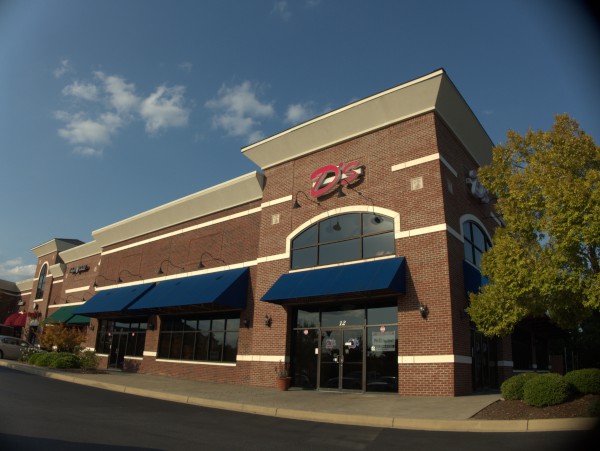 UPDATE 7 December 2016 -- Now a J Peters: