Archive for the 'wings' tag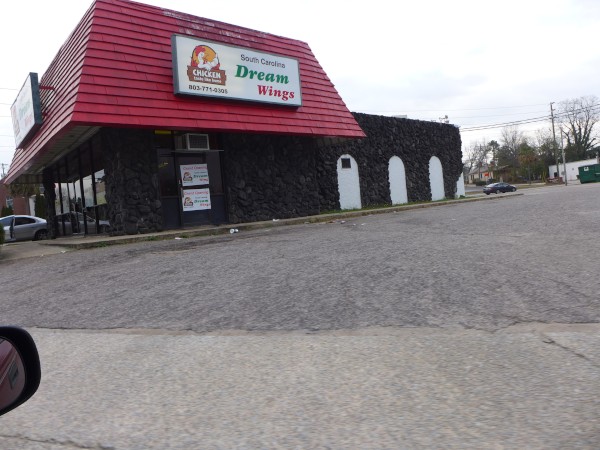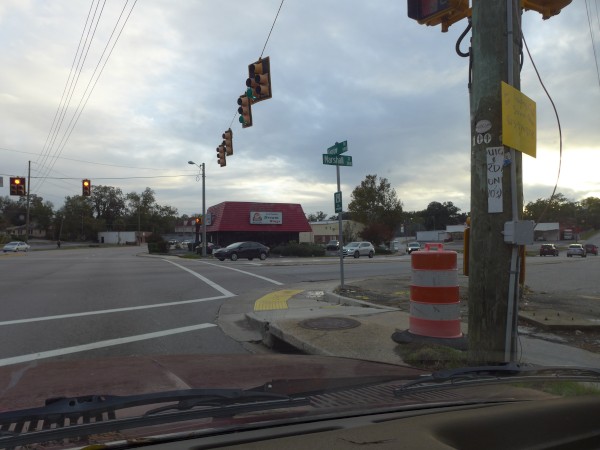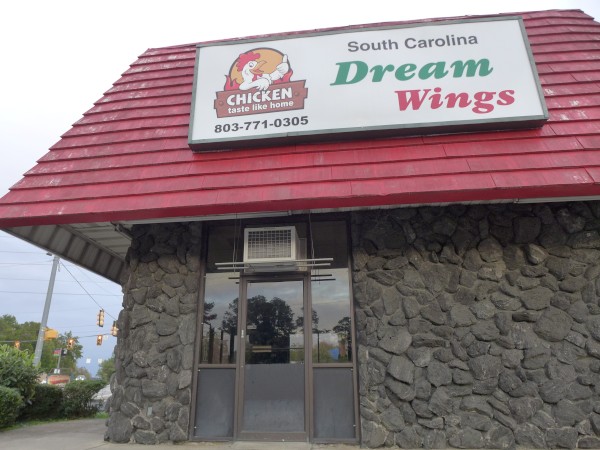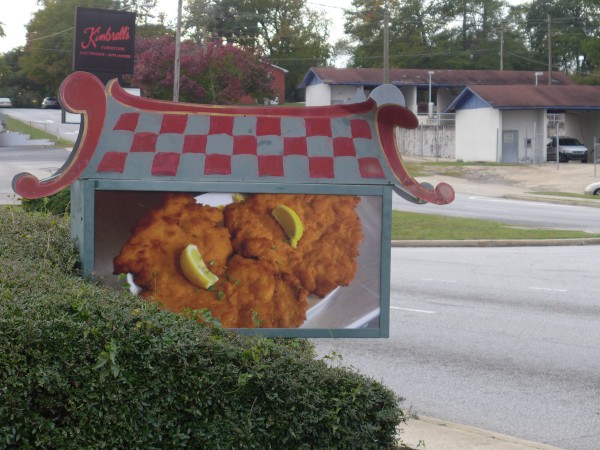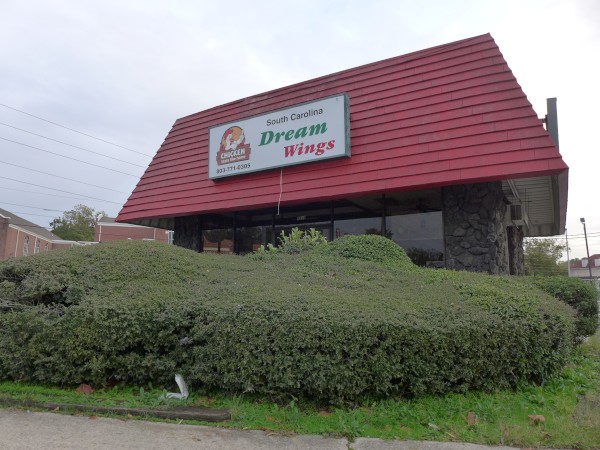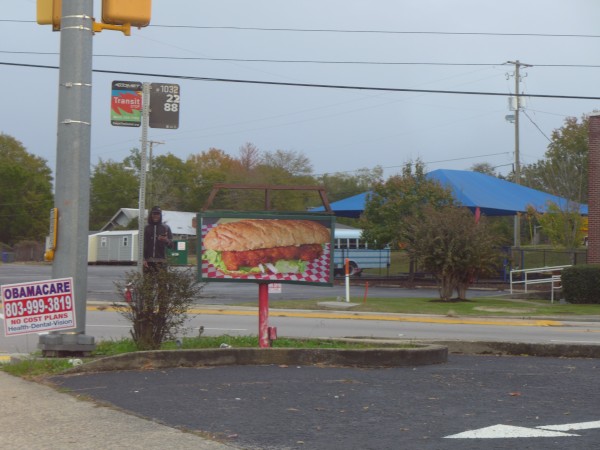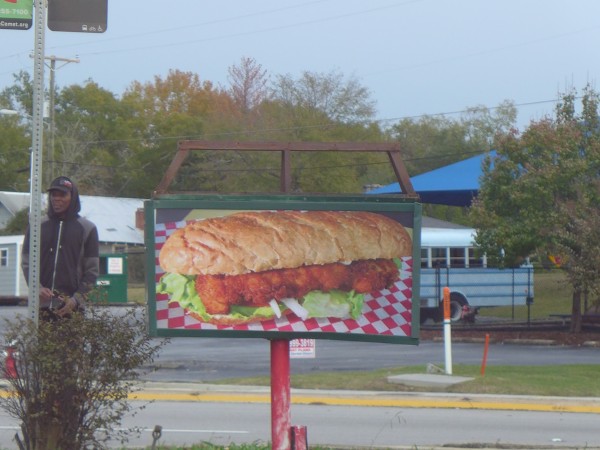 Well, I took my eyes off the old Popeye's location, and missed two closings.
South Carolina Dream Wings was the follow on to Jade Palace which closed in early 2018. South Carolina Dream Wings opened shortly thereafter, and I'm not sure when they closed.
After that, and without ever getting around to changing all the signs, Uncle Ozzy's opened. It was, in a complete change for this spot, a schnitzel operation. The Free Times highlighted it as a Bite Of the Week location, proving once again Yogi Berra's observation that It's tough to make predictions, especially about the future:
The location has had a long and varied history, but Ozzy gives you a good feeling that this could be a place that sticks around for a really long time.

[Update: Uncle Ozzy's closed suddenly after Free Times sampled its Hunterschnitzel on Sept. 12.]
Looking at Uncle Ozzy's Facebook page, it appears that the owners had a falling out.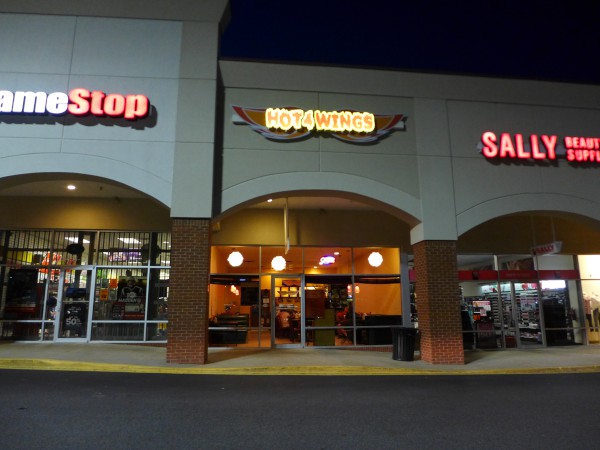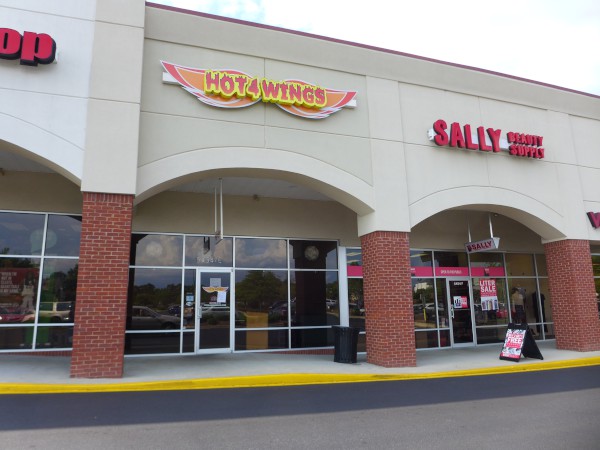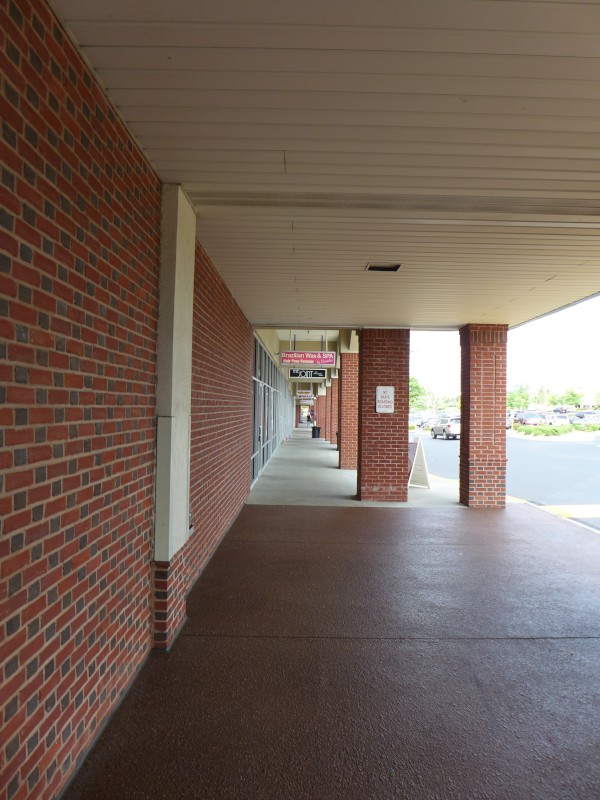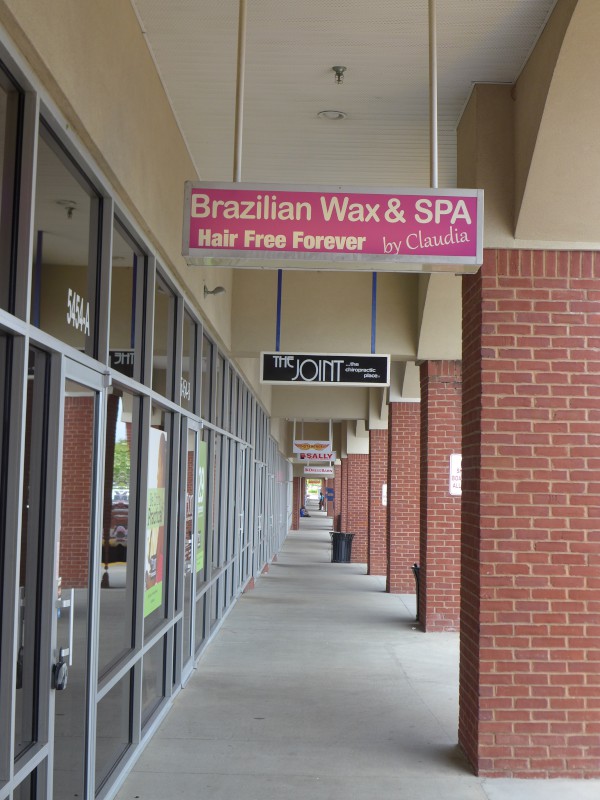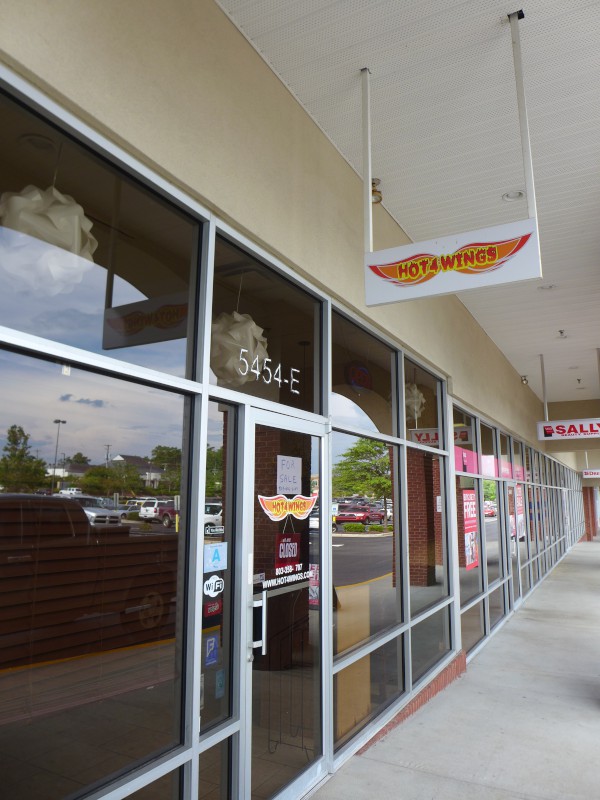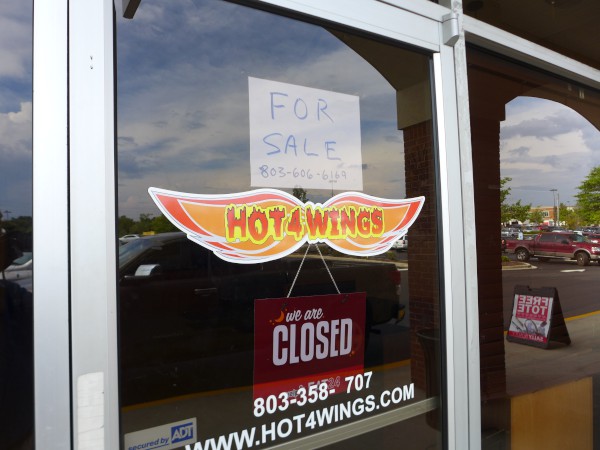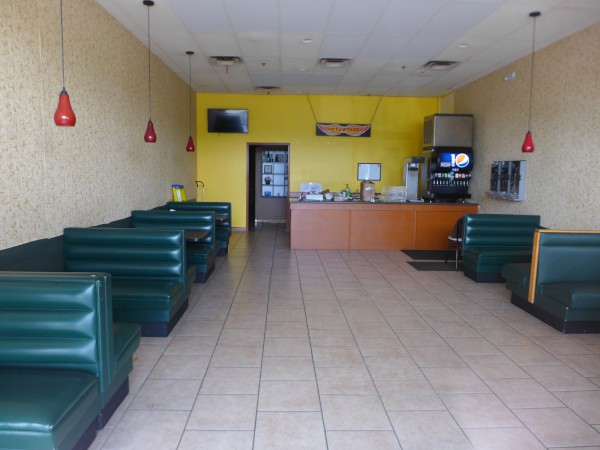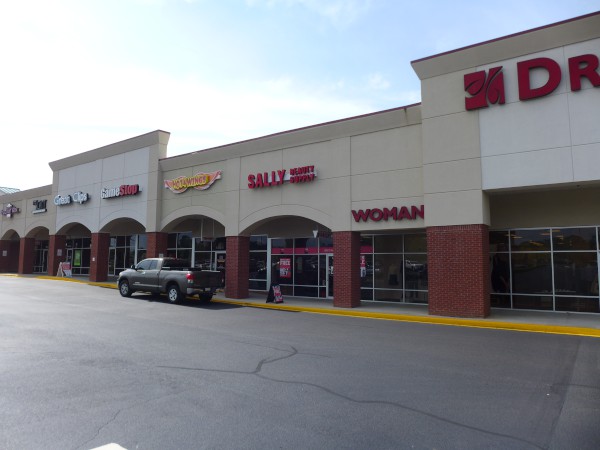 The impending closing of this Lexington Publix plaza wing stop was noted a while ago by commenter Ed, and commenter Brian confirmed the actual closing a bit later. The first shot shows the place still in operation and the later shots are from afterwards.
Curiously, Hot 4 Wings was just a few suites down from Wing Nuts, which shuttered in March 2014.
(Hat tip to commenters ED & Brian)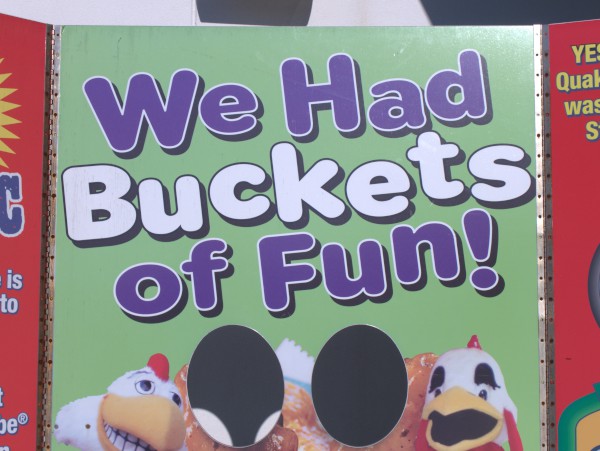 Although I had thought about going to Quaker Steak & Lube serveral times, somehow I never got around to it. If I *had* gone, I would have taken the frontage road east at I-20 & Clemson Road. As I found out yesterday, that doesn't work -- that frontage road does not go all the way through from Clemson Road to Spears Creek Church Road, and in fact you have to take the Spears Creek Church Road exit.
Once finding the place, I discovered it was a wings joint, so I probably would not have gone out there often anyway as I dislike the smell of chicken. That aside, it's a nice looking building, and apparently they had bands play the small stage in the parking lot, presumably in the warmer months. There are stairs leading from the Quaker Steak lot down to the Harley Davidson Thunder Tower, so I expect they probably got a good bike crowd for those shows.
Interestingly, if you google for Quaker Steak & Lube in Columbia, this address is not the first thing that comes up. Instead, you are referred to 2150 South Beltline Blvd, which if you look at google maps, was a vacant lot the last time they took aerial pictures. I haven't been down there, but apparently the ground has been cleared for at travel plaza, and the new Quaker Steak will open there in March 2017.
Which ties in with something else I read online
Sunday, May 1, 2016 10:28 PM EDT
WESTLAKE, Ohio -The deal has been closed to sell the Sharon, Pennsylvania based Quaker Steak & Lube restaurant chain to a national truck stop chain based in Westlake, Ohio.

Travel Centers of America announced last week that it has completed the acquisition of Quaker Steak for approximately $25 million.

The transaction followed a chapter 11 bankruptcy filing by the parent company of Quaker Steak & Lube in November, which revealed that the wing restaurant chain had liabilities between $1 million and $10 million owed to hundreds of creditors.
So apprently Quaker Steak is becoming the house brand restaurant for TA Travel Centers.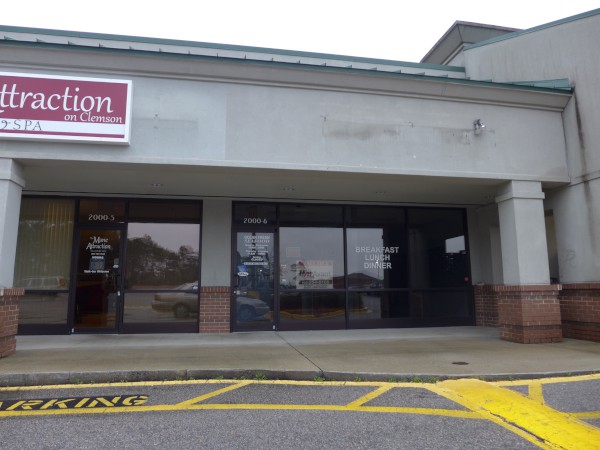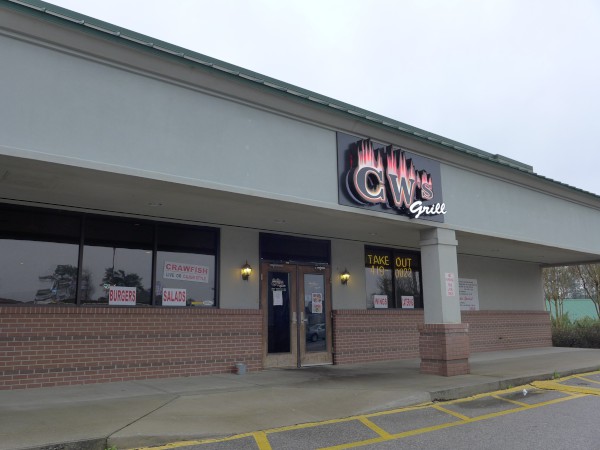 Somehow I have never posted this, though I seem to remember specifically doing it about three separate times..
Anyway, CW's Grill was an outpost of the now defunct Carolina Wings empire located with the now also defunct Pig in Magnolia Pointe at the corner of Clemson & Hardscrabble roads.
As of now, two years after the fact, their website is still up.
I believe the storefront was still empty last time I went by, but I'll have to check next time I get out there.
UPDATE 9 August 2017 -- Looks like this is now "Indulgence" (or "in.dul.gence"):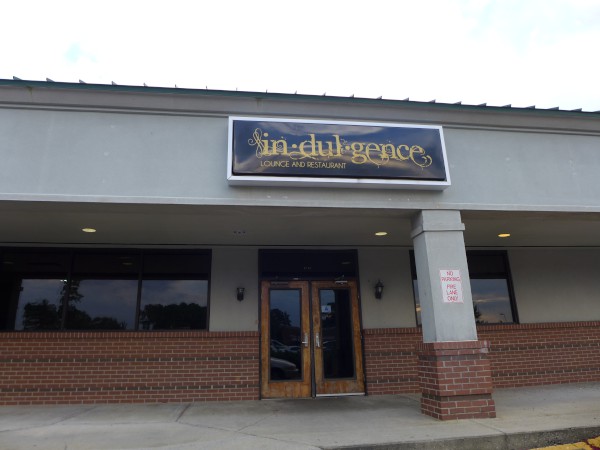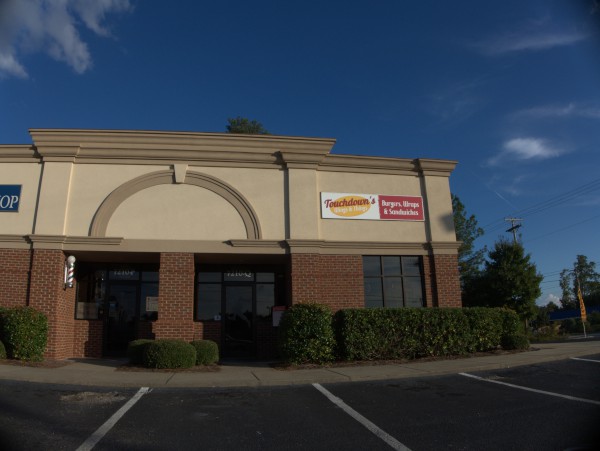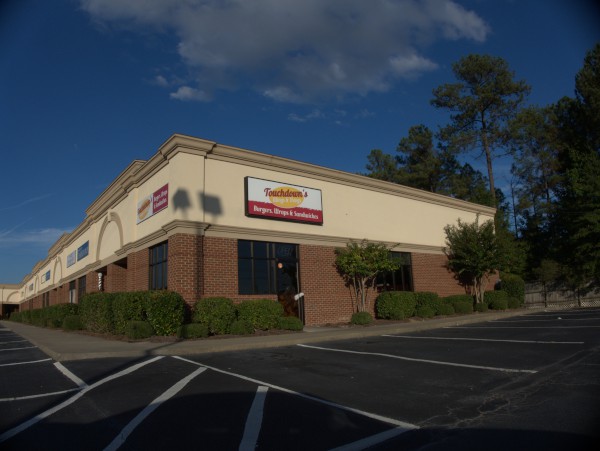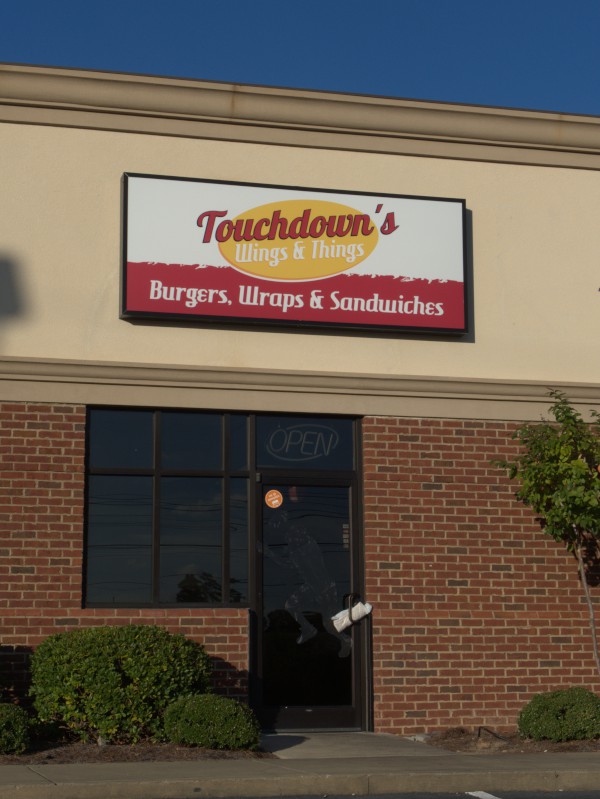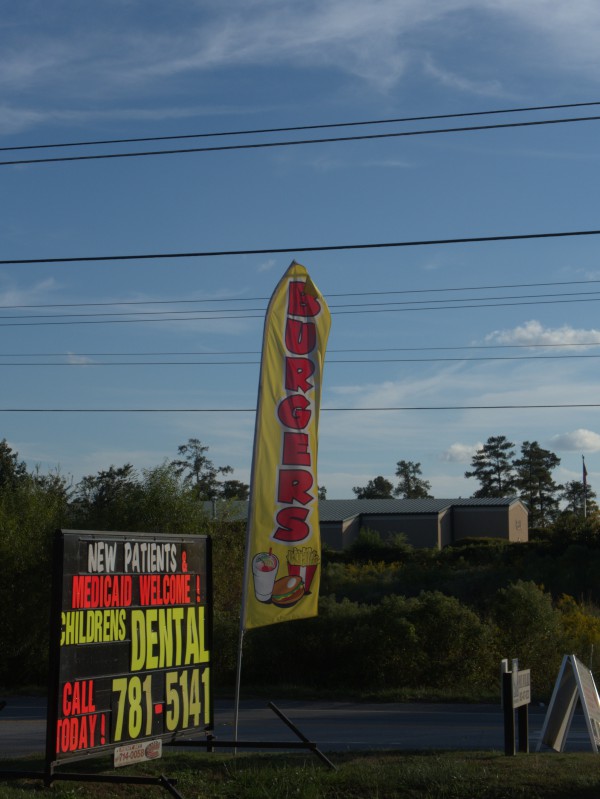 Touchdown's opened in a former Sammi's Deli sometime around October 2013. I'm not a big wing fan, and it's nowhere near where I live so I never made it in. I noticed last weekend as I was drive by that it was closed and had been relaced by a pizza operation: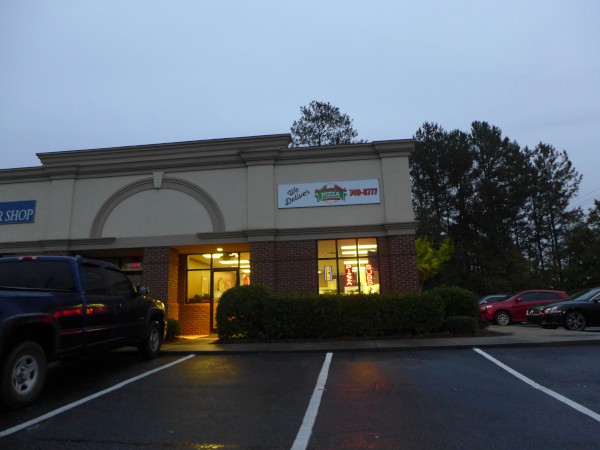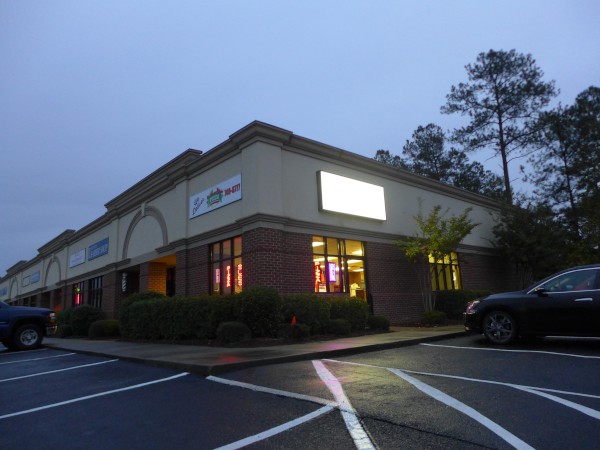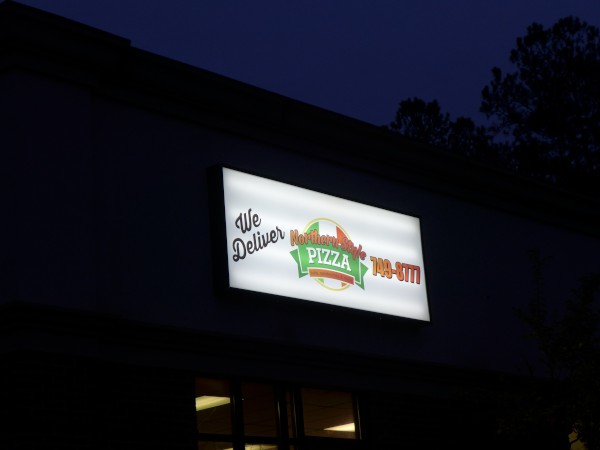 Posted at 12:28 pm in Uncategorized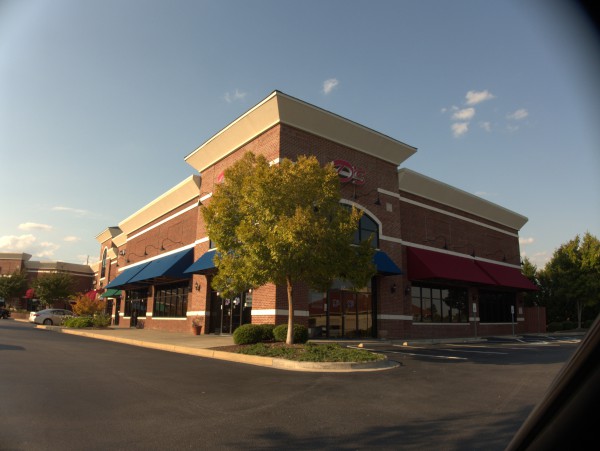 D's Northeast onSparkleberry is closed again.
This is worth noting, but since I already have a page for it, I'm going to turn off comments here, update the old post and redirect the discussion to there.
Posted at 10:55 pm in Uncategorized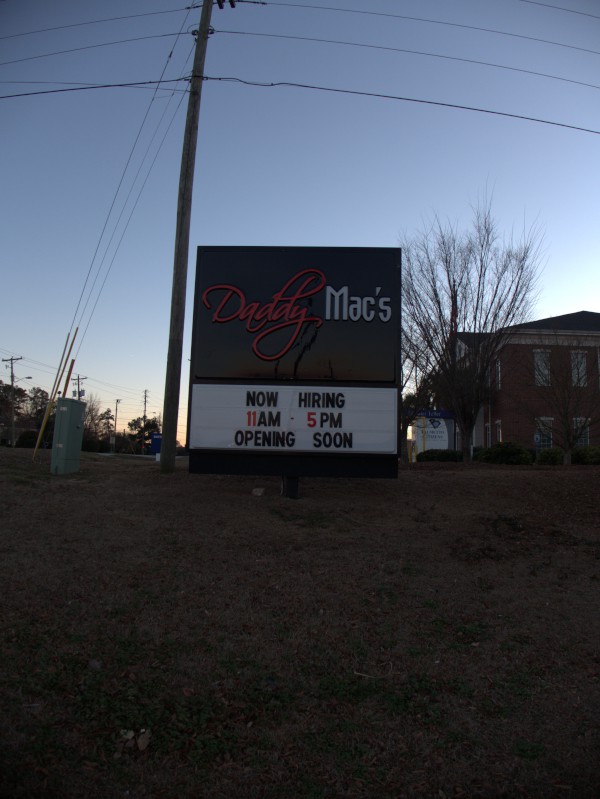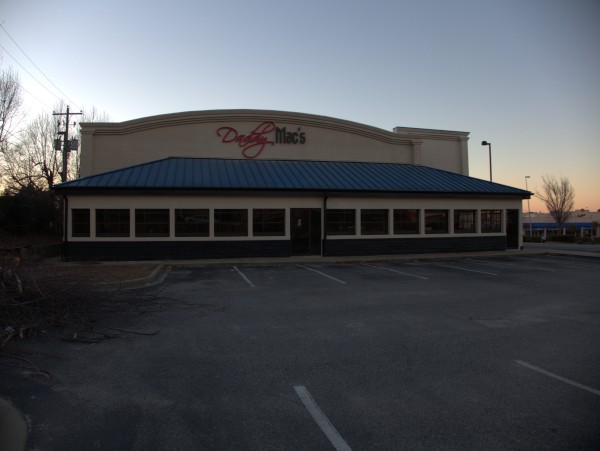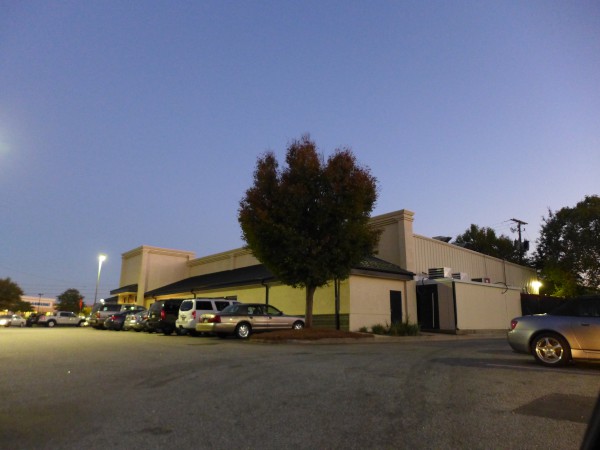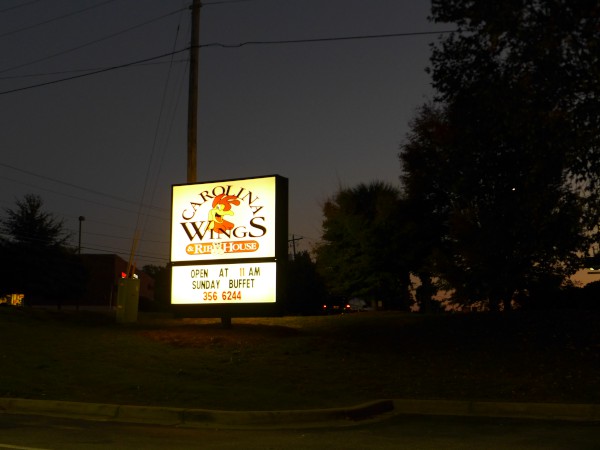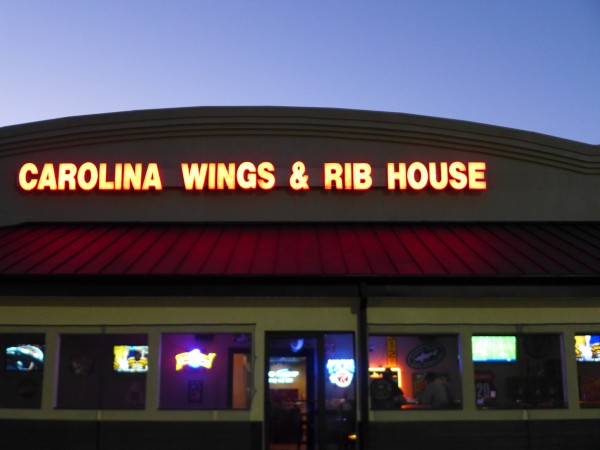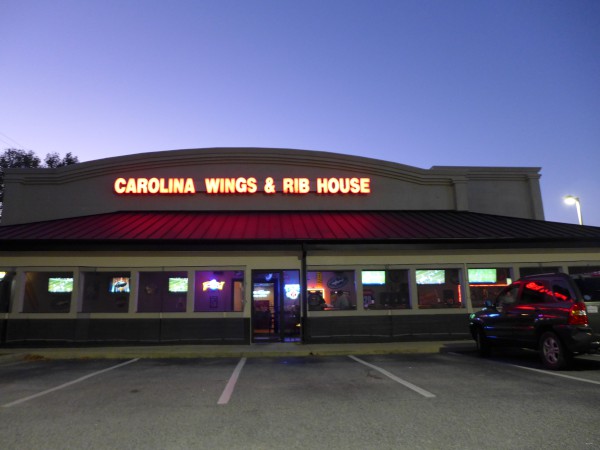 As reported by commenter John R, this former Carolina Wings & Rib House is now, once again, ... a Carolina Wings & Rib House.
The rebranding as Daddy Mac's lasted somewhat less than a year.
(Hat tip to commenter John R)
Posted at 11:44 pm in Uncategorized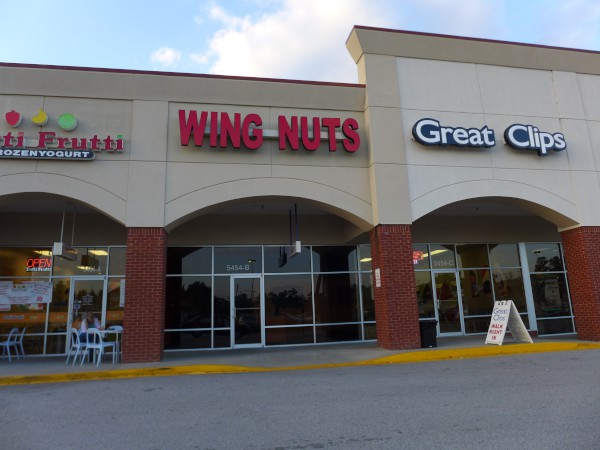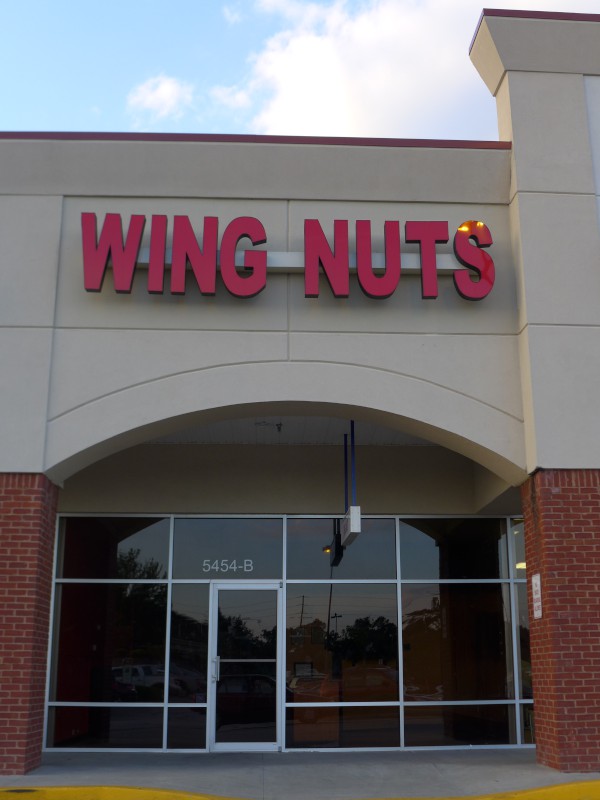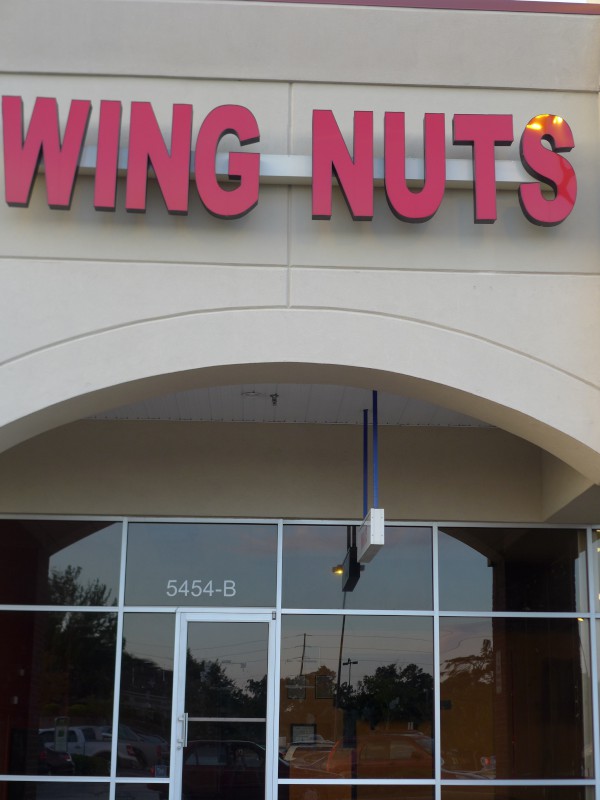 When I blogged the closing of the Harbison Wing Nuts back in June, commenter badger mentioned that the Lexington location on Sunset Boulevard had closed in March. Somehow it took me between then and now to get over there and get some pictures, but surprisingly the marquee is still up after six months.
(Hat tip to commenter badger)
Posted at 1:14 am in Uncategorized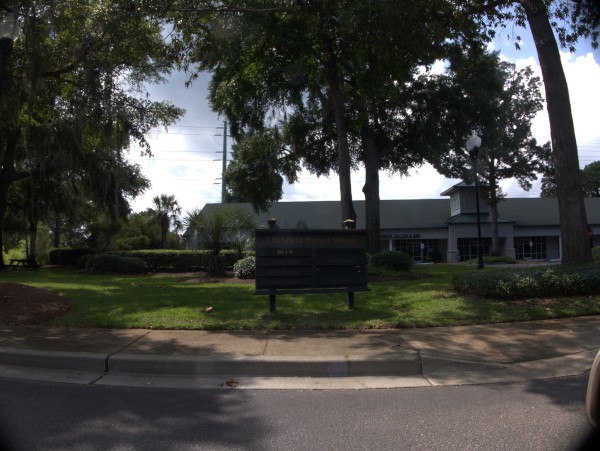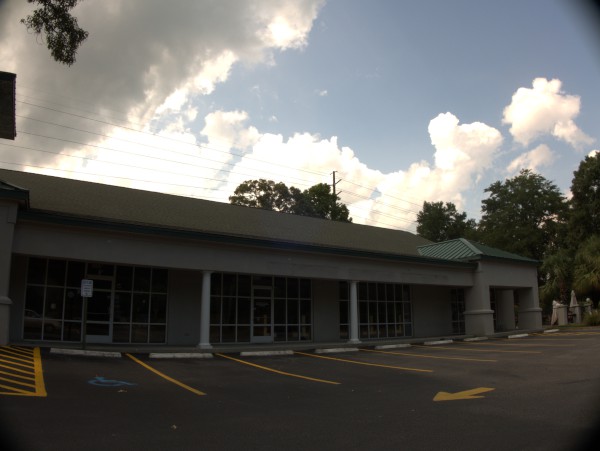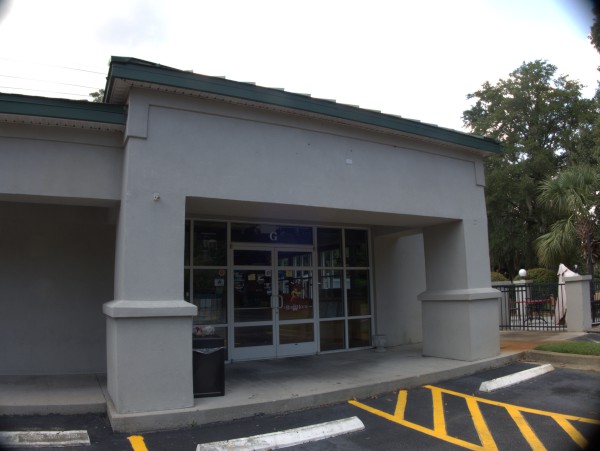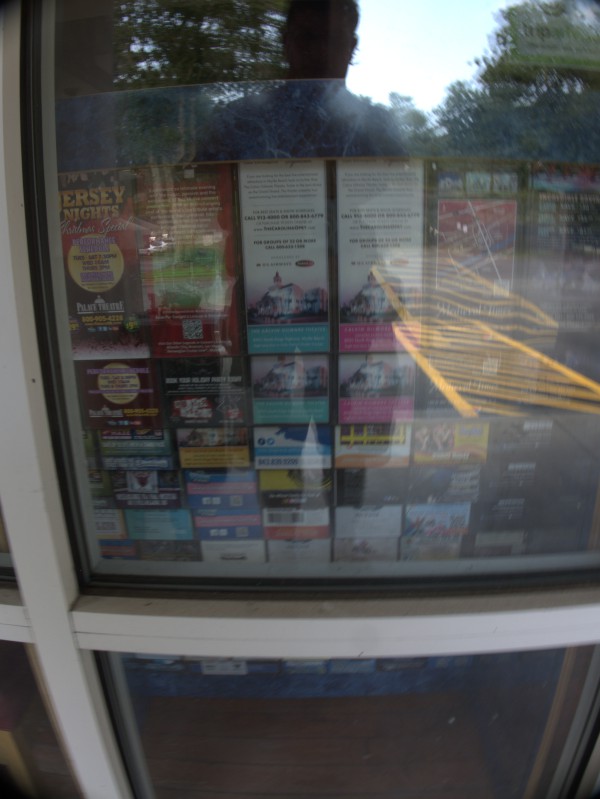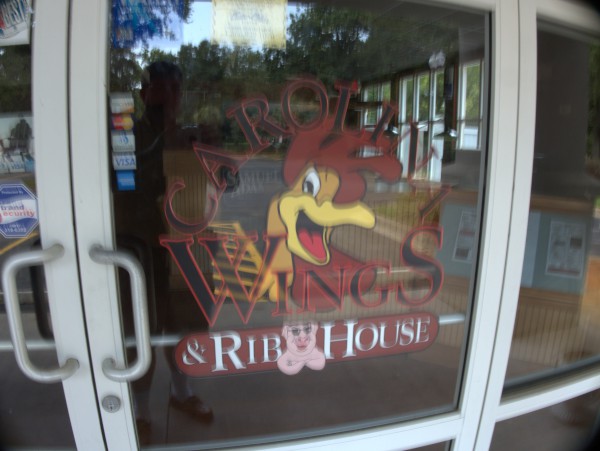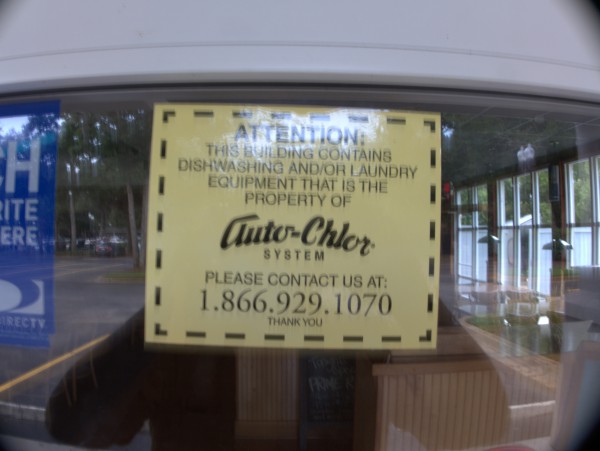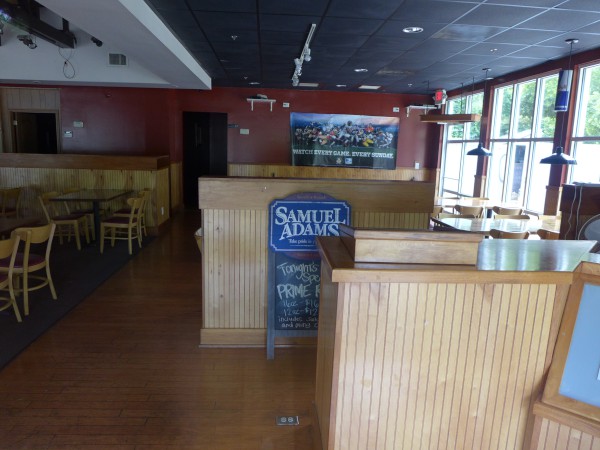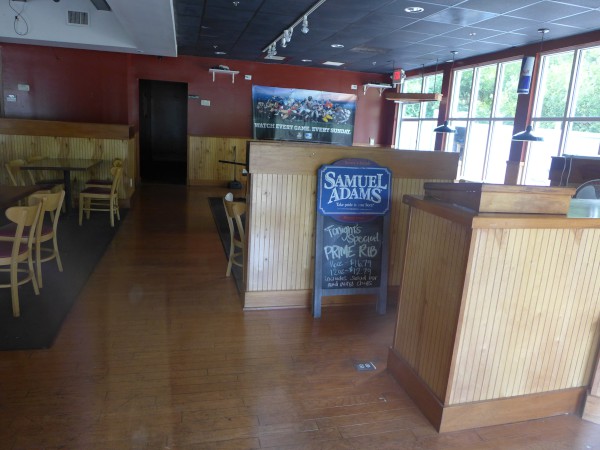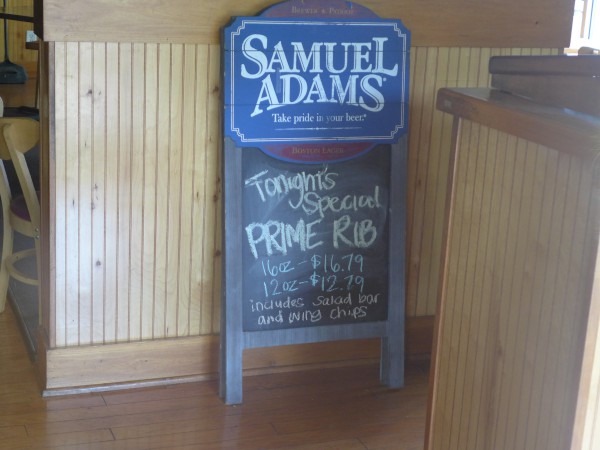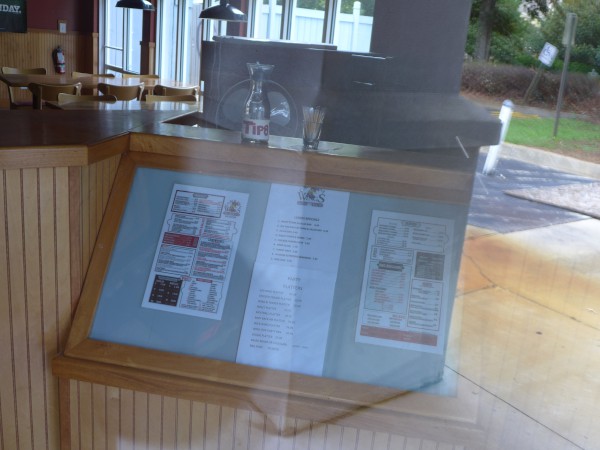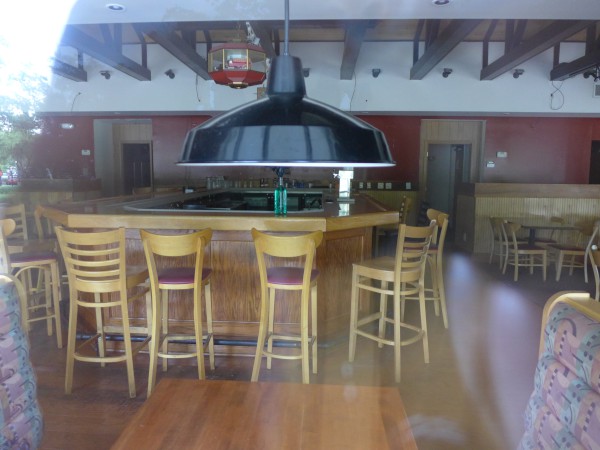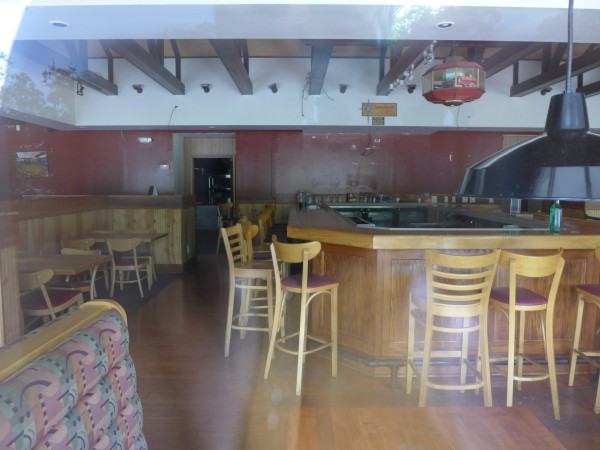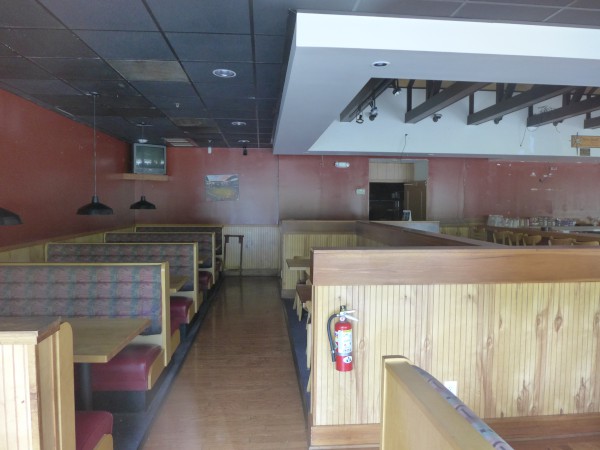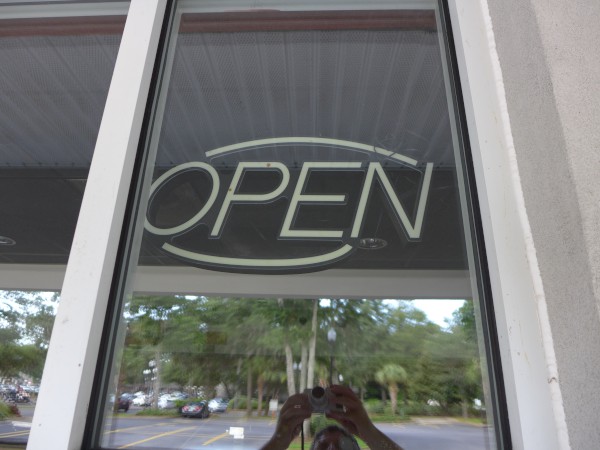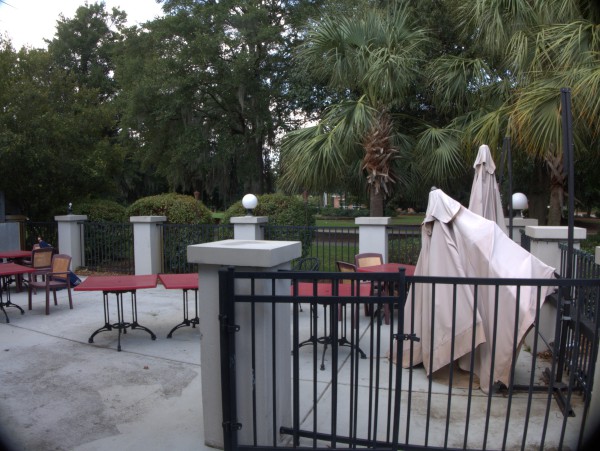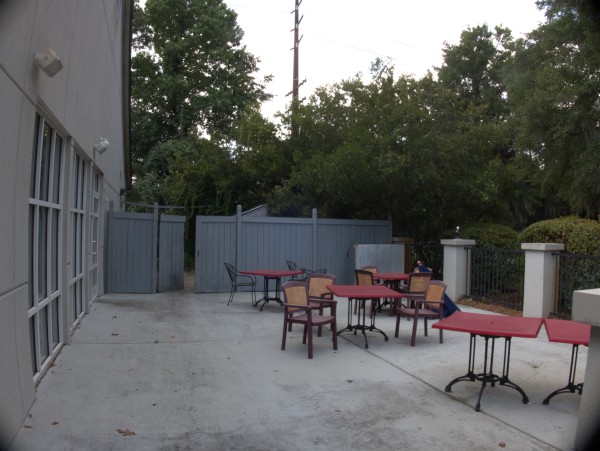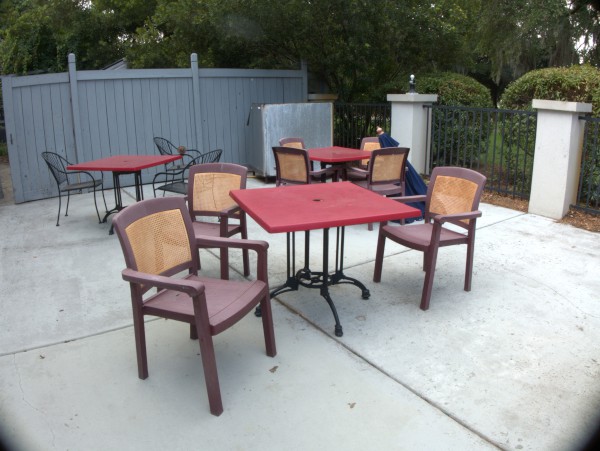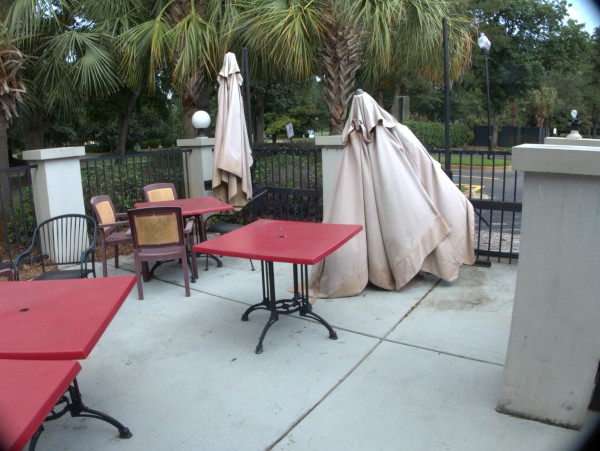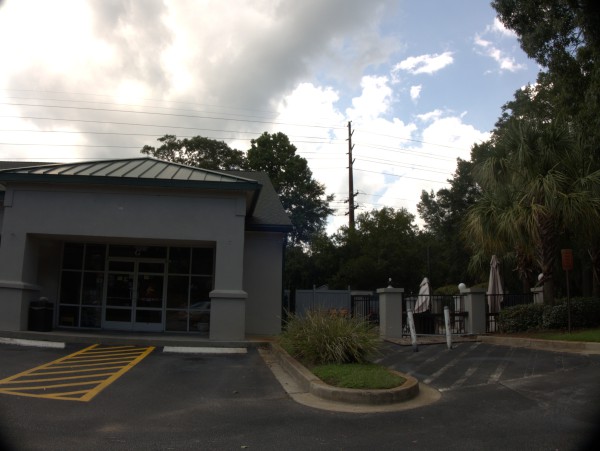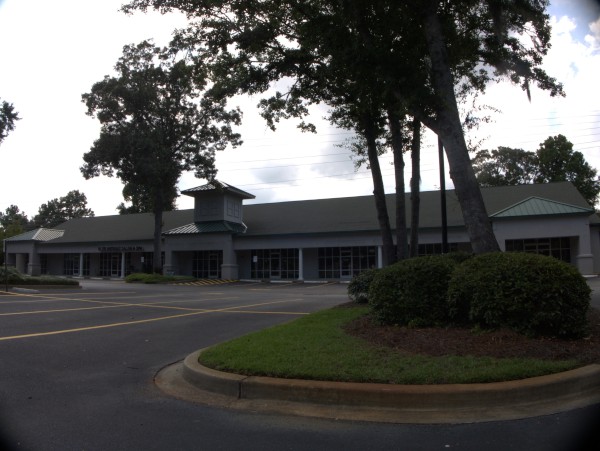 I have had my eye on this location of Carolina Wings & Rib House because the chain has been cutting its Columbia operations to the bone, and I figured this peripheral coastal location wouldn't last much longer. In fact, the place was open for the Memorial Day weekend, but by the time I went by again in late July it had apparently (from the state of things inside) just closed.
This location was in Litchfield Beach, in an outparcel of what was the Litchfield Piggly Wiggly shopping center (but which is now the Bi-Lo shopping center. Although I suspect that the general troubles for the chain were the biggest problem for this location, I also note that it is not visible from US-17 which can't have helped either.
Posted at 12:33 am in Uncategorized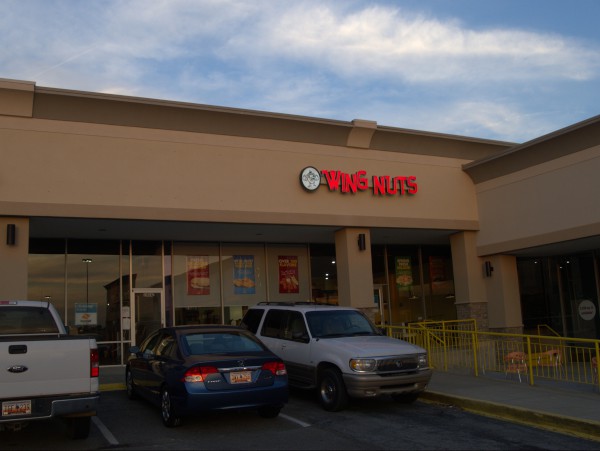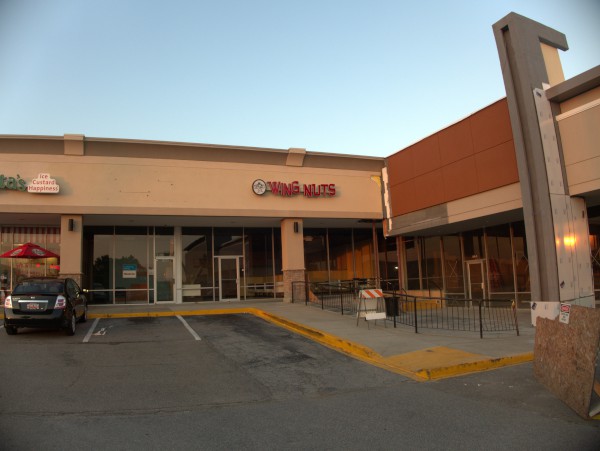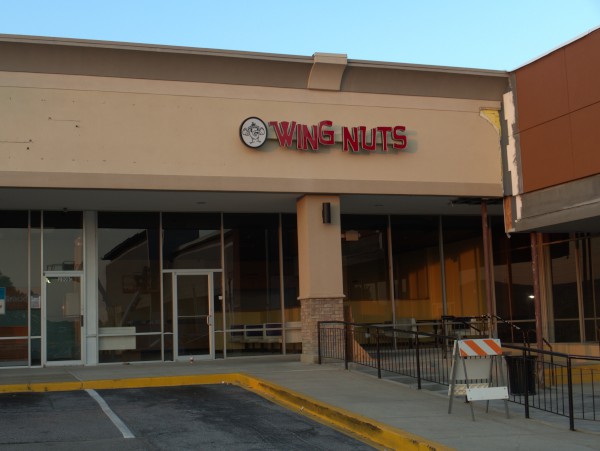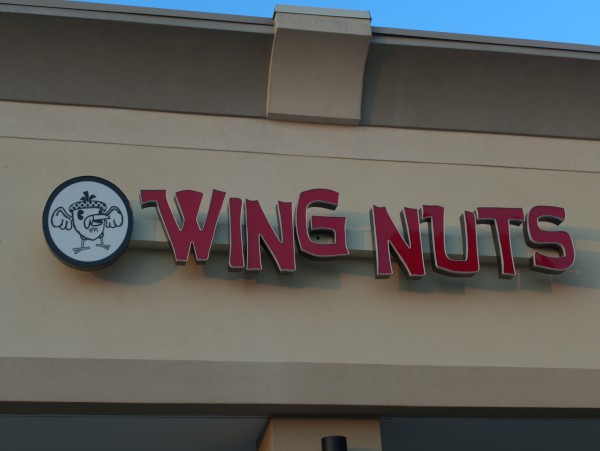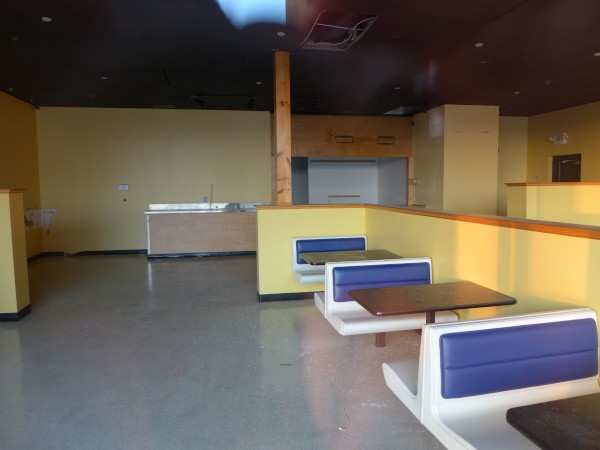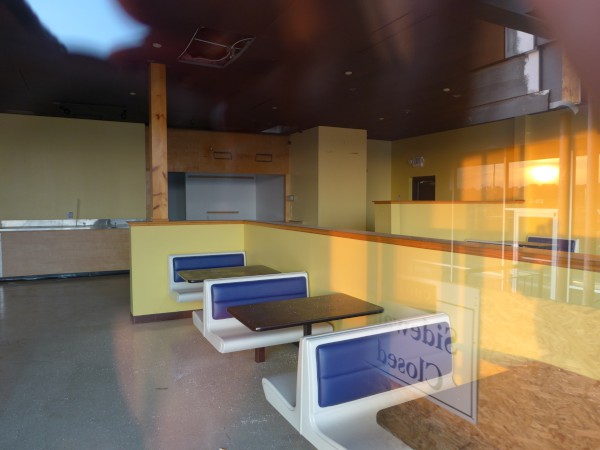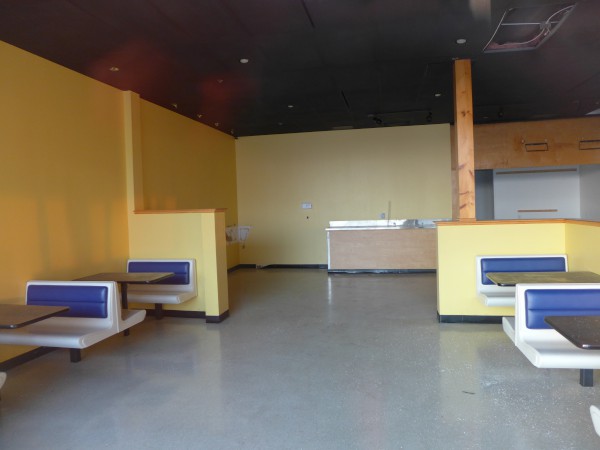 Wing Nuts was in the old Sesame Inn slot in the Outback plaza on Harbison. (I used to call it the Barnes & Noble plaza). Online reviews were not.. overly positive, but then nobody goes online to leave a good review.
Interestingly, the place has been on the market as a turn-key running business since last October (October 2013), as can be seen in these two LoopNet listings, here and here listings. That apparently did not work, as the place is now fairly gutted.
(Hat tip to commenter Ellen)