Archive for the 'Washington Street' tag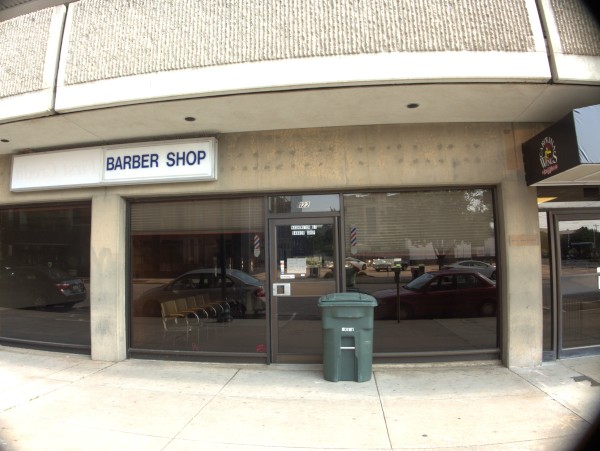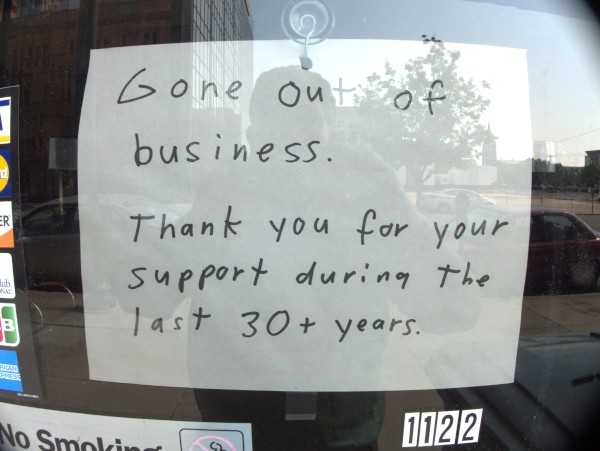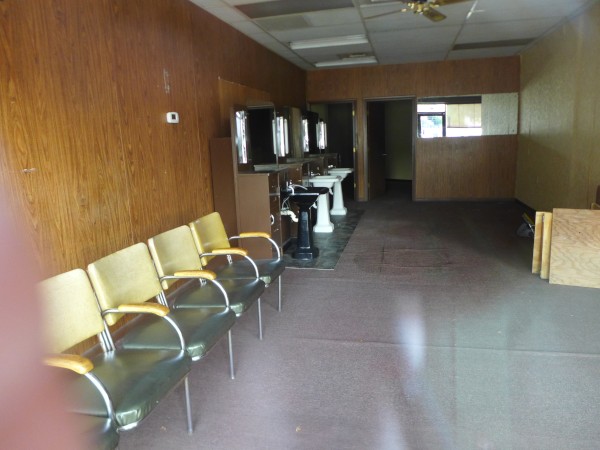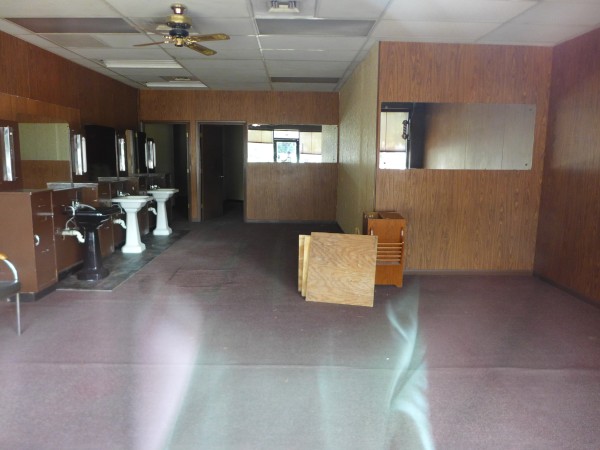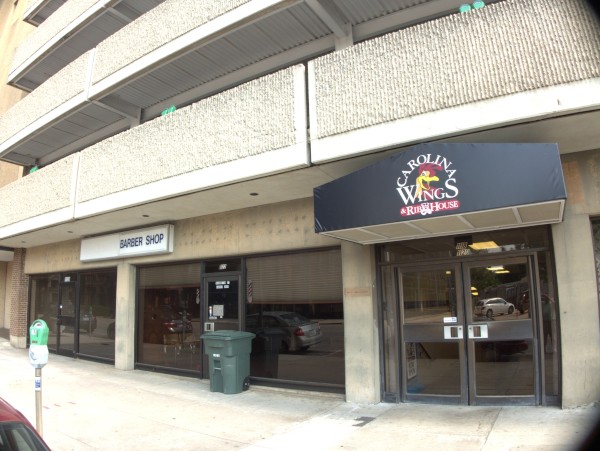 I had not noticed this closing until commener Andrew pointed it out, but in fact there was a nice article mainly about this family business last year in The Free Times:
Stepping into Washington Street Barber Shop, just off bustling Main Street in downtown Columbia, is like stepping into a time capsule.

The barber shop at 1122 Washington St. has dark, wood-paneled walls like the ones in an old basement rec room. Tacked and taped to those walls are dozens of articles from The State newspaper, many of which detail the exploits of the Gamecocks sports teams through the years.

In the corner there's a checkerboard set up, just in case anyone wants to get in a game or two as they wait for the barber's chair to come open. Over near the row of chairs that constitutes the waiting area, there's a standup dish with an ever-rotating supply of candy. Hershey's Kisses, little Kit Kats, the good stuff.

An ancient tube TV — the picture is starting to wane — is always running, and it seems to forever be playing the classics: Gunsmoke, The Andy Griffith Show, Bonanza.

Washington Street Barber Shop is blissfully free of many of the trappings of the modern salons that pass themselves off as barber shops.
In the end, the story came down to rising property values in the area, and an expiring lease (though there is yet to be a new tenant).
Commenter thomas adds:
The Barber Shop that Andrew mentions was originally on Hampton Street and the florist was next door. The buildings were demolished to construct the bank building which was originally First Union and is now Wells Fargo. They relocated to Washington Street. There was a grocery store behind there at the corner of Assembly and Hampton. Wayne Evans and his father operated the barber shop and his father died several years ago.
I don't recall the shop specifically in that location, though I do recall that grocery.
(Hat tip to commenter Andrew)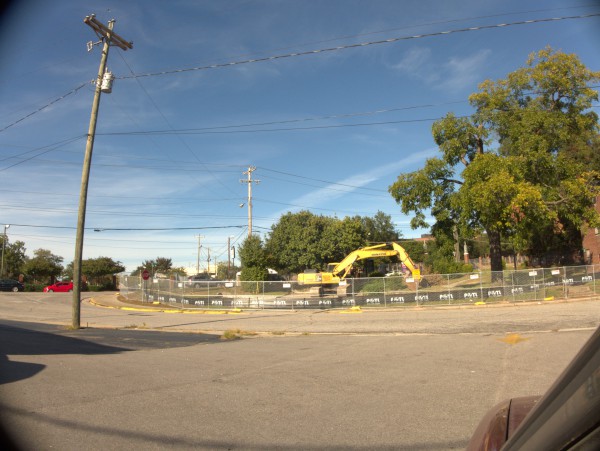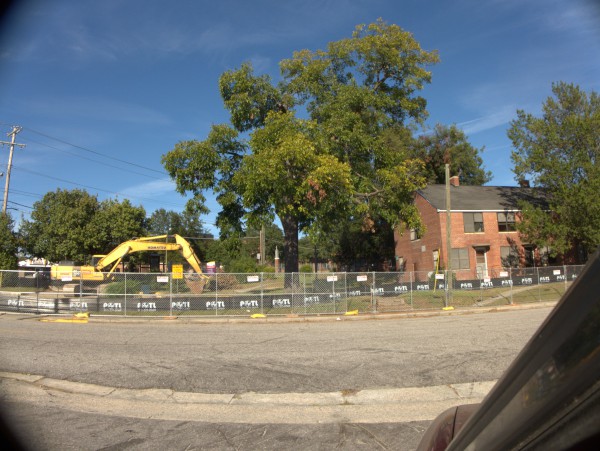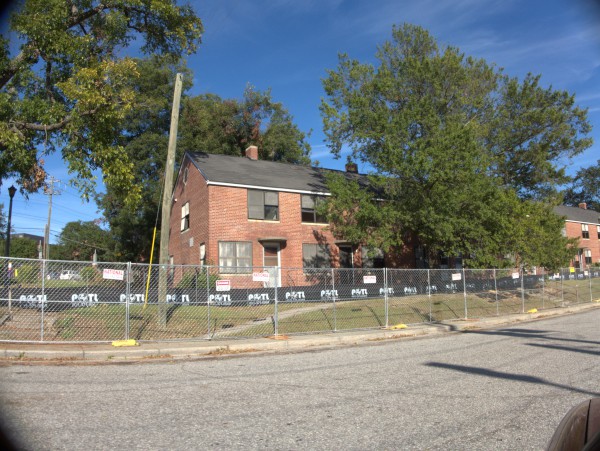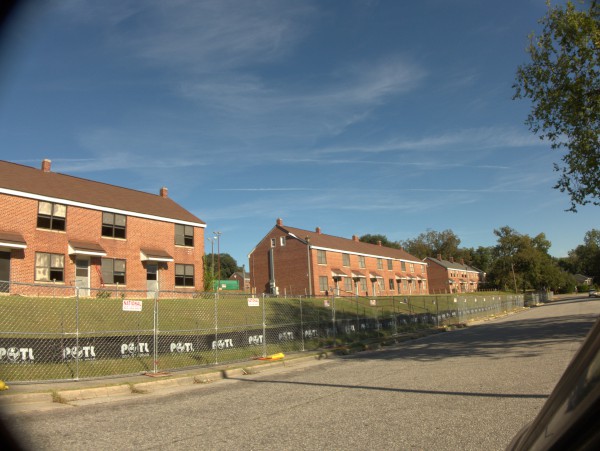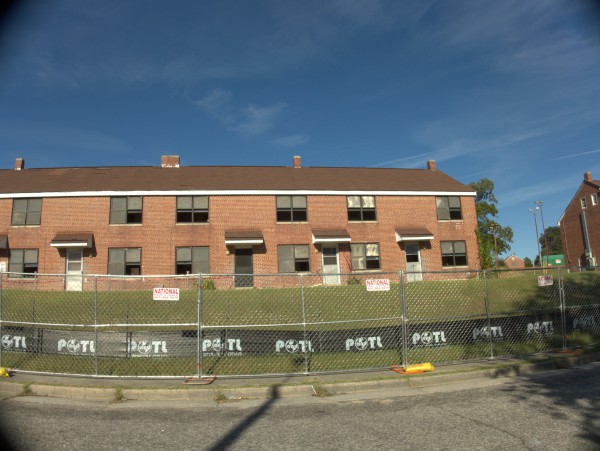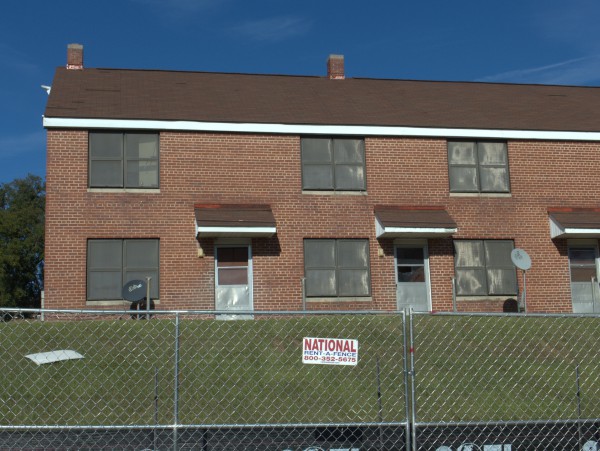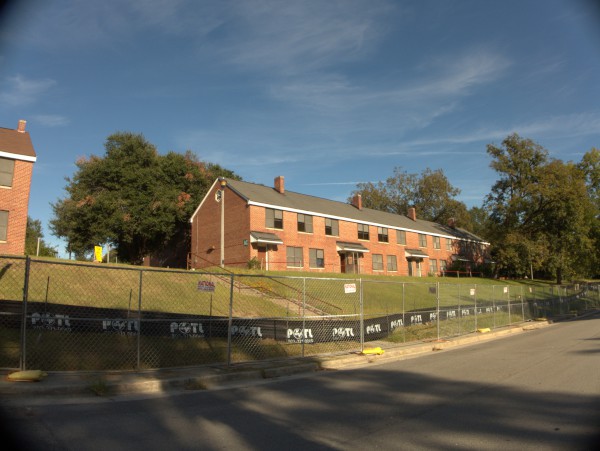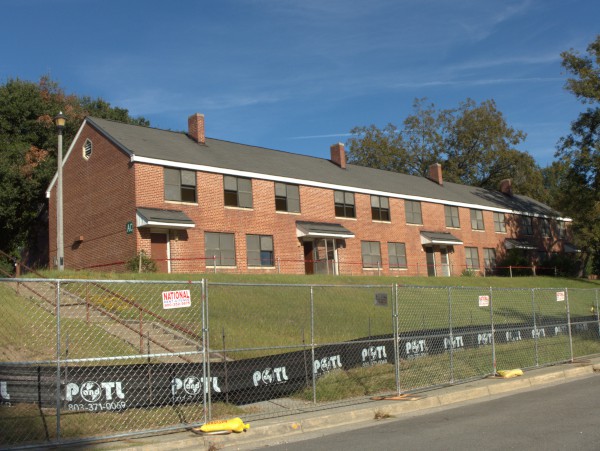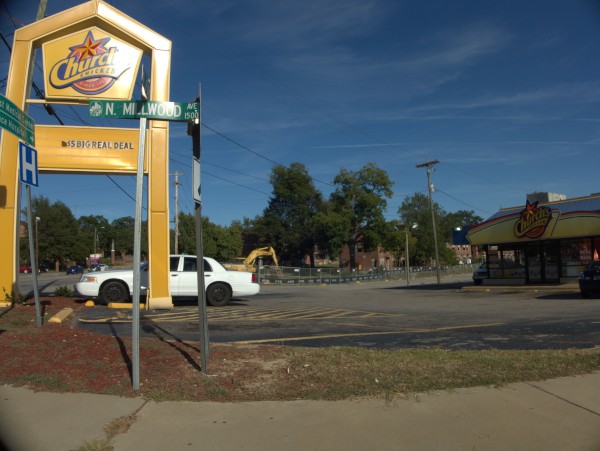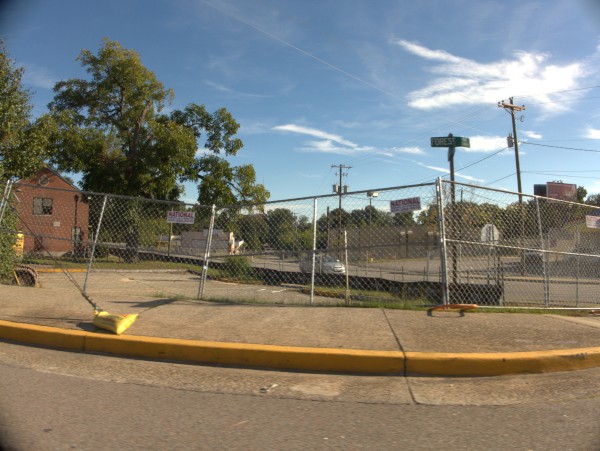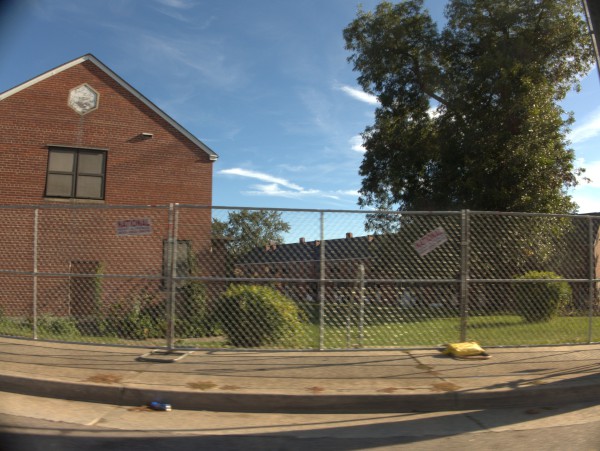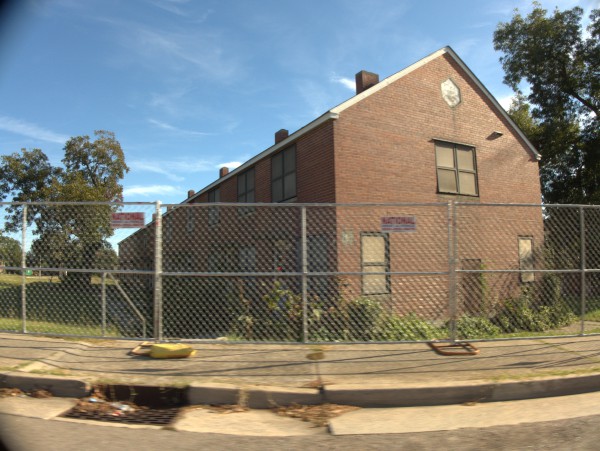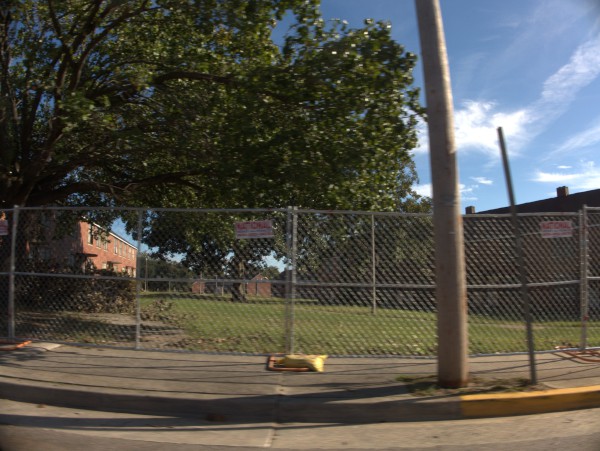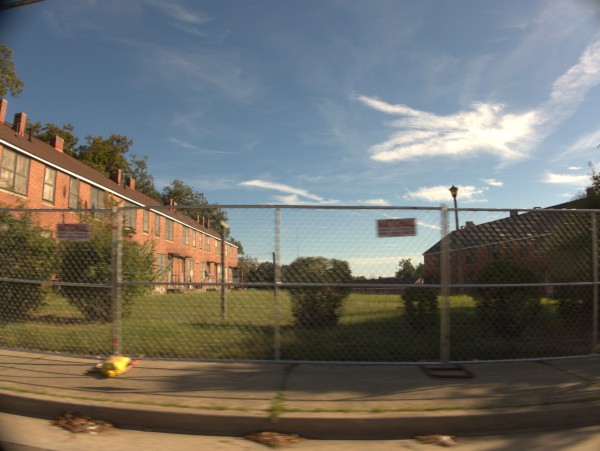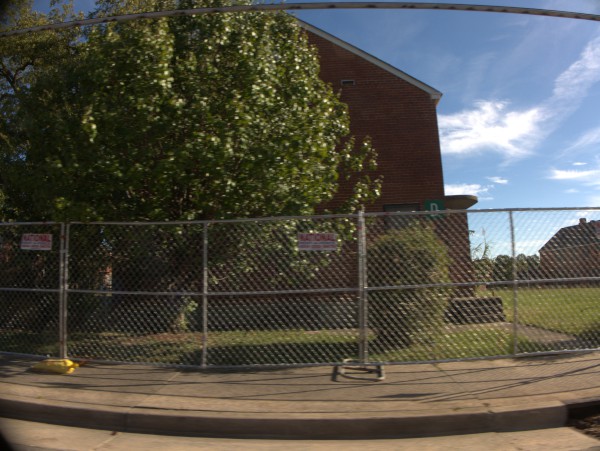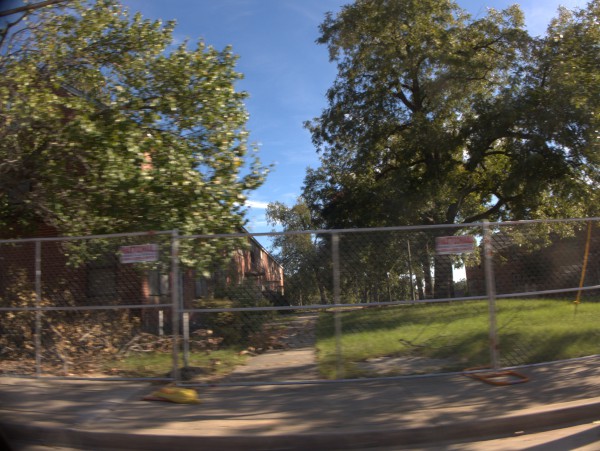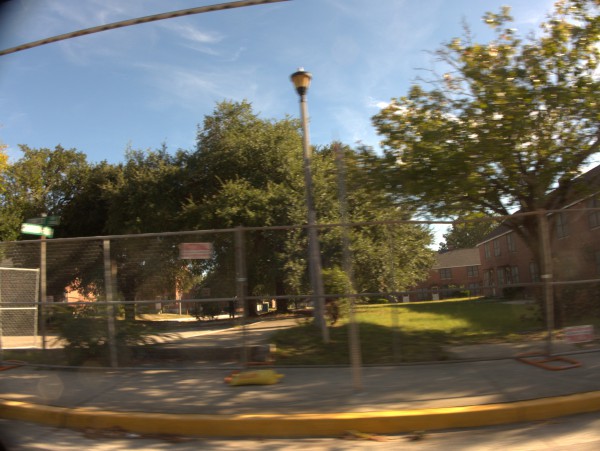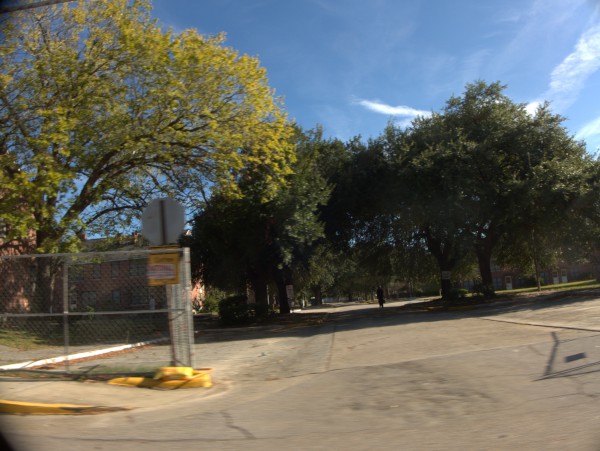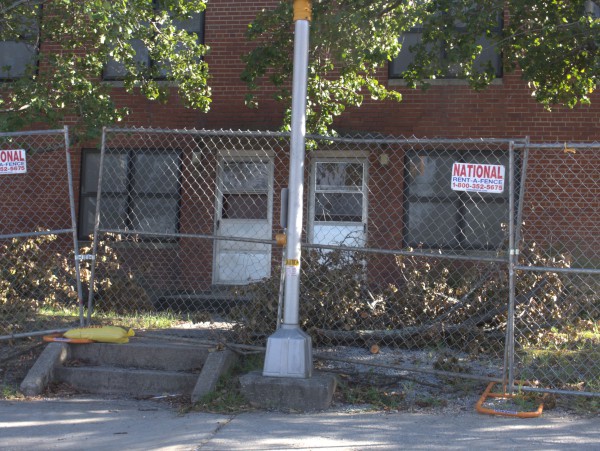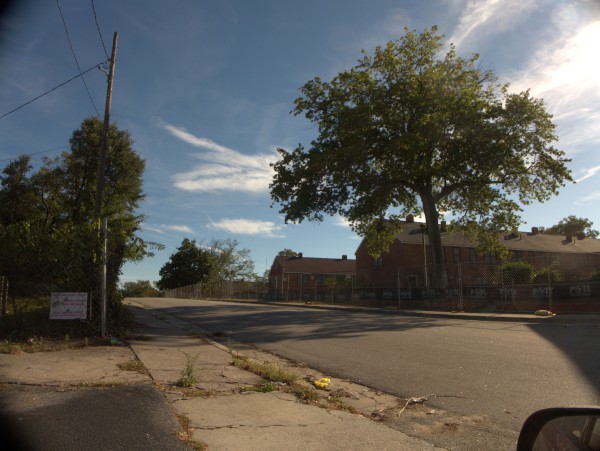 Gonzales Gardens was a public housing project comprising the tract bordered by Lyon Street on the West, Forest Drive on the North, McDuffie Avenue on the East and Washington Street on the South.
According to The State, demolition of Gonzales Gardens started on 4 October 2017. I took these pictures on 1 October when the place was fenced off, but still standing. I have not driven by lately, but imagine it is all down by now.
I never knew much about the place, except that it had something of a shady reputation by the time I became aware of it in the late 1960s. Apparently it was not always that way, and in fact another State story recounts some happy memories of the place from the early years.
The Columbia Housing Authority has the most extensive writeup with a lot of interesting facts. For instance, the place was originally built largely for Fort Jackson NCOs, and was, in those Jim Crow times, initially restricted to white families only. Another thing I did not know was where the name came from: The project was named for the three Gonzales brothers long associated with The State newspaper, one of whom was murdered in 1903 by the nephew of then Governor Tillman.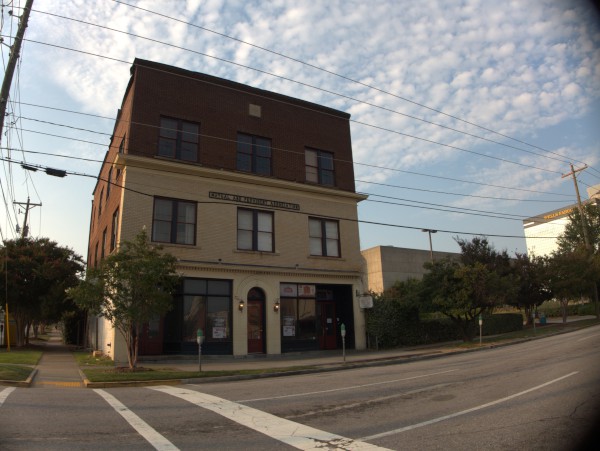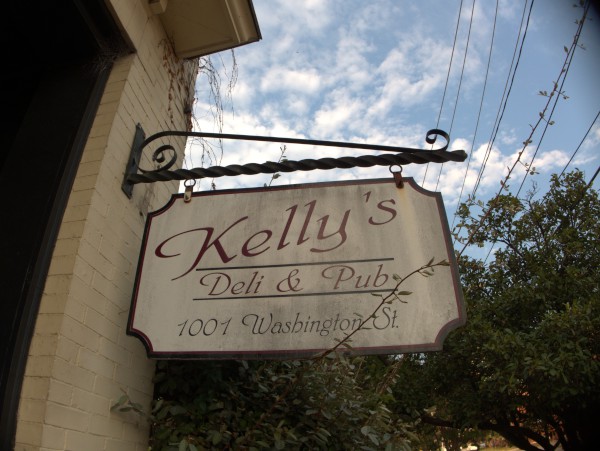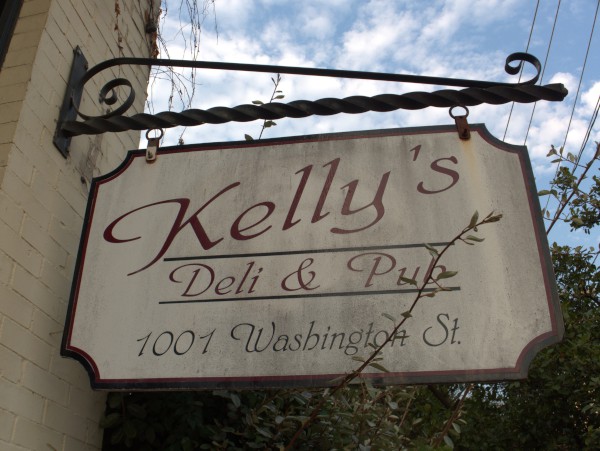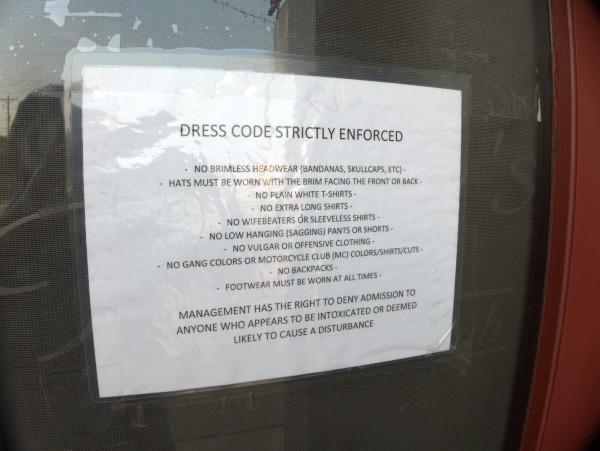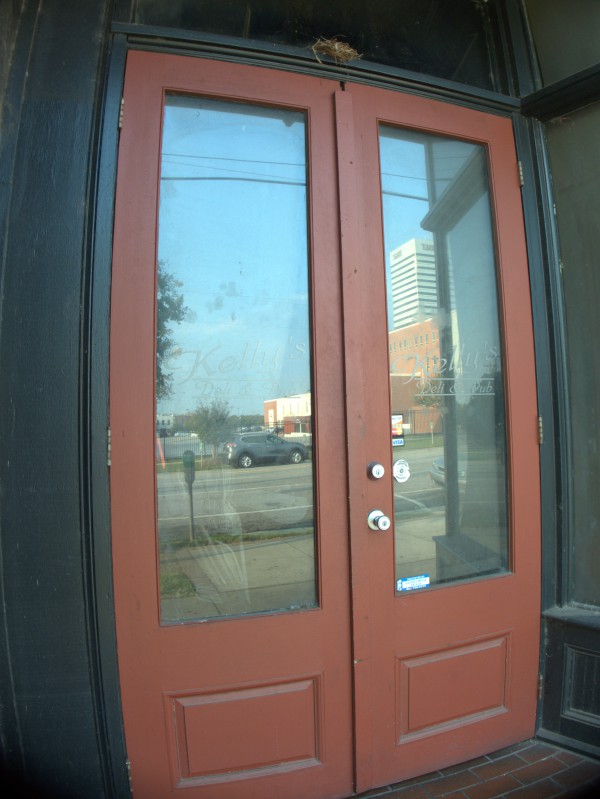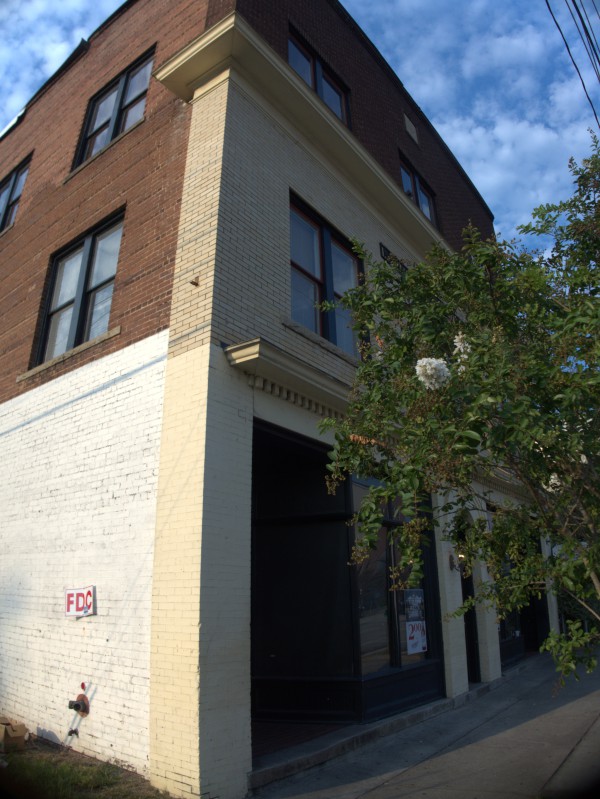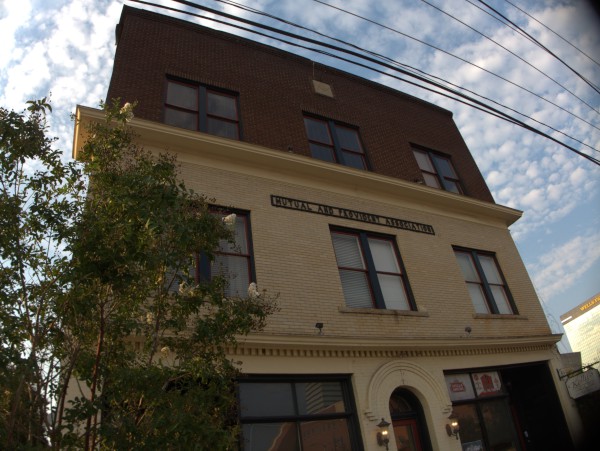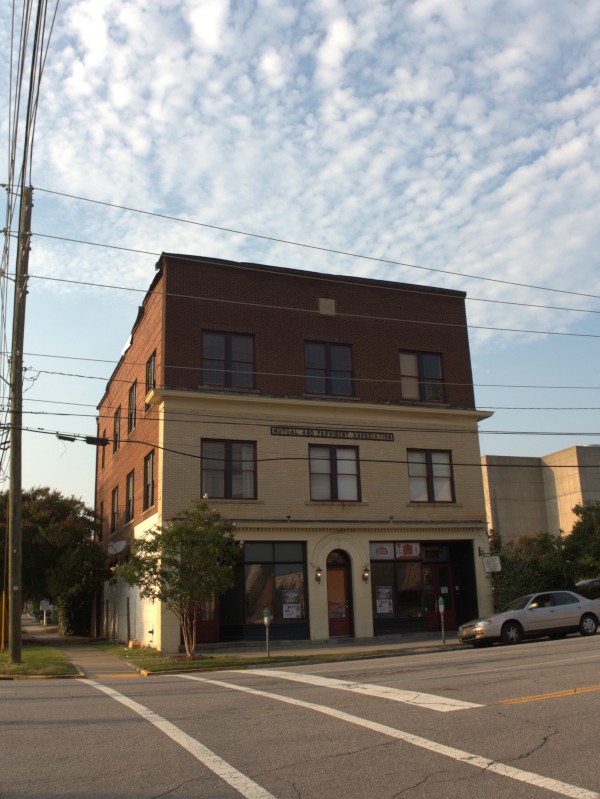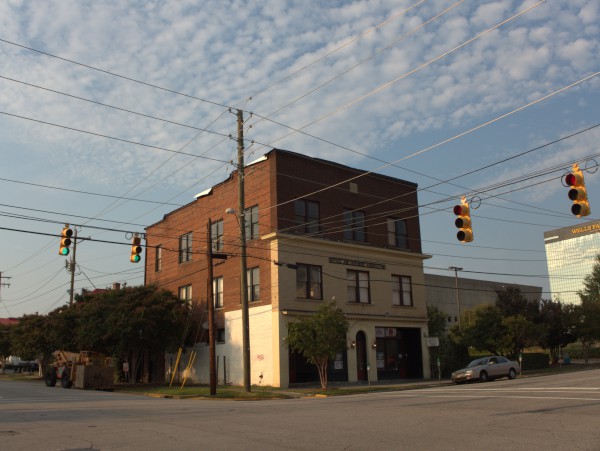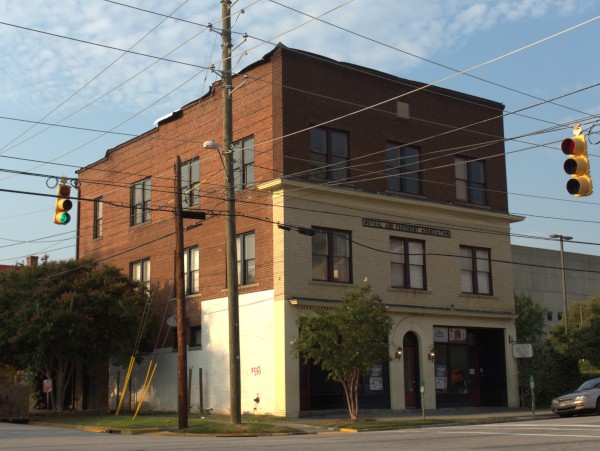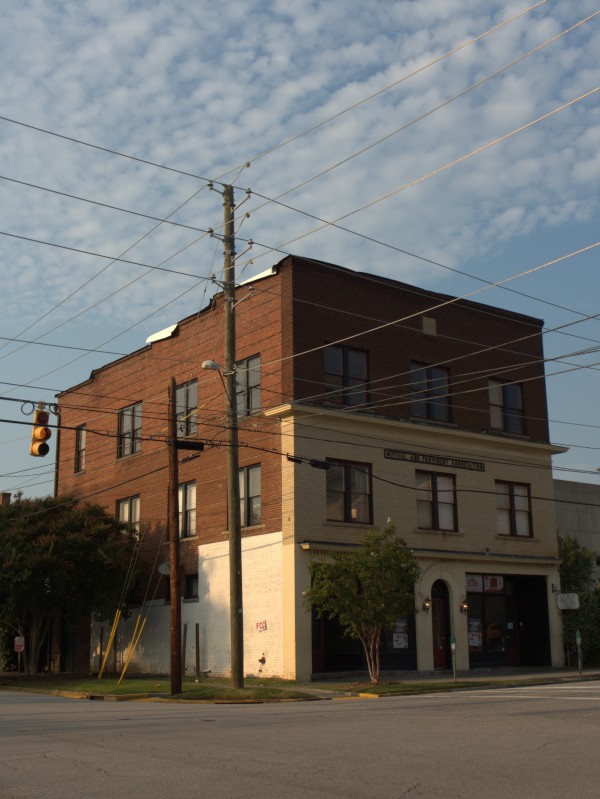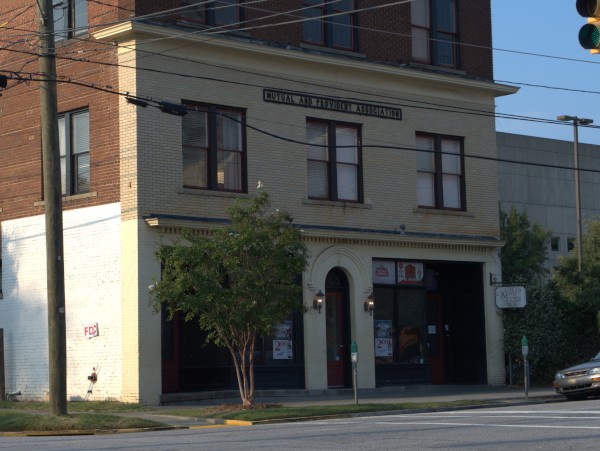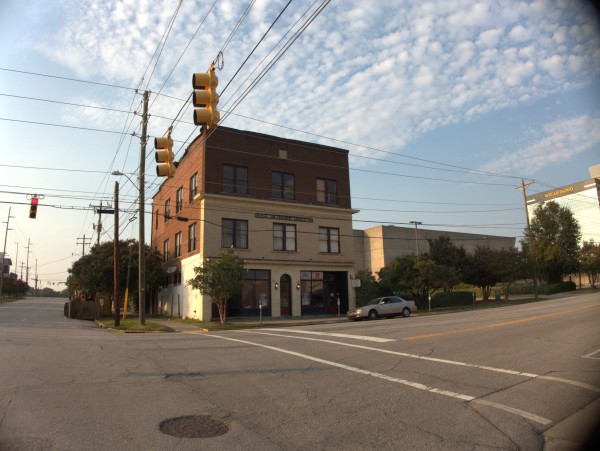 Kelly's on Washington wasn't really on my radar, other than that I would wonder about it sometimes as I drove home from the Mellow Mushroom at night. The Free Times has the story on the closing.
Seeing the building in the daytime, I really like it. This SCDAH write-up gives some of the building's history:
Built in 1909, this commercial building became a significant part of the Washington Street business district. African-American businesses, professionals, and institutions in the North Carolina Mutual Building provided needed goods and services to Columbia's African American population during the years of Jim Crow segregation in the South. In order to deal with segregation, Columbia's African Americans formed many of their own institutions and businesses to serve their community. While these institutions and businesses were located in several areas of the city, the main concentration was in the Washington Street business district, the city's black downtown during the period of Jim Crow segregation. The North Carolina Mutual and Provident Association built the North Carolina Mutual Building. African American businessmen in Durham, North Carolina founded this life insurance company that became the largest African American owned life insurance company in the United States. Built at a cost of around seven thousand dollars, the structure included two stores on the first floor and nine offices on the second floor. The company would use three of the offices and rent the others. Though it sold the building in 1920, North Carolina Mutual continued to maintain an office in it until the mid-1930s. The building is a rectangular brick commercial block with three stories. The first two floors are visually distinct from the third floor which is a later addition. Listed in the National Register January 20, 1995.
(Hat tip to commenter Justin)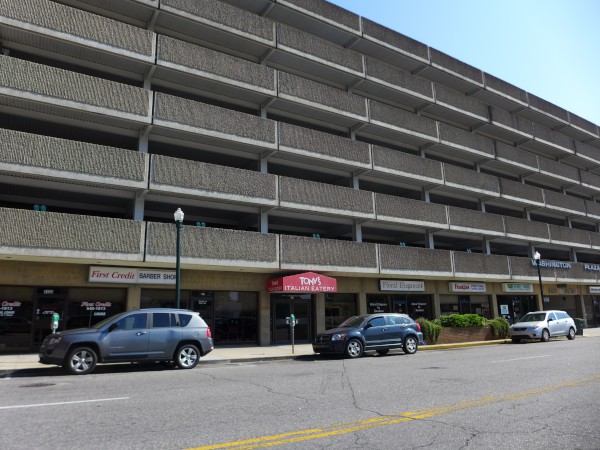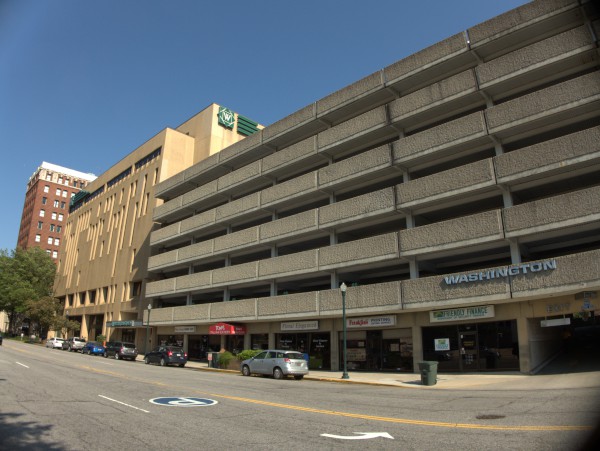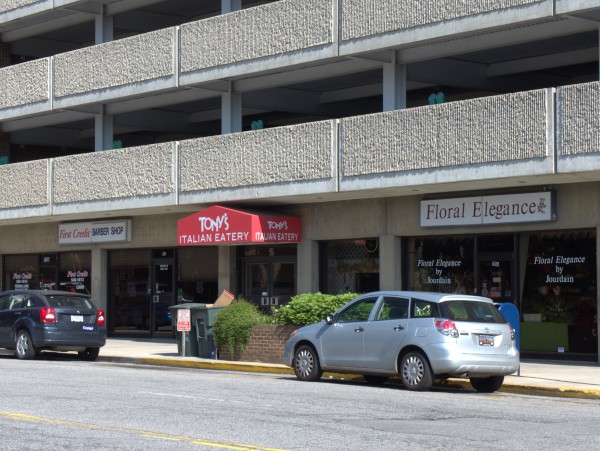 Considering the place was open from 1981 and considering how much I like pizza and Italian food in general, I'm not sure how I was totally unaware of Tony's. Perhaps because of the location, if ever I saw it, I thought "no parking", or perhaps it's because they closed at 2:30 and it would always be later when I would drive by -- I don't really know. At any rate, this Washington Plaza storefront is vacant now.
(Hat tip to commenter Julie)
Posted at 12:09 am in Uncategorized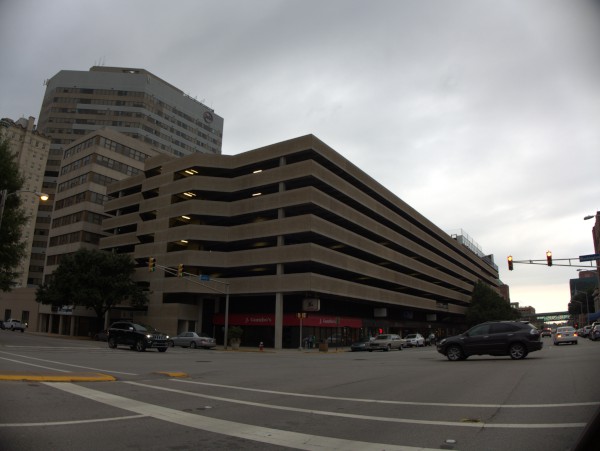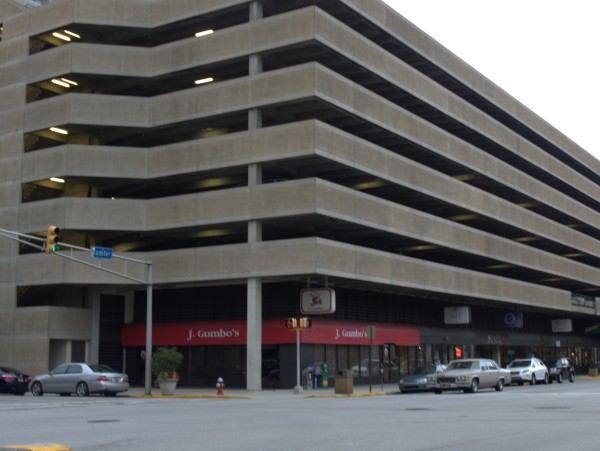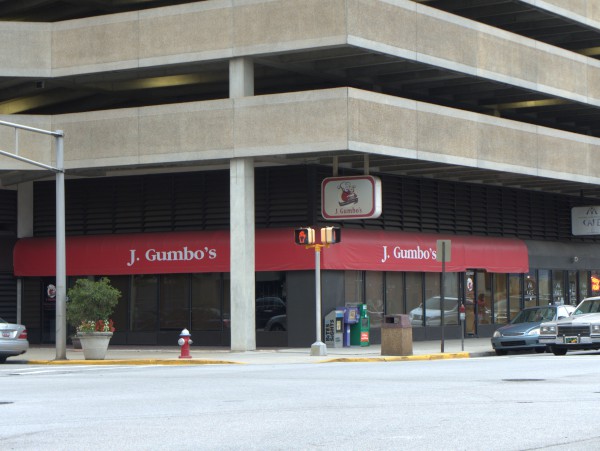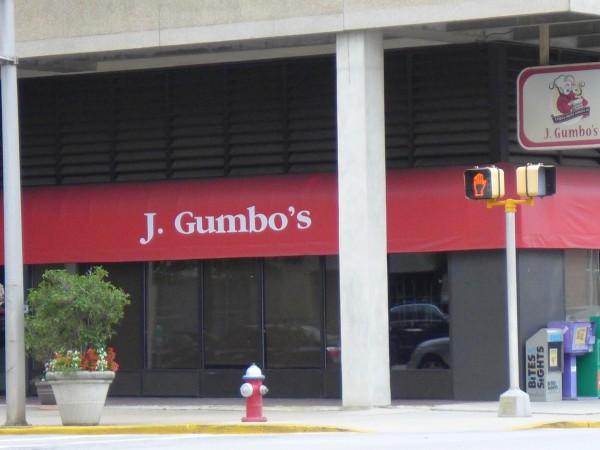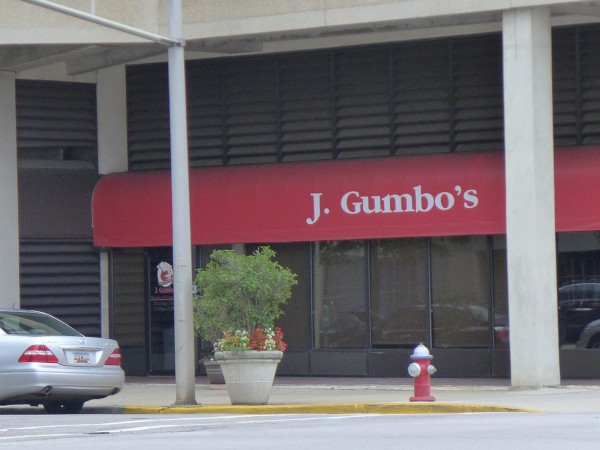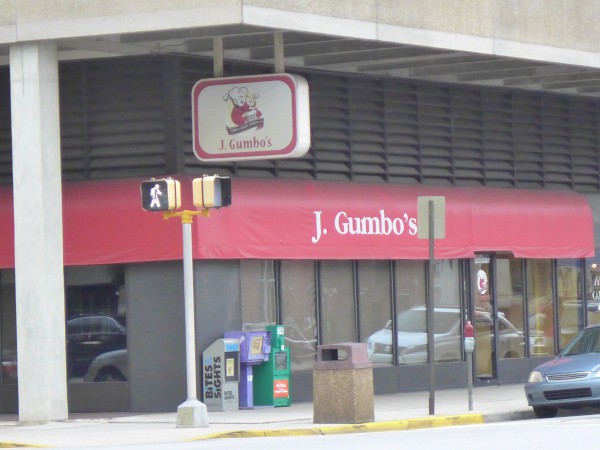 For some reason I was convinced I had already done this closing and some time ago at that, so when commenter jonathan mentioned recently that it was closed, I searched my list and found out that in fact I had done the location before when it was Quizno's, and had *that* stuck in my mind.
J. Gumbos is apparently a Cajun chain with locations in a number of states with this one being the only South Carolina location. It was about 6pm when I took these pictures, and I was still unable to find a place to park without walking farther than I had time to do. I suspect this is a challenge for the spot, though there are certainly a good number of workers withing walking distance during the daytime.
Personally though I like spicy foods, I never really got into Cajun cuisine, though curiously, I did find a great Italian place in New Orleans once.
(Hat tip to commenter jonathan)
Posted at 11:59 pm in Uncategorized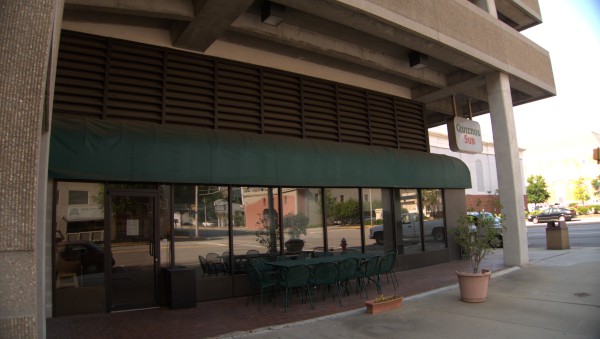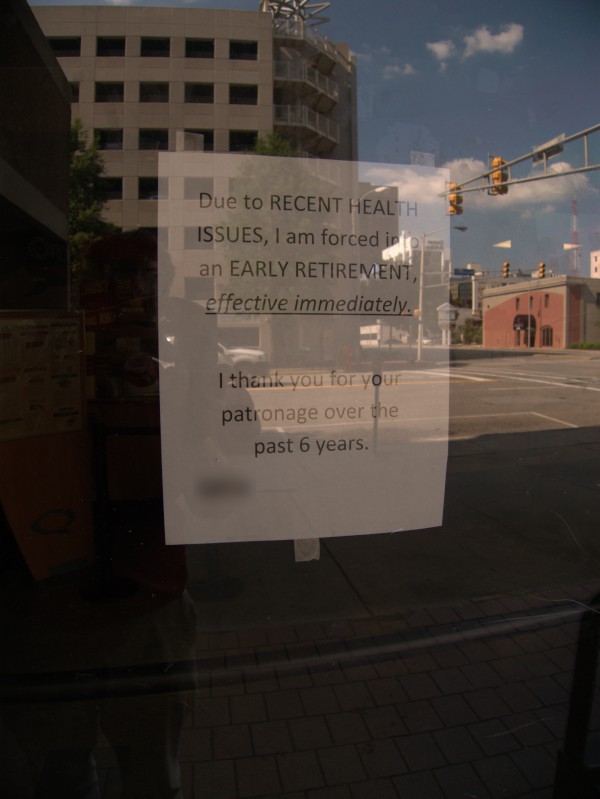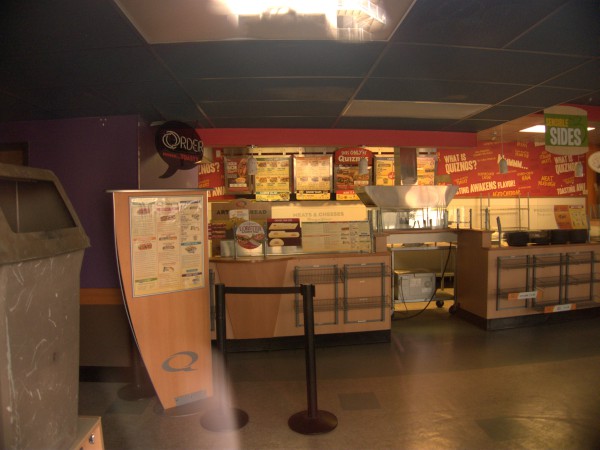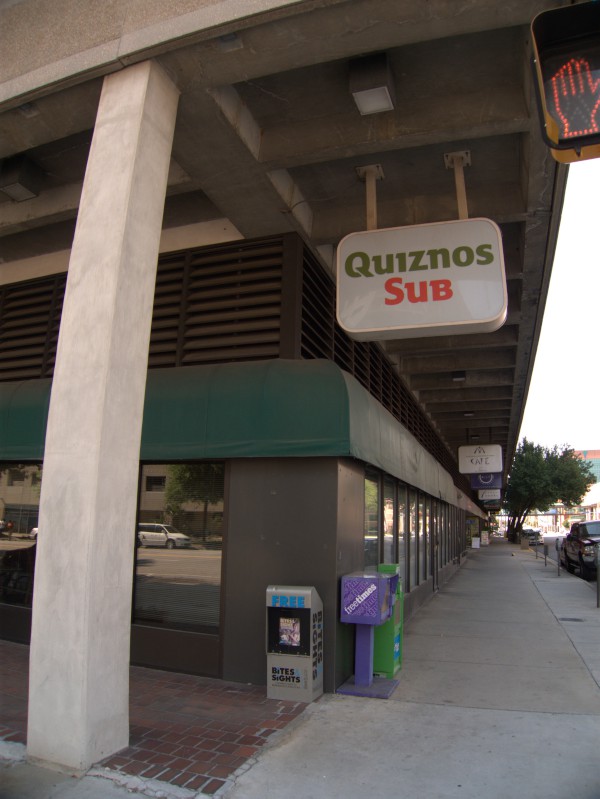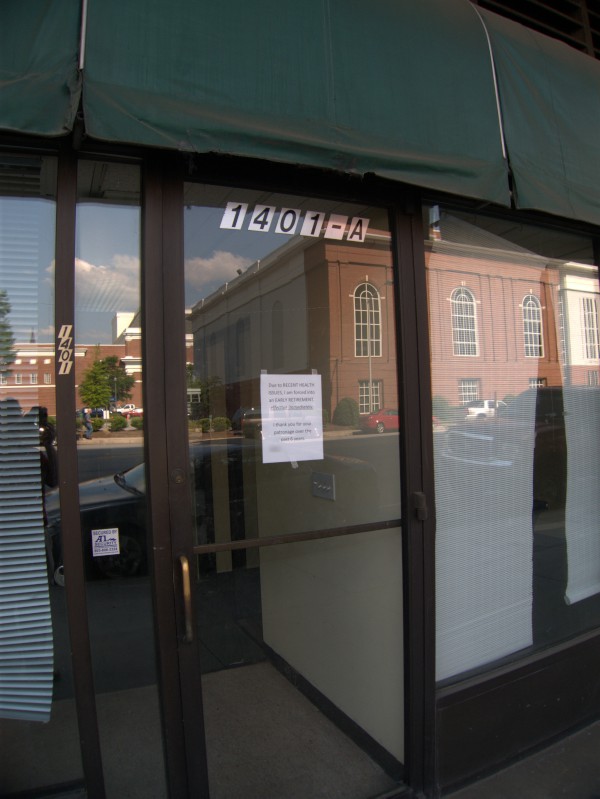 Commenter Jonathan reported this closing, saying
Quizno's on Sumter is now closed…The owner left a note on the door that he has closed immediately due to health concerns. He always had a smile on his face, and I wish him a speedy recovery.
Let me second those wishes!
This corner spot (on Sumter & Washington) is directly across from the old RCPL site, so I know I must have seen it many times over the years, and I know that it hasn't been Quiznos that long, but I'm drawing a total blank on what may have been here before, even to as basic a piece of information as whether it was a restaurant or not..
Posted at 2:53 am in Uncategorized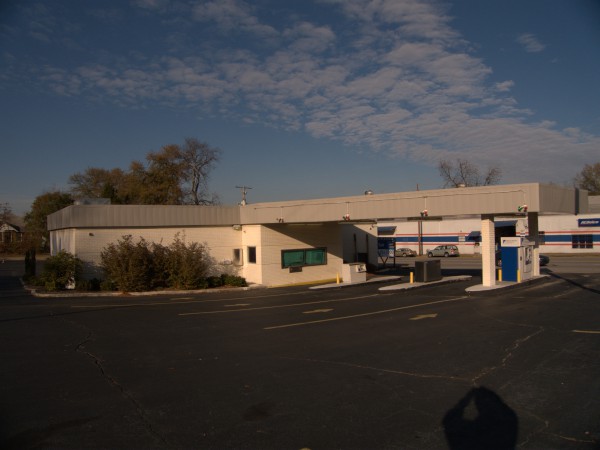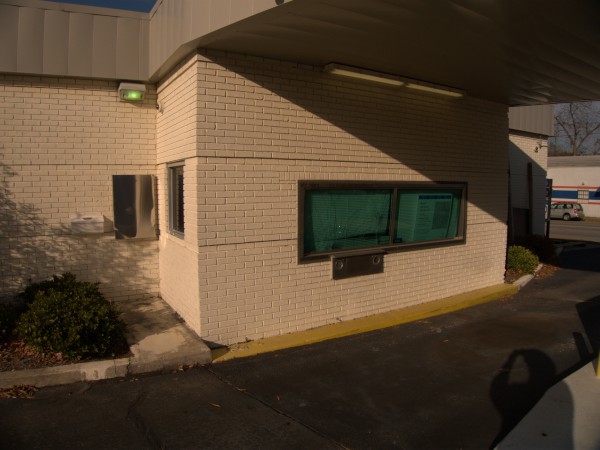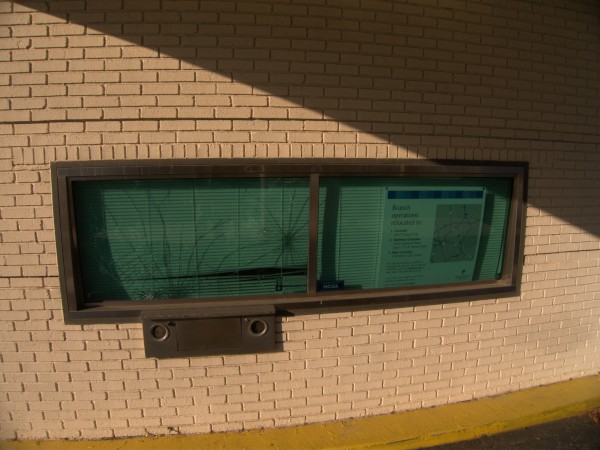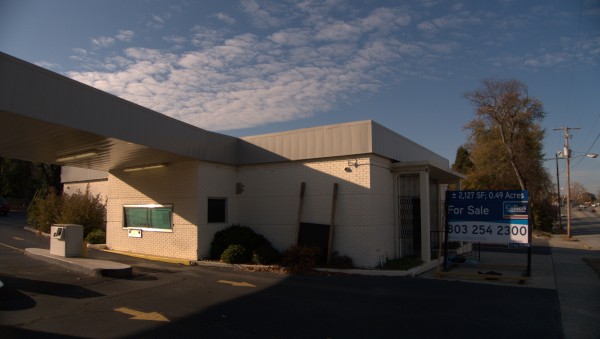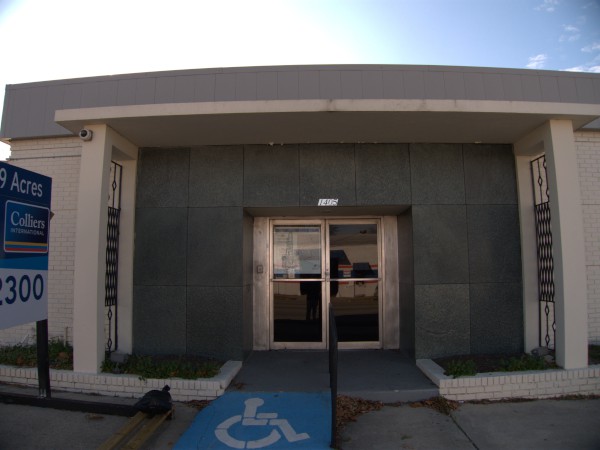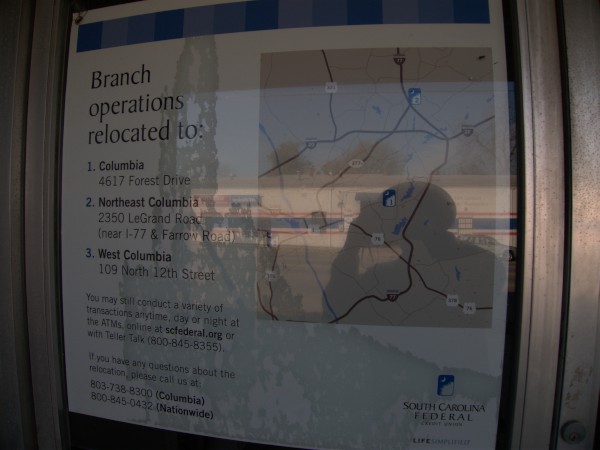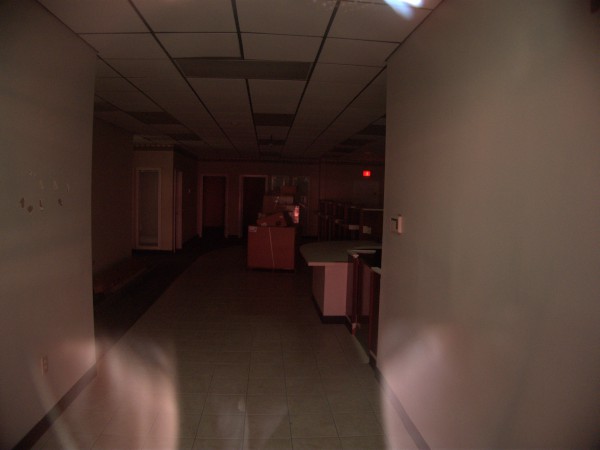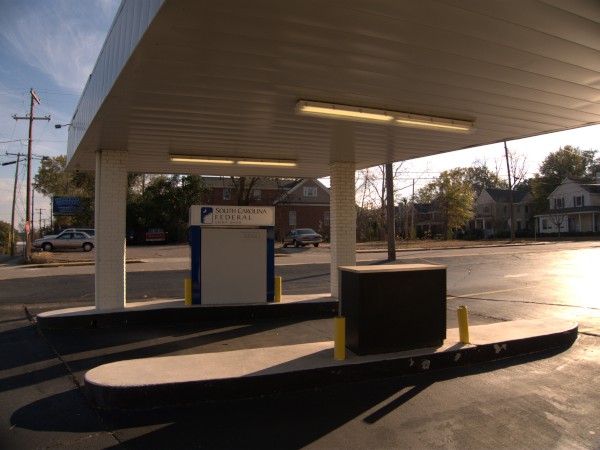 I just noticed that the South Carolina Federal Credit Union on Millwood is gone, or mostly gone as their ATM is still there. The nice little building is at the corner(s) of Millwood, Washington & Heidt, not too far from the former NAPA auto parts building. If the lot does sell, I don't see much future for this building -- it's hard to visualize it as anything other than a bank.
Posted at 6:50 pm in Uncategorized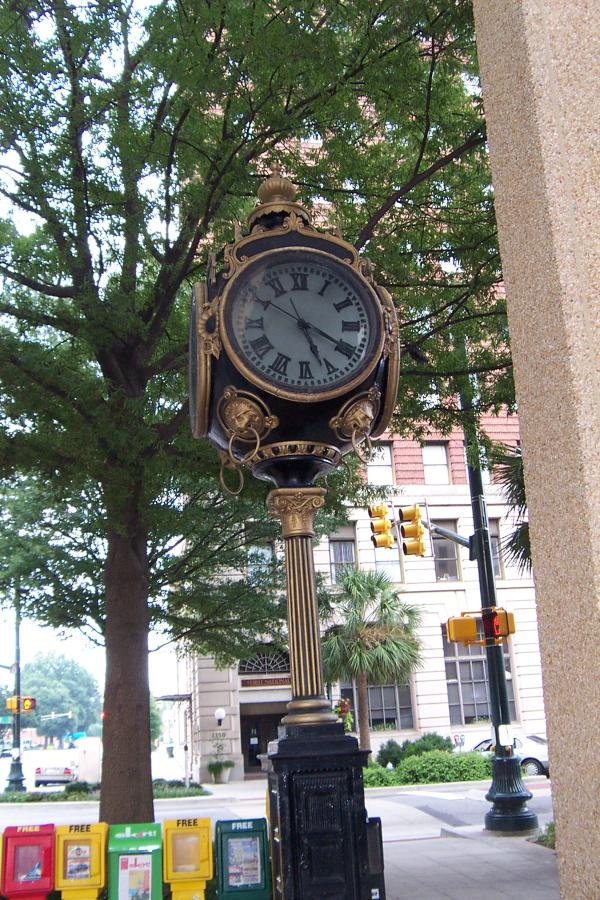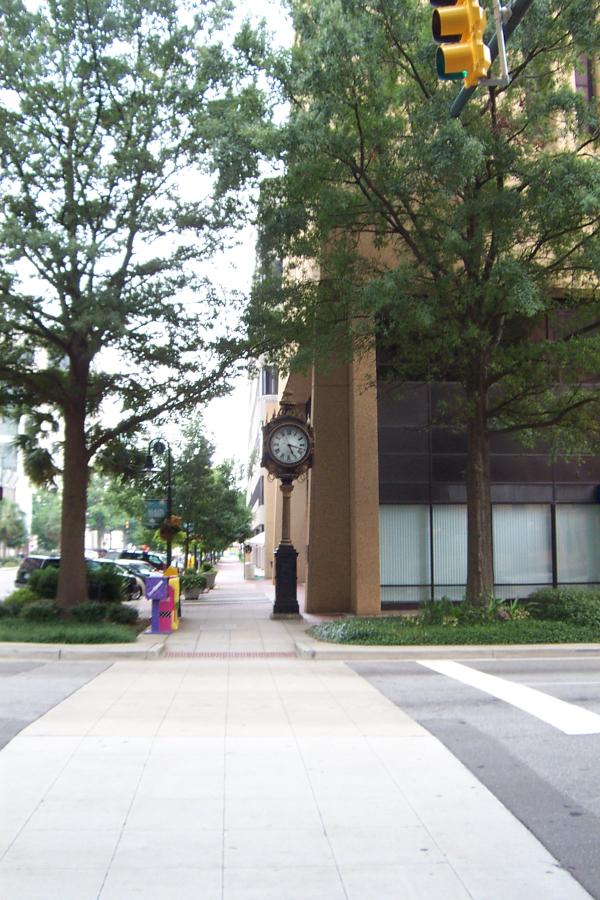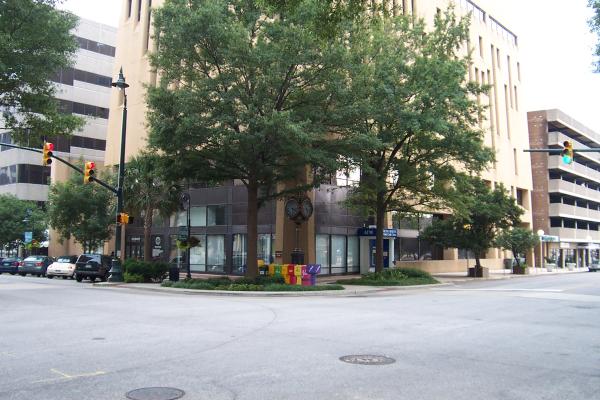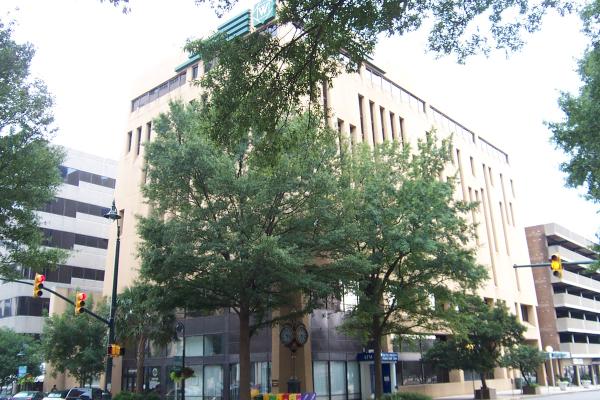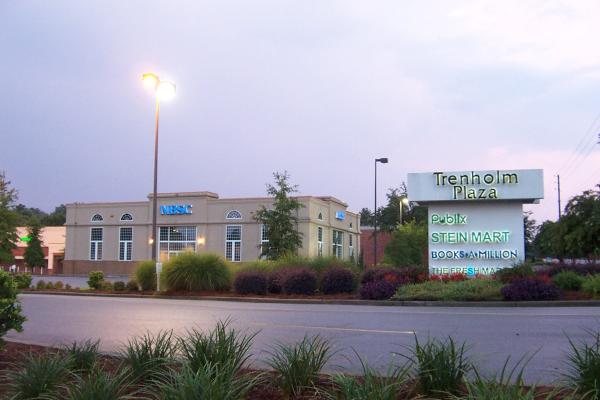 Does the phone number 252-6341 mean anything to you?
If you were here when the whole state's area code was 803, it probably does. Certainly there were many times I dialed it to set my wind-up watch to the dulcet tones of Standard Federal Savings & Loan's time of day service. That was a time when you couldn't turn to CNN and get the time off the bottom-scroll, or get it to within a second over the Internet. Around here, it was pretty much wait for the NBC news-tone at the top of the hour on WIS or call Standard.
I don't know much about the early history of Standard. Apparently it was founded in the aftermath of the Panic of 1907 and weathered WW-I, The Great Depression, WW-II and the 70s. Up through the 50s and probably into the early 60s, it was known as Standard Building & Loan. You can see from my first passbook here that in October of 1962, they had just put a paste-on label reading Standard Savings and Loan Association over whatever had been printed there before. My guess is that they had just switched from Building & Loan given that the inside of the passbook and the coin-banks their kid members got still bore the B&L verbiage: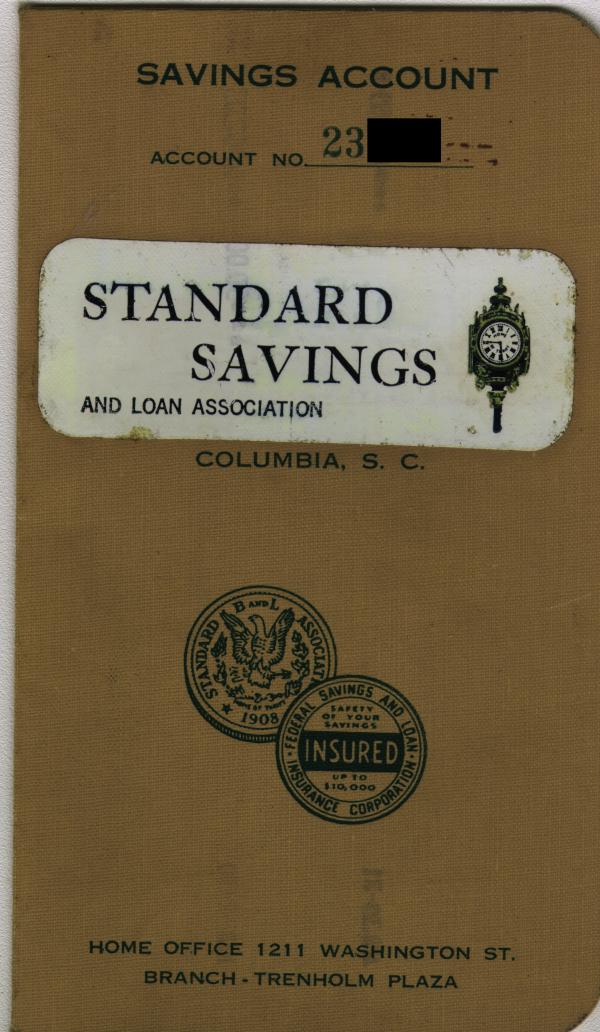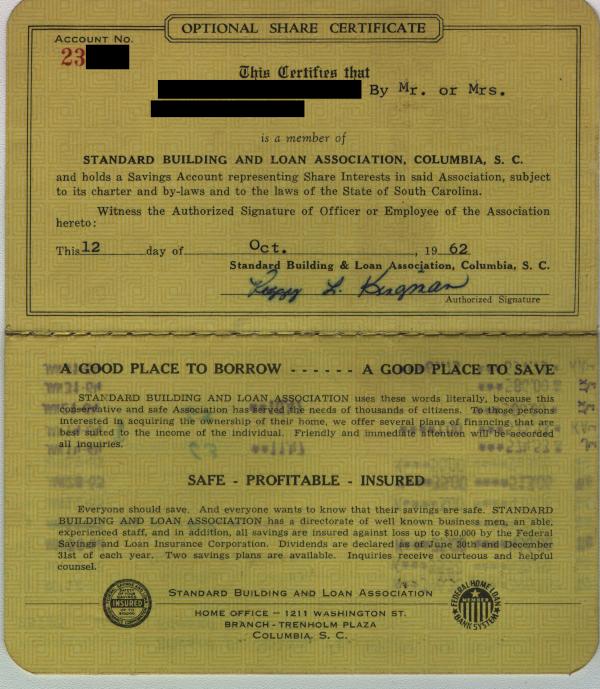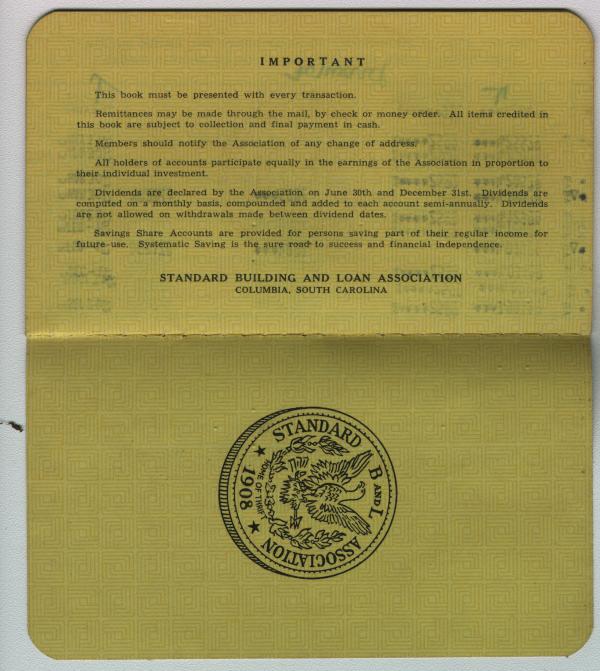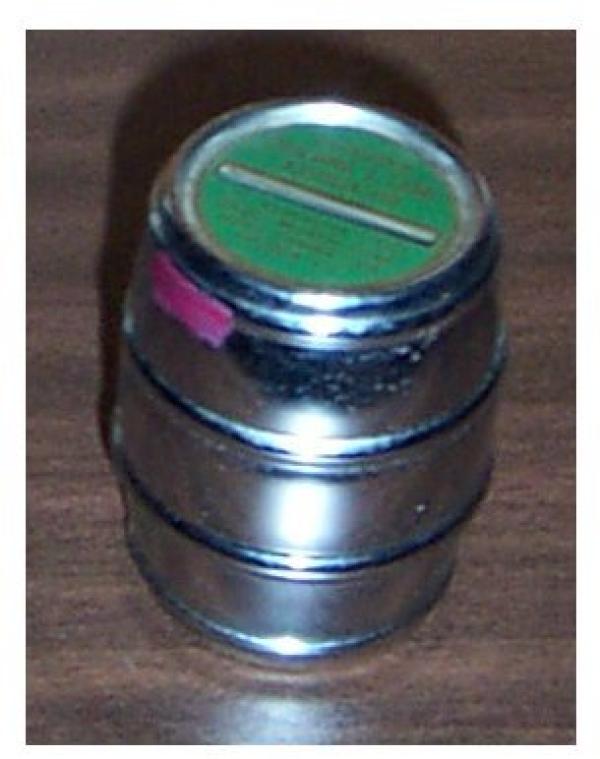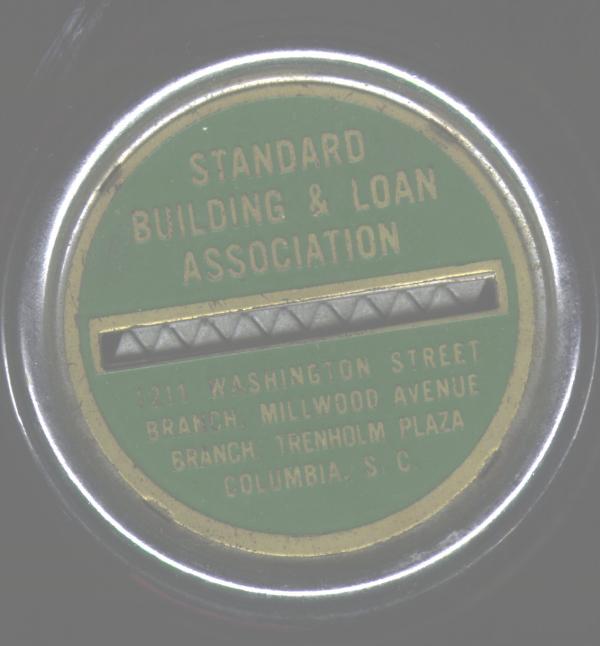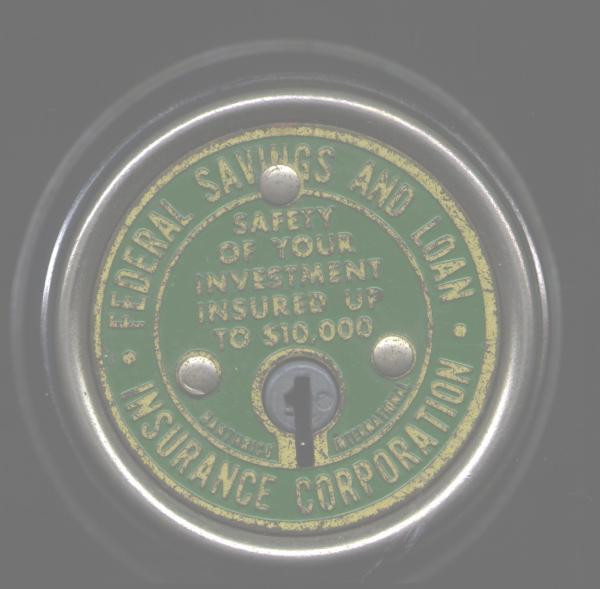 The passbook cover notes the association's two locations, Washington Street & Trenholm Plaza. The Trenholm location had to be pretty new at the time, given that the area was a golf course into the mid 50s, at least.
In that era, the way savings & loans worked was that you would bring your passbook with you to the bank (OK, technically it wasn't a bank..) whenever you made a transaction, and your passbook would be run into a printing machine (similar to the way checks are still sometimes handled at supermarkets) which would print the day's transactions on seperate lines. (I'm not sure how long it had been since the teller's actually wrote in the passbook, but there still seemed to be a lot of hand-inking involved.) If you didn't have any actual transaction, the bank could still compute your interest (dividends) and enter that for you.
On 12 October 1962, I had $396.36 in my passbook -- very likely the first money I had ever had in my own name, though as I was probably more concerned with learning to walk, I doubt I really thought on it much. I did enjoy later visits as the Trenholm branch had a magical coin machine into which the teller would dump all your coins and it would sort them out and give you a total after much pinging and whirring.
By the time 1973 rolled around and I got my second passbook, you could see that the intervening decade had been good to Standard: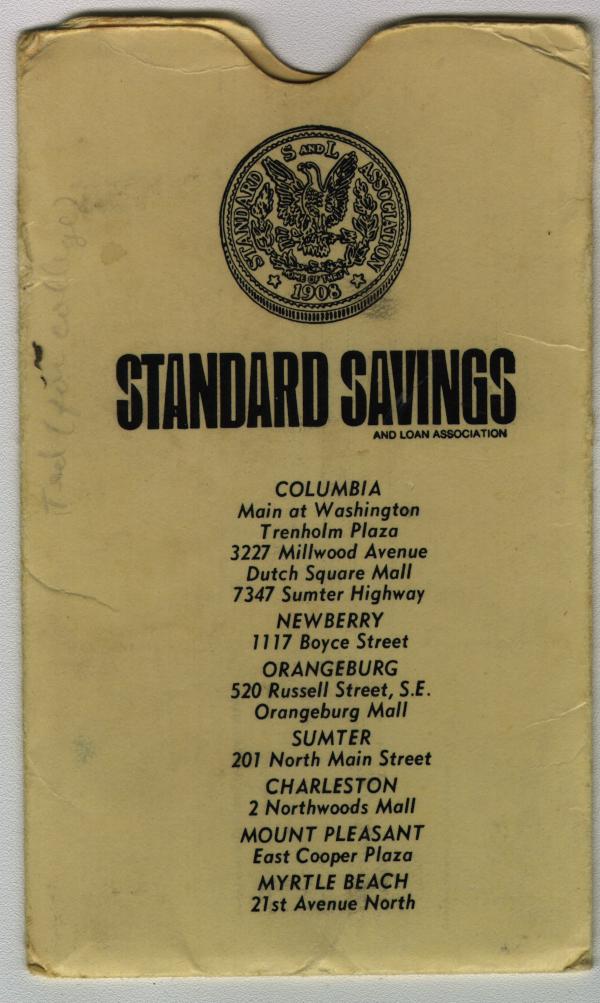 With five locations in Columbia and new branches in Newberry, Orangeburg, Sumter, Mount Pleasant, Charleston and Myrtle Beach, they were obviously an institution on the move.
This was even reflected in the passbook itself, which had moved from being strictly utilitarian to a design with some panache, embossing and even gold-leaf for the text.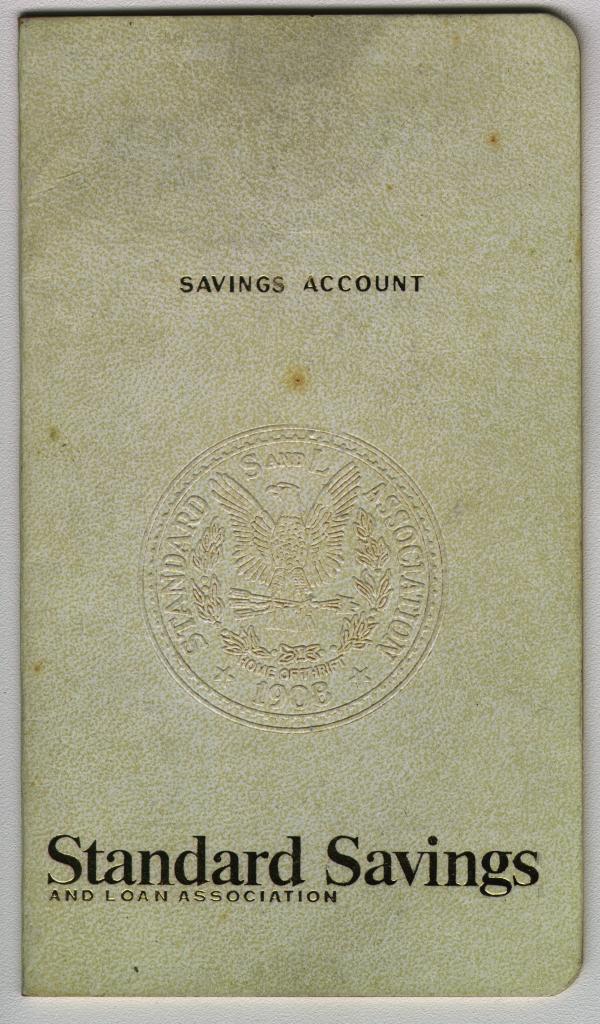 You could see the effects of inflation too in that the FSLIC guarantee had been raised from $10,000 per account to $20,000: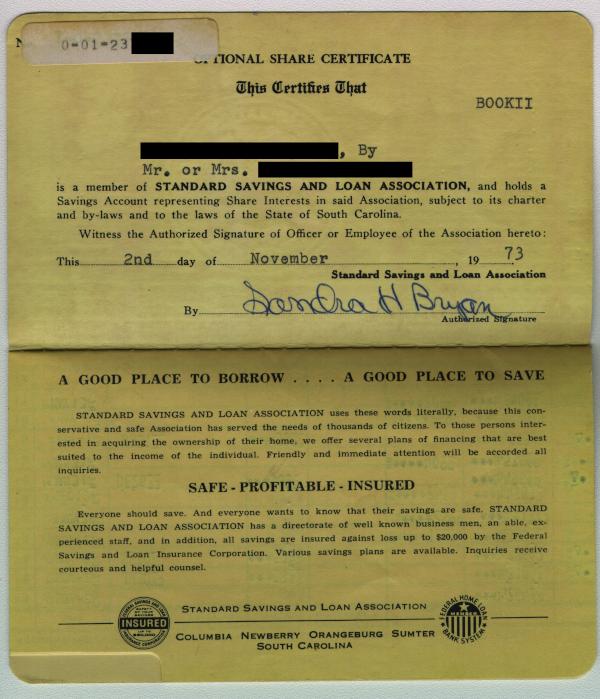 At some point in the 1980s, Standard started offering checking accounts as well as passbook accounts, and that's were I got my first checks. They were also fairly early into the ATM market, and though they never had many, the Trenholm location was convienient while I was living in town. (It was a walk-up, and I can distinctly remember thinking, I hope I'm never so lazy that I need to use the ATM without getting out of my car).
In 1985, I took my first real job and moved to Fayetteville NC. I kept my Standard accounts, but as there were no branches up there, mostly dealt with the (now defunct or subsumed) Southern National Bank. While I was living out of town, the S&L crisis of the 80s struck.
I know it's a complex issue, but I think it can be boiled down to the following: Gradually the state and federal governments took the position that George Bailey could go head to head with Mr. Potter -- and kindly, befuddled Uncle Billy was in charge of the new direction.
Standard was far from the only solid-seeming institution to dig its own grave at the time, but it was still a shock to me. I'm sure the taxpayers, en-masse, took it in the shorts as usual, but the government handled it pretty well from a member perspective. There was no panic, just an orderly takeover of the bank. It went so smoothly in fact, that my father decided he wasn't going to move his money and would just keep it in whatever institution ended up with the assets. At this remove, I can't remember what bank that was. It may have been NBSC. They certainly have the location at Trenholm Plaza which used to be occupied by the Standard Branch (which was a much smaller building, and was torn down when the current NBSC was built).
The downtown building is still there (it was obviously remodeled or replaced after 1908 if that was the original location), with its distinctive landmark clock beside it. My memory is that when Standard was at its peak, the building had one wall which was a waterfall -- that now seems to be gone. I have no idea what happened to the other branches either in or out of town.
The 2 August 1991 date for the closing comes from an online lawsuit which references the RTC takeover.
And that little coin-bank? It still has some change in it.
The Time At The Tone Will Be: Too Late
UPDATE 23 March 2010 -- Here are two pictures of the old Trenholm Plaza branch. They were taken inside another Trenholm Plaza store where Standard just happened to be in the background through the window, so the quality is not high: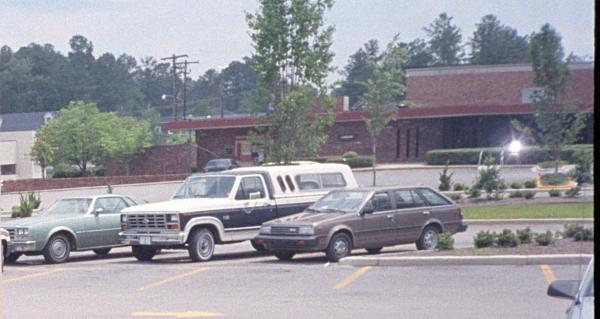 UPDATE 21 June 2011 -- Here is an older picture of the Trenholm Plaza branch from a Chamber of Commerce promotional book: