Posted at 10:50 pm in Uncategorized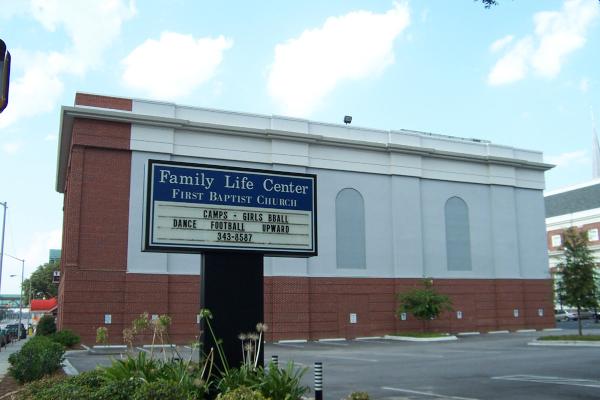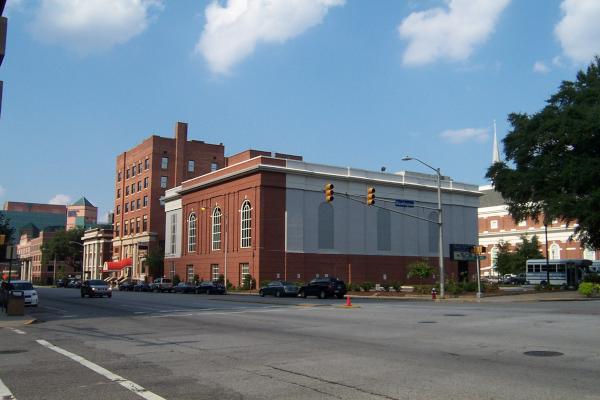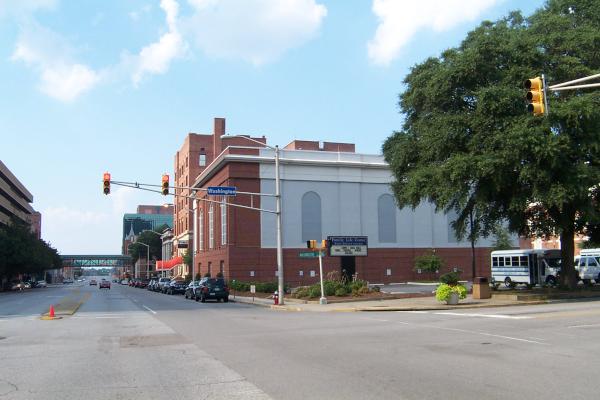 When I was small, the book-mobile would pull up in our driveway every week, and all the neighboorhood kids would come to our house to check out books. After the book-mobile stopped making the rounds, we would usually go to the Cooper Branch Library on Trenholm Road, which was on the way to and from my mother's usual grocery and shopping runs.
Now the number of books in the Cooper Branch was quite impressive to me as a kid, but it really wasn't all that big a place, and the stock didn't turn over that rapidly. Though I enjoyed reading the same books over and over (I'm sure I read Alfred Morgan's The Boy's First Book of Radio and Electronics upwards of 50 times, with the same going for Robert Heinlein's Space Cadet and Alan Nourse's Raider's From The Rings), it was always a thrill to go downtown to find books I'd never seen before.
As you can see from the pictures above, the building that was the downtown main library is gone now, and a church is using the lot. (You can see the original building here). The way I recall it, parking was very much at a premium at the Sumter & Washington site, and a visit would usually involve a metered space. There were two public entrances to the building. If you entered the main entrance, you would be facing the main check-out desk. To your right, would be an area devoted to periodicals taking up the whole side of the first floor. To your left and behind you would be a seperate "reference room" filled with books which did not circulate. Straight to your left would be first the card catalog hive and then the stairs to the upper floors. To your left and in front of you would be the non-fiction area (though though this wasn't absolutely strict as Dewey Decimal code 808.3 did include Science Fiction anthologies).
If you came in through the second public door, you would encounter a flight of stairs which would take you directly to the children's section which was either on the second or third floors. The fact that there was unsecured street access to the children's section seems a bit odd from a 2008 perspective, but those were different times.
Again, I get a bit confused between the second and third floors, but one of them was entirely devoted to fiction. Sometime in the 1970s, the library decided on a very important (to me) innovation: they would organize the fiction section by genres. This meant that romance, mystery and westerns were all broken out into separate sections, which I did not care about and it meant science-fiction was broken out into a separate section which I did care about, a lot. Remember that these were pre-Internet days. I was the only one I knew who read science-fiction. There was no e-mail list for science-fiction. There were no web-forums for science-fiction. As far as I know, there wasn't even a science-fiction book club in town. I knew some names: Isaac Asimov, Robert Heinlein, Andre Norton, Alan Nourse and that was it. Whereas before it wasn't practical to check every book in the fiction section on the chance that it might be SF, now I could check every book on the SF shelves: Nirvana!
When I became interested in rock music in the mid 70s, the library was also the place where I could check out (and tape to casette..) rock & pop LPs, and peruse music magazines like Billboard and Rolling Stone that I would never be able to afford myself.
Sitting in the periodical section happily turning pages, I did start to notice some of the pathologies beginning to affect the downtown library though. I think I first noticed that several guys sitting in the magazine section seemed to have fallen asleep. I didn't make the right connections at first -- my father fell asleep reading all the time, and there had certainly been classes and study sessions where I was very close myself. When I noticed the rank smell, I finally realized that these were homeless people, something I hadn't encountered before. It's a difficult problem to address at all, and the library was ill-suited to do anything. It was a public space after all. I certainly don't know what the answer was, but I do know it hurt the library. I recall friends who were reluctant to go down there, and parents reluctant to take their kids.
None of that affected the need to find someplace for all the books it took to seve a growing population and a growing library system however, and after a process that considered several alternatives, we finally ended up with the new site at 1431 Assembly Street. My memory is that the old library sat vacant for several years, then I sort of lost track of it. The first I knew that it was slated for demolition was when I drove by and there was no trace of it left.
I like the new library (and they seem to have a handle on the homless issue), but the thrill is gone. Now that I have a job, if I really want a book, I can just buy it, and with Amazon and Google, I'm never surprised by what is on the shelves (heck, I get email alerts months before a new book by a favorite author is due!). Still, there's probably some 13 year old making his first trip downtown every day and there's still 8 copies of Space Cadet on the shelves..
17 Responses to 'Richland County Library, Sumter & Washington Streets: 14 February 1993'
Subscribe to comments with RSS or TrackBack to 'Richland County Library, Sumter & Washington Streets: 14 February 1993'.
Leave a Reply