Archive for the 'Parkland Plaza' tag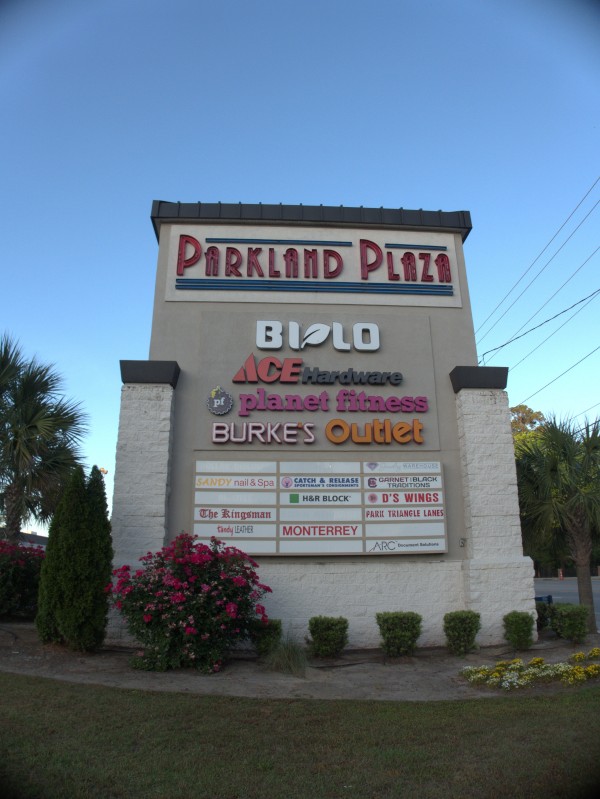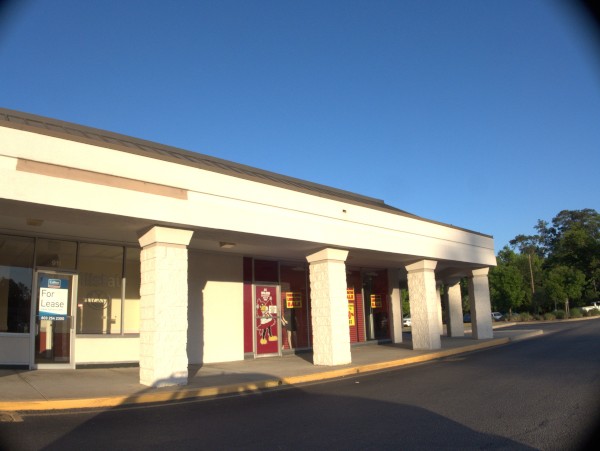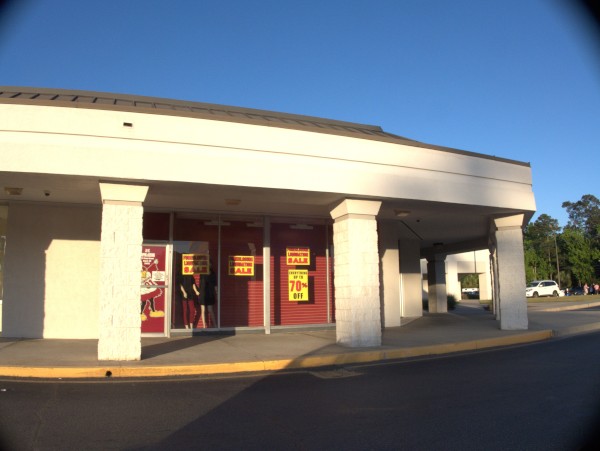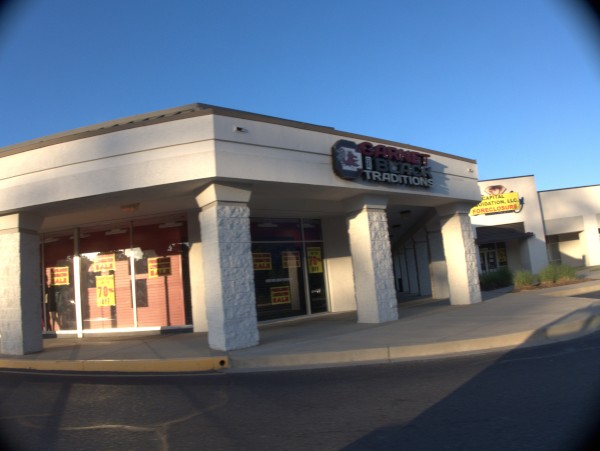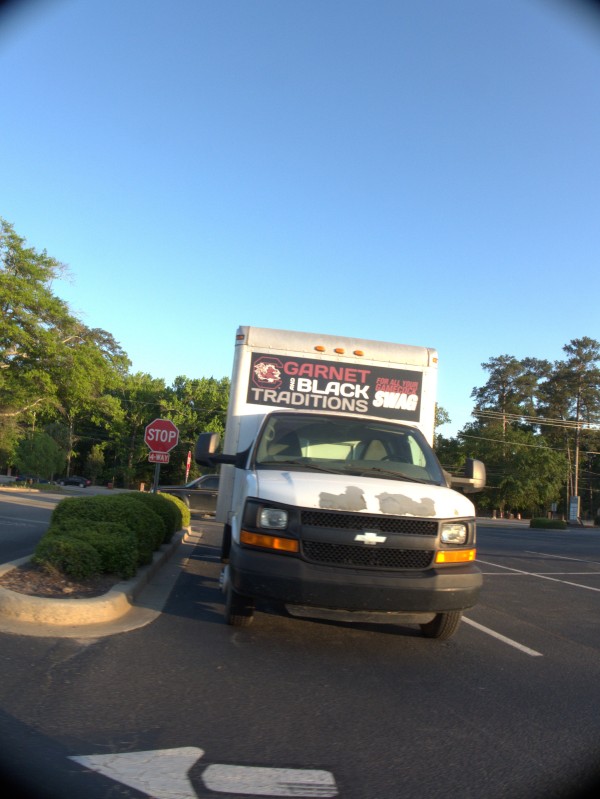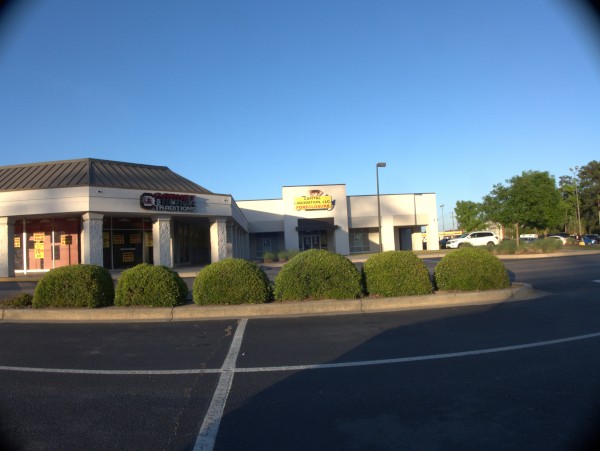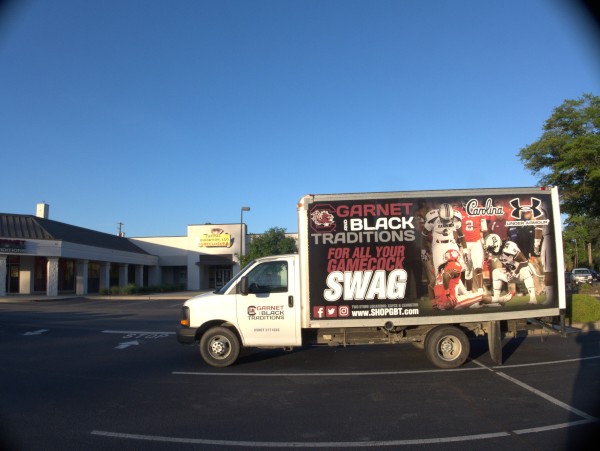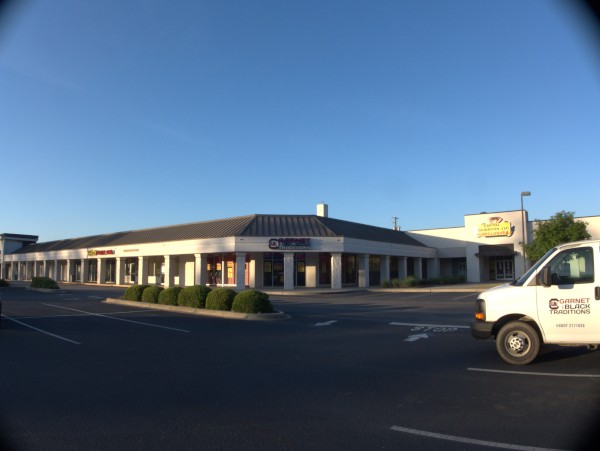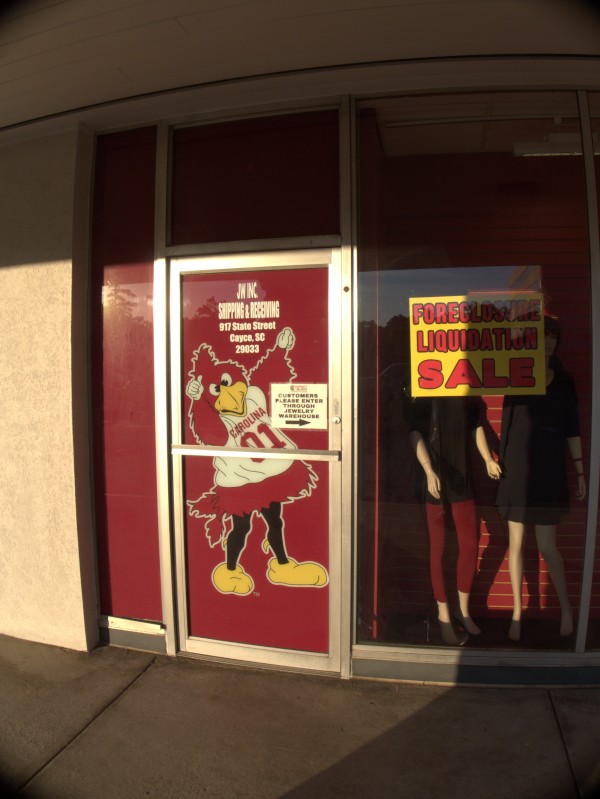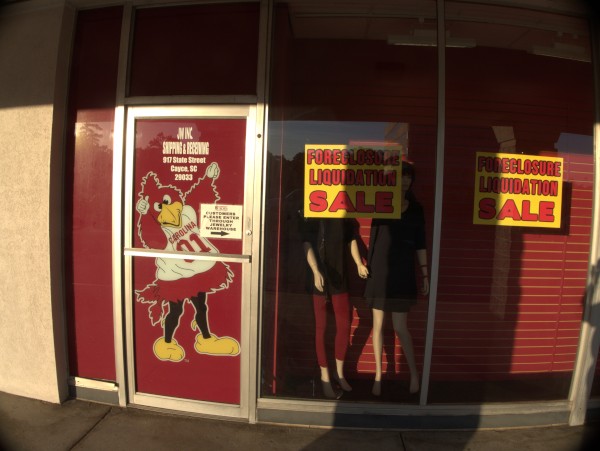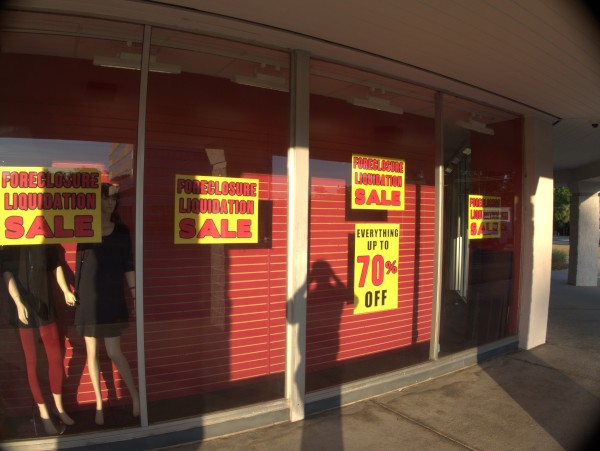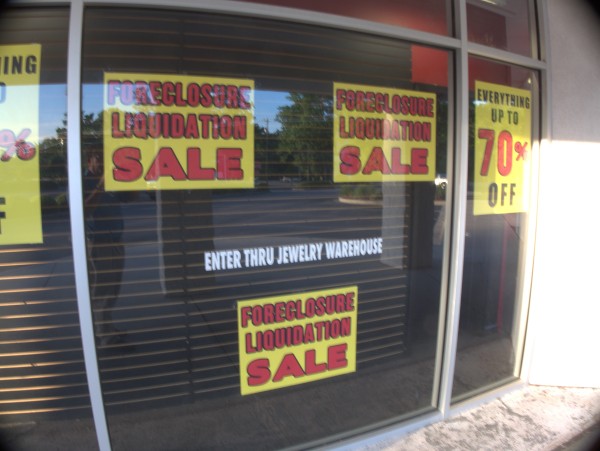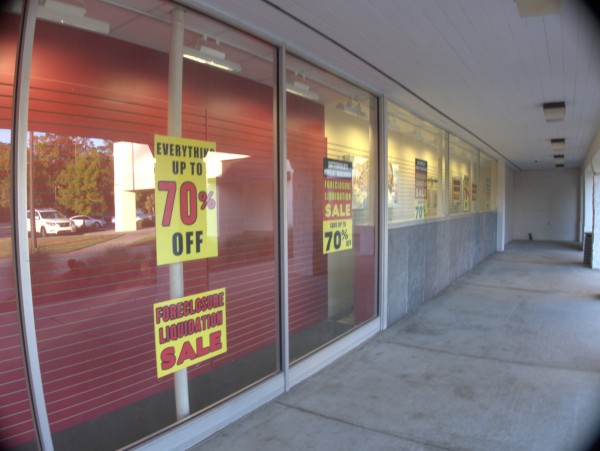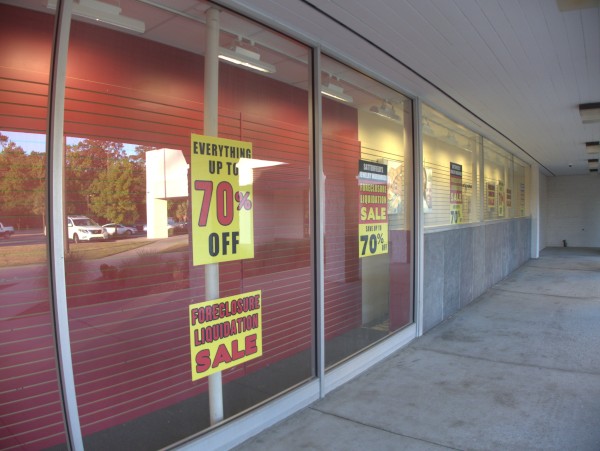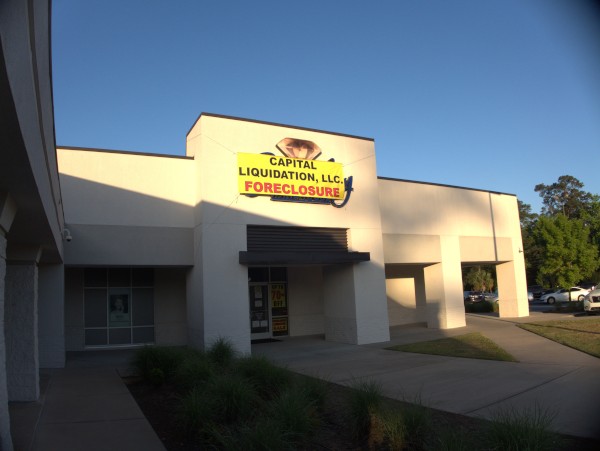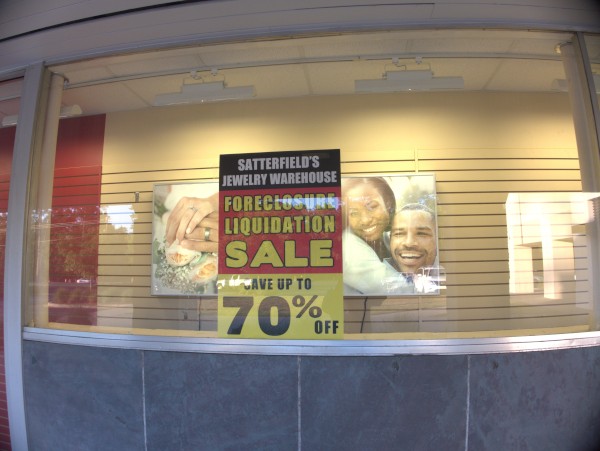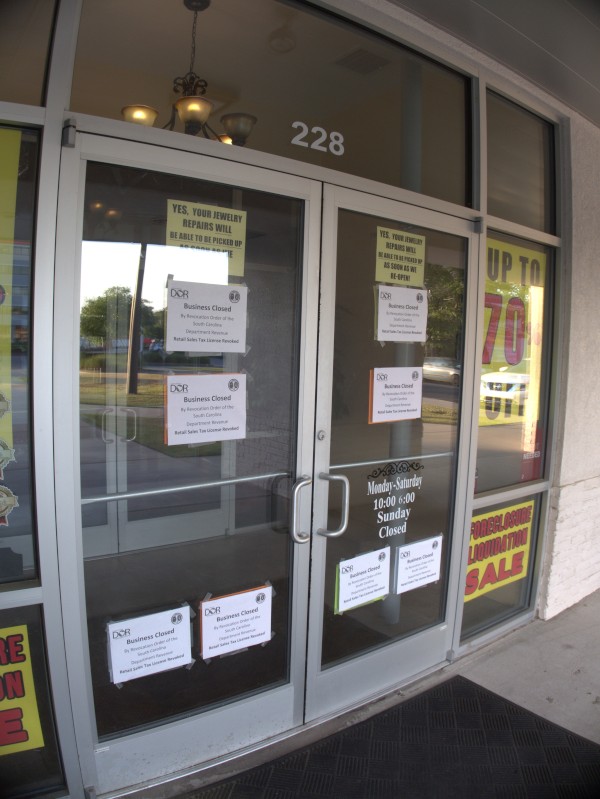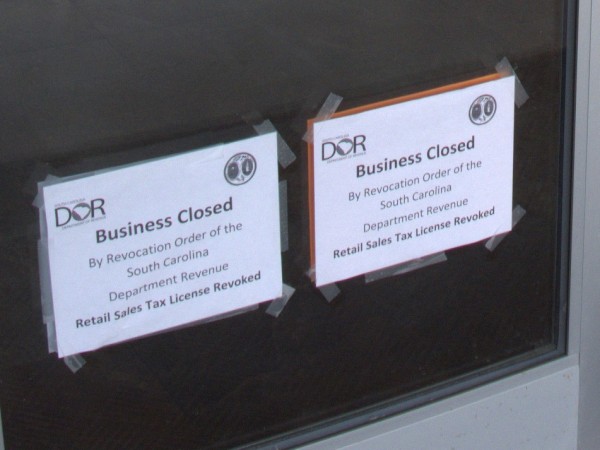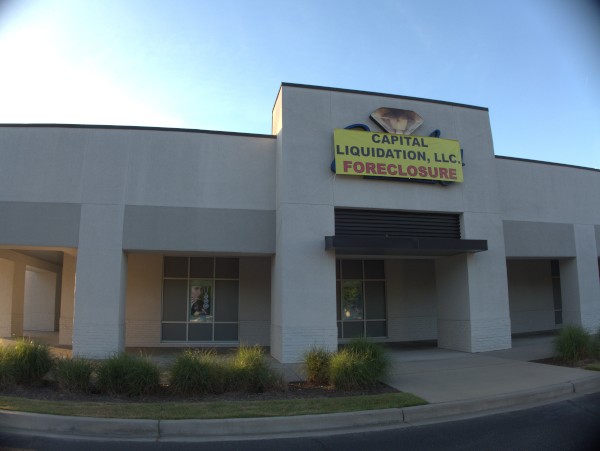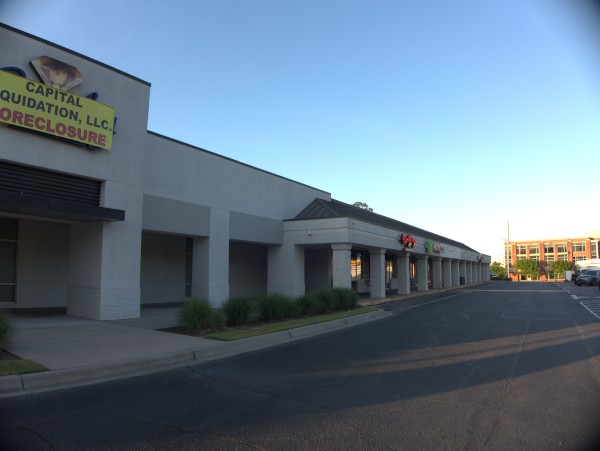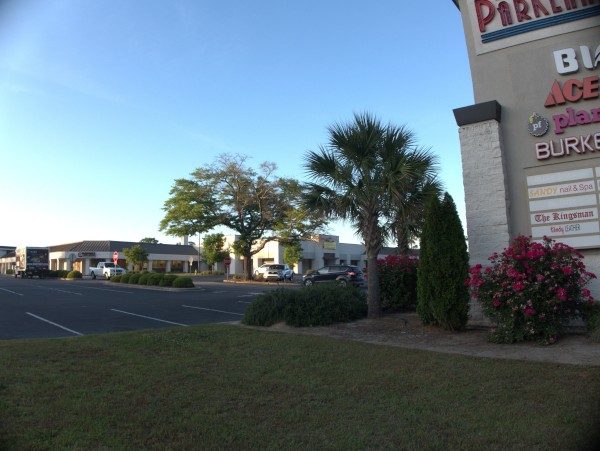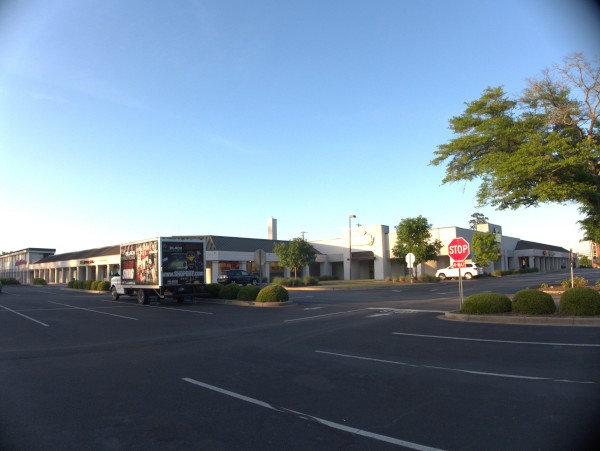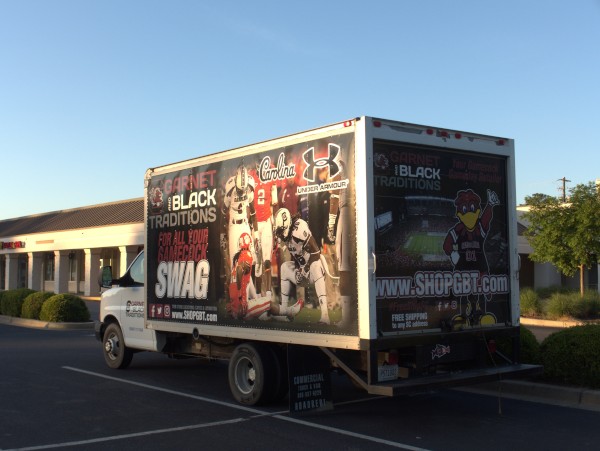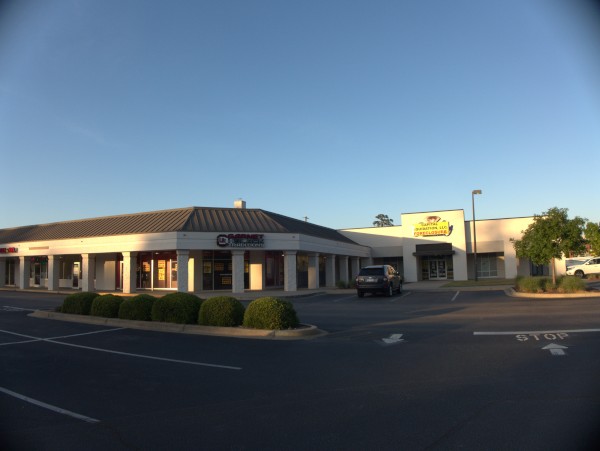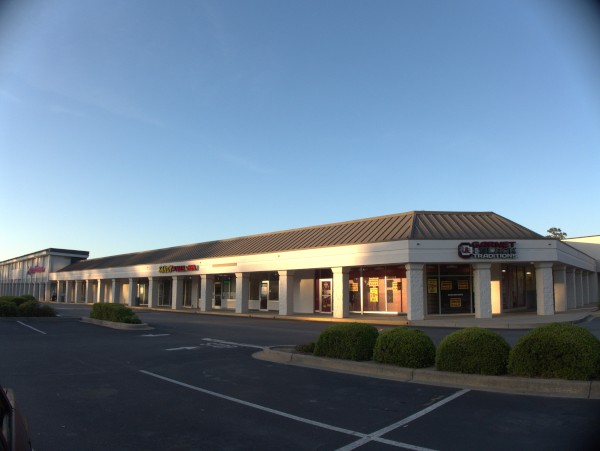 Well, the situation for Jewelry Warehouse and its associated sports memoribilia stores seems rather confusing. Here is a State story on the situation, and here is one from Columbia Business Report.
I think the upshot is that while there are statements from the business that they will be back, those have probably been overtaken by events (and by the Department of Revenue). The sums owed seem quite large, and I suspect they were optimistically thinking they could turn the situation around, and overextended their resources without being able in the end to make that happen.
(Hat tip to commenter Jimmy)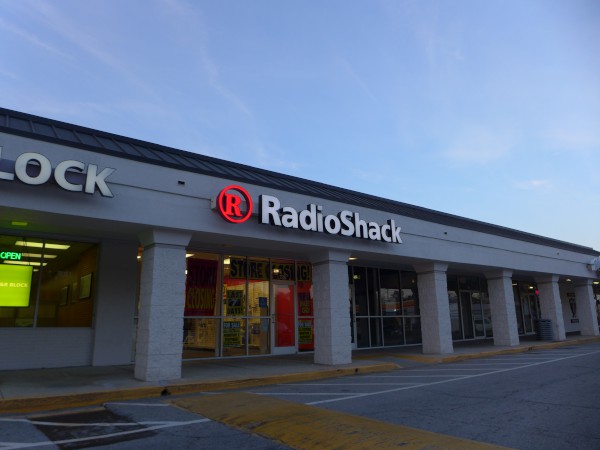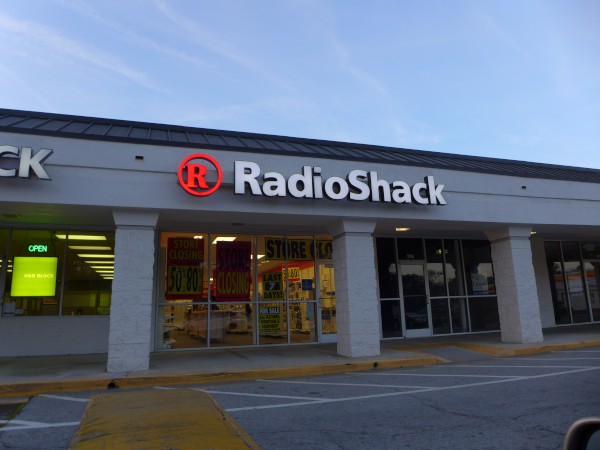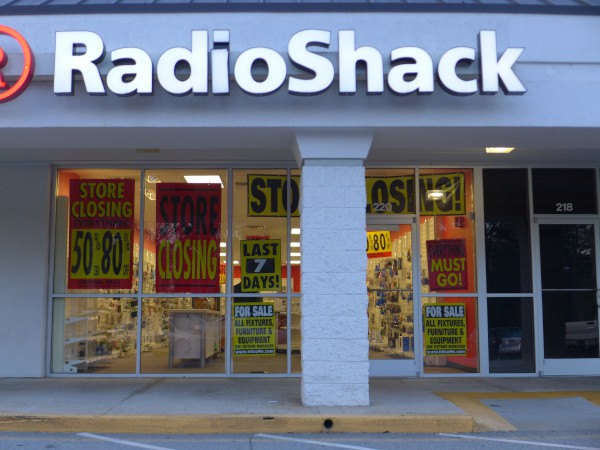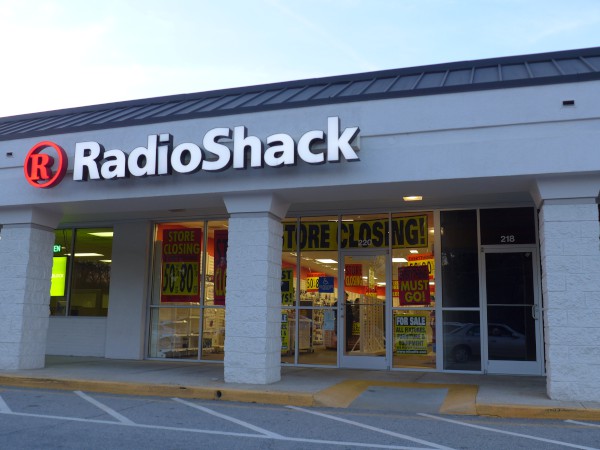 Another day, another Radio Shack.
This is the one in Parkland Plaza in Cayce, and is another casualty of the chain's bankruptcy.
UPDATE 14 March 2015 -- Gone: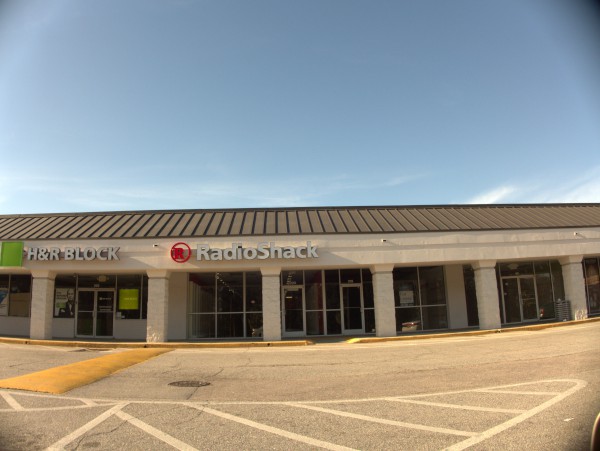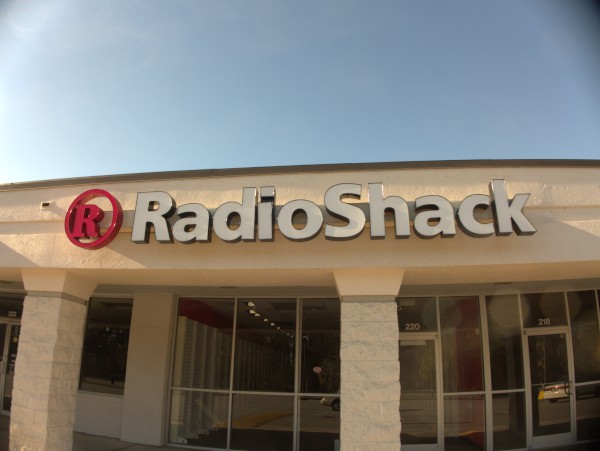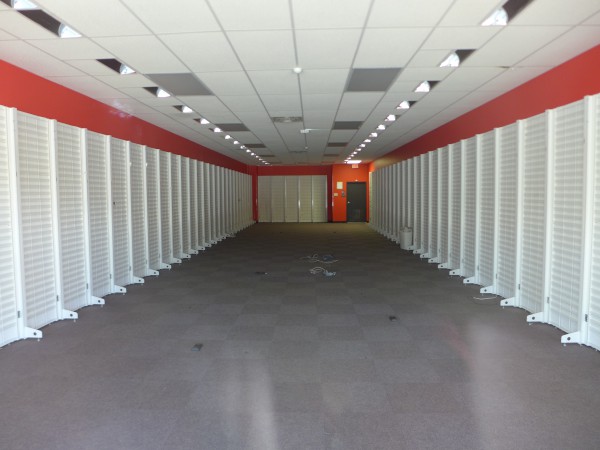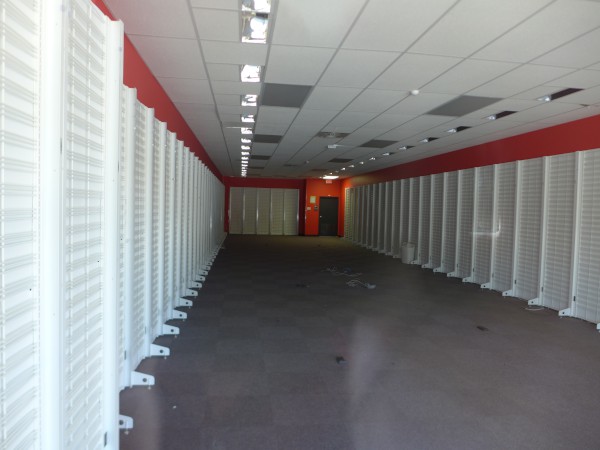 Posted at 1:09 am in Uncategorized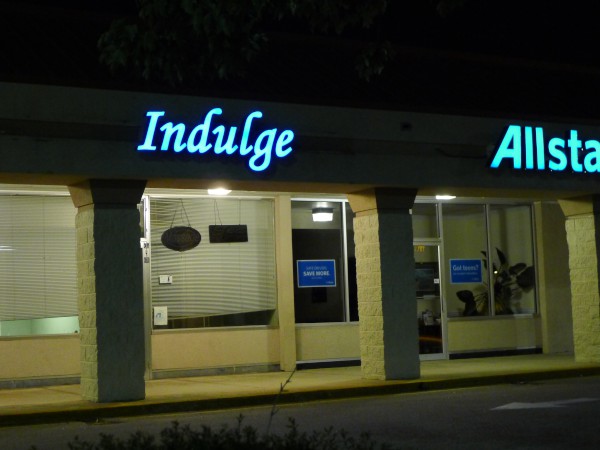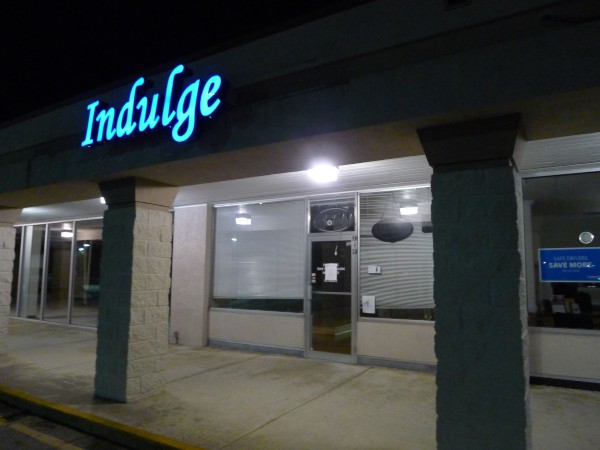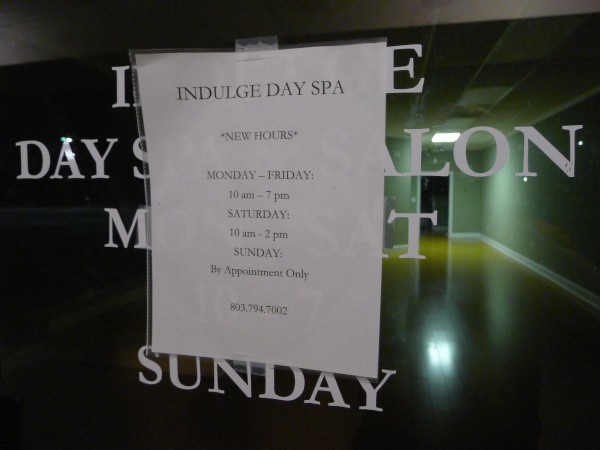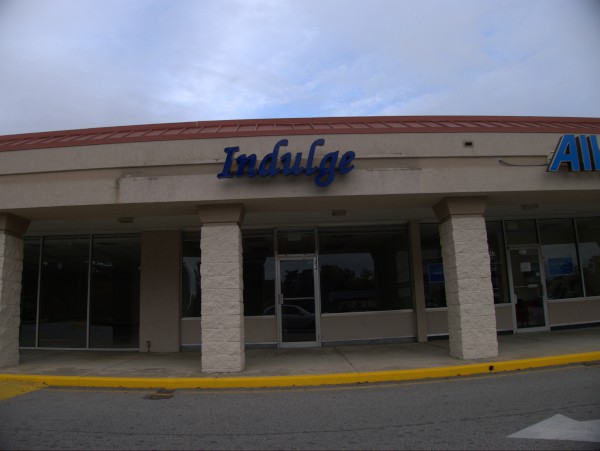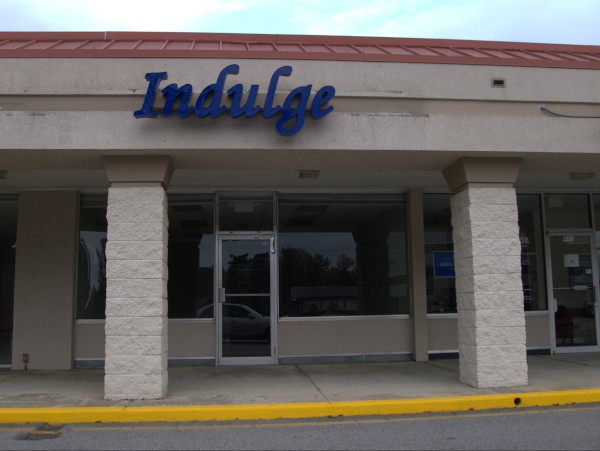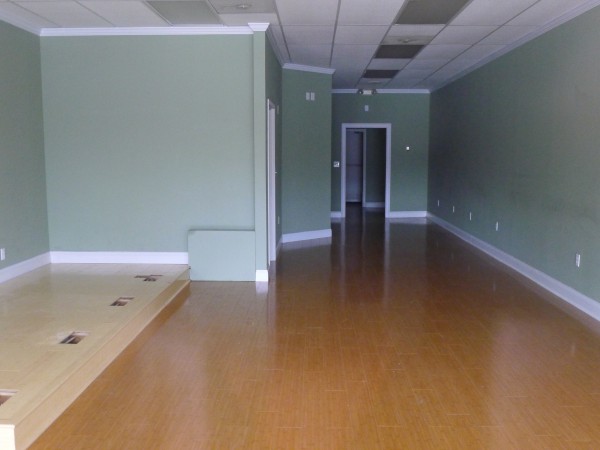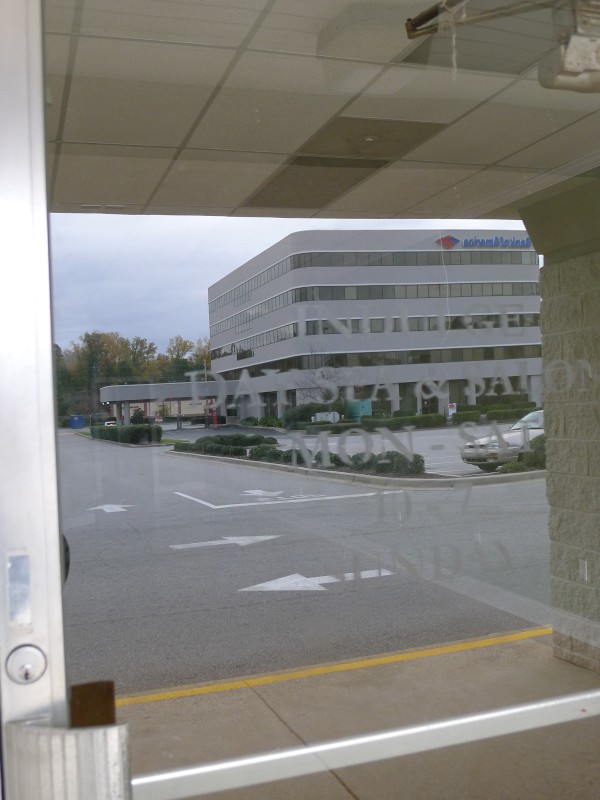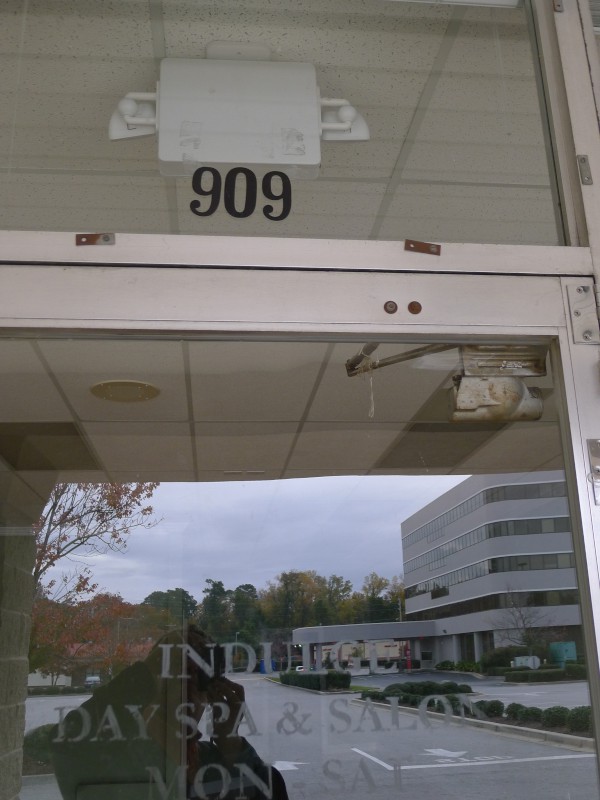 This day spa on the State Street side of Parkland Plaza looks like it was closing down in September of 2012, with new hours posted, and a fairly empty room inside.
By November, the window signage was down (though the marquee was still up), and the whole storefront was vacant.
UPDATE 17 November 2014 -- Now Venus Nail & Spa: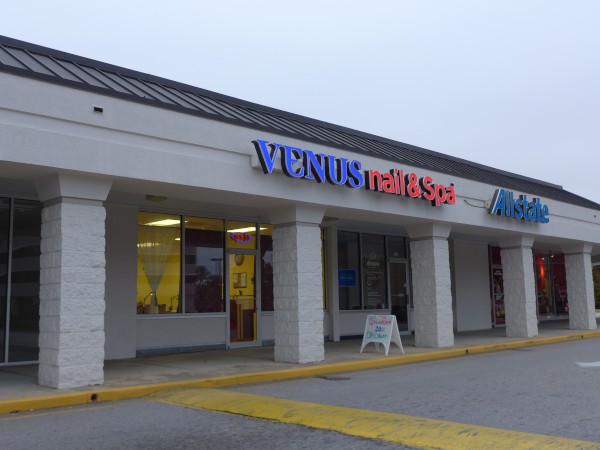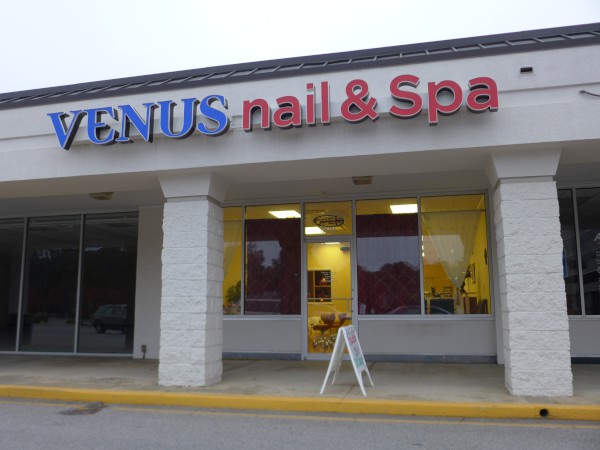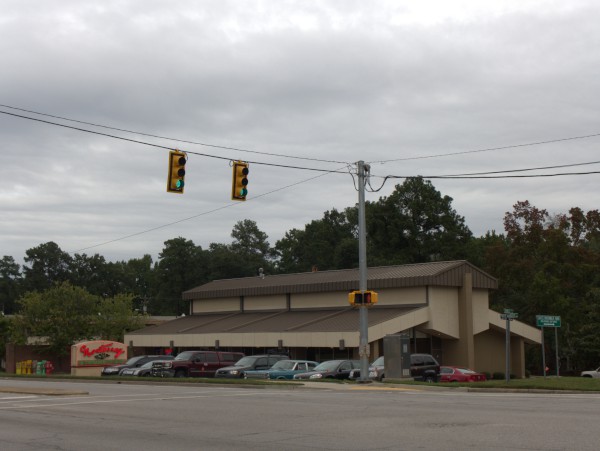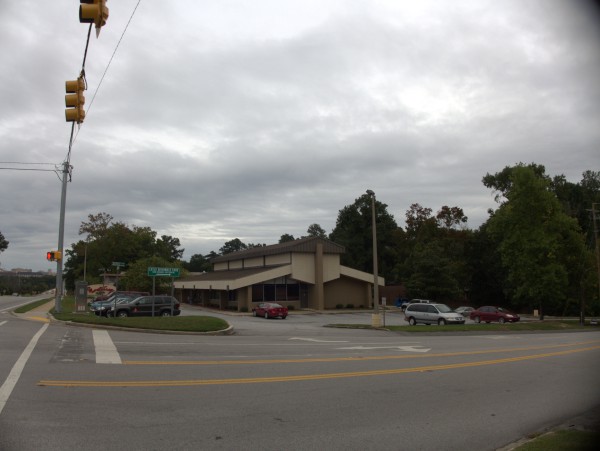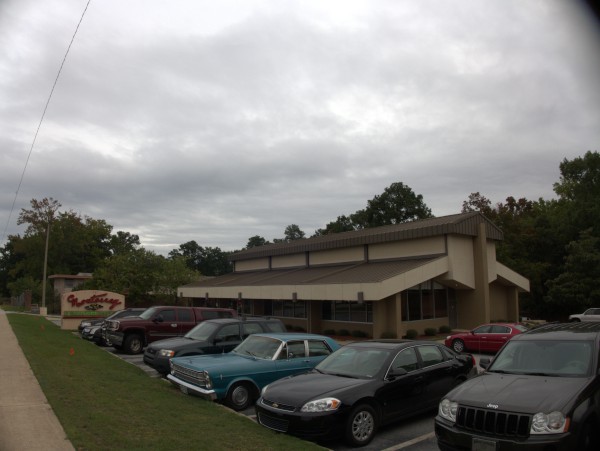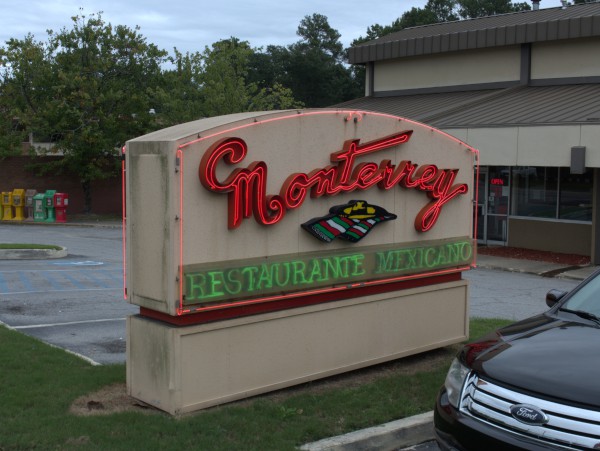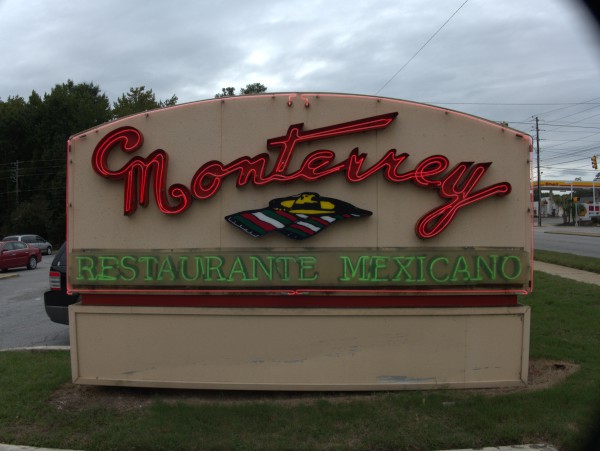 A new apartment complex is coming to a premier setting on Cayce's riverfront.

Plans for a complex of about 230 units near the Blossom Street bridge have received initial approval from Cayce City Council.

The site provides a prime view both of the Congaree River and the skyline of downtown Columbia to the east.

The project would extend along Knox Abbott Drive from Axtell Drive to the city's Riverwalk, replacing Monterrey Mexican Restaurant and the Riverside Inn, which are across the street from Guignard Park.
Monterrey Knox Abbott are now closed and are working on their new location in the old Zeus Pizza location in Parkland Plaza (not Parklane Plaza). I believe this location started as a Denny's, though according to Monterrey's closing sign, they were here for 26 years, which is no small run for a restaurant.
Posted at 1:04 am in Uncategorized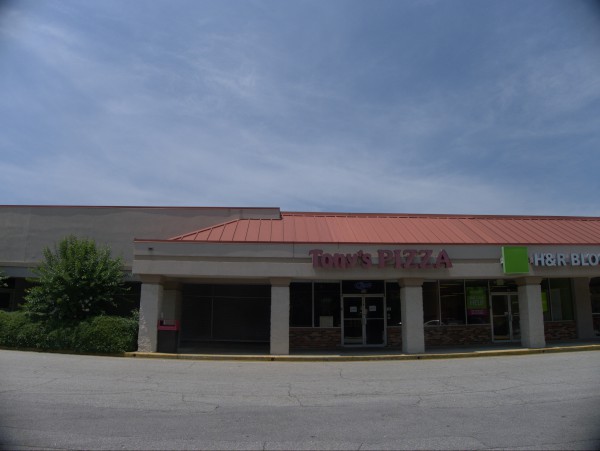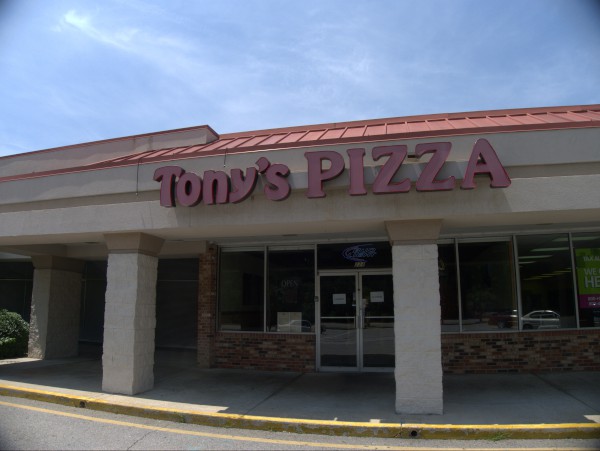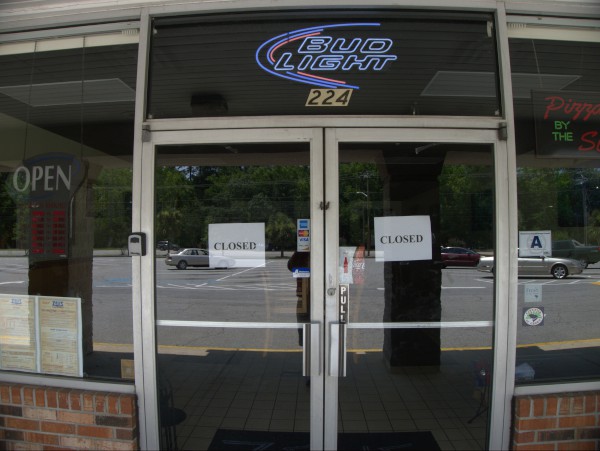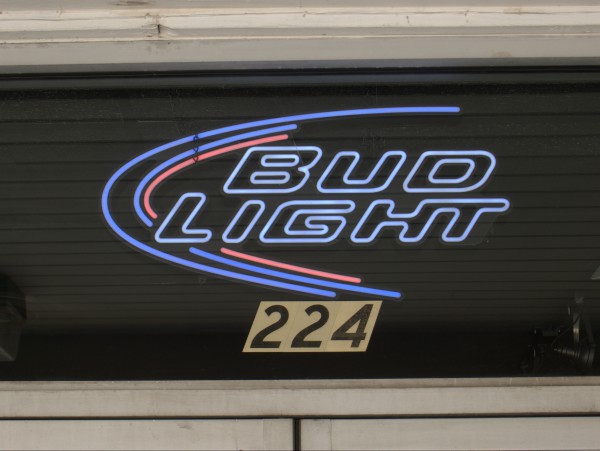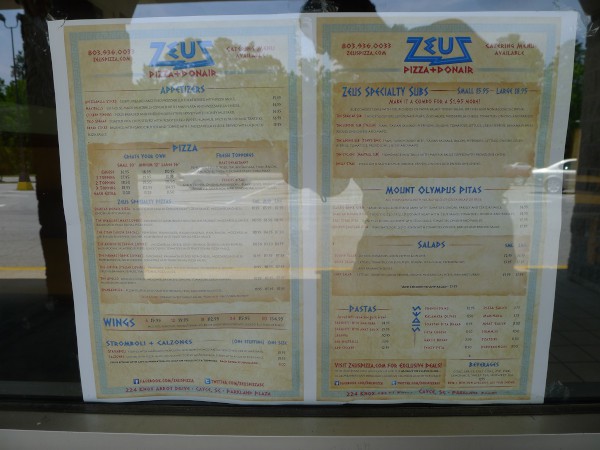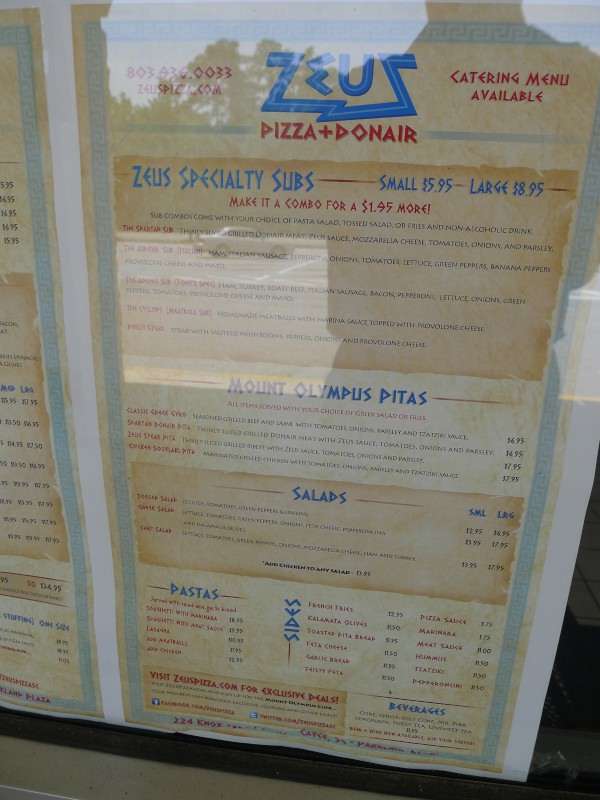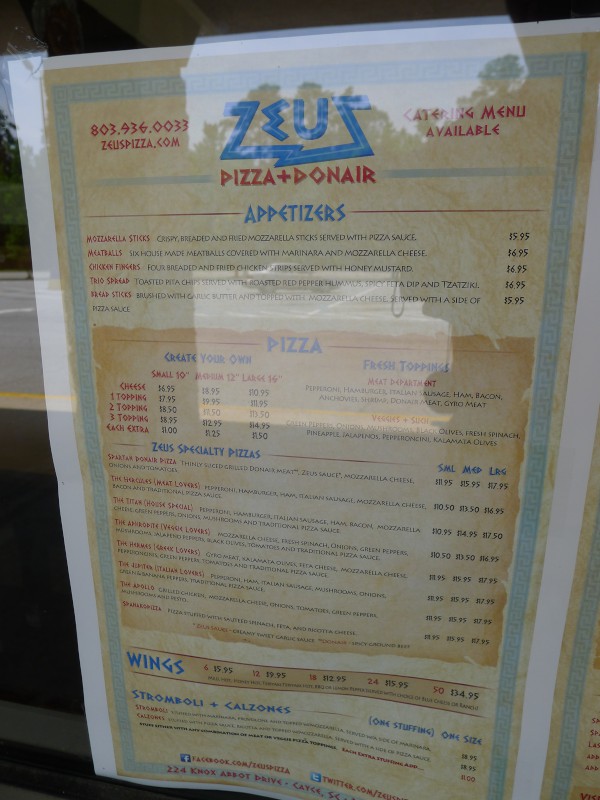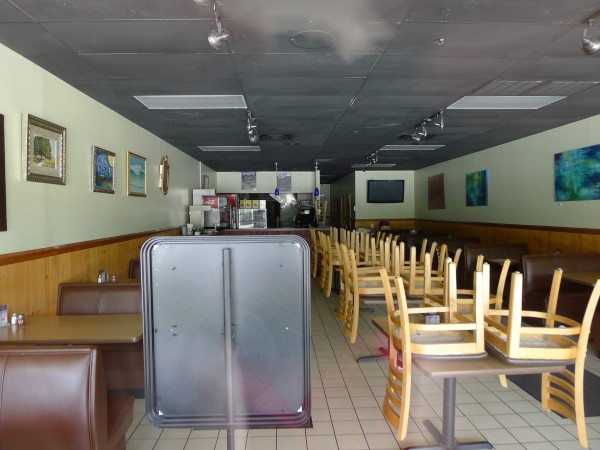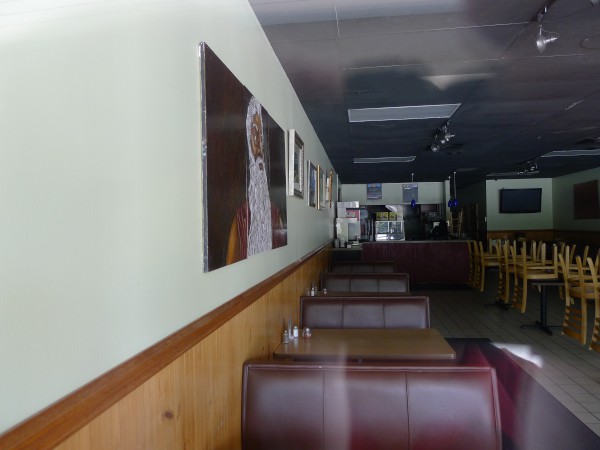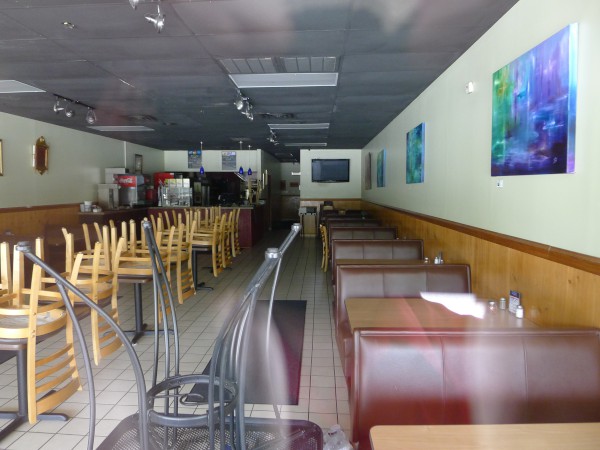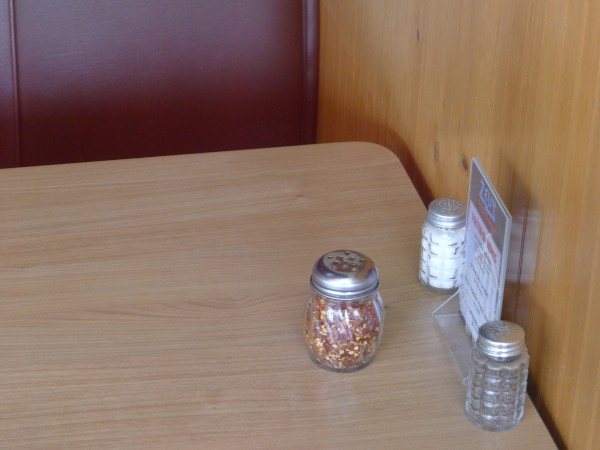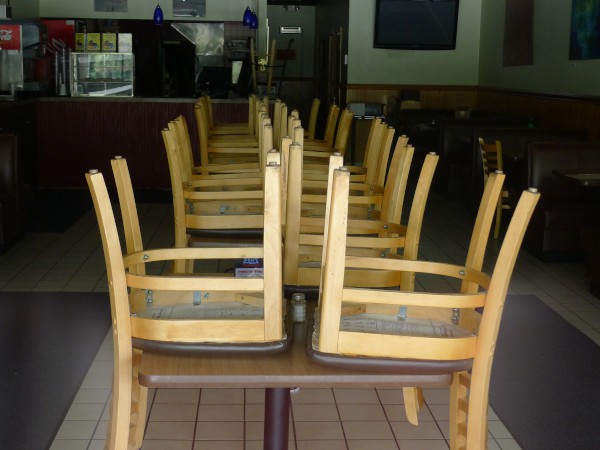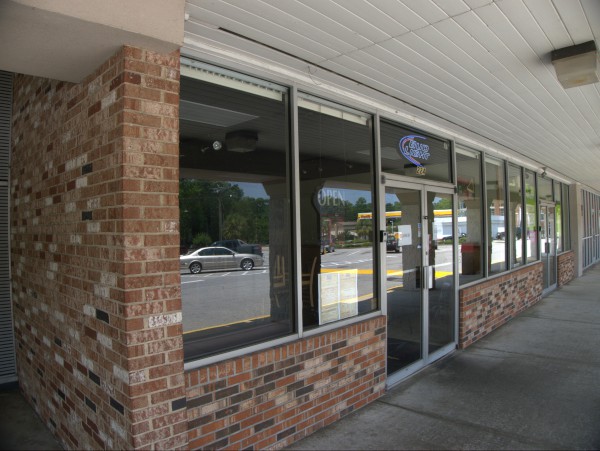 Zeus Pizza was the follow-on operation to Tony's Pizza in Parkland Plaza, using in fact a good bit of the same signage and interior setup.
As you can see from these pictures, the restaurant was a long narrow space. I think it might have benefited from more window tables, but the one time I ate there, I found it pleasant enough. As I recall, I had the stuffed shells with garlic bread, and it was perfectly fine. At that time, the restaurant had a cloth sign for "Zeus" hung over the "Tony's" lettering, as you can see in commenter Andrew's photos at the Tony's link above. I presume that if they had made it over the initial hump, they would have eventually gotten permanent letters over the marquee.
I'm not exactly sure when they closed -- The April issue of Skirt magazine is still in the inside rack, but that may be bi-monthly. I'm going to say it was probably at the end of May giving them about an 8 or 9 month run.
(Hat tip to commenter badger)
UPDATE 1 August 2012: Zeus is open again. See the comments for details, but here is the website.
UPDATE 4 October 2012: As mentioned in the comments, Zeus is unfortunately closed again: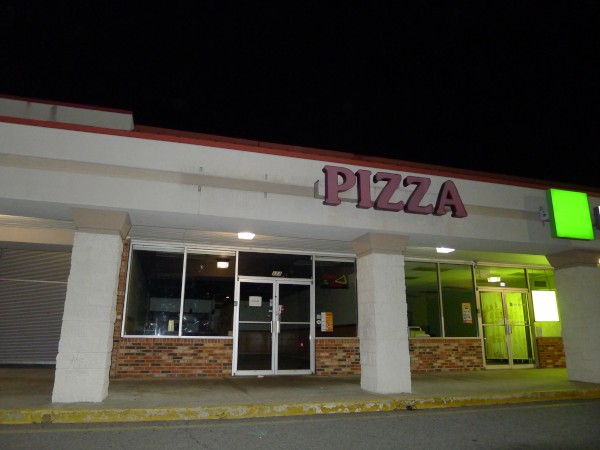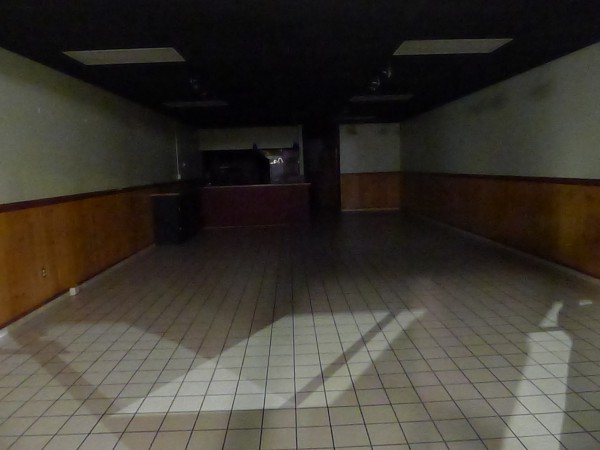 UPDATE 8 October 2014 -- Monterrey will be moving here from across Knox Abbott when their current building (bought by USC) is torn down: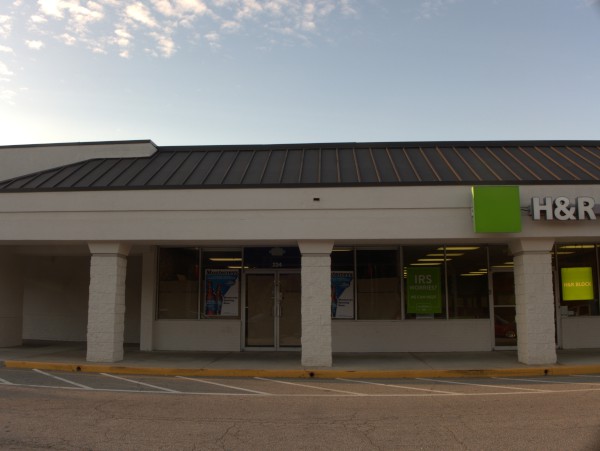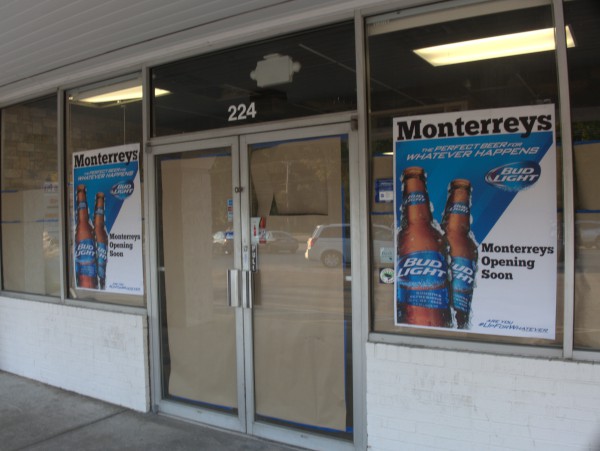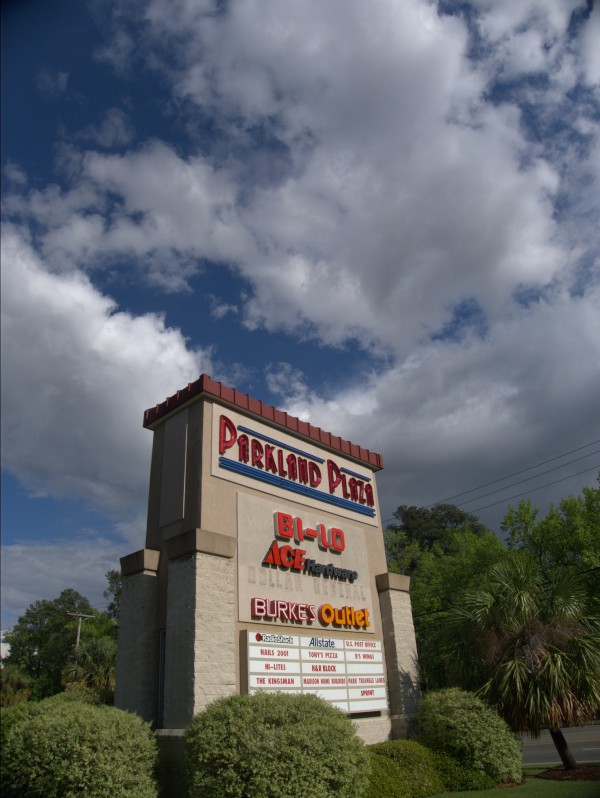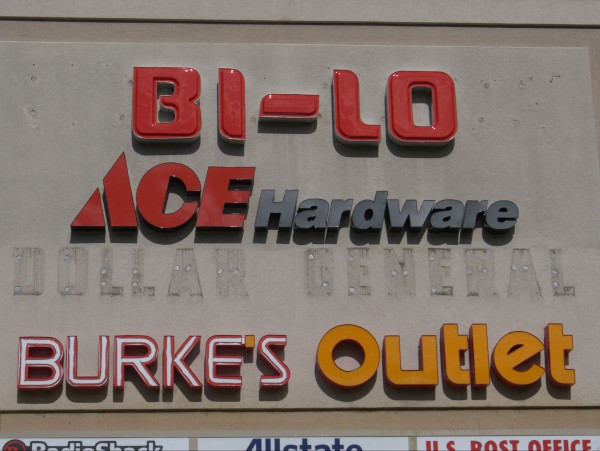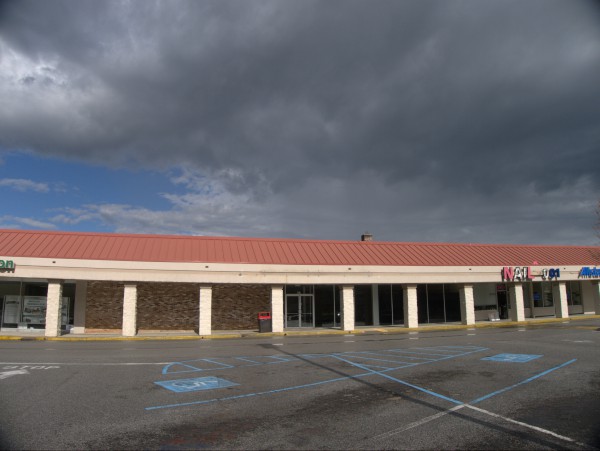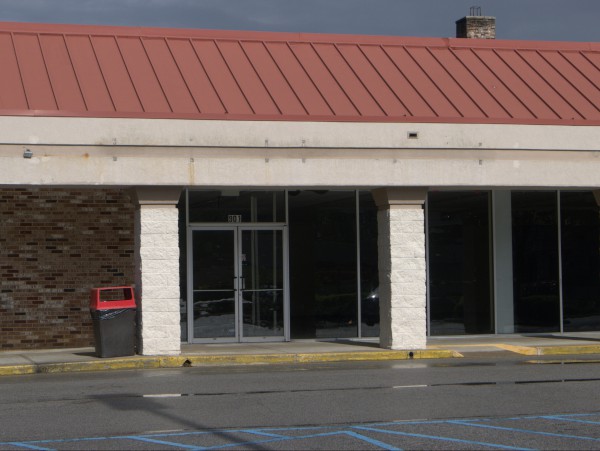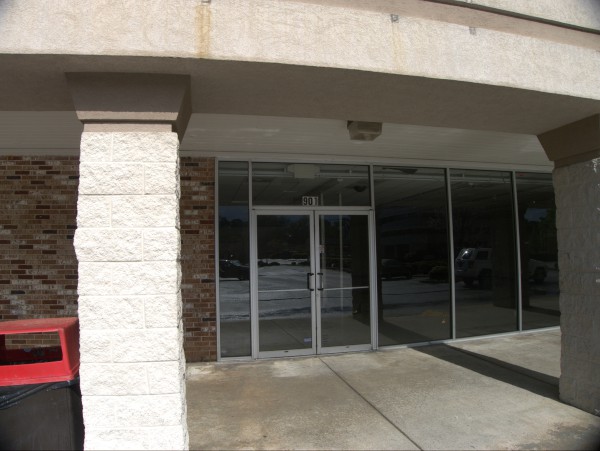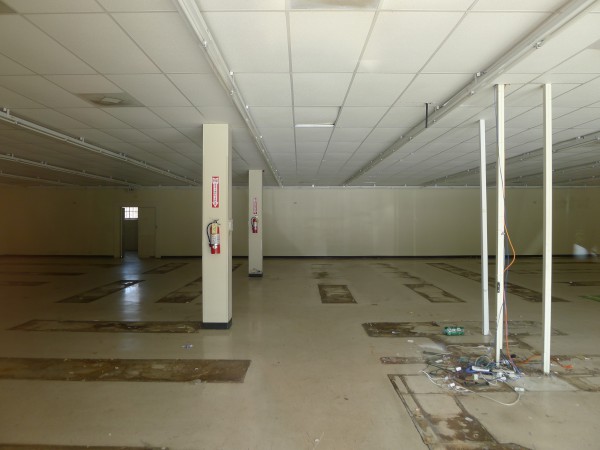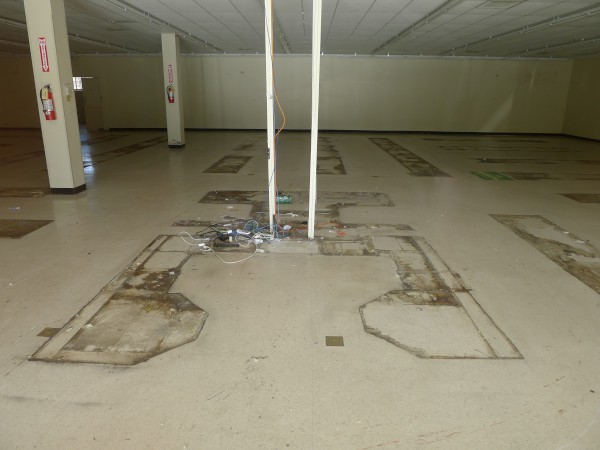 I was very surprised to hear that Dollar General had pulled out of Parkland Plaza. I guess that's because I think of the chain as downscale but savvy: A Dollar General store isn't going to be brim-full of high margin items, but they seem to know their customer base and to be quite competent at what they do.
I do know that in some places (such as Pawleys Island) they have pulled a store out of an underperforming strip mall to re-open it nearby as a standalone building, but I don't think that is the case here -- though certainly factoring together this pullout with the recent Hi-Lites pullout, Parkland Plaza has to be marked as underperforming..
(Hat tip to commenter Andrew)
Posted at 12:04 am in Uncategorized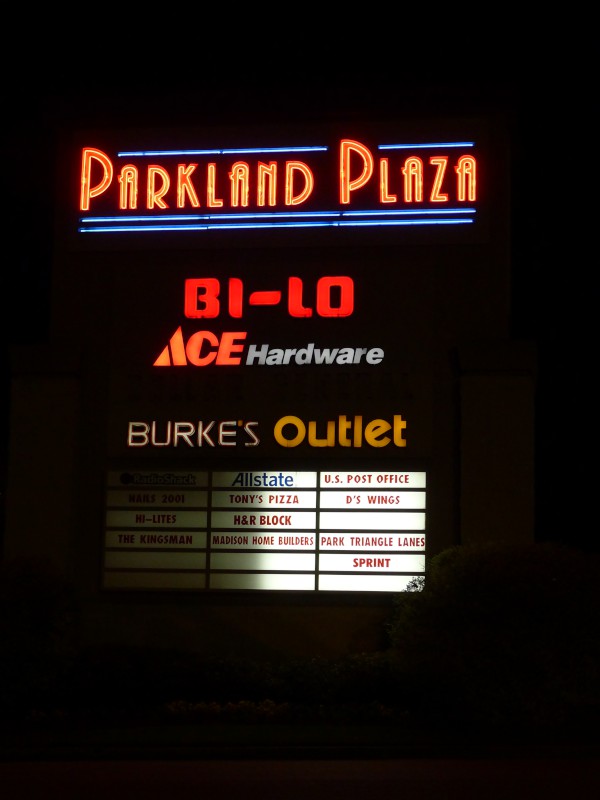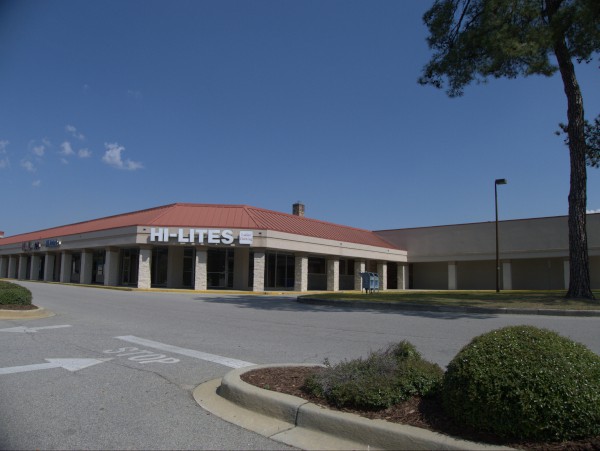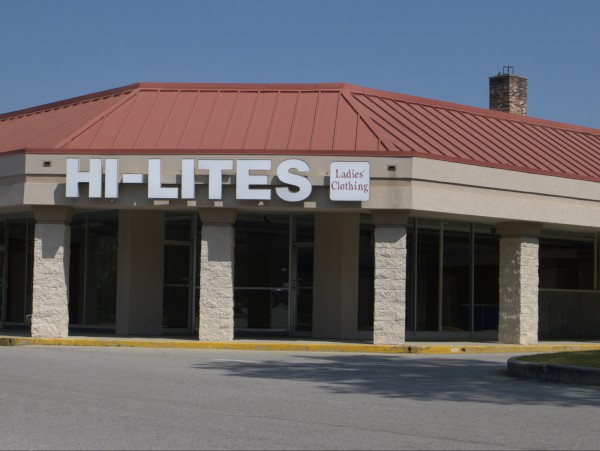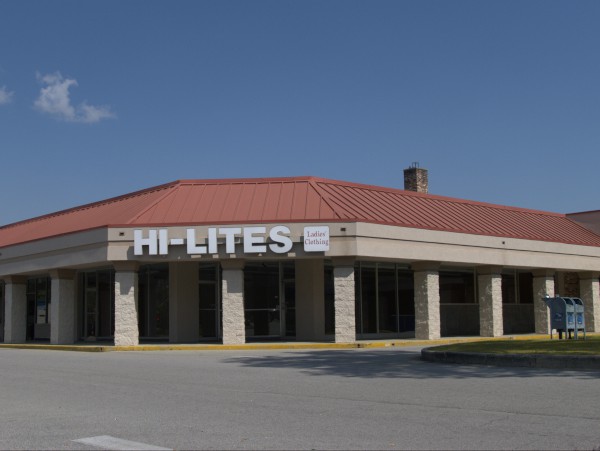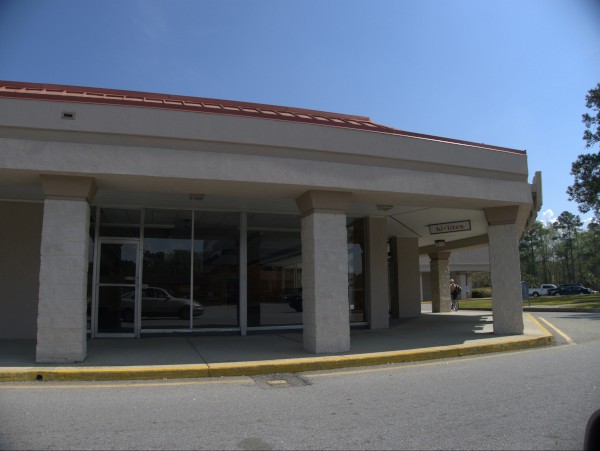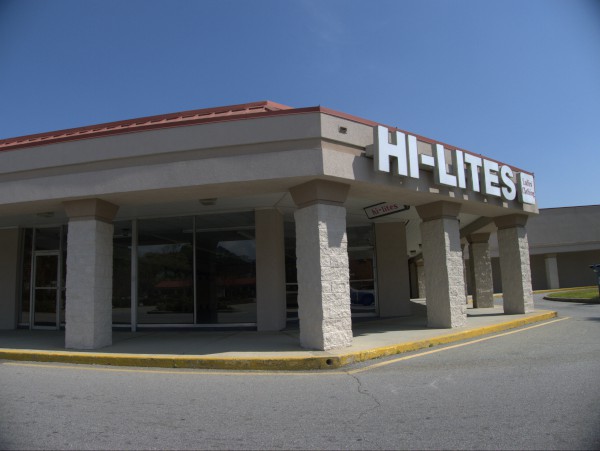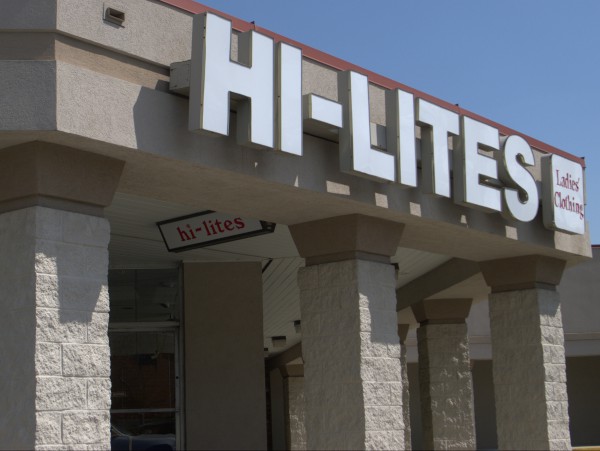 Hi-Lites Ladies'Clothing ("Name Brands At Outlet Prices") seems to mainly follow a small town strategy. Apart from this Cayce store, the chain's locator page lists the other Carolinas' locations as
Albemarle, Atlantic Beach, Clinton (NC), Laurinburg, Lincolnton, Monroe, Mount Olive, Newton, Sanford, Shelby, Whiteville, Bennettsville, Dillon and Lancaster
It's interesting that by putting their "Columbia" store in Cayce, they got a somewhat similar area, but inside a fairly major Metro. Of course, apparently it didn't work out for them.
Parkland Plaza had been on a bit of an upswing lately, with the Ace Hardware re-opening, and the Dollar Discount being replaced, but this closing and that of Dollar General (which I will probably get to soon) along with the continuing vacancy at the old Parkland Pharmacy/CVS site put the place back almost to square one.
(Hat tip to commenter tonkatoy)
UPDATE 4 April 2012 -- I went back when I could stop and got some better pictures: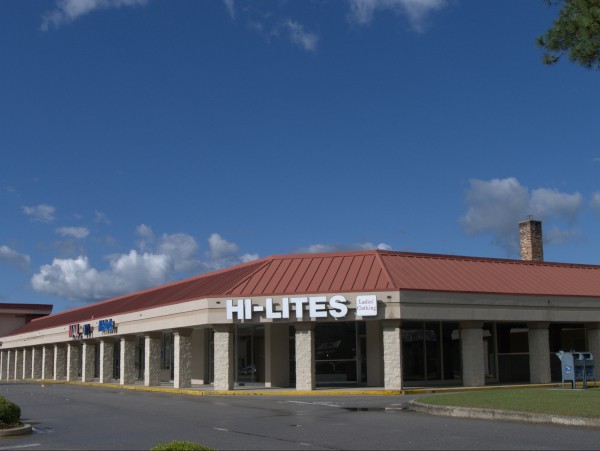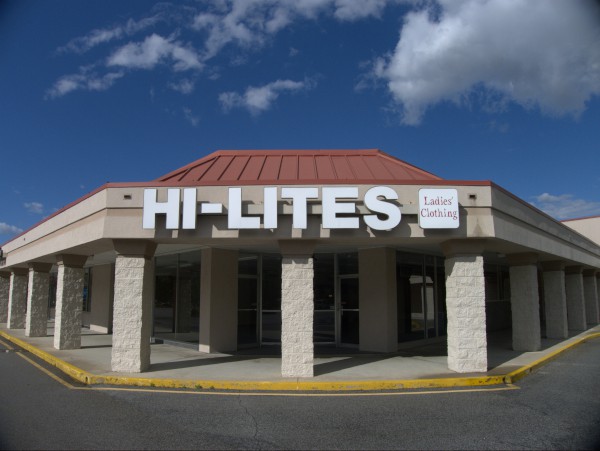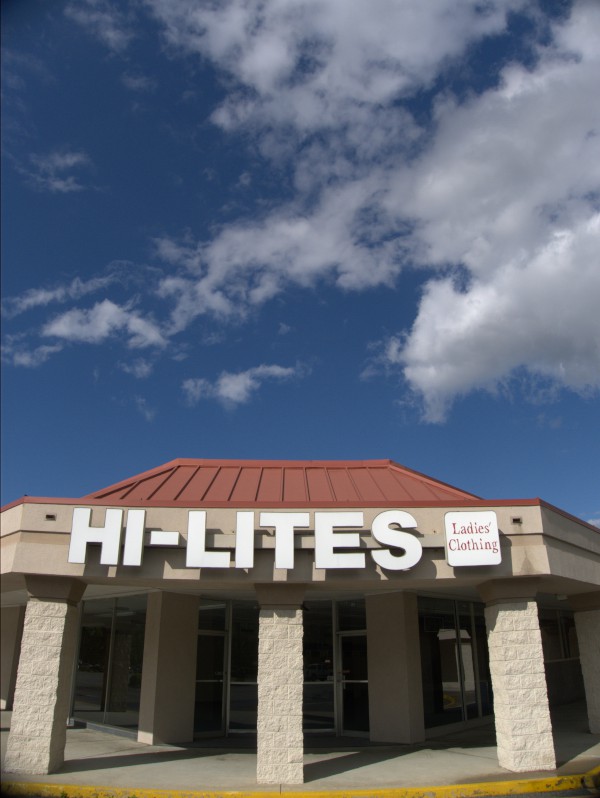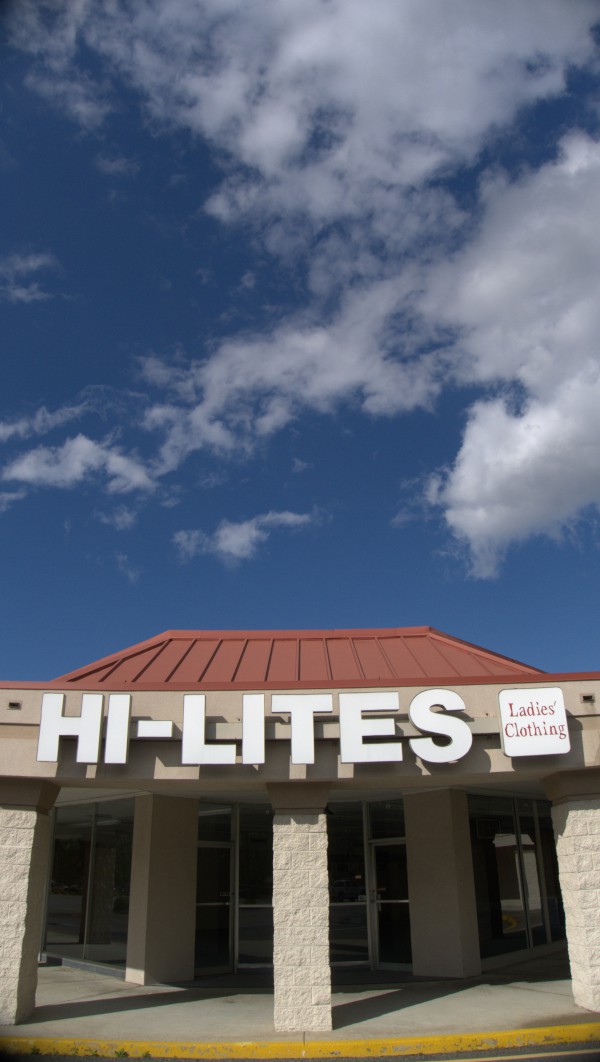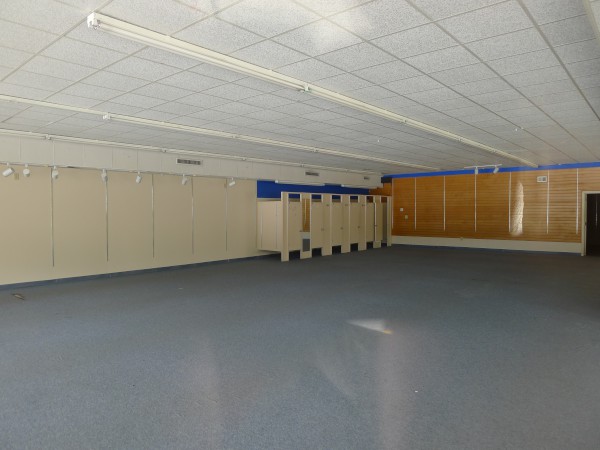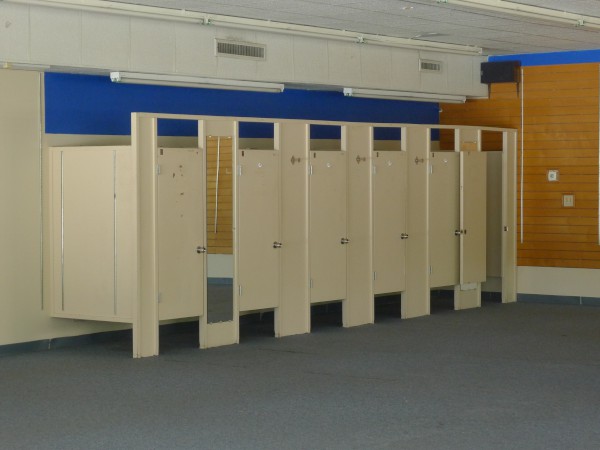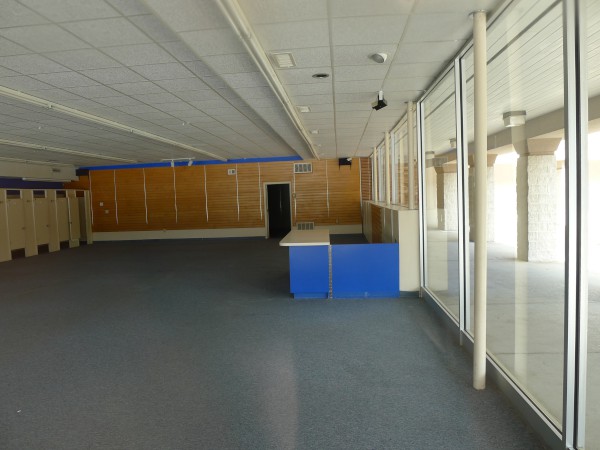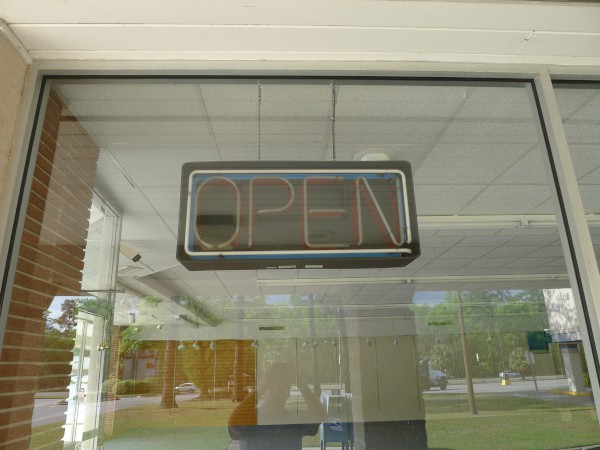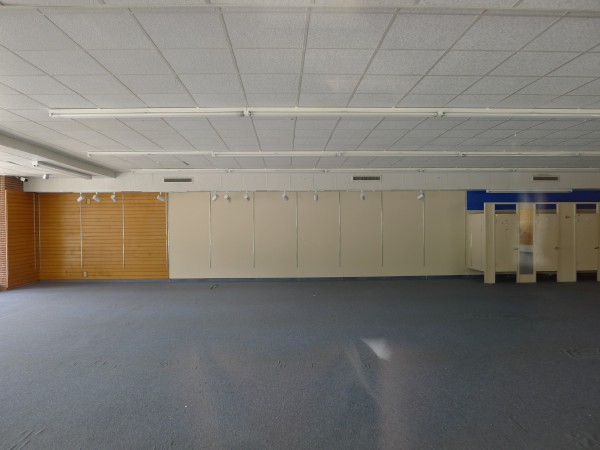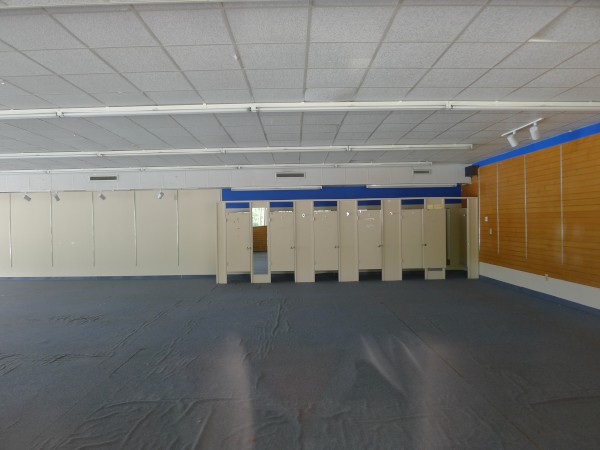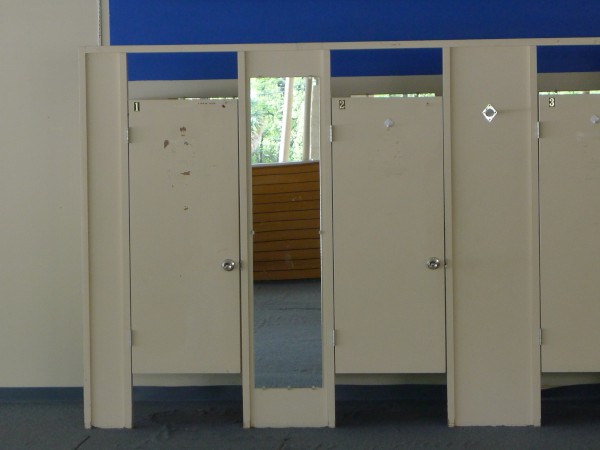 Posted at 11:36 pm in Uncategorized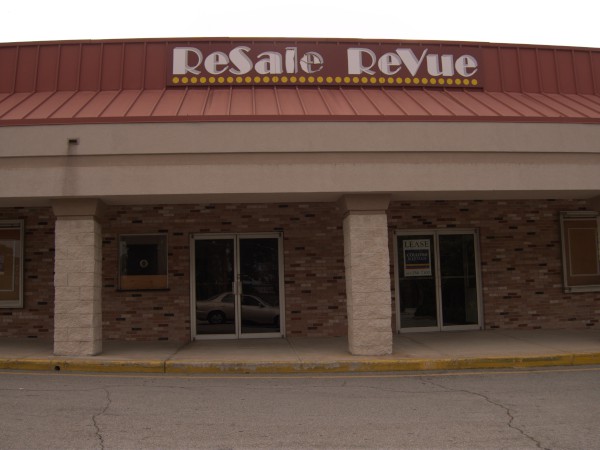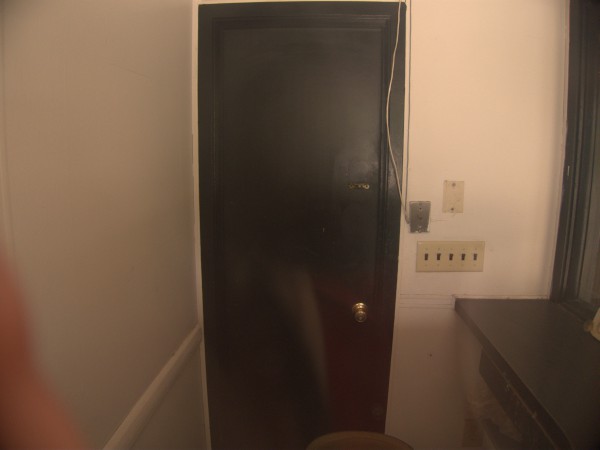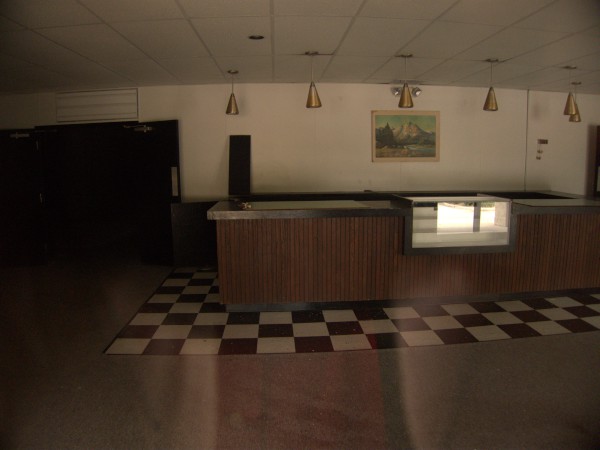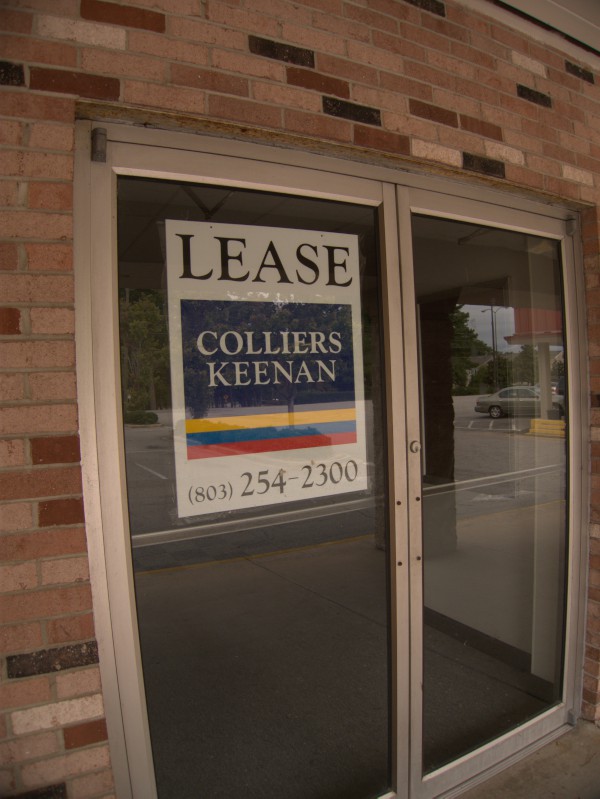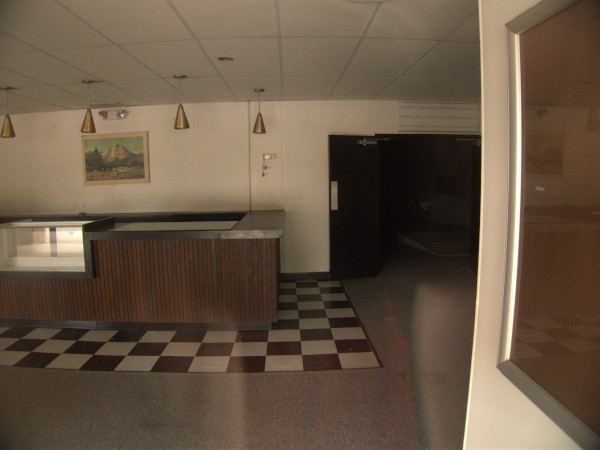 I wrote about this place a good while ago in a closing for The Gamecock Theater, and actually in that closing, from 2008, I noted that it also was closed. It may not exactly be that simple though.
Anyway, Resale Revue, in its first incarnation, was an antique-mall type of place. I only went in once, and it seemed it skewed more towards flea-market type antiques (old records, toasters etc) than antique furniture -- which was fine by me. I think I may have gotten a dial telephone there, but I have a number of them (two still hooked up..) and can't really recall.
That incarnation was gone by 2008, but I noticed this year that the place was hosting events for the Indie Grits Festival using the old theater space as a venue. Given that the a Colliers Keenan sign was in place in 2008 and is still in place, I'm guessing that the owners rent the space out for events from time to time as they are able, and the name carries over as nobody is going to change the sign for that.
Posted at 11:17 pm in Uncategorized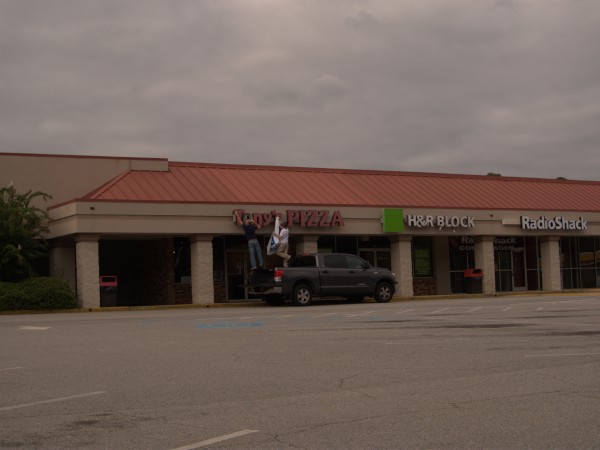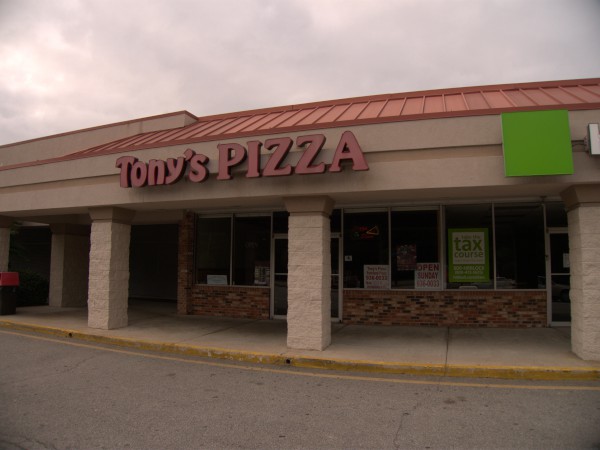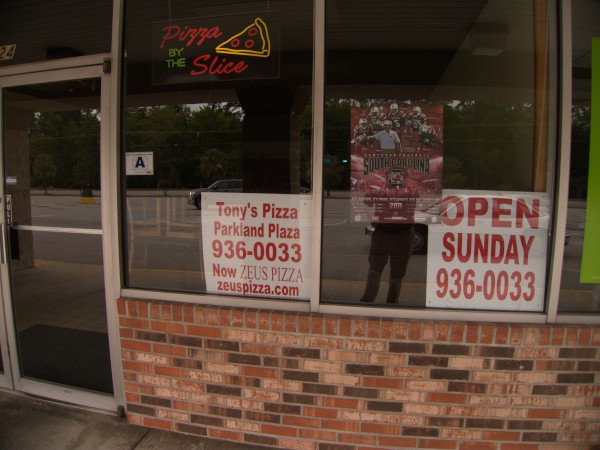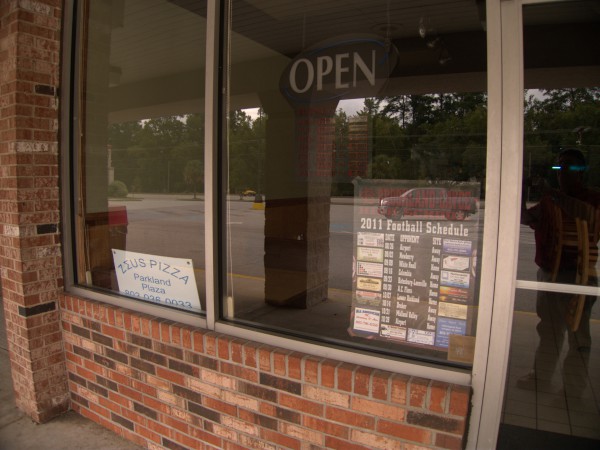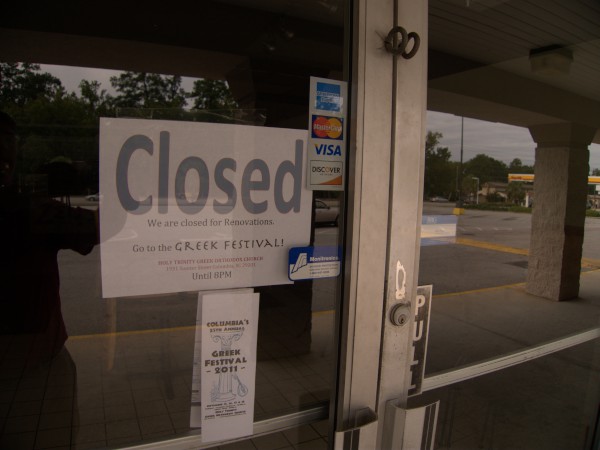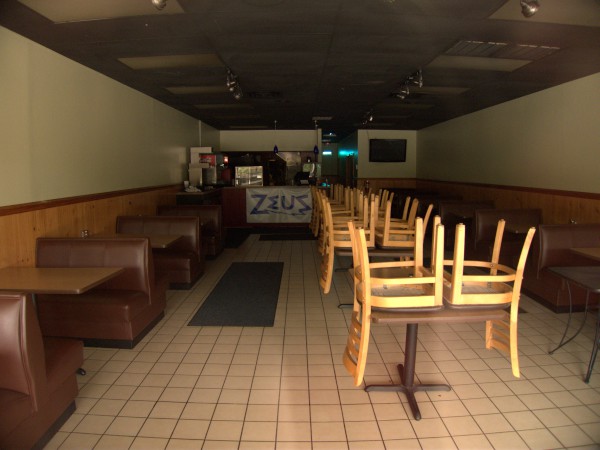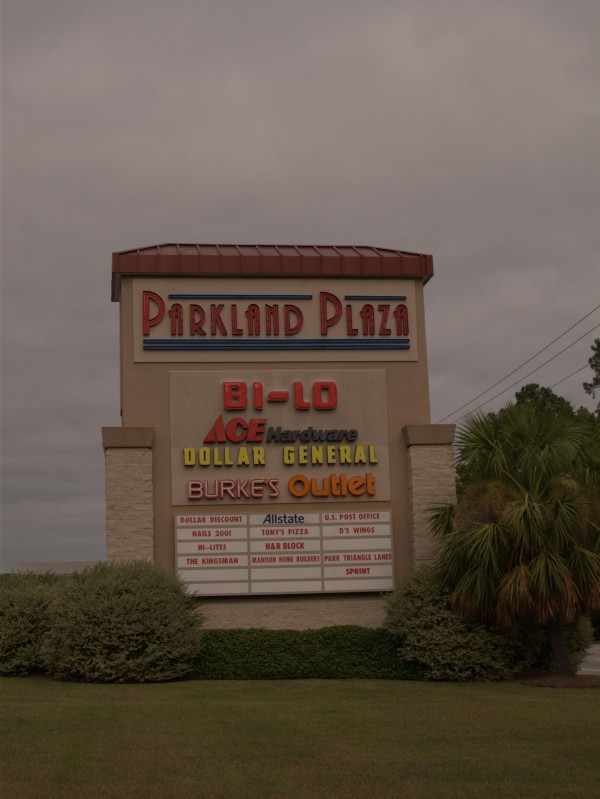 While I was out and about today, I noticed some guys apparently hanging a new banner that said Zeus Pizza on the marquee of Tony's Pizza at Parkland Plaza. When I got back by after making a few other stops, it appeared that perhaps I was wrong and they were taking it down, or they needed some more tools to make it stick. Either way, it's clear from looking at the signs in the store windows that the name change is official. I drove down the street to the Tony's near 12th Street, and there is no indication of any change there, so I guess just this location has changed ownership. (The Parkland Plaza roadside sign still lists Dollar Discount as well as Tony's).
The door sign namechecks Columbia's Greek Festival. I certainly took the opportunity to stop by this weekend and have some Baklava and Galaktoboureko!
(Hat tip to commenter Tonkatoy, sort of)
UPDATE 30 September 2011 -- Commenter Andrew sends these two pictures of the new Zeus banner I saw now being successfully installed: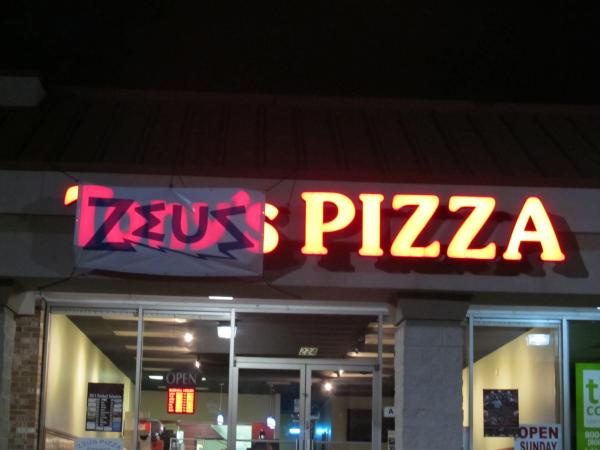 Posted at 2:13 am in Uncategorized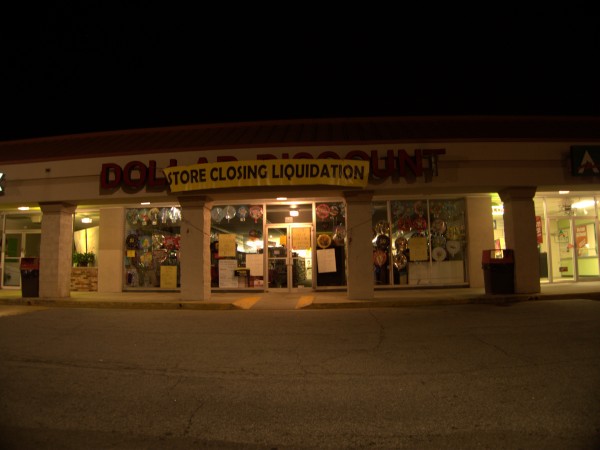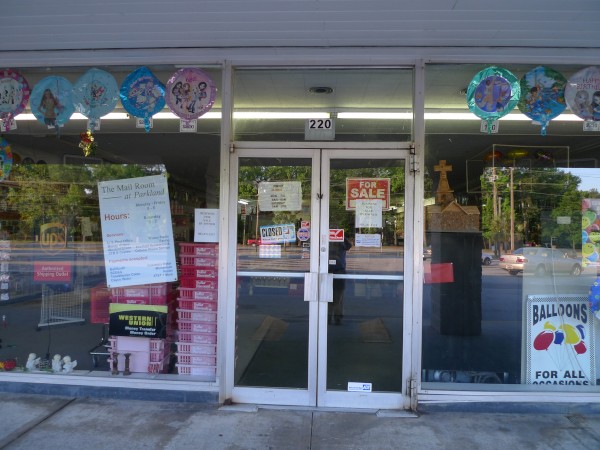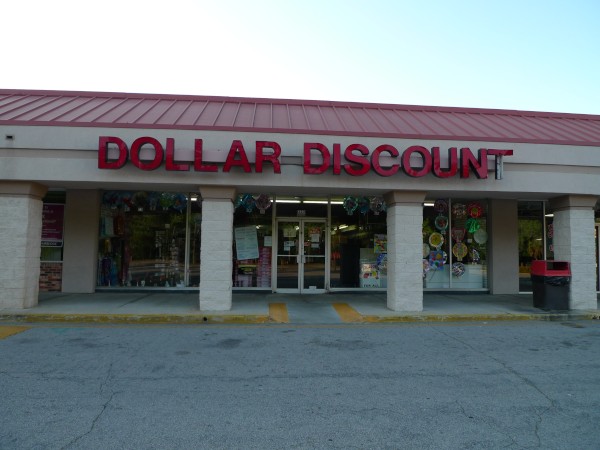 This Dollar Discount store in Parkland Plaza has been "for sale" for a good while, in fact I almost did a post on it before, but they seemed to be in full operation while looking for a buyer, so never did. Driving by tonight, I saw from the banner that they are explicitly closing now. I've never been in this store, but apparently Dollar Discount is a franchaise concept with 140 stores over all and three other stores in South Carolina (Pageland, Effingham and Sumter). I've always liked this kind of store as it gives you a feeling of power to walk in with $5.00 in your pocket and walk out with actual stuff. It seems I can always find something or other that I need or want, and I'll bet the prices are even better right now. This particular store appears to also run a shipping operation called The Mail Room, possibly taking up the slack when the contract post office in Parkland Pharmacy closed.
Once when my cousin noticed an old sign for the company her father used to work for still up on an old barn out in the country, she went to see the owner to try and buy it for her father's birthday. I was with her, and the old gentleman owning the place was a talkative fellow with lots of interesting stories (he claimed that Jimmy Doolittle wanted his help in setting up the Army Air Corps during WWII, but the letter got lost coming from Washington DC to rural SC..). When we asked what the population of the little community was, he said something like "One hundred ninety, same as when I was born. We always figured it stayed the same since every time a baby was born, a man had to leave town". Something of the sort seems to be holding for Parkland Plaza since Ace Hardware is re-opening, just as this store is closing..
UPDATE 29 Oct 2010 -- well the store is definitely gone now: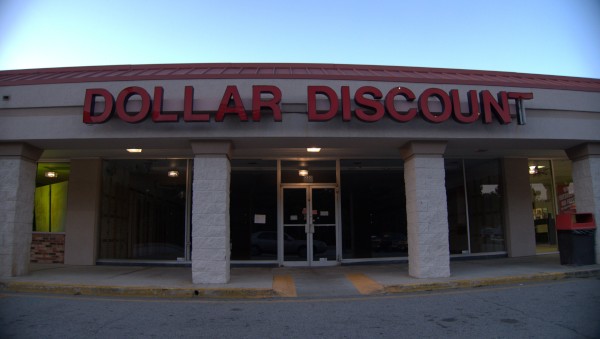 though it is still listed on the Parkland Plaza marquee: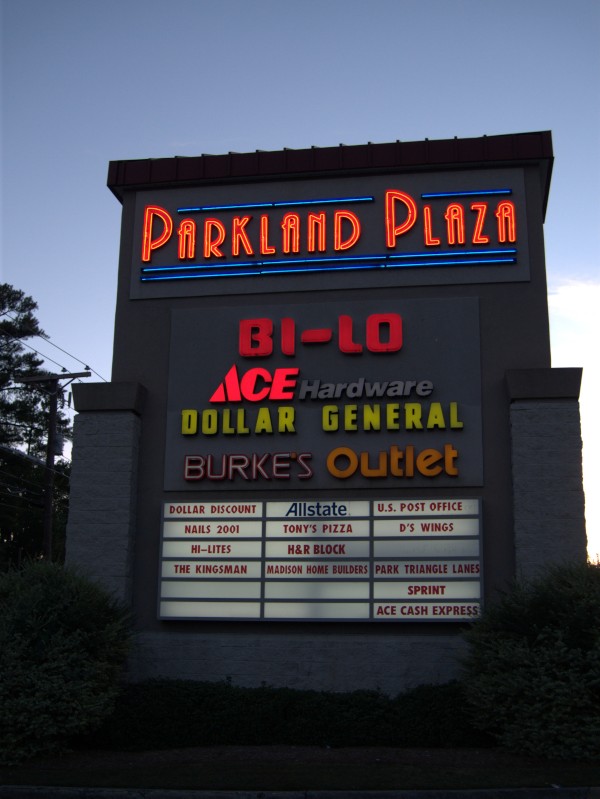 UPDATE 10 January 2012 -- As mentioned by commenter Andrew, this is now a Radio Shack: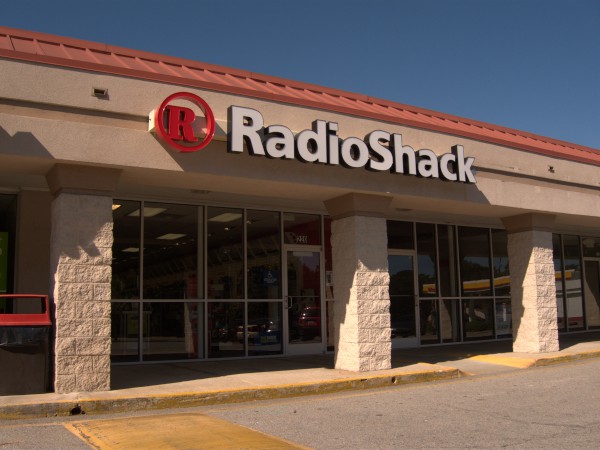 UPDATE 4 March 2013 -- Finally got around to taking a picture of the new (well, not so new at this point!) location of The Mail Room in Granby Villiage on the Charleston Highway: