Archive for the 'Knox Abbott Drive' tag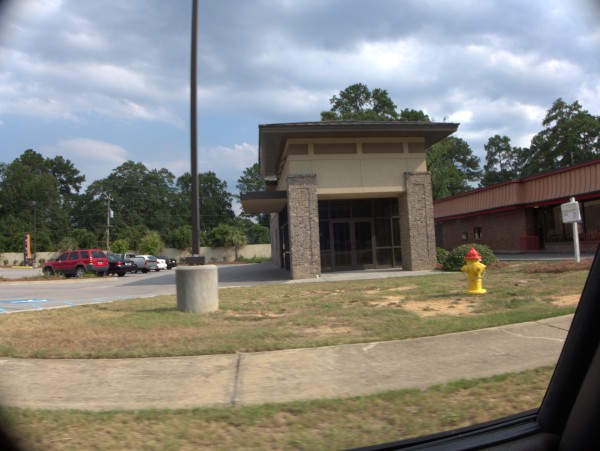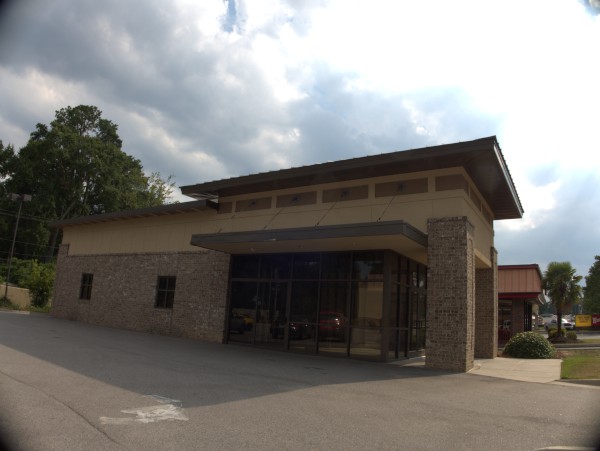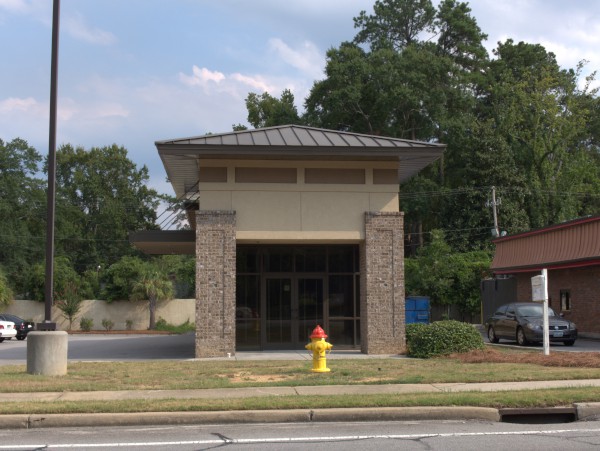 This new-ish but odd little building is on Knox Abbott in between Taco Bell and Wendy's.
For the life of me I can't remember what it was right now, and am unable to come up with a street number to google it.
UPDATE 16 September 2016 -- This is one of the posts lost in a database crash. Originally it was just titled "Building", but based on the comments as I bring it back, I'm changing the post title to Kleen Kare Dry Cleaner as that what it was to be, though it never opened due to the big crash of the late 2000s.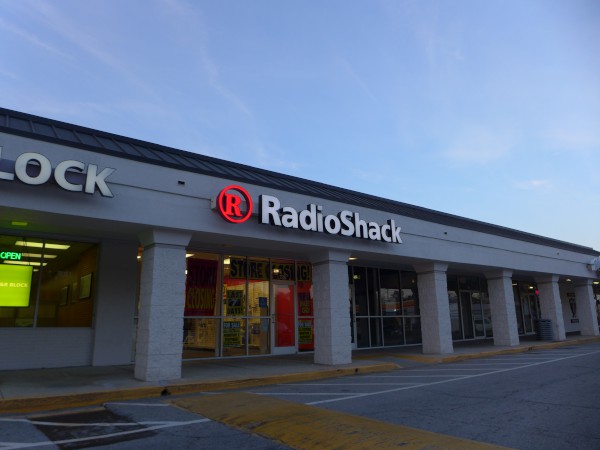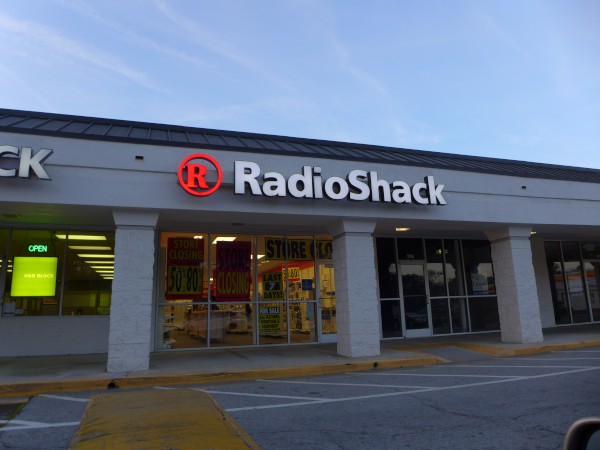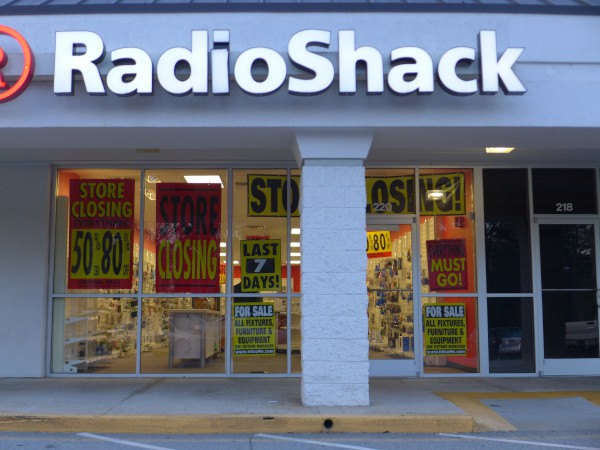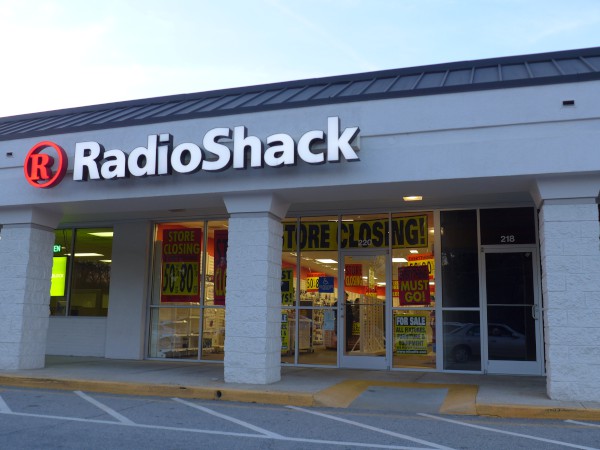 Another day, another Radio Shack.
This is the one in Parkland Plaza in Cayce, and is another casualty of the chain's bankruptcy.
UPDATE 14 March 2015 -- Gone: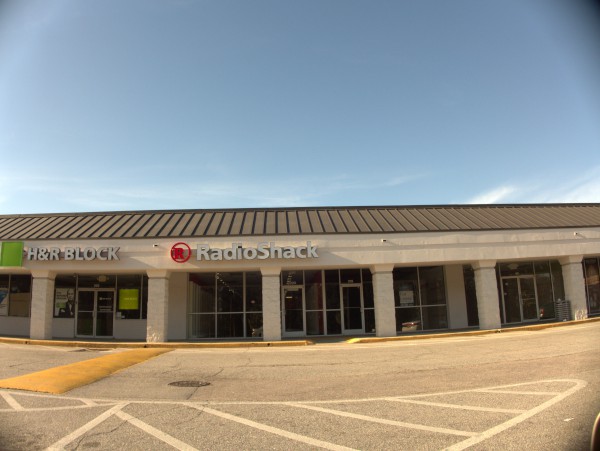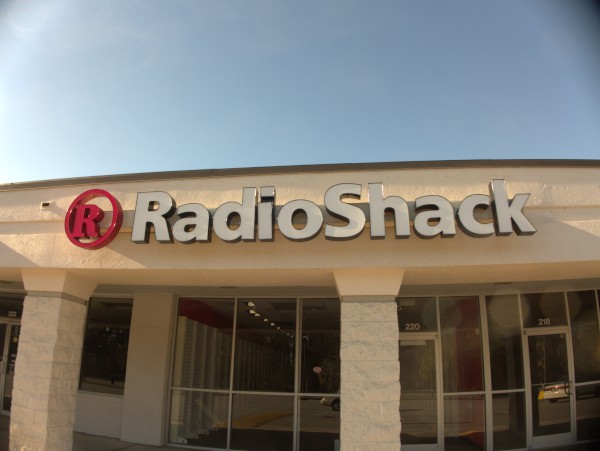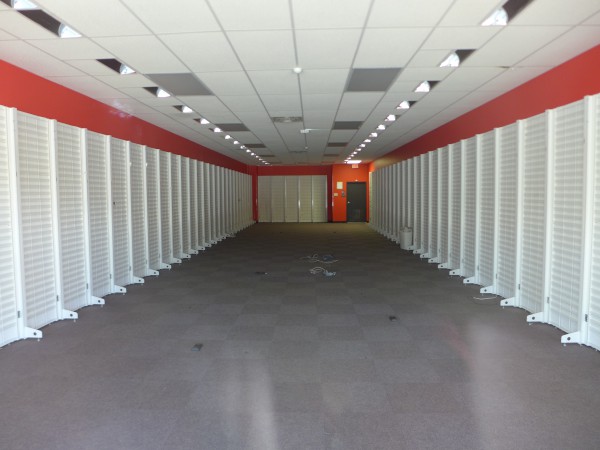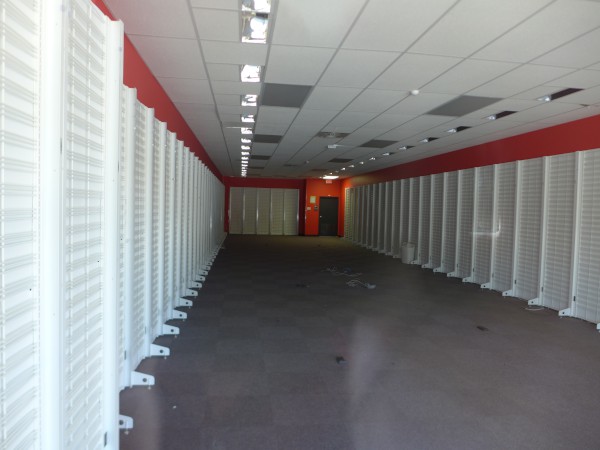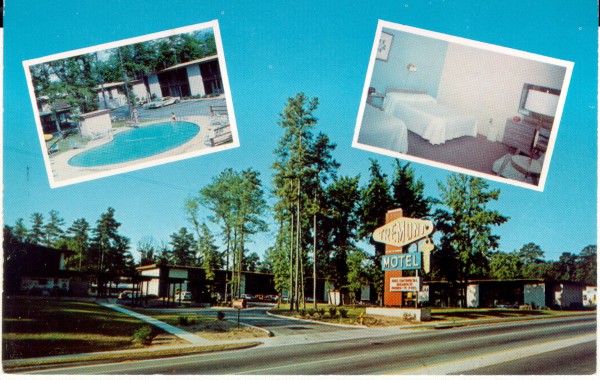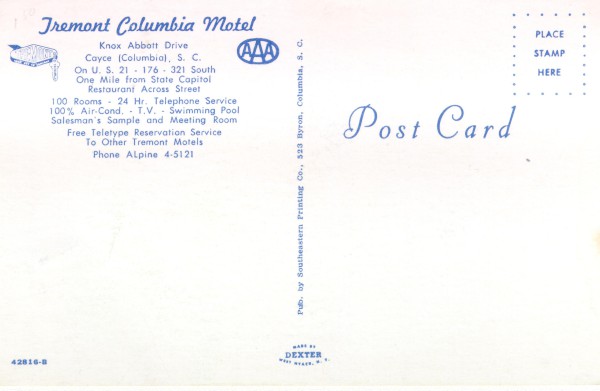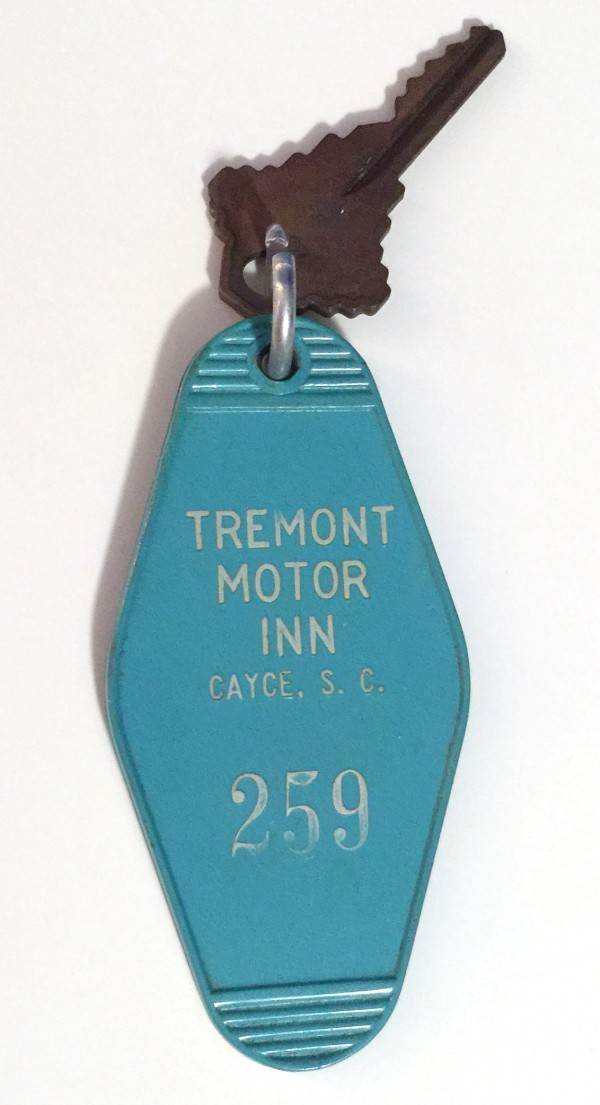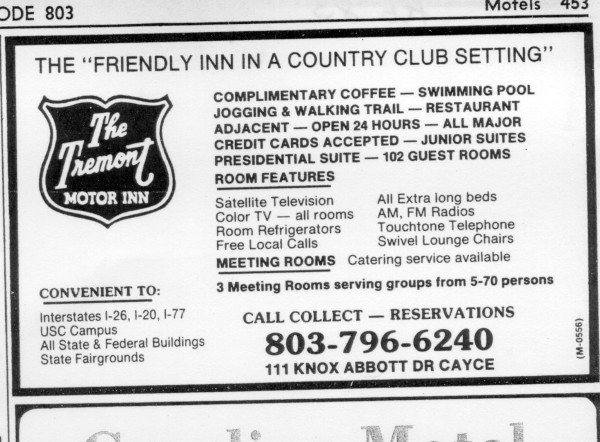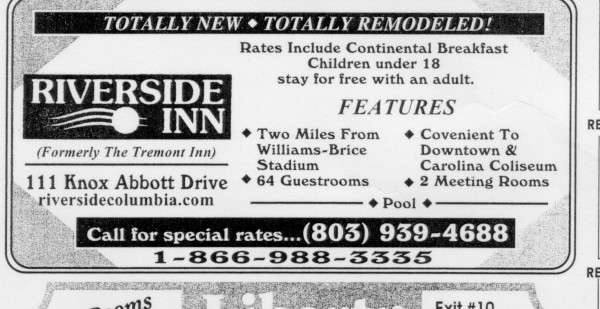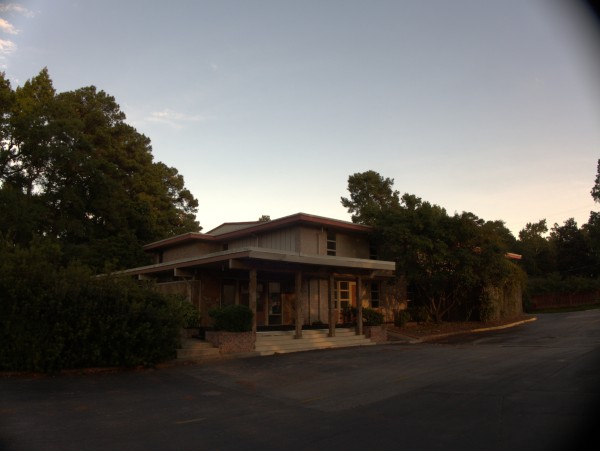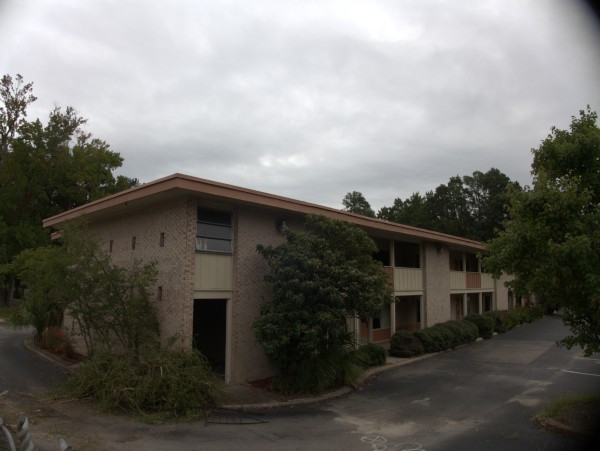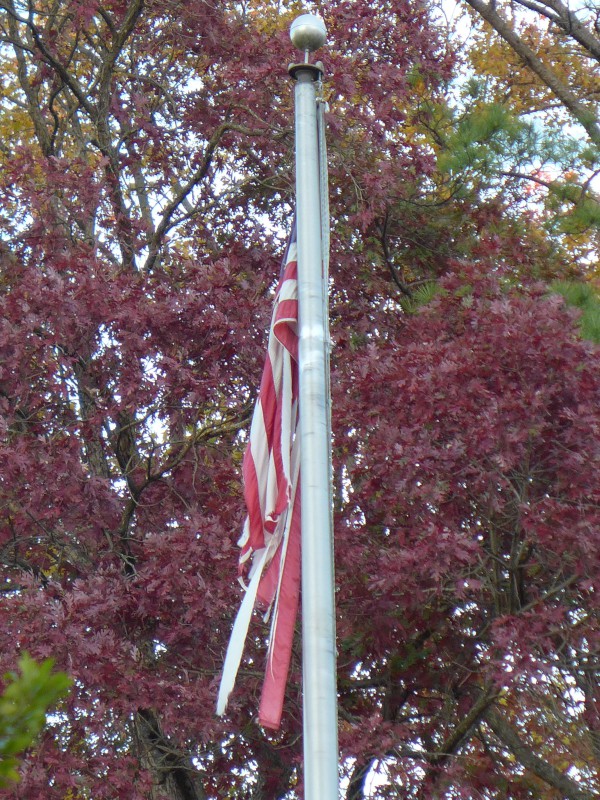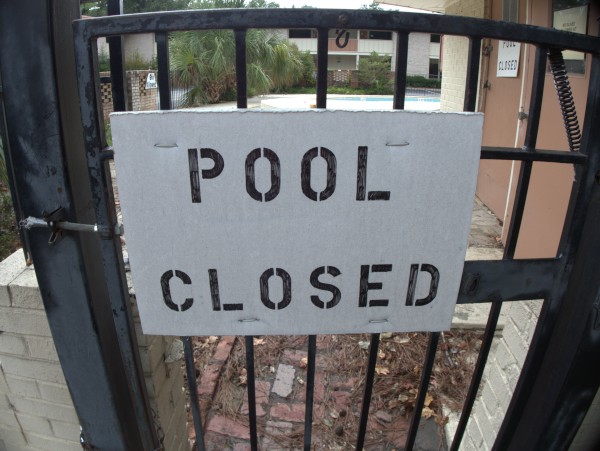 The first phonebook listing I find for The Tremont Motor Inn is in the July 1958 book where the address is given simply as Hwy No 21 Cayce and the phone number is the old style AL 4-5121.
Later phonebooks would give the address with more specificity as 111 Knox Abbott Drive and update the phone number to 254-5121.
From its inception through 1984 the Tremont did not purchase a Yellow Page ad. In fact, the first one that I saw was in the February 1985 phonebook. This one, pictured above, gave the new phone number as 796-6240, indicating, I believe, a change of ownership.
The last listing I saw for the Tremont was in the February 1994/1995 phonebook. This was followed by the first listing for the Riverside Inn in the February 2002/2003 book, leaving an eight year gap. I presume the building was run under another flag during those years, but I would have to consult a city directory to find what it was, and did not have time on my last visit to the library.
The building was in a great location on a large property close to the river with a park-like expanse of walking paths, and I suppose it was quite nice for many years. Unfortunately, by the time my cousin booked a room in the fall of 2013 (to be close to USC for some seminars), she found it dirty and run-down to the point that she felt unsafe.
The actual tear down was quite leisurely, extending over a period of about four months. On my initial walk-through, I was unsure how much of the property was actually the motel, as there were some buildings out back that appeared to be in use by other businesses, but in the event it appears everything was demolished. For some reason, every time I went out to get pictures, I either got there late just as the sun was fading, or the day would be heavily overcast. There are a few bright shots, but that was the exception.
I'm not quite sure what the green carpeted area by the pool was. It almost looked like the motel had a little putting green, but I didn't see a hole there. Of course now the whole place is more or less a hole...
29 September 2014: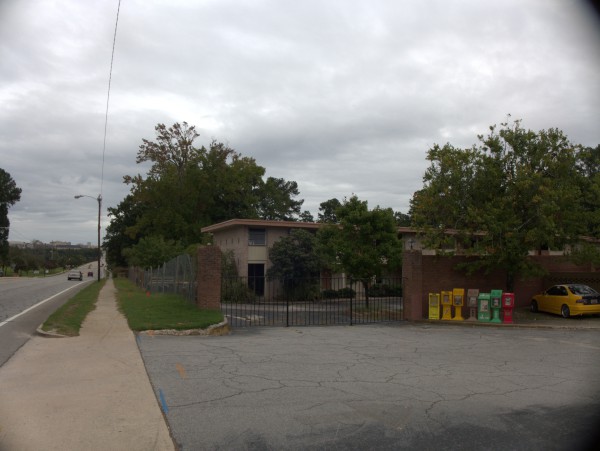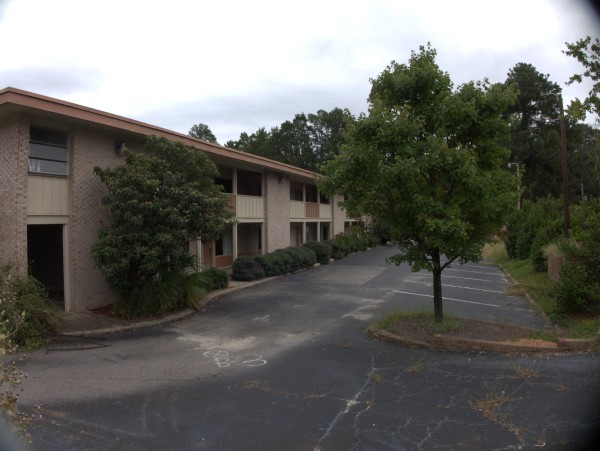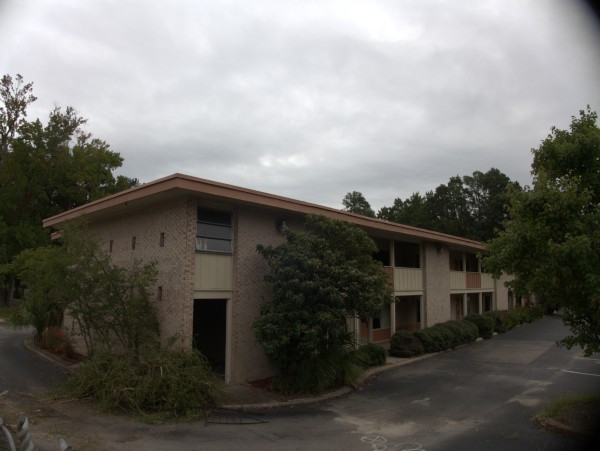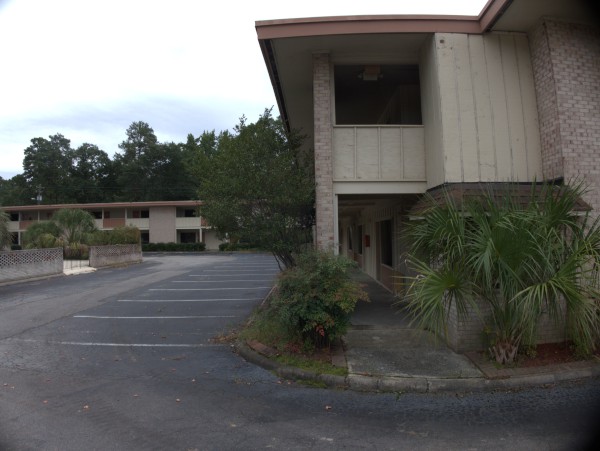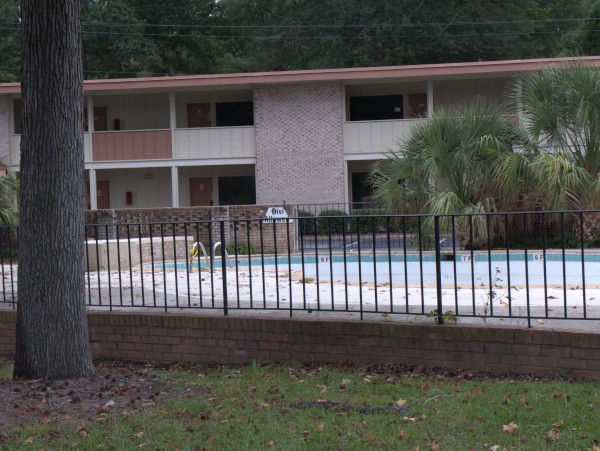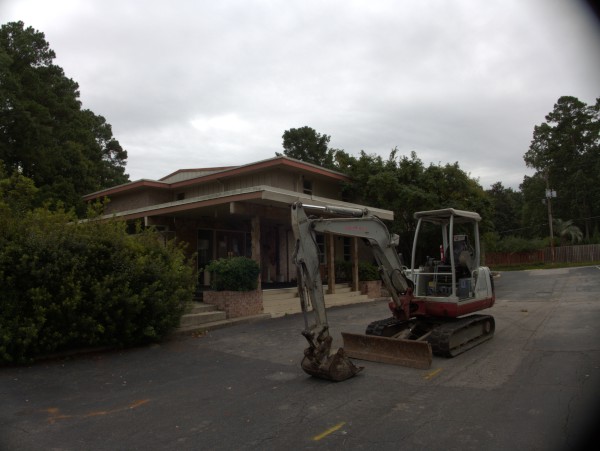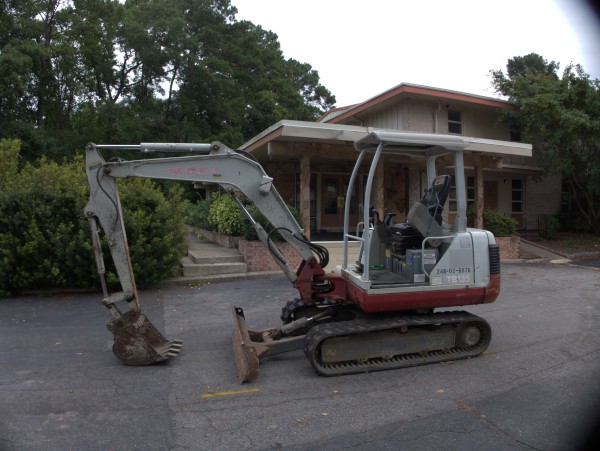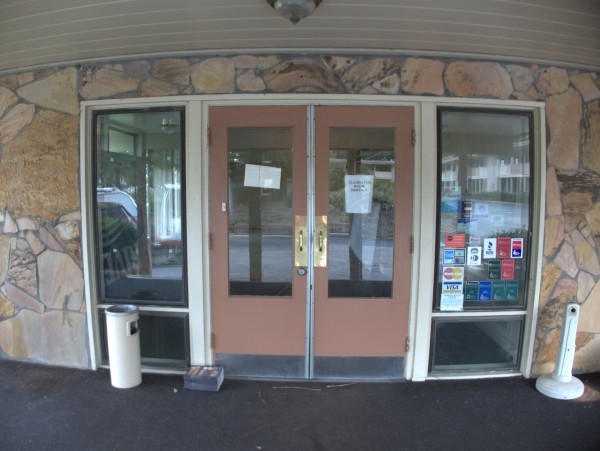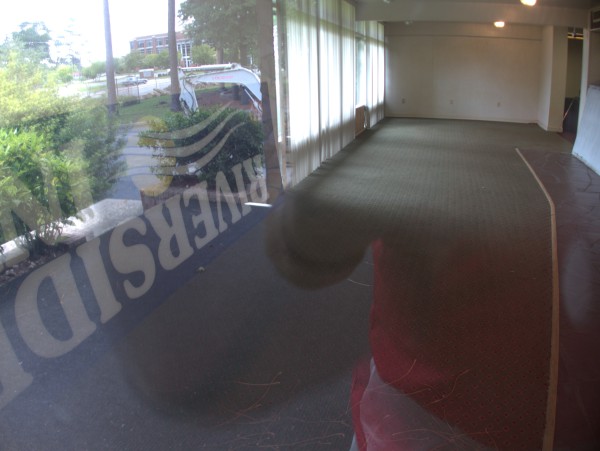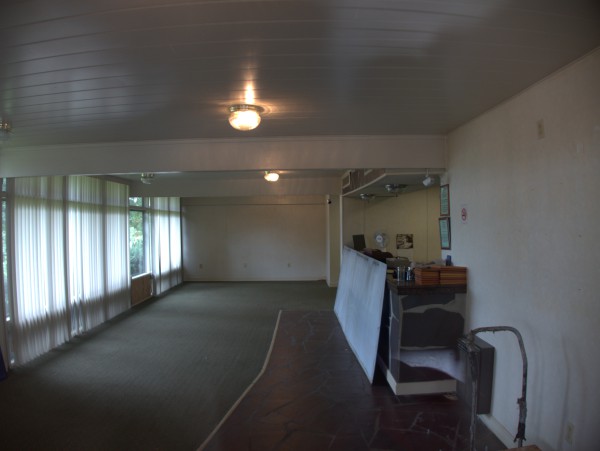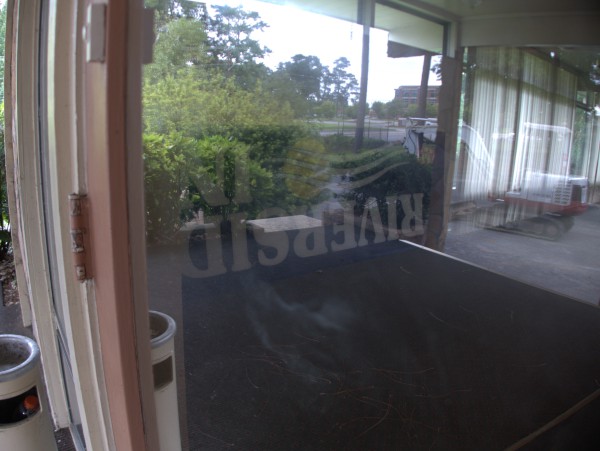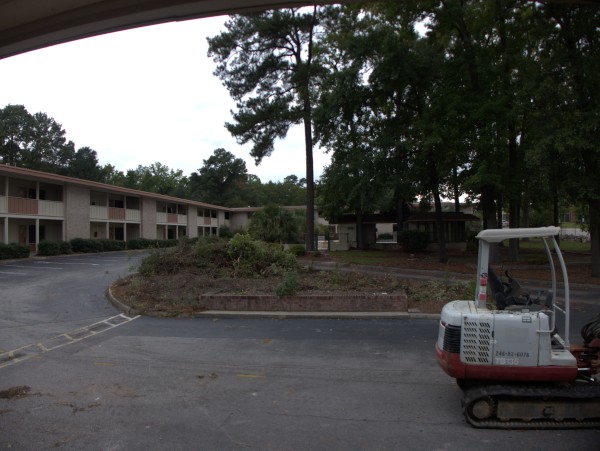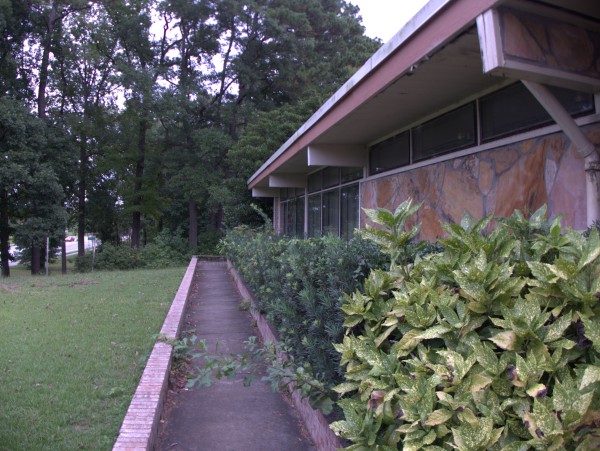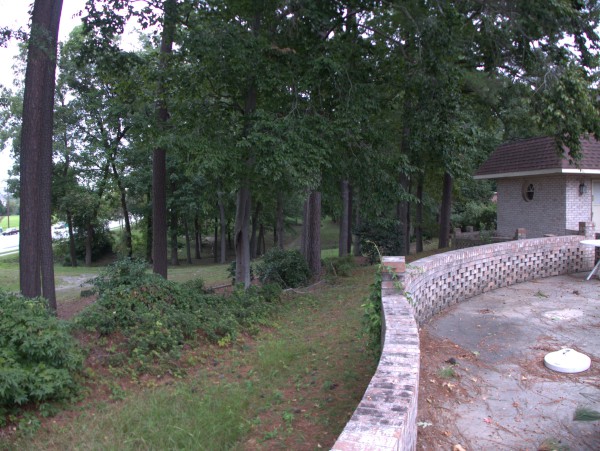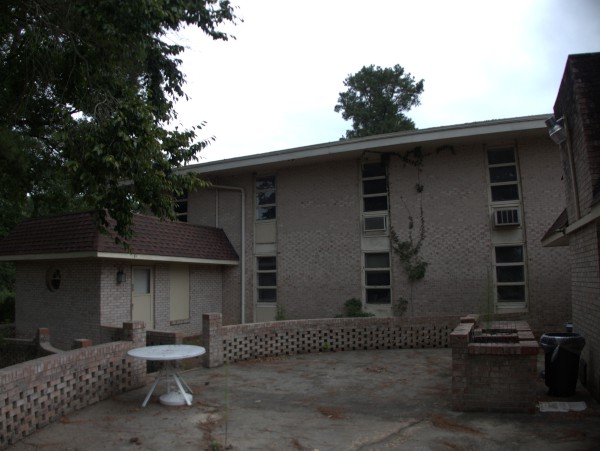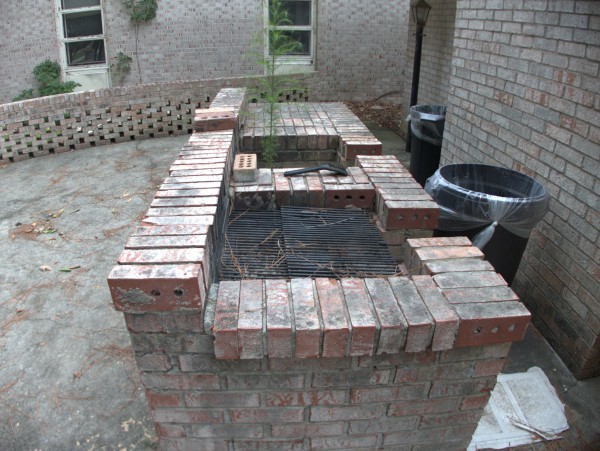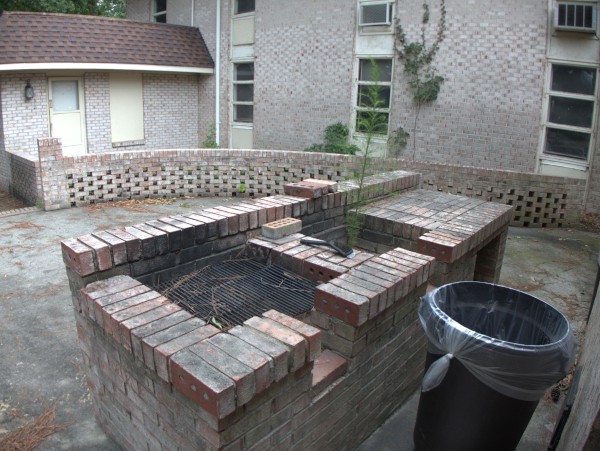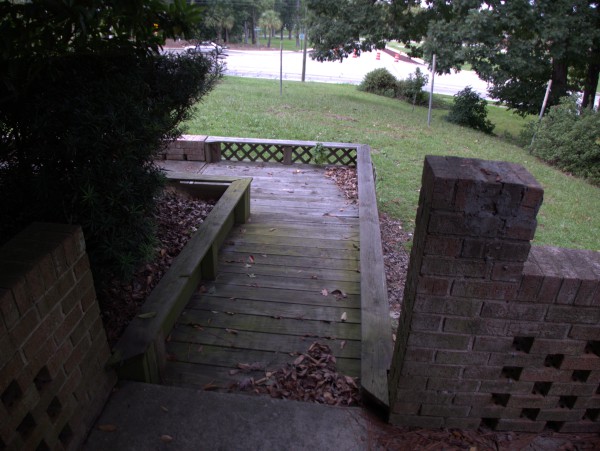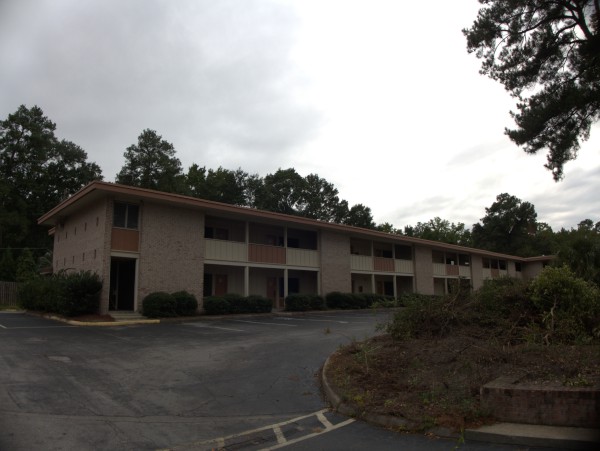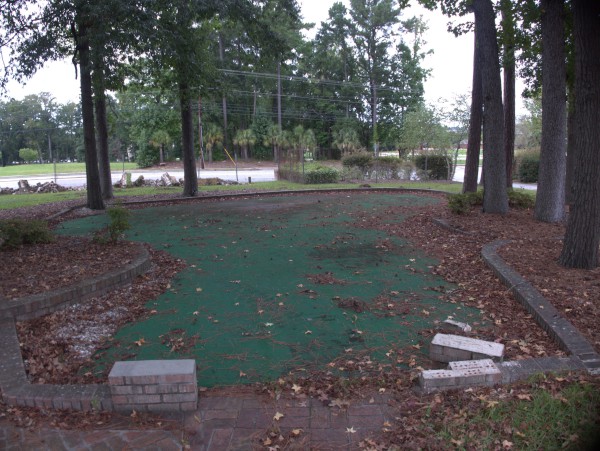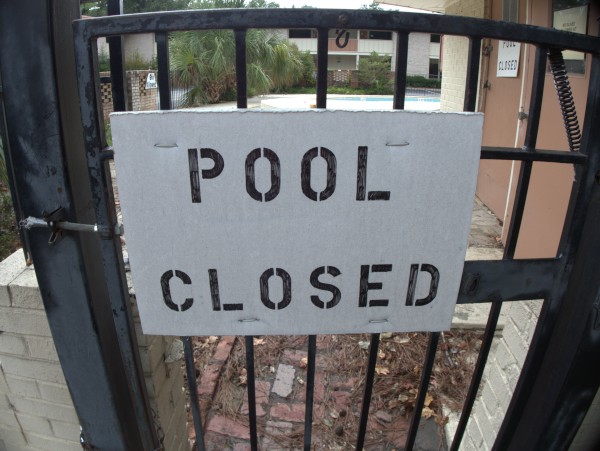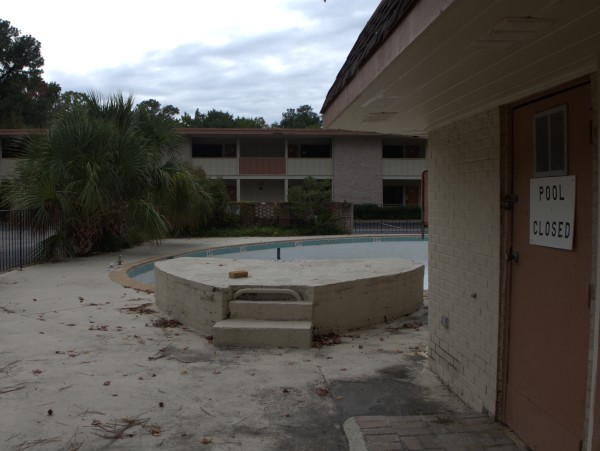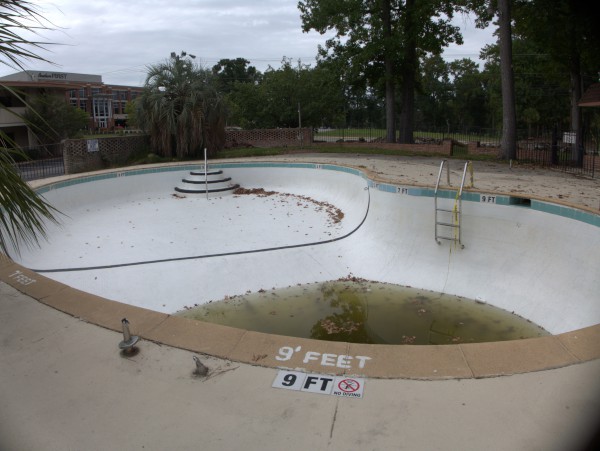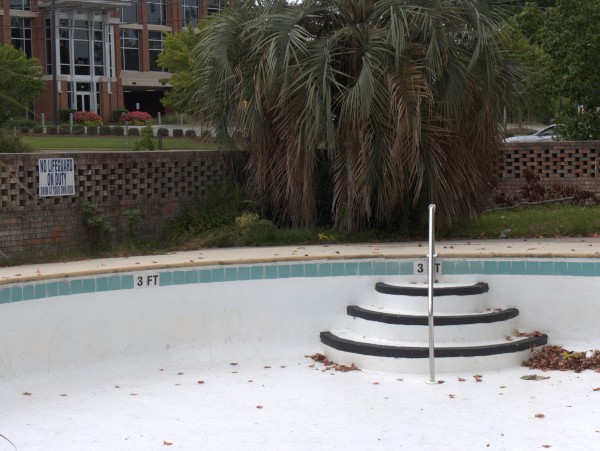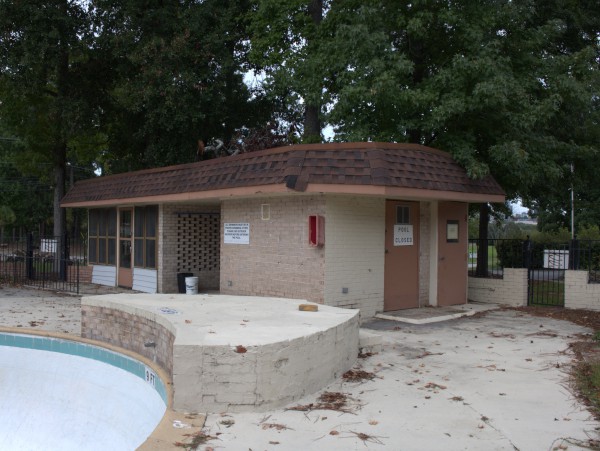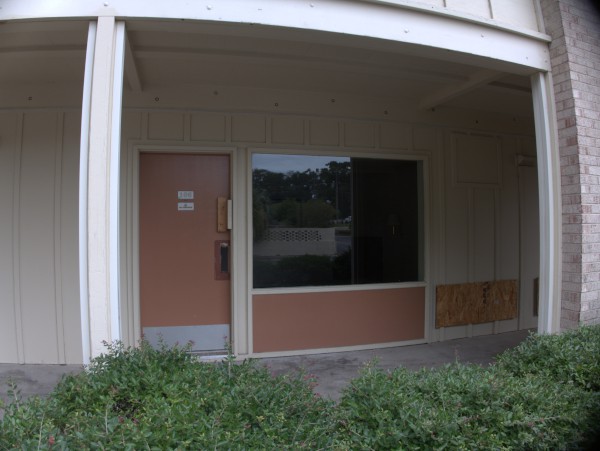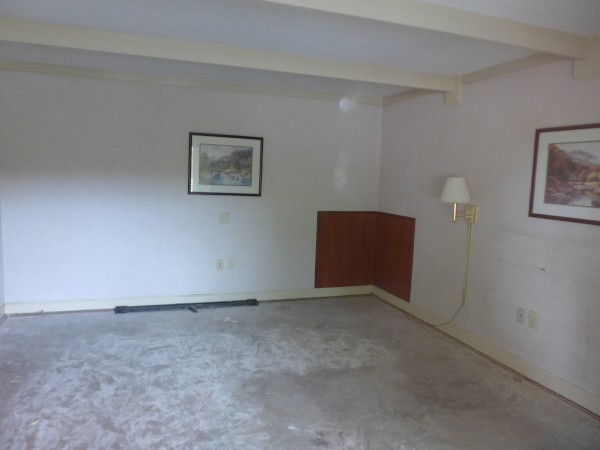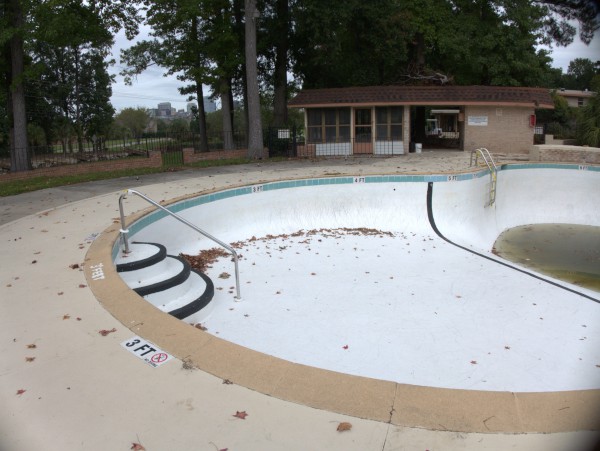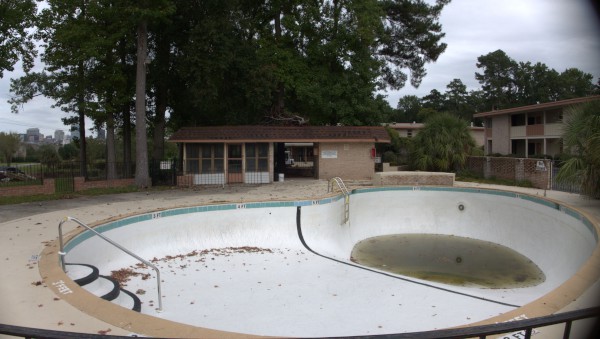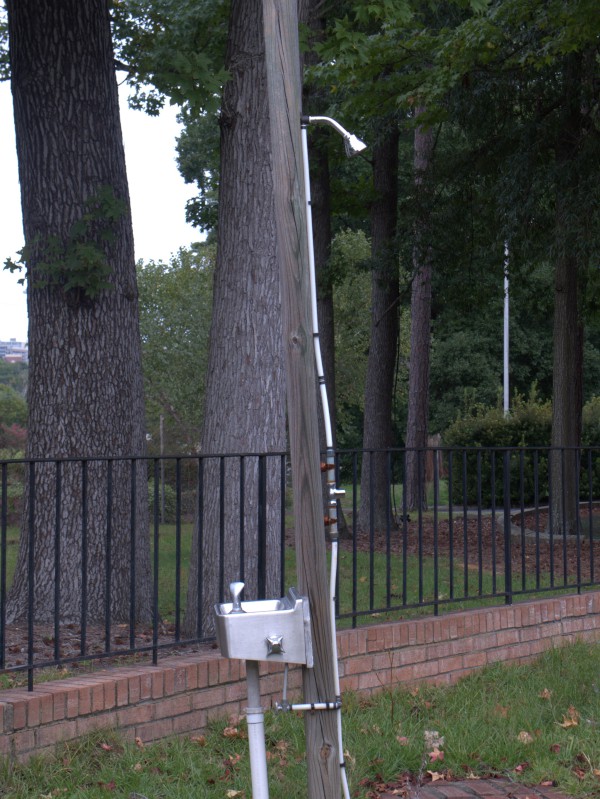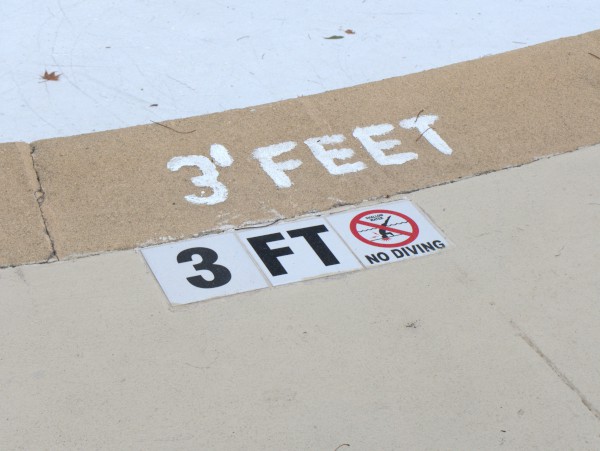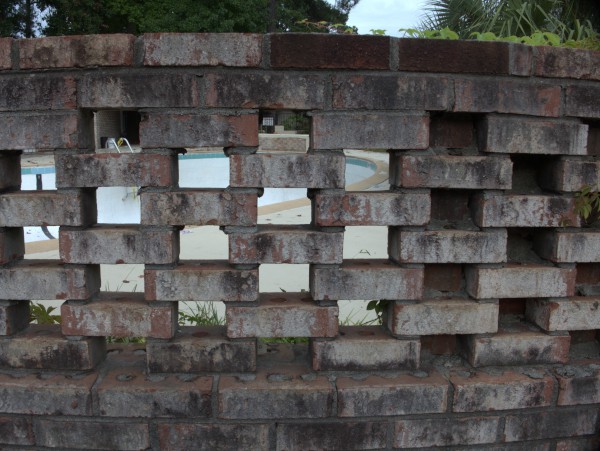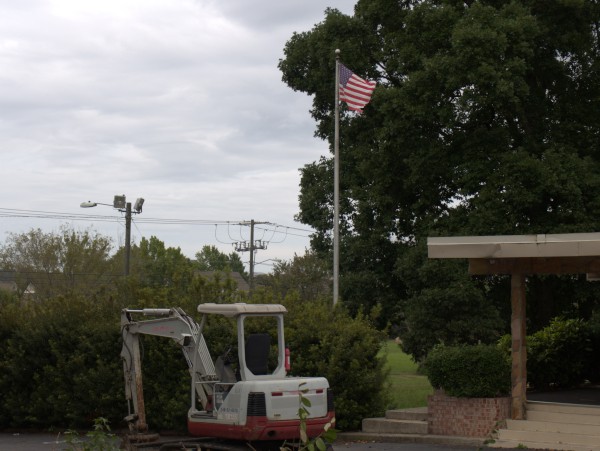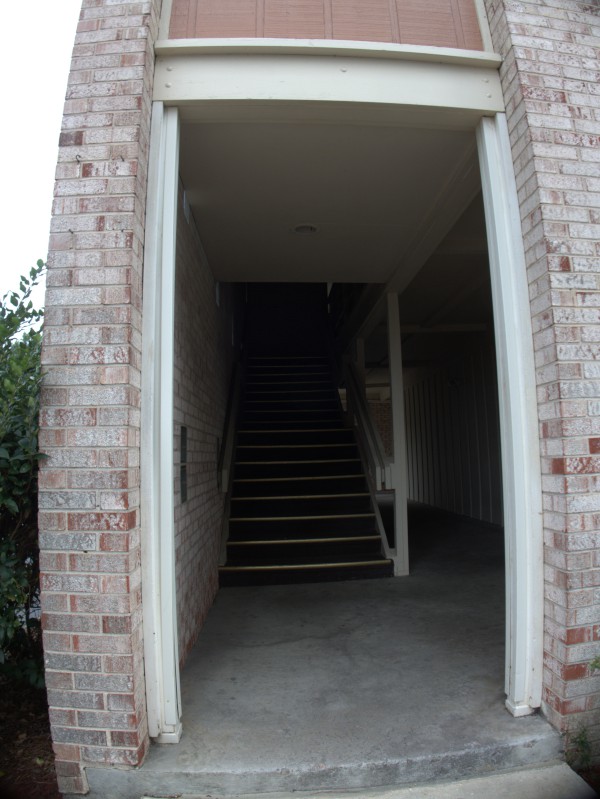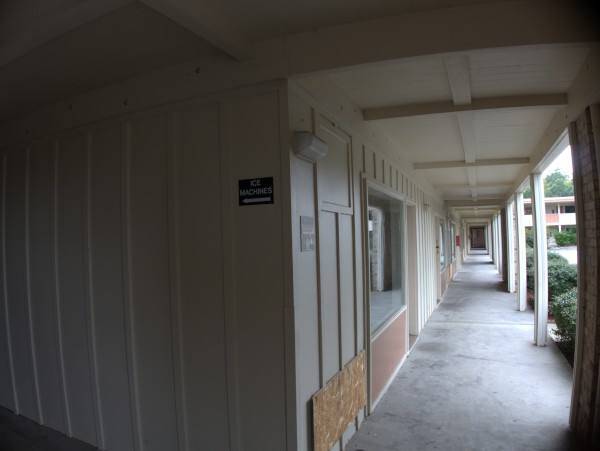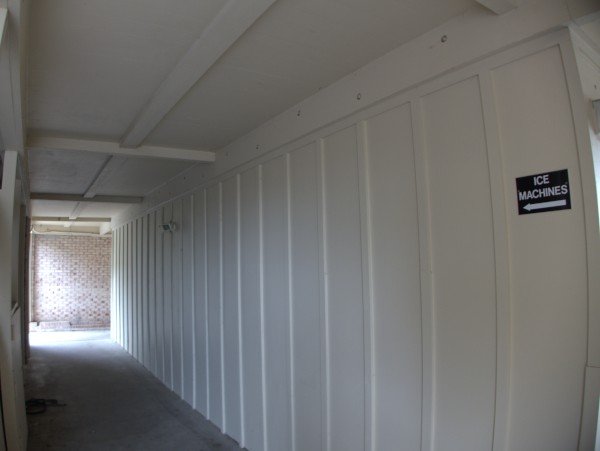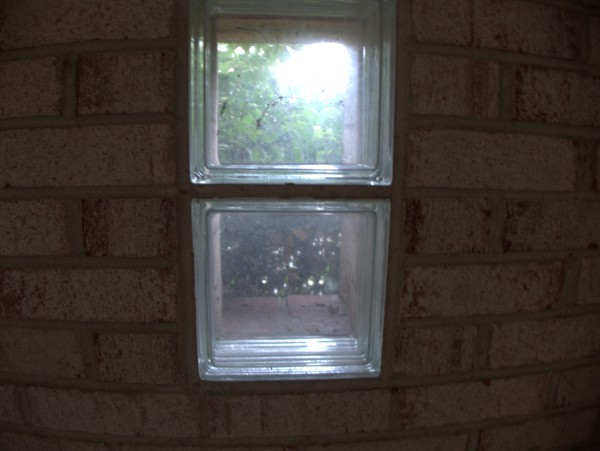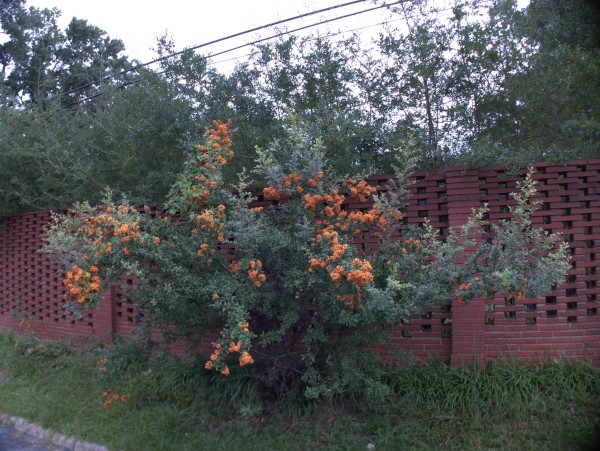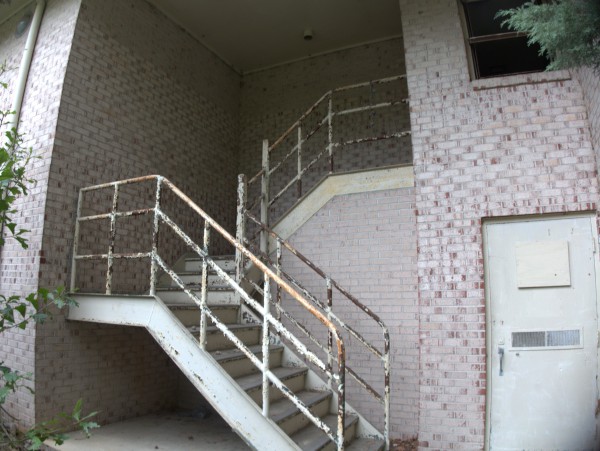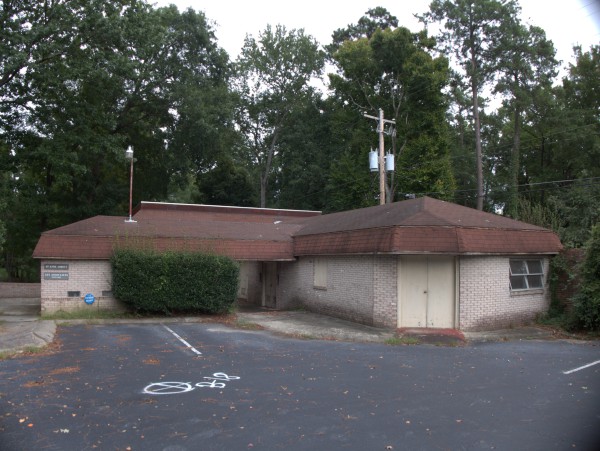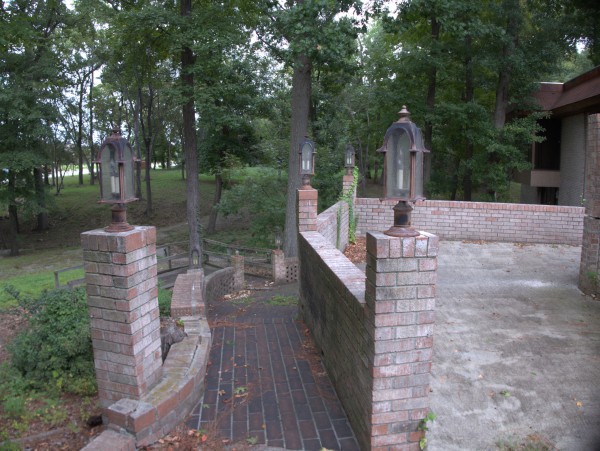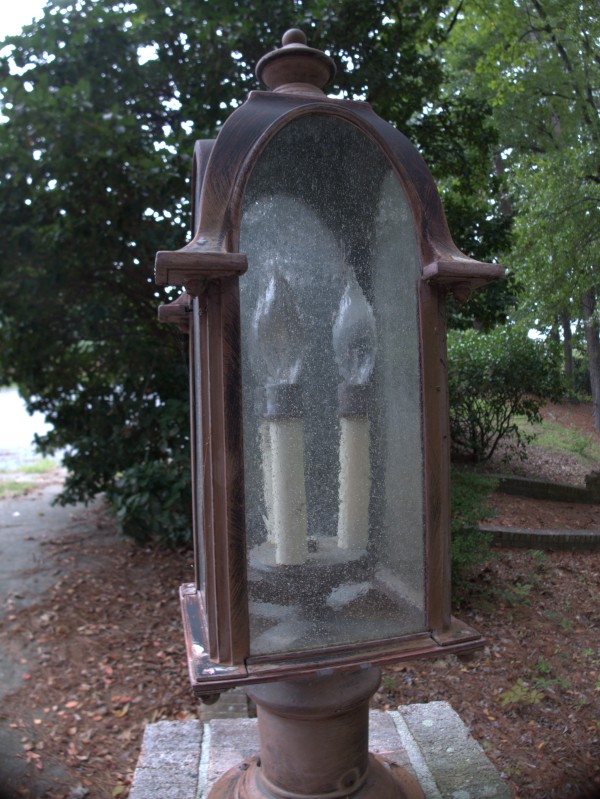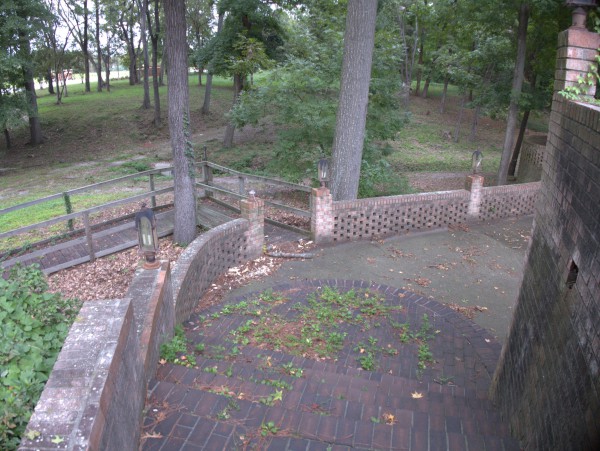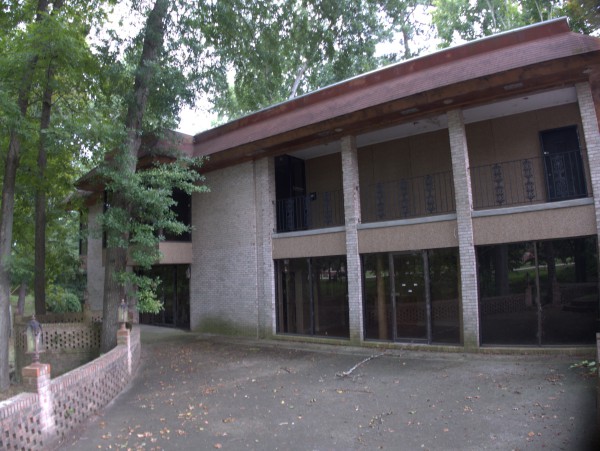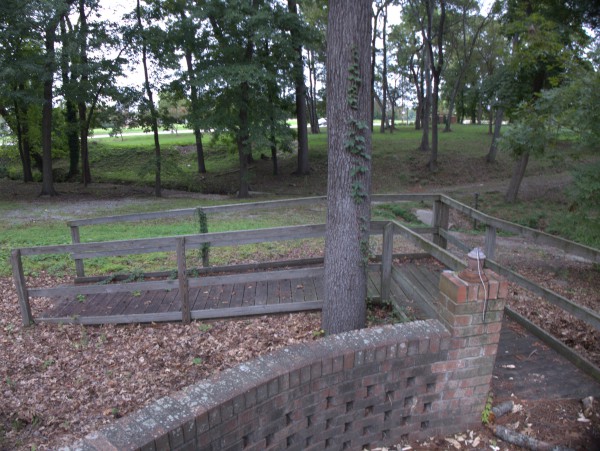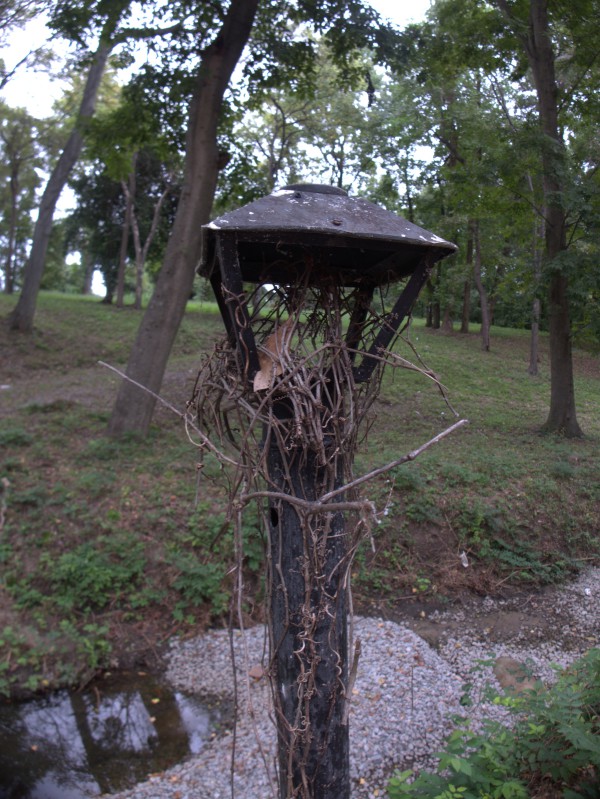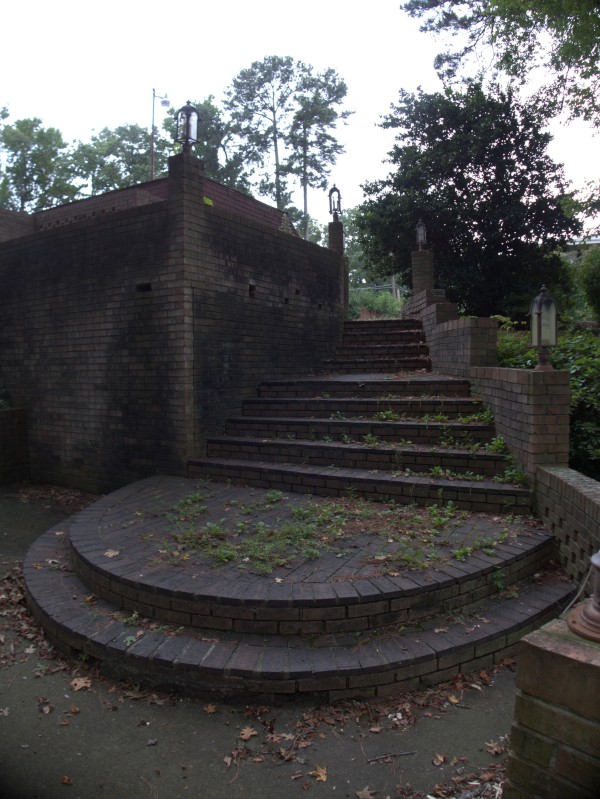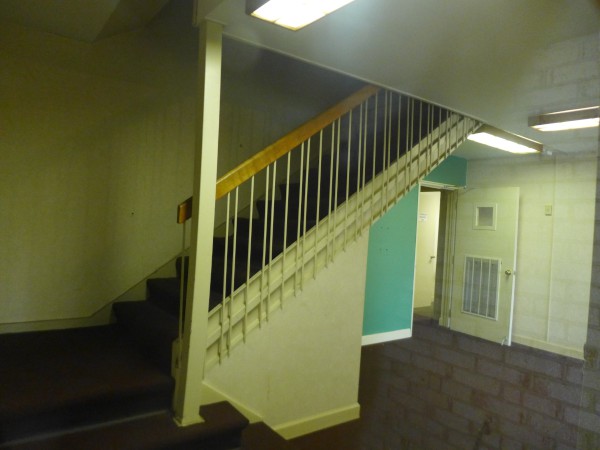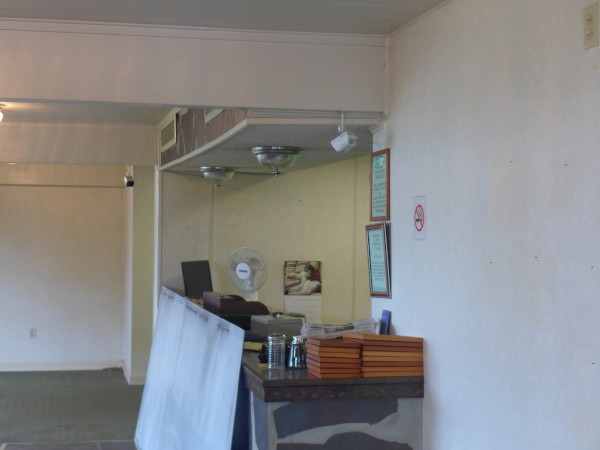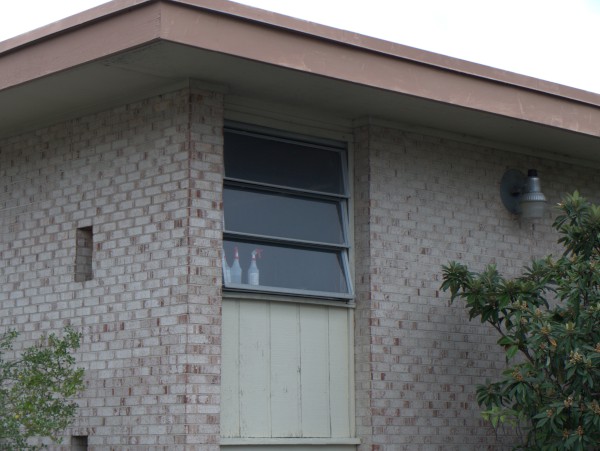 7 October 2014: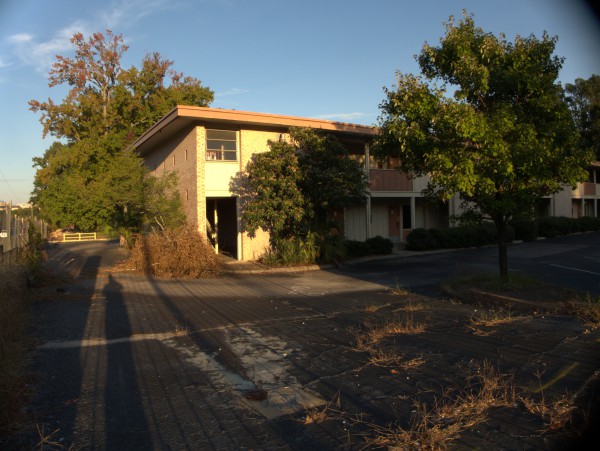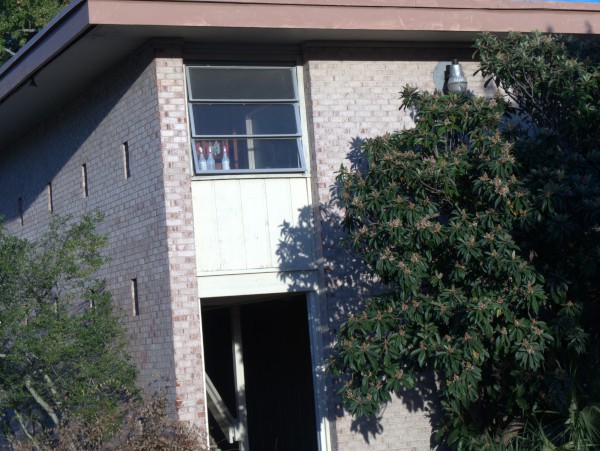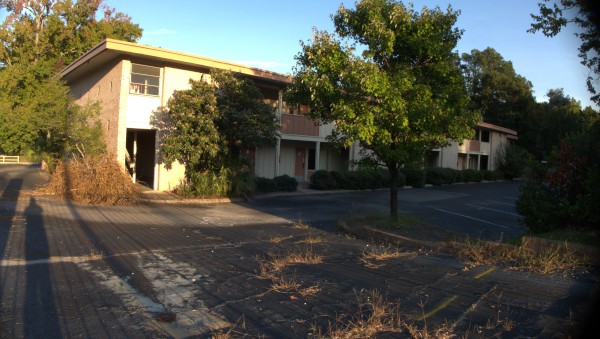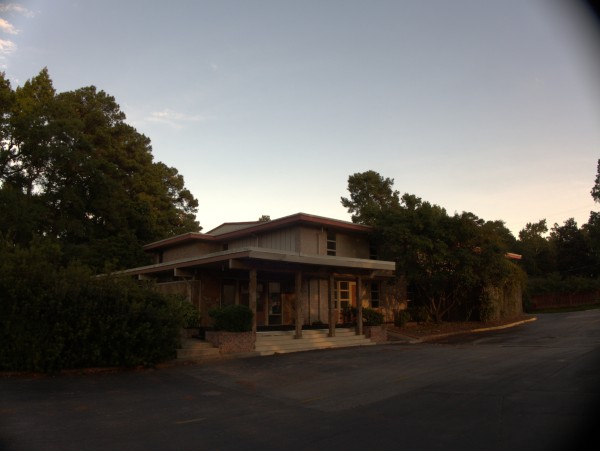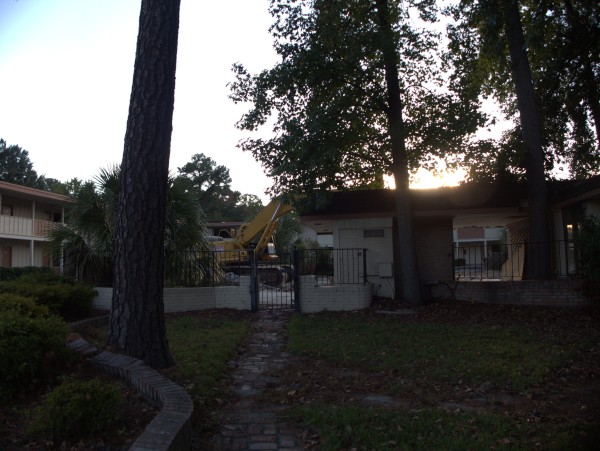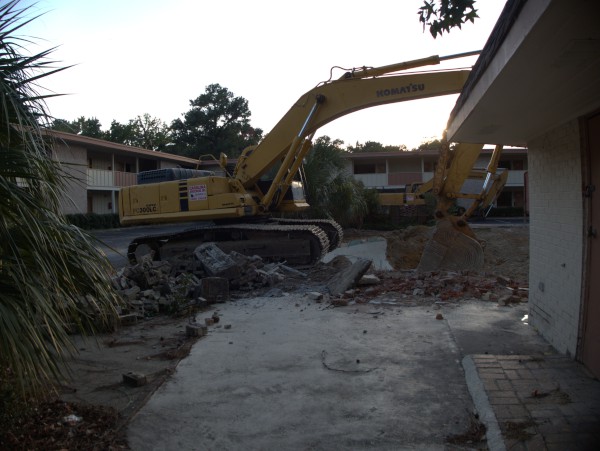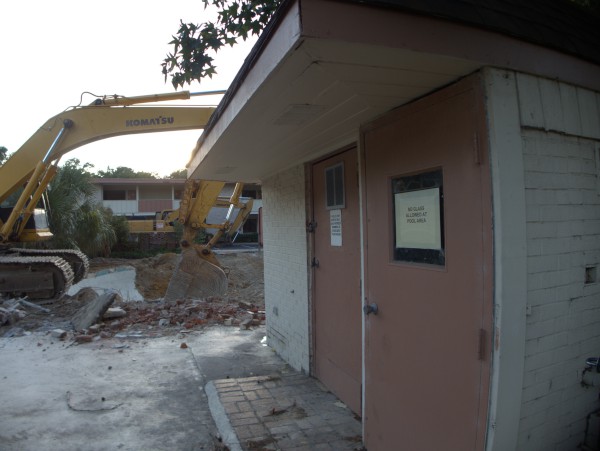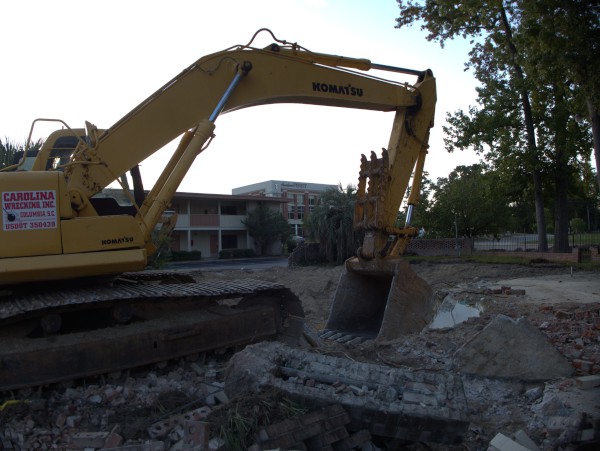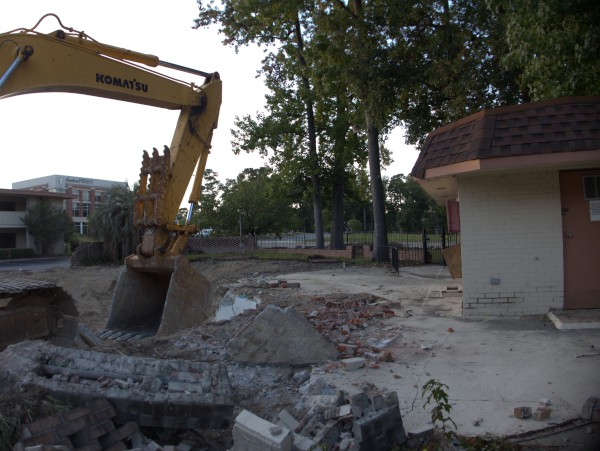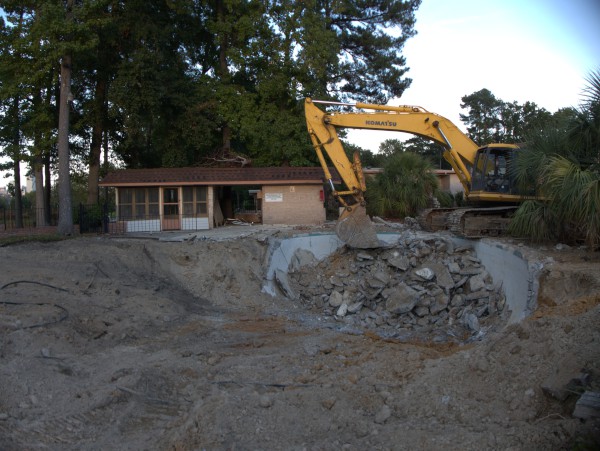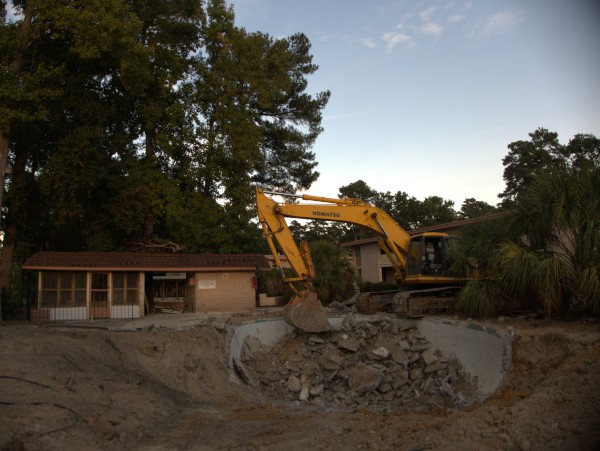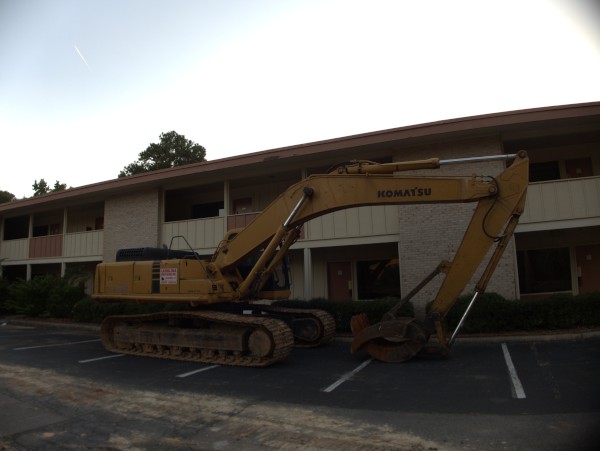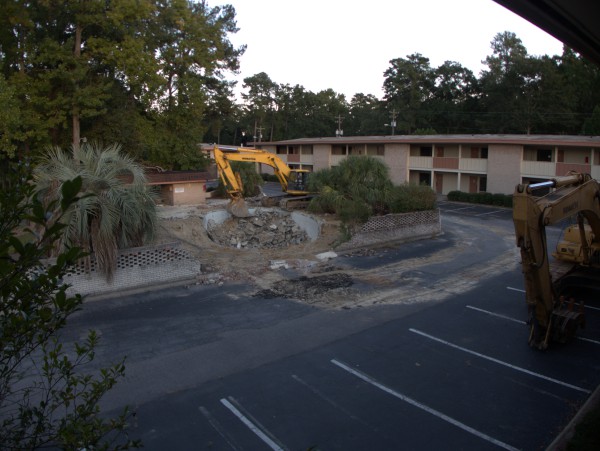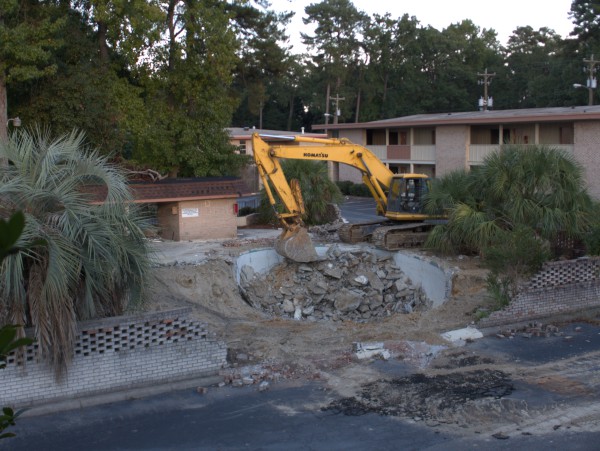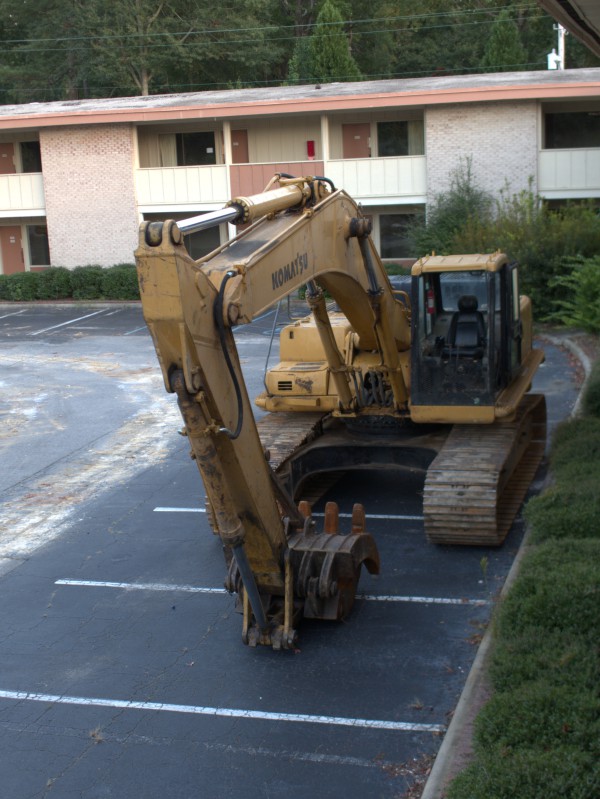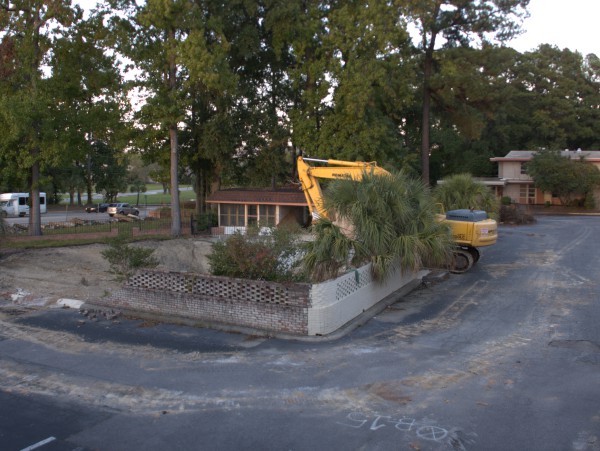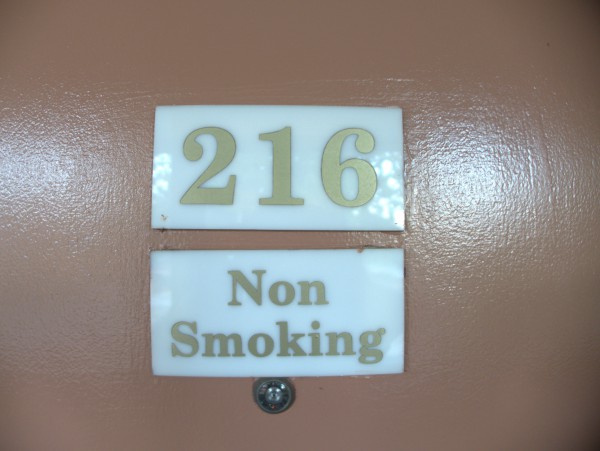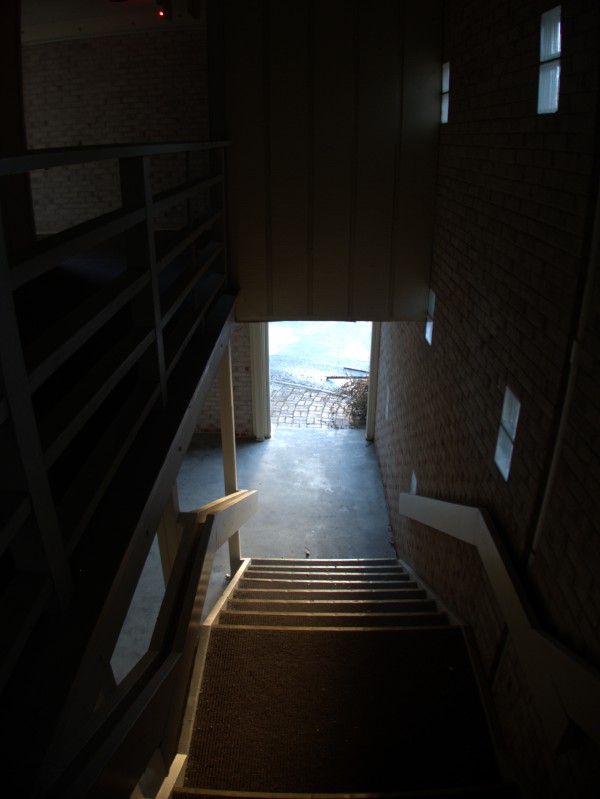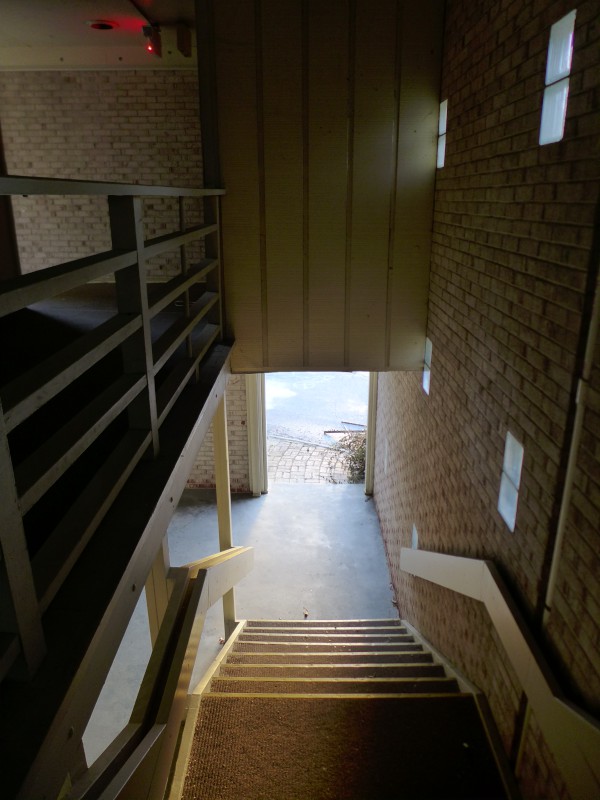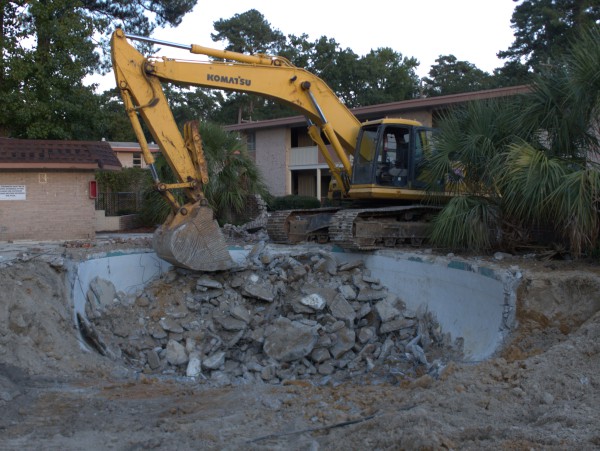 29 November 2014: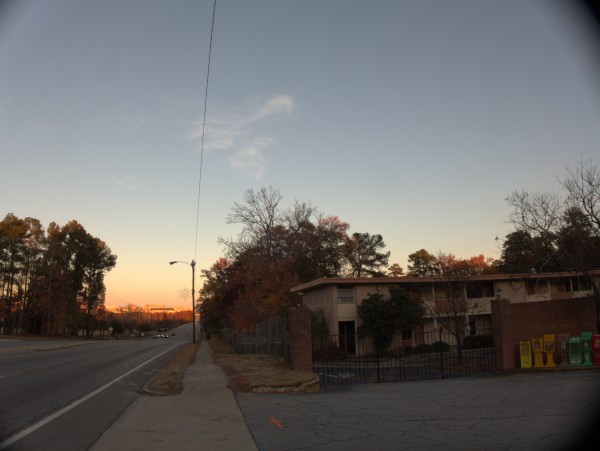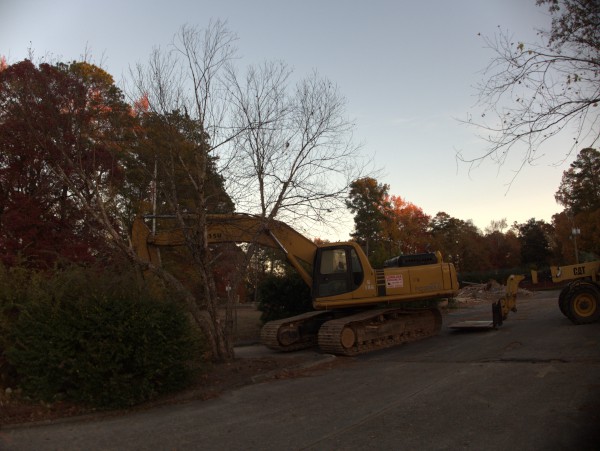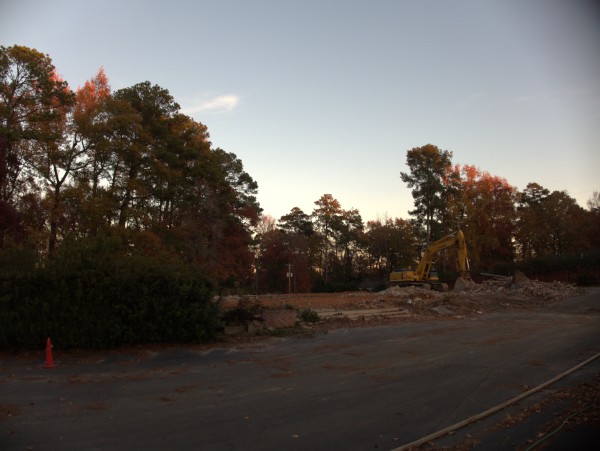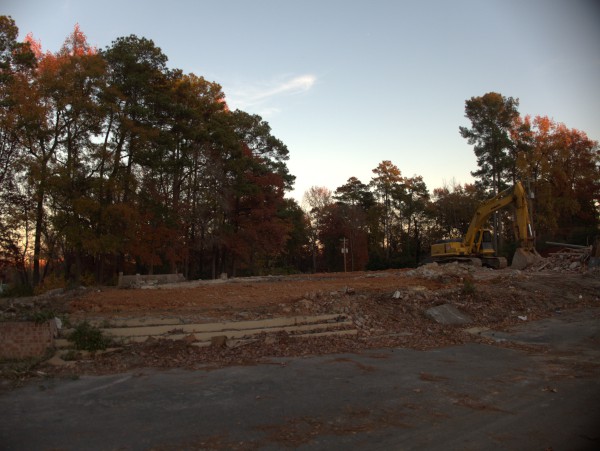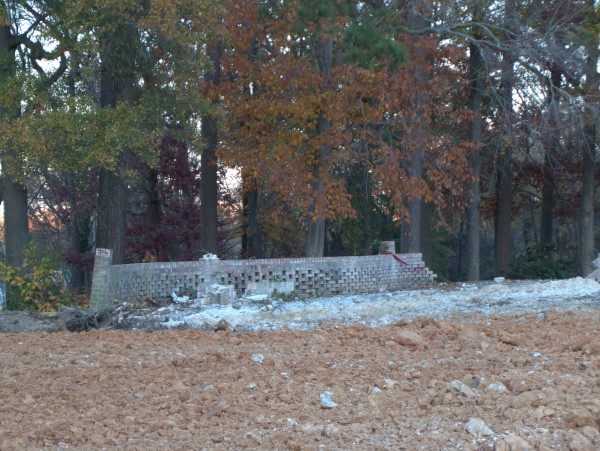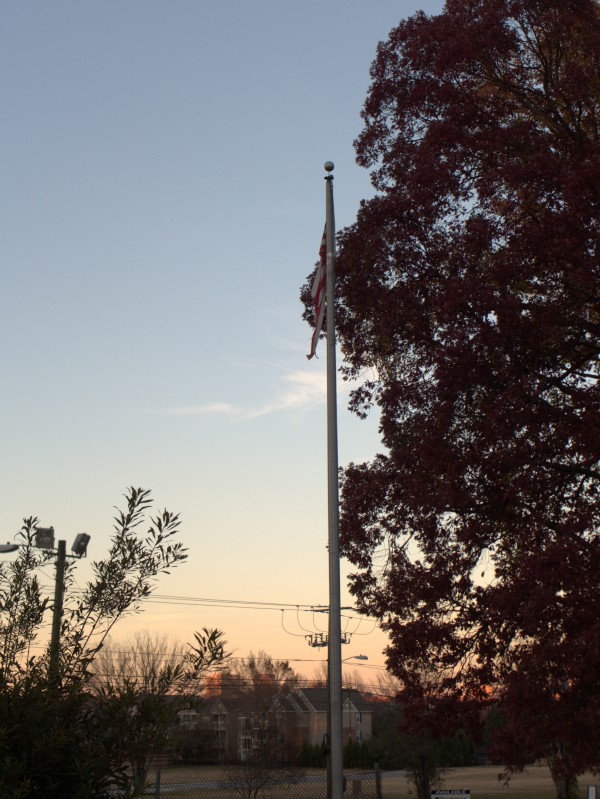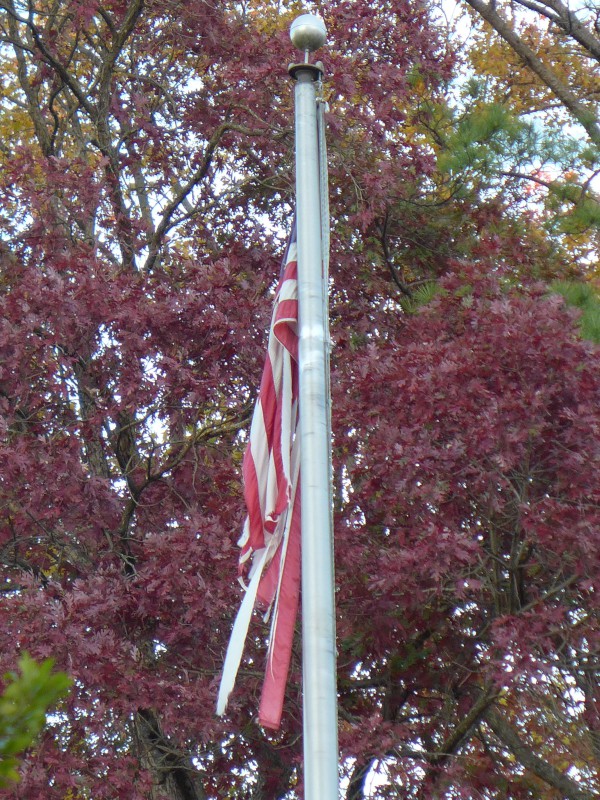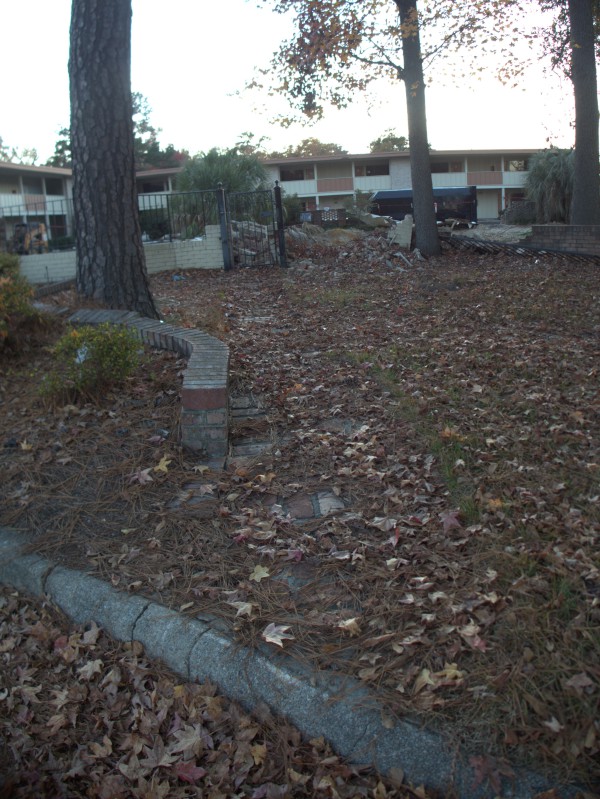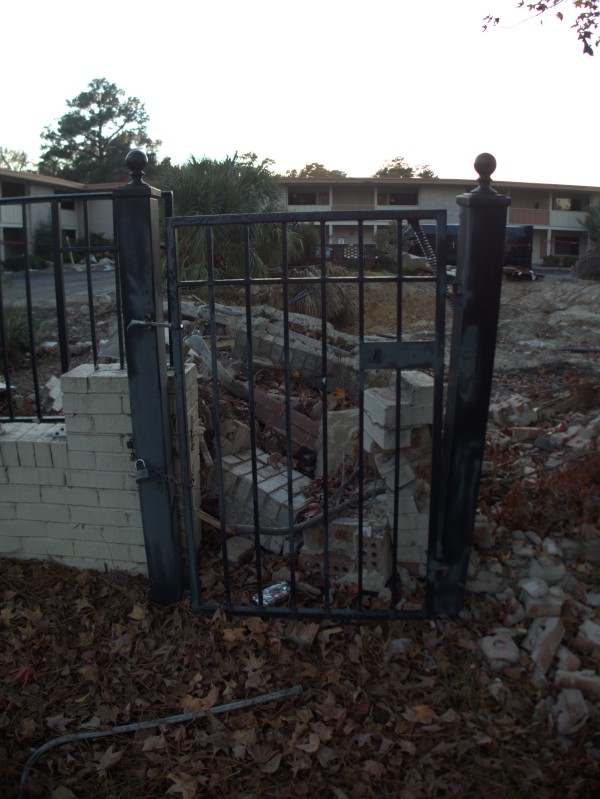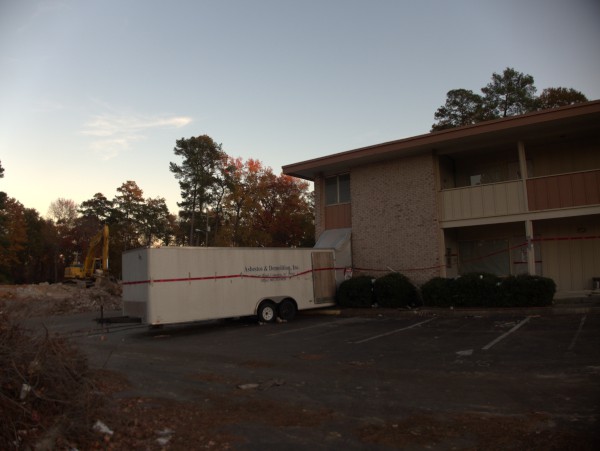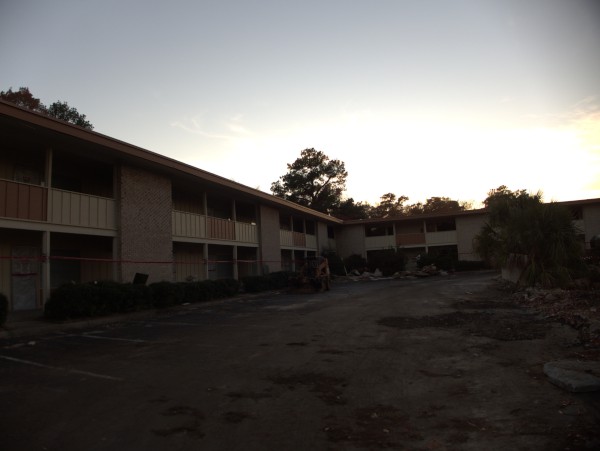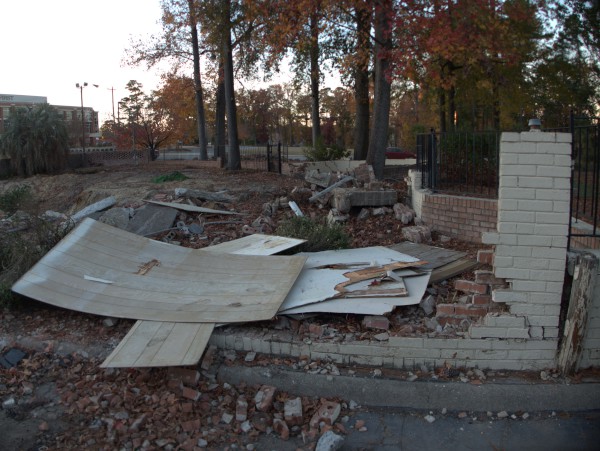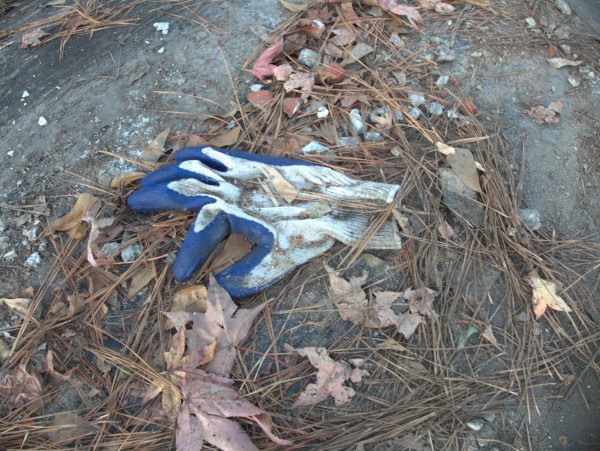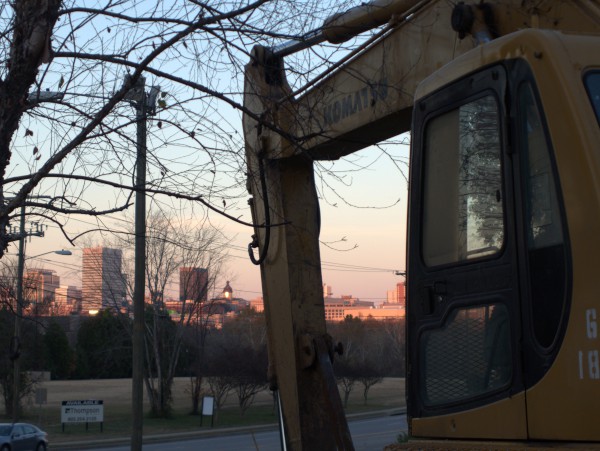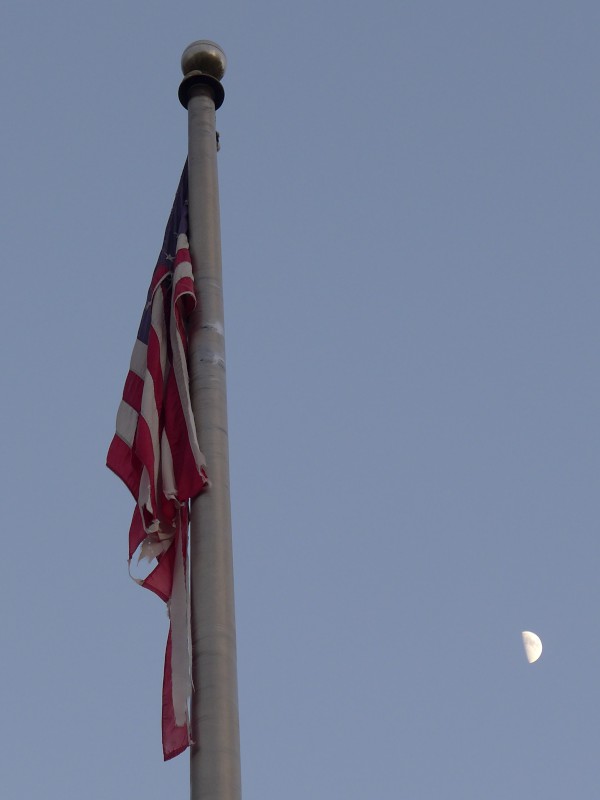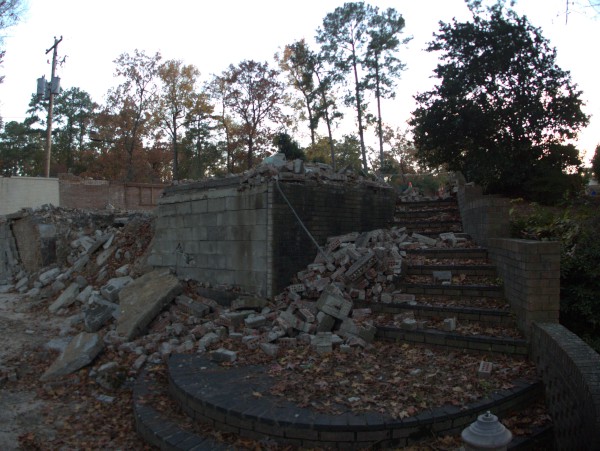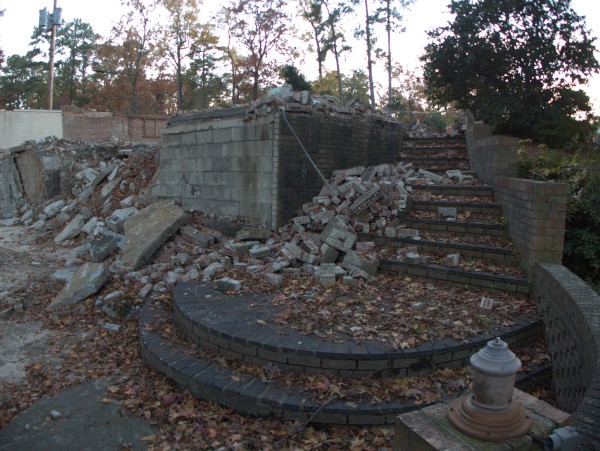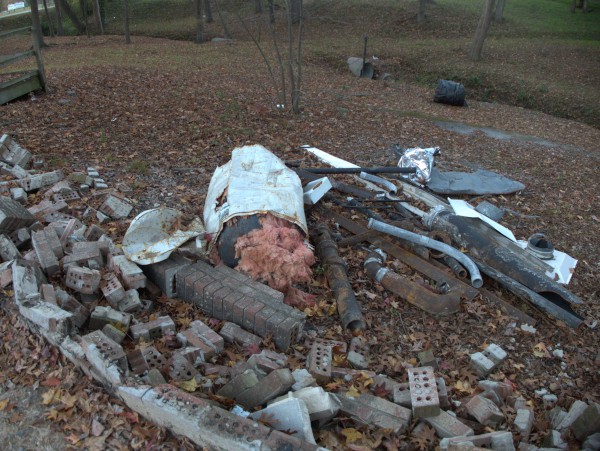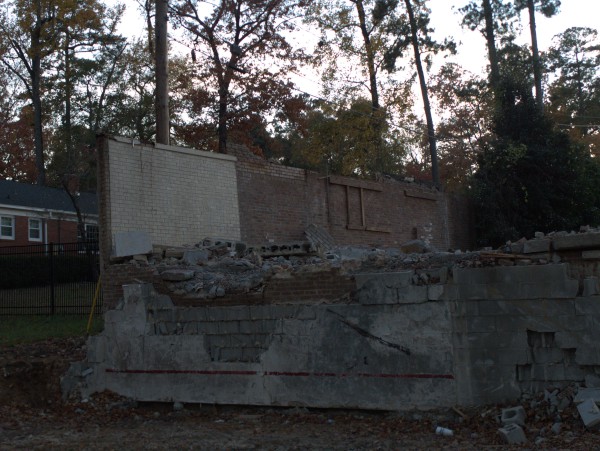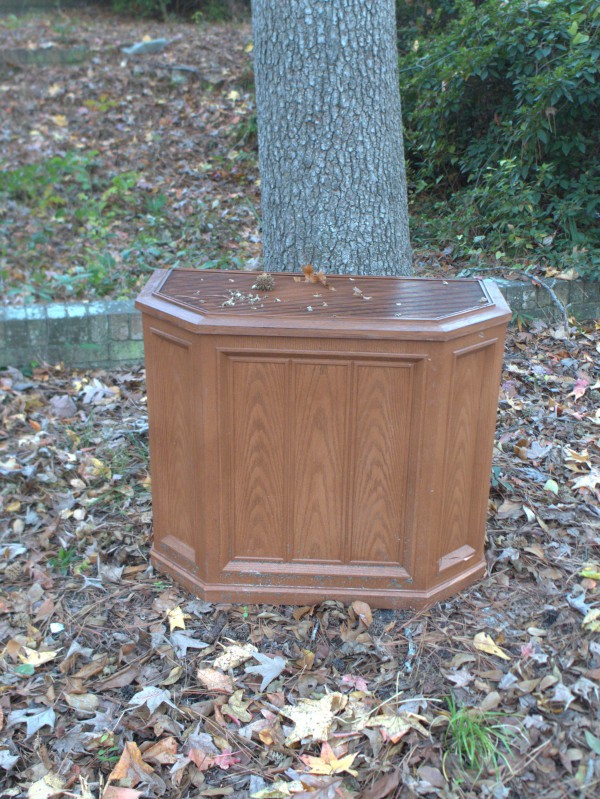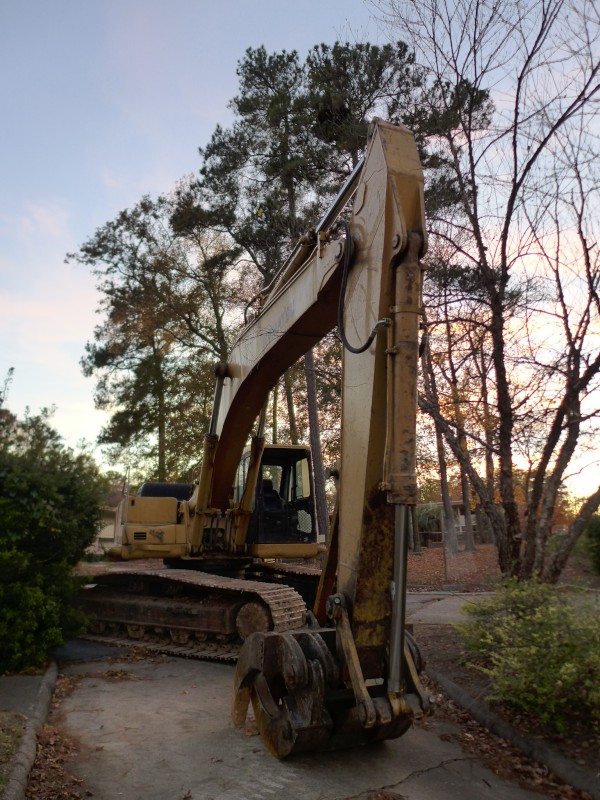 26 December 2014: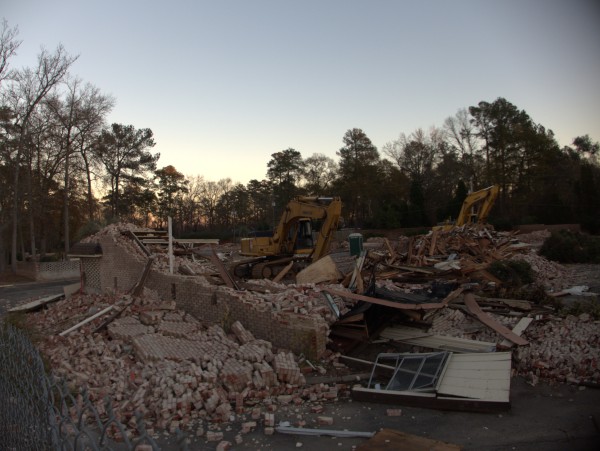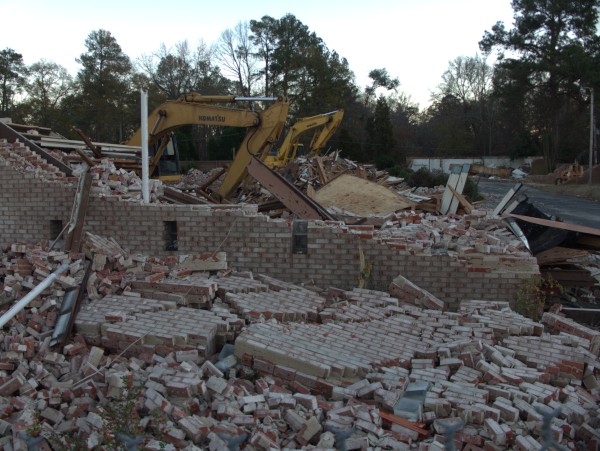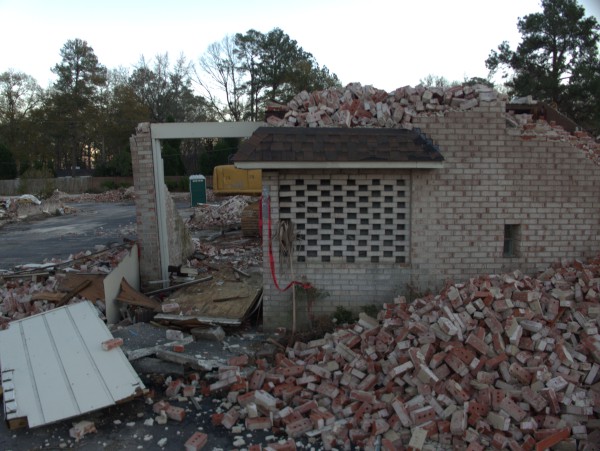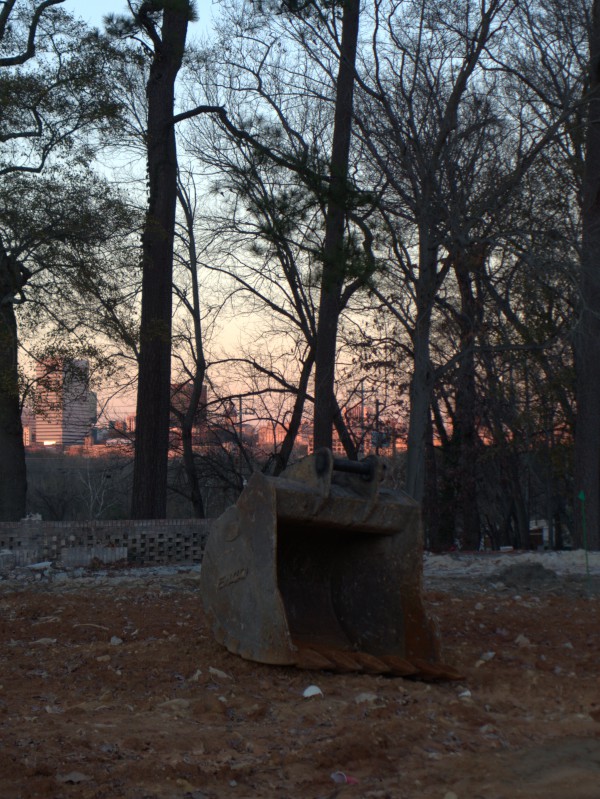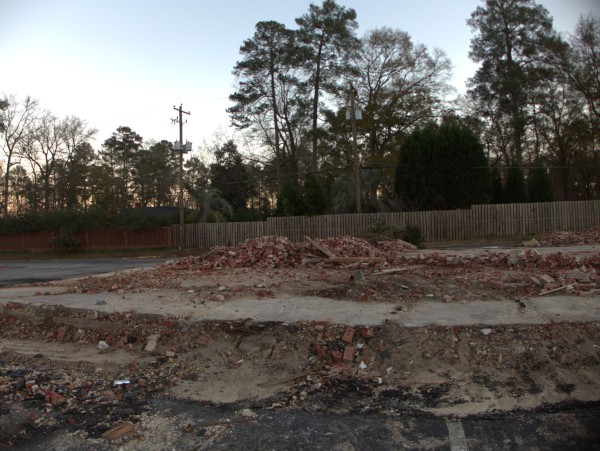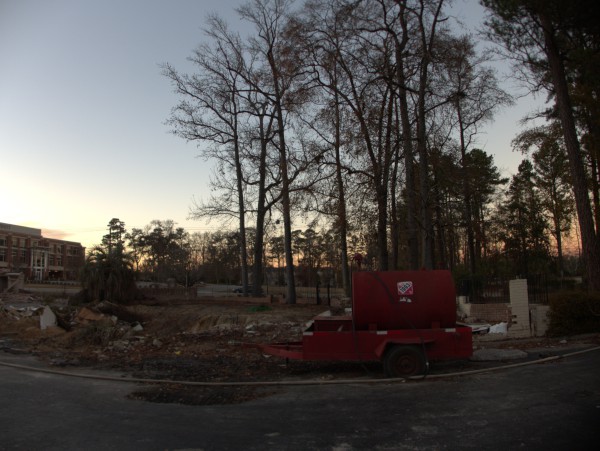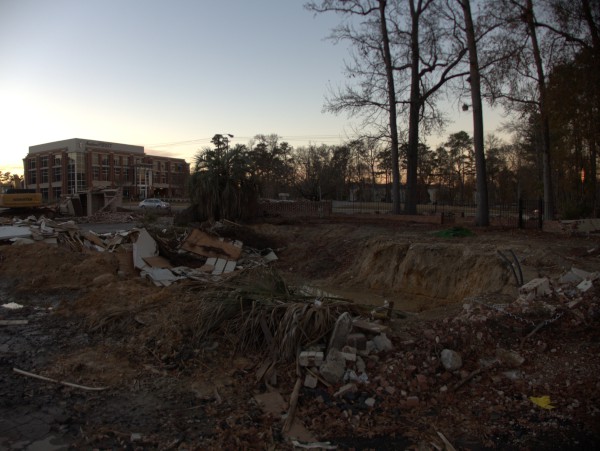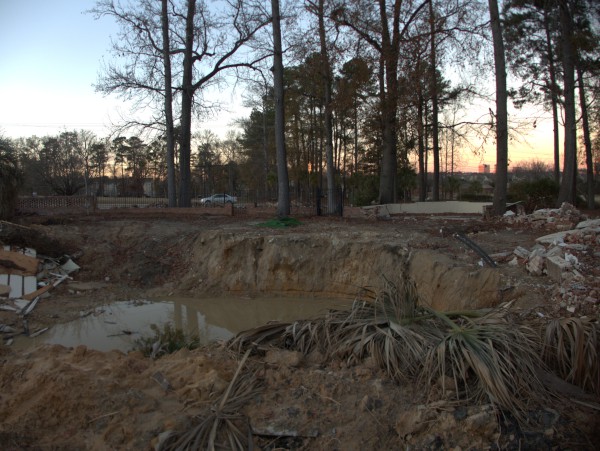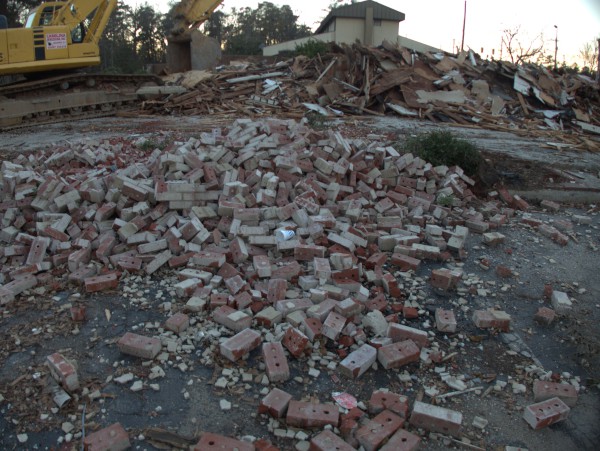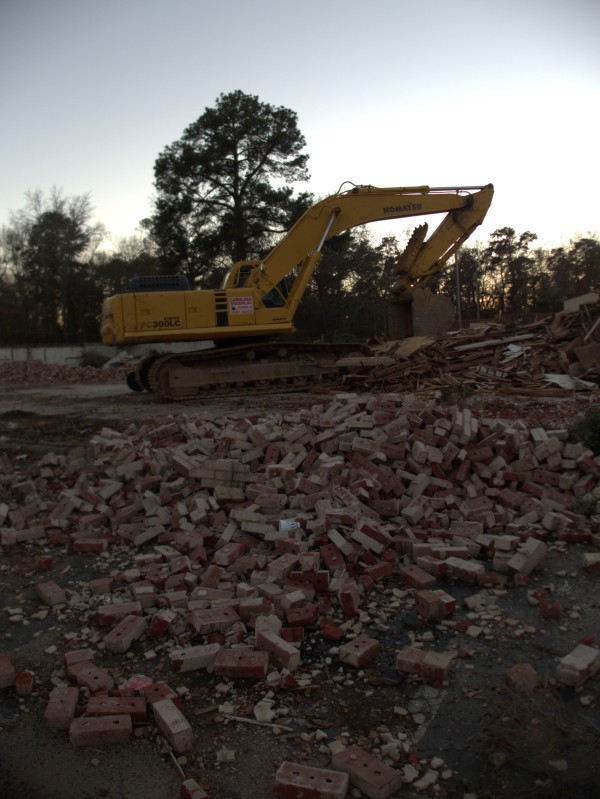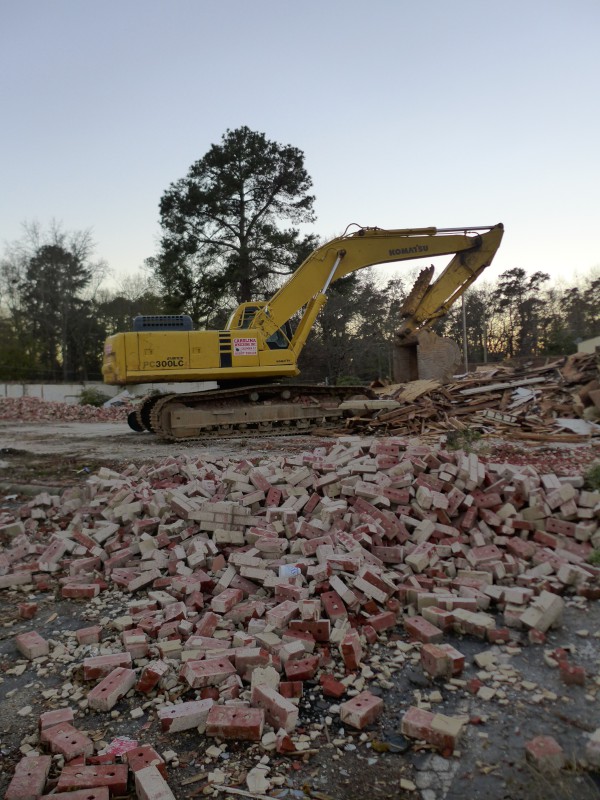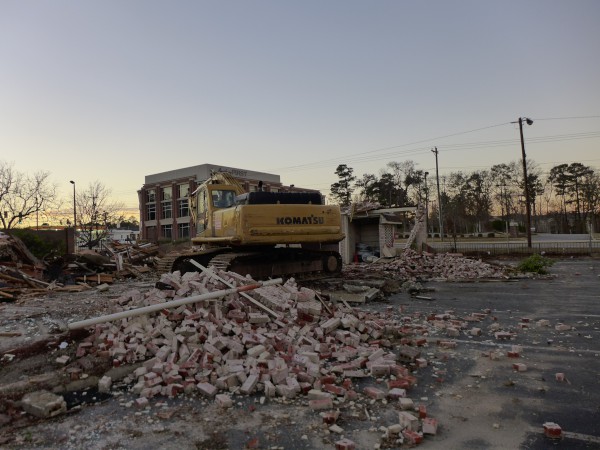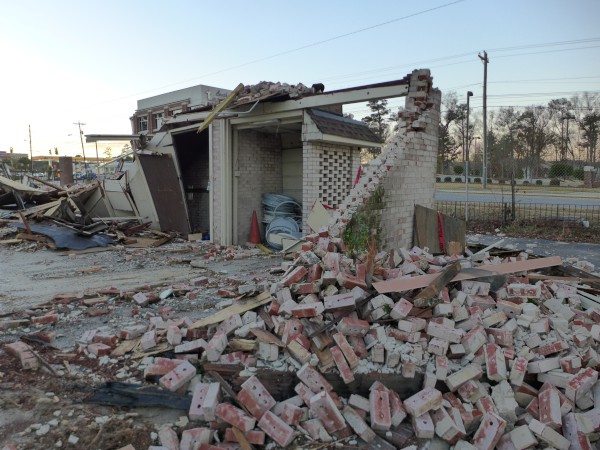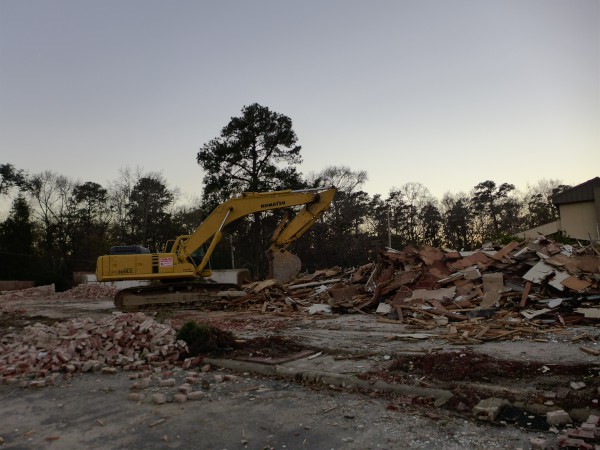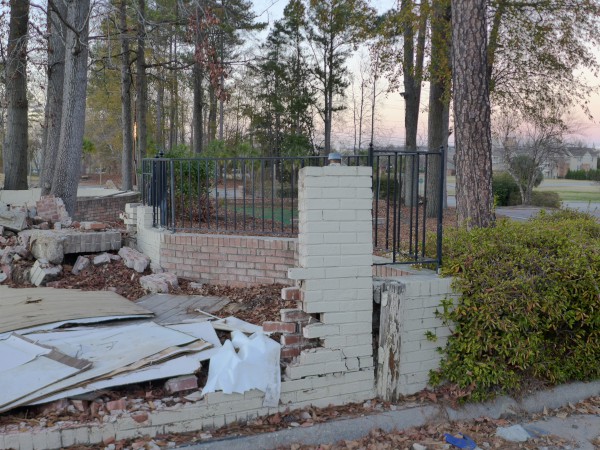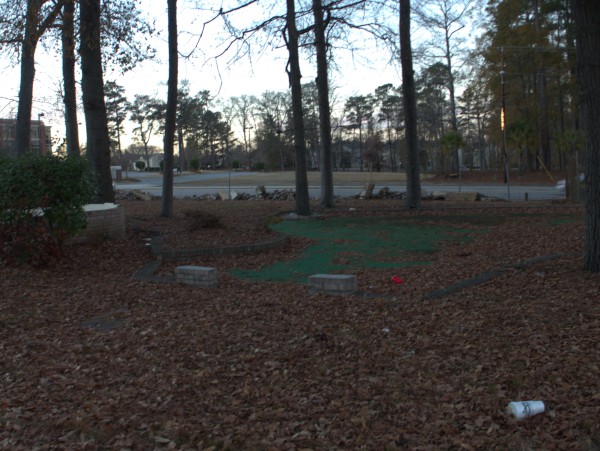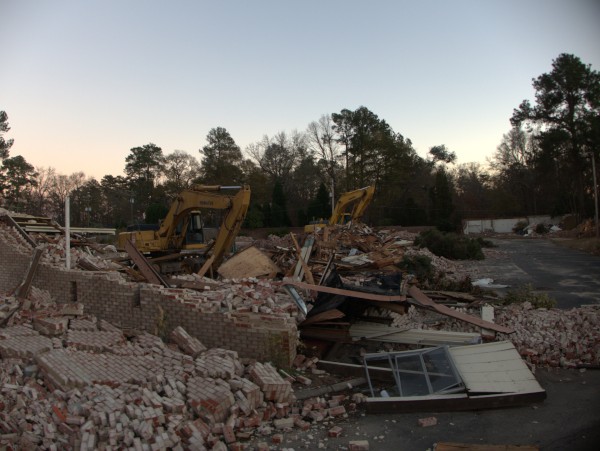 UPDATE 2 February 2015 -- Commenter TahoeChic pointed out an old Tremont postcard on Ebay, which I have bought and scanned, putting the image at the top of the page. Notice the differences in the property from the time of the postcard (which gives the "AL" prefix phone number, so it probably dates from the early 1960s) to now. For instance the big roadside sign was gone, the short brick wall along Knox Abbott drive had yet to be build, there was a canopy in the parking lot, the pool area was not enclosed and had a diving board, and it does not appear the the final front-office building had been built.
Commenter fourlizards found a Tremont key and took a picture, I have added that under the postcard.
Photosets:
Posted at 11:31 pm in Uncategorized
Posted at 1:09 am in Uncategorized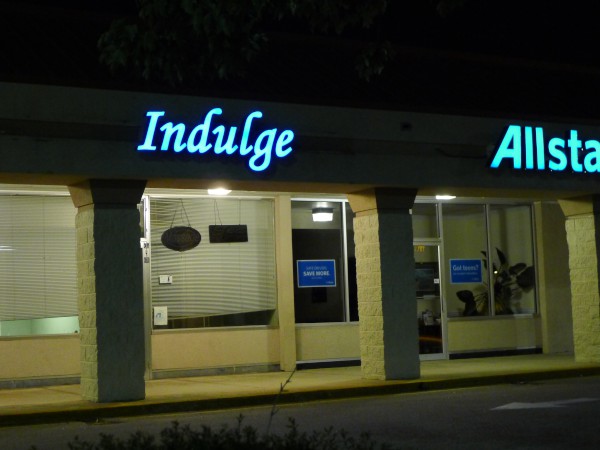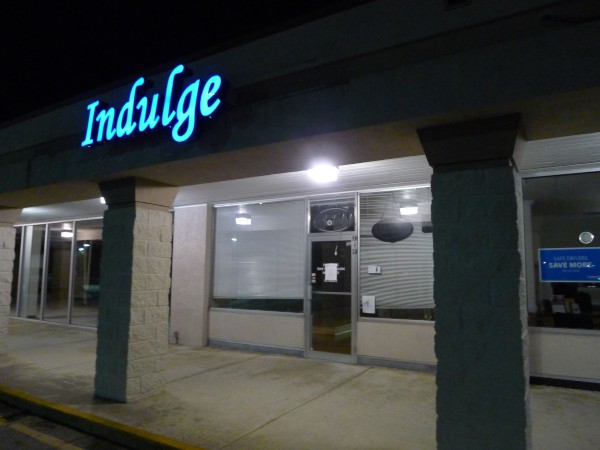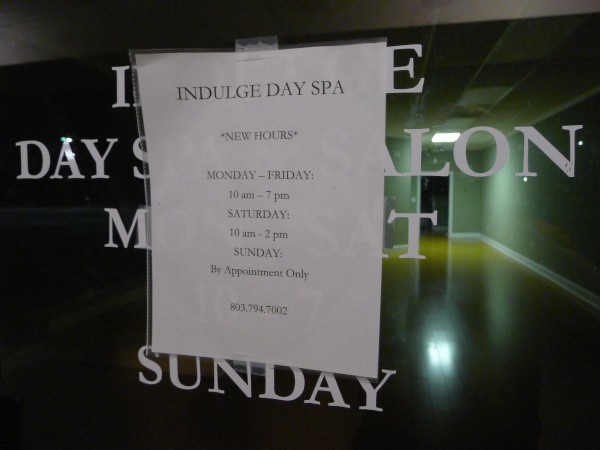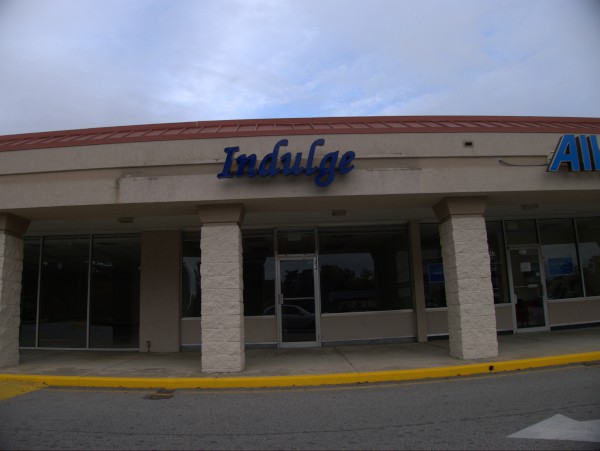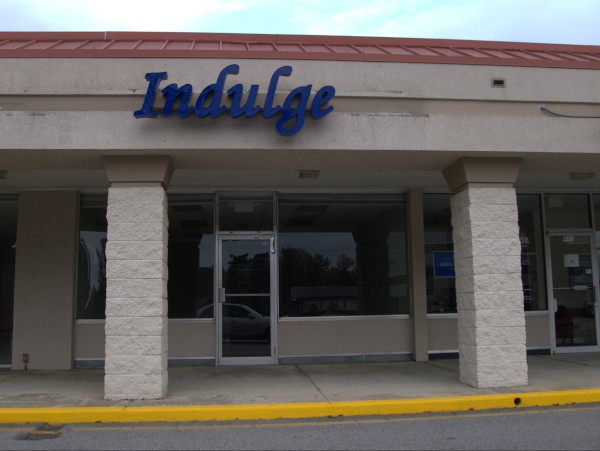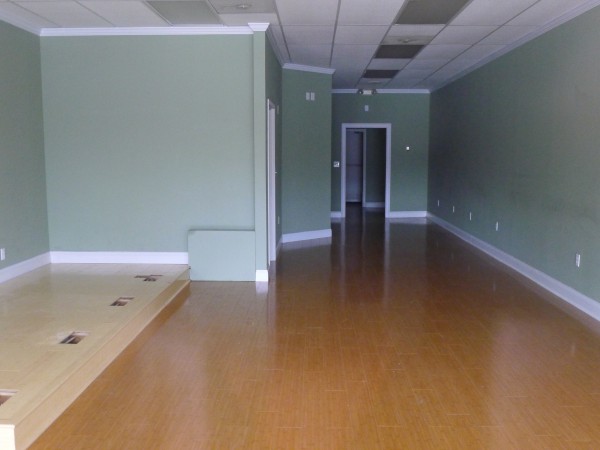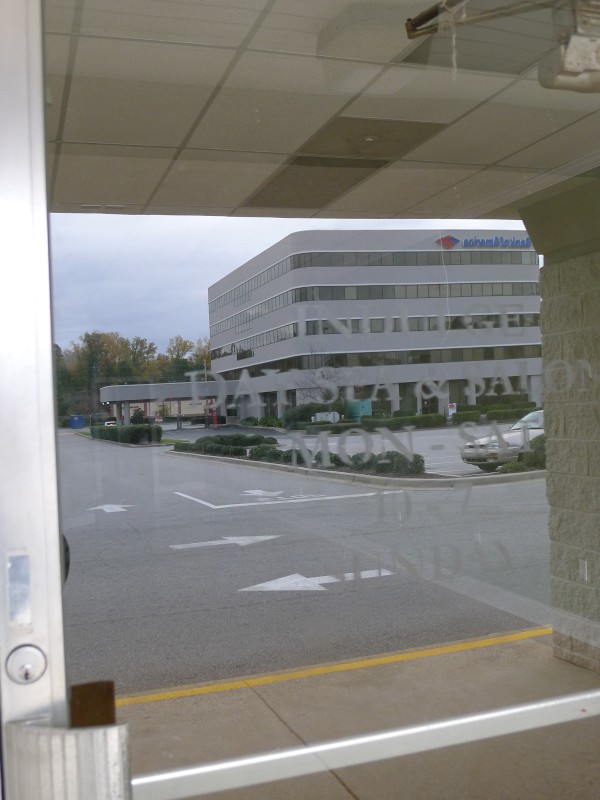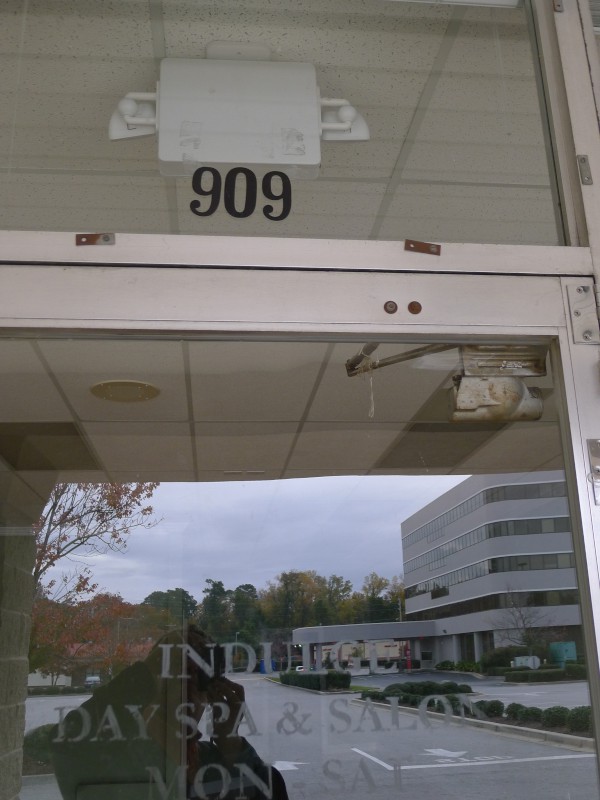 This day spa on the State Street side of Parkland Plaza looks like it was closing down in September of 2012, with new hours posted, and a fairly empty room inside.
By November, the window signage was down (though the marquee was still up), and the whole storefront was vacant.
UPDATE 17 November 2014 -- Now Venus Nail & Spa: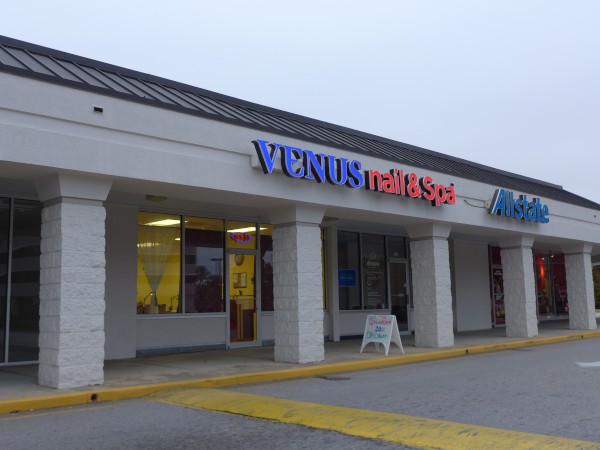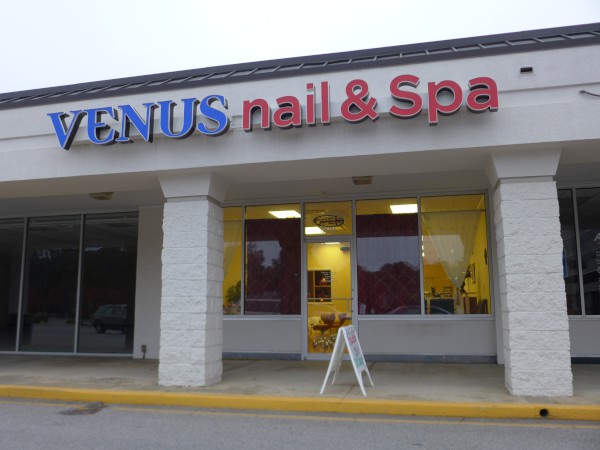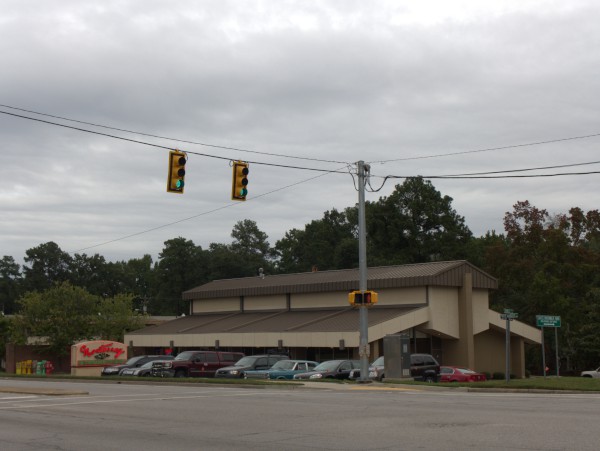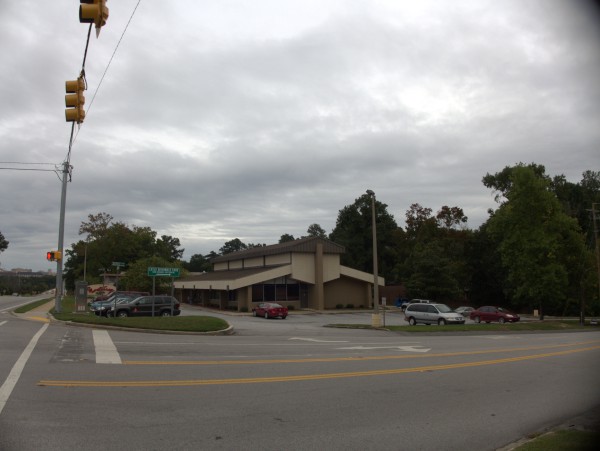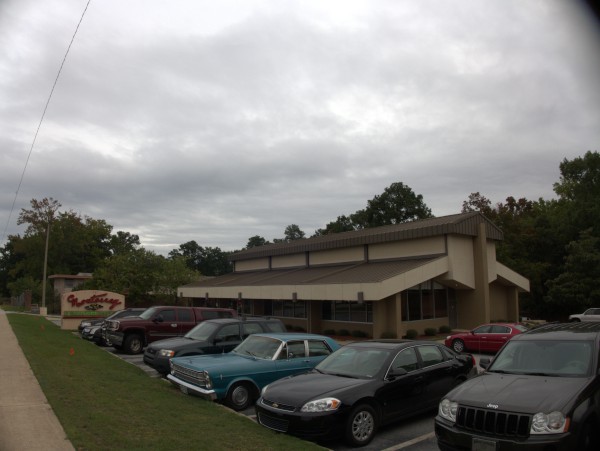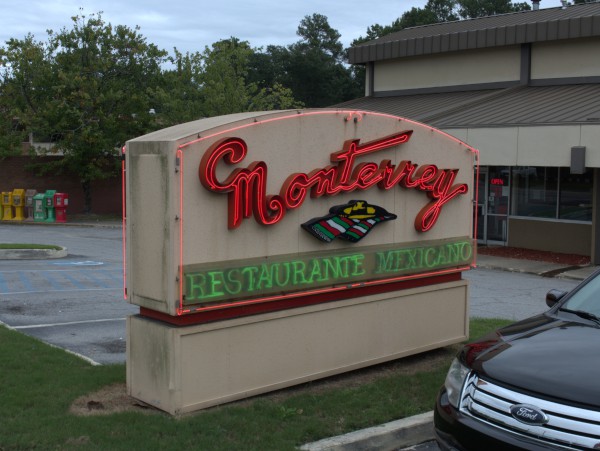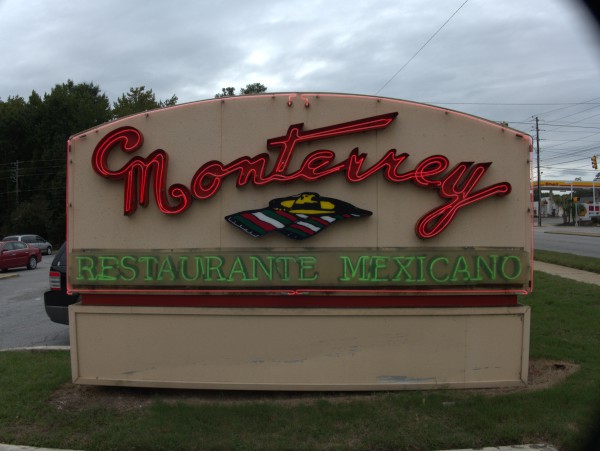 A new apartment complex is coming to a premier setting on Cayce's riverfront.

Plans for a complex of about 230 units near the Blossom Street bridge have received initial approval from Cayce City Council.

The site provides a prime view both of the Congaree River and the skyline of downtown Columbia to the east.

The project would extend along Knox Abbott Drive from Axtell Drive to the city's Riverwalk, replacing Monterrey Mexican Restaurant and the Riverside Inn, which are across the street from Guignard Park.
Monterrey Knox Abbott are now closed and are working on their new location in the old Zeus Pizza location in Parkland Plaza (not Parklane Plaza). I believe this location started as a Denny's, though according to Monterrey's closing sign, they were here for 26 years, which is no small run for a restaurant.
Posted at 12:58 am in Uncategorized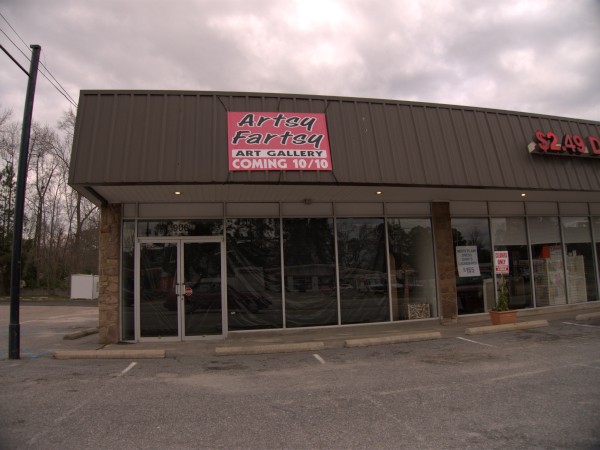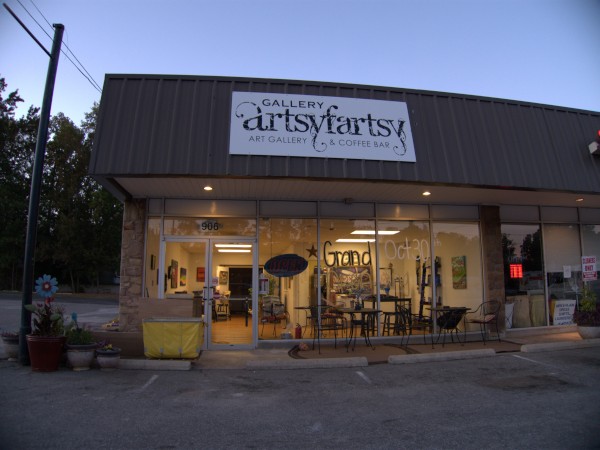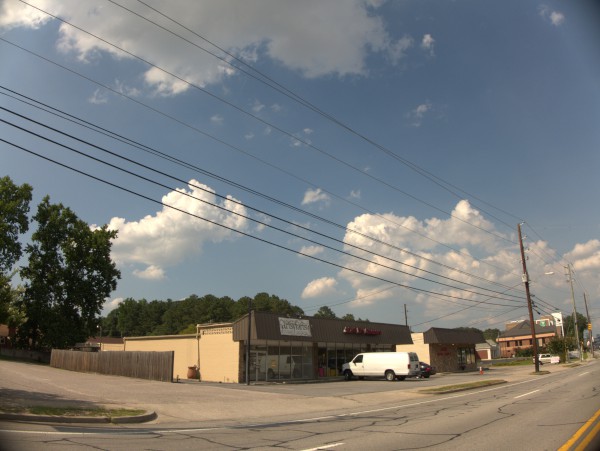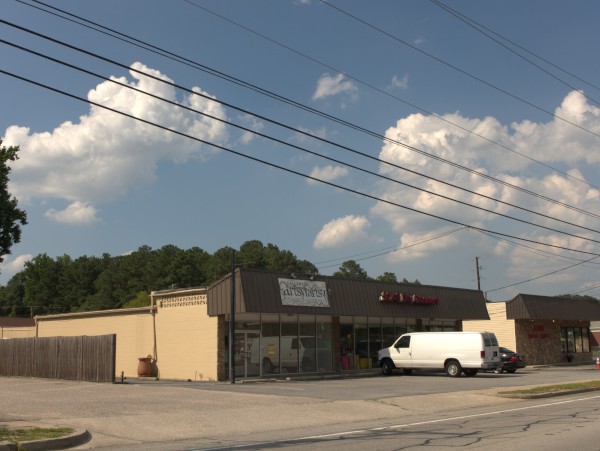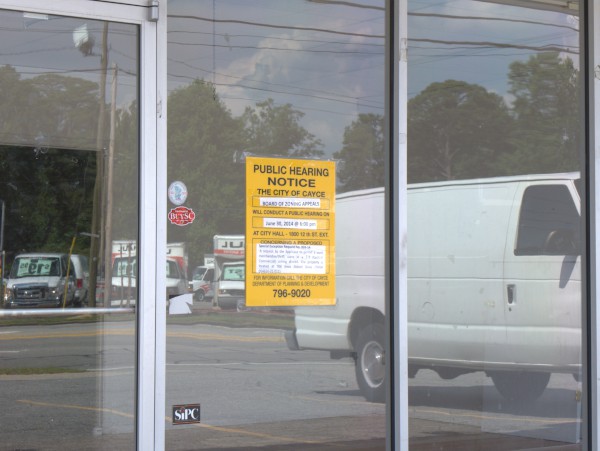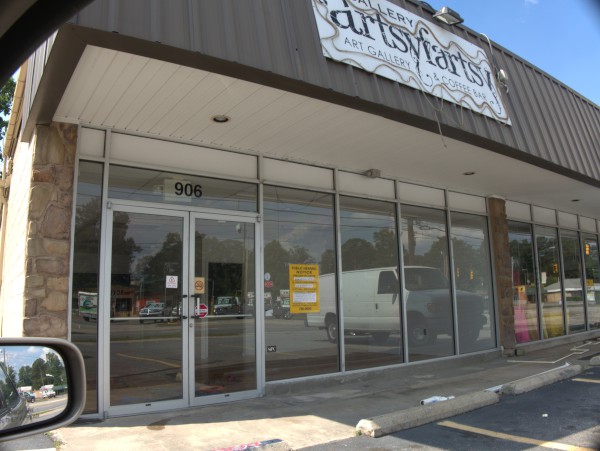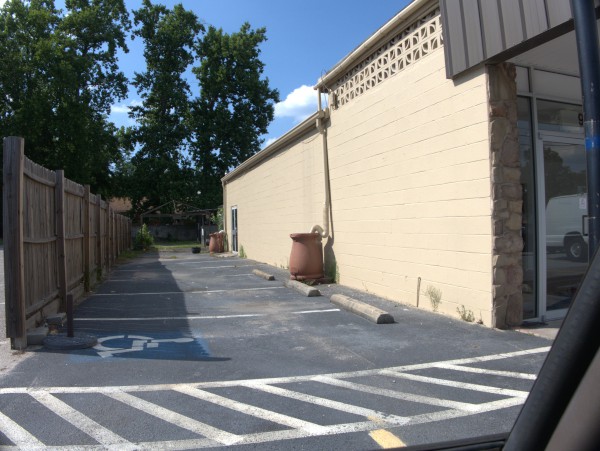 Artsy Fartsy art gallery and coffee bar was one of those places I never could figure out in that I never actually saw it open, but yet it never closed either (though it seems to have rebooted several times). I like coffee, so I was prepared to stop if I ever *did* see it open, but somehow that never happened.
It looks like the place will be rezoned for a thrift store.
Posted at 11:33 pm in Uncategorized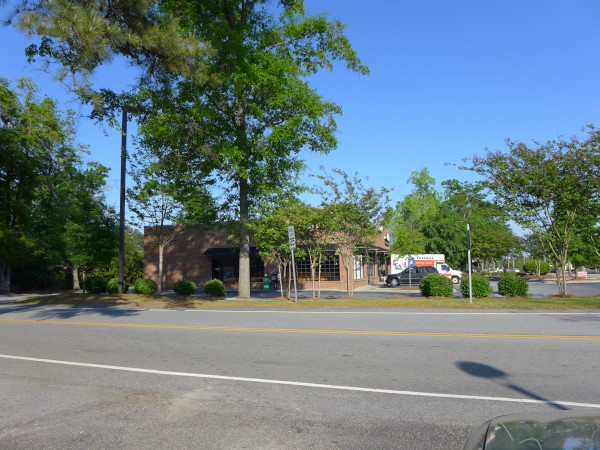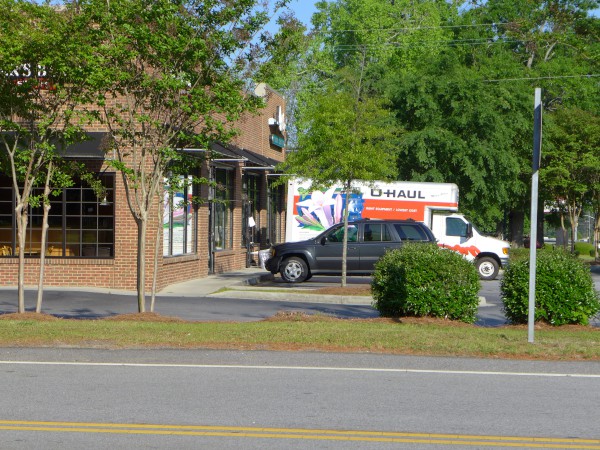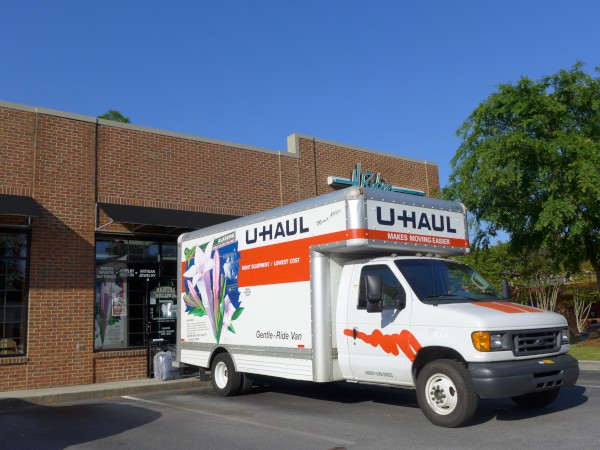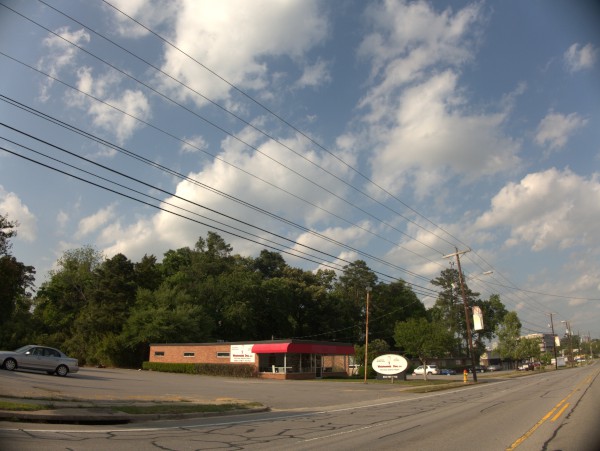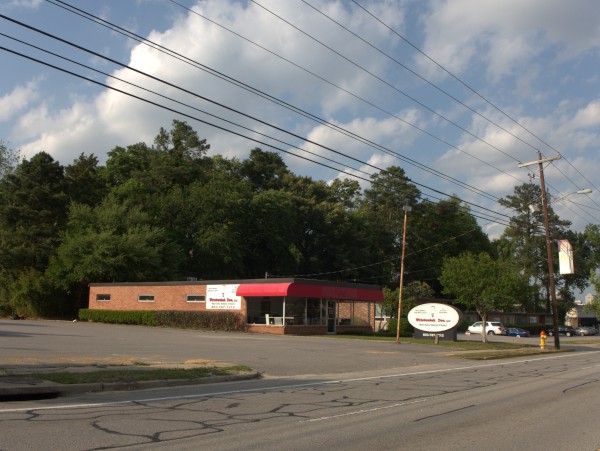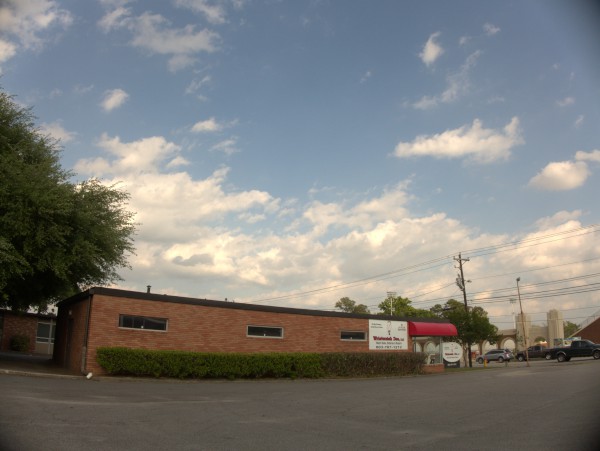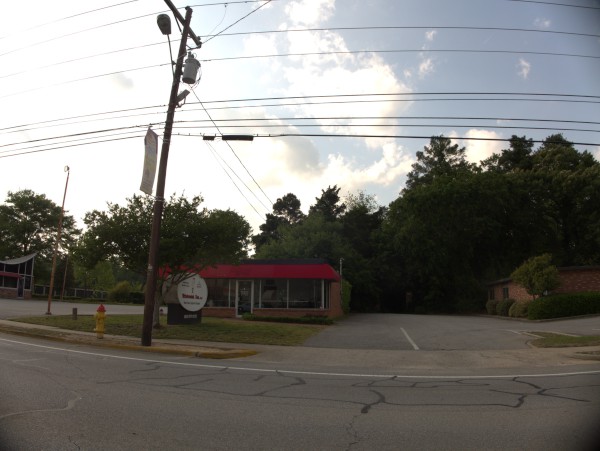 Well, I see I've already done a somewhat confused post on Wristwatch Doc when they opened a workspace on Fort Jackson Boulevard, but I'm going to make this a new post anyway.
As of yesterday, they have moved from the storefront on Forest Drive in the Brueggers building and out to 534 Knox Abbott Drive in Cayce. This, of course, is the former Signs 2 Go location.
I wish them well, but it was very convenient for me to have my watch batteries changed and get new bands at the Forest Drive location.
UPDATE 28 April 2014 -- The Forest Drive storefront and message: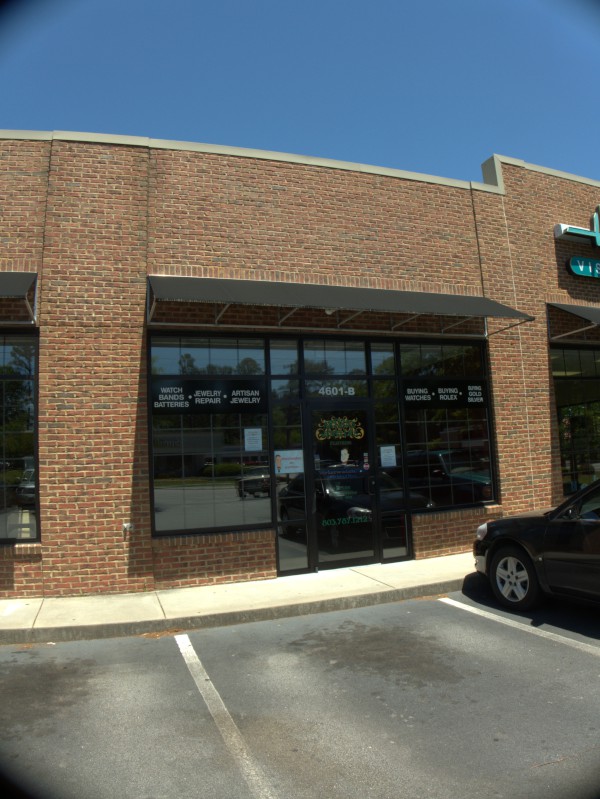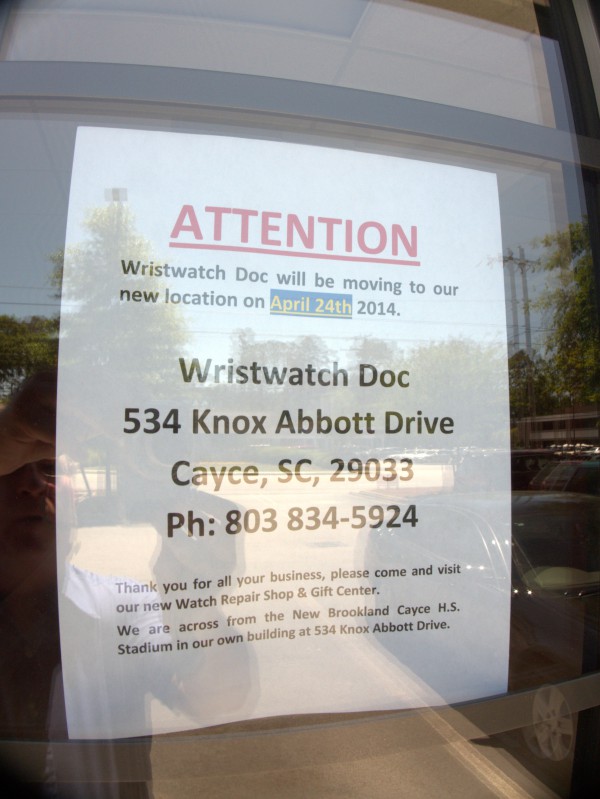 Posted at 12:37 am in Uncategorized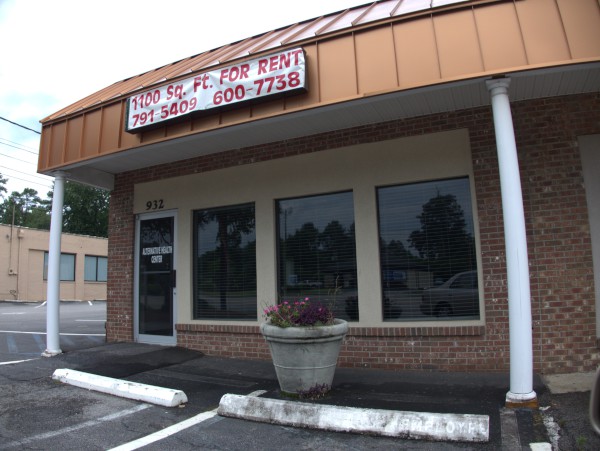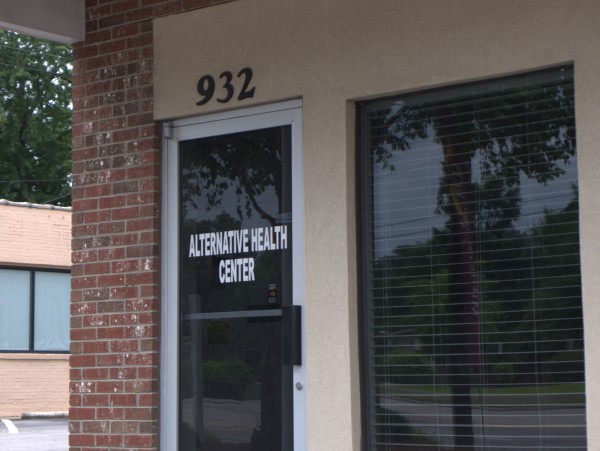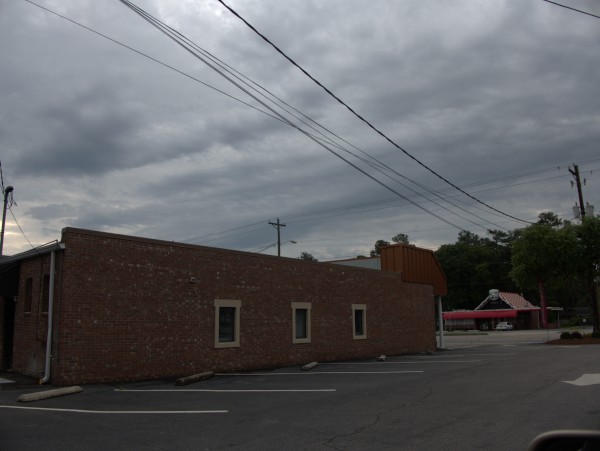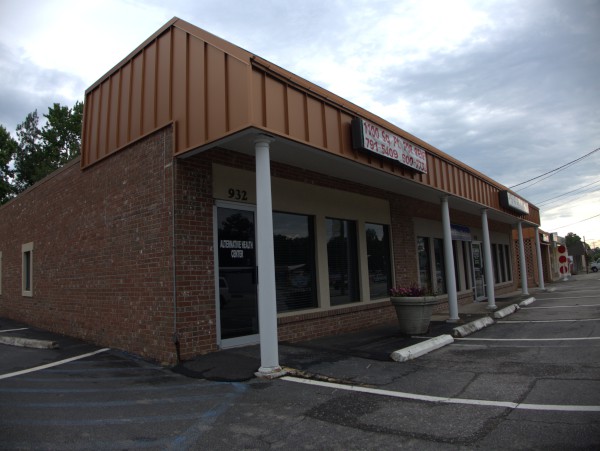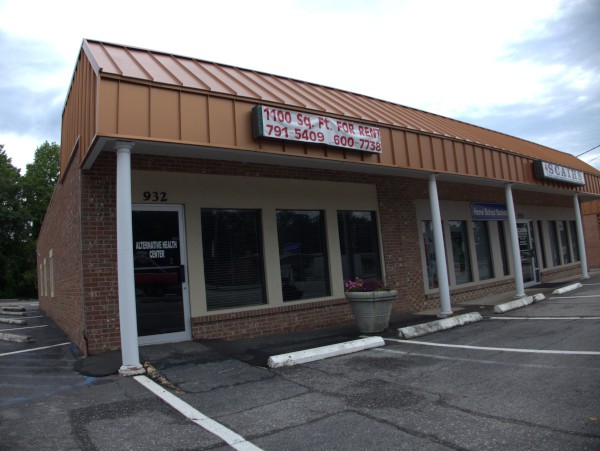 I don't know much about this place, but I believe they moved here (more or less across from Tony's Pizza) from Meeting Street.