Archive for the 'furniture' tag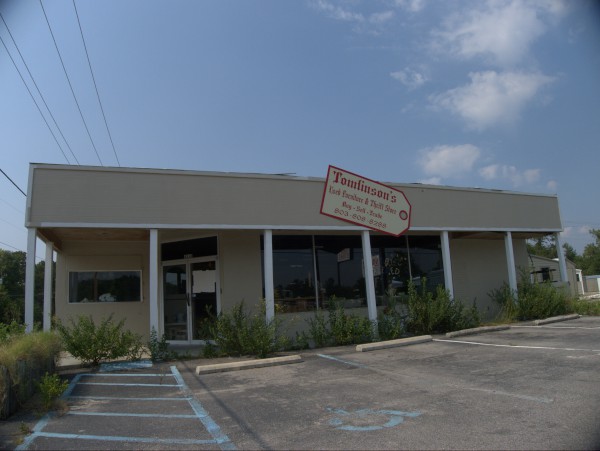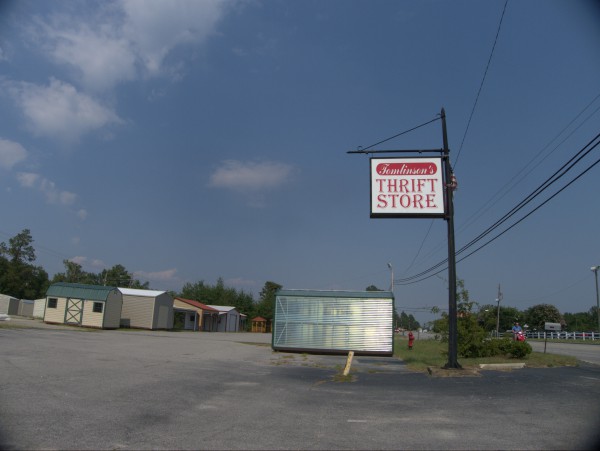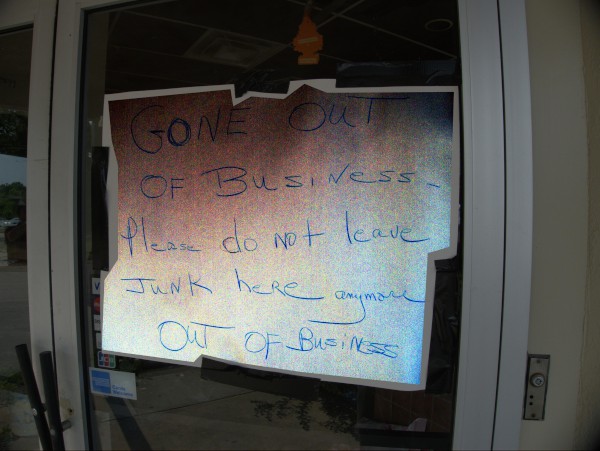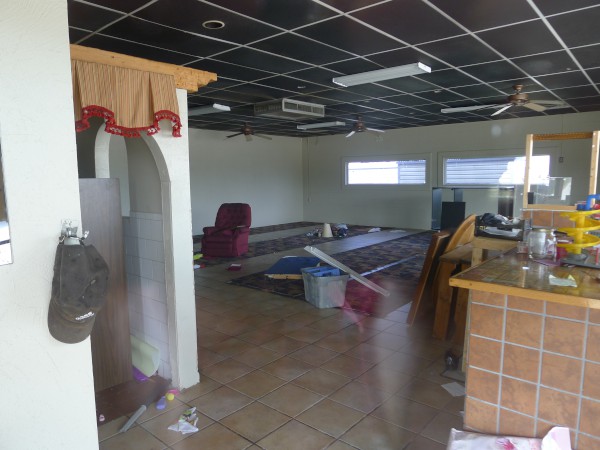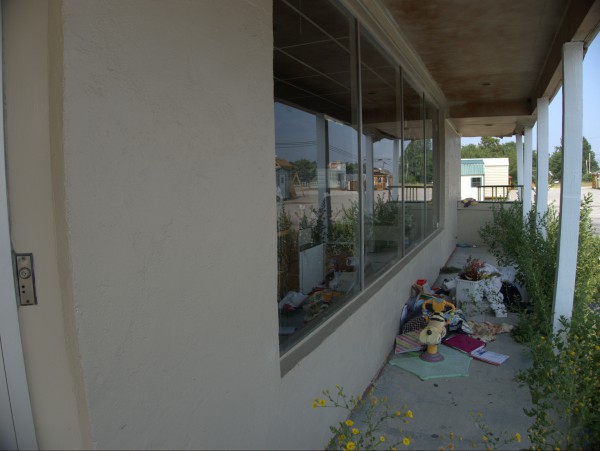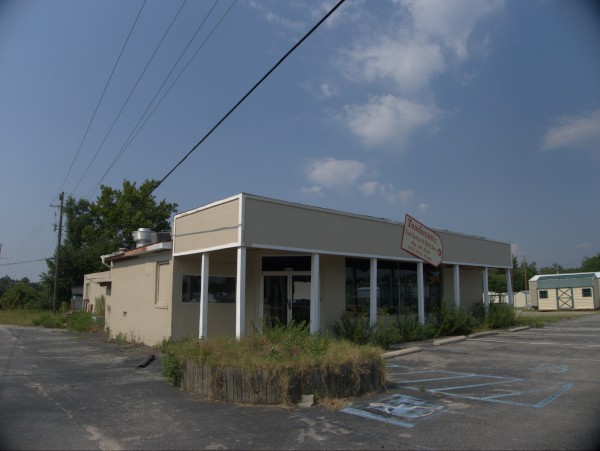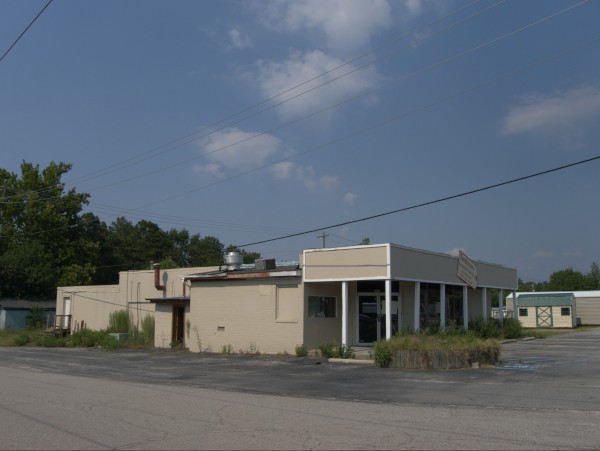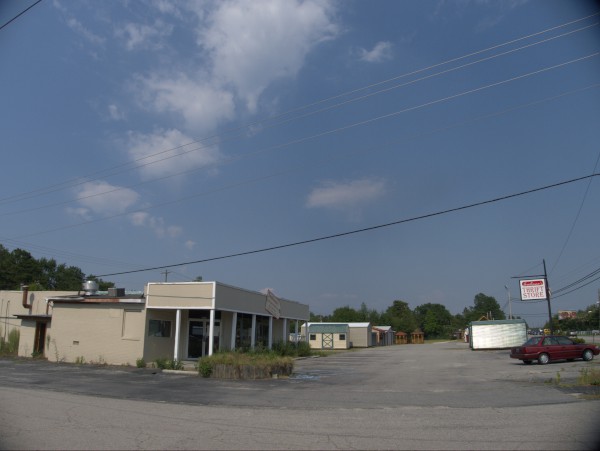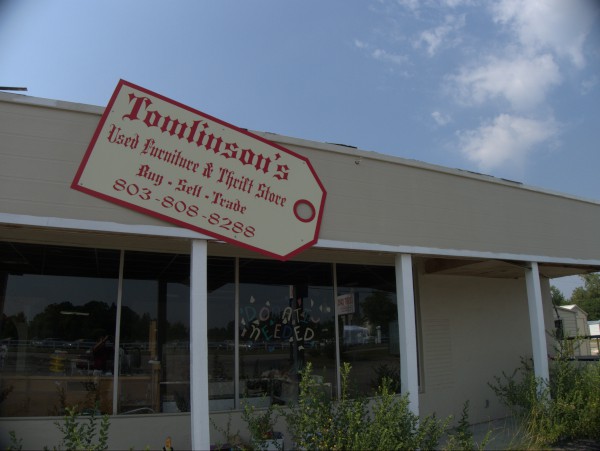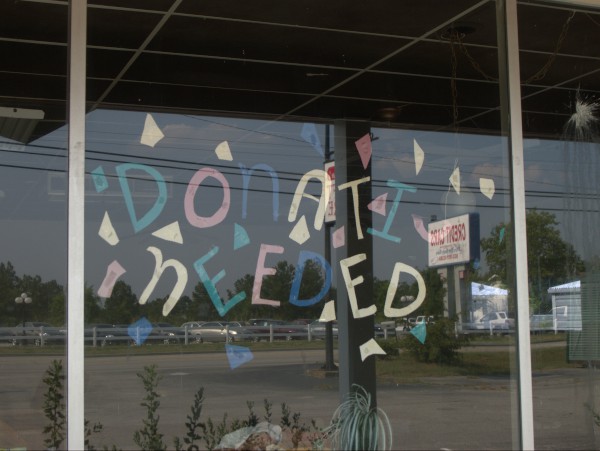 Tomlinson's was the follow-on operation to San Jose Restaurante Mexicano. I'm not sure when it closed, but I did the San Jose post in January of 2010, and I can't find Tomlinson's in either the 2011 or 2012 phonebooks, so I'm guessing 2011 by default. I know I've been down US-1 a few times in the past year, but I can't actually ever recall noticing it before. The red sales-ticket shaped sign is quite nice.
UPDATE 19 August 2016 -- Now Pelican's Snoballs: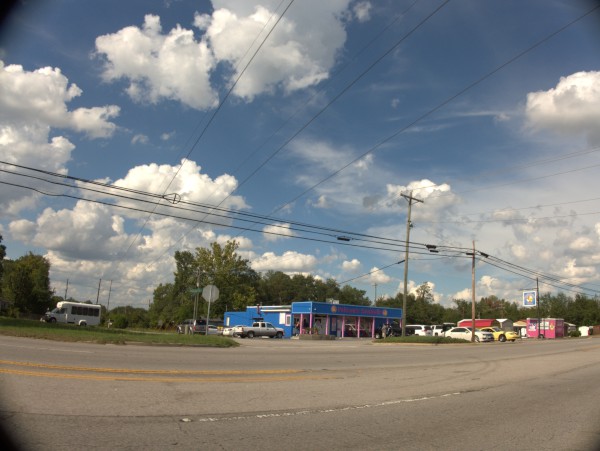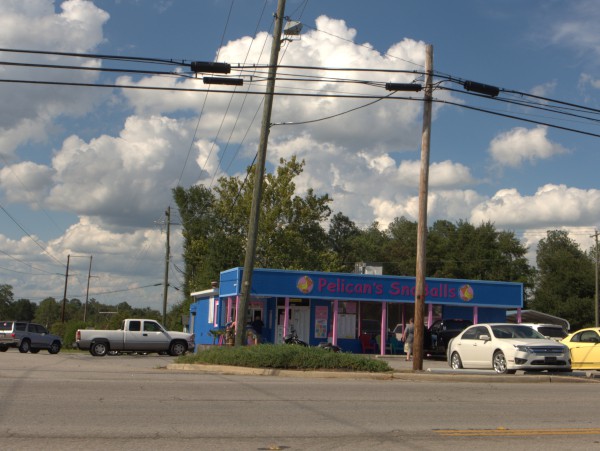 Posted at 11:33 pm in Uncategorized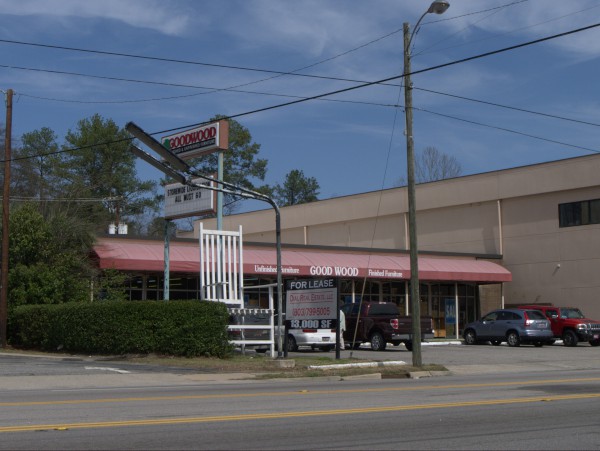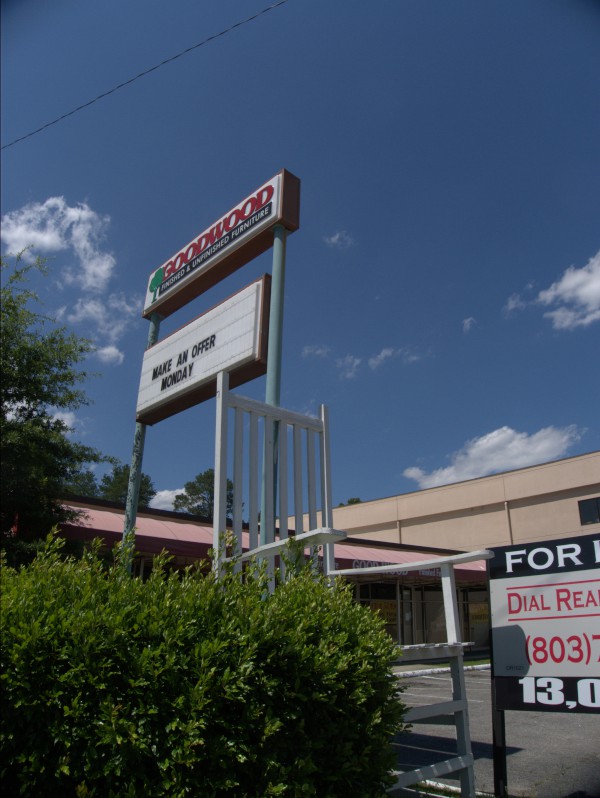 When The State announced Good Wood's closing back in February, I have to admit that my immediate thought was to wonder what would become of the streetside rocking chair of which I have always been fond. The chair, the gull-wing lights and the cut-out lettering on the Harrison Road fence all give the place a distinctive and appealing look.
The State article is interesting in that it, once again, points to demographic problems for businesses in the Forest Acres area. I suppose I can understand it in the case of a furniture store, as the biggest market for furniture is young families setting up, but it still seems to me that the Richland Mall area ought to be able to tap into the generally financially comfortable suburban residents.
Apparently the store was to close its doors Saturday 2 June, but the closing sale has extended to "Make an offer Monday" on 4 June, so you still have a day left to buy the rocker.
Posted at 12:17 am in Uncategorized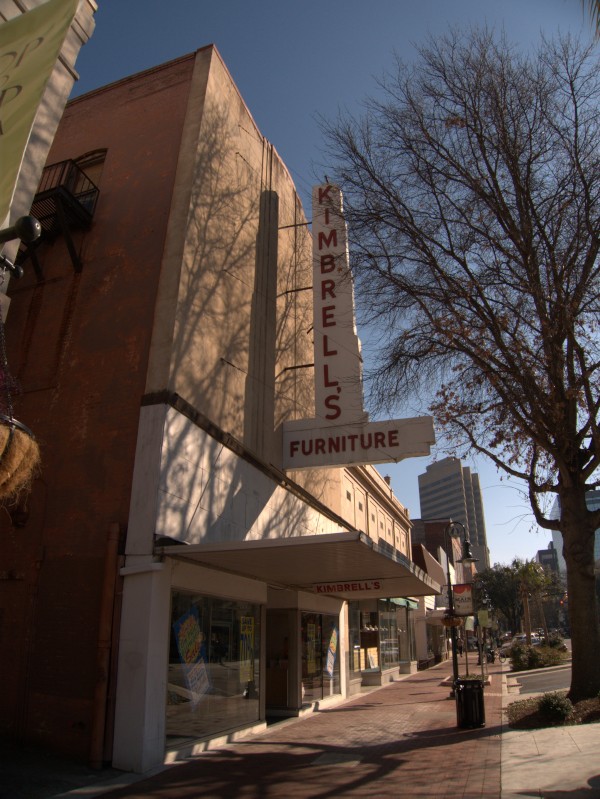 The end of Kimbrell's on Main Street was hardly a surprise. Their sign says they had been there 49 years (or almost my entire lifetime), but the character of Main Street has changed so much over the years that even blocks where there are signs of life (Kimbrell's was on the same block as the new Mast General Store) don't make sense for heavy retail like furniture. A modern furniture store needs lots of display space, as well as an easy way to get trucks in and out, and Main Street doesn't really have either.
There are a number of other Kimbrell's locations around town, and the signs indicate that operations from the Main Street store have been consolidated in Piggly Wiggly location on Marshall Street.
I hope that whatever happens to the old Main Street store, someone saves the old and classic Kimbrell's sign, though I realize that would be confusing in some cases, it seems to have worked well for the Kress building.
Posted at 10:01 pm in Uncategorized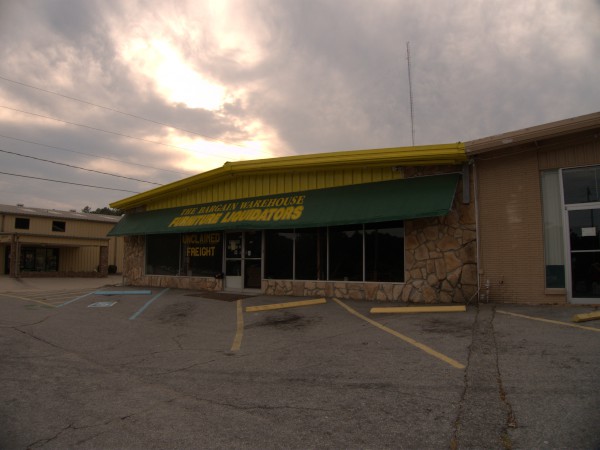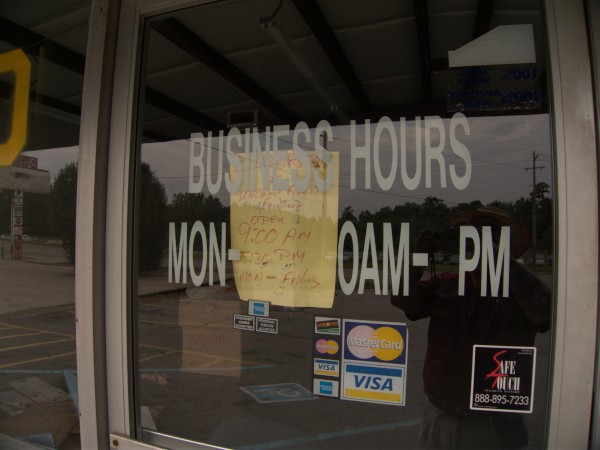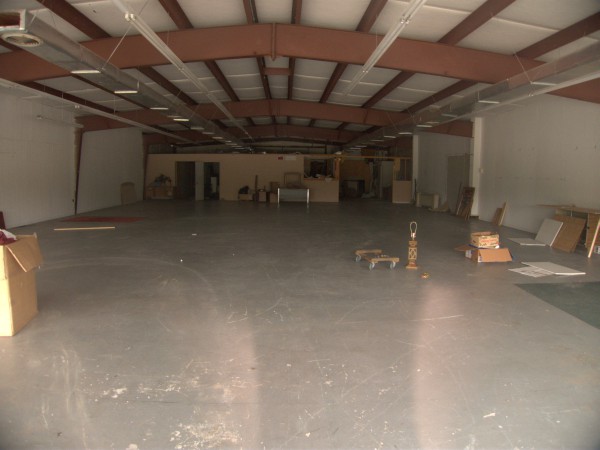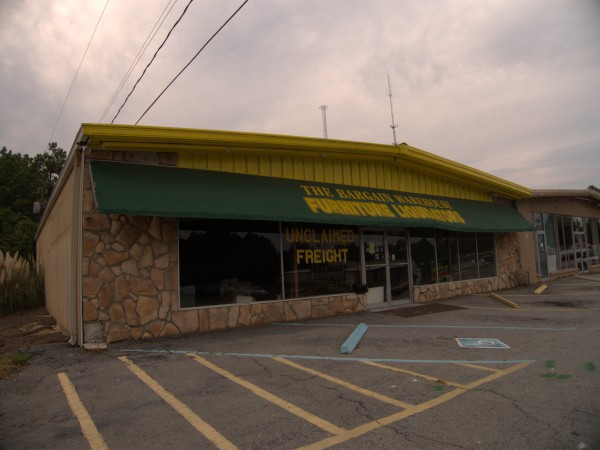 Looks like someone claimed all the freight after all!
Or they may perhaps have moved to Blythewood. There is a Bargain Warehouse listed there in this year's phonebook.
I wonder what this place was originally? There are three connected units in this small strip at Two Notch and Calvin Drive. The two end units have this odd, rocky facade, while the middle unit does not. Curiously, the Chinese Wing Restaurant on Two Notch at Fontaine Road also has the same sort of facade. I like the touch of yellow here as it makes the place stand out a bit from its neighbors.
UPDATE 30 September 2011: Add picture of roadside sign at top.
Posted at 1:16 am in Uncategorized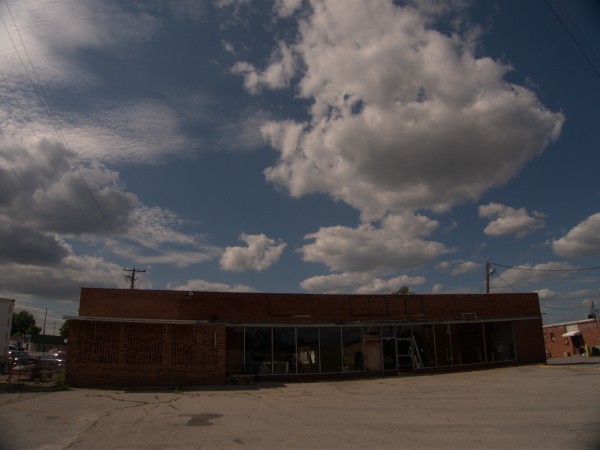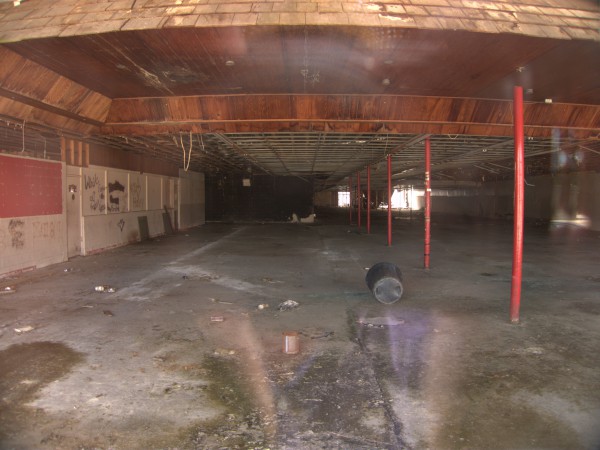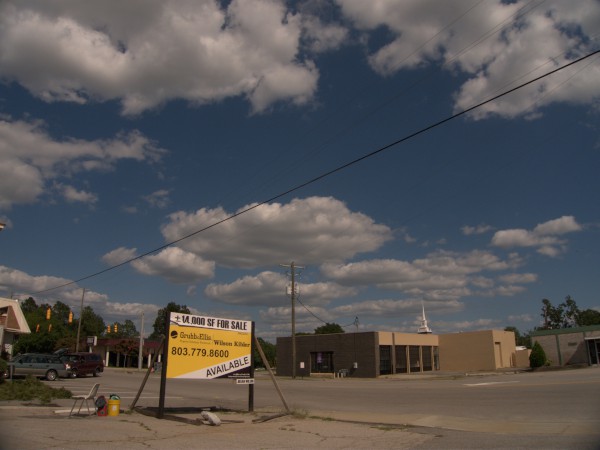 Well, I admit I'm drawing a blank here. This building is in the 1200 block of D Avenue in Triangle City (just a bit up and across from the old Goodyear location. Whatever it was, it is, as you can see now, pretty thoroughly gutted.
When I took these pictures, I thought it would be easy to identify when I got home. In the event though, there appears not to be a street number on the building, and my fallback of finding the Grubb & Ellis listing for it, which I thought would be easy given their big sign, fails as well. Google Streetview shows two business storefronts in it, but won't zoom close enough to read the marquees and won't give the right street number. Anyone know? I'll update below and in the post title when I get more information..
UPDATE 20 July 2011:
OK! With help from the comments this building is identified as Fogle's Food City and Furniture Farm. The actuall address of the building is 1212 D Avenue, which is a higher number than I had thought. This LoopNet listing also makes clear that the building is much larger than I had thought with what must have been the main parking lot facing 12th Street. I will have to go back and take pictures of the 12th Street and C Avenue sides of the building.
The Secretary of State's office says that Fogle's Food City, Inc. was incorporated on 2 January 1970 and dissolved on 21 June 1996. Of course it's possible that the actual grocery started before that as a sole proprietorship or some other form of organization. It's also possible that it closed before the corporation was actually dissolved. At any rate, Furniture Farm ("Where Prices Are Born.. Not Raised") was already listed in the February 1997 phonebook. I'm not sure when it closed as my home phonebooks jump from Feb 97 to Feb 07, but it was not listed as of February 2007.
I've changed the post title from "Building" to reflect this information, and have fixed the street address as well. Thanks folks!
UPDATE 17 October 2011: Added Shumpert's to the post title based on info from commenter Becky Dodson.
UPDATE 5 April 2012 -- The place continues to deteriorate and has now been officially condemned. You can see that the roof is completely gone in spots and that the whole place has been flooded during the recent rains (it's a bad sign when your building leaks to the outside rather than the outside leaking into your building..). I also finally got some shots of the other side with the old Furniture Farm signage: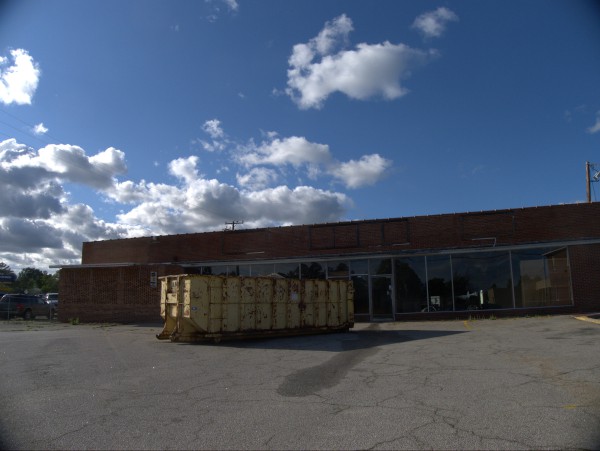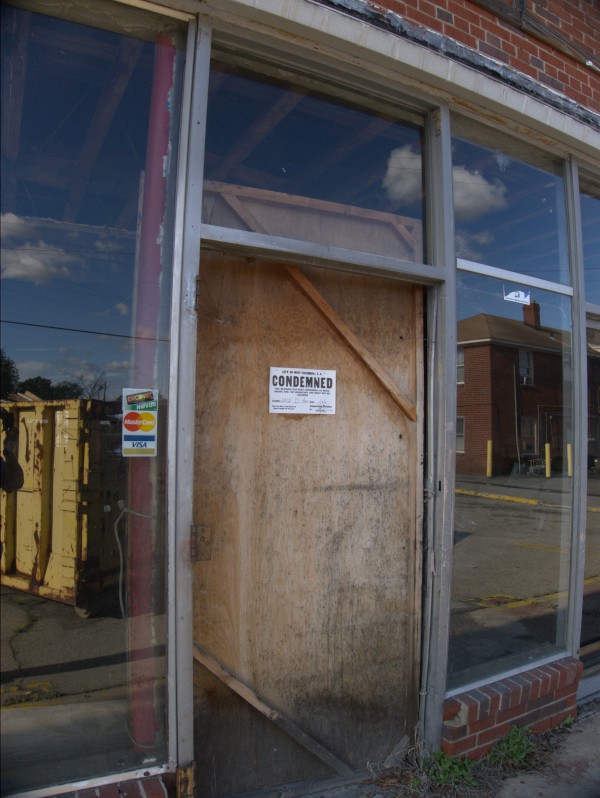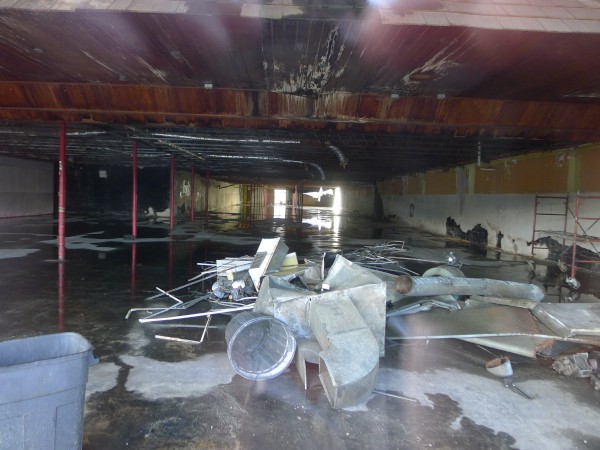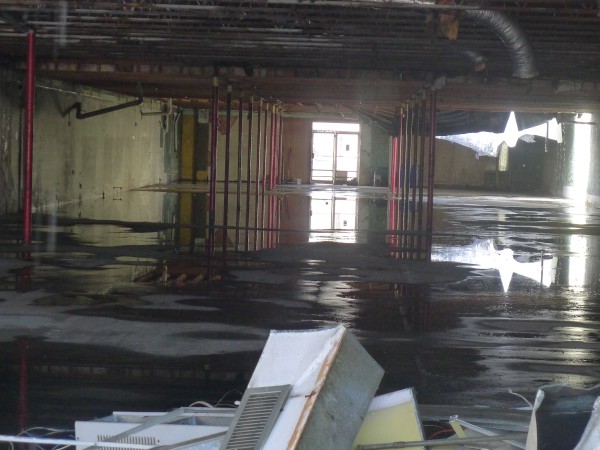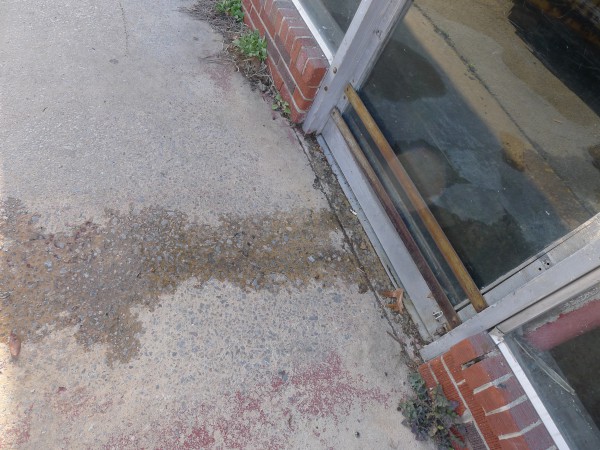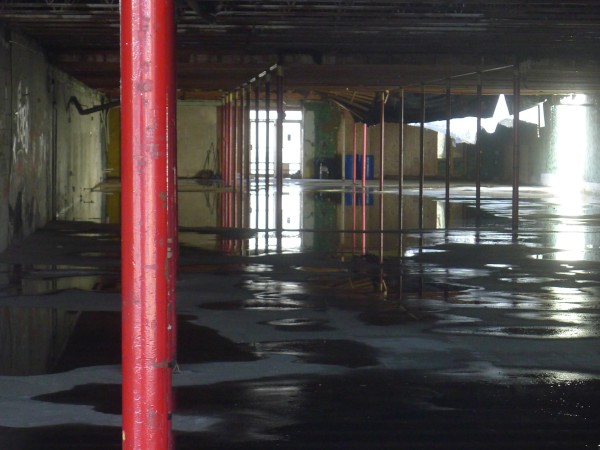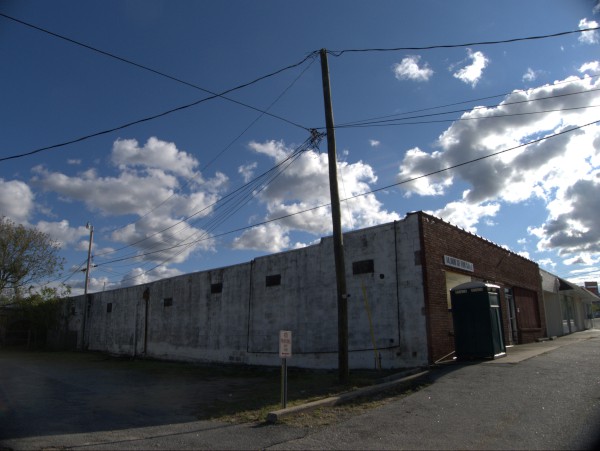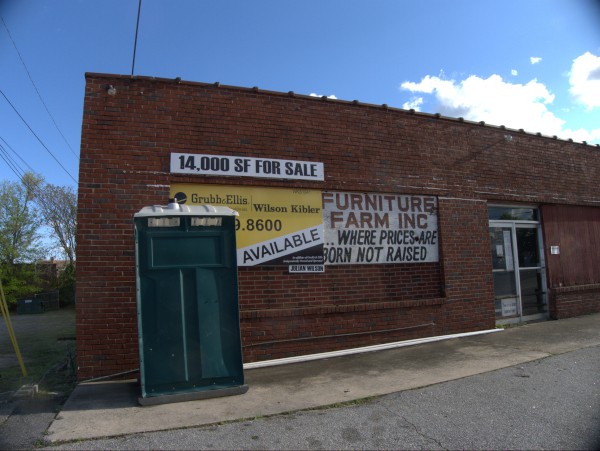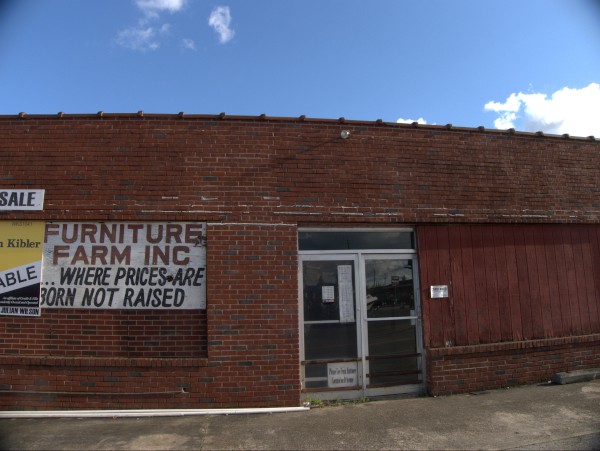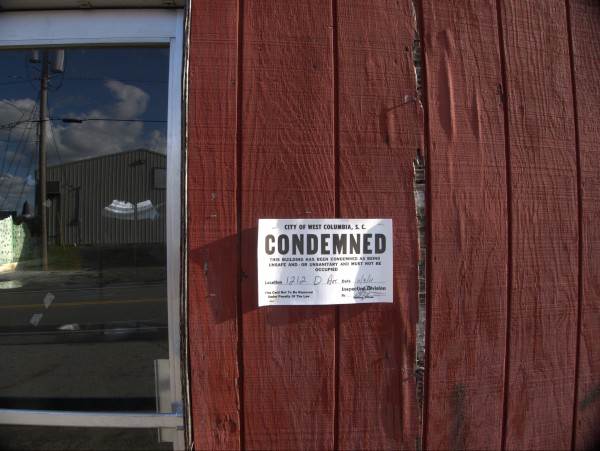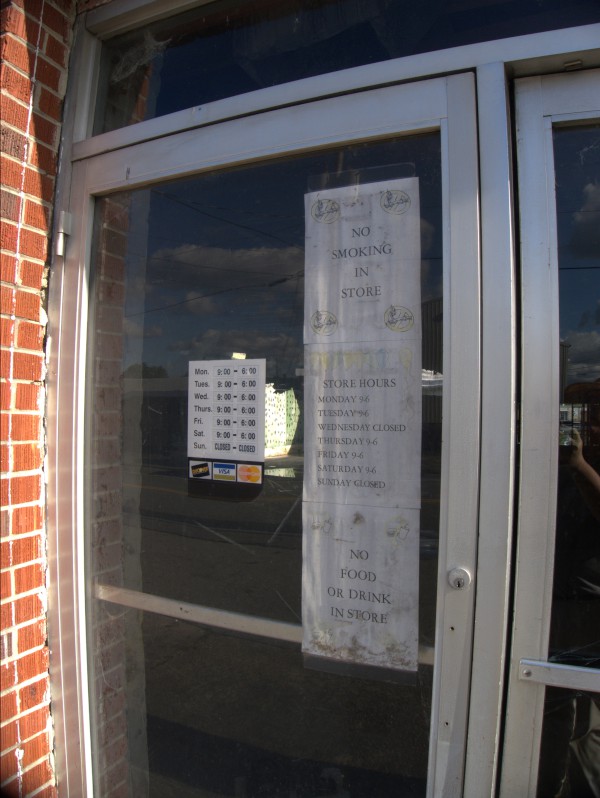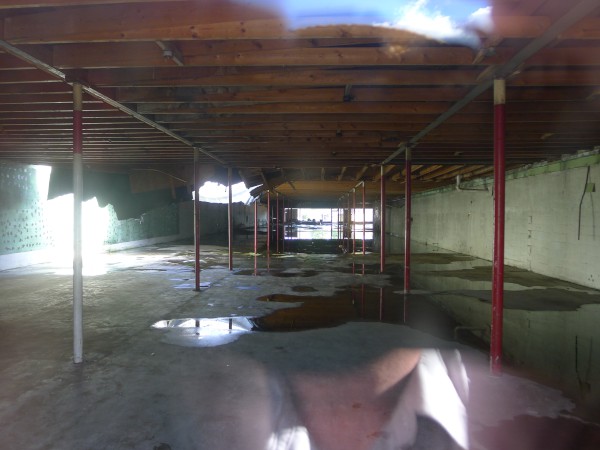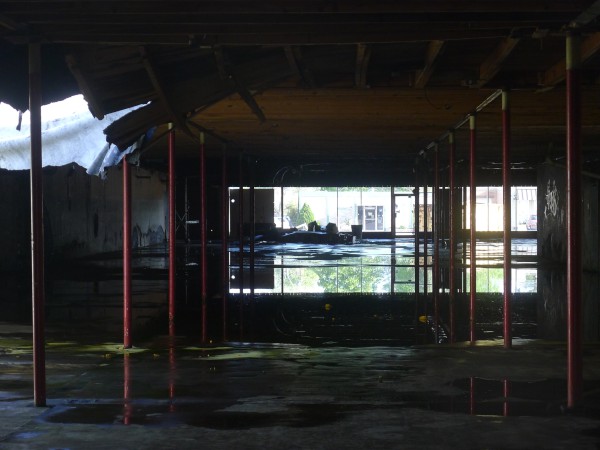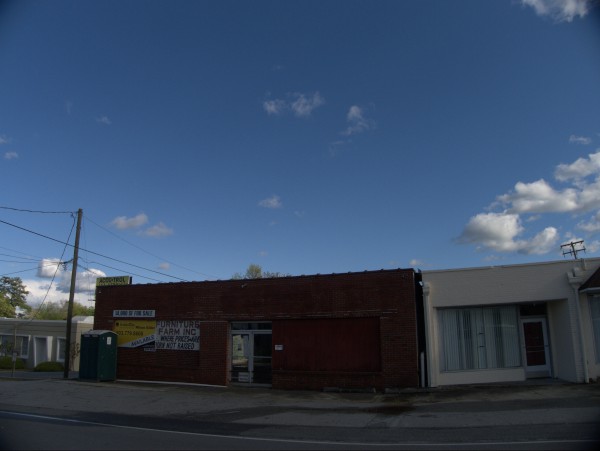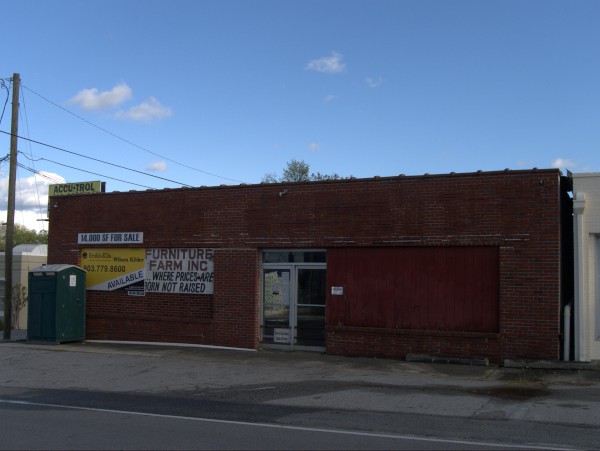 UPDATE 22 April 2012 -- Well, looks like that's it for this building!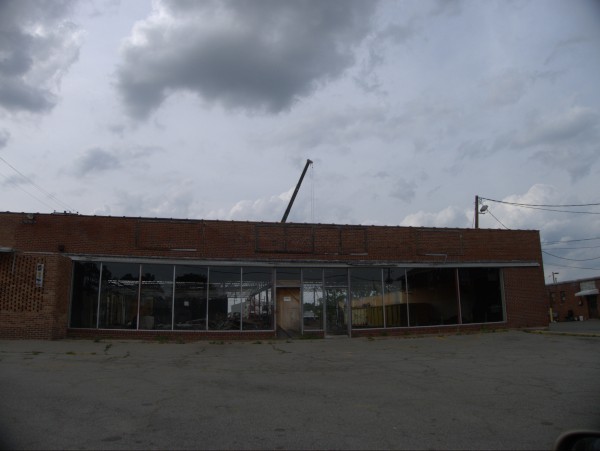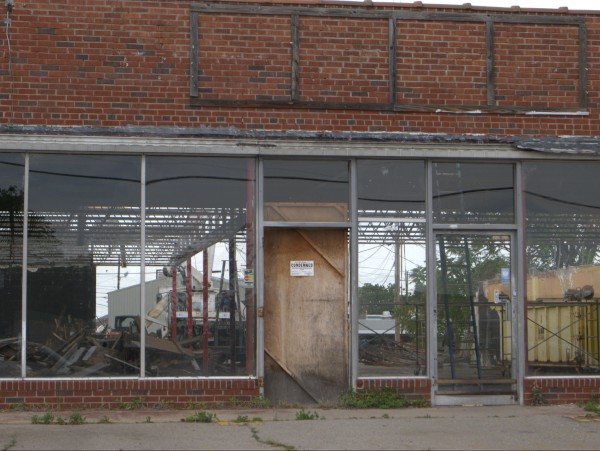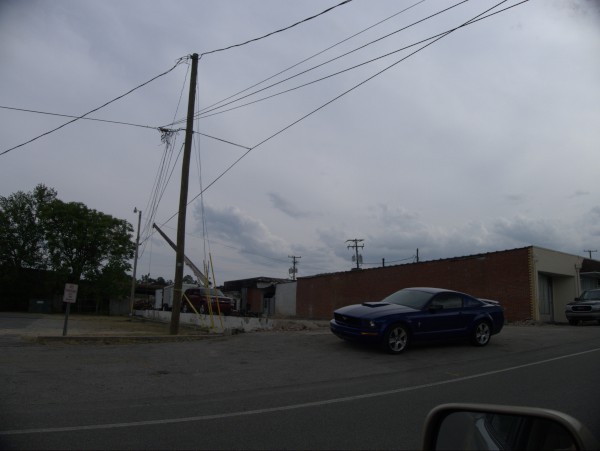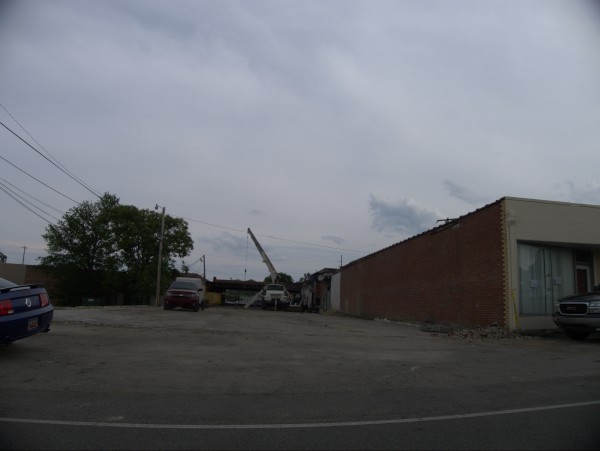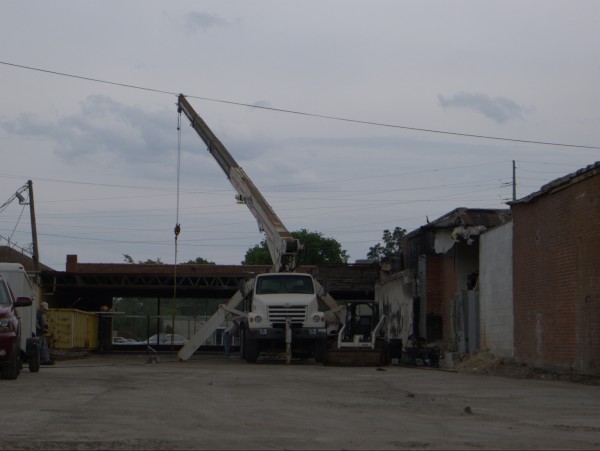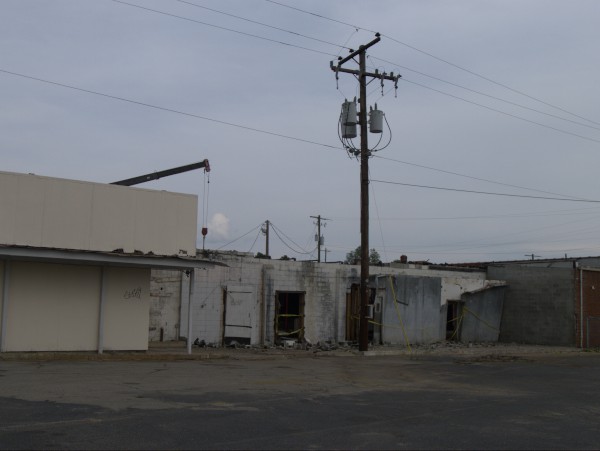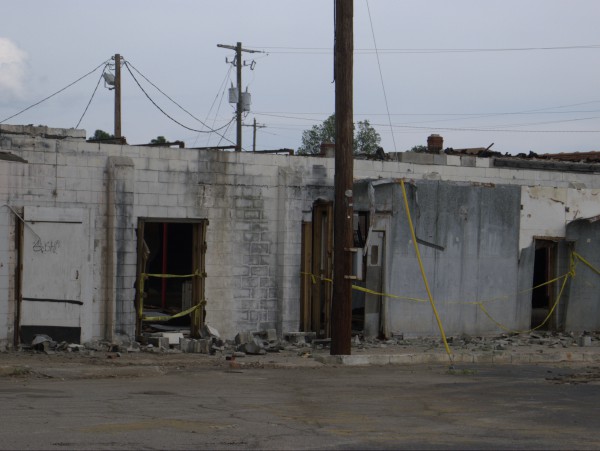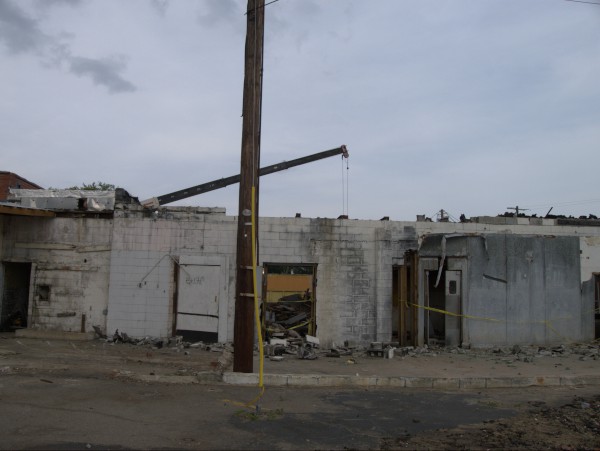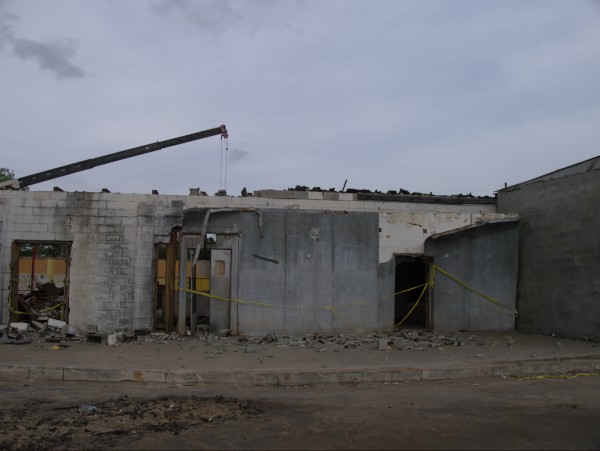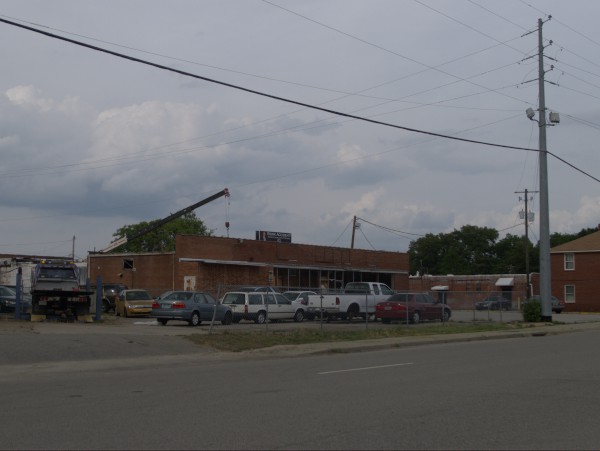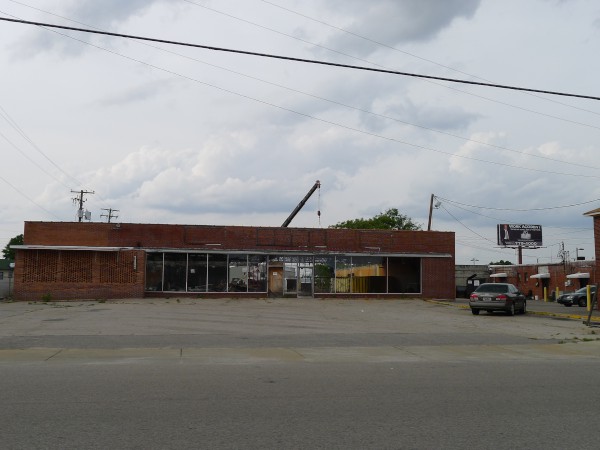 UPDATE 7 May 2012 -- All gone: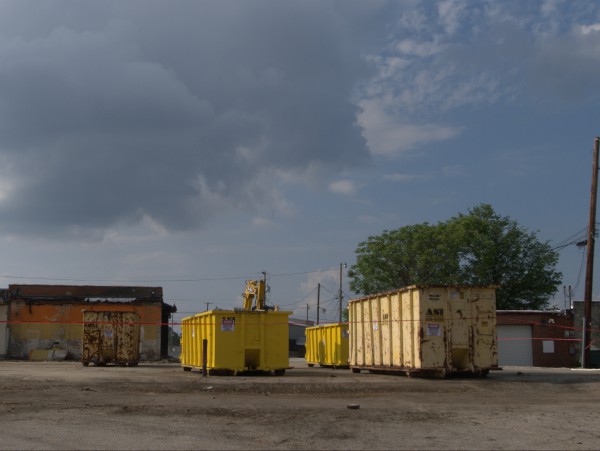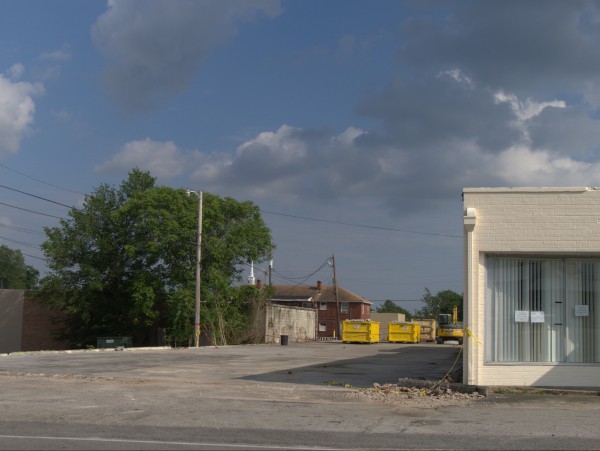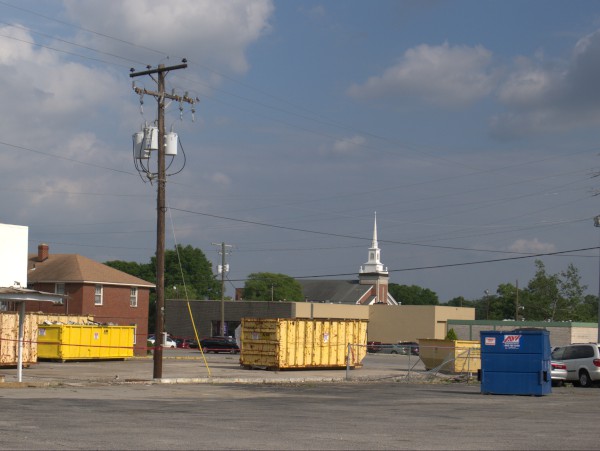 Posted at 1:22 am in Uncategorized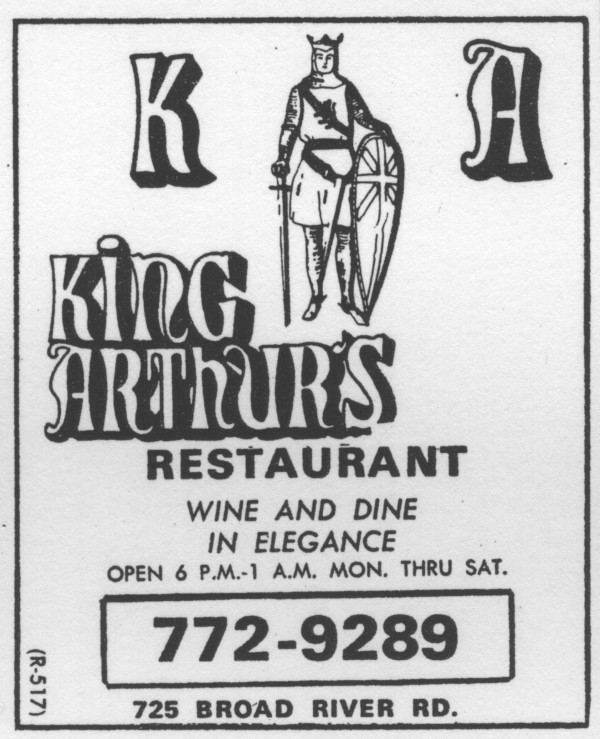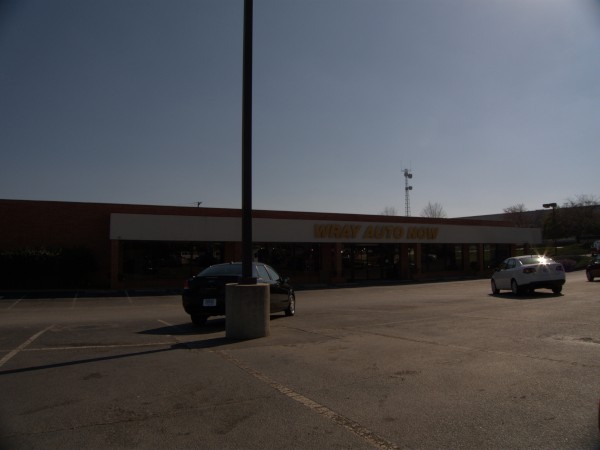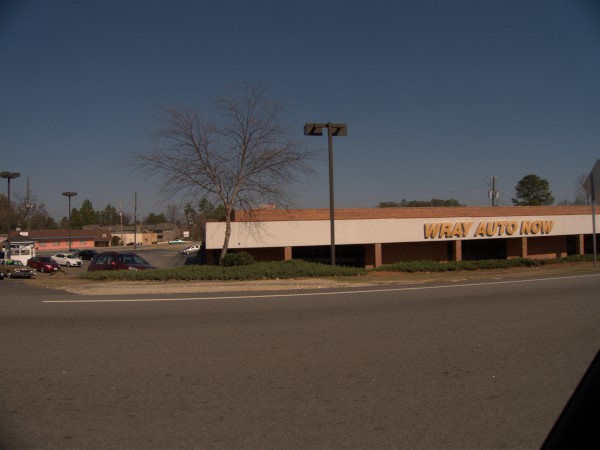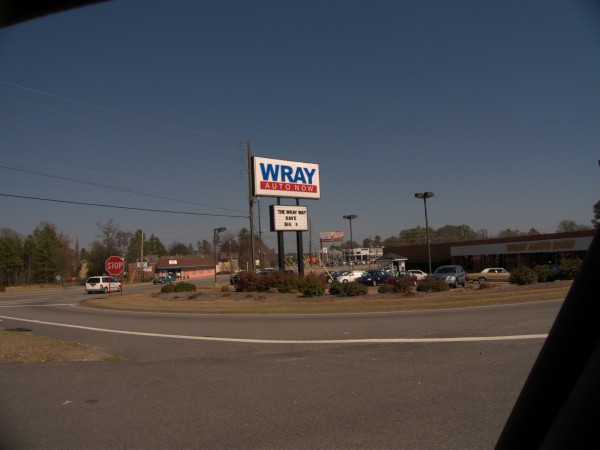 Wine And Dine In Elegance -- The ad is from the 1970 Southern Bell phonebook, and continues the tradition of restaurants being generally open later in those days than now. King Arthur's also continues the theme started here a few weeks about Medieval English themed restaurants in Columbia. The ad doesn't give you much idea what to expect, but surely they must have had round tables and drinking grails..
I have to admit I have absolutely no memory of King Arthur's. That stretch of Broad River road was one we practically never took in the 1970s, and I would have had my nose in a book at any rate. The property is owned by Wray now though the don't seem to use the 725 street number. I'm not sure if they building is King Arthur's or if that was knocked down. The current building doesn't look much like a restaurant to me.
After King Arthur's, the place was at least two other restaurants. Mother Tuckers apparently ran from 1992 to 1995, and I have no information on Pizza Bistro other than one site believes it was a music venue.
UPDATE 6 April 2011 -- Well, from all the comments I found that the above pictures focus on the wrong Wray lot, and that King Arthur's was more on the other side of Riverhill Circle on the lot where the curvy white Wray building now is. The pictured building is 100 Greystone Boulevard and a former Heilig-Meyers furniture store until its closure in 2001. This ad is from the Feb 1997 Bellsouth phonebook: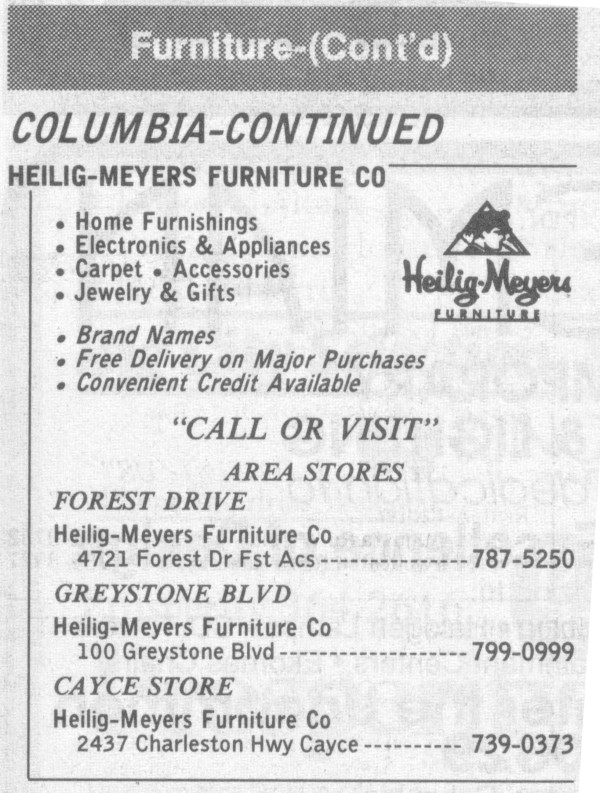 UPDATE 9 April 2011 -- Commenter Dick sends this yearbook picture posed in front of King Arthur's: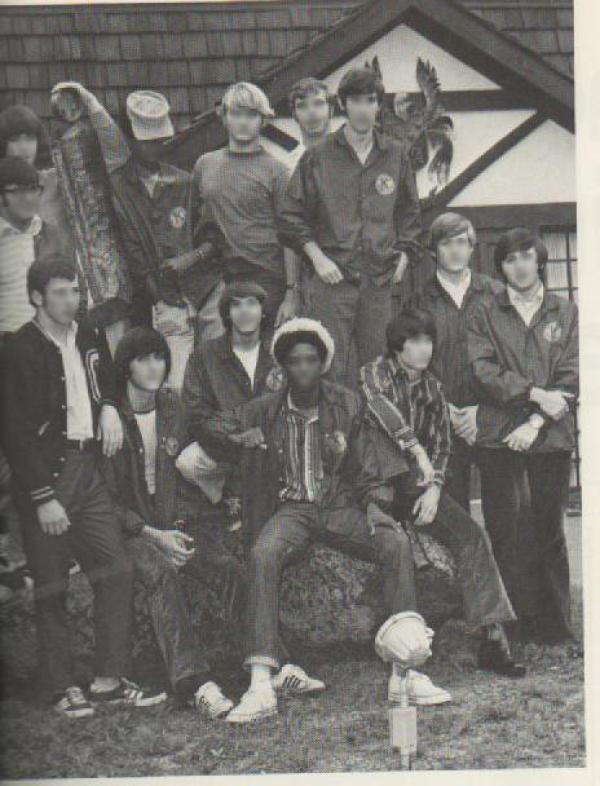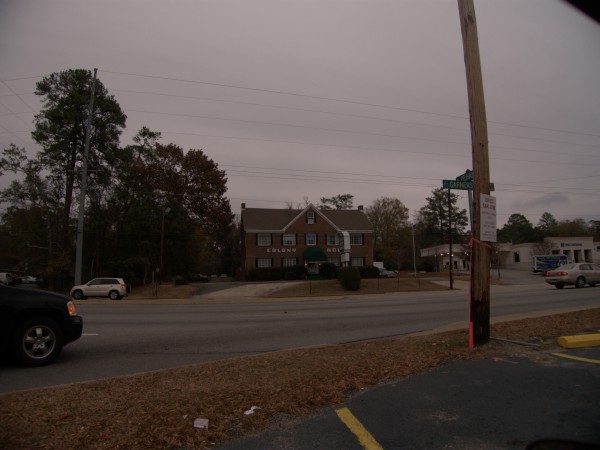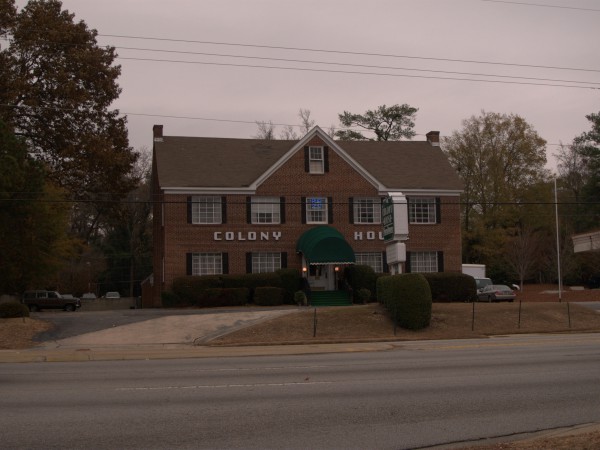 I actually had Colony House's going-out-of-busines circular given to me by my sister a few weeks ago and of course put it "somewhere I can't possibly forget it", meaning it has completely vanished for now.
As I recall, it was a bit vague about when Colony House would actually close its doors, but I believe it should be done by now. Apparently the store was founded in 1945, so that was a pretty good run. I can't actually say much about the store from personal experience as I've only bought one new piece of furniture in my life, and it wasn't from there. Colony House is across Garners Ferry from San Jose about where Pelham Drive comes out and it's a nice brick building though the parking lot is a bit hard to get in and out of.
As of now, the web site is still up, though it has no mention of the closing, and indeed seems not to have been updated since 2008.
UPDATE 2 Feb 2011 -- Well, I jumped the gun a little bit, as of 29 Jan, it's still open, though apparently winding down: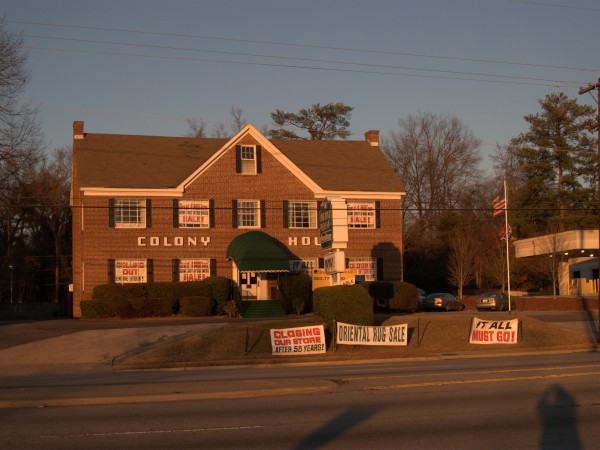 Updated the post title date to "Feb 2011" rather than "Jan 2011"
UPDATE 28 June 2016 -- The building has been razed, and the site is now in preparation to be a Discount Tire: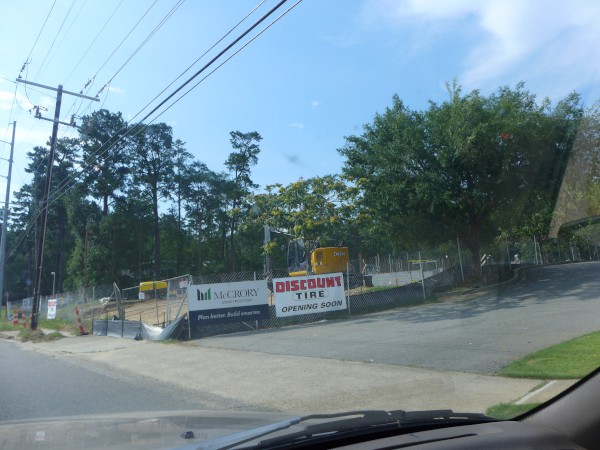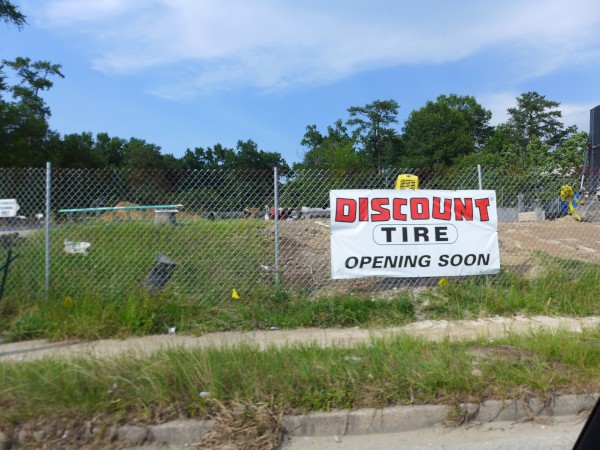 Posted at 2:02 am in Uncategorized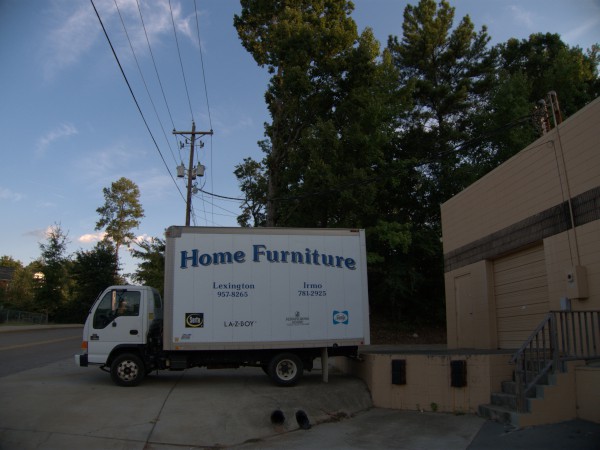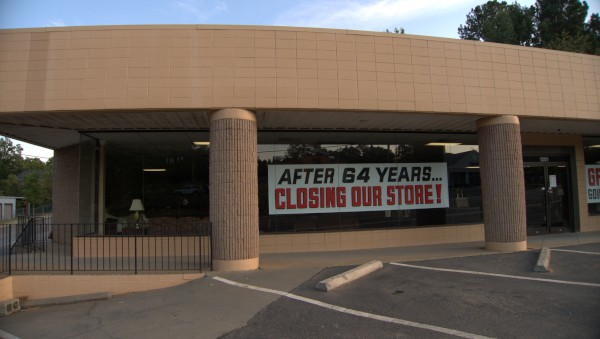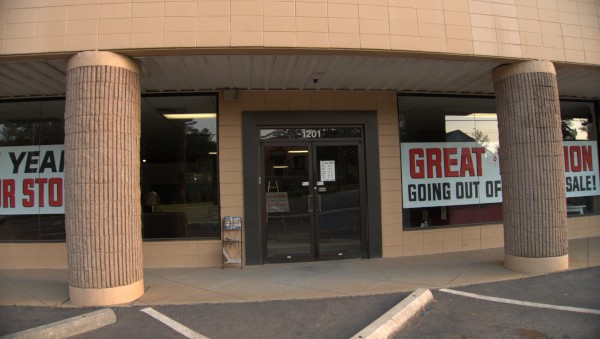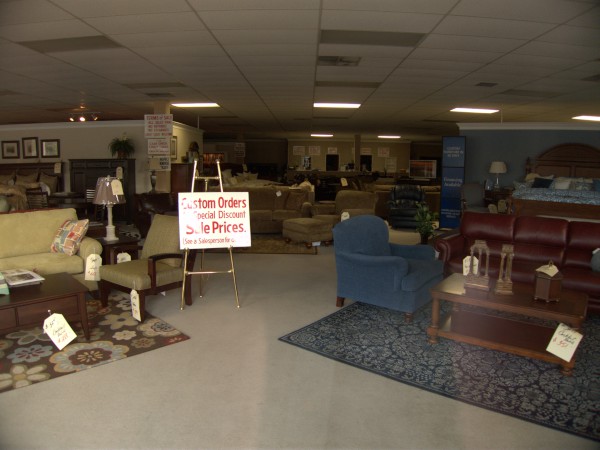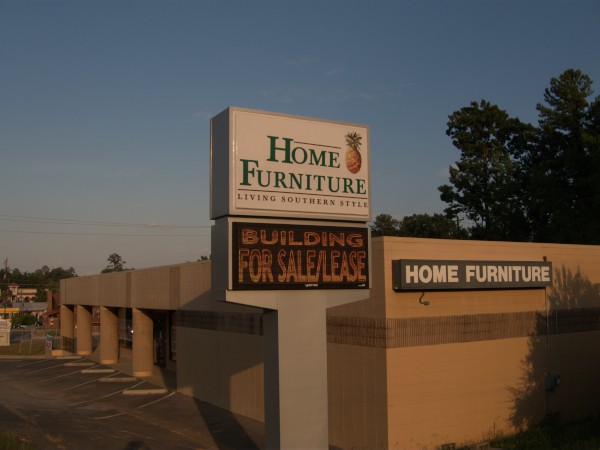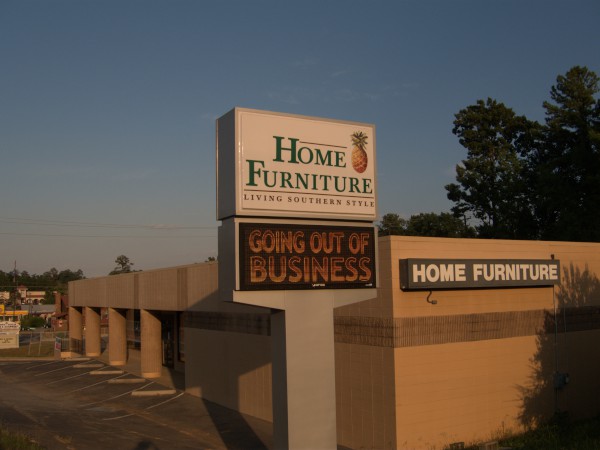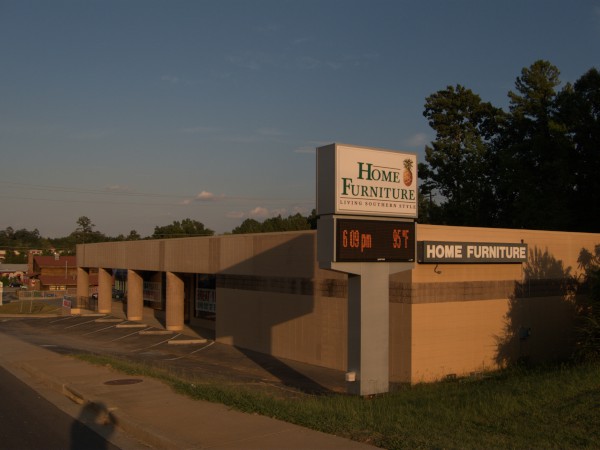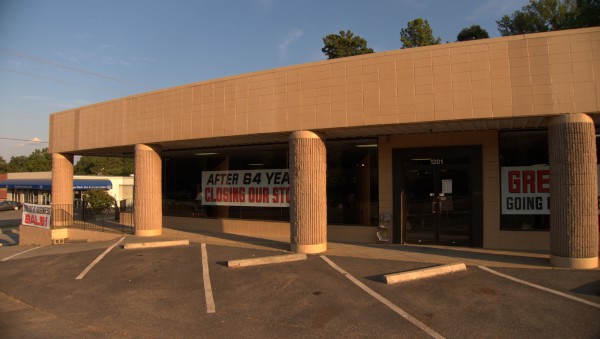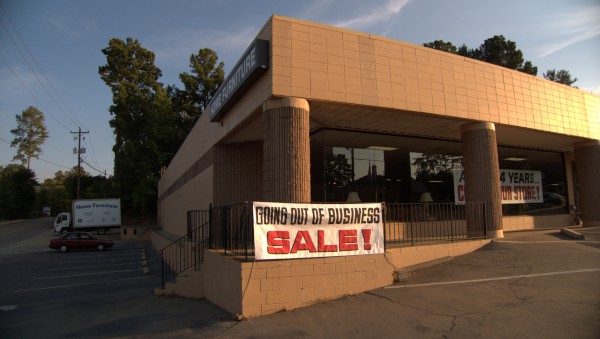 Home Furniture in Irmo closed in late September. To the best of my recollection, I had never been on the segment of Lake Murray Boulevard below Columbiana Drive before, and there was a lot more development there than my memories of visiting the Lake Murray area 30 years ago would have led me to expect.
According to this PDF though, Home Furniture had been around a lot longer than 30 years ( and a lot longer than I have for that matter!) -- 63 years. Also, from the PDF, it appears that they had a temporary closing back in January 2010 so the original owner could retire. Assuming those plans went through, I'm guessing the continuing housing slump kept the store from coming back full strength after the transition. At any rate, this closing seems to be final, unfortunately -- the electronic sign was cycling through an offer to lease the building along with the closure notice.
(Hat tip to commenter Andrew)
UPDATE 14 July 2013: Commenter Andrew points to this story in The State saying that Home Furniture is open again. I have updated the post title to reflect that.
UPDATE 14 April 2014: Fixed above update date to say July 2013 instead of July 2014..
Posted at 2:19 am in Uncategorized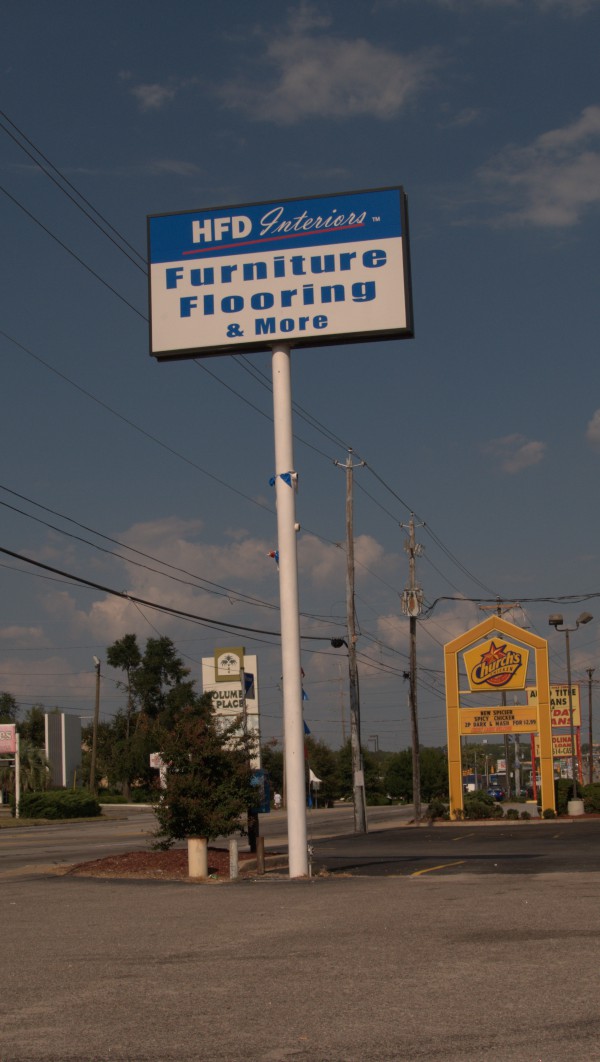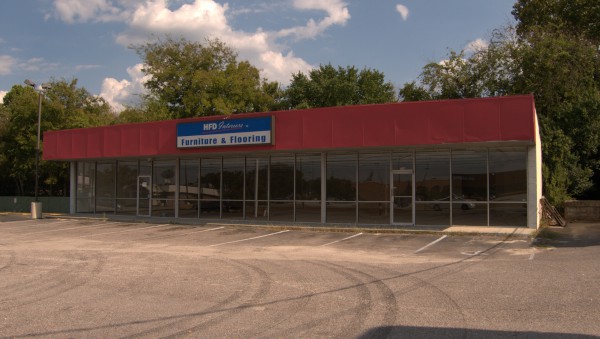 I'm not sure exactly when this store, in Dentsville across from Columbia mall, and near the Two Notch / Decker intersection closed, but it is still listed in this years phonebook.
The motto, "Furniture, flooring and more" seems rather ambitious for what is a pretty small storefront. They must have had a warehouse somewhere to support everything shown here in this archived version of their website from 2008. This area of Two Notch is still struggling. I'd like to see something go in there, but I have to say that since there's no light, it's not well situated for traffic heading towards town.
UPDATE 28 Sep 2010: Added "Color Tile" to the post title based on the comments.
UPDATE 22 March 2011 -- It's now a "Cheapo" grocery: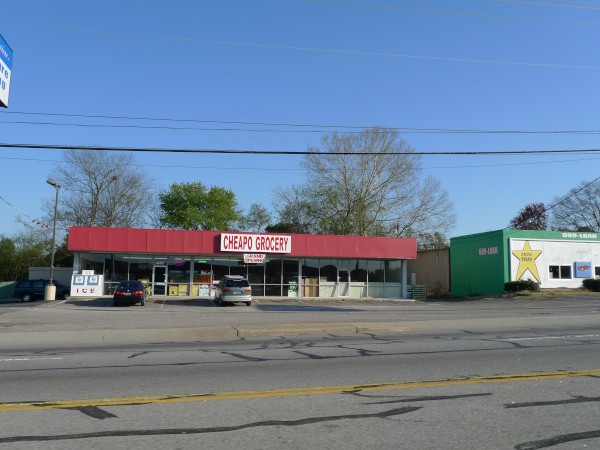 Posted at 12:01 am in Uncategorized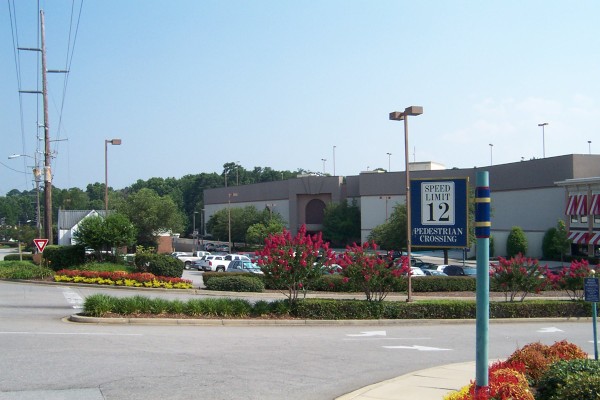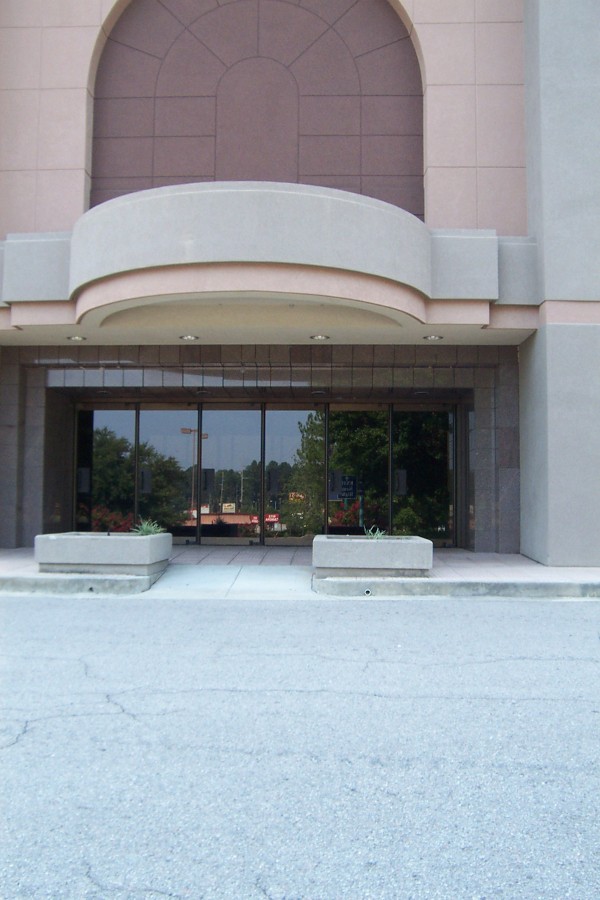 Along with White's and Parisian, Bonwit Teller was to be one of the anchors of the new Richland Fashion Mall which was to rise phoenix-like from the ashes of the original open-air Richland Mall.
It is somewhat typical of that snakebit project that all three chains are now gone. Bonwit Teller was a very upscale store, which, according to Wikipedia was founded in the 1880s. When the RFM store opened, the chain was new to South Carolina, so I went there once to check it out. I quickly determined that it was not a "guy place" at all, and I suspect that even for middle class women, there would have been a hint of Are you sure you are Bonwit Teller material? attitude.
At any rate, the whole chain (17 stores strong at the time) went bankrupt in 1989. Apparently since then, two attempts to revive the brand have come to naught.
After Bonwit Teller went under, the space was taken over by an operation called Blacklion, which apparently still exists in some form. They put up a number of billboards around town (I recall one in particular by Za's on Devine) touting a "Revolutionary new concept in shopping!" (that's not an exact quote, but the spirit is the same). Again, I visited the store once, and as far as I could tell, their revolutionary new concept was an upscale flea-market. The place seemed to be a collection of botiquey little indivdually owned kiosks selling upscale crafts. Interestingly as this 2006 press release details, one of them, Mountain Manor Gifts, did in fact move from Blacklion to the Barnyard Flea Market out on US-1. There was also an Italian lunch sandwich operation in Blacklion whose name escapes me right now, but they moved out of Blacklion to a vacant counter-equiped storefront on the second floor on the other side of Belk's and carried on for another couple years.
After Blacklion closed, there was some talk of turning the space into apartments for an urban village like the condo space at Sandhill. You can see in one of these pictures, the treatments at the end of the Blacklion building that were mocked up for that idea, but like many of the plans for Richland Mall nothing came of that either.
UPDATE 23 June 2010: Added Dillard's and The Department Store to the post title based on the comments.