Archive for the 'Forum Drive' tag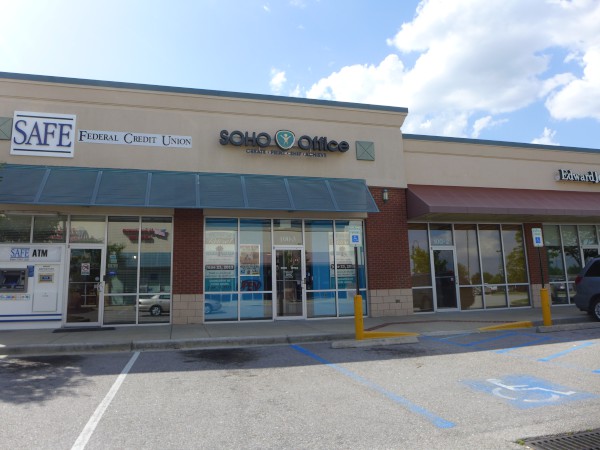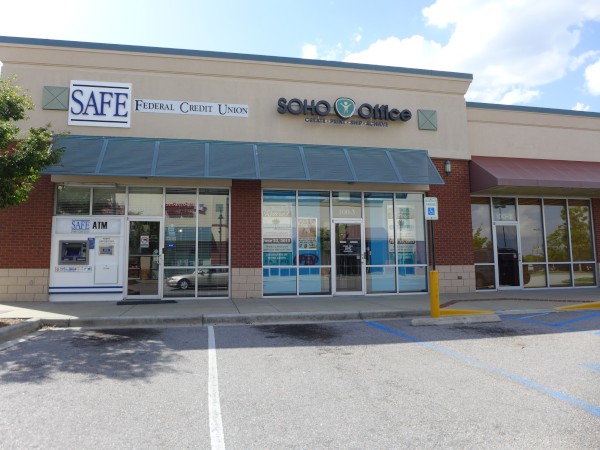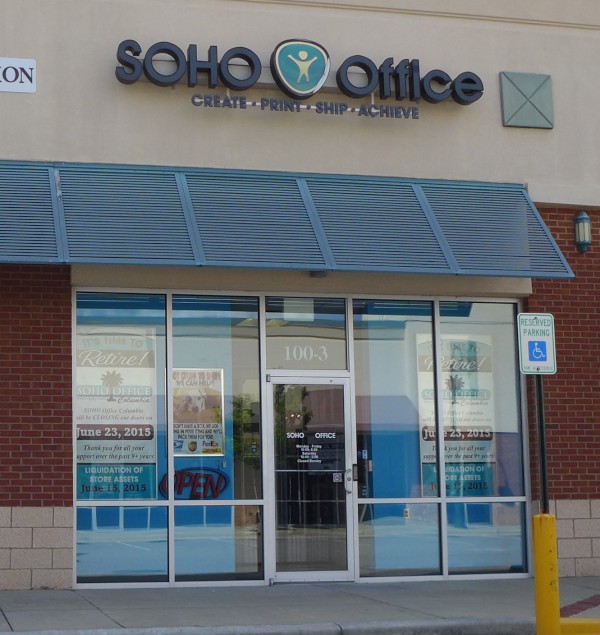 Apparently SOHO stands for Small Office / Home Office and this Sandhill storefront has been serving them for the past nine years. Now it's time to retire, and it looks like you might find some bargains there starting tomorrow.
(Hat tip to commenter cheryl)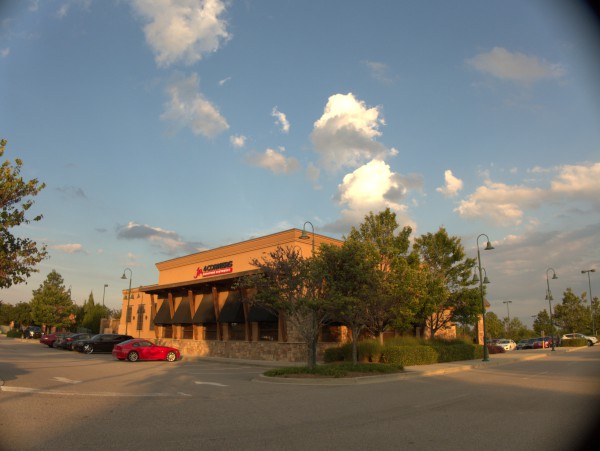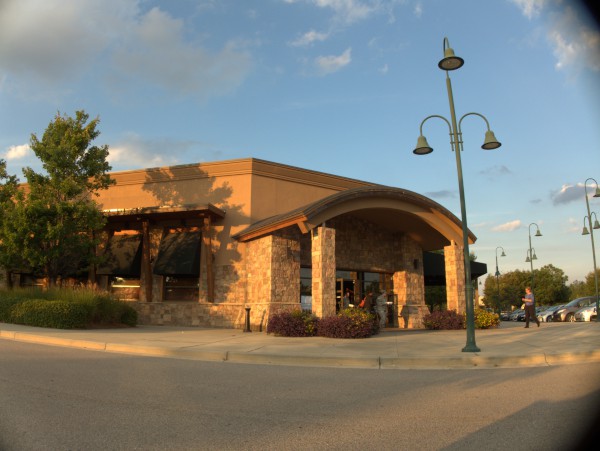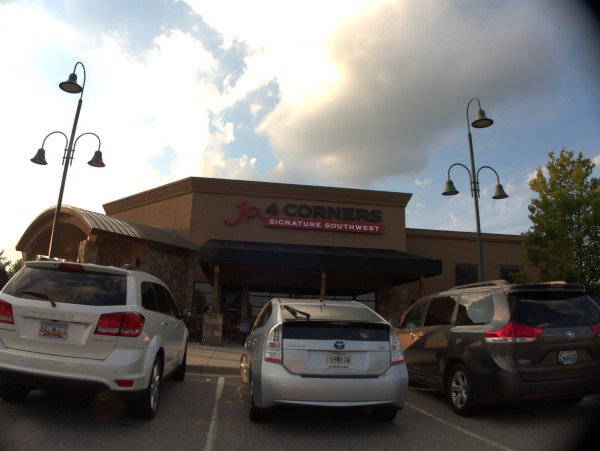 I did not know that Arizona's was a chain, but they had at least two restaurants in South Carolina, one here at Sandhill and the other in Greenville. Both were bought out in late July by a North Carolina outfit and rebranded as JP's 4 Corners.
When Arizona's opened, I looked over the menu, and could not see a reason to go, and so never did.
Apparently the general concept has not changed a lot:


JP's has maintained 90 percent of the original Arizona's menu, but, under the direction of executive chef Tony Aponte, has some new additions.
The new menu ups the steak concept by adding three new signature steaks to the original one, each with a unique rub. Each is a reference to the four states that make up the "4 corners," from which the restaurant takes its name — Arizona (original), New Mexico (cayenne and chili), Colorado (black peppercorn with blue cheese butter) and Utah (cinnamon spice crusted).
But JP's is about more than just steak, Lawrence says. One of the restaurant's new features is a house-made veggie burger that combines black beans and sweet potato and is topped with an agave sweetened chipotle-lime cream.
Looking at the menu, I get the same feeling I had looking at Arizona's menu: How is this Southwestern?
Western, I certainly see, but I thought Southwestern was supposed to have a dash of Mexican. That's got to be more than just invoking chipolte in a sauce. The Free Times in fact lists JP's under Mexican, but don't see it.
(Hat tip to commenter Jason)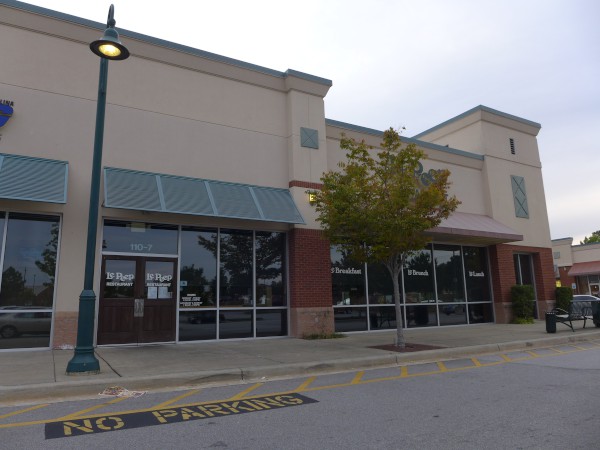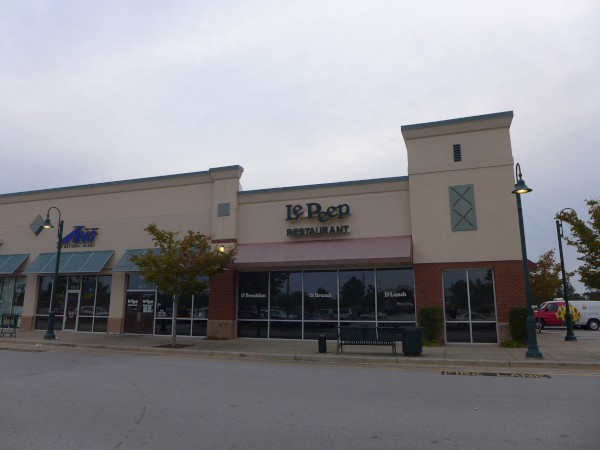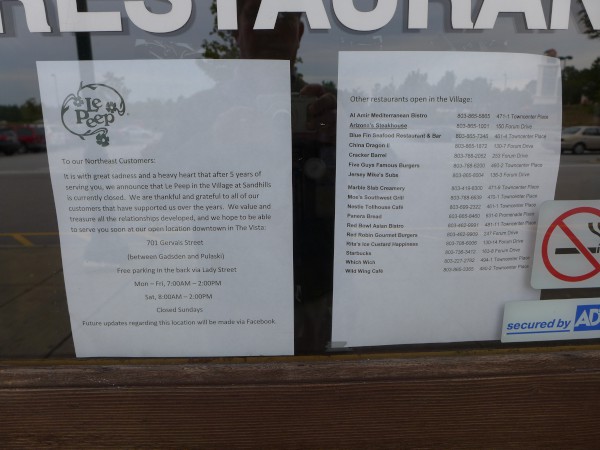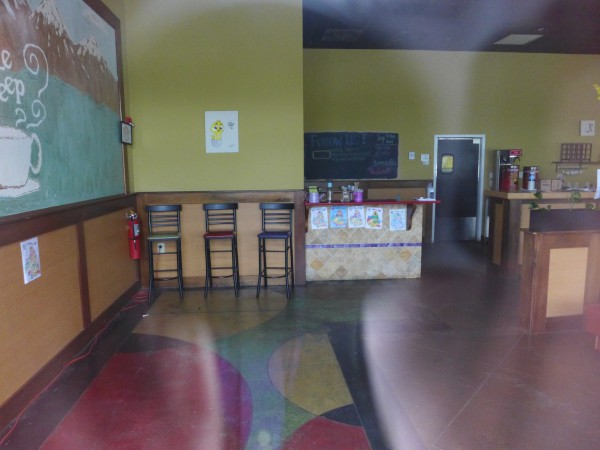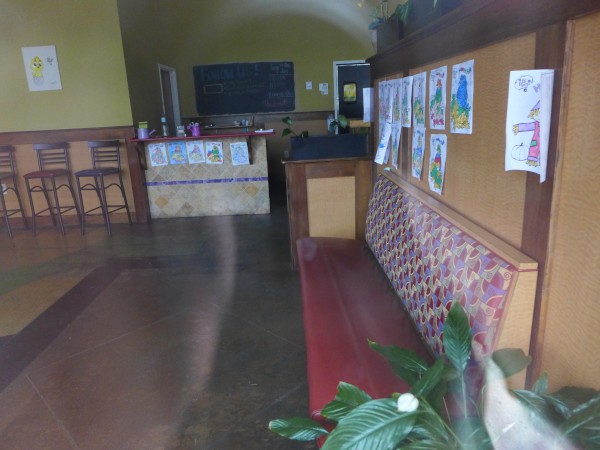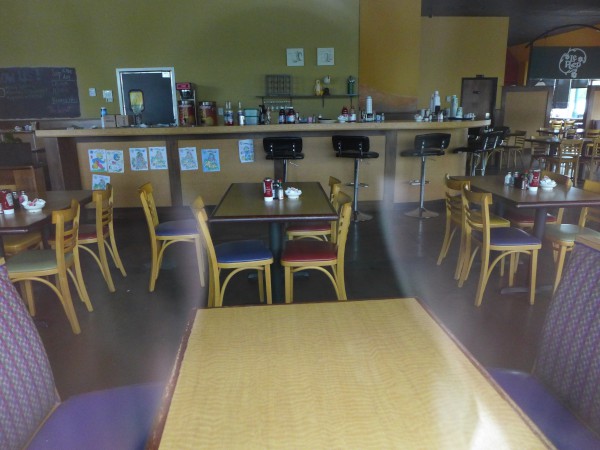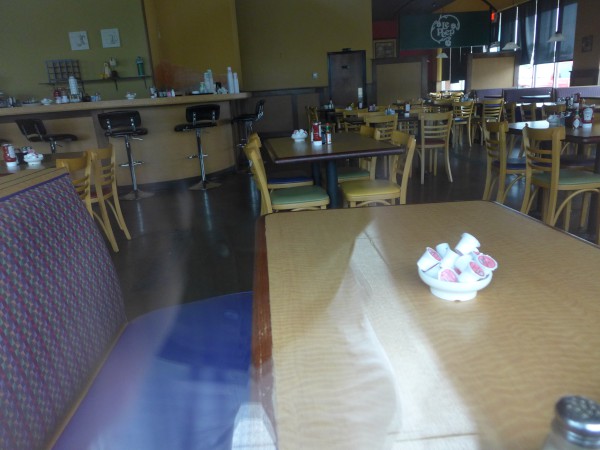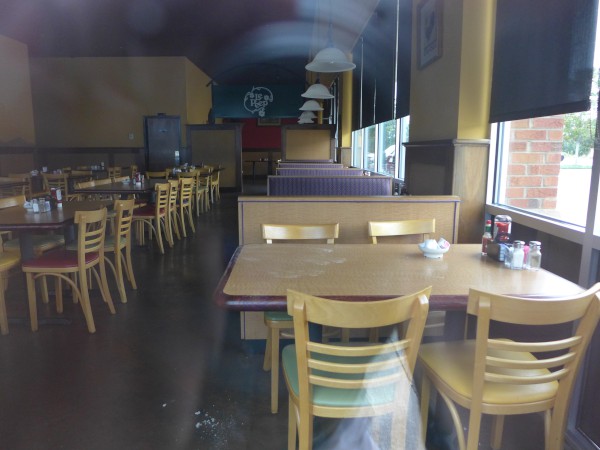 It hardly seems possible to me that Le Peep was at Sandhill for the five years that their closing letter claims, but looking back I see that in fact The Italian Pie closed in the fall of 2008.
I'm not a morning person by nature, and Le Peep closed at 2pm, so I never got a chance to check it out, but it seems to have been a well regarded breakfast spot. The door letter implies that the space remains under the same ownership and that something new may be forthcoming. In the meantime, the chain just opened a location on Gervais Street in the old Mezza space.
I have to say posting a listing of all the other Sandhill restaurants is a classy touch.
(Hat tip to commenter JB)
UPDATE 24 January 2014 This story from The State makes it clear that this Le Peep was moved to the Vista, rather than the Vista operation being a new one, so I have updated the post title to add "(moved)":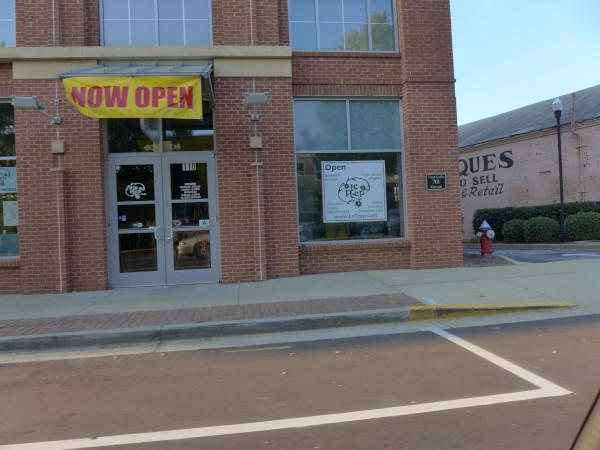 UPDATE 19 Aug 2014 -- This location is up and running again. Not sure what the story is, but good!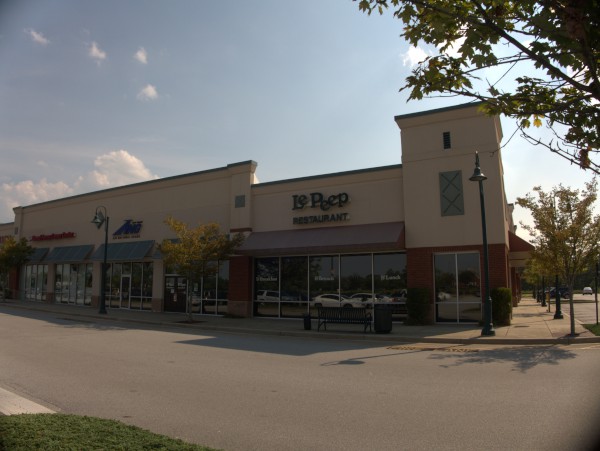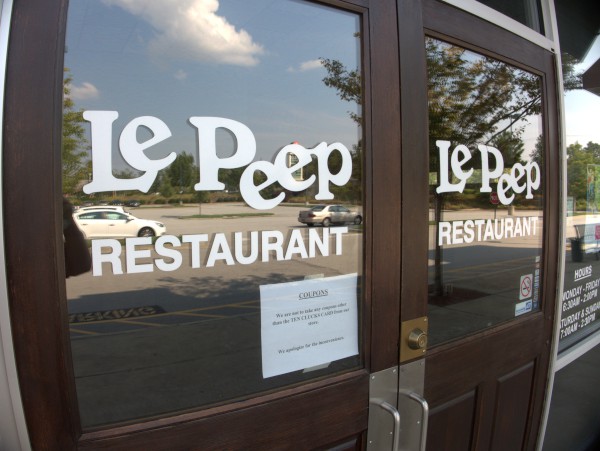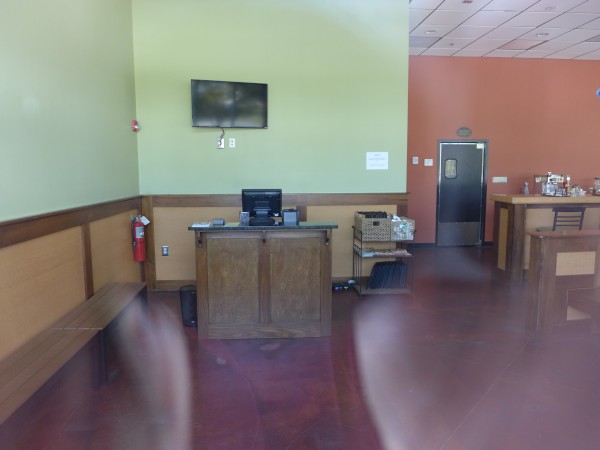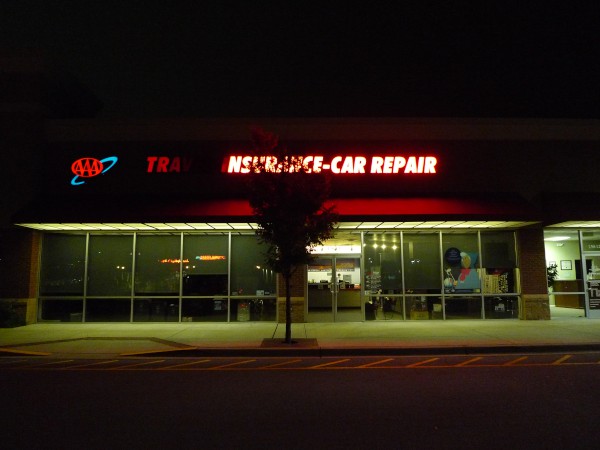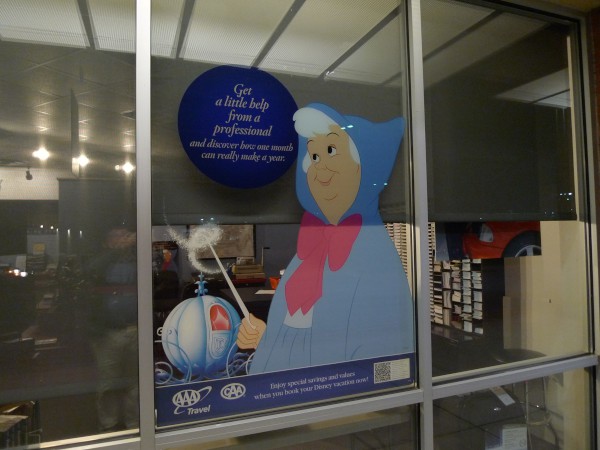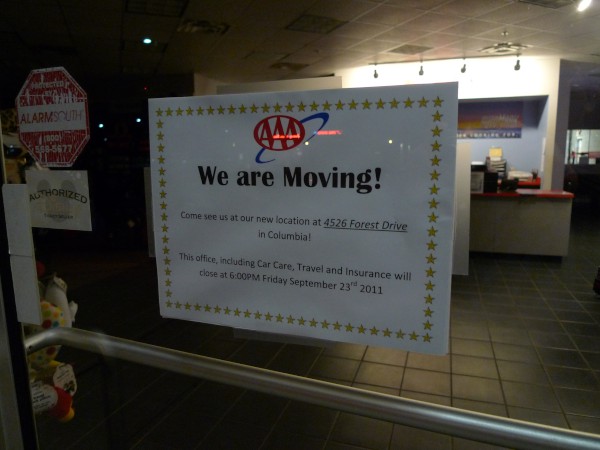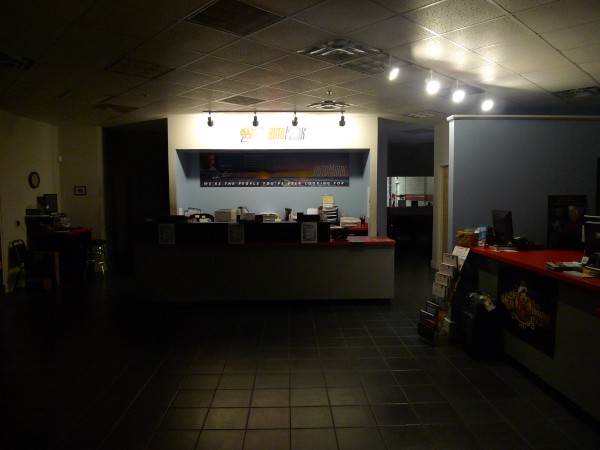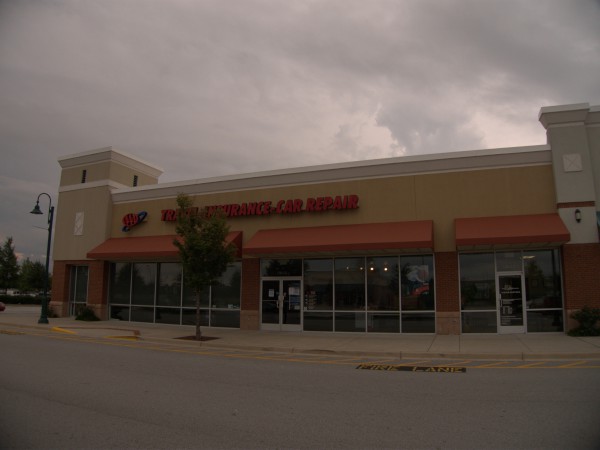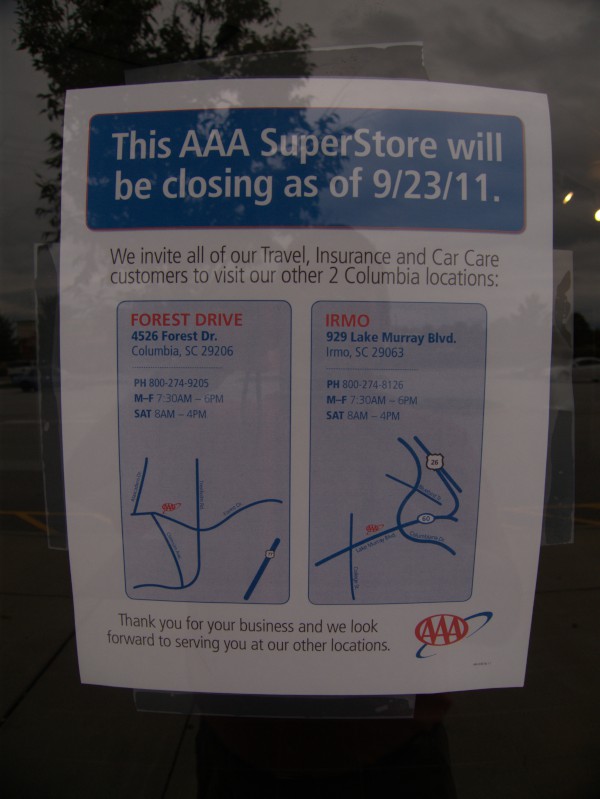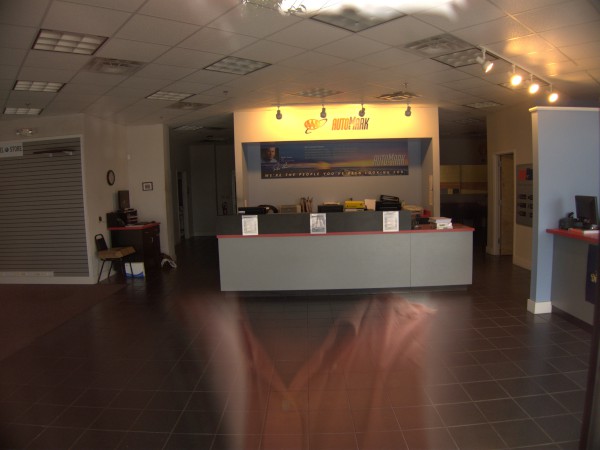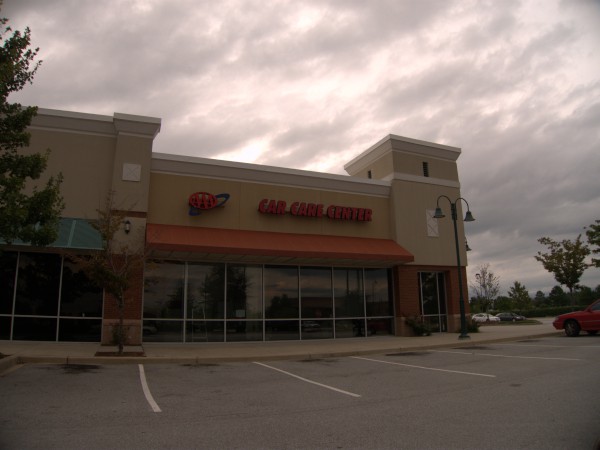 This AAA Car Care Center was at the Village At Sandhill on the Bi-Lo side of the stores. I notice that they say they are moving to 4526 Forest Drive, but I think it would be more accurate to say "consolidating", since as far as I know, this place was open along with Forest Drive, until Forest Drive burned down so the end result when Forest Drive re-opens will still be one location where there were originally two. (The sign from the daytime set of pix is more clear).
Posted at 11:40 pm in Uncategorized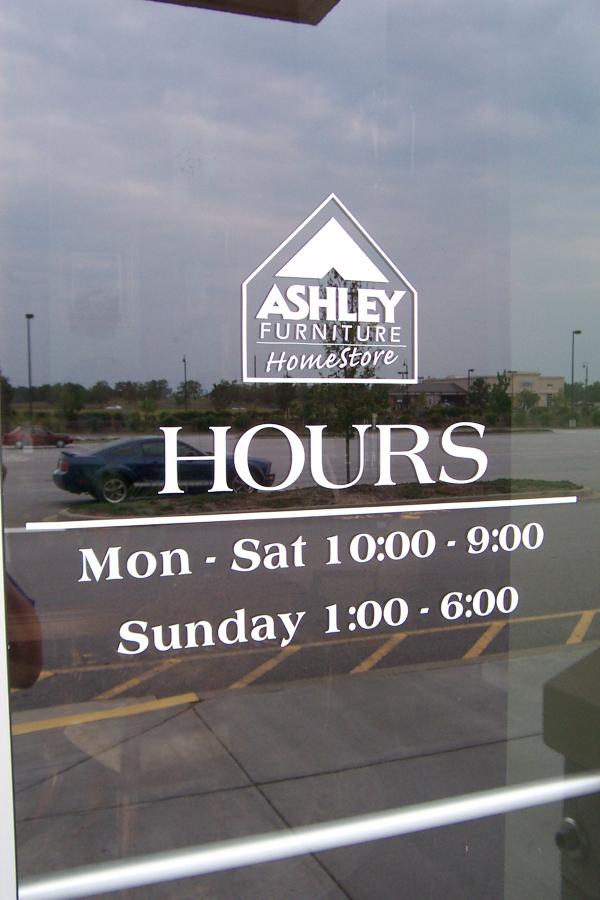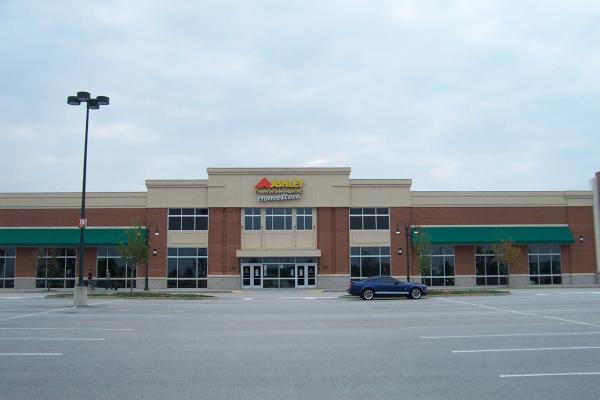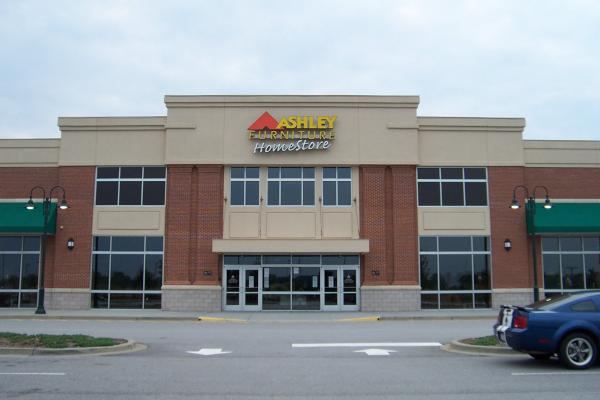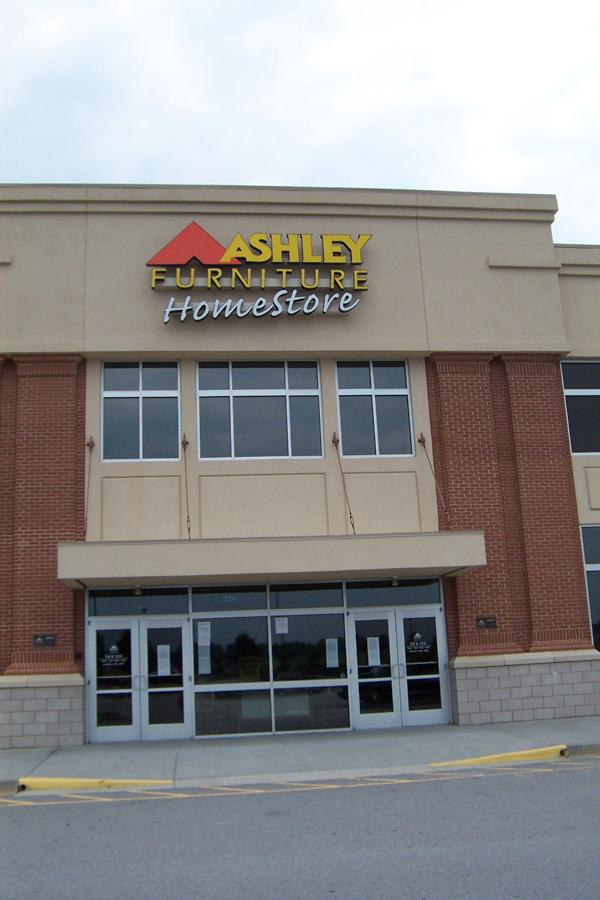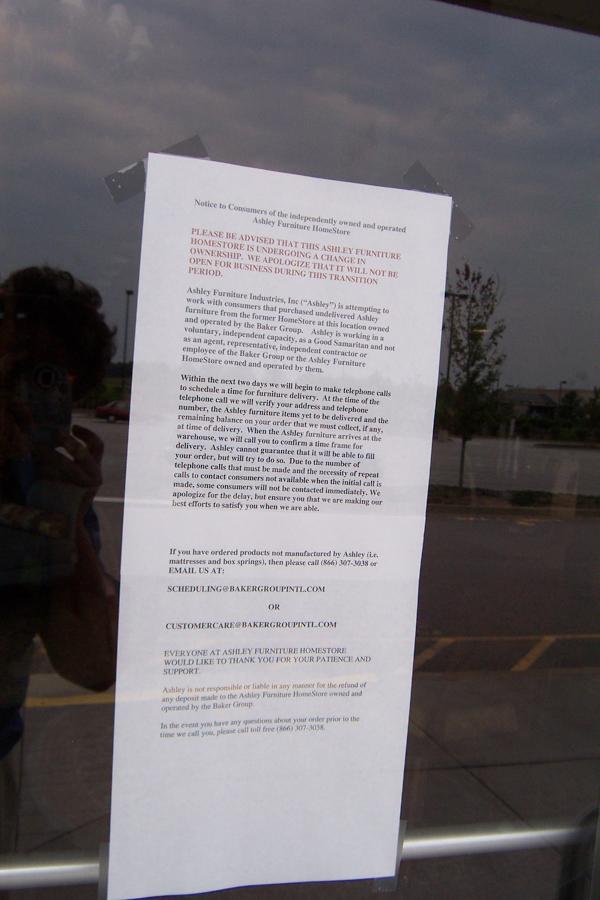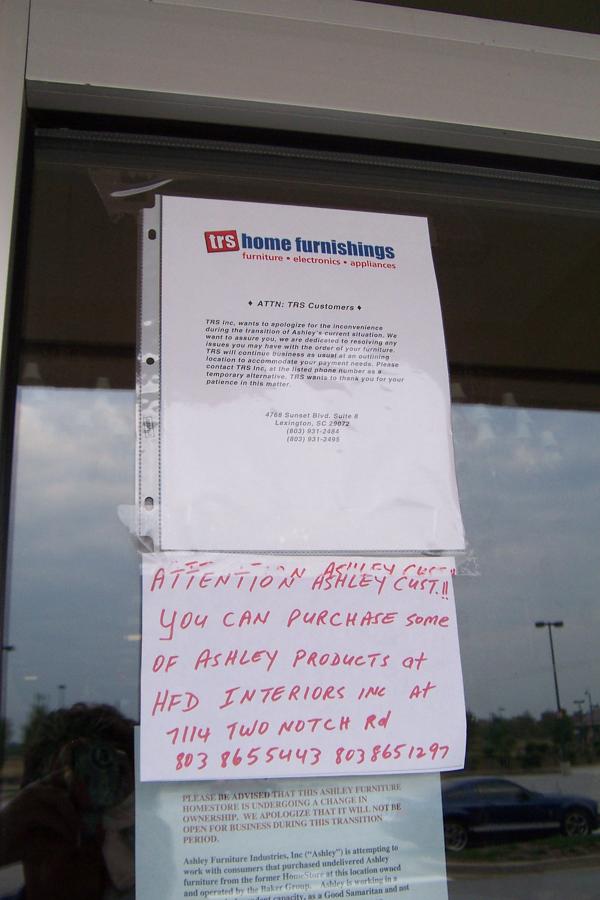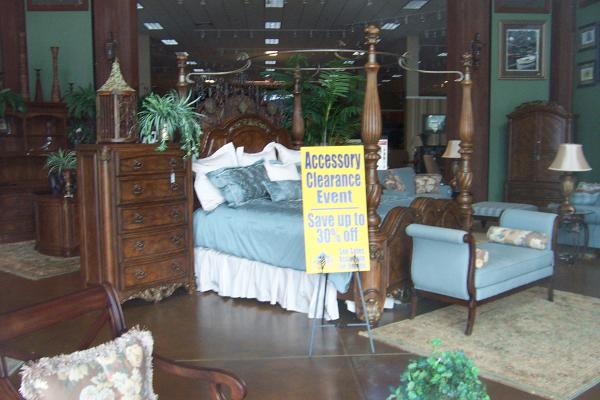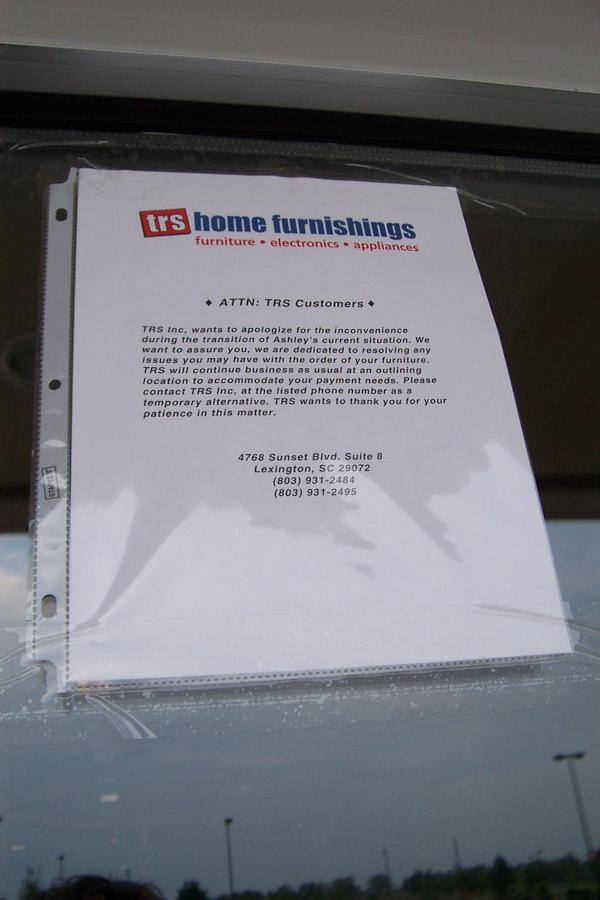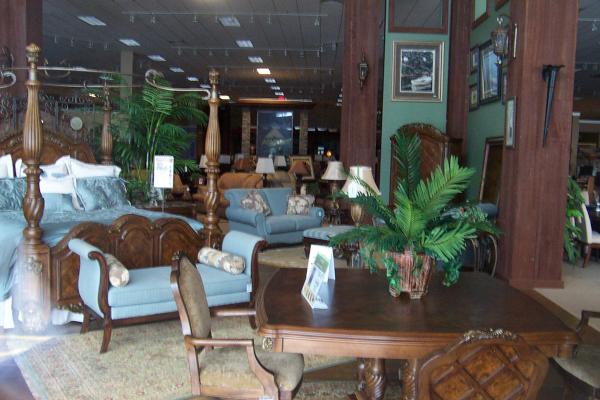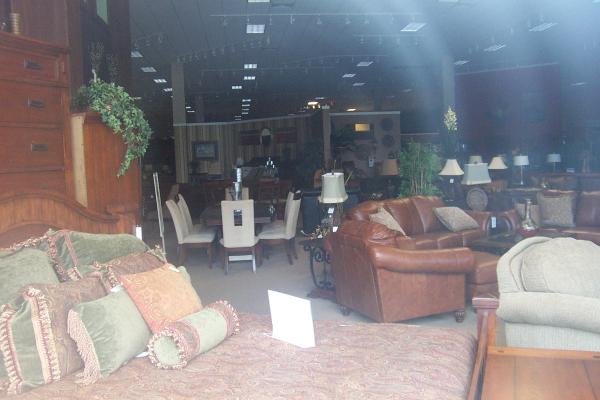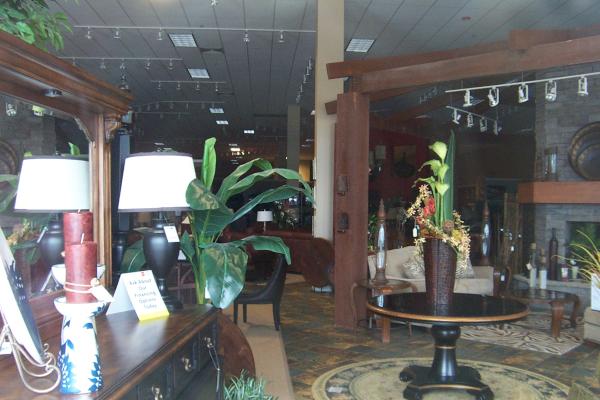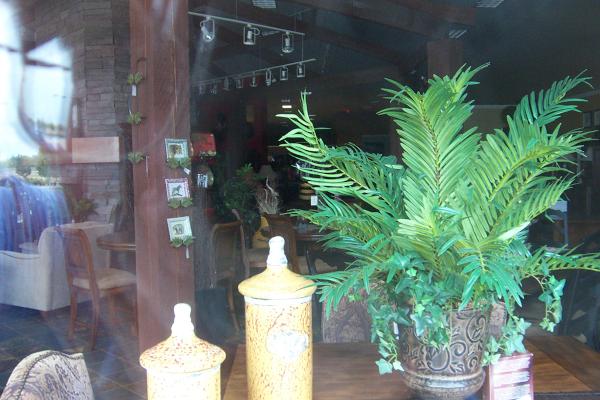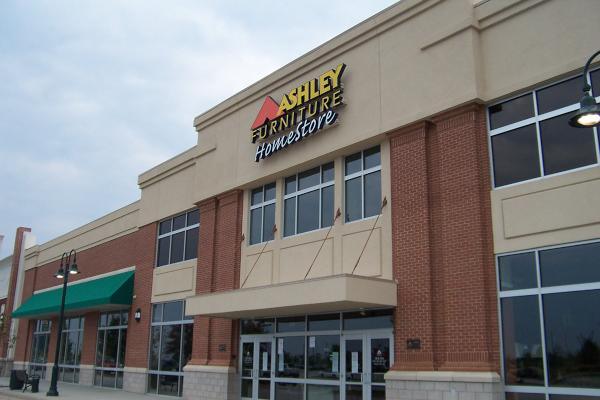 OK, I'm not entirely sure what happened here (housing market crash related perhaps?), but it has the earmarks of being a big mess both for customers and the new owners, who have apparently put themselves in the unenviable position of running a store under the same name while having to explain to customers how they have no connection with the previous owners nor any responsibility to make customers whole vis-a-vis their dealings with same. I give them points for apparently making a good faith effort in that regard though. And where does this other company TRS fit into the picture?
I believe this is the third store on the highly visible left-front side of Sandhills to have something bad happen to it after The Atlanta Bread Company and Sofa Express.
UPDATE:
On the night of Saturday 25 Oct 2008 on my way back from Red Robin, I saw a new sign on Ashley. It was an official notice from the Sherrif or a Magistrate to the effect that Ashley either had to pay their rent or show cause why they shouldn't be evicted. I didn't have my camera with me, and on Sunday the 26th, it was gone
UPDATE 12 April 2010: Added full street address to post title.
UPDATE 21 May 2010 -- Apparently this place will become a Gold's Gym. I had previously reported that the Gold's would be going into the neighboring former Sofa Express location, but that seems to be a temporary presale operation only, with the actual gym going here: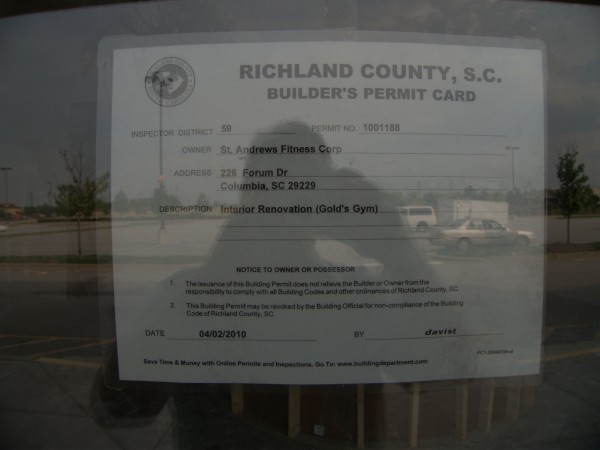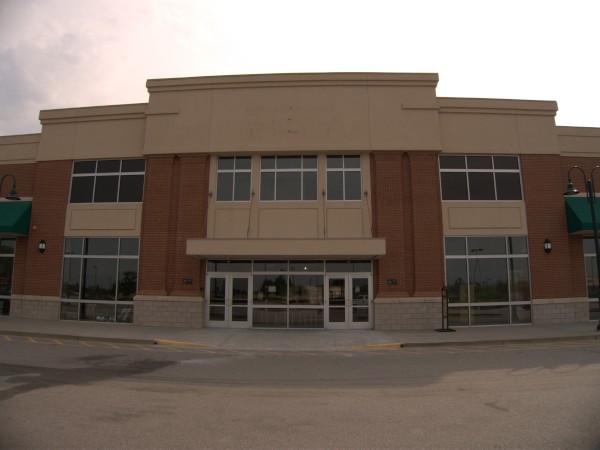 UPDATE 14 July 2010: The Gold's Gym setup is done, and the temporary gym/presale in the old Sofa Express building is closed, with the new gym now running in this building.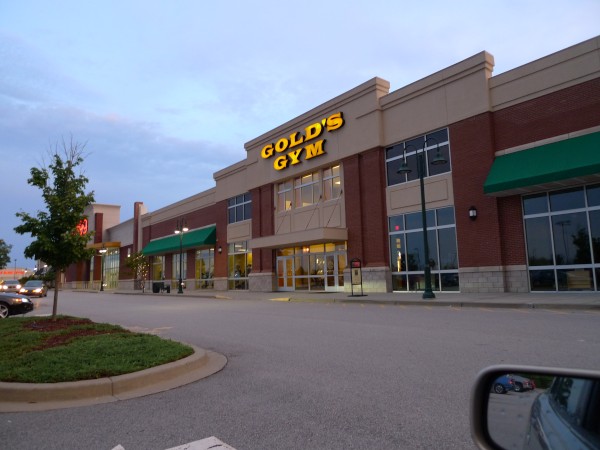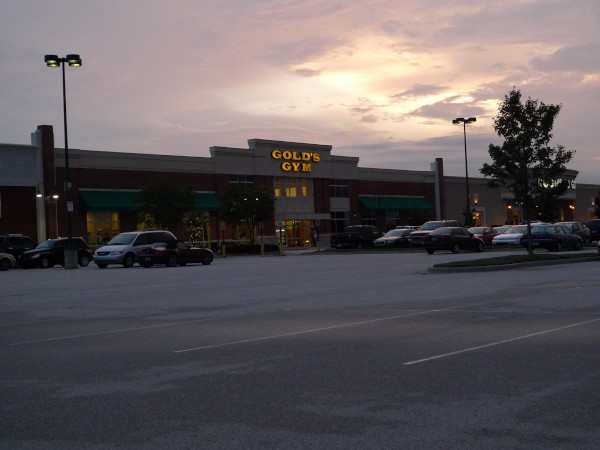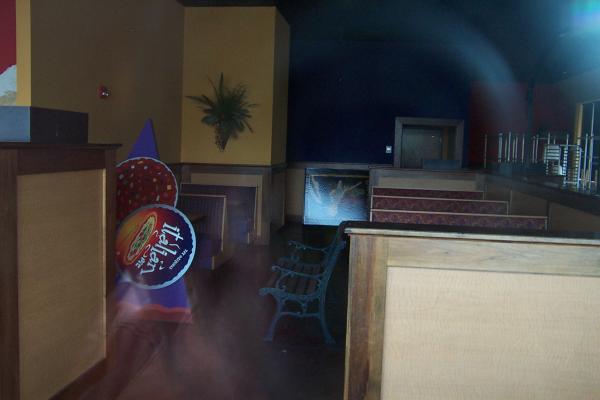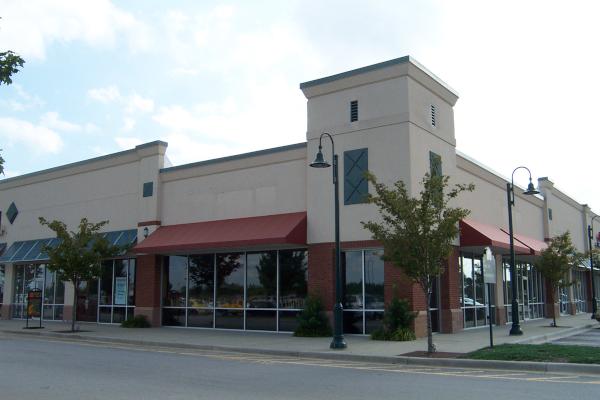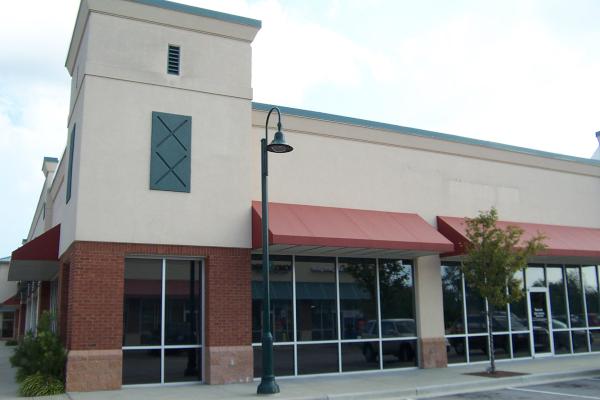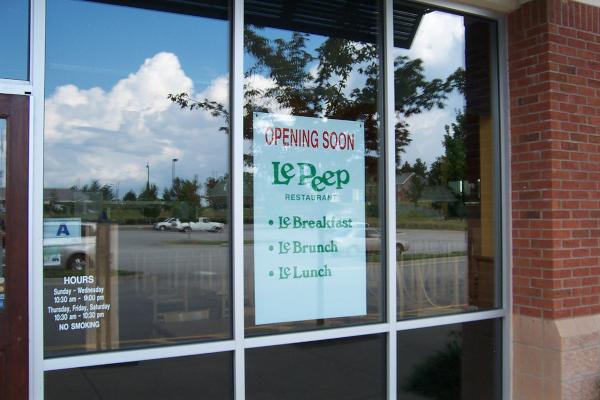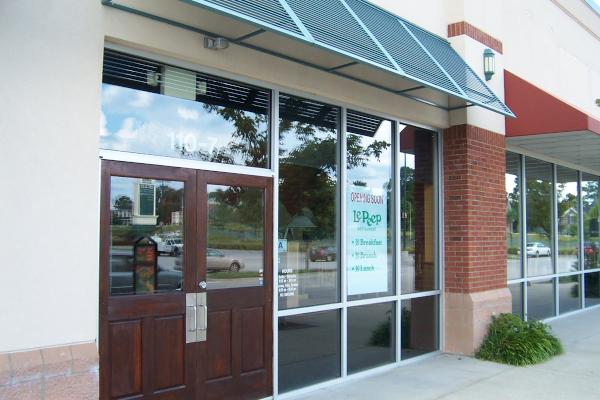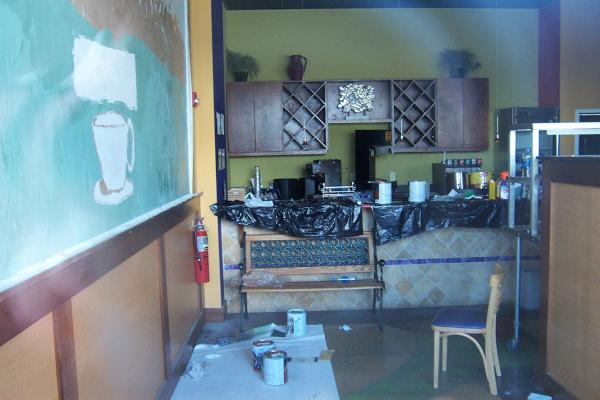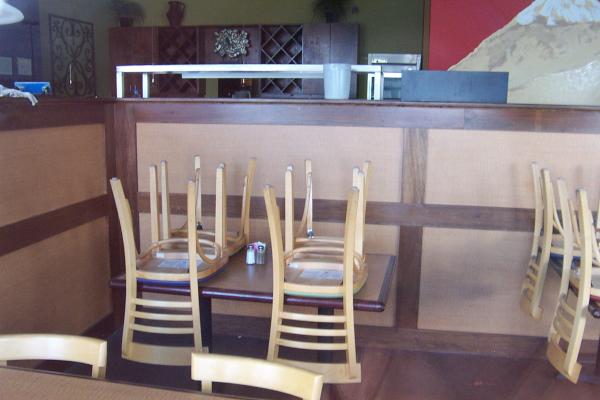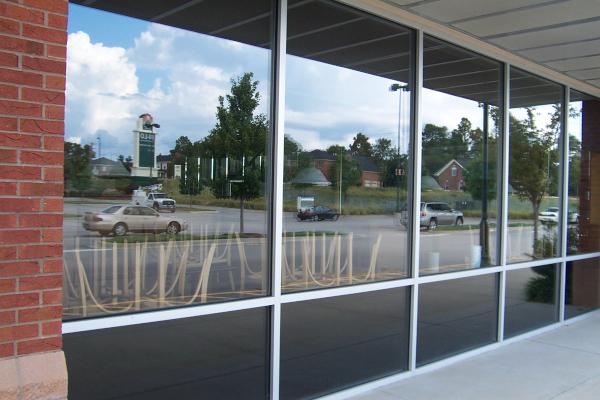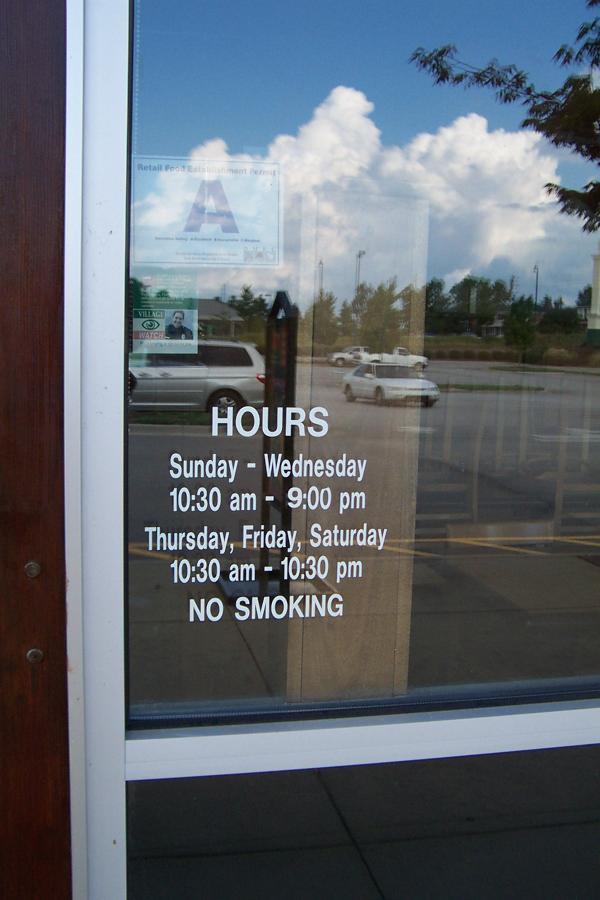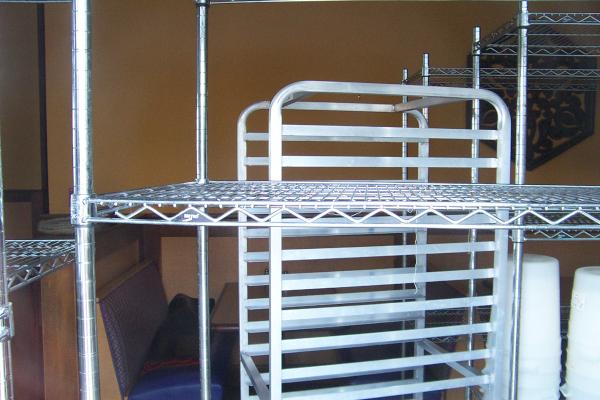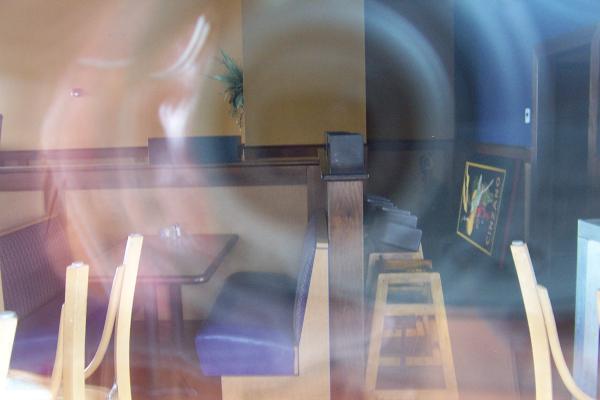 I like The Italian Pie, though I have only eaten at their Forest Drive location. My only problem with that place is their initial violation of Ted's Rules for Restaurants #1": Honor Your Posted Hours.
For a while they were open until 10:30pm Thurs-Sat and I got there at 9:30 to hear the dreaded: "Well, we weren't very busy, so we closed the kitchen". After that, they took down their posted closing hours, and I can generally only get there for lunch now.
I don't know much about the Sandhill location. Since Forest Drive is so much closer, I never made it out there for a meal. I did read in The State a while back that they were reducing their open hours, is Signs Your Favorite Restaurant is About to Close #1. Apparently after that, they reduced their open hours down to zero.
Judging from the salt shakers still on the tables, the end probably came fairly quickly. It looks like a French-ish (I add the "ish" because of the "Pepe Le Pew" spellings on their sign) place is to open there soon. Perhaps they can open before the new Panera Bread, which seems to have been in the offing for a lot longer than necessary now. Maybe they're looking for salt shakers...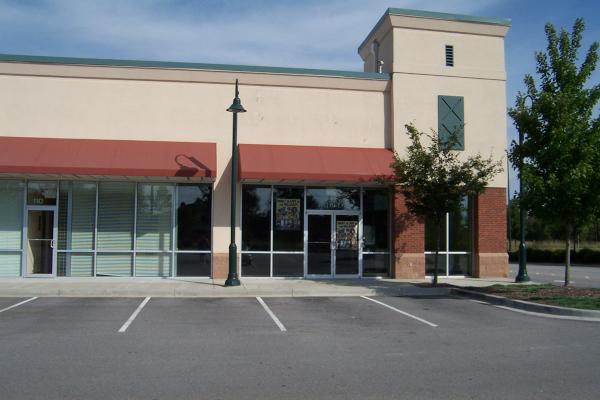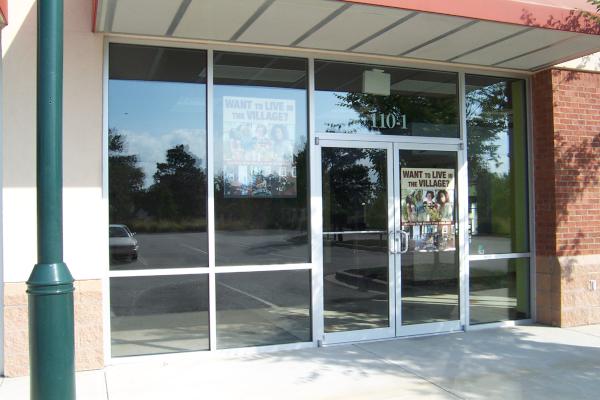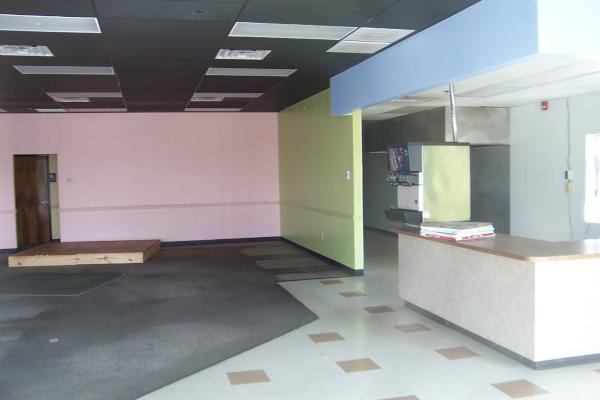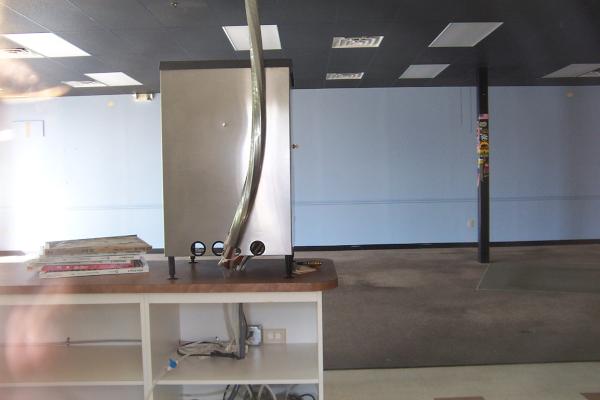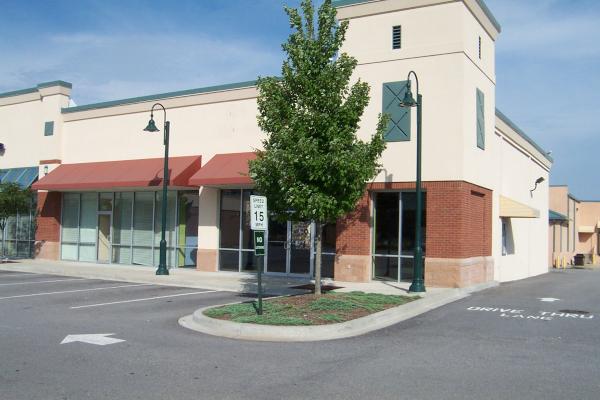 Here's the thing. If you're going to call yourself The Grilled Cheese Company, you ought to have really great grilled cheese sandwiches.
I was feeling pretty low last year with a bad cold (which wasn't getting any better as in the end it turned out to be a sinus infection and to need antibiotics..), and I wanted some comfort food. A good grilled cheese sandwich sounded like it would really fill the bill, so I went out to Sandhill.
I guess what I was subconsciously expecting was some sort of deluxe affair with two or three kinds of cheese grilled between Texas toast. What I got was apparently a Kraft Processed American Cheese Food single between two slices of Sunbeam, and it was a considerable disappointment in a day that was already not going well.
Read whatever you'd like into my judgement given my general maliase and grumpiness that day, but I see the place is now gone, so I'm thinking that even if everyone else liked what they got, they also realized they could do the exact same thing at home with the ingredients they already had.
Antibiotics on the other hand, are great.
UPDATE 15 May 2010: Added full street address, tags.
UPDATE 25 February 2014 -- It's now a kids' gym, My Gym: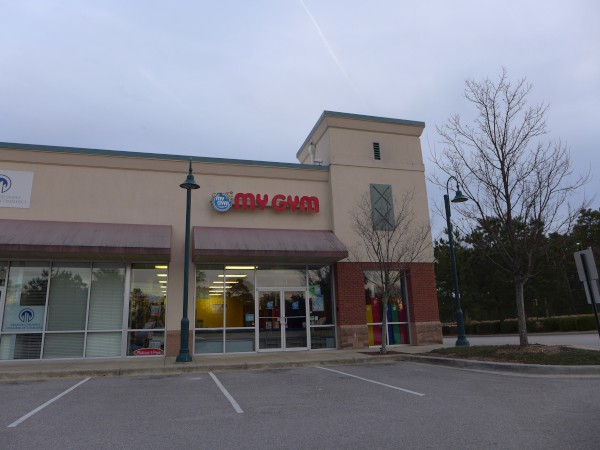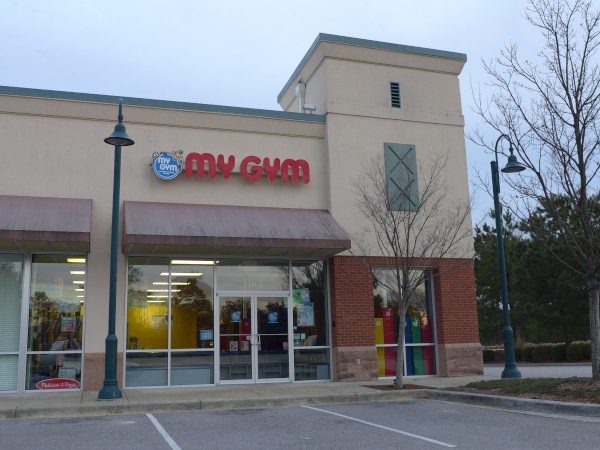 Posted at 5:50 pm in Uncategorized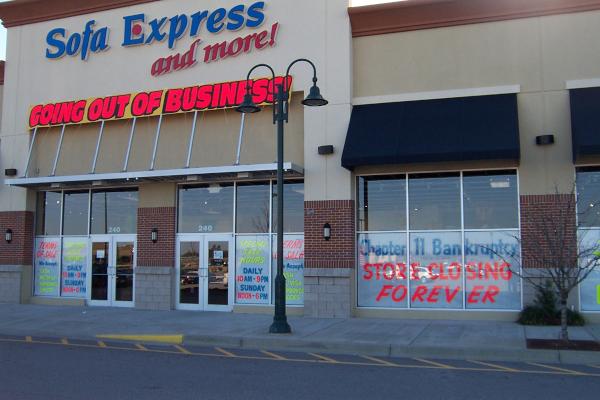 I think this is the first post I've written about a place where the doors are still open, but the writing is definitely on the wall for Sofa Express: Literally. And the writing says things like "Chapter 11 Bankruptcy" and "Store Closing Forever".
I'm not sure if this says anything about The Village At Sandhills, but this is the second place out there that I've seen close. On the other hand, the time you are most likely to get a new sofa is when you buy a new house, so it's more likely related to the housing market than Sandhills itself.
UPDATE 10 March 2010 -- Well, after being a "Haloween" store on a temporary basis, it looks like the long-term future for this space will be as another Gold's Gym: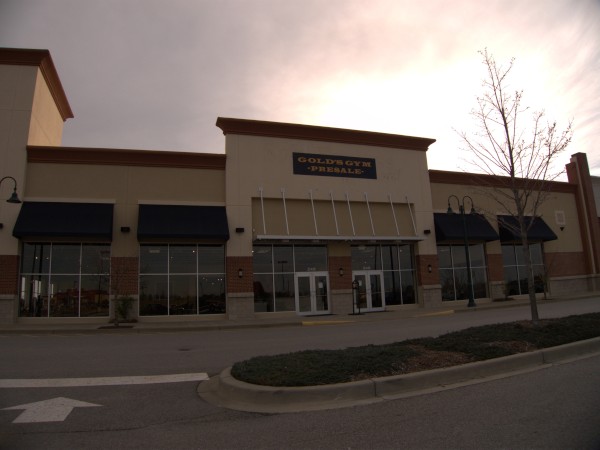 (also added full street address to post title).
UPDATE 21 May 2010 -- Looks like this location is being used by Gold's for presale only. The actual gym will be in the neighboring former Ashley Furniture Homestore location
UPDATE 14 July 2010: Well, the presale (and temporary gym) is closed. The new Gold's in the former Ashley building is completely set up and running now, and this building is again empty.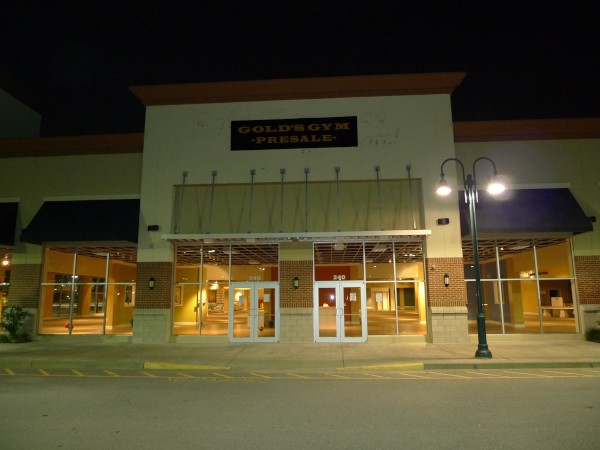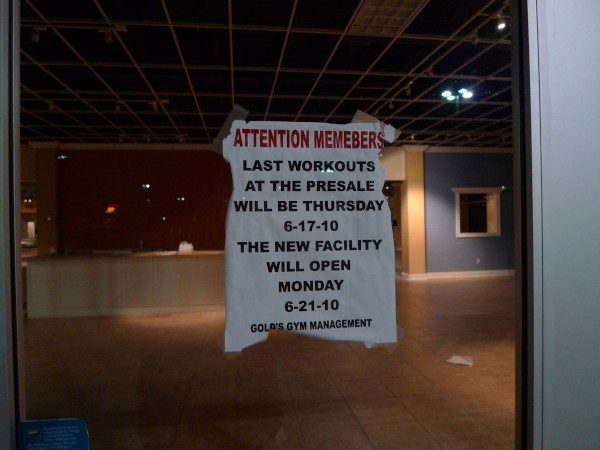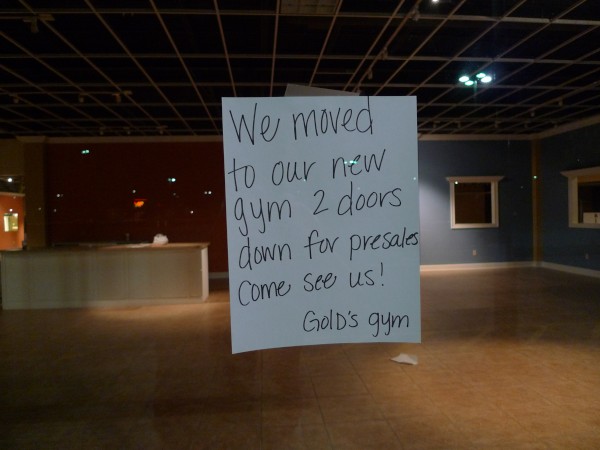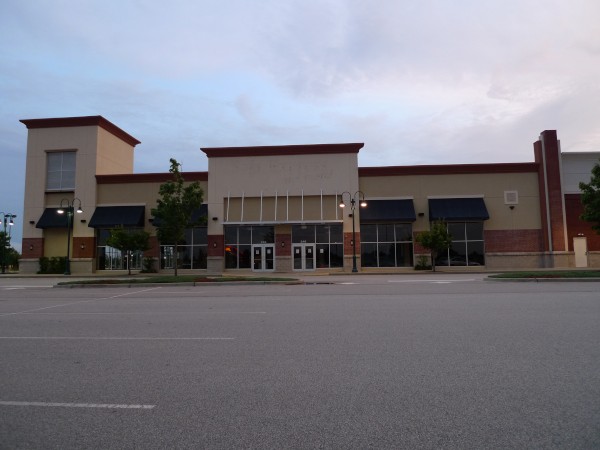 UPDATE 20 January 2015 -- There is finally another permanent (hopefully) tenant in this spot, Value City Furniture: