Archive for October, 2009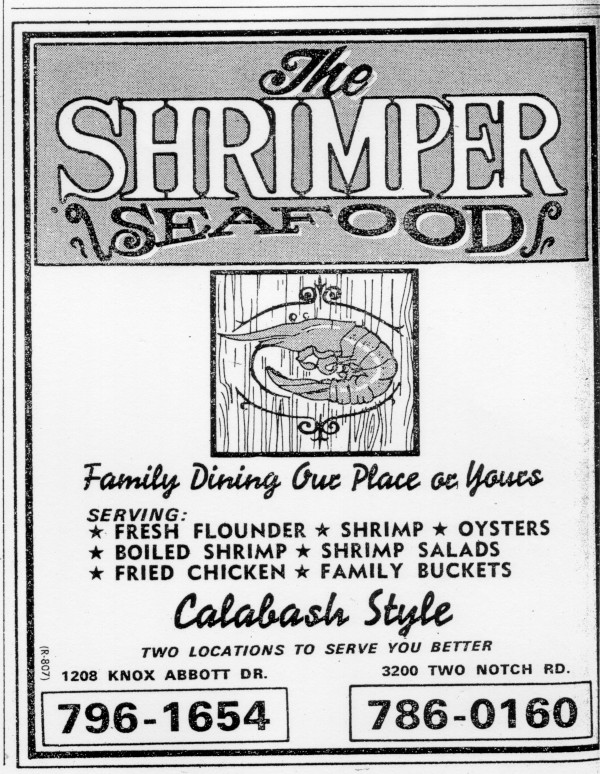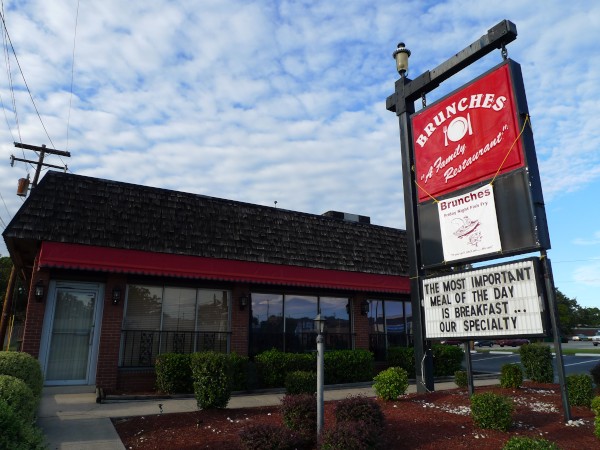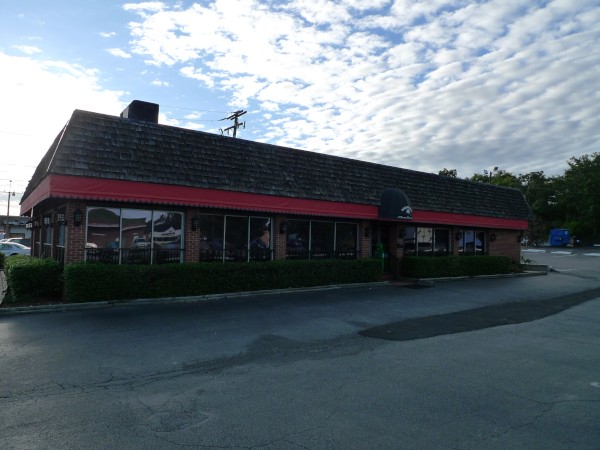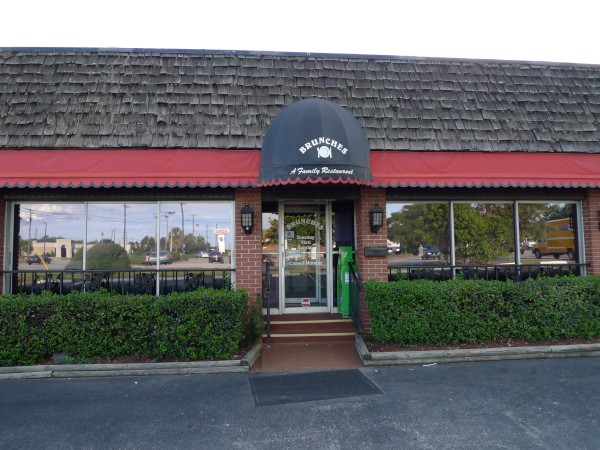 The Shrimper was a lontime seafood restaurant on Knox Abbott near The Charleston Highway. If you've read many of these closings, you'll know I'm no fan of seafood, so I never actually ate at The Shrimper though I was certainly aware of it.
Apparently not aware enough though, as I didn't really notice its passing until quite recently. I don't have a date, but it was recently enough that many online sources still list it at this address.
The new operation is Brunches which appears to bill itself mostly as a breakfast place. I like breakfast in principle, but not enough to wake up early and it it, so I've never eaten there either. (If I'm going to do breakfast, it's usually pancakes and grits at 2am..)
UPDATE 9 June 2010: Added the 1974 Southern Bell Yellow Pages ad.
UPDATE 9 June 2010: Added "Lum's Restaurant" to post title based on comment and 1970 Yellow Pages.
UPDATE 18 September 2020: Here is a Shrimper cup that somehow came to be in my sister's cupboard: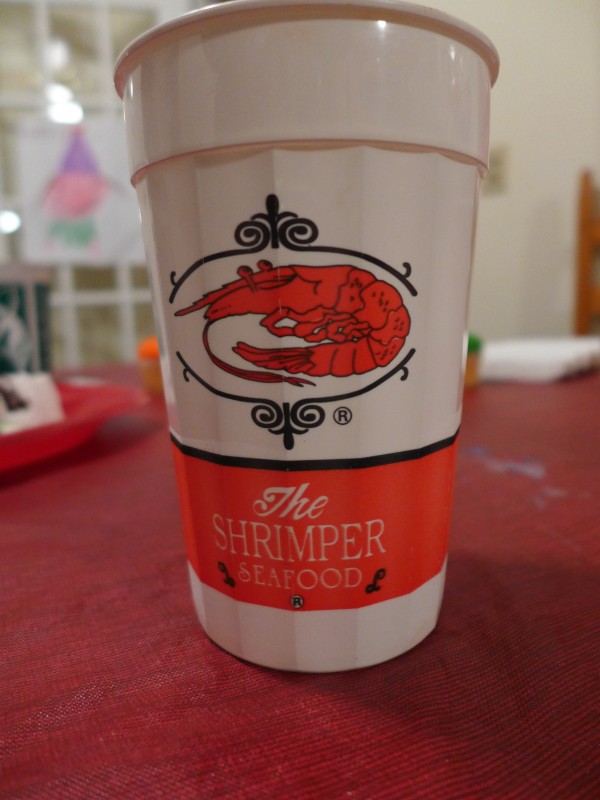 Also updating tags and adding map icon.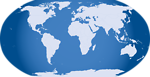 OK, first Zorba's on Decker closed. Then the old Zorba's sign proclaimed that a new Italian sounding restaurant would be coming. That never happened.
Then a Mexican operation repainted the facade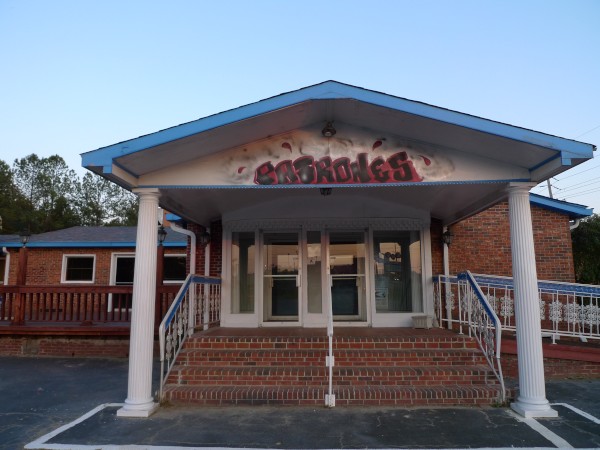 and nothing happened for a long time.
Then (no picture) they put a paper sign up on the front door seeming to say (I don't read Spanish) that tacos were for sale, but apparently there was nobody at the building during the time this sign was up.
Then they put handmade signs on the Decker street-level "entrance"/"exit" placards saying the place was open: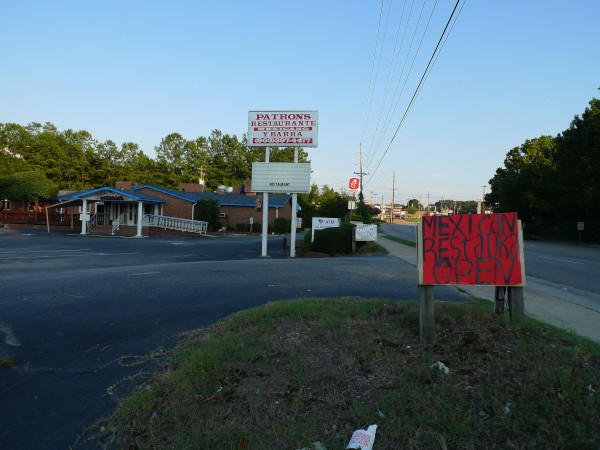 At the same time they added a ramshackle looking shed to the left of the portico and posted another sign in Spanish that appears to say something about Tacos and tortiallias (Tortas?), but note again that there appears to be nobody there.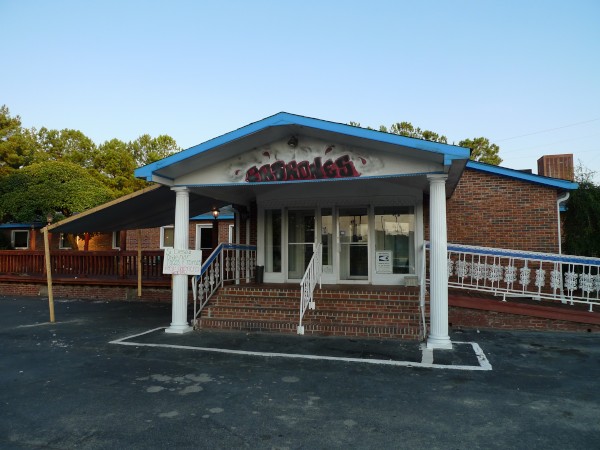 Then they took the shed down, and again nothing appears to be going on at the place (the "OPEN" roadside signs are gone too):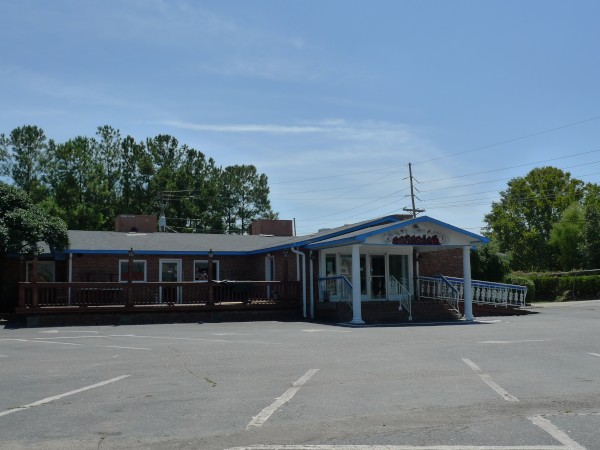 And all the while the whole place appears to be for sale: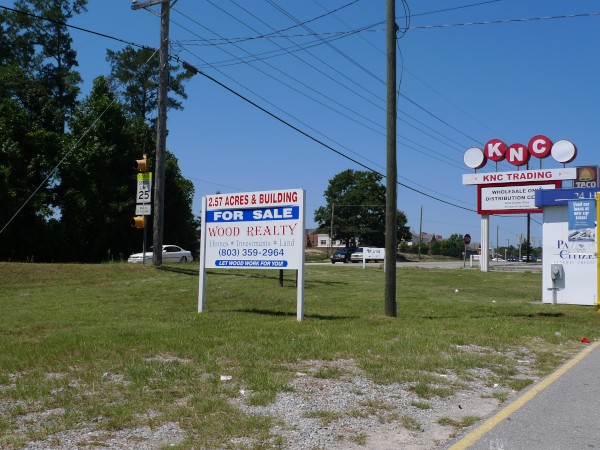 THEN they put a canopy on the outside deck. Still nobody seems to be there.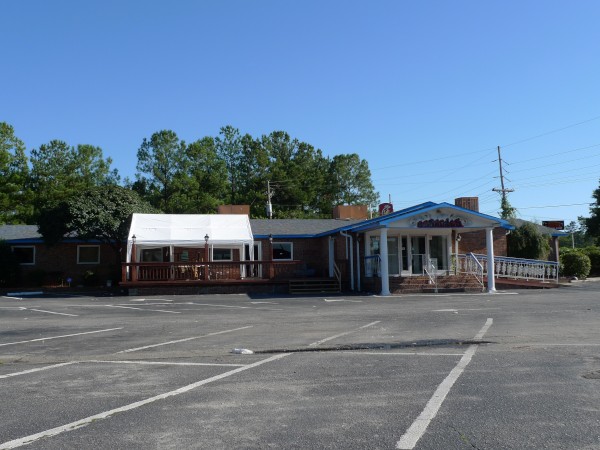 Then they turn the lights on the main sign, but the building is dark at all times: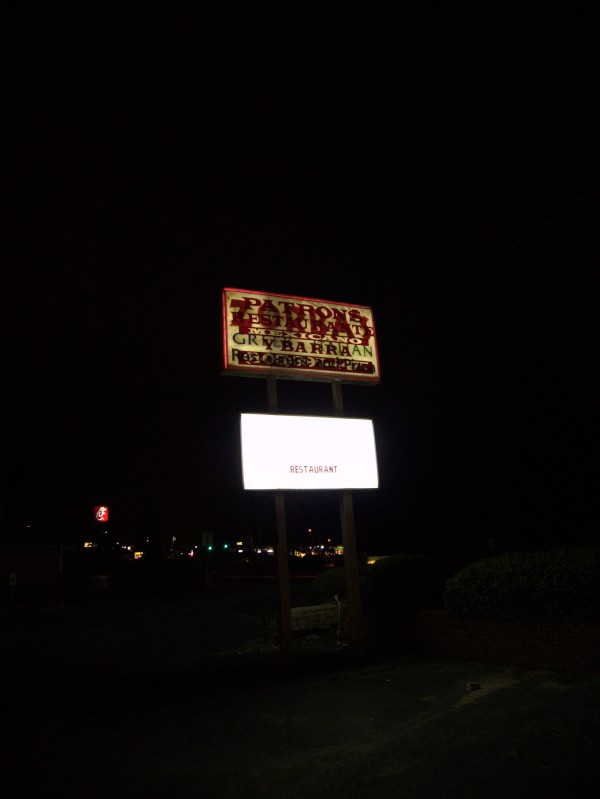 So --- your guess is as good as mine!
UPDATE 2 November 2009: Now the canopy is gone from the deck..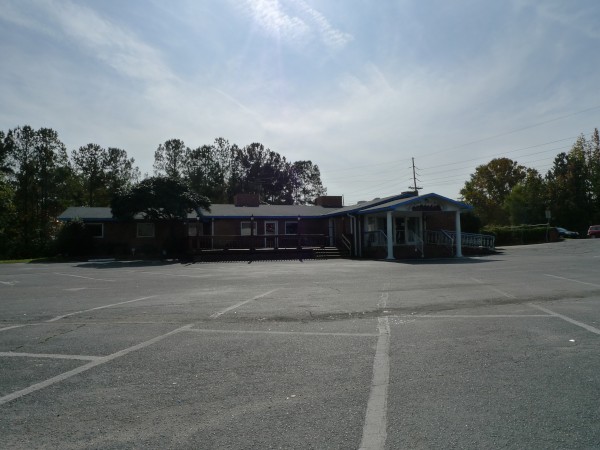 UPDATE 7 August 2019: Add some tags and map icon.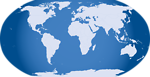 Posted at 10:36 pm in Uncategorized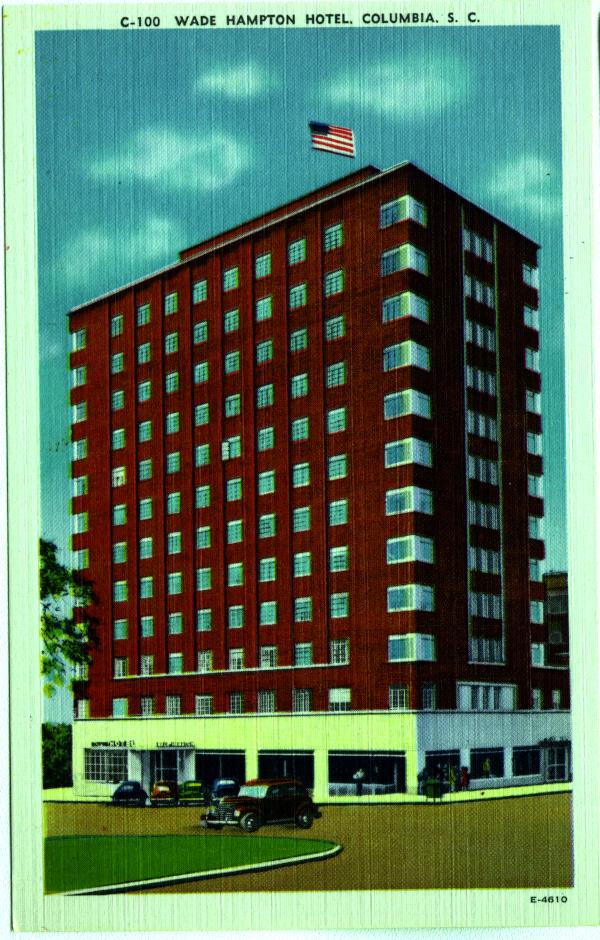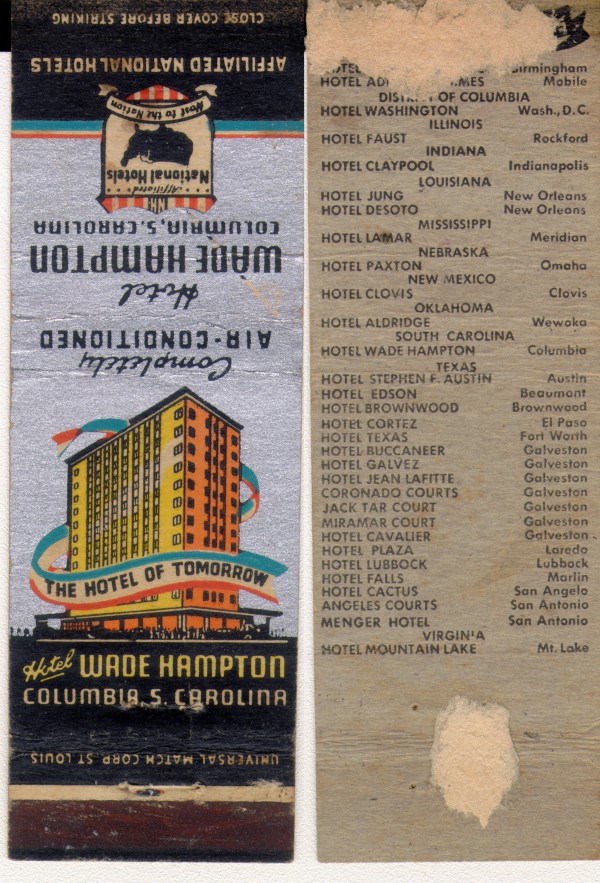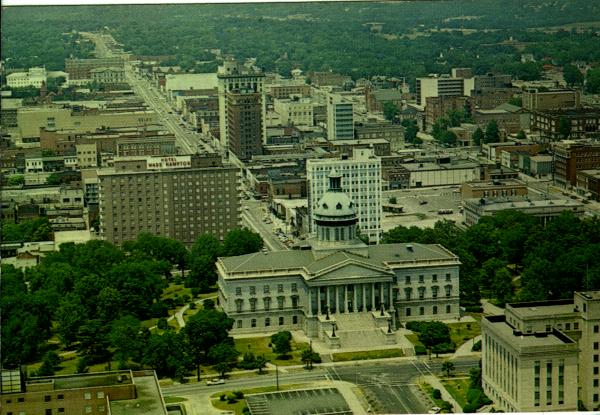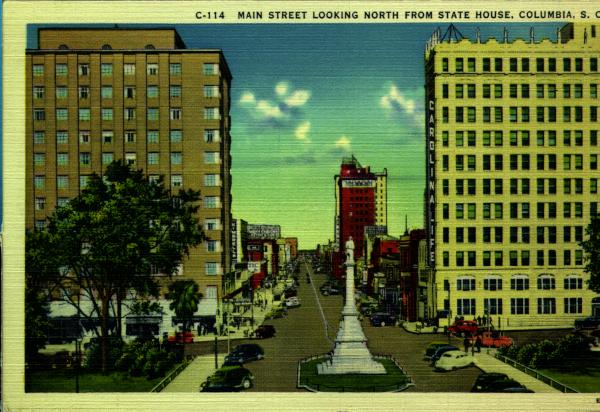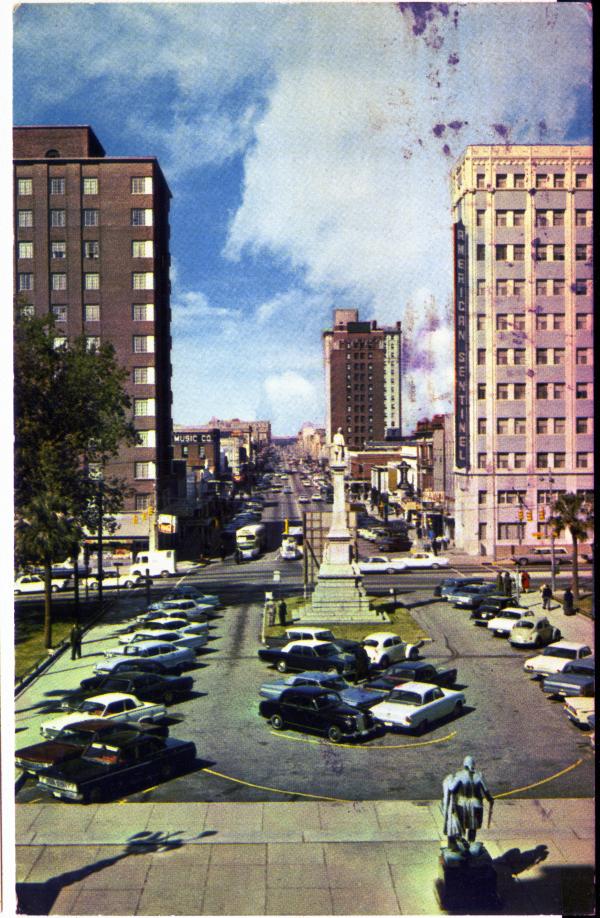 COLUMBIA, SOUTH CAROLINA

Looking down Main Street from the Capitol Steps. Points of interest: Foreground, bronze statue of George Washington; Center Monument in memory of soldiers of the Confederacy; left Wade Hampton Hotel; right American Sentinel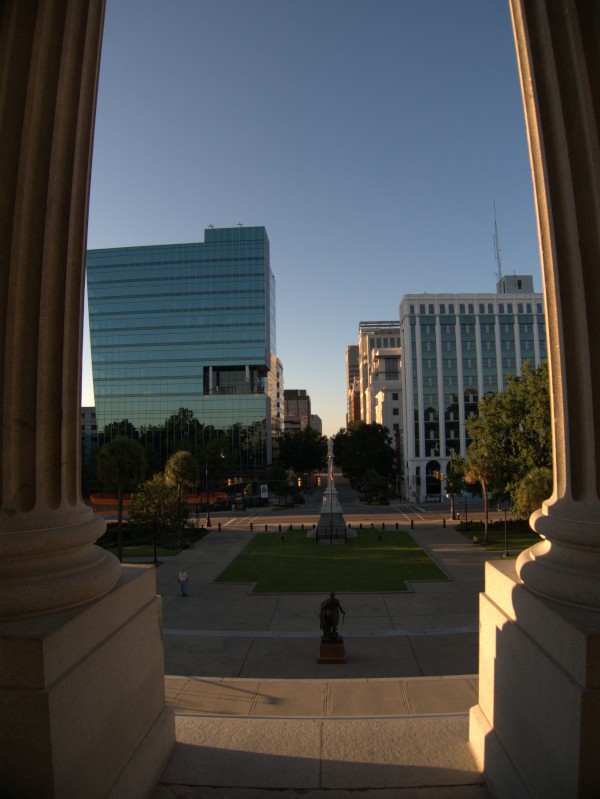 The same view today.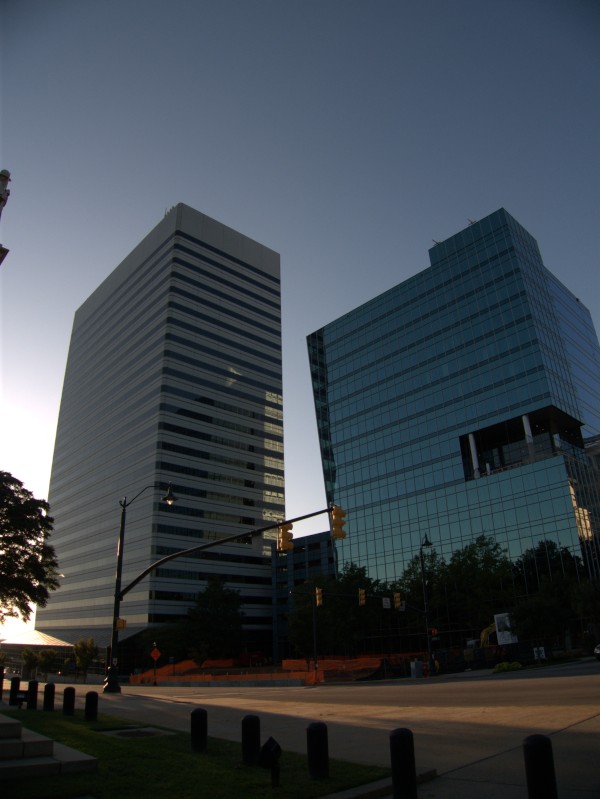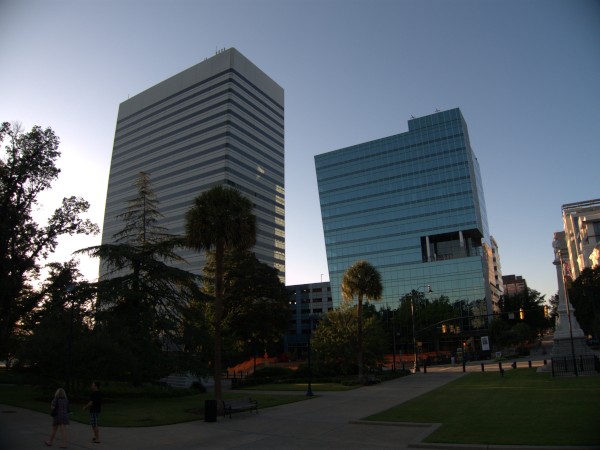 The buildings replacing the Wade Hampton Hotel
The Wade Hampton Hotel was a fixture across from The Capitol when I was growing up, although I don't believe I ever set foot inside. The place had a "I was built in the 1940s" look which is enhanced by the marquee shown in one picture identifying the place rather antiquely as Hotel Wade Hampton rather than The Wade Hampton Hotel.
There was a restaurant inside the hotel called Maxim's which I have an ad for somewhere that I have not got around to scanning. It was to the effect that 5 Million Frenchmen are going to the wrong Maxim's!.
By the 70s, the hotel was on a downward slide as national chains built newer properties in more convienient locations as downtown lost its pull and the Interstates came through. By the time I started college at USC in 1980, the hotel had gone under and was being leased by the University as dormitory space much in much the same fashion as Benedict's ill-fated leasing of the old Quality Inn. I don't know if similar safety considerations in the aging building brought that situation to an end or if USC just built sufficient new space (I think Bates came online about that time), but at any rate the arrangement was terminated, and nothing took its place, so the building was finally demolished in the early 80s. I think it was an early morning implosion, which I missed since I am not a morning person, but I could be wrong.
The hotel's place on the block was taken by the AT&T building (or whatever it is called now) and a new building just going up. (Was there something else there in between WH and the crooked looking glass building?)
The views from the Capitol steps are interesting. I had totally forgotten that there was parking in front of the Capitol. Also, the Colonial Life / American Sentinel / WOLO building is really hanging in there isn't it?
Finally google turns up this. This is largely a nostalgia site but lest the retro-spectacle lenses get too rosy, there's a lot to be said for the present as well.
UPDATE 8 Sept 2010: Added Wade Hampton matchbook scan.
Posted at 3:05 am in Uncategorized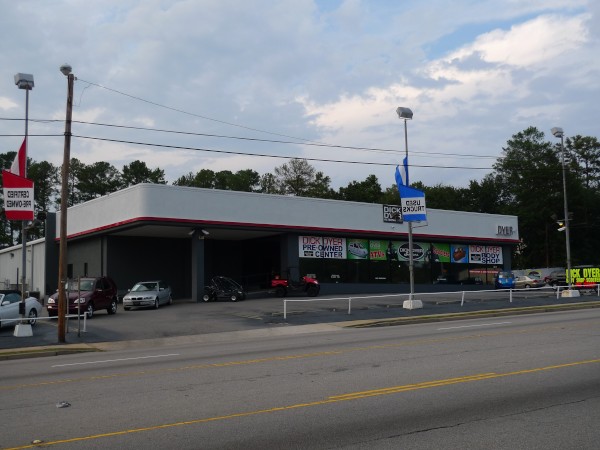 The first car we bought from Dick Dyer Toyota (or perhaps back then it was Dyer & Beck, with their catchy faux-asian "Dyer & Beck impor-ted-cars" jingle) was a 1980 Corolla station wagon, which I still have, and my main car is from there as well. The nice thing about Dick Dyer from my perspective, aside from the fact that they generaly seem to know what they are doing when they fix a car, was that I could walk home from there after dropping off a car, or I generally could -- I tried the hour walk in August once and nearly expired..
They have built a large new store on I-77 in Blythewood, which I have yet to visit. I believe the body shop (which I have used after taking out Bambi on I-20 once..) remains on Two Notch along with a pre-owned and scooter operation. That is all on the top part of the lot. The last time I drove by, it appeared the bottom half of the lot was for sale. I wish them well in their new digs, but it's another blow to the Two Notch corridor.
Posted at 10:49 pm in Uncategorized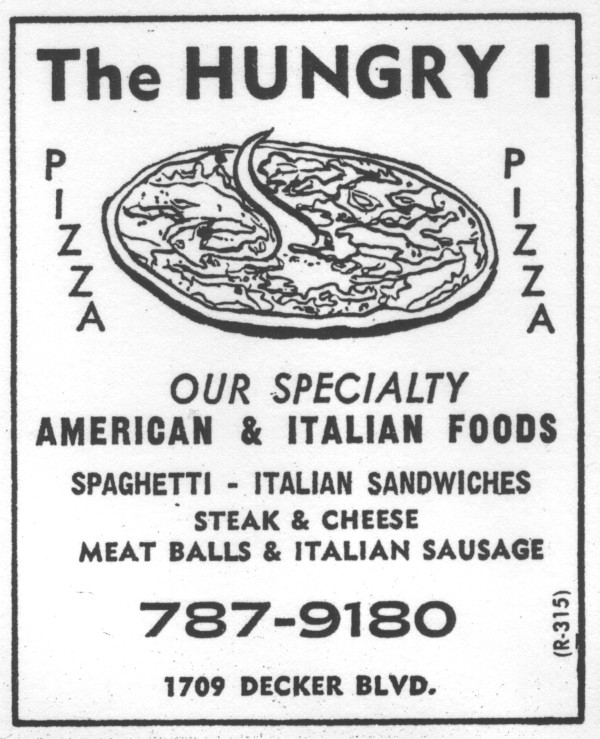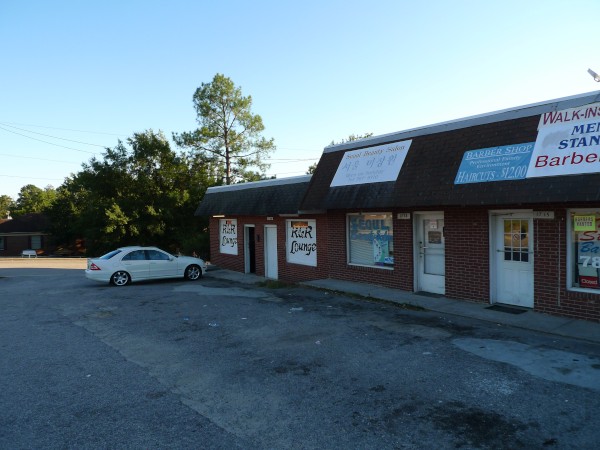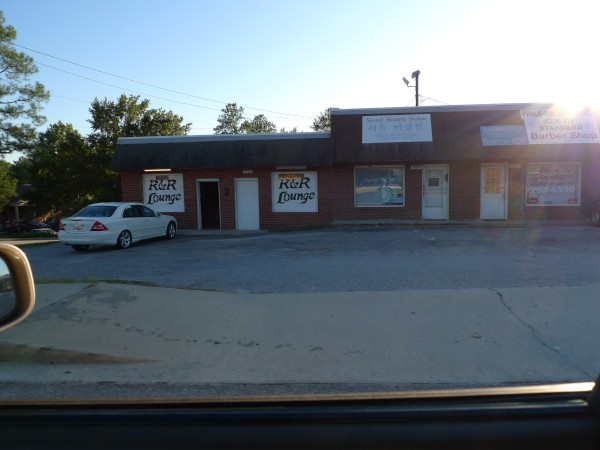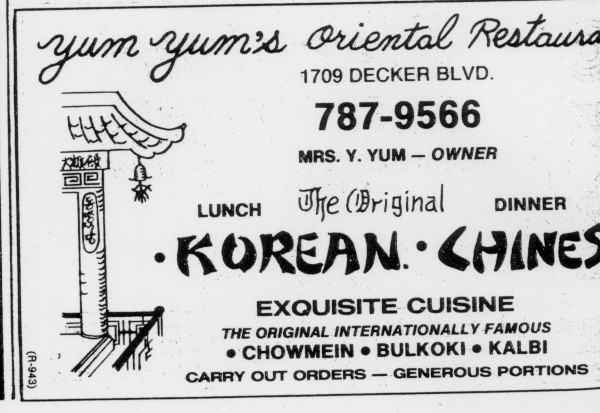 I'm pretty sure this pizza joint on Decker, now the R & R Lounge didn't make it through the 1970s, as I was very conscious of pizza, and think I would have noticed it driving (or riding) by. On the other hand the location, in a little strip mall near Percival Road with not much parking probably would not have been very inviting. (In fact, this section of Decker may have have come up since the 1970s). The pictures are not great because the sun was against me, and I didn't want to stand right in front of that open door snapping away.
Whatever the merits of the pizza, I'm pretty sure I can safely say The Kingston Trio never gigged here.
UPDATE 11 April 2010: The Hungry I was definitely gone by 1977, as that is when Yum Yum's Oriental Restaurant had a Bellsouth Yellow Pages ad for the same storefront.
Posted at 11:15 pm in Uncategorized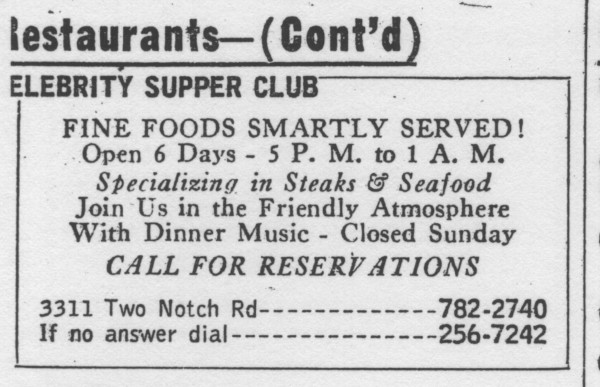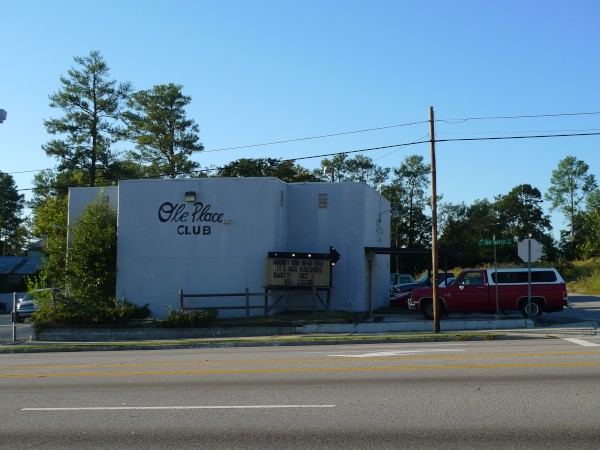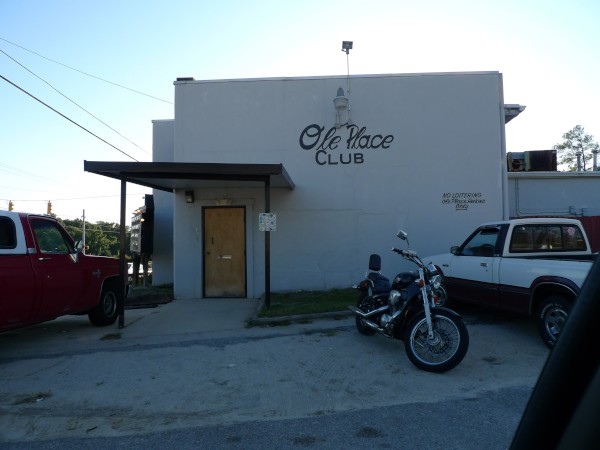 Fine Foods Smartly Served!
I can't actually recall any other operation in this building, right up the hill from Dick Dyer, before Ole Place Club. That operation seems to be pretty durable despite having, at one point when Two Notch was especially bad, to put up a tart sign saying This Parking Lot is not a Loading Zone for Hookers!
The 1970 Southern Bell ad for The Celebrity Supper Club, as seemed to be common then, much longer hours than are now usual for a restaurant (though there were obviously entertainment elements as well). Nowdays almost everything closes at 10pm during the week, and if you walk in at 9:00, they act like its an imposition to stop mopping the floor and take your order.. It also seems like there were more "steak" places back then than now. I don't know if its 30 years of the food police harping on cholesterol or if tastes have just naturally changed.
UPDATE 17 October 2009: Added "(Mary's)" to the post title.
UPDATE 29 December 2009: Sadly Mary Dixon passed away on Christmas Eve 2009. From The State's obiturary:
COLUMBIA — Mary Simpson Dixon, perpetually 34, passed away on Christmas Eve. She was born in the Kibbee Community near Vidalia, Georgia, to the late Alfred Oliver and Alma Louise Rabon Simpson. As a teenager, Miss Mary moved to Savannah and began her stellar career in food service by working for an exclusive hotel chain, DeSota Hotels, training staff across the Southeast. She continued working in New Jersey, Florida, California (The Brown Derby, even though Howard Hughes tried to steal her away, and served various movie stars including Joan Crawford), Tybee Beach (where she worked for the Brass Rail before opening Mary's Nic Nacs), and Augusta, Georgia (Ship Ahoy), before moving to Columbia in the early 1950s. She worked for the Ship Ahoy in Columbia, Laurel Hill Supper Club (where Las Vegas acts and entertainers performed and requested her personally), and Dick's Flamingo Club, where she perfected her cheese-stuffed potato.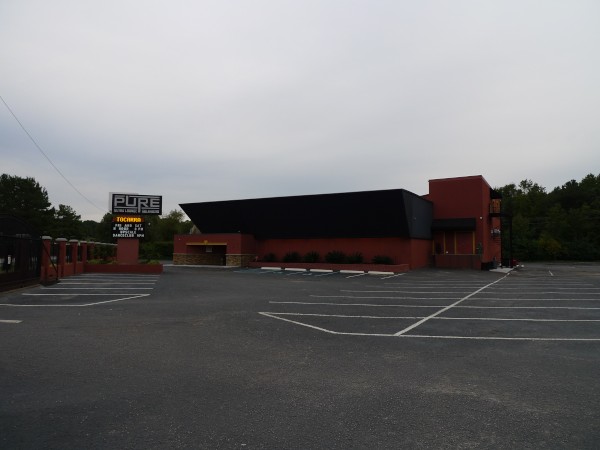 This building off of Saint Andrews Road is now an "Ultra Lounge". I'm not sure what it was built as, but I first recall noticing it in the 1980s, when it was a strip club, the name of which I can't remember. After that, it was for a number of years the original site of The Comedy House, now on Decker Boulevard in the old Winn-Dixie building. I think it may have been something after the strip-club and before The Comedy House and after The Comedy House and before Pure, but I'm not sure.
I saw a number of comedy shows there including one guy who made me laugh so hard it hurt, but whose name (or act) I cannot now recall at all. I'm not sure what happened to The Comedy House as it was non-existent for a long while after closing shop here. Normally if a place is moving just as a normal course of business, they will do it as quickly as possible to keep a revenue stream active, but I think it took over a year in this case.
UPDATE 15 October 2009: Added a bunch of extra names to the post title based on the comments.
Posted at 10:15 pm in Uncategorized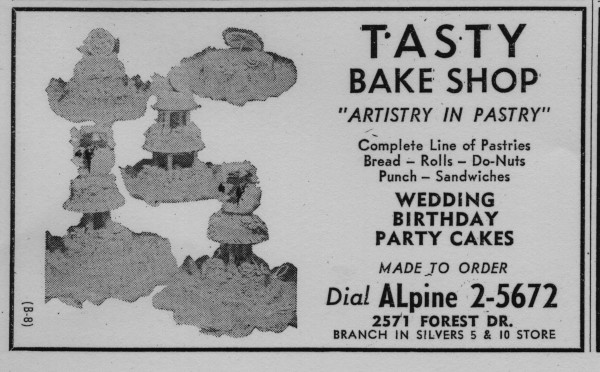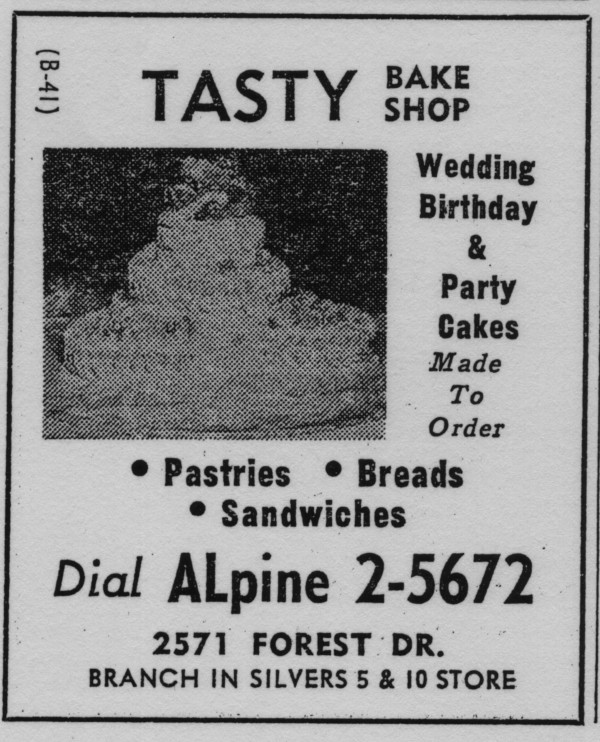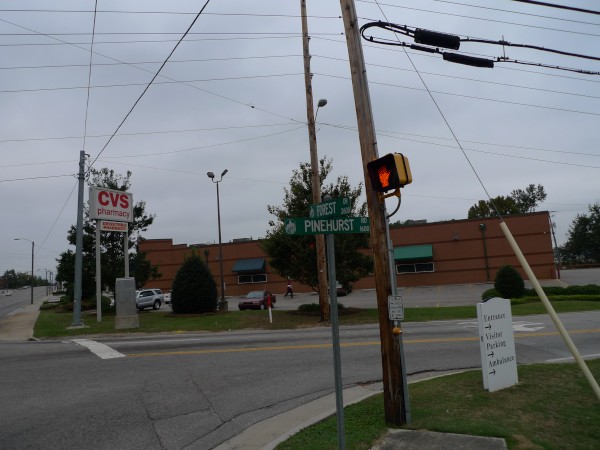 The Tasty Bake Shop provided "Artistry in Pastry" for many years on Forest Drive at Pinehurst Road, and apparently in a satellite operation I had been unaware of in Silver's 5 & 10 Cent Store. Silver's sounds vaguely familar, but I can't recall right now where it was. Certainly it wasn't somewhere we went regularly. In fact, I don't ever recall being in the Forest Drive location of Tasty Bake either. I was certainly aware of it, as we drove by all the time, but my mother took off work from when we were born until we were in high school, so she would always make any cakes we needed, either from scratch or Duncan Hines..
Tasty Bake however seems to have a loyal following of folks who remember how awesome it was as it has come up here in the comments a good number of times, making me wish I had stopped by on my own. It seems to have been fairly low-key at least in its Yellow Pages presence. The two ads here are from the 1957 and 1958 Southern Bell phonebooks and were the only "picture" ads that I saw. After that, Tasty Bake went to a small text box with no graphics.
I believe Tasty Bake was open until the lot was bought by CVS and the store torn down to build the pharmacy that sits there now, but I think that all happened while I was living out of town, so I'm a bit unsure on the timing.
Posted at 11:10 pm in Uncategorized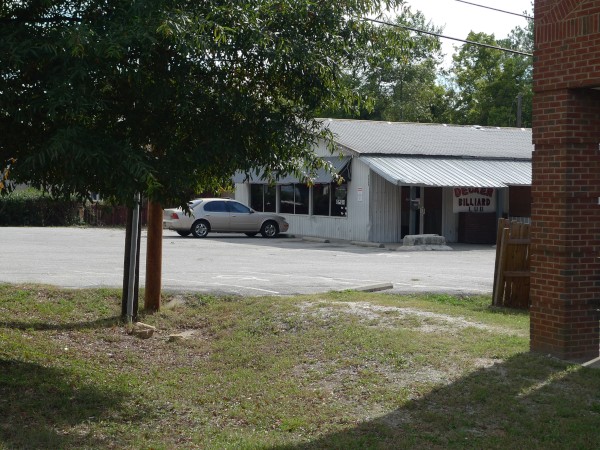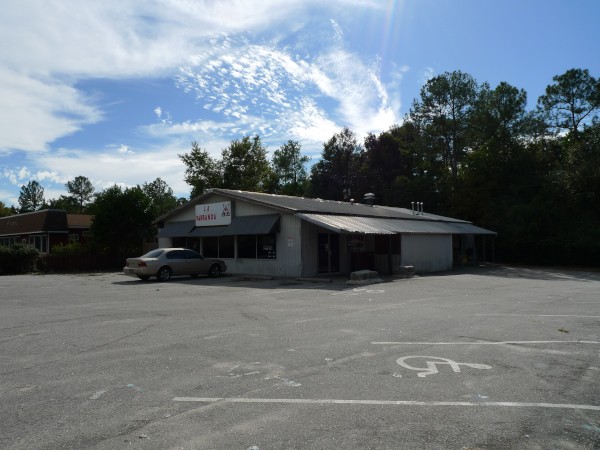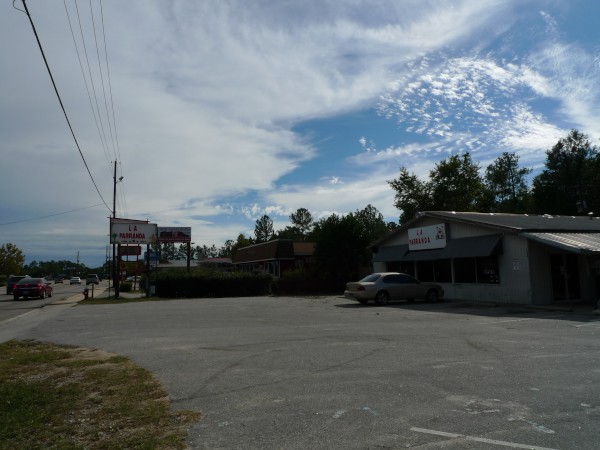 I don't play pool (now air-hockey is a game!), so this club has only been on the periphery of my notice over the years, but I was conscious enough of it that it caught my eye when I saw new signs up the last time I drove down Decker to I-77.
Doing a little googling I find that it has something of a tragic history, with the co-owner being fatally shot there in 2006. Google also insists that the place has been called Sue's Lounge though the Google Streetview for "Sue's Lounge" brings up the old Decker Billiard signage on the place.
The new name of the place is La Parranda which apparently means "The Big Party" in Spanish (and a song of that name was a hit for Gloria Estefan..), so I'm assuming that the ownership has switched from Korean to latin, though the graphic on the sign seems to indicate that pool and alcohol will still be available.
UPDATE 25 April 2013 -- Well it's back, sorta. I hope they didn't pay too much for those signs: