Archive for the 'Sunset Drive' tag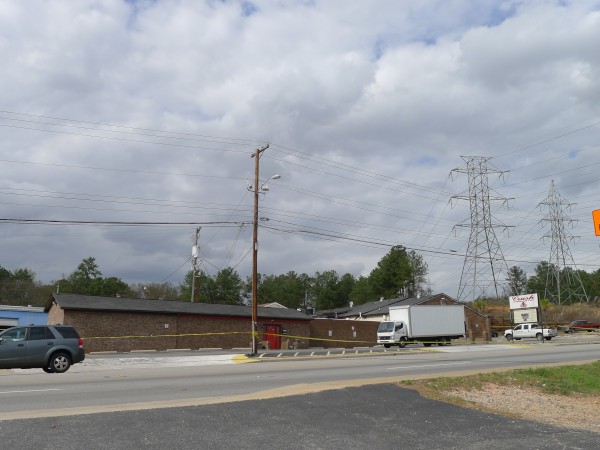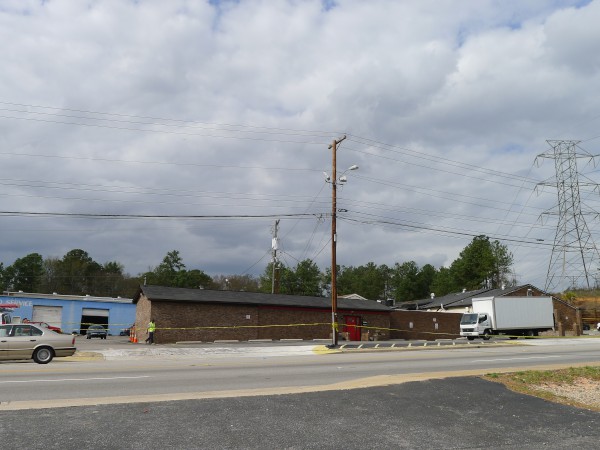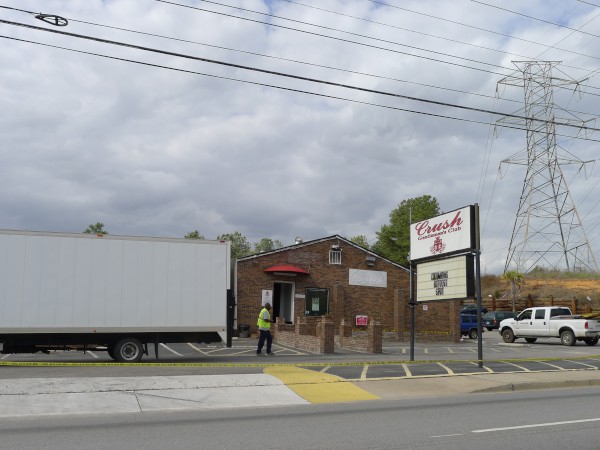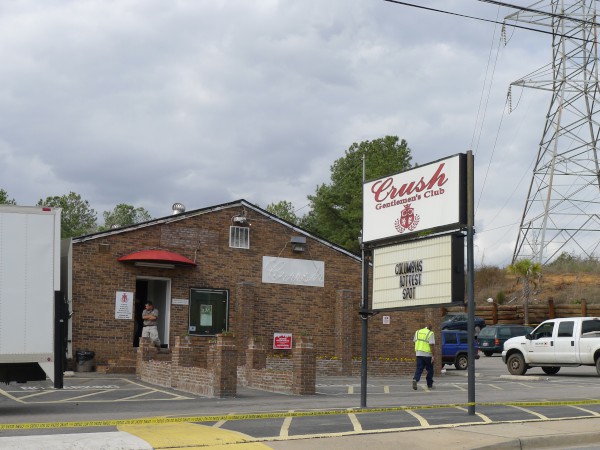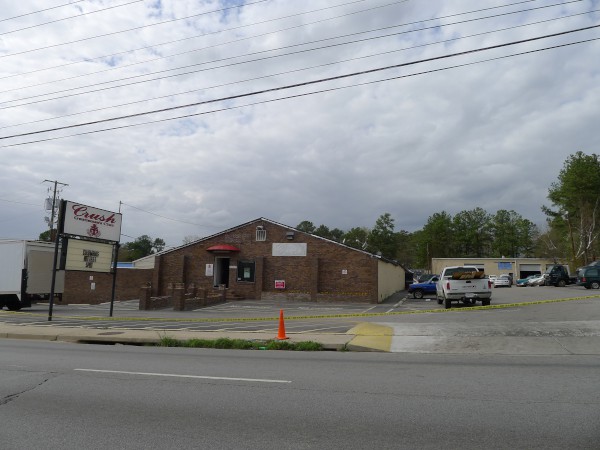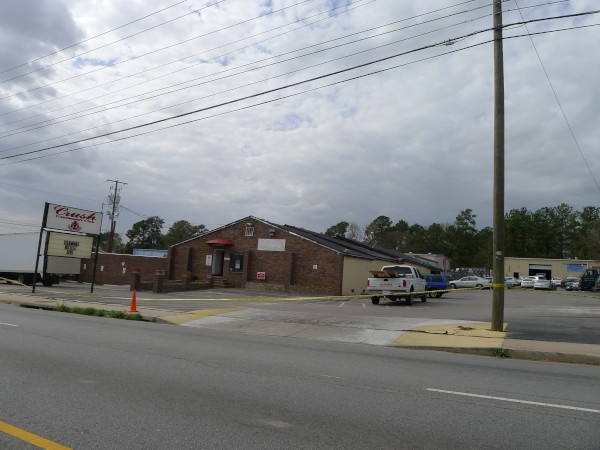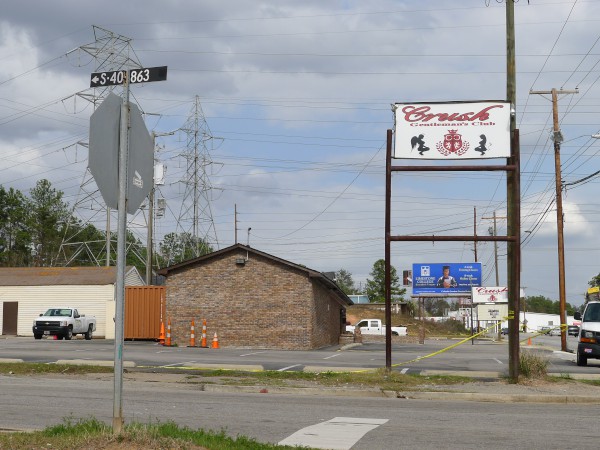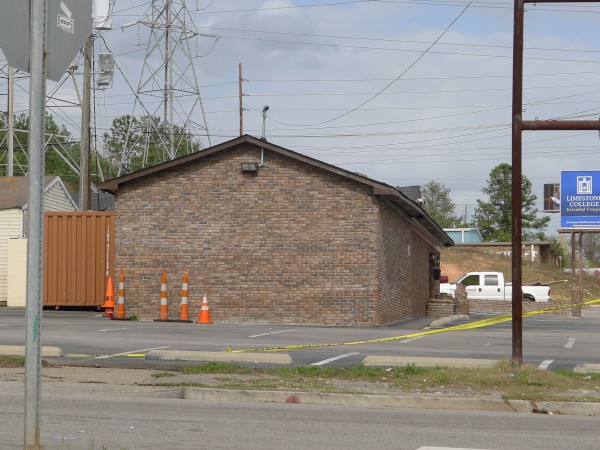 Well, this one is ripped from the headlines -- It seems that on the morning of Thursday 8 March 2012, somebody set fire to Club Crush (aka Crush Gentlemens Club) on River Drive just down from a defunct Cash / Title shop and the old A&P.
OK, I'm jumping the gun on the theory that it was arson, but given the recent history of the club (a woman was shot on 1 March and a tow truck driver was shot at on 7 March), I doubt that it just *happened to catch fire.
Actually I find the story of the woman being shot all the more remarkable in that it recapitulates the most famous incident to happen at this building. In both cases people inside the building were shot by bullets coming in from outside the club. Luckily, the woman is said to not be gravely injured -- in the first incident a man was killed. As I recall the story, the fatal incident happened while the building was occupied by Chastitys Gold Club. It seems that a man (a lawyer in fact!) was attempting to take liberties with a dancer that neither she nor club management would countenance, and the man was thrown out of the club, whereupon he went home, got a gun, came back and fired through the (closed) front door, killing a club employee.
I don't think that Chastitys ever really recovered from the bad publicity, and after limping on for a while, closed in 2009. The building shortly re-opened as another strip club, Savannahs Gentlemens Club (no apostrophies anywhere..) which didn't last too long and was replaced by Club Crush in late 2010 or 2011.
In fact, this building has always seemed to have sort of a revolving door problem. I was amused recently when both The State and The Free Times reported on Richland County mooting a change to zoning rules to close county stripclubs, and both papers seemed to believe that Chastitys was still open (unsurprisingly they noted they were unable to get a comment from the owners about the proposed regulations, given that the club was long gone..). Some other businesses I know of in this building were Coconuts Inc, The Club House and Crockmeyer's,which all sound like night clubs, and Swipe USA which doesn't. (In fact, I'm not sure what that sounds like..).
I'm not sure about Club Crush, but the building itself did not appear badly damaged, and based on history, I predict a club will be open there again soon, whatever the name.
UPDATE 13 December 2013: According to The State the building as been denied a permit to operate as a bar under new ownership, with, I think, the subtext being: this is for all time. To me this seems like visiting the sins of the past into the future..
UPDATE 19 January 2018 -- The place either is operating as or is about to open as Tryst: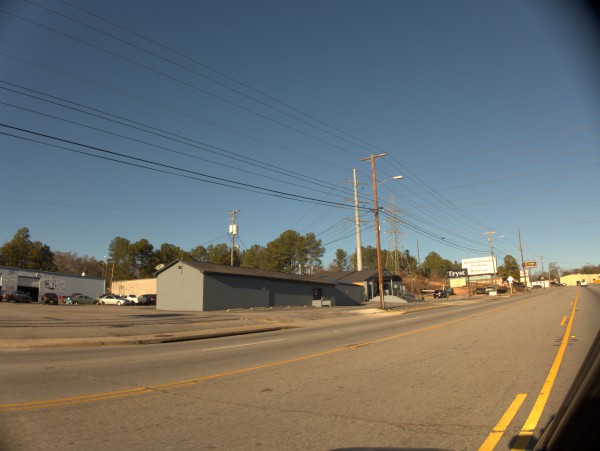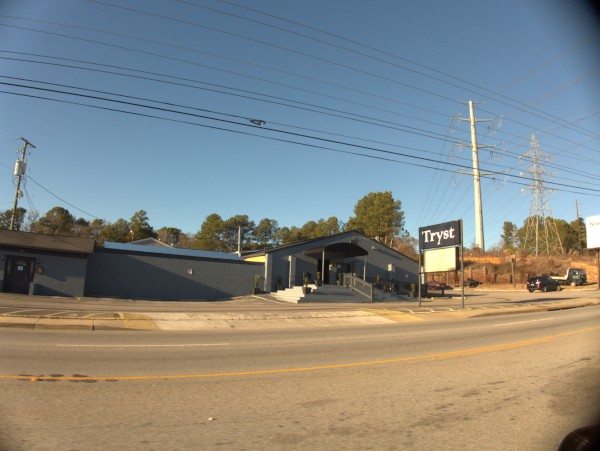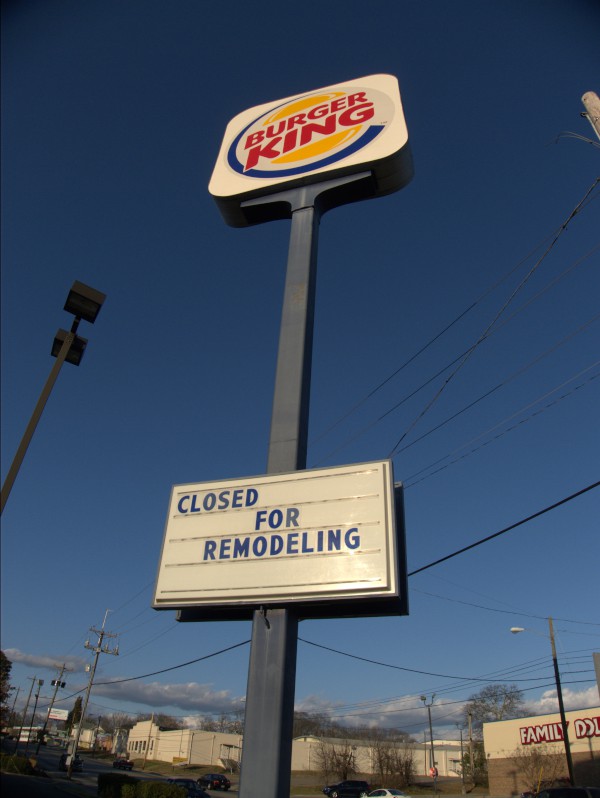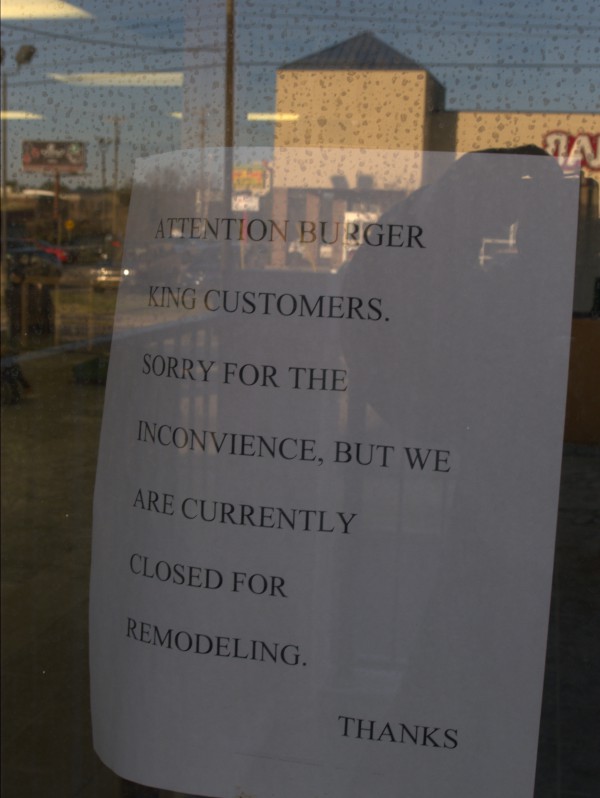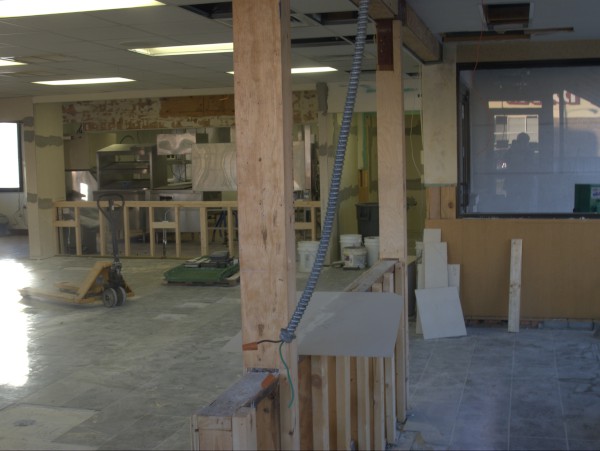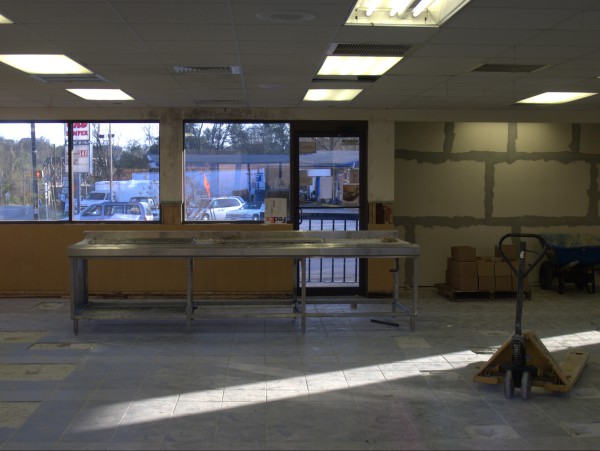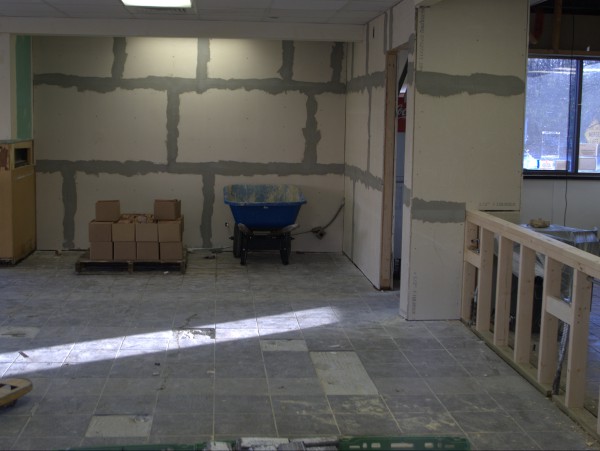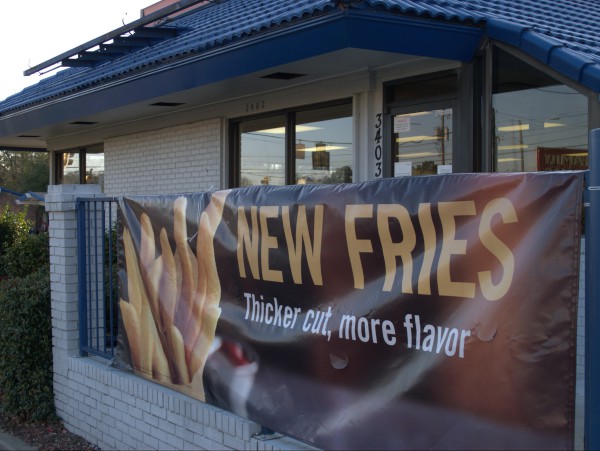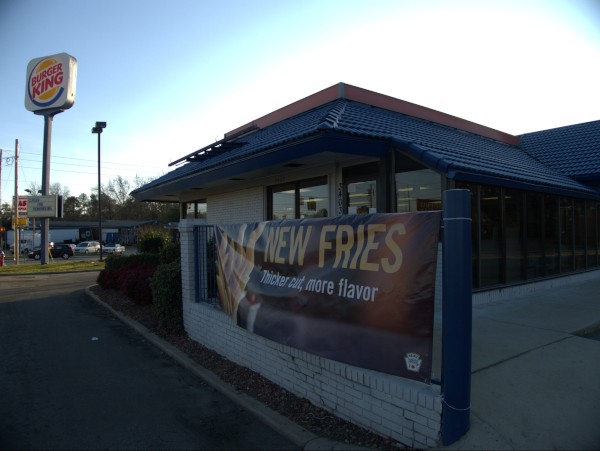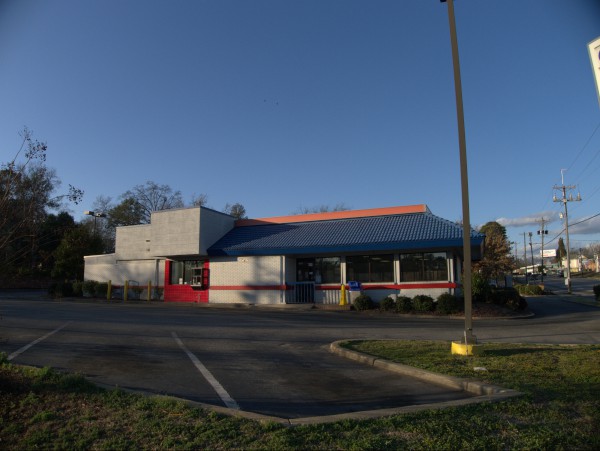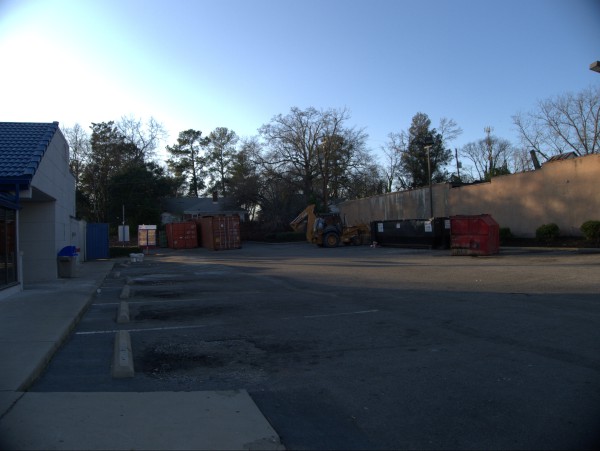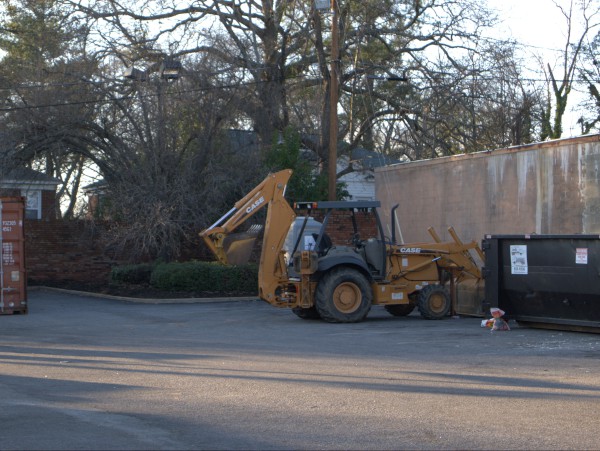 Here at the corner of North Main & Sunset Drive is another Columbia area Burger King not serving hamburgers.
However in this case, unlike many cases where a "remodeling" sign is more a fond wish than a hard fact, I think we can expect this store to be back in business before too long as there is actual work underway inside and out.
Heck, even the french fries are being remodeled!
(Hat tip to commenter Andrew)
UPDATE 8 March 2012 -- Repainting has started: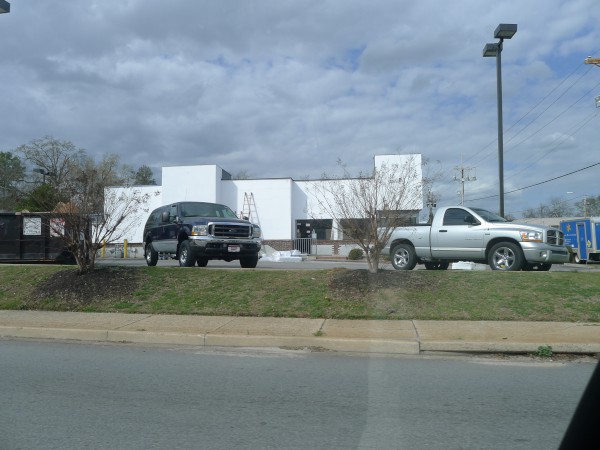 UPDATE 24 October 2012: I've got some pix somewhere, but I shouldn't wait to find them to say that this Burger King is done remodeling and is open again.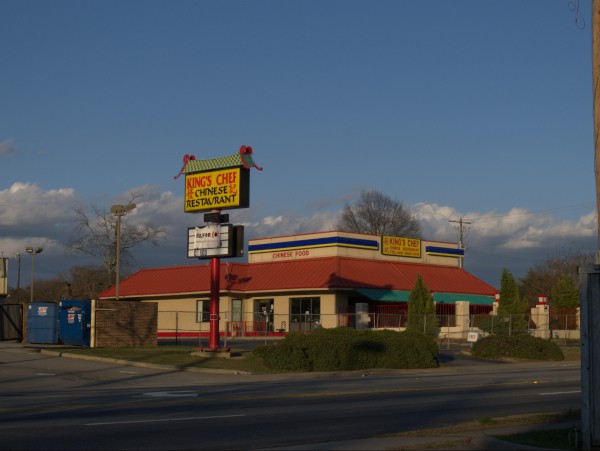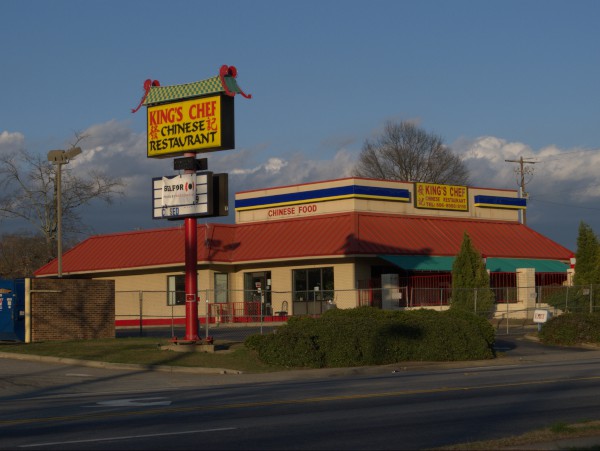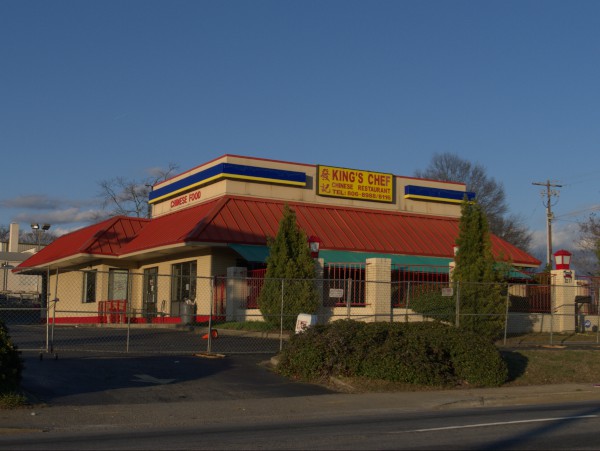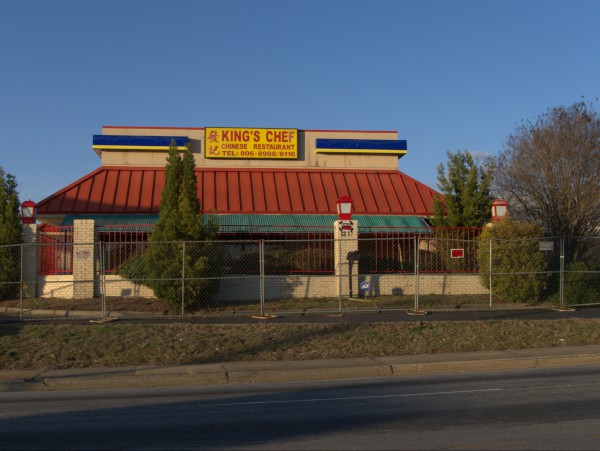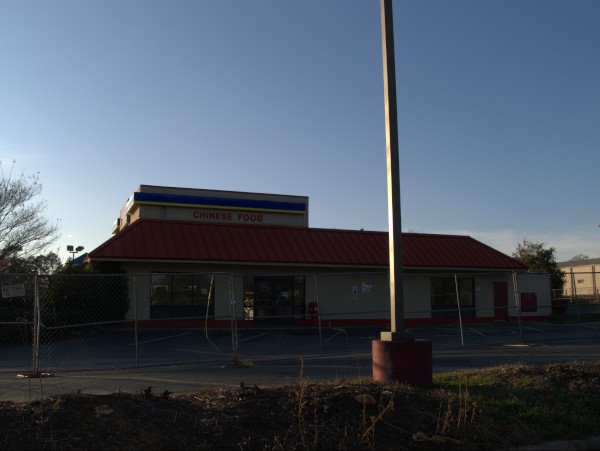 Driving down Sunset to North Main the other day, I noticed that King's Chef Chinese Restaurant is closed -- closed and fenced off, to be exact. I'm not entirely sure when this happened, but I drove by a number of times in December and didn't notice anything wrong, so I'm guessing January.
Just from looking at the building, it was evident that it had been a chain fast-food place of some sort before King's Chef moved in, and a glance at my 1997 phonebook confirms that the original tenant was McDonald's. I don't recall when that closed (and don't have the directories at home to research it), but I think King's Chef has been there a good while, so I would guess early 2000s.
King's Chef is not the only re-purposed fast food in the area. Almost directly across the street is a Long John Silver's which has been turned into a TitleMax. (And of course, the Family Dollar next to King's Chef is a re-purposed Eckerd Drugs.)
UPDATE 6 February 2012: Commenter Thomas notes that there was a fire here and that they are rehabilitating the building, so I have appended "temporary" to the post title.
UPDATE 18 September 2012 -- It's open again (and has been for a while):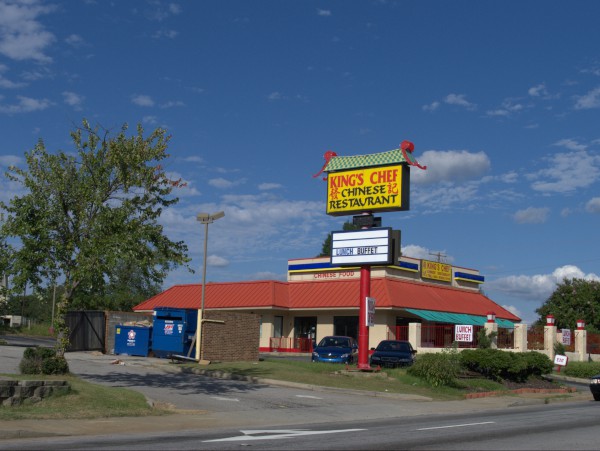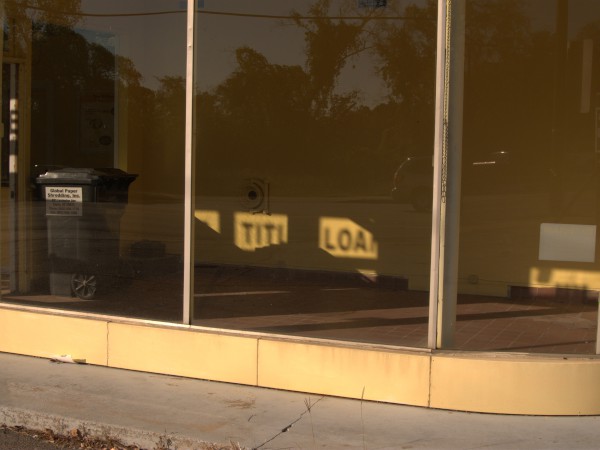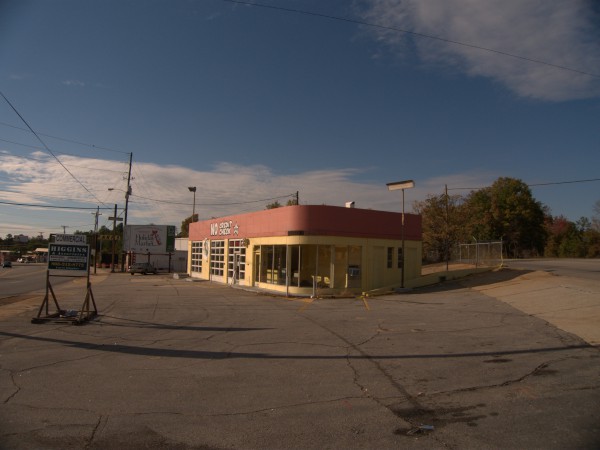 This vintage looking building, which almost has to have been an old gas station originally, sits at the point where Sunset Drive ends, River Drive jinks west and Clement Road fails to become either of those. It's across from Edna's, Great China Chinese Restaurant and the old A & P in Sunset Shopping Center.
I know that going back into the 60s there had to be more, but currently I am able to google three former tenants, all auto related. I'm using June 2010 as the closing date for Cash Loans for Car Titles because that seems to be when the building went up on the realtor's web site.
I like the building and hope the next owner keeps it. The curved endcap reminds me of the KC Customs building on Augusta Road.
Posted at 11:44 pm in Uncategorized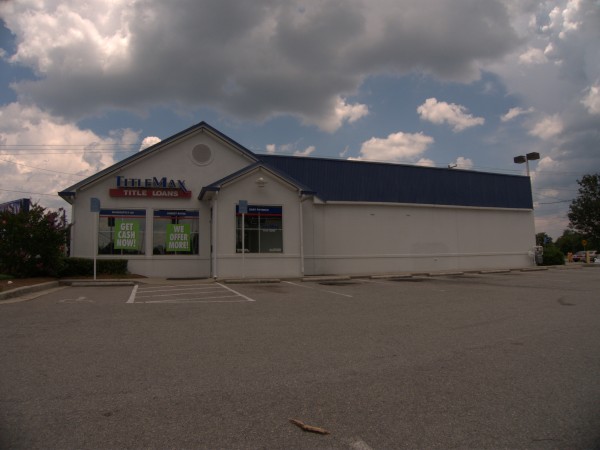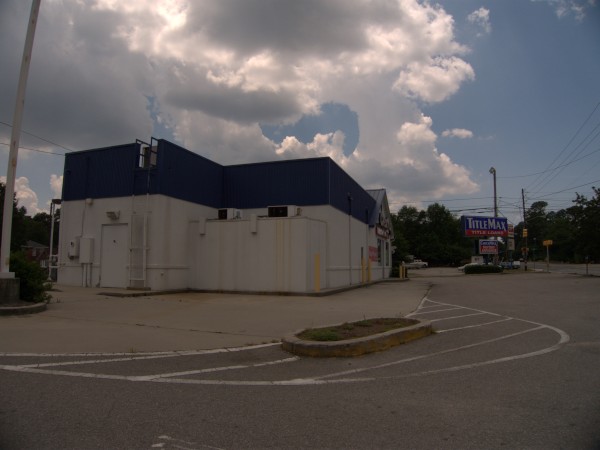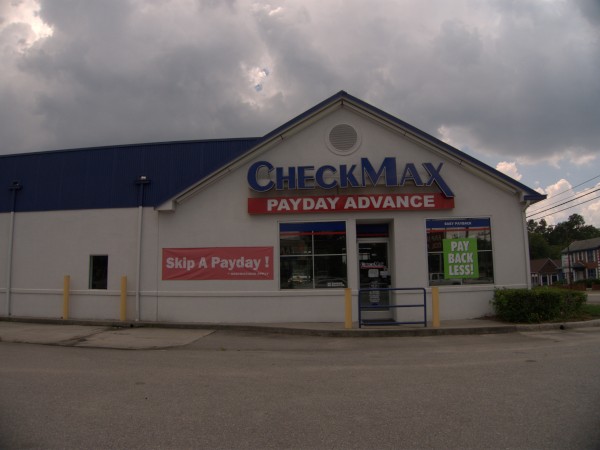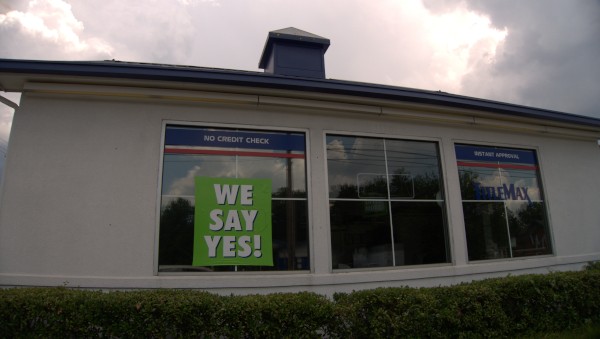 This building, on North Main at the intersection with Sunset Drive, was obviously a fast-food joint of some kind, but I'm not sure which one. I believe at one time or another, a commenter said it was a Church's Chicken, but the street numbers don't match for that. If anyone can identify it, I will change the post title to reflect that.
Currently, it's a TitleMax/CheckMax which seems to be one of those chains favoring old fast-food locations. Interestingly, directly across the street is another "hermit crab" operation, a Family Dollar which moved into the old Eckerd's.
UPDATE 15 July 2010: OK, based on the comments (and confirmed by the 1998 phonebook), this place is identified as a Long John Silver's and I'm changing the post title accordingly.
Posted at 12:47 am in Uncategorized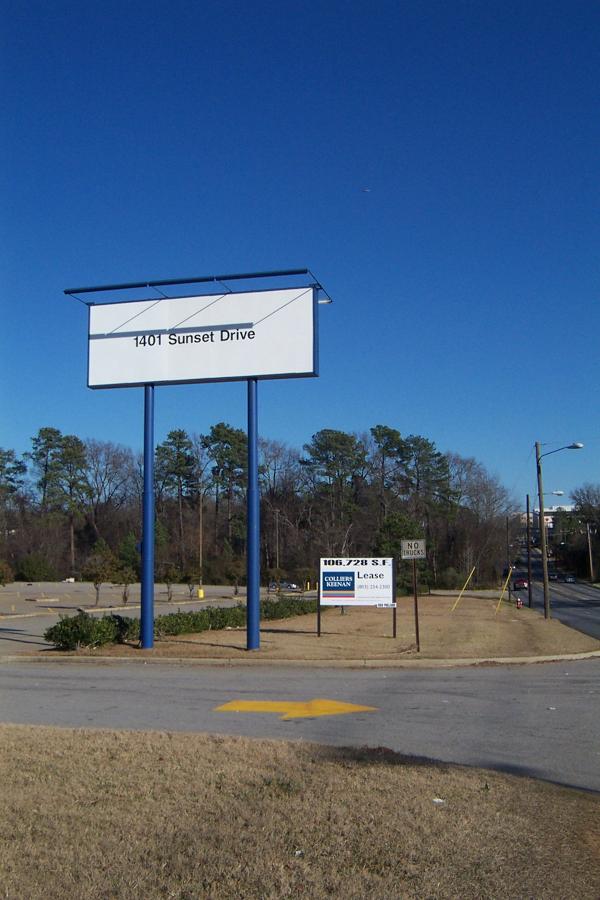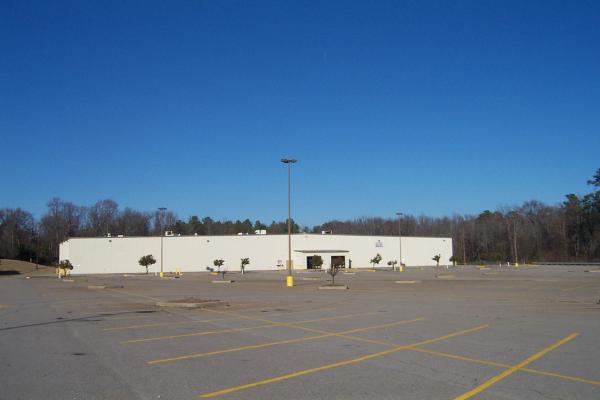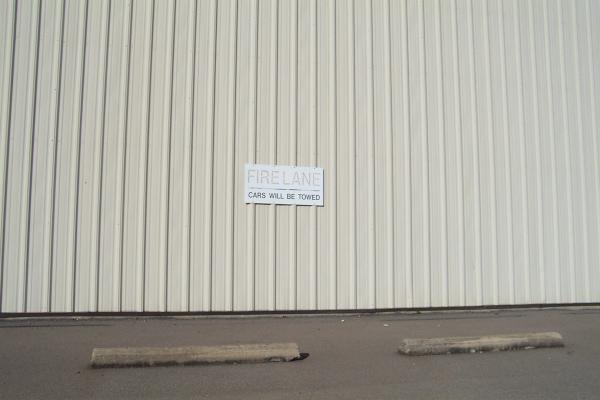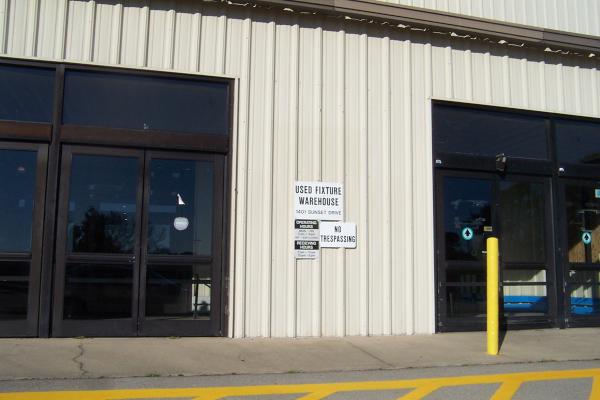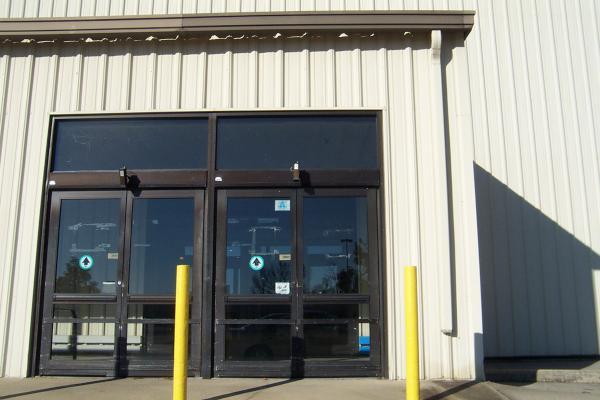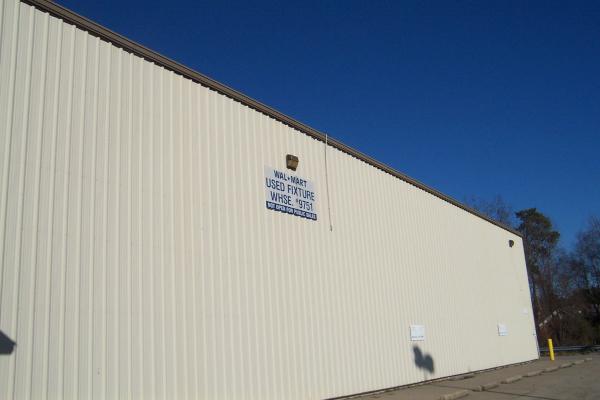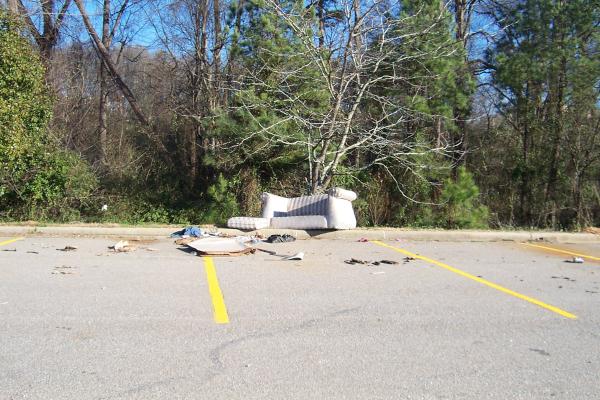 Now I may be misremembering this, but I think that this vacant storefront on Sunset Drive between SC-277 and North Main Street was Wal-Mart's first attempt at a warehouse-store. Wal-Mart was not really on my radar at the time, and the details are very fuzzy in my mind, but I just recall hearing that this store required you to buy a membership and that they had huge lots of everything. Wal-Mart later refined the concept into Sam's Club, but I don't think this building was ever a Sam's Club per se. I'm not sure why though I would speculate that the location is not ideal.
Though they are apparently trying to sell it, Wal-Mart still owns the property. Occasionaly I would see Wal-Mart 18 wheelers idled there, and from the signage, the chain used (or uses) the place to sell used store fixtures. I wonder how recent the DHEC "A" rating on the door is?
UPDATE 15 March 2011: It's clear now that this was, in fact (contrary to my recollection), a Sam's Club, so I have updated the post title. Also there's some discussion of closing dates in the comments. 1998 seems likely to me.
UPDATE 20 January 2012: Finally added Beltline Drive-In to the post title.
Posted at 8:51 pm in Uncategorized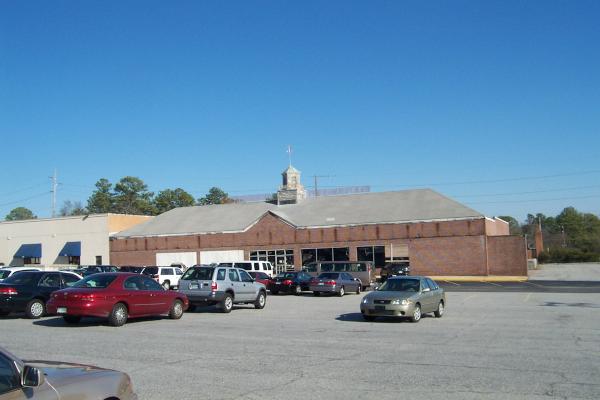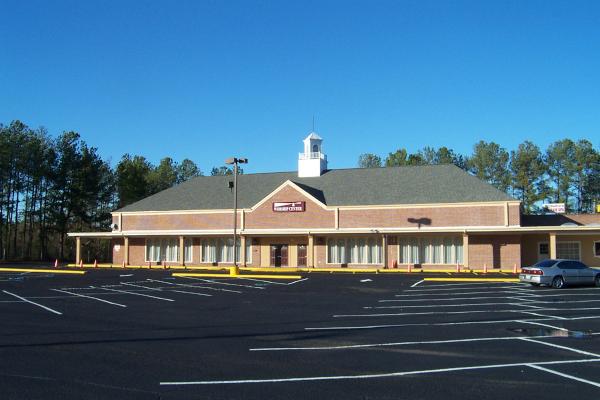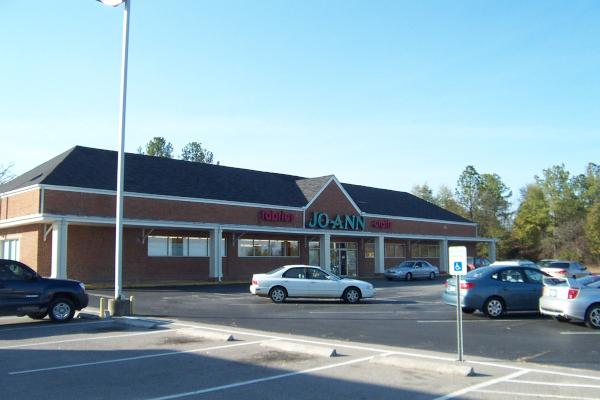 I recall that when I was around 6 or 7, Midlands Plaza ran a promotion to get shoppers out during the weekend. There was some sort of ride to entice the children, and the whole thing was promoted on WIS radio. Midlands wasn't where we normally shopped, but I bugged my mother until she took me out to experience the much ballyhooed kiddy-ride. I can't remember what it was now except that it was small, groundbased and freestanding (to make it easier to transport from promotion to promotion, I suppose). I have the impression that it was supposed to hop around the parking lot, but really it didn't matter, because they could not get it started. Apparently there was a gas motor in there somewhere, because they kept pulling on a lawn-mower-like starting cord, and occasionaly the thing would sputter a few strokes, but it would never fire up. And that is a metaphor for the history of Midlands Plaza.
I don't know if this is actually the case, but Midlands Plaza seems to have been conceived as a sister site to Trenholm Plaza (perhaps even the reverse was true?), with a Post Office and A&P anchoring a choice corner site with easy access from major roads, but for some reason the place exhibited a failure-to-thrive for most of the period I can remember. Certainly it was in bad shape by the 70s, bottomed out in the 80s, and has currently come to terms with a post-retail mode of operation.
It is rather appropriate that A&P was the anchor store for Midlands, since that chain itself underwent a similar experience during the same time period. It used to be the case that you could find A&P's distinctive, steeple capped, stores all around Columbia and other area cities. You can still often find the buildings, but the chain itself has withered away. I think part of it was the fact that while grocery stores were getting bigger and bigger, A&P was entrenched in small sites, and didn't make any effort to build bigger until they had finally been leap-frogged by newer chains. Of course for that to happen bespeaks a certain complacency at the management level, perhaps best exemplified by the last A&P advertising campaign that I can recall: A&P: Putting Price & Pride Together Again. It's always risky to run a "we were wrong" campain, and much more so to run a lame "we were wrong" campaign.
After the failure of that campaign, and the closure of the stores at Trenholm & Midlands Plazas, the only other A&P activity I saw in South Carolina was the attempt to establish a "Supercenter" in North Myrtle Beach, something that might have worked if they had done it before Kroger and other big stores moved in, but which in the event went under after no more than a few years. So, with over a hundred years in business, the legacy of A&P, at least in South Carolina, is the (confusing to youngsters, I'm sure) reference in the Waitresses classic "Christmas Wrapping":
A&P has pride in me with the world's smallest turkey..
The store at Trenholm Plaza was torn down and replaced with a Publix, the store at Midlands Plaza became, for a time, Giant Food World (invoking nightmare images of boxcar sized potatoes, and Sequoia-ish brocolli), then I think became a furniture store and finally became empty (but the steeple and wether-vane have withstood the ravages of the years..)
UPDATE: Added picture of old A&P on Sunset Drive.
UPDATE: Added picture of old (but re-roofed & de-steepled) A&P on the Charleston Highway
UPDATE 4 April 2013 -- Well, I wish I had made totally separate posts for all the old A&P buildings, but I was still kind of feeling my way along way back in 2008. That aside, the Midlands Shopping Center A&P building is now gone. Below are pictures from mid 2012 and then March 2013: