Archive for the 'I-20' tag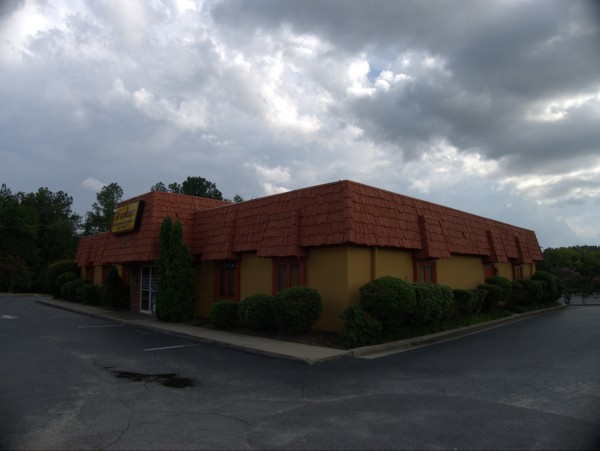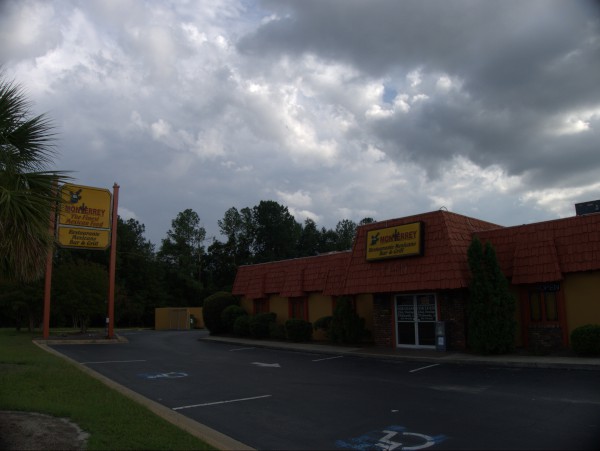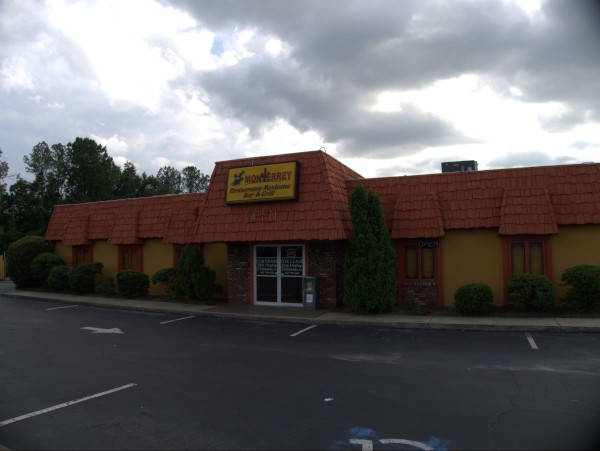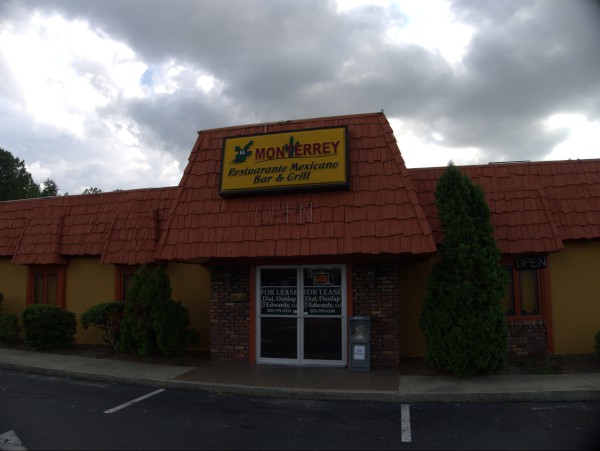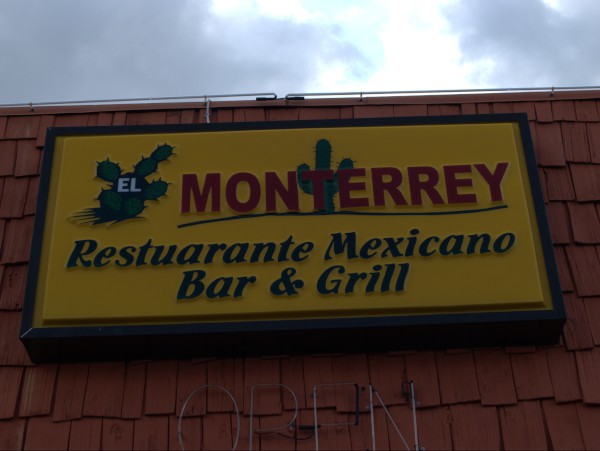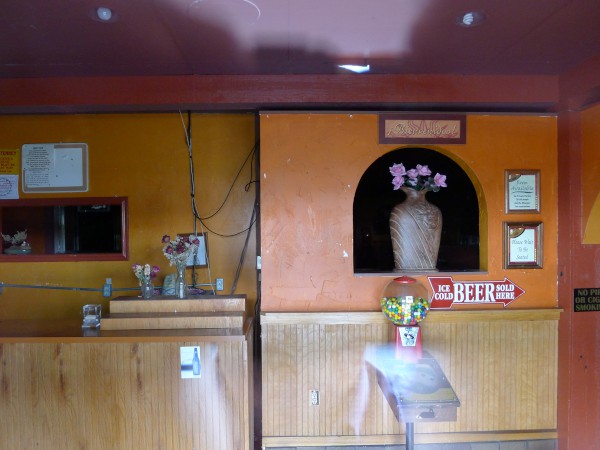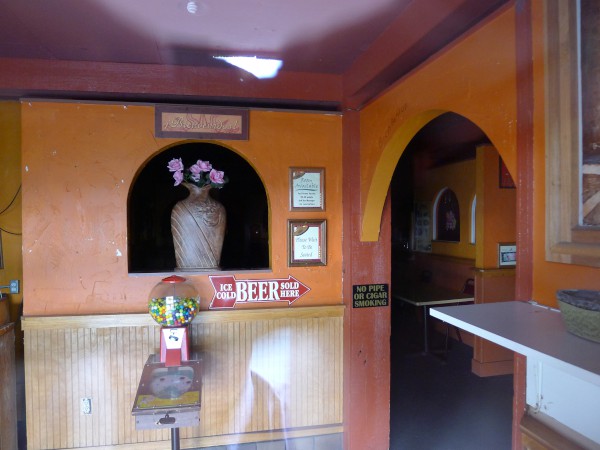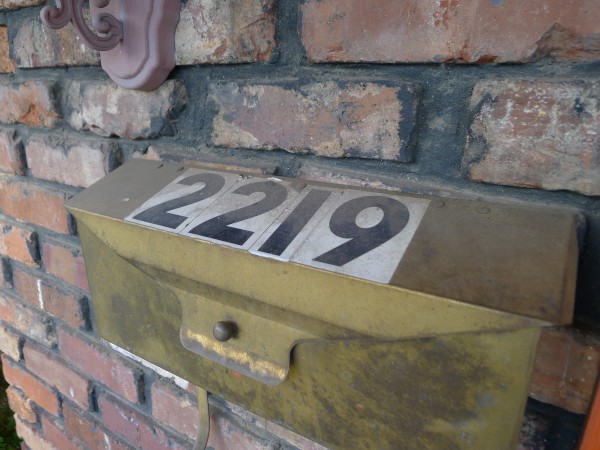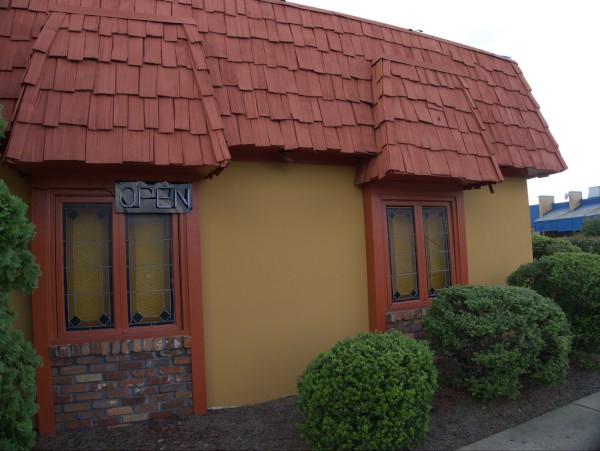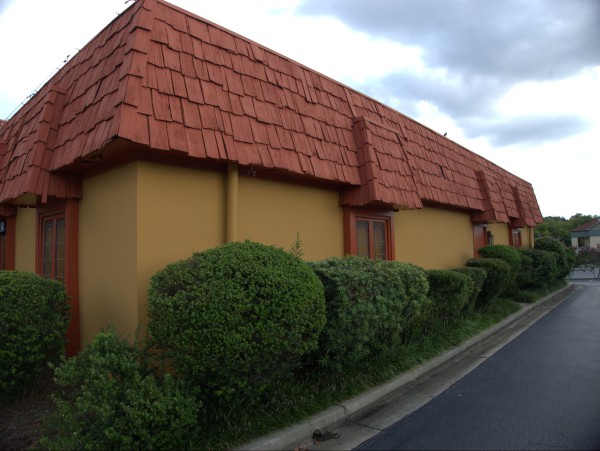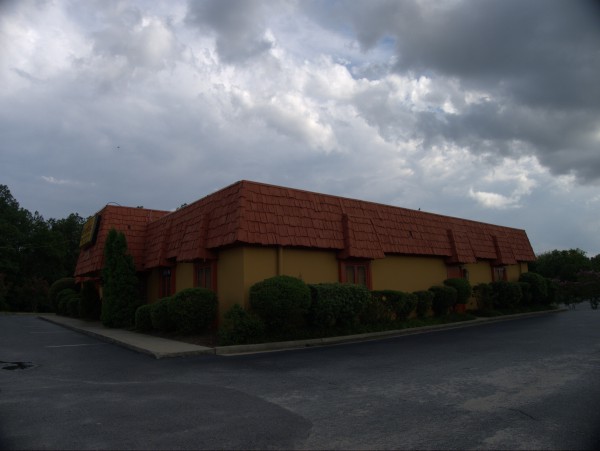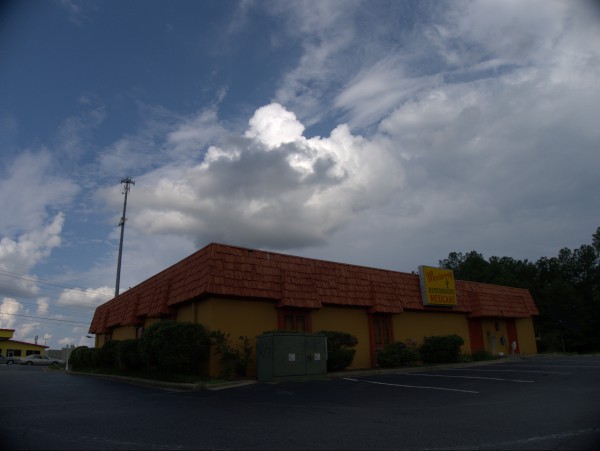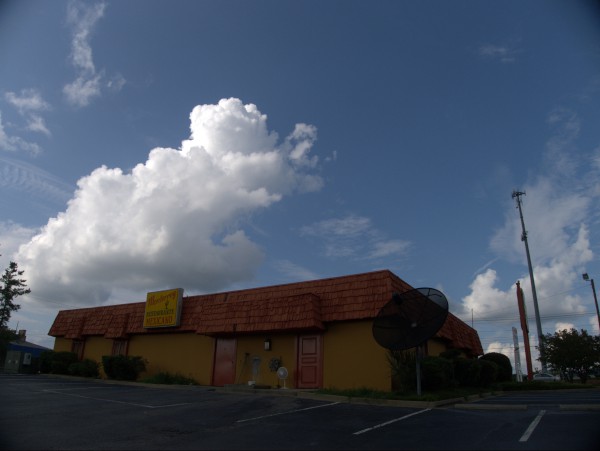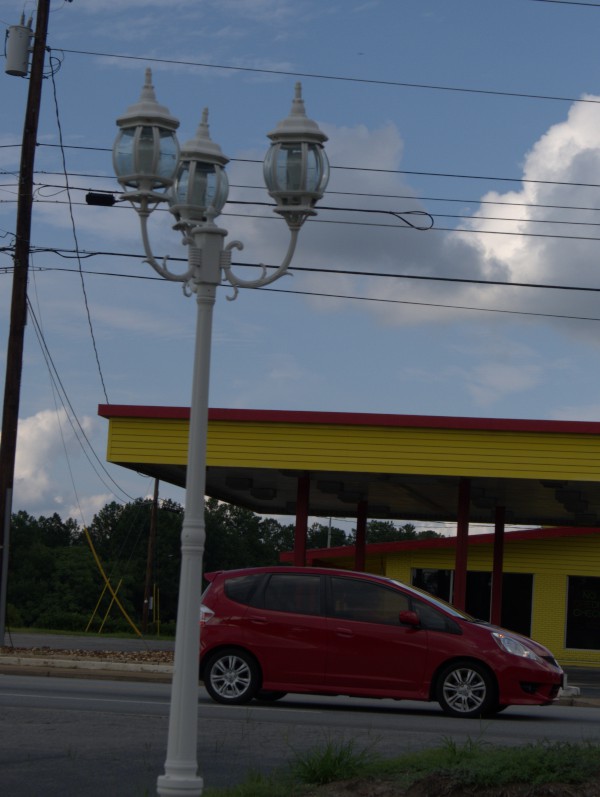 Continuing yesterday's Mexican theme -- I have often noted this El Monterrey on Broad River Road, just North of I-20, and thought to myself that it was in an awful location: very close to the I-20 interchange (which is busy, and backs up) but without access to a traffic light.
That turns out not to be exactly true, as I found out when I stopped to take these pictures. In fact, the back of the parking lot has a cut-through into the Economy Inn parking lot, and thence to Briargate Circle, which does have a stop-light. It even looks as though they got enought business from the hotel side (or expected to get enough business from the hotel side) to set up the back of the restaurant with a second facade.
Apart from the access situation, I was never tempted to stop here because in my experience the local Monterrey chain comes in behind the Casa Linda, San Jose and La Fogota chains -- nothing drastic, just not one of my preferred marquees. (And if I was in the general area, I would probably hit El Chico anyway).
(Hat tip to commenter Thomas)
UPDATE 8 April 2014 -- Well, this place tried to open as La Reyna Del Sur, which I take to be a nightclub concept. Literally it means "Queen of the South", and is also the title of a famous Telemundo telenovela (and the novel it is based on). Just from the picture of the lady in question, it appears she was from *very* far south. At any rate, the sign went up, but the club never opened, and now the building is for sale: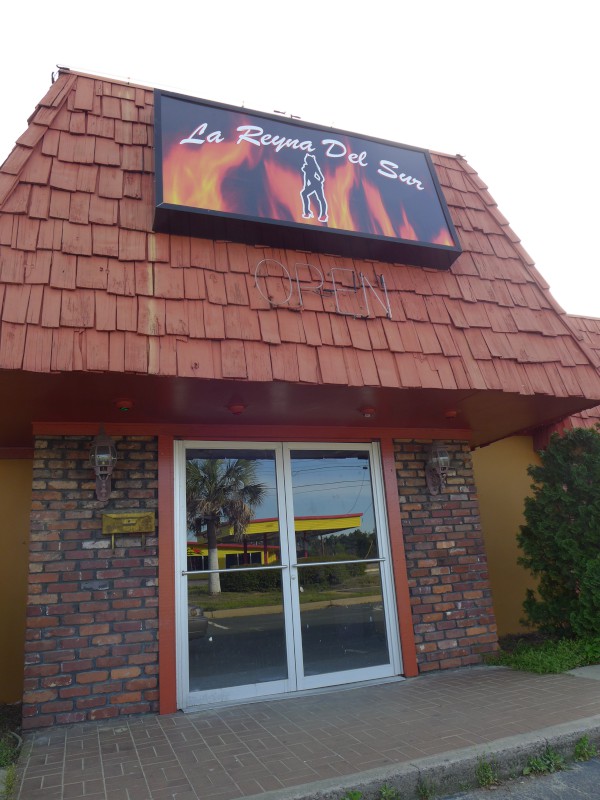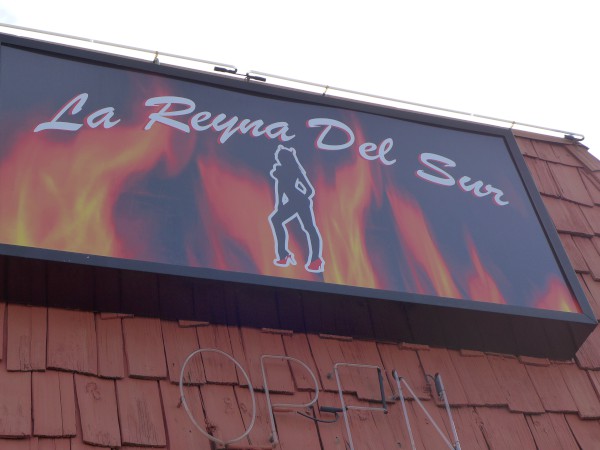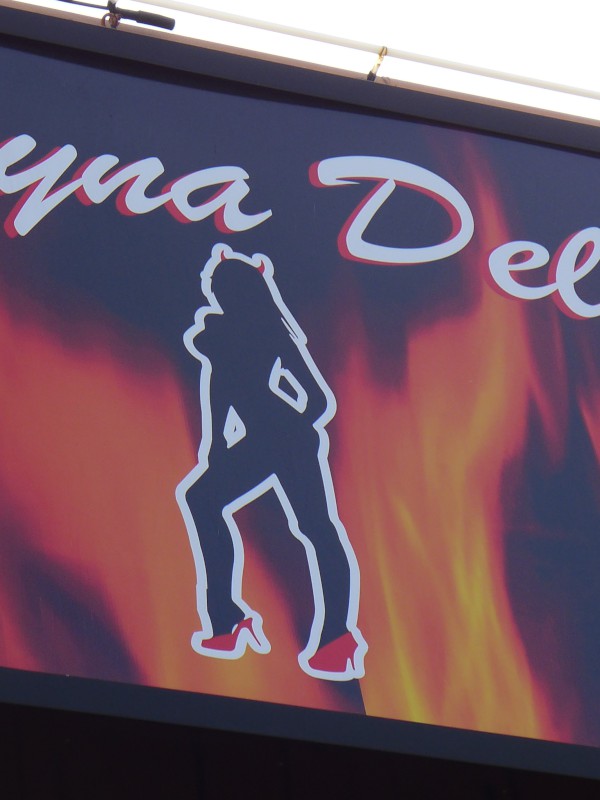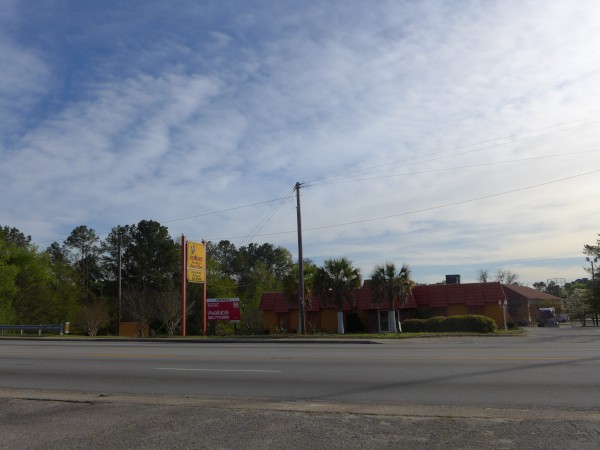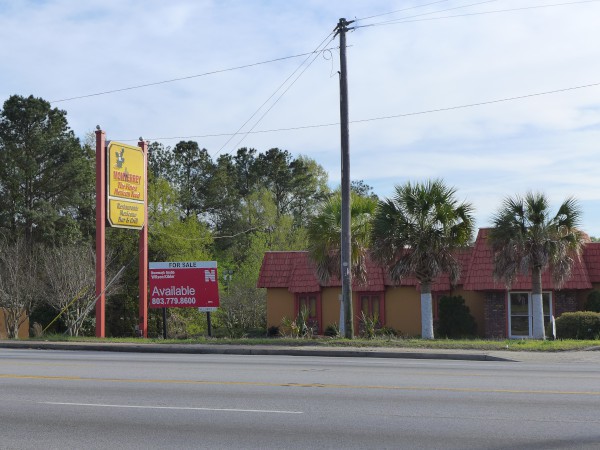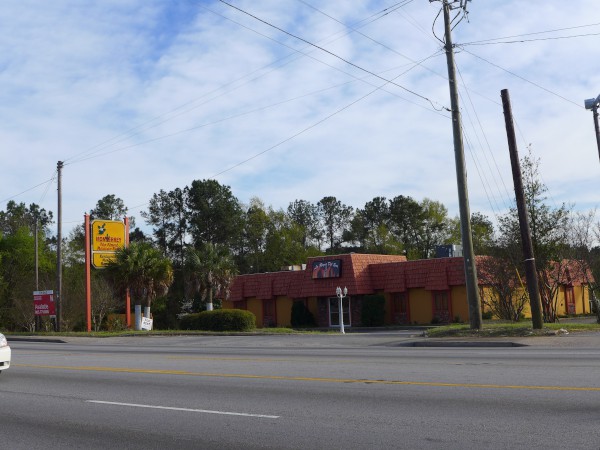 UPDATE 21 July 2016 -- As commenter Andrew mentions, work is going on here. Judging from the interior, it will not be a restaurant, but some sort of office with a front reception counter: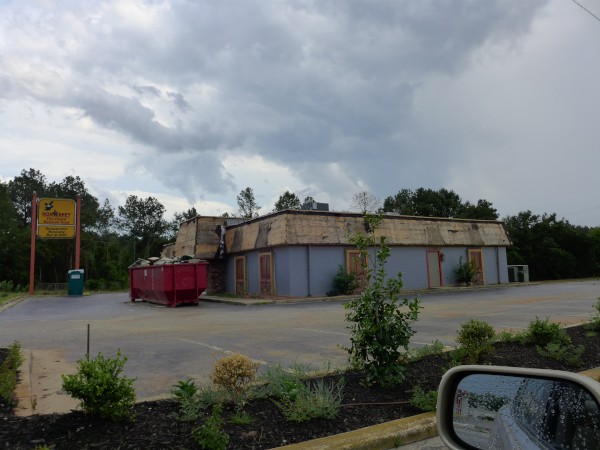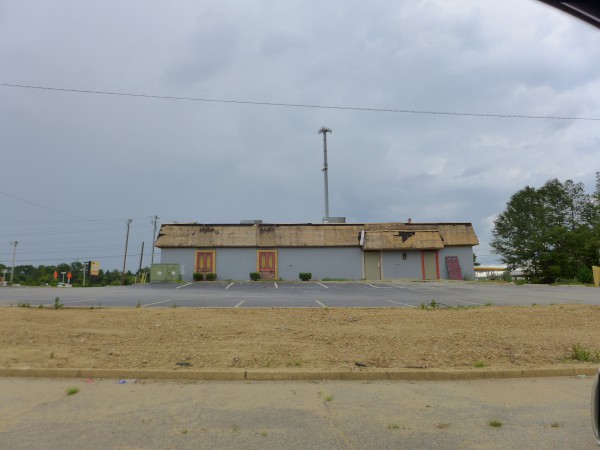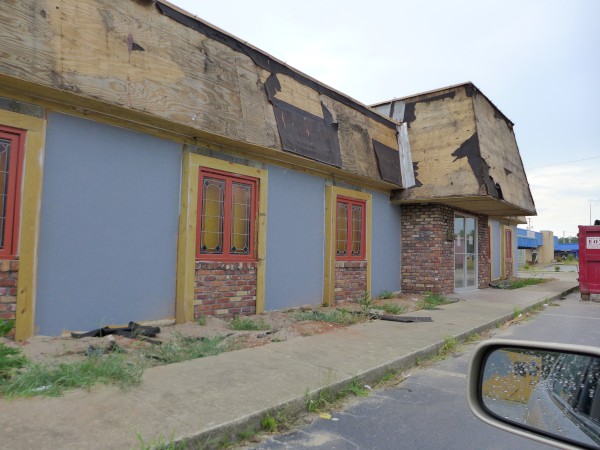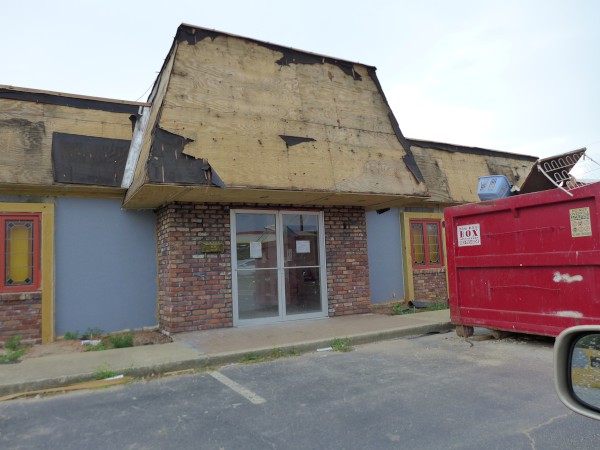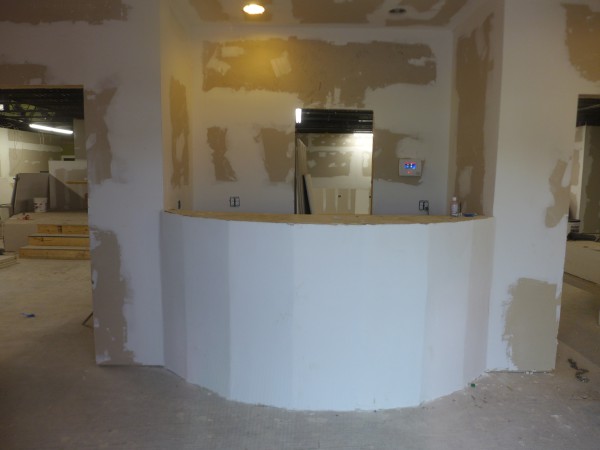 Also, I'm taking the El off the original post title of El Monterrey Restaurante Mexicano Bar & Grill to make it match the sign and fall in the Alphabetical Closings with the other Monterrey locations.
Posted at 12:44 am in Uncategorized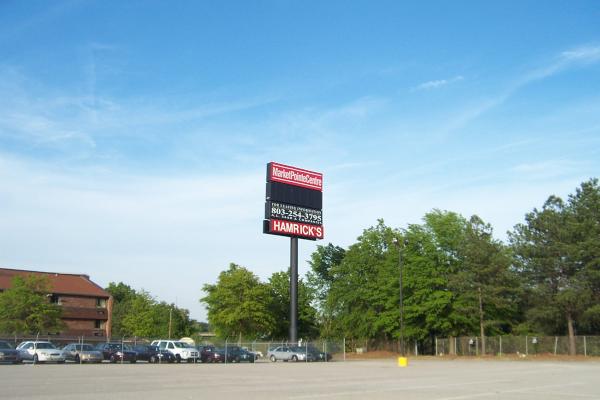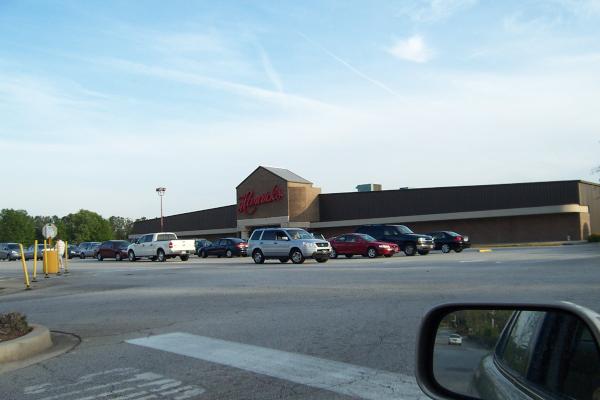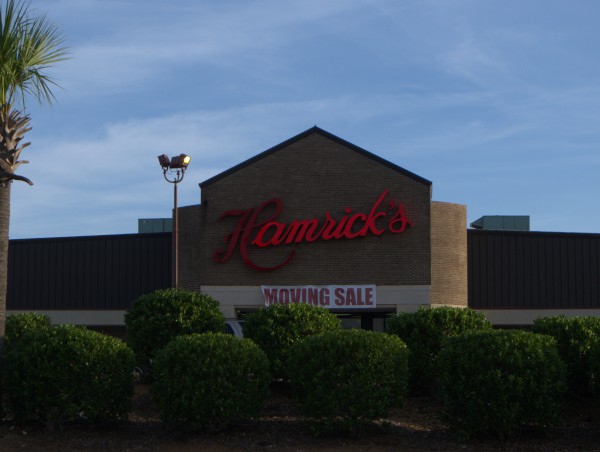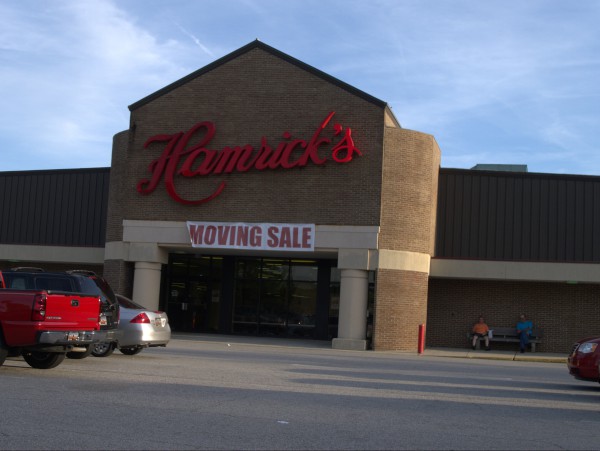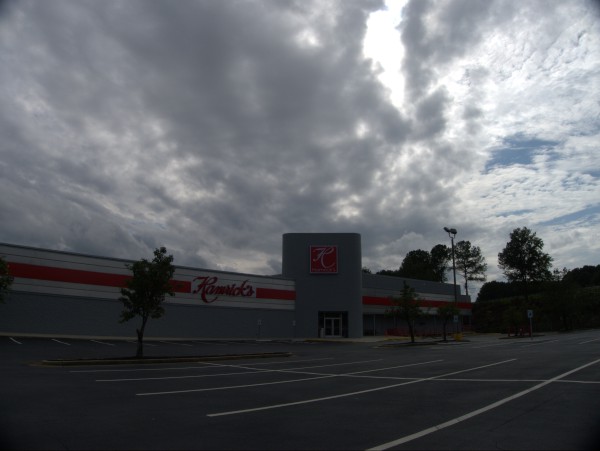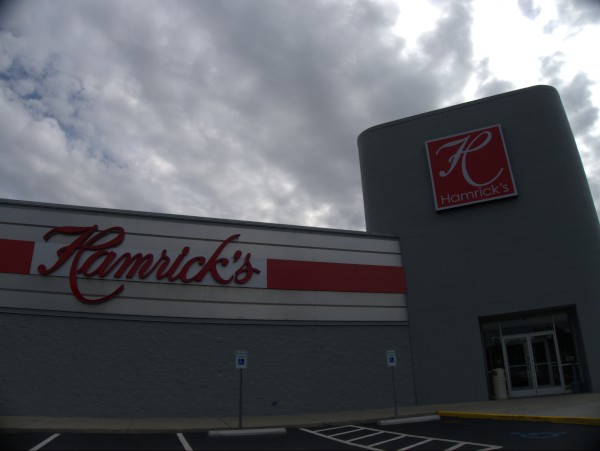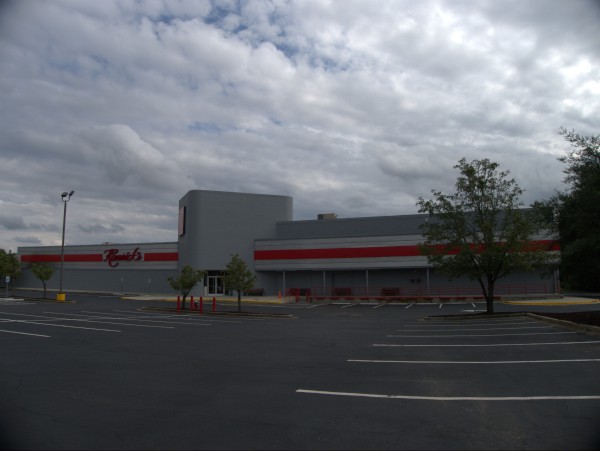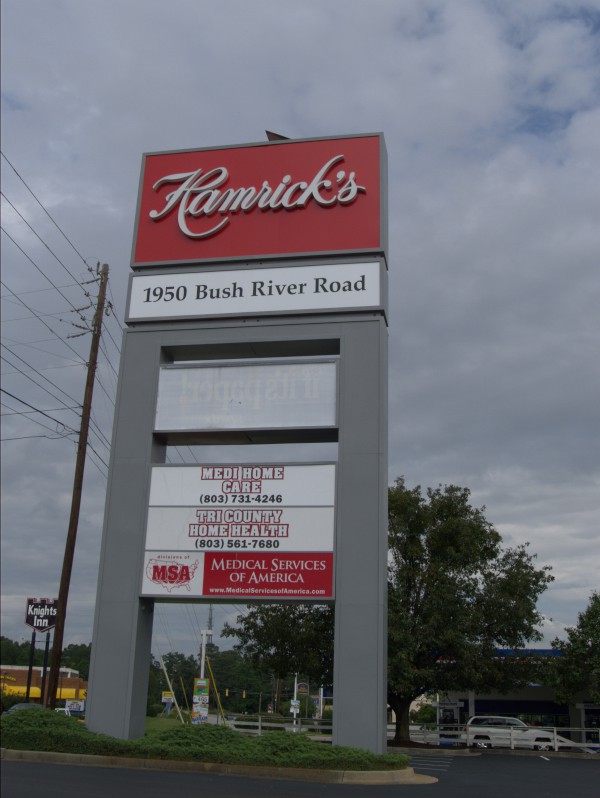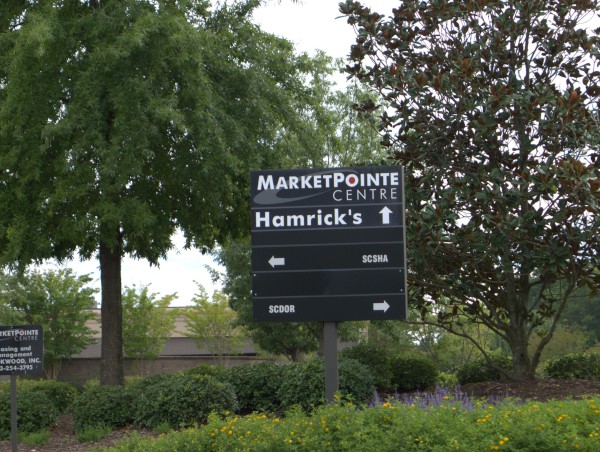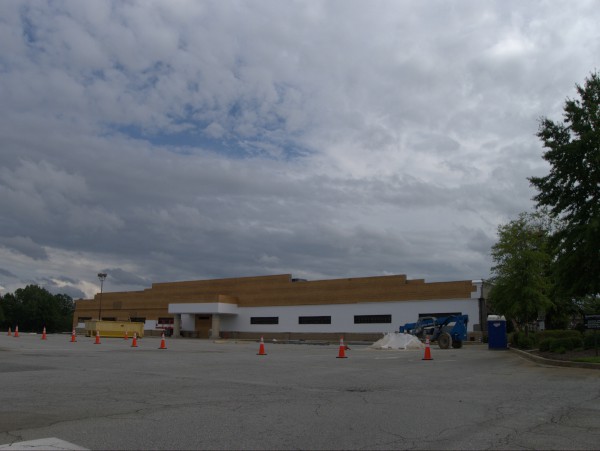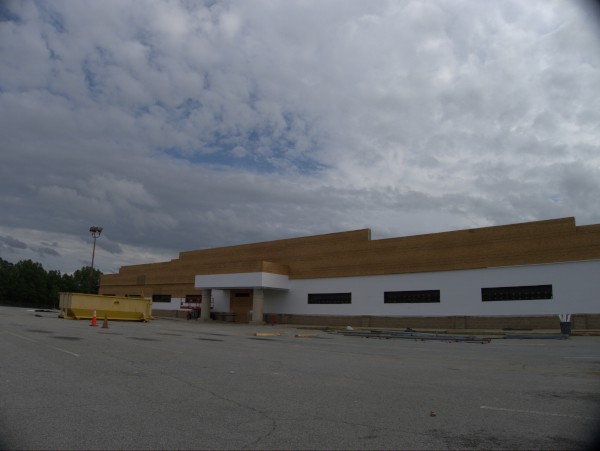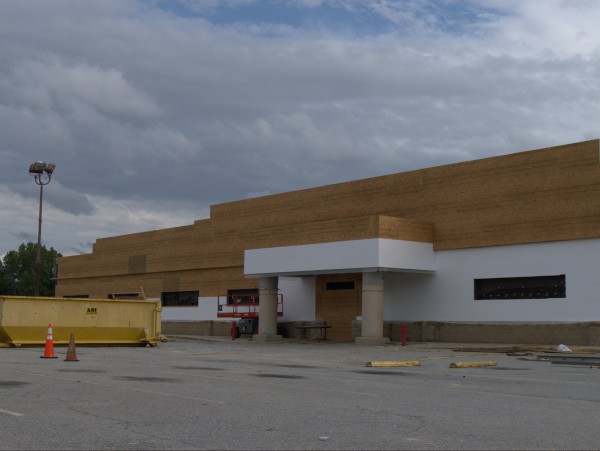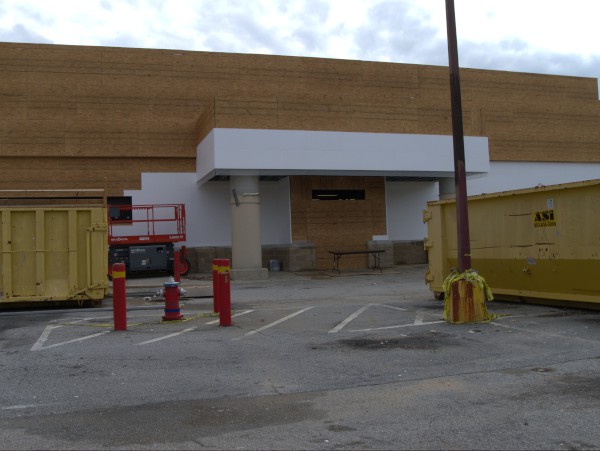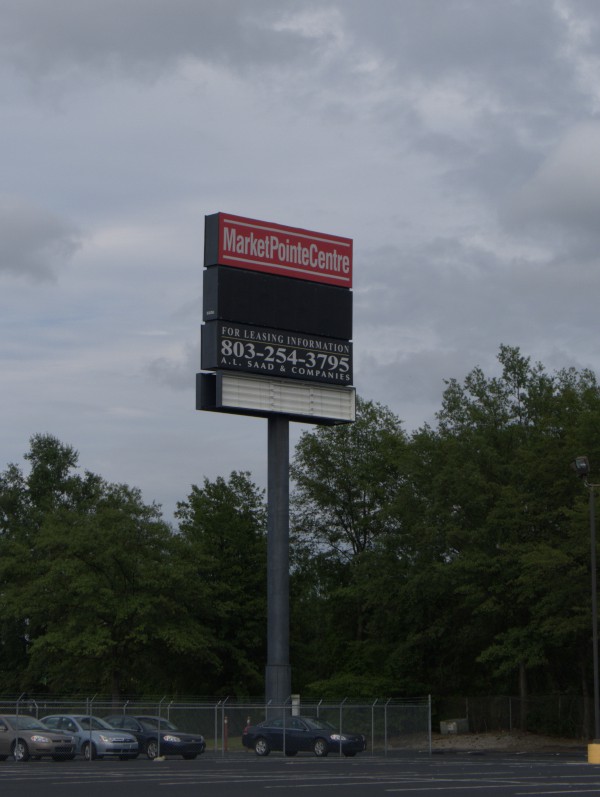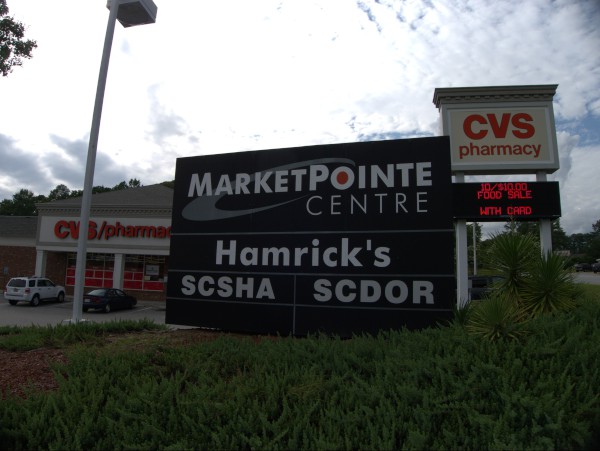 We've talked about this move in various places here over the past few months, but clothing store Hamrick's has finally made the move from the now totally defunct (for retail) MarketPointe Centre into the old Circuit City building across I-20 at 1950 Bush River Road.
As you can see, construction has already started at the old location to refit it for the expansion of the existing SCDOR offices at MarketPointe.
Posted at 12:09 am in Uncategorized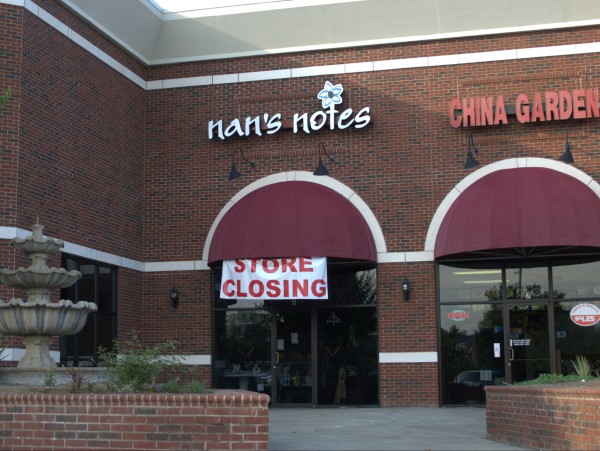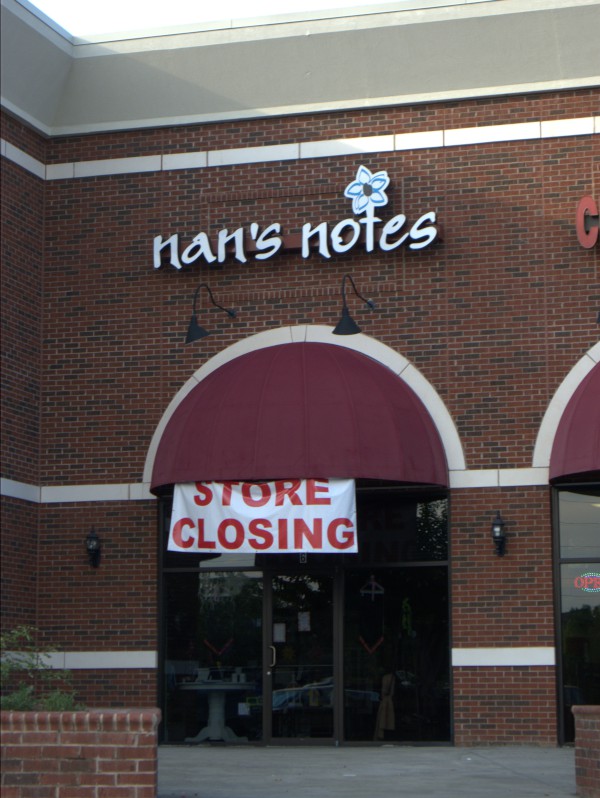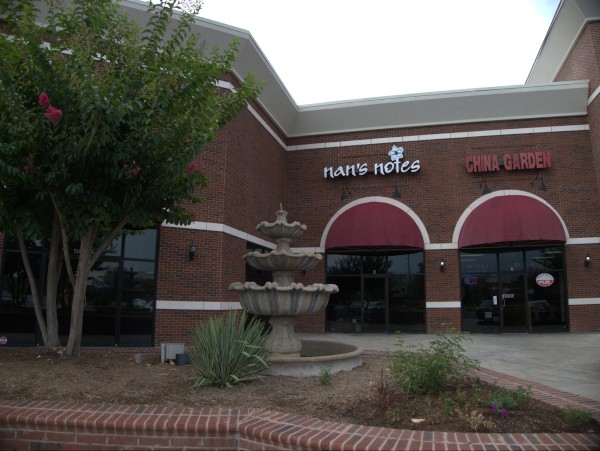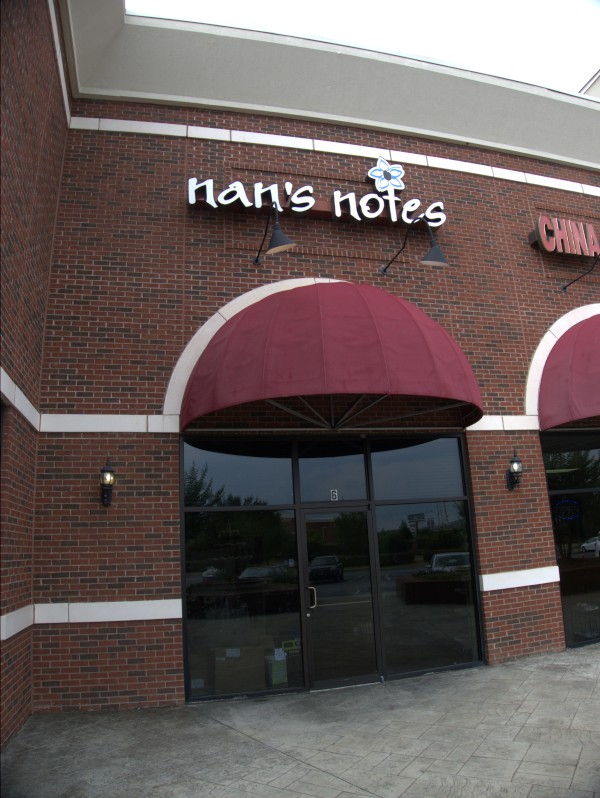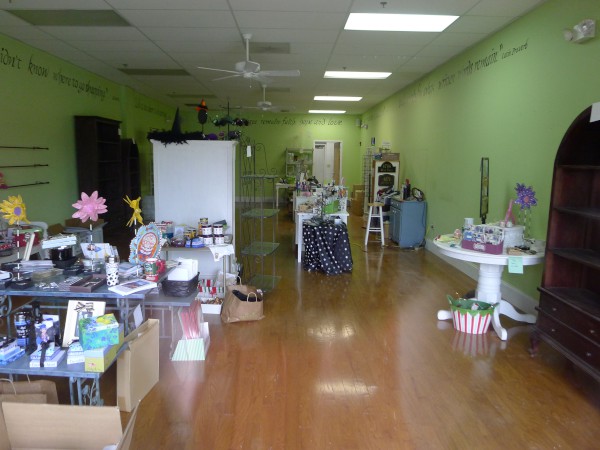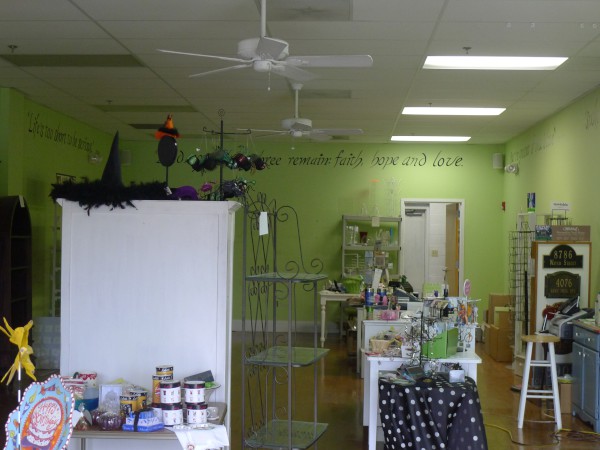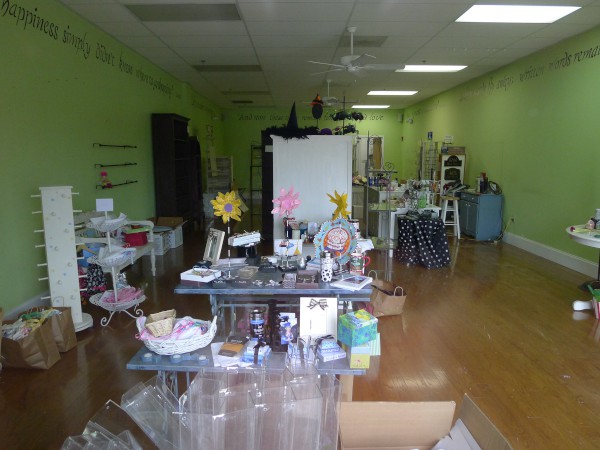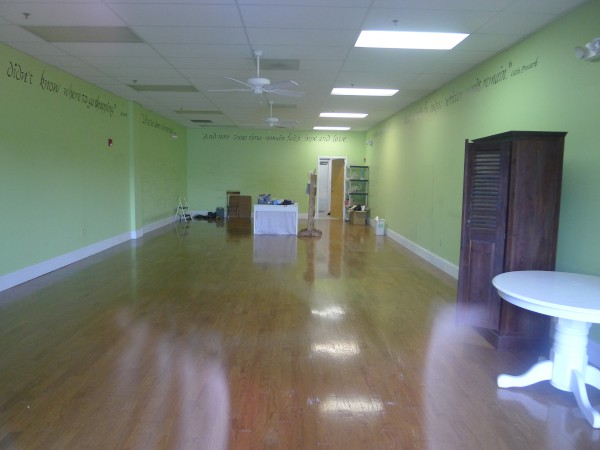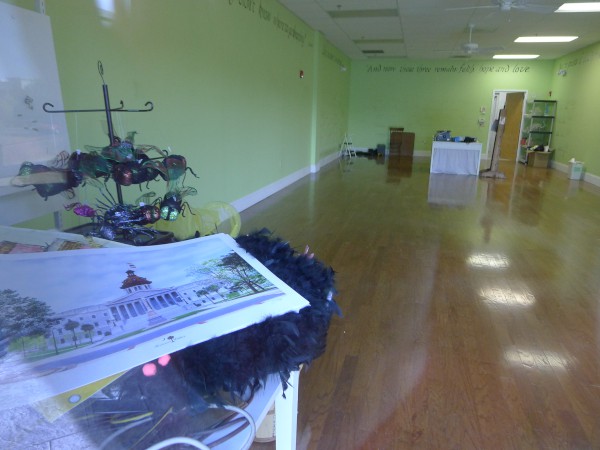 This 2004 story from the Columbia Star is a nice little write-up, and implies that invitation and stationery shop Nan's Notes started in this Sparkleberry Crossing storefront sometime in 2003 (probably late 2003). I noticed a few weeks ago that a closing banner was up, giving them around a nine year run -- not bad at all in this economy.
The article also mentions in passing that they got a good bit of business from people who noticed the shop while at one of the strip mall's restaurants, so I suppose that the demise of Al-Amir, Coldstone Creamery, D's Wings, Let's Dish, Mirage and 7 Grill can't have helped.
Posted at 1:33 am in Uncategorized
Posted at 12:49 am in Uncategorized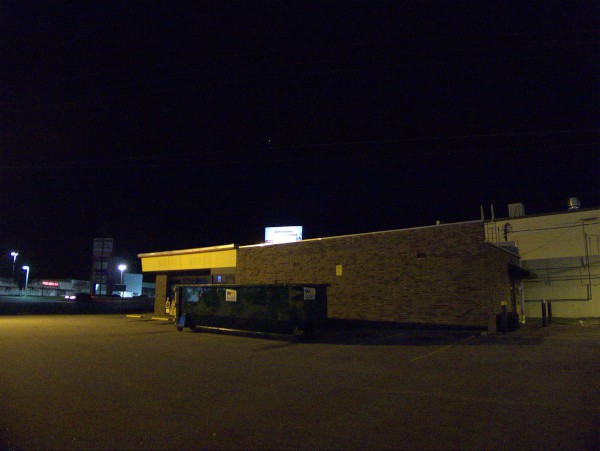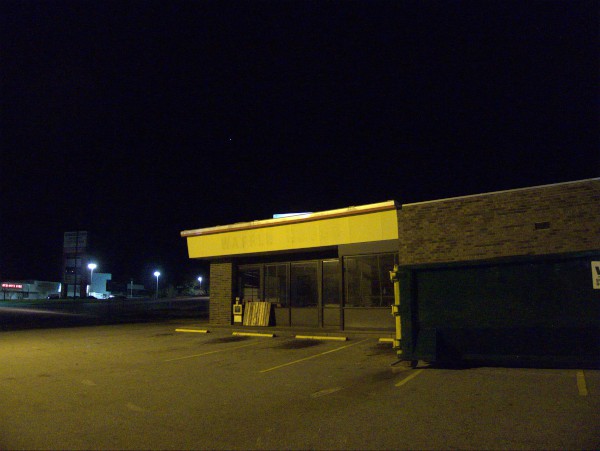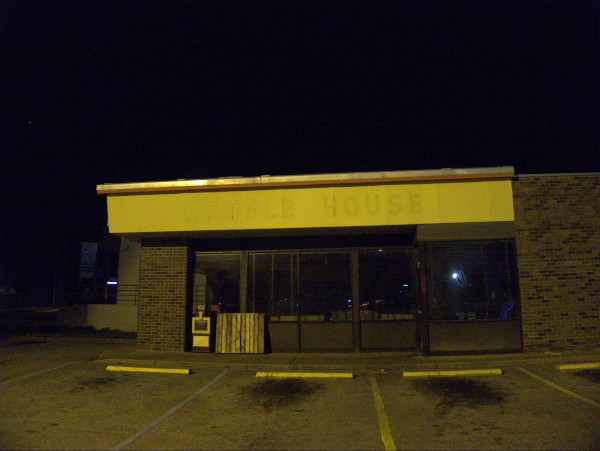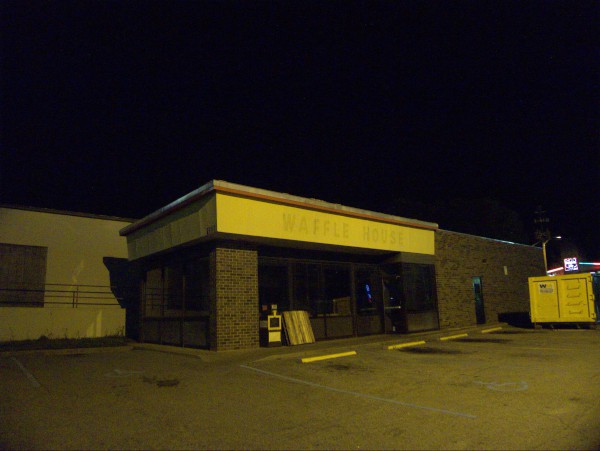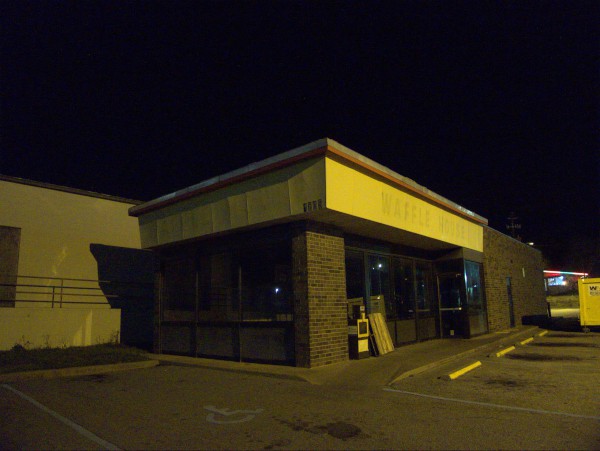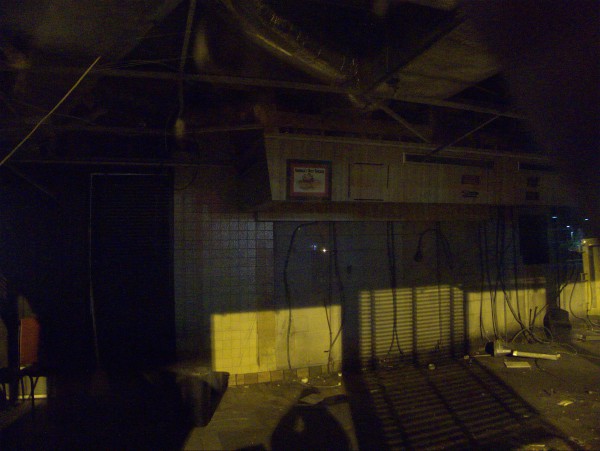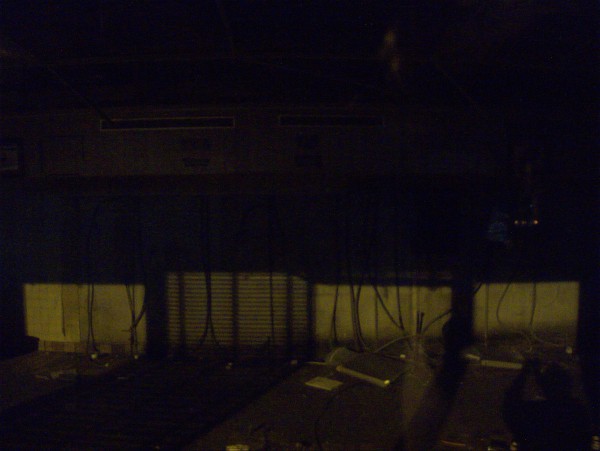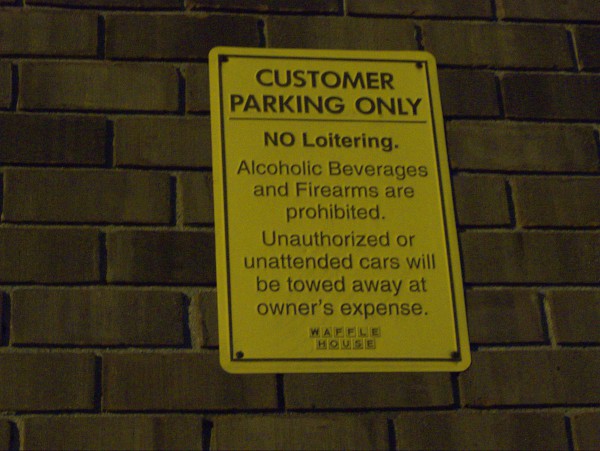 You know, I don't think I've ever seen a Waffle House go under -- until now.
I actually had this Waffle House in my sights for several years. Due to the way it was situated, I thought it would make a good subject for a Nighthawks type picture. In the event, I never got around to it. (For one thing, the best place to set up would be the gas station across the street, which is also 24 hours, and probably would have gotten me some pointed looks at best).
I suppose this does help with directions though:
"Take the only Interstate exit without a Waffle House.."
UPDATE 2 February 2012 -- some daylight pix: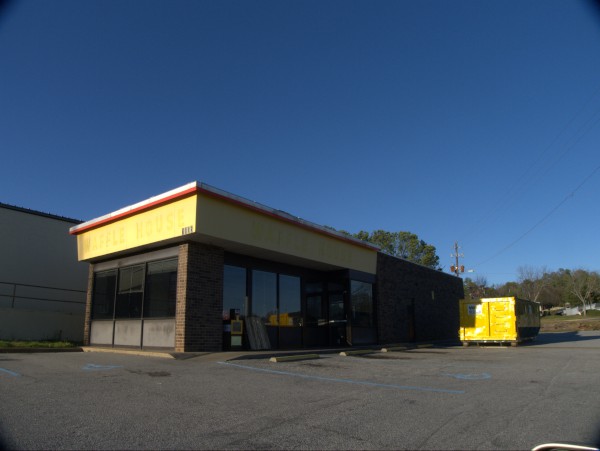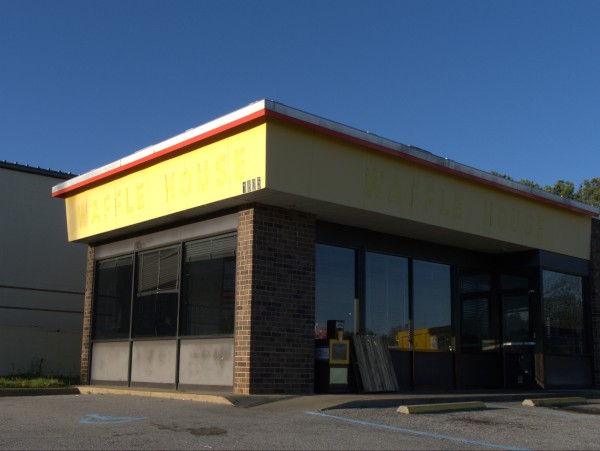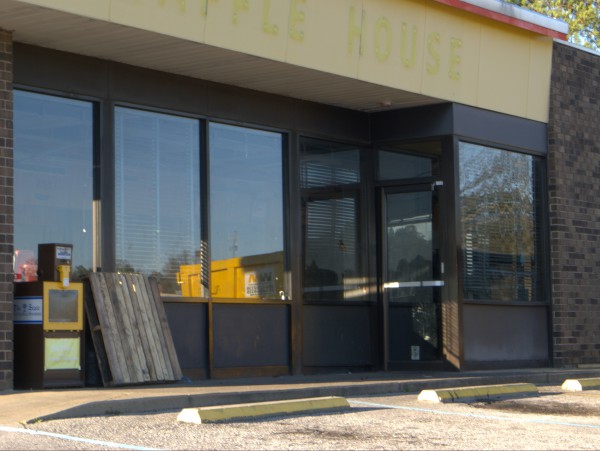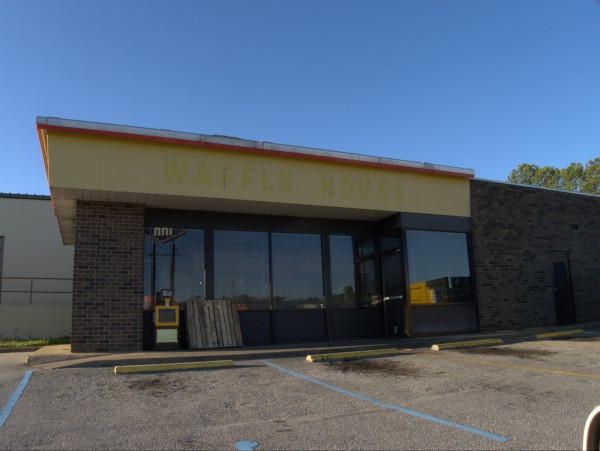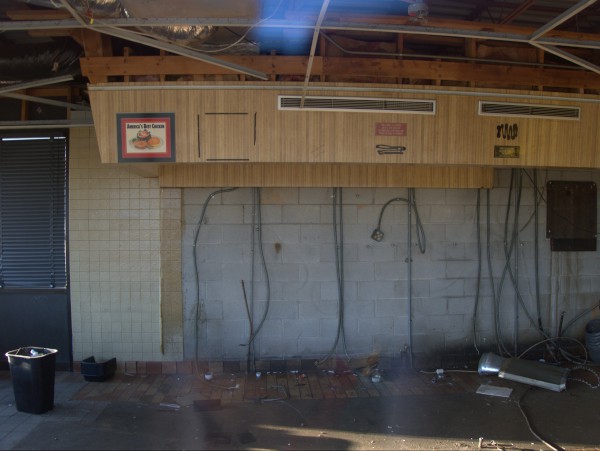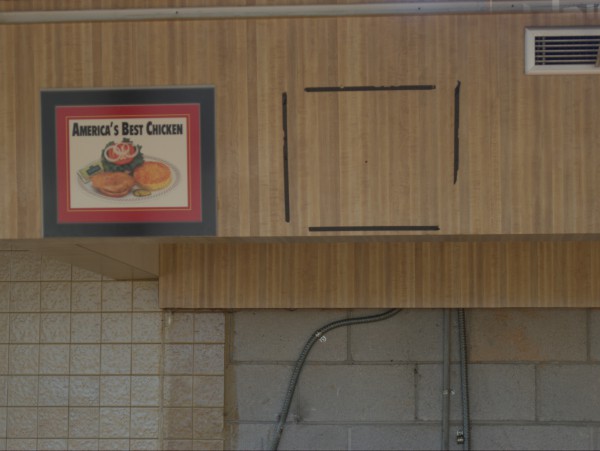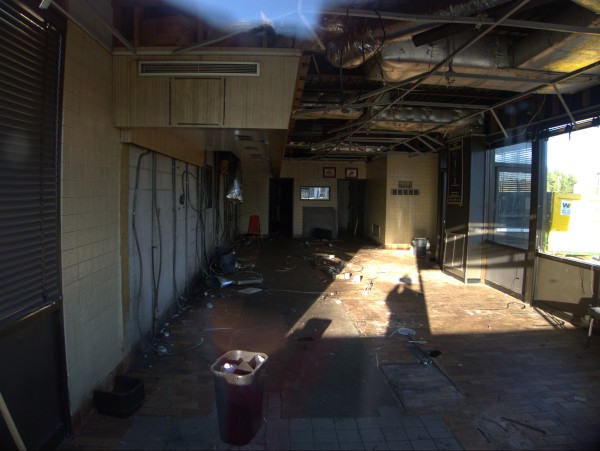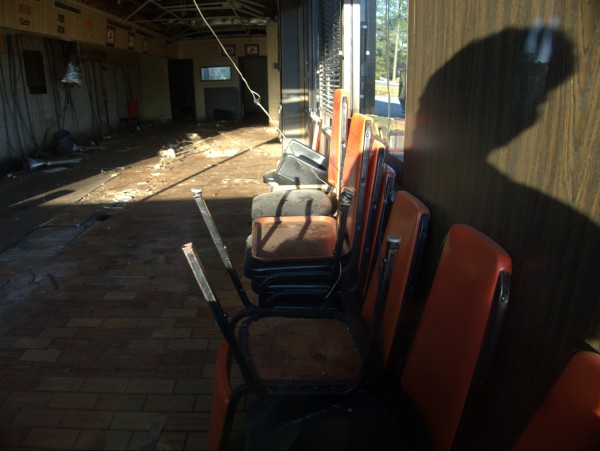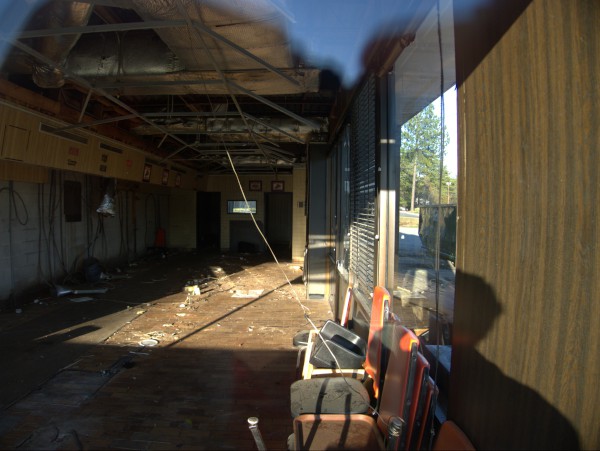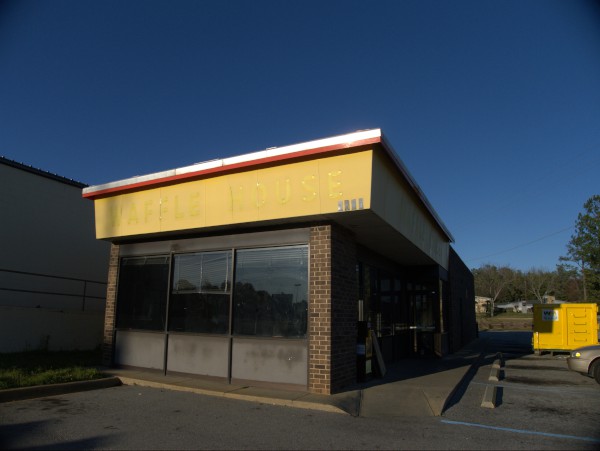 UPDATE 5 April 2012 -- It would appear someone has a grudge against those of the distaff persuasion: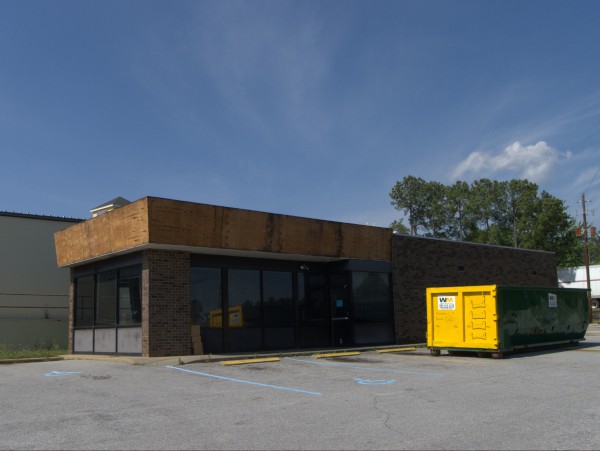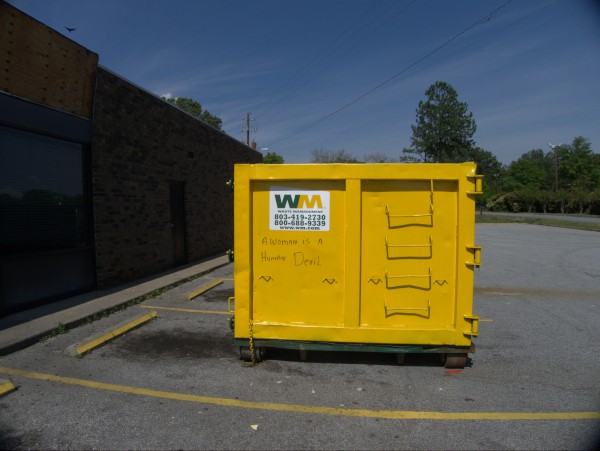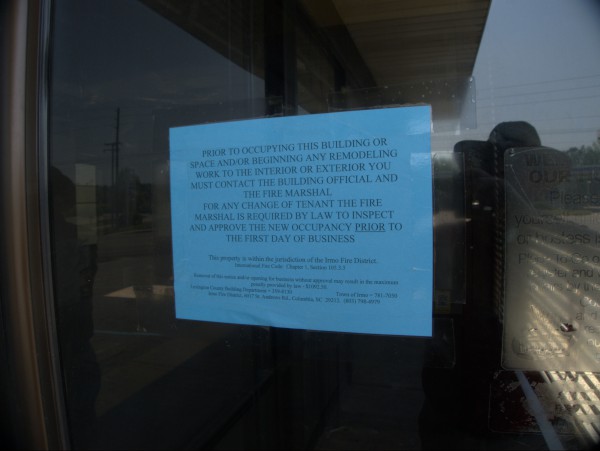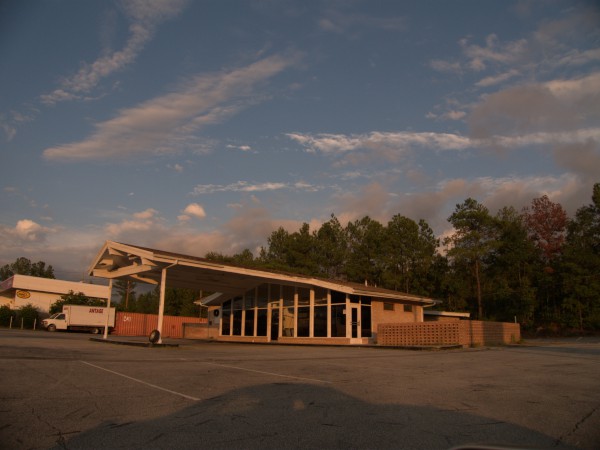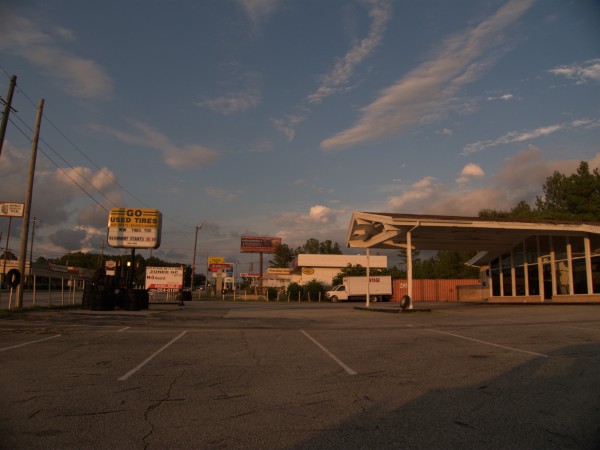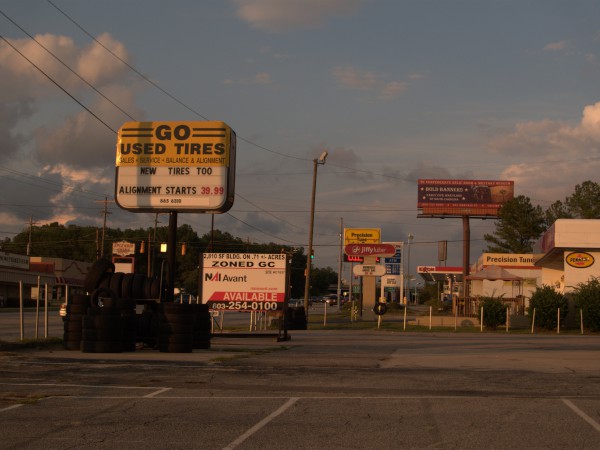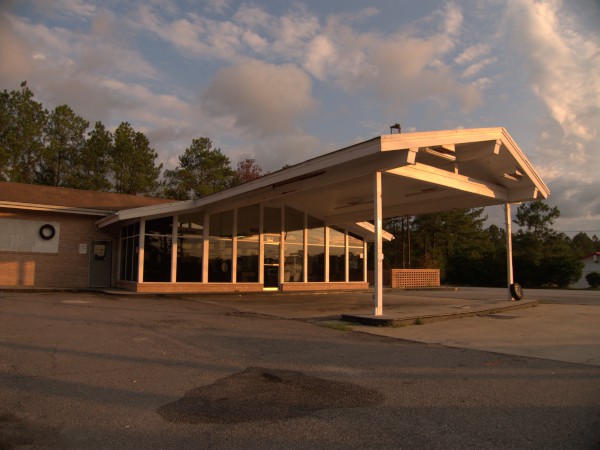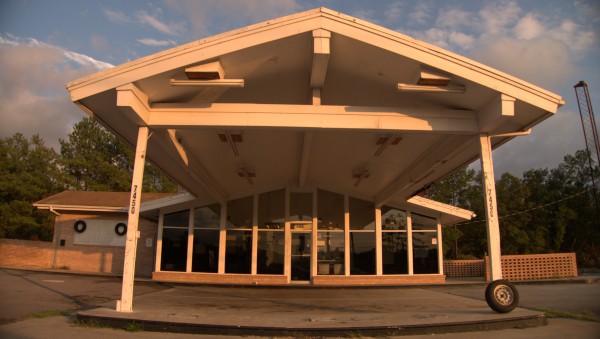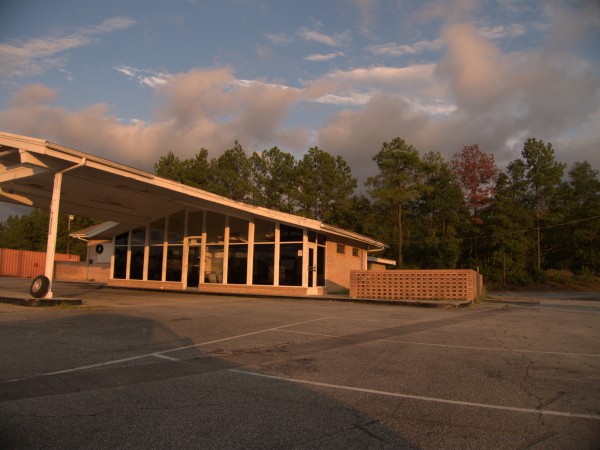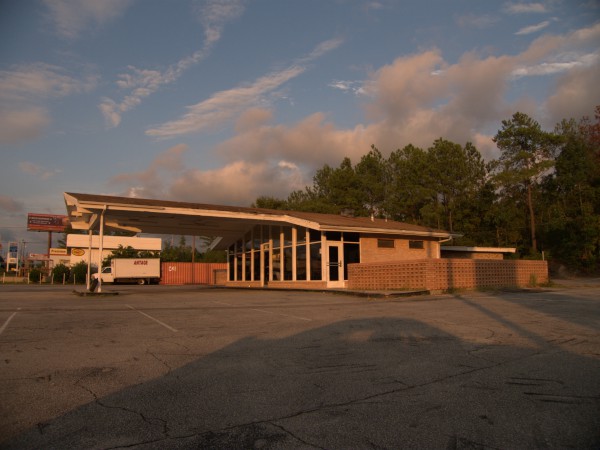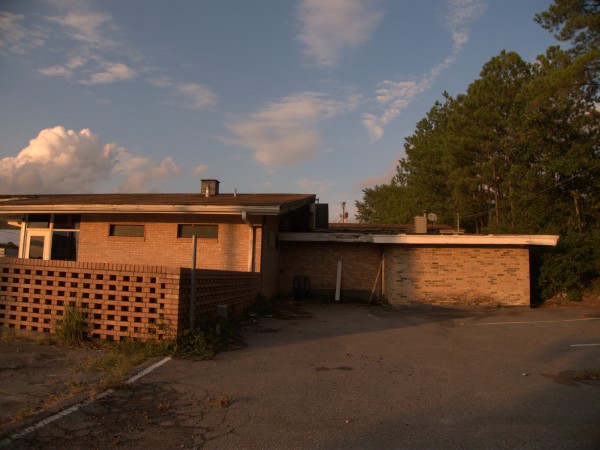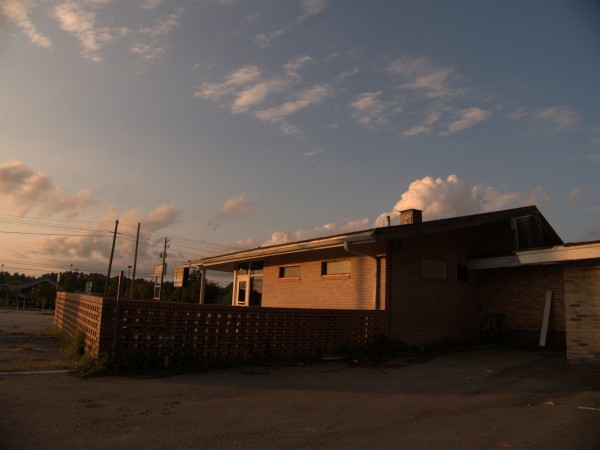 This old-school Exxon on Two Notch near the I-20 interchange, and O'Neil Court is currentl Go Used Tires, but apparently that will only last until the sale of the building, which is currently on offer.
This is a classic look for an Esso/Exxon of that era. Here is a similiar one (which I believe stayed open longer) in Yulee Florida: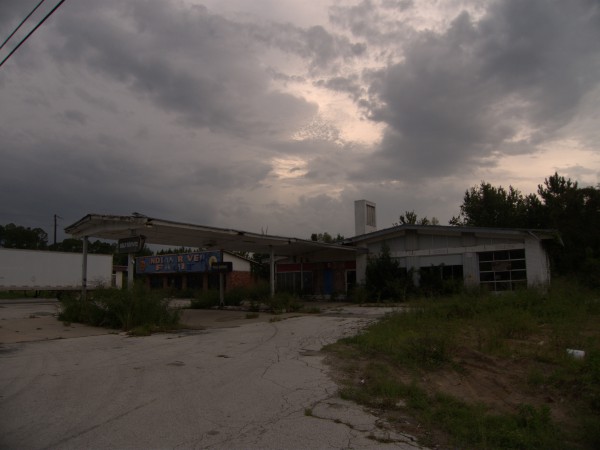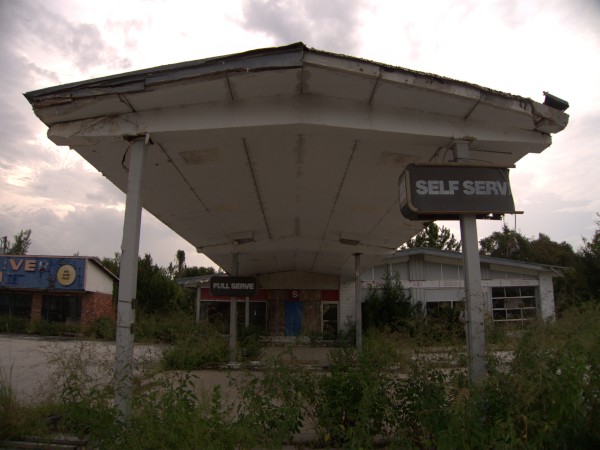 Hopefully the Two Notch building will not be razed, but given the age, I wouldn't bet on it.
UPDATE 5 December 2011: Added Esso to the post title based on the comments.
UPDATE 10 October 2016 -- The Two Notch building continues to deteriorate. I don't see how the next operation won't raze it. I also note the sheltered area looks to have been something of a homeless campout: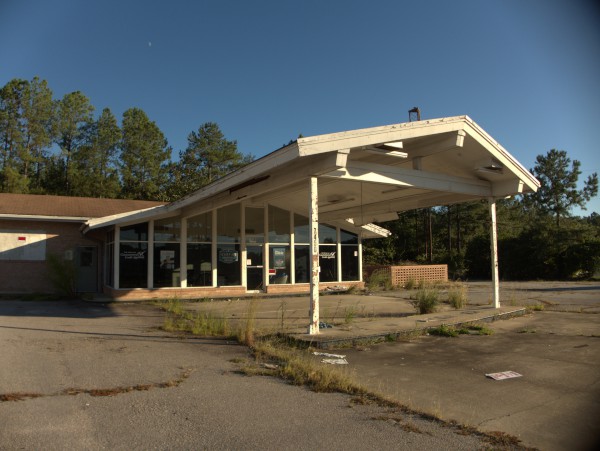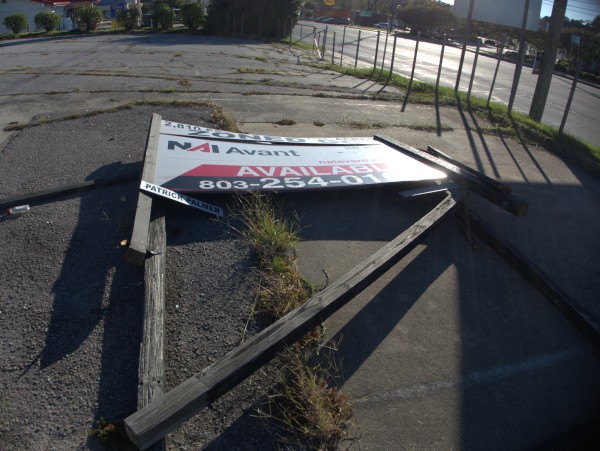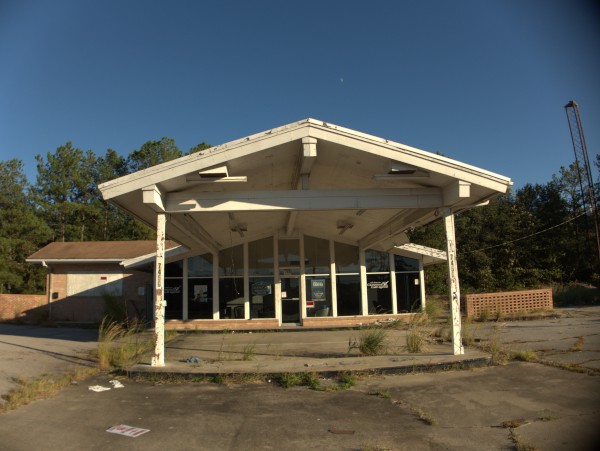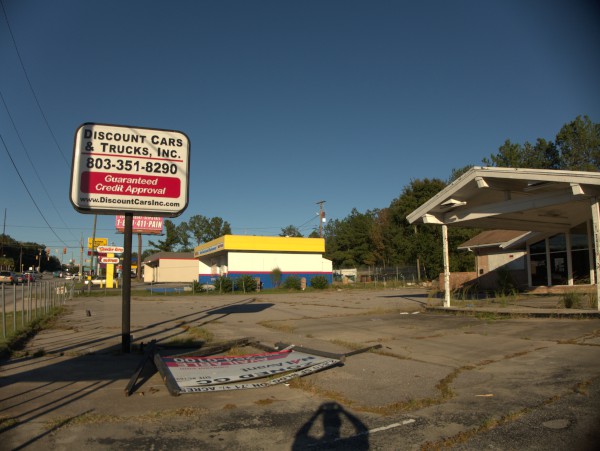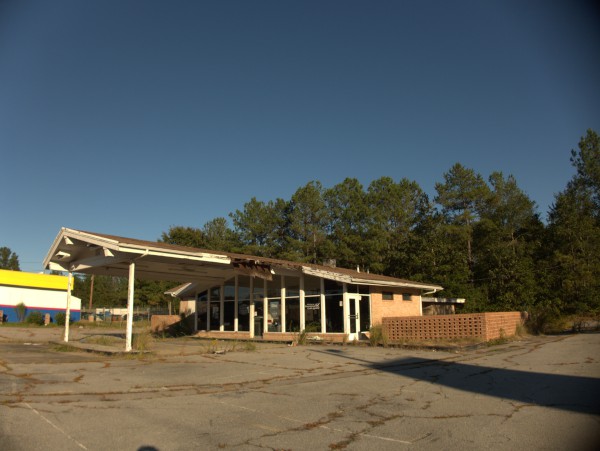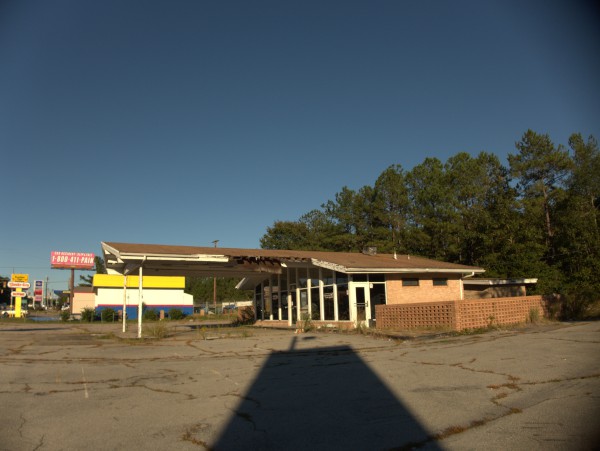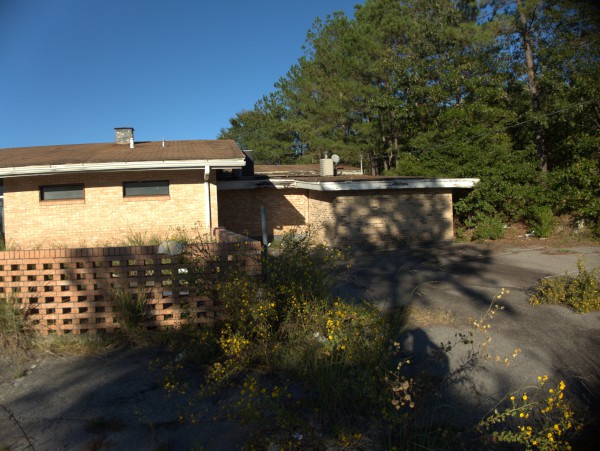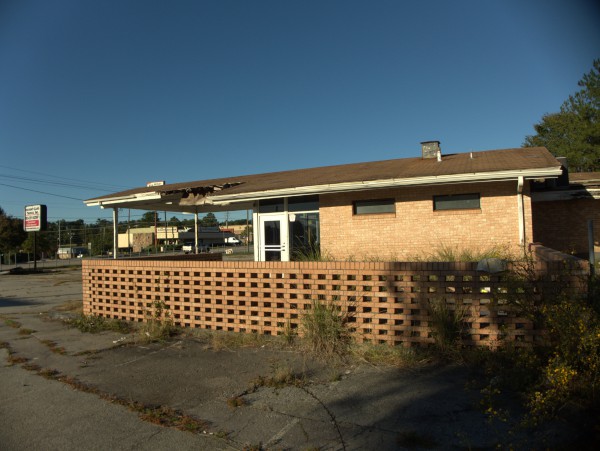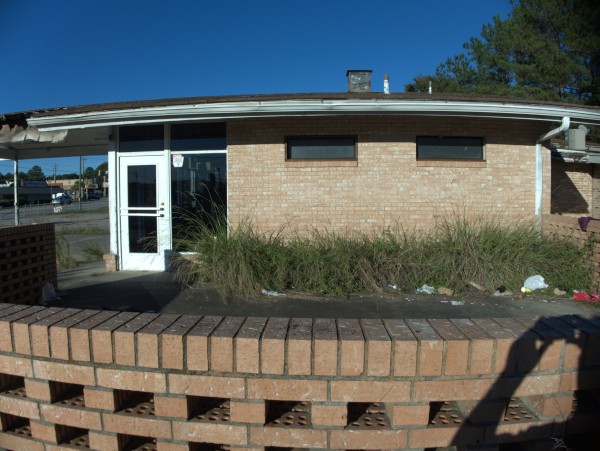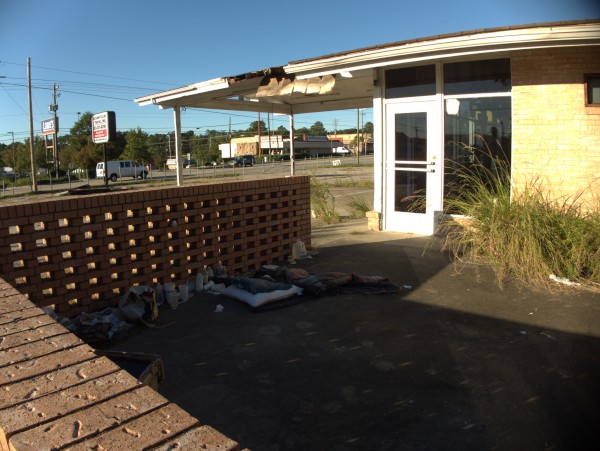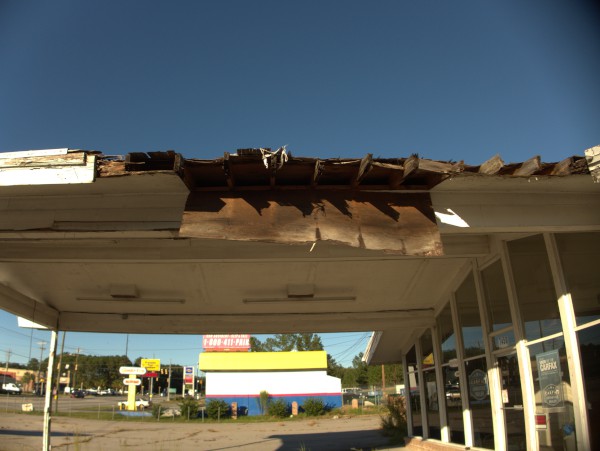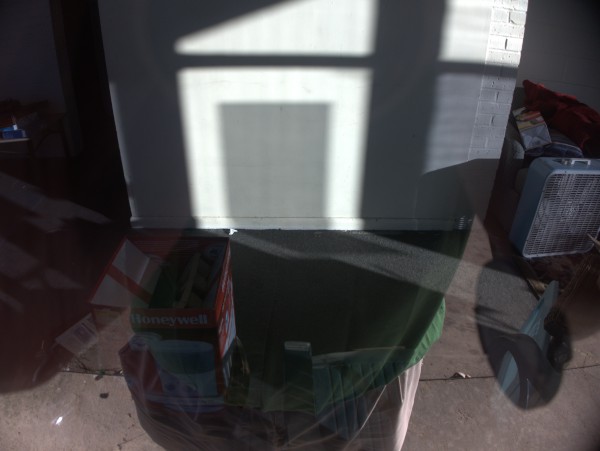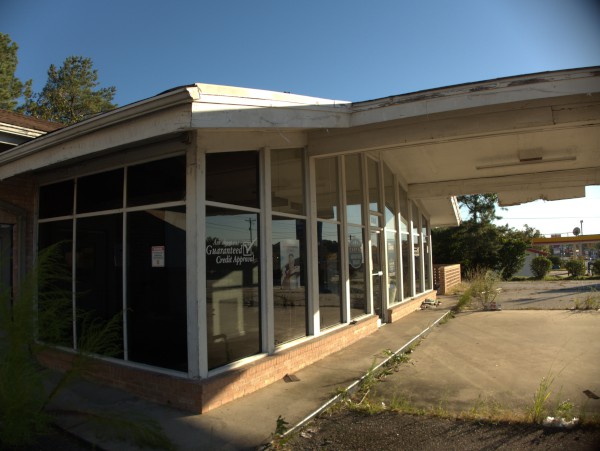 Posted at 11:06 pm in Uncategorized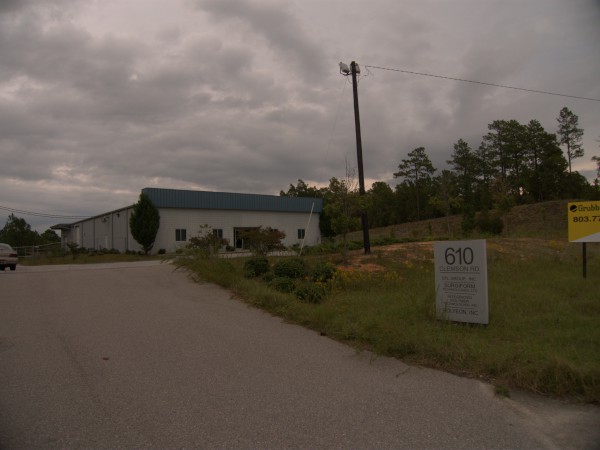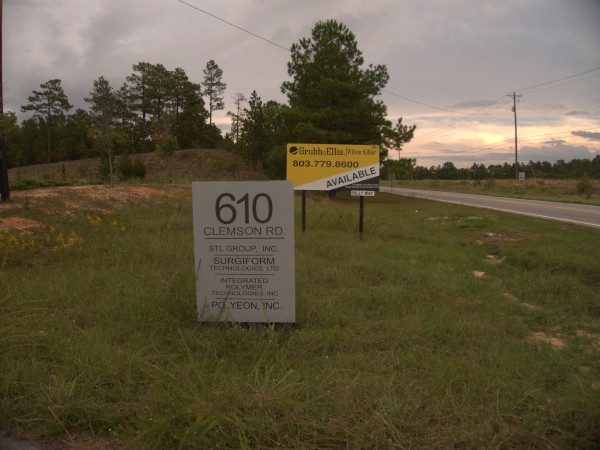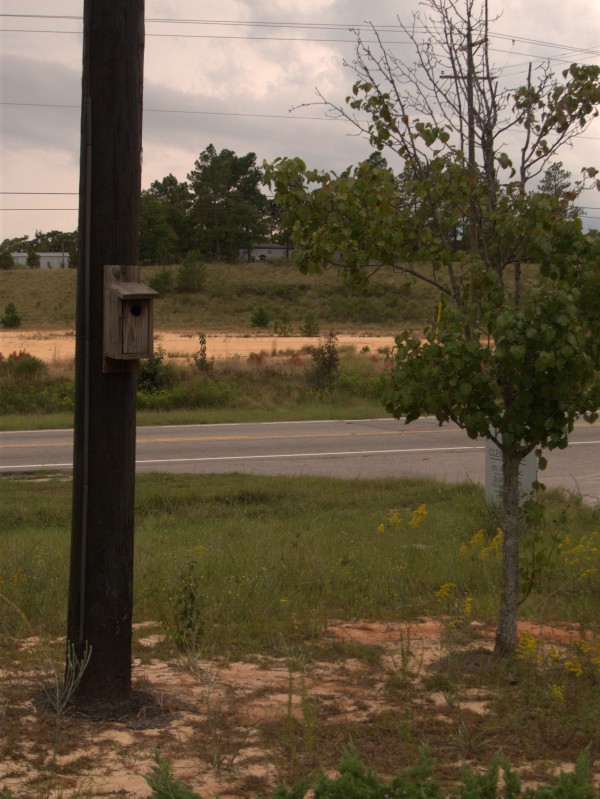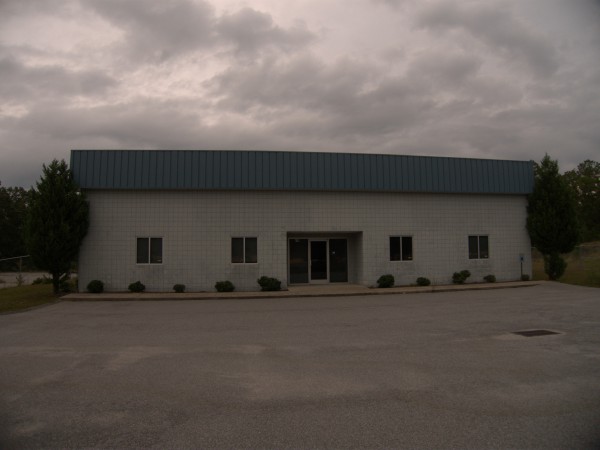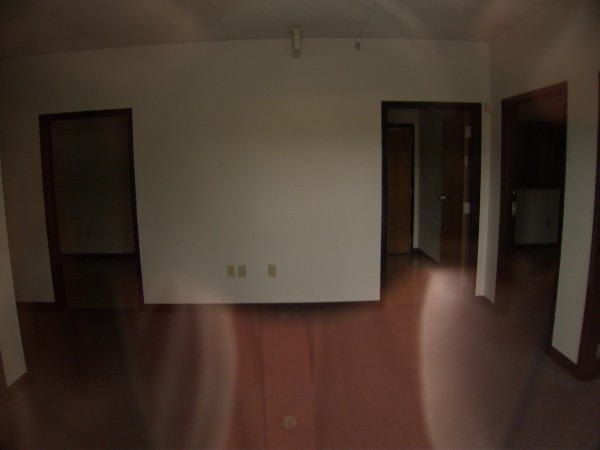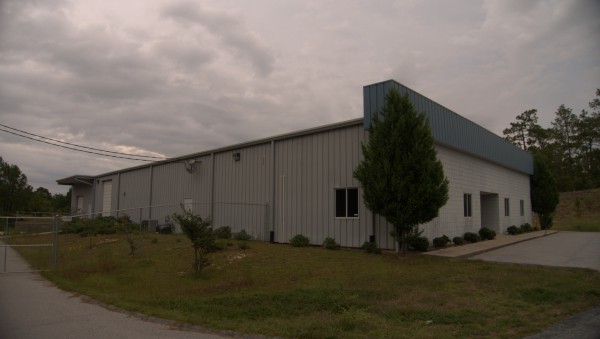 I noticed this building on the East side of Clemson Road the other day as I was heading from I-20 to The Village at Sandhill. I'm not sure when all the various businesses left, but Surgiform Technologies is listed in this year's (February 2011) phonebook, so I'll say 2011. Surgiform, at least, has moved (to Lugoff) so the others may have as well.
It's a pretty bland, warehouse-like building, but I like the fact that someone nonetheless took the time and trouble to put of a birdhouse on a power pole by the road.
Posted at 11:16 pm in Uncategorized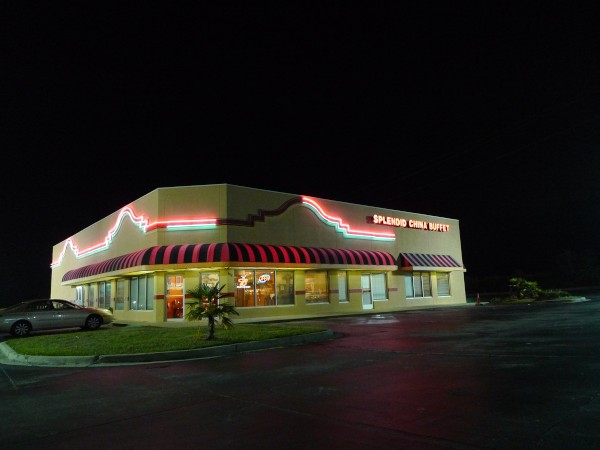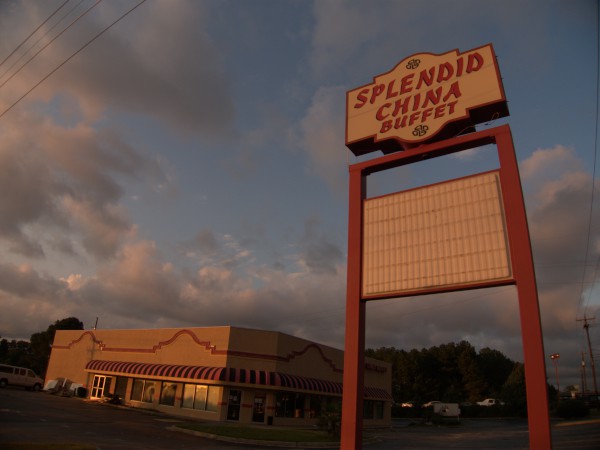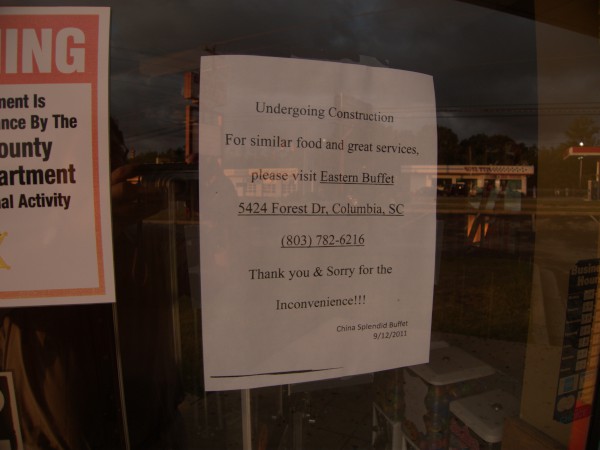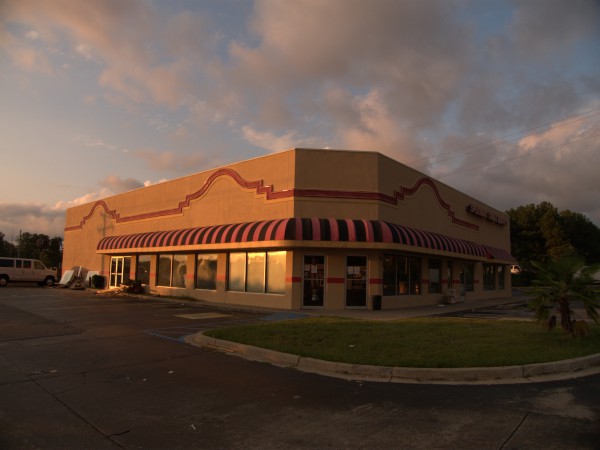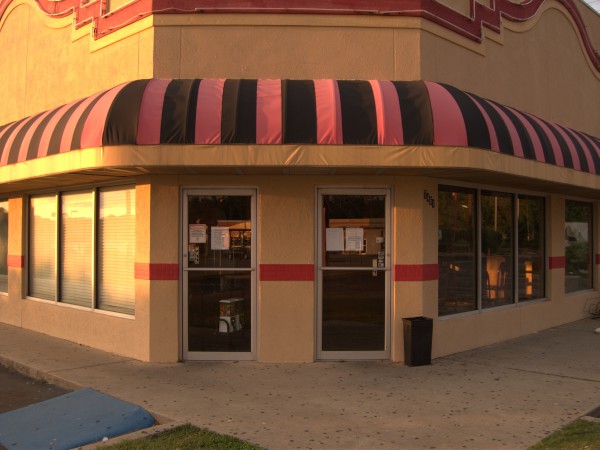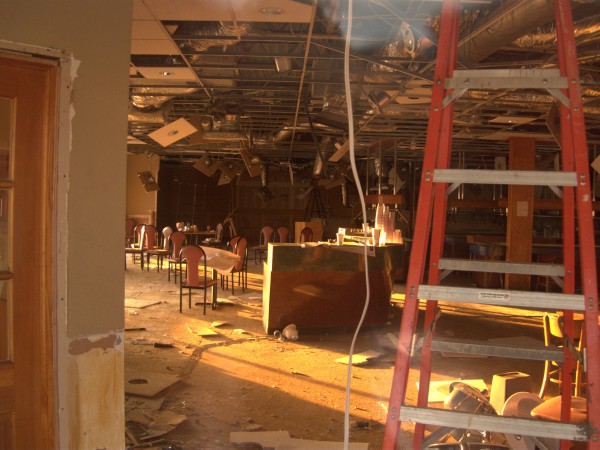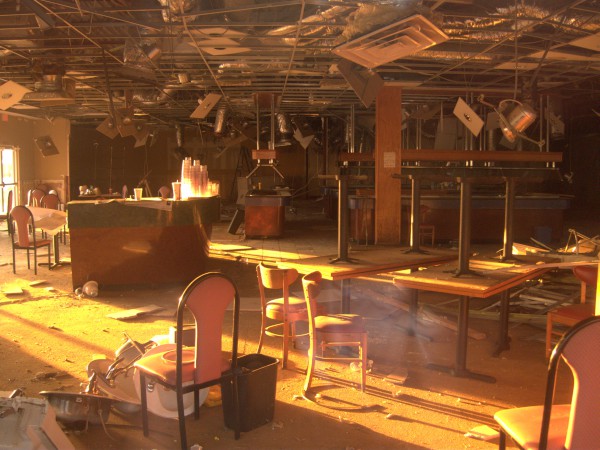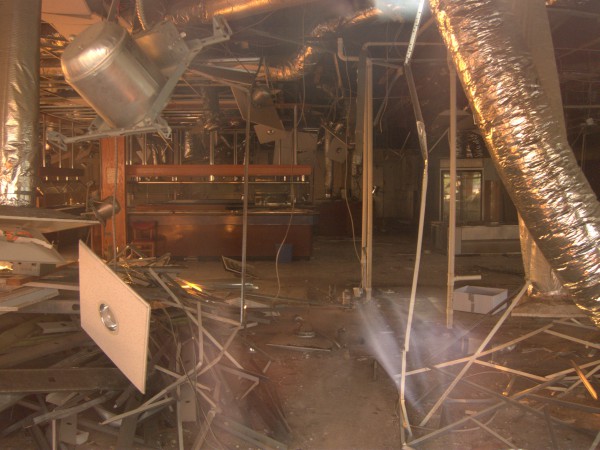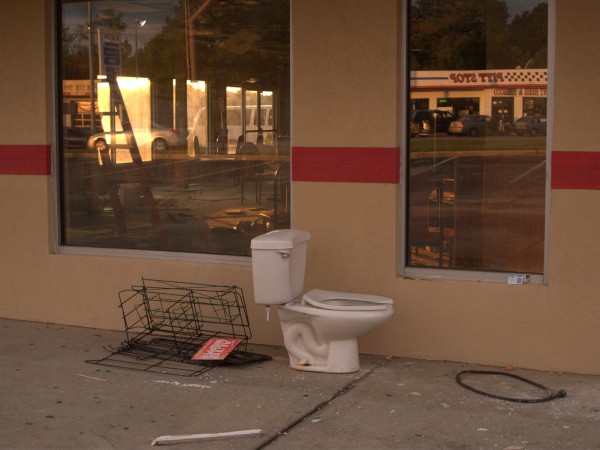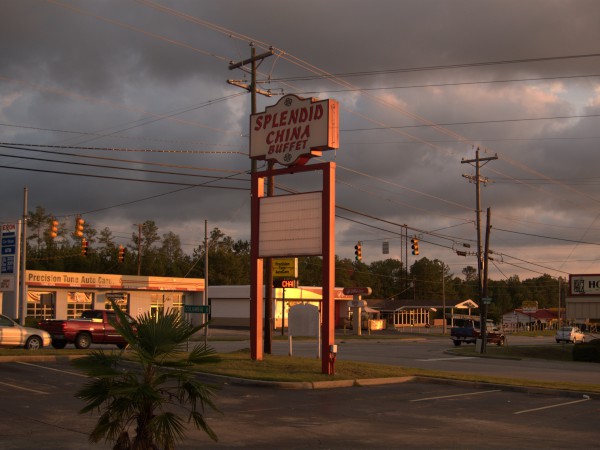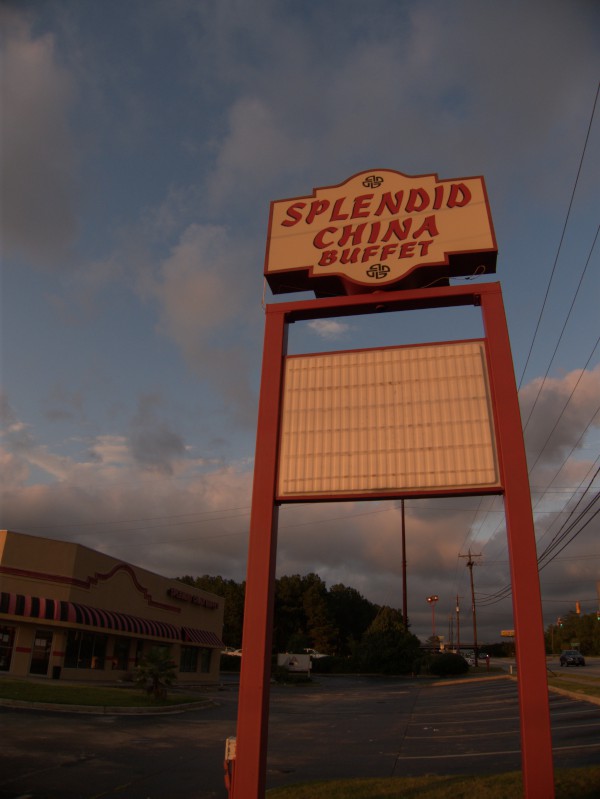 I've written about this building before in a closing for D'Lites / Miami Sub Grill. Splendid China Buffet has occupied the space since then, and seems to do a good business. The door sign is a little vague about what is going on. Certainly the construction is happening (and seems quite thorough..), and I don't doubt that something with the same ownership will open here again, but it's not clear it will still be Splendid China -- It looks more like a total refit.
BTW, does anyone have the definitive name for the sidestreet between Splendid China and Lowes? I've see that I've used both "Firelane Road" and "Fire Lane Drive" in the past. Google Maps seems to think "Fire Lane Road", Mapquest goes with "Firelane Road", and I'm sure I got the "Fire Lane Drive" from some source..
UPDATE 17 October 2011 -- Wow! There's *remodeling* and then there's this: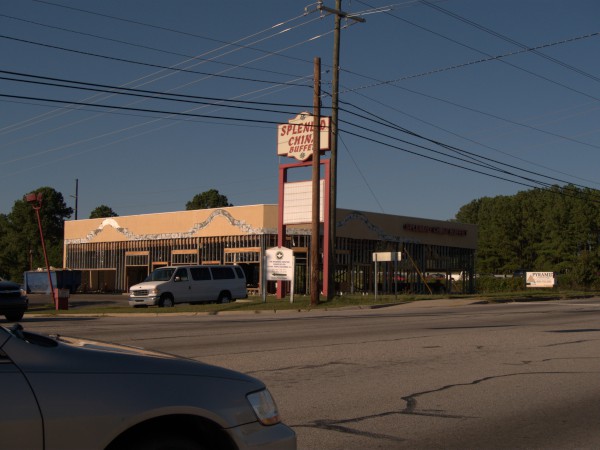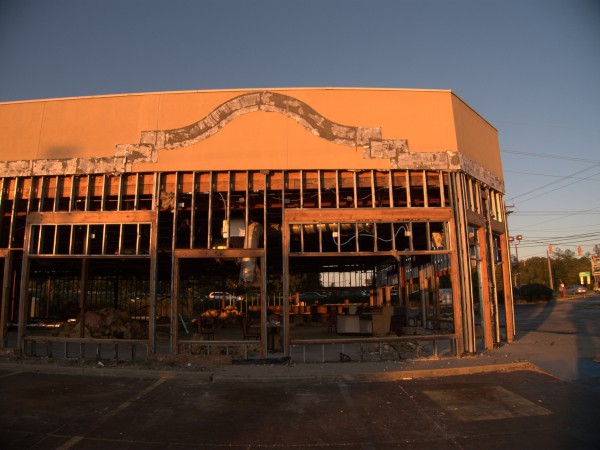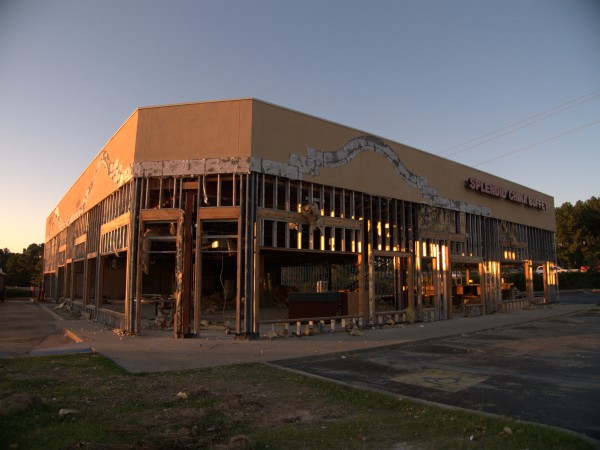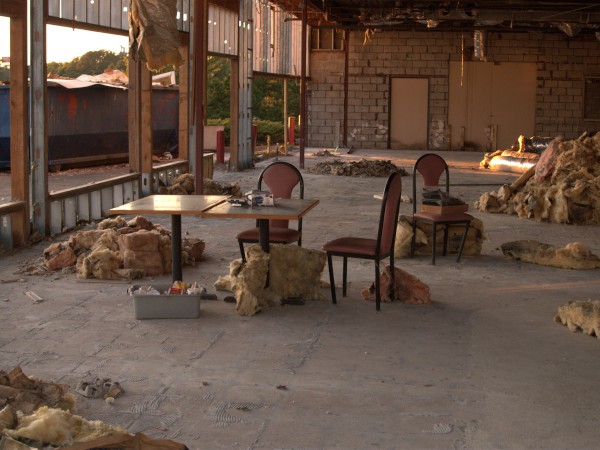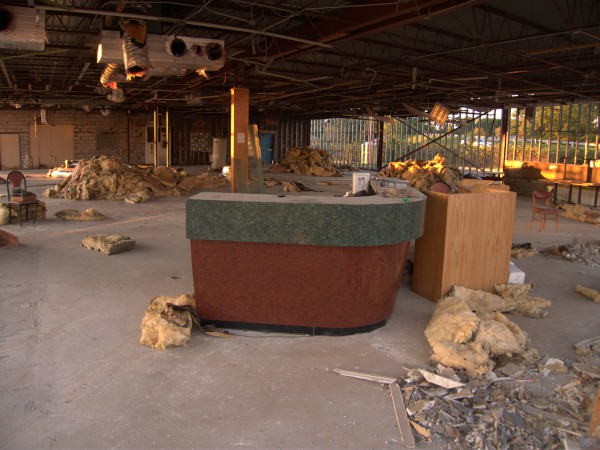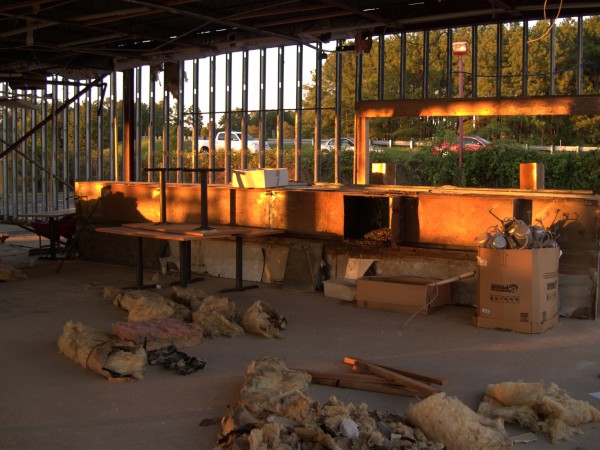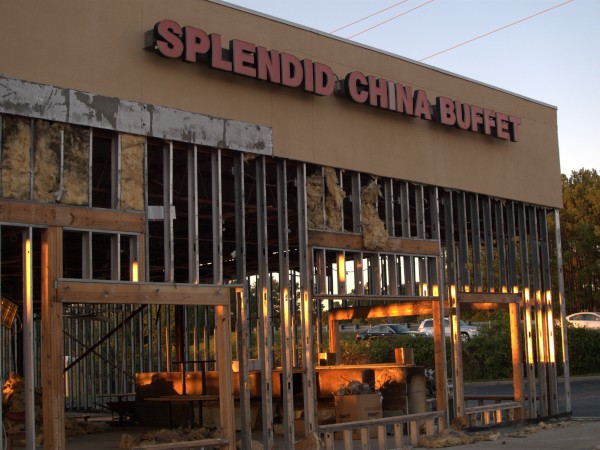 (also added a night picture of the place still operating at top)
UPDATE 16 July 2012 -- It pains my sense of order to stick this update in the middle of the post, and above the 1 February 2012 update, but I have run across these pictures on my drive that predate the pictures in that update. (They are from 27 December 2011):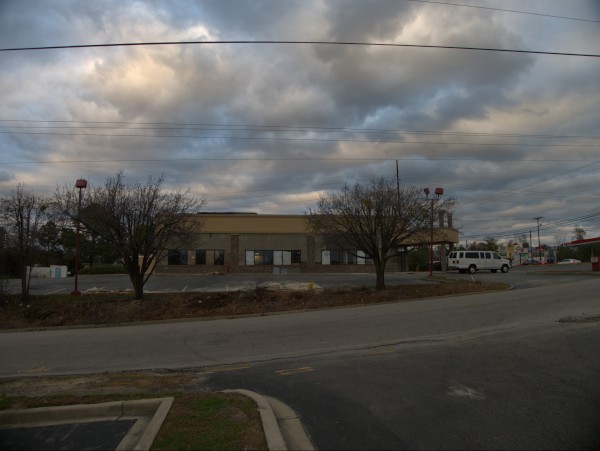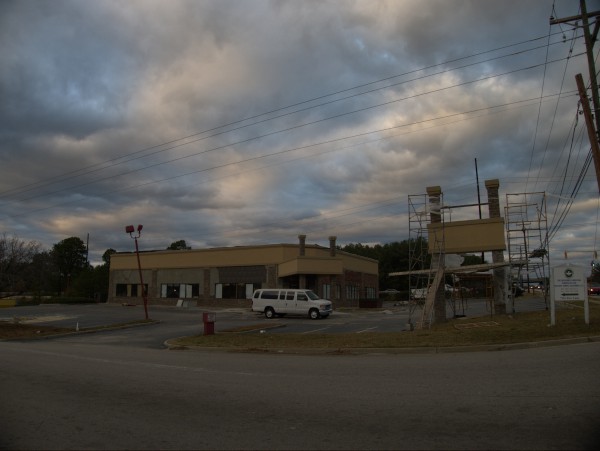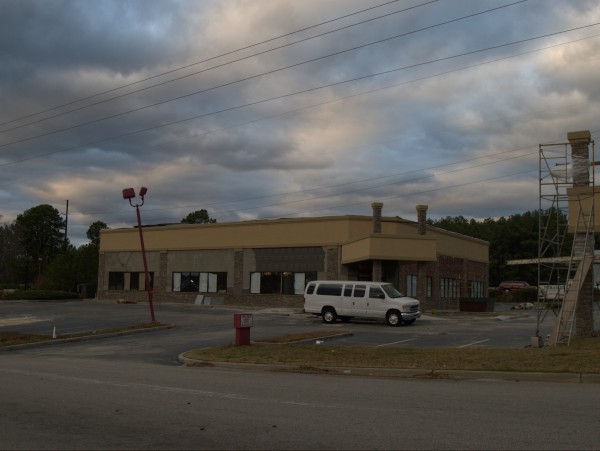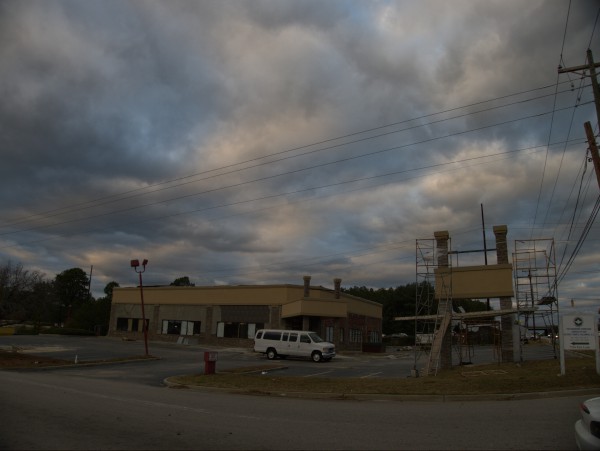 UPDATE 1 February 2012: Took the temporary? notation off the post title. At this point it is clear that Splendid China is not coming back, but that instead the place will now be known as Jasmine Buffett as these two poorly composed drive-by shots show. Presumably with that name it will still be an Asian buffet: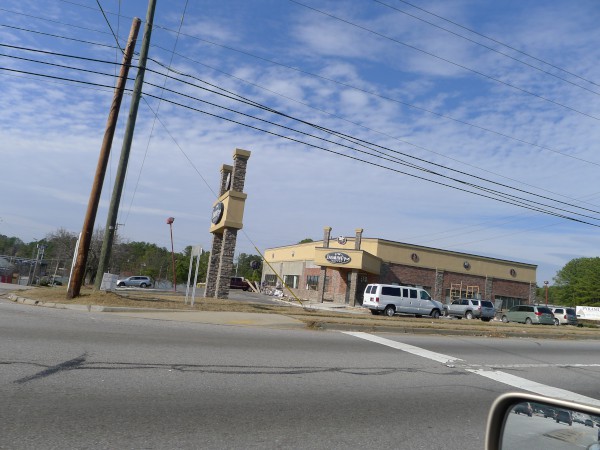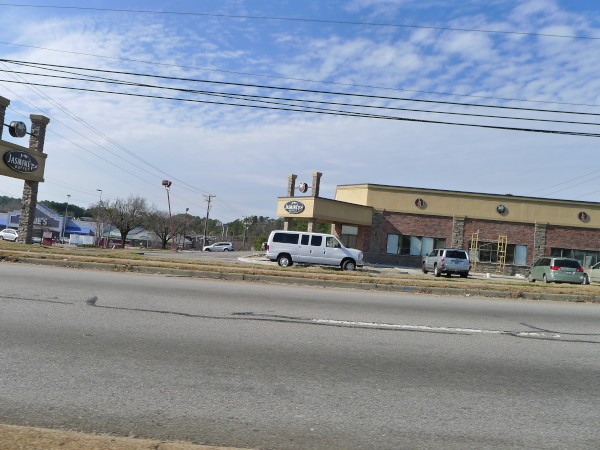 UPDATE 16 April 2012 -- Jasmine looks pretty close to completion: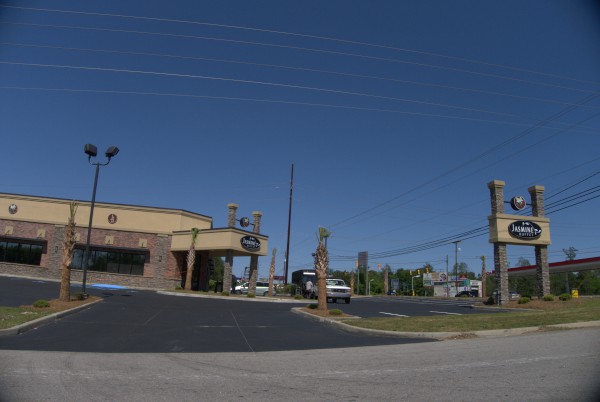 UPDATE 15 May 2012 -- Jasmine Buffet is up and running: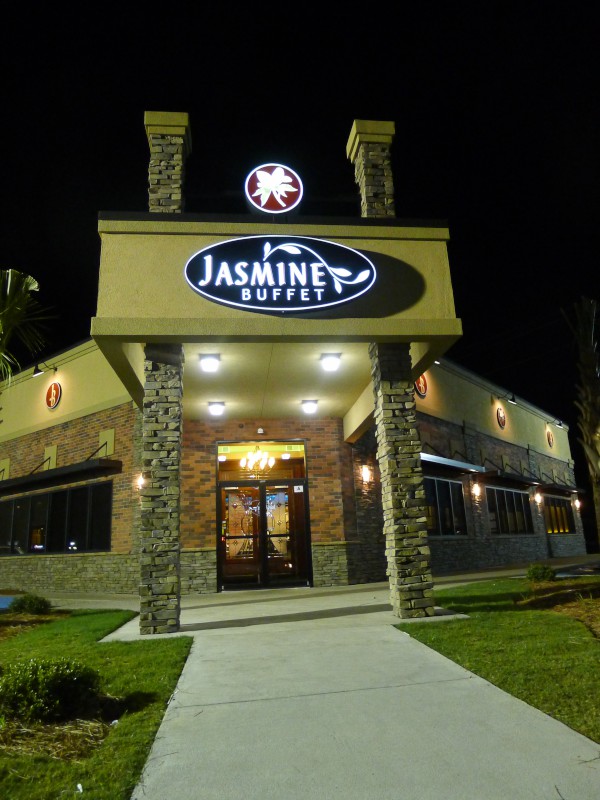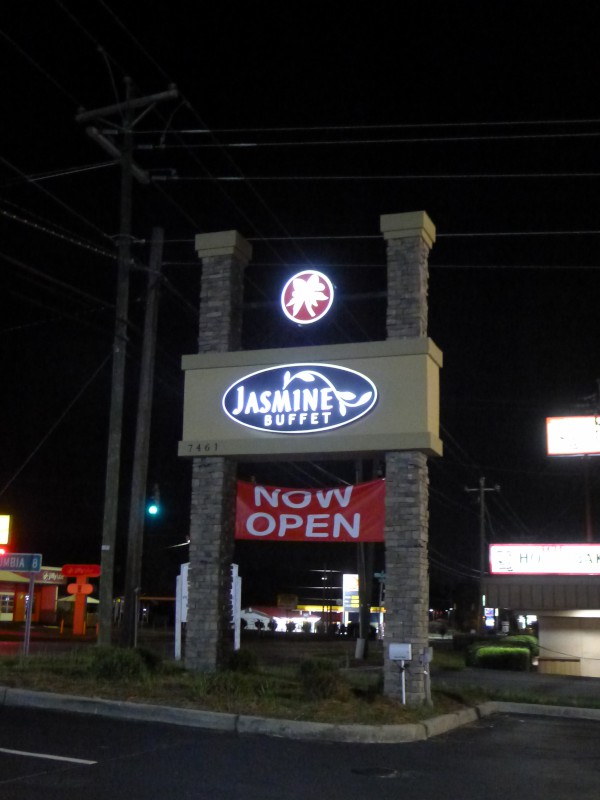 Posted at 12:56 am in Uncategorized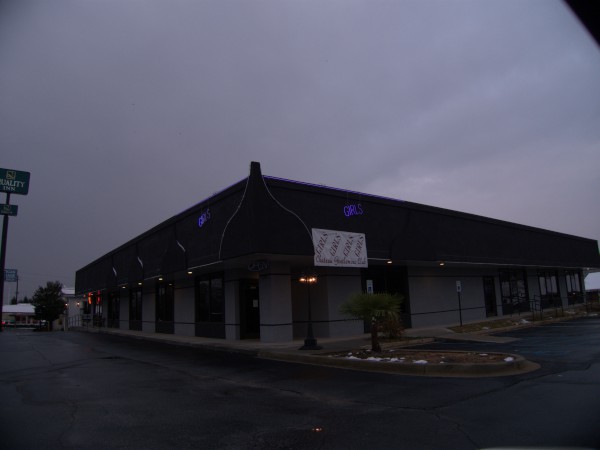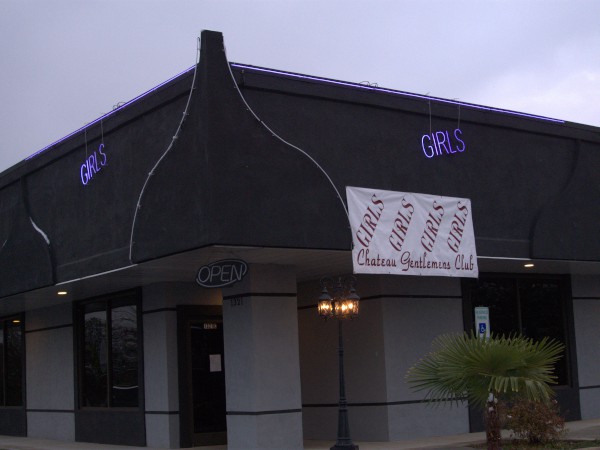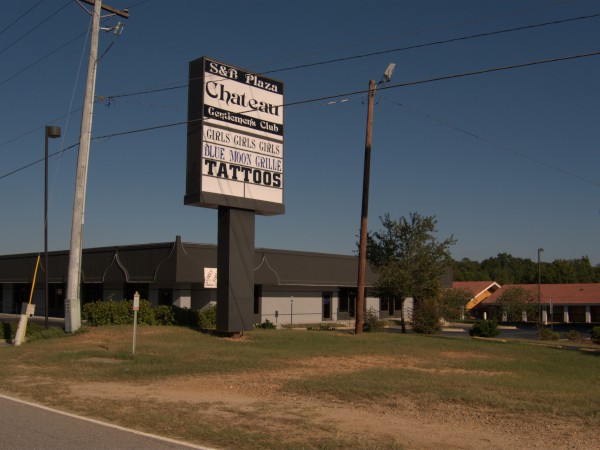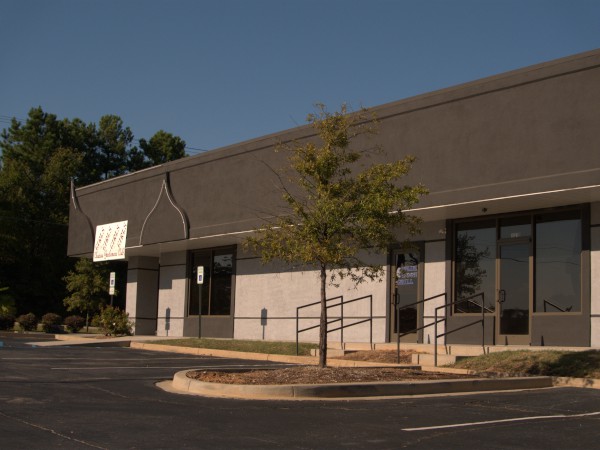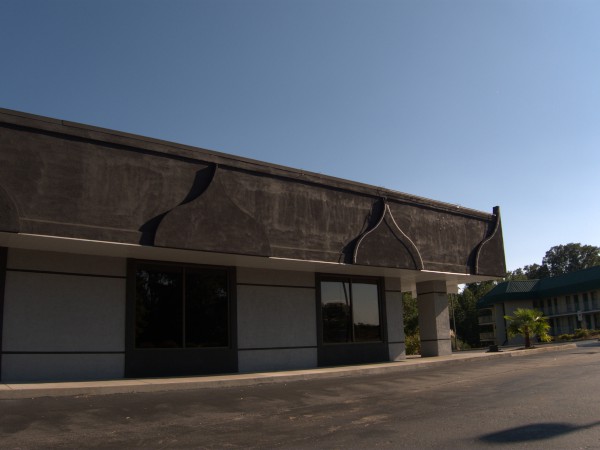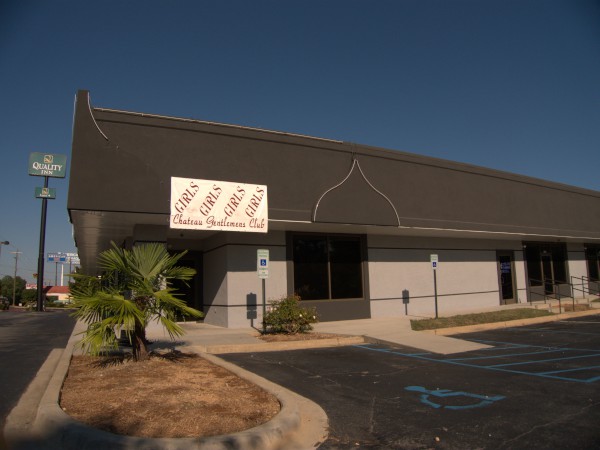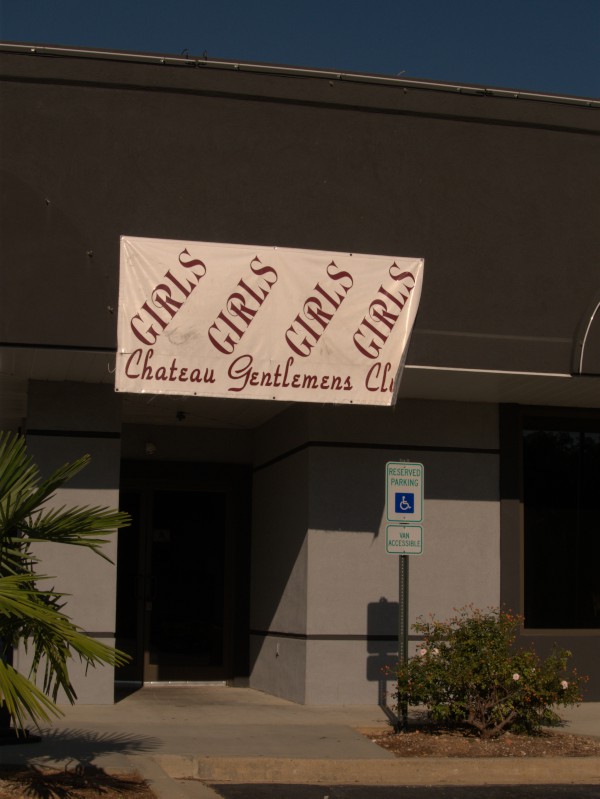 Chateau Gentlemens Club was the follow-on operation for the building which formerly housed Touch of India, and you can still see the Indian motifs in the arches along the rooftop (though I suppose in this context you could see them as something else as well).
Garner Lane is the I-20 frontage road which you can only reach by taking the I-20 Eastbound on-ramp at Broad River Road. It's a somewhat difficult place to get in and out of, and somewhat difficult to figure out how to do that as well. I don't know if that had anything to do with this club lasting for a rather short period: It's only listed in this year's phonebook (Feb 2011), so I'm guessing less than a year.
It's listed in the phonebook as Chateau De Lamour, a name I'm pretty sure was on the I-20 visible sign at one point as well. I'm guessing that was too ambiguous to draw traffic.
The name of this little plaza has changed as well. Last year, it was Volaty Plaza, now it is S&B Plaza.
UPDATE 11 November 2011: Located the two pictures I took while the club was in operation, and added them as the first two above.
UPDATE 30 July 2012: Commenter badger suggests this was Julie's and then Chicago Smokehouse. I think he's right so I'll add those to the post title. I ate at this Julie's once long ago, but don't remember anything about it other than it did not give me food posioning like the one on Garner's Ferry.
Posted at 1:58 am in Uncategorized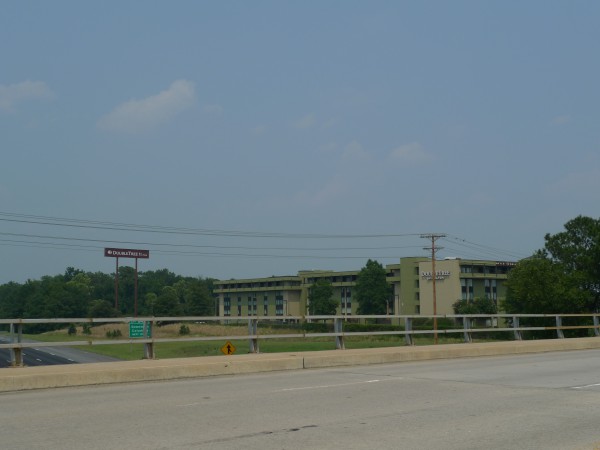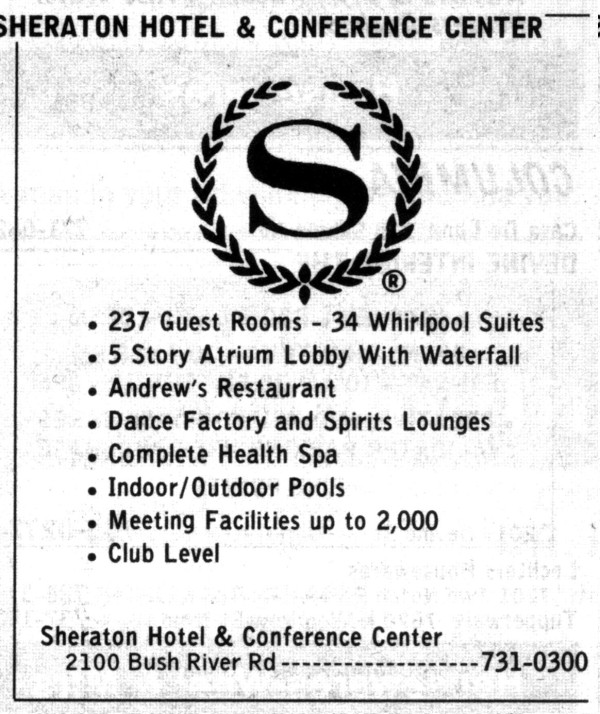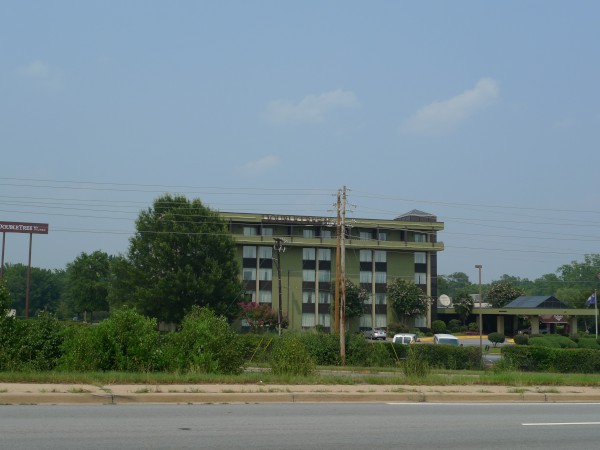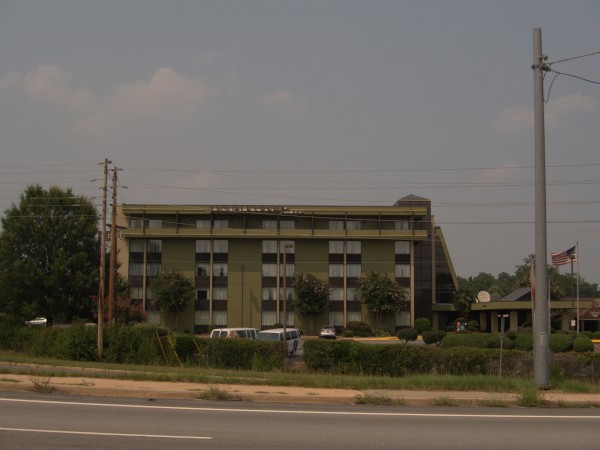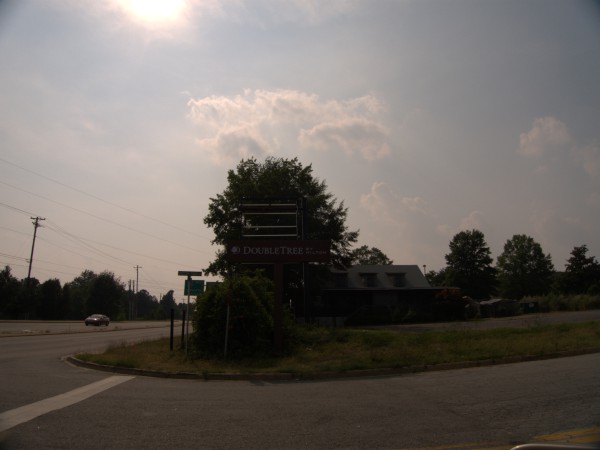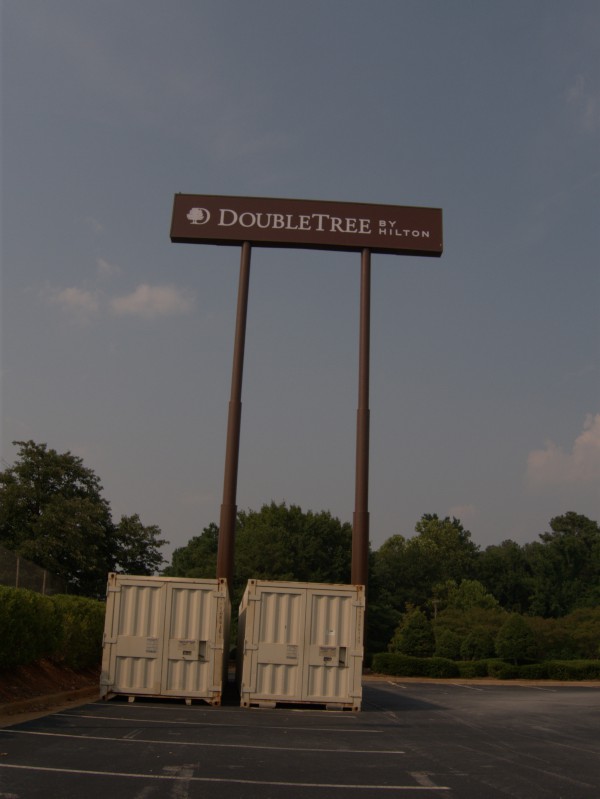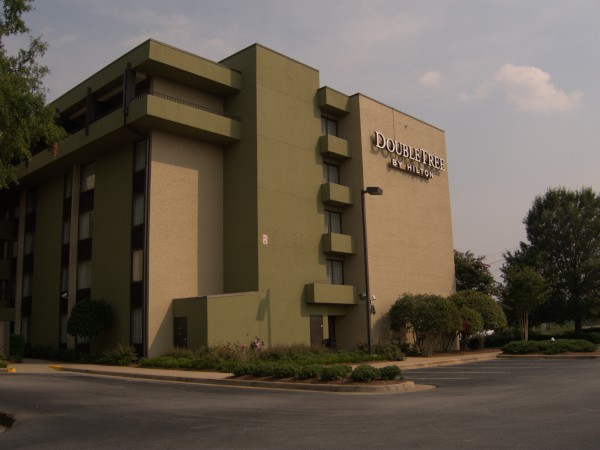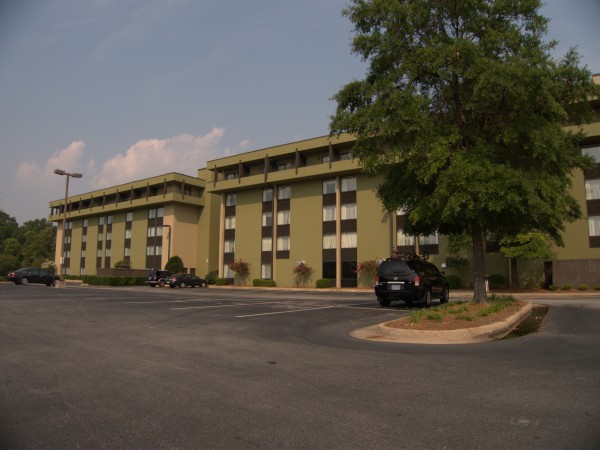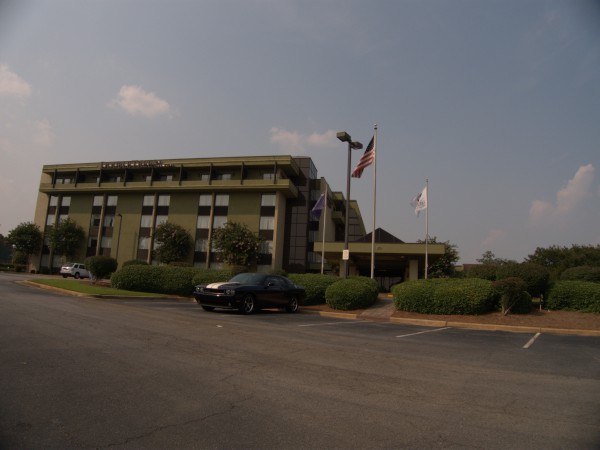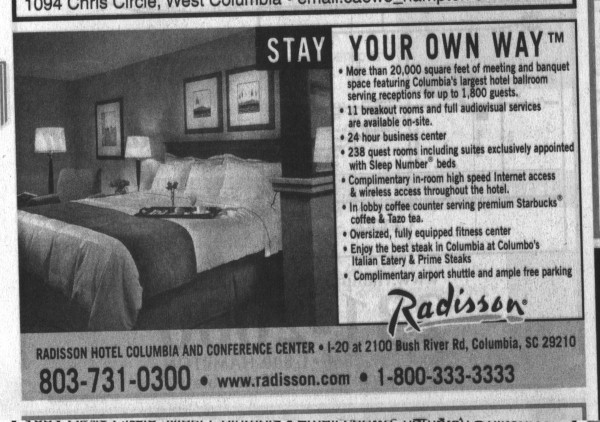 When the The Sheraton on Bush River opened, it was a big deal, and for many years it was certainly an impressive landmark designating the edge of town as you came in from Georgia on I-20. (Now of course the metro area sprawls out past the Lexington exits). Of course since I actually lived in Columbia, I never found a reason to stay at the hotel, and even to visit the restaurant would have been a long drive from Forest Acres, but I always imagined it as a "swanky" place. Thinking about it as an adult, I'm not sure I really understand the concept. It's been my experience in going to conferences that conference hotels are normally built in a downtown, or at least fairly dense suburban area such that there are restaurants and nightclubs for the attendees to go to in the evenings, especially those who took taxis from the airport and want something within walking distance. That pretty much describes exactly the opposite of this spot.. Columbia as a conference destination is a pretty hard sell anyway, but this isn't exactly The Vista (which granted didn't exist as such in the 70s, but there certainly were spots with nightlife..).
Anyway, The Sheraton operated as such until, I believe, the early 2000s. Certainly it still did in 1996 when they would have bought the ad for the February 1997 phonebook pictured here. After that, the hotel reflagged and was operated as a Radisson as shown in this year's (February 2011) phonebook until June. The new flagging is for DoubleTree by Hilton, a brand that I can't really place on the hotel ladder. I'm guessing they don't have a Dance Factory.
(Hat tip to commenter Tom)
UPDATE 11 July 2011 -- Originally I led with this drawing, which I believed was the Sheraton on Bush River, but it appears instead to be another ex-Sheraton, on Assembly Street. I have edited the text claiming that, and moved the picture down here for those who already saw it and commented on it: