Archive for the 'parts' tag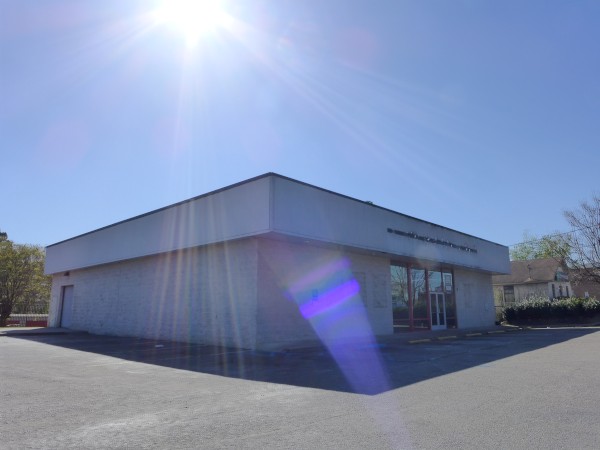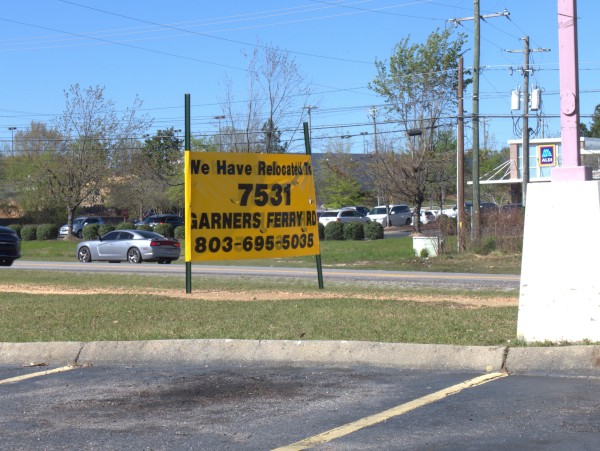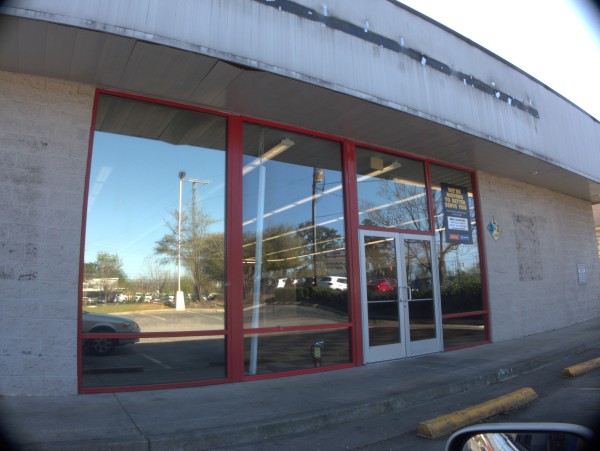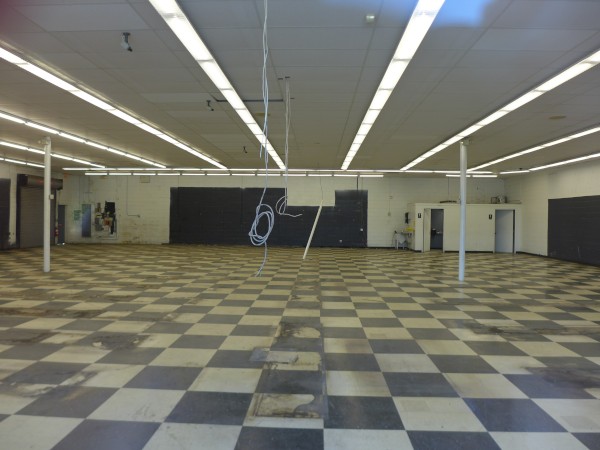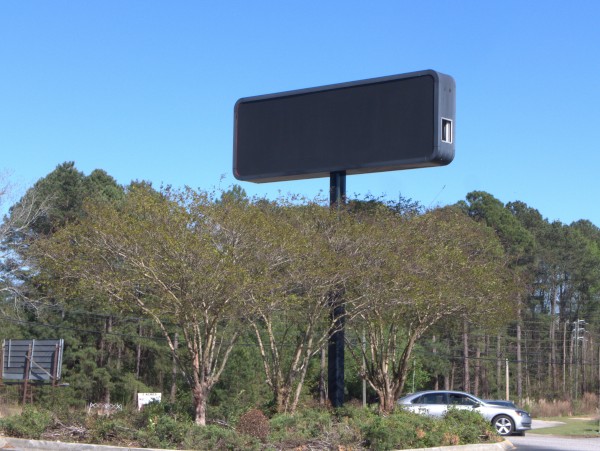 As pointed out by commener Justin S., the Advance Auto Parts store across from the Aldi at 7613 Garners Ferry Road has now moved just a little up the street to 7531 Garners Ferry. In the meantime, this, very checker-boarded, storefront is empty.
(Hat tip to commenter Justin S.)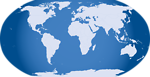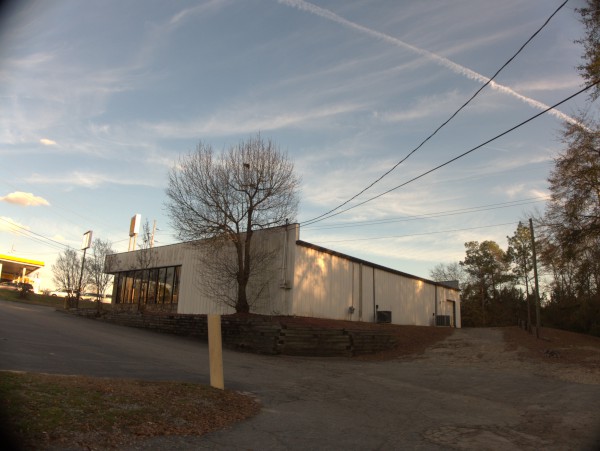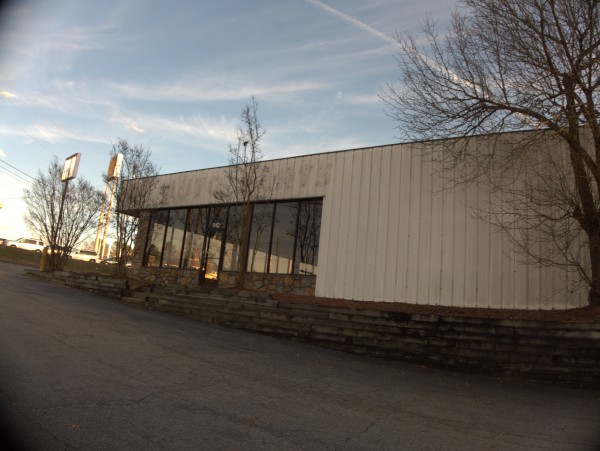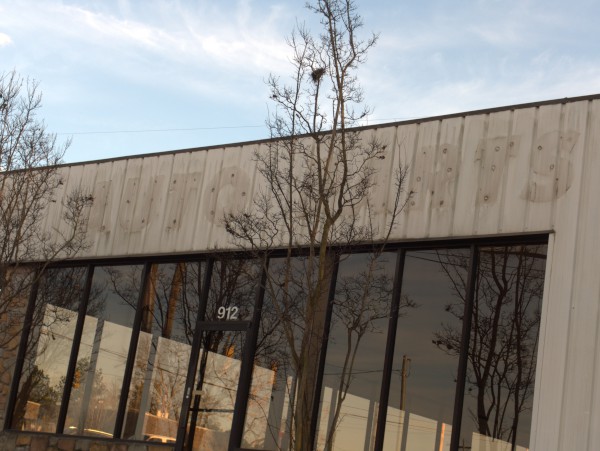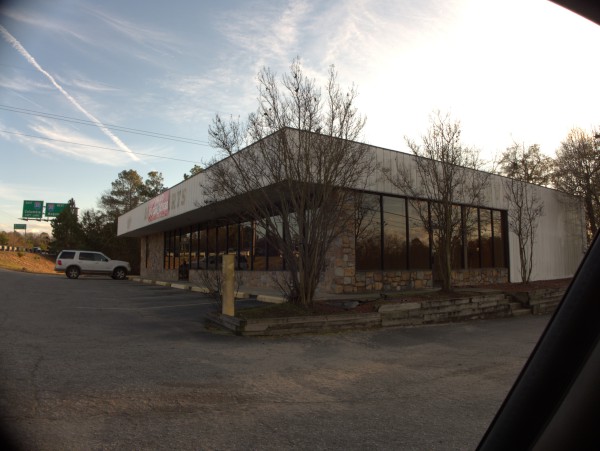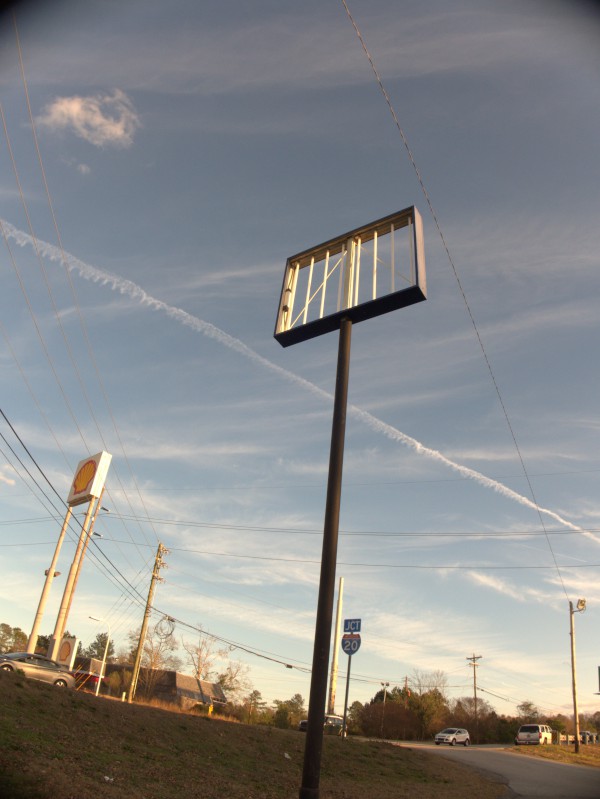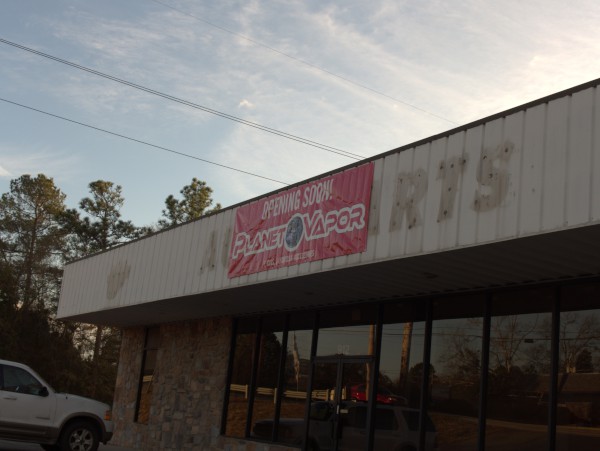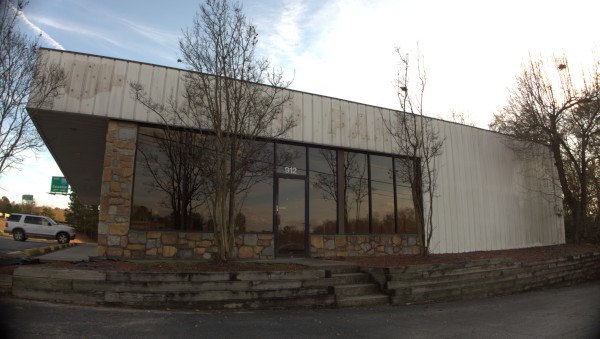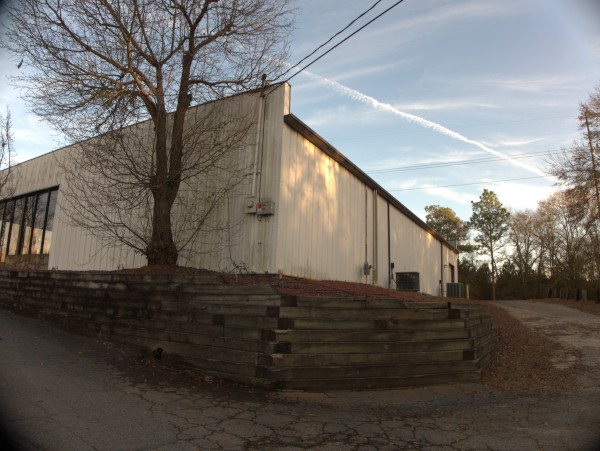 I made the mistake of driving out to get some shots of former parts shop around 5pm on a Friday, and traffic was pretty bad then. However, the building which sits on the corner of South Lake & Industrial Drives does have stoplight access for the turn, and I imagine that the next tenant, a Vape shop which is outfitting now, will probably do more of an evening business.
Google Streetview has a good shot of the place in operation here
(Hat tip to commenter IrmoJeff)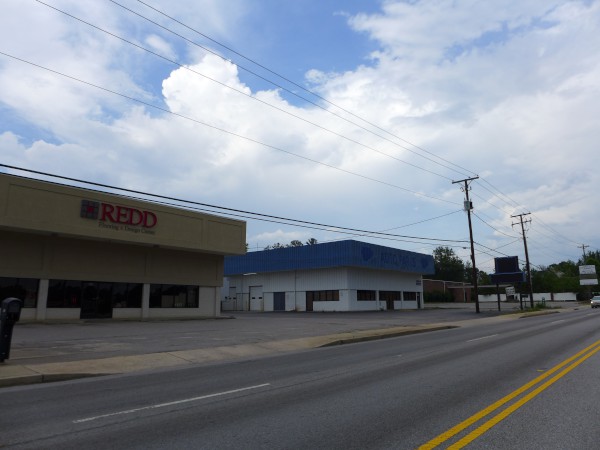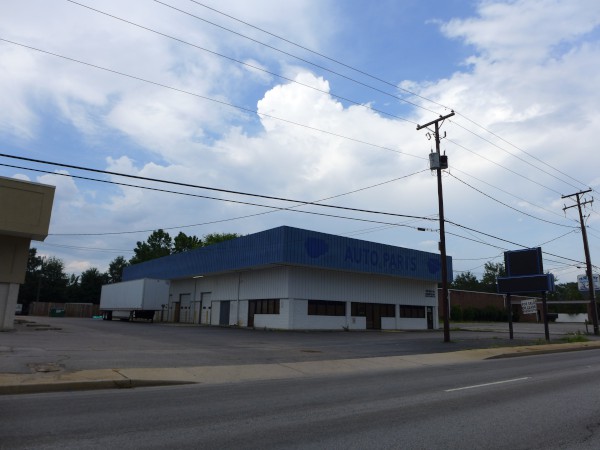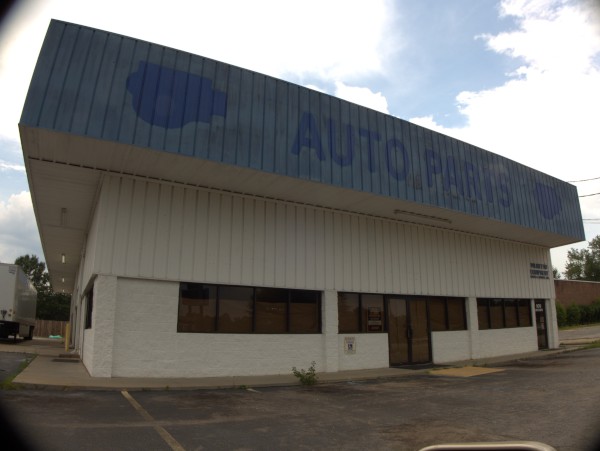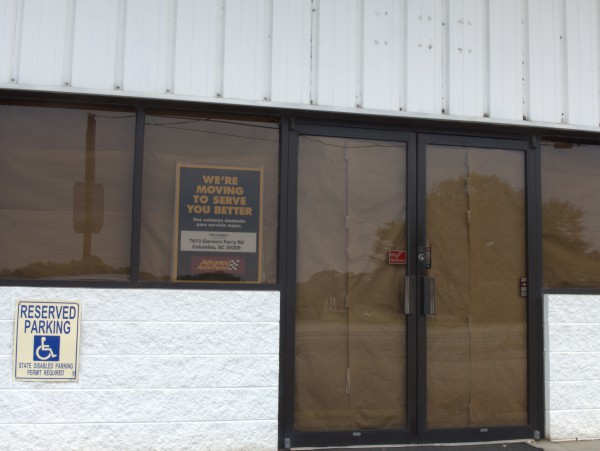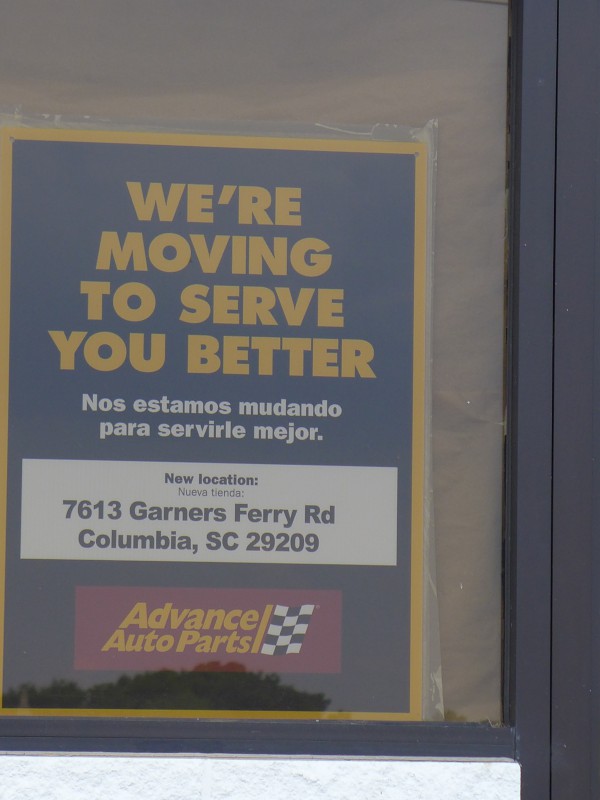 I'm guessing that what happened here is that Advanced Auto Parts bought out Carquest Auto Parts and consolidated this store into their existing location at 7316 Garners Ferry Road. At any rate, I don't think this was an Advance Auto Parts for long, if at all, because the label scars exactly match the Carquest signage visible in this Google StreetView, and Carquest is listed in the 2015 phonebook.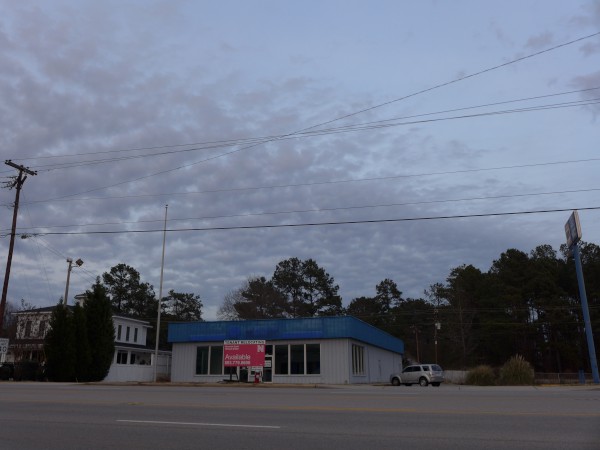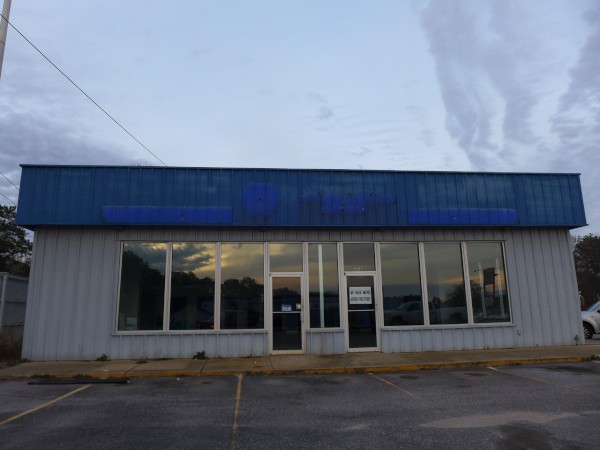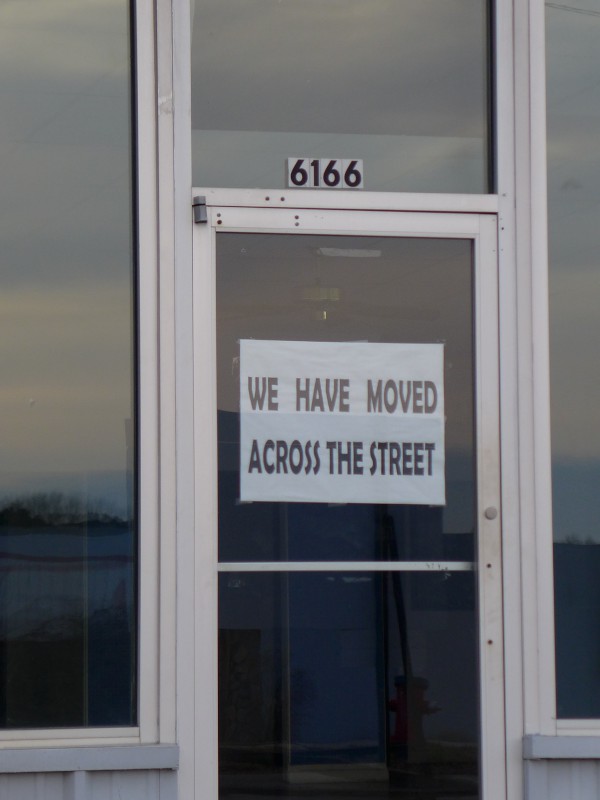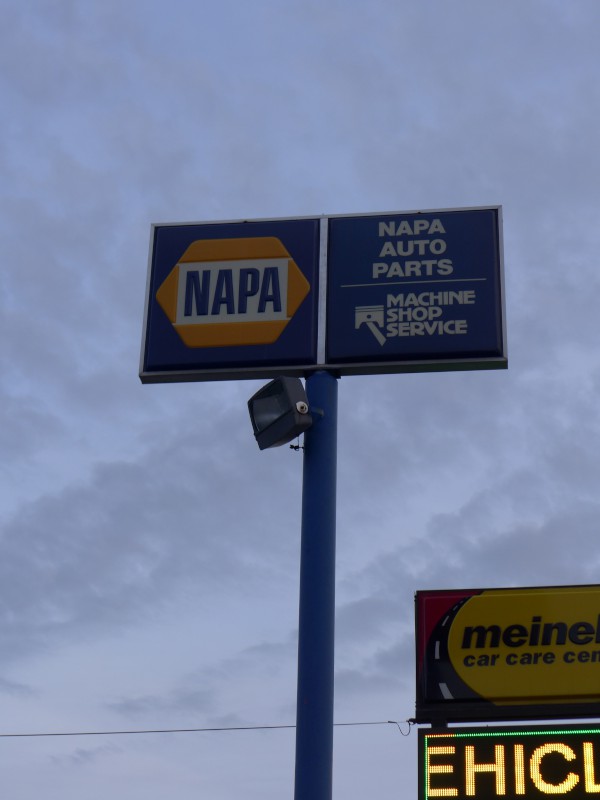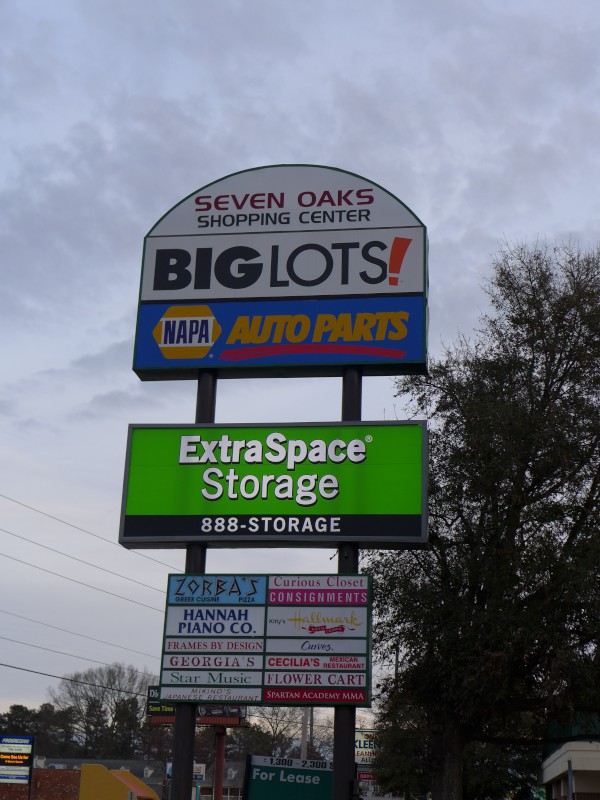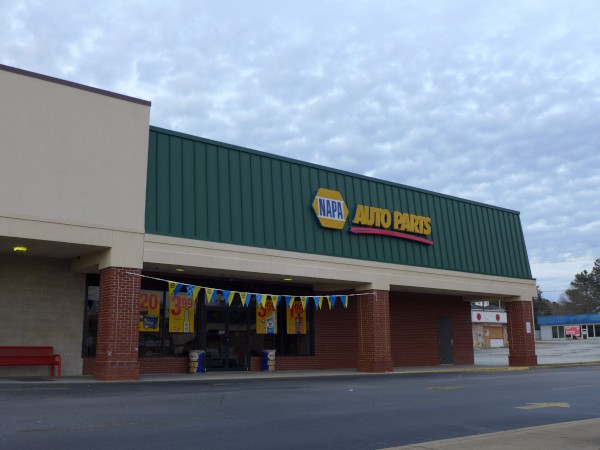 Driving down Saint Andrews Road the other day, I noticed that the NAPA parts store formerly across from Seven Oaks Shopping Center has now actually crossed the street and is in Seven Oaks next to Big Lots.
I'm not sure, but the new sign suggests that the machine shop did not make the transition.
UPDATE 23 March 2018 -- This building is now Palmetto Thrift: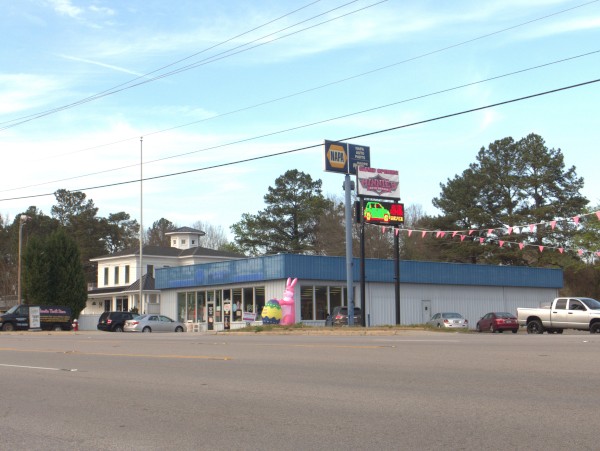 Posted at 12:40 am in Uncategorized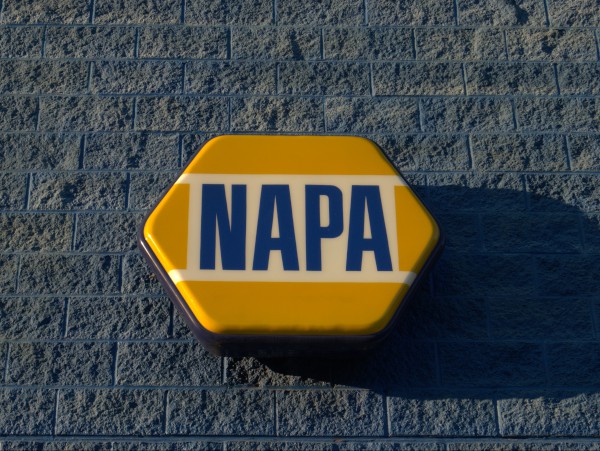 Here is another closed NAPA store.
While I certainly hope that the employees are able to continue on at 3720 Two Notch Road, calling it a move is not quite right as that store has existed for several years, and was apparently built to replace the O'Neil Court location.
Interestingly, the phonebook (Feb 2012) gives the address for the Hardscrabble store as "1507 Hardscrabble Road", which led me on a merry chase all the way from Wilson, and when 1507 was in the boonies and obviously wrong, across both Farrow and Clemson. I probably wouldn't do *that* again, at least not close to rush hour. In fact this store turns out to be just a few buildings down from the old Santorini Grill and a few up from the former Food Lion and Blockbuster.
Posted at 10:57 pm in Uncategorized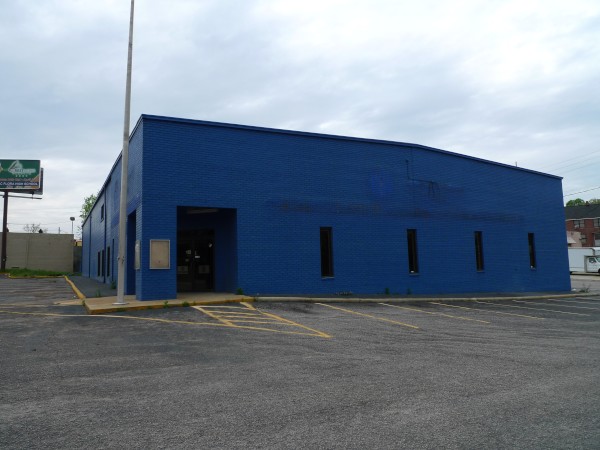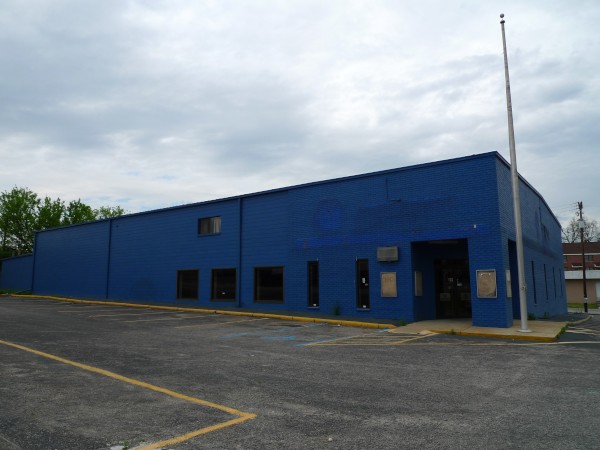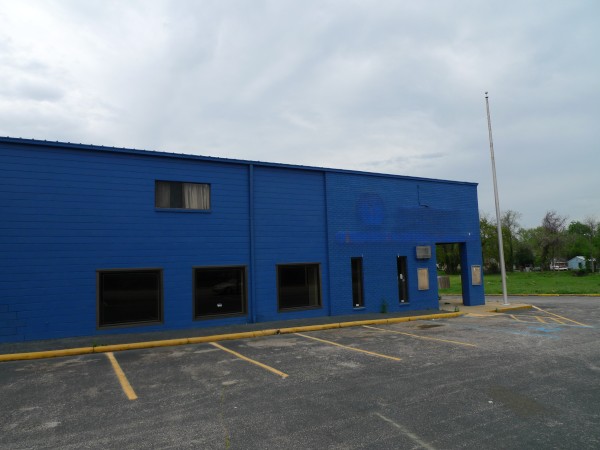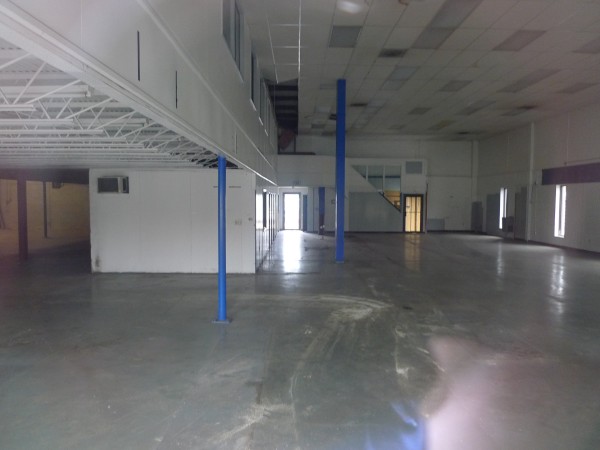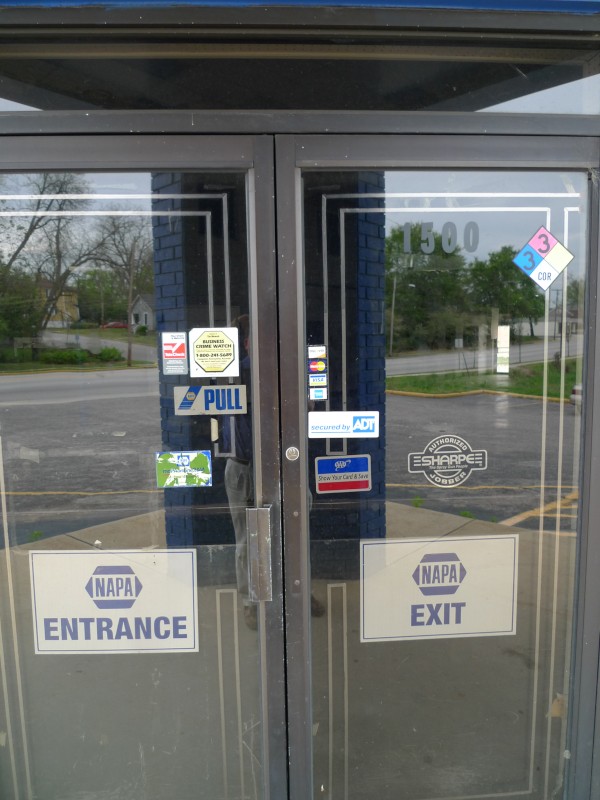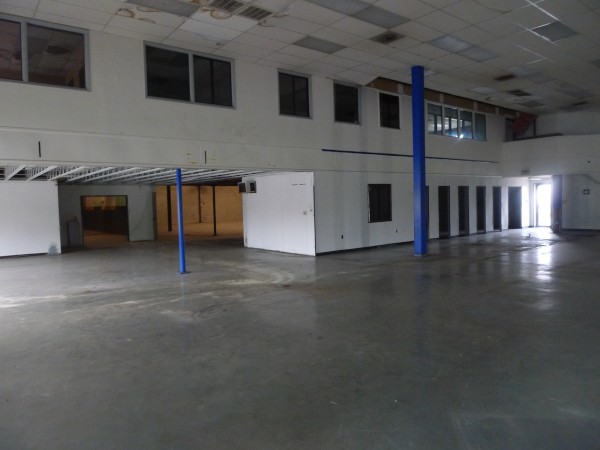 Man, this is a cavernous space! My eyes tend to glide over buildings that I'm not interested in, and most of the time auto parts stores fall into that category, but it's hard to believe how many times I must have driven past that behemoth without noticing it. Apparently this place was a machine shop as well as a parts store, so I guess that explains the larger footprint. Perhaps it explains why the place closed as well. I admit I have very little idea of what exactly a machine shop does, but if it involves auto repair, wouldn't most people use parts from the factory rather than having them machined locally?
According to a really cool real estate listing that you should look at, if just for the ariel view, the place has 9600 square feet in the main space and 2690 square feet in the mezzanine. Notice the curtains hung in the mezzanine window too!
Hat tip to ChiefDanGeorge..
UPDATE 28 Sep 2010 -- It's now a church: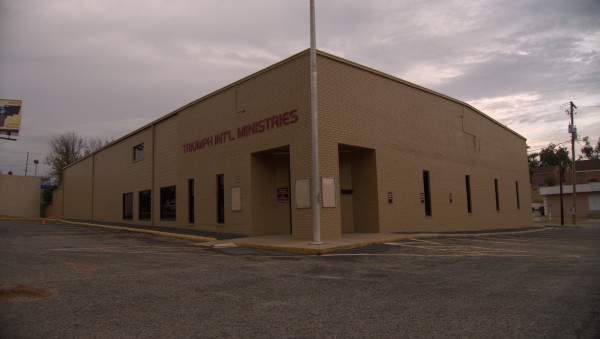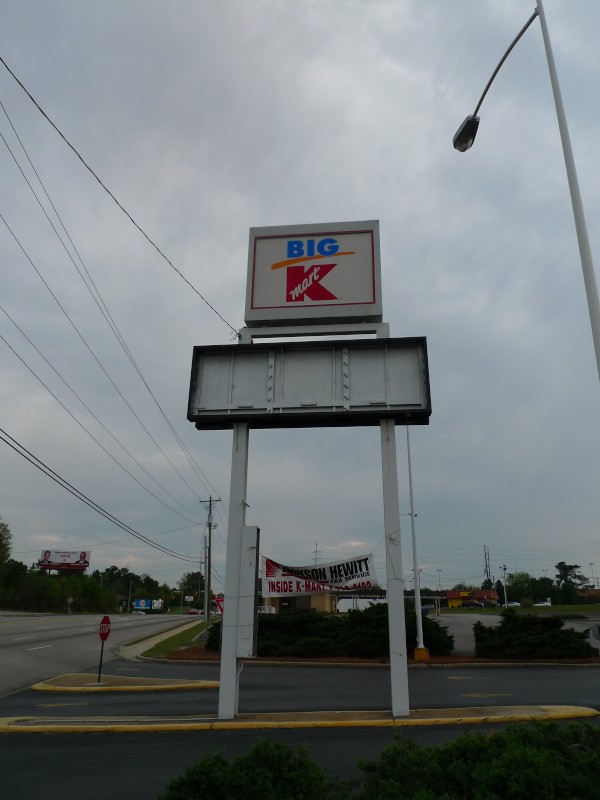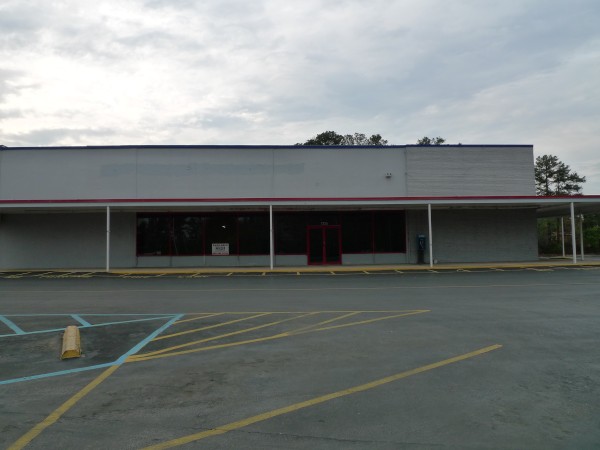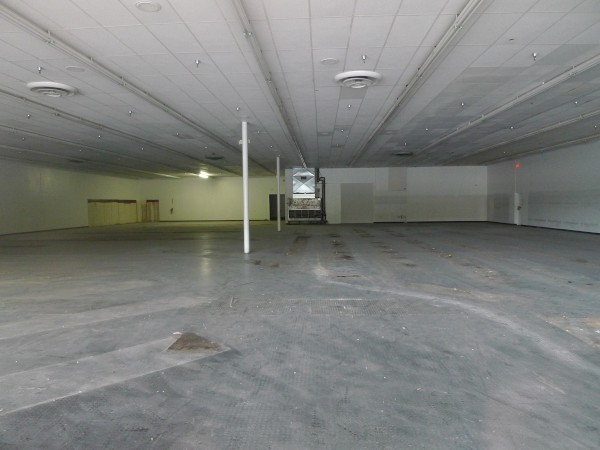 You can still see the empty placard in the K-Mart sign showing where the Advance Auto Parts sign used to be -- If K-Mart were in better shape itself, they probably would have pulled that down, as it looks decrepit and bad for their brand.
Anyway, the way I recall it, this space which apparently dates from 1970 like the K-Mart, was in its first iteration, a Western Auto.
The Western Auto that I remember best was the one at Trenholm Plaza, where I used to browse the Western Flyer bikes and buy those huge 1-volt carbon-zinc batteries with the screw terminals for hobby projects. I know I went into this store a number of times, but I can't really reall anything specific about it. Wikipedia says that Western Auto was acquired first by Sears, and then later by Advance Auto Parts, which phased out the Western Auto name (mostly) in 2003 (though many stores had already switch to "Advance" by then), and in fact this store was an Advance when it closed.
That history is a bit ironic since K-Mart like Western Auto was bought by Sears. If Sears had held onto the Western Auto brand a bit longer (Sears dropped Western in 1998 and bought K-Mart in 2005), they could have had some sort of super-mega store in this building
UPDATE 4 April 2022: Updating tags, adding map icon.