Archive for the 'Clemson Road' tag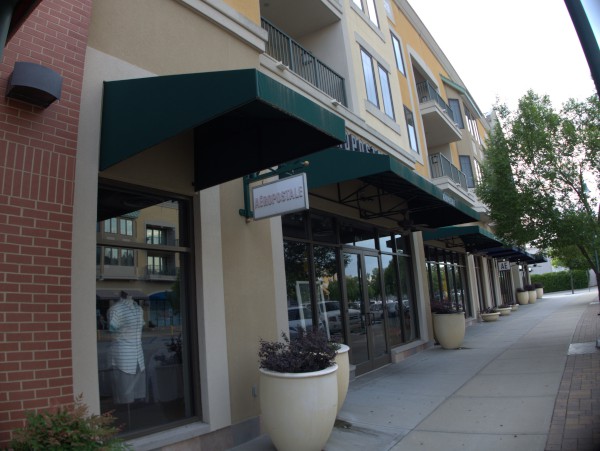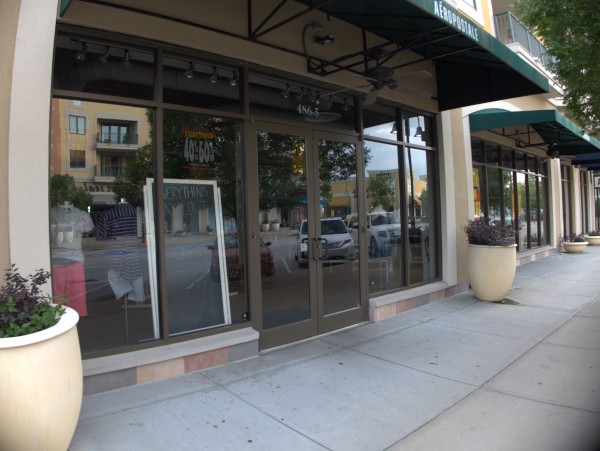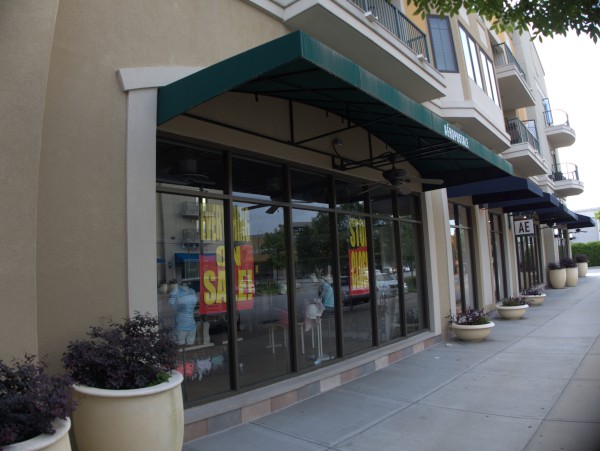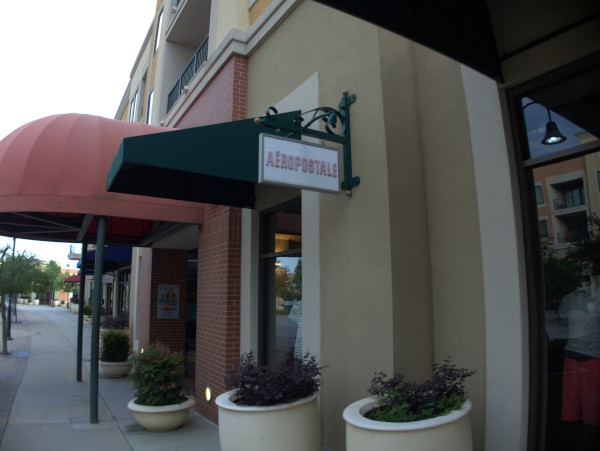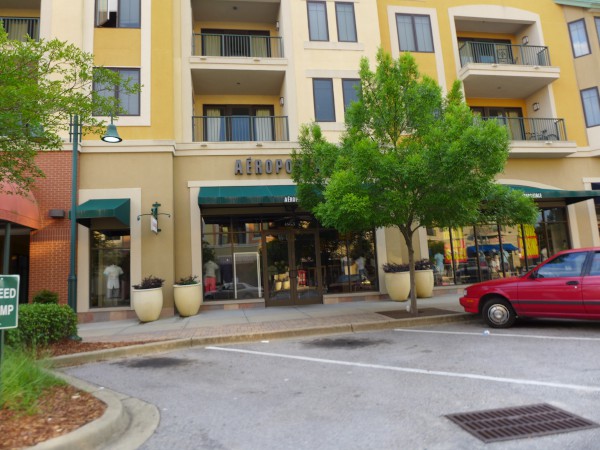 This closing is a fallout from the chain's bankruptcy which includes the shuttering of 113 of its 739 US stores:
If you're a teenager shopping for clothes, you're probably not going to Aeropostale, a fact that became glaringly obvious when the apparel retailer filed for Chapter 11 bankruptcy protection Wednesday.
Maybe they shouldn't have put stale in their name..
The location of trees in front of this Sandhill storefront, and the desire not to be in the window's reflection made getting good pictures iffy, but you can see the standardized Store Closing and discount placards that show up at many of these managed sell-outs.
(Hat tip to commenter James R)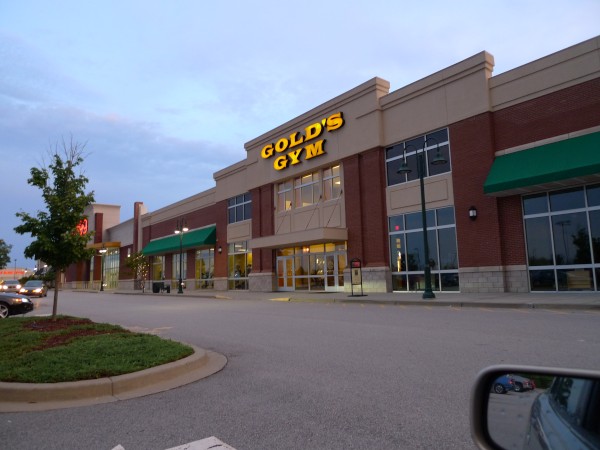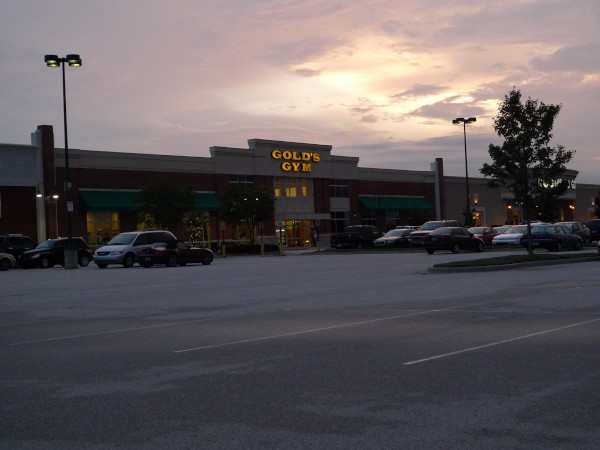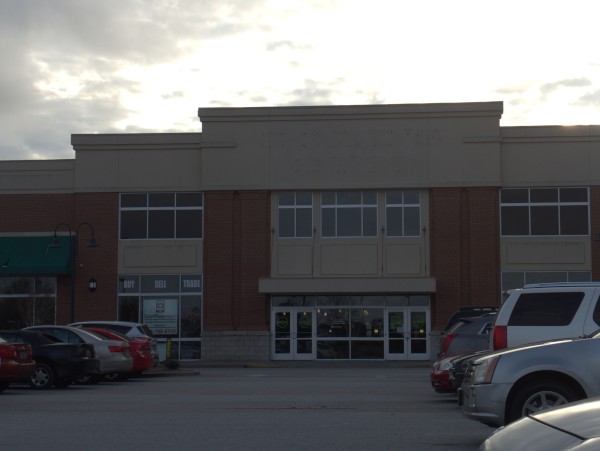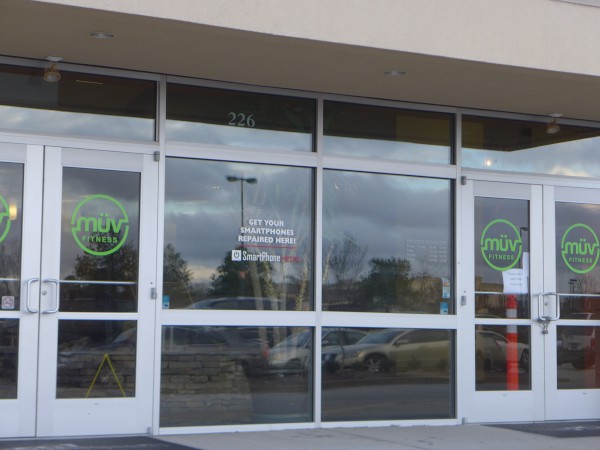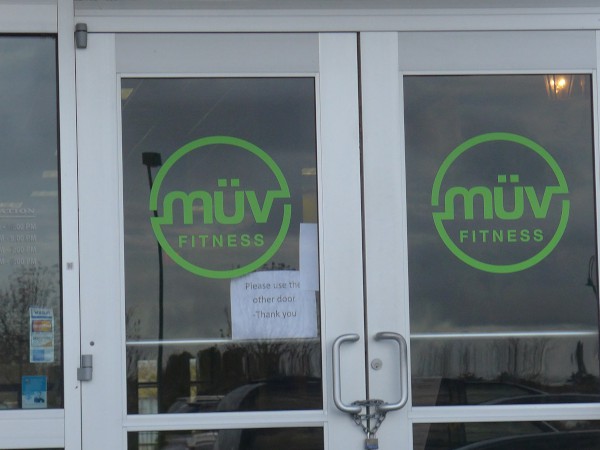 Gold's Gym moved into the old Ashley Furniture Homestore location in 2010.
Now the local operation which had the Gold's franchaise has decided to rebrand their five Columbia locations as MUV Fitness (I won't attempt the heavy-metal umlaut):
Five Gold's Gym locations in Columbia, South Carolina, have rebranded as MÜV Fitness, Spokane, Washington.

The rebrand of the five clubs, which were franchised Gold's Gym locations owned by St. Andrew Fitness Corp., Columbia, went into effect Dec. 1. St. Andrews Fitness Corp. President John Burriss told Club Industry that his decision to rebrand was driven by a desire for expansion. The company plans to open a sixth MÜV Fitness location in Columbia in April 2016.

"We had a great relationship with Gold's Gym," Burriss said. "I love the brand, love the people in it and have lifelong friends in the franchise community."
St. Andrews Fitness Corp., which formed in 1986 prior to becoming a Gold's Gym franchisee, was unable to expand further as Gold's Gym in Columbia due to a corporate decision by Gold's Gym International (GGI), Dallas, Burriss said. St. Andrews Fitness Corp. exercised an option to exit its contract with Gold's Gym on Dec. 1, ending an 18-year run as a Gold's Gym franchisee
I don't know why Gold's didn't want to expand, but they have apparently been having their own problems at the corporate level: Gold's Gym President and EVP Leave, New CEO Appointed.
(Hat tip to commenters James R and Andrew)
Posted at 12:28 pm in Uncategorized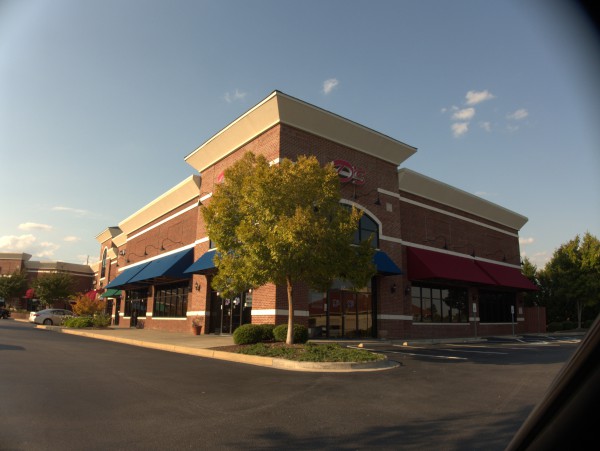 D's Northeast onSparkleberry is closed again.
This is worth noting, but since I already have a page for it, I'm going to turn off comments here, update the old post and redirect the discussion to there.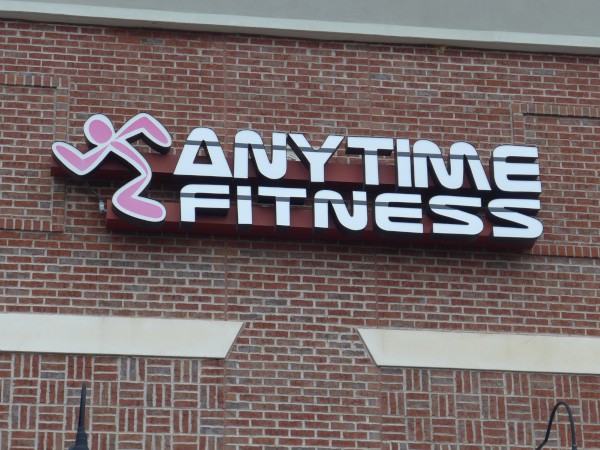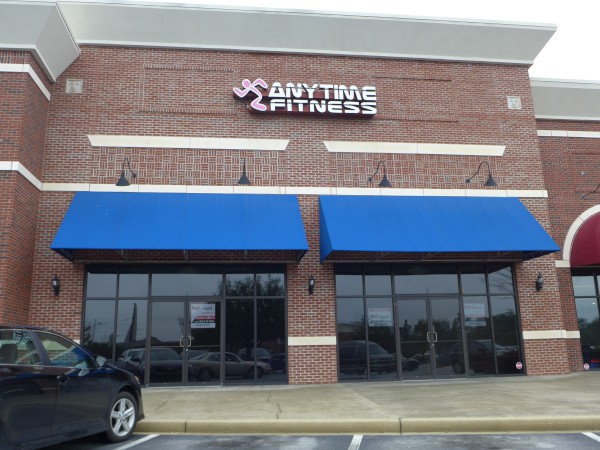 This Sparkleberry Crossing gym is listed in the 2014 phonebook, but not the 2015 one, so it must have closed before listings closed. I'm guessing mid-year. One online review notes that it was nice because there were no crowds. That can be a double-edged sword unfortunately.
Posted at 1:31 am in Uncategorized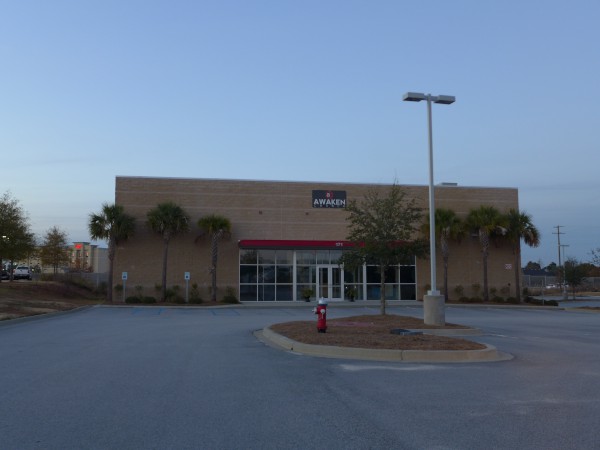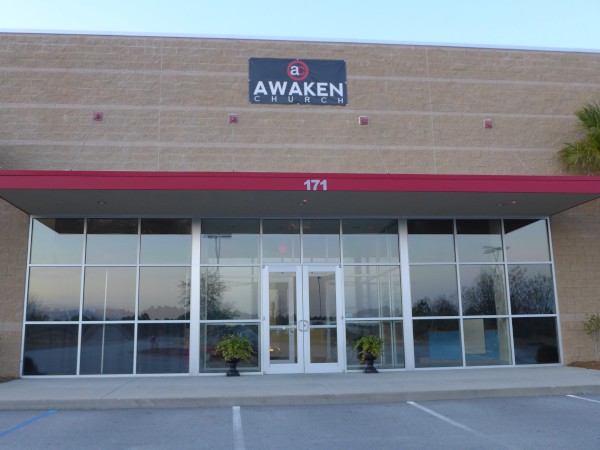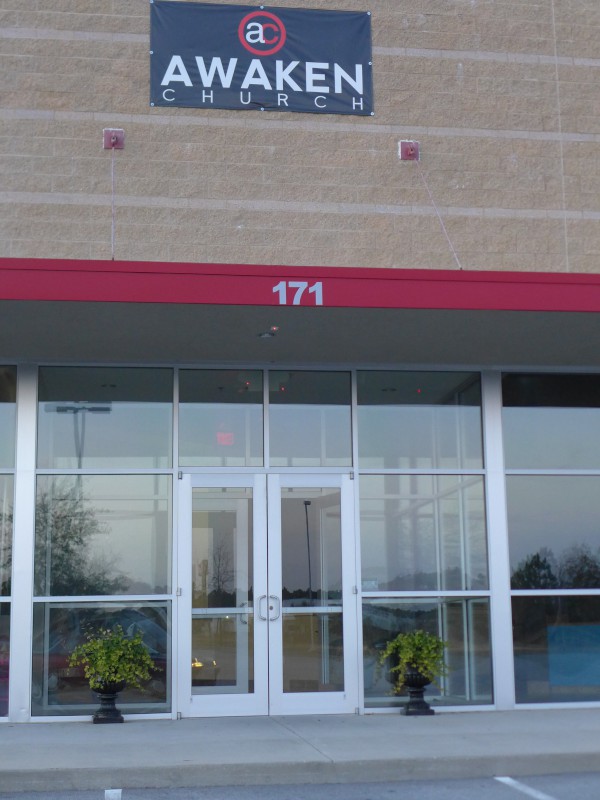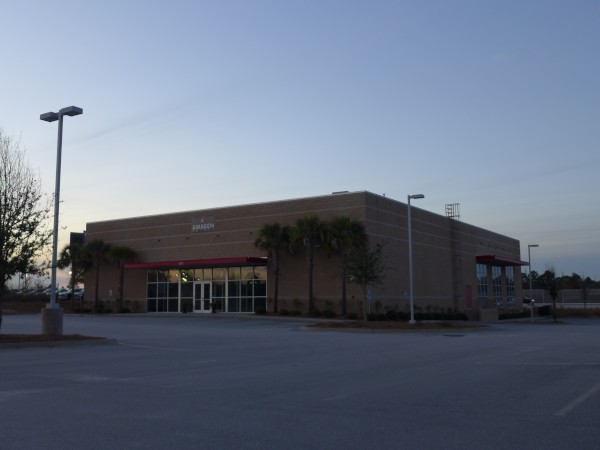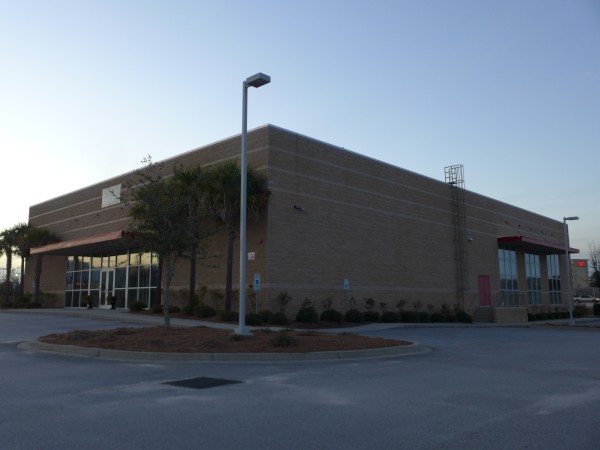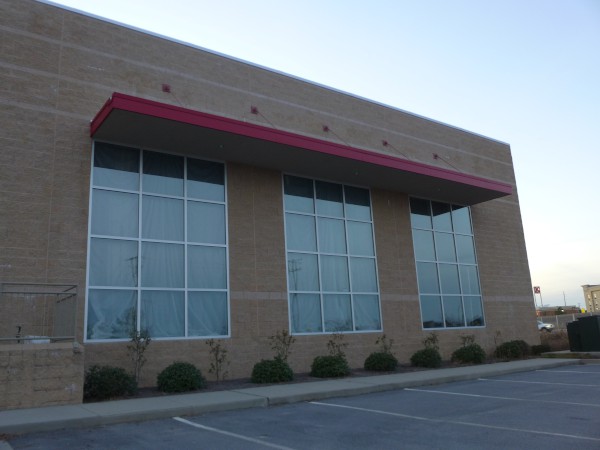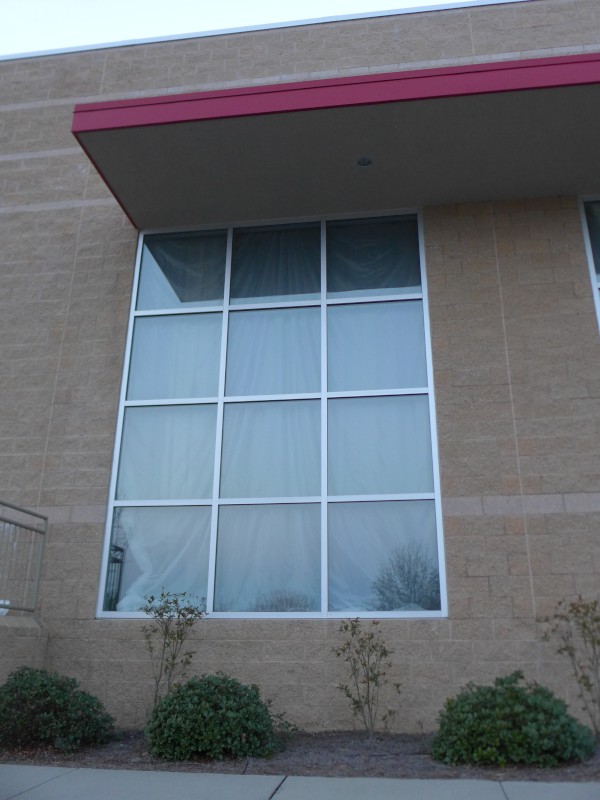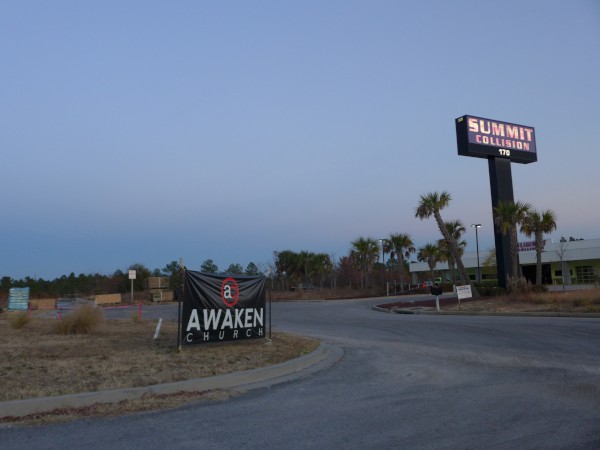 In my recent closing on the Lexington Monkey Joe's, I mentioned that I thought the Northeast location was still open. Well, I was wrong about that, and commenter Andrew set me straight, pointing out that commenter Miz Terry raised the issue of the Northeast closure right here, and that commenter badger had confirmed it.
Somehow I completely forgot those comments..
At any rate, the Northeast Monkey Joe's was on Newland Road, which is off of Clemson just south of I-20 (near the big flag car dealership). Although the building is now Awaken Church, you can look at it and immediately tell who the first tenant was.
(Hat tip to commenter Miz Terry)
Posted at 11:06 pm in Uncategorized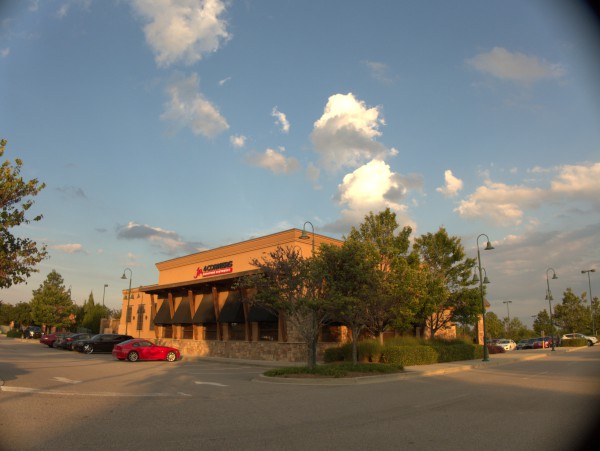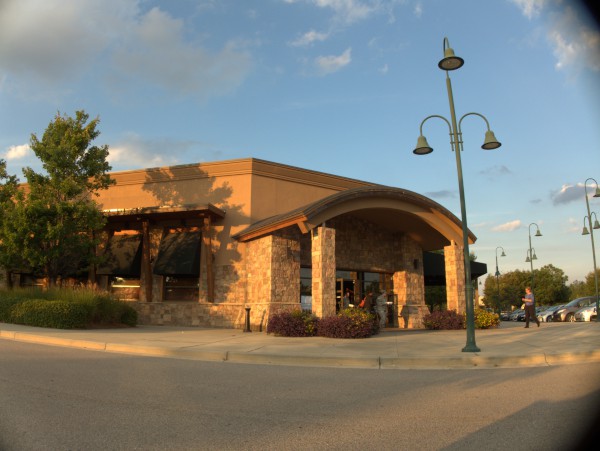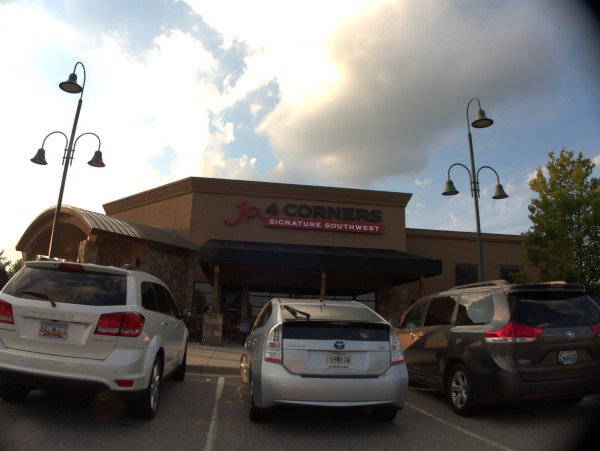 I did not know that Arizona's was a chain, but they had at least two restaurants in South Carolina, one here at Sandhill and the other in Greenville. Both were bought out in late July by a North Carolina outfit and rebranded as JP's 4 Corners.
When Arizona's opened, I looked over the menu, and could not see a reason to go, and so never did.
Apparently the general concept has not changed a lot:

JP's has maintained 90 percent of the original Arizona's menu, but, under the direction of executive chef Tony Aponte, has some new additions.

The new menu ups the steak concept by adding three new signature steaks to the original one, each with a unique rub. Each is a reference to the four states that make up the "4 corners," from which the restaurant takes its name — Arizona (original), New Mexico (cayenne and chili), Colorado (black peppercorn with blue cheese butter) and Utah (cinnamon spice crusted).

But JP's is about more than just steak, Lawrence says. One of the restaurant's new features is a house-made veggie burger that combines black beans and sweet potato and is topped with an agave sweetened chipotle-lime cream.
Looking at the menu, I get the same feeling I had looking at Arizona's menu: How is this Southwestern?
Western, I certainly see, but I thought Southwestern was supposed to have a dash of Mexican. That's got to be more than just invoking chipolte in a sauce. The Free Times in fact lists JP's under Mexican, but don't see it.
(Hat tip to commenter Jason)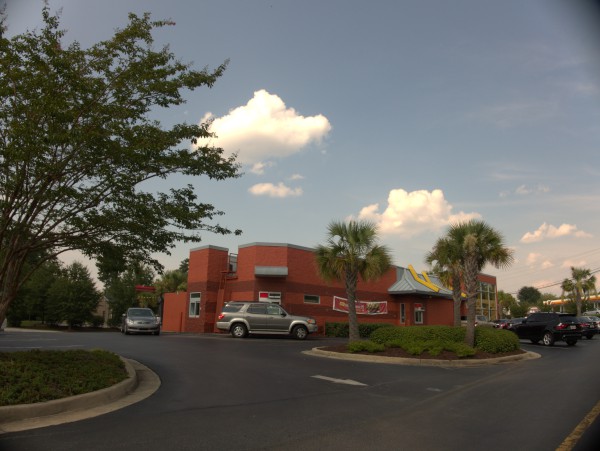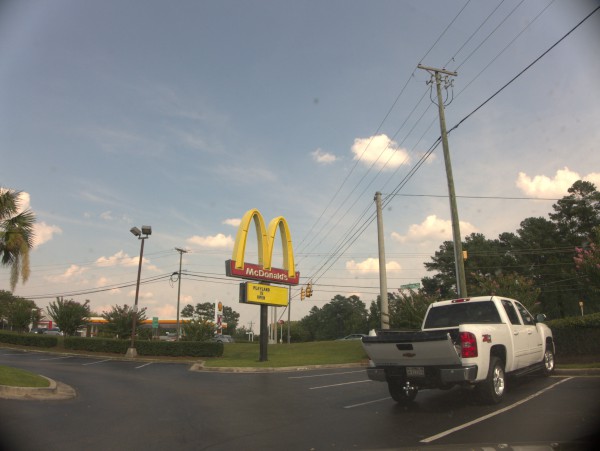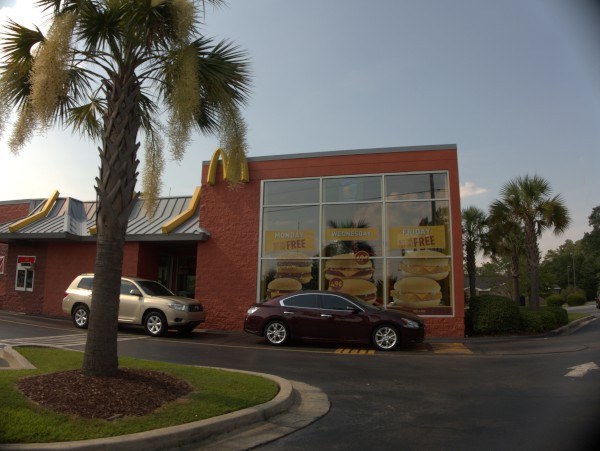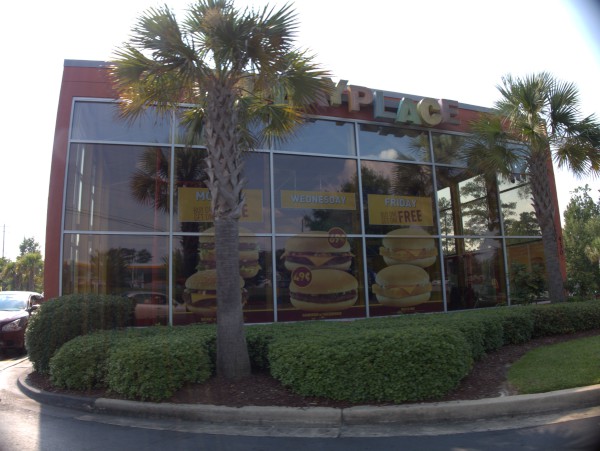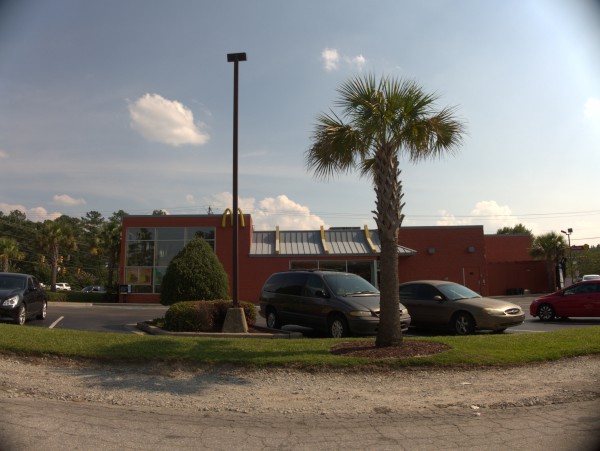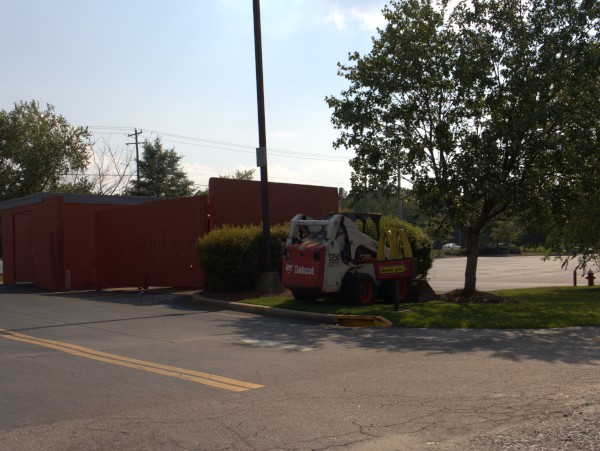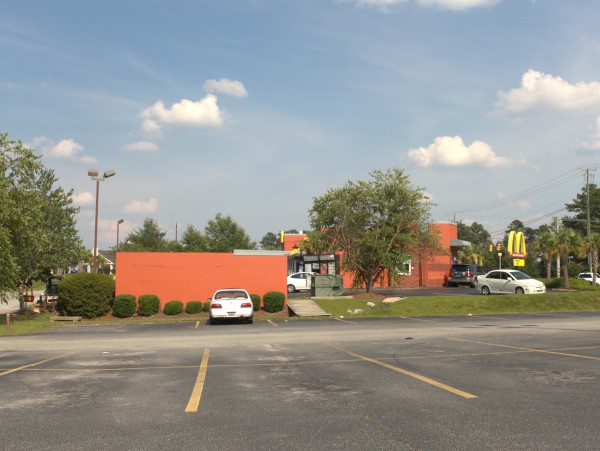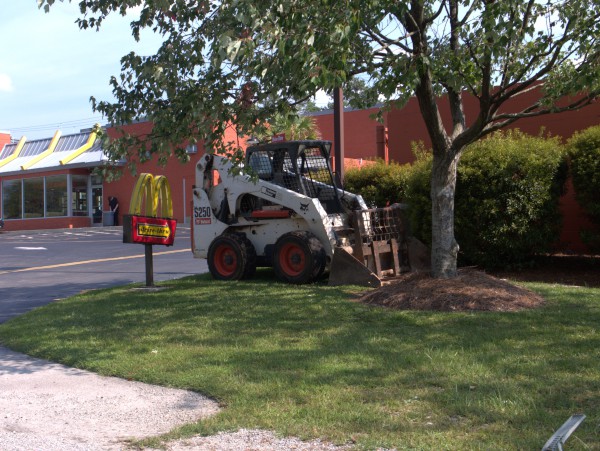 Commenter Sidney reported the McDonalds in The Crossings
at the corner of Hardcrabble and Clemson closed for renovations some time ago, but I only finally got out there after it re-opened.
Although I don't remember exactly what it looked like before, my impression is that this store has *not* been remodeled along the same lines as other recent McDonalds revampings (here, for example). In particular, the new style subtle arch cap-pieces and drive-through styling are not present, and the boxy glass playroom, which has been removed in other stores, still is.
UPDATE: Oops! Commenter Sidney says the remodeling hasn't happened yet. Looking at how fresh everything looks, I was sure it had, but now these can serve as "BEFORE" pictures.
(Hat tip to commenter Sidney)
UPDATE 7 August 2017 -- I still have yet to put the construction and "after" pictures up. I have them. Somewhere. Anyway, the place is open again.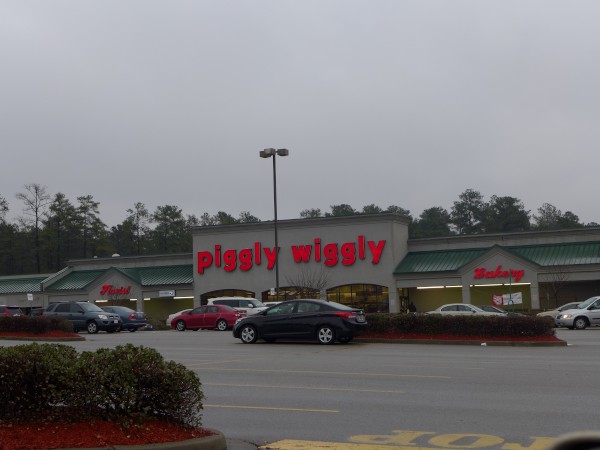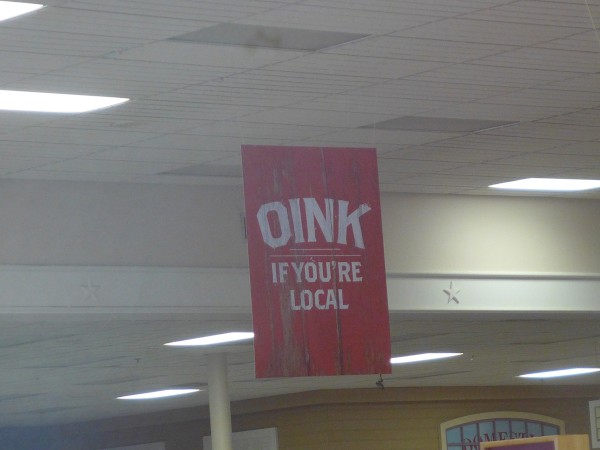 Another day, another Piggly Wiggly.
This store, at the corner of Clemson and Hardscrabble Roads, looks like it was a pretty nice one, though I can;t ever recall going inside. I might have thought that it would have benefitted from the closing of the Food Lion across the street, but in this case the ongoing woes of the chain seem to have outweighed any additional traffic from displaced Food Lion shoppers.
The closing of this store started rather oddly, with an "inventory reduction" sale. Since there is no reason for a grocery store to ever have such a sale in the normal course of events, this seems to have been some sort of signal that the store was closing before the management was able to say that officially.
This closing will be a big hit for Magnolia Pointe, as The Pig was the only anchor in the main strip of the shopping center. There is a CVS in an outparcel region, but that won't bring shoppers in to the shopping center proper.
(Hat tip to commenter ken holler)
Posted at 12:55 am in Uncategorized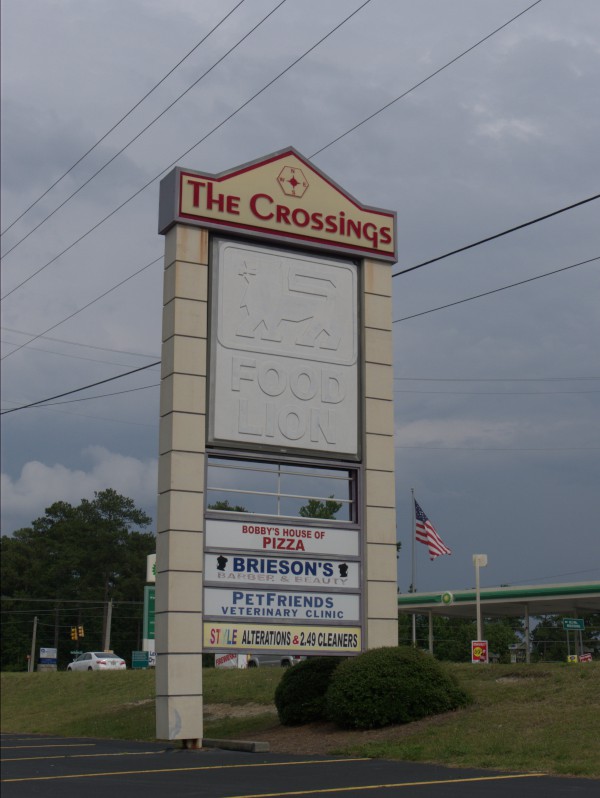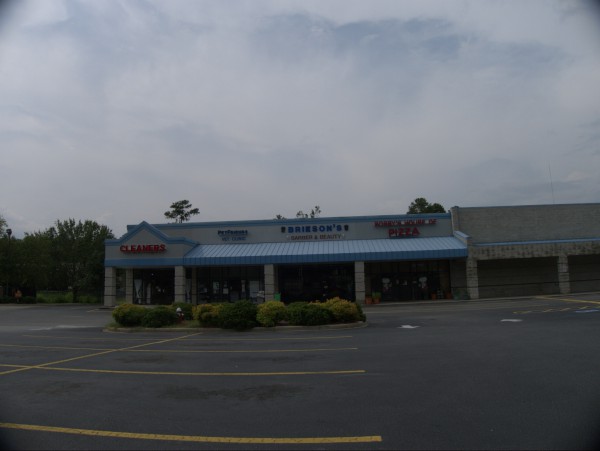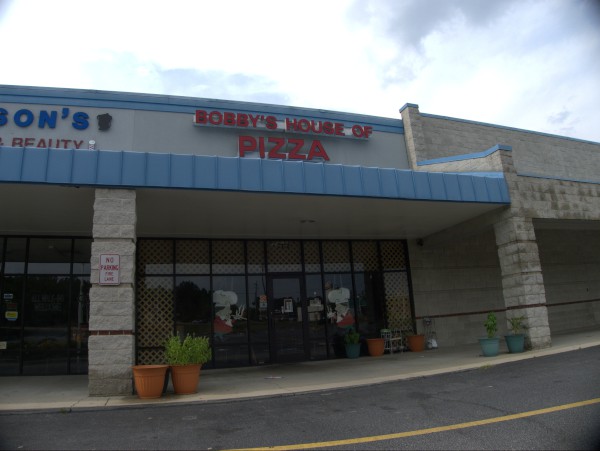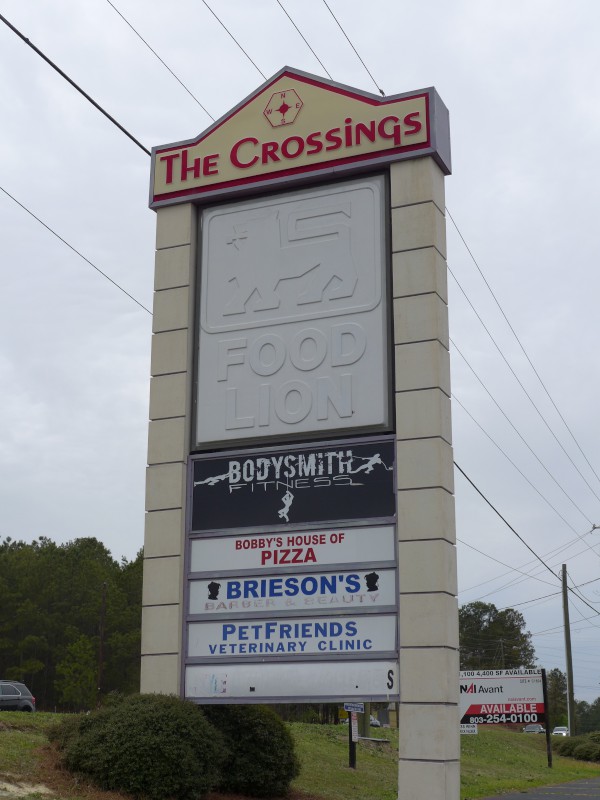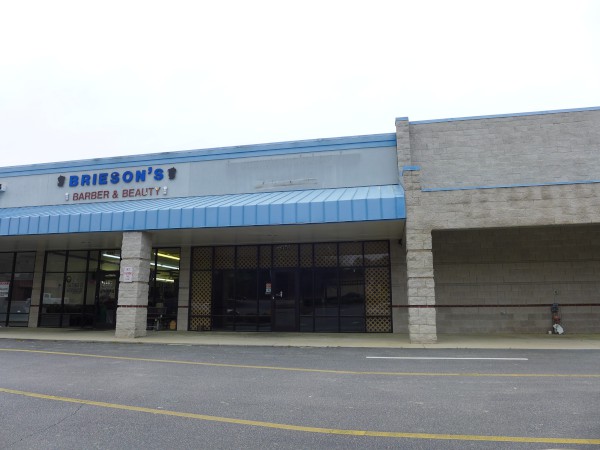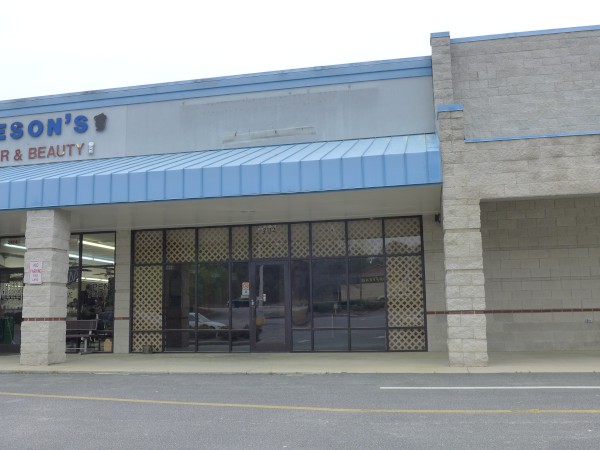 There are a lot of "House Of Pizza" restaurants around, but I'm not sure if it's a chain of some sort, or just a common name choice. Usually though I see them with a (smaller) town name like "Pontiac House of Pizza", "Camden House of Pizza" etc and not an owner's name like this small storefront at the corner of Clemson and Hardscrabble Roads. This was always on my "to try" list, but as it was so far from where I normally am, I never got around to it in time.
I've blogged several places in this strip, The Crossings, including Food Lion and Blockbuster. They still have not managed to fill the anchor Food Lion space.
Posted at 11:24 pm in Uncategorized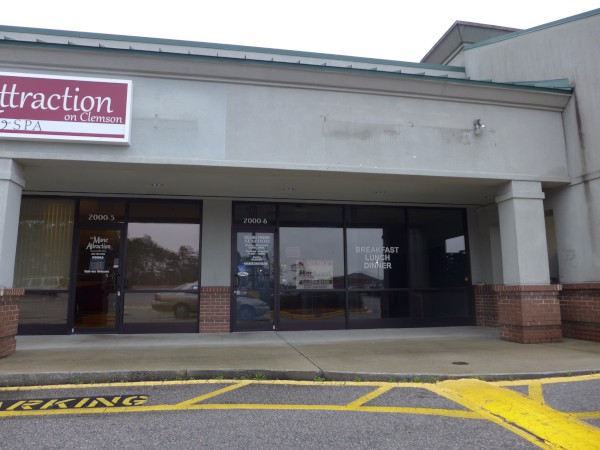 Here's a vacant storefront in Magnolia Pointe at the corner of Clemson & Hardscrabble Roads. To me the most notable thing is that they were open for breakfast, which is unusual for a seafood restaurant.
I'm unable to find a phonebook listing for this place, but don't recall noticing it on my last drive-through, so I'm guessing it closed within the last few years.