Archive for the 'appliances' tag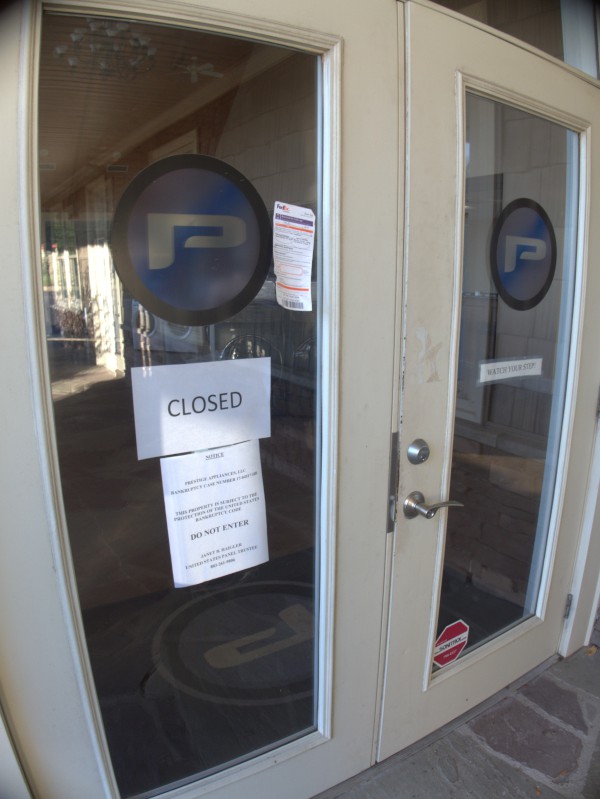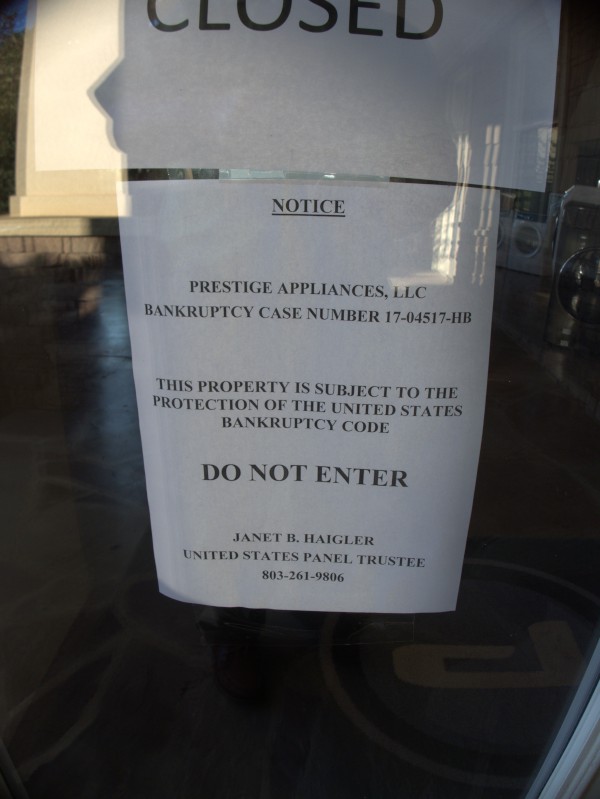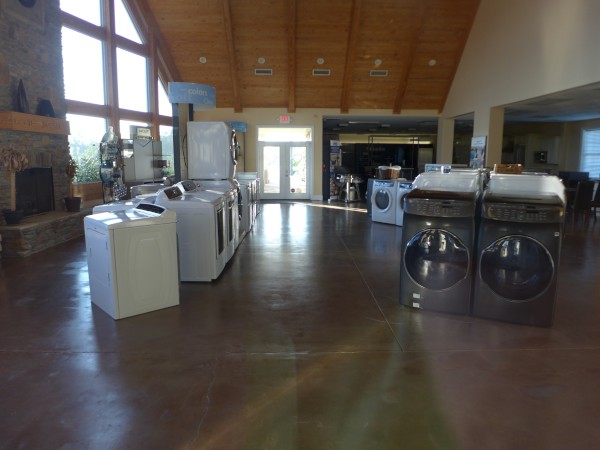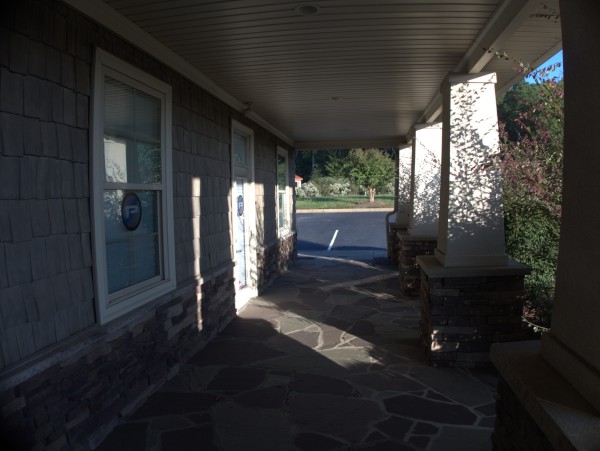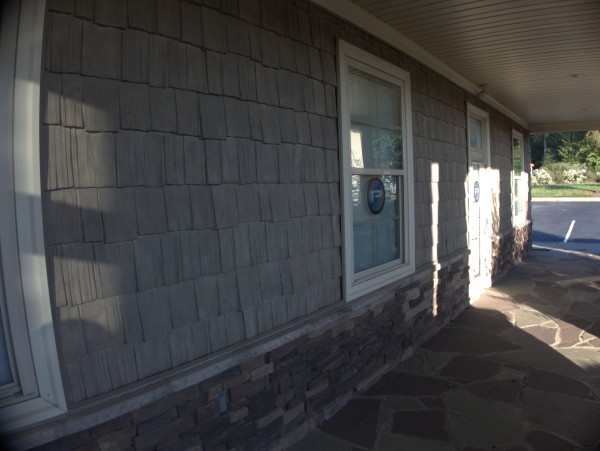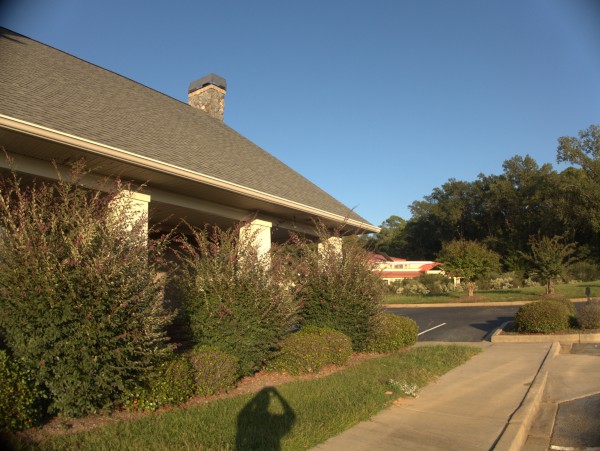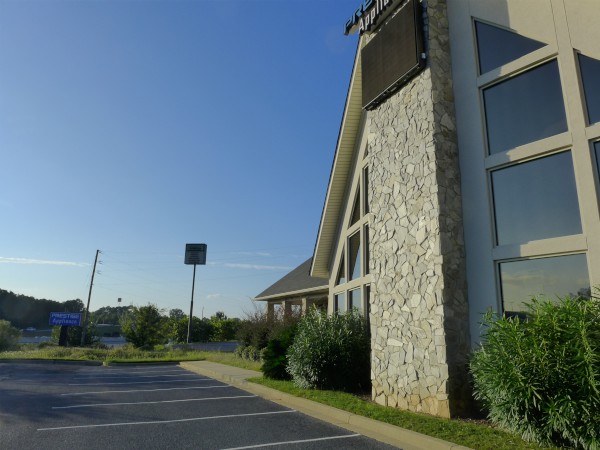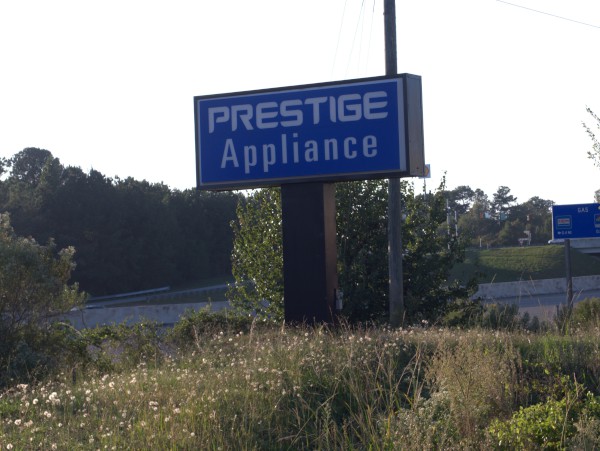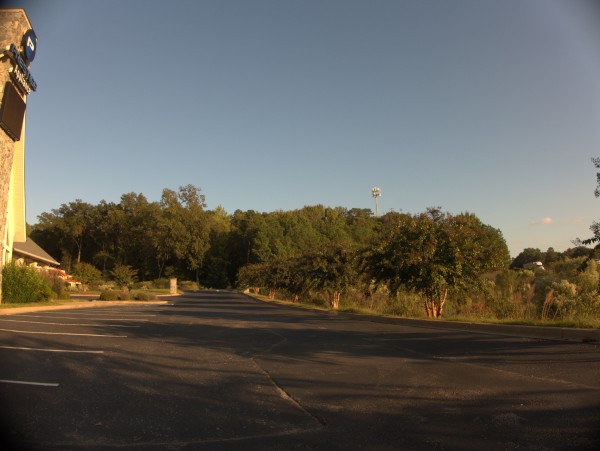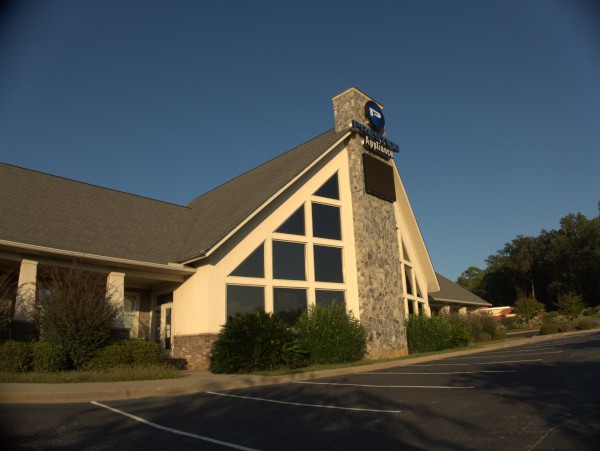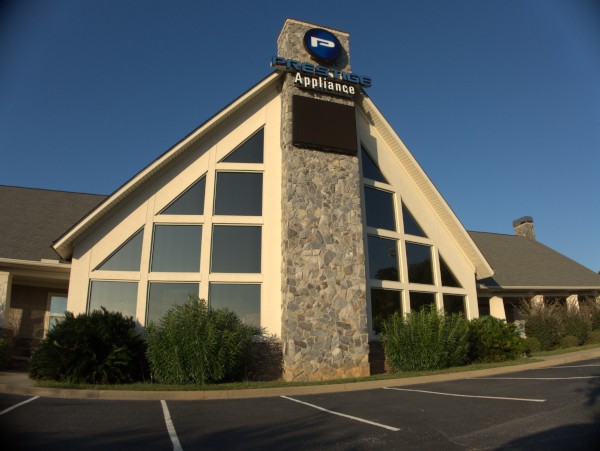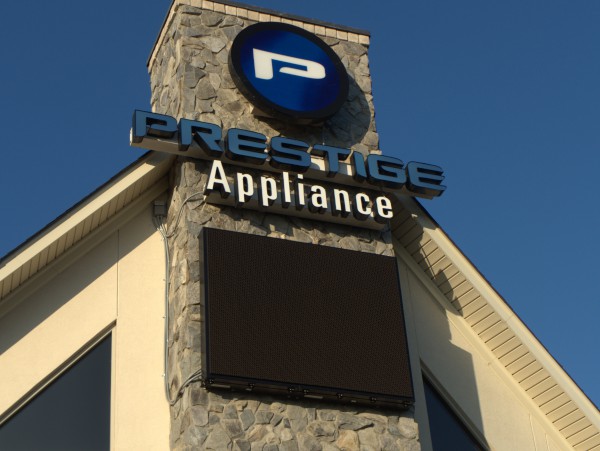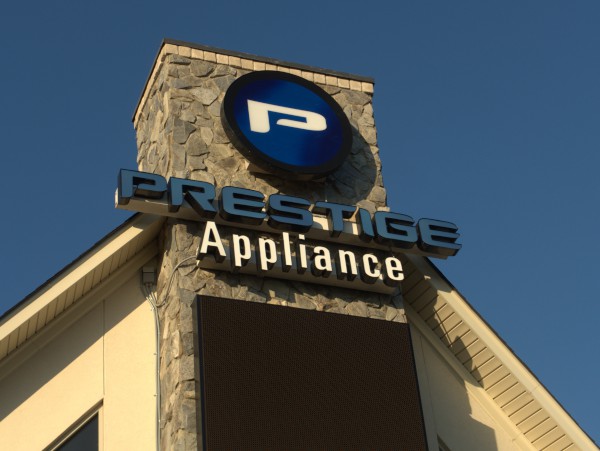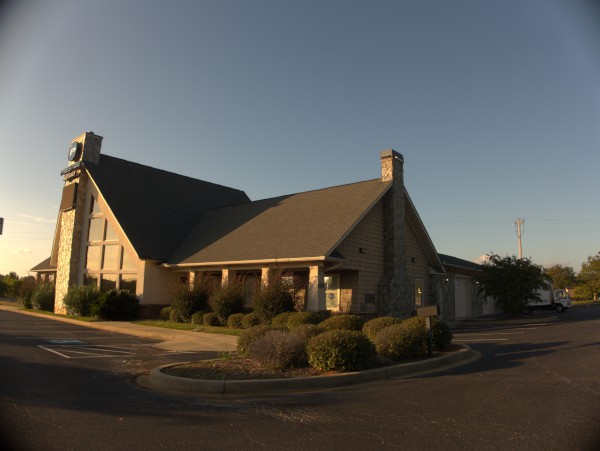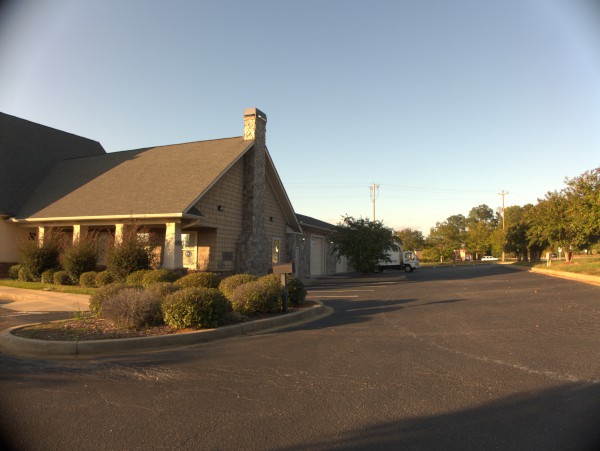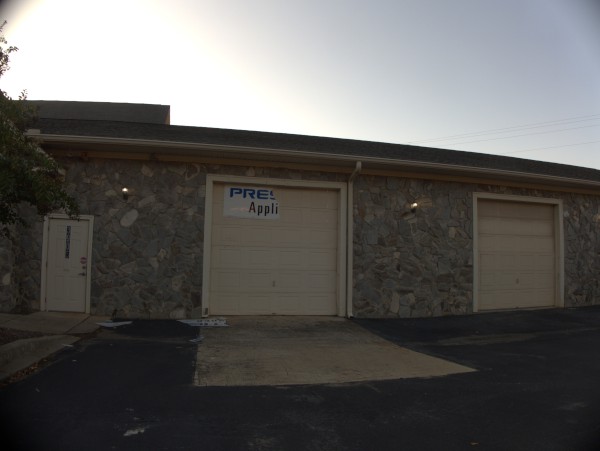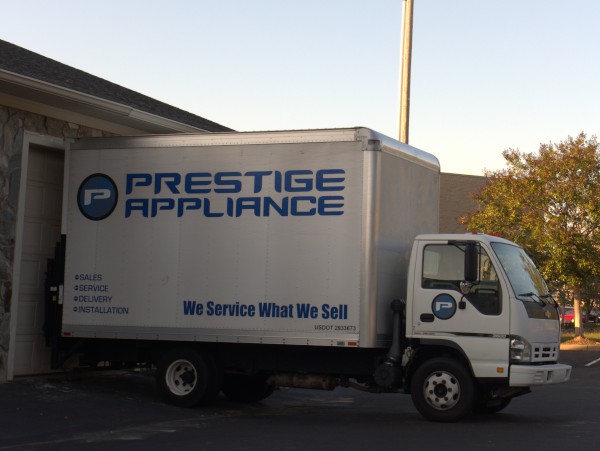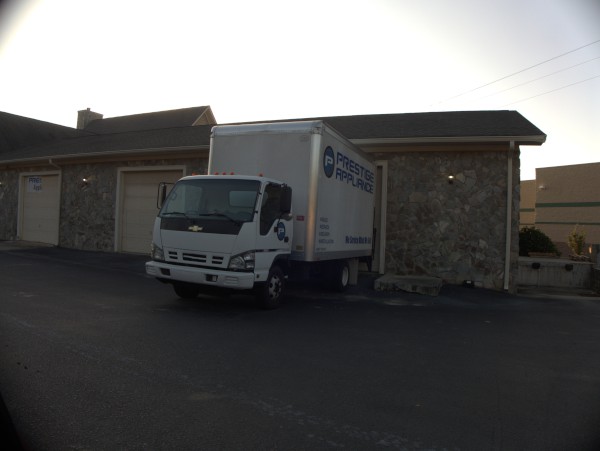 I blogged the relocation of Prestige Appliance from Sunset Boulevard to Fernandina Road in November 2014 when they moved into the former Fireplace Center.
Around the same time, they were building and opening a new store in Augusta. I'm guessing that they tried to do too much at the same time and got overextended. At any rate, as reported in The Augusta Chronicle, they declared Chapter 7 (simple liquidation) bamkruptcy on 7 September 2017.
I say "simple" liquidation, but apparently it is actually a bit more complicated than that since as you can see here, the merchandise and fleet are still intact at this location.
(Hat tip to commenter John)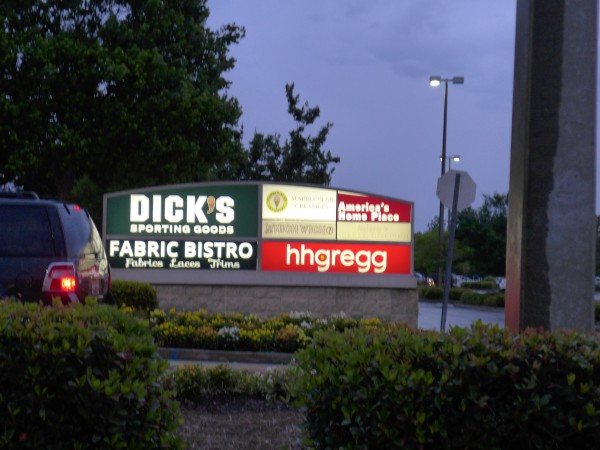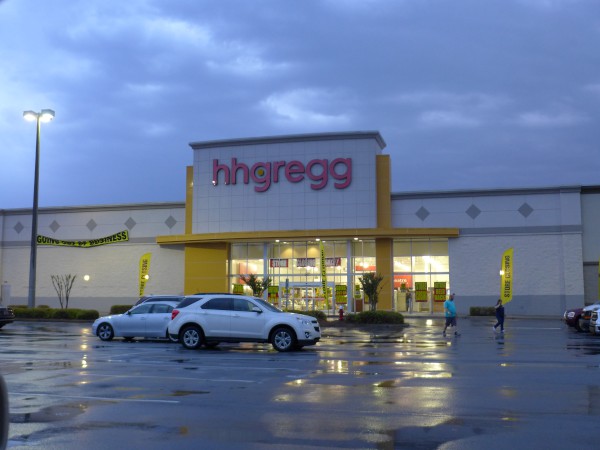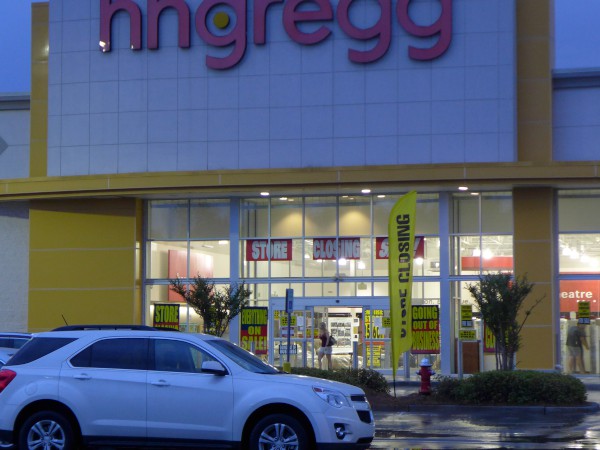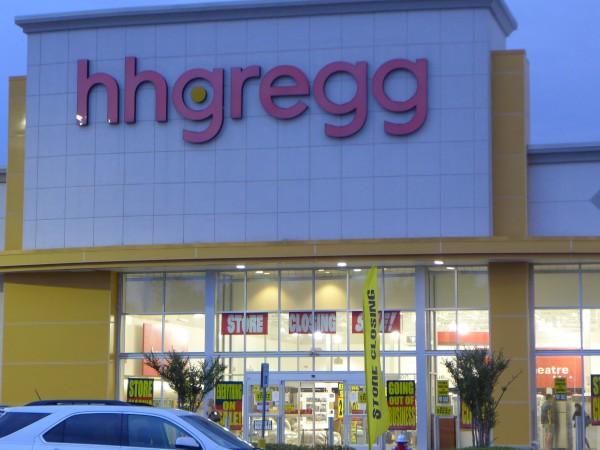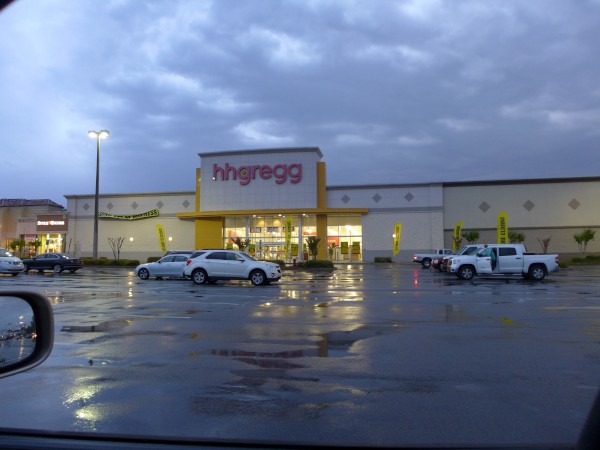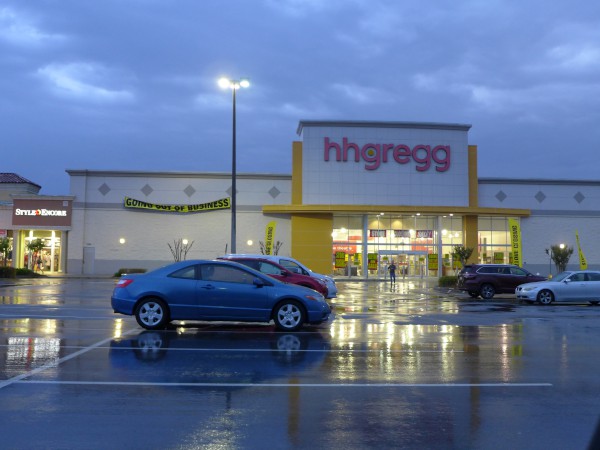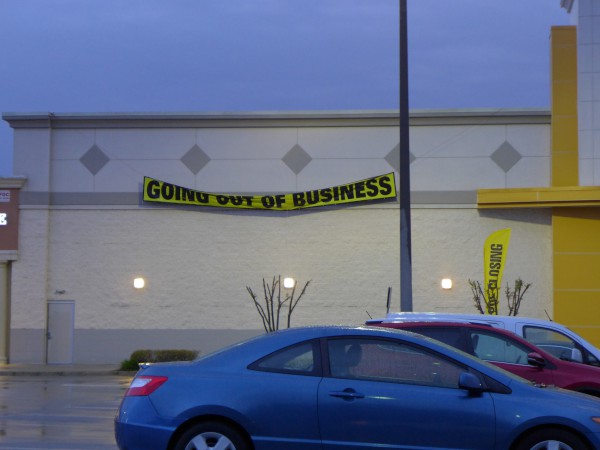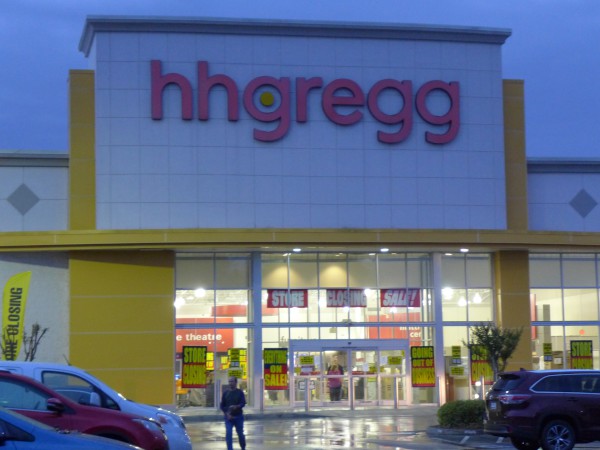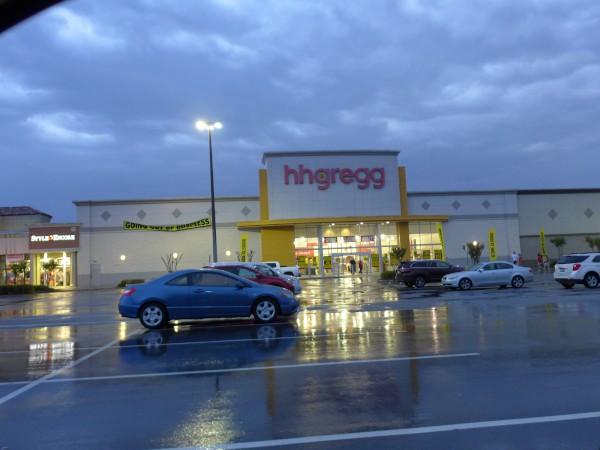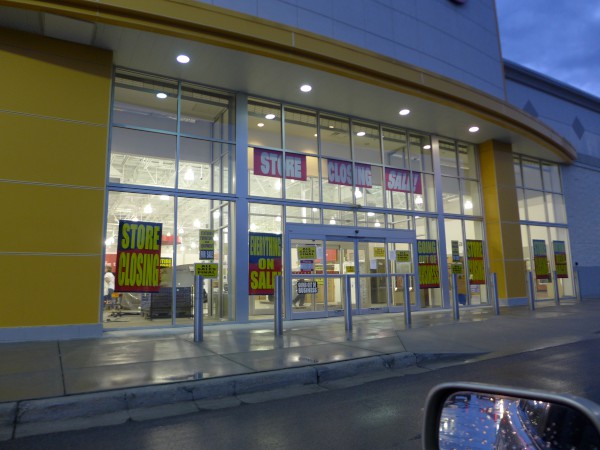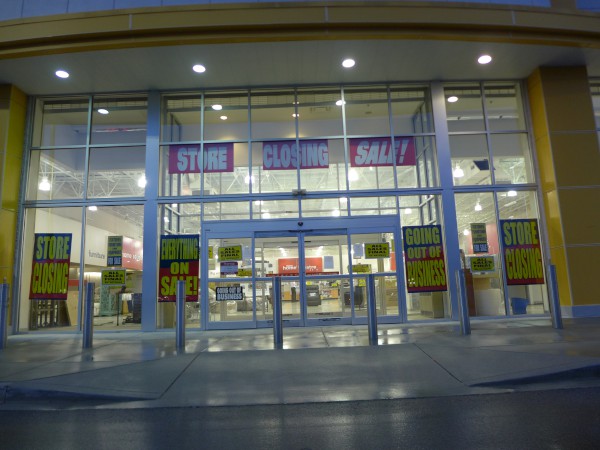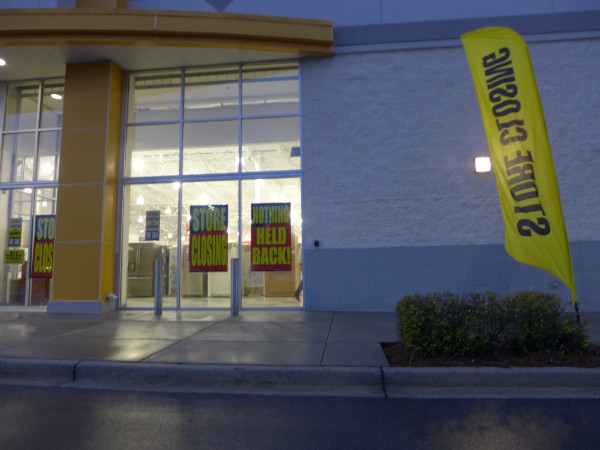 Well, this is Columbia's other H. H. Gregg, closing as part of the same liquidation as the Sandhill store. Goody's is the most prominent former holder of this spot -- I'm not sure who could take on this much floor space now.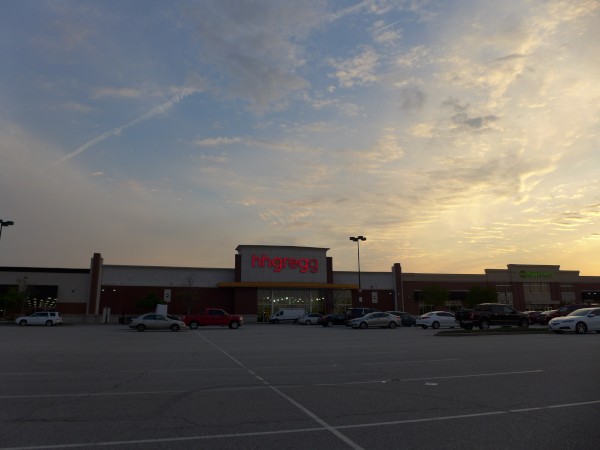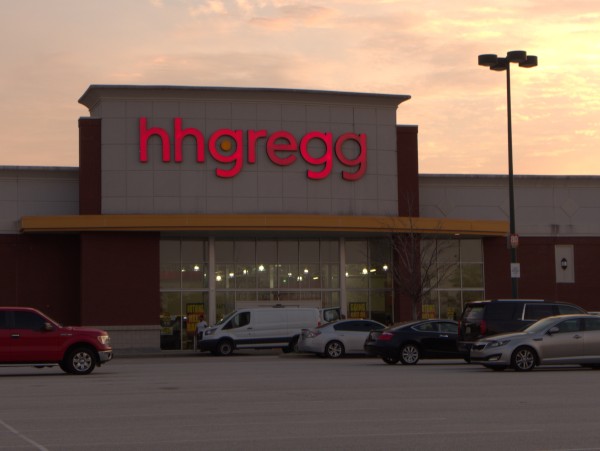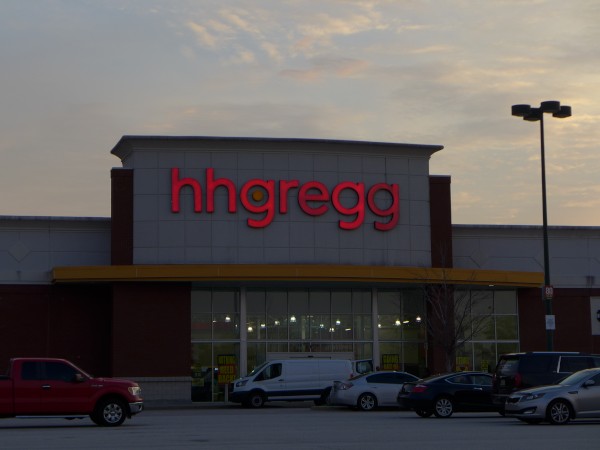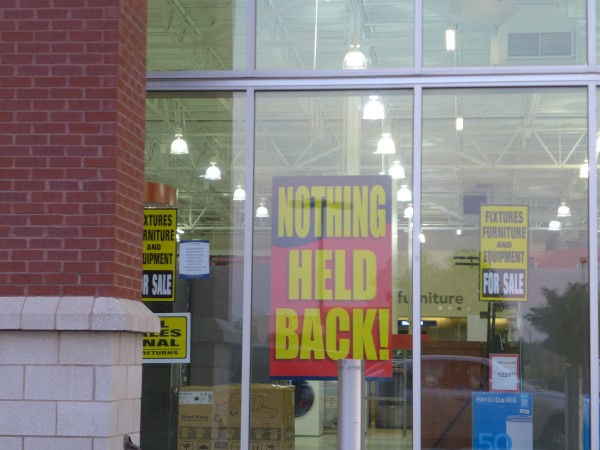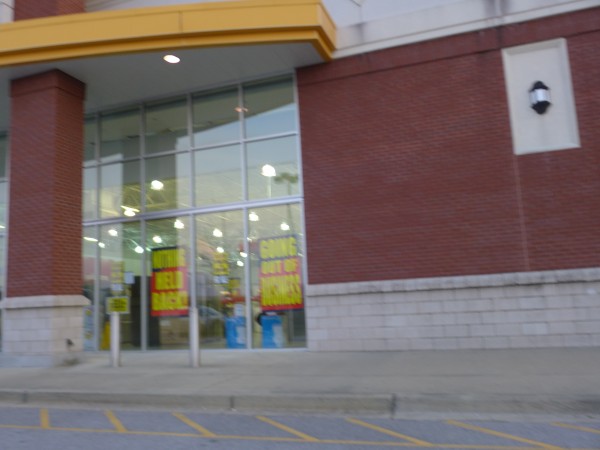 I was sure I had done a closing for 230 Forum Drive before, but looking at Alphabetical Closings, I don't see anything.
At any rate, H. H. Gregg is the latest casualty of the ongoing Amazon-era retail meltdown. With the closing of Circuit City, I thought that the appliance & electronics big box market would be able to support the two remaining stores, Gregg and Best Buy, but in the event I guess not. For that matter, it still remains to be seen if *one* store is sustainable long term.
I believe this is the only H. H. Gregg I have ever been in, and I was only in it once. I wasn't looking for anything in particular, just checking it out, and as I recall, my impression was that I liked Best Buy better.
Here is a very interesting article from The Indianapolis Business Journal about this Indianapolis based company, its storied history, and the path to bankruptcy this March 7th and then quickly after that, the slide into liquidation:
In the early 1980s, when Detroit-based appliance retailer Fretter Inc. entered Indianapolis and challenged HHGregg on its home turf, HHGregg bought full-page ads in the Detroit newspapers hawking its own merchandise and offering free shipping.

Those were heady days for HHGregg, which built a loyal following in Indianapolis with an unwavering focus on customer service; an army of well-paid, full-time commissioned salespeople; and an avalanche of advertising that resonated with consumers.

It was a winning formula for founders H.H. and Fansy Gregg, who opened the first store at 4930 N. Keystone Ave. in 1955, and for the family members who helped build the chain to more than 200 locations in the decades that followed.

"The customer-first attitude came from Mr. and Mrs. Gregg," said Ken Beckley, an HHGregg executive from 1983 to 2001 who also was the face of the company's advertising. "When I was there, we preached to employees that job No. 1 is to take good care of the customer. If you do that, profits will follow. We never put profits first. We put customers first, and it paid off."

The strategy helped fell a long list of rivals—including Fretter and Highland Superstores Inc., another Detroit chain that dove into Indianapolis in the early 1980s. Both firms later skidded into bankruptcy, with a Highland executive calling Indianapolis its "Death Valley." In 1998, Circuit City Stores Inc., then a retail powerhouse, arrived in Indianapolis, only to land in liquidation a decade later.

Now, done in by a long list of problems—including overexpansion and a collapse in sales of consumer electronics, once its biggest business—HHGregg is joining the trash heap of failed appliance and electronics retailers.

The company's demise has been unfolding in slow motion for years, but the final unraveling came with breathtaking speed.
Reminds me of Hemingway's famous quote.
Aside from Gregg, this can't be very good for Sandhill either.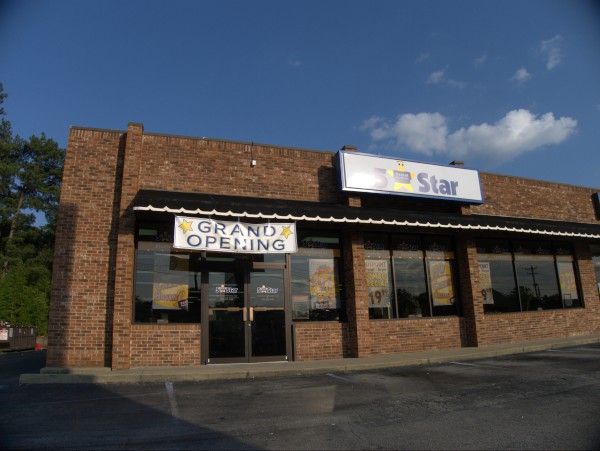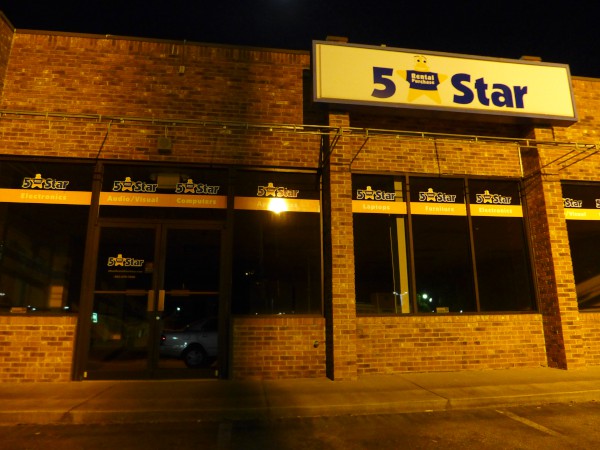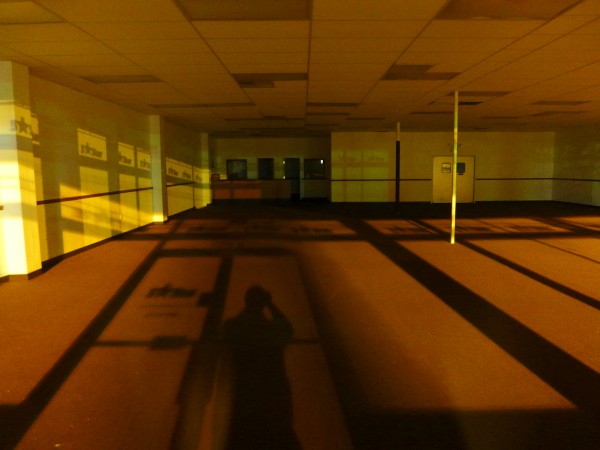 I noticed the other night that this rent-to-own store in Tillman's Plaza is gone. I think the logo looks alarmingly like Patrick. Ah, I see I made the same observation when the place opened in 2012.
Posted at 2:20 am in Uncategorized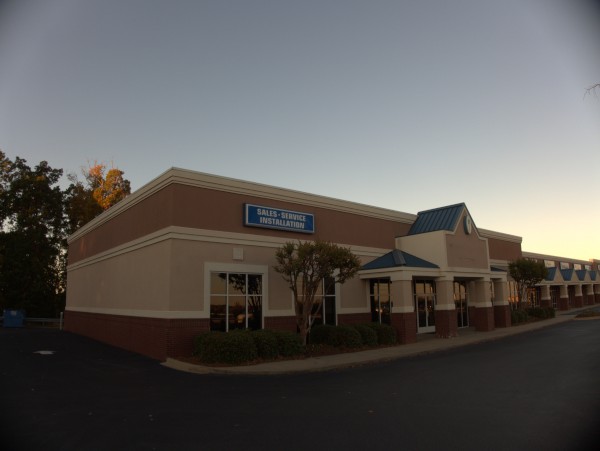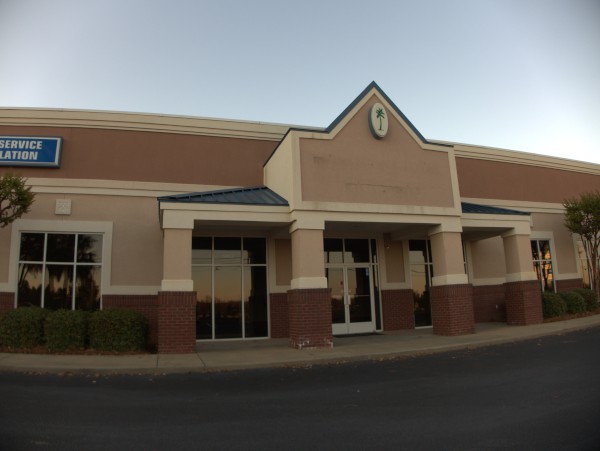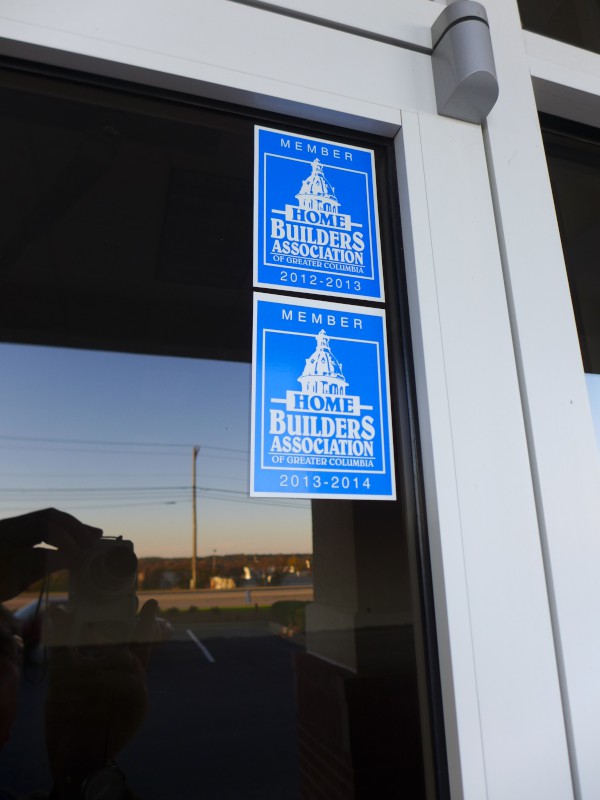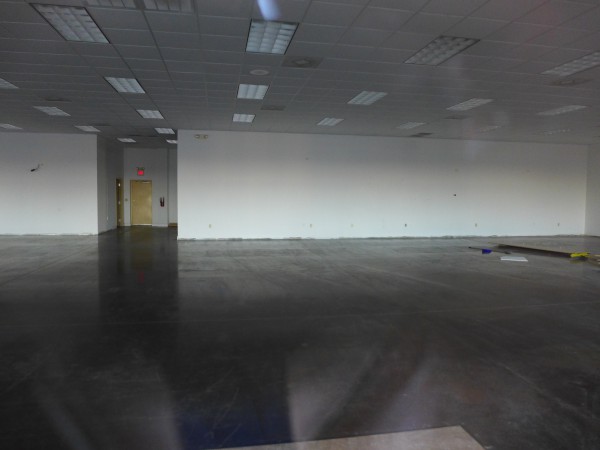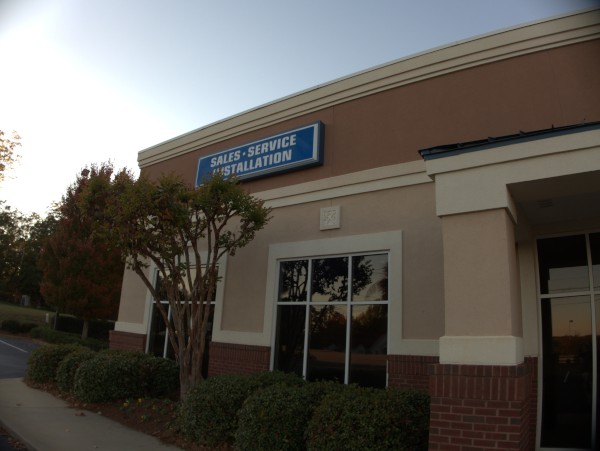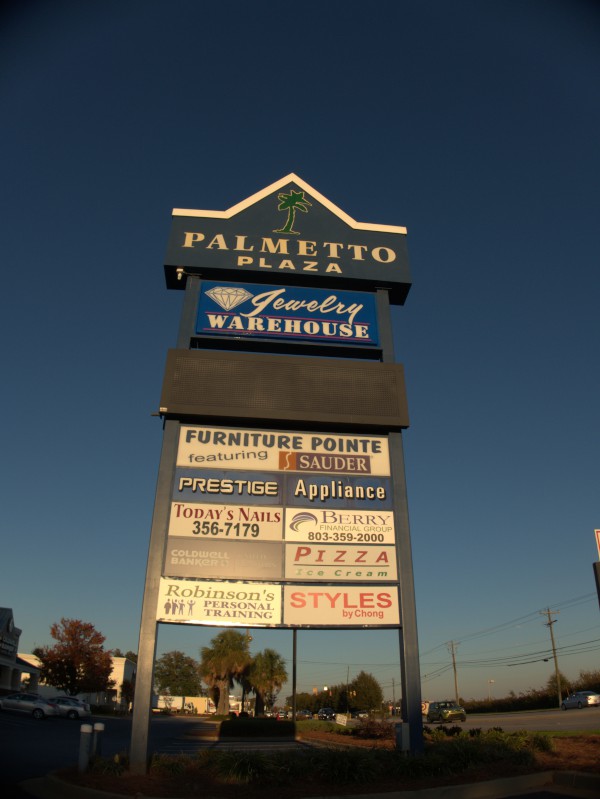 There was a lot of back and forth in the comments about this move, but I believe commenter James R was the first to mention that Prestige Appliance on Sunset Boulevard was gone.
In fact though it was a move, not a closing, and they have set up business at 3905 Fernandina Road in the old Fireplace Center / Southeastern Stone building: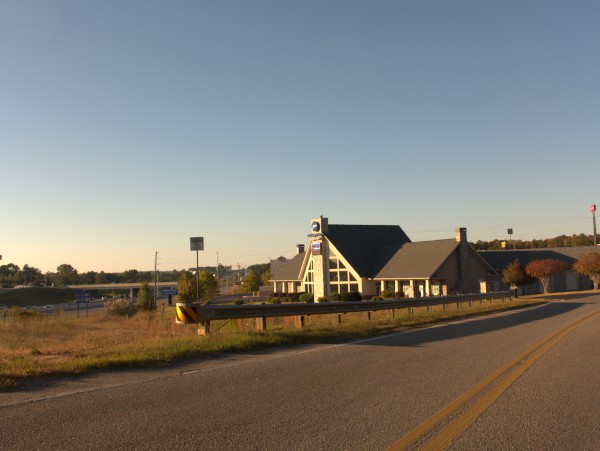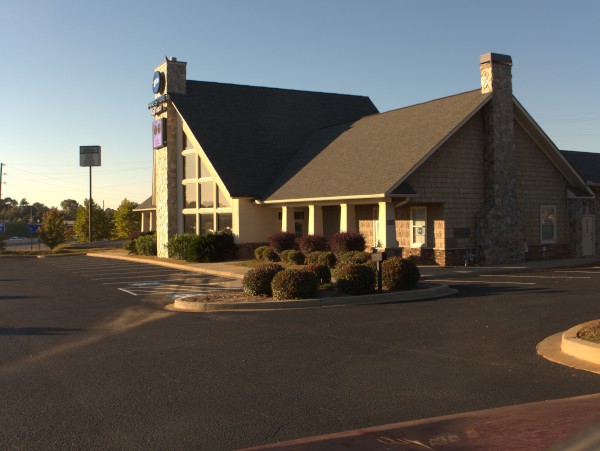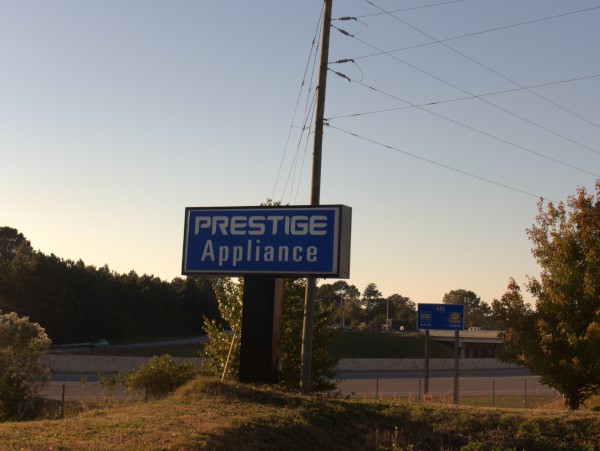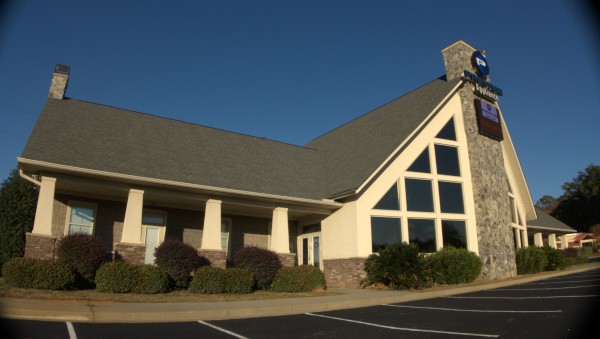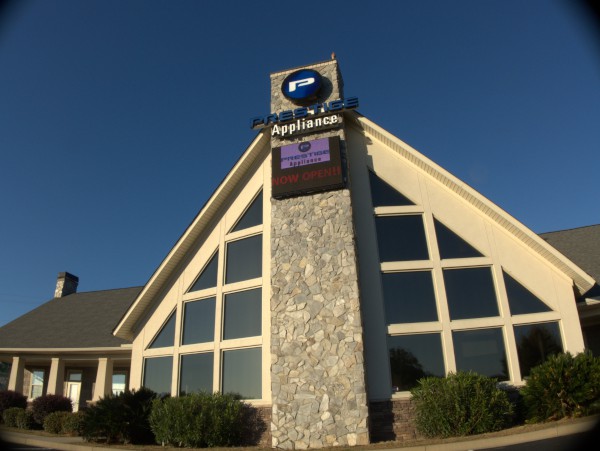 (Hat tip to commenter James R)
Posted at 12:04 am in Uncategorized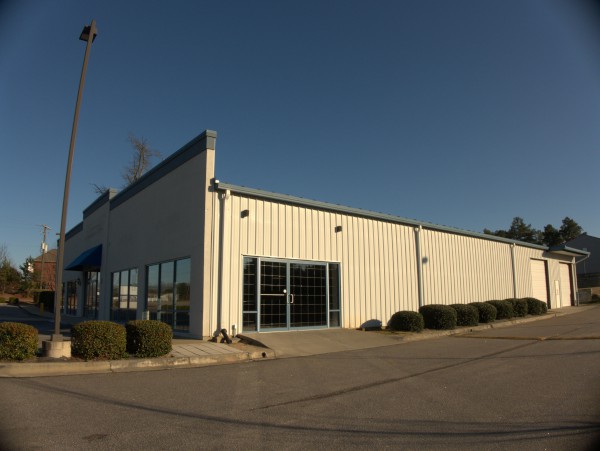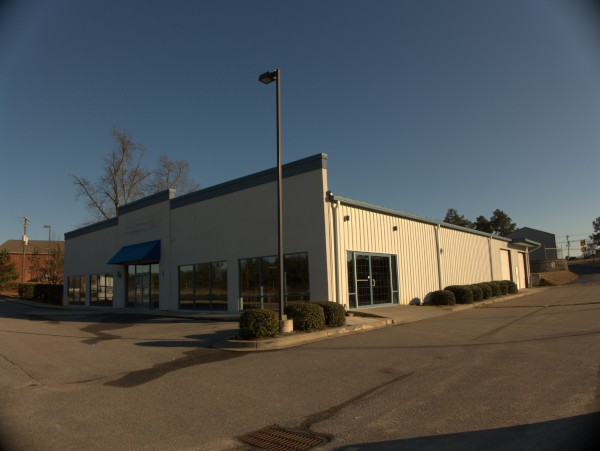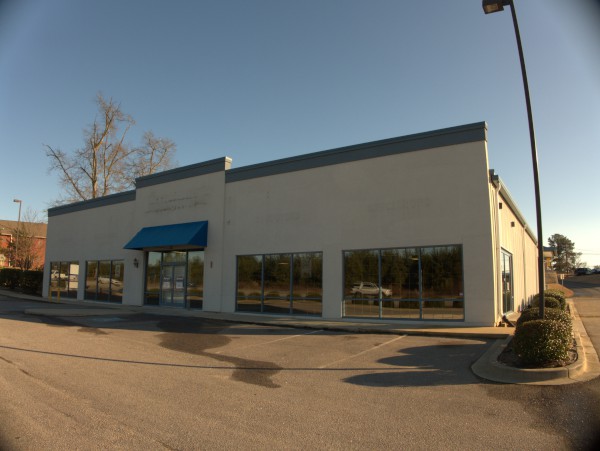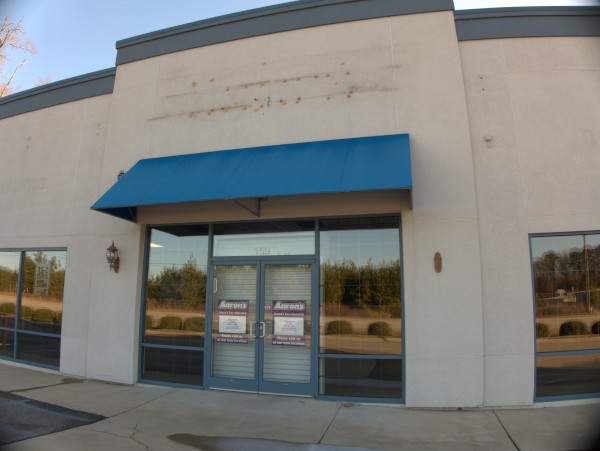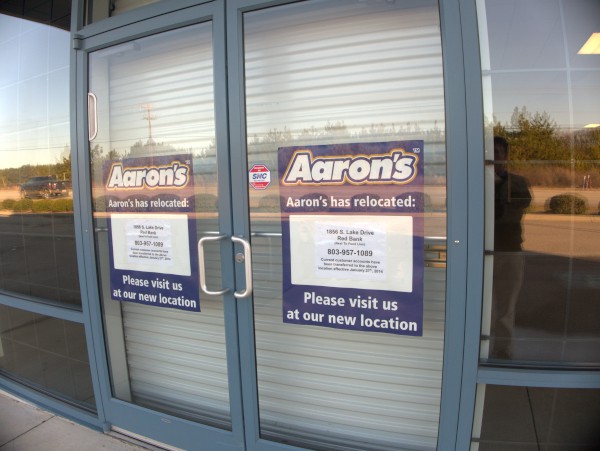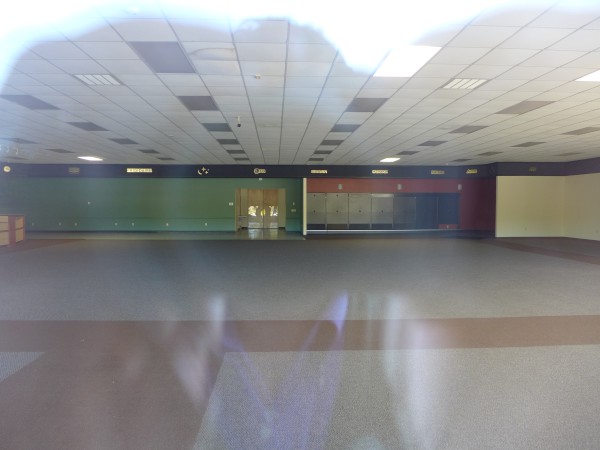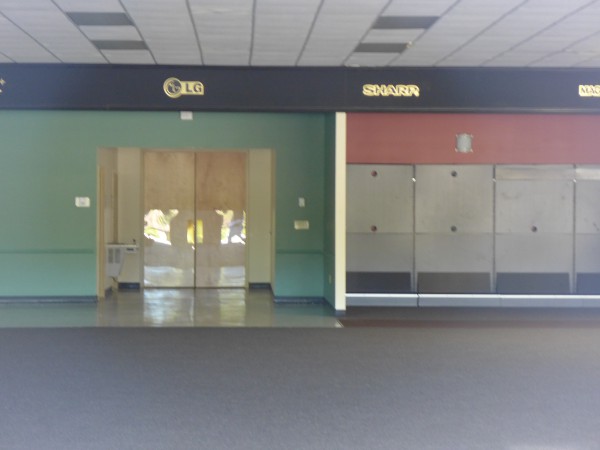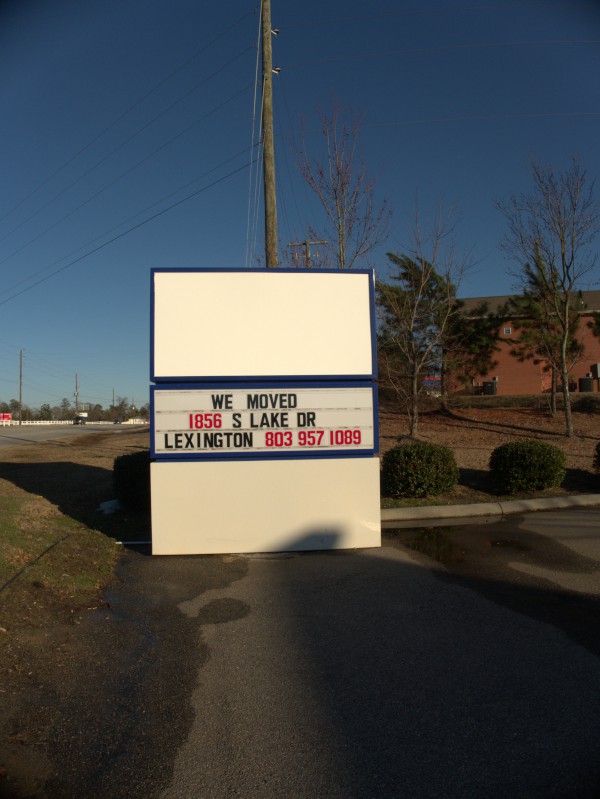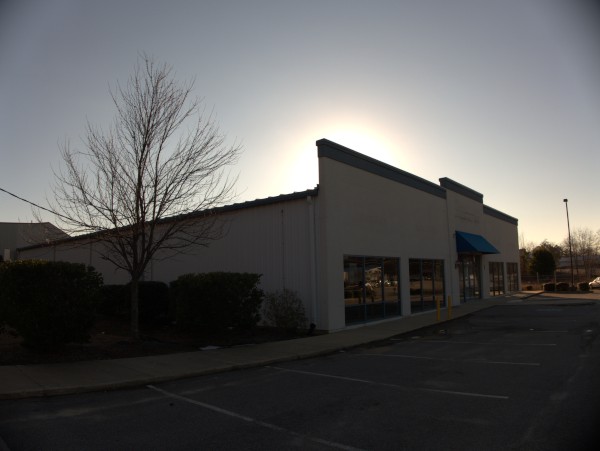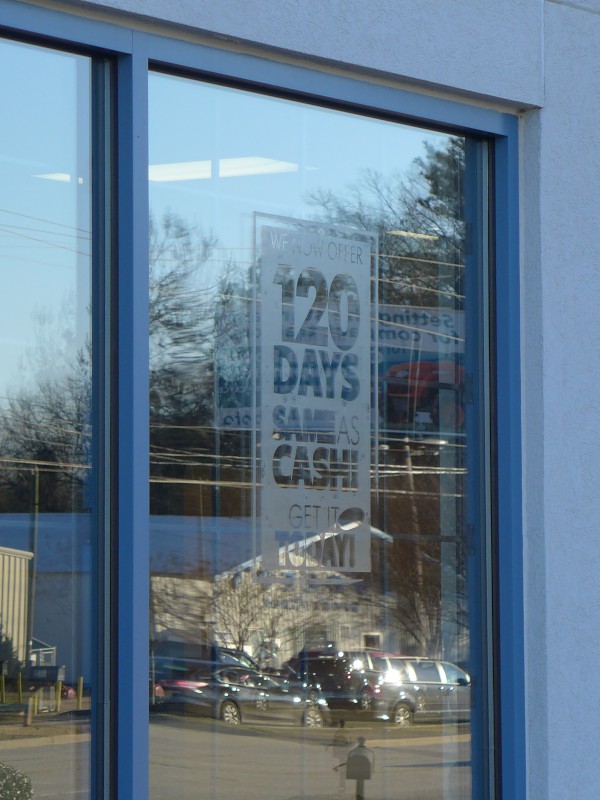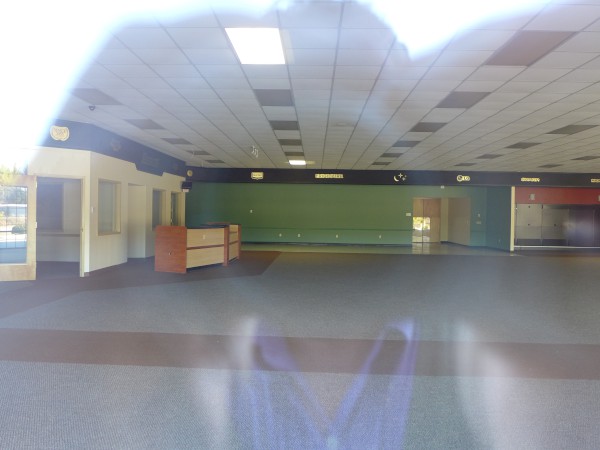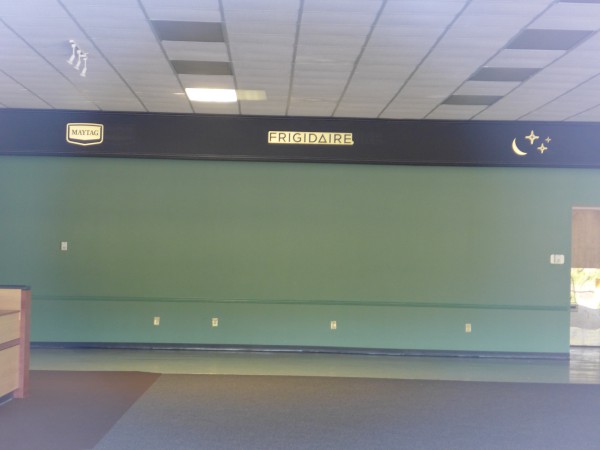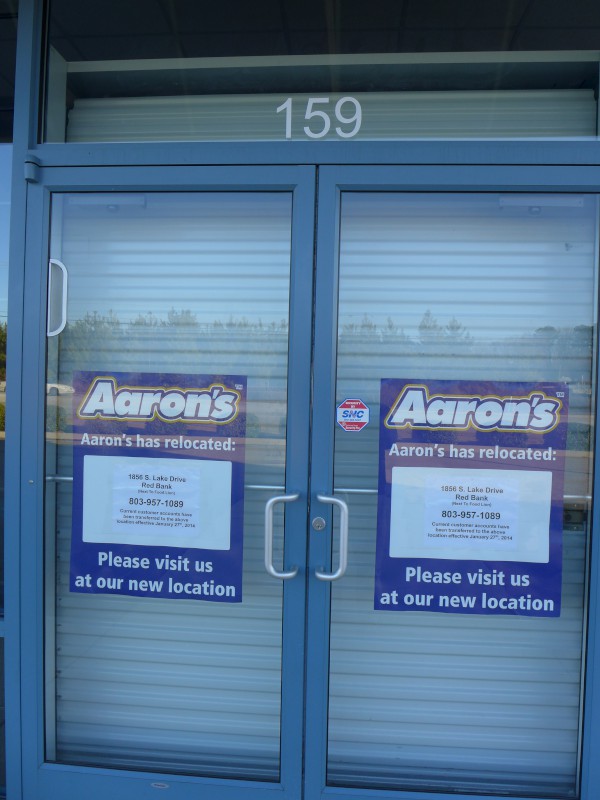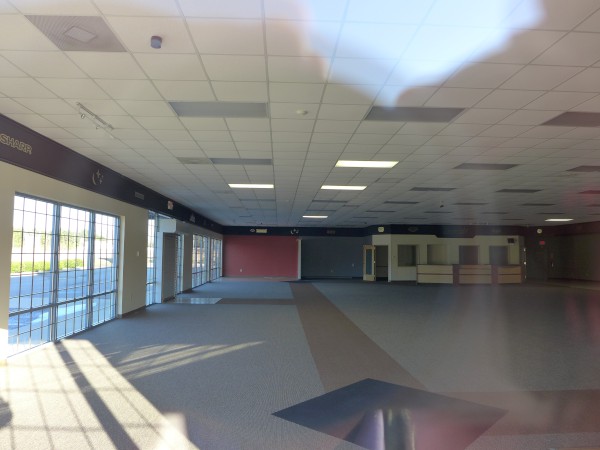 This Aaron's on US-387 in Lexington just west of the US-1/US-378 split listed in the phonebook as Aaron's Furniture Rental, though clearly judging from the wall blazons, they also did appliances. Given that the South Lake Drive operation already existed, I think this is more a consolidation than a relocation. Basically they have just folded this branch's operations into that one's.
(Hat tip to commenter James)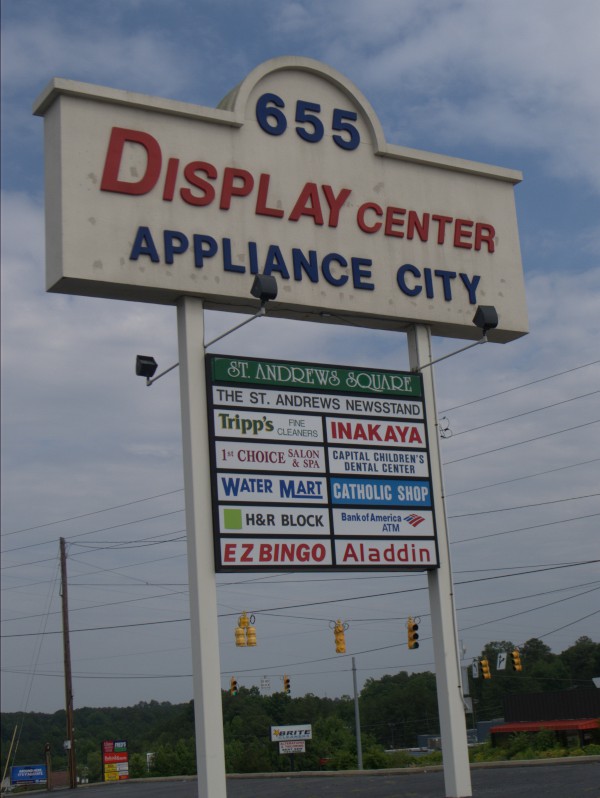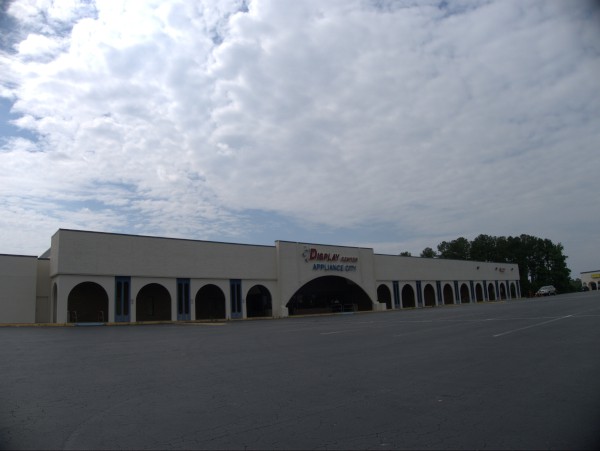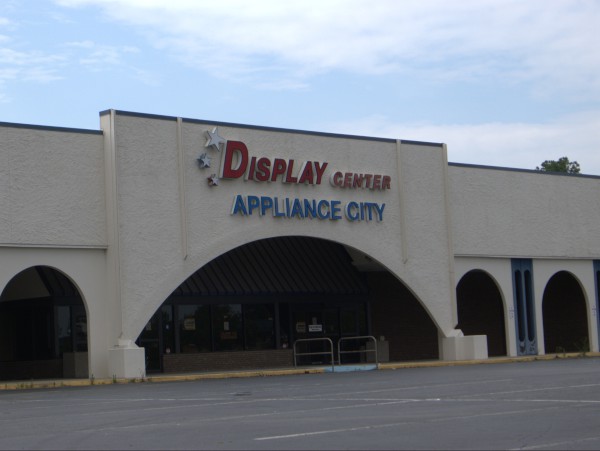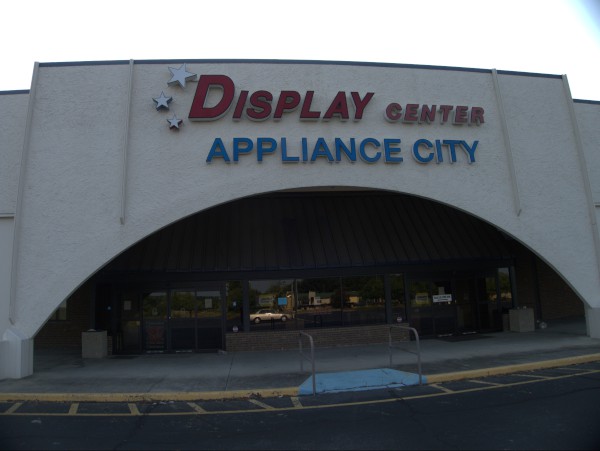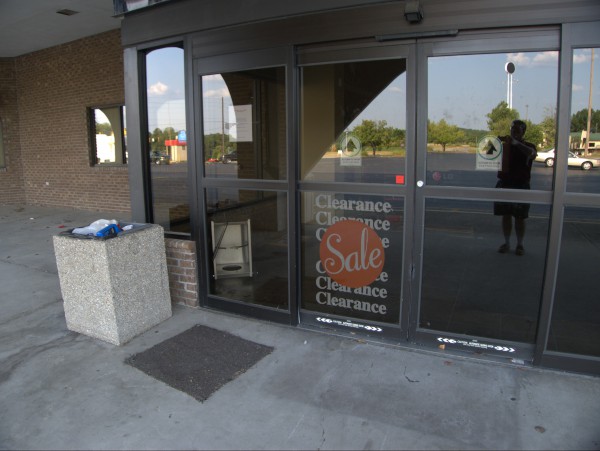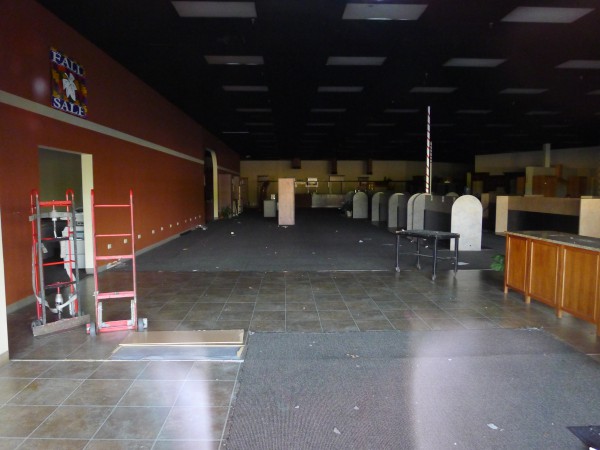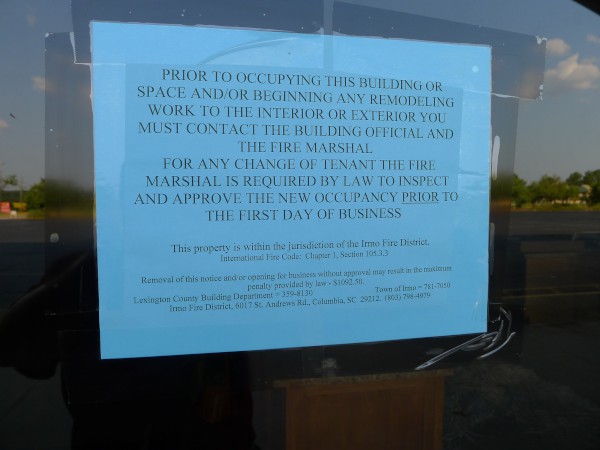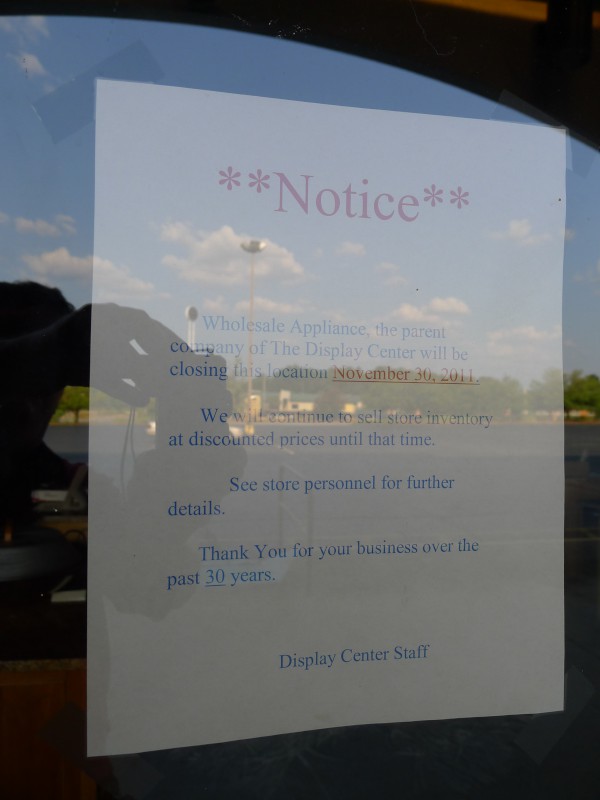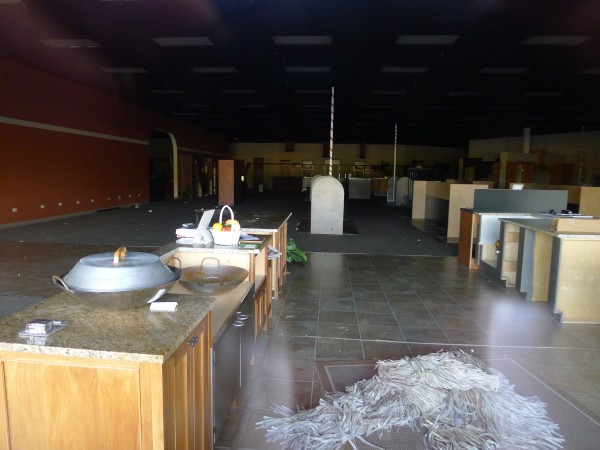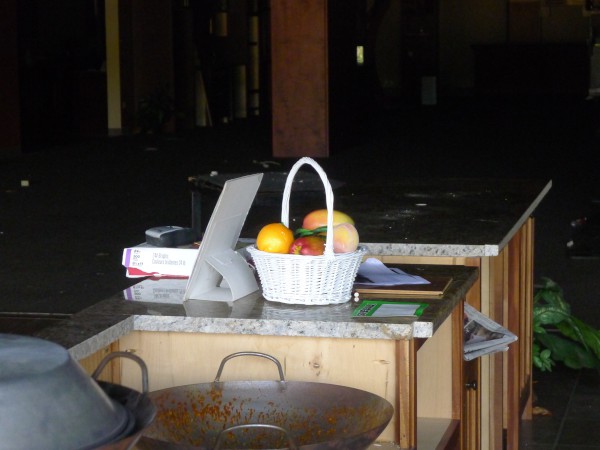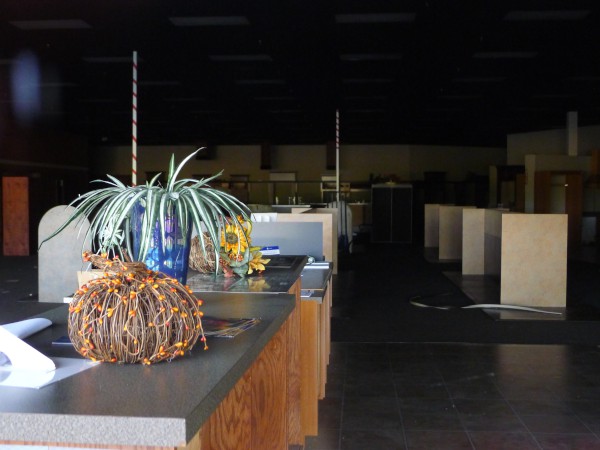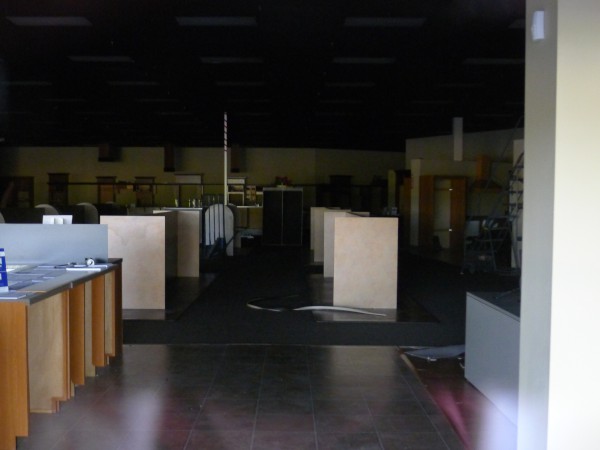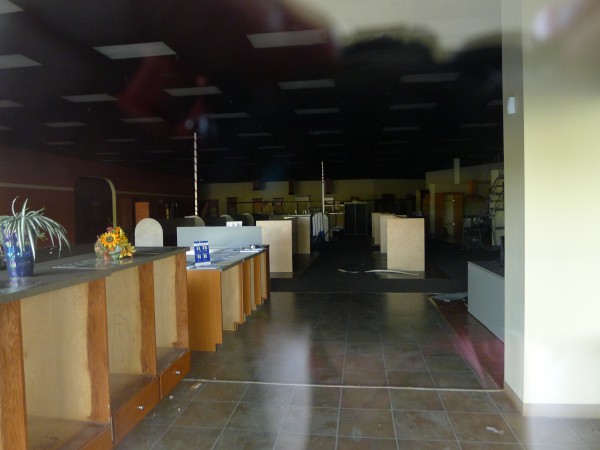 This was the first location for Piggly Wiggly store number 102.
If I have the story straight, then this store closed in 2001, moved and re-opened in the former Harris Teeter at 4350 Saint Andrews Road (and then closed for good).
After that, the Display Center appliance store moved in, and closed on 30 November 2011, leaving an interesting assortment of items behind.
This location is directly across Jamil Road from former Hilltop Restaurant, and in the same plaza as the former Capitol News Stand.
(Hat tip to commenter Andrew)
UPDATE 4 September 2012: Fixed typo in DC closing date.
Posted at 11:35 pm in Uncategorized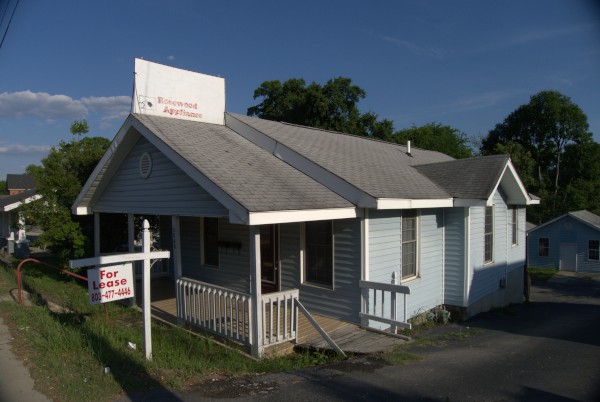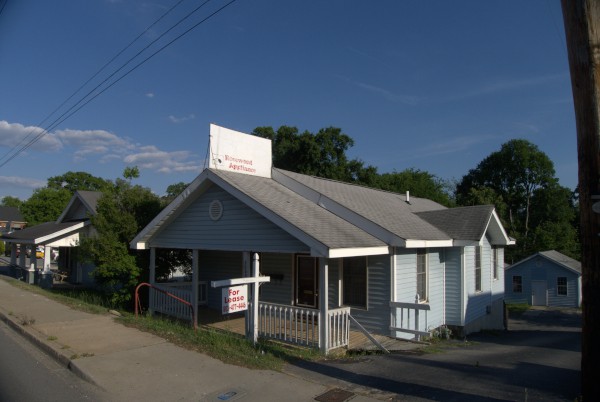 This little building on Rosewood Drive near the former Keg O' Nails was obviously a family house in the beginning. Apparently used appliance store Rosewood Appliance Center was there for around 25 years, lasting at least until 2010.
I'm not sure of the order of the follow on businesses, though I suspect that Artshack was the most recent (and which almost must be related to Art Shack Gallery Cafe). I'm quite puzzled by the fact that googling "3000 Rosewood Dr" consistently turns up Rosewood Elementary School. Clearly this building is *not* the nearby District One school. All I can think is that either A) This is a complete error that has been propagated from one web site to another or B) The school at one time leased this building as an overflow office or some such.
Posted at 12:36 am in Uncategorized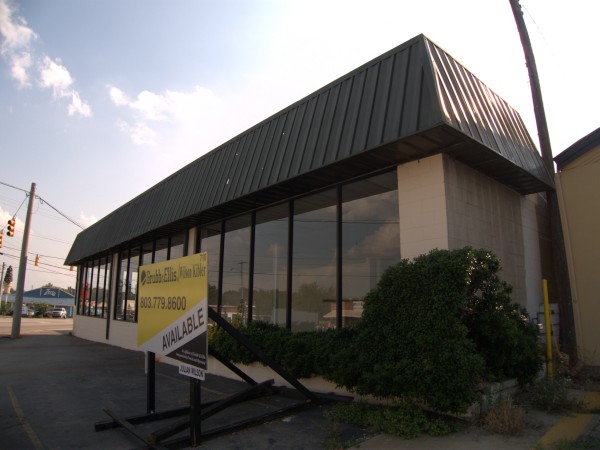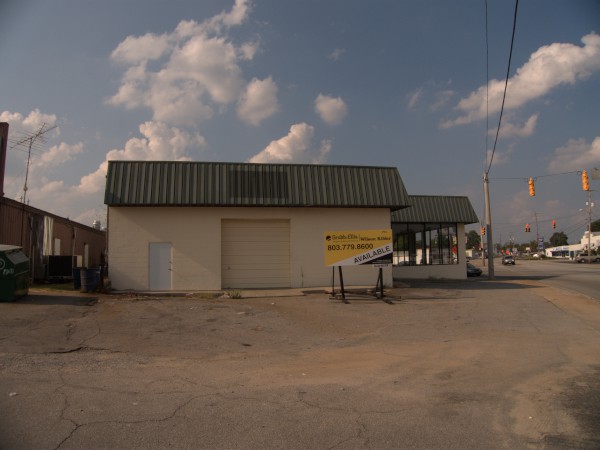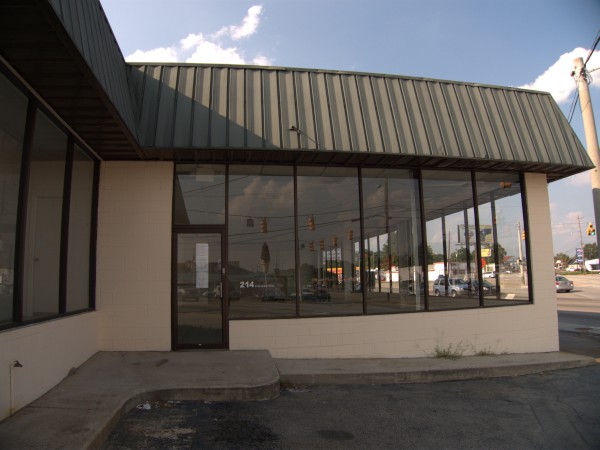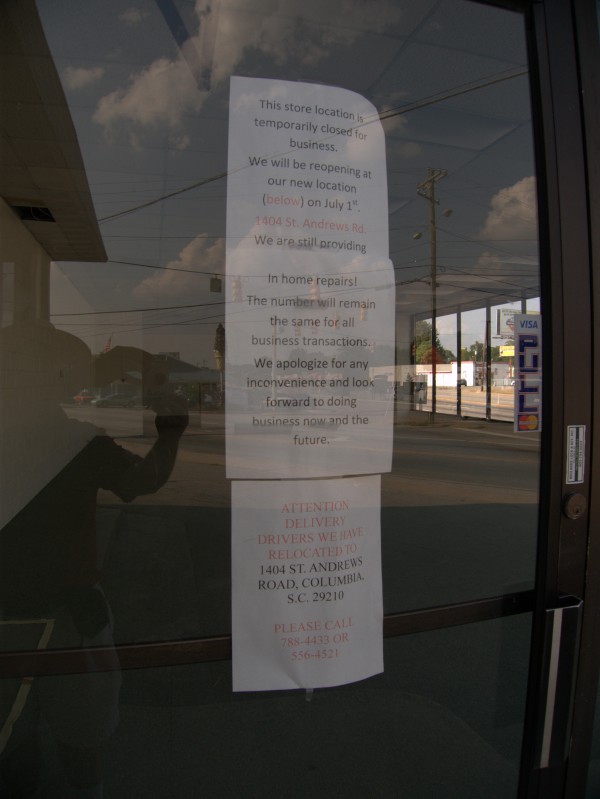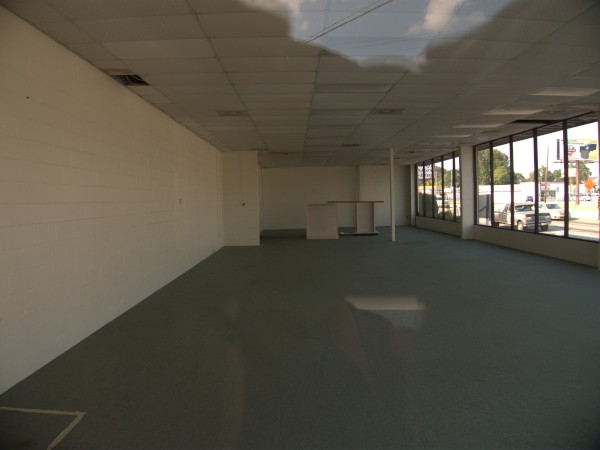 I'm drawing a complete blank on Appliance Professional in West Columbia just across from Zesto. I'm sure I saw it open many times, but not being in appliance-buying-mode, my eyes just skipped right over it. Anyway, it appears they moved to Saint Andrews Road (East of Broad River Road) this summer and the building is now available.
Really, the building isn't that interesting, but I like the reflections of the Zesto cone.
UPDATE 24 Sep 2010: Added a picture of the front side of the building that I forgot.
Posted at 1:54 am in Uncategorized